A growing number of people are making money by selling 3D printed parts, jewelry, and other items online. Using 3D printing, you can sell anything from home decorations to children's toys.
The idea behind it is pretty brilliant, after all. With 3D printing, you can reduce your overhead costs and manufacture products without owning or renting a factory or warehouse.
You can sell those parts on Etsy, eBay or even your own store.
What Is 3D Printing?
So, what is 3D printing, anyway? 3D printing, also known as additive printing, is a technology that allows you to create solid 3D objects from digital files or models (usually CAD files).
3D printing is called additive manufacturing because it adds layer upon layer onto a product until it is complete. That is the opposite of subtractive manufacturing, in which a product is created by cutting or hollowing it out from a block of plastic, metal, stone, or other material.
The digital file or model will need to be sliced into many layers, so the printer can then add each layer, one at a time, on top of each other.
3D printing is not new; it was developed back in the 1980s. However, recently, it has become more widespread and accessible to more people.
People can now buy commercial 3D printers to use at home, but it still is not cheap. In addition, you need to buy materials for the printer as well — plastic is the most common material used, but metals, food, and other materials may be used as well.
Yes — you can create food with additive printing.
3D printing allows manufacturers to create products at a fraction of the cost of traditional manufacturing methods. In addition to small items, like toys, 3D printing is used to create complex tools, prototypes, and even auto parts.
Why Would You Need 3D Printing On Demand?
You need a 3D printer to sell 3D printed products — but what if you don't own one of those printers?
3D printers can be pretty expensive. While the cheapest printers can cost just a few hundred dollars, the better printers — which you will need for more complicated products — can cost thousands of dollars.
That can be too much for entrepreneurs looking to start a business from home. Instead, you can order a 3D printed product on demand and send it to your customer (or even have the printing company send it to your customer directly).
Alternatively, if you are a small business owner or eCommerce seller and want to create and sell a new product, 3D printing can come in handy. It allows you to test out a prototype and see how it works and functions in real life without committing to a deal with a manufacturer just yet.
You can simply use 3D printing on demand to order and receive your prototype. Then, when you are satisfied with how it works, you can place an order with the manufacturer for a larger quantity.
You might also want to create several versions of a single product and see which one works the best. 3D printing is great for that — simply order one of each version.
3D printing is also a good idea if you want to "test the waters" and see how well a product will sell. Instead of ordering a huge amount of stock from a manufacturer, you can place a smaller order of 10-100 items with a 3D print on demand provider.
If the products sell well, and you are confident you will make money from selling them, you can invest more and place a larger order.
You can also use 3D printing to get a prototype you can show to potential investors or at trade shows.
In general, 3D printing offers a number of benefits over other manufacturing methods. For example, due to the way 3D printing works, it is easier and cheaper to create products with complex geometrical shapes, with greater precision.
Products made with 3D printing are also often more durable. Of course, that will depend on the methods and materials used.
Today, I will be going over the 12 best 3D print on demand manufacturers.
Best 3D Print On Demand Services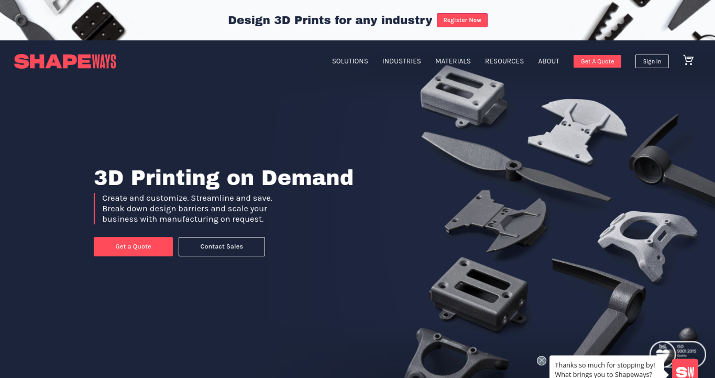 Shapeways is my #1 recommended 3D print on demand service. It's a great option if you don't yet have a ready-to-use 3D print file, as it provides several services to help you design one.
Shapeways has partnered with ZVerse to provide design services. Whether you have a 2D or another file you need to convert to a 3D file, or you just have an idea and no file at all, ZVerse will help you create a workable 3D file you can upload for 3D printing.
There are over 90 materials to choose from, with a wide range of 3D printing and other manufacturing technologies based on the material you chose and the product you will be creating. For example, if you want to create jewelry, you can use binder jetting to create a ring out of steel powder.
Binder jetting is also great for ceramics and other heavy materials. It takes metal or ceramic powder and shapes it into a final product, with a strong bond.
Another way to create jewelry at Shapeways is to use wax molding with cast metals. Each method has its pros and cons.
Plastics and aluminum or just two of the other types of materials available at Shapeways. Vacuum casting, machine tooling, and injection molding are some of the other manufacturing technologies it uses.
One reason I think Shapeways is the best 3D print on demand service is that it has an independent marketplace you can sell on and integrations with various eCommerce platforms.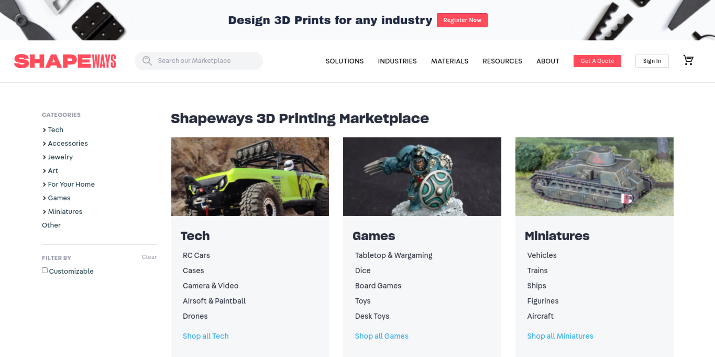 In addition to the Shapeways API, Shapeways integrates directly with Shopify and Etsy. These integrations allow you to sell products from Shapeways on the Etsy marketplace or your own store, with seamless order fulfillment and tracking.
You can also choose to sell on the Shapeways marketplace, but you will be more limited in terms of which materials you can use. Nevertheless, it's one of the best ways to get started with making money from 3D printing.
That's in addition to the design services, which remove yet another barrier to getting started with 3D eCommerce.
It is free to open a shop on the Shapeways marketplace.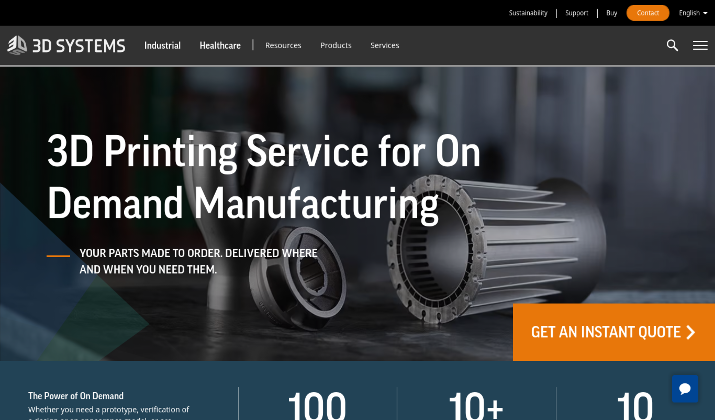 3D Systems has been in the game for more than a decade, and it has over 100 application engineers on staff, ready to print your product. You can use 3D Systems to create products for prototypes and low volume manufacturing.
For prototyping, you can create either rapid prototypes just to see how the product will look or more complex prototypes to test the functionality of the product.
There are a few materials to choose from. In addition to plastic parts, you can have 3D Systems create metal parts; other available materials include elastomer, wax, composite, and many others.
3D Systems uses advanced technologies to create your products, including 3D printing, CNC machining, investment casting patterns, injection molding, and others.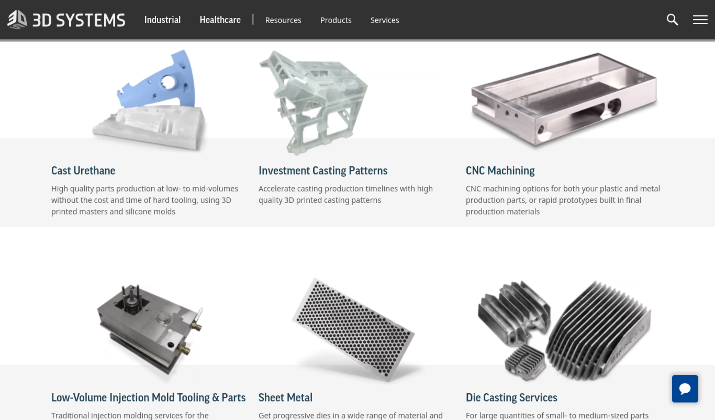 The exact technology 3D Systems will use and the materials available will depend on the purpose of your order. For example, investment casting patterns are available for functional prototyping but not rapid prototyping.
Color jet printing is available for rapid prototyping and appearance models only. Appearance models are models you show at trade shows or investors.
Usually, 3D Systems will print your model in less than 24 hours. Since it has 10 manufacturing facilities around the world, shipping won't take particularly long either.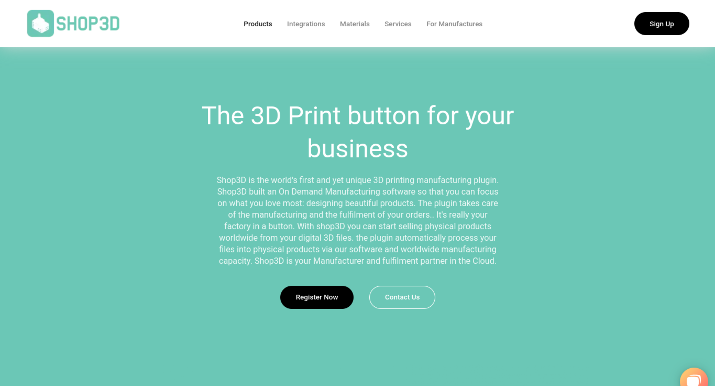 Another favorite of mine is Shop3D, due to its eCommerce plugin and integrations with Shopify, WooCommerce, and Etsy. Using the plugins, you can sell 3D printed products with no overhead and upfront costs.
It's dropshipping at its finest — except that Shop3D will print and manufacture each product from scratch. Unlike with traditional dropshipping, you can manufacture and create your own products that you design yourself.
There's no need to store the products you sell, allowing you to eliminate warehouse rental costs.
One of the things Shop3D is excellent at is creating custom 3D printed figurines for your shop. You can create your own little mascot figurine for your brand and sell it via Shop3D.
Shop3D even lets you sell jewelry made with precious metals. You can sell real gold rings or necklaces, for example, made of 18k gold.
Types of precious metal materials include 18k and 14k gold, sterling silver, platinum, and more.
Shop3D will ship your products directly to your customer. Not only that, but it can use custom packaging — it can be completely white label, with no mention of Shop3D anywhere on the packaging (depending on your plan).
In addition, you can have Shop3D insert stickers or other branded marketing materials into the packages before shipping. That way, it will look like you shipped the product yourself, and you will also be able to promote additional products you are currently selling.
With the Shopify and WooCommerce plugins and Etsy integration, you can fulfill orders quickly and easily.
One downside of Shop3D is that to qualify for the white label solution, you need to pay a monthly fee. While you can use it for free, products will not only contain Shop3D branding, but will also contain Shop3D stickers.
Paid plans start at £19.99/month, but that plan simply allows you to send nonbranded products to customers. While the packaging won't contain Shop3D branding, it won't contain your branding, either.
You will need to sign up for the Pro Package, at £149.99/month, to qualify for branded inserts and packaging. However, you need to sell at least 500 orders a month to qualify for that plan.
In addition, shipping could be improved. Regular shipping to the US generally costs £8.65 and takes 5-7 working days. Express shipping is available, but it is pretty costly.
As Shop3D is based in the UK, shipping to Europe is cheaper, and shipping to the UK is even cheaper.
You can check the pricing page for updated pricing and shipping costs.
For those reasons, Shop3D is not higher up on this list.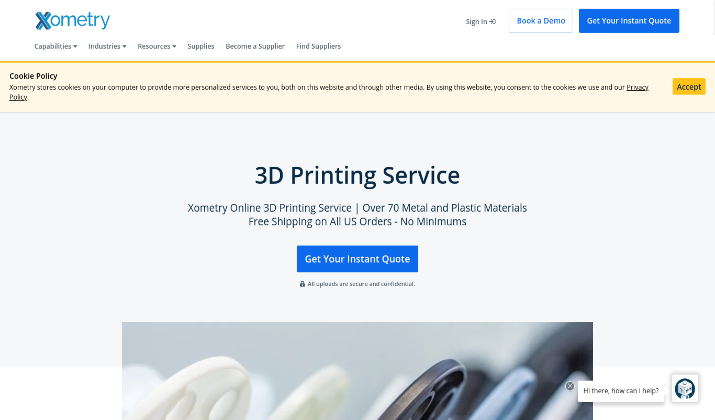 Another fantastic 3D print on demand service is Xometry. It has fewer materials to choose from than Shapeways, but it still has over 70, including plastics and metals.
By uploading your 3D CAD file, you can get a quick online quote. Xometry uses technologies such as direct metal laser sintering, binder jetting, and selective laser sintering.
Each method is best for different products and quantities; the engineers at Xometry can advise you as to which one to use.
According to Xometry, most products ship within one day. You can use it for rapid prototyping or low-volume manufacturing.
In addition, you can use Xometry for high volume manufacturing, with most orders shipping in 1-15 days. Xometry claims that 70 percent of the Fortune 500 companies use its services and that it serves over 34,000 customers overall.
Still, there are no minimums — you can order just a single item if you wish.
One of the pros of Xometry is that it offers free shipping on all US orders, unlike some other services that charge a shipping fee. A shipping fee, even a small one of $4 or so, can seriously eat into your profits if you are running an eCommerce business based on a 3D print on demand model.
According to Fast Radius, the World Economic Forum named it a "manufacturing lighthouse" due to its advanced manufacturing capabilities. It offers 3D printing on demand/additive manufacturing services.
Using the Fast Radius Cloud Manufacturing Platform, you can design prototypes and then send them for 3D printing. You can print as few or as many as needed, with a turnaround of just a few days on average, allowing you to scale up or down.
Some 3D printing methods Fast Radius uses include carbon digital light synthesis, fused deposition modeling, and multijet fusion. In addition, it offers other manufacturing methods such as CNC machining and urethane casting for on demand production.
You can get an instant quote online by uploading your CAD file.
Also Read: Best Print On Demand Sites T-shirt Companies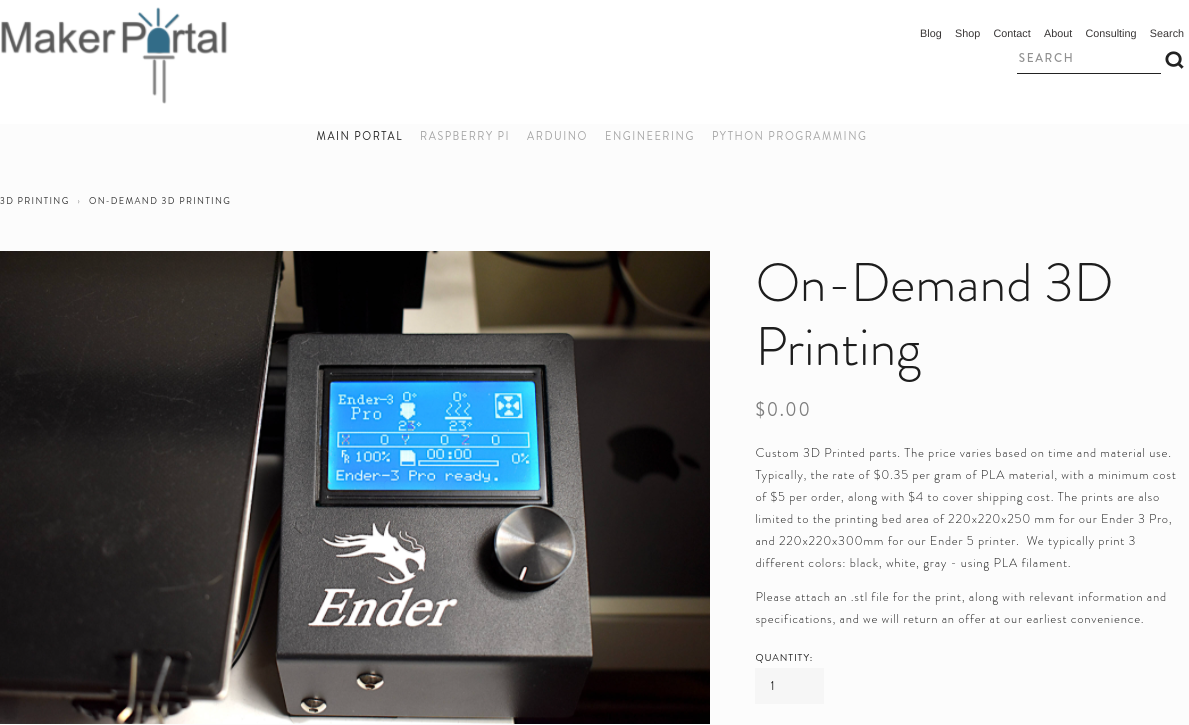 Maker Portal offers an on demand 3D printing service, but it comes with several limitations. First, the minimum order is $5, and there is also a flat shipping fee of $4 per order.
In addition, it only has two types of printers. You are limited to a printing bed space of 220x220x300mm or less, depending on which printer it uses.
Also, Maker Portal focuses on Polylactic Acid (or PLA) printing, which is one of the more common 3D printing materials. Pricing starts at $0.35 per gram of Polylactic Acid, but you can submit your file for a more accurate quote.
Also, Maker Portal usually prints in just three colors: white, black, and gray.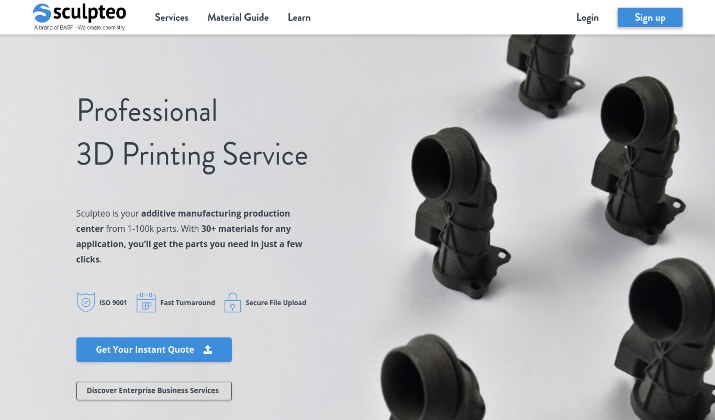 While Sculpteo only offers around 30 materials to choose from, it supports over 40 different file formats. In addition, it has no minimum requirements — you can print just one product or as many as 100,000.
Getting an online quote is quick and easy. Materials include plastics, metals, and resins, and there are over 75 technologies and finishes you can use.
Turnaround is just a few days. Sculpteo has facilities in both San Francisco, California, and Paris, France.
I liked its 3D Learning Hub, where you can learn about topics related to 3D printing, such as which CAD software tools to download and how to 3D scan with your phone.
To get a quote, simply upload your design file. Sculpteo has some tools to help you optimize your file before printing.
Check Out: Best Shopify Print On Demand Apps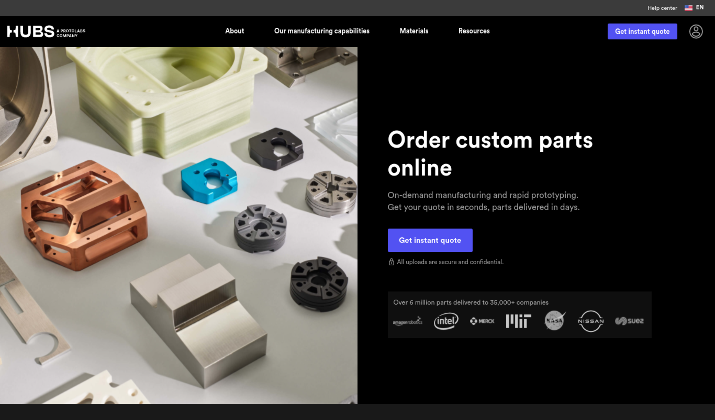 Hubs is an online 3D print on demand service. In addition to 3D printing, it offers CNC machining and other manufacturing methods on demand.
It uses a global network of vetted manufacturers. As soon as you upload your file, Hubs will send it to one of its manufacturers, who will get to work on it right away.
According to Hubs, it has 240 manufacturing partners it works with. All of them are properly certified and use only high-quality materials.
Just upload a CAD file to get an instant quote. Once you place an order, you will be able to track and manage it in your dashboard.
Now simply "Hubs," the company used to be known as "3D Hubs," so you may still see it referred to as such online.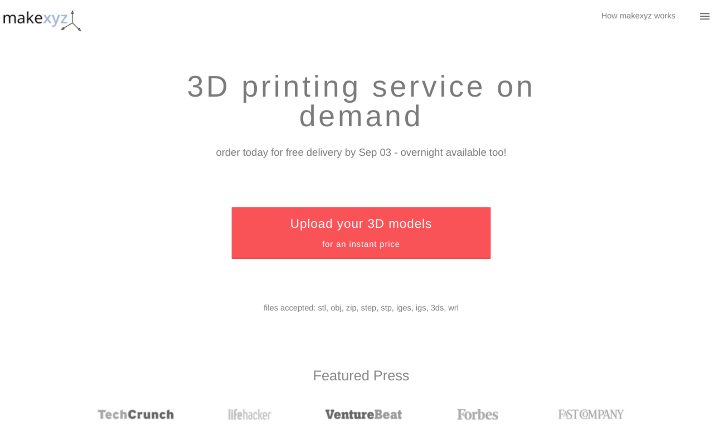 Make XYZ has a pretty unique concept that makes it stand out from all the other 3D printing services on this list. Instead of simply printing out your product itself, it connects you with local 3D print providers in your city.
These print providers print your product for you and ship it to you. Shipping is always free, and since it will be coming from a printer near you, it shouldn't take too long to arrive.
There is a wide range of materials available, including plastics, metals, PLA, wood, nylon, paper, and more. In addition, Make XYZ is working on supporting additional materials in the future, including chocolate!
When it does introduce support for chocolate, you will be able to sell elaborate chocolate gifts using 3D printing. However, there is no set date for when Make XYZ will support chocolate.
Explore: Best Print On Demand Book Companies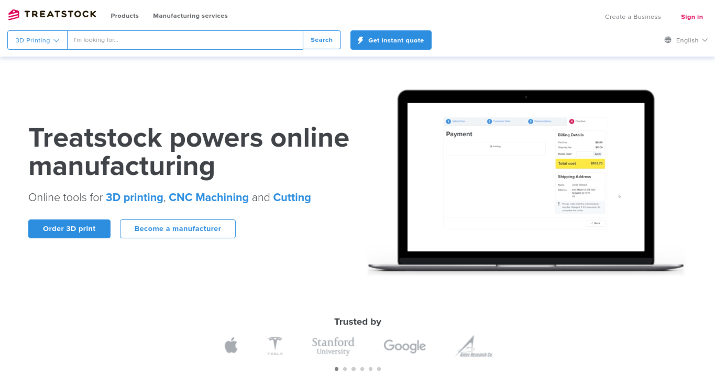 Treatstock is another interesting 3D print on demand service — but instead of printing out your products itself, it serves as a directory where you can browse and select manufacturers.
You don't even need a design to get started! Simply browse the available designers on Treatstock and enter discussions with one of them to get started with your project.
Once you have selected a designer, and they have created your design for you, you can send it to one of the manufacturers and get it printed. You can check each manufacturer's profile and reviews previous customers have left to ensure you will be getting great service and a high-quality end product.
Remember to set the dimensions, colors, and other characteristics for your product.
Treatstock supports several file types, including JPG, PNG, OBJ, GIF, STL, and others. Delivery usually takes 5-7 days.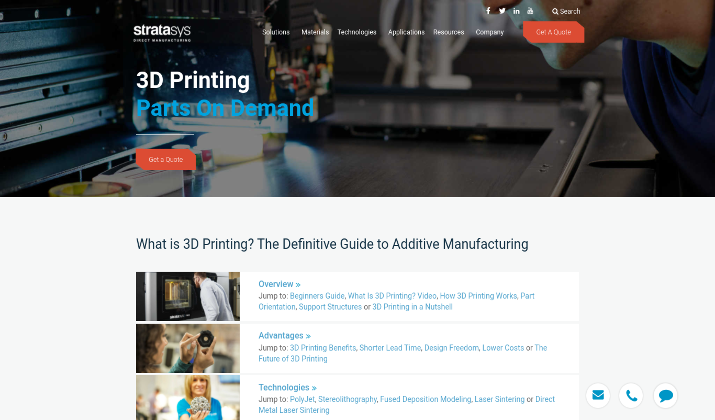 Stratasys Direct is an on demand manufacturing service that also offers a 3D print on demand option. It offers six different 3D printing technologies, including laser sintering, PolyJet, and multijet fusion.
In addition, it offers several other manufacturing methods, including CNC machining, urethane casting, and injection molding.
Stratasys Direct is best for those who want to create a rapid prototype or need a very specific tool.
You can get an instant quote by uploading your file online. If you have a more complex project, you can chat with one of the engineers at Stratasys Direct to discuss it and see whether it is viable and what it would require.
Right now, Stratasys Direct is offering a 15 percent discount on your first 3D print on demand order. Enter the code "FIRST15" at checkout.
Also Read: Best Shopify Print On Demand Store Examples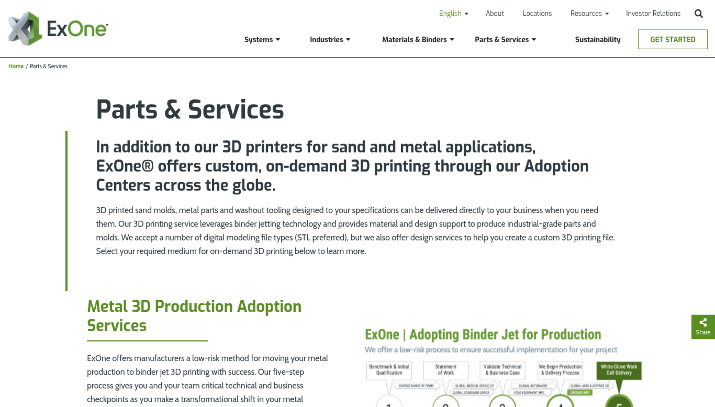 ExOne provides metal 3D printing on demand. It uses high-quality metal powders and binder jetting technology to bind the powder into a solid end product.
In addition, ExOne offers a wide selection of beautiful metal finishes for your end product.
To request a quote, you will need to upload your design file to the website. Several file types are supported, but ExOne says it prefers STL files.
If you don't yet have a file, and you only have an idea, ExOne offers design services that might help.
In addition to metal 3D print on demand, ExOne provides sand 3D print on demand for molds and washable ceramic tooling.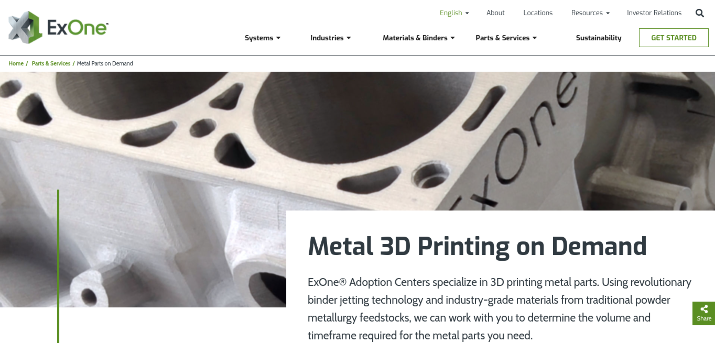 Wrapping It Up: What Is The Best 3D Print On Demand Service?
Shapeways is my top recommendation for 3D printing on demand. It offers a wide selection of materials and production technologies to choose from, but it goes beyond that and removes several entry barriers you may face when trying to set up an online 3D dropshipping business.
With its design services and integrations with Shopify and Etsy, you can quickly start selling 3D printed products online, without needing to invest in inventory and warehouse space upfront.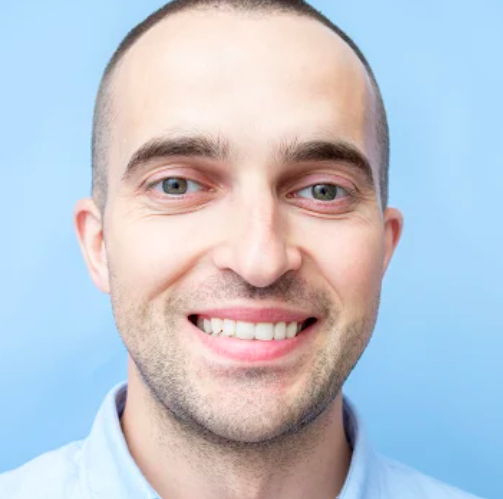 Author: Brian Erwin
I am Brian. I started my first e-commerce company in college designing and selling t-shirts for my campus bar crawl using Print-On-Demand. Having successfully established multiple 6 & 7 figure e-commerce businesses (in women's fashion and hiking gear), I think I can share a tip or 2 to help you get succeed.