Anime means animated works in Japanese and these animated movies and cartoons are increasing in popularity.
With so many genres and styles, anime is becoming a part of a lifestyle to the point where people wear anime merchandise.
Even though there is so much anime available to watch, it can be really hard to find anime merchandise that you really like.
Therefore, if you're trying to find the best source to grab your favorite anime merchandise, you're in the right place.
Down below, you'll find more about anime merchandise but I'll also show you the 10 best anime merch websites so you don't have to look elsewhere!
What type of Anime Merch is the most popular?
Anime merchandise sells all around the world but depending on your location, you might have a hard time grabbing a good deal.
The most popular anime merchandise is T-shirts and shirts. However, there are all sorts of merchandise you can choose from.
The biggest issue for anime fans is finding the anime they like the most available as merch.
And with so many sources, you might not really know which source or store to trust. Therefore, leave the merch websites to us and all you have to do is try and find your favorite anime merch in one of the stores.
Why is Anime Merch so expensive?
Anime merch comes from a place that supports the show and the whole franchise. Even if the merch comes from third-party vendors, anime merch might still be expensive because it is very detailed.
The more details there are, the more expensive the product will turn out to be and that's the main case with anime merch.
But if you're a really big fan and you'd like to support anime, getting a couple of merchandise products won't break the bank in the long run!
10 Best Anime Merch websites
If you had no luck finding the best anime merch website that can ship products directly to your address, you're in luck.
There's a high chance that at least one of the websites below will have the anime merch you're looking for and yet the shipping price won't break the bank!
Some of these websites are third-party vendors and others are websites directly from the source of the anime!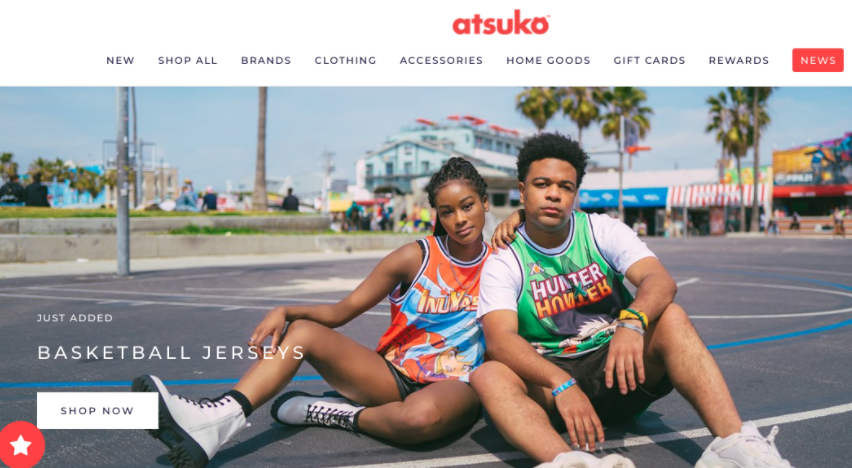 Atsuko is considered the number one anime merchandise store in the world. They feature merchandise for some of the most known anime movies such as Hunter, Dragonball Z, Pokemon, and many others.
They're living and breathing anime which can be seen from the product selections Atsuko offers.
You can find anything from T-shirts, accessories, jerseys, and even socks. On top of many clothing products, Atsuko even sells home goods such as pillows, blankets, towels, tapestries, and others.
Needless to say, in just one visit to Atsuko's website, you will be able to dress in anime from head to toe and even decorate your home.
You will receive rewards for every purchase which can serve as a discount on the next purchase. Even though the products are a bit pricey, Atsuko is a legit anime merch website that has a wide range of products they ship worldwide.
In case you're not sure what your friend's favorite anime or merch product would be, you can purchase a digital Atsuko gift card so you don't limit your friend's options.
On top of that, Atsuko allows everyone to become a member and unlock more perks and discounts. As a member, you even get to invite and refer friends which earns you additional rewards.
Therefore, Atsuko is doing a brilliant job at creating the anime community right out of their anime merch website.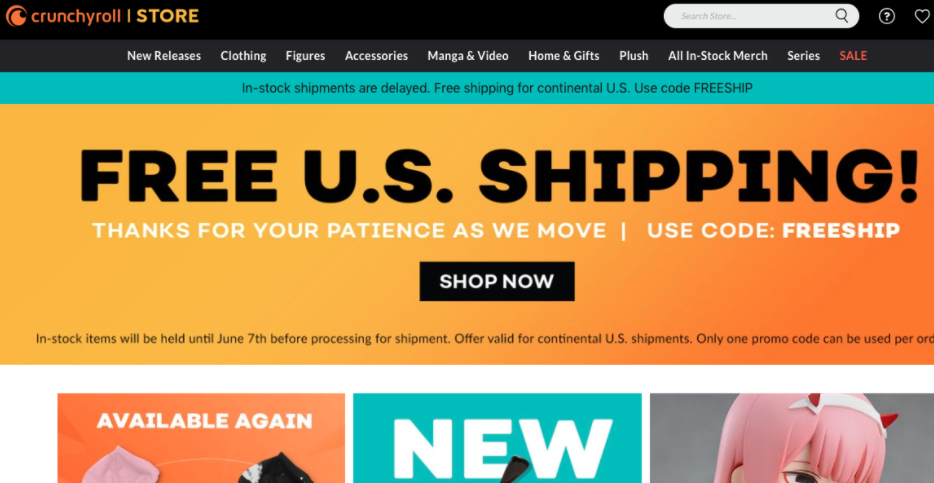 Crunchyroll is known as the main hub for anime, however, if you didn't know, it also features anime merch and figures as part of the website.
The greatest thing about Crunchyroll is that it provides free shipping for everyone in the United States, so you won't have to worry about shipping fees ever again.
When it comes down to anime merchandise, you'll be able to find the latest or the most exclusive merchandise that's only featured on Crunchyroll.
Crunchyroll is very versatile and it features a variety of clothing items such as T-shirts and hoodies, but it also features accessories, figures, and home gifts.
There is also a wide variety of plush products but probably one of the greatest features is the ability to search the store by anime series.
With this feature, you'll know in seconds if your favorite anime is sold in Crunchyroll.
Keep in mind that you might have to pre-order some of the exclusive (or hot merch) and that some waiting time might be in place for the latest releases.
If you've missed any anime series or you'd like to get into the anime series of your choice, it's good to know that Crunchyroll features a manga and video section where you can get your favorite manga series.
Also, due to the popularity of the store, there tends to be slight delays in in-stock shipments so that's something you should also keep in mind!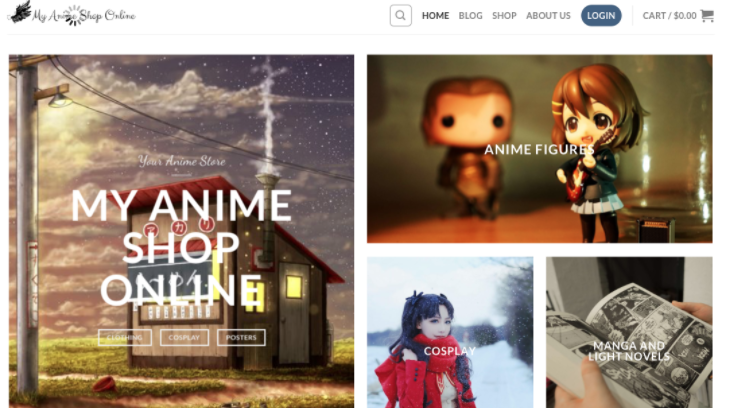 My Anime Shop Online is the online store that's created for the sole purpose of supplying anime fans with awesome merchandise.
In this store, you will be able to find anime figures, manga and light novels, clothing, posters, backpacks, accessories, and even plushies.
If you've been trying to find cosplay costumes, I know how hard the search can be but you're in luck as My Anime Shop Online features cosplay costumes.
Therefore, whether you're trying to find something nice for yourself or you're just looking for a perfect gift for an anime lover, My Anime Shop Online is one of the best places to start your search.
However, one thing to keep in mind is that the shipping often comes from overseas so the waiting time might be anywhere between 20 to 35 days. On the bright side, shipping is free so you won't have to worry about the shipping price.
But with the transparent shopping and return conditions in place, you won't ever have any issues with this store if you're not in a rush.
If you're only looking to learn more about anime, discover new anime, and need access to the anime blog that's regularly updated, My Anime Shop Online has that too.
You'll even be able to find the largest anime conventions in the US so if you're in the United States, you can grab a cosplay costume and head to your nearest anime convention!
Also, I've noticed that the prices aren't that high for some anime items so depending on what you're after, you might not have to spend a lot to acquire great anime merch!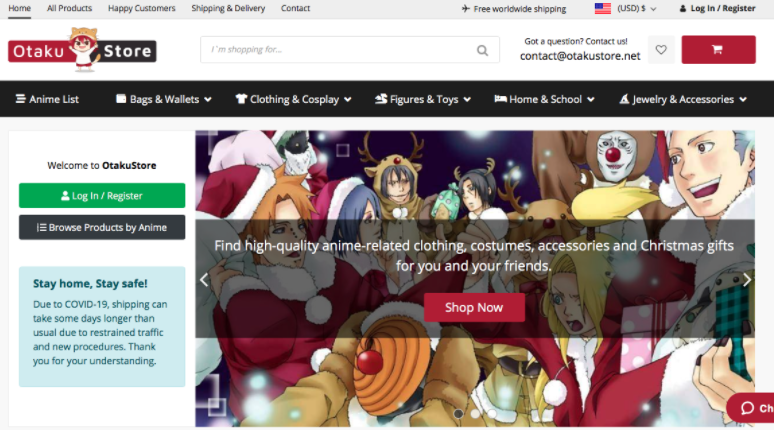 If you're a true anime fan, you probably know about OtakuMode. However, not every anime fan knows about OtakuStore.
OtakuStore is an extended website that is an online shop where Otaku sells high-quality anime merchandise.
Not only can you find decent clothing that comes in all shapes, sizes, and covers most of the most popular animes, there are many other categories you can browse.
OtakuStore provides costumes, accessories, Christmas or birthday gifts, and much more.
I've noticed that the smaller items are very affordable such as accessories, figures, or items made from plush material.
However, clothing items aren't expensive either in comparison to other anime merch websites.
All orders are shipped for free and every buyer is protected by the Buyer Protection agreement in place. Depending on the time you visit the OtakuStore, you might even come across a great discount of 30% on all items in the store!
However, if you miss the offer, you can also invite a friend to the store in which situation OtakuStore will give both a 20% discount code to use on your next purchase.
OtakuStore also features an anime list that lists the most popular anime and even shows a number of items they have in stock for each anime. Therefore, you won't have to spend hours searching for your favorite anime merchandise.
I've also noticed that OtakuStore has pretty unique accessories and it even carries categories such as watches that aren't often typically covered. Therefore, if you're looking for a gift or something you don't have already, OtakuStore won't disappoint!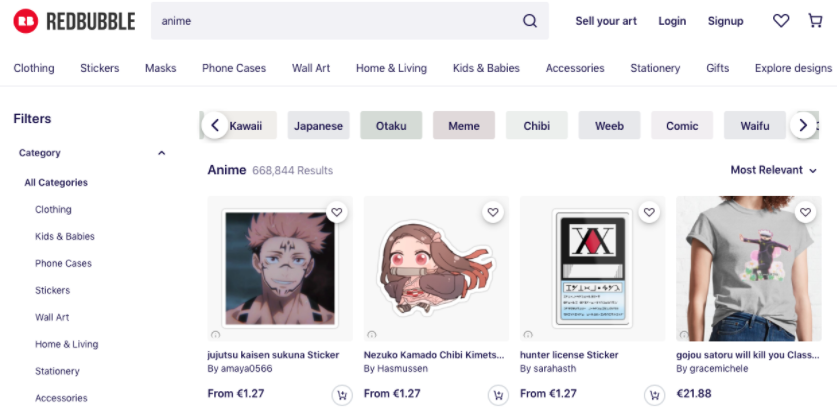 Like Printify, Society6, TeeSpring, Etsy and others, RedBubble is a very well-known online store that sells personalized items, but not many people know that RedBubble is also a secret anime fan!
Therefore, you can find the anime section on RedBubble and discover all the anime products they have in stock.
RedBubble features everything from clothing, home & living, to accessories and stationery, but I noticed that they have some unique gems over there too.
Anime stickers are really popular but they're becoming harder to find. RedBubble has a great variety of anime stickers, wall art, phone cases, and even kids or baby clothing.
However, one of the most unique things about RedBubble is that it lists and sells drawings, paintings, photography, and digital art items too. On top of that, if you love making anime art, you can even sell your art through RedBubble which is a great way to connect anime lovers on one website!
If you're interested in finishing your look with a great art item, RedBubble is the place to do your shopping.
What I like the most about RedBubble is that it allows you to filter all anime products by three different price ranges. Therefore, even if you're on a tight budget, you still have the chance to find plenty of awesome items!
One tip I recommend is to sign up for the RedBubble newsletter as you'll get a 10% off discount code!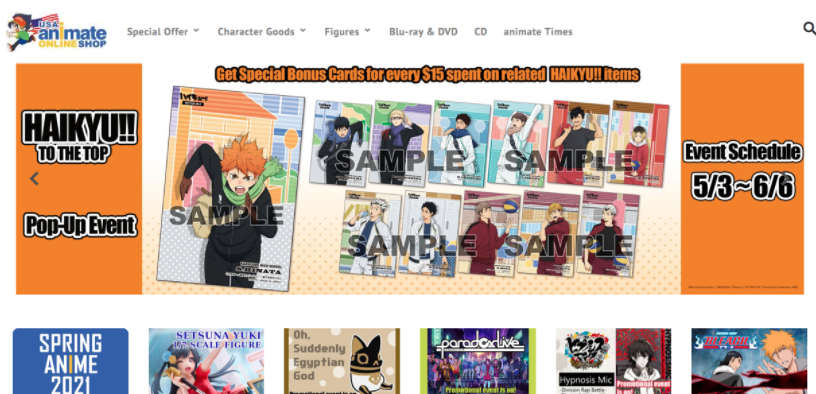 If you've been having trouble finding exclusive anime merchandise that's easily shipped across the United States (or Canada), Animate Online Shop is a great place to visit.
Animate Online Shop is a direct-from-the-source online shop that connects USA & Canadian anime lovers and hooks them up with great anime merchandise.
In this store, you can find everything from character goods, figures, blu-ray, and DVDs, to CDs and animated items.
For character goods, Animate Online Shop sells everything from apparel, fine art, pins & badges, to posters, stickers, keychains, and many other accessories.
Along with that, Animate Online Shop features special offers on a regular basis where you can find and get great deals such as special gifts on orders over $30 or access to various anime specials.
Even though Animate Online Shop doesn't feature as much merchandise as some other anime merch stores, it still offers pretty affordable merchandise items.
What I like the most are the anime merch sets that aren't pricey for everything they include. Even though some items are highly priced, they're made of high quality and seem like a great deal.
Shipping is free within the United States and if you happen to catch a great discount offer, you definitely won't be disappointed!
A great deal often happens on exclusive Animate items so I'd recommend keeping an eye on that category as well.
Also, there are new collections every season so if you're interested in clothing items, you'll always have new inspiration, new ideas, and new merch to update your collection.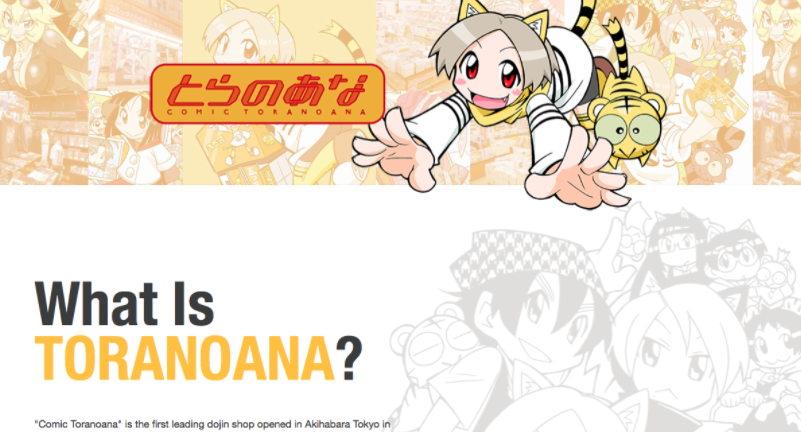 Toranoana is one of the true and genuine anime merch websites that many people pass by because of the language barrier.
Luckily, Toranoana is available in five different languages of which one is English. It's likely that you don't know about Toranoana since it is a local chain of anime products. It is also a place where creators get to sell their work to anime lovers.
Even though it's a well-known concept and store in Japan, it has become known worldwide. The reason is because of its unique and top-quality designs and products that can't be found anywhere else and yet are made in the center of anime.
Therefore, Toranoana started introducing merchandise packages for customers abroad. The most known product is the Ultimate Otaku Box which a limited version that includes creator goods recommended by the Toranoana shop.
Along with the store, you can follow Toranoana on their English Twitter account, Facebook page, and even contact them via email.
Even the Toranoana shop page includes the feel of anime that will make you endlessly put products in your online basket.
All creators are offering top-quality merchandise where they put an incredible amount of detail into the product for a really affordable price.
You can get anything from T-shirts, paintings, folding fans, desk mats, bathroom posters, tapestries, and much more.
The packet made for overseas customers is a bit pricey, but it includes a lot of merchandise which makes it valuable.
On the bright side, Toranoana accepts the most common payment methods so you can even pay with PayPal for a completely secure transaction.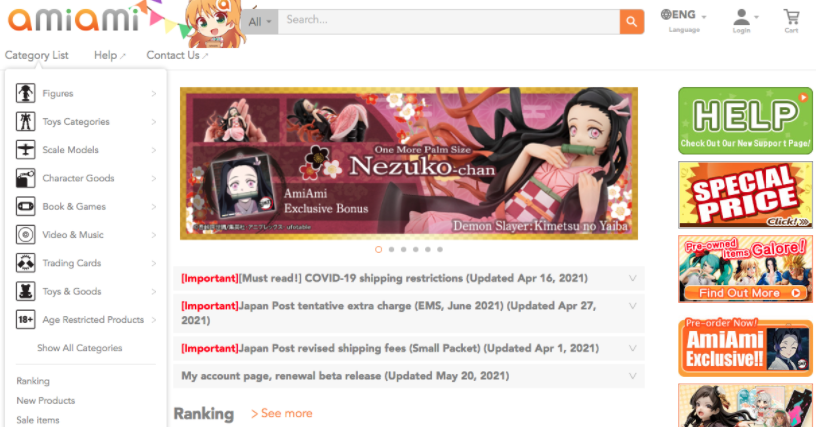 AmiAmi is a character and hobby shop that is focused on anime. Even though it requires a bit of effort to translate the shop, this is probably the one shop where you can get exclusive anime merchandise directly from the heart of the anime.
Whether you're interested in figures, art, or clothing items, AmiAmi has got everything.
The prices are pretty affordable considering that the source is directly from the source where the best anime merchandise is found.
There's also an English website that can help you find your way around if you're not able to translate the original Japanese website. However, keep in mind that the English version displays fewer products.
Yet you'd still be able to find figures, toys, scale models, books, games, videos, trading cards, goods, and much more.
Along with anime, AmiAmi is covering other characters, cartoons, and series so it's a pretty versatile online store to shop for almost everything else.
What's great about AmiAmi is that they're working on improving the shipping terms and conditions so they're ready to supply customers abroad as there's a demand for it.
Therefore, you can expect professional service with slight shipping delays.
I've also noticed that AmiAmi is catering to their customers abroad pretty well. Not only have they introduced overseas shipments, but they also have dedicated English social channels to keep up to date and never miss new merchandise.
The prices are slightly higher than most anime merch stores, but the products come directly from Japan and the quality justifies the price.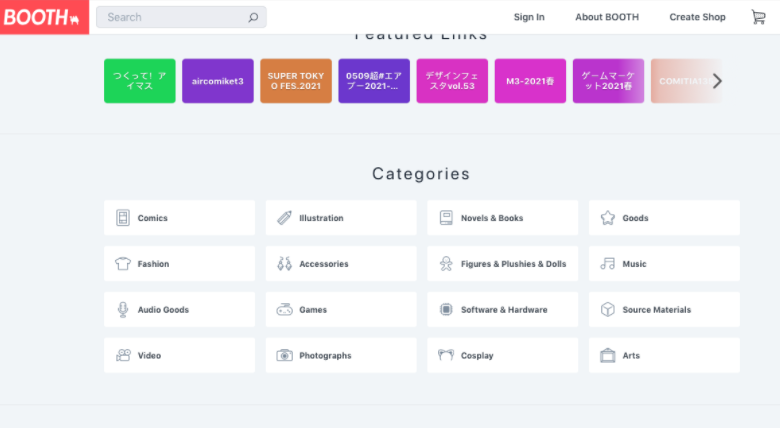 Booth has positioned itself as the international marketplace for anime and manga so you can shop for the newest and the latest anime merchandise without having to worry whether or not you'll get the products delivered.
What's also great about this anime merch website is that it's very versatile. You can find anything from comics, fashion items, audio, and video goods, to accessories, illustrations, cosplay, arts, and much more.
To find your way around the store quicker, Booth introduced tags that won't only make your navigational experience easier, but will also show you what's currently trending and what other users search for.
Whether you're after accessories such as a smartphone case, or you'd like T-shirts or any other fashion items, Booth has unique and pretty affordable products nicely displayed on their website.
It is probably going to be difficult to browse through the store without breaking your budget.
Booth also works with creators which is the reason they have so many affordable and yet unique and attractive items.
On top of that, if you love anime and you're a creator, you can even take advantage of the opportunity to start selling on Booth.
In addition, you can even start your own store where you can help market Booth for a small percentage of your total revenue.
Therefore, your anime-loving experience doesn't have to stop at the point of purchase, and yet you can actually try and make money by doing something you love.
This is one of the aspects that many anime merch websites include to draw everyone in and provide a sense of community which results in a greater shopping experience.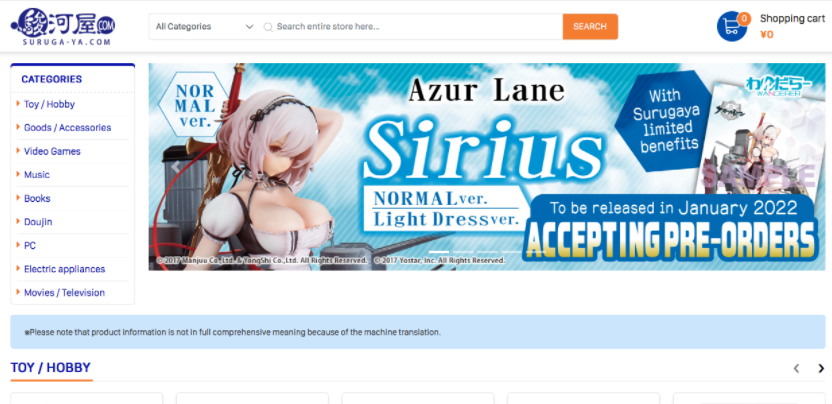 If you love the historical Japanese stores created around the anime, you'll love Suruga-ya. This is one of the largest and probably the oldest anime website in Japan.
It is a perfect website to be on if you're a collector or would like to get your hands on rare yet attractive and well-known anime merchandise. Suruga-ya allows you to purchase new products, but it also allows customers to sell or trade between themselves.
Therefore, rare second-hand merch keeps popping up at incredibly good prices, and yet you only have to be at the right place at the right time to grab the deal.
If you'd love to complete your browsing and shopping experience with the anime feel and excitement, you can translate the Japanese version to fully enjoy it. But you can also use the English version of the website which is a bit different yet still provides great anime merch.
Along with that, you might find second-hand items sold by others such as gaming consoles, games, headphones, tablets, and much more.
Shipping is still not available to all countries and regions, but Suruga-ya is aware of the international demand and they're working on introducing more shipping options.
I've noticed that Suruga-ya also has great support in place so if you have any questions, you'll always be able to reach out and get answers.
Conclusion
To find the best anime merchandise, you might have to reach directly to the source where anime is even bigger than it ever will be in the United States, Canada, Australia, or anywhere in Europe.
Luckily, Japanese anime merch websites and stores discovered the love and demand for anime merch all around the world and they're doing their best to provide great shipping options to accommodate the needs of every anime lover.
These are the top 10 anime merch websites and you won't be disappointed with the products they have to offer. When it comes down to the shopping experience, it is most likely going to be a positive one thanks to these reputable websites.

Author: Sam Zaman
Sam loves to write on technology & related stuff. Ecommerce, mobile and internet marketing equally drive her interest. Likes gardening and experimenting with new recipes. An avid reader and absolutely mad @bout donuts :)