One of the best ways to earn money from home in Australia is to start a print on demand business. A print on demand business will allow you to sell branded clothes, mugs, and other products without holding any items in stock.
You won't have to bother with handling, processing, and shipping either. All that is done for you by the print on demand provider.
However, if you are based in Australia, you can't work with just any print on demand provider. It is crucial to work with a provider that either provides good shipping options to Australia or has a warehouse or printing facility in Australia, so products arrive to your customers quickly.
Fortunately, there are many print on demand providers that do just that. In this article, I will go over the top 15 options for Australian entrepreneurs looking to start a print on demand business in Australia.
Best Australian Print On Demand Companies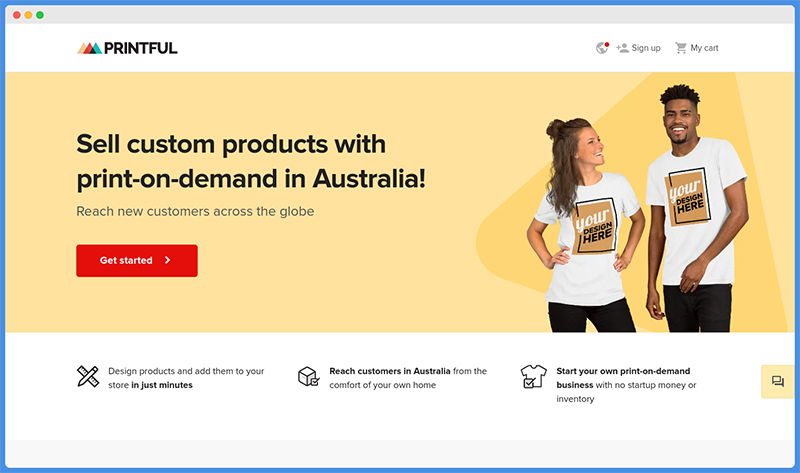 Printful is definitely on the top of my list for starting a print on demand company in Australia. It's been around for a long time and is trusty and reliable.
Printful is perfect for Australian business owners, as they have two partner printing facilities in Australia: one in Brisbane and one in Victoria.
Since these partner facilities are located in Australia, products will be delivered to your Australian customers rather quickly. These partner facilities will print the products for you right in their Brisbane and Victoria facilities – there's no need for you to order products from abroad.
The selection of products available at these two Australian partner facilities is pretty good. For a full list of product collections available in Australia, check out this catalog.
There are many products available, including shirts, posters, and mugs. These products ship to other locations outside of Australia as well, so you can expand your customer base worldwide.
One of the best ways to make money with Printful is by opening up your own Australian Shopify store. Alternatively, you can use a platform like Wix, Squarespace, Magento, and BigCommerce.
If you don't want to bother with the hassle of opening up your own store, you can sell your Printful products on a marketplace like Amazon Australia.
Printful integrates with all these platforms. This makes it easy to fulfill products and have them sent to your customers.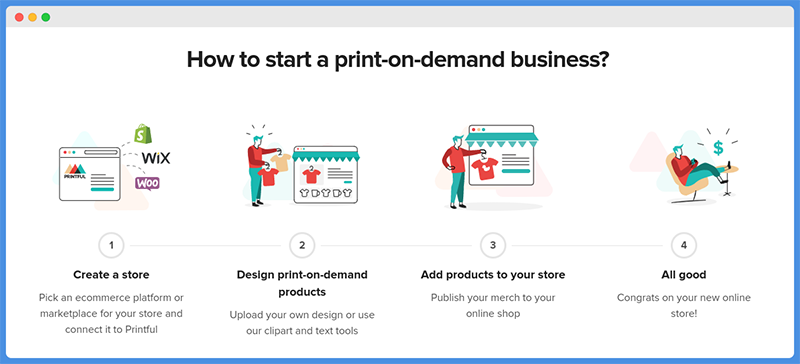 I will mention that if you want your own store but don't know how to set one up, Printful can do it for you. Just let them know what products you want to sell, give them the designs you want to be printed on the products, include product photos, and tell the Printful team what kind of store design you have in mind.
If you prefer the brick and mortar route, you can order products from the Australian facilities in bulk and sell them in your physical store. This requires an upfront investment, however.
The cool thing about Printful is that as you scale your business and make more money, you are eligible for discounts. Discounts start at five percent if you are making at least $1,000 in sales a month.
Printful had a couple of pricing plans earlier but very recently, they made the service free for all, that too with additional features.
So Printful is free. You only need to pay for the products, and shipping. Check out the pricing page for the latest on product and shipping costs.
Our Pick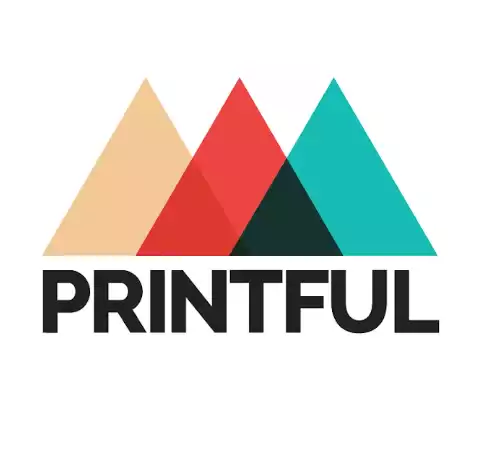 We earn a commission if you click this link and make a purchase.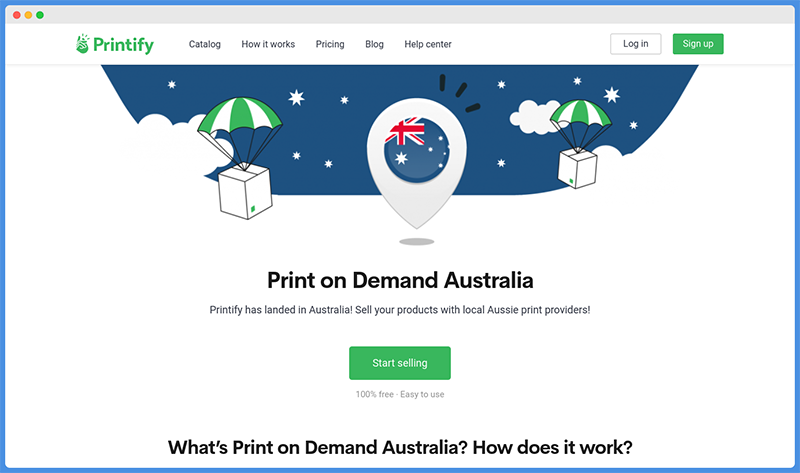 Printify is also one of my top recommendations if you are looking for an Australian print on demand company.
One of the reasons I recommend Printify for Australian entrepreneurs, besides the fact that it is a great company overall, is that it partners with printing providers in Australia.
One of the things I like most about Printify is that it gives you the option of choosing the print provider you work with. While some products only have one print provider fulfilling that product, others have a whole selection of them.
You can choose the print provider that works best for you. Look at their reviews, average production processing times, printing methods, and packaging methods.
As an Australian business owner, you can select print providers such as The Print Bar, which is based in Brisbane. If you work with The Print Bar, you can sell Gildan and Next Level t-shirts and sweatshirts.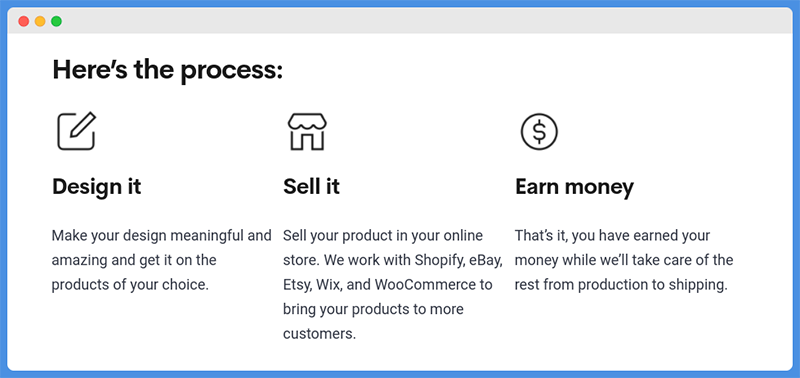 You can sell your products on your own Shopify, WooCommerce, PrestaShop, Big Commerce, or Wix site. If you prefer not to sell on your own site, you can sell on Etsy Australia or eBay Australia – Printify integrates with all of these platforms.
I found Printify's mockup generator – the tool you use to add your designs to products – easy and simple to use. I also like that you can order samples before publishing a product to ensure product quality.
Printify even has some free t-shirt designs you can use to start out, though I would recommend not using them if you want to stand out and be unique.
Printify is free to use. However, if you sign up for a premium plan, you can add more stores and get discounts on products – check out the Printify pricing page for updated pricing information.

We earn a commission when you click this link and make a purchase.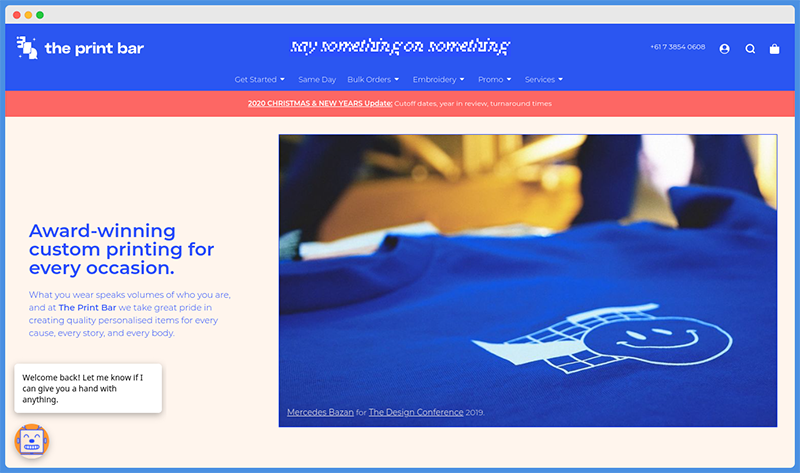 I know I just mentioned that this company works with Printify, but they also have their own website builder. If you don't want to use Printify for whatever reason, you can work with The Print Bar directly – their website builder has all the tools you need to create an awesome website.
The downside of using The Print Bar's website builder is that your website will be on a subdomain. In other words, it will look like this: yourstore.theprintbar.com.
However, if you want, you can buy your own domain name at a third-party site like Namecheap and point the nameservers to The Print Bar's DNS.
If you already have an eCommerce site, you can embed a Print Bar store into your site using iframe (this does not work with Shopify sites).
If you do use the website builder, I found it pretty easy to use. Setting up a website doesn't take a lot of time, and you can start uploading designs quickly.
Since The Print Bar is located in Australia, your customers won't have to wait long to get their products. You can charge whatever you want for your products at the retail level – the production cost is automatically deducted from your profits.
In other words, if a t-shirt costs $15 to make, and you sell it for $35, The Print Bar will automatically take $15, and you will get the other $20.
The default markup is $17.04. However, you can set your own custom markup to apply across your entire store.
Of course, you can also change the prices of individual products.
If you want to order a sample, just set your store markup to $0. Order your sample at the retail price, and then raise the store markup again.
You will get paid once a month. All The Print Bar users are paid via PayPal.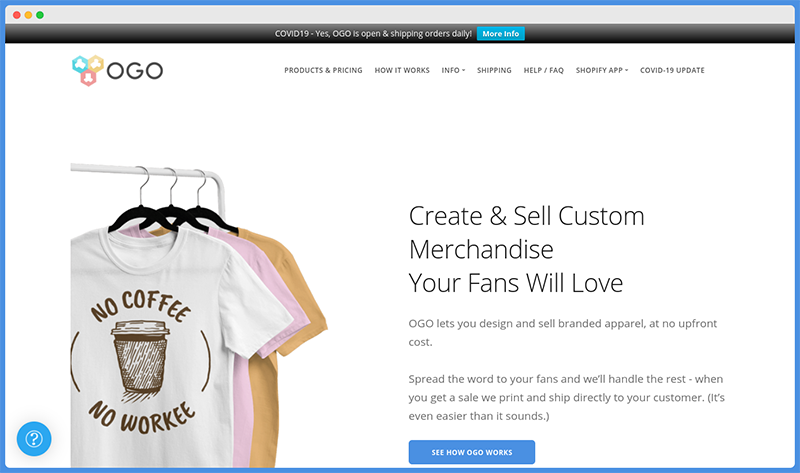 OGO is an Australian based print on demand company. Unlike many other print on demand companies, it doesn't just ship to Australia – it is actually based in Australia.
As soon as an order comes in, OGO's Australian printing facility will fulfill and ship the order.
OGO is great for Australians who use Shopify, as they have a dedicated Shopify app in the Shopify app store that makes setting up a print on demand company easy.
OGO is not nearly as widely used as Printful or Printify. According to the OGO website, they have over 400 users – that's not that much.
Although there are only three reviews on the Shopify app as of this writing, all of them are glowing and positive. I would recommend checking the OGO Shopify app page to see new reviews.
The mockup generator is fairly easy to use. You can upload designs or text, change colors, and select different sizes.
One of the great parts about using OGO is that they pay so much attention to how they package the products they send to your customers. They use a professional folding tool to nicely fold each shirt, use clear poly bags to bag the shirts, and then use white poly bags to mail the products in.
Products that arrive in a good condition will make a good first impression and help you attract repeat customers. The packages also will have no unnecessary branding.
Custom branding is in the works for OGO clients. Right now, OGO is trialing the following custom branding options:
Custom packaging: This will be available for stores that have a large volume turnaround each month. They will be able to provide OGO with custom packaging materials to package products in.
Custom neck tags: Stores will be able to ship in their custom neck tags to replace the default neck tags.
Custom inserts: In the future, you will be able to add stickers, business cards, posters, and more to the packages sent to your customers. Each insert will cost $1.
Custom labels: This option will allow you to have a custom logo printed in the neck tag area (with the neck tag removed).
Since OGO integrates with Shopify, you will accept payments directly from customers first and then pay for the processing costs later.
You can order samples by placing an order in your own store and marking it as paid without actually paying. If you don't have a store yet but would like to order a sample, you can – just send an email with the sample you want and the design you want to the OGO team.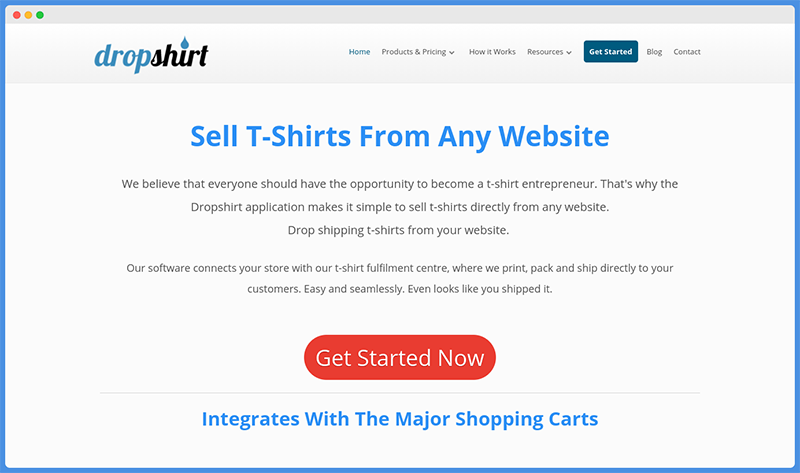 Dropshirt is another cool Australian based dropshipping company. There are two printing facilities in Australia: one in Melbourne, and one in Brisbane.
When an order comes in, it will be forwarded to either the Melbourne or Brisbane facility and be shipped from there to your customer.
The downside of Dropshirt is that they mainly focus on t-shirts. However, they do have a nice selection of t-shirts, and they also have a few other products, like towels, tote bags, and caps.
Also, Dropshirt integrates with major eCommerce builder platforms like Shopify, WooCommerce, Big Cartel, and Wix.
One thing I liked about Dropshirt is that they will send you samples at a wholesale price if you have a functioning store. The store doesn't have to be bringing in sales, but they want to see that you are serious about starting and have put in the effort to set up your store.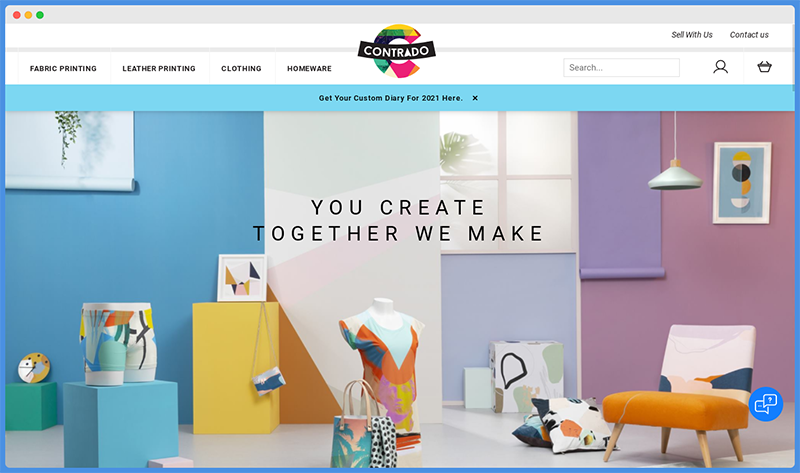 Contrado is a print on demand company that Australian entrepreneurs can use. Although it is not based in Australia, they do ship to Australia, and you can see the Australian version of the site by going to https://au.contrado.com/.
Contrado has a nice selection of products, including men's clothes, women's clothes, and kid's clothes. They also allow you to sell footwear and accessories like face masks, gloves, scarves, sunglasses, and more.
There are over 100 fabrics you can print on with Contrado's print on demand option, and there are over 450 products altogether.
In addition to offering print on demand services, Contrado offers standard dropshipping services and wholesale services (you can buy products in bulk to resell them). However, I will focus on the print on demand aspect in this article.
I was happy to see that Contrado offers white label services. This means that you can sell print on demand products that have zero Contrado branding anywhere on them – your customers will have no way of knowing that you did not create the product yourself.
White label is not to be confused with private label. White label means there is no labeling or branding whatsoever, as opposed to private labeling, in which the company actually prints your own logo on the product.
Contrado integrates with Shopify.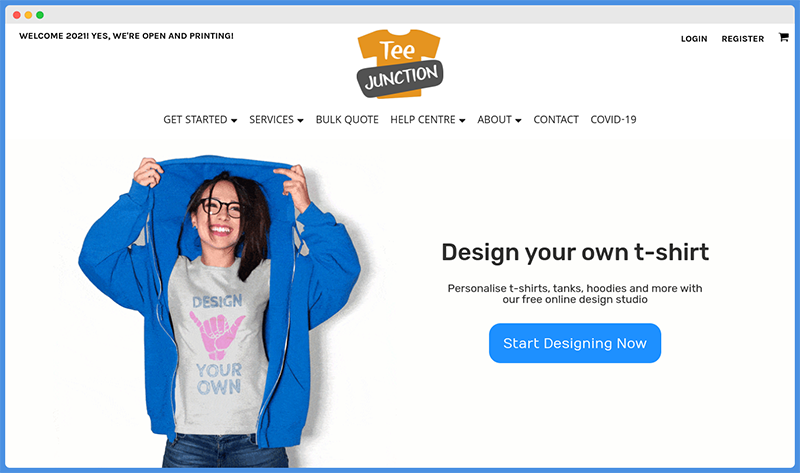 Tee Junction is an Australian based company, unlike Contrado. It is based in Melbourne, Australia – all orders are printed in and shipped from within Australia.
Tee Junction gives you two options: You can set up your own Shopify store and sell Tee Junction products there, or you can use the Tee Junction website builder to build a website – with your own domain name – and sell products to customers that way.
Despite its name, Tee Junction lets you sell more than just t-shirts. You can sell accessories like pillows, tote bags, and towels.
Tee Junction uses digital printing for print on demand. They also have a screen printing option, but you need to place a minimum order of 10 to qualify.
Tee Junction's design tool is not as easy to use as Printful and Printify, but it is still relatively simple. You can change the color, add text, and upload designs.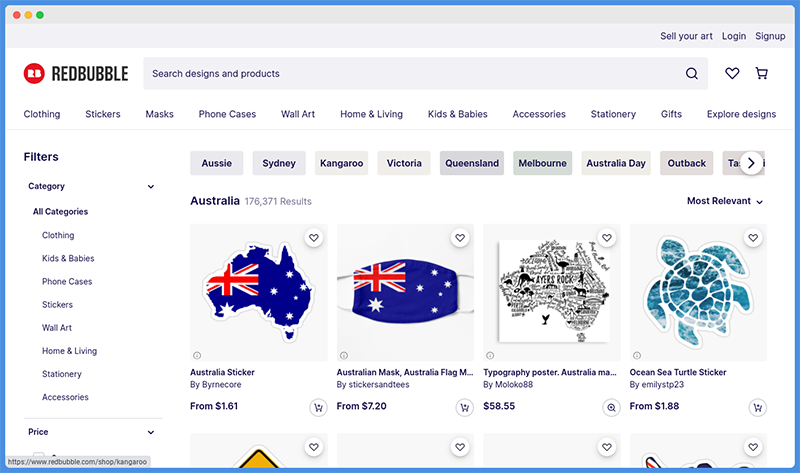 Although Red Bubble has offices in the United States and Germany, it was founded in Melbourne, Australia, where its main office is. As an Australian based company, it is a good option for your print on demand business.
If you check out the Australian store, you will see many products geared for Australian customers, including products with the Australian flag.
Red Bubble allows you to sell over 70 products. Unlike many of the other options I mentioned in this article, you will not be selling on your own store but on the Red Bubble marketplace.
Selling on the Red Bubble marketplace allows you to tap into a done for you audience of buyers who are interested in buying custom art.
Although Red Bubble is based in Australia, it is not geared solely towards Australian entrepreneurs like many of the other platforms I mention in this article.
Check out these interesting Redbubble comparisons with Printful and Printify.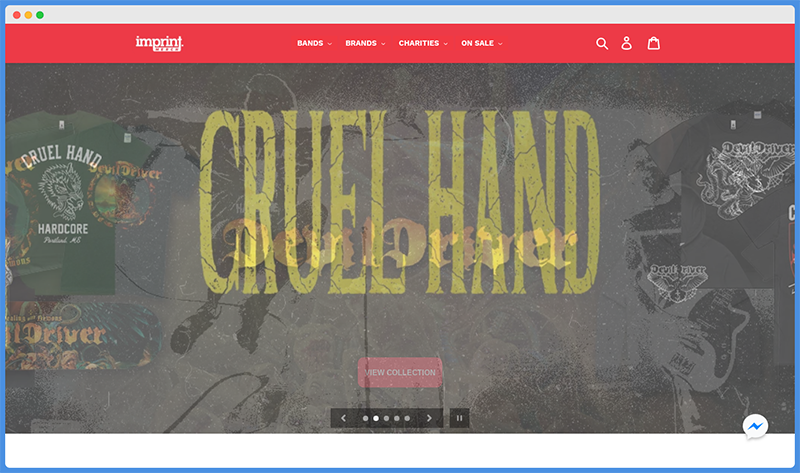 Imprint Merch is an Australian-based print on demand and dropshipping service for Australian Shopify businesses. Their fulfillment facility is located in Sydney, and according to their website, the average delivery time is only four days – that is even faster than most of the Australian based print on demand companies on this list!
To set Imprint Merch up with your Shopify store, you will need to install the Shopify app. To do this, follow the instructions on the Imprint Merch website.
After you have added the app and included your billing details, you can select products and upload designs. Then, when a customer on your Shopify store makes a purchase, Imprint Merch will automatically fulfill and ship the order from their Sydney facility.
Imprint Merch lets you set your own prices – they will tell you the base cost of the item, so you can decide how much markup to add. They even give you free designs you can use.
If you want, you can apply to have your store listed on the Imprint Merch website, which will help you get more exposure.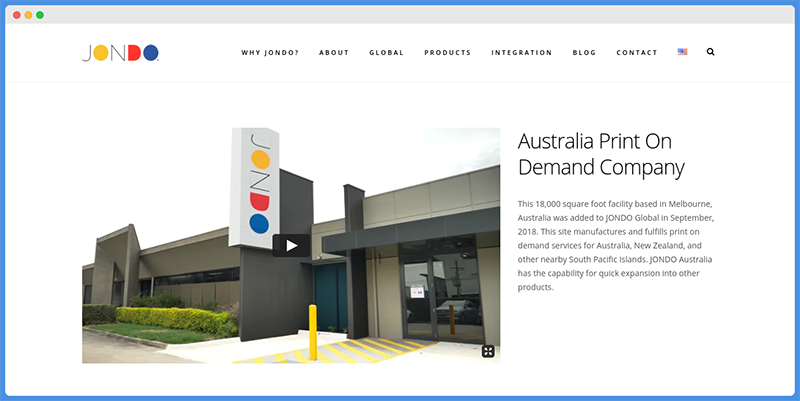 Jondo is a print on demand company that has an 18,000 square foot facility located in Melbourne, Australia. They fulfill and ship Australian and New Zealand bound orders from this facility, allowing for quick delivery times.
Some of the most common products fulfilled at the Melbourne facility include mugs, canvas prints, and paper prints. You can read more about the Australian managing team and get in touch with them on this page.
In addition to an online portal called Jondo Go that allows you to fulfill orders quickly and easily, Jondo integrates with both Shopify and WooCommerce stores for easy fulfillment.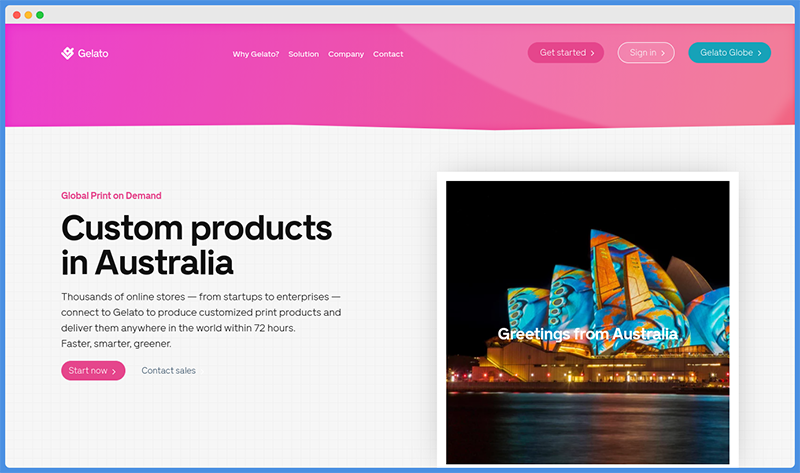 Gelato is a print on demand company that is not based in Australia. However, it does have two local fulfillment centers in Australia, allowing you to have products delivered to your Australian customers in as little as 72 hours – most orders are delivered within that time frame, according to Gelato.
I find Gelato interesting because of the range of products they let you sell – it is quite different from most print on demand companies, which limit you to t-shirts and accessories.
Gelato has a catalog containing thousands of products, including:
Clothing such as t-shirts, hoodies, and sweatshirts
Wall art, such as posters, canvases, and prints
Mugs
Cards in various styles
Hardcover and softcover photo books and storybooks
Brochures
Envelopes
Flyers
Business cards
Notebooks
Letterheads
Calendars
Gelato integrates with Shopify and Etsy. They also offer API integration.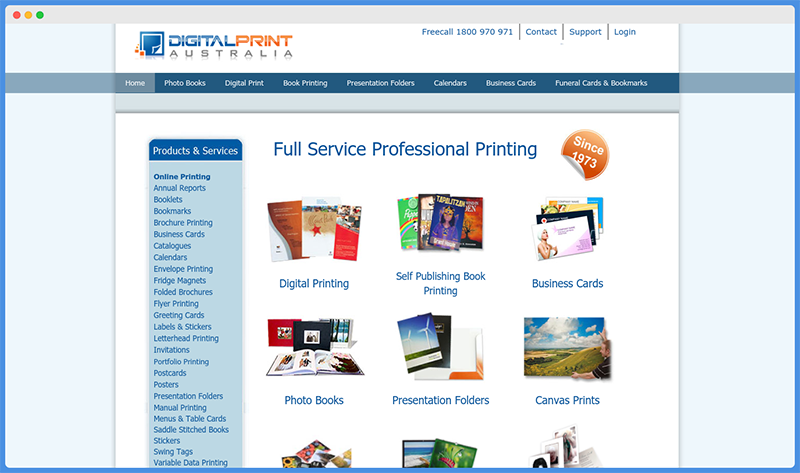 This company is a bit different – it is geared towards authors who want to print books on demand. Instead of paying thousands of dollars for a deal with a conventional publishing facility, you can print books in orders of just one at a time and send them to your customers.
Digital Print Australia has been around since 1973. In addition to printing books, you can print folders, calendars, funeral books, bookmarks, and business cards.
Ink Style Australia has been providing print on demand services to Australian entrepreneurs since 2006. That's 15 years!
To create a store with Ink Style Australia, go to this link – you can choose to have your store on a subdomain of Tee Junction, Deco Apparel, and various other sites.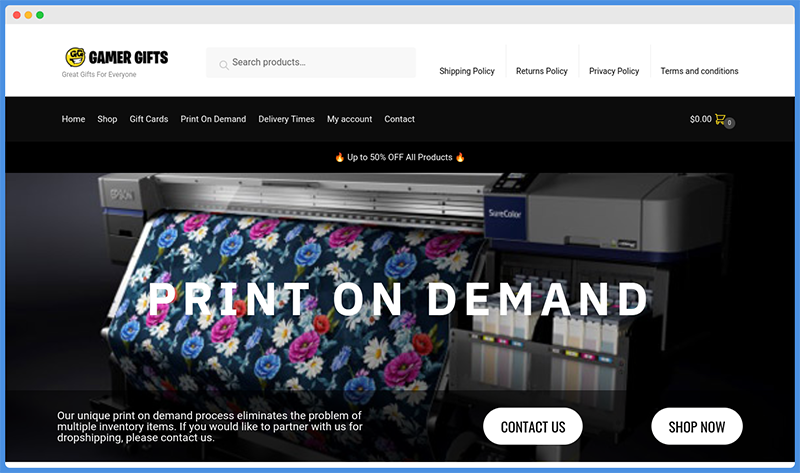 Gamer Gifts Australia is a good company to work with if you plan on selling gaming-related products such as:
Anime desk pads
Fortnite mouse pads
Joker mouth face masks
You can learn more about their services on their print on demand page. Products are usually shipped within three days, and they use high-quality materials and printing methods to ensure a great end product.
Indie Mosh Australia is a self-publishing book service, based in Australia, that offers Australian authors a print on demand option. They have worked with over 250 authors so far, and can also make your book available to thousands of retailers and bookstores.
You can learn more about the types of publishing options they offer, including print on demand, and meet their team on their About Us page.
Wrapping It Up: What Is The Best Australian Print On Demand Company?
I would not hesitate to recommend Printful to Australian entrepreneurs starting a local print on demand company. The fact that they have printing partner facilities located in two parts of Australia ensures that your products will be delivered on time.
Also, there is no way to beat the selection of products and the quality of services that Printful offers.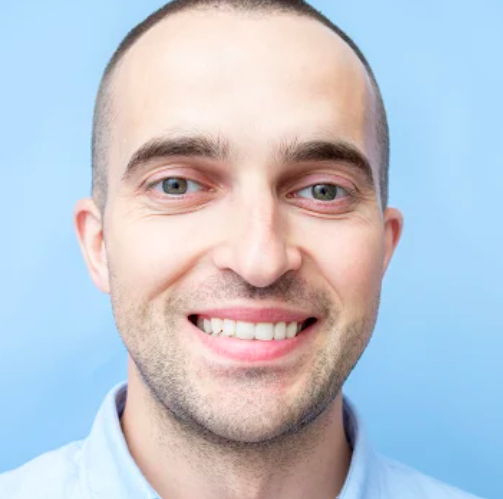 Author: Brian Erwin
I am Brian. I started my first e-commerce company in college designing and selling t-shirts for my campus bar crawl using Print-On-Demand. Having successfully established multiple 6 & 7 figure e-commerce businesses (in women's fashion and hiking gear), I think I can share a tip or 2 to help you get succeed.