Ahrefs is a professional-grade, full SEO suite with powerful features, a great web index, and good price points.
It offers everything from organic search reports to keyword management and backlink research and competitive analysis tools to help you grow your search traffic, research the competition, and monitor your niche.
This way, you can learn why your rivals are ranking highly online and get tips and suggestions about what you can do to outrank them.
Today, we will do a comprehensive Ahrefs review. It's not going to be like other Ahrefs reviews online but we will discuss everything in detail including its powerful features, Ahrefs cost, pros and cons, user ratings and lots more.
Let's dive right in.
What Is Ahrefs
Ahrefs is a renowned toolset for SEO and backlinks analysis. It stands out from the litany of similar services by the huge index, the largest base of live links, and best index updates speeds.
The tool constantly improves its algorithms to offer users the most actual and freshest backlinks data and tries to follow worldwide SEO and SEM trends to ensure these tendencies are reflected in the software's new features.
Before we get into the review, there are a few facts you need to know about Ahrefs.
Ahrefs has a massive index size of 16 trillion known links, 170 million root domains, and 3 trillion known URLs. The tool crawls 5 billion pages on the web every day and is powered by 48 petabytes of storage and 65,000 CPU cores.
Also Read: Best KWFinder Alternatives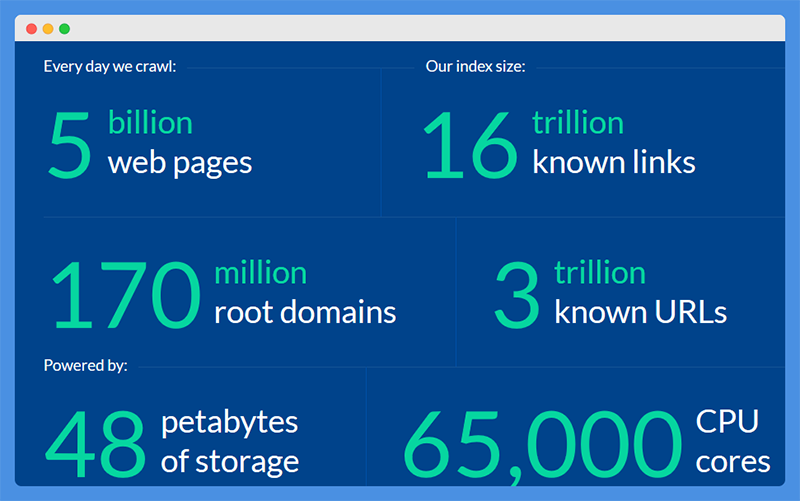 It also packs a host of powerful features and tools across different aspects of SEO related to your website and the competition, but overall, it promises to do a little bit of everything.
Among these features and tools that we'll look deeper into in this review include competitive analysis, keyword/backlink/content research, rank tracking, web monitoring, and more that are added on a regular basis.
Who Is It For?
Ahrefs is a fairly full-featured SEO tool and one of the popular ones used by professional digital marketers (or people who know what they're doing in terms of SEO) as it has the best and most complete data in the industry powering its capabilities.
Now let's get right into the review. First, we're going to review Ahrefs based on the following areas:
Features
Ease of use
Support
Value for money
Also Read: SEMrush Vs iSpionage Vs Serpstat
Ahrefs Features
Site Explorer Tool (Organic Search Report)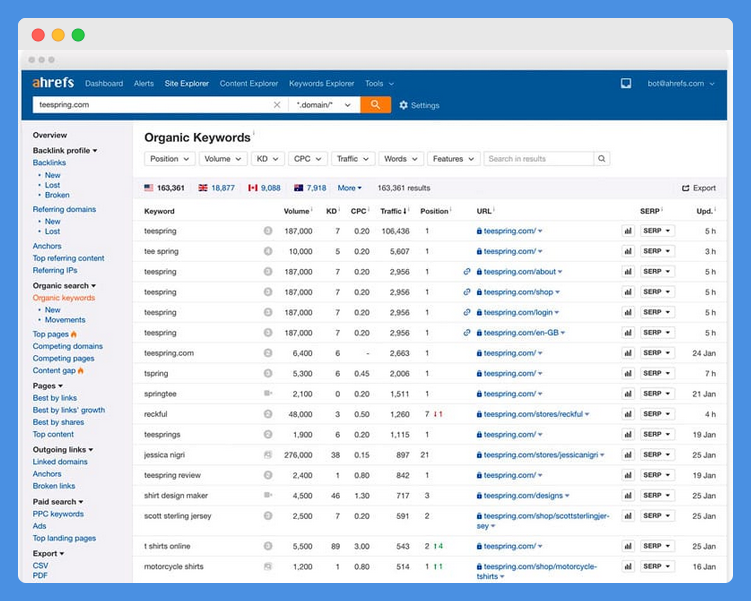 This tool gives you an in-depth look at any website or URL's organic search traffic and backlink profile so you can analyze the competition's search traffic.
It allows you to see the exact keywords your competitors rank for in organic search and how much traffic each keyword drives.
In the U.S. alone, Ahrefs has data for 150 million keywords and much more for more than 150 other countries. This ensures you get the best possible coverage using the tool.
You also get to see which pages send lots of traffic to the competitors' sites using the Top Pages report, and uncover keywords they rank for that you don't by using the Content Gap feature.
This tool uses three powerful SEO features in one interface:
Organic traffic research, which shows the keywords your competitors rank for and the pages delivering the most traffic from search engines
Backlink checker, which shows you the sites that link back to your rivals' sites, gauge their profile quality, and backlink growth over time.
Paid traffic research, which helps you know if your competitors do paid search ads and where their paid traffic funnels into. You also get to see the exact keywords they bid on, landing page URLs, and ad copy.
Other things you can see using the Site Explorer tool include finding out pages with the most backlinks and social shares, researching a website's linking patterns to see where it links to, which links are broken, and the anchor text of the outgoing links.
Interesting Post: SEMrush Vs Moz
Keywords Explorer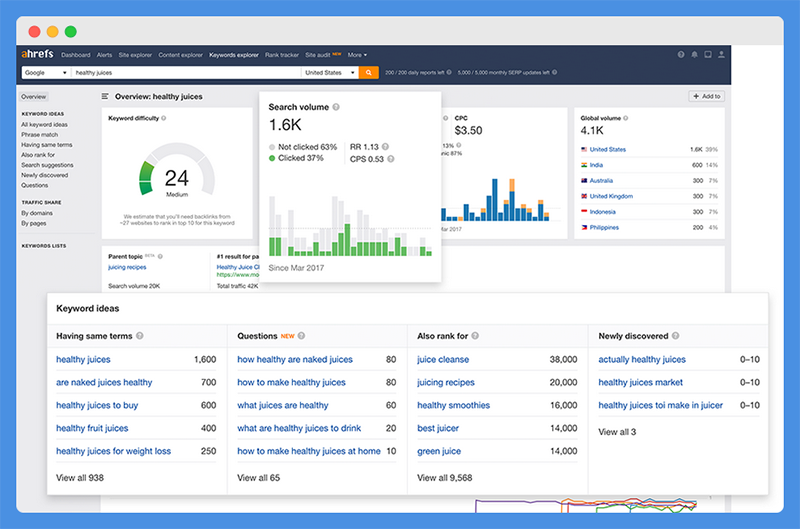 This tool helps you discover thousands of keyword ideas from its huge database of more than 7 billion keywords updated with fresh data every month, keyword ranking difficulty, and calculate their traffic potential. You can also use its advanced metrics to determine the keywords you want to target.
It doesn't stop there though. The tool goes even further to show you the trends in annual search volume, plus great insights into SERP ranking history and searchers' behavior.
Keyword Explorer is the most complete keyword research tool on the market that runs on the world's largest third-party search query database.
The tool supports 171 countries so if you're not from the U.S., you're still covered, and it works with 10 different search engines, not just Google. This way, it's easier to estimate keyword volumes for places like Amazon, Baidu, YouTube, Bing, and others.
You get accurate search volumes that are regularly updated, the keyword difficulty score, which calculates the difficulty of ranking for your keyword based on the top-ranking pages, and click metrics for your keywords.
It also shows you advanced SEO metrics like clicks per search, return rate, percentage of clicks (including paid clicks), and assess SERPs to understand why the competition's pages rank the way they do.
Other features available with the keyword explorer tool include keyword lists, which offers you a way of saving and segmenting keywords into lists for use later.
Whenever you enter multiple keywords, the tool will take 10 of the top used keywords and generate ideas in six ways:
Phrase match, which contains the target keyword
Having same terms, which shows ideas containing all the terms in your target keyword (in no particular order)
Also rank for, which shows the keywords that top-ranking pages are ranking for
Search suggestions, which shows the queries suggested through the autocomplete feature when you search for the target keyword
Newly discovered, which shows recently added features in the Ahrefs database like search queries
Questions, which shows your queries in question format
Backlink Research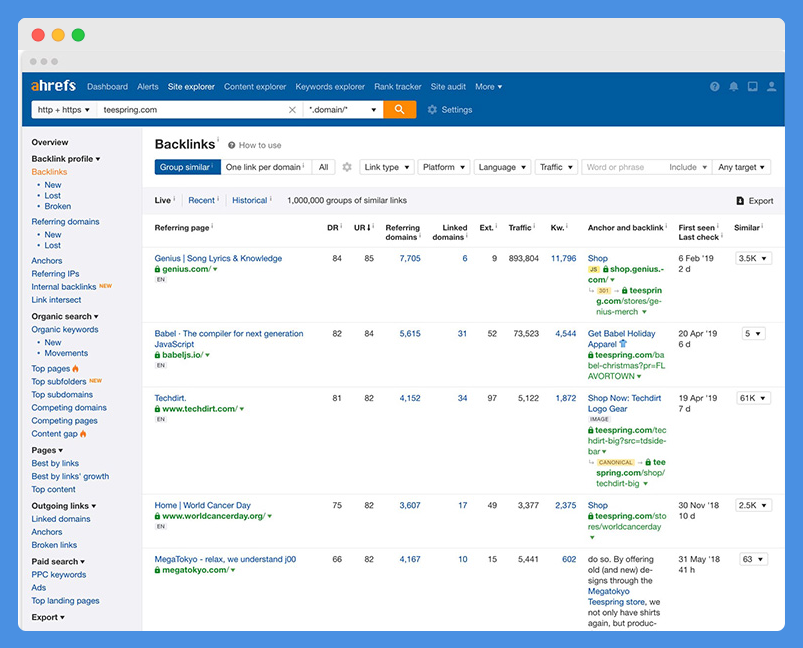 Ahrefs allows you to check backlinks of any website or URL via the Site Explorer and see all the useful SEO metrics and backlinks of that particular site.
It runs the largest live backlinks index with robots that regularly crawl billions of web pages.
The fresh data reported from these robots is updated every 15 minutes on the Ahrefs index and you can dig real deep into the data through the advanced reports and handy filters.
Explore: Best Keywords Everywhere Alternatives
Content Explorer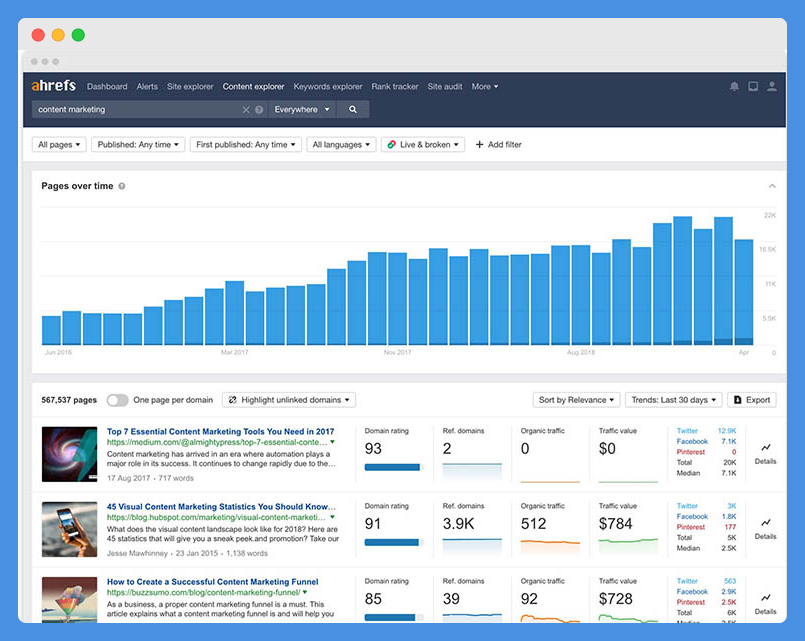 This tool allows you to discover and analyze the best-performing content within your niche and research what works well. All you need to do is put any keyword in the tool and see what performs best in terms of the number of backlinks, organic search traffic, and social buzz.
It also shows you all the articles that mention the target keyword, and see the sites that haven't linked to you by using the "Highlight unlinked domains".
You can research lots of web pages, get SEO and social metrics, and sort results on the most popular articles on any topic based on:
Organic traffic from search engines – estimated monthly traffic
Referring domains – how many unique sites link to the page
Domain rating – the site's relative backlink popularity
(Organic) Traffic value if acquired through PayPerClick (PPC)
Social shares on Facebook, Twitter, and Pinterest
This tool also supports advanced search operators so you can find low competition topics, link building prospects, and partnership opportunities among others.
It also offers 12 filters that help you find the content that'll match your criteria including published once/republished, published/first published date, language, live broken, number of words, site, author, traffic value, and much more.
You can also delve deeper under the hood of any page and see why it performs the way it does, whether it gains or loses backlinks or organic traffic with time by looking into Ahrefs' in-line charts in this tool.
A rank tracker is included to give you accurate, geo-specific ranking reports to help you monitor rankings with time and see how you stack up against the competition. Scheduled reports are sent to your inbox, and you also get ranking updates and keyword rankings on desktop and mobile across 170 countries.
The rank tracker tool also shows interactive graphs with a history of average position and traffic, position distribution e.g. 1-3, 4-10, etc, visibility to see the percentage of clicks from organic search traffic that comes to your site and so much more.
Alerts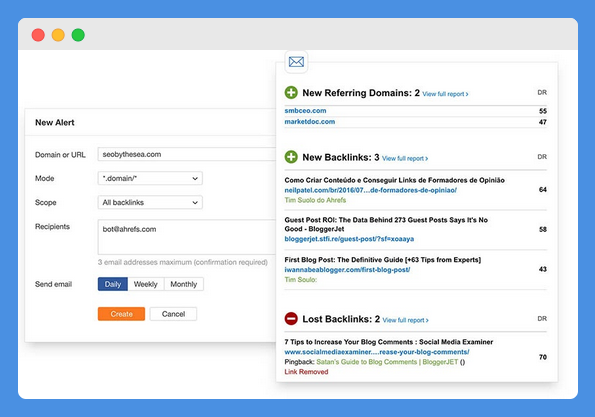 Alerts is an Ahrefs tool built to monitor your niche for opportunities such as new and lost backlinks, keyword rankings, web mentions, and gives you email notifications on the same.
This way, you can track your link building and PR activities and your own in real-time by setting up alerts based on keywords that relate to your brand, product, business, or service.
Also Read: iSpionage Vs Spyfu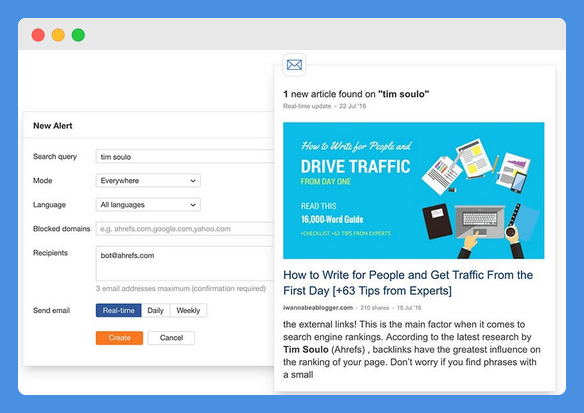 It also helps you track who is talking about your competition online so you can exploit such opportunities immediately.
Ahrefs SEO Toolbar

This is a handy, time-saving SEO tool that helps you get instant SEO metrics for any web page and analyze Google SERPs.
It's easier to use compared to opening the tools mentioned above individually, so you can see snapshots of the page you're viewing and at the drop of a hat, you can see all the most important SEO metrics.
Some of the metrics you can get with immediate access from the toolbar include domain and URL rating, number of backlinks and referring domains, number of ranking keywords, estimated organic search traffic, and Ahrefs Rank.
Ahrefs SEO WordPress Plugin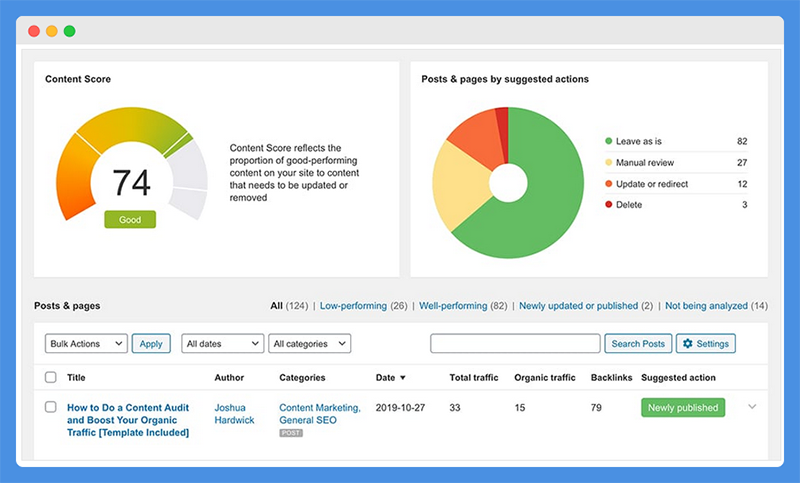 This WordPress plugin is one of the many SEO plugins available, but it complements the others you're using by offering features unique to Ahrefs.
It allows you to perform content audits, grow organic traffic, and monitor backlinks to your WordPress site. It's available for free and is easy to set up in a three-step process that can be done in less than 5 minutes.
Check Out: Spyfu Vs Moz Pro Vs SEMrush
Website Authority Checker

This free feature allows you to check your domain's authority, which simply refers to its strength. Ahrefs measures this from a scale of zero to a hundred, and the higher it is, the stronger and more authoritative your website is.
The rating is calculated by looking at the unique domains linking to the site, the authority of the linking domains, the number of unique domains the sites link to, and then it applies some math and coding magic to get the raw score against a 100-point scale.
However, it doesn't consider variables like traffic, link spam, domain age, and others.
Generally, if your authority is higher than or comparable to sites similar to yours, then it's good.
Ahrefs Academy
If you don't know how to use the tools on Ahrefs, you won't really get much out of them or the data you get in there. This is why Ahrefs started an online academy to help you get started.
Some of the courses include Marketing with Ahrefs, which teaches about the major Ahrefs features and how you can apply them to your marketing, and Blogging for business, which shows you how to grow your blog beyond 100,000 monthly visitors and turn them into paying customers.
So now that we have talked about all its features, here's the rating I'll give for Features.
Rating: 4.8/5
Ahrefs: Ease Of Use
Unlike the competition, Ahrefs is pretty easy to use, with minimal navigation required to get what you want from the tool. It's also time-saving, and gives you the most comprehensive data and metrics for data-driven decision making.
The suite of tools you get from this software allows you to do a lot including handling all your website's metrics under one roof, which its rivals fall short of.
It also makes regular updates and feature releases for better ease of use, and it's dead simple to work with compared to the other tools on the market.
Its intuitive user interface may not be fancy, but it works well with easy-to-digest charts and graphs, which make it a fantastic tool to work with, and present information in an easy-to-understand way.
Rating: 4.5/5
Ahrefs Customer Service/Support
Ahrefs offers 24/5 (Monday to Friday) friendly, knowledgeable, and prompt customer service, which is great especially for newbies and small businesses.
They provide email support and in-app chat, online training through the Ahrefs Academy, but there's a tech blog and an SEO blog with a wealth of useful information and documentation for newbies and power users.
When we asked a question through the in-app chat, it took about 2-4 minutes to get a response.
The first response was from a bot, which gave us choices to pick from based on our query just to find out what kind of information we're looking for.
It also gave a box in which we shared an email address for follow-up purposes, after which the human agent responded to our query.
Ahrefs also supports languages such as English, French, German, Polish, Dutch, Spanish, Portuguese, Chinese (simplified), Turkish, Japanese, Italian, and Russian.
A Facebook Community is available only for Ahrefs customers so you can take advantage of all the insights from highly-accomplished digital marketers and SEO specialists.
There are tailored learning materials on their YouTube channel too, which you can unlock by getting full access to the tool.
Rating: 4/5
Check Out: SEMrush Review
Ahrefs: Value For Money?
For most small and mid-sized businesses, Ahrefs' Standard or Advanced plans will suffice, but that depends on the amount of data you intend to research and the frequency of alerts you need.
It also depends on your marketing budget, but we recommend you take advantage of the trial period for just $7, poke around the features and see what works for you, and then upgrade if you like it.
For most SMBs, we'd recommend going with the Standard or Advanced plans depending on how much data you're looking to research and how frequently you need alerts.
The tool covers all your bases in terms of keyword research and continuous monitoring, plus it offers exceptional crawling and domain analysis.
It's therefore a solid choice even though its user interface and experience leaves a lot to be desired compared to rival tools such as Moz Pro, SEMrush, or Spyfu.
Rating: 4.5/5
Ahrefs Pricing & Plans

Ahrefs pricing includes the following plans: Lite, Standard, Advanced, and Agency. It's a little pricier compared to some similar tools on the market, starting at $99 per month for its Lite plan, $179 for the Standard plan, $399 for the Advanced plan and $999 for the Agency plan.
For now, there is no Ahrefs newbie plan as such. Beginners will have to subscribe to their Lite plan at least.
All plans come with a $7 trial that runs for 7 days, after which you will be billed automatically for the monthly subscription based on the plan you're trying.
Ahrefs has a countdown timer on its interface that reminds you of the days left in your trial period, plus they send email reminders a few days to the next renewal date, so you need to cancel within the seven days if you don't intend to commit to a subscription.
However, if you do cancel your trial or subscription, it doesn't limit your account's functionality instantly as you've already paid for either of the two. You'll still have access until the trial or subscription periods end.
The trial period cost is non-refundable though, but for the monthly subscription, you can request a refund 48 hours after the transaction, though Ahrefs reserves the right to decline the request if your account has high activity within that window period.
Plus, you can access the full Lite and Standard plan features by toggling between them during the paid trial period at no extra cost.
Ahrefs Free Trial Without Credit Card – Is It Available?
Ahrefs accepts payment via PayPal or all major credit cards including Visa, Discover, Mastercard, UnionPay, and American Express.
You may also pay via check or money order, wire transfer, or purchase order for annual payments.
We posed this question to the support team at Ahrefs through the in-app chatbox, and they said there is no Ahrefs free trial at the moment, but there are sneak peek tools available that allow you a glimpse of what their tools can do. So this is the alternative they have as far as Ahrefs trial is concerned.
They don't have any other payment systems so all payments require a credit card.
Ahrefs Pros & Cons
Pros
Massive and fast commercial weblink index
Web-wide and site-specific crawling
Solid adhoc keyword research
In-depth SERP analysis
Comprehensive domain comparison and monitoring
Improved keyword suggestions
Reliable tech support with lots of tutorials, great SEO blog, and documentation
Great user interface and user experience that make it easy to find what you need
Solid data from search volume, backlinks, social shares and rankings
Advanced filtering tools for power users
A ton of helpful little features, some available for free
Very good results with fresh, granular data that comes ahead in 99 percent of the cases
Monitors and tracks your keywords and ranking for your site
Intuitive design and innovative features
Committed to speed, innovation, and design
Cons
SEO reporting is limited
Interface is designed for pro digital marketers so beginners can't use
No mobile or desktop apps
Limited PPC features
Updates rank tracking once every 5-7 days instead of every day
Can overwhelm you if you're not sure what to look for
Some keyword suggestions may not make sense or help you uncover new keyword ideas
Explore: Spyfu Review
Wrap Up – Ahrefs Review
Since its release in 2011, Ahrefs has grown to become a robust, feature-rich software suite for SEO with tools like technical SEO audits, backlink analysis, and keyword research.
Together with the comprehensive, world-class data it offers and an excellent user interface, it's easy to see why it's a leading SEO software in its vertical.
Web developers, digital marketers and content creators globally use it to grow their presence on the web because its proprietary web crawler is second only to Google when it comes to speed and size.
Plus, its pricing is aligned broadly to the competition, based on its powerful research tools, best-in-class link analysis, and helpful customer service, all of which contribute to its position as one of the best tools to help you understand and improve your domain's presence online.
Although its interface isn't designed with beginners in mind, it's still a great tool and solid choice for power users as it checks all the boxes to manage and grow your web presence, with a wealth of powerful features and resources to set you off right out the gate, and an industry-leading link index.
Overall, it's a wonderful tool that's easy to use, offers value for money, and great customer support available right when you need them.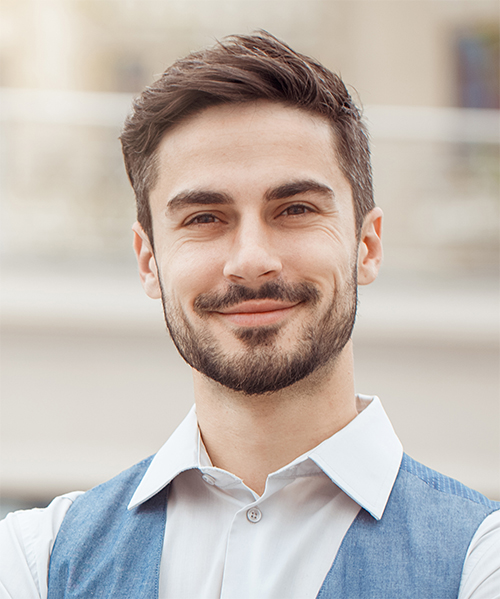 Author: Scott Macarthur
Scott L. Macarthur is a marketing consultant and an online author. He is mostly engaged in providing his expertise to startups and SMBs. He is also an author on TheNextWeb.