As more people jump into the ecommerce industry and competition between Amazon sellers becomes fiercer, it is more important than ever know how to find the right products to sell on the Amazon marketplace.
Helpful Post : Best Amazon Seller Training Courses
When choosing products to sell, you need to take into account things such as competition, popularity, estimated ROI, Amazon fees, and much more.
Fortunately, there are a number of Amazon seller tools that will give you this information. ASINspector is one of them; today, we'll review it in depth and suggest a number of other good alternatives that you can use.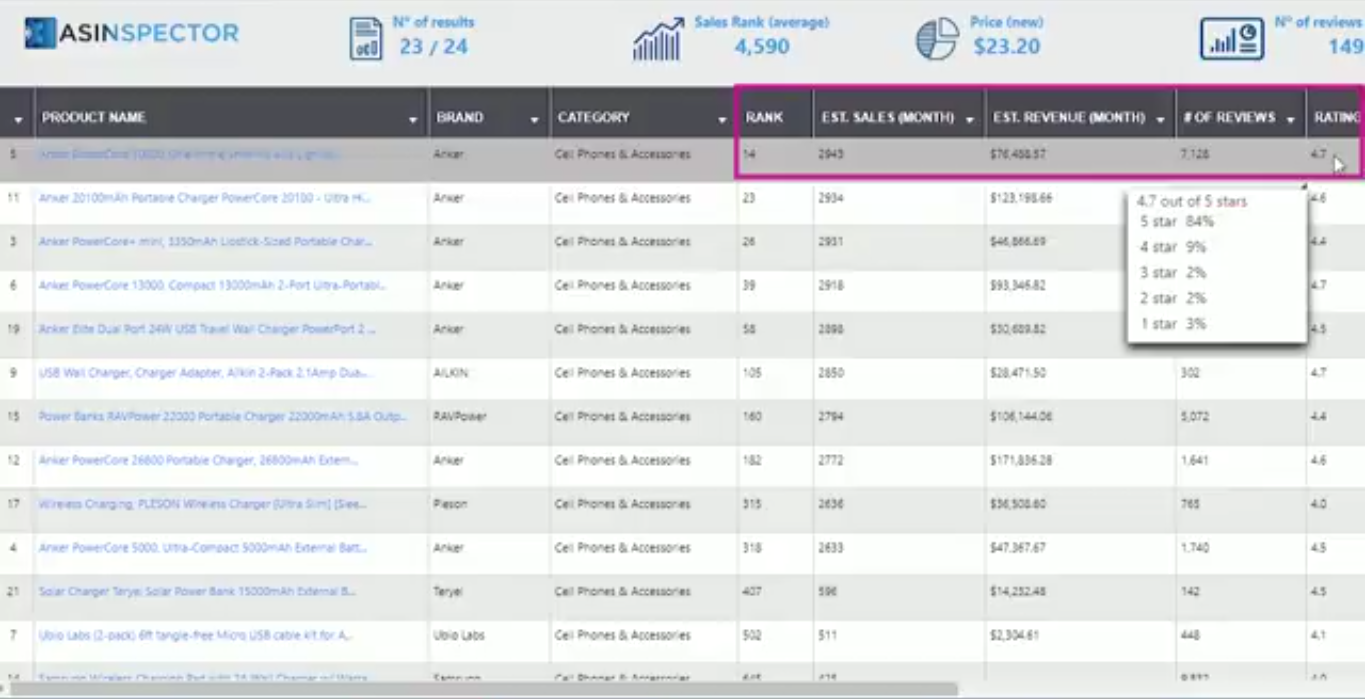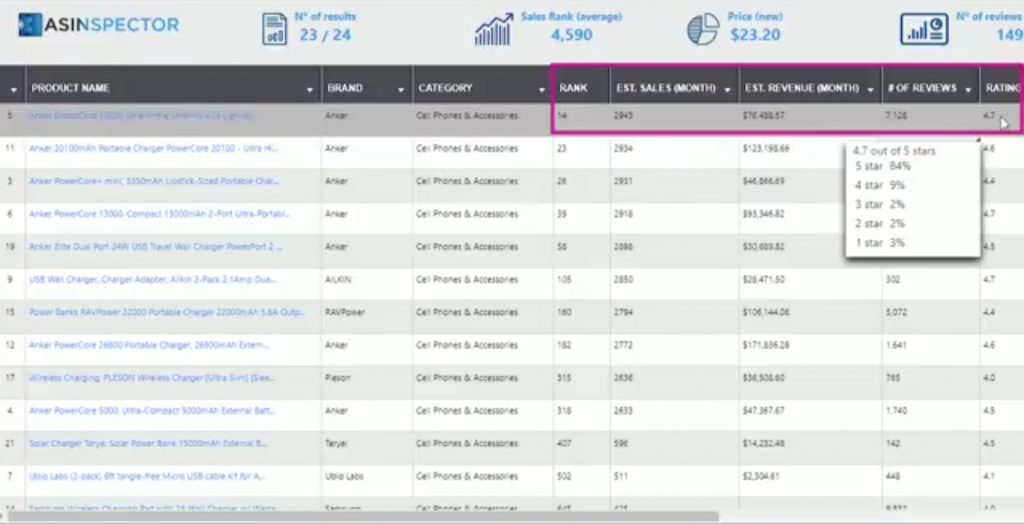 What is ASINspector?
ASINspector is an Amazon product finder research tool that you can use to find potential ideas for products to sell on Amazon. You'll get access to important data to help you decide whether or not a product is likely to be profitable.
How to Install ASINspector?
ASINspector comes as a Chrome extension, so you'll need to have the Chrome browser installed.
Once you have Chrome installed, you can use ASINspector when the Amazon.com website is being displayed in your browser. Just search for any product or keyword on Amazon and then click on the ASINspector extension to start your research.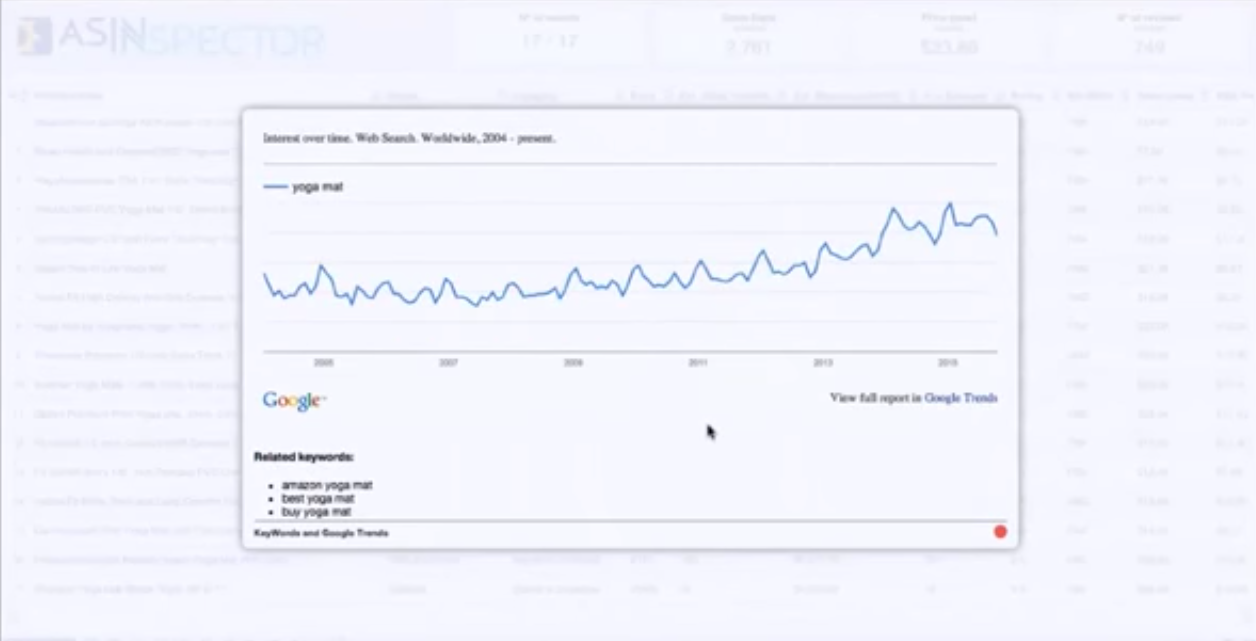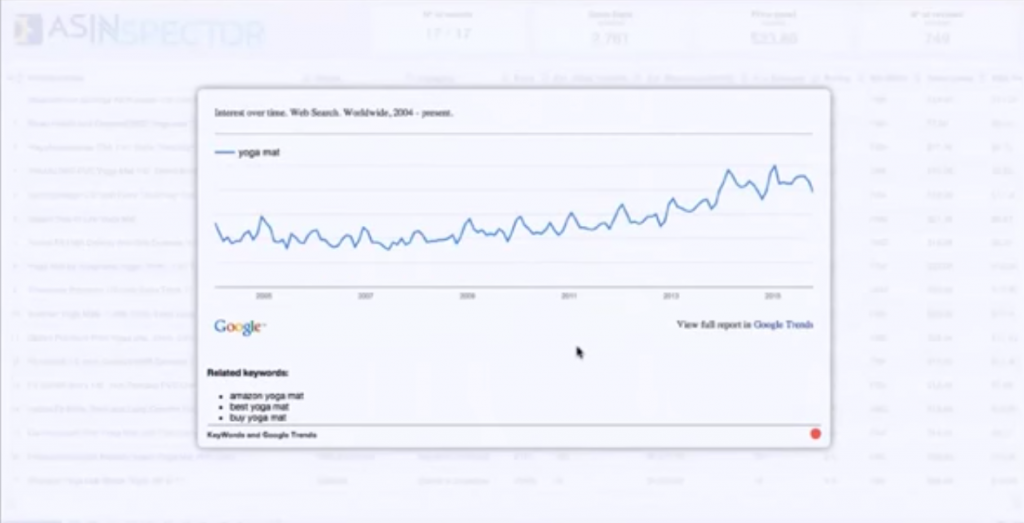 ASINspector Product Data
Once you click on the extension, you'll get access to important information, such as the following data:
Best seller rankings
Estimated revenue
Average product rating
Average price
And much more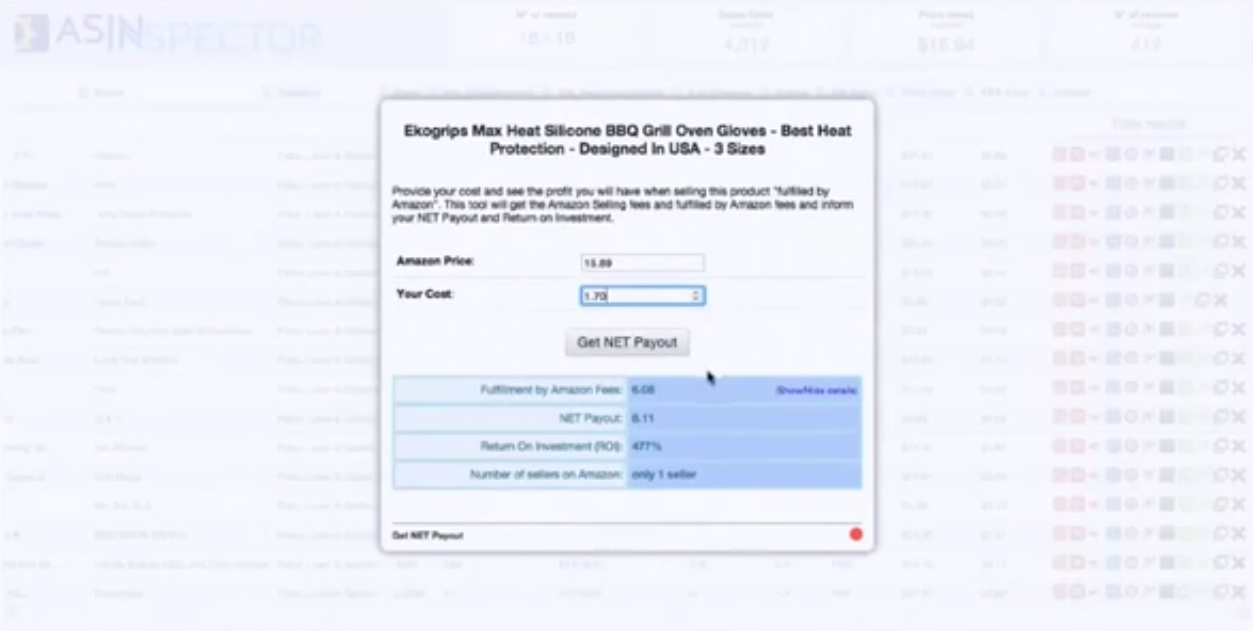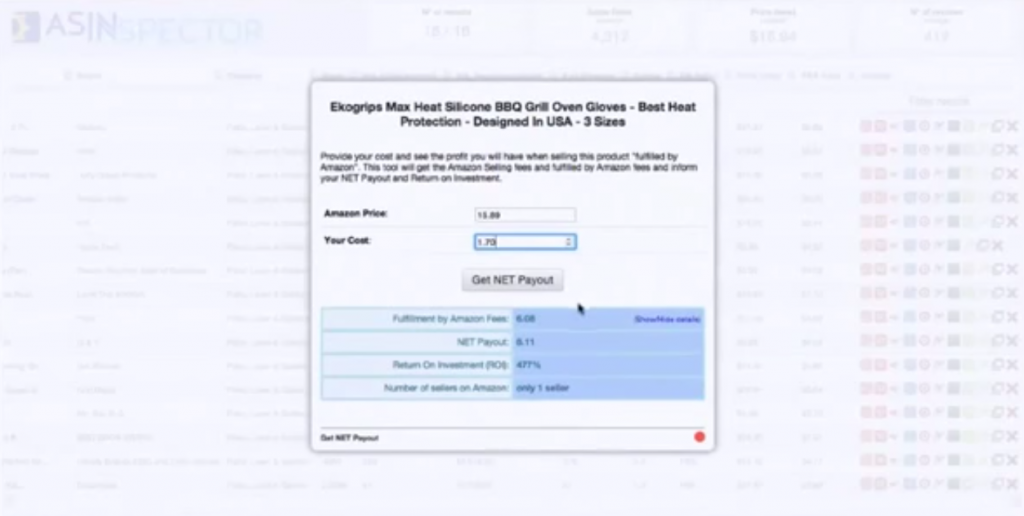 There's a lot more information that is accessible as well. For example, following are some additional research data you get access to:
Historical Data: Not only do you get access to current data, but you get to see all of each product's previous data and how its rankings have changed over time. You also get access to Google Trends data.
Fees, Profit, and ROI Calculators: You can easily calculate Amazon FBA fees to help you figure out how much you can earn per sale and what your average net profit will be based on prices and Amazon fees.
Weight and Dimension: The weight and dimensions of a product. This is important information to have if you are going to be shipping your products, as it will help you calculate shipping fees.
Product Sourcing Information: You can find sourcing opportunities for products and conduct quick searches on sourcing sites to find out if the product is available on sites such as Alibaba and AliExpress. There are a number of other sites that may be listed if you can source your products from there. If you are interested in dropshipping, this is especially useful.
Competitive Information: You can also conduct searches for the product on sites such as eBay and Walmart. This will help you get an idea of what price the product is selling for on other sites.
CamelCamelCamel: You get access to data from CamelCamelCamel. CCC is a known Amazon product price and sales data tracking tool.
Related Products: You can find related deals and Frequently Bought Together products. This will help you get more ideas for products to sell.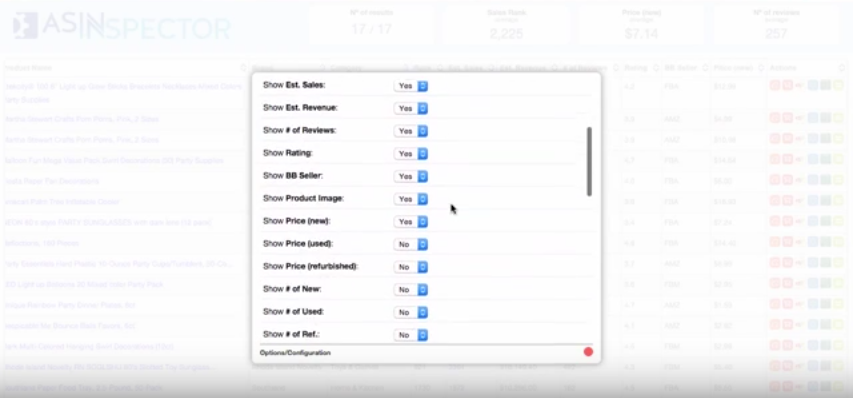 ASINspector Pro
ASINspector comes with a Pro version as well, which includes a host of additional features.
Product Idea Generator: You can use their tool to help you come up with additional ideas for products.
Product Variations: You will get access to data about product variations.
Scan on Mobile: Use their mobile scanning tool to scan products that you see in stores or other places to get instant access to product data.
ASIN Import: ASIN bulk uploading tool to help you get information on various products.
Sponsored Ads Data: The Standard version does not include data on sponsored listings that appear in Amazon results. Having access to this information will give you a clearer picture of what is going on.
Available Inventory: Get access to information about available inventory from all sellers.
Search Other Sites: You can conduct reverse searches on sites such as eBay and Walmart to get access to product data for products listed on those sites.
Save Searches: With the Pro version, you can save your searches so that you can view them later.
UPC Upload: Bulk UPC uploading tool for Amazon products.
Listing Assistant: This tool will help you create improved Amazon listings.
Feature Training: Tutorials and training to help you become a better Amazon seller.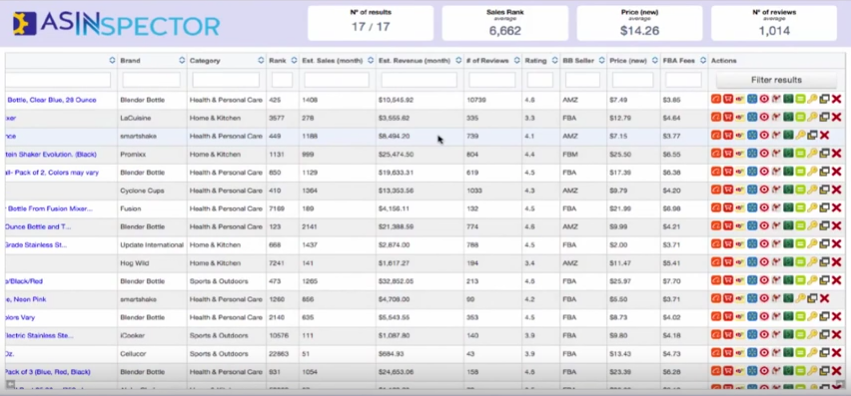 ASINspector Pricing and Free Trial
The ASINspector Standard License, which works across multiple devices and on any country-specific Amazon site, costs a one-time fee of $97.
If you want to get the ASINspector Pro license, you will need to pay a one-time fee of $147 plus a $10 monthly fee. You can also try out ASINspector Pro with their 7-day free trial.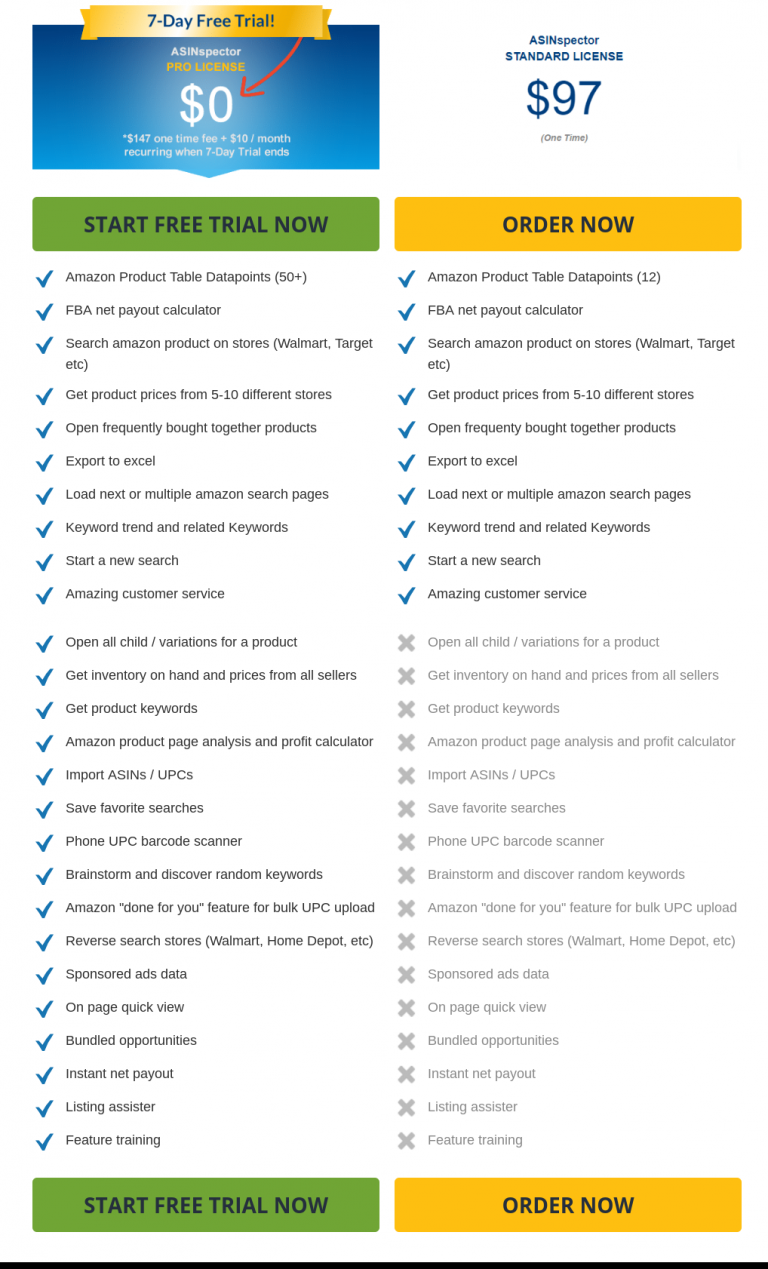 .
ASINspector Alternative #1: Jungle Scout
There are many Amazon research tools out there that you can use as alternatives to ASINspector. Jungle Scout is one of the most popular ones.
Unlike ASINspector, Jungle Scout comes with both a Chrome extension version and a web application version. Let's first compare the Jungle Scout Chrome extension with ASINspector's.
Related: Jungle Scout Review & 15% Discount Code
The first difference is that while Jungle Scout offers similar information and data, some data that is available with the ASINspector Standard License is only available with the Pro version of the Jungle Scout extension.
For example, Amazon FBA fees, price and revenue calculator, historical data, and product weight and dimension information are not available with the Jungle Scout Lite extension version.
Related: Best FBA Calculators Review
The JS Lite extension costs $97 and the Pro version costs $197. If you're simply looking for a Chrome extension, then ASINspector will give you a better bang for your buck, as you get more product data for the same price.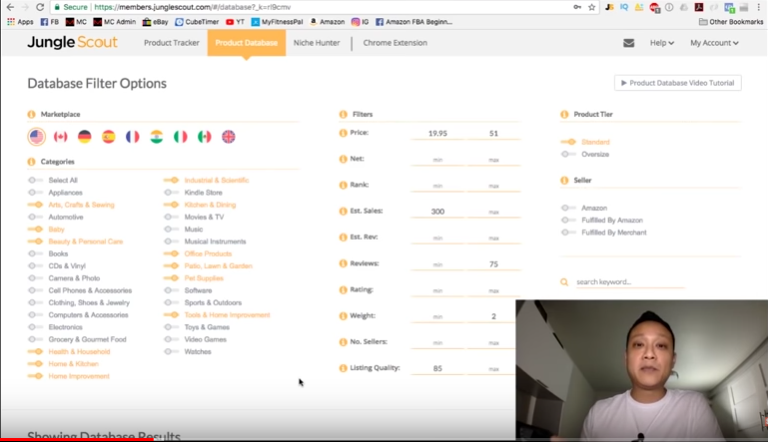 However, the Jungle Scout web application has more features and tools than ASINspector. Here are the available tools:
Product database
Product tracker
Niche hunter
These tools help you find profitable products, discover new niche ideas, search for profitable keywords, and track product data over time.
The filtering tools at Jungle Scout are a lot more advanced and there are more filtering options than ASINspector.
The web application has several plans, starting at $25/month, which is going to cost you less initially (though if you pay the monthly fee over a longer period of time, ASINspector Pro will end up being cheaper).
However, you'll need the $40/month plan to access the Niche Hunter tool.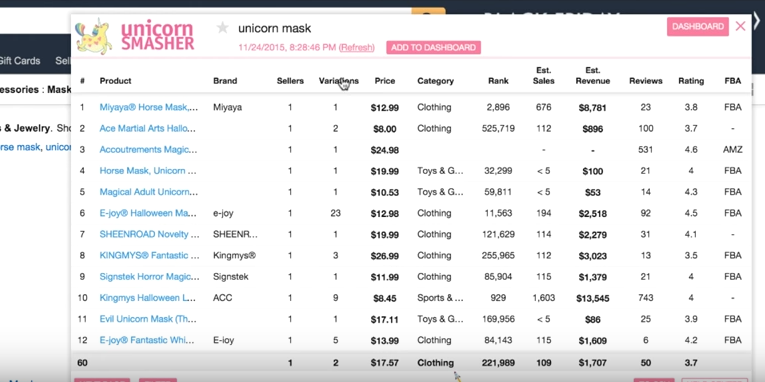 Related: Jungle Scout VS ASINspector
ASINspector Alternative #2: AMZ Tracker
AMZ Tracker is an Amazon tracker that comes with a bunch of features.
Their "offensive strategy" section lets you track keywords, spy on competitors, analyze your listings to discover flaws and shorten Amazon product URLs to make it easier to promote them.
AMZ Tracker members can also promote products on VIPON, an Amazon deals website.
Their "defensive strategy" section will give you alerts when someone leaves a negative review on one of your products or when another seller copies your listing.
Their Unicorn Smasher Pro Chrome extension will give you access to product data similar to the ASINspector extension, such as the number of current sellers, review information, an opportunity score to estimate a product's profitability, estimated revenue and more.
There is also a free version of Unicorn Smasher.
Related: AMZ Tracker Vs Jungle Scout
Free ASINspector Alternative #3:  Seller Labs (Free Amazon Product Keyword Research Tool)
SellerLabs is another product tracking service that offers a free Chrome extension to help you discover Amazon product information. Their extension is called Scope.
Both Unicorn Smasher and Scope are great if you want to try out an Amazon product tracking service for free.
You can later move on to ASINspector, Jungle Scout, or the pro versions of Unicorn Smasher and Scope when you are ready.
Wrapping It Up
Choosing the right products to sell on Amazon is essential if you want to rise above the competition and generate positive cash flow.
The above four options are all great tools to help you do that.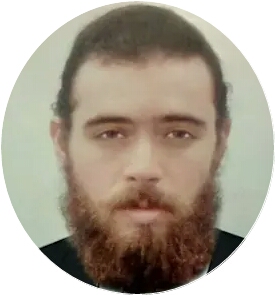 Author: Benjamin Levin
Benjamin Levin is a digital marketing professional with 4+ years of experience with inbound and outbound marketing. He helps small businesses reach their content creation, social media marketing, email marketing, and paid advertising goals. His hobbies include reading and traveling.