With online advertising, businesses can gain more traffic and audience, which yields more sales. Thankfully, social media advertising remains paramount in terms of online marketing.
Last year, over 32 billion dollars was spent on social media advertising in the United States.
For brands and businesses, the best way to get discovered is by putting up targeted adverts on social media platforms – Facebook, Twitter, Instagram, etc.
However, it is not so easy to create a converting social media ad campaign. You can put up ads on social media, but your ads won't deliver the results you need without the right advertising strategies.
This is where AdSpy comes in. With a tool like AdSpy, you can spy on the big game players' ad strategies and know how they target their ads.
Despite the relatively useful ad spying features that AdSpy incorporates, not everyone uses it; perhaps it didn't meet their requirements. Not to mention, AdSpy is quite expensive due to its cost of $149 every month.
Therefore, in this post, we will show you the six best AdSpy alternatives.
Also Read: AdSpy Review
Best AdSpy Alternatives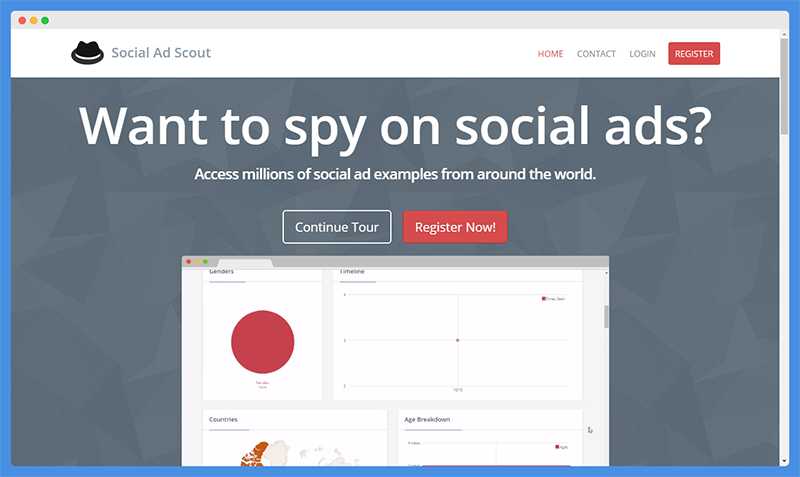 The first AdSpy alternative on our list is Social Ad Scout. As its name implies, it is a tool for scouting ads on social media platforms, just like AdSpy.
Unlike AdSpy that can track social media ads in 203 countries, Social Ad Scout can track social ads in only 21 countries. However, it has a relatively fast search engine such that results are delivered in milliseconds.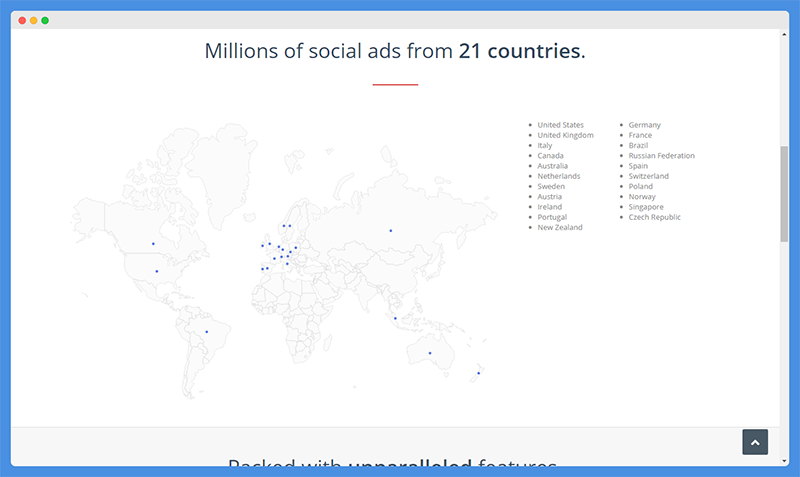 Social Ad Scout features detailed search filters for more in-depth ad searching. Ads can be searched with keywords, URLs, location, demographics (gender, age), redirects, ad type, time seen, time running, etc.
With Social Ad Scout, you can discover ads based on device type, whether mobile or desktop. That way, you can identify the devices for your advertisement focus.
Apart from spying on social media ads, this Adspy alternative also provides links to actual ads so that you can view the ads on their originating source.
With Social Ad Scout, you can identify your target ad audience with metrics such as country, age, gender, device type, etc. Not to mention, it can provide the IP addresses for social media ads; hence, you can identify the actual landing pages used by your competitors.
Additionally, Social Ad Scout facilitates comprehensive observations for all ads in their database. This includes timelines (first and last seen), minimum ranking position, days running, etc.
While tracking ads, you can receive real-time notifications when they are viewed. Also, you can save ads that you are interested in by favoriting them for later references.
Unlike AdSpy, you can download ad landing pages, including content, images, videos, etc. in a compressed file.
Interestingly, Social Ad Scout is similar to AdSpy in terms of third-party integrations; it is a standalone platform.
Likewise, Social Ad Scout might not be the best platform to rely on when it comes to customer support. You can only reach their support team by submitting a contact form.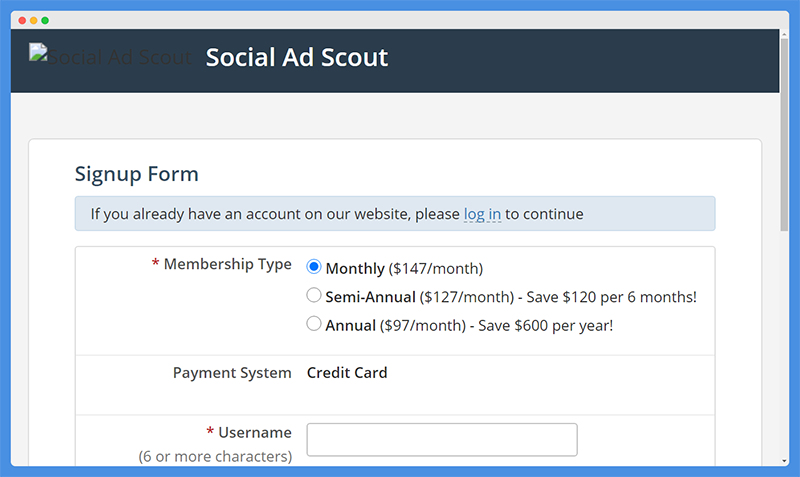 Unlike AdSpy that has only one payment plan, you can pay for Social Ad Scout subscription monthly, semi-annually, or annually:
Monthly Plan – $147 per month
Semi-Annual Plan – $127 per month when billed every six months
Annual Plan – $97 per month when billed every year
Verdict: Social Ad Scout has more ad spying features compared to AdSpy; hence, you can do more with Social Ad Scout. Furthermore, you get more flexible pricing plans with Social Ad Scout.
Also Read: Social Ad Scout Review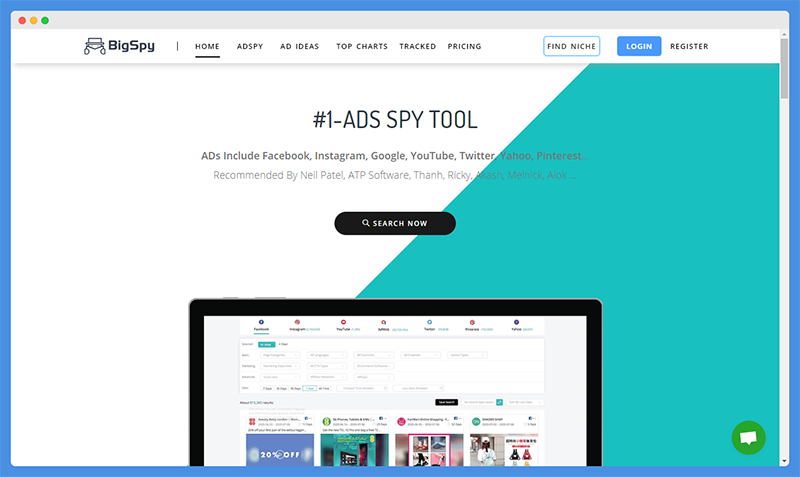 Unlike AdSpy, BigSpy is a platform for spying ads on Facebook, Instagram, Twitter, YouTube, Pinterest, Google, and Yahoo.
With over 300,000 users, BigSpy is a relatively popular AdSpy alternative. Moreover, BigSpy has an extensive ad database with up to 650 million ad creatives and 1 billion ads.
You can filter ads by country, date created, total likes, ad type, etc. Also, you can filter ads for different niches – eCommerce, travel, health, etc. Unlike AdSpy, BigSpy provides available trending ads in your niche; hence, you can effortlessly imitate your ads' formats.
Conversely, BigSpy incorporates unique user tracking functionality. That way, you can gain insights and new ideas for your advertising campaigns. Likewise, you can locate the ad type, niche, targeted audience, etc.
Just like AdSpy, BigSpy can also spy on your competitors' top affiliate marketers. In fact, BigSpy supports nine different affiliate marketing platforms.
In the same vein, BigSpy provides in-depth analytics for all tracked ads. This includes ranking selection and engagement metrics, such as ad views, likes, shares, comments, and trends.
You can get the originating link to a social media ad. Also, you can get the demographic data of the audience that engaged with the ad.
With BigSpy, you can track and download competitors' landing pages. You can also identify their CTA types, marketing objectives, and exclusions.
Apart from the ad sources that BigSpy integrates with, it does not support other third-party integrations like other AdSpy alternatives.
For customer support, BigSpy features an FAQ page and several resources, including a blog, reports, tutorials, case studies, etc.
However, there's no email channel for direct contact with the support team. You can direct-contact them by using LiveChat or phone. However, LiveChat support is ideal for fast replies and AdSpy doesn't feature such.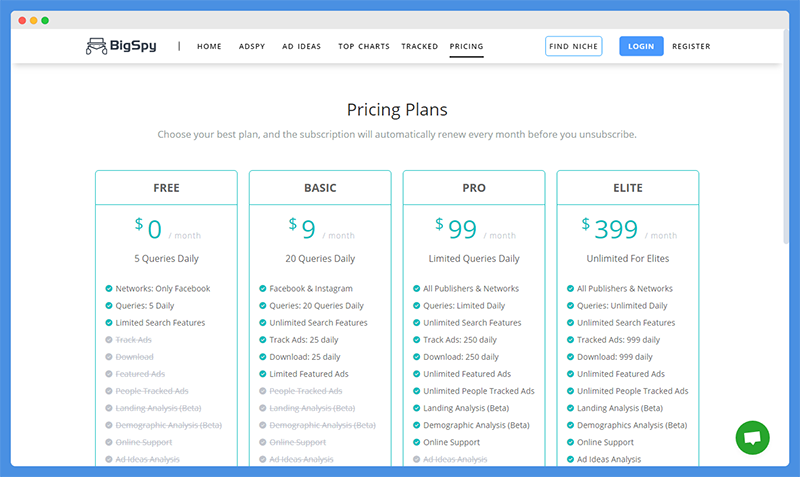 BigSpy's pricing plans depend entirely on the platforms you intend to access, which include:
Free Plan – $0 per month
Basic Plan – $9 per month
Pro Plan – $99 per month
Elite Plan – $399 per month
Verdict: Unlike AdSpy, BigSpy facilitates ad spying on Facebook, Instagram, Twitter, YouTube, Pinterest, Google, and Yahoo. Hence, it's a good alternative, and the available features are worthwhile too. Besides, BigSpy has more affordable pricing plans than AdSpy.
Explore: Best Facebook Ad Spy Tools
We earn a commission if you click this link and make a purchase.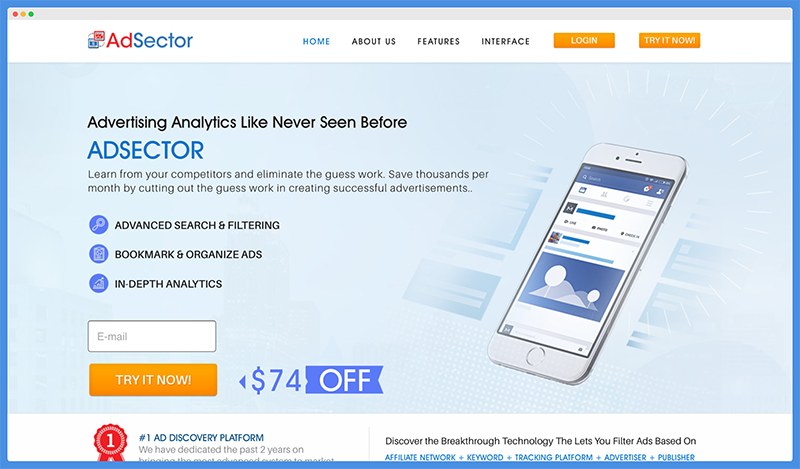 AdSector is an AdSpy alternative that focuses primarily on in-depth ad analytics. It enables you to spy ads, create or save ads, and boost your advertising campaign.
Unlike other AdSpy alternatives, AdSector's features are geared towards affiliate network owners and eCommerce advertisers. Nevertheless, AdSector has a user-friendly interface that ensures quick and easy navigation.
Its search mode allows you to research ads based on keywords, URL, landing page URL, etc. Also, you get detailed information regarding the ad targeted audience, including their age, country, gender, relationship status, etc. Plus, insights on the ad type and ad position as well.
Interestingly, AdSector has a cutting-edge cross-filtering feature. This works for filtering ads, affiliate networks, and their pages. You can filter ads by name, ad network, affiliate network, etc.
For ads on social media, you can get engagement metrics such as views, shares, likes, and comments. Also, you can get a link back to the original ad to read comments from the targeted audience.
Conversely, AdSector allows you to track your competitors' landing pages. Upon discovery, you can view or download their landing pages for use as working templates.
Apart from tracking ads on social media, AdSector enables you to track and spy on affiliate networks, just like AdSpy. From the results, you can filter leads by interest for more in-depth details.
A unique feature of AdSector is the image search. You need the right images for your ads that can resonate well with your prospective customers, and AdSector helps with that.
Furthermore, you don't have to analyze all the ads you come across at a go. You can bookmark ads to save them for later. That way, you can build a personal ad database that you can work with instead of the entire AdSector database.
Thankfully, AdSector focuses majorly on analytics. While analytics and insights are provided on every ad you search, you can access all the data from one page.
When it comes to third-party integration, AdSector is almost the same as AdSpy. In fact, both platforms are void of third-party integrations except for the social media platforms they track.
Unfortunately, to reach the AdSector customer support team, you have to send an email; besides that, there are no help resources. Hence, in terms of customer support, AdSpy is highly rated above AdSector.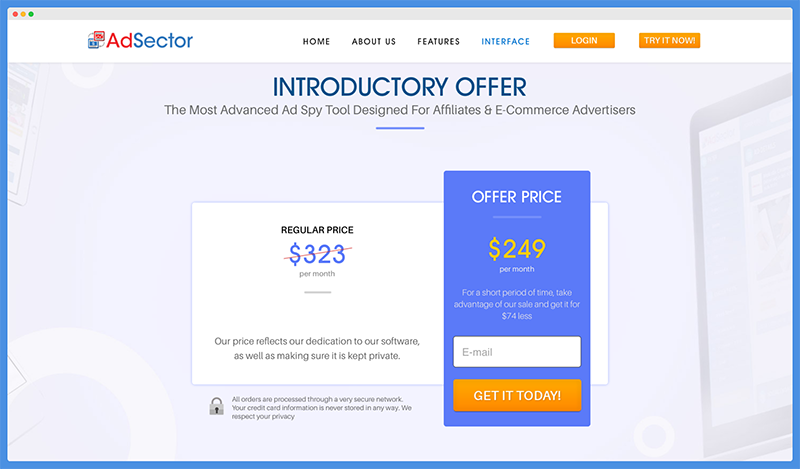 AdSector is a relatively new ad spying tool, so it is currently available at an introductory offer price of $249 per month. That is $74 off as the regular price of the tool which is $323 per month.
Verdict: In terms of features, there's not much to differentiate between AdSector and AdSpy. As a new platform, more features might be added with time.
However, in terms of cost, you will spend more on AdSector than AdSpy irrespective of the introductory offer price or the regular price. As a result, AdSector is not recommended for beginners or if you're on a low budget and trying to save costs.
Related: AdSector Review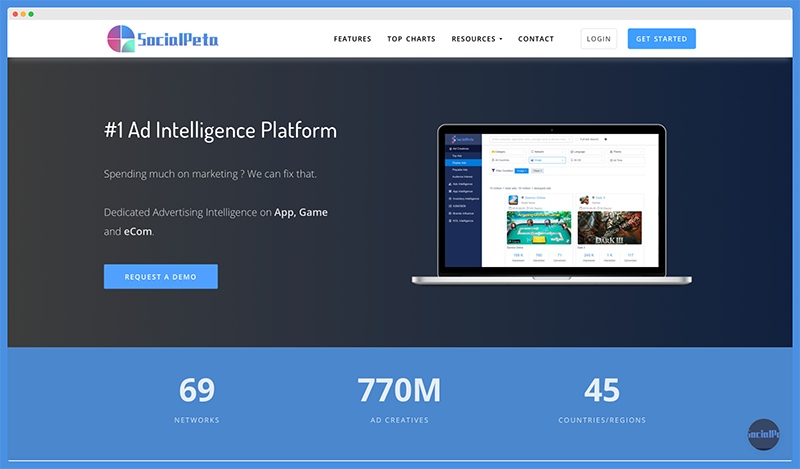 Lastly, on our list of the best AdSpy alternatives is SocialPeta, an ad intelligence platform with global coverage.
It has a database of 69 ad networks with 770 million ad creatives across 45 countries. Apart from being an ad intelligence platform, SocialPeta works for ads inspiration, eCommerce intelligence, and app intelligence platform.
Some notable SocialPeta users include Google, FunPlus, Alibaba Group, Elex, BlueFocus, etc.
With 770 million ad creatives data, you can locate any type of ad you want with SocialPeta. It is self-acclaimed to have the largest ads library globally and has more ads than AdSpy.
You can search its real-time database using keyword, advertiser name, domain name, and package name. For filtering, you have options including filter by ad type, ad space, language, system, country, etc.
With SocialPeta, you can discover the top advertisers in your niche and learn from their campaigns by spying on them. Therefore, you can quickly monitor your competitors from the dashboard.
Furthermore, the platform delivers keywords recommendations from audience insights, which can help you drive more traffic.
To help you discover opportunities in your market, you can use SocialPeta as an ad cost intelligence tool. Moreover, it can reveal how much is spent on digital advertising and the trends.
As an ad inspiration tool, you can draw ideas for your campaign ad types and strategies. You can discover display ads, playable ads, etc. Besides, there are search and filter options for sorting.
Unlike AdSpy, SocialPeta functions as an app intelligence tool. That way, you can access daily app listings on the Apple App Store and the Google Play Store spanning across over 40 countries.
For eCommerce, SocialPeta enables you to discover top-selling products and product niches. Also, SocialPeta works as a brand influencer tool for identifying a brand's influence on social media and the social media channels that they are using.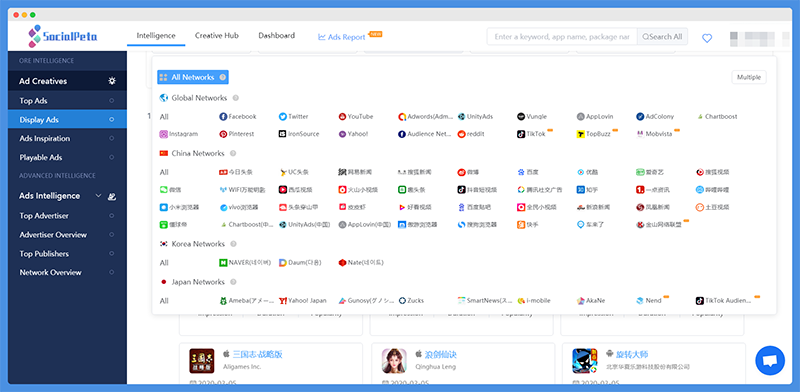 Native integrations featured on the SocialPeta platform are the 69 ad networks that it works with. Aside from these, there are no other third-party integrations available.
Apart from the LiveChat on the SocialPeta website, their customer support team can be reached via email. Furthermore, the platform has rich resources as it features a blog, news, academy, and webinars.
SocialPeta Pricing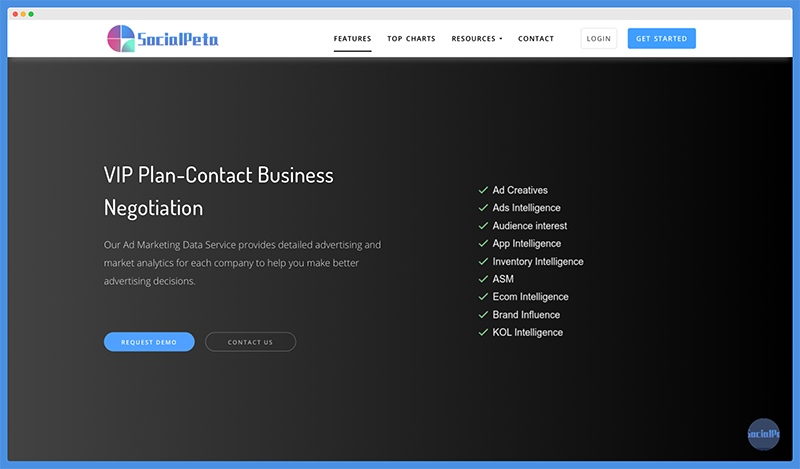 At the moment, SocialPeta's pricing plans are not public. You should contact them to request a demo before discussing pricing terms. Nevertheless, their pricing depends entirely on your requirements.
Verdict: SocialPeta has a significant edge over AdSpy because it works for ad intelligence, ads inspiration, eCommerce intelligence, and app intelligence.
Interesting Comparison: AdSpy Vs AdSector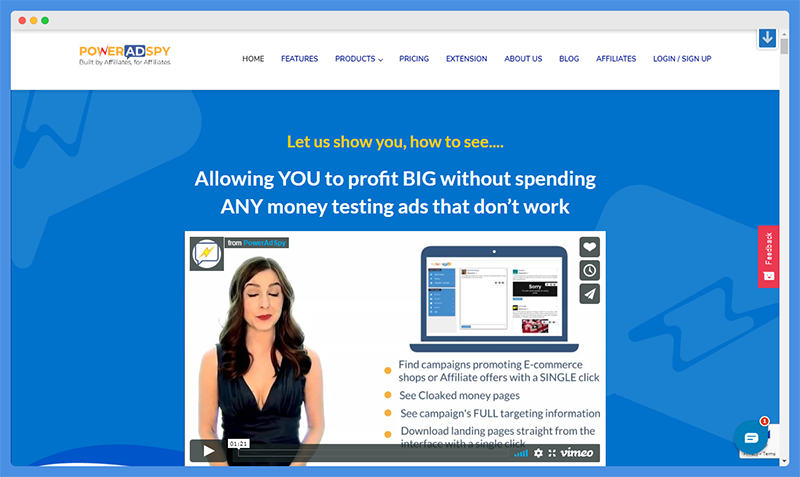 PowerAdSpy is another noteworthy AdSpy alternative on our list. It is an ad monitoring tool that can track ads across six social platforms – Facebook, Google, Native, YouTube, GDN, and Instagram.
It can also track ads on the Shopify eCommerce platform, and as a result, PowerAdSpy has more coverage than AdSpy.
However, in terms of coverage, AdSpy has an edge. While PowerAdSpy has a database that contains ads from over 15 countries, AdSpy collects social media ads from 203 countries.
Nevertheless, PowerAdSpy allows you to search for ads using niche keywords, competitor domain, or advertiser name.
There are two featured ad positions on Facebook, including news feed and side columns. While researching ads on social media platforms, most especially Facebook, PowerAdSpy allows you to select your preferred ad position for the search.
To ensure that you discover the right ads you are looking for, PowerAdSpy features a robust search algorithm. This search algorithm enables you to search for advertisements by date, likes, comments, shares, etc.
Unlike AdSpy, PowerAdSpy delivers analytics with real-time visibility so that you can analyze live ad posts and view audience engagements in real-time.
As you browse through, you can bookmark ads for later use. All it takes is just one click, and you can access all bookmarked ads in the PowerAdSpy Ads inventory section.
For in-depth insight on your Facebook ads' audience, you can rely on PowerAdSpy to provide you with comprehensive details, including age, geographical location, relationship status, etc.
To increase your ad engagement, PowerAdSpy allows you to discover the most converting CTA used by your competitors.
Although PowerAdSpy has few third-party integrations; however, it features a Chrome extension, which gives it an edge over AdSpy. With its Chrome extension, you can visit your competitors' websites and get an insight into all the ads that they run.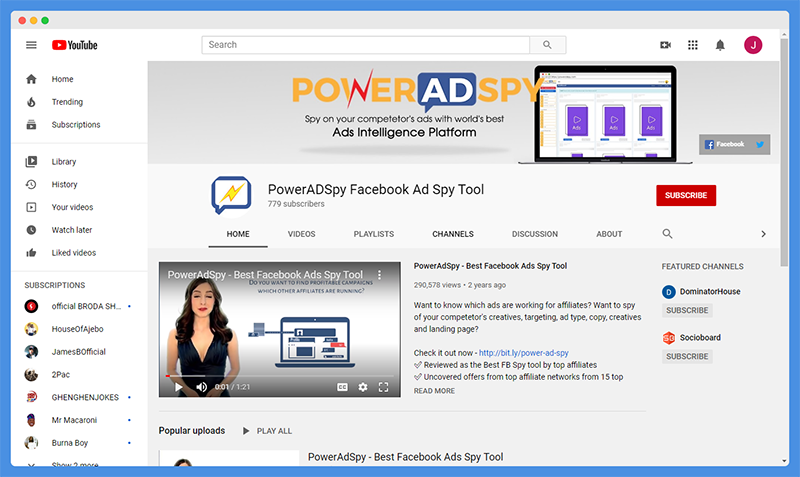 You can get support on PowerAdSpy via the LiveChat or by submitting a contact form. There are video tutorials on YouTube, FAQ page, and also chat support on Skype.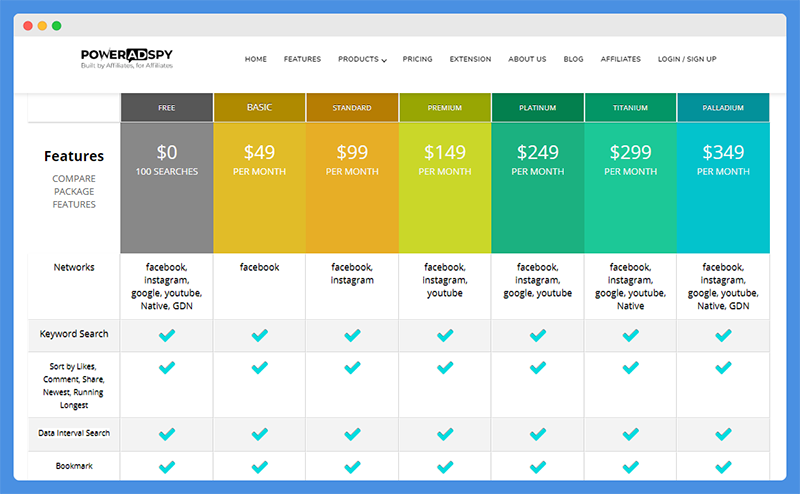 PowerAdSpy has a wide range of pricing options, which include:
Free Plan – $0
Basic Plan – $49 per month
Standard Plan – $99 per month
Premium Plan – $149 per month
Platinum Plan – $249 per month
Titanium Plan – $299 per month
Palladium Plan – $349 per month
Verdict: PowerAdSpy is recommended as an alternative to AdSpy not just because of its unique features but majorly because it covers more social media platforms than AdSpy. Not to mention, it has flexible pricing options.
Also Read: PowerAdSpy Review

We earn a commission if you click this link and make a purchase at no additional cost to you.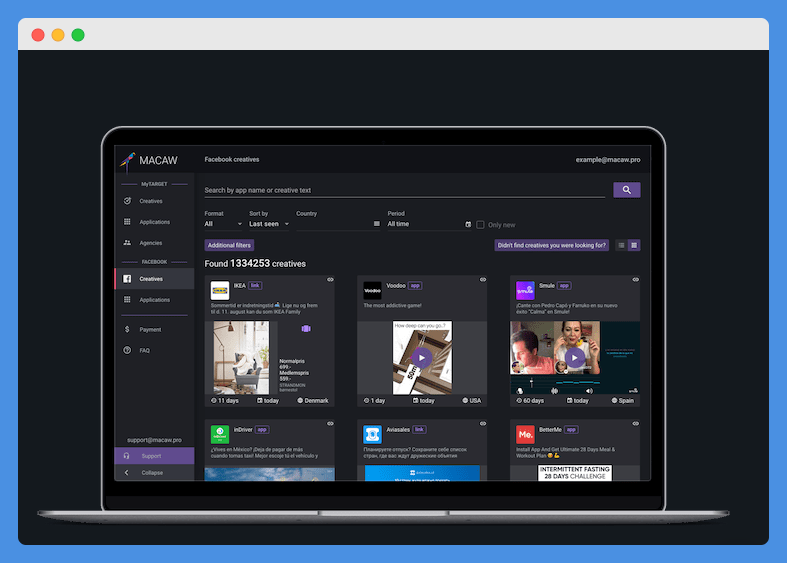 Macaw is a great Teespy alternative for several reasons. To begin with, the ads spy tool is not only for spying on t-shirt campaigns, which Teespy does, but it's also known for its large repository of ads that's regularly updated by the minute.
All these make Macaw a favorite for many companies and corporations across the world. 
Not only that, but Macaw is a time and money-saving tool that works with social media platforms such as Facebook, Instagram, MyTarget and others.
This way, you can easily check out your competitors' ads and campaigns on social media and tailor your own ads with more creative strategies for winning campaigns.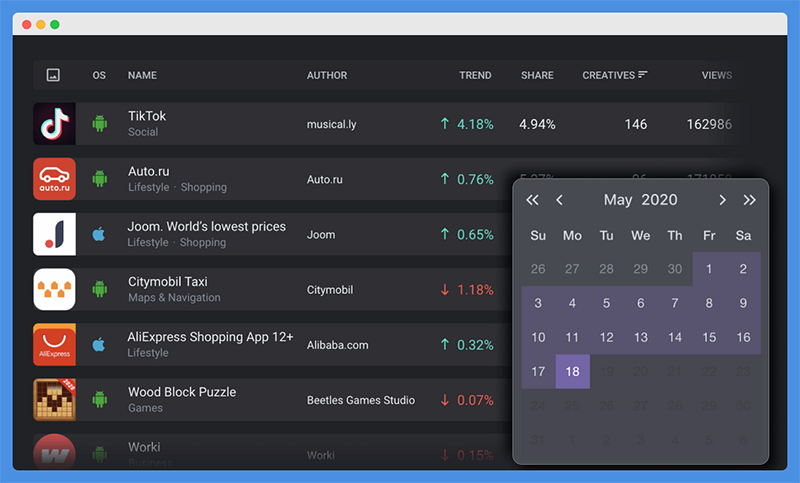 Macaw delivers insights and everything else you need to design great campaigns with amazing results.
In addition, you can regulate ads from any place in the world thanks to its repository with ads from all over the world.
You can also find ads you're interested in and filter using certain parameters such as time period in order to get the ads you're interested in.
This way, you save on money and time you'd have otherwise spent on preparation and testing of your ad campaigns.
If you want to understand your rivals' strategies, Macaw gives you all the information you need on them, including summary analytics for each ad.
This information helps you monitor your competitors' strategies, and also control your contractors' work quality.
Macaw does all these and more using some powerful tools such as the Ad Lifetime feature, which helps you set filters to see active ads over a specific time or lifetime. 
Also included is the Media Content Reuse, which lets you see the most reused content, a summary of the ads along with analytics, plus ability to advertise on mobile platforms.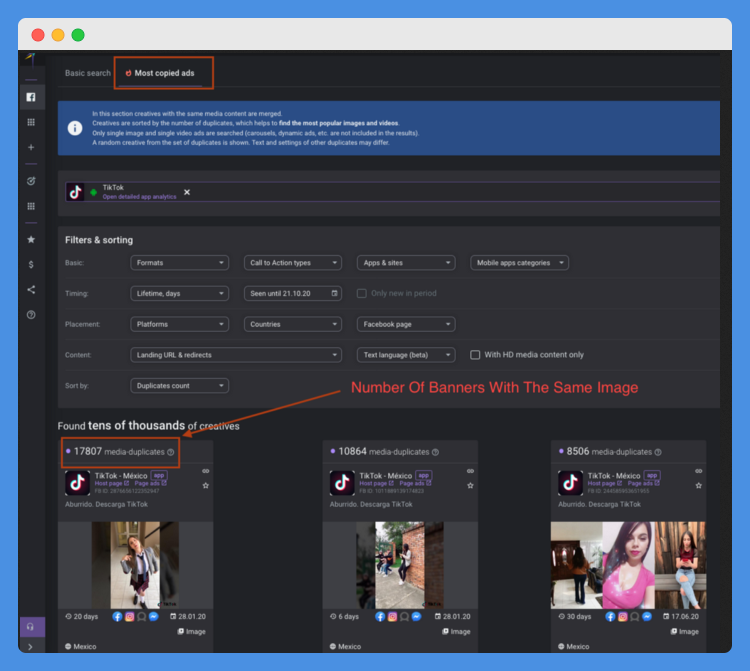 Advertisers, agencies and media buyers will find Macaw useful in their campaigns.
The tool helps media buyers find best performing creatives, agencies to get updates on trends in mobile offers, and advertisers to track how their products are advertised online.
While Macaw offers all these powerful insights and features, it's a little pricier compared to Teespy, except that it offers a demo package for users to try it out before committing to a paid plan. 
Macaw Pricing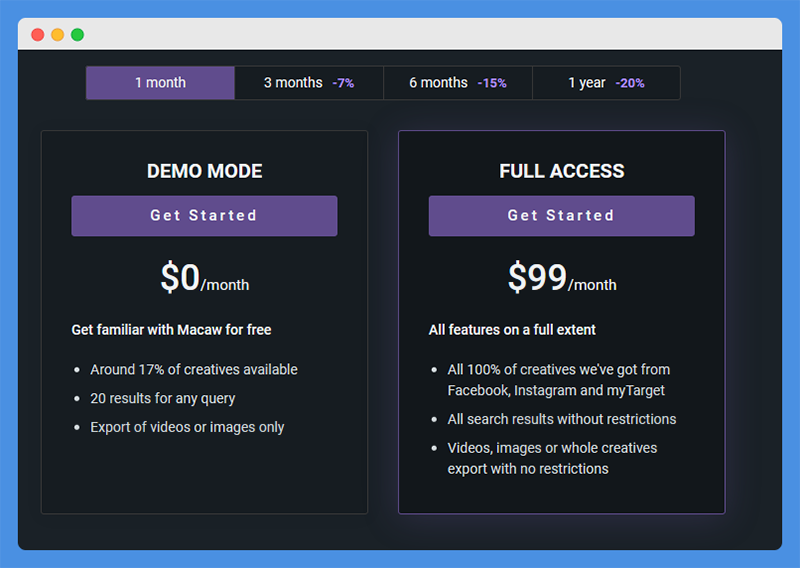 Macaw offers two pricing plans: Demo (free) and Full Access.
While Teespy offers three pricing plans ranging from $27-$97 per month, Macaw's premium, Full Access plan costs $99 per month.
The Full Access plan gives you unrestricted search results, 100 percent creatives, and you can export media content and whole creatives unrestricted.
Verdict: Macaw is a great Teespy alternative in many ways. The tool not only monitors ads from all possible geographies across the world, but it's not limited to t-shirt campaigns or ads like Teespy. 
Plus, it works across multiple social networks including Facebook and Instagram, which Teespy is limited to.
Macaw may be pricier than Teespy, but you can still use its free Demo plan to test run and see how it works before subscribing.
Wrap Up – Best AdSpy Alternative
From the six best AdSpy alternatives discussed above, the best AdSpy alternative is Social Ad Scout. Primarily, AdSpy is a social media ad spying tool; however, Social Ad Scout offers more functionalities.
Apart from tracking ads on social media platforms, Social Ad Scout facilitates detailed targeting, detailed observations, landing pages download, live ad interaction, etc.
If you intend to switch from AdSpy due to its expensive pricing, you can save money with Social Ad Scout by subscribing to either their semi-annual or annual pricing plan.

Author: Sam Zaman
Sam loves to write on technology & related stuff. Ecommerce, mobile and internet marketing equally drive her interest. Likes gardening and experimenting with new recipes. An avid reader and absolutely mad @bout donuts :)