No matter how good looking your Shopify store is, you need a steady stream of qualified and targeted traffic.
Good SEO can help a website reach the upper echelons of Google Search.
In turn, this delivers the targeted traffic that website owners crave.
Like most platforms, Shopify needs some modification so that it delivers the best search optimization results.
Although the ten tools below won't guarantee top rankings, they give you the tools to build a search campaign on.
Also Read: Best Paid Shopify Apps
Best Shopify SEO Apps For Your Store
The tools below offer everything from image optimization to total website SEO automation.
Choose those that will benefit you the most, install them, and drive more search engine traffic to your eCommerce site.
Cheapest Plan: Free plan
Pro Plan: $29.99/month
Pro Trial Period: 7 day
SEO Tool Type: All-in-one
There is a large and growing selection of SEO tools that claim to do everything. They don't require any coding knowledge or even SEO experience.
They also aim to simplify the whole experience.
SEO Booster introduces gamification to Spotify search optimization.
Once installed, it gives a current SEO score and provides a list of SEO actions to perform.
Aimed at beginners, the SEO Booster app also has a host of automated features.
The app will automatically manage alt text, sitemap generation, and integration, and the paid plan includes JSON-LD optimization.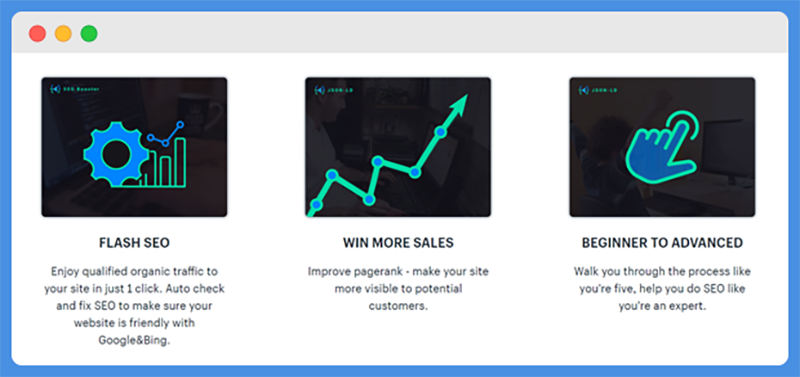 Duplicate content can be a major issue for online stores. If you have multiple colors, sizes, and other options for one particular product, you can end up with what Google views as a separate page for each option.
Every page will have the same basic content, but with a few minor differences, and most of these pages will include duplicate titles and descriptions.
Google's spiders will view this as duplicate content and it could result in a penalty and lower rankings.
SEO Booster identifies duplicate titles, descriptions, and other content for you.
It will also highlight broken links and other factors that could lead to penalties.
Not only do monitoring tools like this help avoid any missed problems, but they eliminate the time it would take to complete manual checks: time that you can spend improving your store fulfilling orders, and completing other mission-critical work.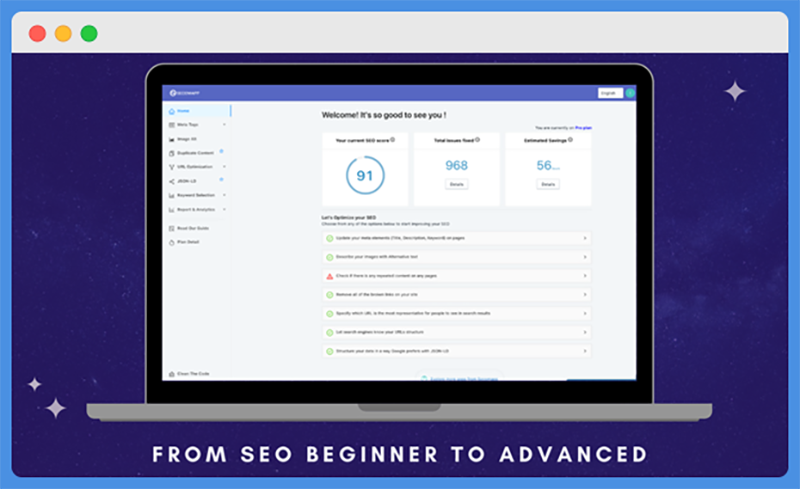 The app has a free plan, which the author says "will always be here". They also offer a seven day trial of the Pro Plan, which usually costs $29.99 per month.
Even at full price, it is well worth the investment for the wide range of features and automated tools that it offers.
Also Read: Best Free Shopify Apps To Boost Sales
App Cost: $20/month
Pro Trial Period: 7 days
SEO Tool Type: All-in-one

SEO Manager is another all-in-one tool with more than 20 features. It aims to simplify the process, so any Shopify store owner can reach top positions in Google.
Using this tool, you add your chosen keywords for a page, write a title and add other elements.
Once you get a green tick on the SEO Manager app, it means that you have optimized the page content, at least according to the app. It does a good job of simplifying what can appear to be a complicated process.
The tool scans your content and metafiles. It offers meta content tools, making the optimization and inclusion of titles and descriptions even easier.
It connects to Google's search console, which is handy for identifying and finding fixes for any errors that are holding your SEO efforts back.
It also connects to your analytics so you can track results and measure the performance of your site.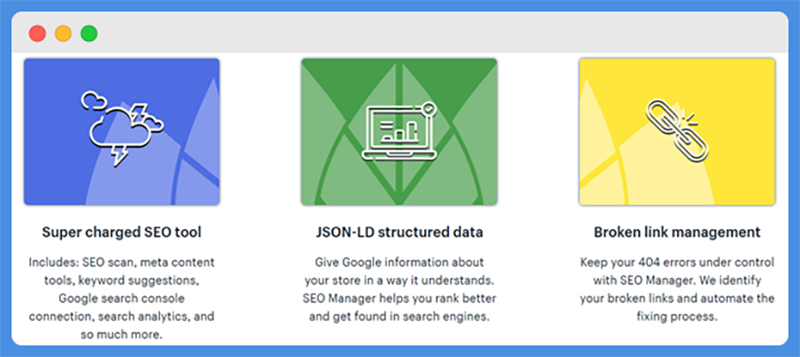 Broken links are not only an issue for SEO but they can have a significant impact on your user's experience.
404 error pages are displayed when a page could not be found on your website.
They are most commonly found when a user clicks a link to one of your pages, but that page has moved.
It is possible to customize the content of a 404 error page, but the fact is that they look ugly and unprofessional.
Visitors will get annoyed if they keep receiving these broken page codes. One of SEO Manager's beneficial features is that it identifies 404 errors and it even automates the process of correcting and fixing broken links.
Although SEO Manager does not offer a free account, it does provide a seven day trial of its professional package, which normally costs $20/month.
Also Read: Ecommerce Link Building Strategies That Work
Cheapest Plan: Free plan
Pro Plan: Plug In SEO Plus – $20/month
Pro Trial Period: 7 days
SEO Tool Type: All-in-one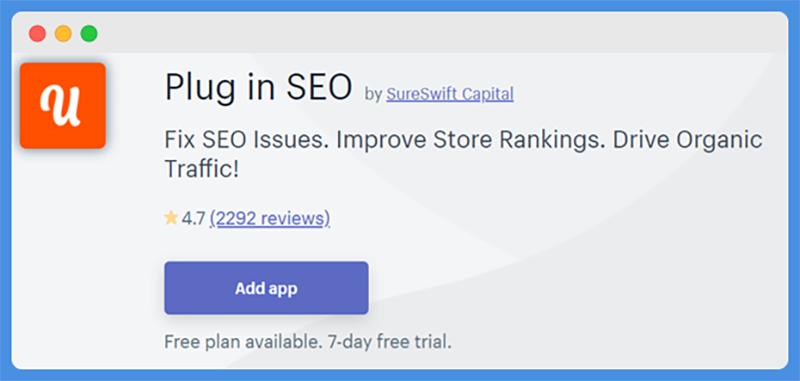 Plug in SEO has two versions of its tools, and while a lot of these all-in-one packages have a very limited free plan, Plug in SEO's free account is really good if you're just starting a new online store, so have a very limited budget, and if you have enough knowledge to perform some of the more basic tasks yourself.
Search Engine Optimization is constantly evolving, and it is difficult even for marketing professionals to keep up.
It is important that whatever tool you use updates in line with any changes that occur.
Plug in SEO is regularly updated and, more than that, if you struggle for time, you can even have one of the Plug in SEO professionals conduct the required optimization on your site for you.
This does, obviously, cost extra.
Templating is a powerful way to speed up processes and ensure uniformity across your site.
Uniformity can improve your branding efforts so that your shop visitors start to associate your store with the products you sell.
Plug in SEO offers custom templating so that you can change hundreds of pages and elements, automatically, in one fell swoop.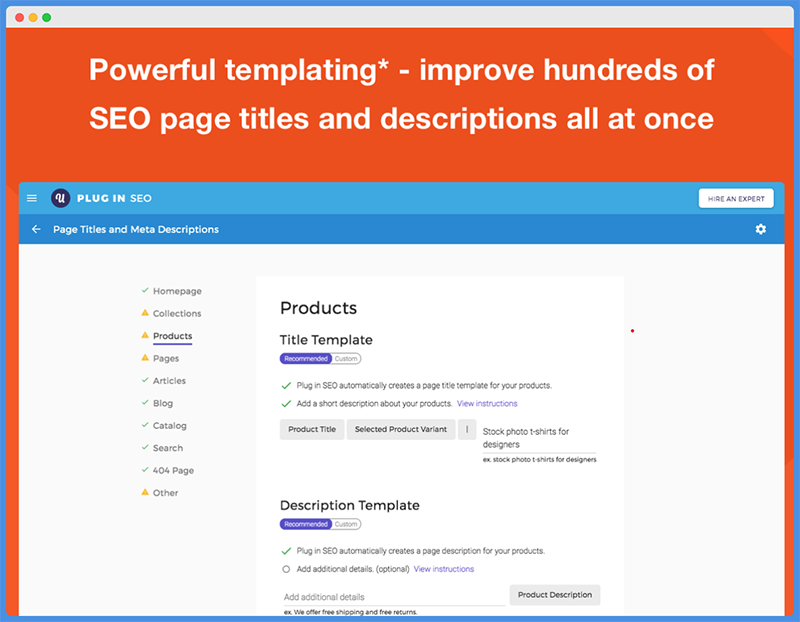 The free package is surprisingly feature-rich, and it allows for the analysis of an unlimited number of pages. Even the most basic online store can quickly end up with hundreds of pages.
For greater automation and improved tools, though, the Plug in SEO Plus account is reasonably priced and has a host of extra tools and features.
Explore: How To Optimize Product Pages For Better Conversions
Cheapest Plan: Free plan
Pro Plan: $4.99/month
SEO Tool Type: All-in-one

The final all-in-one SEO plugin on our list is Smart SEO. Smart SEO is cheaper than the rest of the plugins, but it enjoys a very high rating and some excellent reviews.
It will create sitemaps, provide structured data in Google's preferred JSON-LD format, and it works with Shopify's Store Languages, so you can perform multilingual SEO on your website.
Online stores can end up with a massive number of pages. As new stock is added and existing stock is sold, these pages change regularly.
Not only does this mean that you can end up with a ton of broken links on your site, that are detrimental to your search engine rankings and also to user experience, but it means that your site structure and hierarchy changes.
Smart SEO's sitemap generator can be used to automatically create a sitemap for submission to search engines, and it will update as you make changes to your site structure.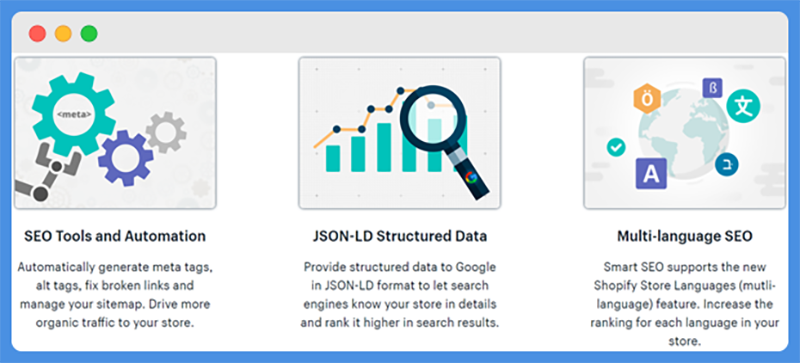 When it comes to accounts, Smart SEO has a free plan that offers basic features and allows for a single backlink crawl per month.
The paid plan, which costs a very competitive $5/month, allows for an additional crawl. You will need the paid plan for JSON-LD formatting and some other features.
Interesting Read: Best Shopify App Ideas
Cheapest Plan: Free plan
Pro Plan: $9.99/month
SEO Tool Type: Image Optimization

Online stores tend to be image-heavy. Every product and every color of product can include multiple images.
Blog posts, supporting pages, and other content also benefit from the inclusion of high-quality images, and some plugins allow your users to upload their pictures for some user-driven experiential marketing performance.
When your Shopify store is new and has limited images, their size is less important, but load times always matter.
It also matters how well they are optimized for search engine results. This is where SEO & Image Optimizer from TinyIMG helps.
SEO & Image Optimizer works with existing images on your site and also optimizes new images as you add them and integrate them into new content.
It can greatly reduce the time it takes for images, and therefore store pages, to load.
Slow loading pages are not only potentially damaging to your SEO performance but they directly detract from user experience which means that your users will be less inclined to stick around and less likely to visit your store again in the future.
Optimizing your images also has a direct impact on your SEO efforts.
Add alt and title tags, optimize file names, and incorporate rich snippet information, and the images you upload could be featured high in Google search.
Image Optimizer compresses image files, optimizes them, and empowers your website to perform better on pages like Image Search.
As well as a free plan that allows you to optimize up to 50 images per month, there are various account levels, with the most expensive costing $9.99/month and allowing the optimization of up to 1,500 images per month.
All account levels enable the optimization of file names and ALT tags, though.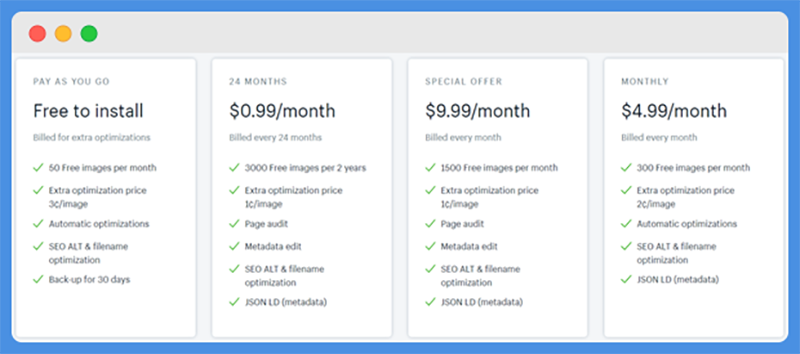 Cost: $299 one-off fee
SEO Tool Type: Schema Markup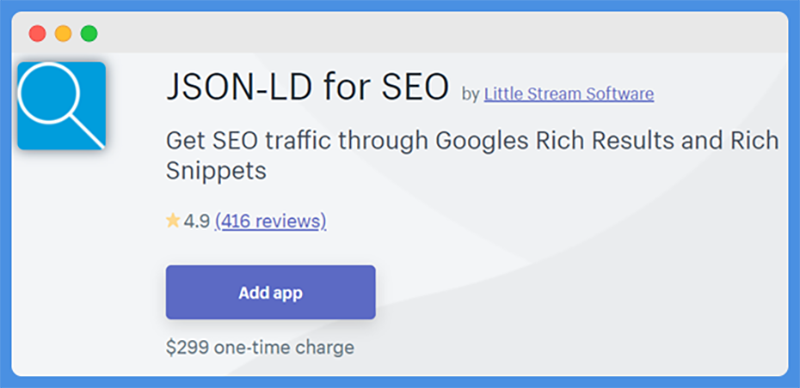 JSON-LD is Google's preferred method for annotating structured data.
The scripting language enables programmers and site owners to relay information to Google, about a particular page and the data it contains.
It is thanks to this data that Google can display advanced information like product details, price, and more on its search results and other assets.
Although microdata can be used to provide much of the same data, Google has officially stated that it prefers JSON for this kind of markup.
As it is Google's search results we want to conquer, it makes sense to give them what they want.
The problem is that JSON-LD can be very complex.
There are examples of it on the Schema.org website, and this allows you to take an example, modify it for your specific needs and then implement it on your pages.
Rich snippets are becoming increasingly common in Google search results.
This is true whatever product you sell, and even if you don't see features like Google Shopping results for the products you sell, right now, they will likely be implemented in the future, as Google updates its results.
The JSON-LD For SEO plugin automates the addition of this schema markup and templates it.
It also simplifies the process so that you don't have to learn the coding yourself.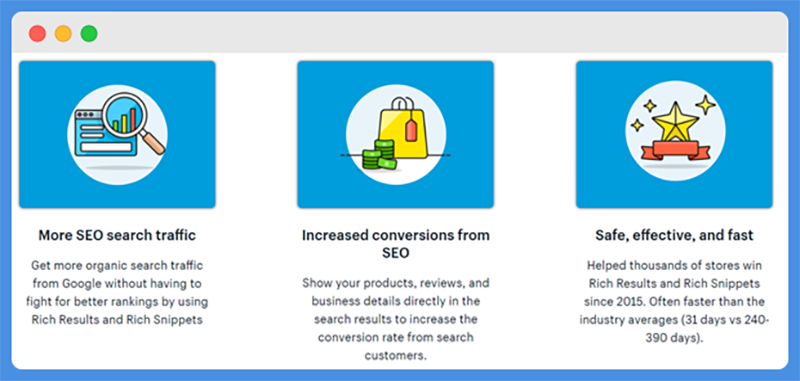 The JSON-LD for SEO plugin has a one-off charge, and it isn't cheap, but once you have the plugin, you can enjoy access to updates and professional support, as well as the existing features that it has to offer.
Check Out: Best Shopify Cross-sell Apps
Cheapest Plan: Free plan
Pro Plan: Enterprise: $99/month
SEO Tool Type: Mobile Performance

Accelerated Mobile Pages, or AMP, is Google's attempt to improve users' experience on mobile websites.
The search giant has indicated that they have adopted a mobile-first policy, which means that they now offer high rankings to those sites that offer a positive mobile experience.
One way that they measure this is the speed at which a page loads on mobile.
According to data gathered by Google, around 40% of users leave a page if it takes longer than three seconds to load.
With mobile devices, and especially when visiting online stores, it can take significant time for a page to fully load.
AMP by AmpifyMe aims to reduce mobile page load times to near-instant loads. This improves user experience, preventing your users from leaving your site, and it also helps you to earn Google's AMP lightning bolt. When a website has that bolt, it appears higher in Shopping and other rankings.
You even pay less on Adwords keywords.
There are many aspects of a website's design that determine how quickly that site and its pages load on desktop and mobile devices.
AMP by AmpifyMe includes an AMP theme editor. This lets you optimize each element of the page and ensure that pages load quickly.
Identify those elements that are slow loading, identify why, and then implement changes quickly and easily using the theme editor.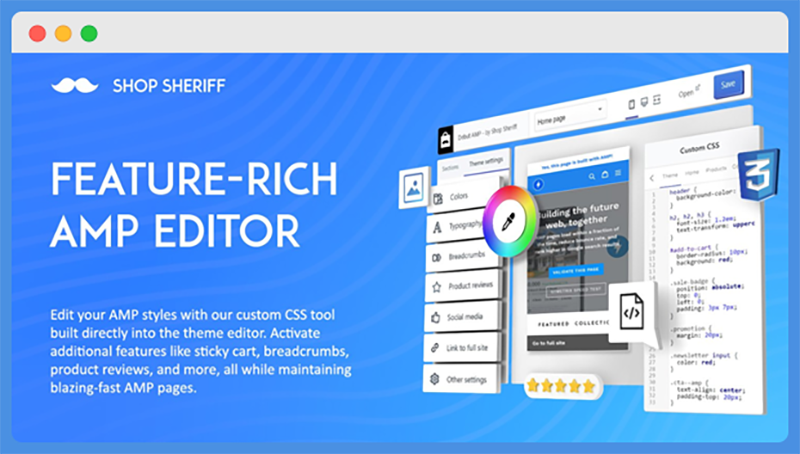 The free account includes several themes and a page builder but for $9/month you get extra Add To Cart features, integration of reviews, and speed reports.
The $29/month package goes even further with optimized home pages, blogs, and rich article snippets. There are even animated announcements.
Cost: $14.99/month
Trial Period: 7 days
SEO Tool Type: Schema Markup

Schema Plus for SEO is another tool that automates and simplifies the process of implementing schema markup on your website.
This is done so that Google and other search engines can automatically and quickly detect the information on a page and better categorize it.
For example, it allows Google's spiders to identify the product on a store page, the ranking it has received from buyers, its cost, availability, and more.
In turn, this means that Google can update its search and shopping results to include this information and display it directly in their own results pages.
This can be an effective way of increasing search traffic to your store.
The Schema Plus for SEO tool was developed by former Google engineers, and it is Google that we are aiming to please when it comes to SEO and markup.
Having rich snippets improves your SEO results makes your search results stand out as having additional links, images, and other information in amongst a sea of otherwise plain and boring looking websites.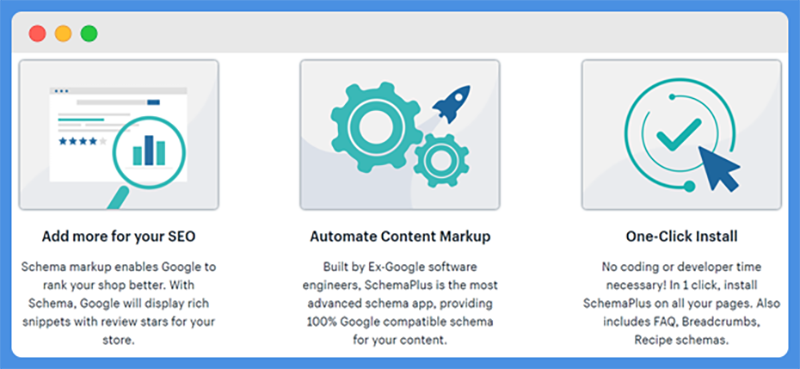 Schema Plus for SEO is available at $14.99/month and you can get a seven-day free trial to see whether the tool offers the features you want and is easy enough to use.
Cost: $7.99/month
Pro Trial Period: 15 days
SEO Tool Type: Mobile Performance
Shop Sheriff, above, is a powerful mobile speed optimization tool, but its greatest features come as part of an expensive package.
Fire AMP, on the other hand, can speed up your mobile page loading times and, as well as offering a 15-day free trial, it costs $7.99 per month.
It has fewer options and features than the more complicated Shop Sheriff tool, but if yours is a simple shop and you just want to keep on top of things without breaking the bank and without dozens of complicated options, this isn't a bad thing.
User experience is an important factor in web design and Shopify store design.
The better the experience of your users, the longer they remain on your page and enjoy the experience.
The longer a person remains on your page, the more likely they will be to convert and to click the buy buttons and make a purchase.
AMP pages, therefore, are not only beneficial to your search results, meeting Google's mobile-first indexing policy, but they can also increase your conversion rates, reduce bounce rates, and encourage visitors to come back more often and make more purchases.
Fire AMP is easy to use, takes only one click to install, and the fact that it has fewer features than other similar apps is not necessarily a bad thing if you want to spend your time managing your store, fulfilling orders, negotiating better prices, making new products, and completing the other core components of running your online store.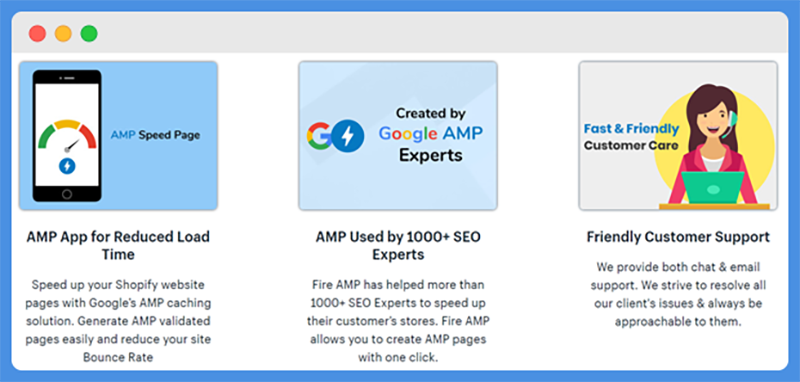 Cheapest Plan: Free plan
Pro Plan: $49.99/month
SEO Tool Type: Image Optimization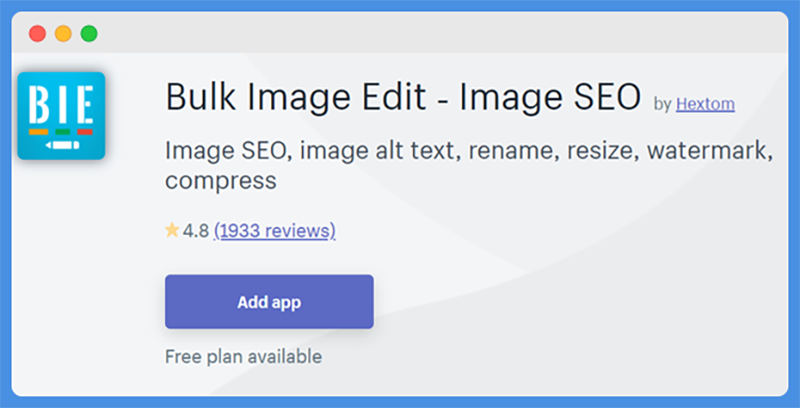 Bulk Image Edit is an image optimization plugin. It is not only beneficial for your SEO efforts but is a highly effective tool for managing and editing images.
Images are extremely important to your store's efforts. Customers want to see pictures of the items that you stock.
They expect attractive images, want to see products from a range of angles and views, and they expect a series of images for each product. Good quality images can improve your conversions, then.
Images can also increase your search traffic. They can be displayed in some search engine results, and well-optimized images should certainly show up in Google Image Search.
Image Search results might not give the best conversion rates or lead to considerable sales, but when combined with good on-page optimization and conversionary tactics, they can be used to improve your online efforts.
Bulk Image Edit offers a host of tools to optimize images.
It enables you to add titles, alt tags, and to change file names which are often left as the default image name.
it enables the easy resizing of images so that your pictures better fit in frames and in elements of your page design. You can even add watermarks, to prevent others from plagiarizing and using your images without permission while improving your branding efforts.
Finally, it will compress images so that they take up less disk space and open more quickly.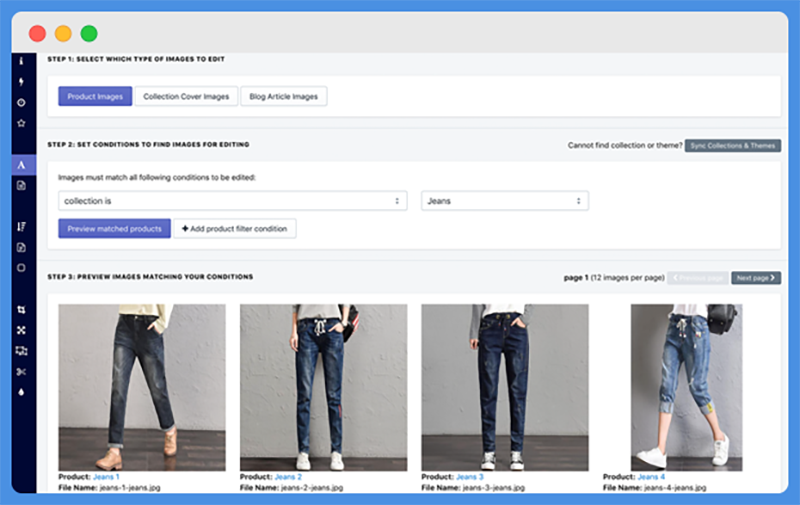 There are various accounts and prices available, from the free plan that allows you to edit 50 images per month to the $49.99/month plan that gives 10,000 monthly edits.
Conclusion
Shopify is a powerful web builder that can be used to build simple to complex stores.
Whether you have a single product or hundreds that are available in different sizes, colors, and options, you can develop a Shopify store to sell them.
However, while Shopify is powerful and can be customized to your needs, it doesn't offer everything you need straight out of the box.
It does, though, have a store containing thousands of plugins and apps, including SEO plugins like the ten above.
The best plugins are those that offer the features you need without demanding too much time and effort to implement the necessary changes.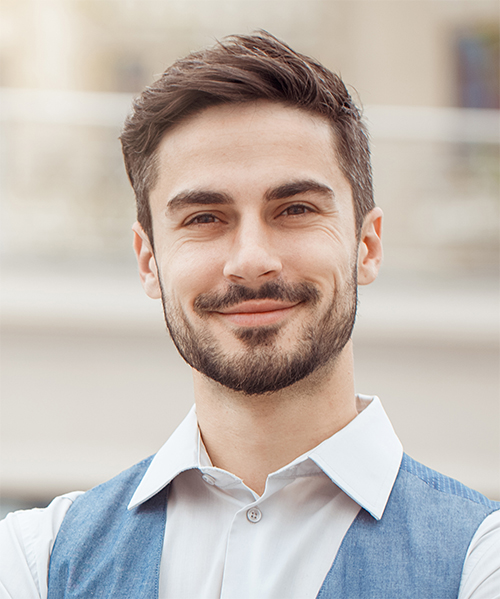 Author: Scott Macarthur
Scott L. Macarthur is a marketing consultant and an online author. He is mostly engaged in providing his expertise to startups and SMBs.