Statistics show that there are close to 8 billion people globally, and about 4.13 billion people make use of the internet. That's more than half of the world population.
For small businesses and startups that want to succeed in this internet age, online marketing should be at the top of your to-do list. With a working online marketing strategy in place, you get better visibility, more customers, and more income.
To kickstart your online marketing journey, SEMrush and SimilarWeb are reliable platforms you can consider, but which one is the best among the two, SEMrush or SimilarWeb? That's what we are going to find out as we compare SEMrush vs SimilarWeb.
What Is SEMrush?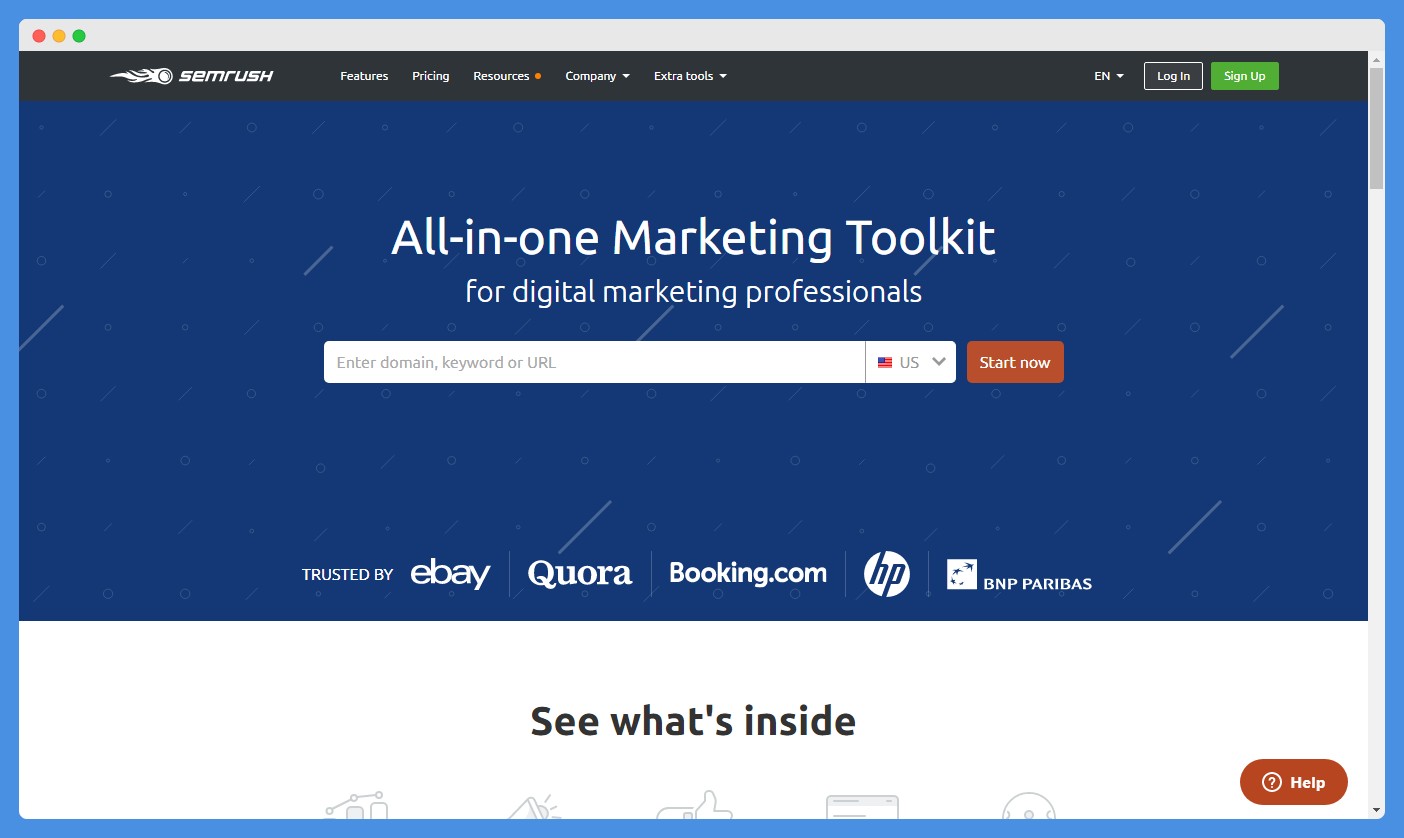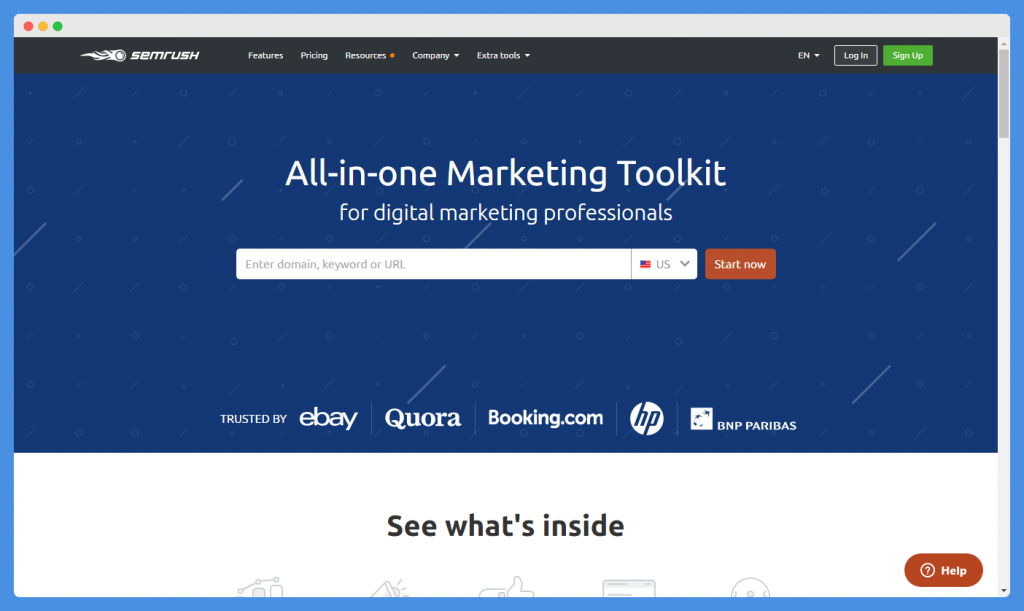 SEMrush is an all-in-one marketing tool that was launched in 2008. It has recorded more than 6 million users since its launch and has been used by digital marketers to analyze about 20 billion keywords.
Basically, SEMrush targets five significant areas of online marketing: SEO, PPC, Social Media, Content Marketing, and Market Research.
With SEMrush, you can research keywords, track rankings, manage social media ads, and analyze websites.
Additionally, SEMrush can be used by individual marketers, enterprises, eCommerce, and agencies. In general, anyone that wants to get their brand or work noticed on the internet can make use of this online visibility management tool.
Related: SEMrush Review, Promo & Tips
Our Pick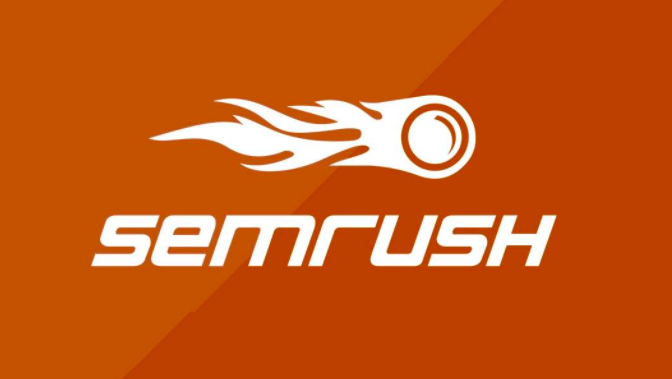 We earn a commission when you click this link and make a purchase.
What Is SimilarWeb?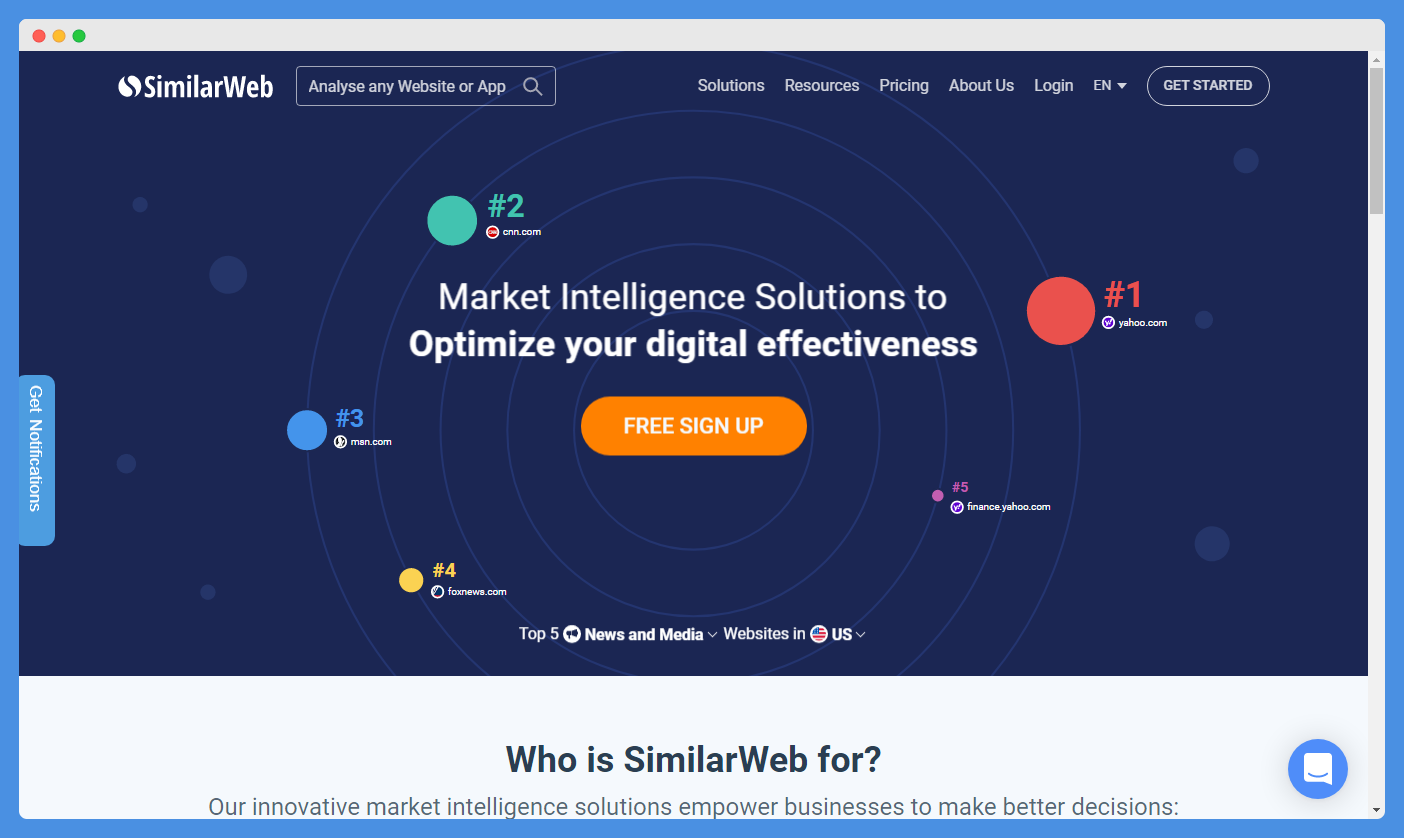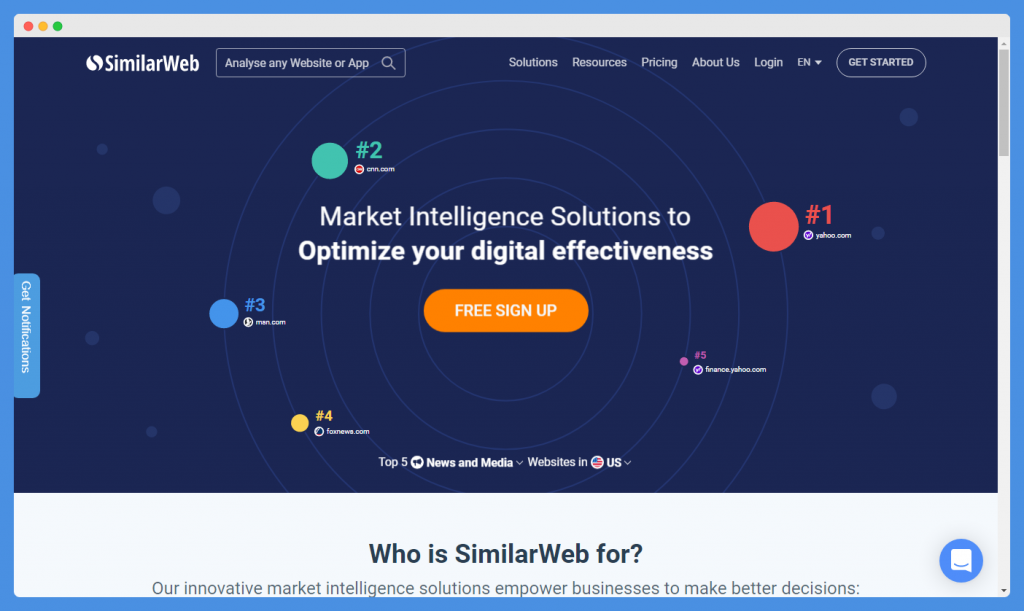 SimilarWeb is a platform for tracking website traffic and getting analytics. In fact, SimilarWeb can be used by online marketers, investors, research teams, and sales teams.
So far, SimilarWeb has been used to analyze over 80 million websites since its launch in 2007.
With SimilarWeb, you can track current happenings in your niche and follow up on your competitors' activities. You can also discover new insights on leads and better understand how to increase your conversion rates.
Keyword Research
SEMrush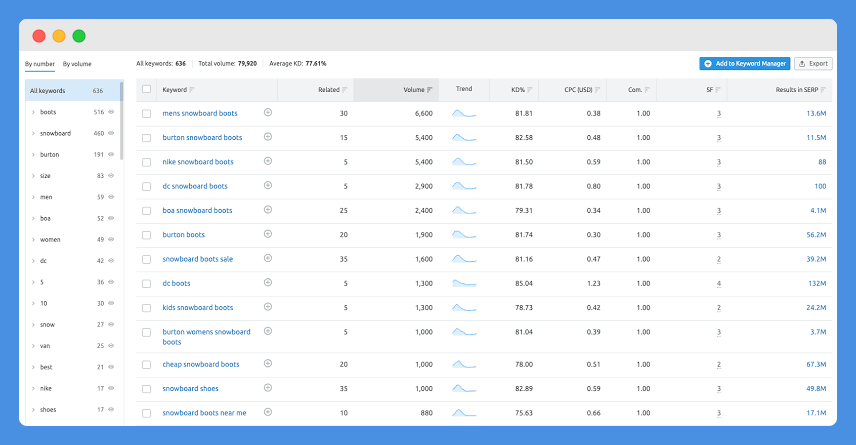 Keyword research with SEMrush can be carried out using the Keyword Magic Tool. This tool won the 2019 Best Digital Tool PubCon Interactive Marketing Awards.
It enables you to research keywords in different countries, including the US, UK, France, Germany, Spain, etc.
As usual, you simply type in the keyword and hit enter. SEMrush's database has over 20 billion keywords, so there are sufficient metrics.
The research result includes SEMrush competitive density, ranking difficulty, CPC, SERP features, and search volume.
You can get deeper insights with the SEMrush Keyword Overview Tool. There are smart filters you can apply and the keywords are auto-grouped for easy comprehension.
SimilarWeb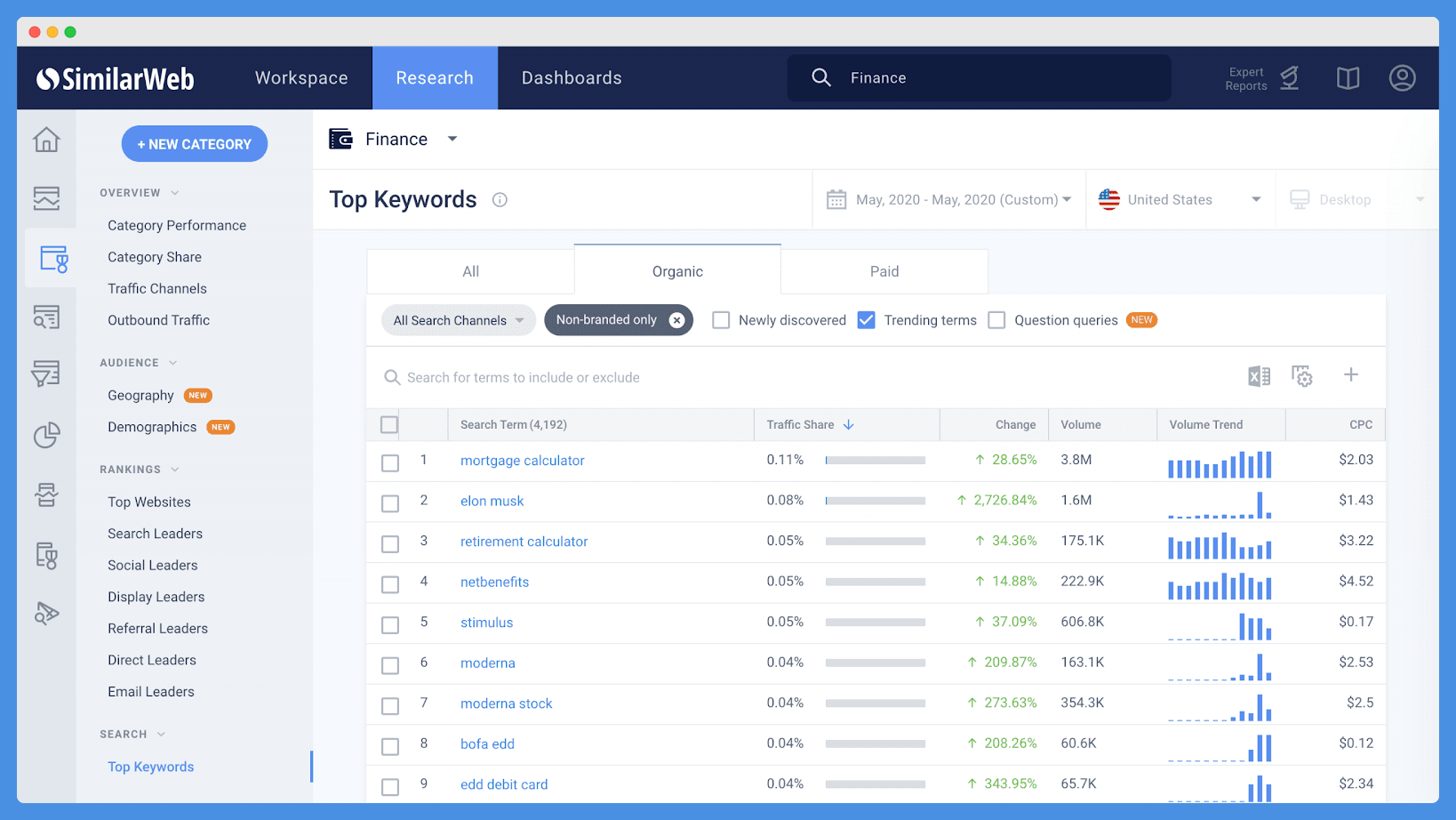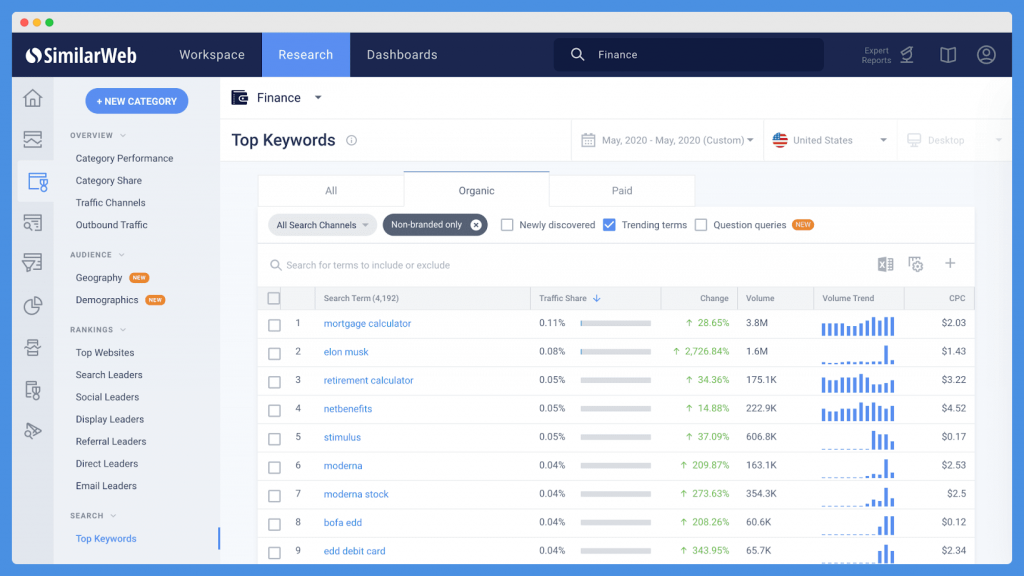 SimilarWeb keyword research tool is an easy-to-use tool that works for keyword research for both SEO and PPC purposes. You can search for keyword data in different countries and across different device platforms – desktop, tablet, and mobile.
Also, you can research both paid and organic traffic, and you can filter keywords for more narrowed research results. This includes trending items, newly discovered, question queries, etc.
The results display the keyword traffic share, change over time, search volume, volume trend, and CPC value. Besides entering and searching keywords, you can discover top keywords in your niche with the SimilarWeb keyword research tool.
Verdict
There's not much to differentiate both platforms here, but SEMrush takes the upper hand with more keywords in their database and multiple tools.
Interesting Comparison: Moz vs SEMrush
Keyword Generator
SEMrush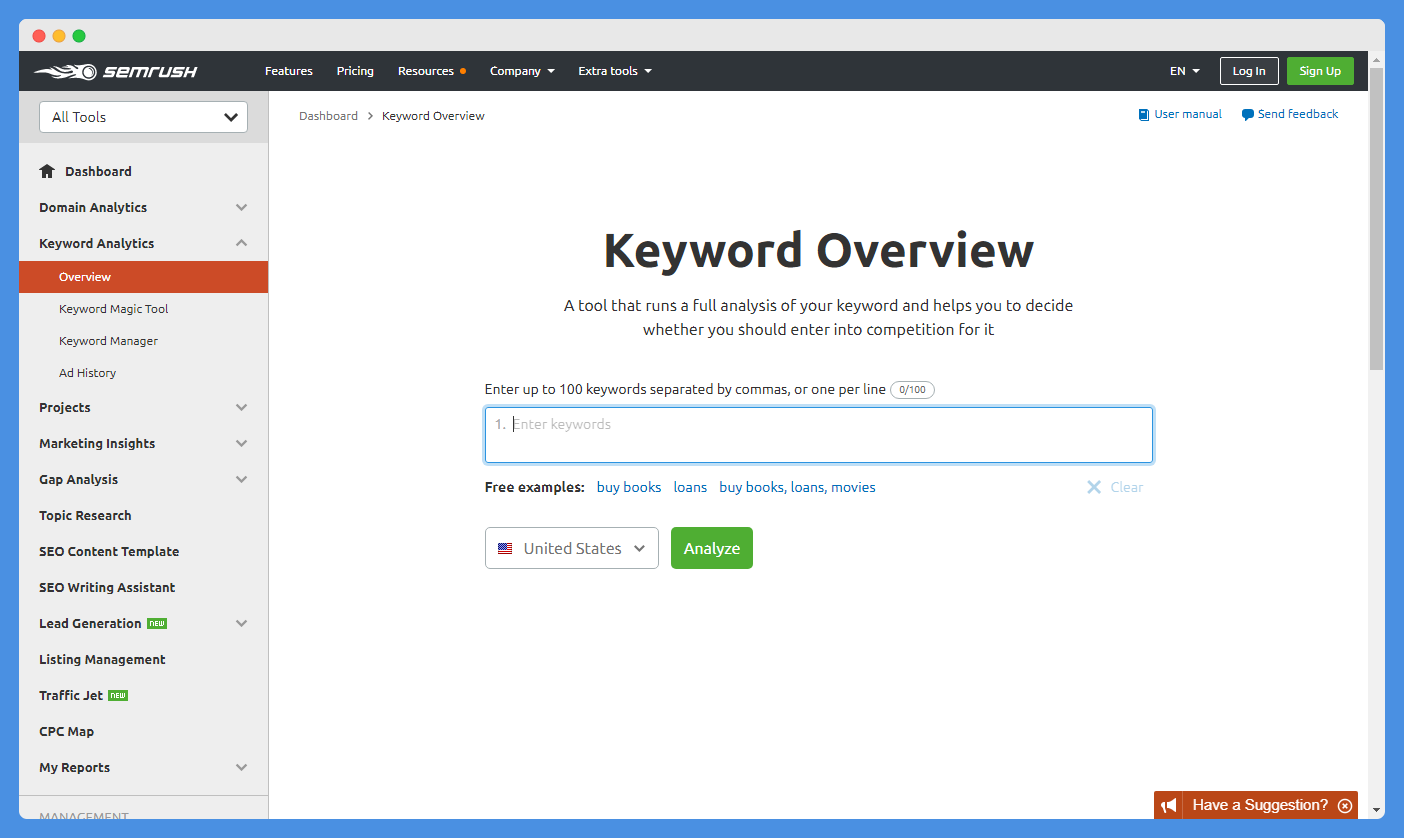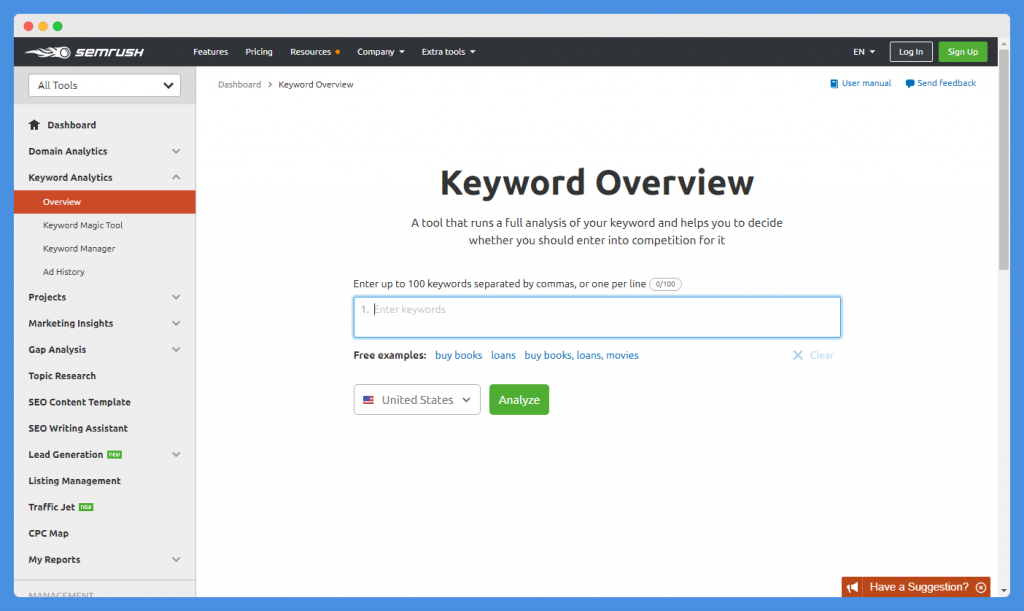 To discover new keywords, you can make use of the Keyword Overview tool. This tool gives you a rundown of any keyword data and then includes variations of that keyword.
Basically, the Keyword Overview tool works by analyzing all the top pages ranking for the searched keyword and identifying keywords they have in common.
Our Pick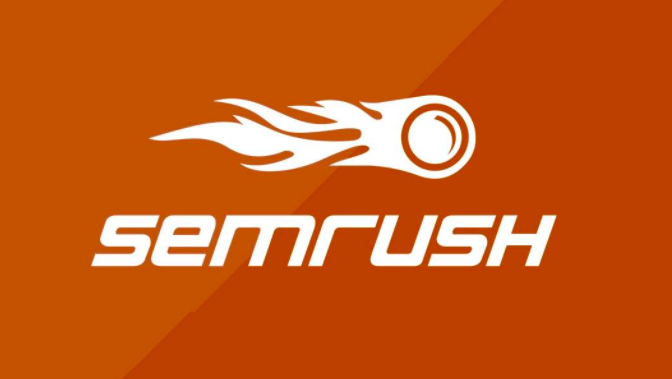 We earn a commission when you click this link and make a purchase.
They are listed as the keyword variations, and it includes phrase matches, synonyms, and questions.
When you run keyword research with the SEMrush keyword magic tool, you can add the related filter and discover similar keywords to your query. Data on these new keywords are also provided.
SimilarWeb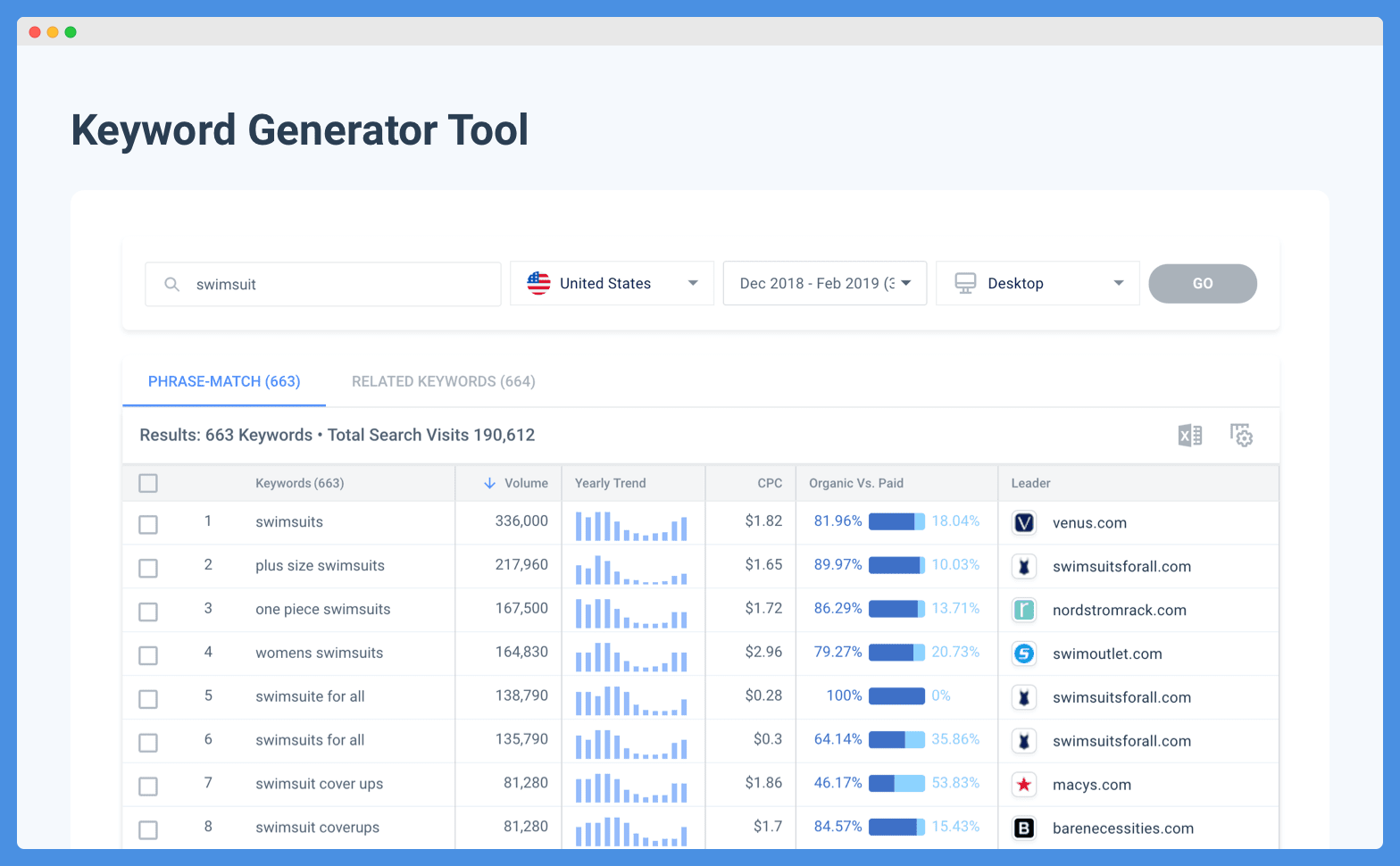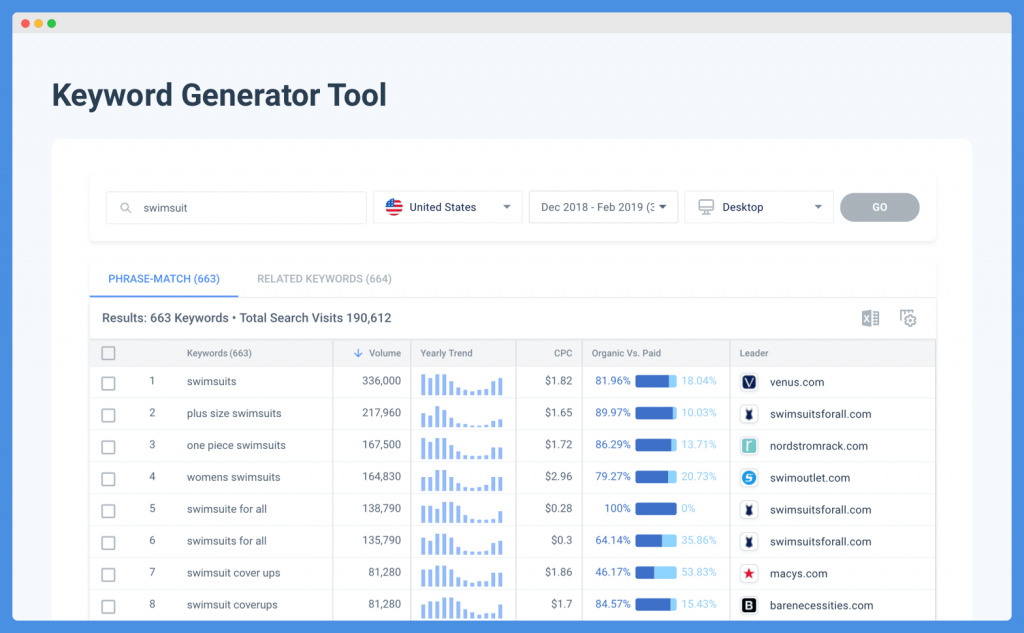 Like the SimilarWeb keyword research tool, the SimilarWeb keyword generator tool can be used to generate keywords for either SEO or PPC purposes.
To use this keyword generator, all you have to do is enter a phrase related to the keyword you intend to generate.
The results are in two sections – the first section includes keywords that match the phrase exactly while the second section contains related keywords that could be synonymous.
In addition, the keywords search volume, yearly trend, CPC, and top-ranking pages are provided. Also, you can generate keywords for different device platforms, countries, and time.
Verdict
The SEMrush Keyword Overview tool can be relied on, but SimilarWeb has an edge due to its distinct keyword generator tool.
Market Research
SEMrush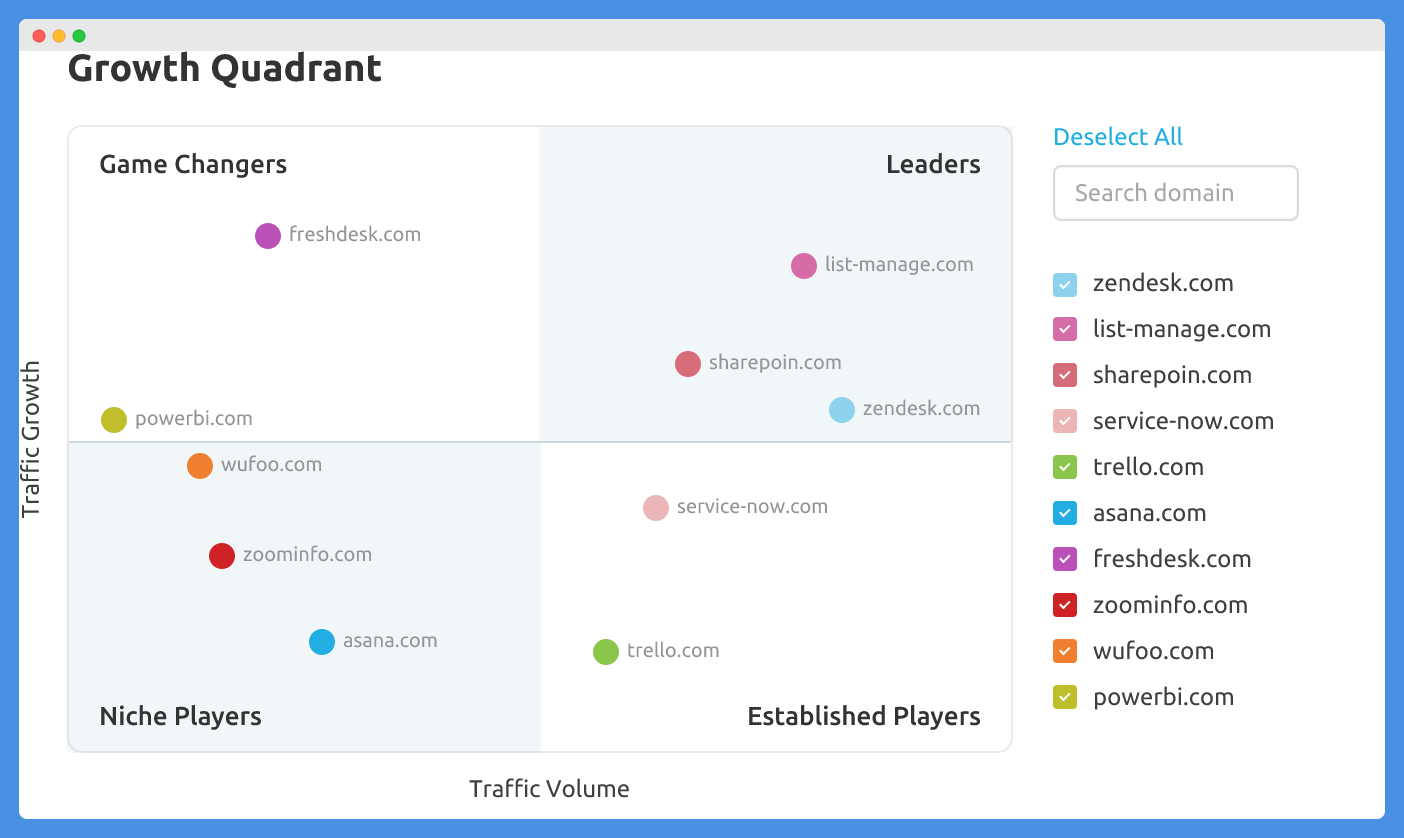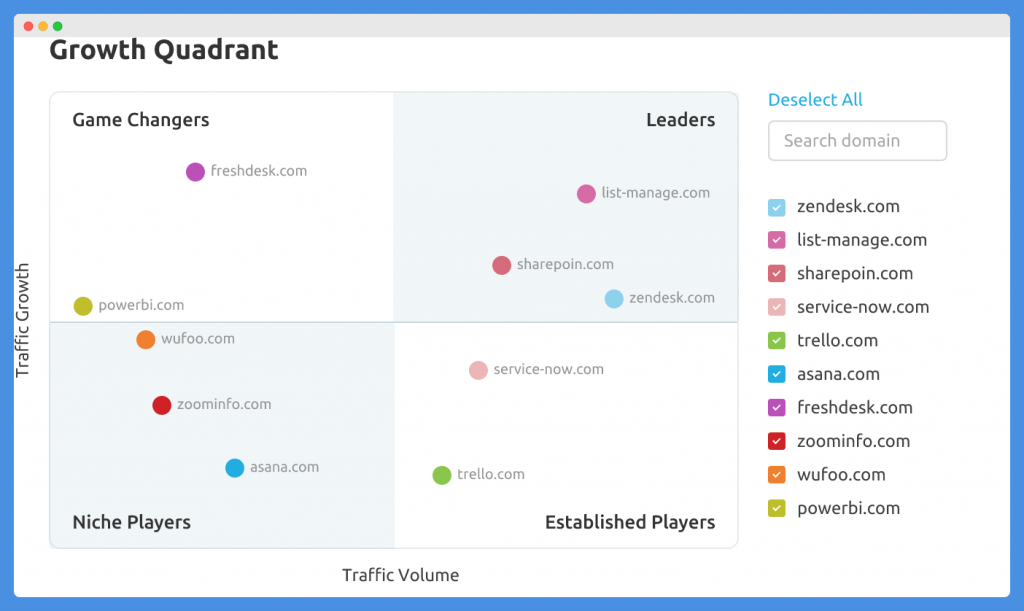 You can perform market research with SEMrush Market Analysis tools – this includes the Market Explorer and the Traffic analytics tool.
With the Market Explorer tool, you can analyze your business market to discover the top actors and get insights into their audience/customers.
All you have to do is to type a competitor domain or yours.
This tool generates a Growth Quadrant that sections game changers, leaders, niche players, and established players in a given market. The traffic analytics tool simply helps you to identify the websites in your industry that are getting significant online traffic and their audience's demography.
Explore: SEMrush For Nonprofits
SimilarWeb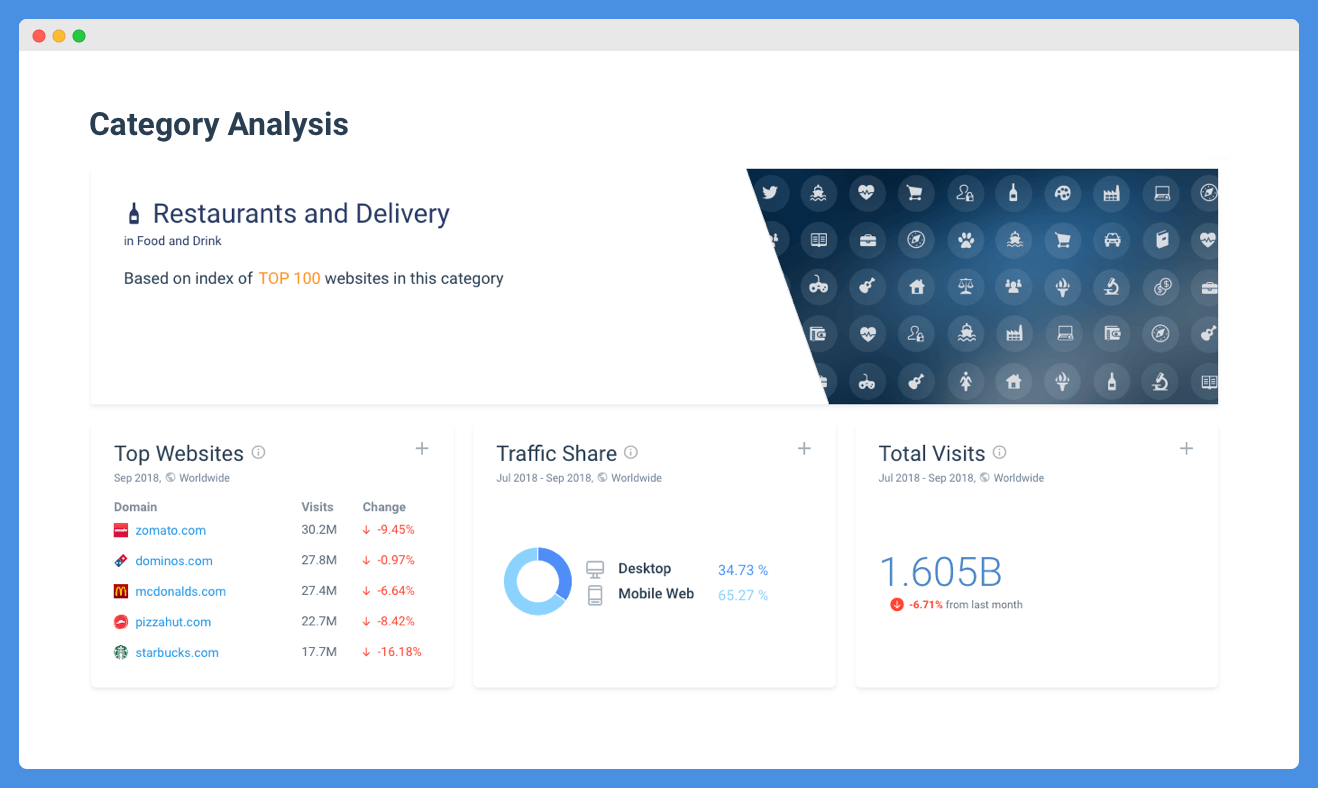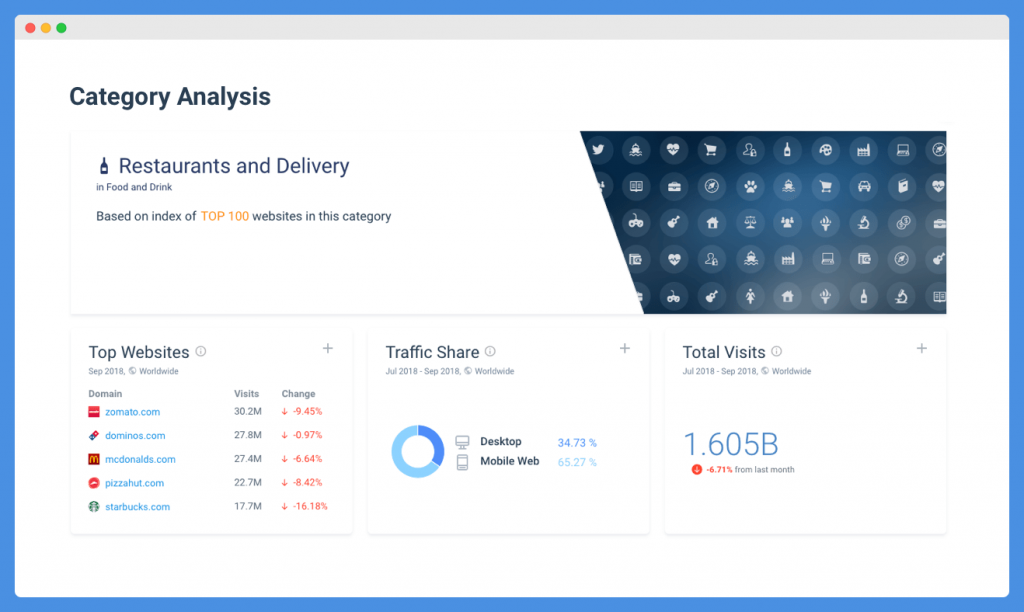 With the SimilarWeb research solution, you can carry out in-depth market analysis. In fact, markets can be analyzed by category.
When a category is selected, the display contains the top websites in that market with their visit count and percentage change over a particular time.
It also delivers insights on traffic share across mobile or desktop devices and total visit count for all websites in that market.
The SimilarWeb research solution can also be used to carry out funnel analysis. That way, you can dig deep on websites' data for market conversion rates, and the marketing channels that convert the most.
Verdict
SimilarWeb is more specific on market research than SEMrush; hence SimilarWeb takes the win for this round.
Website Analyzer
SEMrush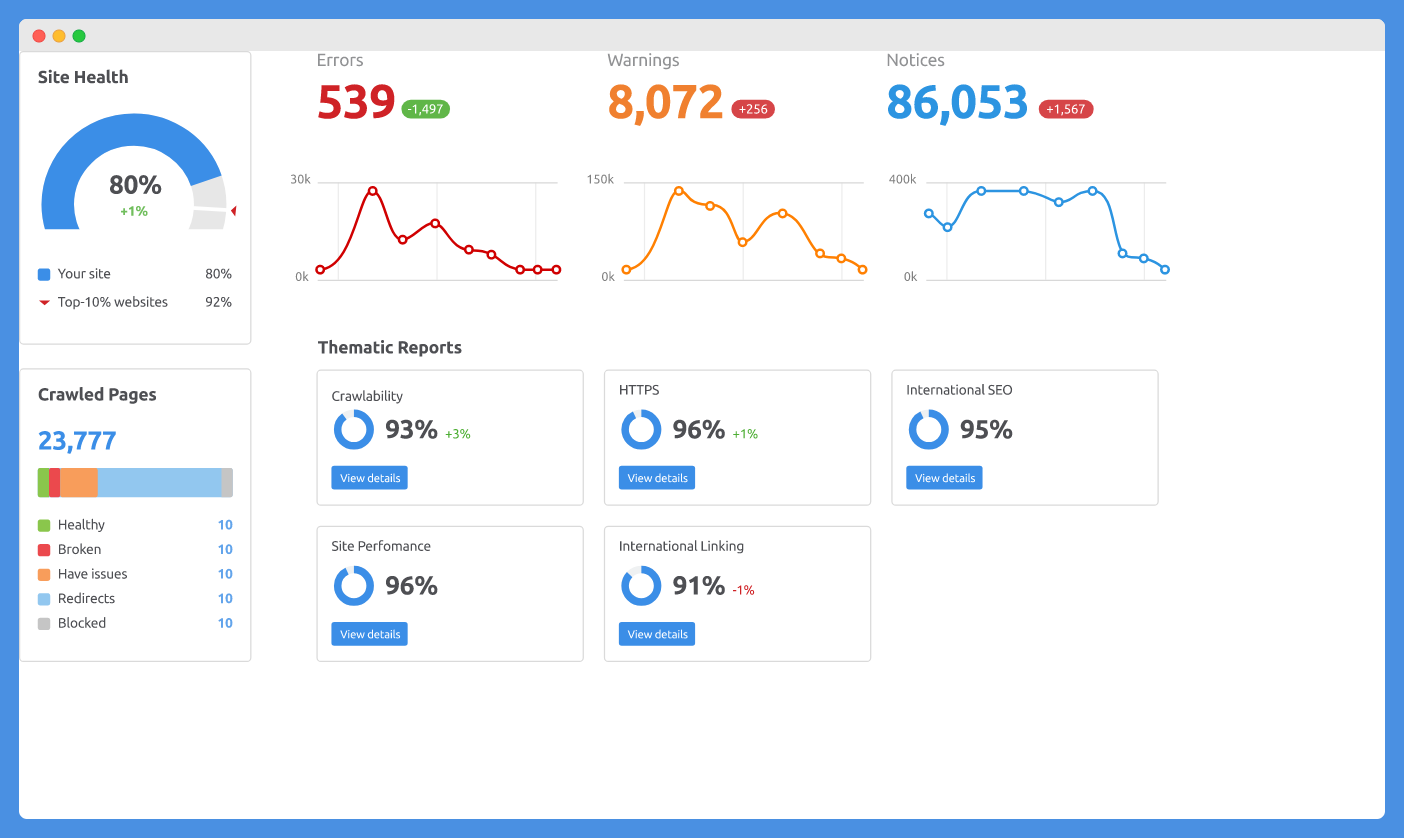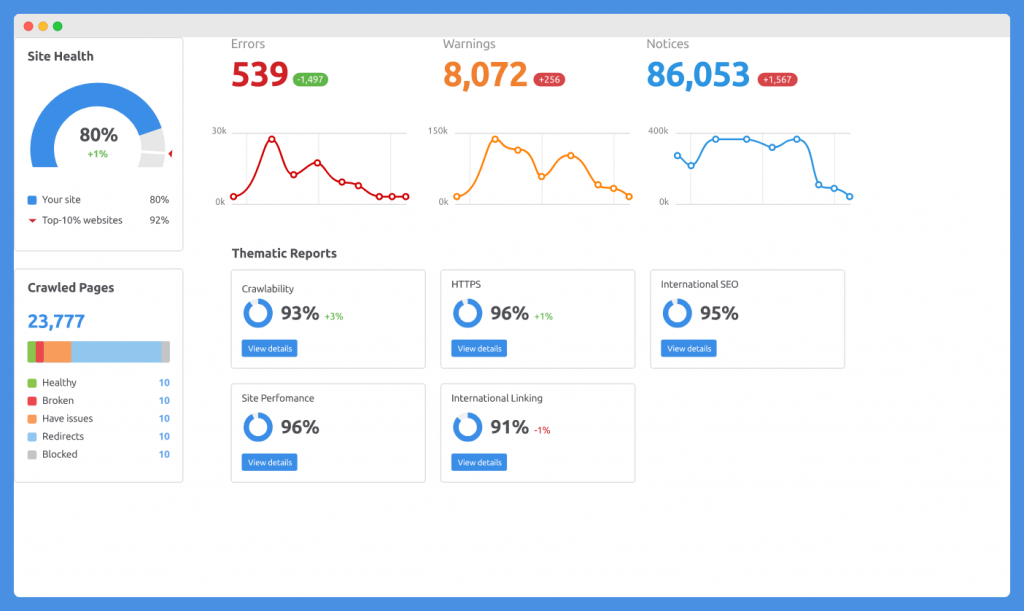 With SEMrush, its Site Audit tool can be used to analyze websites. This tool works more for SEO as it identifies on-site issues that may affect ranking on search engines.
When a website is analyzed, the tool gives it a site health score and compares it with the top 10 percent of other websites in the niche. It displays errors, warnings, and notices with an overtime graph.
From the thematic reports section, you get insights on crawlability, international SEO, international linking, site performance, and HTTPS. All of these are rated with percentages.
Furthermore, the Site Audit tool displays the number of crawled pages of a website when analyzed.
SimilarWeb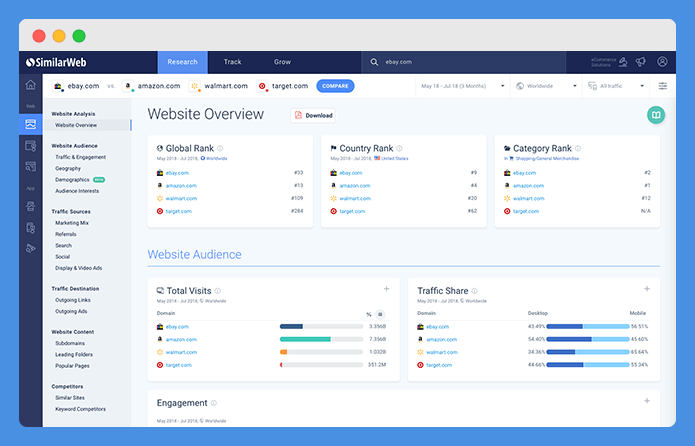 Basically, SimilarWeb is a website analysis tool, so almost all of its features are engineered towards website analysis. Nevertheless, the platform still has a specific website analysis module.
SimilarWeb can generate data for the website's audience, traffic sources, traffic destination, type of content, competitors, and implications.
That way, you can uncover the website's audience geography, interests, referrals, top traffic-driving social media platforms, top keywords, top advertising pages, similar websites, etc.
Besides that, the overview section at the top displays the site's global rank, country rank, and category rank.
Verdict
In this SEMrush vs SimilarWeb comparison category, the better platform is SimilarWeb as more data is included in the analysis results.
Check Out: Best SEO Tools For eCommerce
Content Analyzer
SEMrush Content Analyzer
The Content Analyzer SEMrush tool is one of the most essential tools of all. With this tool, you can monitor the performance of your website content.
The tool checks the number of content shares on social media, backlinks, keyword rankings, bounce rate, sessions, Google Search Console data, Google Analytics data, etc.
Our Pick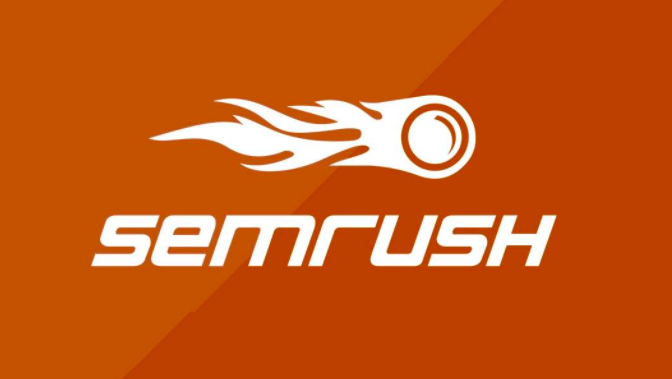 We earn a commission when you click this link and make a purchase.
As a result, you can identify top-performing content, content with the most shares, and the content that should be revamped. If you accept guest posts, the Content Audit tool will also come in handy.
SimilarWeb
SimilarWeb might not have a direct content analyzer tool, but content can be analyzed using the website analysis tool discussed in the previous SimilarWeb vs SEMrush feature category.
When a website is analyzed with the tool, a Website Content section is listed among the right-tab options.
This section contains data about the most popular pages on the site and also subdomains.
For the popular pages, you can sort through the most popular pages for the month, top-performing new pages, trending pages, and best-performing pages for different time frames.
From the social traffic section, you can get insights on content social shares.
Verdict
Unlike SimilarWeb, you can get more insights into your content with the SEMrush Content Audit tool.
Website Comparison
SEMrush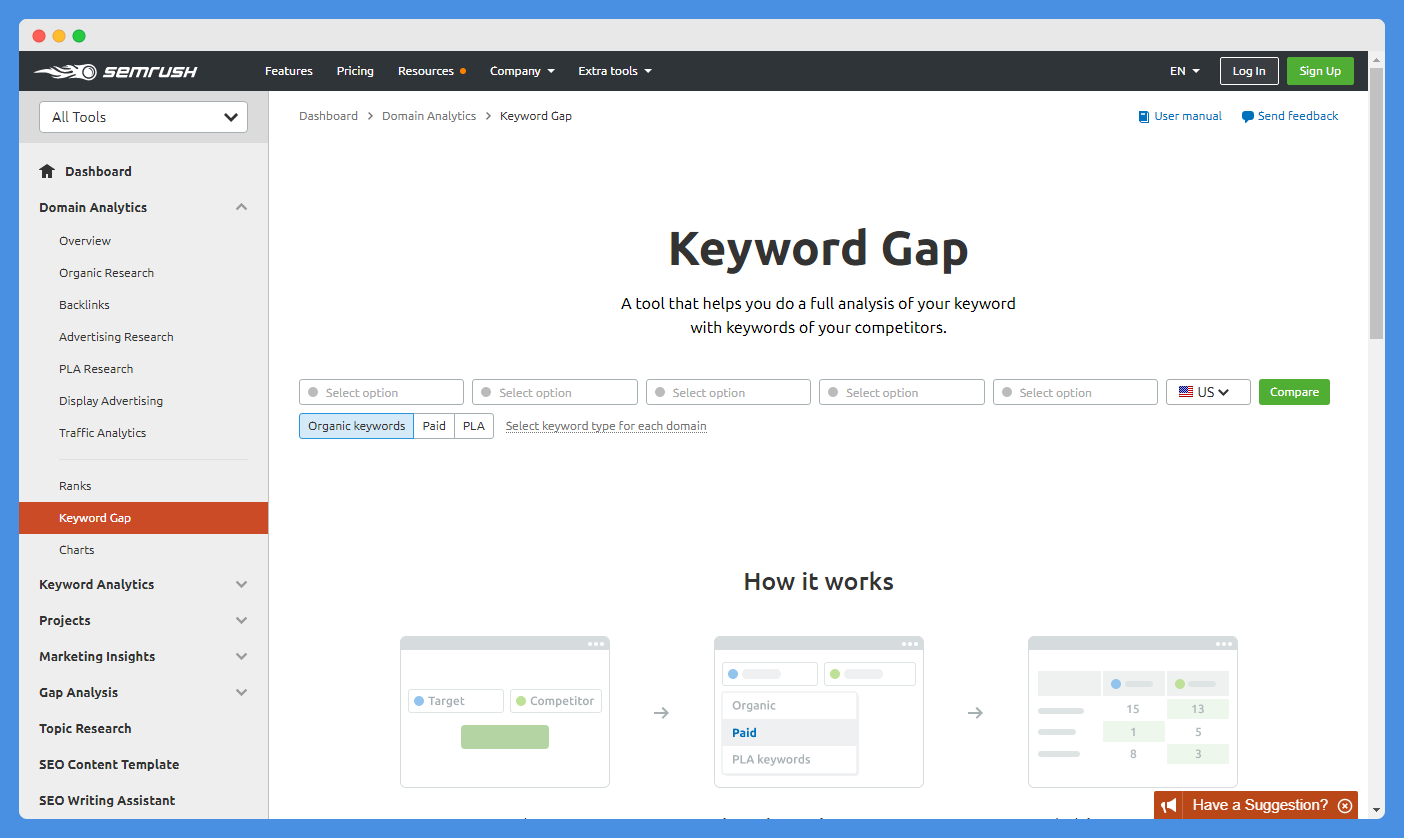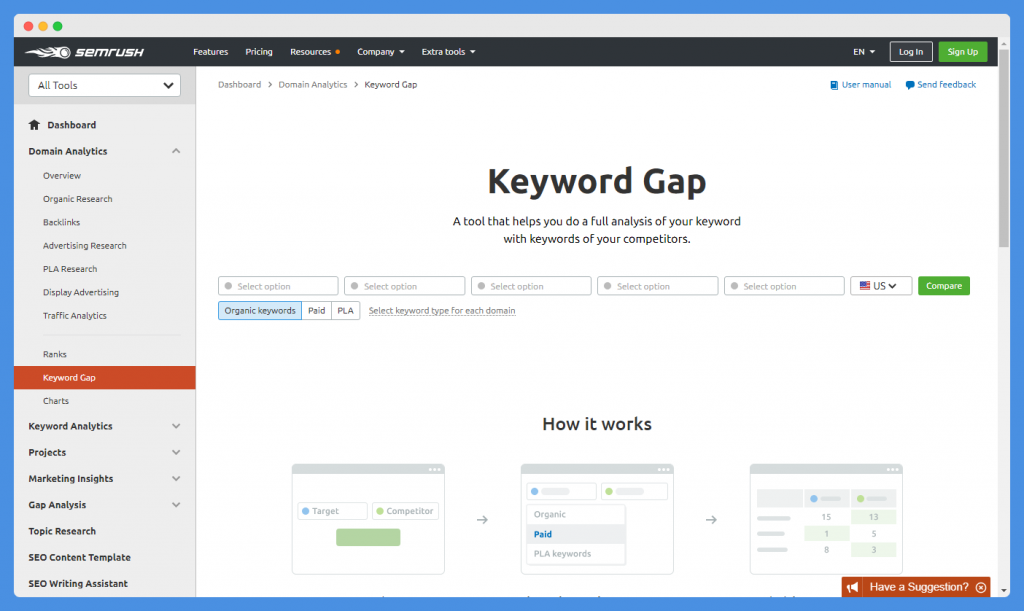 The Keyword Gap is one of the competitive research tools featured on SEMrush, and it can be used for website comparison.
To use this tool, you have to enter the different websites you want to compare; it could be your website vs a competitor website. In fact, SEMrush allows up to five domains at a time.
Next, you should select the country data that you are comparing and set the comparison factors, which are PPC and SEO keywords profiles.
Top opportunities for each of these websites (missing and weak keywords) are listed and also a keyword overlap chart.
There are quick filters for sorting through the keyword profiles.
SimilarWeb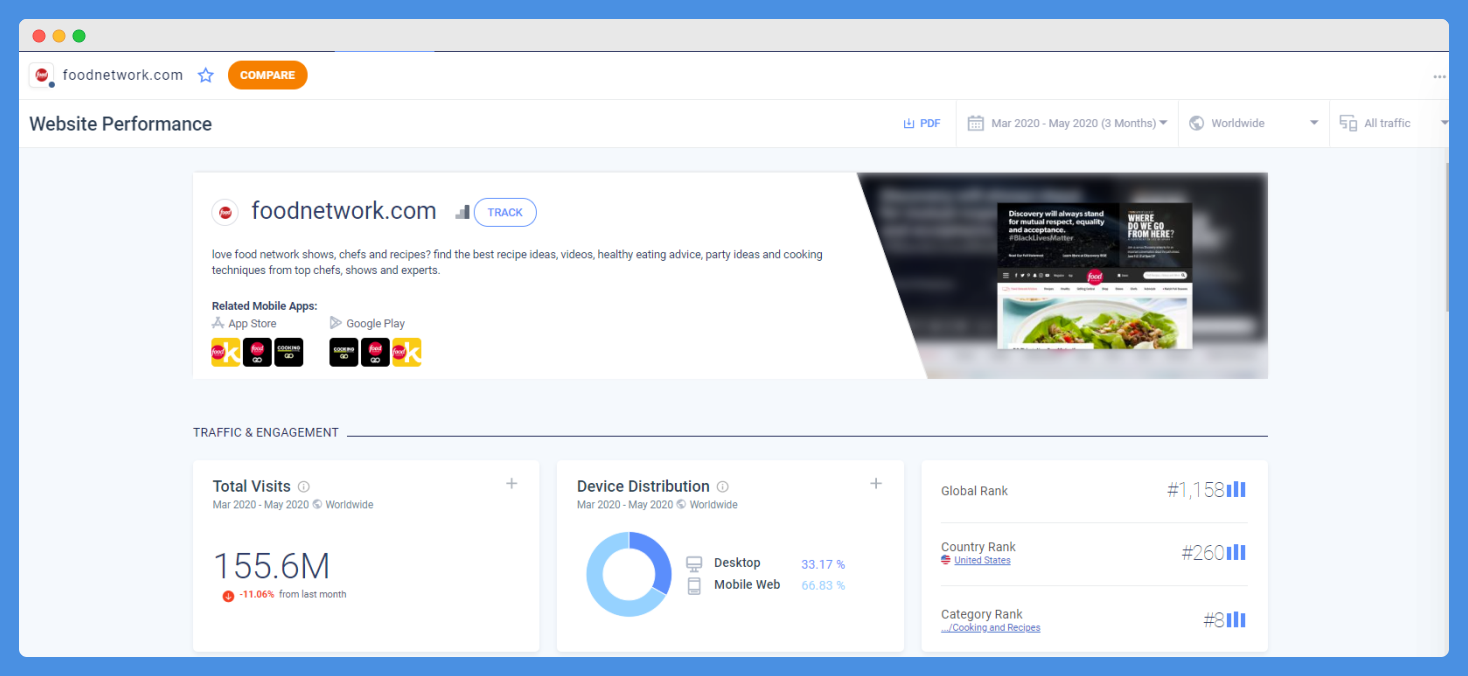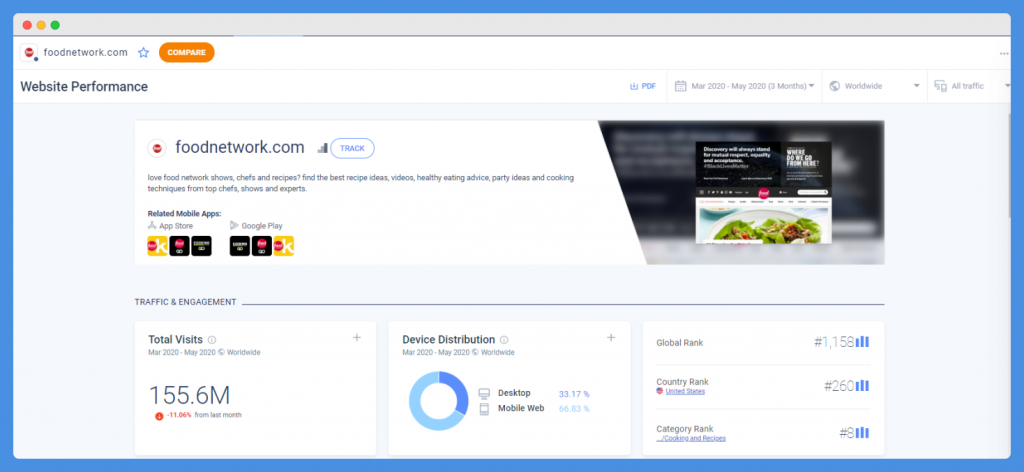 SimilarWeb has a Compare Tool for website comparison amongst other functions. This tool is straightforward to use.
It can be accessed from the Website Analysis tool. After running a website analysis, you simply click on the Compare button at the top-left side of the page and enter the website or websites you want to compare.
You can compare five different websites at a time.
The comparison result is a detailed one with insights on traffic channels, ranking, marketing channels, etc. of the different websites.
All of the metrics provided when one site is analyzed is displayed for other websites you enter in the Compare Tool side by side.
Verdict
While SEMrush focuses more on keywords with its Keyword Gap tool, SimilarWeb analyzes more with its Compare tool.
Check Out: SEMrush vs iSpionage vs Serpstat
Competitor Spying
SEMrush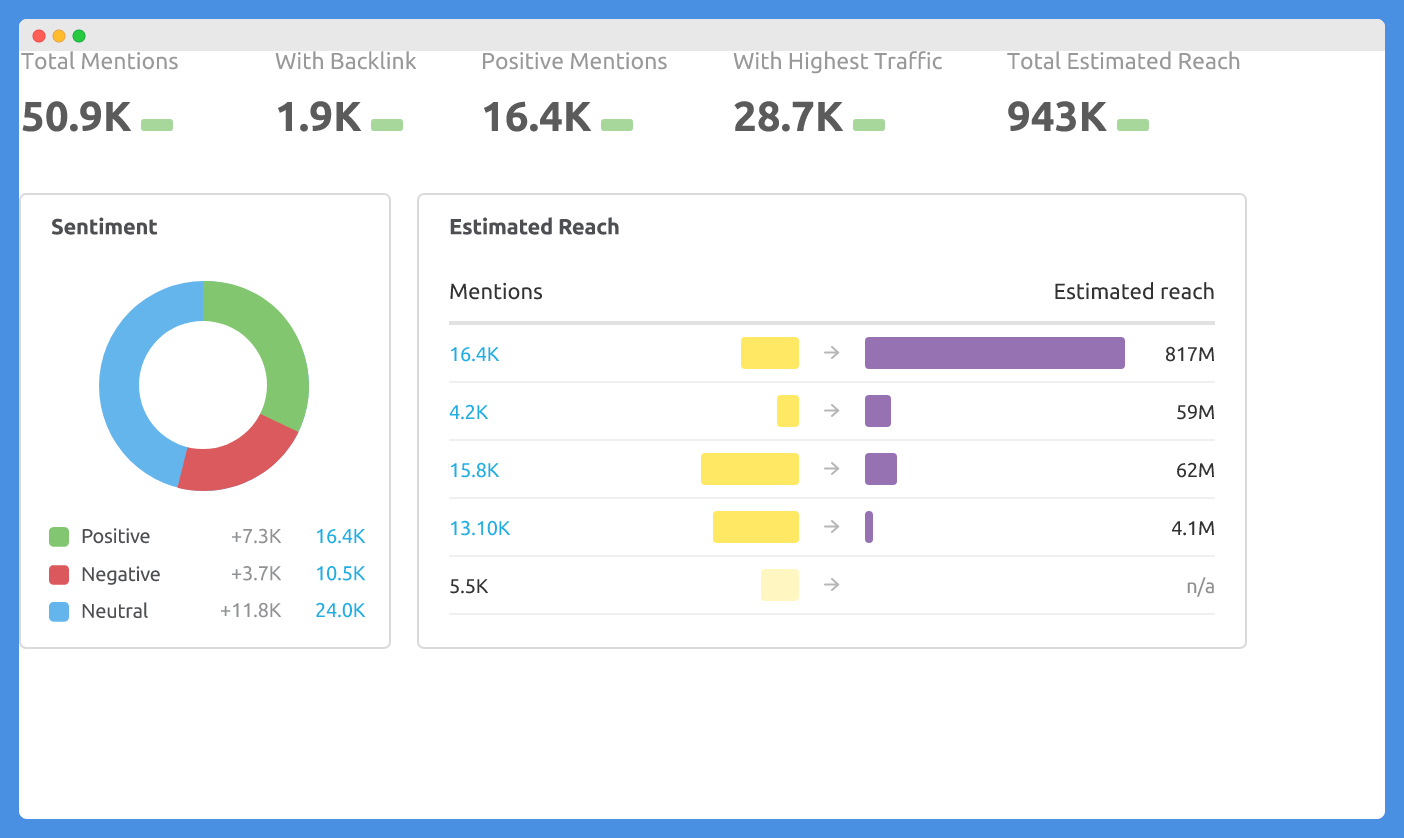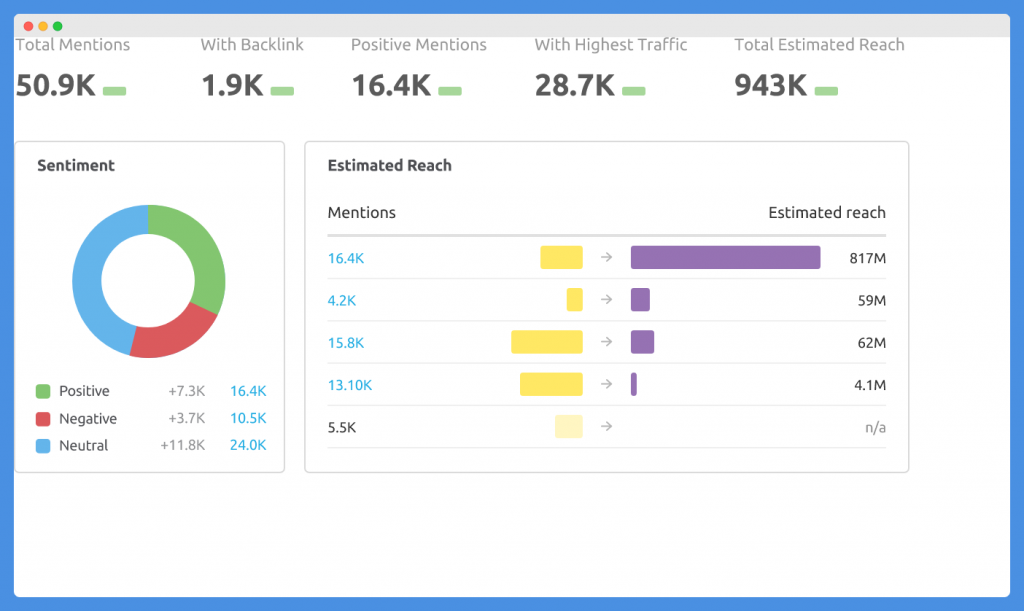 There are many tools for competitor spying featured on SEMrush. First off is the Advertising Research tool that can be used to reveal your competitor advertising strategies and PPC campaigns.
You can also uncover PPC keywords and organic keywords with the Organic Research tool. There's also the Backlinks tool for discovering your competitor's backlinks.
Our Pick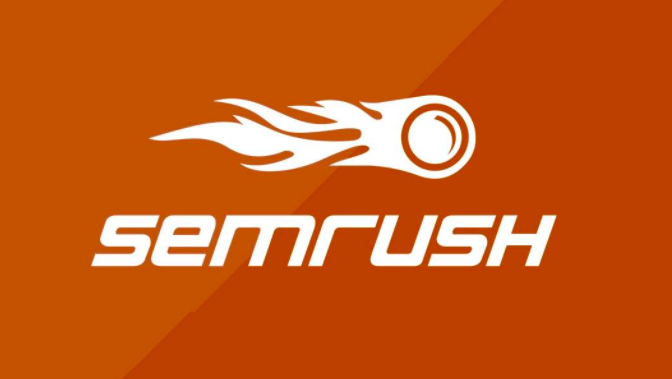 We earn a commission when you click this link and make a purchase.
However, the most functional SEMrush tool for competitor spying is the Brand Monitoring Tool. You can thoroughly monitor brands with this tool, including their PR, online mentions, referral traffic, link building opportunities, etc.
With SEMrush, you only need to identify your competitors' domain name (e.g., www.yourcompetitor.com) to spy on them. Thankfully, SEMrush's Market Analysis tool can help you to discover them.
SimilarWeb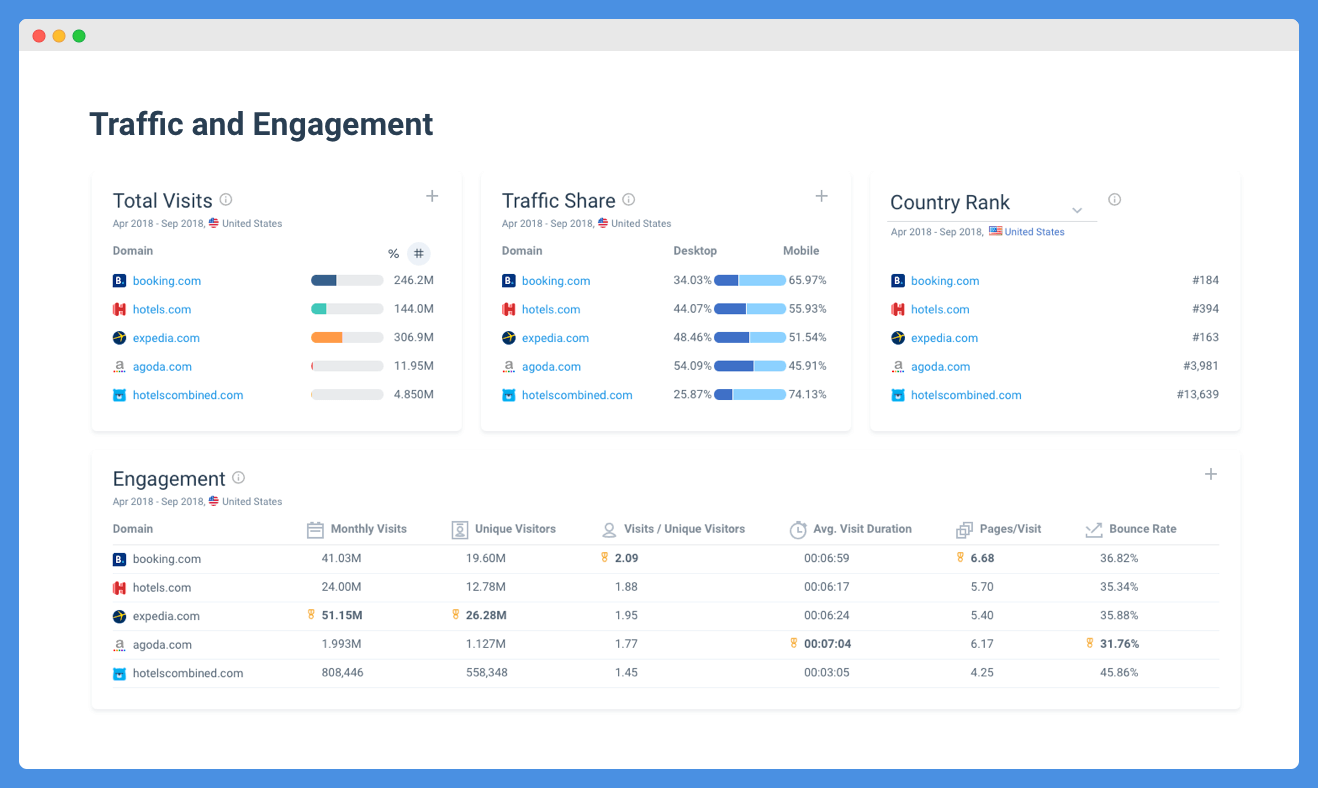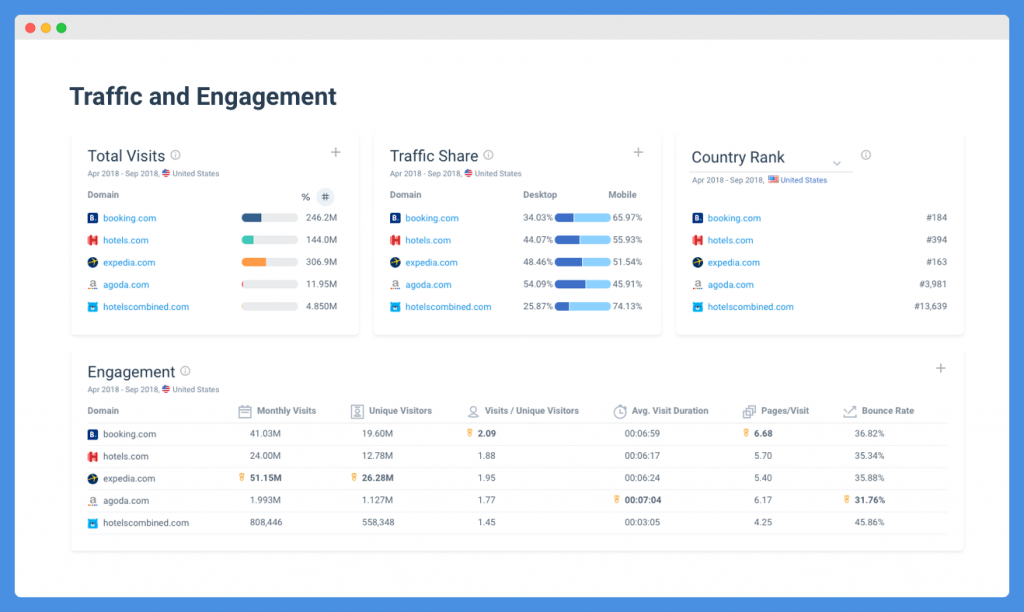 For marketing research, SimilarWeb incorporates useful competitor spying features, which include competitive analysis, competitor keyword research, competitor PPC, display advertising, etc.
Its Marketing solution helps uncover competitors advertising campaigns, spent revenue, landing pages, placement strategies, and used ad networks.
The competitor keyword research option identifies organic and paid keywords that your competitors rank for, while the competitive analysis option breaks down competitor traffic and engagement data.
Verdict
There's nothing much to separate both in the SimilarWeb vs SEMrush comparison category. So, it's a draw here.
Interesting Post: Ahrefs Review
Search Engine Optimization
SEMrush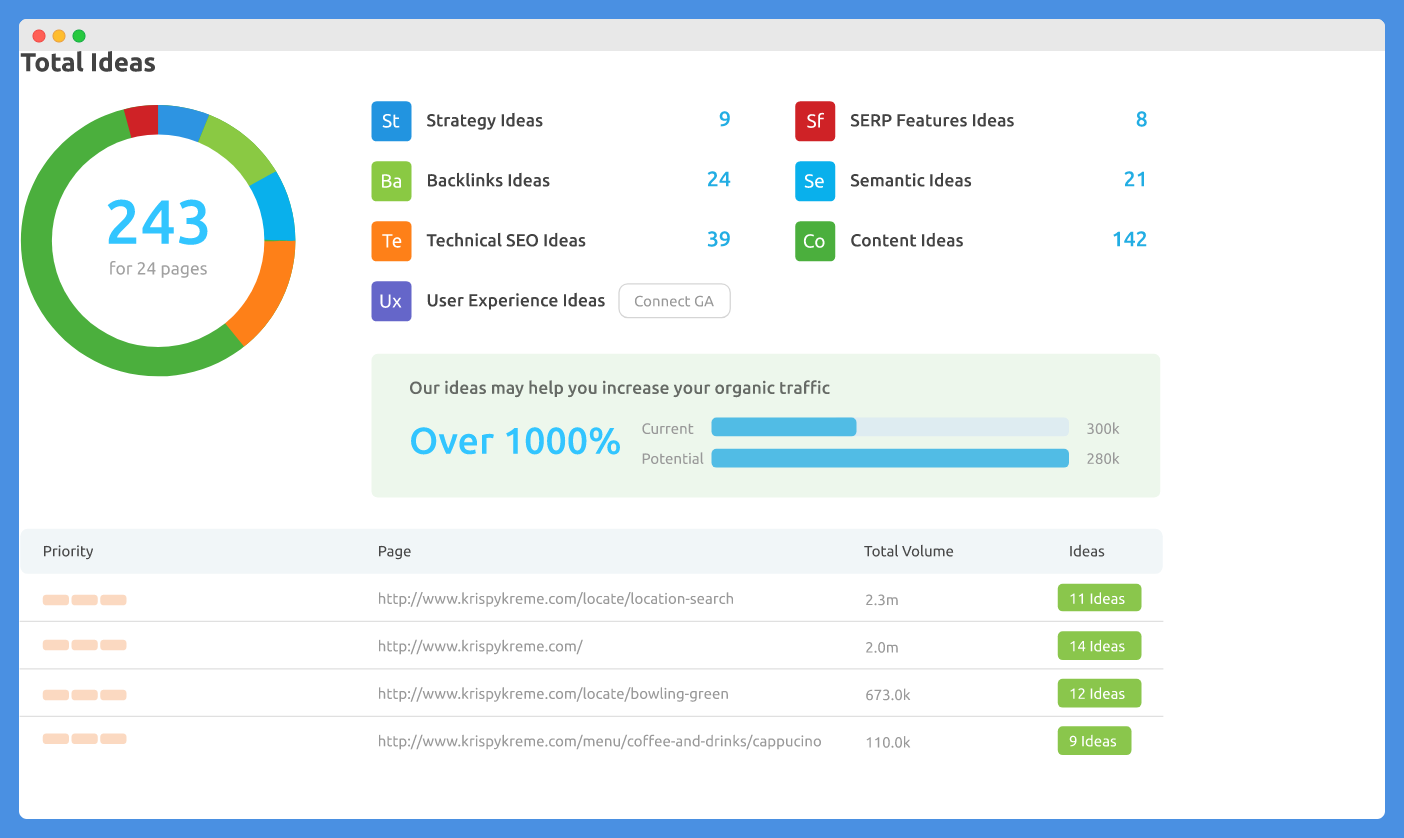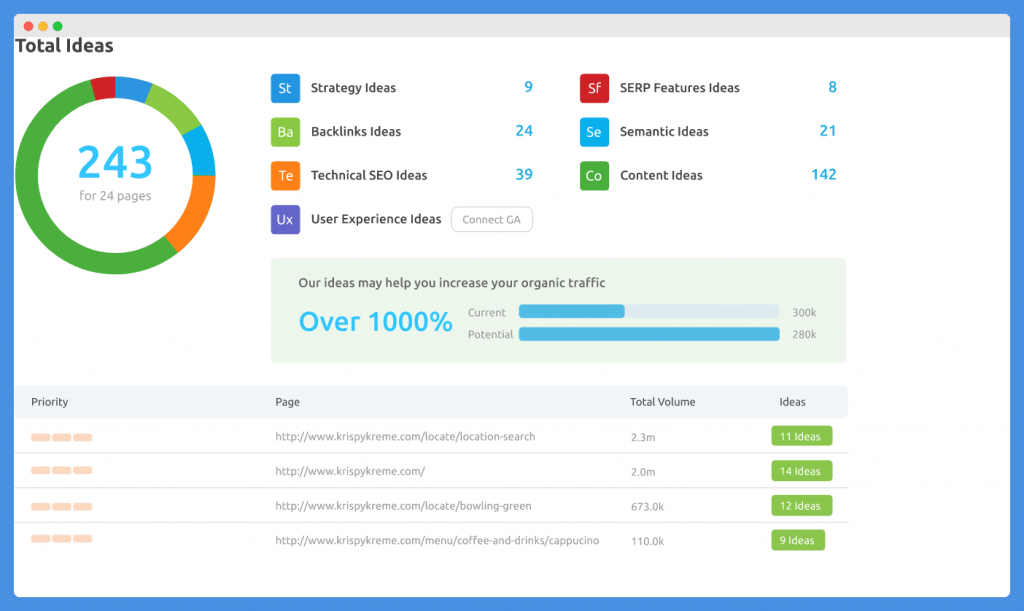 Basically, SEMrush tools can help in SEO, but the specific tools for search engine optimization available are the SEO Writing Assistant tool and the On-Page SEO checker.
The SEO writing assistant tool works for content optimization. It analyzes your content to detect its SEO-friendliness and plagiarism count. It also checks for voice tone, word count, and readability.
The On-Page SEO checker analyzes your site's general SEO health with insight into technical ideas, strategy ideas, SERP features, semantic ideas, etc. That way, you can check the SEO health of your entire site or specific pages.
SimilarWeb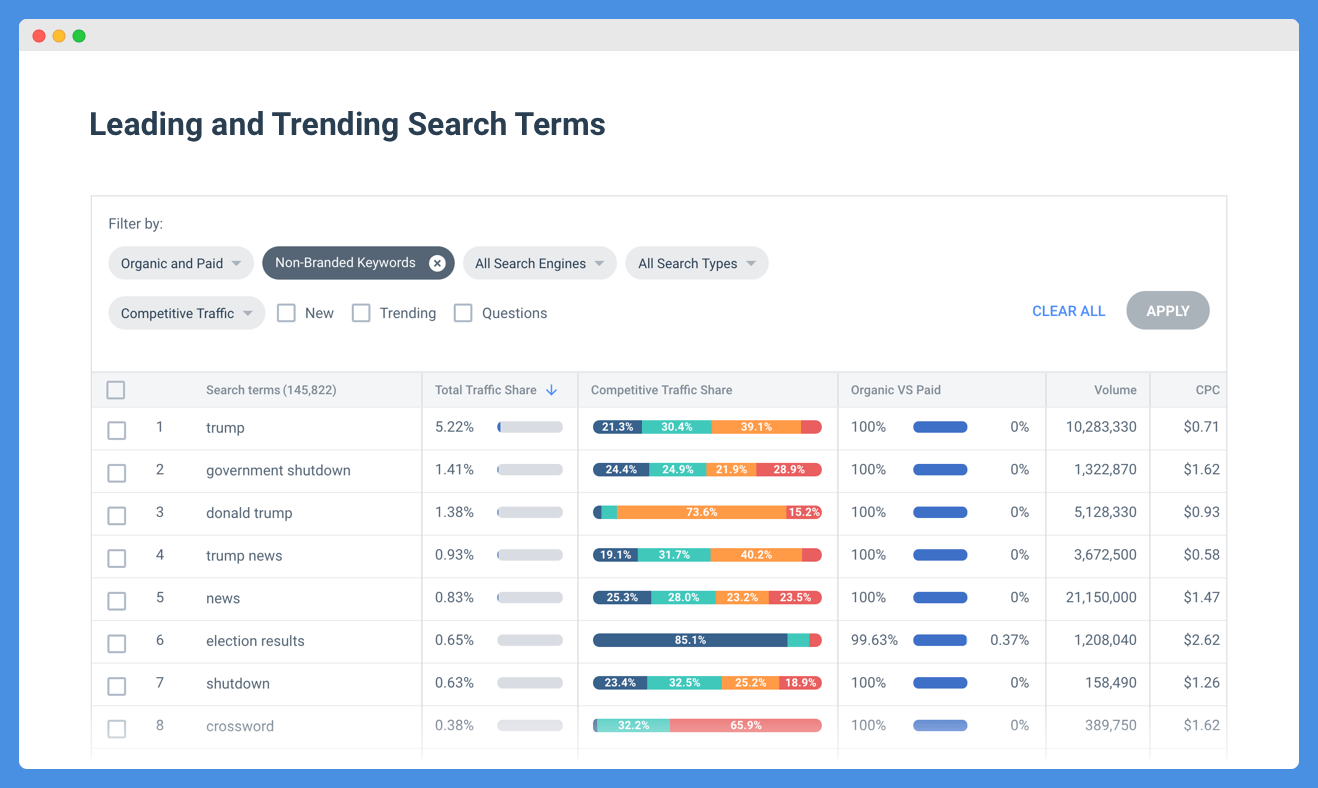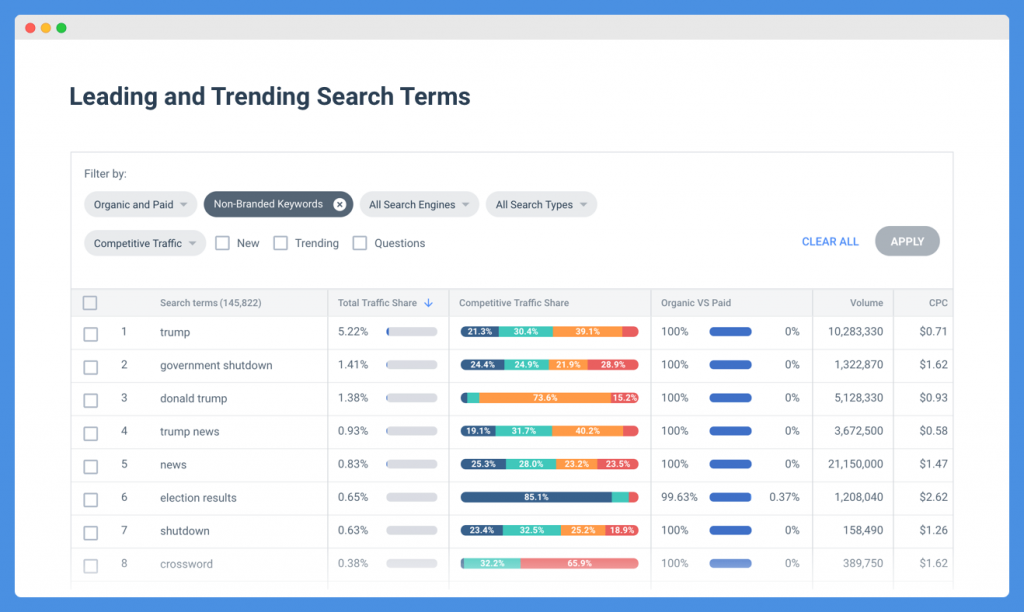 SimilarWeb features an SEO tool that can help you rank higher on SERPs. The incorporated features in this SEO tool include top keywords, keyword analysis, keyword generator, and referral analysis, which have been discussed earlier.
However, the most essential feature is the top keywords section. This displays leading and trending search terms in your niche, thereby giving you new keywords for your SEO campaigns.
Verdict
SEMrush has more specific features for search engine optimization than SimilarWeb.
Analytics & Reports
SEMrush
With SEMrush's My Reports Tool, you can keep track and share all of your business data. Every data you track or monitor using SEMrush can be collected with the My Reports Tool.
You can create custom reports or simply use any of the premade report templates. Also, you can build custom reports by using the drag-and-drop builder tool. Plus, there are elements like titles, page breaks, columns, etc. to use.
Conversely, you can set reports to be automatically generated and shared daily, weekly, or monthly. Furthermore, the generated report is white-labeled, so it carries no SEMrush branding.
Our Pick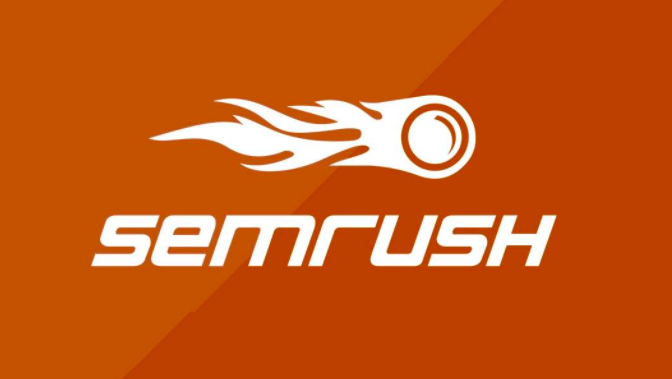 We earn a commission when you click this link and make a purchase.
SimilarWeb
SimilarWeb is a website traffic statistics and analytics tool, so if it lacks in any area, it's not in the area of reports.
The platform has a report generator that you can use to generate and export data. This report generator has beautifully designed report templates you can use.
Thankfully, SimilarWeb reports can be exported as Powerpoint, PDF, or Excel files. After analyzing any website, market, keyword, etc., simply click on the Generate Report button to generate the report.
Verdict
Both platforms deliver insightful reports and analytics, but the SEMrush report builder, which allows more customization gives it an edge over SimilarWeb.
Check Out: Best Ubersuggest Alternatives
Third-party Integrations
SEMrush
SEMrush integrates with third-party platforms, including Google products, social networks, and CRM platforms, amongst others.
Some of the Google products that SEMrush integrates include Analytics, Search Console, Docs, Gmail, Sheets, Calendar, My Business, etc.
For social networks, SEMrush seamlessly integrates with Facebook, LinkedIn, Pinterest, YouTube, Instagram, Twitter, etc.
Not to mention, SEMrush also integrates with the WordPress CMS and other platforms like Trello and Majestic. Moreover, SEMrush has an API and Google Chrome extension.
SimilarWeb
SimilarWeb does not have many third-party integrations. The major platforms it integrates with are Salesforce and SAP.
Nevertheless, SimilarWeb has an API for developers that ensures integrations with custom solutions. They have partnered with Codersclan if you need help with implementing API.
You get 15% discount on SimilarWeb API cost using the code SIMWEB.
Also, the platform features a chrome extension.
Verdict
SEMrush wins here because it has more third-party integrations. It's worth noting that both platforms feature an API.
Customer Support And Resources
SEMrush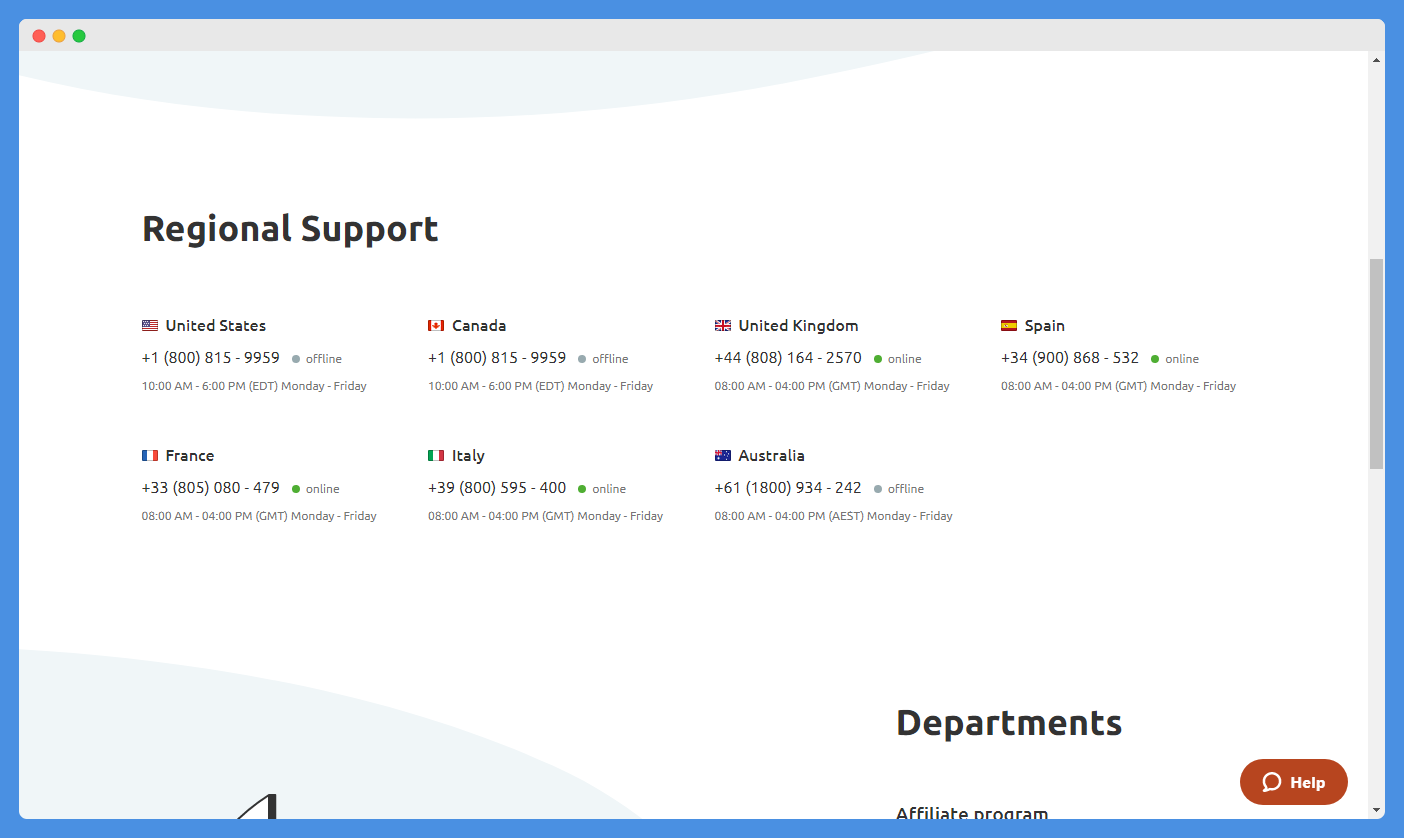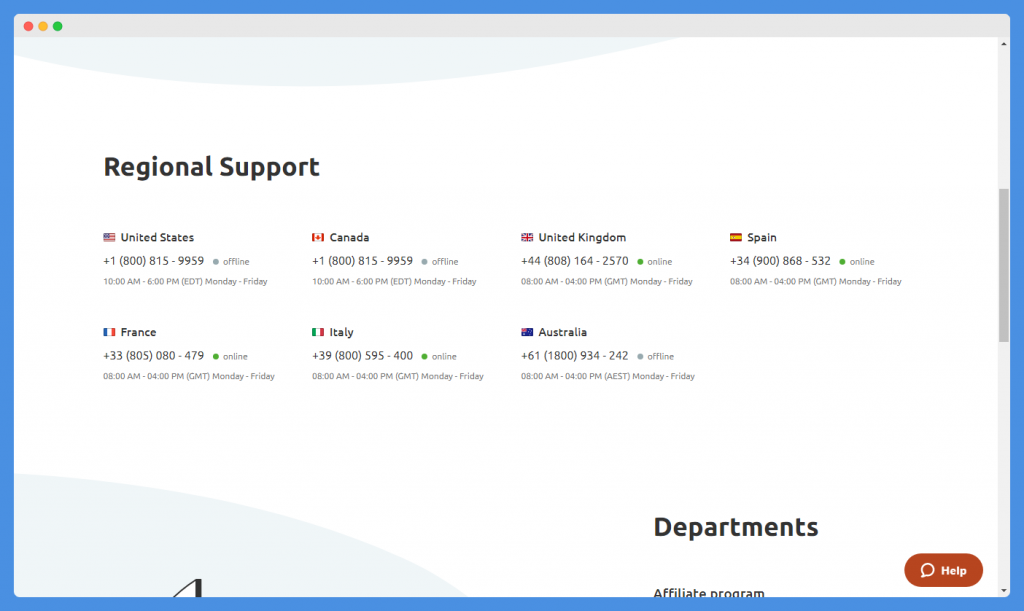 You can get help on SEMrush by using the knowledge base or by learning from the SEMrush academy. Resources available include a blog and webinars.
To reach the support team directly, you can either send an email, use the LiveChat, or call any support lines.
There are support lines for different countries, and calls are accepted from Monday to Friday – 10 am to 6 pm for some counties, and 8 am to 4 pm for others.
SimilarWeb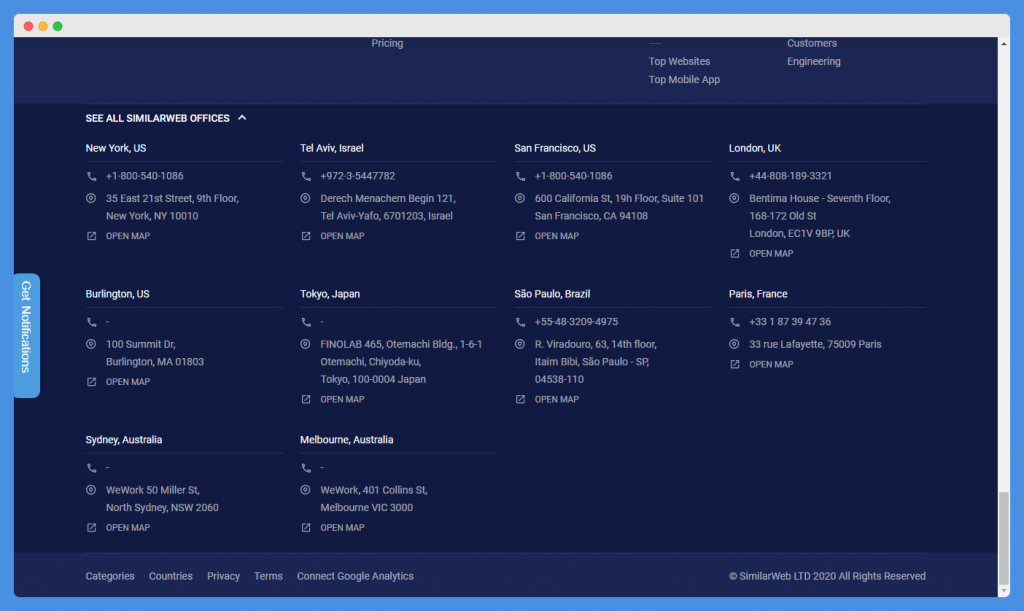 The SimilarWeb support team can be reached via different support channels, including email, LiveChat, and phone. SimilarWeb has phone support available for six different countries.
For resources, SimilarWeb has a good number of them. There is a knowledge center, webinars, events, a blog, reports, and a ranking list – digital 100.
Verdict
LiveChat, email, and phone support are available on both SimilarWeb and SEMrush. However, SimilarWeb has more resources, so it wins.
Pricing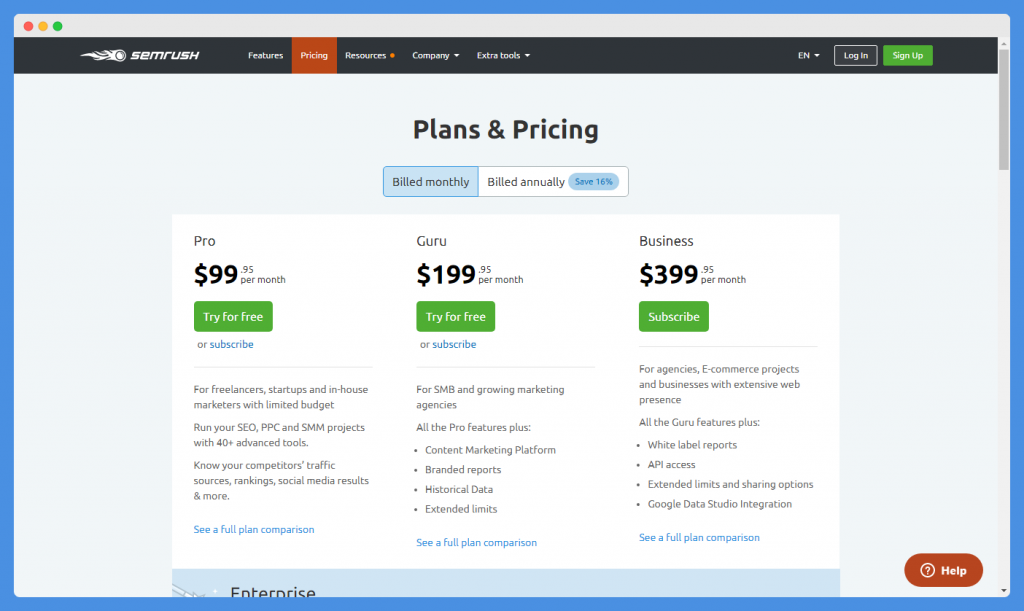 SEMrush has four major pricing plans which can be paid monthly or annually.
Pro Plan – $99.95 per month when billed every month, $83.28 per month when billed annually
Guru Plan – $199.95 per month when billed every month, $166.62 per month when billed annually
Business Plan – $399.95 per month when billed every month, $333.38 per month when billed annually
Enterprise Plan – Custom Pricing
Our Pick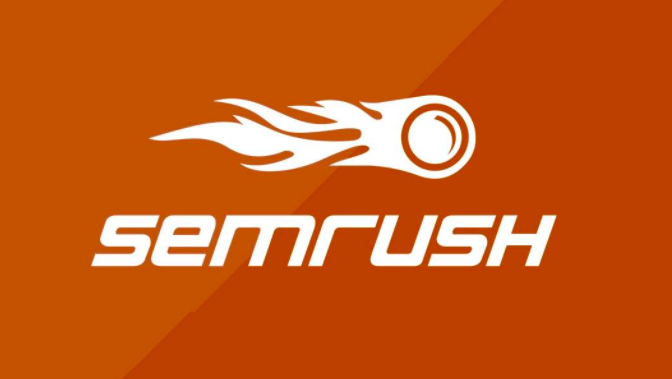 We earn a commission when you click this link and make a purchase.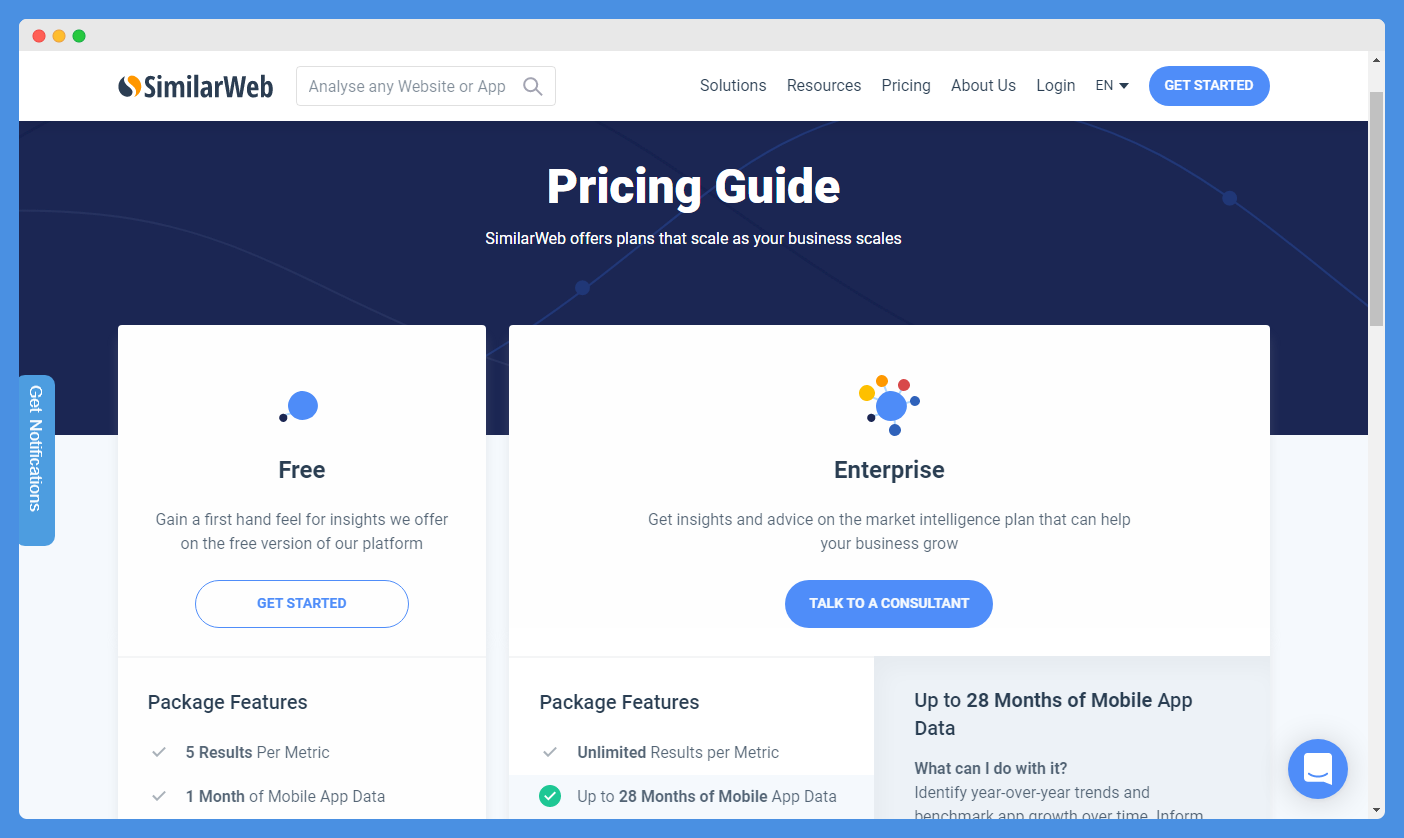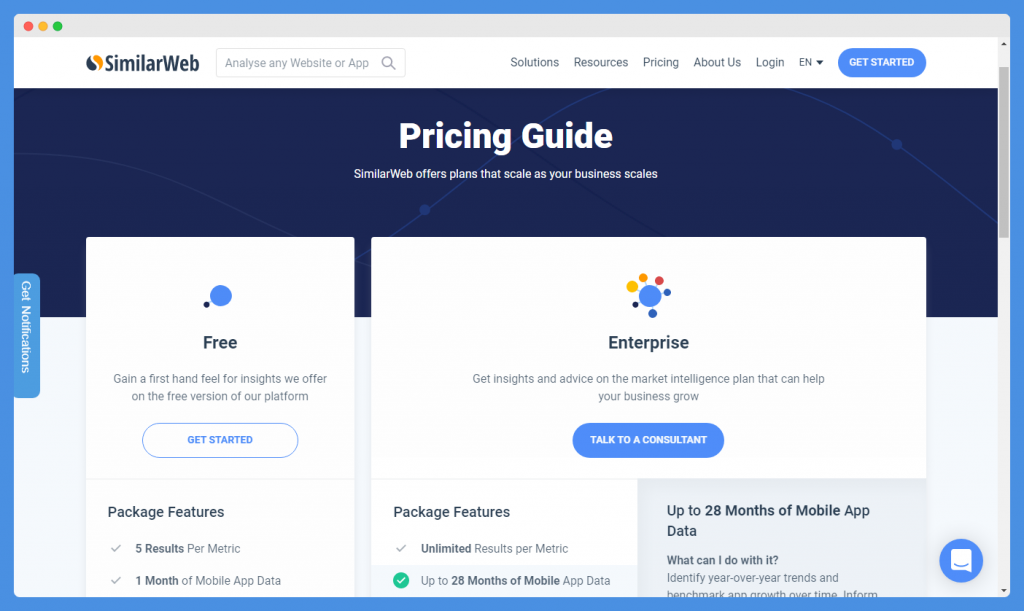 Let's talk about the cost SimilarWeb has kept for its services.
SimilarWeb has only one premium pricing option, and the cost depends on your requirements.
Free Plan – $0
Enterprise Plan – Custom pricing
Note: It's essential to understand that these pricing plans are flexible and change from time to time.
Interesting Post: eCommerce SEO Mistakes You Cannot Simply Overlook
SimilarWeb vs SEMrush: Similarities & Differences
Similarities
Both SEMrush and SimilarWeb work for keyword research.
They both work for market research.
Both SimilarWeb and SEMrush work for website analysis.
They both work for competitor spying.
SEMrush and SimilarWeb work for search engine optimization.
Both SEMrush and SimilarWeb can generate and export reports.
Both platforms have an API and browser extension.
Both platforms offer phone and email support.
Differences
Unlike SimilarWeb, SEMrush has a specific content analyzer tool.
Unlike SEMrush, SimilarWeb has a distinct keyword generator tool.
SEMrush's website comparison tool focuses only on keywords, while SimilarWeb offers a comprehensive website comparison report.
SimilarWeb offers a free plan while all of SEMrush plans are paid.
SimilarWeb supports less third-party integrations while SEMrush has more.
Pros & Cons
SEMrush
Pros
Keyword research
Market research
Website analysis
Competitor spying
SEO Checker and writing assistant
Third-party integrations and API
Multiple support channels
Cons
Domain comparison for keywords alone
High cost
No direct keyword generator
SimilarWeb
Pros
Keyword research
Keyword generator
Free plan and flexible paid plan
Market research
Website analysis
Competitor spying
SEO tool
API for custom integration
Multiple support channels and resources
Cons
No direct content analyzer
Few third-party integrations
SEMrush vs SimilarWeb – Which Is Better?
In this SEMrush vs SimilarWeb comparison, SimilarWeb is the better platform between the two.
With SimilarWeb, you can analyze a website, monitor competitors, carry out keyword research, make market research, etc. In fact, SimilarWeb incorporates several features available on SEMrush.
Furthermore, SimilarWeb is relatively more comfortable to use than SEMrush thanks to its user-friendly interface and straightforward features.
You can use SimilarWeb for free to a reasonable extent, and if you want to switch to a paid plan, it will be priced according to your needs.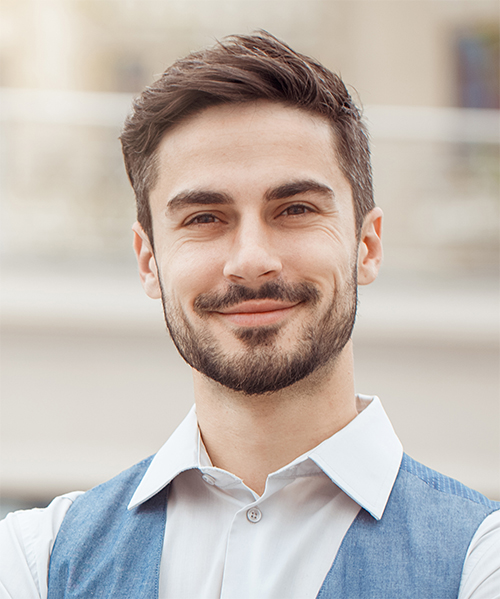 Author: Scott Macarthur
Scott L. Macarthur is a marketing consultant and an online author. He is mostly engaged in providing his expertise to startups and SMBs. He is also an author on TheNextWeb.