If you're considering Etsy and Depop, you probably have noticed that they're really not that different, especially in the products they push.
However, there are key differences that distinguish each of the two platforms. Once you understand these differences, you can achieve the desired return you're looking for.
This comparison review looks at these key differences and unique features of each platform to help you know which one to pick for your online business.
Etsy vs Depop: What Are They?
Etsy is a unique, global marketplace for creative and unique items such as craft supplies, handmade pieces, and vintage treasures.
The platform is home to a universe of extraordinary yet special items where creativity lives and thrives.
Etsy helps sellers convert their creative ideas into successful businesses by connecting them with millions of buyers who seek special alternatives for common items.
These shoppers, small-business owners, and a community of makers share a passion for rare and uncommon goods, which are ideal for those moments in life that deserve imagination.
You can also use Etsy for Print On Demand business. Popular POD platforms like Printful, Redbubble, and several others offer Etsy integration.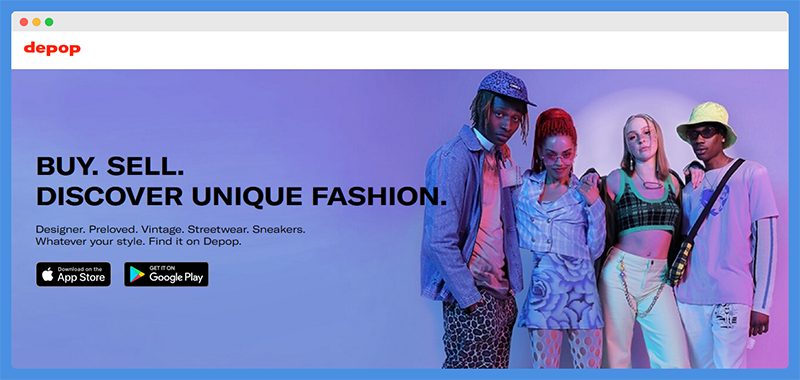 Depop is a mobile fashion marketplace app that brings together different buyers and sellers with unique items.
Like Etsy, the Depop marketplace has a global community who buy, sell, and connect to make fashion more diverse, inclusive, and less wasteful.
The platform was originally a social network where readers of PIG magazine could buy items they saw in the magazine but has morphed into a fun and quirky online mall with over 21 million users.
Depop marketplace looks and feels like Instagram, with a familiar interface that makes it feel easy and intuitive. It's basically a shoppable Instagram for vintage and streetwear.
The marketplace is designed for creative people with an existing fan base or strong brand.
Some of the brands that seem to do well on Depop include Patagonia, Supreme, Reformation, and Nike, but there's interest in Gucci, Guess, and other brands especially during festivals or summer.
Explore: LetGo vs Mercari
Depop vs Etsy: How Do They Work?
Etsy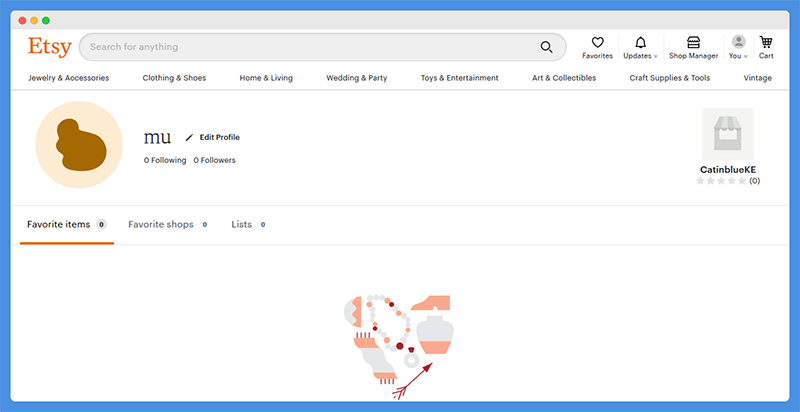 Etsy offers low fees, powerful tools, education, and support to help you start, manage, and scale your business.
Getting started on Etsy is simple. Just open a shop, set it up, add listings to the shop, and then engage in marketing, branding, and promotion of your store.
Once all that is done, you can manage your Etsy shop easily from the dashboard.
To open my Etsy shop, I started by creating an Etsy account, which I use to run my shop, and then added a profile picture and bio for buyers to know more about me.
Next, I set up my shop and prepared to start selling items. Here, I considered the production time, shipping plan, and policies.
Some of the key elements I address during setup include the About section that describes my brand, banner, shop logo, team members, shop announcement (welcome message), and shop policies for returns, shipping, payments, custom items, and other guidelines.
With the shop sections set up, I added listings (products) to my Etsy shop.
Once my store was complete with all the sections, necessary information, and listings, the next step I took was to market, brand, and promote the shop. This ensures the success of my shop as my customers are able to find my products, and I can keep them informed on the latest with my shop.
Managing my Etsy shop involves different tasks. I use the Sell on Etsy app to manage the shop on the go. Plus, I made sure to review Etsy's seller protection policy and Review system so that I follow the best practices for selling on the platform.
I also network with other sellers and buyers through the Etsy community and teams, find local craft fairs or markets to sell your goods, and use paid ads to market my shop more.
Interesting Comparison: Etsy vs Shopify
Depop
Depop has a dedicated seller team that helps sellers with anything including the basics about the platform to how to become a Top Seller.
The platform is more than a marketplace, but I found it easy to get started just as it is with Etsy.
The first step I took is to create an account, take up to four photos, add descriptions of what I'm selling, and then decide on my product prices.
On Depop, I don't have to pay anything to list items; all I pay is the 10 percent fee when I sell a product.
To sign up for Depop, I downloaded the app, which is available for Android or iOS, and then opened it on my phone.
The next step was to sign up with email, Apple, or Facebook, select a username (cannot be changed once set), password, and a picture for my profile.
With my Depop account set up, the next step is to start selling. I can promote my products online through social media platforms and let buyers know that I exist and what I have in my store.
Interesting Post: Poshmark vs Mercari
Etsy vs Depop: Features
Etsy
Shop dashboard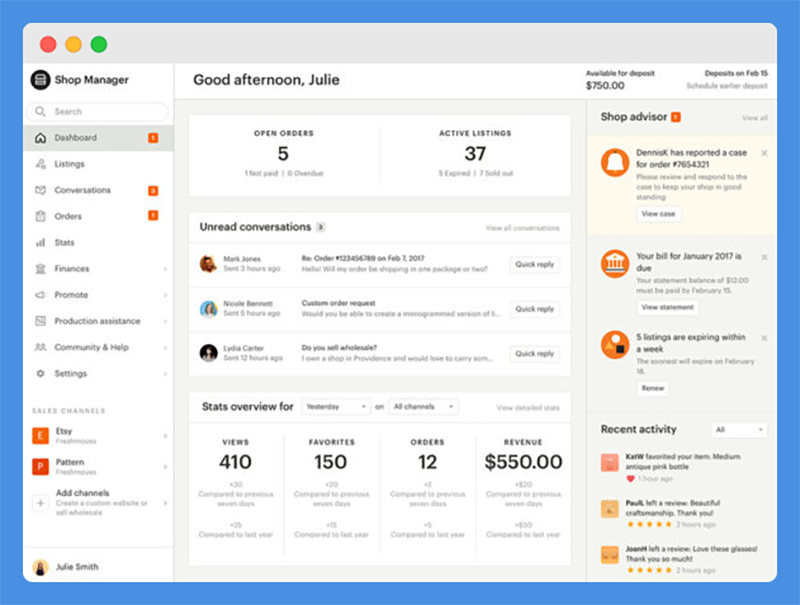 With my open Etsy shop, I can access the dashboard and see the important information about my store in one convenient place. To access the dashboard, I simply sign in and to the Your Account icon and select Shop Manager.
From the dashboard, I'm also able to see the amount ready to be deposited to my bank account, but this only works for sellers who accept Etsy Payments.
Within the dashboard, there are several sections such as:
Shop advisor, which gives reminders about things like overdue bills, expiring listings, or new cases. It also shows me timely and relevant education or tips to help me run my business more effectively and efficiently.
The Listings section displays the number of listings in my shop.
The Recent activity section or feed displays my recent listing and shop favorites, new reviews, and incoming orders.
Open and unpaid orders section displays my orders' pages
Stats overview displays the statistics on visits, views, revenue, and orders. I can filter it to see different sales channels or date ranges.
Vacation Mode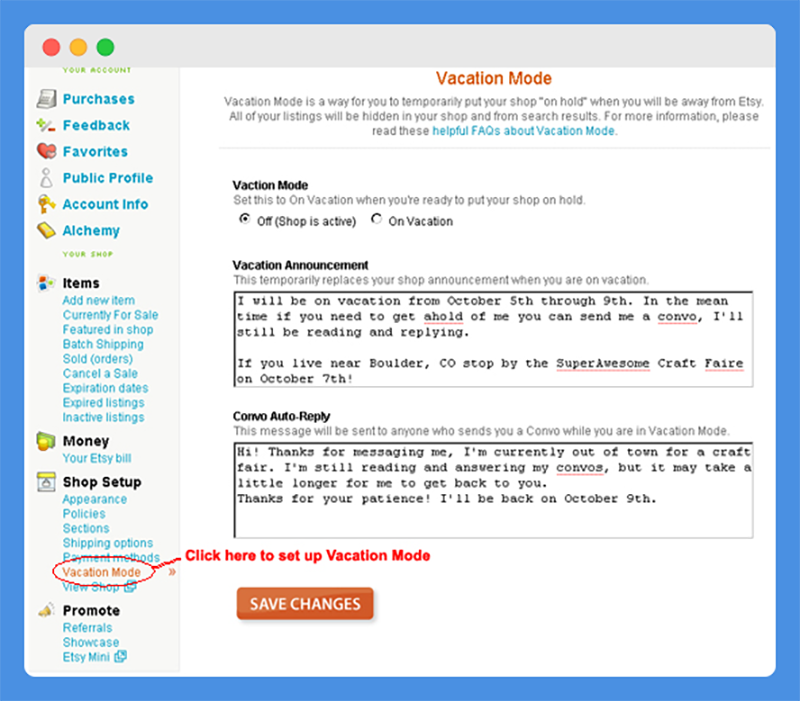 With Vacation Mode, I don't have to worry about my Etsy shop when I want to take a break from it.
This setting lets me put my shop on hold for some time especially during an emergency, or if I'm sick, traveling, or temporarily unable to run my shop. I can also set an auto-reply for any messages that come in while I'm away.
Smart Pricing tool
With the Smart Pricing tool, I can adjust item prices such that if I set up free shipping guarantees for my customers, I'm able to recover shipping costs.
Shipping Labels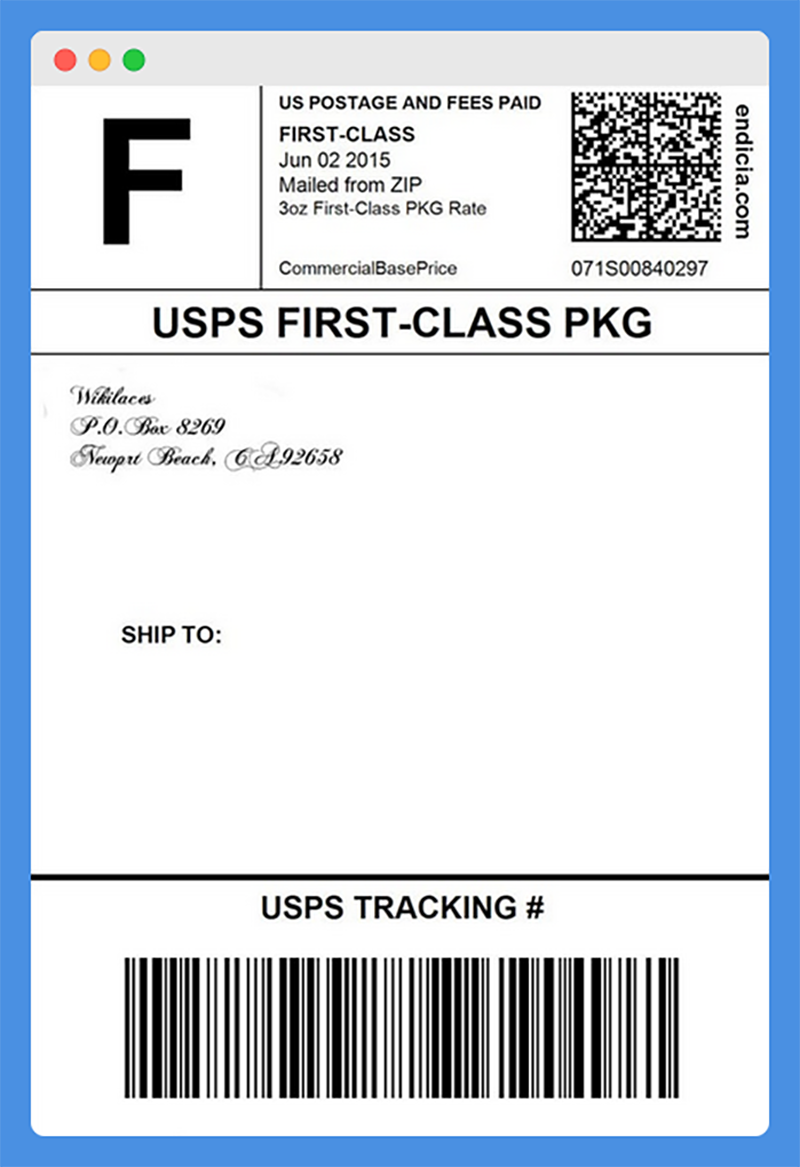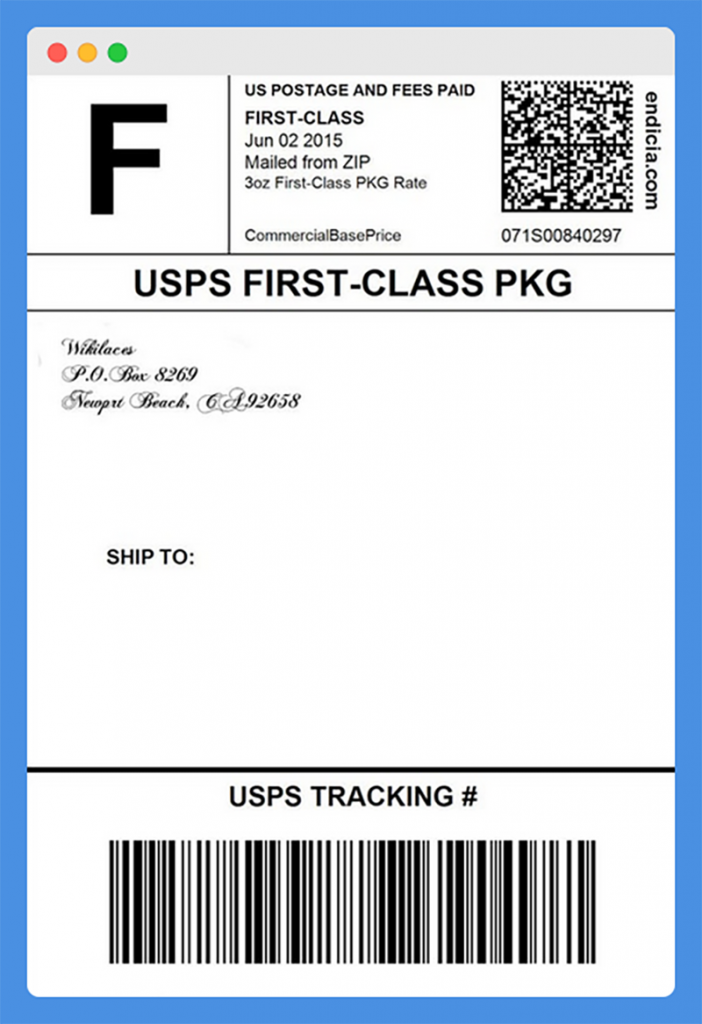 Etsy Shipping Labels are available for sellers to print and place on order packages. These labels include details such as the buyer's address and postage, so I don't have to spend time at the post office.
I can also access postage discounts, and use label carriers for providers like FedEx, Royal Mail, USPS, Canada Post, Australia Post, and Global Postal Shipping.
Pattern
Pattern is an easier way for me to set up my brand's website besides my Etsy shop. With a website, I'm able to expose my shop more and reach even more potential buyers outside the marketplace.
I can access various tools to reach more buyers, and strengthen my brand in the process.
Offsite Ads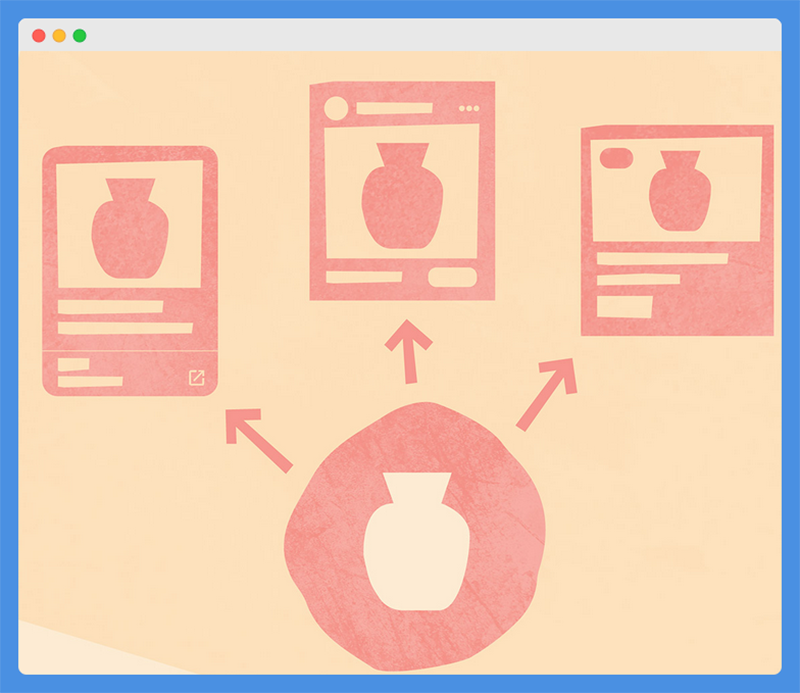 Etsy also offers offsite ads with no upfront costs to me, the seller. All I pay is an advertising fee whenever a sale comes in, and Etsy advertises my listings – at their discretion – throughout the web including on social media apps and search engine results.
Affiliate Program
Etsy also provides an affiliate program, through which I can earn commissions by sharing Etsy products and content on a different, third-party site.
For every qualifying sale, I get to earn a commission, which is paid on order price (minus VAT and costs).
Sell on Etsy App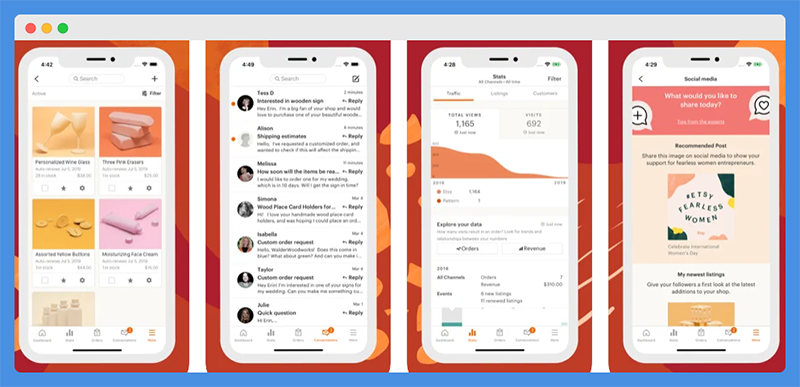 This is a mobile app by Etsy for Android and iOS devices, which is free and easy to download and install.
The app has a dashboard with a shop overview and recent activity, stats with in-depth data about listings, traffic, customers, orders, messages, listings, reviews, finances, social media, teams, and more.
Depop
Depop Collections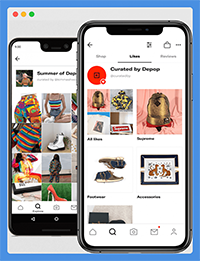 As a fashion marketplace, I can curate styles, envision group trends, and outfits on the same platform.
If I like an item, I simply add it to create a collection or add it to an already existing collection.
Explore page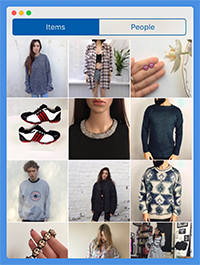 In this section, which the Depop Editorial team curates based on the in-house guidelines, I get to be featured on Depop as a way of growing my shop.
This means my shop gets seen and more people can interact with the items they find in my store, comment, and spread the love.
Depop Bundles
With this feature, I can sell multiple items for customers who in turn can buy a lot more on the go.
A bundle allows buyers to buy two or more items from me at a go, and I sit pretty knowing my products are moving fast.
To increase my chances of selling bundles, I need only set up free shipping in my Depop shop settings and enable Bundle Discounts.
This way, the buyers will get free domestic/national shipping if they buy at least two items simultaneously from my shop.
Verified Badge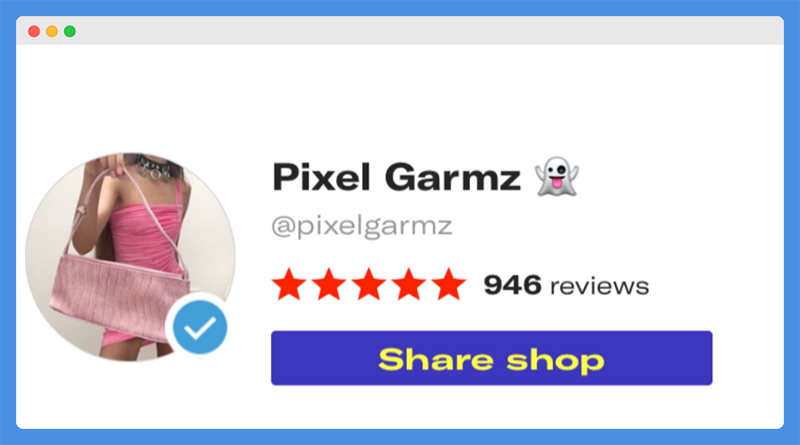 Depop's Verified Badge (blue tick) works like social media verification and reduces the risk of being impersonated on Depop by other sellers.
This badge is available to Top Sellers, celebrities, community leaders, brands, and public figures, and they're given once the Depop team has verified my shop as being trustworthy and authentic.
Depop Mobile App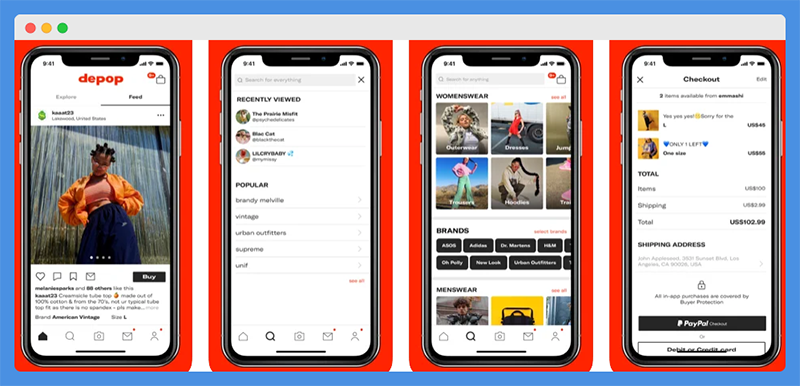 Like Etsy, Depop also offers a mobile app that helps me sell unique items to more than 18 million people.
I can use the app to discover unique fashion, explore, and get inspired by other creatives' items from across the globe.
The app also lets me set up my shop, sell by taking images or videos with my phone, connect with other sellers, and follow friends, plus join the creatives community.
Top Sellers
This is a Depop verification that's reserved for serious Depop sellers. The feature is given to sellers who consistently sell and list on Depop, and keep an average rating of at least 4.5 stars.
It also means that my shop should sell 50 or more items at an average price of about $20 per month for four months in a row, or $2600 worth of items per month for four months.
Top Seller status is also given to sellers who really look after their customers, offer great service by ensuring buyers get items in 10 days or less, and stick to guidelines with no infringements.
The main indicator is a blue verification tick and comes with perks like supercharged support including a dedicated account manager, monthly shop activity summaries, and access to the Top Seller forum.
Promotion
With Depop, I get everything I need including tips to help bring my shop to the larger buyer community.
If my shop's name isn't out there, I can promote it and help it thrive. Some things I can do include using great photos for my listings, keep listing new items, and keeping active during Depop peak times (evenings, weekends, seasonal times).
I can also market my business outside of Depop like on social media, plus use Shop Share to highlight my best items and latest drops on social pages.
Depop vs Etsy: Integrations
Etsy
You can connect different apps to Etsy through integration with the Etsy API. The Etsy API is a public tool that developers can use to update information from Etsy and the data can be used to build integrations and apps for sellers.
This means I can build new apps based on unique capabilities and data built by a website or software program.
Depop
Depop also has an API, which is publicly available. However, Depop doesn't allow third parties to use its API for anything at the moment, but the API handles your data the same way the Depop service does.
Etsy vs Depop: Support
Etsy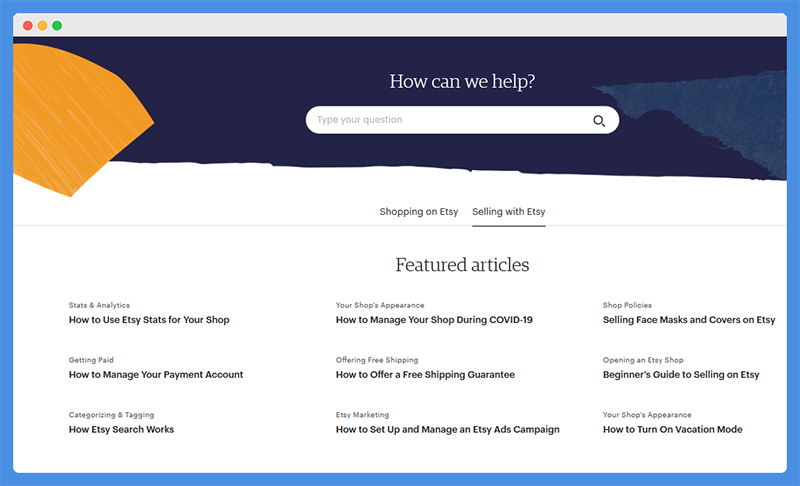 Etsy Teams is a community feature that allows sellers to connect and network with each other.
The group is run by sellers and they offer each other support for various reasons such as sellers living in the same area, selling items in similar categories, or sellers with common interests like marketing, photography, woodworking, and more.
I can get inspiration, advice, and growth opportunities from other sellers.
Etsy Forums is another platform for sellers to discuss different issues on running creative businesses.
To reach Etsy's customer support, you can send an email, help center, or social media. A seller handbook is also available and includes information on teams, forums, and online labs.
Depop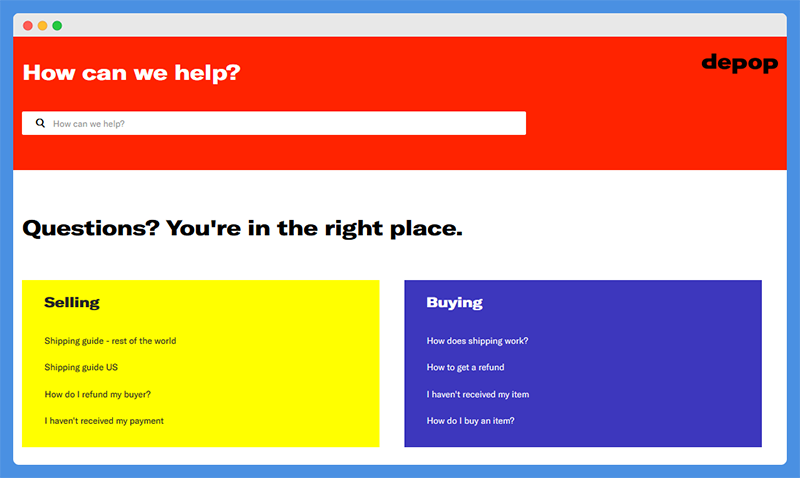 Depop also has an online community with more than 21 million designers, stylists, artists, vintage sellers, collectors, sneakerheads, and more. All these creatives come together to inspire each other and the community keeps growing.
Depop vs Etsy: Shipping
Etsy
Etsy offers shipping labels, shipment tracking, and calculated shipping. With shipping labels, you can ship orders from your shop and it's marked as shipped. The labels offer you big discounts on shipping costs, and you can send packages up to 150 lbs. to buyers globally as fast as you like.
Shipping profiles are also available to help you add shipping costs to your items. You can also track shipments to put your buyers' minds at ease as it gives tracking updates on their items every step of the way.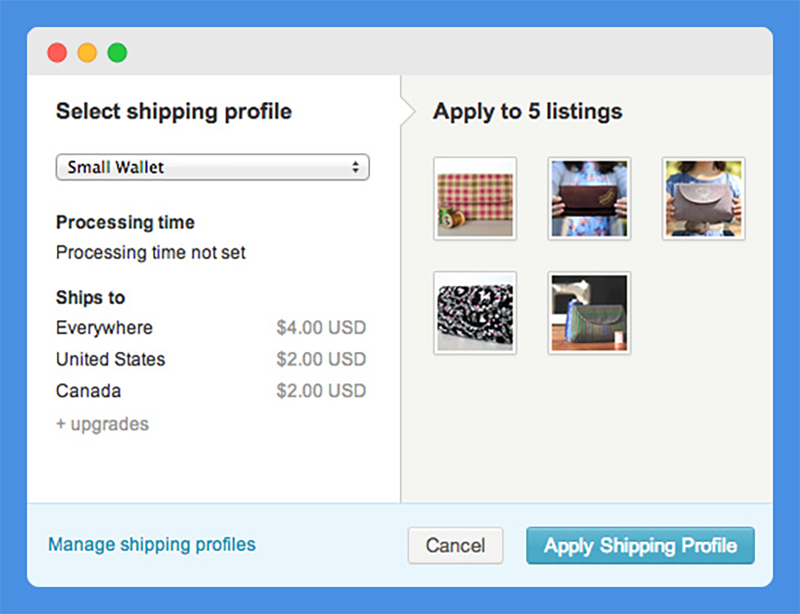 If you have any queries on shipping, Etsy has shipping specialists eager to help you or check the FAQ section for answers and quick guidelines.
Depop
Depop also allows you to ship as normal or with alternative carriers. You're responsible for shipping items to your buyers, and the shipping prices are based on the item size or weight, as well as the distance or destination it has to travel.
Plus, you can use tracked shipping, which is covered by Depop's or PayPal's seller protection. If you have high-value items, you can ask for a signature and add insurance to build trust in your shop and increase buyer confidence.
You can also brand your packaging and use Depop's international shipping to reach more buyers. Free national shipping is available if you want to offer it to your sellers, but you need to consider increasing product price, offering free shipping for high-profit margin items, and as a promo tool.
Etsy vs Depop: Pricing
Etsy
Etsy is a free-to-use online marketplace, but you have to pay some fees related to the services you get when you sell on the platform. The fees are simple, transparent, and easy to understand including:
Listing fees, which you pay to list products for sale on the marketplace and is a flat rate of 20 cents per listing whether or not the item listed sells.
Transaction fees, which Etsy takes when a buyer pays for something from your shop. This is 5 percent of the item's total cost and any gift wrap, where applicable in your listing currency. If you charge shipping fees, Etsy also collects 5 percent of the total shipping costs.
Payment processing fees, which are set along with a percentage of the item's total sale price. The rates and percentages vary based on the country, and the fees include shipping and applicable sales tax.
Etsy Payments is the main way to get paid on the marketplace, and this comes with more payment options. However, it works in specific countries including Israel, Mexico, Malaysia, South Africa, and others.
Using Etsy Payments protects your business, offers buyers a unified experience across stores, and simplifies payments to one place so you can schedule deposits to hit your account daily, weekly, twice a week, or monthly.
Depop
Depop is a free app, and unlike Etsy, which charges you for your listings, Depop doesn't. You can list items for free, but once you sell something, the platform takes a 10 percent fee from the item's total price, which is deducted from your PayPal account. However, you still get to pay the PayPal fees.
Depop takes 10 percent to keep the app running, pay general upkeep, and employees who help with the running of the app. You only pay when you make a sale so there are no fees for the length of time your products have been listed or for the initial costs of listing your stuff on the platform.
Also included is Depop Payments, which lets you open your store to many new buyers by accepting credit/debit card in-app and Apple Pay, or even PayPal when checking out.
Depop doesn't have its own payment system at the moment so all transactions go through PayPal. Thus, each transaction is protected by the Depop Protection and the PayPal buyer or seller protection in case of any hitches.
Depop vs Etsy: Similarities & Differences
Etsy vs Depop: Which One Is Best?
The biggest factor in determining whether to pick Etsy or Depop is the type of products or items you're selling.
While it's a lot of work to keep up with Etsy and Depop, we recommend Depop because of its ease of use, affordability, and a potential buyer audience of more than 21 million.
Plus, you can get insights and track different stats and orders on the go being a mobile marketplace, so I can easily say I'm glad I joined that platform.

Author: Sam Zaman
Sam loves to write on technology & related stuff. Ecommerce, mobile and internet marketing equally drive her interest. Likes gardening and experimenting with new recipes. An avid reader and absolutely mad @bout donuts :)