Wouldn't it be great if someone picked up your work and hung it up on their walls?
For any artist or designer, there's probably no greater honor than that. In fact, it's even more satisfying if more people want to decorate their surroundings with your work, admire it every day, or enrich their lives with your original artwork.
However, to receive such honor and validation, you need to make your work available to others.
One way of doing this is to share your work online, and the internet makes it easier for artists, illustrators, and designers to display their work and monetize their success.
Etsy and Redbubble are two of the most popular platforms on which you can share your work online, promote your store, and sell your art.
In this review, I'll compare Etsy vs Redbubble against their features, pricing, and other unique traits to help you pick the best for your needs.
Etsy vs Redbubble: Overview
Etsy

Etsy is a unique online marketplace for creative goods from craft supplies, handmade items, and/or vintage goods.
Millions of people from small business owners, makers, and shoppers meet to transact uncommon and rare goods that they love on Etsy, while others buy and collect unique items.
The process is easy for buyers and sellers to connect directly with each other and find extraordinary things, while sellers make money from their work.
Using Etsy, I'm able to create and customize elements in my Etsy shop including my profile image and shop banner.
Plus, I can use marketing and promotional tools to manage customers' orders and promote my work.
Etsy is open to all sellers and is relatively affordable to use, but there's stiff competition, and it can be time-consuming keeping up with updates. Plus, there's almost no quality control on Etsy.
Interesting Post: Best Print On Demand For Etsy
Redbubble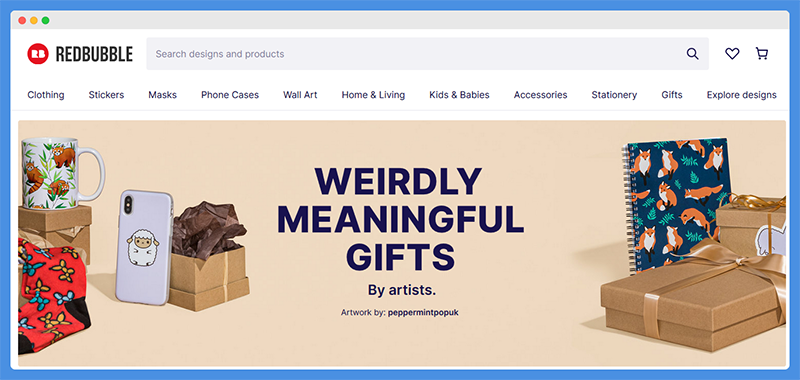 Since 2006, Redbubble has been giving indie artists a meaningful way of selling their work online.
More than 700,000 artists and designers connect with millions of art fans across the globe to buy and sell unique, print on demand products from t-shirts and posters, to vinyl stickers, and more.
Unlike Etsy, which has an almost non-existent quality control service, Redbubble is a complete print on demand platform like Printful, Printify, and others.
It handles all my printing, shipping, and customer support needs for every sale I make. Plus, as an artist, I can select the profit margin and retail prices I want based on the base set per product.
Redbubble vs Etsy: How Do They Work?
Etsy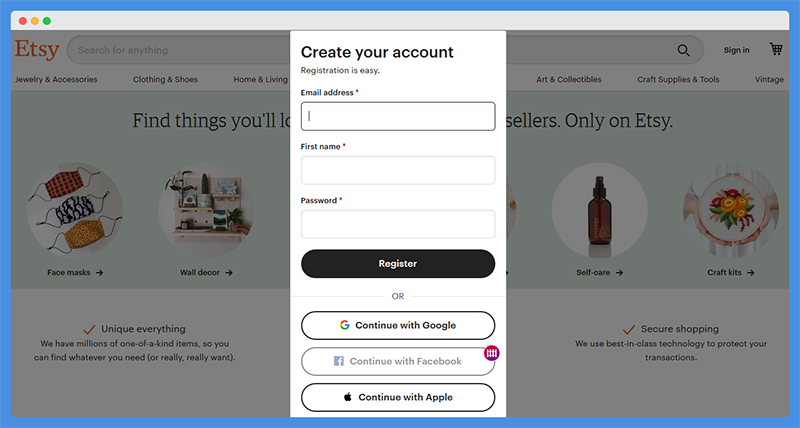 To get started on Etsy, I started by going to the sign in or create an Etsy account page so as to open my shop. This account helps me run my Etsy shop and also buy from other people selling their unique items on the platform.
Once I created an account, the next step was to set it up by adding a profile photo and bio, so that my customers and other people in the Etsy community can get to know me.
Opening an Etsy store takes a few steps, and I could only do this on a desktop web browser:
Select Sell on Etsy at the upper right side of the Etsy website and then select Open your Etsy shop.
Next, select the language, currency, and country for the shop and then select Save and continue.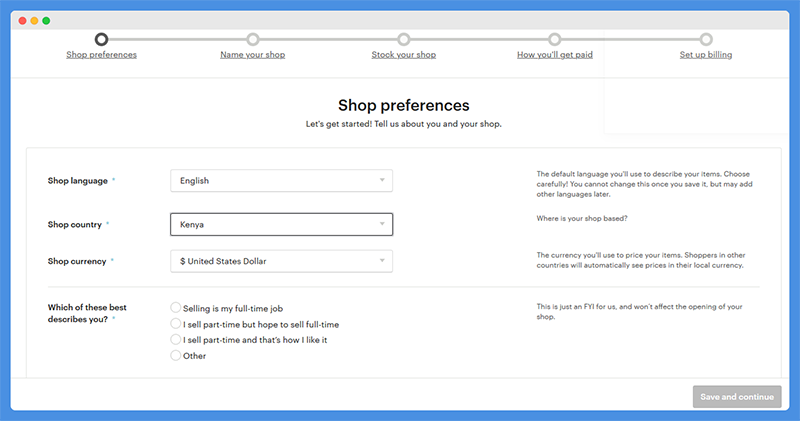 Select the name of the Etsy shop and click Save and continue.
Once I have my Etsy shop set up, it's easy to manage it from the Sell on Etsy app.
Note: I didn't need a business license to sell on Etsy, but it's important to follow any applicable laws with regards to selling as a small business owner online.
Once I opened my Etsy shop, the next step was to finish setting it up, which involves incorporating elements like banners and shop logos, shop announcements, About section, shop members, and shop policies.
The next step I took after finishing the shop set up was to add listings to your shop and then move to marketing, branding, and promotion.
To market, brand, and promote my goods on Etsy, I ensured that they're optimized for Etsy search, and add locations so that the store appears in local searches.
If you want, you can also add your social media accounts to link your Etsy shop to the social pages and craft posts about your shop. Another way of marketing the shop is to use paid adverts, but I like to incentivize my shoppers by offering discounts that help them buy with sales and coupons.
An Etsy community is available where you can join and network with other shoppers and sellers.
After listing all my items in my Etsy shop, I'm now able to manage my business using the following tips:
Use the Sell on Etsy app to manage my store on the go
Qualify for the Etsy Seller Protection Policy by following best practices for customer service
Be updated on Etsy's Review system
Explore: Etsy vs Shopify
Redbubble
Redbubble allows you to place your art on more than 70 unique products including mugs, t-shirts, masks, and more. The platform works alongside third-party producers to print your designs at one time on high-quality products.
Thousands of artists on the Redbubble marketplace – from hobbyists to pros and fans alike – throng the platform to earn money and buy unique pieces of art. I like Redbubble because it gives me full control over what I earn and offers flexible pricing, along with watermark and anti-piracy features so that I can protect my original artwork.
Unlike Etsy, Redbubble offers 24/7, world-class customer support, so it's easy to ask all my queries or troubleshooting issues and get responses.
Opening a shop on Redbubble is easy and free. I simply uploaded my designs or art and Redbubble organizes the printing and shipping to almost any location on the globe.
The main steps you'll take to open a Redbubble shop are as follows:
Also Read: Best Merch Websites To Sell Your Merch Designs
Set up a shop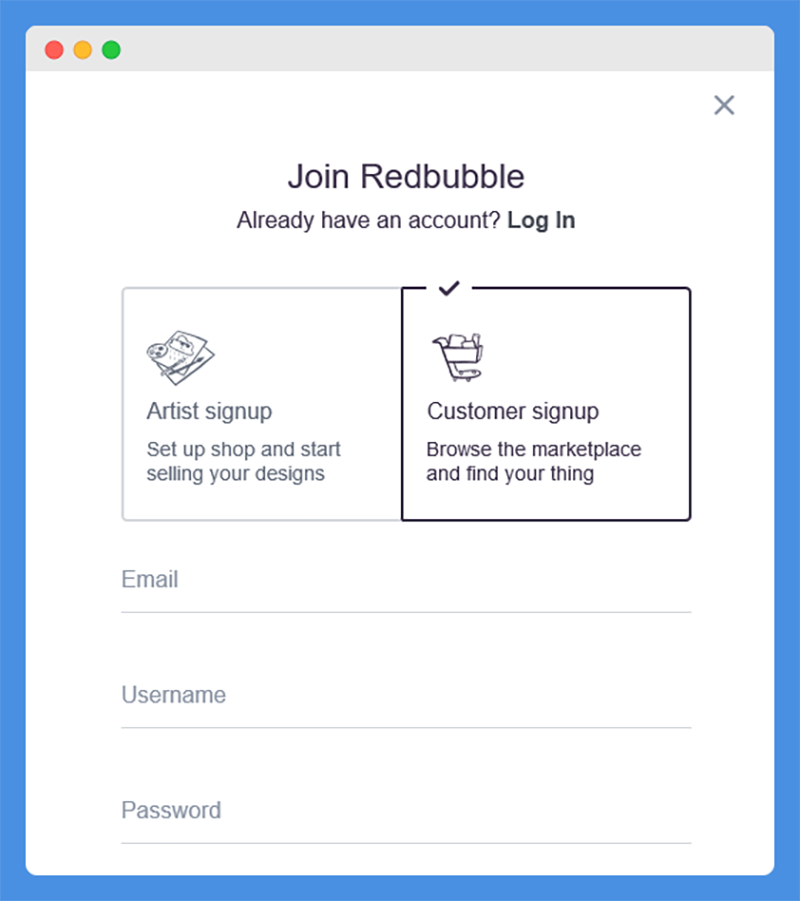 The first step I took was to create a Redbubble account, which is free, fast, and easy to do.
I simply clicked on the account creation button and double-checked my account and profile details to make sure they're correct and ready to go.
I also checked that my payment information is correct and then selected a payment method, which can be a verified PayPal account or bank account depending on your country. I also ensured that the currency I selected at sign up was the correct one because it's not possible to change it later.
Next, I confirmed my account using the confirmation link I received on my email, and then went to the Payment details tab to double-check whether the account is confirmed or not.
If you follow all these steps, you're now ready to upload your art or designs to your shop.
Make a sale
Once my store was ready, my next step was to start selling my goods. If people buy your goods, you will find the You've Made a Sale email that will include the price and what was sold, plus how much you'll earn from it.
The sale isn't final until the items are made and shipped to the customers. A Manufacturing Invoice email will be sent that will confirm that the order has been shipped out. However, in case a buyer cancels the order before it's shipped, I won't earn anything.
I also check my sales on the Sales History page, which shows me every sale except self-purchases, which don't constitute official sales.
Order Shipment
Once my customer's order is printed, which takes about 2-3 days, it will be shipped to the buyer, and every sale confirmed will say either To Be Paid or Paid.
Official Pay Cycle
Every 15th of the month, the Redbubble pay cycle begins and I get paid for each shipped sale made once I hit the $20 payment threshold.
If the sales aren't shipped by the 15th or I don't hit the payment threshold, it will be carried over to the next pay cycle. All these details are available to me in the Sales History section under the Ship Date Column.
Sellers who join or sign up to Redbubble before the 15th will have to wait for the next pay cycle to get their first earnings. By the way, there's no way to get paid earlier than the official, regular pay cycle.
Wait for payment
The official pay cycle begins on the 15th, but it still doesn't come in exactly on that day. It may take a few more business days to be processed. For PayPal accounts, you may have to wait 5 extra business days, and 7 extra business days for bank accounts. Check for the Remittance Advice email to get confirmation of the sales in the payment cycle.
Note: Redbubble doesn't let sellers transfer their earnings into digital gift cards, vouchers, or RB store credit. Plus, you can't get early payments as Redbubble stopped offering this service due to fraud and high overheads.
Etsy vs Redbubble: Features
Etsy
Millions of shoppers spend billions annually buying directly from creative entrepreneurs running Etsy shops. Not only that, but the sellers also get great value whenever they make sales.
But, what helps these entrepreneurs do business well on Etsy is the powerful tools and services that ease management, promotion, and business growth. This way, you can spend less time in shop management, and have more time to do fun things.
Whether you're just starting out on Etsy or you're running an established business, here are the tools Etsy provides to help you move forward:
Sell on Etsy App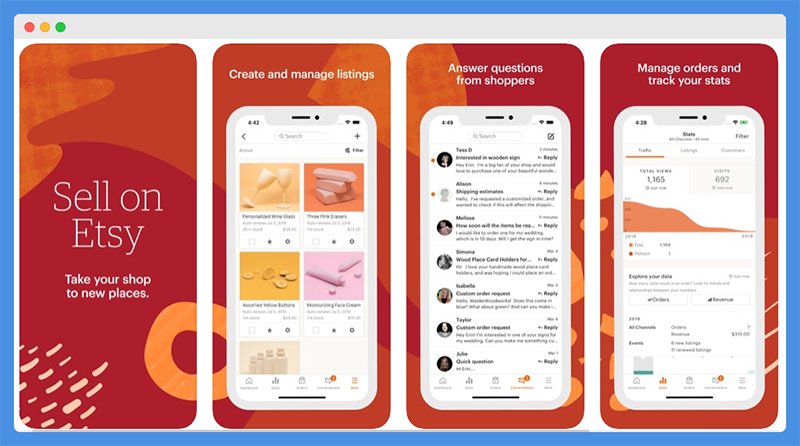 With Etsy's mobile app, it's easy for me to manage your business anywhere. This way, I can manage my customers' orders, update any items, and even get feedback or respond to my customers on the go.
Promotional tools
Whatever business you run, without marketing or promotion, you cannot get noticed or make as many sales as you would have wanted. Etsy offers free promotional tools to help me reach more buyers and share my items on social media, not just on Etsy itself.
Detailed analytics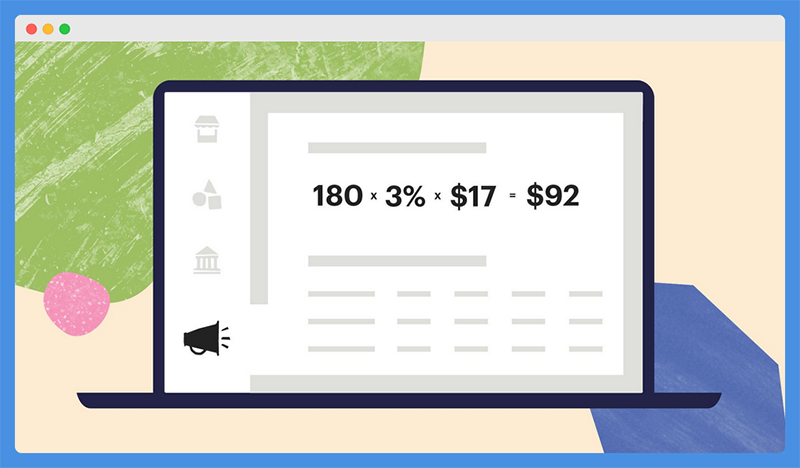 Etsy offers detailed analytics to help me improve your sales. These analytics are displayed in the form of statistics showing performance trends, and sources of traffic so I can be on top of things in your business.
Payment processing
Etsy also offers sellers a way to accept payment seamlessly by managing the payment processes with PayPal. This way, buyers can easily pay me and the profits start flowing.
Advanced tools
There are more advanced tools available at my disposal based on my subscription, which I can use for each stage of my business' growth, regardless of my ambitions.
Etsy Plus
Etsy Plus is a package that allows sellers to get access to new ways of customizing your Etsy shop, email interested shoppers, send customers my own web address (.com or .store), and get bonus listing and advertising credits.
Affiliate program
Through Etsy's affiliate program, I can earn commissions for every unique piece I find and share. To get started as an Etsy affiliate, you have to sign up as an Etsy Affiliate, which gives access to rewards, membership to the Affiliate Community with exclusive content, trend reports, competitions, and more.
The Etsy affiliate program allows me to earn a percentage of revenue on qualifying sales from Etsy content on my site as well as Etsy products. The commissions exclude returns, tax, shipping, and cancellations with a cookie period of 30 days.
Redbubble
Product Catalog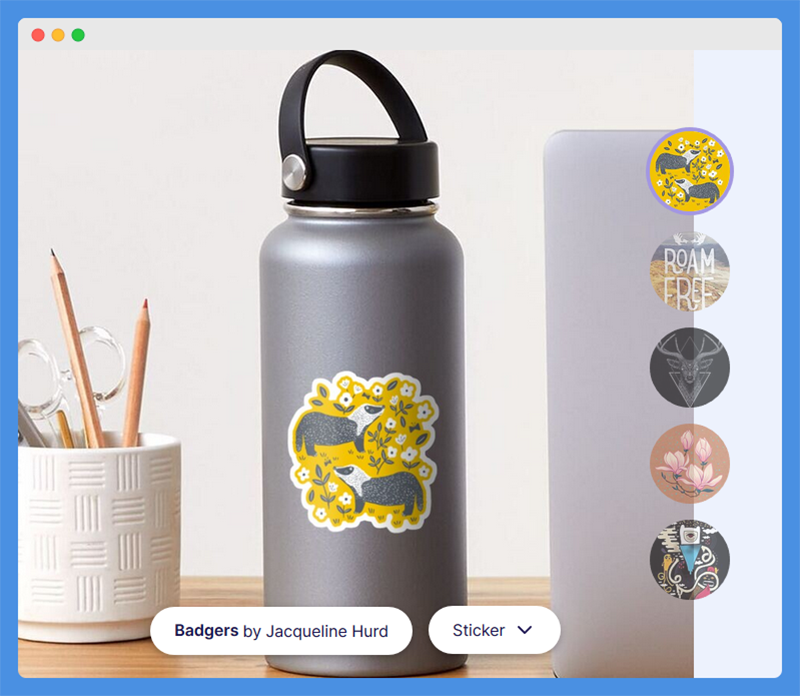 Redbubble has a wide variety of products in its catalog. These products undergo quality control checks, unlike Etsy products, so that I only get high-quality items on the platform.
The printing quality is way better than most Redbubble competitors, and I can select different items with multiple variants on which I can place my logos or designs. These products include wall art, stickers, men/women/kids/babies, home décor, gifts, bags, and stationery.
I can pick different sizes for the images I place on my designs based on the product size, because what I put on a bag may not be similar in size or look good on a sticker.
Analytics Dashboard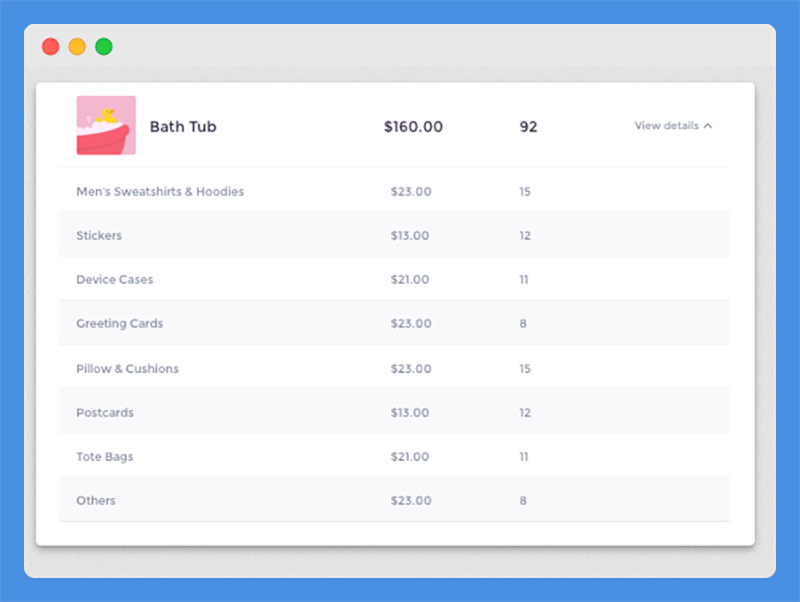 The artists' analytics dashboard shows me the key metrics such as the top-selling and popular products in my shop, earnings over time, traffic sources, and more. This way, I'm able to monitor business growth, set more goals, and optimize my store.
Affiliate Program
Redbubble also has an affiliate program like Etsy, dubbed Impact. The affiliate tracking platform offers click tracking in real time, commissions, and sales in the program, which connects affiliate partners and publishers.
As a Redbubble affiliate, I simply post links to Redbubble on their blog, site, mobile app, and different digital channels. When someone buys from any of these platforms, I get to make some money.
You can sign up on Impact, and once the team reviews your application, they'll let you know if you're a good fit or not. Redbubble doesn't require multiple approvals from different places, and you can earn up to 10 percent commission with bonus incentive opportunities and a 30-day attribution window.
Redbubble vs Etsy: Support
Etsy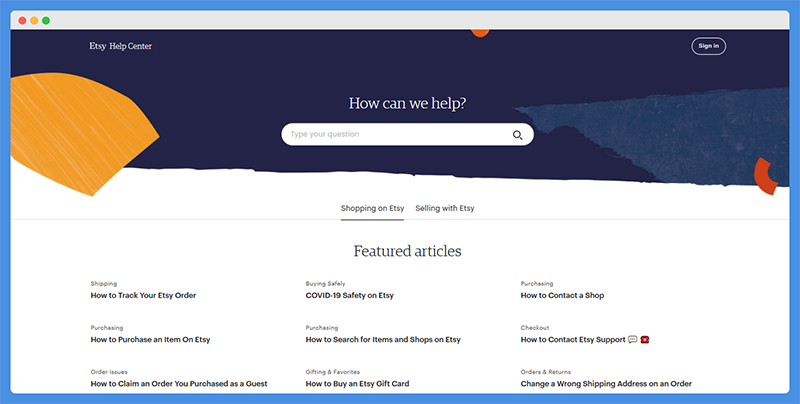 Etsy offers customer support through its specialists who offer tips on running successful shops in the Etsy Seller Handbook. You can reach support via email or request a phone call if you have a question. Also included are tips for success, a seller newsletter with tips on improving your store, and advice through Etsy Teams and forums.
Redbubble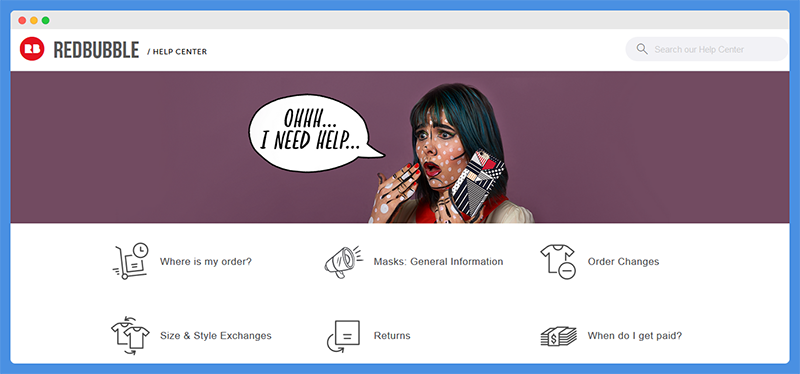 Redbubble also offers customer support, who can be reached via the online contact form, help center, or submit a request that will be replied to within 24 hours.
Etsy vs Redbubble: Pricing
Etsy
I like Etsy's simple, transparent, and secure pricing with no extra monthly fees. However, Etsy charges me $0.20 as a listing fee, and the listings remain active for up to four months or up until they're sold.
Plus, I have to pay a 5 percent transaction fee (commission) once a purchase is made and a standard PayPal payment processing fee.
Also included in the payment is the 15 percent off-site advertising fee, which is optional for most sellers, but is usually needed depending on the sales you make within a 12 month period.
Etsy Standard plan has no additional monthly charges and offers everything I need to start, manage, and grow my Etsy business.
Etsy Plus on the other hand offers an expanded toolset you can use to jump-start growth and express your brand. While this is great, it costs me $10 per month to have such access.
Also, the Etsy Plus plan comes with standard and listing fees that apply to all packages, and transaction fees.
The benefit of the Plus plan is that it's easy for me to email shoppers interested in my stock, control my shop's customization, including featured listing options and new banner templates.
I also got a free web address – .com or .store – for a year, plus bonus listing credits and $5 in advertising credits to advertise my items using Etsy Ads monthly.
Redbubble
What I like about Redbubble is that it doesn't charge you to use its platform. However, before I could start selling, I needed to know about the base prices for items to help me know what artist margins I should add.
Redbubble offers base prices to artists and this is available if you sign in to your account, and add your design to your cart to see the base price of the product. The base price will only be reflected if you don't add the margin on your own purchases.
As of May 2019, Redbubble pays artists every 15th of the month provided their earnings have reached $20, €20, or £20. Otherwise, the payments will accumulate until they reach the threshold and be paid on the next payment cycle.
Redbubble vs Etsy: Similarities & Differences
Etsy vs Redbubble: Which One Is Best?
With the internet at your disposal, any artist, designer, or illustrator can easily share their work on the web, monetize, and make some good earnings.
Etsy and Redbubble offer different ways for you to sell directly to the public without requiring a huge investment of time and money.
For this comparison review though, I recommend Redbubble. Not only does it offer a varied product catalog, but you also get access to excellent products checked for their quality, and start earning money.
Plus, Redbubble handles all the printing, shipping, and order fulfillment so you don't have to do it yourself.
You also don't get charged as much fees as what Etsy does for each transaction or payment processing, and Redbubble is completely free to use with access to all tools available for your business.

Author: Sam Zaman
Sam loves to write on technology & related stuff. Ecommerce, mobile and internet marketing equally drive her interest. Likes gardening and experimenting with new recipes. An avid reader and absolutely mad @bout donuts :)