If you have been frustrated with your email open rates and results, consider incorporating Facebook messenger marketing into your digital marketing arsenal.

Facebook messenger marketing allows you to interact with your consumers in a more personal way.
Emails can be a bit impersonal, especially considering that nowadays, most consumers get a whole load of promotional emails from various companies every week (or every day).

In addition, you can get a higher open rate with Facebook messenger.

According to Mailchimp, the average email open rate across all industries is only 22.71 percent. The click-through rate is even lower, at just 2.91 percent.

However, according to Neil Patel, Facebook messenger marketing can lead to open rates of 88 percent and click-through rates of 56 percent!

Another problem with email marketing is that because of the abundance of emails people are getting, many users have started creating a junk email address that they use just to get free downloads, but they never end up checking the emails in their account.

This problem is eliminated with Facebook messenger marketing, as people usually have only one, real Facebook account. It's also eliminated with web push notifications (which we will go into a bit later).

Getting started with Facebook messenger marketing and chatbots is not as difficult as you might think. Platforms such as Recart make sending automated welcome, abandoned cart reminder, and other follow-up messages easy.

However, Recart is certainly not your only available option. Today, we will be looking at five Recart alternatives you can use for Facebook messenger marketing.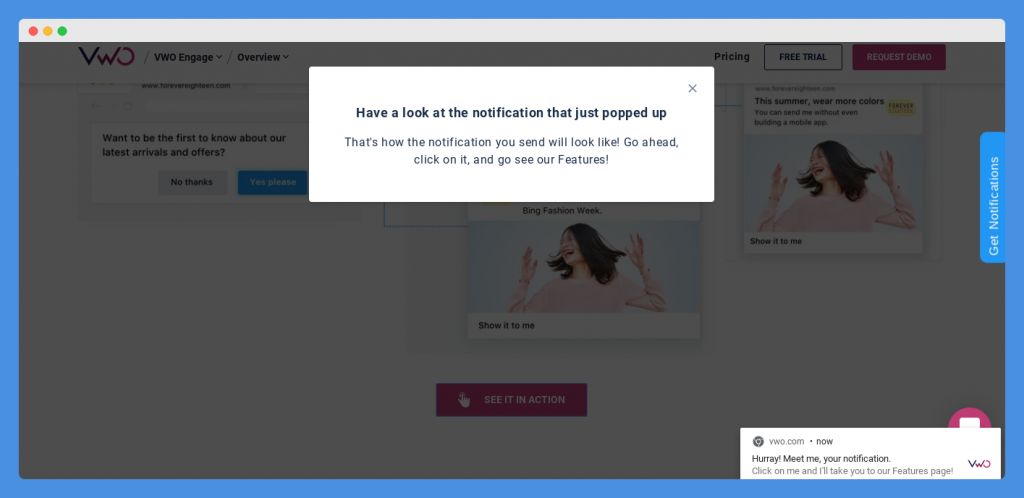 VWO Engage, formally (and still generally known as) Pushcrew, is a VWO product that allows you to send push notifications. Unlike Recart, they let you set up Facebook messenger notifications AND web browser notifications.

You may have seen those little push notifications on certain websites asking you if you want to opt into getting regular updates.

These notifications appear right on users' desktops, even if they are not on your website at the moment. As such, they have a much higher visibility rate than email messages – they won't get lost in a spam folder or simply be deleted without ever being opened.

In addition, it's much easier to subscribe to web notifications as opposed to an email list. Your visitors won't have to enter any information; they just need to click one button to opt in.

According to VWO, web push notifications get 4x the click-through rate of emails, and Facebook messenger notifications get up to 10x the click-through rate.

One of the benefits of using the VWO web notifications tool is that you can send notifications not only to desktops, but even to mobile devices – without even building an app!

All notifications are sent to real users on their desktops, not to fake email addresses.

It's just as easy to allow your users to sign up for Facebook messenger notifications. All they have to do is click the "Send to Messenger" button – it's certainly easier than entering an email (if they are already logged into Facebook on that device or browser).

Once your users have subscribed, you can send them all kinds of automated messages. For example, you can send them an order confirmation message along with a bunch of related, recommended products.

You can send abandoned cart reminders, surprise bonuses and discounts, and more.

It's worth mentioning that VWO Engage is only one of the products VWO offers; others include VWO Testing, VWO Insights, and VWO Fullstack.

VWO Engage alone starts at $99/month. You can get discounts if you purchase it as a package along with other products.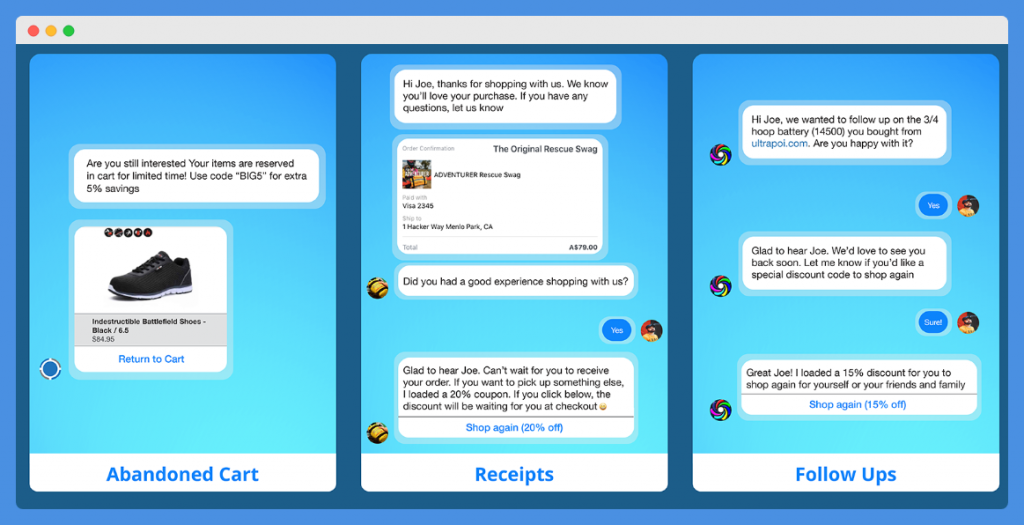 Cartback, produced by Code Canyon, is a great Recart alternative if you are using WooCommerce or Shopify.

There are a number of things you can do with the Cartback WooCommerce plugin. Following are some of them.

Abandoned Cart Reminder: You can set the app up so that when a subscribed user leaves something in their cart, they are automatically sent an abandoned cart reminder after a set number of hours.

You can also do this manually – you can send a bulk Facebook message to all users who still have items remaining in their carts.

Get Coupon: You can allow users to subscribe to Facebook messenger notifications in order to sign up for a coupon. All they have to do is click the "Send to Messenger" button and the coupon will be sent to them automatically.

This is a great incentive to get people to opt in.

Using a shortcode, you can display this "Send to Messenger" button anywhere on your site.

Analytics: You will get access to detailed analytics about things such as how many messages you sent, how many abandoned cart orders you recovered, how much revenue you recovered, and more.

So, how do users subscribe? WooCommerce has an Add to Cart button that appears on product pages.

Once you install the Cartback plugin, a Send to Messenger CTA will appear on this button. If the user has already signed into Facebook on that browser or device, their name will appear in this call-to-action.

This CTA is fully customizable.

Once they tick this option, they will automatically be subscribed to your Facebook messenger list when they continue with the Add to Cart button.

To get more conversions, you can offer a coupon. For example, you can tell users to "Tick the Send to Messenger box to get a 10 percent discount applied to your order, with the code sent to your Messenger."

When a cart is abandoned, a user will get sent up to three Facebook reminders. These can be sent between one to 24 hours apart from each other.

You can also send custom messages at any time.

Cartback costs just $89 for a regular license.

Cartback also has a Shopify version – Facebook Messenger Marketing by Cartback in the Shopify app store. Prices start at $9/month, with a 30-day free trial available.

The Shopify version has another feature – you can reply automatically to comments on your Facebook posts with links to your checkout page.

You can always allow subscribers to unsubscribe from future messages with the "No Thanks" button in the chat, which can be customized to display other phrases.

To summarize: Although many people use Recart on their Shopify or Woocommerce stores, Cartback is a solid alternative that can turn out to be cheaper (as Recart costs $29/month for only up to 1000 recovered sales).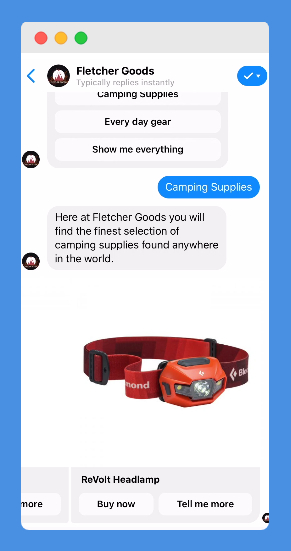 ManyChat is a Facebook messenger AND text messaging automation chatbot creation tool.

Building a chatbot with ManyChat is easy, and you can do so for any purpose: Sales, marketing, appointment bookings, lead nurturing, and more.

There is a drag-and-drop builder you can use to build your chatbots – just drag and drop your messages and response options. There are also pre-made templates you can work from.

Of course, people will have to opt in some way or another in order for you to be able to send them Facebook messages. However, you are not limited to sending messages to people who are customers on your Facebook page.

People can sign up by clicking a link on your website or in one of your emails. You can even create a QR code that customers can scan on their mobile devices to sign up – this is a great option if you run a physical or local business.

ManyChat integrates with popular tools such as Active Campaign, Mailchimp, and ConvertKit. You can send contact information straight to your email marketing provider and build an email list that way – you can kill two birds with one stone!

It also integrates with Hubspot and Google Sheets. If you are using Zapier, you can connect ManyChat with over 1,500 apps using Zaps.

You can also accept payments in Facebook messenger via Paypal or Stripe.

Finally, if you want to use Facebook Messenger marketing for ecommerce purposes, ManyChat offers a Shopify integration.

With the Shopify integration, you can do things like sending abandoned cart reminders or related product recommendations. These messages can appear right on a customer's mobile device if they have the Facebook messenger app installed.

There are two abandoned cart reminder messages sent, one after the other. You can customize them by changing the default text of the messages, adding your store name, or changing the triggers and time waiting periods between messages.

Pro users can use ManyChat to send SMS and email messages as well. For SMS campaigns, you and/or your customers will have to be in the United States or Canada.

SMS messages can be added to workflows together with Facebook Messenger messages. This way, you can set up an automated followup-up campaign that incorporates Facebook, SMS, and email.

You can also send bulk SMS messages. Of course, you will need to obtain consent before sending any SMS messages.

Email messages work like SMS messages – you can create multi-channel broadcasts and workflows. You can create your emails using a drag-and-drop template builder.

The best part about ManyChat is that it offers a free account option. Not many alternatives of ManyChat have this option. For $0/month, you can get unlimited Facebook messenger subscribers and send unlimited broadcasts.

For access to advanced features and tools, such as SMS and email messaging, Quick Start templates, unlimited drip sequences, unlimited audience segments, A/B testing, and more, the Pro plan starts at only $10/month.

The Pro plan's cost goes up based on how many SMS messages and emails you want to send out and how many subscribers you have.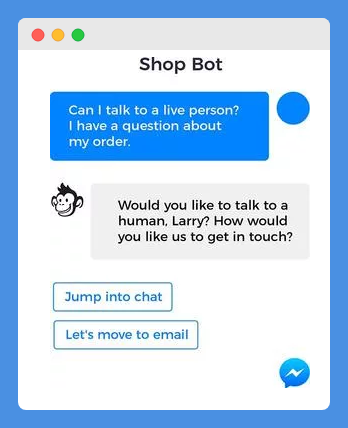 Mobile Monkey integrates live website chat, Facebook messenger chatbots, and SMS marketing.

The Mobile Monkey OmniChat builder lets you build a chatbot that can be used across multiple platforms. Not only that, but you can get a single inbox for all platforms; it will be streamlined on your end but you will still talk to your customers on the messaging platforms they are using.

According to Mobile Monkey, 75 percent of customers would rather chat live with a customer representative than send an email or make a phone call. They also claim to be Neil Patel's favorite chatbot tool.

For web chat boxes, there is a WordPress plugin you can use to place them on your site. You can add question-and-answer triggers so that customers can get help with common problems.

With Facebook messenger marketing, you can build customer profiles based on the information customers give you. This can include answers they gave to your quick questions, information forms they filled out, and more.

By using these custom attributes, you can create audience segments. Then, create drip automation campaigns to send follow-up messages to your audience segments based on their interests.

Besides drip campaigns, you can also send messenger blasts or schedule them in advance.

You can also personalize your messages for any variable using custom variables.

With your website and Facebook chat bots, you can also offer customers the option of switching to email communications. You can even let them request to transition to a live chat with a representative.

You can create Mobile Monkey landing pages to collect Facebook messenger subscribers. Mobile Monkey also lets you send customers directly to Facebook conversion forms as a replacement for standard landing pages.

Another way to collect Facebook messenger subscribers is by using the auto-comment tool. This allows you to automatically respond to comments that are made on your Facebook posts and give customers an option to subscribe to your messenger list.

You can add Comment Guard (auto-comments) to both organic and promoted posts.

If you run an offline business, you can collect Facebook subscribers by providing customers with scannable codes.

If you want to scale up, you can run click-to-messenger Facebook ads, where you collect subscribers through paid Facebook ads.

There are 14 chatbot templates to choose from for various industries; you can use them to save time.

Mobile Monkey integrates with Zapier.

There is a free plan you can use, which lets you collect unlimited subscribers. There are premium plans, which start at $14.25/month, which give you access to advanced features.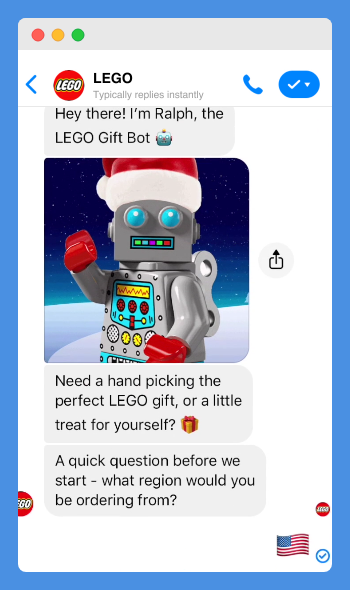 Chatfuel is the last Recart alternative on our list, but it certainly isn't unpopular. According to their website, 46 percent of all Facebook Messenger chatbots are powered by Chatfuel, including those operated by businesses such as LEGO, ABC News, Adidas, T-Mobile, Sesame Street, Levi's, and Grow By Facebook.

With Chatfuel, you can create bots to interact with your customers.

To get started, you will have to sign in with Facebook and connect one of your pages. Then, you will be presented with various tutorials that will walk you through the process of creating your very first chatbot.

When you build your bot, you can use the drag-and-drop template editor to add text and images to your automated replies. You can even add galleries – a combination of images and text; this can be done horizontally or vertically.

There are many other things you can add to your messages – you can add audio clip recordings, for example, which can make the customer experience a little more personal. Videos can be added as well.

You can also add those little typing dots to mimic the ones that appear when a real human is in the process of typing a reply. Of course, in the case of a bot, what will really be happening is you will be sending a delayed message (of up to 20 seconds).

Finally, you can share your location in one of your messages. If you operate a physical business, this is a great way to help out website visitors who want to ask you for directions to your store.

With Chatfuel, you can create a bot that uses artificial intelligence to answer free-text responses. With buttons, everything is clear, but sometimes, you might want to allow customers the option of answering a question in their own words.

The AI helps the bot figure out what a customer wrote even if the wording is a bit different. It focuses on intent instead of the words themselves.

As with Mobile Monkey, you can set up automated follow-up sequences that are sent to consumers based on segments you divided them into (you can collect attributes to segment your list based on previous replies). You can also send broadcasts manually.

Also as with Mobile Monkey, there are tools to help you collect subscribers, including landing pages, Facebook click-to-messenger ads, and an auto-comment tool for your Facebook posts (this can be activated on all of your posts or only specific ones).

An interesting feature is the ability to create a chatroom where users can interact with each other without the bot.

Chatfuel does have a free plan, but unlike some of the others mentioned, it only allows you to have up to 1000 subscribers. The Pro plan allows for unlimited subscribers and access to more than just the basic features; it costs $15/month.
Wrapping It Up
If you aren't yet using Facebook messenger marketing, now is the time to get started – before it gets overcrowded like the email marketing industry is.

Since there are so many free options, there's really no excuse not to start.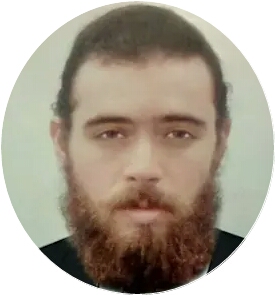 Author: Benjamin Levin
Benjamin Levin is a digital marketing professional with 4+ years of experience with inbound and outbound marketing. He helps small businesses reach their content creation, social media marketing, email marketing, and paid advertising goals. His hobbies include reading and traveling.