A landing page builder is a great tool to use when you want to create a landing page for your project that takes your website visitors through the customer and sales journey.
Whether you have a website or not, using a landing page builder can help you get a highly effective and high-converting landing page and/or sales funnel built and ready to use in just a few hours.
When it comes to finding the best page builders for your site though, there are several options available today, but the task of choosing one to work with can be a daunting one.
One of the best landing page builder tools that is popular among website owners is Instapage.
Instapage is a landing page tool with a strong yet easy to use builder that provides pixel-perfect drag/drop capability. It enhances your marketing efforts, making it more effective by offering all the tools you and your team need to get more conversions.

Why Use Instapage
The tool integrates with automation, CRM, email marketing, optimization and webinar tools. Plus, it provides a heatmap feature through which you can see visitors' activity on your site so you can design it around the customers' experiences.
It also offers advanced testing metrics, CRO functionality, conversion analytics, unlimited A/B testing, and dynamic text replacement among other stand-out features.
Instapage is an incredibly powerful landing page builder platform, used mostly by businesses and marketers seeking a solid builder with convenience features like those mentioned above.
It's also affordable, simple and easy to setup and use, plus you get quality landing pages.
Among its benefits include a better user interface, easy integration with other tools including WordPress, easy and powerful drag/drop builder and high quality landing page creation.
However, Instapage isn't without its drawbacks. Unlike the competing landing page builder tools, Instapage has fewer overall features, and a poor shopping cart support and checkout page.
Plus, it doesn't have a wide range of built-in images, so you have to find your own sometimes.
If you've been using Instapage and are looking to replace it with a new landing page builder tool, we've compiled a list of the best Instapage alternatives you can try right now.
Best Instapage Competitors & Alternatives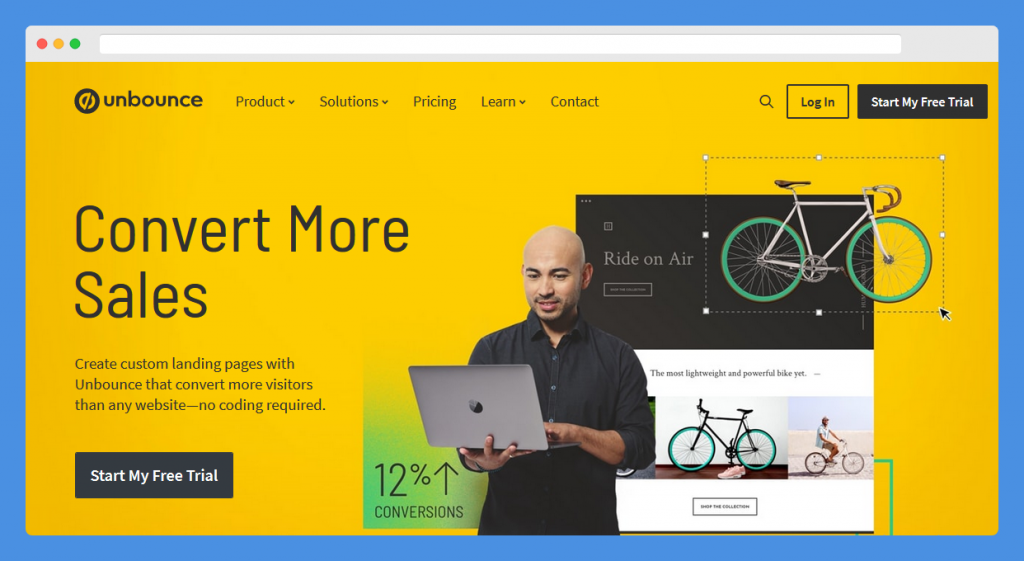 The first Instapage alternative on our list is Unbounce.
This is a specialized landing page builder that allows you to build, A/B test and publish landing pages. You don't need IT to use it; just work with its strong drag and drop page editor and enjoy the freedom to create your landing pages, while customizing your features fully.
It's also a self-serve hosted marketing and conversion rate optimization tool with a template library that lets you build lead-gen, click-through, video and sales letter landing pages in just minutes.
The tool is designed to work with other tools and features, though it doesn't have many features on its own, so you'd need to use many other services with it. It's cheaper to do this though, compared to other tools like ClickFunnels that require you to use its expensive tools.
Unbounce has a robust and well-refined visual editor with other core functionality features like dynamic text replacement and A/B split testing. It works like Instapage's editor in that you can align using a grid with other elements and still put them right where you want them to be.
More than 100 templates are included in Unbounce, though some may look a bit dated, but you can customize them to look more modern pretty fast using the visual editor. For more landing page templates, you can still source from Themeforest and other third-party designers.
Unbounce also offers sticky bars and popups with beautiful templates. Plus, you get extras like support for SVG images, auto-optimization of images, Google Fonts and many others.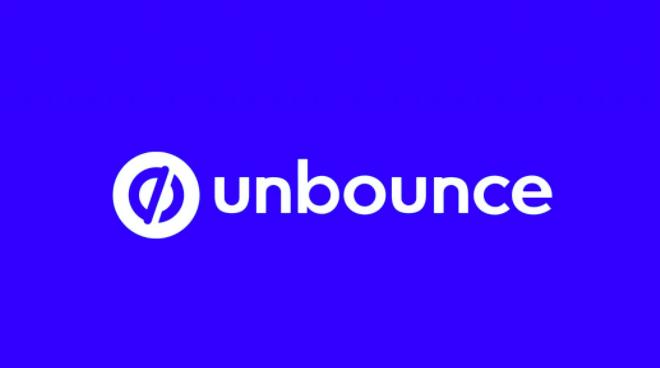 We earn a commission if you click this link and make a purchase.
It integrates with WordPress and many email marketing tools, though it doesn't directly integrate with ConvertKit, but you can use Zapier to manage that bit.
If you're a business owner or marketer who needs a robust landing page builder with advanced tools, Unbounce is your best bet.
Pricing starts from $79 per month, which gets you 8 popups/sticky bars, 75 landing pages, and up to 500,000 monthly visitors. You can increase these limits and unlock extra integrations by upgrading to a higher plan.
Related: Unbounce Review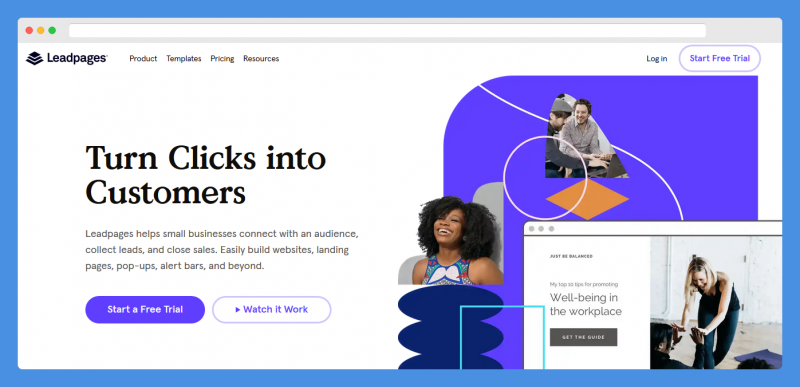 Leadpages is another solid Instapage competitor.
Leadpages is another good landing page builder tool that's focused on delivering the perfect landing page for your website.
While its editor isn't as great as that of Instapage or Unbounce owing to its clunky nature, it still offers unique features that make it stand out from the crowd.
Among its unique features are the two different editors for pros and newbies, which makes it a versatile option for beginners who aren't ready to use an expensive and complicated editor.
It's also a lead generation platform as it allows you to build entire conversion-focused websites. It provides lead-gen features like popovers and alert bars, as well as Leadlinks and Leaddigits that let people sign up by clicking a link, and send out SMS campaigns to build your mailing list respectively.
Leadpages offers advantages such as unlimited number of landing pages, traffic, leads and a wide range of integrations. By using this tool, you won't even need a site to deploy your landing page as it lets you host everything on a Leadpages URL.
If you run a WordPress site though, you can even pull your landing pages via their own plugin with a few clicks. The advantage here is that everything is hosted for you, so your web host won't be impacted even if the pages are on your domain.
Leadpages offers more than 200 templates you can use, some with checkout pages integrated with payment gateway Stripe, which is good if you want to build sales funnels.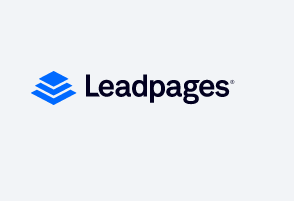 We earn a commission if you click this link and make a purchase.
Other stand-out features include Facebook and Instagram ad builder, checkout pages and widgets integrated with Stripe, unlimited A/B split-testing, and lead magnet hosting and delivery.
If you're an entrepreneur, business owner, marketer or blogger who wants to deploy and test your landing pages quickly with little effort, Leadpages is a great choice for you. It's also good for use with a conversion-focused website that you can quickly customize.
Pricing plans start from $25 per month for the Standard plan, but with a Pro plan or higher, you get extras like split-testing, which is critical for optimization of your landing pages. The standard plan is very cheap though.
The main drawbacks of using Leadpages is it isn't as customizable, has fewer overall features, and the editor isn't aesthetically appealing and may be frustrating to use.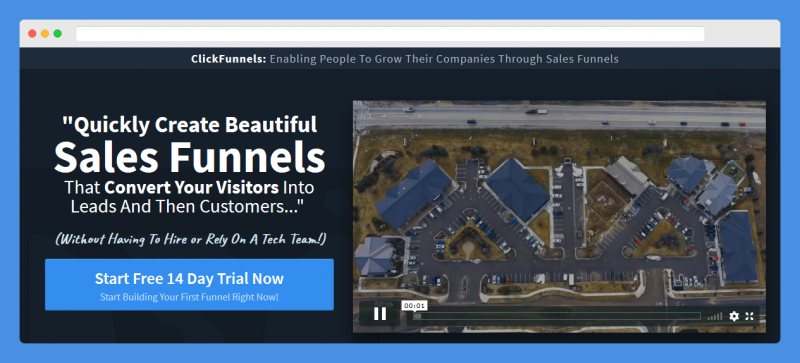 This landing page builder tool focuses on helping you create funnels that'll draw in your prospects and take them through a predefined, multi-step journey from interest to the final desired goal.
The professional-looking landing page creation tool offers an all-in-one solution that doesn't require you to have a website as it hosts the landing pages on its servers.
With ClickFunnels, you can process payments, and if you integrate with an SMTP service, you can send emails and manage communication with your mailing list.
The tool features prebuilt and customizable landing page templates you can use for various promotions, and though it's feature-rich, it's also a very expensive software to use.
Among its best features include its library of landing page templates from which you can choose your preferred sales funnel. Each of the funnels is designed with an instructional video and specific purpose in mind, for example product promos, events, online form and webinar, email list and more.
Its template selection is smaller than that of Leadpages, though there are some good designs, but not aesthetically appealing. You can always pick from the premium (paid) designs too.
A template drag/drop editor is available for you to create and manage complex sales funnels. It's intuitive, well-designed, and very impressive to use. Plus, there's a WYSIWYG interface for you to edit content with a live preview of your designs.
ClickFunnels also offers reporting and optimization tools you can use to view your funnel statistics through the dashboard, and see the rates of success for every step in the user journey. This helps you improve on poorly converting pages, and learn from the best performing ones.
You also get to use the split testing tool to create a variation of a page, and either create a new design from a different template or edit a clone of the original design all on one screen.
ClickFunnels integrates with other third-party services, including WordPress on which you can display its pages. All major payment processors and gateways can be linked to your ClickFunnels pages too, and you can integrate it with many communication and email marketing services.
Pricing starts at $97 per month, but there's the Etison Suite plan that costs $297 per month with unlimited funnels, pages, and traffic among many other features compared to the standard plan that only offers 20 funnels, 20K visitors monthly and a hundred pages.
ClickFunnels offers a free trial though it requires your credit card details to register, and you can test run it for 14 days before your card is charged.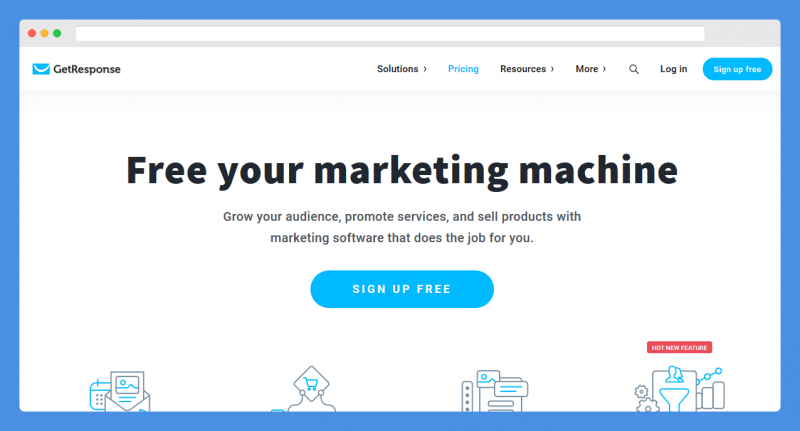 This landing page builder is a great alternative to Instapage for several reasons. Not only is it an industry-leading email marketing platform, it also offers landing pages.
Many email marketing software provide functionality for building landing pages, but as an afterthought, which means a dedicated landing page builder would trump such a tool any day.
With GetResponse though, that's not the case. It features a robust and flexible drag/drop editor with a whole library of templates, some look dated but there are many modern ones available too.
Like Instapage and other builders here, GetResponse offers pages for cover opt-in, thank you, webinars and sales pages among others for your marketing efforts. It also offers A/B testing plus you can deploy the landing pages on your own domain or use the tool's sub-domains.
A nifty feature called the Autofunnel lets you quickly build entire sales funnels, plus you can select predefined scenarios and the funnel type you want, and it'll build it for you with a landing page and other pages.
It also shows you your failure points by visualizing data as the funnel flows.
Ideally, GetResponse is an all-in-one marketing solution for entrepreneurs and businesses who want their email marketing and sales funnels handled. It also integrates with more than 150 other tools including Shopify, WordPress, Magento, Zapier and more.
Pricing is based on the features you need and your list of contacts, but it starts from $15 a month with the basic plan, while the higher plan with the Autofunnel feature costs $49 per month.
Explore: Best Landing Page Builders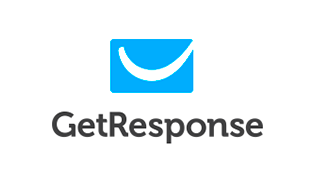 We earn a commission if you click this link and make a purchase at no additional cost to you.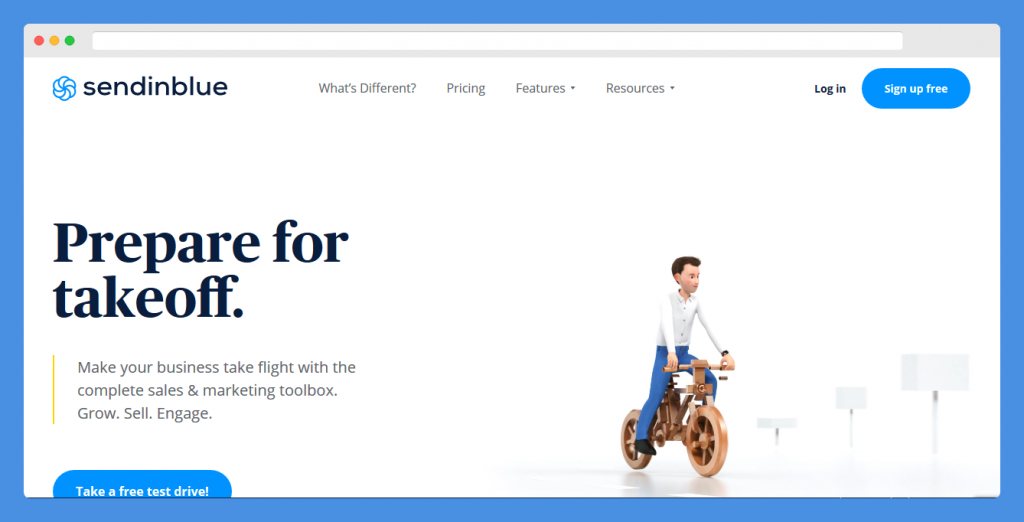 Sendinblue is better known for email marketing tool, but it has a powerful landing page builder which is why we feel, it's a worthy alternative to Instapage.
The tool crams several features besides its core email marketing functionality, such as CRM, SMS campaigns, visual automation, live chat, retargeting and FB ads.
It also offers transactional emails that are useful during purchases to send out notifications, but there are other features such as email marketing and automation builder. The CRM and live chat features let you communicate with your customers one-on-one without other tools.
However, you won't get the A/B testing feature like other landing page builders mentioned here, but the tool is still able to keep up with many of the ones listed here in terms of their builders.
This tool is ideal for bloggers, businesses and marketers who want one tool to handle all their landing pages, automation, and email tasks plus much more.
A free plan is available, but if you need the landing page tool, you have to upgrade to the premium plan that starts from $66 per month. The paid plan gives you premium features like the CRM, live chat, and visual automation among many others.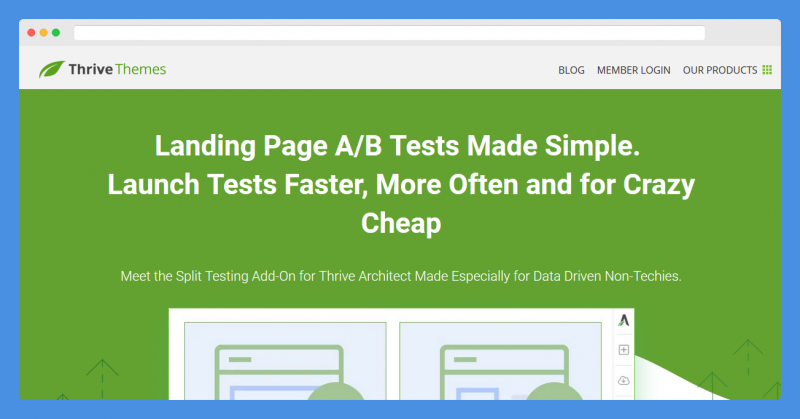 This tool is designed for use with WordPress only, and comes with two plugins: the split-testing addon and the Thrive Architect plugin.
It's a great plugin for WordPress landing pages, though there are plenty other such tools that can do landing pages. The differentiating factor with this particular software is that the team that developed it is focused on conversions, not just making beautiful pages.
Among its features include a drag/drop visual editor – a true front-end editor with lots of design elements and flexibility. You can work fast with this feature as it doesn't hang on you while loading.
There's also a library of templates with webinar, sales, product launch, and lead generation pages plus more. The templates are organized into sets so you can build your sales funnel with matching pages.
It integrates with many other tools and its split testing addon is easy to use so you won't need to integrate a third-party tool for this. Just run split-tests to improve your conversions.
As a WordPress plugin, there are no limits on pages or traffic; you can create many pages as you want, and serve them to as much traffic as your hosting provider can handle. Split testing also has no limits and is cost-effective compared to other alternatives here.
Thrive Optimize is ideal for marketers and businesses seeking a cost-effective WordPress plugin for building landing pages. If you're an agency handling clients, you can use the client licensing to build the landing pages.
Pricing starts from $127, which gives you a lifetime updates and 12 months support, outside of which you only pay a top-up fee. Alternatively, you can join the Thrive Themes membership to access all plugins, unlimited updates and unlimited support for up to 25 sites for only $19 per month.
Worth Reading: Unbounce Vs Hubspot Landing Pages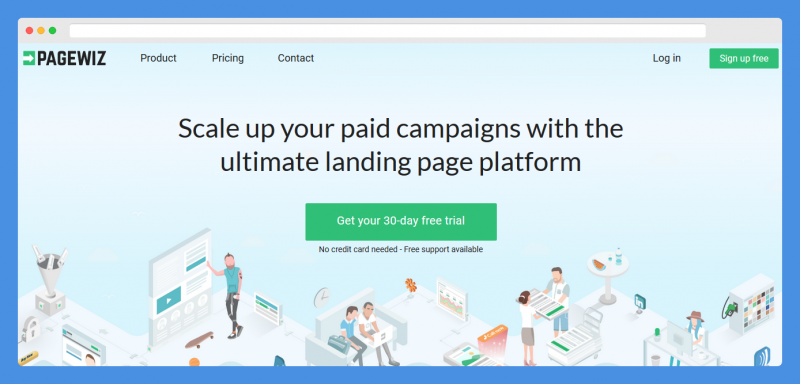 PageWiz is a landing page builder alternative to Instapage that's focused on simplicity and speed. It promises to help you build a landing page quickly and have it up and running in just minutes.
While it doesn't tout itself as a tool with state-of-the-art features, it's a great tool to use. It offers modern, matte designs for its landing page builder template designs, which feels unique and trendy so users can think it's a custom built page.
It also has a user-friendly visual editor, and A/B testing functionality on all its packages unlike other tools that only offer the split testing feature in higher or premium plans.
PageWiz integrates with a slate of tools including Salesforce, MailChimp and Zapier, plus white label email marketing services. This way, subscribers are able to send free automated emails from the platform's branding.
It has great reviews for its customer support, live chat on their website, and easy-to-find information.
Pricing is $25 per month, and is great for marketers that want to launch highly effective landing pages affordably.
Interesting Comparison: Unbounce Vs Webflow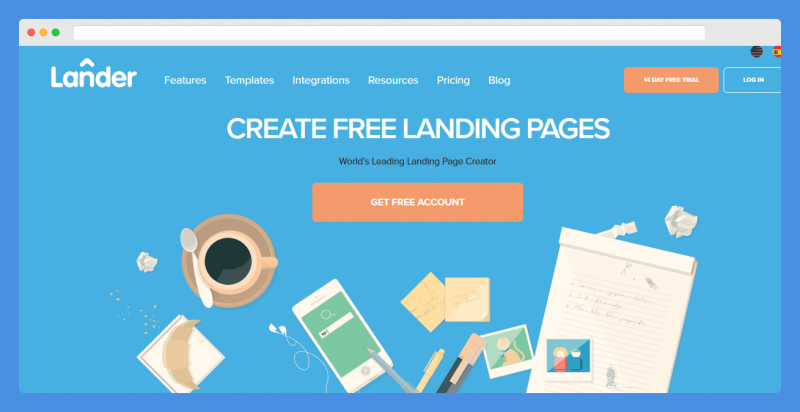 Lander app is another great Instapage alternative that does everything very well, though it has limited landing page templates.
The tool is easy to navigate, straightforward, and offers clean and modern templates that are aligned well with conversion optimization principles. The templates also offer versions for different industries and offers, including portfolio pages, webinars, products and services, coming soon page and ecommerce among others.
It's visual editor lets you customize landing pages by simply dragging and dropping elements wherever you want them to go on the page so you can customize each without tampering with the HTML or CSS.
A/B testing is also provided at every price point, which is a huge benefit if you want to test your landing pages for conversions before they're published, and don't want to pay extra for this function.
It also provides dynamic text replacement that lets you set some text elements to match your PPC campaign keywords, automatically. For example, if you run AdWords campaigns with many ad sets and keywords, you can integrate the landing page with AdWords DKI and make the pages relevant to different visitors.
Lander's landing pages integrate easily with MailChimp, PayPal, social media, Salesforce and other tools.
Support is available through the contact form, plus customer service reps phone numbers are included if you have an urgent query.
Worth Exploring: Clickfunnels Vs Leadpages Vs Unbounce Vs Instapage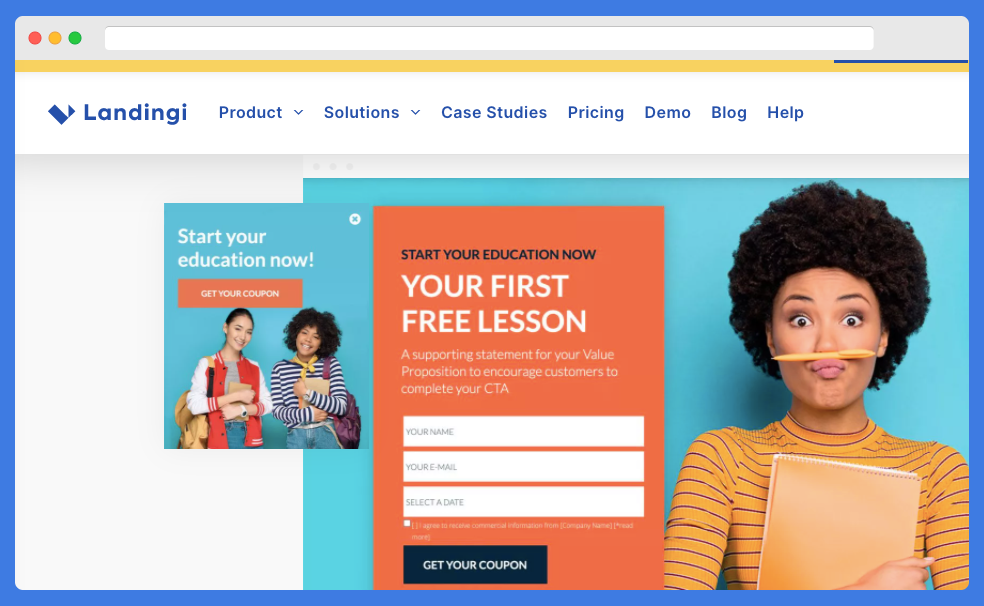 This landing page builder is touted as the tool for non-programmers. It offers a variety of templates for landing pages and email integrations with every package.
A visual editor is available that is straightforward to use, which makes it easier for you to create custom landing pages from its predefined templates.
Other features include a free image library where you can get high-quality visuals, plus a one-click publishing tool for you to put up your pages as quickly as you can.
It also captures lead information even though its interface isn't as complicated as a full CRM tool, but it's a good native addition, and you can manage form submissions while generating your landing pages.
In-platform analytics is a helpful feature in this app, though not as insightful as Google Analytics, but you can get it in the dashboard and view your page results at a glance.
There are three pricing plans:
Create: $55/$89 (1 month subscription/yearly subscription per month)
Automate: $79/$127 (1 month subscription/yearly subscription per month)
Agency: $149/199 (1 month subscription/yearly subscription per month)
Check Out: Leadpages Vs Optimizepress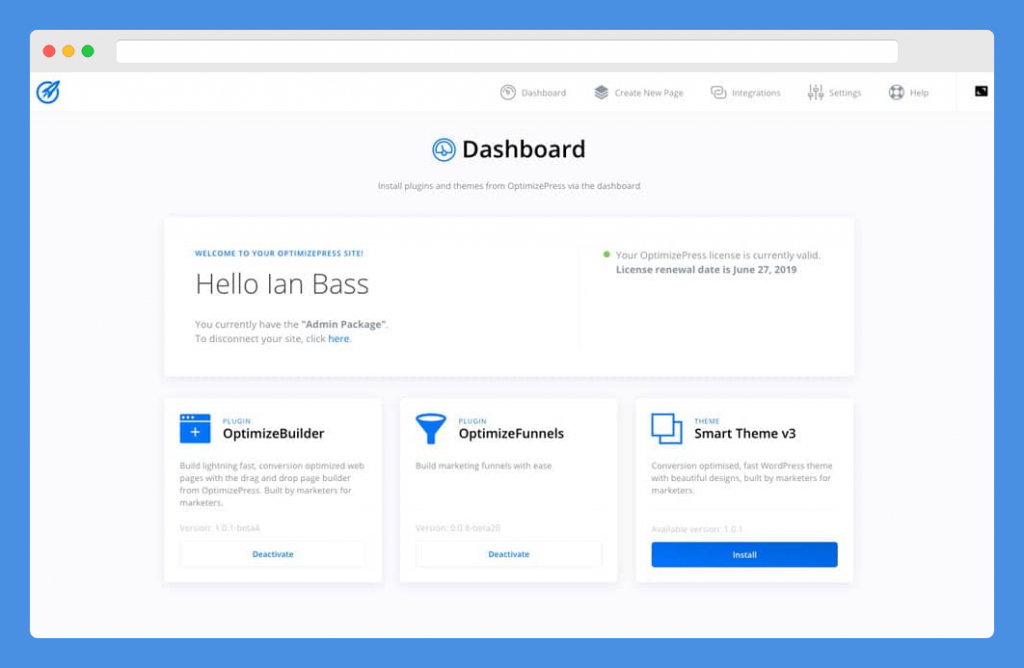 This is another WordPress only landing page builder that has less of a learning curve compared to others on this list.
Unlike Thrive Optimize/Architect, whose level of customization is higher, this tool's visual editor doesn't allow for the same thing, but you can find your way around much faster. You can build your pages from scratch or use one of its 50+ templates.
It also offers several email integrations including ConvertKit, ActiveCampaign, Drip and Mailerlite.
One of its great features is the ability to add conversion-optimized sections such as testimonials. You can add pre-built sections and customize or tailor it to your landing page.
All of its pricing plans give you access to the builder, an optimized WordPress theme to build your mailing list, and higher plans offer extras like OptimizeLeads for lead-gen and funnel building.
Other plugins like A/B testing and the checkout builder are soon to come with this software.
The tool is great for entrepreneurs and bloggers looking for a landing page builder that's cost-effective and for WordPress sites.
Pricing starts from $70 per year for the builder, but extra plugins are available with the Suite plan that costs $199 per year.
Related: Optimizepress Review
Final Thoughts – Best Instapage Alternatives & Competitors
All these Instapage alternatives can empower you to create different pages, and they're all well supported with lots of online materials and responsive support staff.
Whichever one you choose, you'll be on the right path to growing your business.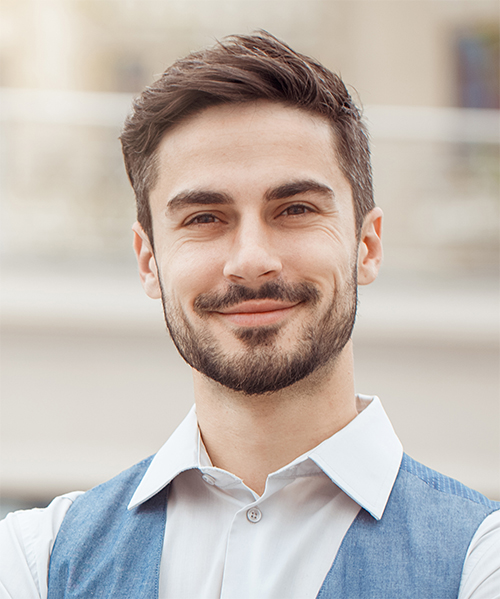 Author: Scott Macarthur
Scott L. Macarthur is a marketing consultant and an online author. He is mostly engaged in providing his expertise to startups and SMBs. He is also an author on TheNextWeb.