The Print Shop offers various design and layout tools, including graphic design, page layout, photo editing, etc. It's an excellent tool to use at home and in the office. It enables you to create top-quality materials without design experience.
The Print Shop comes loaded with over 6,700 design templates, easy text editing and photo editing tools, great page layout tools, more than 262,000 photos, clip art, and other features you need to design impressive projects for office, home, and school.
For years, the software has continued to add new functionality and features to ensure you have maximum flexibility in all your creative projects. Now you can enjoy the best designs using its new master page creator, Facebook photo importing, quick access to tools, a new custom border creator, and more than 12,000 royalty-free images and backgrounds.
Designed for commercial and home office use, The Print Shop is ready to help you create printable publications, including banners, business cards, brochures, posters, business cards, and resumes.
Include different elements like tables, hyperlinks, flowchart shapes, callouts, images, text, frames, effects, and shapes to make them more interactive and engaging. Additional features include thesaurus, spellcheck, photo editor, OCR tool, etc.
You can also save your projects in multiple formats, including doc, pdf, SVG, docx, eps, png, etc.
However, you have to purchase a license to use The Print Shop. But there are free alternatives you can use to design your projects in the same way you do with The Print Shop – without paying a dime.
Let's find out more.
Also Read: Best Merch Websites To Sell Your Merch Designs
Our 10 Top Picks of Free Print Shop Alternatives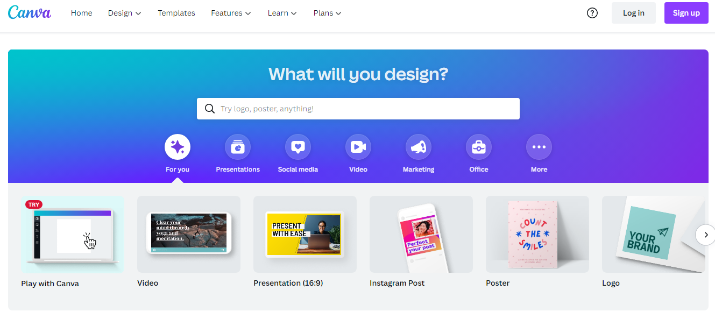 Canva is a graphic design platform for creating business cards, posters, catalogs, newsletters, annual reports, social media posts, business cards, invitations, etc. It is a strong alternative to The Print Shop with a simple drag and drop interface that helps customize projects.
The software gives you access to a comprehensive library of vectors, photos, fonts, graphics, and more. It comes with tools for print and web media design and graphics. It is quite friendly for non-designers too.
Its rich feature set and simple processes make it ideal for desktop publishing. You can easily edit your photos on Canva without any photo editing skills. It comes with professionally designed templates to get you started.
There's no limit to your creativity when it comes to Canva. Its customizable workspace allows you to work with templates, videos, fonts, photos, etc. Unlike The Print Shop, you can easily design websites and infographics here.
Its free version alone has more than 250,000 templates, hundreds of social media posts, 5GB of cloud storage, presentations, and emails. It also has various output formats to help you convert your content to a file of your choice.
Explore: Best Anime Merch Websites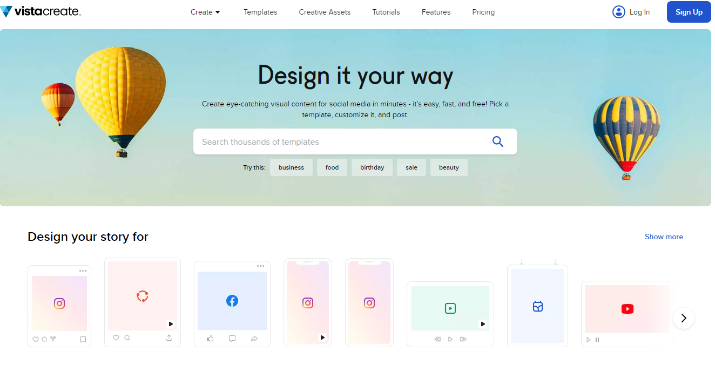 Formerly known as Crello, Vista Create is a powerful alternative to The Print Shop with professional templates. It lets you design publications and marketing materials, including brochures, business cards, catalogs, etc.
It has more than 30,000 pre-made templates, 9,000+ animated templates, and more than 650,000. Its intuitive interface has a quick search button that you can use to locate the features and functionalities you need for your projects.
Vista Create has a free basic plan with tools to get the work done. It allows you to download five designs per month. Its visual editor ensures you have all tools on hand. It'll help you choose among the many photos and design formats.
Vista Create will give you the right tools to humanize when you have an idea and want to share it with the world. For all your advertising, blogs, animated designs, social media, print, marketing, and events, count on Vista Create for the best designs.
The software offers instant removal of backgrounds when you need to. And it has more stimulating effects than The Print Shop, including speech bubbles and frames. You'll also find fun design elements like badges and stickers, etc.
Also Read: Best Merchandising Business Examples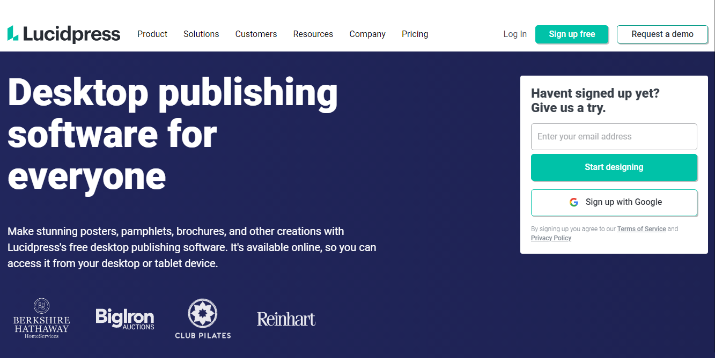 LucidPress is browser-based and an excellent option if you're looking to collaborate on your workflows. It has a free version you can use to create projects with little experience.
LucidPress stores your publications online, allowing you to edit them through your browser. Its interface combines a WYSIWYG web editor, a word processor, and a frame-based application like InDesign.
If you're ready to design stunning publications and go to publishing, make LucidPress your dedicated partner.
Creating interactive content at LucidPress is a breeze even for amateurs. With its drag and drop editor, all you have to do is drop features on the canvas to personalize your publication and grow your brand.
With LucidPress, you don't need to download anything. You work directly on the platform right from creation to publishing. It has plenty of professional templates to create innumerable publications.
LucidPress is web-based, with plenty of publishing and sharing options compared to The Print Shop.
The software also comes with great features and media elements to let you embellish your creations. When collaborating with your team, you can convert your documents into templates and lock down any elements to ensure they remain intact. No other team member can change the elements, be they backgrounds or logos.
Its collaboration features ensure your whole team is on board in real-time. There is no need to email each other because you can comment and share right inside the editor by adding all the members' email addresses.
Also Read: Best Merch Websites For YouTubers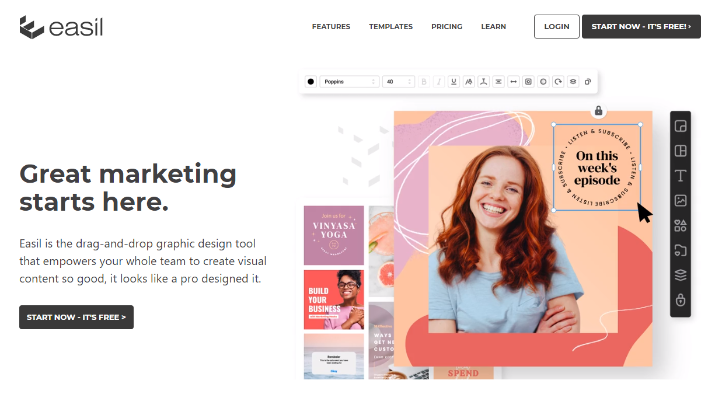 Clarity and simplicity are the two words that fully describe Easil. The tool has a unique design that is exclusive only to itself.
You can create anything here, from menus, flyers, business cards, catalogs, GIFs, posters, social media graphics, and other visual content.
The templates are vibrant, and the layouts are trendy. When working on your text, you can add some interesting effects like glow and shadows and even change the width and height of the letters. The Print Shop doesn't have these features.
Its editor has many design elements, including shape masks, illustrations, icons, images, and patterns. It also has a granular locking feature that enables teams to create templates for their projects.
It's easy to create GIFs with Easil. This design tool is for you if you constantly use graphics in your blogs or social media visuals. It has thousands of templates in various styles for your social media projects.
Most of its designs are trendy, making it ideal for creative entrepreneurs, bloggers, startups, small enterprises, and small teams.
The basic plan is free.
Explore: Best Print On Demand Websites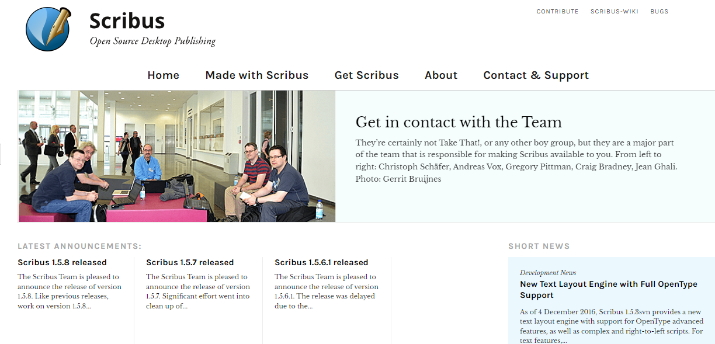 Scribus is a great alternative to The Print Shop alternative with all the tools to produce print-ready projects. It's a free, open-source desktop publishing software that's pretty easy to use.
Scribus has advanced features to make your projects stand out. Whether it's posters, books, leaflets, or full-blown magazines, you can make them interactive and exciting to read.
The program supports Windows, Linux, and Mac operating systems. The standout features include ICC color management, CMYK colors, spot colors, vector drawing tools, file import and export, emulation of color blindness, and more.
It also supports multiple file types, including saving work in PDF format, but its main file format is XML-based. Scribus is for designers who want to produce flyers, marketing brochures, business cards, resumes, letterheads, menus, PDF presentations, and posters.
Unlike The Print Shop, Scribus has a free version that doesn't limit your creativity.
The software comes with predefined templates to customize to your liking. Elements like curves, barcodes, images, text boxes, frames, tables, Bezier, shapes, and freehand lines are also available. Plus, you can import templates and edit them in Scribus.
The document layout, effects, and other editing functions make it worth being first on this list.
Also Read: Best T-shirt Dropshipping Companies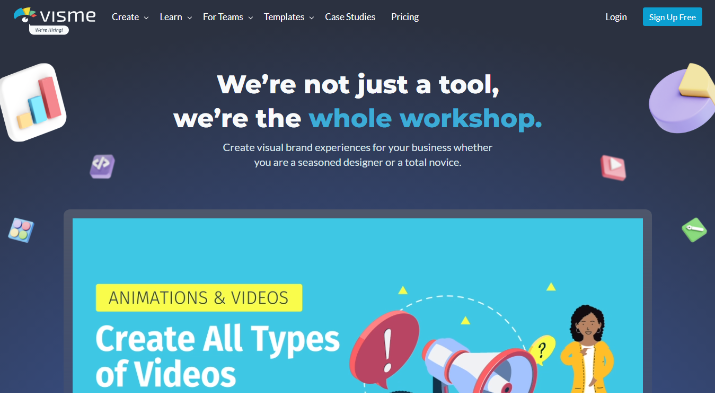 Visme can give you that and more if you're looking for versatility. This platform unifies content creation by providing the tools to create engaging content, including graphics, documents, videos, infographics, and other publications.
It contains beautifully designed templates, a vast library of icons, charts, Gifs, illustrations, data widgets, and media elements like audio and videos. Editing and customizing content at Visme is a simple process.
Compared to The Print Shop, Visme offers more versatility, giving you plenty of content options.
The tool has a free basic plan complete with key features and storage for your projects. Its collaboration tools help you work with teams to complete projects on time. The version allows you five projects.
You can easily generate widgets and charts at Visme for your social media marketing. Other features include ready-made layouts, a brand kit to retain your logo and color scheme, import and export, and organization tools including analytics, file manager, and sharing.
Also Read: Best Places To Buy Anime Merch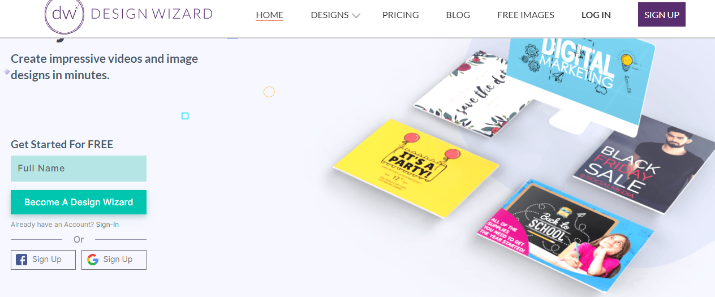 Design Wizard has many design tools, including images, illustrations, graphics, videos, artboards, and layers.
It enables users to create the image and video designs from the two distinct editors: the video editor and the static graphic editor.
Design Wizard is for creators who want to create personalized designs that stand out. Its starter plan is free and equipped with exceptional features like the Facebook video maker, online video creator, video and photo templates, free image storage, and a free font library.
Unlike The Print Shop, Design Wizard has two different video and static graphics editors.
The software allows you to download your images in web and print quality. This is one of the best user-friendly graphics tools for your social media, presentation, and document-style projects.
You'll need to choose your editing space between the video editor and static graphic editor within its editor.
Explore: Best Canadian Print On Demand Companies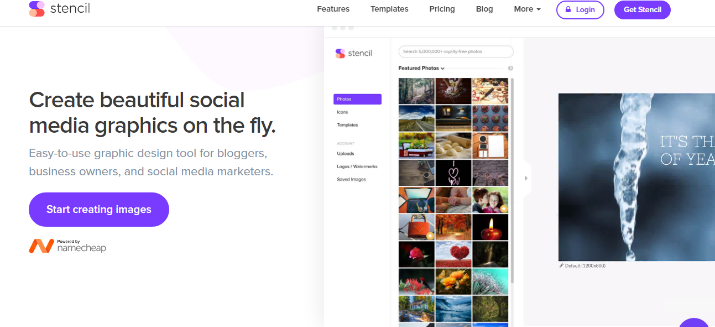 Stencil is another software with a sleek, simple-to-use design for generating high-resolution images. It's ideal for small enterprises.
It features unique design tools, including live previews, color picker, safe areas, etc. The Instagram SMS feature will send your designs directly to Instagram.
After project completion, you'll be able to share them across all social platforms.
Stencil gives you access to thousands of templates, unlimited photos, quotes, icons, graphics, and fonts. It also has more than preset photo sizes to fit them in your presentations and social media projects.
You are allowed up to 10 collections, ten images, and 10 Instagram shares each month in its basic plan.
With Stencil, you use background images with text over them, then add shapes and icons to your design.
Its editor has a quotes section with plenty of quotes to add to the images you select for your background. The Print Shop doesn't offer quotes.
Stencil is designed for users who want to create their content fast and use quotes regularly. Its template list contains various sizes, including those for Zazzle products and Amazon shirts – great graphic design software for casual content creators.
Check Out: Best 3D Print On Demand Services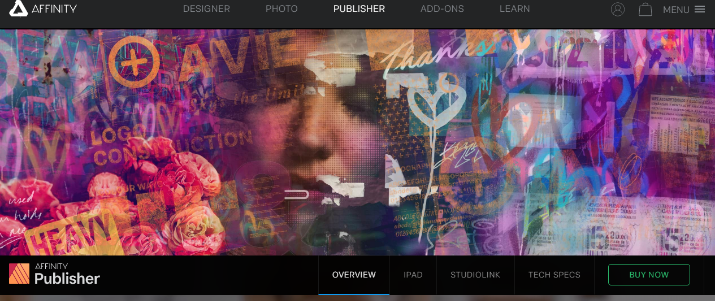 Affinity Publisher is a desktop publishing platform that offers value to users. It has a free trial with loads of tutorials on its website.
The platform allows you to create content for your social media content, marketing materials, magazines, books, newsletters, brochures, catalogs, and more. Compared to Print Shop, you can combine graphics and text to present a captivating page layout for immediate publishing.
It's smooth, fast, and precise in its processes and revolutionizes how you work. With Affinity Publisher, you can modify and retouch images, make beautiful raster paintings, and create multi-layered compositions.
Affinity is easy to use, feature-packed and integrates with Affinity Designer and Affinity photo.
You can import and export to other raster and vector files like PDF, PSD, PNG, TIFF, JPEG, GIF, etc. Moreover, you can integrate links into your projects by merging external data sources.
Create certificates, tickets, business cards, catalogs, envelopes, vector files, badges, etc. This software works with LAB, RGB, CMYK, and grayscale color spaces.
Also Read: Best Print On Demand Courses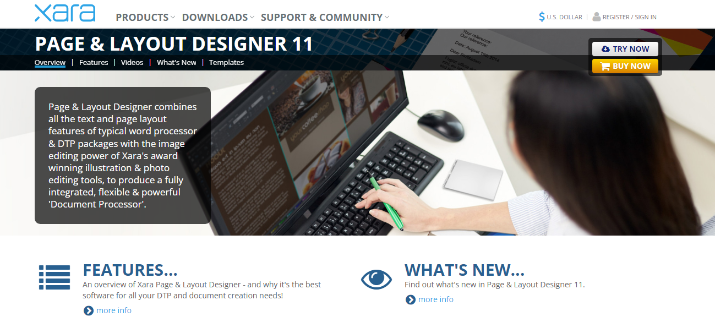 Xara Page & Layout Designer is a desktop publishing and document creation platform that works on Windows devices. It comes with text and layout tools accessed from a central platform.
Xara has an image editing system to use in exploring the photo editing and illustration tools to deliver projects that are fully integrated.
After utilizing Xara's rich feature set, your pages and design layouts will be perfect. Its features and functionalities are well organized in categories, including an advanced text-handling system, 3D tools, abbreviation expansion, text styles, auto-correction system, fonts, auto hyphenation system, intuitive page layout, royalty-free templates, and more.
Compared to Print Shop, Xara Page & Layout Designer has a wide selection of rich features.
The integrated Magic Snap feature helps you arrange elements to find pages and layout designs with minimal effort. It has a dynamic snap lines system to show the corner point of objects and the page center when putting content.
Explore: Best Print On Demand For Artists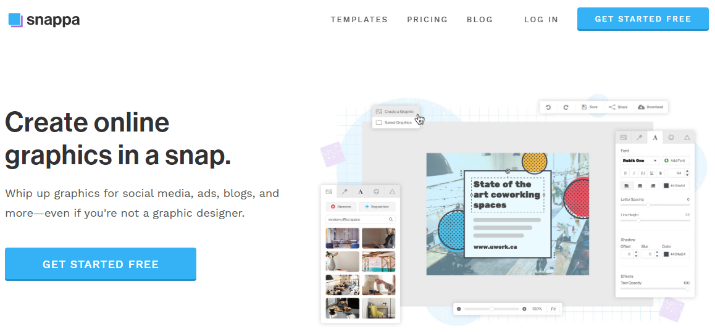 Snappa is another digital design software for creating graphics for advertisements, social media, profile pages, and blogs. It comes with a minimalistic editor with shapes, icons, photos, and vectors.
This platform has many unique templates and other rapid designing and customization features. If you are a blogger or social media marketer, Snappa will do you justice.
It has a free tier that allows you three downloads every month.
Snappa is a cloud-based, user-friendly graphics editor. It's easy to create visual content without any complexities. And it offers more social media use cases compared to The Print Shop.
Its graphics are free to use, letting you deliver designs with images without spending a dime. The tool supports collaboration when working in groups.
Share your completed graphics across social media platforms to promote your projects digitally.
Check Out: Cheapest Print On Demand Sites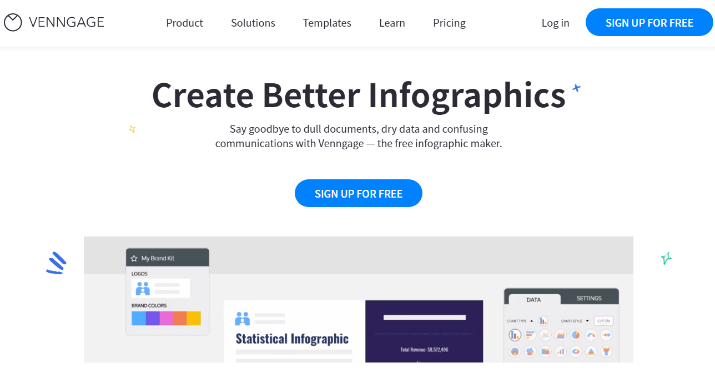 Venngage has a wide selection of templates to make your projects visually stunning. It's an excellent software for designing cards, presentations, reports, postcards, eBooks, brochures, and other visual designs.
Venngage is also great at creating educational content. You can share learning materials and best practices with your audience while growing your design skills simultaneously.
The tool does pretty well when creating infographic content, flow charts, flyers, books, banners, banners, white papers, road maps, and other data visualization content. You'll find plenty of templates for infographics and other design formats.
Venngage helps create infographics, something that The Print Shop can't do.
People prefer Venngage when they need to communicate their complex ideas using visual content. It's beginner-friendly and lets you access advanced tools to start designing your digital content. Signing up on this platform is free, and you can start creating right away.
Also Read: Best Print On Demand For Books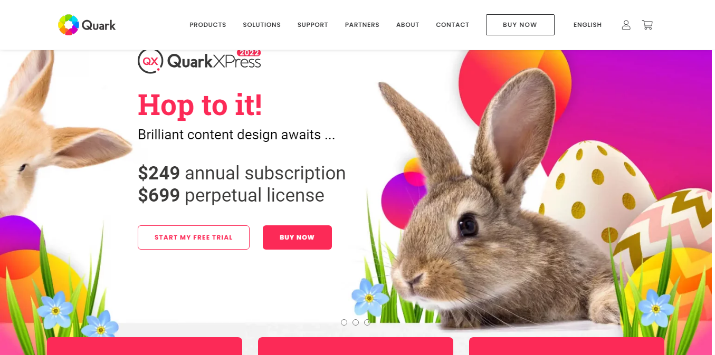 QuarkXPress works well with Windows and Mac operating systems. It is a graphics design tool for producing tables, layouts, print designs, and web designs.
The software is easy to use, especially for seasonal graphic designers, content creators, marketers, and other users in printing businesses.
QuarkXPress has been in operation since 1981. It's beginner-friendly, allowing people to use it for designing and editing their creations. It comes with a drag-and-drop feature to simplify the design process.
You can use the software for graphic design, creating and editing images, and producing illustrations. Here you'll find specialized tools to edit photos with layers.
It has intricate tools to use when designing a website, and you won't need the CSS or HTML codes, which is its advantage over Print Shop. You can also use its advanced tools to develop mobile apps.
It has a free trial that you can use to test its waters. Overall, it is an excellent layout tool with a rich feature set.
Also Read: Best Print On Demand For Etsy
Wrapping Up
Canva is the winner on our list of the best Print Shop alternatives. Since it's web-based, it makes it easy to design, publish and share your content across platforms.
When working with teams, it's easy to collaborate on projects to make work easy for the company.
The best part is that it comes with a free version that is less complicated, especially for beginners. What's more, you can design different publications and output them in various formats.
The feature set is rich, with plenty of options to choose from. Using its customizable workspace, you can access the templates, backgrounds, scenes, and other media elements like videos, fonts, photos, and more to make the designs more exciting.
Furthermore, there's a free version with plenty of features to make the project creation process effortless.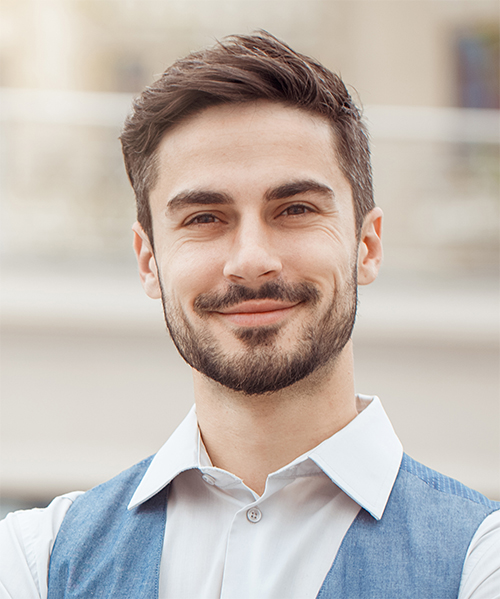 Author: Scott Macarthur
Scott L. Macarthur is a marketing consultant and an online author. He is mostly engaged in providing his expertise to startups and SMBs. He is also an author on TheNextWeb.