The term conversion means different things to different industries.
In HubSpot's research, 69 percent of marketers prioritize "converting leads to customers" over other forms of conversions.
Albeit conversion could also be traffic, engagement, collaboration, or user experience.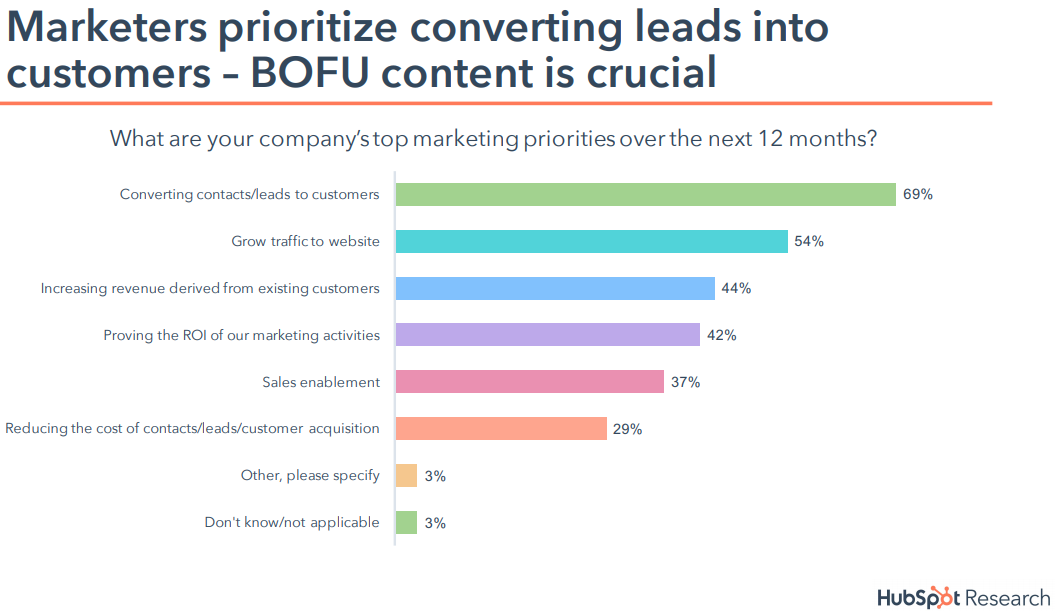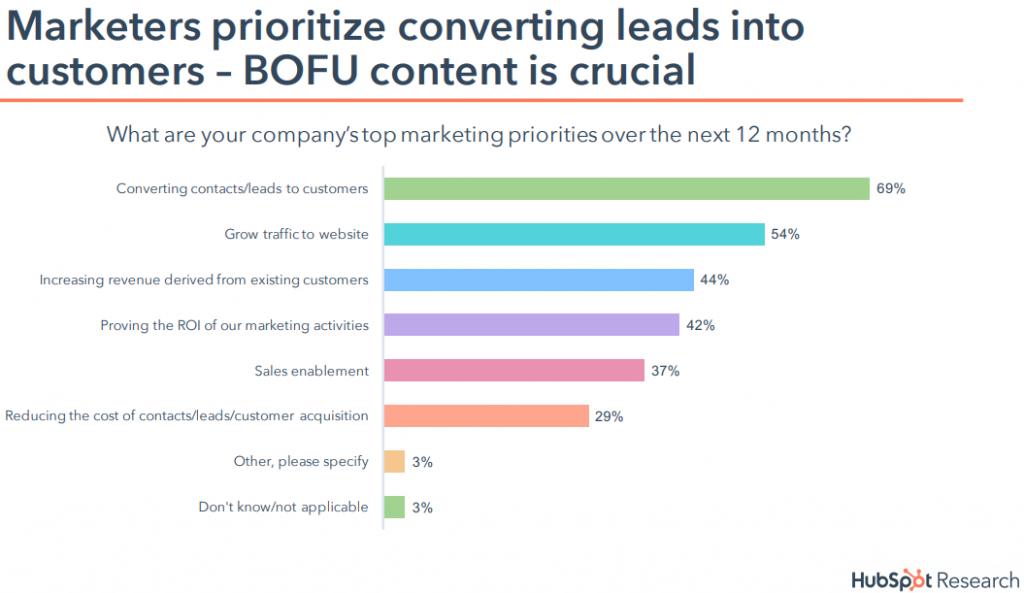 But how do you know you're meeting your business goals if you don't track them.
So this article will split the 20 best conversion tracking tools into tracking tools for:
ads
websites
social media
UX and CX
App conversions
Business Intelligence
Let's begin.
With Improvely's advanced tracking and conversion attribution system, you can monitor every click, revenue, and conversion at a glance.
Also, the platform makes sure that you aren't paying for fraudulent clicks. So you only spend money on the right traffic.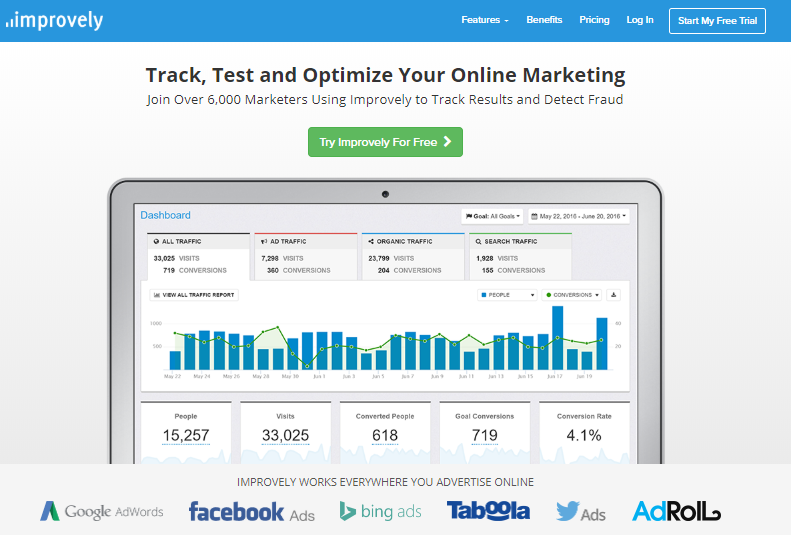 Improvely is a hosted platform, so you don't have to install it before use.
So you can use it on any computer or mobile device as long as you have a web browser.
Despite the constant updates, you aren't expected to pay extra.
The platform integrates well with eCommerce and marketing platforms like WooCommerce, BigCommerce, Shopify, Volution, and MailChimp.
Features of Improvely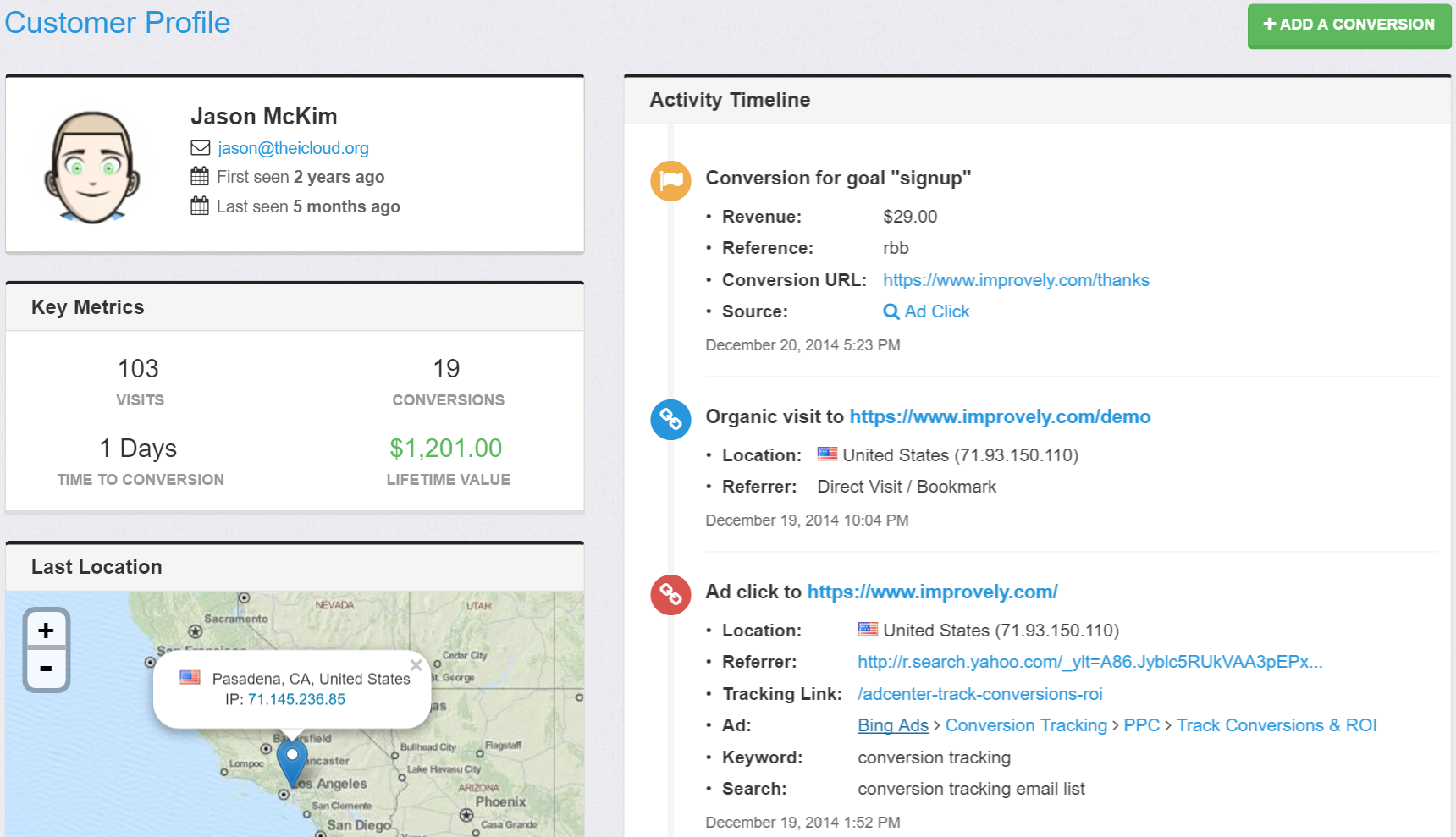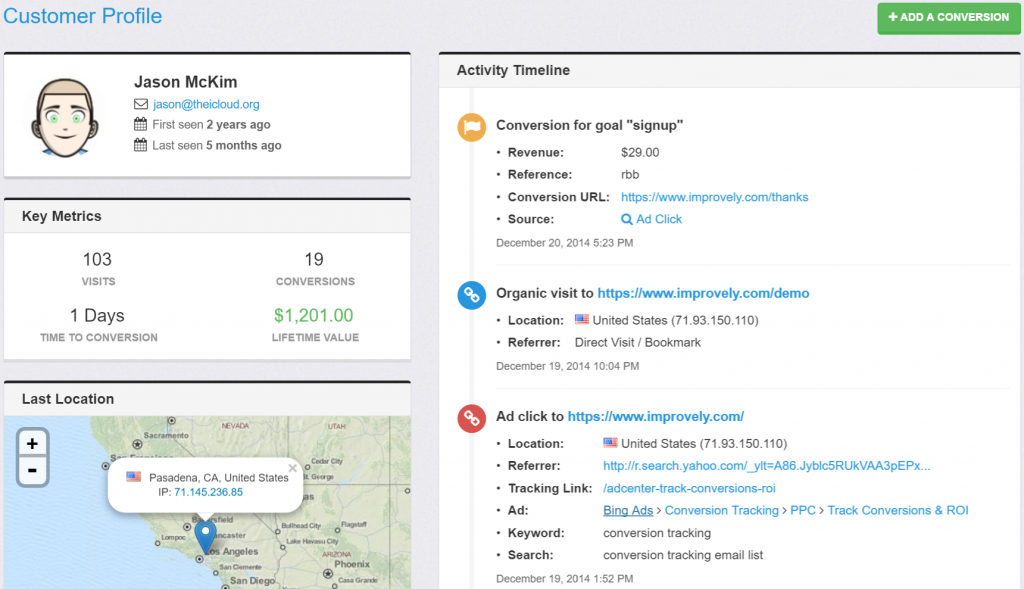 Improvely tracks online marketing with
Effective traffic reporting
Checkout funnel reports
Automatic profile of visitors
All-in-one dashboard
You get a detailed report that you can attach to an email or ticket for a refund when it detects fraud.
Apart from fraud, you can also track the sources of your affiliate commissions.
Plus, it allows white-labeling, so your customers can use Improvely under your brand.
Improvely Pricing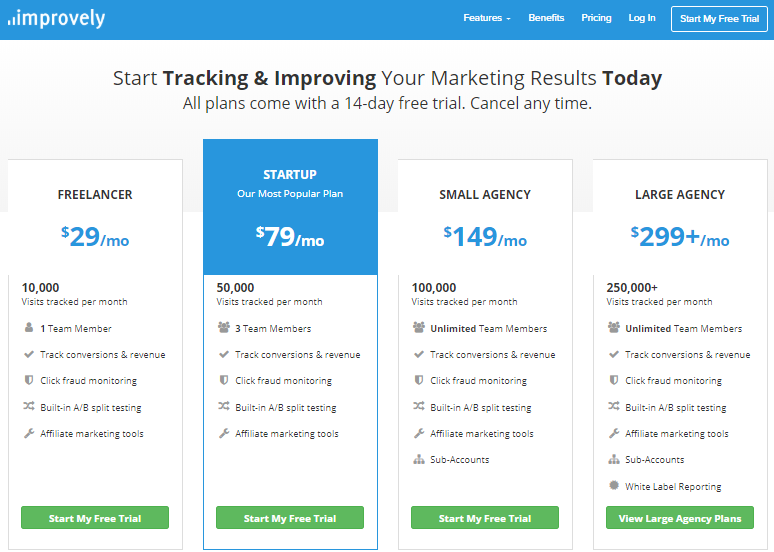 Improvely has four price plans that offer solutions to serve from freelancers to large agencies.
You can start for free and begin your payment for the plan you select at the end of your trial period.
Also Read: Improvely Review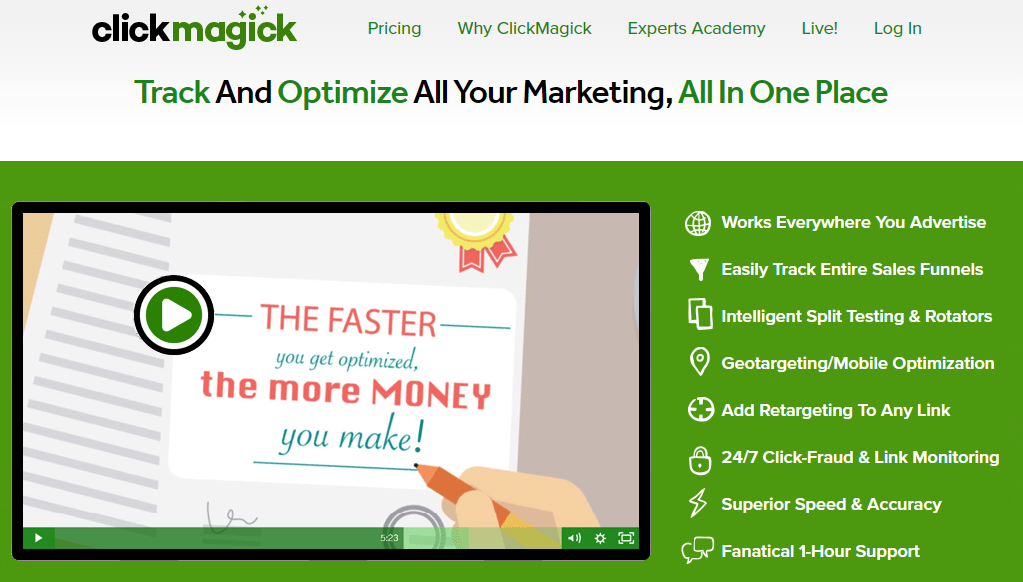 ClickMagick is a Cloud-hosted tracking and optimization platform that protects your links around the clock.
It'll send a text or email to alert you of a faulty link so you can redirect clicks or stop ads. But its functions go beyond link tracking.
The platform allows you to add popups to any website without permission, even if you don't know the owner.
ClickMagick offers automatic "Bot" filtering that allows you to filter or block bot clicks.
In that way, your stats are accurate.
Features of ClickMagick
ClickMagick sports ad optimization and tracking features like:
Funnel builder tool
Automated split testing
Offers five different popups to any website
Intelligent countdown timers
MagickBars adds notification bars to websites
Advanced retargeting
Click rotators
Automatic "bot" filtering
Affiliate marketing tools
Traffic quality analysis
Content locking
Link uptime monitoring
GEO and mobile targeting
Compatible with Facebook and Google Analytics
ClickMagick Pricing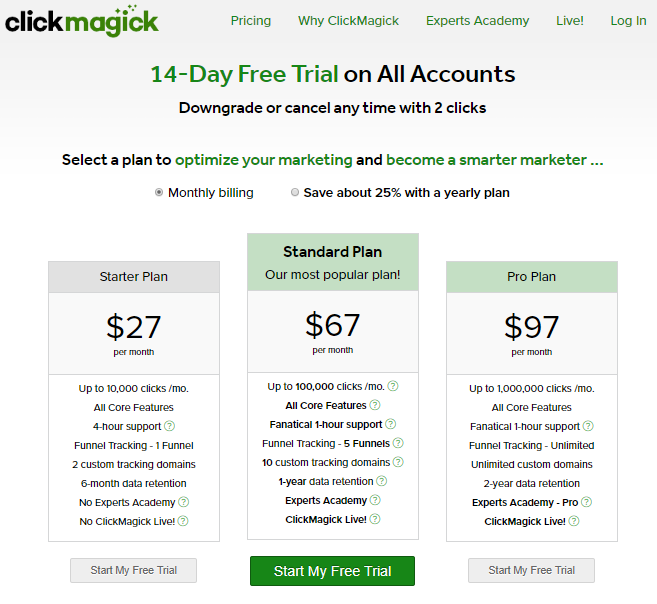 Let's talk about ClickMagick pricing. At $27 per month, you'll get all the core features and more.
The most popular plan is the Standard plan at $67 per month. ClickMagick offers a 14-day free trial for all three price plans.
Let's look at some website conversion tracking tools –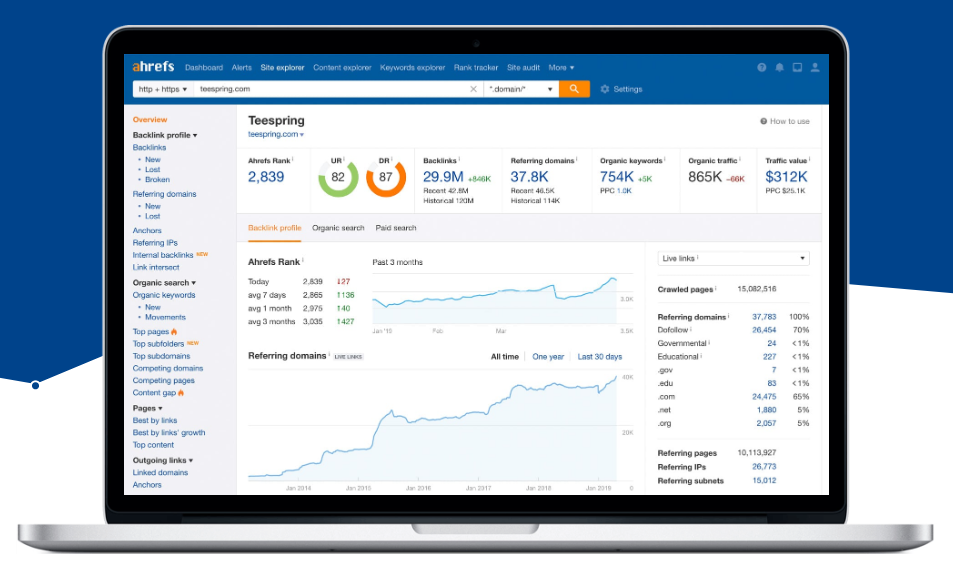 Ahrefs tracks your PR and link building activities as well as your competitors almost in real-time.
It monitors your niche and notifies you when you or your competitors acquire or lose backlinks.
The content explorer helps you determine which contents in your field have social shares, sizeable numbers of backlinks, and organic traffic.
Also, you can be proactive to see websites that have used your target keywords but never linked to you.
Ahrefs features

You can trust Ahrefs backlink data because they run the most extensive index of live backlinks.
Also, with advanced reporting, you can dig deeper into the data generated.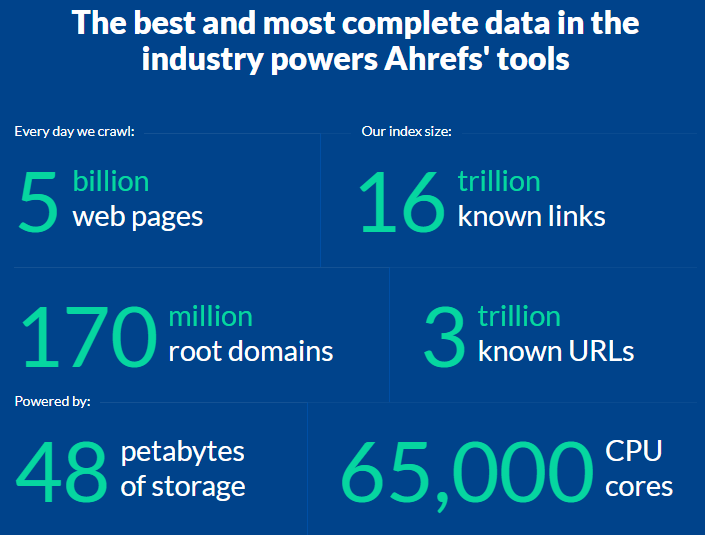 Some of the tools you'll enjoy while using Ahrefs are
Rank tracker
Site audit
SEO toolbar
Alerts
Backlink checker
Website authority checker
Bing keyword tool
Keyword generator, and more
Ahrefs Pricing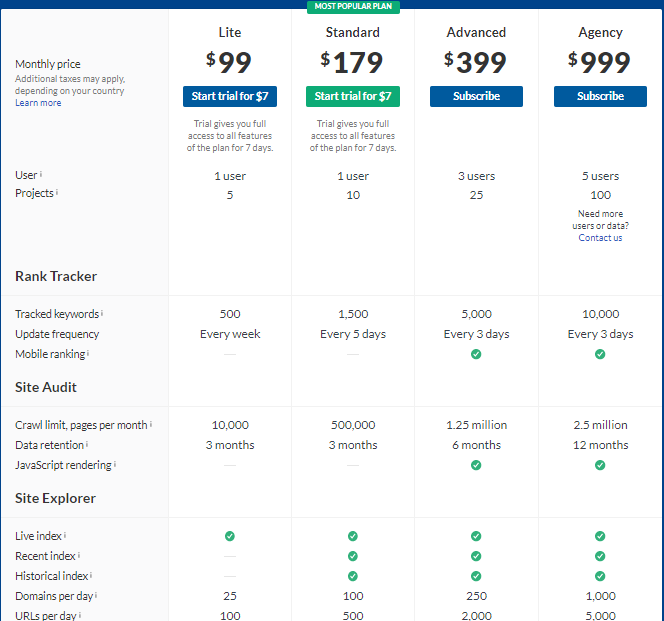 Ahrefs has four priced plans.
At $99 per month, Lite offers five projects, while the Standard plan offers ten projects for $179.
You can also retain the data you get from these plans for three months.
Albeit, for $7, you can try both plans out for seven days.
Though the higher Advanced ($399) and Agency plans ($999) don't offer trial periods, they give better deals.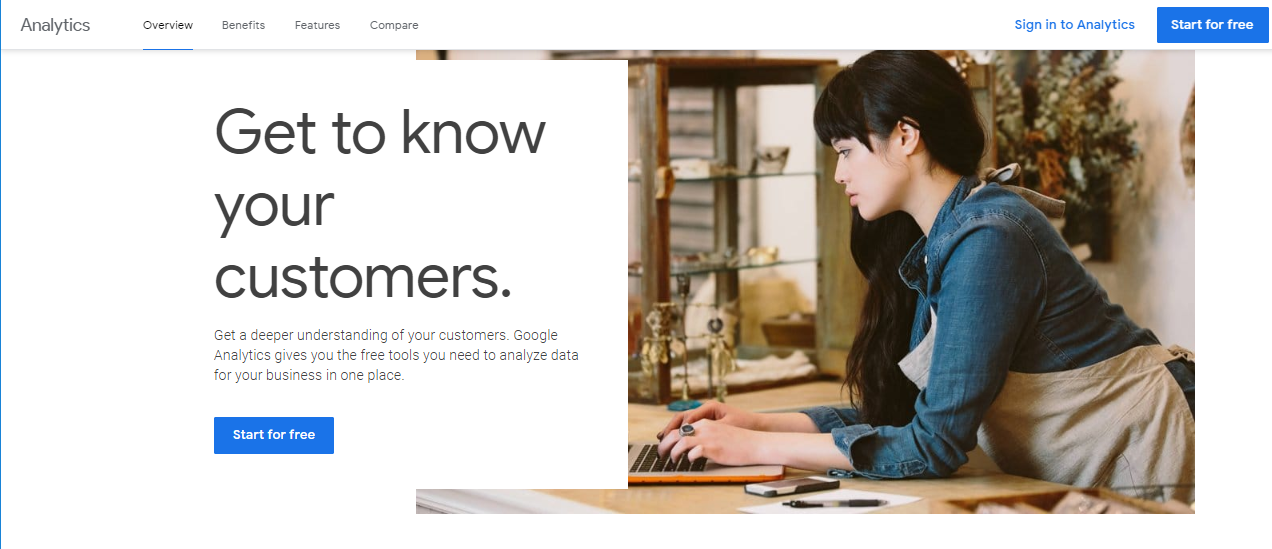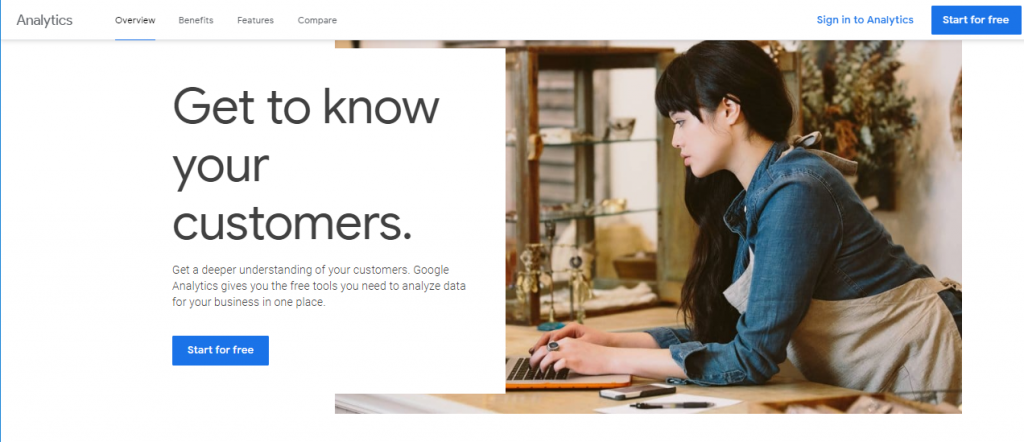 Google Analytics is a free conversion tracking tool that helps you understand your app or website for better performance.
The platform offers you flow visualization reporting to see how your visitors interact with your site.
You're able to analyze groups of pages through content grouping, while you'll use User Explorer to analyze a specific user's action.
With machine learning, Google Analytics can discover unique insights that let you project which customer has a high revenue or is likely to convert.
Since Google Analytics works well for Google ads, you can use the insights you get to target the right customers.
Features of Google Analytics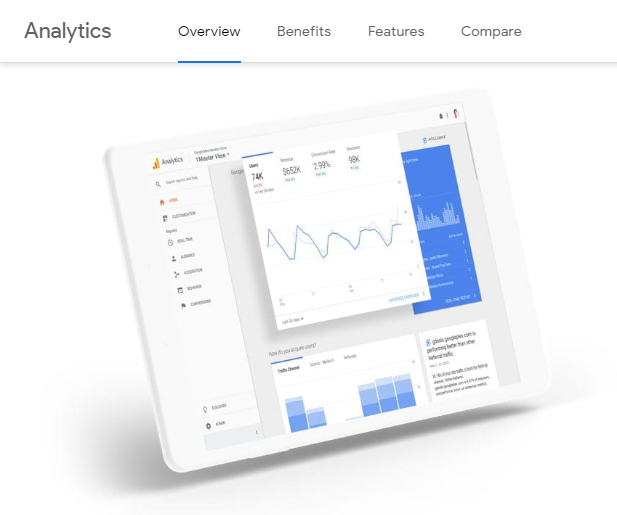 Some of the features of Google Analytics are:
Analytics intelligence
Data collection and analysis
Integrates seamlessly with Google solutions and products from
partners
User and conversion modeling
Data analysis and visualization
Reporting
Data activation
Pricing
Free
Check Out: Improvely Vs Google Analytics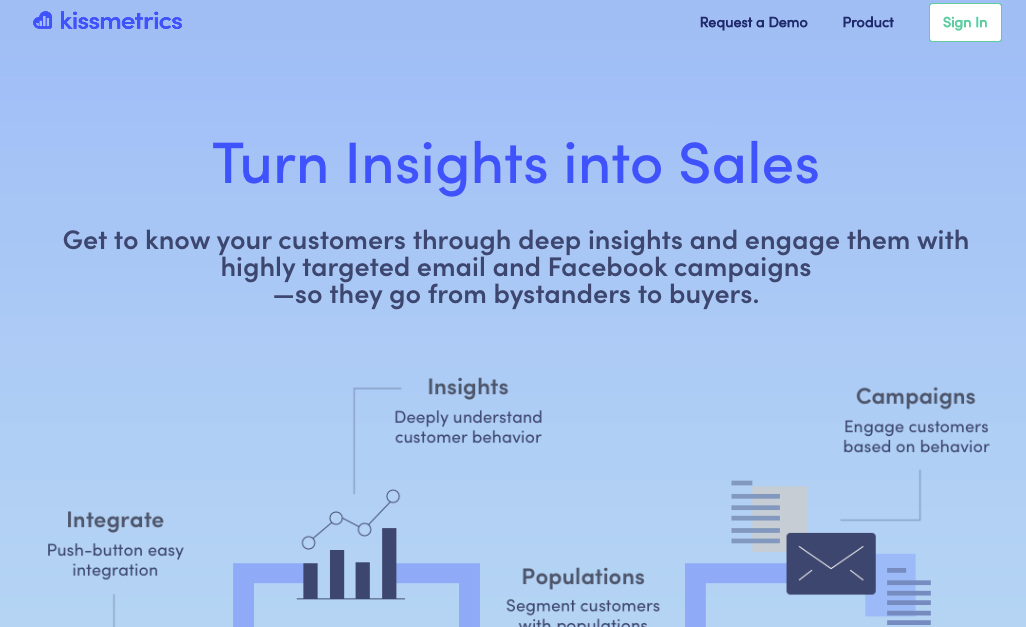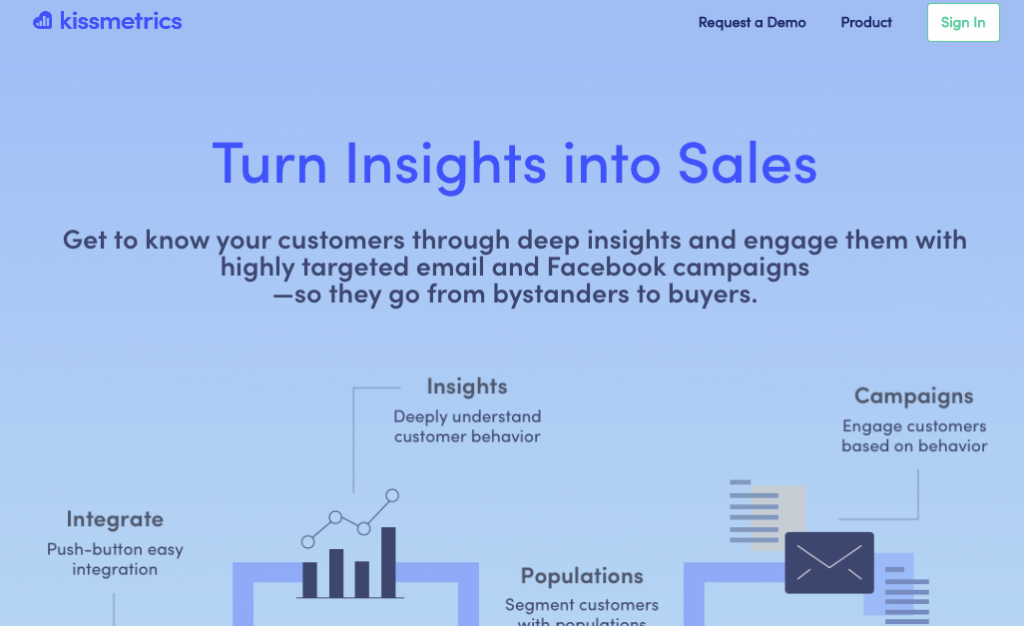 Kissmetrics lets you track your app's conversion rate.
It's a person-focused analytics tool that helps online businesses spot, understand, and improve their conversion benchmarks.
The tool helps users access information to improve their products and to make better business decisions.
Kissmetrics is simple to install and use.
If you want to see more customer attribution data, this is the tool for it.
It lets you see your customers' entire buyer journey.
Kissmetrics gives you the full story, from when customers visited your site anonymously, to when they signed up, and posts sign up attribution.
Features of Kissmetrics
Kissmetrics focuses on tracking and reporting your conversions.
So you can spot what marketing campaign is working, how your landing pages are performing, how frequently your customers are leaving, and more.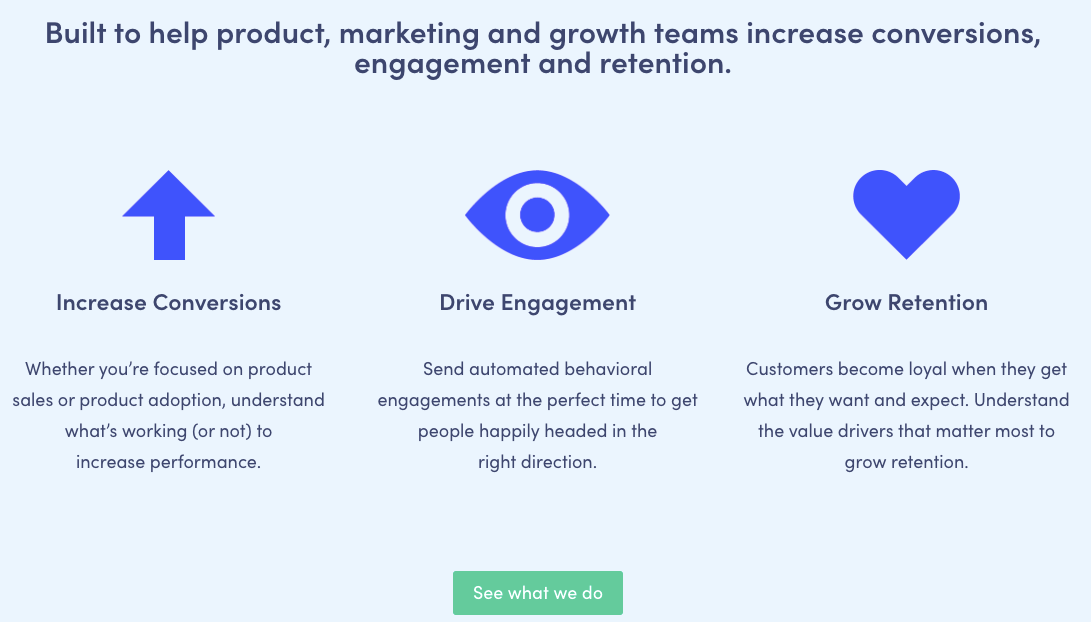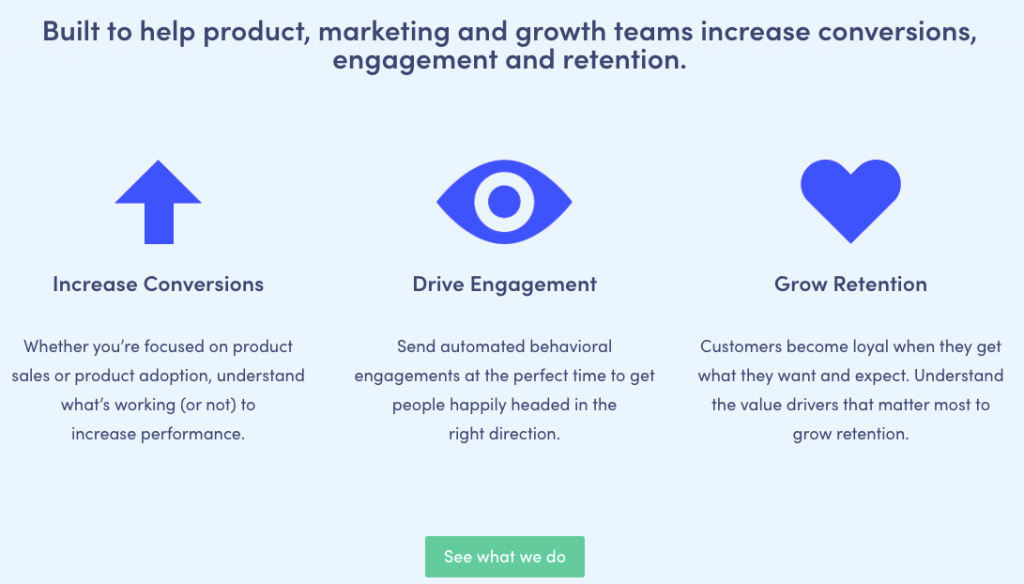 With Kissmetrics you can enjoy features like:
Conversion tracking
Campaign management
Referral source tracking
Site search tracking
User interaction tracking
Goal tracking
Kissmetrics Pricing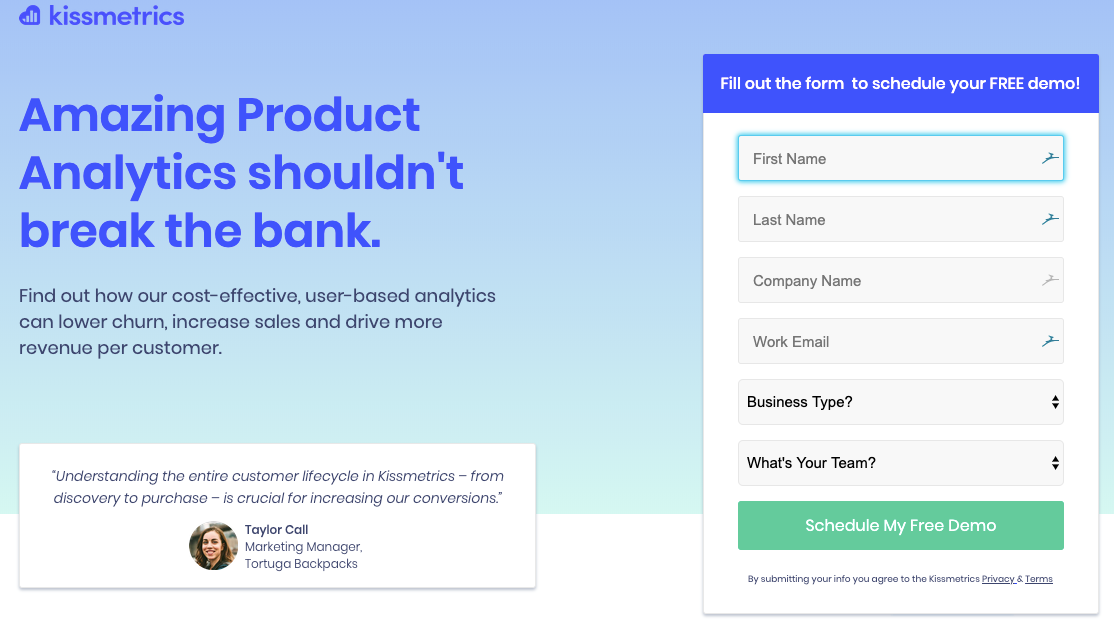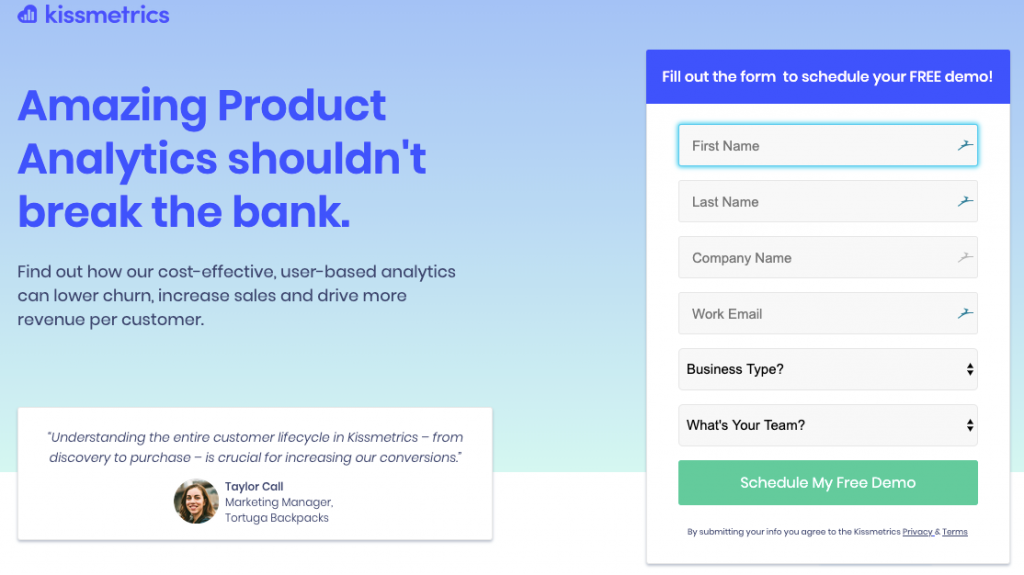 Kissmetrics offers a free demo for interested users.
They don't have an open pricing plan on their website, so they customize their rates based on a user's needs.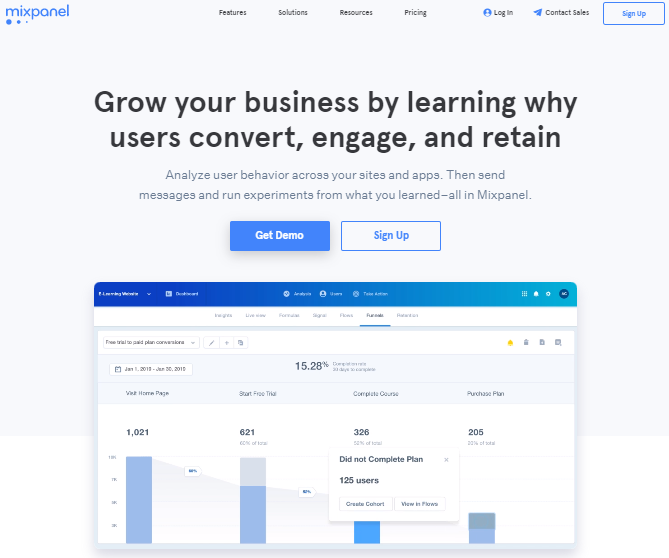 This platform allows you to analyze user behavior across your apps and site and send tailored messages.
With Mixpanel, you get accurate data of customers in real-time across the web, mobile apps, and others after compiling data, defining your KPIs, and observing patterns over time.
Then they identify the patterns that would improve your business.
Through data science techniques like look-alike modeling and correlation analysis, it'll show you what led to retention, engagement, and conversion.
Now you can set goals and use a reasonable hypothesis to reach them.
Finally, test out your hypothesis through messaging, personalization, and experimentation.
The platform answers complex questions without SQL.
Its design makes it useful for deeper analysis than session-based analysis and gives you trusted data from the start.
Mixpanel Features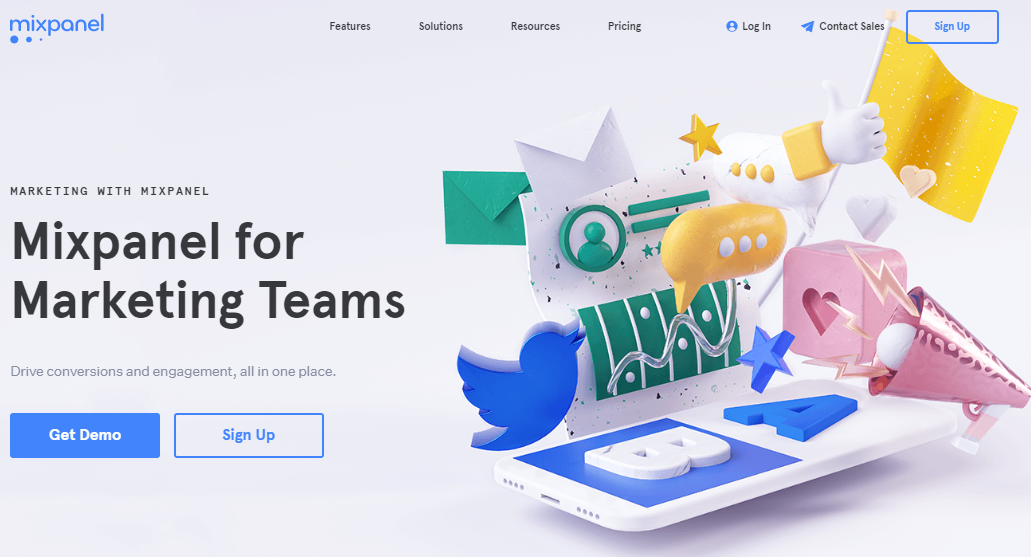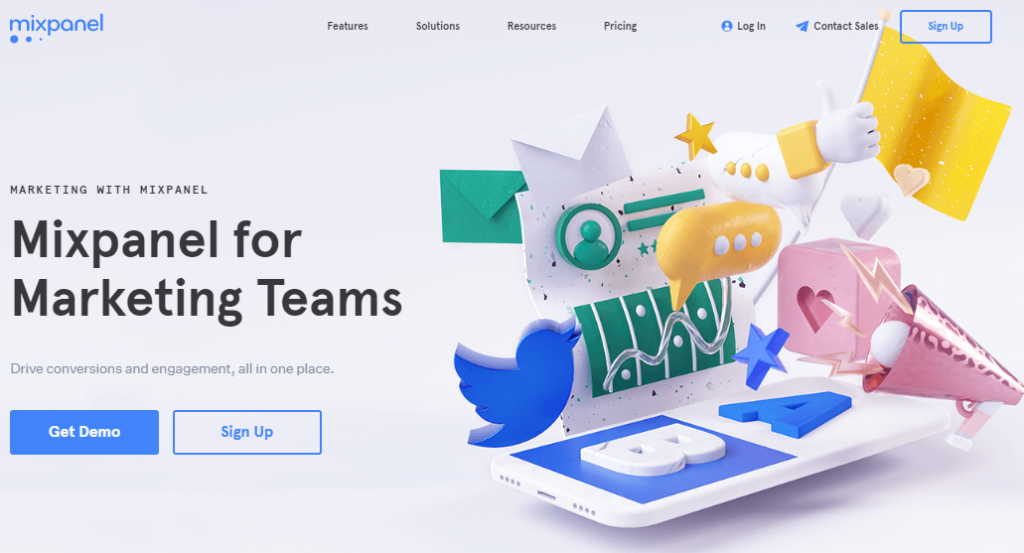 Some of Mixpanel's features are
Data science
Behavioral analytics
Infrastructure
Data governance
Messages and experiments
Mixpanel Pricing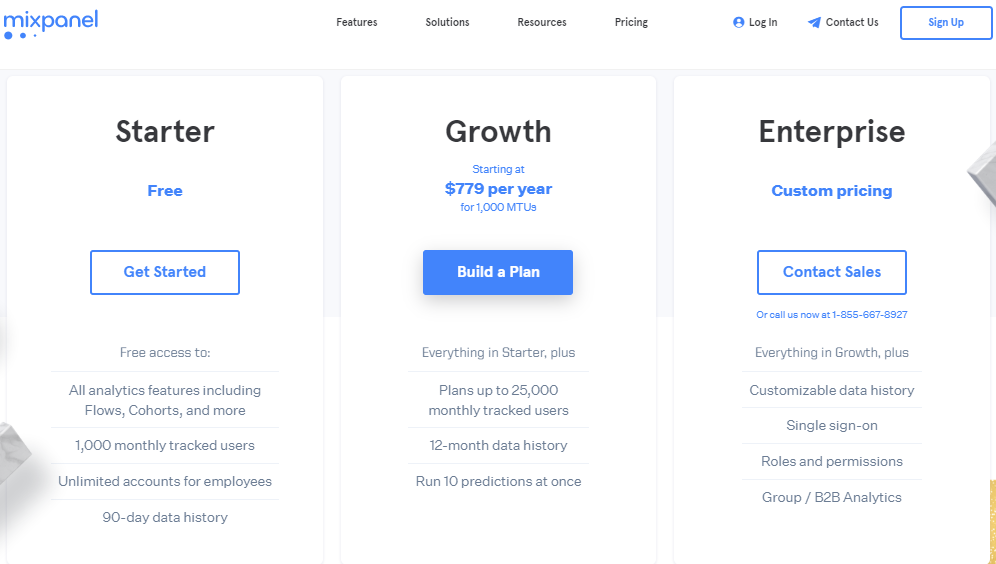 The Starter plan tracks 1,000 users for free, with data retention of 90 days.
The Growth plan is $779 per year with additional features to the Starter plan.
Whereas the Enterprise plan requires you to contact Sales for pricing.
Check Out: Clicky Web Analytics Review Vs Google Analytics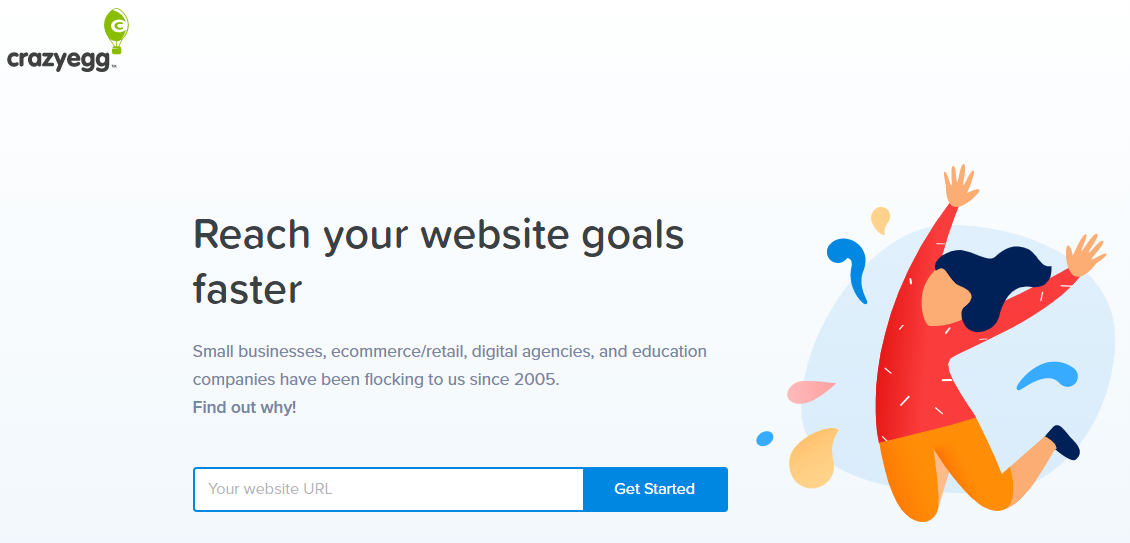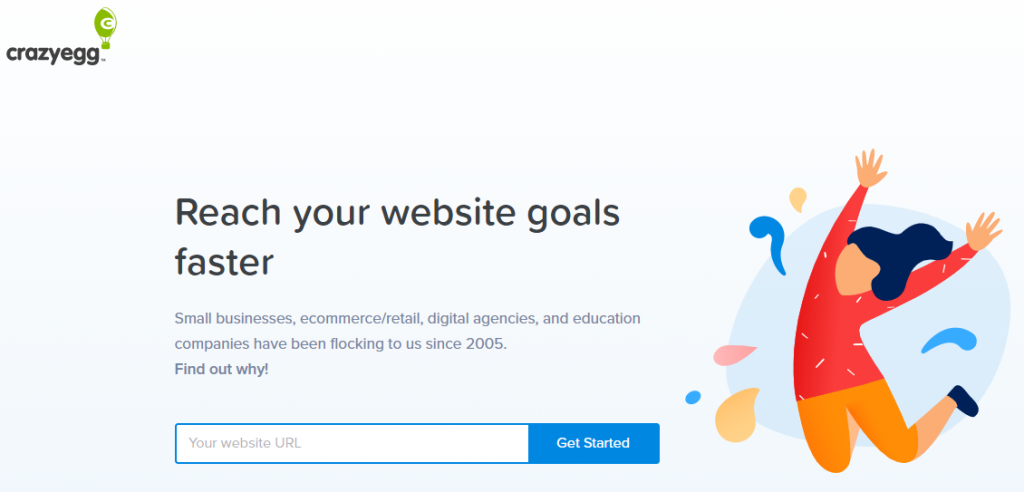 Crazy Egg is an optimization tool that helps you increase subscription, sales, or pageviews.
This platform offers click reports, heatmaps, and scroll maps to show you how your customers interact with your website.
Crazy Egg records your customers' complete session on your site to understand their patterns.
It also shows you points in a buyer's journey where certain visitors drop off.
The platform overlays your site visitor's action on your web pages so that you see what they do on the pages.
You'll see countless crucial data that gives insights on how to make your website a success.
Features of Crazy Egg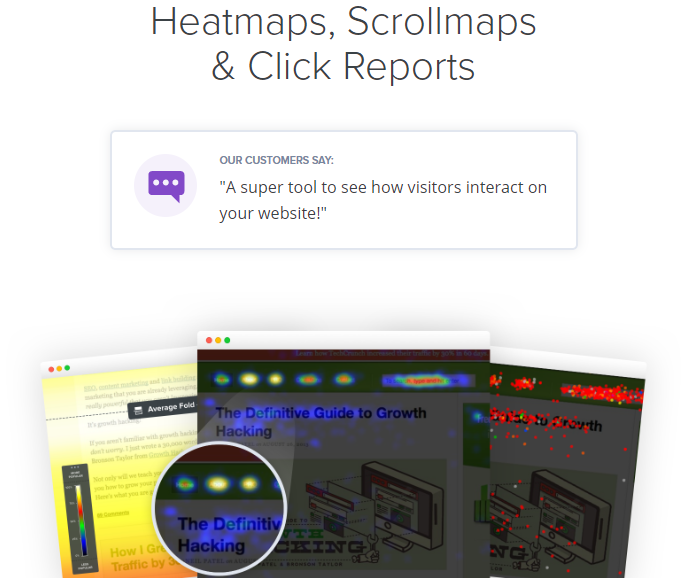 Users get to enjoy features like:
The heatmap displays visitors interaction on your site
The scrollmap shows you how much your visitors enjoy your content
A/B testing shows the elements that perform the best
The Confetti Report shows what your customers are clicking on with accuracy
The List Report gives a tabulated data report on how many times an element was clicked
The Overlay Report is useful for designers with knowledge in HTML
Recordings show you visitors frustration as you can view their mouse movements
Snapshots gives you side-by-side comparisons of the original page and the reported page (e.g., with heatmap)
Pricing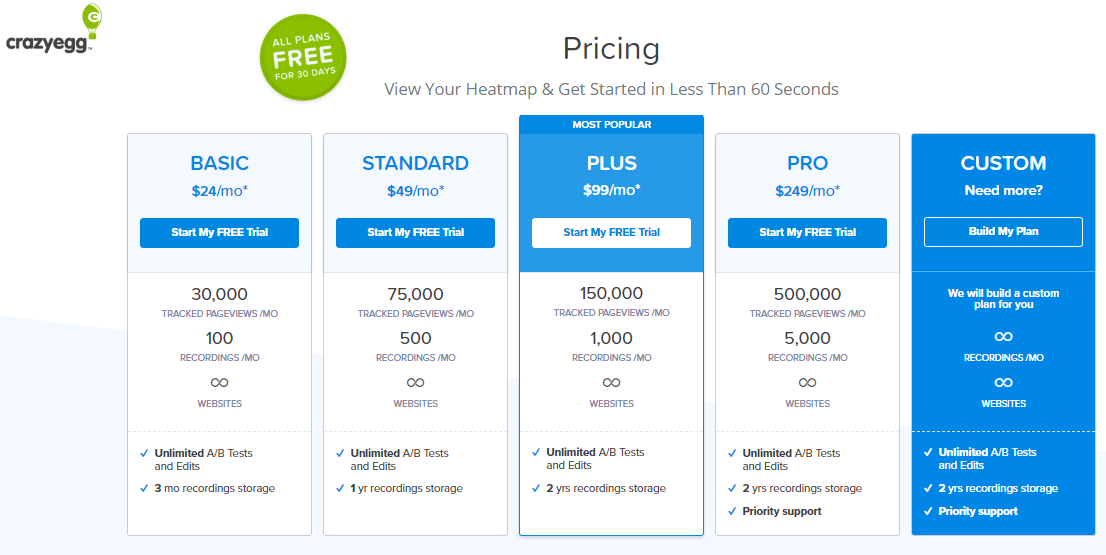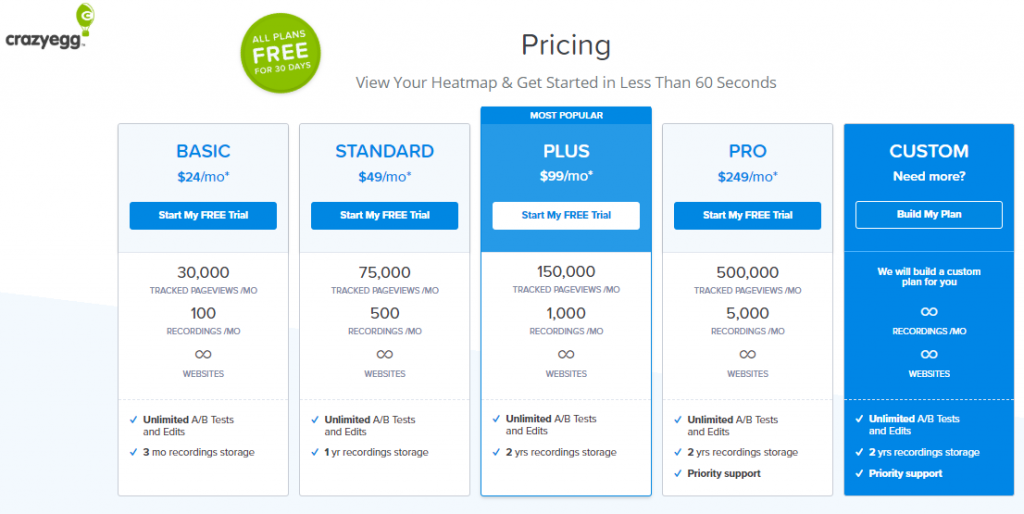 Crazy Egg offers five pricing plans, and you can try the first four for free.
With $24 a month, you can track 30,000 pageviews and 100 recordings, while the fifth option allows you to customize your plan if your requirements exceed the Pro plan.
Let's look at some social conversion tracking tools.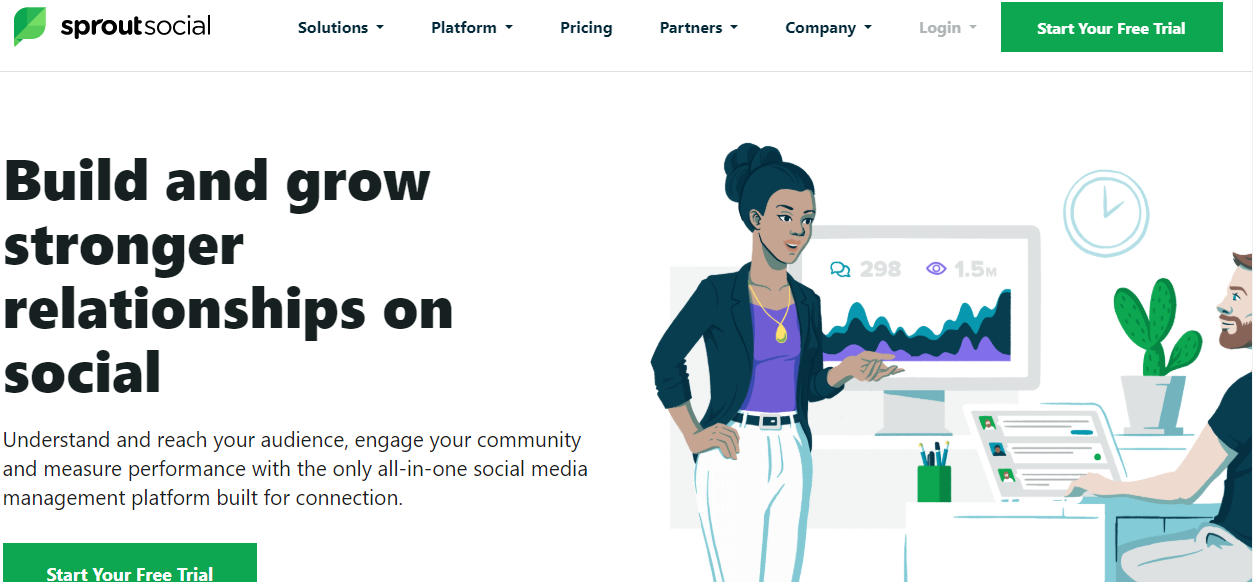 Sprout Social is an all-in-one social media management platform that helps you to reach, understand, and engage with your audience.
Then it allows you to measure the performance.
You don't have to assume multiple roles anymore.
Sprout Social provides tools that save you time, thereby allowing your team to focus on what's valuable.
So, it'll deal with content publishing, conversion management, and measurement.
Sprout Social Features
The platform offers solutions for every social media role including:
Managers
Marketers
Analyst
Strategist
Customer care agent
Caring for social media isn't an option.
Whatever role you play in your social media team, you want to deliver tailored experiences to your customers.
In simpler terms, you want to exceed their expectations.
With this platform, you'll:
Manage conversations better
Build solid relationships
Work smarter
Measure your impact
Sprout Social Pricing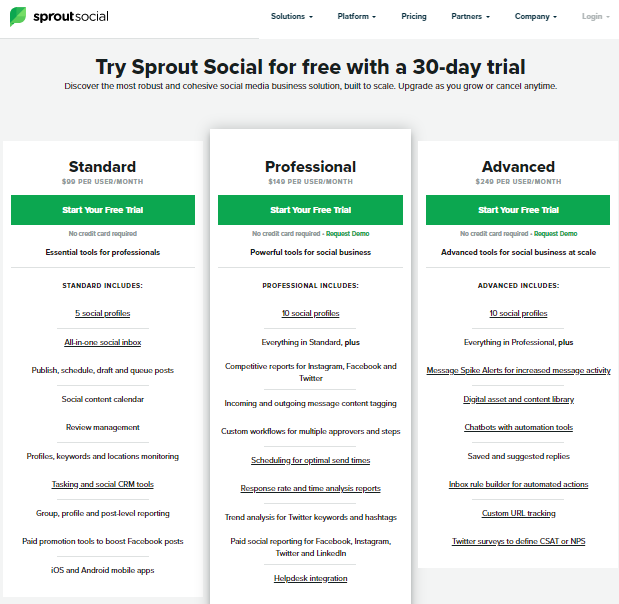 Sprout Social offers a 30 day free trial period for all three price plans.
But with $99, you can have the features of the Standard plan.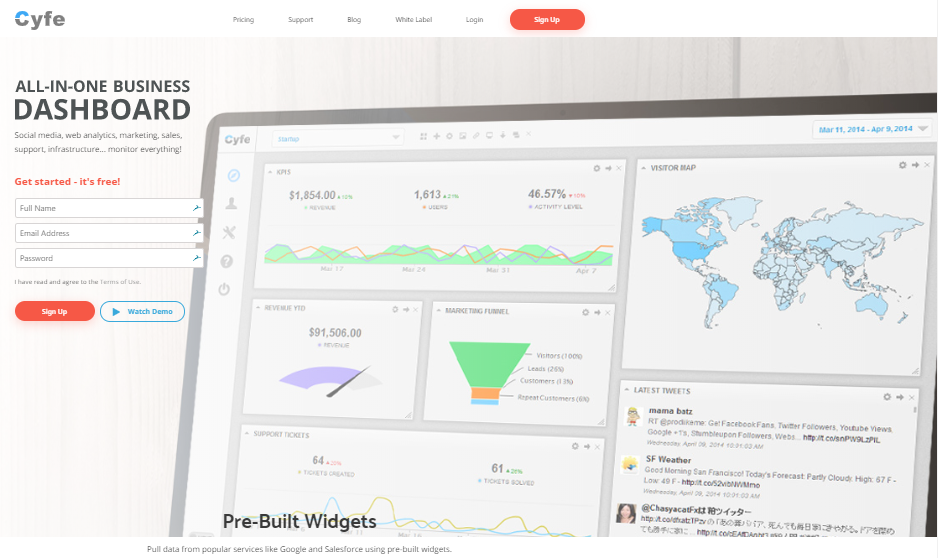 Cyfe says you have to manage more data as your online presence increases. Hence this cloud-based platform helps share and monitor all your important data in one place.
Also, you can use real-time data and metrics to track the performance of your business across all KPIs.
The platform would let you see how your brand and customers are doing across social media platforms in real-time. It also helps you measure your ROI.
Cyfe Features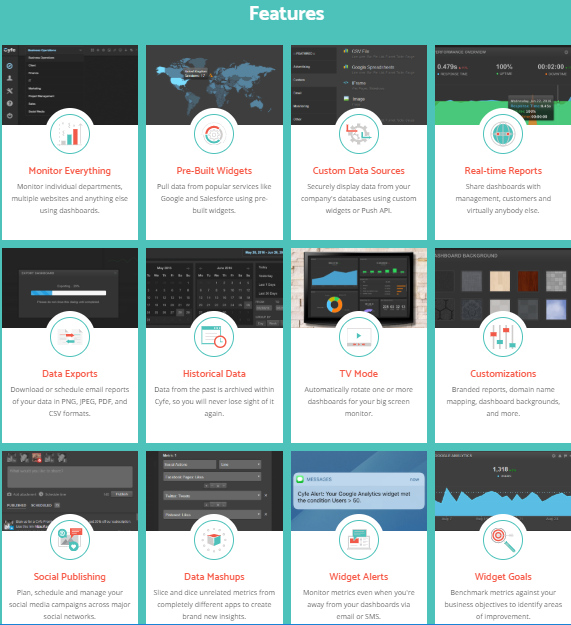 Cyfe features include:
Monitoring multiple websites and departments on one dashboard
Import and export data
Secure data display
Real-time reporting
Data archiving
White-labeling
Manage and schedule campaigns across social media platforms
Widget alerts
Widget goals
Pricing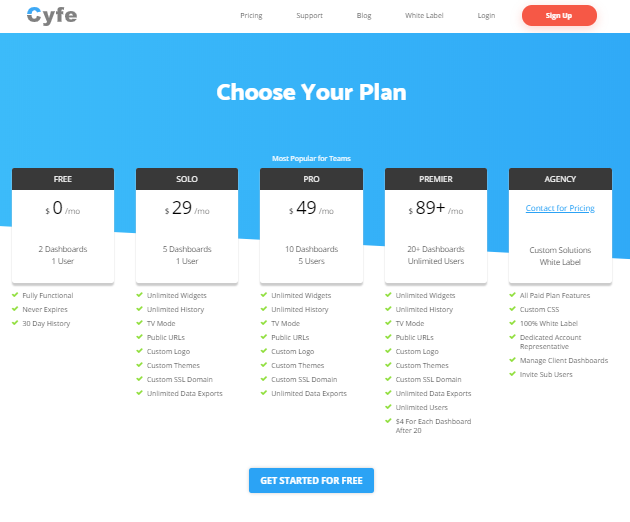 With Cyfe, you have five plans, with the Pro being the most popular. The free plan gives you access to two dashboards, one user, and data retention for 30 days. The Agency plan, however, offers you customized solutions as well as white-labeling.
Let's look at some UX and CX tracking tools –
Check Out: How To Use Google Analytics To Increase Your Ecommerce Conversion Rates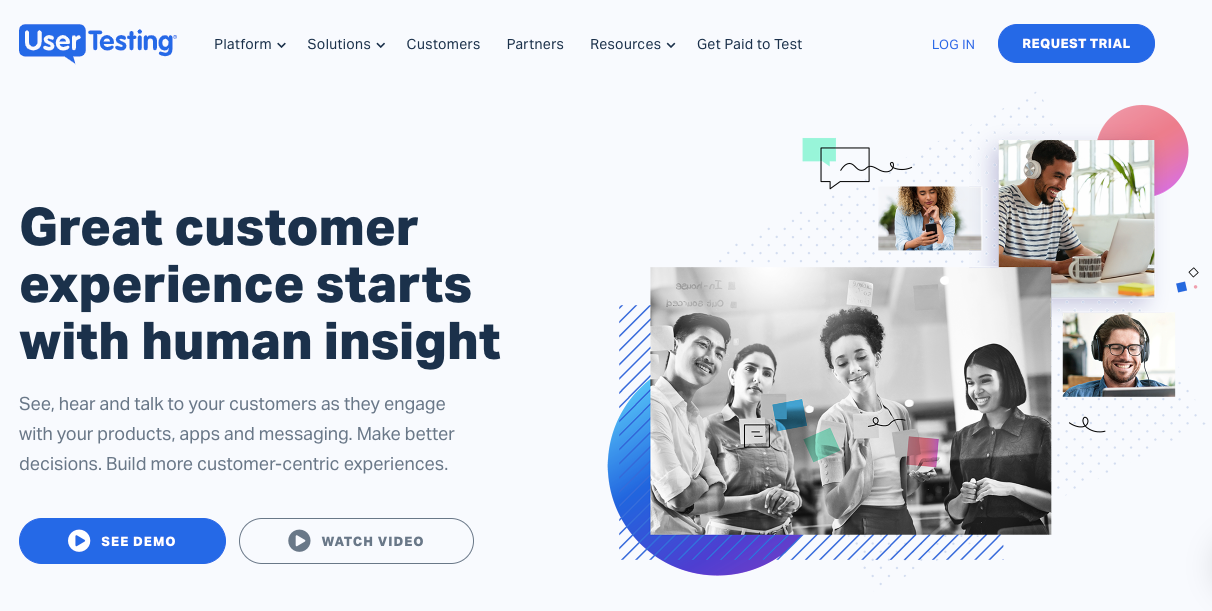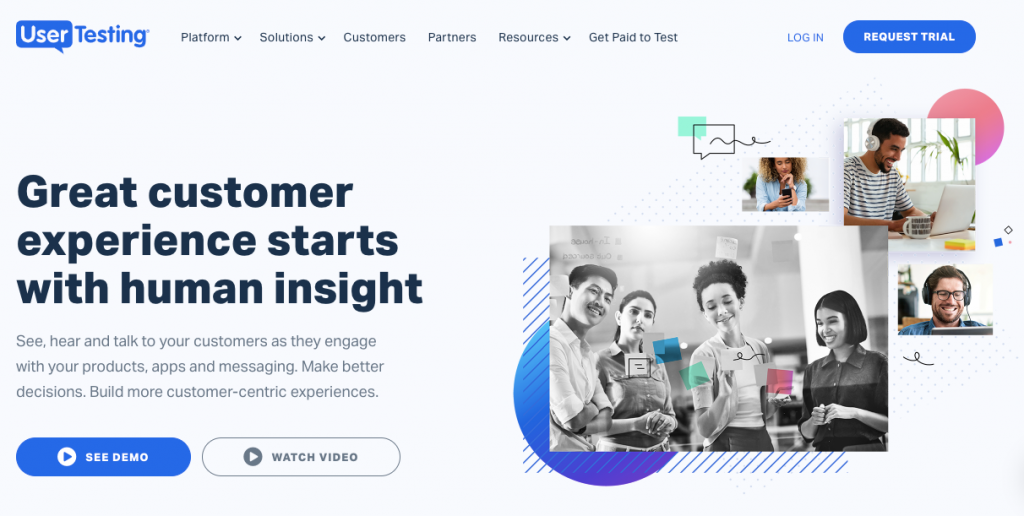 UserTesting is a customer or user experience analytics tool.
It brings real human insights to your product development so that you can hear, talk to, and observe your customers as they use your product.
This solution is built for marketing, product, and design teams.
UserTesting aims to help executives make better decisions using a customer-centric approach.
Features of UserTesting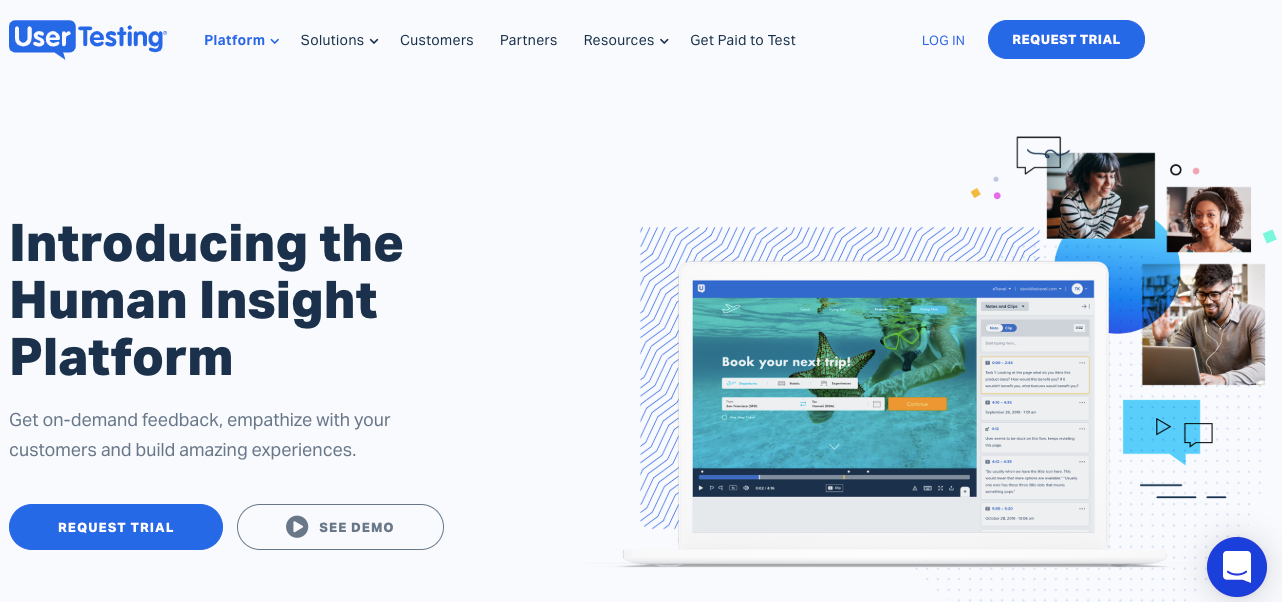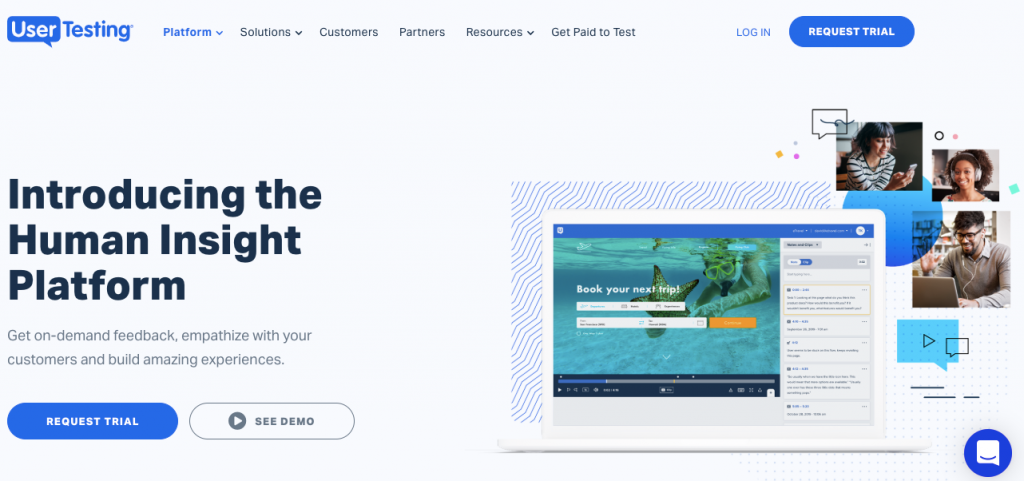 UserTesting offers features across its platforms.
These platforms sport conversion tracking features like:
Quantitative metrics
UserTesting panel
Test reporting and analytics
Testing templates and tools
CX Analytics
Screen recorders
Video player
Services: Project managers and Researchers
Admin controls
Quantitative metrics
Recruiting capabilities
UserTesting Pricing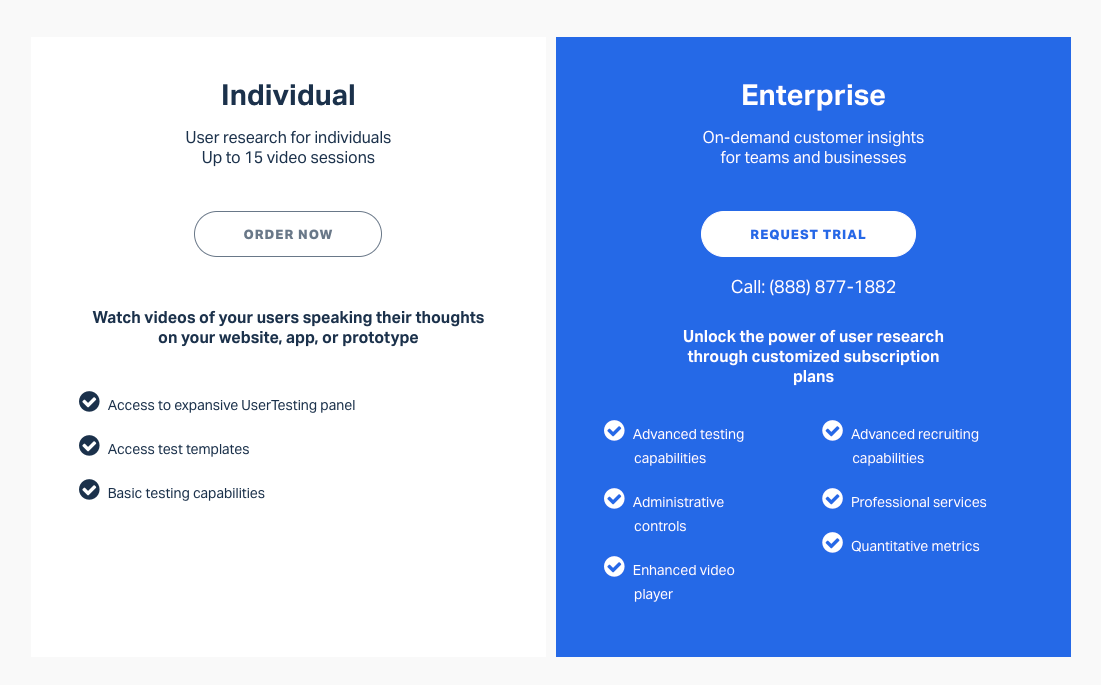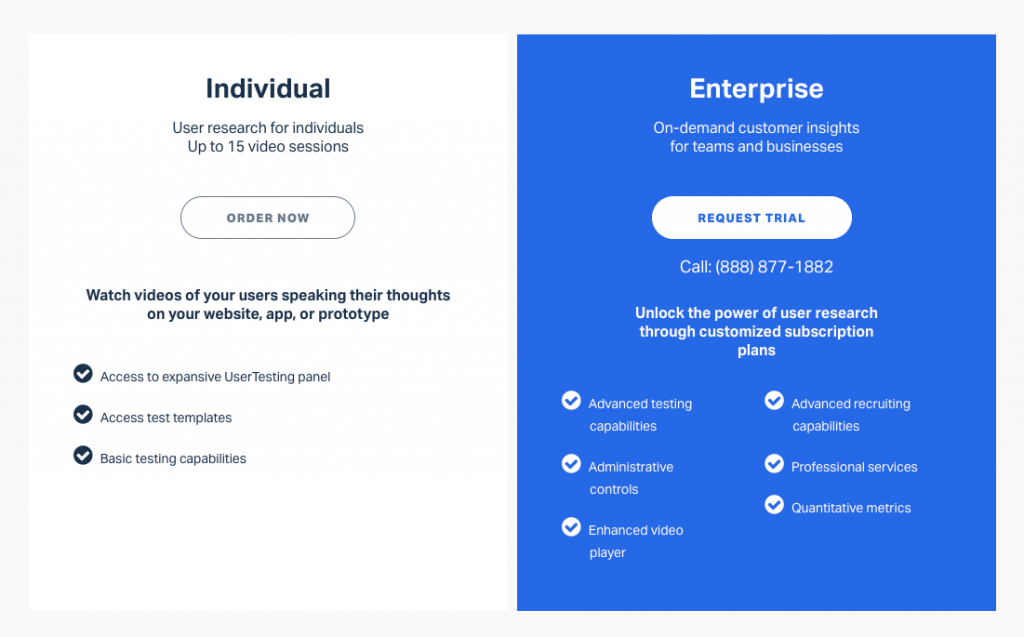 This conversion tracking tool offers two pricing plans — Individual and Enterprise pricing options.
UserTesting doesn't state their precise charge for their services and products.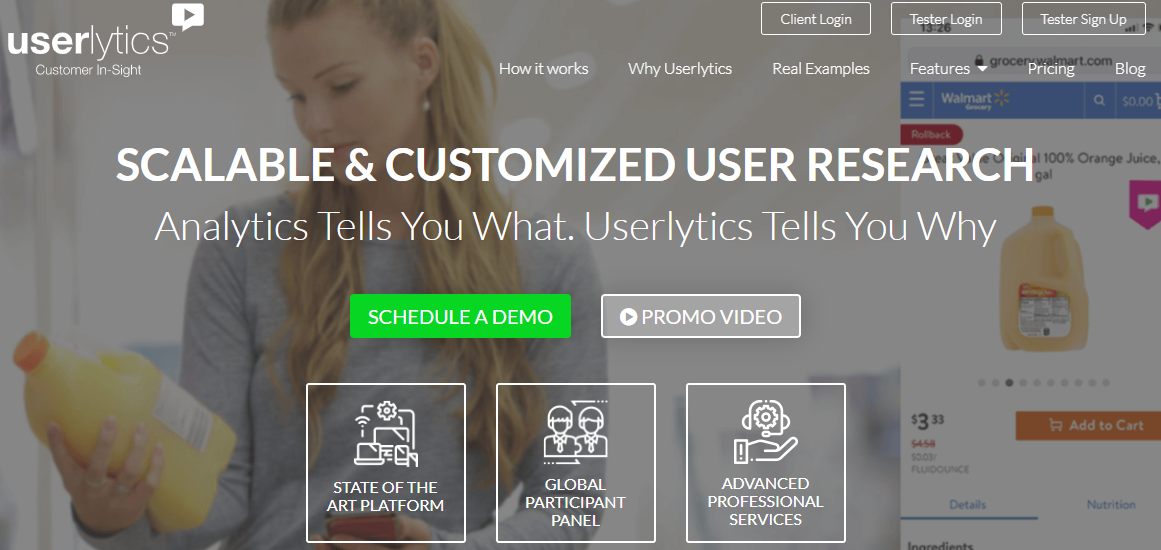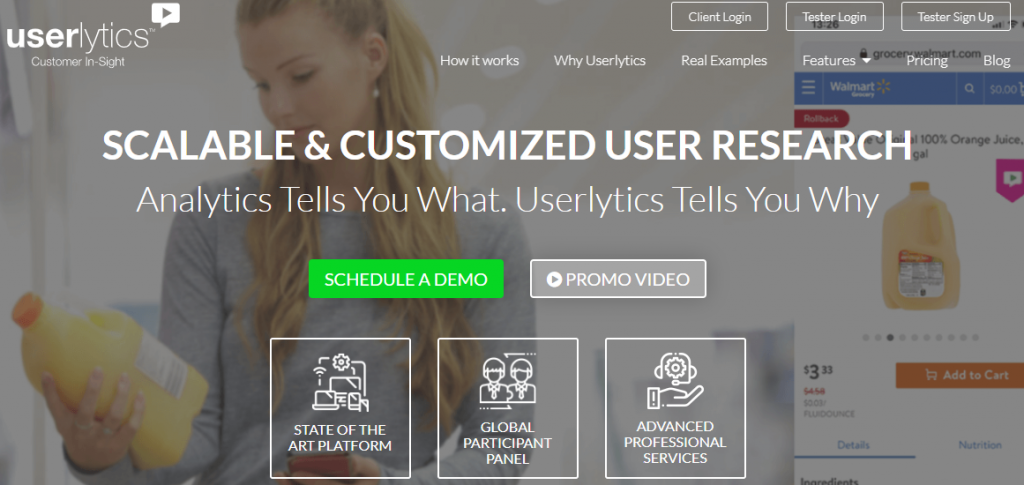 Userlytics is a user testing platform that allows you to get instant insights based on your website or app user persona.
You can listen to or watch your target persona interact with your product and find out where they encounter difficulties.
In that way, you can test performance against different KPIs.
The platform allows you to leverage several demographic filters on Userlytics' worldwide panel or set up a custom screener.
You can also bring your users to the test.
Once you define the tasks that you want users to complete on your app, site, or prototype, Userlytics would send you quantitative and qualitative data within minutes.
Also Read: Best Google Analytics Plugins For Woocommerce
Features of Userlytics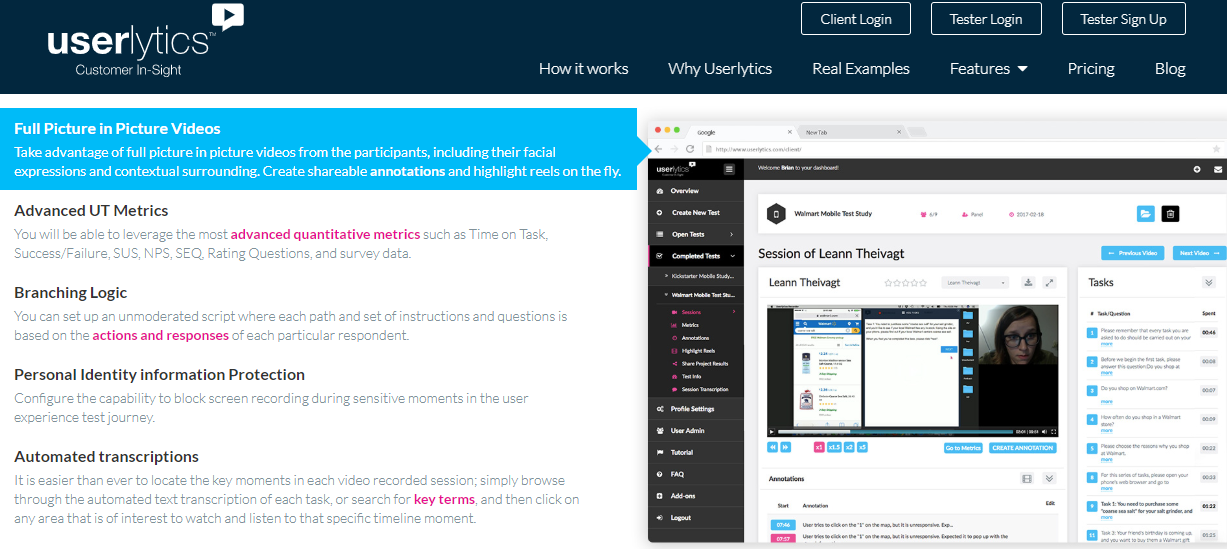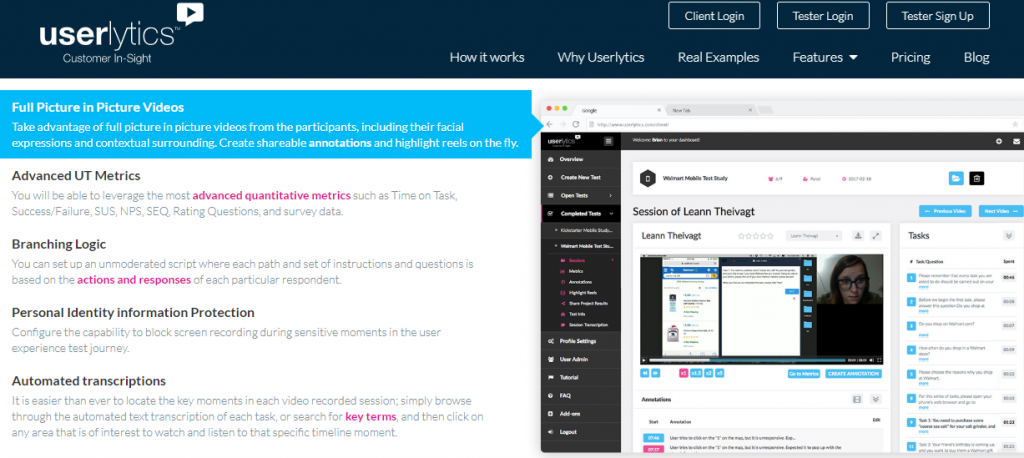 Some of the features of Userlytics are:
Full picture-in picture videos
Branching logic
Advanced UT metrics
Personal identity information protection
Automated transcriptions
Website usability testing, and more
Userlytics Pricing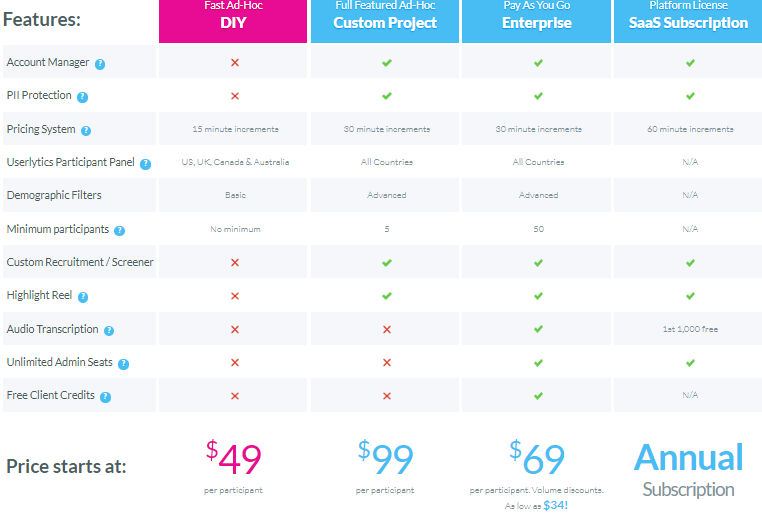 Userlytics has four price plans, The DIY, Custom Project, Enterprise, and SaaS Subscription plans.
All the plans offer:
Picture in picture recording
All digital assets
Branching logic
Concurrent testing
Metrics
Configurable testing
Annotations
Prototype testing
Provide your own testers
The part captured in the screenshot below shows certain differences in what each price plan offers.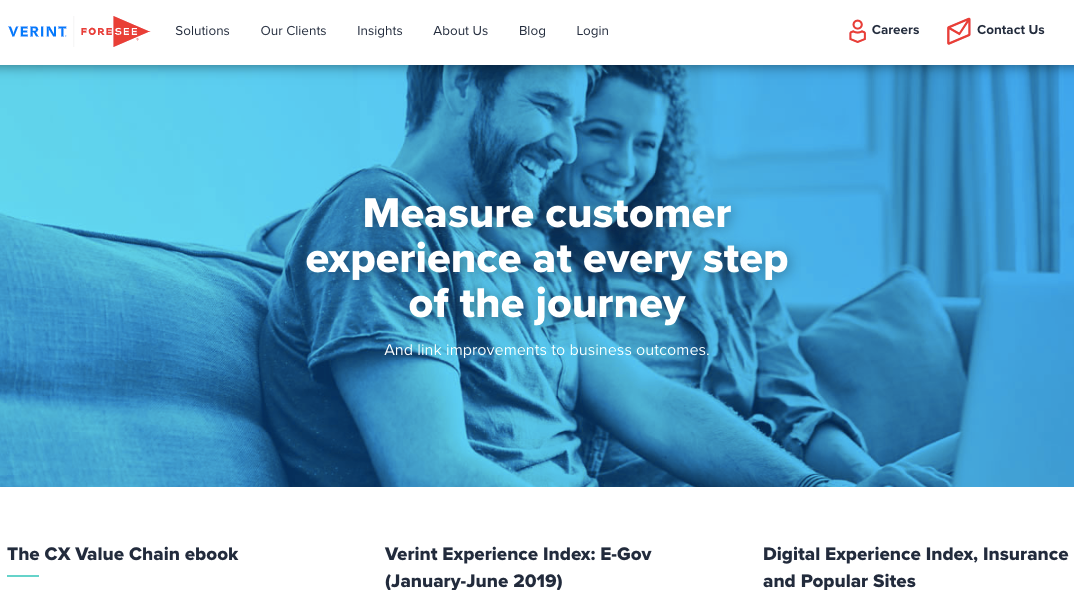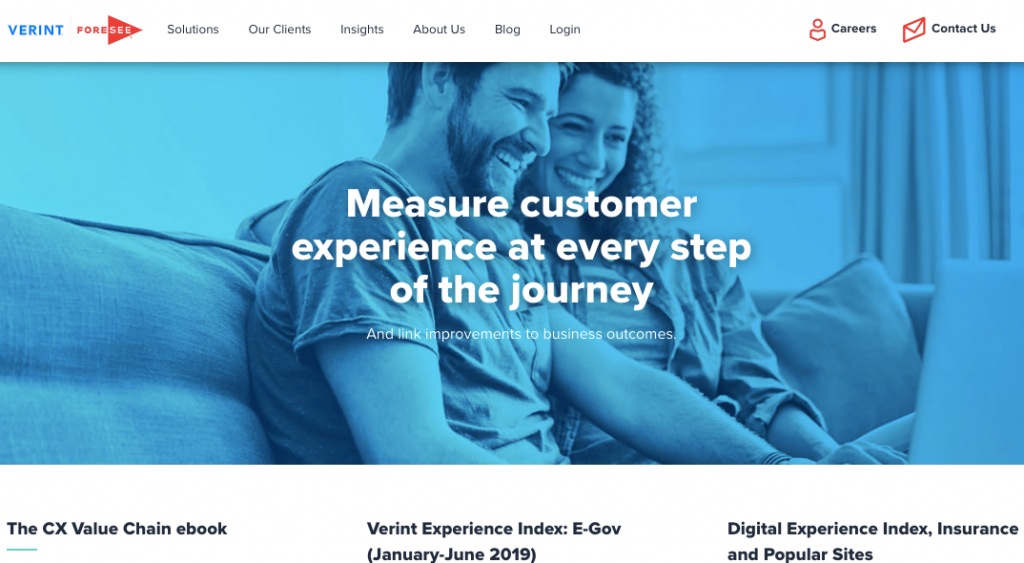 Foresee helps users track their customer experience and then ties them to business goals.
The platform is used by 50 percent of Fortune 500 companies.
They help their users see their customer journey, manage Voice of the Customer (VOC), and measure conversion.
The platform offers a suite of CX tools and professional services.
Foresee users can measure CX performance using heatmaps, surveys, customer sentiments, issue tracking and alerts, and more.
Features of Foresee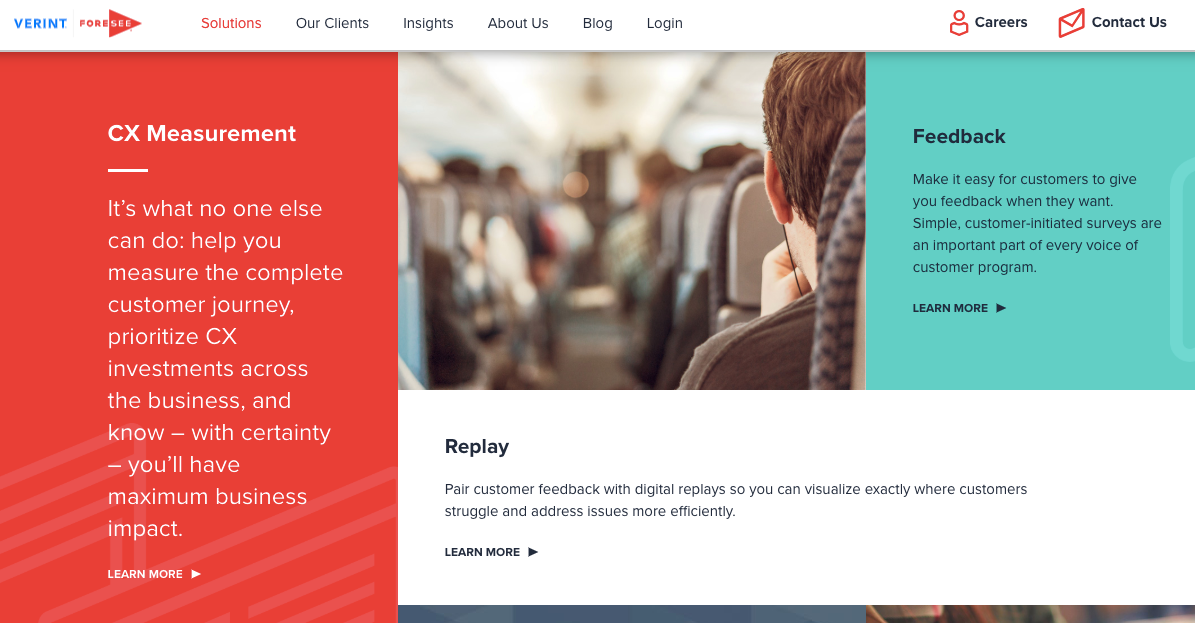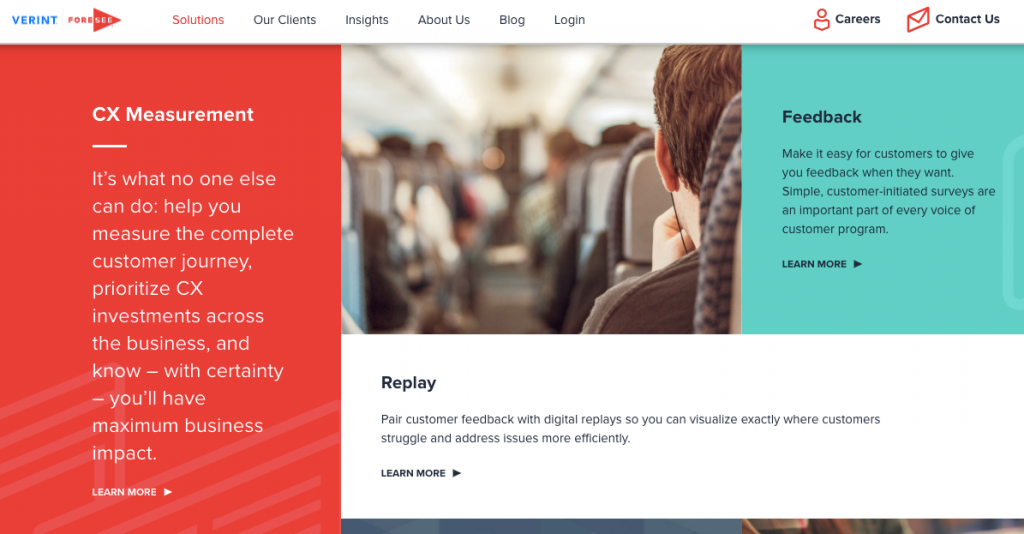 The key features and tools you'll find on Foresee include:
CX measurement tool
CX priority index
Feedback survey
Session replay
Text analytics
Case management
Reviews and rating tools
Foresee Pricing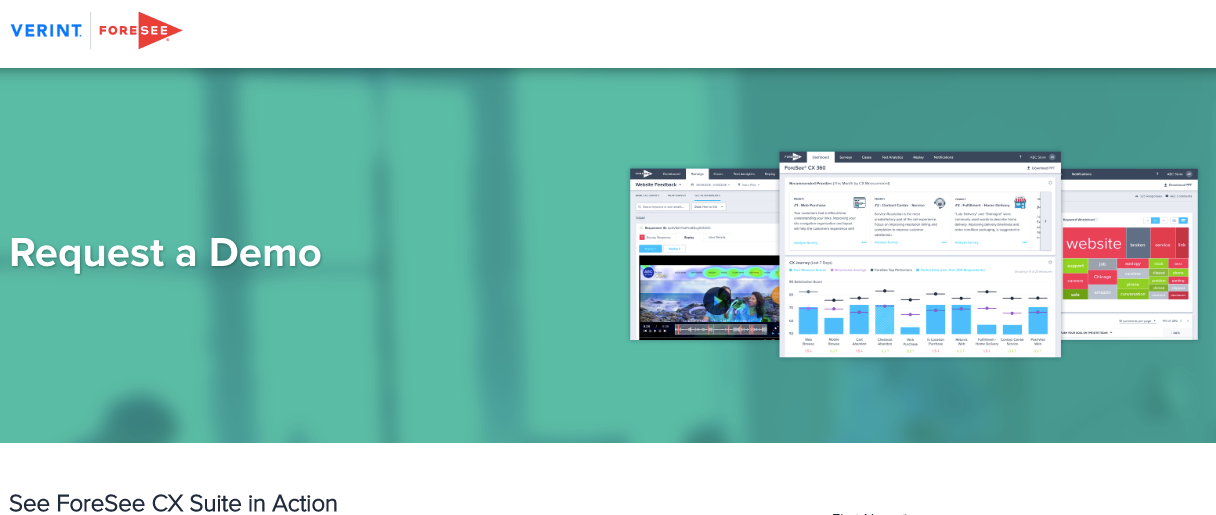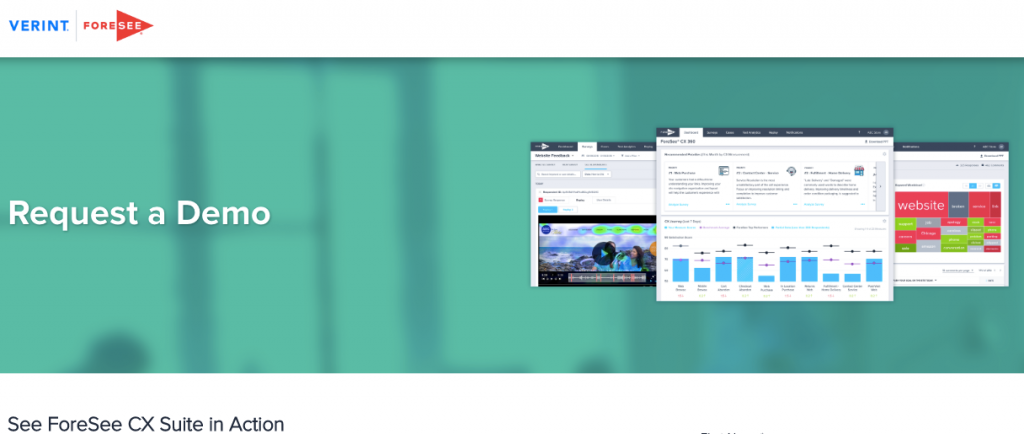 Foresee doesn't publicly publish their pricing.
They offer custom pricing based on individual needs.
Interested users may request a demo of their CX Suite.
Let's look at some app conversion tracking tools –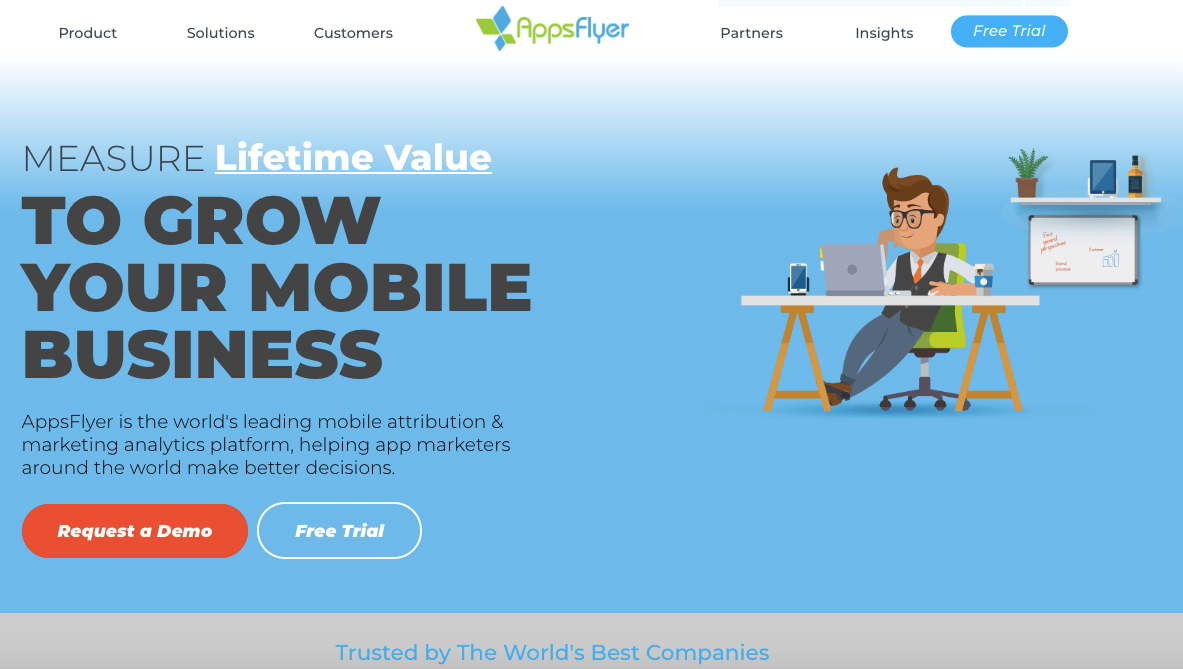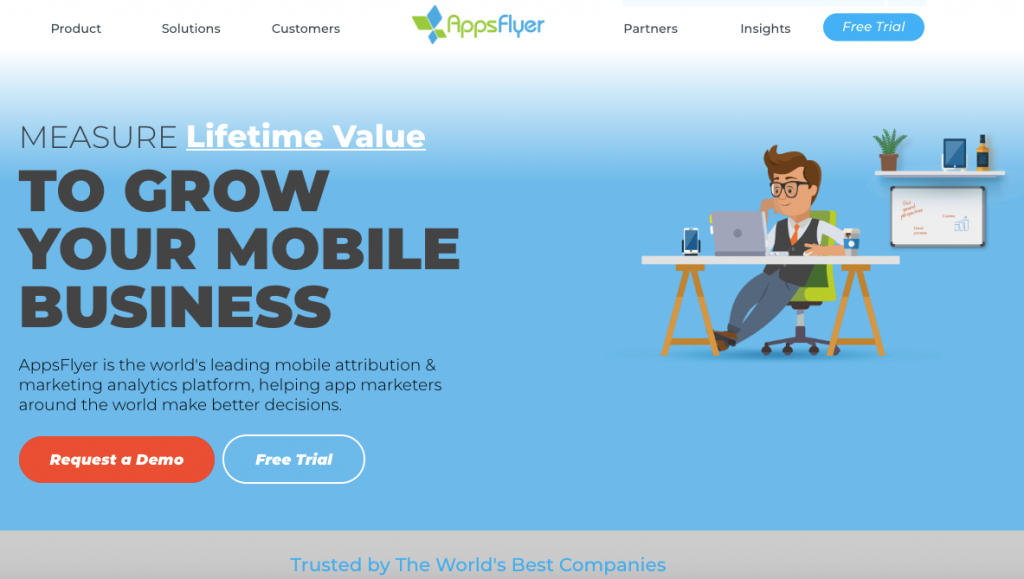 AppsFlyer prides itself as the number one mobile marketing and attribution analytics platform.
The platform helps developers and marketers maximize their marketing ROI by processing billions of mobile events daily.
This platform sports leading attributions solutions like NativeTrack Attribution, Marketing Analytics, Protect360, OneLink, and more.
AppsFlyer provides solutions across multiple industries and spaces, including:
Gaming
eCommerce and retail
Agencies
Financial services
Transportation
Travel
Entertainment and music
Food and drink
The platform has more than 4,600 partners, including Google, Tencent, Facebook, Twitter, and more.
They boast a client base of more than 12,000 brands, including HBO, Activision, Waze, and Alibaba.
Features of AppsFlyer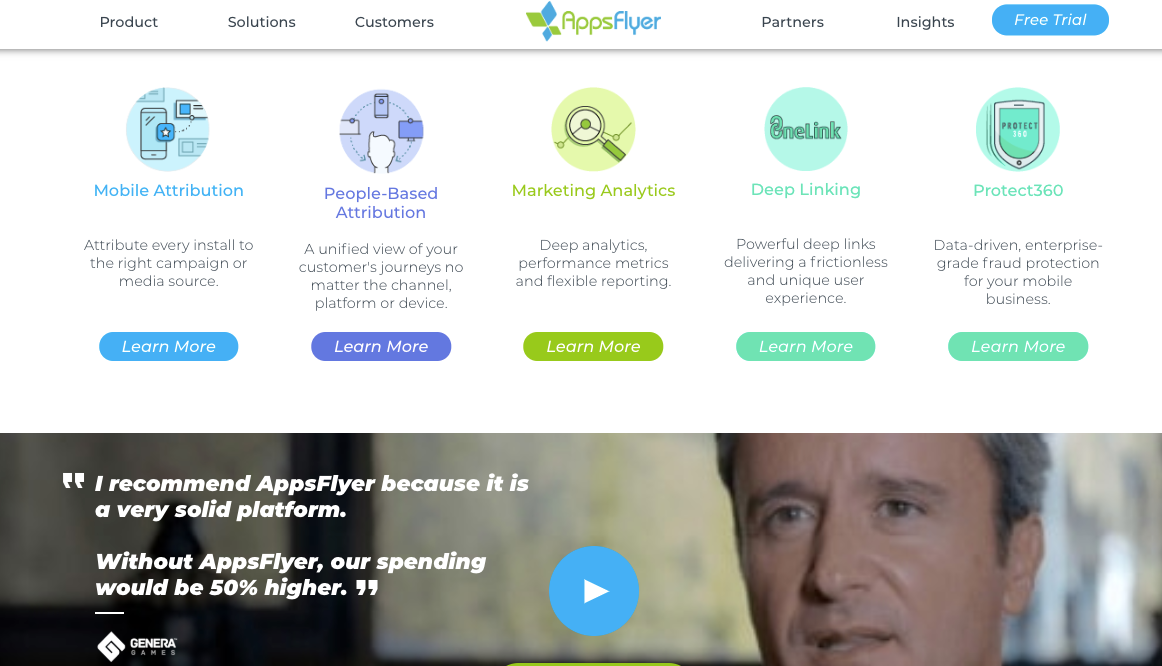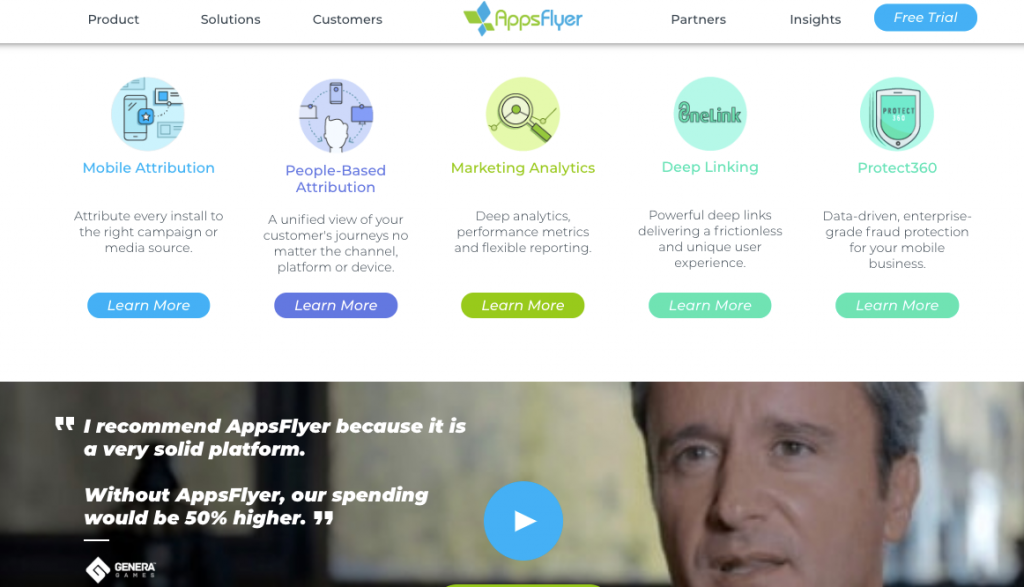 AppsFlyer is packed full of solutions and features that help their users solve a host of challenges, including fraud protection, marketing ROI, customer journey, and more.
Product tour
Marketing analytics
Deep linking
Mobile attribution
Fraud protection
Audiences
People-based attribution
Smart banners
Pricing of AppsFlyer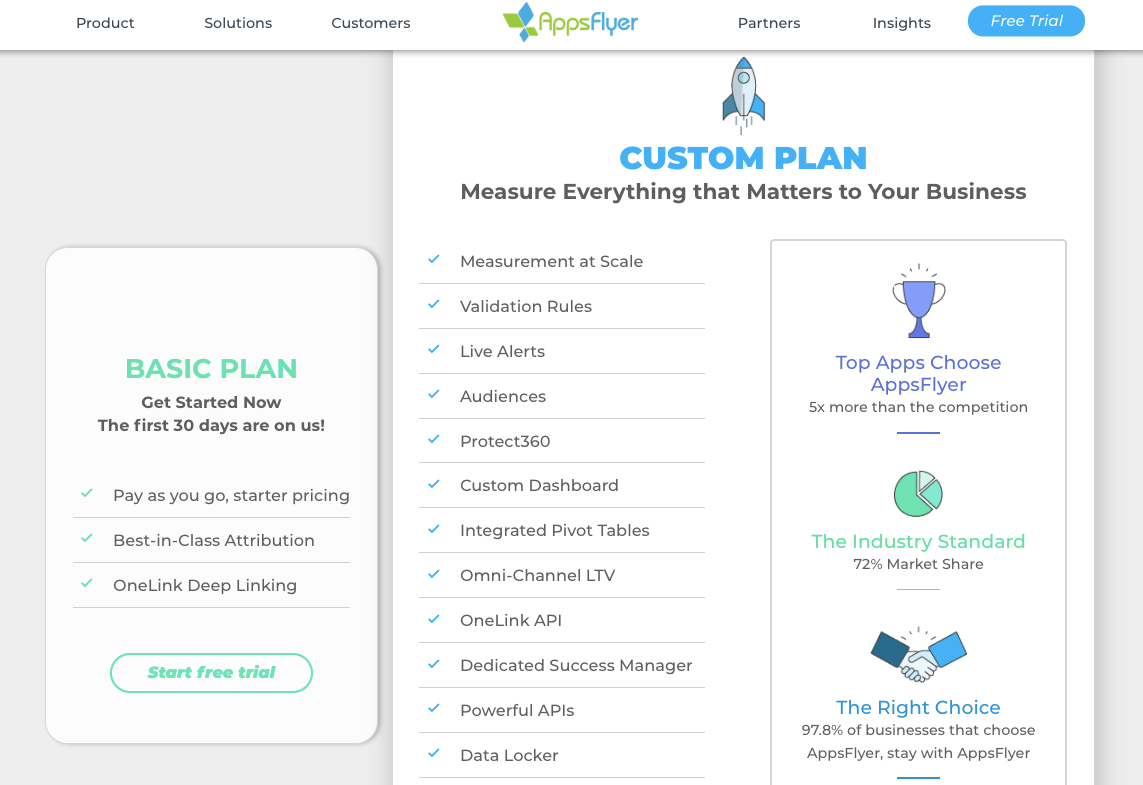 AppsFlyer offers a 30-day free trial on its Basic plan. But the plan has limited features.
After the trial is over, users can pay as they go.
However, on their custom plan, AppsFlyer gives users access to all their features.
They offer a free demo to interested users.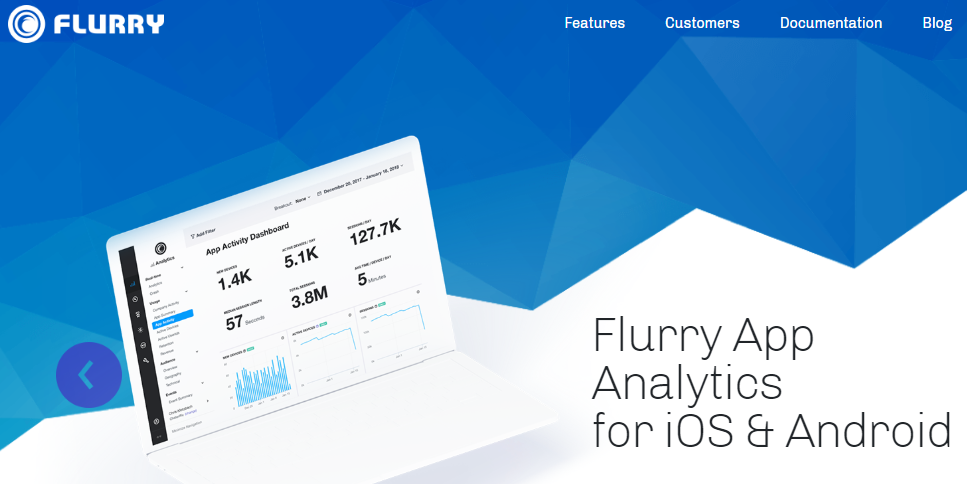 Flurry analytics provides a deep understanding of your users' behavior while interacting with your app.
It analyzes complex events with segments, metrics, and funnels.
Flurry provides information on errors and crashes in real-time so that you can quickly discover the root cause.
The platform allows you to track users, whether they're new or active.
Features of Flurry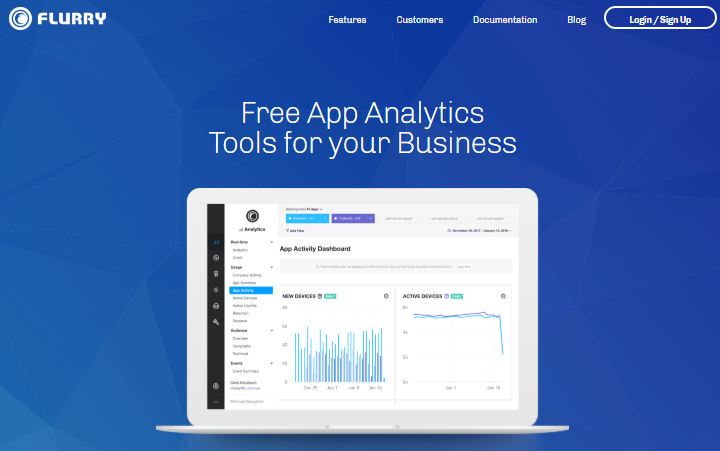 Some of the features of Flurry are
Flurry Push allows the app developer to send tailored messages
A focused dashboard that lets you view all the metrics in one place
Allows data filter, so you can filter data by gender, country, language, and age
You can display and compare multiple items at the same time
Revenue Analytics lets you track your In-App Purchase revenue
Pricing
Flurry didn't state pricing on the website
Worth Reading: Best Mobile Conversion Optimization Tricks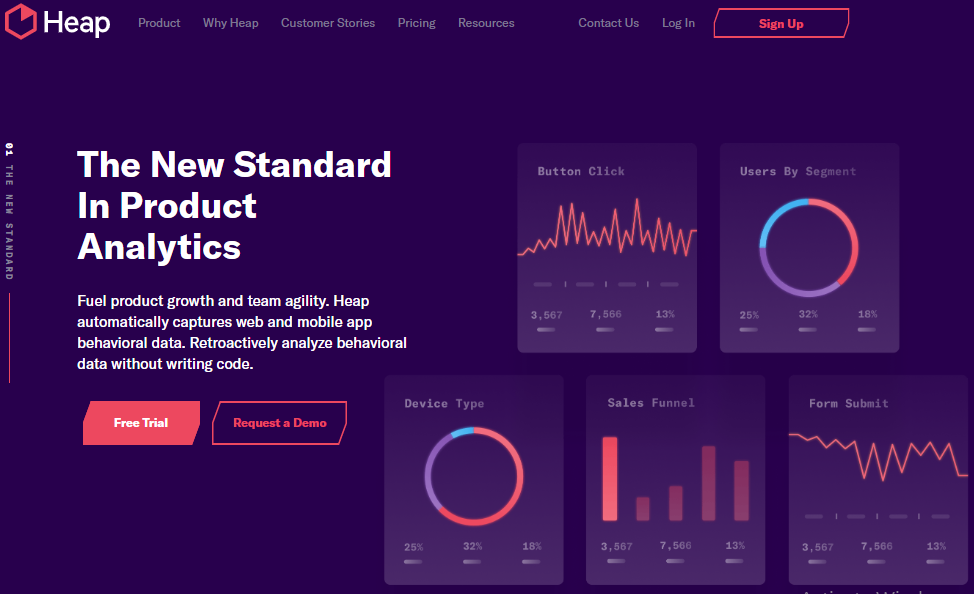 Heap automatically tracks users' behavior towards your website and mobile app without writing code, so you don't have to be an engineer to create virtual events.
Also, using Heap makes sure your data is properly named, up-to-date, and trusted.
The platform takes the job of data collection from you and lets you focus on decision making.
Heap's Retroactive Analytics uses historical data to measure all your KPIs in real-time.
Heap Features
Heaps features are divided into four broad parts
Customer rate optimization
Activation
Engagement
Retention
Customer rate optimization improves your funnel performance.
It also captures landing pages, UTM, and referrals.
Heap measures the engagement and identifies features that your users find valuable.
So you can create experiences that amplify those features.
It identifies your strong points and why your customers keep coming back, then pushes more users to those features to drive retention.
Pricing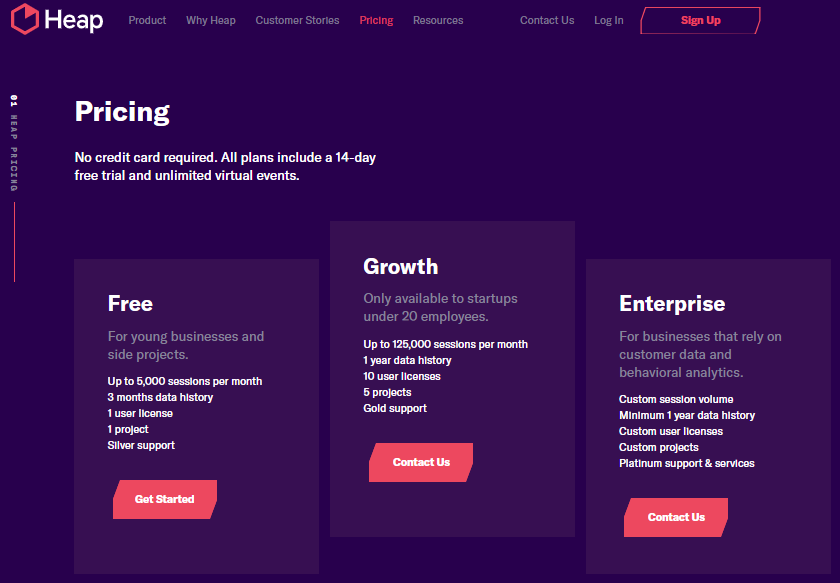 Heap's first plan is free, but you need to contact the organization for the prices of the Growth and Enterprise plans.
Albeit, the paid plans have way more to offer than the free plan.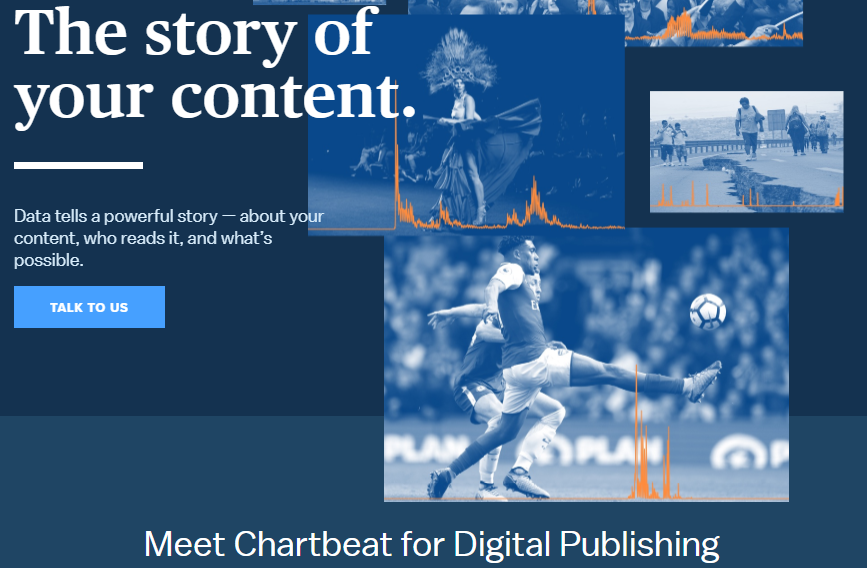 Chartbeat is a conversion tracking tool for digital publishing.
This platform is constantly on the lookout for activities that suggest that visitors are engaging with your content.
With the use of historical and real-time data, the platform gives useful insights on how to optimize your page, expand social reach, attract new visitors, and engage the readers.
As far as online publishing goes, engagement matters more than the number of clicks.
Features of Chartbeat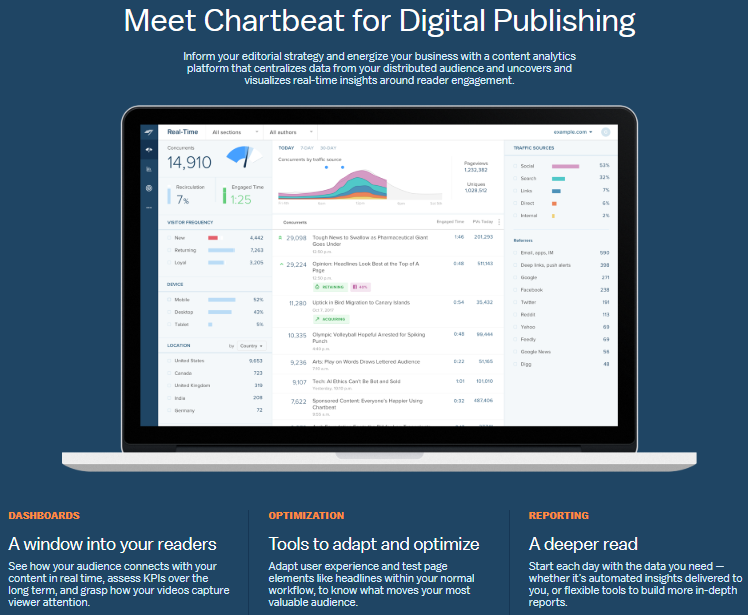 Some of the features of Chartbeat include:
A real-time reporting dashboard that filters data by authors, traffic source, sections, and more.
Multi-Site View allows you to view several sites in real-time.
Native App Integration pulls app traffic to your real-time dashboard to learn how they interact with your content. This feature checks out how they respond to push notifications and likes.
Video dashboard determines how your visitors interact with your content by comparing play rate, Ad drop-off for articles and websites, etc.
Historical dashboard measures KPIs, content performance, and other valuable trends over a period of time.
Chartbeat Pricing
You'll have to talk to Chartbeat to know about pricing.
Let's look at some business intelligence conversion tracking tools –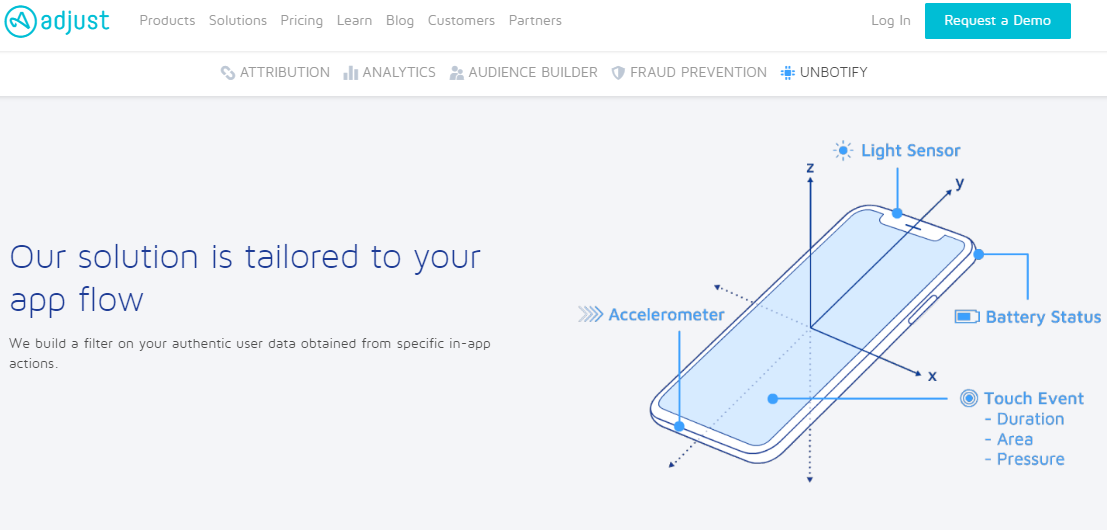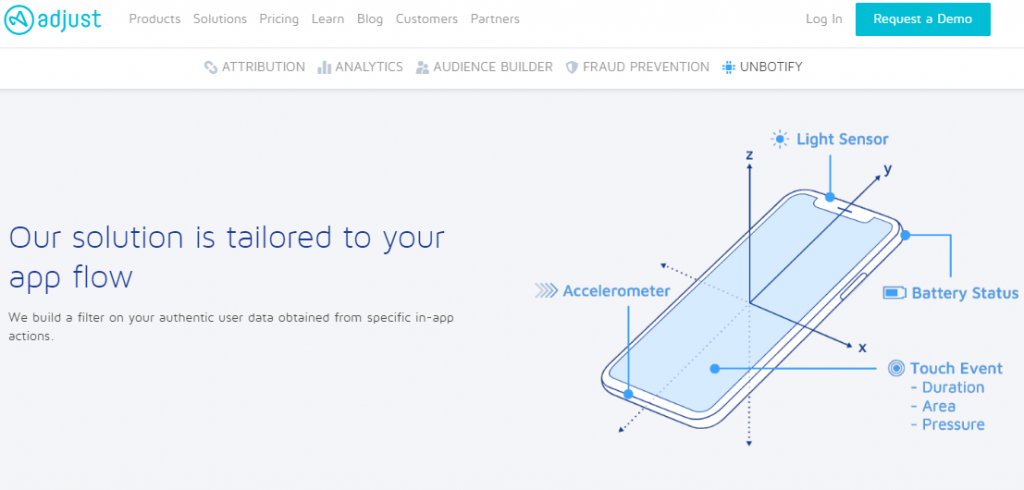 Adjust is a business intelligence platform that provides measurement solutions and high-quality analytics.
So app marketers are able to track user behavior, lifetime value, marketing ROI, and purchases.
You're able to segment or group users to optimize your marketing campaign.
Also, you have access to its fraud prevention suite that helps you prevent fake traffic.
Features of Adjust


It offers Mobile App Attribution, which assists marketers in tracking customers' journeys. So they're able to:
Send tailored ads and contents that lead to conversion
Prevent mobile ad fraud
Analytics
Segments users for better retargeting
Adjust's Unbotify uses machine learning to differentiate bots from humans
Comprehensive in-app analytics
Pricing of Adjust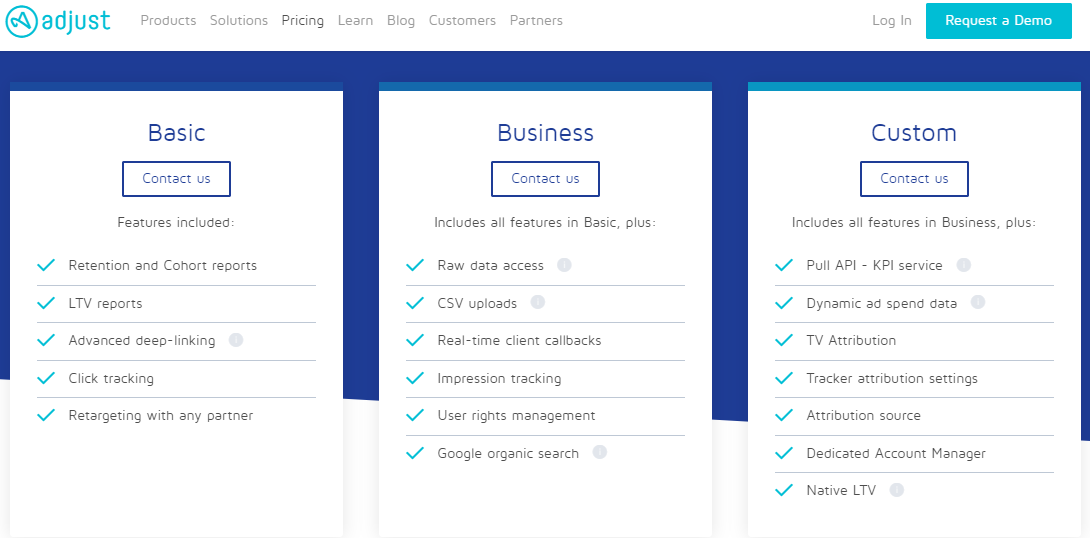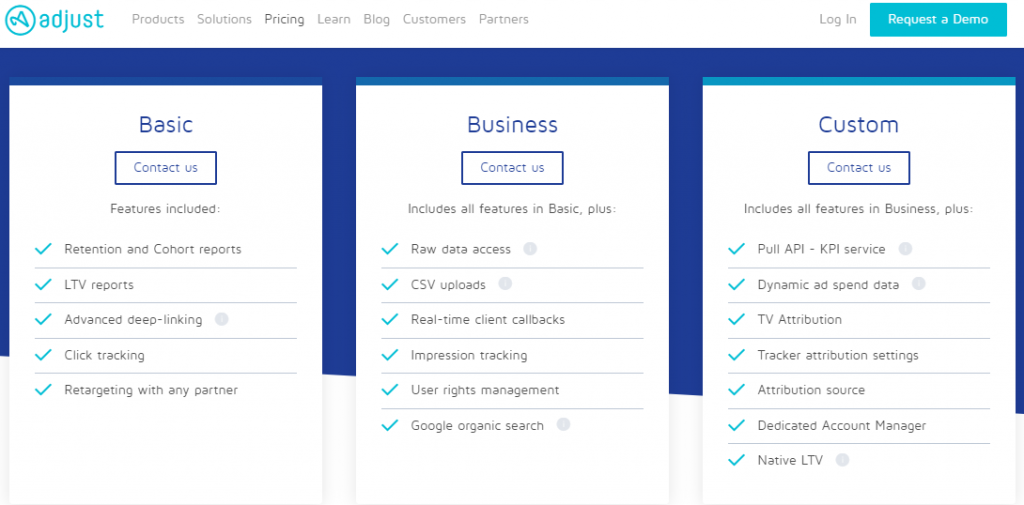 You have to contact Adjust for any of the three pricing options.
Worth Reading: The Ultimate Guide To Setting Up Google Analytics For Your Mobile App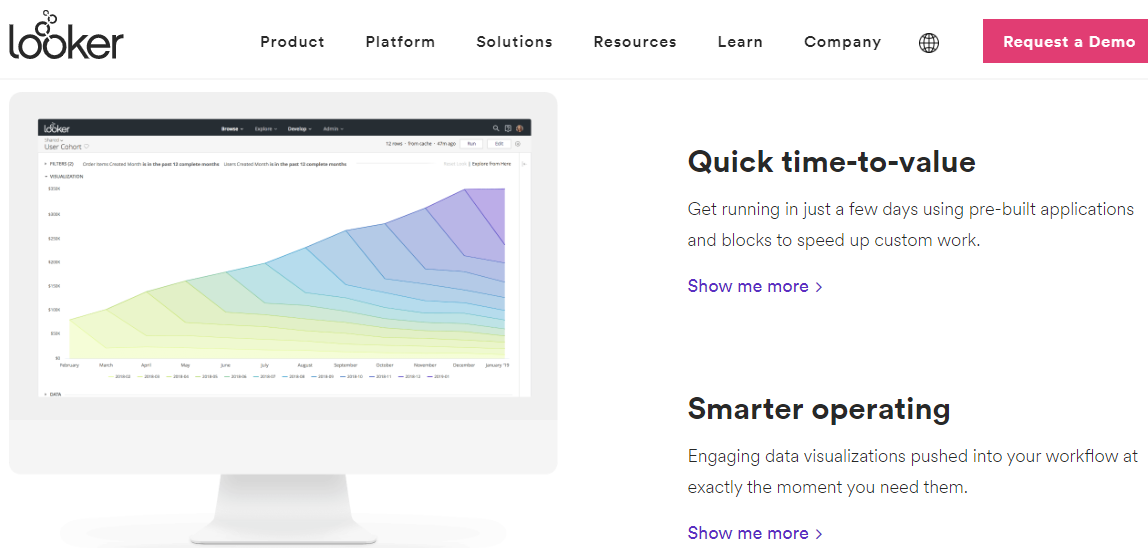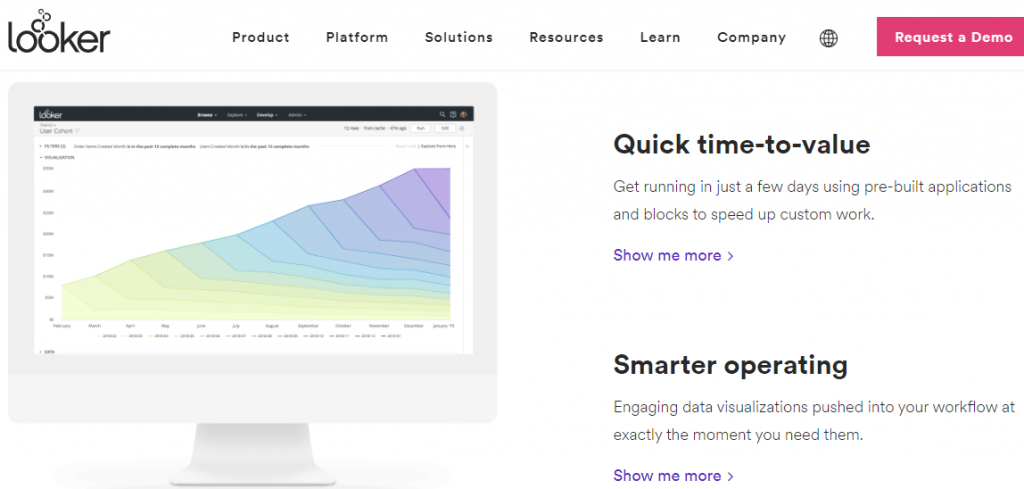 Looker is a popular self-service BI platform that helps organizations to understand and visualize data.
Looker Analytics integrates seamlessly with SQL databases or data warehouses like Greenplum, Amazon Athena, and Microsoft Azure.
The platform goes beyond BI to offer data experiences that support the modern organization's approach to decision making.
It also integrates seamlessly with workflows and third-party tools.
So the platform offers tailored data to:
Data analysts
Business executives
Data scientists
Business partners
App developer
Features of Looker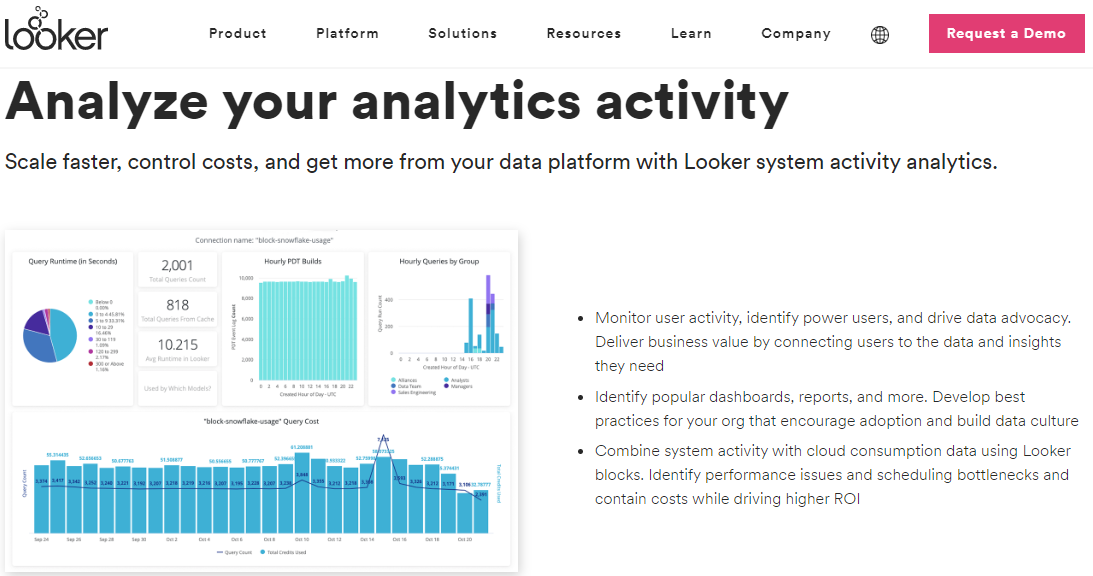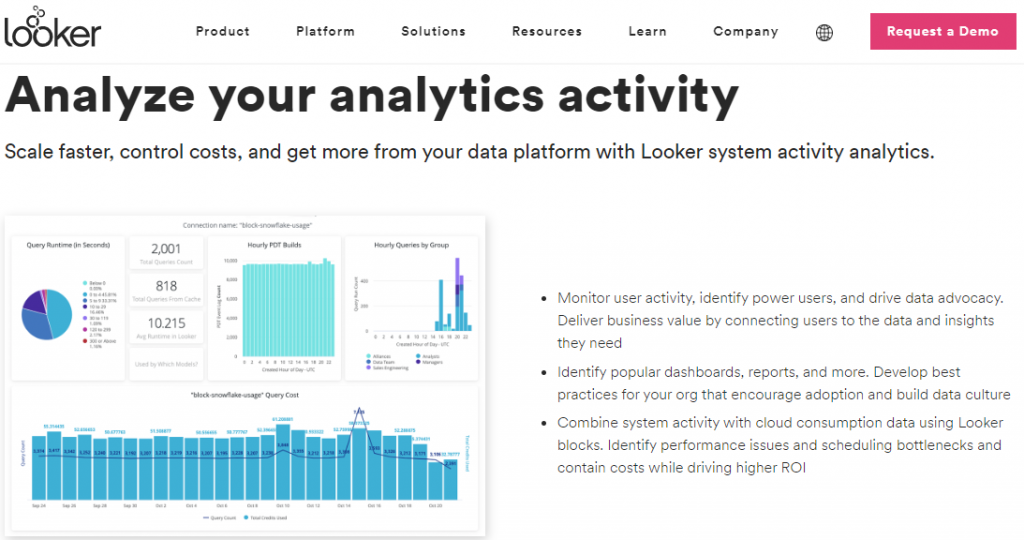 Some of Looker's features include:
Business Intelligence helps you avoid stale or siloed data
Applications
Data delivery
Embedded analytics makes useful data available where needed
Workflow integration
Pricing of Looker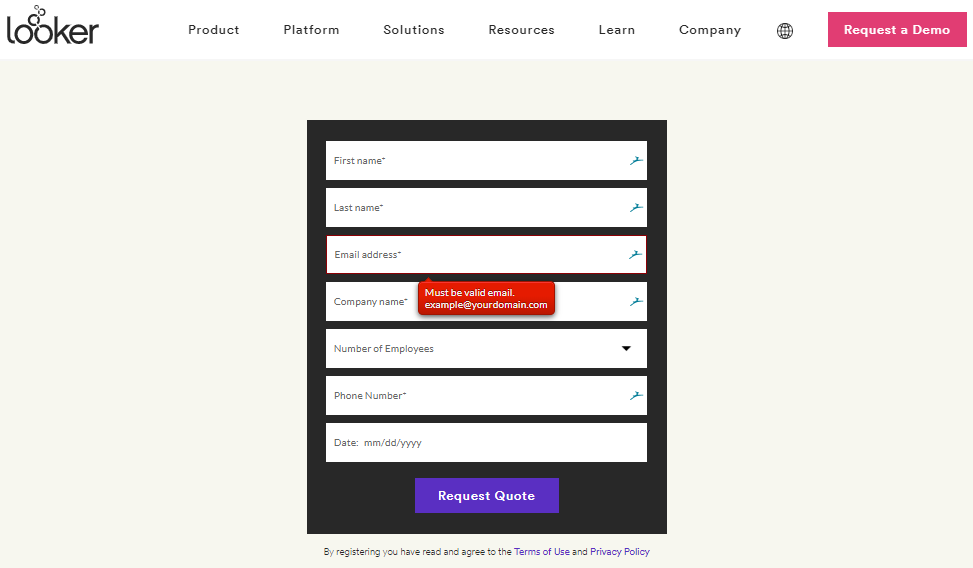 Looker offers customized pricing for small, medium, and large companies.
Hence the parameters that determine what you eventually pay are the scale of deployment and number of users.
So when you request a quote, Looker's pricing specialists would give you a price that fits your company's structure.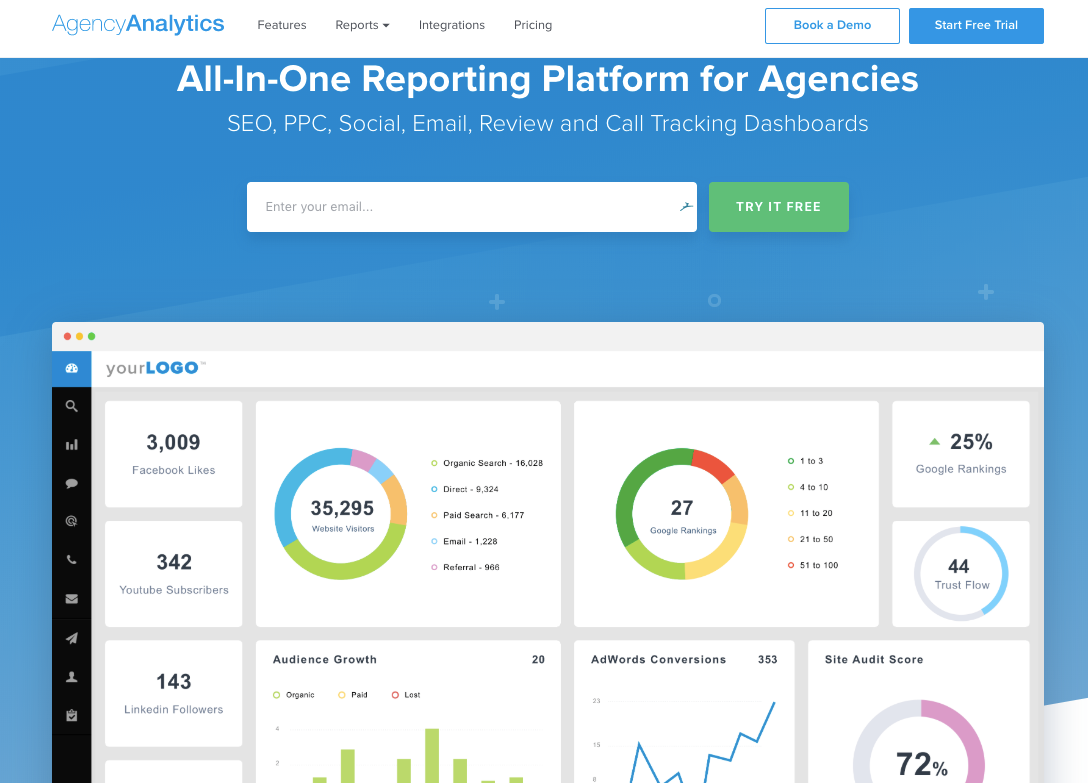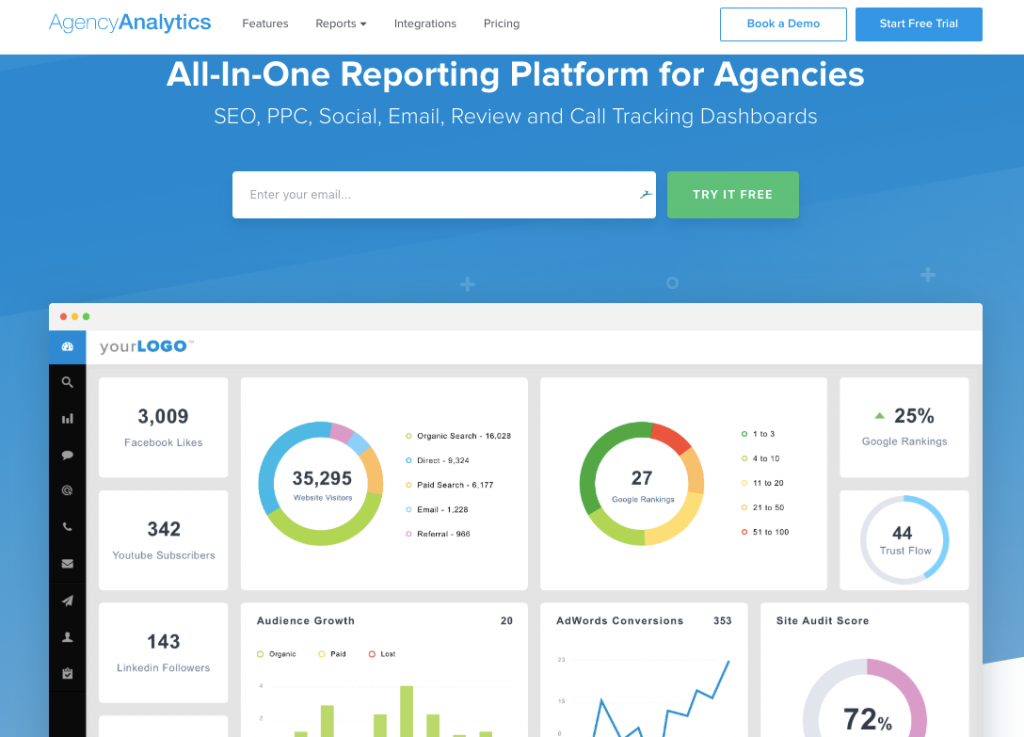 AgencyAnalytics is an SEO tracking and reporting tool targeting marketing agencies.
The tool features a wide range of SEO audit, analytics integrations, social performance monitoring, backlink tracker, and more.
The platform integrates with more than 30 tools to help users monitor their marketing channels in one place.
Features of AgencyAnalytics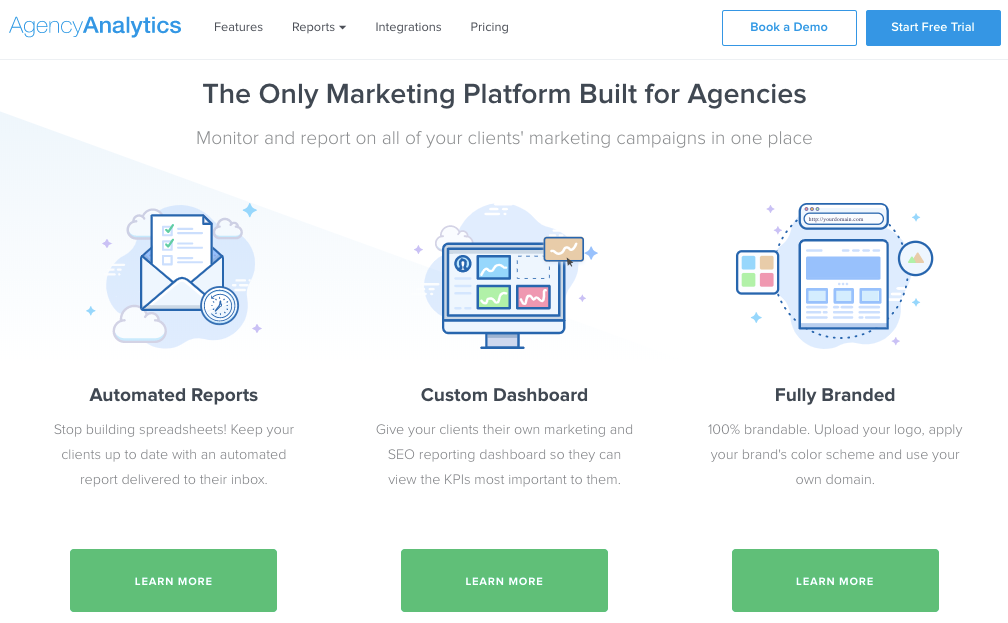 The AgencyAnalytics platform sports a range of agency reporting tools to help their users save time, boost their revenue, and impress their clients.
SEO tools
Automated reports
Agency management
Over 30 integrations
Custom dashboard
White label
AgencyAnalytics Pricing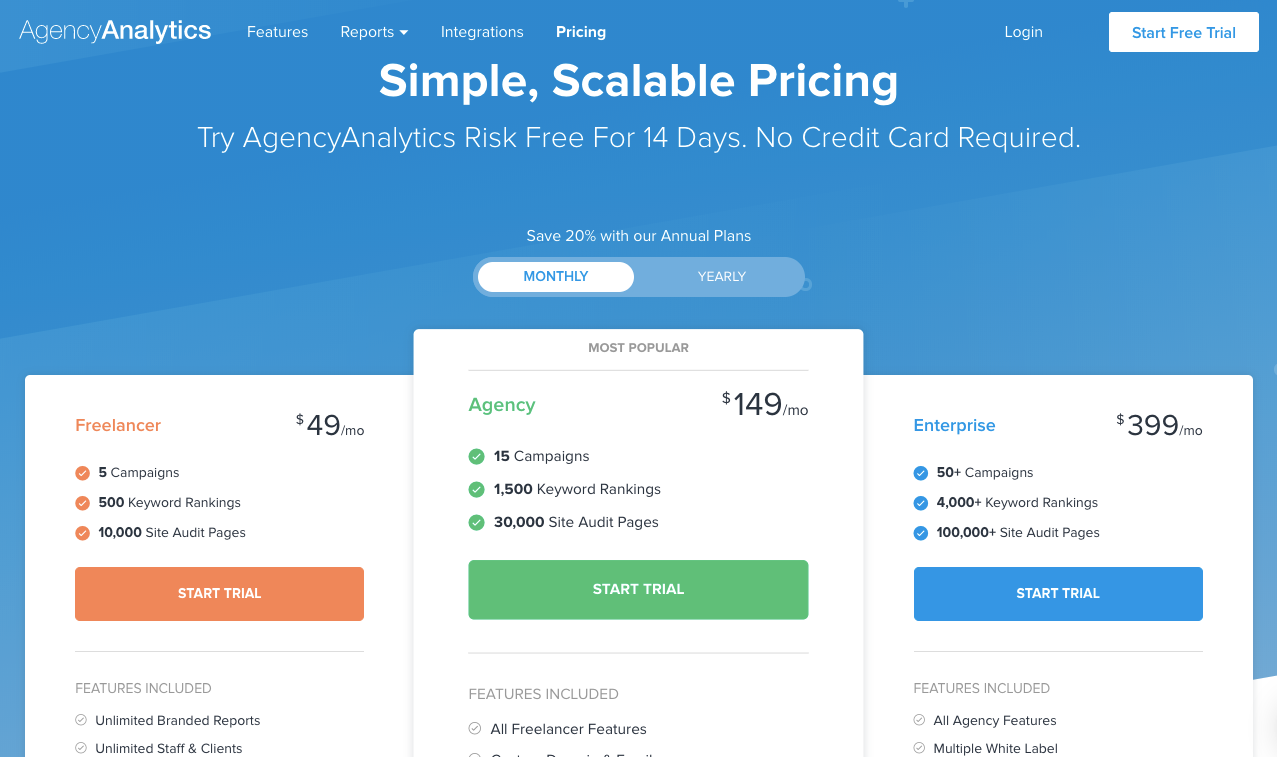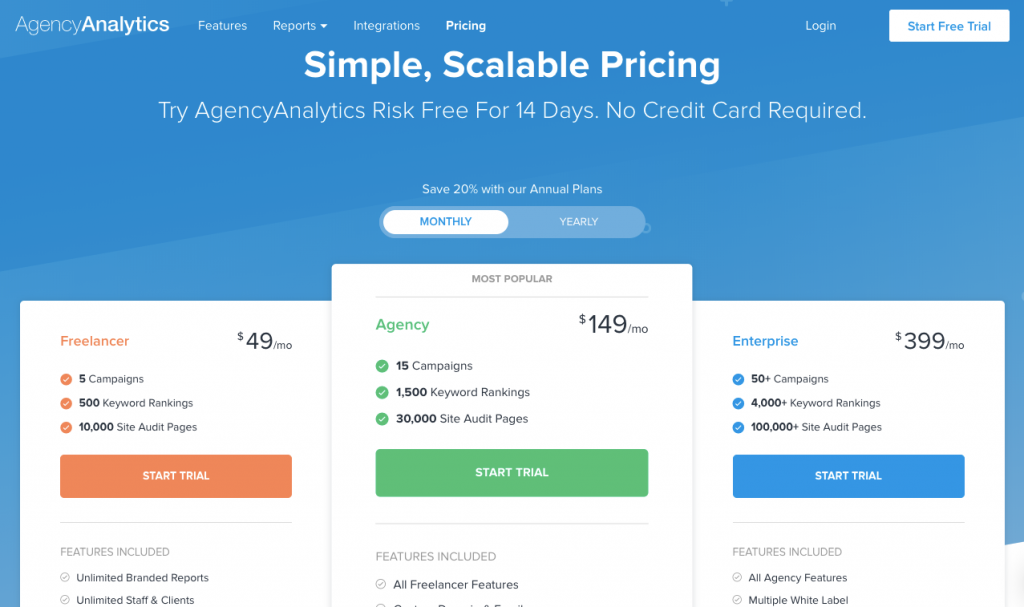 AgencyAnalytics pricing includes 3 plans; Freelancer, Agency, and Enterprise plans.
Freelance for $49 or $39, Agency for $149 or $119, and Enterprise for $399 or $319.
The lower monthly pricing plans apply to users who pay for a full year's subscription.
Check Out: Best Google Analytics Alternatives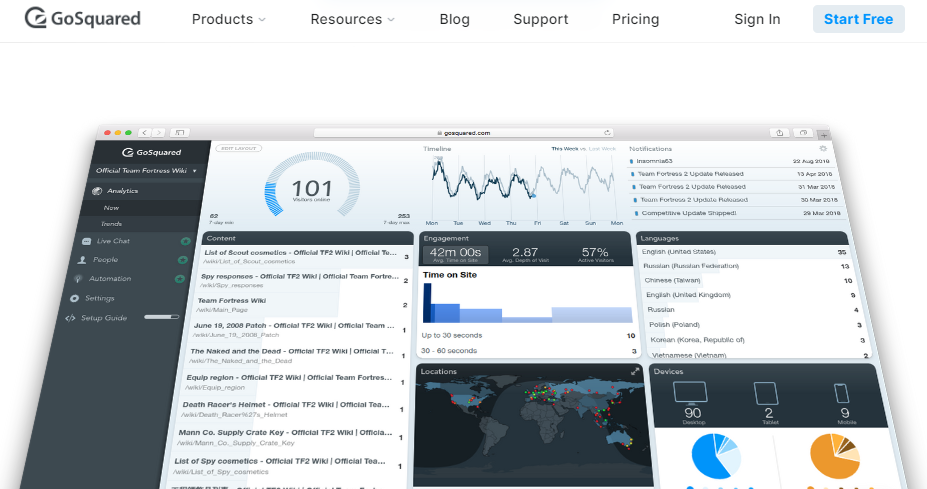 GoSquared is a business intelligence software that helps you convert your site visitors into loyal customers.
You have access to a comprehensive and trusted real-time dashboard that's easy to understand.
So it's easier to acquire, convert, and retain your customers.
You'll see traffic spikes and dips as they happen, and which of your pages are popular.
Also, you'll see your traffic sources to know if they're from a search engine or link from another website.
GoSquared Features

The Live Chat feature lets you respond quickly to your site visitors.
Hence you build a relationship and get instant feedback while increasing conversions.
The platform allows effective collaboration with:
Real-time messaging
Full visitors history
A unified profile of all your customers.
Ready user information
Internal notes
GoSquared allows you to multitask and save replies so you can give quick responses to your leads.
The platform automatically translates messages to the viewer's preferred language and allows you to download a transcript of live chat conversations.
GoSquared Pricing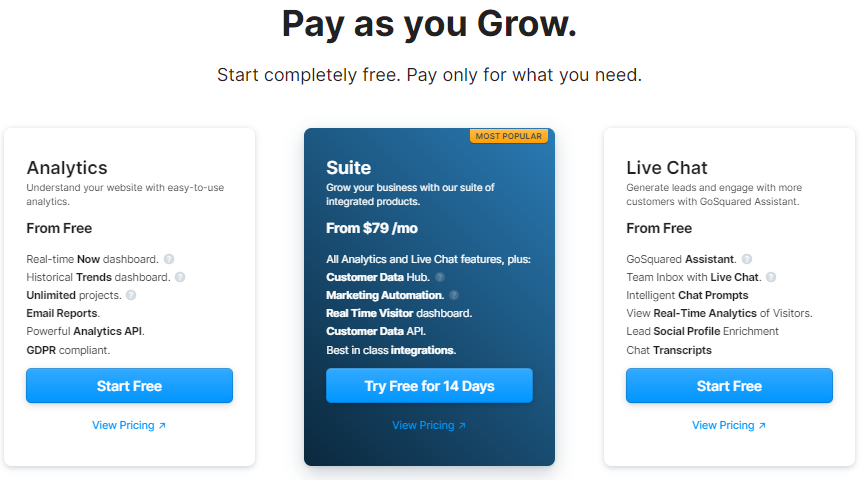 GoSquared lets you start for free in the Analytic and Live Chat plans. Whereas the Suite plan starts at $79, but you can try it out for 14 days.
Wrap Up
These 20 conversion tracking tools fit different business objectives, so you want to use tools that most align with your current business goals.
If you are focused on tracking your user experience at this stage of your business, then you should use tools that align with that goal.
However, you may want to test out tools for ads conversion if click fraud or other ads-related goals are an issue in your business.
When deciding on what tools to use, consider testing tools with similar offerings to decide what's best for your situation.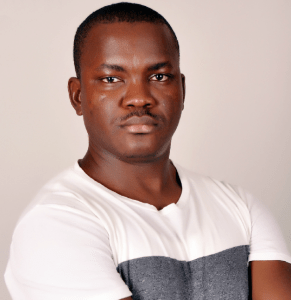 Nicholas Godwin helps businesses tell profitable brand stories that their audiences love. He's worked on projects for Fortune 500 companies, global tech corporations and top consulting firms, from Bloomberg Beta, Accenture, PwC, and Deloitte to HP, Shell, and AT&T. Works with Mofluid these days.