Improvely is an ads conversion and click fraud tracking and reporting tool. Click fraud costs businesses $16.4 billion. Furthermore, fraudulent mobile ad clicks last year grew by 102 percent, and click fraud is growing at 50 percent yearly.
This is the problem that Improvely aims to solve.
Dan Grossman founded Improvely on Aug 20, 2012, under Awio Web Services LLC.
Its all-in-one-dashboard allows you to view all the key metrics at a glance. Also, you get real-time updates and click fraud reports.
Improvely users range from freelancers to large scale enterprises. They allow white-labeling, so you can offer their solution under your brand.
What's more? You can use the platform for free. If you're interested in their referral program, you can earn commissions too.
The platform runs on multiple devices, including Mac, Windows, and Android. Also, depending on your payment plan, users can range from one to unlimited.

Improvely is feature-rich. It provides you with tools to track your marketing campaigns. Also, you're sure that you aren't paying for fraudulent clicks and can even get a refund in such events.
Let's explore some of the platform's unique features.
Improvely Online Marketing Trackers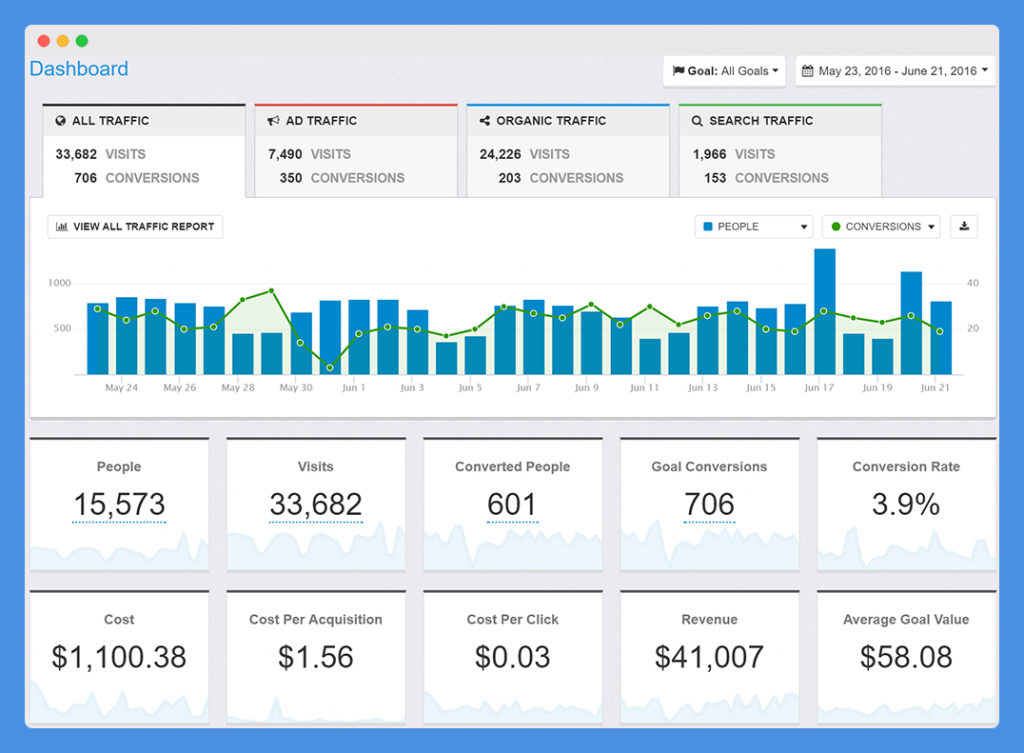 Improvely has an advanced conversion attribution and tracking system. This platform tracks your online marketing activities in one place, so it monitors all the clicks, revenue, and conversions at once.
Also Read: Improvely Vs Google Analytics
Improvely Effectively Reports Traffic
With Improvely, you'll see what part of your business converts the most, so you can maximize the time you spend on marketing because you know what sells. Also, you won't have to waste time and money on traffic that isn't converting.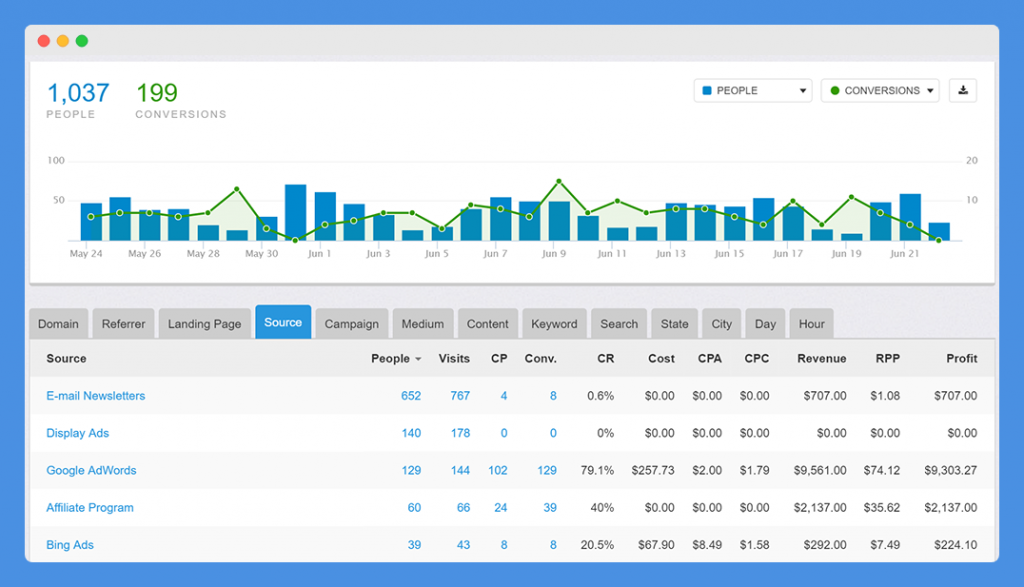 Below are some of the metrics that you'll get from Improvely. You can see reports on
People
Channel
Referrer
ROI
CPC
City
Device type
Unique visits
Country
Customer Lifetime Value
Conversion Rate
And a host of others.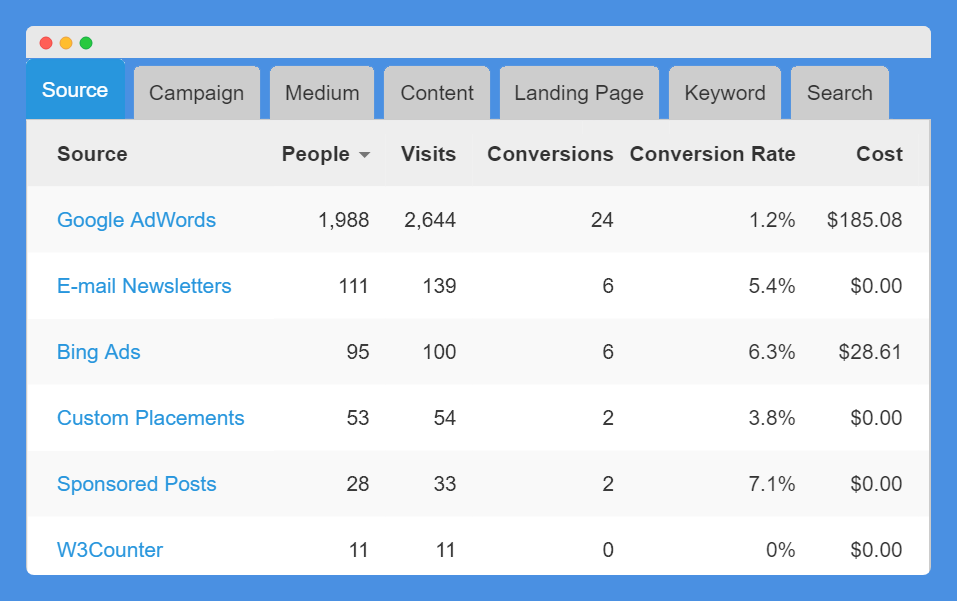 Improvely Checkout Funnel Reports
With Improvely's custom-built funnel report, you can track your visitor's conversion pattern. You also see the points at which some visitors lost interest in buying.
Since this feature allows you to identify how users interact with your website, you'll know your strong and weak points. In that way, you know what to improve on or change. Some of the benefits of the funnel report system are:
It collects data without a need to define the funnels
It allows you to segment traffic for easy observation
You can save several funnel reports for later use
Your conversion goals aren't limited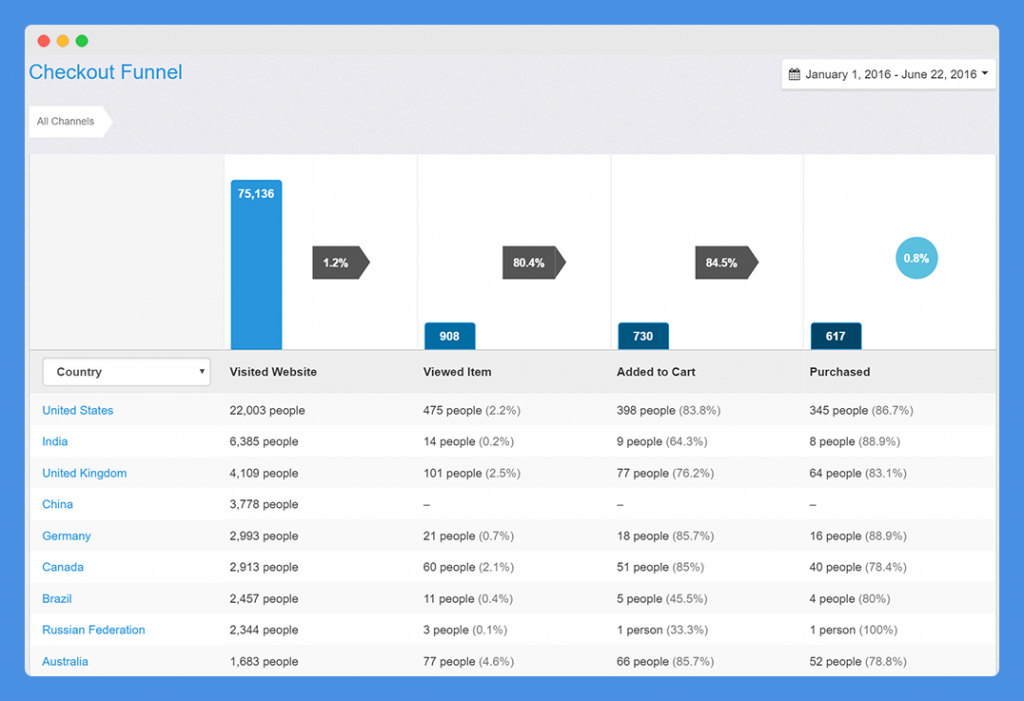 Improvely Customer Profile
Improvely creates profiles for each visitor to your website automatically. You'll know their location, time to conversion, and more. To enjoy this feature,
Define your ideal customer so you can identify them
Track repeat visits for weeks or months
Enable the platform's advanced attribution models
Set parameters to choose first or last click, or whatever suits you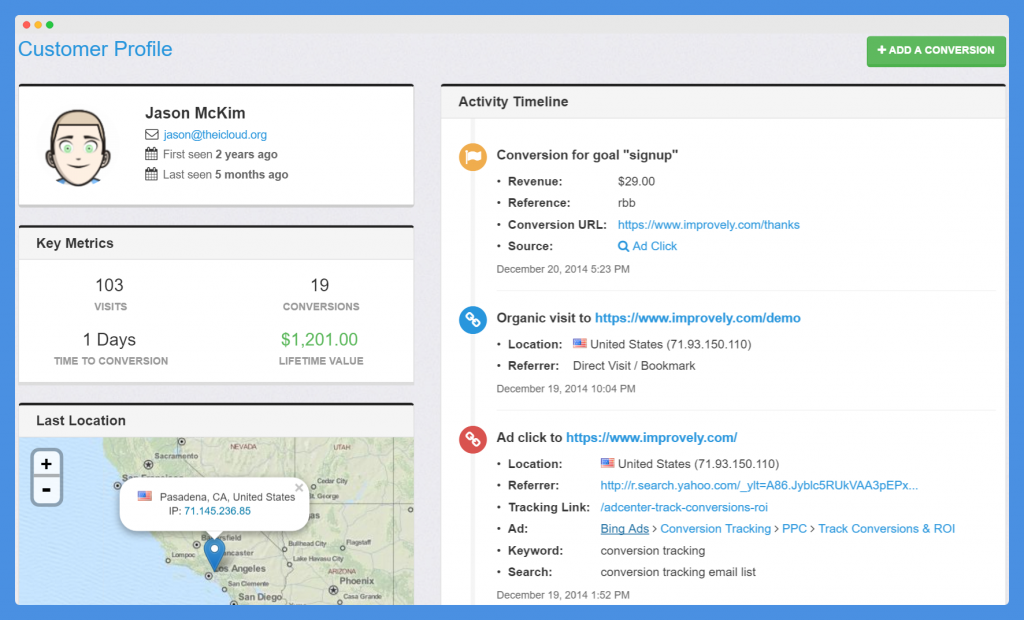 Improvely Dashboard
Improvely's dashboard shows you all the key metrics in one place, so you can monitor all the activities on your website at a glance.
Some of the dashboard's features include:
Built-in A/B split testing tools
Real-time report updates
All click fraud monitoring for ads are in real-time
Import reports from search engines
Export raw data or reports to Excel CSV
Alerts new customers instantly through email
Detect IP exclusions and duplicates
Custom tracking with developer API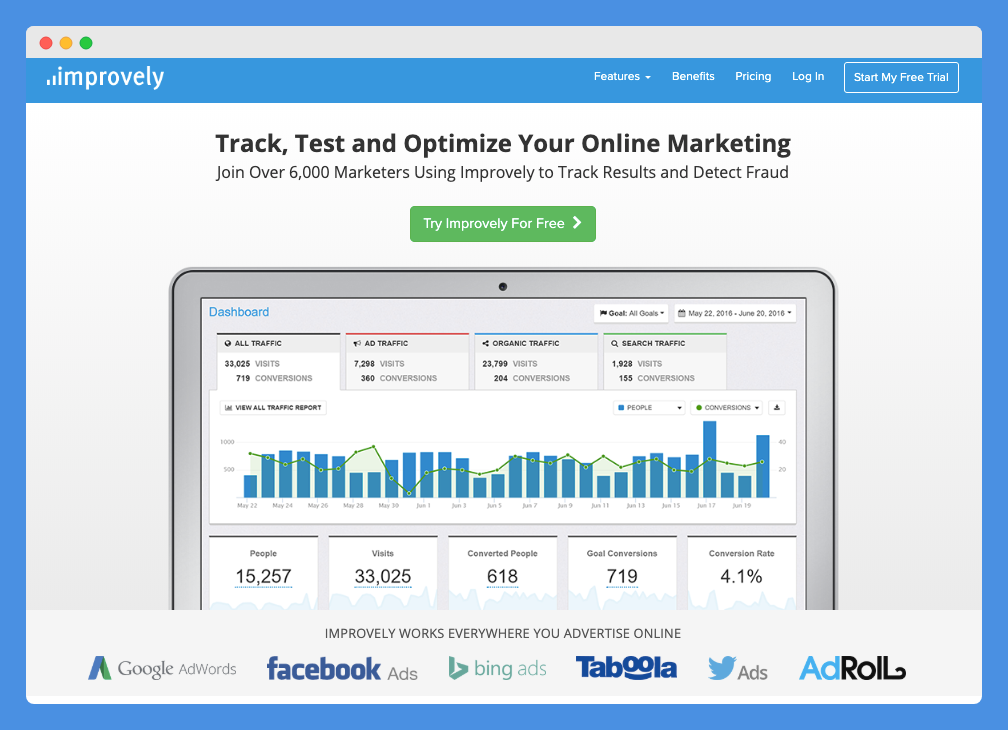 Improvely Fraud Detector & Blocker
The competition of pay-per-click ads is on the rise as a lot of online shoppers rely on paid ads for purchases. Paid ads take up 65 percent of all the clicks, but 17 to 29 percent of these clicks are fraudulent.
Related: How To Use Google Analytics To Improve Conversion Rate

Using Improvely allows you to
Detect click frauds
Block fraudulent clicks
Recover money lost from PPC ads
Detect Click Frauds
Improvely's monitoring system scrutinizes the quality of clicks round the clock. It would notify you of suspicious activities like
Excessive non-converting clicks
A competitor clicking your ads repeatedly
Clicks coming from specific countries
Block Fraudulent Clicks
Fraudulent clicks can come from competitors attempting to drain your budget. Albeit, if reported, they have a lot to lose.
Improvely lets the frauds know you're aware of their antics. Hence, it diverts all suspicious clicks to a warning page and away from your website.
You also get their IP addresses with instructions on how to block them. So they don't see your ads again.
Recover Money Lost From PPC Ads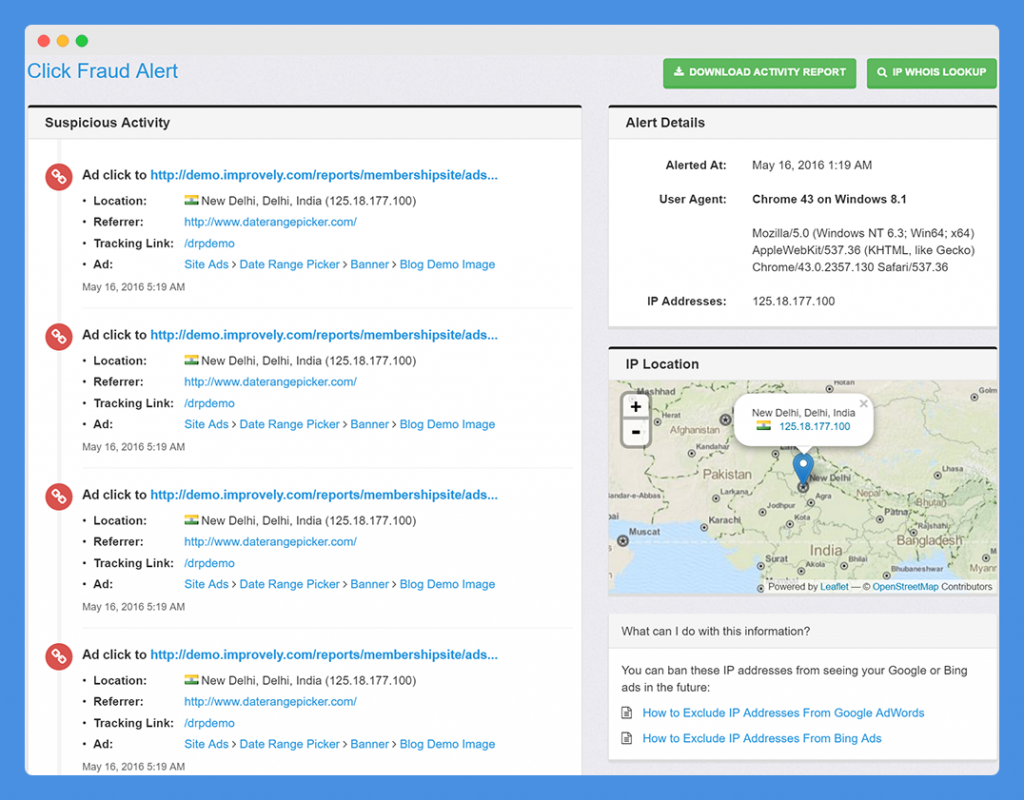 Once Improvely detects a click fraud, it'll prepare a detailed report for you. You can attach this report to an email or report ticket for a refund. The details in the fraud report provided would include:
IP addresses of culprits
Referring URLs
Locations
Date and time of the suspicious click
Improvely Commission Tracker For Affiliate Marketing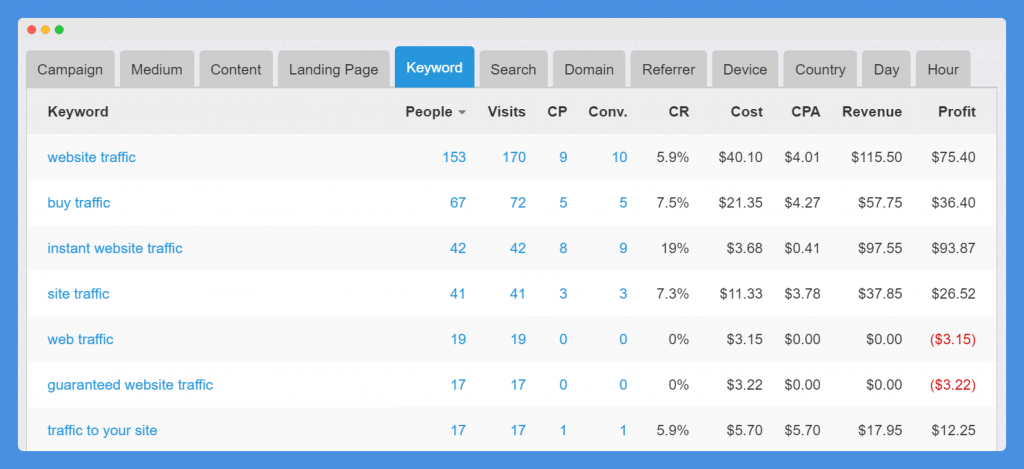 Improvely provides you with all the tools needed to track all your affiliate commissions. Below are ways the platform helps you do that.
Track sources of commission
The platform shows you the exact ads, campaigns, keywords, and landing pages that made your commissions possible. Also, you don't have to create a different link for each keyword.
Cloak affiliate links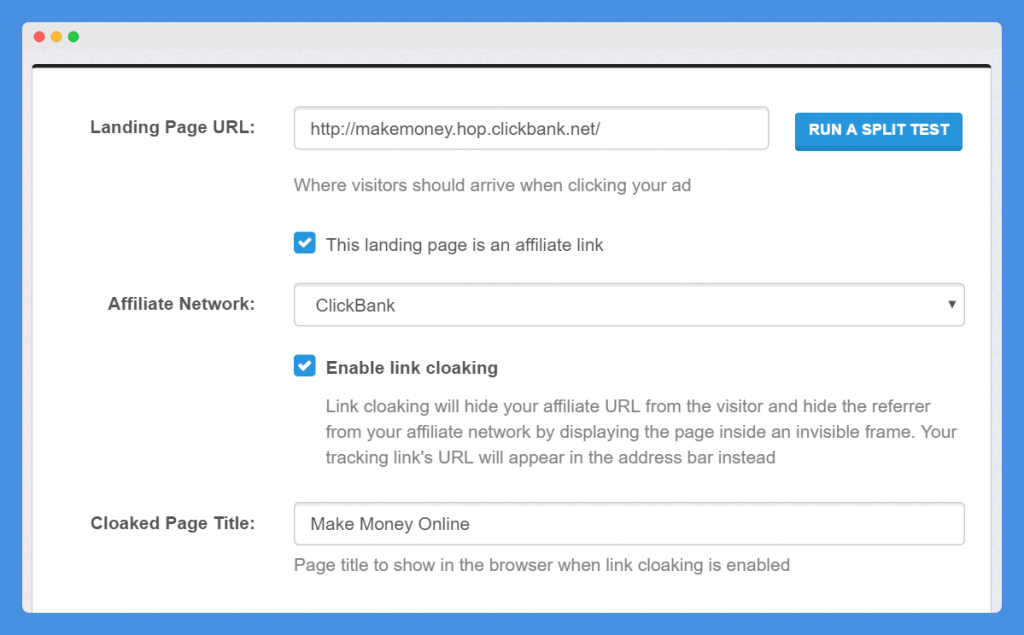 Improvely's link cloaking feature allows you to hide your links' destination from visitors, so you determine the URL that shows in the address bar and the text in the title bar.
Related: Best Google Analytics Alternatives
Protect keyword lists and ads
Improvely protects your keyword lists and ads from snooping affiliate managers and competitors.
Integrate with several affiliate programs and networks
Improvely integrates with affiliate programs that support sub-ID parameters or tracking pixels. Such programs make up 95 percent of affiliate program platforms and major networks.
For networks that don't support a tracking pixel, attach an exported commission report, then send it to Improvely for analysis.

Improvely Custom Reporting

Improvely's marketing reports are agency ready. You want your clients to feel grateful and not always compare you with your competitors. Below are agency features that you can offer your clients with Improvely.
Satisfactory Reporting
With Improvely, you can offer your clients live reports and other value-packed features. This reporting style makes them lose interest in PDF reports.
You'll be offering
A single portal to track all their campaigns
Budget protection by click fraud monitoring
Real-time notification when you make sales
Emails to show your clients where their customers came from
Making You a Brand to Reckon With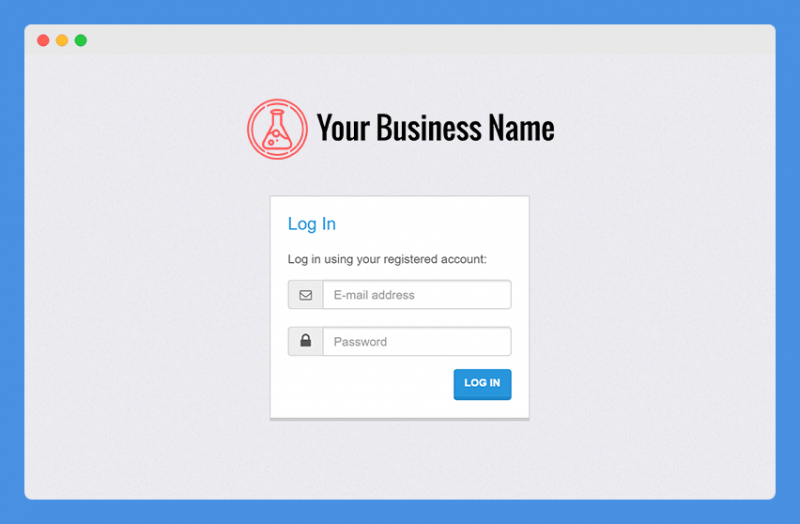 You can offer your clients access to Improvely reports from your domain. So your company name and logo would be the branding they get. Also, the decision on your client's level of access is entirely yours to make.
You can offer access to unlimited clients despite paying for one account
Upsell with the click fraud monitoring feature
Limit client access to a report by making it view-only, or let them have complete control
Offer A/B testing, traffic reports, ROI analysis, ad tracking, and more
Offer subdomain access to your clients in the form of clients.youragency.com
Import and Export Data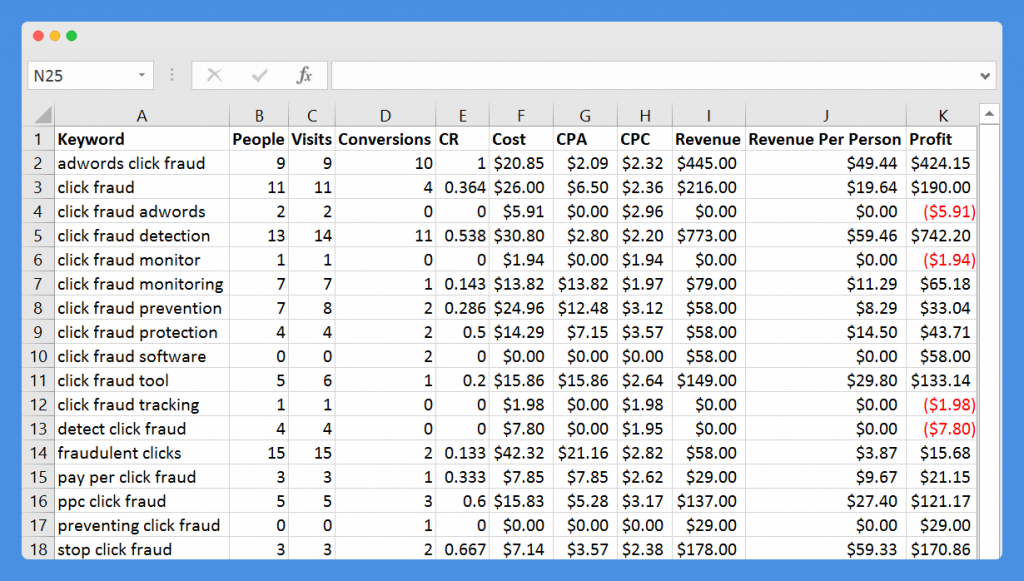 You can export all the reports you get from Improvely to Excel CSV files. Plus, your reports can contain click lists, conversion rates, and other parameters.
For a clear report, Improvely
Integrates well with Google Analytics UTM tags
Imports commissions from third party affiliate networks
Imports the costs of PPC from Bing and Google
Benefits Of Improvely
Improvely promises to boost conversions and revenue while protecting your ad budget. Here are eight ways the platform skyrockets your marketing results.
1. No Installations Required
Improvely doesn't require installation before use because it's a hosted service. Plus, you don't have to pay extra for updates. You can use the service with a web browser on any computer or mobile device.
2. Constant Updates
The constant upgrading of Improvely offers new tools, reports, and data for you.
3. One Dashboard
You don't have to visit multiple websites or social media to monitor your ads. Also, you don't have to work too hard to optimize your website or bother if your traffic is organic or not. All you need is one Improvely dashboard to track and analyze all your traffic in one place.
4. Be Constantly Updated
All the reports and metrics from Improvely are in real-time. So you can react quickly to new search queries, inbound links, etc.
5. Test New Landing Pages
You don't need a third-party to approve changes you make on your landing pages. With built-in A/B testing, you can add or remove them from ad placements. Also, you'll immediately start receiving ad clicks to the new landing pages.
6. Build a Visitors' Profile
Every visitor to your website gets a profile, and you see what led to their conversion. The ads they clicked on, referral links, and search engine used. You can learn and track the patterns that your best customers follow to know how best to serve them.
7. Combat Click Fraud
Improvely's real-time tracker identifies and guards against suspicious ad clicks. Also, you can stop payment if you find out that the clicks are fraudulent, no matter how many campaigns you run.
8. Customer Acquisition Costs
You can quickly identify traffic sources that are doing well on your website. As well as those that aren't. So you can concentrate on ads, landing pages, and keywords that yield good conversions.
It's also important you desist or cut down on spending that doesn't produce results.
Related: Best Google Analytics Plugins For Woocommerce
Improvely Integrations
The platform has a developer API system so you can integrate it with existing businesses that you run. Improvely integrates seamlessly with
WooCommerce
BigCommerce
Shopify
MailChimp
WooCommerce
Improvely integrates seamlessly with your WooCommerce store. It's as easy as clicking on a button in your WordPress dashboard. All you have to do is go to the plugin page of your WordPress dashboard and search for Improvely.

Also, you can download the new Improvely for WooCommerce WordPress plugin from your WordPress plugin repository.
Tracking would start immediately without affecting your theme. Plus, all of Improvely's features are within reach in your WordPress dashboard. In other words, you don't need a separate dashboard from what you've been using.
BigCommerce
If you use BigCommerce, you have to log in to Improvely first. Go to "Project Settings," then click on "Get Website Code" and copy the landing page code to your clipboard.
Then go to your BigCommerce account by logging in. Select "Settings" and click on analytics on the top menu. Select Google Analytics by clicking the tab, then paste the code you copied in the box and click "Save."
Albeit, if you already use Google Analytics, paste the copied Improvely code under your Google Analytics code in the same box.

Go to "Settings" again and click on "Conversion" on the top menu. Copy the Conversion Tracking Code from your Improvely account and paste it in your BigCommerce account, inside the box.
To send Order Total and Order Number from your BigCommerce account back to Improvely, you'll make specific changes to the code. You'll change the order amount to %%ORDER_AMOUNT%%, and the reference to %%ORDER_ID%%.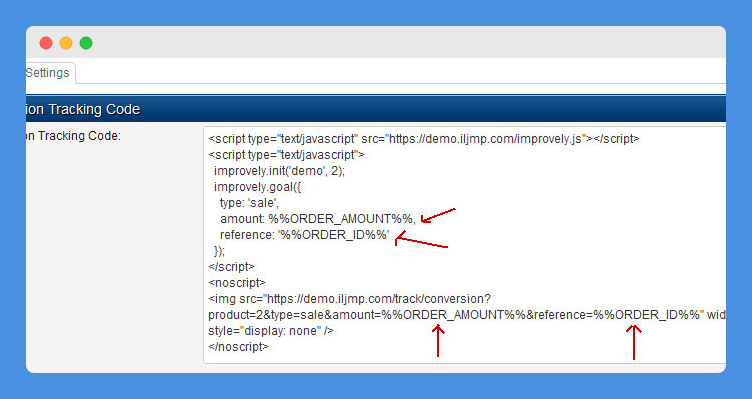 You must make these changes in both the top <script> and the bottom <noscript> parts of the Conversion Code.
Shopify
Adding Improvely to Shopify is a straightforward process as it requires no codes. So click here to start using the free Shopify app on your store.
The app transfers information concerning purchases and visits to Improvely. You'll be able to trace what channels drive more traffic to your store.
MailChimp
You can use Improvely to track clicks on emails that you send through MailChimp automatically, even until your visitors' purchase or signup on your website.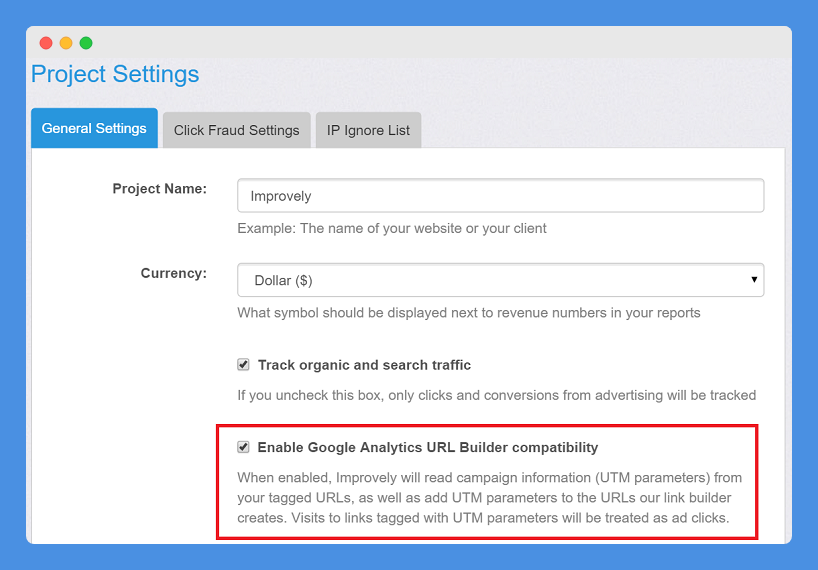 Then, whenever you want to launch automation or a campaign in MailChimp, go to your setup and check the Google Analytics link tracking box.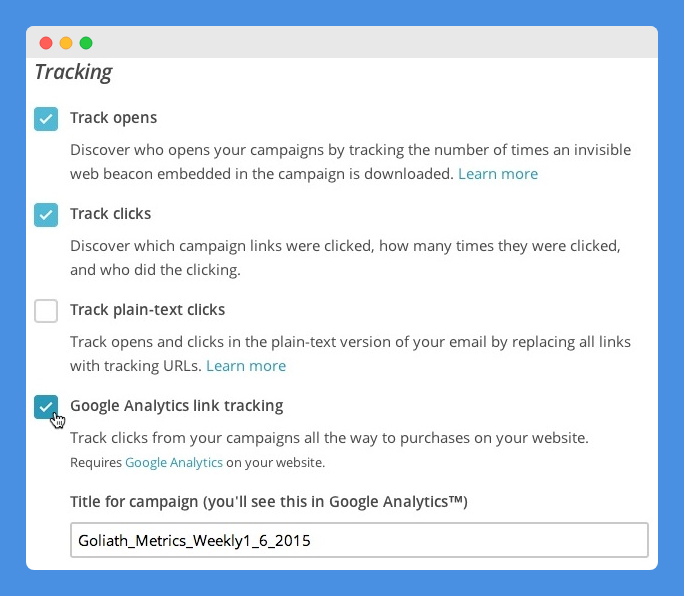 Once you've achieved this setup, MailChimp would add a campaign name to all your automation and campaigns, then your Improvely Ad Traffic report would contain the campaigns and show all the clicks and conversions generated.

Improvely Pricing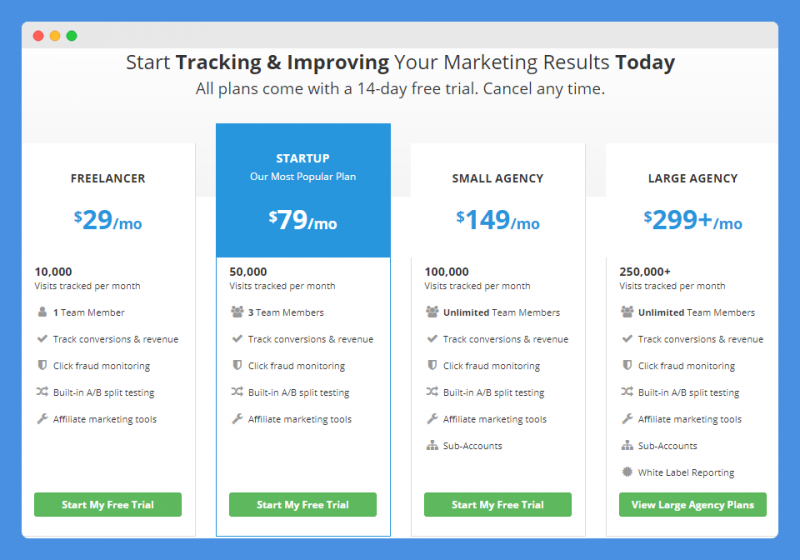 You can try all four of Improvely's price plans for 14 days, free of cost. Also, you can cancel whenever you choose.
But if you don't cancel within the trial period, Improvely would charge you for the plan you choose. Albeit, the platform would notify you before the end of the trial period.
The categories of the price plans suggest that Improvely prepared them for different organizational sizes.
The Freelancer Plan
The first plan is for Freelancers. So at $29 per month, Improvely allows you to track 10,000 visits per month. Plus, you have access to:
One team member
Monitor click fraud
Track revenue and conversion
Tools for affiliate marketing
Built-in A/B testing
Startup Plan
This plan is the most popular of all the plans. At $79 per month, you can track 50,000 visits per month. You also have all the features of the Freelancer plan with the addition of two members.
Related: Clicky Web Analytics Review
Small Agency Plan
This plan costs $149 per month and gives you a tracking capacity of 100,000 visitors per month. Also, apart from the features of the Startup plan, you have access to unlimited team members. Plus, you get a sub-account that gives your clients access to use Improvely under your domain name.
Large Agency Plan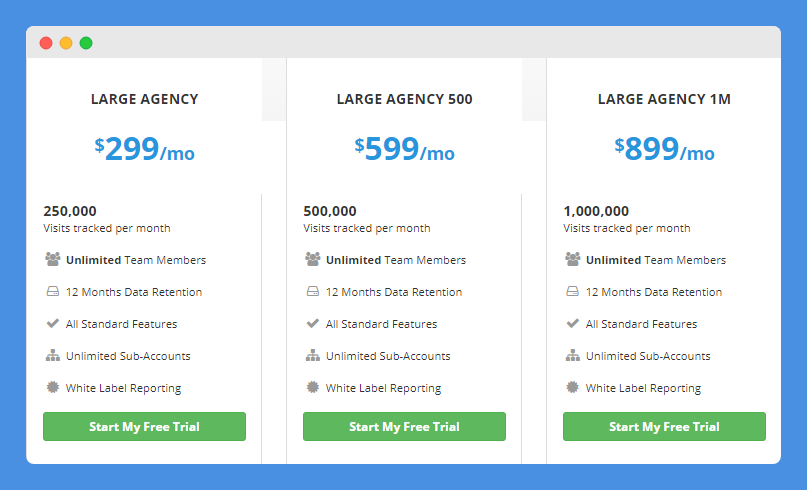 In the Large Agency plan, you have access to track over 250,000 visits to your website per month. So starting from $299 per month, you have all the standard features of the Small Agency plan and more.
Large Agency 500 lets you track 500,000 visits per month at $599. Meanwhile, with Large Agency 1M, you can track 1,000,000 visits per month at $899. The additional features that you get from these Large Agency price plans are:
Team members are unlimited
You have unlimited sub-accounts
White label reporting
Data retention for 12 months
Improvely Payment Methods
Improvely accepts card payments via
MasterCard
Discover
Visa
American Express
Improvely would charge your card monthly based on your chosen plan. They don't allow bank transfers, PayPal, or checks, for now.
Improvely Visit Quota Explained
Whenever someone lands on your website from a search engine, another website, an ad, or other sources of traffic, it counts as a visit. Albeit, Improvely records unique visits that aren't suspicious. So the maximum number of visits that your price plan allows is your visit quota.
If you exceed your quota for a particular plan, Improvely will notify and upgrade you to the next larger plan. The new plan must accommodate your traffic size. However, if you're still within the trial period, you won't be charged for exceeding your plan's quota.
Delete Unwanted Visits
Improvely allows you to delete any visit or conversions that you don't want to add to your reports. Just open any report, then click on the column for the number of visits or conversions. This command would take you to a detailed timeline.
When you move your cursor over the link or the shopping cart towards the left, it'll turn into a trash can icon. If you click on it, you'll delete the information permanently. You can also do this from your Real-Time Spy tool or any profile from the People Explore.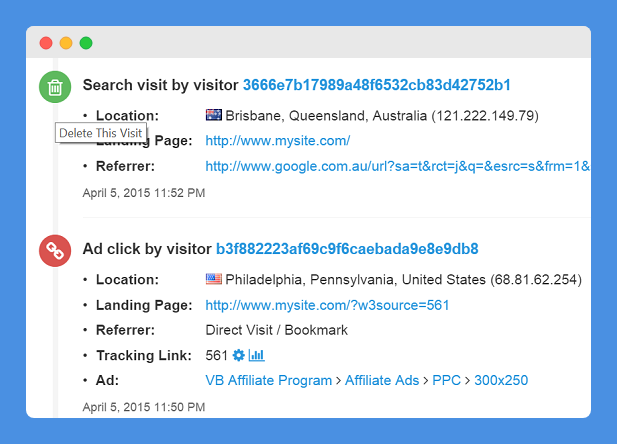 Reset Unwanted Projects
If you don't want all the visits and conversions in a project, you can delete or reset the project.
Deleting a project removes every visit, conversion tracking link, and other data related to that project. To delete a project, Go to Settings on the left menu, then click on Delete Project on the top menu.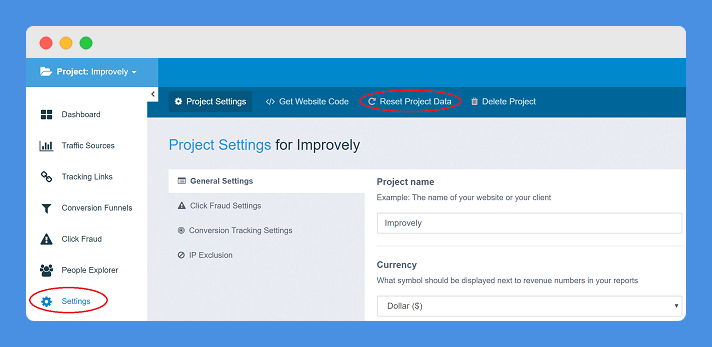 But resetting a project doesn't delete the project or the tracking links you built under it. To reset a project, go to Settings on the left menu, then click on Reset Project Data on the top menu.
Related: Ultimate Guide To Setting Up Google Analytics For Your Mobile App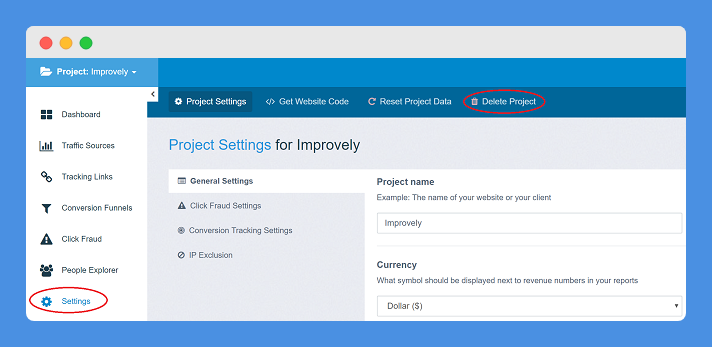 Referral Program: Improvely's Rewards System
Do you already love Improvely's offers and feel you can refer someone? Then don't just do it for free, join Improvely's referral program, and earn up to $1,400 per referral.
You also get text links and banner ads. Plus, Improvely promises to send your commissions in time.
You can become an affiliate in just three steps.
1. Sign Up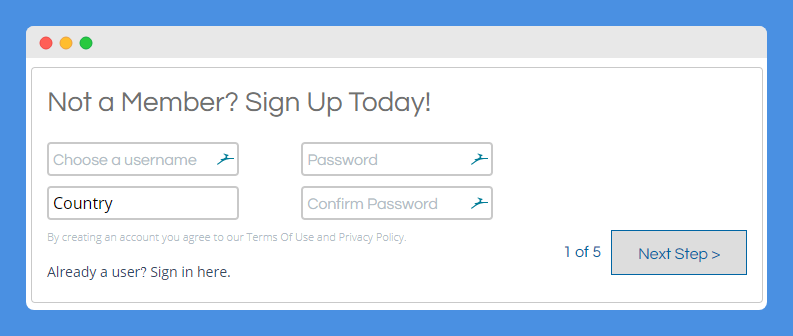 To join the program, get a ShareASale affiliate account by filling out this application. Albeit, if you already have a ShareASale account, follow the link and indicate that you're already a user.
2. Links and Banners
You can link to Improvely through texts or banners. These banners vary in size and are available in your ShareASale account. All you have to do is copy the codes and paste them into your blog or website.
You can get links and banners directly from your account by clicking on "Link." You can also click here to go directly to your Improvely referral links and banners.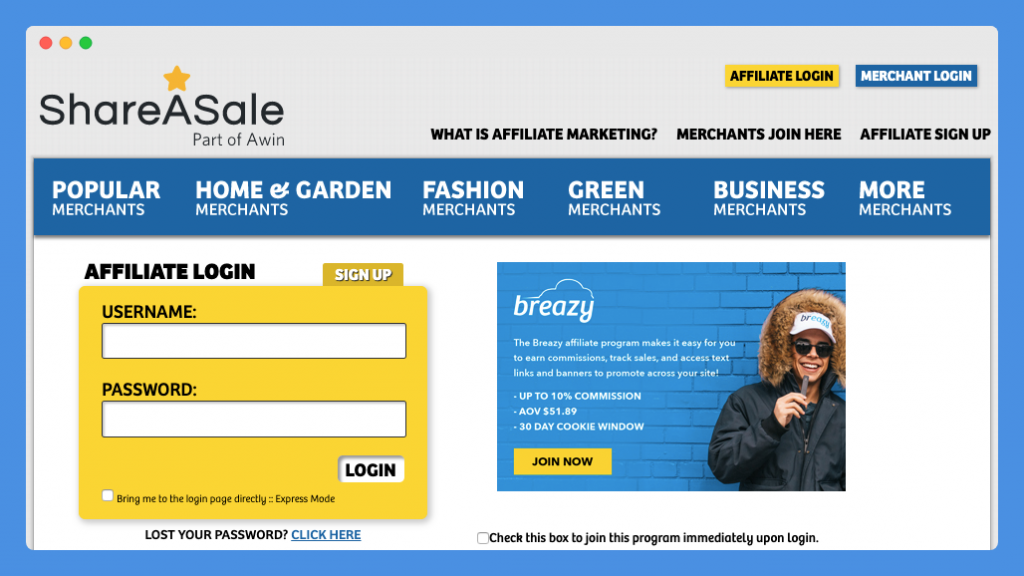 Start earning once anyone signs up for Improvely through your referral links or banners. As they click your link, it triggers a cookie to remember that they're your customers. Albeit, they must purchase within 30 days for you to receive payment for that referral.
With Improvely's rewards program, you'll earn 50 percent from their first payment. Then you'll get 10 percent when they renew within their first year.
ShareASale pays through direct deposit or check on the 20th of every month. The payment would be for commissions you earned the previous month. The minimum payout is $50, so if you've not earned up to that on payday, you'll wait until you've achieved that minimum balance.
Things To Improve On
This tool can make two improvements.
The Improvely website doesn't have a chat feature or number to call. You have to rely on tickets alone.
Some users complain that the price plans are expensive, and the cheapest plan is too basic.
Wrap Up
If you're not new to paid ads and want to track your performance, Improvely is one of the best trackers out there. Albeit if you've never run a paid advertisement before, you might want to think it through.
Improvely's analysis and reporting are comprehensive and effective. However, this tool seems to target larger organizations as the more expensive plans offer better deals. At $29 a month, the Freelancer plan is a fair deal, but most freelancers get more than 10,000 visits per month.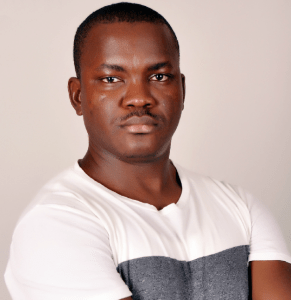 Author: Nicholas Godwin
Nicholas Godwin helps businesses tell profitable brand stories that their audiences love. He's worked on projects for Fortune 500 companies, global tech corporations and top consulting firms, from Bloomberg Beta, Accenture, PwC, and Deloitte to HP, Shell, and AT&T. Works with Mofluid these days.