All websites need to be tracked and analyzed for performances in order to be successful. SEO implementations, A/B testings, multiple marketing strategies as well as traffic streams – all collectively decide the fate of a website.
This necessitates the use of analytic tools, which gives you an insight on what really is working for your website and what isn't.
The tools don't just give you an estimate, but the 'exact' traffic data which is streaming in and out of your website or webpage. Knowing this data can turn the tables for the revenue you might generate!
Everyone knows Google Analytics but we also have other tools that give Google a stiff competition. Clicky is one such tool.
It is currently seen as one of the best competitors and alternatives to Google Analytics.
In this post, we will do a quick Clicky Analytics review. This is going to be a little different from other Clicky reviews you'll find on the internet.
Not only will we discuss its features but also do a brief comparison with Google Analytics.
It's time to begin.
What Is Clicky Web Analytics?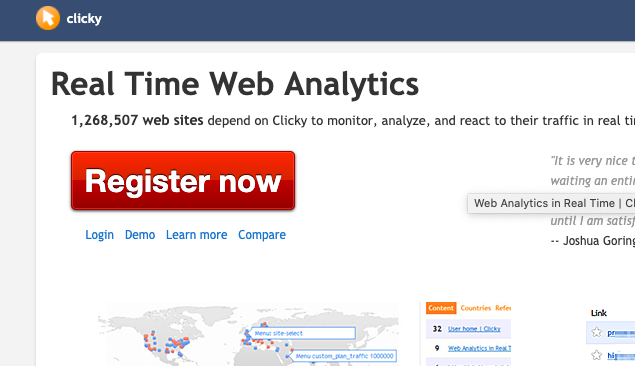 Clicky Analytics is a web analytics tool created by Roxr Software, a small company founded in 2006 and is located in Portland, Oregon (US).
This analytic tool is used by several websites all over the world for monitoring, analyzing, and reacting to their traffic in 'real time'.
Clicky web analytics covers the tiniest of details for every segment of visitors and the real-time update occurs by the minute.
Get Started For Free
You can easily sort or filter the data of any column to analyze, and use those statistics to amend your site as well as the page content, in order to provide an enhanced onsite experience to your customers and increase conversions.
Who Clicky Is For?
Clicky Analytics tool can be used by website owners or web marketing professionals.
It is also suitable for all type of businesses that need multiple site monitoring and have specific goals.
Now let's look at its features in this Clicky review.
Clicky Analytics Features
Clicky On-site Analytic includes plenty of unique features as compared to other analytics. Some of them would be –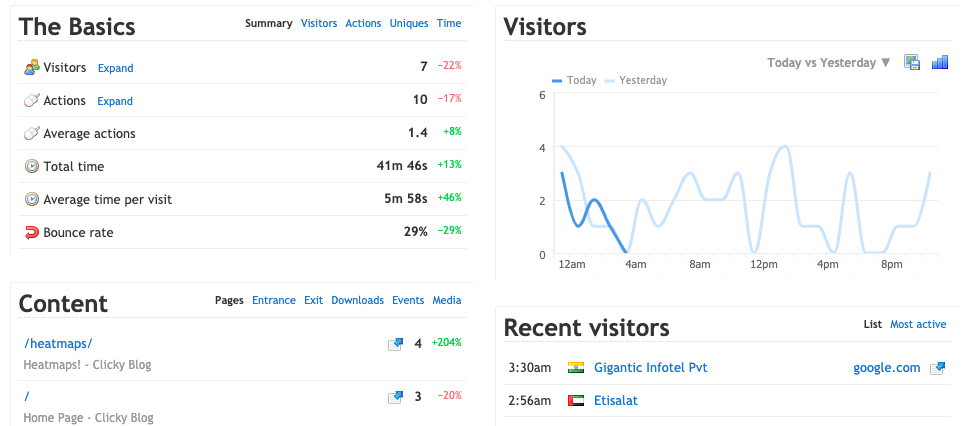 Spy Tool 
True to its name, this tool provides real-time data like the total number of visitors on your site, along with each visitor details such as their IP addresses and geo-locations, or the browsers and the operating systems they are using.
Stats Widget 
The above information can also be clicked and viewed through a small stats-widget placed at the bottom right corner of the website you are tracking, and is only visible to you when you are logged in to Clicky.
(You may however choose to disable it from the settings).
The on-site number displays the number of visitors 'currently' on your site. Upto 8 visitor details and their sessions, including top searches, domains, sources etc, can be viewed at once on clicking the on-site number.
The on-page number displays the number of visitors currently viewing the same page as you.
Both the pages get updated once per minute for 5 minutes, and then once every 5 minutes for an hour incase you are idle on the same page of your website.
Heatmap 
Heatmap is yet another powerful feature within Clicky that highlights the areas of a webpage, which are most frequently scanned by the visitors in real-time. They are depicted by colorful pixels on the stats-widget.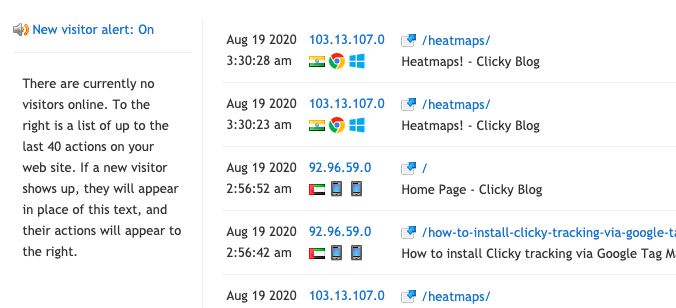 Clicky also provides heatmaps for individual visitor sessions as well as for segments.
Uptime Monitoring 
It's a unique feature that constantly checks your site status using multiple servers, and alerts you immediately incase your site goes down.
This enables you to take timely action to get the site back online and save your business.
Video and Twitter Analytics 
With Video Analytics, you can perform pause/ seek monitoring of your uploaded videos. This makes it easy to understand if your video is generating the desired interest within the people and/or which part of the video do they get stuck or bored.
Similarly, Twitter Analytics gives you a clarity on your presence on social media and is an extremely useful feature for customer service industries or businesses.
Mobile Apps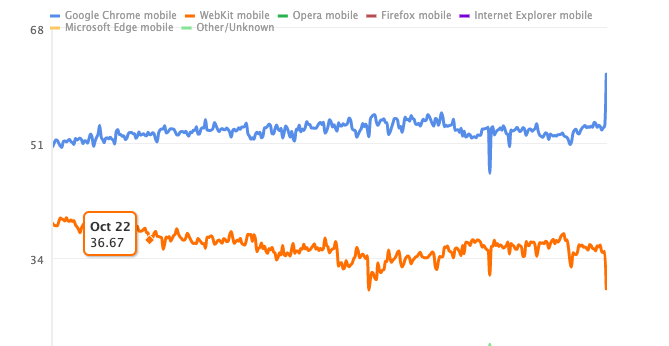 Clicky has well designed mobile apps for Android, iOS and Windows that constitute of all the features offered and enables you to check the stats on-the-go.
Email Reports 
Clicky Analytics is also capable of sending customized email reports that contains a summary of previous day's data for a particular site.
Clicky Analytics Vs Google Analytics
We will now do a brief Clicky vs Google Analytics review.
Unlike Google Analytics, Clicky has a simpler interface and is easy to navigate.
It has customizable dashboards for the homepage as well as for each site, and you may decide what you want to place on the display along with the choice of widgets.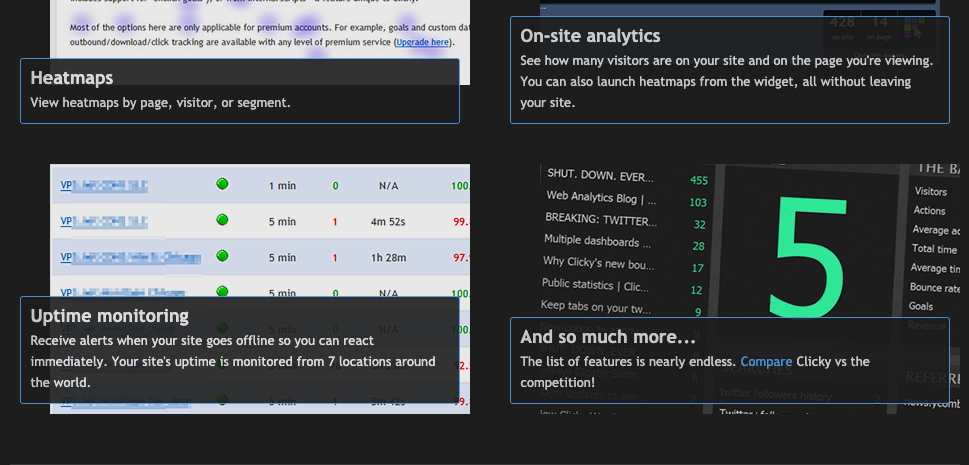 All the information you need is placed right on the dashboard and it's pretty easy for users or beginners to understand the labels.
Each report within Clicky provides real time up-to-the-minute details of whatever is happening on your site. This comes as a sharp contrast to Google Analytic stats, that are usually delayed by at least 24 hours!
Clicky even provides high level of details on every segment of visitors or what an individual visitor did, once they came to your website.
The refined high level of filtering process can be used to ignore visitors based on page URL / referrer / location / organization.
Such site specific filter or global filters can be applied to all sites through your Clicky account; a feature NOT available in Google.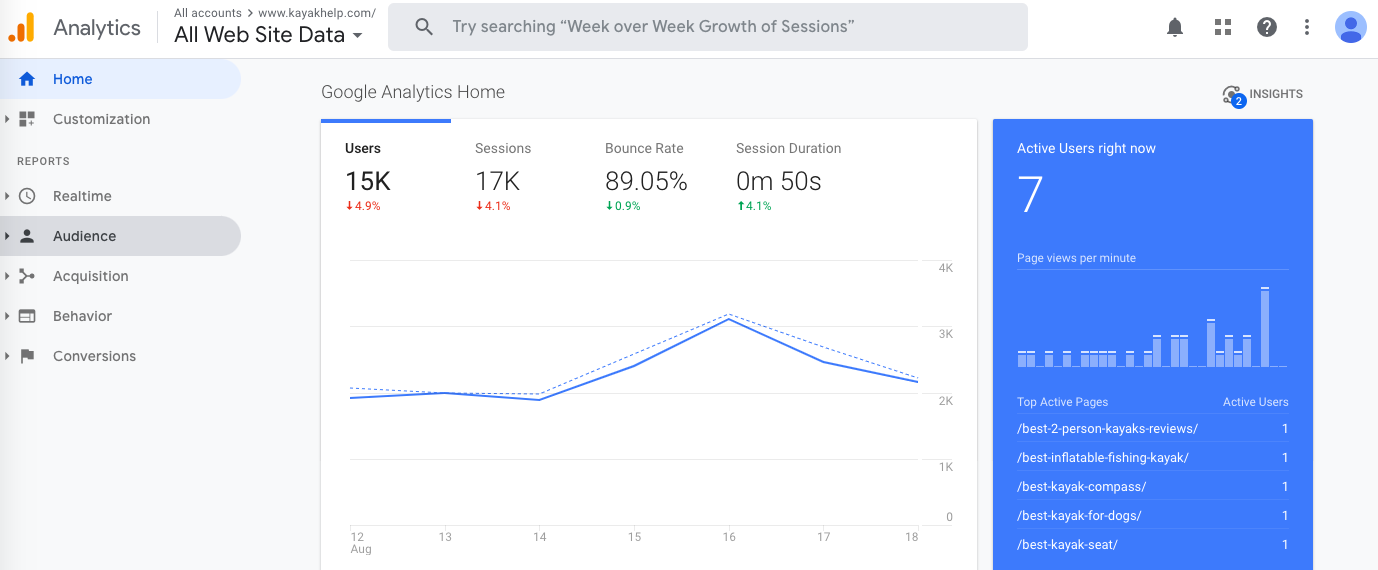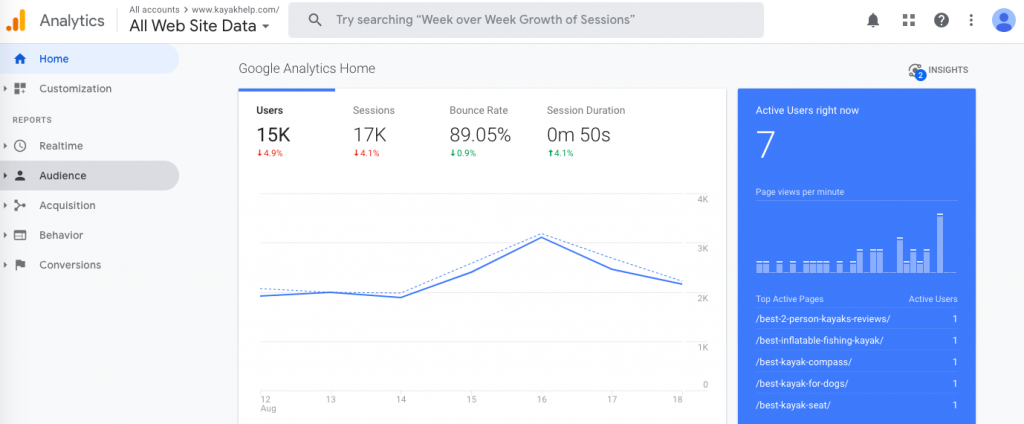 Unlike Google, Clicky doesn't have any footprints or identifiable script in its tracking code. It also caters for dynamic goals, split testing and sends out alerts through emails or mobiles.
Equipped with additional features like Heatmap, uptime monitoring, Google search ranking, Onsite analytics, Video or Twitter analytics, Clicky also has a better way of measuring the bounce rate as compared to Google Analytics.
Check Out : Best Google Analytics Alternatives
Clicky Pricing
Clicky pricing ranges from FREE to a monthly subscription of –
$9.99 (Pro)
$14.99 (Pro-Plus)
$19.99 (Pro-Platinum)
The FREE option is for tracking just one website. Premium features such as Heatmap and Uptime monitoring are available from Pro-Plus onwards and you can track upto 10 or more websites.
Customized plans are provided for tracking 1000+ websites and up to 10,000,000 daily pageviews.
All the new accounts are given 21 Days Free Trial of Premium Services that include all the features and you may track up to 3 websites.
Clicky Analytics Pros & Cons
Pros
Real time (up to the minute) reporting
On-site analytics shows the number of visitors currently on your site
On-site Heatmap for identifying spots with high volume of traffic
Has mobile apps for Android, iOS, Windows
No identifiable back tracking code
Cons
Wrapping Up – Clicky Web Analytics Review
So this was our Clicky web analytics review.
Clicky Analytics is definitely worth considering as a good alternative to Google Analytics.
With every new account getting 3 weeks of premium free trial, you can easily get a hang of how the tool works and upgrade your plan, best suited to your needs.
The user interface is way smoother and precise and all of the main stuff is pretty much listed on the dashboard.
The fact that the reports are generated in real time – down to the minute, certainly gives you an edge over your competitors to improvise your site for optimum benefits.
The scope of Clicky and its features are much more that obviously couldn't be covered in this review.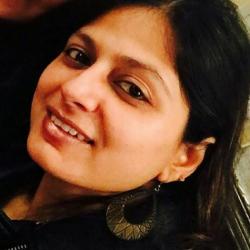 Author: Divya Dube
Divya Dube is an e-commerce subject writer at
Mofluid
. She loves to research and is an avid reader of technology, psychology and fiction. She is also a gadget freak, a traveller, loves chocolates & music and has an immense passion for writing.