DHgate is one of the most well-known online shopping sites and is popular for its B2B trade. It has over 2.2 million sellers worldwide and 26 million company and individual buyers.
Also, the website has 22 million product listings, and a transaction occurs every 1.3 seconds.
Ideally, the website connects the buyer with the vendor so that the buyer can purchase items at discounted rates.
Although DHgate handles the transactions, you'll still interact with the vendor when you purchase a product from the marketplace.
You can easily add the products you desire to your cart on the site, whether you're purchasing wholesale or retail. Some of the products you'll find on the site are electronics, beauty, fashion, home gardens, cars, motorcycles, etc. DHgate provides dropshipping too. All you need is to sign up with them.
However, DHgate comes with a couple of limitations. For instance, most suppliers are situated in China, meaning longer delivery times, especially for overseas purchases.
There are many complaints from buyers concerning their return and refund policy. Many claim that DHgate takes too long to address cases if you received a damaged product.
To help get around these concerns, I've come up with a detailed list of 10 sites that work similarly or better than DHgate.
Let's take a look.
Best Sites Like DHgate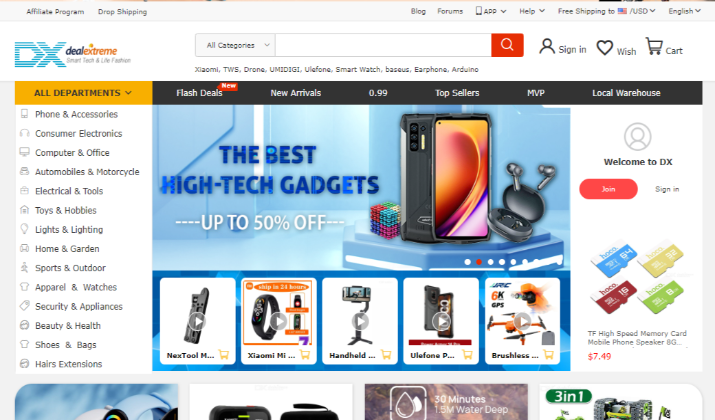 DX is one of the greatest online markets if you're looking for cool gadgets. It is one of China's first direct business-to-consumer eCommerce shops, and it remains a market leader today, with over one million buyers and 3000 suppliers.
It offers one of the industry's most extensive catalogs of over 1000 sections and 210,000 goods. Some of the products you'll find on the website include computer & office, video games, phones, beauty, health, technological equipment, toys, and more.
The site provides Express Mail Services at reasonable prices to assist you in monitoring your order if you want your package delivered more quickly and securely.
Compared to DHgate, DX provides cheaper costs on high-quality items. Its specialized staff ensures that the business updates its website daily with new arrivals.
This free site has a sophisticated IT system with the capacity to handle large volumes of transactions daily, and the system completes an order every 10 seconds. The site also offers secure payment options to ensure user security for all online consumers.
If you have any questions concerning eCommerce, buying guides, or what the new product is in the market, don't worry. DX has a blog section that offers a wide range of articles that will give you answers. Besides, it also has a forum section where you can interact with other buyers or sellers.
The site supports more than 14 languages including English, Spanish, French, and more. It's up to you to switch to your favorite language and navigate the site easily.
DX improves its shoppers' experiences by offering weekly discounts via its Facebook fan page, where you can save 10% on various items. Not to forget, if you are an Android and iOS user, you can download the app from their primary stores.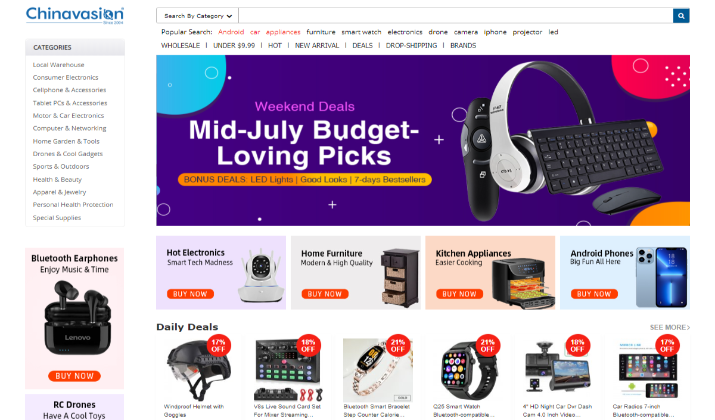 Chinavasion is a site like DHgate that focuses on global eCommerce. The platform is dedicated to giving wholesalers and retailers top-notch goods and courteous service.
Even though it first began as an electronics hub that serves B2B and B2C customers and Chinese suppliers, it has enhanced its systems to serve a wide array of retailers and suppliers better while providing them with reliable products.
Chinavasion gets its electronics from reputable Chinese manufacturers, ensuring good quality. Additionally, the business does product inspections on every order to ensure that all items adhere to the highest standards.
It has access to top-tier supply chains, giving them a competitive edge and pricing independence while still offering high-quality, cost-effective products. This ensures that the costs are lower than those of any other website on the internet.
Chinavasion offers quick and simple shipping to over 200 countries through collaborations with several experts in international shipping services. Its shipping team ensures that all the information is correctly entered to ensure quick delivery to any location. Moreover, you'll receive tracking numbers for shipments as soon as they leave their warehouse
The platform accepts a variety of safe payment ways, including PayPal and credit cards. Its risk management system protects your payment security.
At Chinavasion, your information is completely protected; Digicert SSL encryption provides security for the Chinavasion Servers.
All products that the company sells come with a three-month warranty. If your product is broken, you can send it back for an evaluation and free repair.
By signing up for the Chinavasion Affiliates Program, you can make money from the site by earning an eight percent commission on any orders done by new buyers you introduced to them. This puts Chinavasion above DHgate.
When you enroll in Chinavasion's membership program, you'll be permitted to take advantage of its savings and attractive offers. With the company's reliable drop shipping services, you can launch your electronic business right now and advance significantly along the path to entrepreneurship.
Like many other online shops, Chinavasion comes with a blog section that assists you in reading articles and understanding topics related to eCommerce and products.
Their courteous and competent customer service agents are accessible through live chat and email. They typically respond to customer inquiries within one business day.
Also Read: Wish vs AliExpress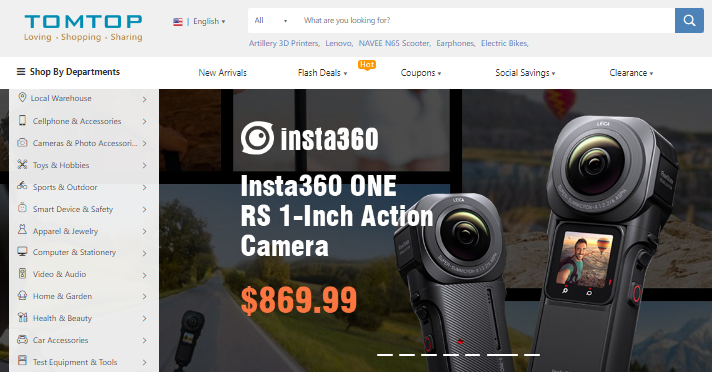 Tomtop is a free, trustworthy retail and wholesale online store offering a wide range of high-quality products at competitive prices and with free coupons. The site has a mobile application you can get free from either the App Store or Play Store.
It specializes in various products, including video games, computer and cell phone accessories, apparel, jewelry, home and garden goods, media players, automobile accessories, RC models, and more.
The site is incredibly user-friendly and simple to use. You can easily locate any product you need on the site using the search bar options. Also, scrolling through categories like top sellers, new arrivals, or looking for a specific item in the clearance area, will help you search for any item you want.
If you are looking for new products in the market, this site won't disappoint. The Tomtop team keeps the product list updated. You can expand your business by enrolling in their dropshipping program, which is simple to register compared to DHgate.
Tomtop is known for selling all quality products. It has established a technical quality control department, which subjects all items to rigorous verification in its store before shipment. You can return most products for a refund or replacement within 45 days after receiving them.
In addition, given that Tomtop accepts PayPal payments, you can return your purchase and be sure to receive a refund through PayPal.
Besides being an online shop, the site offers helpful articles in its blog categories. The articles can help you decide on the products you intend to buy.
Also Read: Worldwide Brands vs Alibaba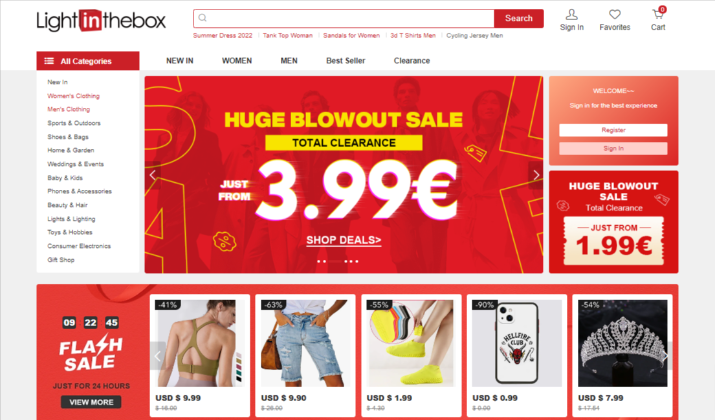 LightInTheBox is a free international online retailer that ships goods to customers worldwide. It has provided buyers with a simple method to shop for a diverse range of lifestyle items at competitive costs. Their product details are available in numerous major languages.
LightInTheBox sells items under the general retail and apparel categories. Other product categories are also available, including electronics, home and garden items, and many others. The site supports multiple secure payment options like PayPal, Discover, credit cards, etc.
In terms of product quality, the site is way better than DHgate. It supports ethical legislation and offers products that adhere to CPSC (Consumer Product Safety Commission) requirements. They have built a strong quality control system to ensure that vendors supply high-quality items.
Within seven days of receiving your order, kindly file a "Return or Exchange" ticket if you're unhappy with your purchase. They can negotiate a refund; however, you will be liable for the return shipping costs.
You can effectively earn money with the LightInTheBox affiliate program for any legitimate purchase made through your commercial or noncommercial channels.
You will receive an appealing commission off the purchase price when customers who find LightInTheBox through you make a purchase. You will be given all the resources and information required to promote LightInTheBox and increase sales.
They have unique URLs that you can use to generate traffic to track purchases and other activities. Also, you can download their mobile application from App Store and Play Store.
Also Read: Salehoo vs Doba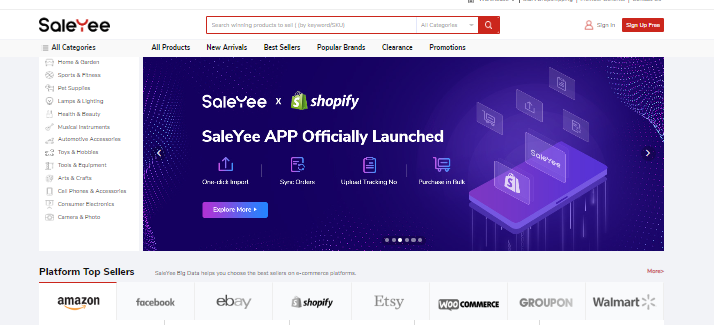 SaleYee is an international dropshipping and wholesale marketplace. It provides more than 30,000 successful SKUs of high-quality dropshipping items to international online retailers.
This site has video recommendations on dealing with dropshipping and eCommerce. Also, there is a section of best sellers. The site's team keeps it updated with the new arrivals every day.
Compared to DHgate, doing dropshipping with SaleYee is much easier. The platform will help you focus on marketing yourself to the fullest while it handles the inventory, delivery, or after-sales issues.
SaleYee offers a worldwide warehouse network, ensuring that your purchases can be shipped out quickly from its local warehouses and delivered to your clients quickly and at no additional cost.
You can choose and add its products to your store and activate order sync with the site, including stock or tracking number updates. Furthermore, they will handle your sales and deliver the products right to your clients.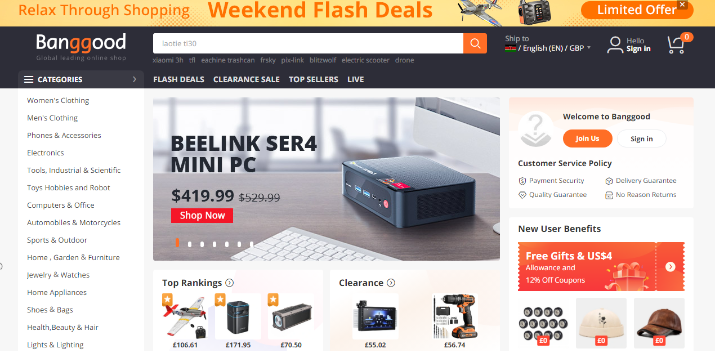 Banggood is another site like DHgate with a presence in North America, Asia Pacific, Europe, South America, and the Middle East. It offers more than 66 million registered consumers a wide selection of extremely affordable items.
According to App Annie, a reputable app analytics firm, the Banggood app is amongst the most Downloaded Online Shops in Europe in 2021.
Banggood has expanded to include up to 30 categories and a million high-quality items, ranging from electronics, home appliances, tools, sports equipment, and clothes.
Banggood accepts over 40 different protected payment options, ranging from credit card to cash on delivery, ensuring that your purchase is safe and easy.
In comparison with DHgate, Banggood can deliver purchases to you quickly because of their 37 worldwide warehouses and multiple deals with international shipping companies that make it possible.
If there are any issues related to quality, Banggood offers a quality warranty service. From the moment you get the items, the warranty period begins. Please, be aware that late requests won't be honored.
At Banggood, you can apply to become a dropshipping agent; just register and get started. Finally, the platform has a dedicated customer agent team to answer your questions seven days a week and twenty-four hours a day.
Explore the best sites like Banggood for dropshipping here.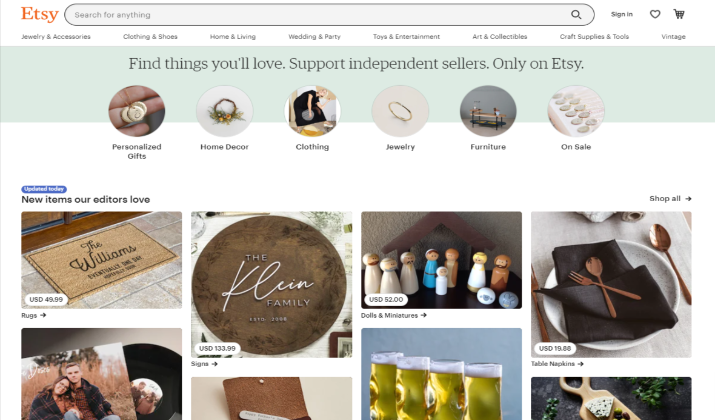 Etsy is a global marketplace for innovative products. Compared to DHgate, it features a vast collection of exceptional, fantastic items, including wedding accessories, art, old treasures, collectibles, and craft supplies.
Its goal is to retain human interaction at the core of trade in an era of rising automation. It has created a space for creativity. Etsy assists sellers in their community in turning their business ideas into profit. The platform links them with potential buyers.
Their search features assist you, the buyer, in discovering all the products listed by Etsy vendors. Additionally, their Editors' Picks include new trends and ideas that their staff has found in the industry.
It offers reliable security technology that facilitates communication and business between buyers and sellers.
Also Read: Etsy vs Depop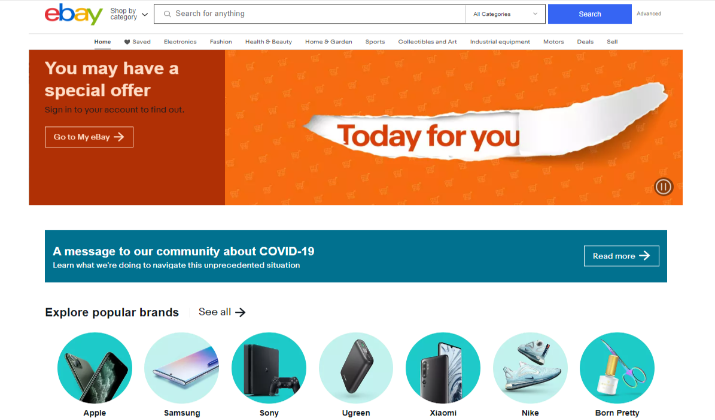 One of the most popular eCommerce platforms worldwide is eBay. It provides channels that link millions of suppliers and customers in over 190 markets worldwide. Its technology empowers customers, allowing them to develop and flourish in business.
eBay allows sellers to grow their businesses without barriers to entry regardless of geographical location, size, or background.
On eBay, you can purchase most of the items without creating an account, but you won't get member privileges. It guarantees a refund within 48 hours if you are unhappy with the goods, and there is no additional charge. Several payment options like Google Pay, PayPal, Apple Pay, and debit cards are all accepted.
As a buyer, you enjoy a personalized experience with unmatched product selection at an incredible value.
You can locate the right product on eBay for a reasonable price because of its enormous inventory.
Due to the existence of eBay's Verified Rights Owner Program, proprietors of (IP) intellectual property rights can report listings that may violate such rights. DHgate doesn't provide such a feature.
With eBay, you can expand your business and access millions of prospective buyers. They provide effective tools that you can use to monitor sales, handle orders, and develop your brand.
When you sell something on eBay, you will get paid immediately into your bank account; payments are quick and safe.
As a seller, you can expedite operations by having access to everything you want in one location, including shipping labels, aggregated fees, customizable reports, simplified safeguards, and, if required, tax documents (Form 1099Ks).
You can manage your inventory, reconcile transactions, and give refunds if you use third-party solutions that interact with eBay APIs.
Also Read: How To Dropship On eBay With No Money?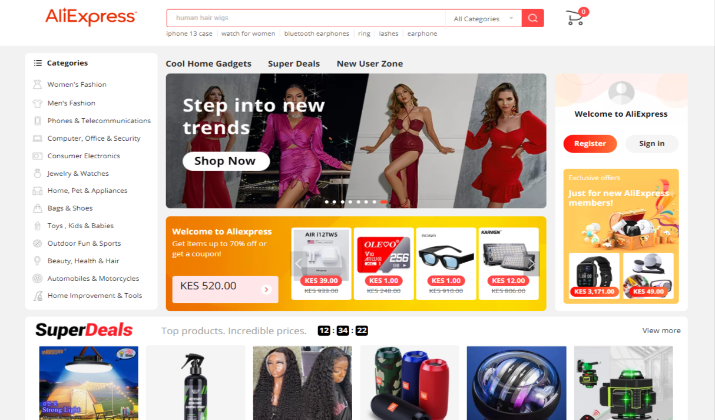 AliExpress is a part of the Alibaba Group and is one of the biggest eCommerce sites in the world that serves businesses and customers. Also, it is regarded as the top website for dropshipping services.
AliExpress is a retailer that distributes goods from China. Every day, new goods are added to the over 100 million already available, which makes its inventory bigger than DHgate. Therefore, it is your one-stop shop if you're looking for a difficult-to-find product.
You'll find products at affordable prices since AliExpress allows numerous sellers to offer the same product, increasing internal competition that ultimately benefits the customers.
It is simple to search for a product on the site because they are carefully segmented into categories and several subcategories.
It offers secure payment choices and a great buyer protection service. With several affordable and quick shipping options, they can deliver to more than 200 countries worldwide.
Also Read: How To Dropship From AliExpress To Amazon?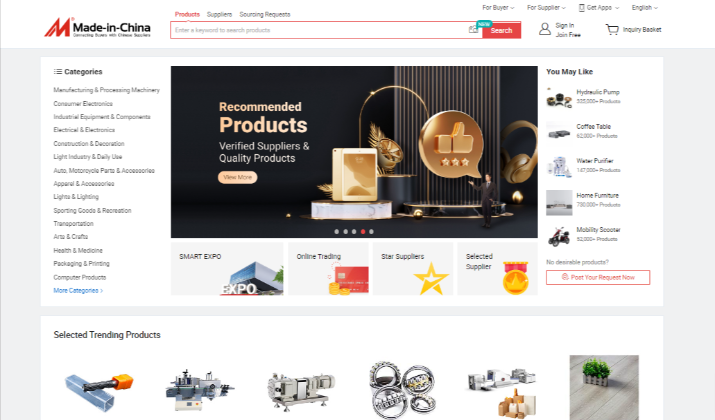 Made-in-China, a complete service platform for international commerce, is dedicated to identifying business possibilities for Chinese suppliers and foreign customers and offering one-stop services for fostering cross-border trade between the two parties.
Made-in-China has a bigger product listing than the 22 million at DHgate. The site contains over 40 million product listings from 27 industries. Additionally, Made-in-China offers a variety of ways for international buyers to source items depending on the diverse procurement requests from different buyers.
The top inspection firms in the world – Bureau Veritas, SGS, or TÜV Rheinland, verify all top suppliers on Made-in-China, on-site to lower trade risks for international customers. Buyers from across the world can access the suppliers' audit reports on the web to verify.
You can get its app on App Store and Play Store.
Explore: Best AliExpress Dropshipping Products To Sell
Conclusion
Our best DHgate alternative is AliExpress. It is a one-stop shop, meaning you can get what you want at a cheaper cost. The site has a huge collection of products compared to any other site.
It is accessible in over 200 countries globally and has a massive inventory across multiple industries.
If you have ever wanted to venture into drop shipping, this site has robust tools to make your dream a reality.

Author: Sam Zaman
Sam loves to write on technology & related stuff. Ecommerce, mobile and internet marketing equally drive her interest. Likes gardening and experimenting with new recipes. An avid reader and absolutely mad @bout donuts :)