Note: On our last update, we discovered that MagicAdz has shut down and will no longer be available for use. You can still enjoy the post or check out our latest publications here.
No business would survive without advertising. Not to mention, advertising can be costly as well.
The good thing is that you can advertise on a social media platform like Facebook with as low as $5. However, your competitors with big budgets may have better conversion rates than you.
Thankfully, with a social ad spying tool, you can spy on your competitors' social media ad campaigns.
While there are several social media ad spying tools out there, MagicAdz has come under our radar.
Hence, in this post, I will be reviewing MagicAdz, how it works, its pricing, free trial, available coupon, and in the end I will show you whether it has magic indeed.
To get started, I will answer the magic question – what is MagicAdz?
What Is MagicAdz?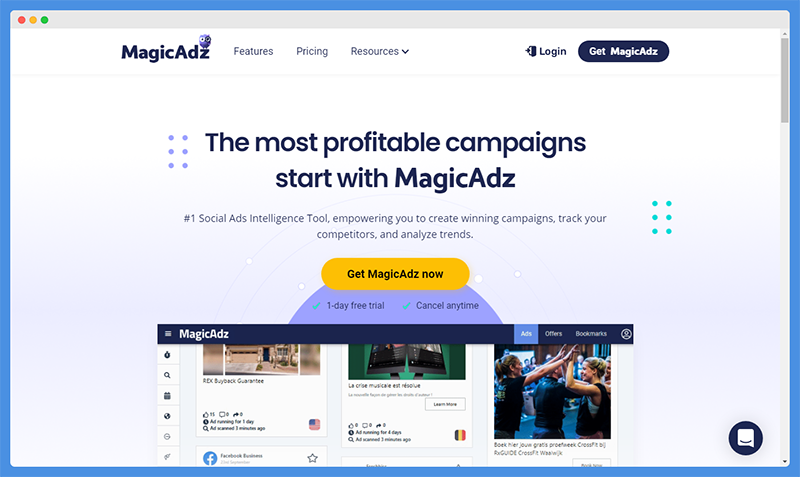 In simple words, MagicAdz is a powerful social ad spying tool that enables you to track your competitors' ads on Facebook.
It has an extensive database with ads from over 50 countries. In fact, MagicAdz scans Facebook daily for new ads which are added to its database.
On the other hand, it is quite easy to navigate on the MagicAdz platform due to its intuitive user interface. Some of its popular users include top marketing platforms like Mobidea, Media500, TrafficON, etc.
Interestingly, MagicAdz incorporates multiple search filters. Hence, you can search for ads based on engagement stats, keywords, offers, country, etc.
It also allows you to download your competitors' ads landing pages and modify them based on your preference.
Not to mention, MagicAdz seamlessly integrates with eCommerce platforms like WooCommerce, Shopify, Magento, Prestashop, BigCommerce, etc.
That way, you can locate ads by your competitors that utilizes the same eCommerce platform as you.
Unlike other social ad spying tools, MagicAdz incorporates robust functionalities for digital marketers, eCommerce merchants, affiliate markets, and affiliate network owners.
With MagicAdz, you can spy on your competitors' social ads in real-time without hassles.
Now, I will show you how to get started with MagicAdz.
How To Get Started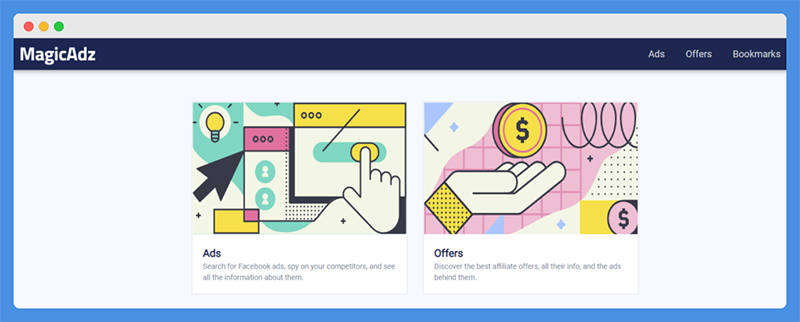 To get started with MagicAdz, you need to firstly decide on your preferred pricing plan. Although MagicAdz has a free trial, you will be required to enter your payment details(PayPal) before you can gain access.
After that, you can complete your registration within just 30 seconds and access your MagicAdz dashboard. On your dashboard, you will be prompted with two options – Ads and Offers.
Hence, if you're a digital marketer or eCommerce merchant, you can opt for the Ads menu. But, if you're an affiliate marketer or affiliate network owner, you can opt for the Offers menu.
As mentioned earlier, MagicAdz has features for digital marketers, eCommerce merchants, affiliate markets, and affiliate network owners.
Although getting started on Magic Adz is quick and easy, what's most interesting are the available features. We look at that next in this MagicAdz review.
Marketer Features
Digital agencies or marketers that manage ad campaigns for their clients can benefit from these MagicAdz features.
Ads Explorer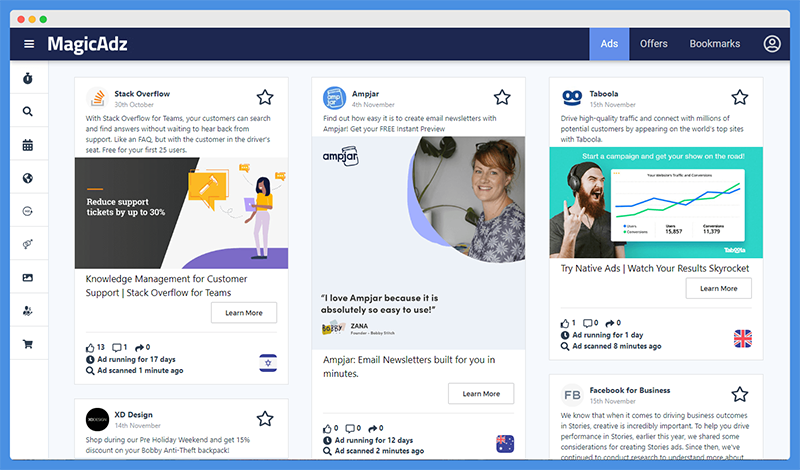 MagicAdz has a functional ads explorer tool that is tailored for digital marketers. It can help you to discover both old and new ads in your niche. That way, you can explore and learn from them.
As I stated earlier, MagicAdz has a broad database with millions of ads. As a result, when you access the Ads dashboard for the first time, only a few displayed ads will be relevant to your business niche.
Not to mention, it is a time-consuming process to browse through the ads to locate relevant ads for your niche.
Thankfully, at the left side of the dashboard, there is a tab with search options and filters you can use to discover relevant niche ads.
Ads Keyword Search
MagicAdz has a search box on the left-tab, which enables you to search for ads by entering a target keyword. Another advantage here is that you can identify other target keywords used by your competitors in their ad campaigns.
The tool doesn't just deliver results on ads that incorporate your search query, it also delivers landing pages results revealing the keywords and Facebook ads posts with comments mentioning the keyword.
Additionally, its keyword research tool allows you to search for keywords used in landing pages and keywords used by the audience in comments.
Thankfully, MagicAdz is a relatively fast social ad spying tool, so keyword research results are delivered within seconds.
Ad Filtering
Ad filtering is another feature that lets you sort the MagicAdz database conveniently to discover niche related ads. The filtering options located at the left tab are the primary way to sort the MagicAdz database.
There are several ad filtering options available. You can filter ads by most commented, most liked, or most shared. You can also filter and view ads within a particular time range and select your preferred ad type.
Also, MagicAdz supports demographic filtering that allows you to filter ads by their audience's country, gender, minimum or maximum age, and language.
Information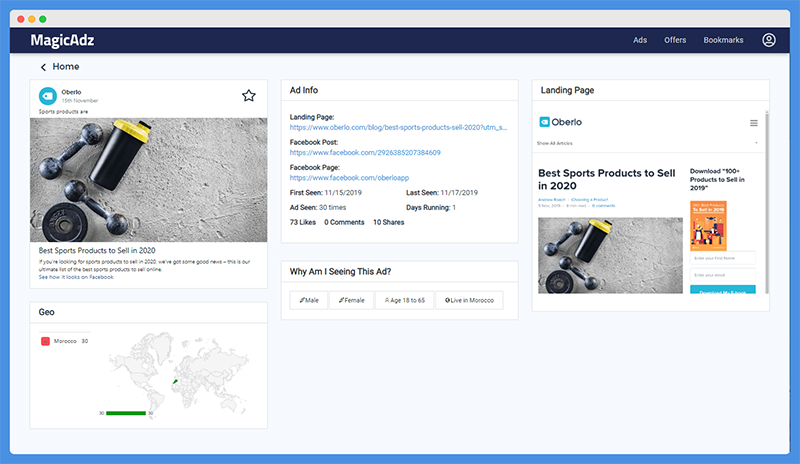 MagicAdz can provide you with comprehensive information for all ads in its database. The ad information provided by MagicAdz includes the ad landing page, post URL, page/profile URL, first seen, and last seen.
Other information consists of the number of days running, the number of times the ad was seen, and the number of comments, shares, and likes.
The ad info extends to demography as it provides details of the audience's gender share percentage, age, and location. Also, the tool will list out redirected paths, if any.
Hence, you can get insights on each ad's performance and statistics. To obtain information on any advertisement, simply click on 'Learn More' below it and this will open up a new page.
ECommerce Features
Ecommerce stores run ads on Facebook daily, more than other industries. Thankfully, MagicAdz has some exciting features for eCommerce merchants.
1-Click Filtering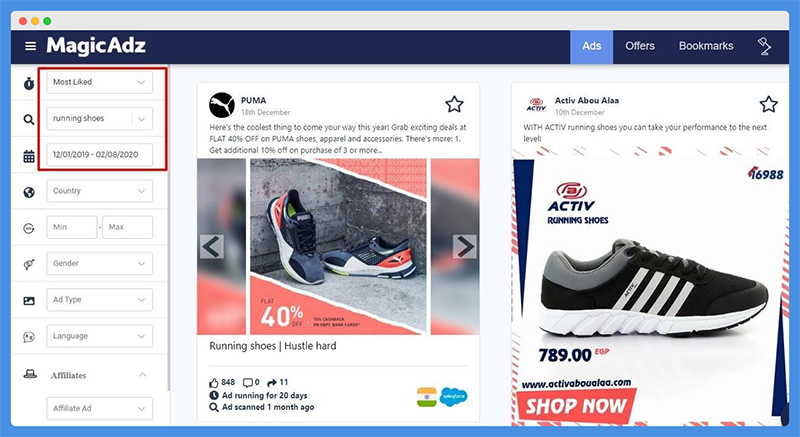 Among the millions of ads in the MagicAdz database are eCommerce ads from several platforms including Shopify, WooCommerce, Magento, BigCommerce, PrestaShop, Salesforce, etc.
As an intelligent social ad spying tool, MagicAdz can segregate eCommerce ads on Facebook by eCommerce platform from their landing pages and links.
If you run a store on any of these platforms, then simply select the eCommerce platform among the options and sort.
This gives you a list of several Facebook ads used by others who use the same eCommerce platform as you. To narrow down to a specific niche, you can set a target marketplace (country) or browse through using keywords.
Trend Analyzer
MagicAdz incorporates a Trend Analyzer tool that keeps you up-to-date on the latest advertising trends in your niche. In fact, you can analyze every eCommerce ad in their database.
When you analyze eCommerce ads, the result is similar to analyzing regular brand ads. As mentioned earlier, it also extends to demography, providing details of the audience's gender, age, and location.
Product Finder
Another exciting MagicAdz feature is its product finder tool. From the search results, you can identify the best selling products in your niche.
Most often, these best selling products are promoted by affiliate marketers. Hence, you have to switch from the Ads dashboard to the Offers dashboard to access this functionality.
Simply sort the displayed affiliate ads by your preferred eCommerce platform and country. Then, you will be provided with a list of product ads, so you can identify the best sellers based on their ad conversion rates.
Affiliate Features
For affiliate marketers, MagicAdz has four specific features they can utilize, which includes:
Offer Discovery
To be a successful affiliate marketer, it is best that you work with high-paying affiliate networks and offers. This is what MagicAdz can help you to do.
Just as you have access to millions of brand ads from the Ads section, there are millions of Facebook Affiliate ads in the Offers section.
These ads are mostly run by individual affiliate marketers and you can identify open affiliate offers from the most recent ads.
You can discover affiliate offers inside ads, comments, and landing pages by simply searching. Affiliate ads can also be discovered by searching the HTML scripts of landing pages and by redirect path.
As you browse through the available offers, you can bookmark any interesting offer for later usage.
Affiliate Filtering
When it comes to discovering perfect affiliate offers, MagicAdz enables you to filter affiliate ads using type or verticals. In fact, more than 22 verticals are featured.
Some of the featured verticals include health, insurance, investment, self-improvement, loans, muscles, skincare, credit card solar, sweepstakes, male enhancement, gambling, travel, CBS, Bizop, crypto, dating, diet, eCommerce, gaming, etc.
Therefore, affiliate marketers can discover cloaked, suspected cloaks, and uncloaked affiliate ads.
Landing Page Download
Unlike other social ad spying tools, MagicAdz enables you to locate affiliate ads landing pages. Plus, you can download landing pages as well.
Usually, competitors place security blocks to prevent others from spying or scraping their landing pages, but with MagicAdz, you can bypass such security blocks.
Nevertheless, you can download any interesting landing page and save it as a template for later use in your ad campaigns.
To ensure you don't copy your competitors' landing pages exactly, MagicAdz provides wide options that allow you to modify the page appearances easily.
Information
Just like brand ads, MagicAdz delivers in-depth information on all affiliate offers in the database.
The tool uncovers the affiliate network, landing page URL, language, first & last seen dates, number of days running, view count, number of shares, likes, and comments. For landing pages, you also get the statistics data, ad URL, ad page, etc.
There's an option to view all ads from a page. By clicking on it, you can identify all ads on Facebook that link to a particular landing page. Hence, you can uncover different ads being run by one advertiser.
Affiliate Network Features
As an affiliate network owner, MagicAdz can help you work with marketers and follow up on current happenings in your niche.
Affiliate AdSpying
As a social ad spying tool, MagicAdz is ideal for spying on affiliate marketers that promote products or services via Facebook.
Besides, you can search the entire MagicAdz database to identify the ads run by your affiliates and how they advertise.
Affiliate Finder
Here is a unique feature for new affiliate network owners. Since new affiliate network owners might have a hard time getting affiliate marketers to promote their services. In such a case, MagicAdz offers a solution.
From the MagicAdz database, you can find publishers and advertisers that you can work with. By using the provided information on latest affiliate offers, you can identify the best marketers.
Market Analyzer
With MagicAdz, you can run a market analysis of your niche and identify your competitors.
Thankfully, MagicAdz can compute a market share that gives you insight into your competitors' market control share. Such insights are paramount in decision making.
MagicAdz ThirdParty Integrations
As a straightforward Facebook ad spying tool, there are not many third-party integrations to expect from MagicAdz. Basically, MagicAdz integrates with Facebook to facilitate social ad spying.
Additionally, it also integrates with eCommerce platforms such as Shopify, Magento, BigCommerce, WooCommerce, Vtex, Prestashop as well as Salesforce.
Customer Resources & Support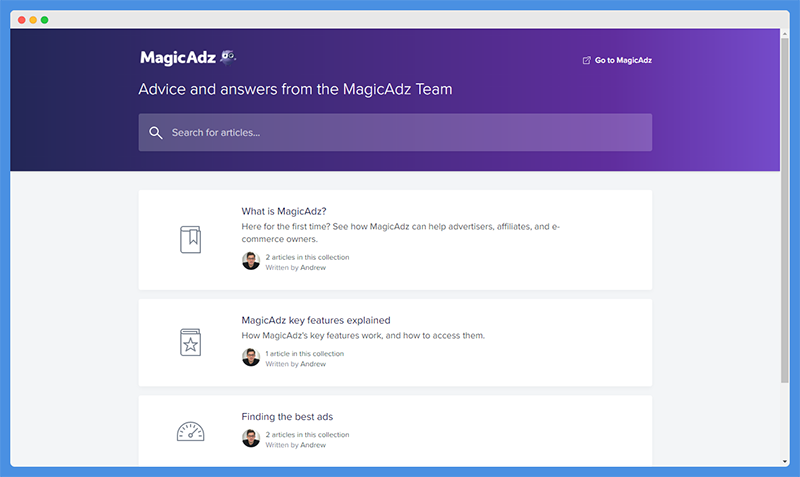 To get help while using the MagicAdz tool, the best option is the LiveChat.
The LiveChat is the only featured support channel to reach the MagicAdz team.
There's no phone, email, or contact form support, which is a significant drawback. Likewise, the LiveChat support is not so fast as replies might take up to 3 hours.
Meanwhile, MagicAdz features a learning center with guide articles on using the platform. However, the learning center is not very reliable, with just three sections and five articles.
For resources, MagicAdz has a blog, an FAQ section, and a few tutorial videos.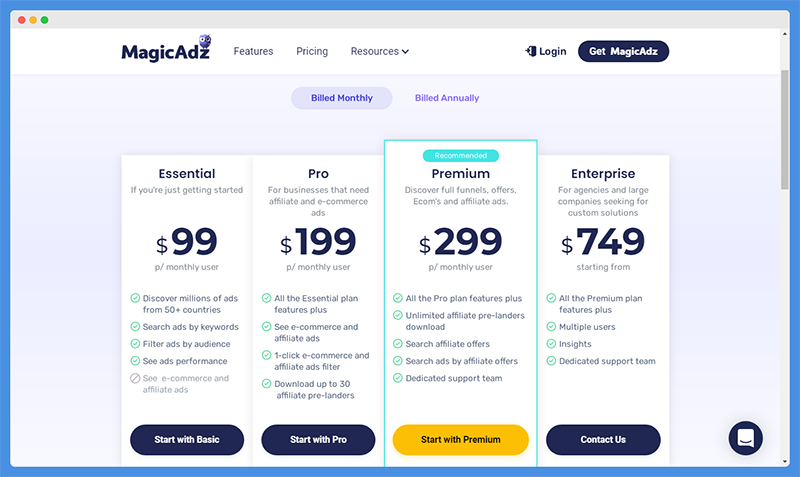 MagicAdz pricing has four plans.
Essential Plan – $99 per month for monthly payment, or $89 per month for annual payment
Pro Plan – $199 per month for monthly payment, or $179 per month for annual payment
Premium Plan – $299 per month for monthly payment, or $269 per month for annual payment
Enterprise Plan – Custom Pricing, starting from $749 per month
Note: MagicAdz's pricing plans are flexible, so you should check their official website for current pricing.
MagicAdz Free Trial
New users on MagicAdz are presented with a free trial. With MagicAdz Free Trial, you can test how the platform works before making a payment commitment.
This free trial lasts for just one day, and it is risk-free; but you'll be redirected to the PayPal login page.
MagicAdz Coupon Code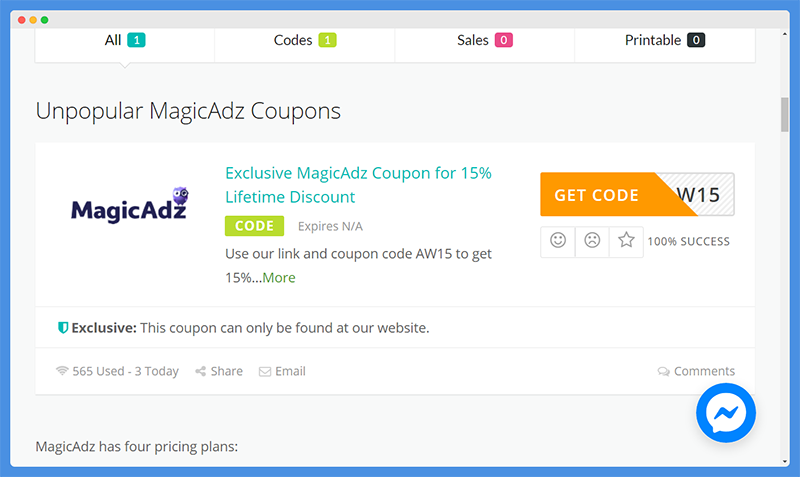 With MagicAdz coupons, you get several percentage discounts on subscriptions. Here are some working MagicAdz coupon codes:
AW15 – 15% lifetime discount
BLOGGINGECLIPSE – $50 lifetime discount
Is MagicAdz Legit?
In simple words, MagicAdz is a legit tool. As a valuable social ad intelligence tool, it is renowned in the digital marketing space, compared to tools like AdSector, AdSpy, etc.
If you're having doubts about the platform's legitimacy, you can gain access to its features via the MagicAdz free trial to confirm.
MagicAdz Pros & Cons
Pros
Beginner-friendly tool
Flexible use cases
Expansive ad database
Powerful search and filter tool
Cons
Expensive pricing plans, but worthwhile
1-day free trial
Best MagicAdz Alternatives
Truth be told, MagicAdz is quite expensive. Also, it facilitates only Facebook ad spying at the moment.
Well, in this MagicAdz review section, I'll be listing out the best social ad spying tools you can use as a MagicAdz alternative.
1. AdSpy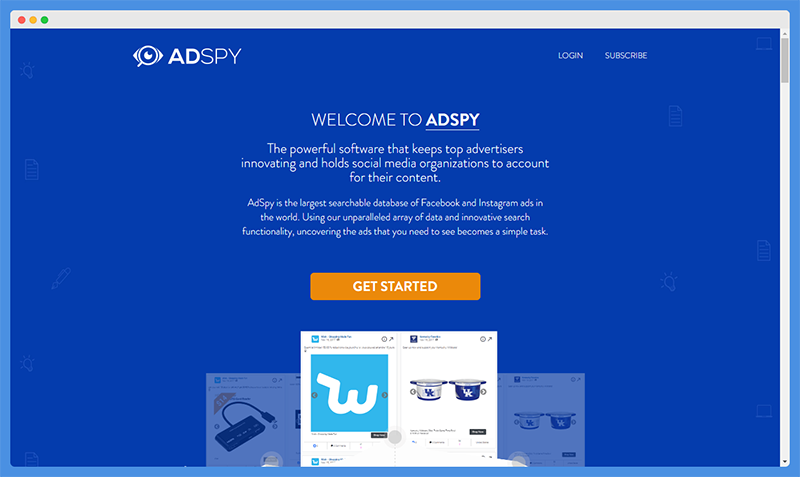 AdSpy is a social ad spying software. It takes a step above MagicAdz with support for Facebook and Instagram as MagicAdz is limited to Facebook.
Notably, AdSpy has a rapid interface and delivers results very fast than some of its alternatives.
The AdSpy platform boasts one of the largest searchable databases of Instagram and Facebook ads globally.
There are about 100 million ads in the database from over 200 countries, and close to 15 million advertisers. The software also works for affiliate spying too.
You can search on AdSpy using keywords and clear filters. Also, you can search through audience comments. With AdSpy, you are provided with the accurate ad audience demographics, including their age, gender, location, device, etc.
AdSpy Pricing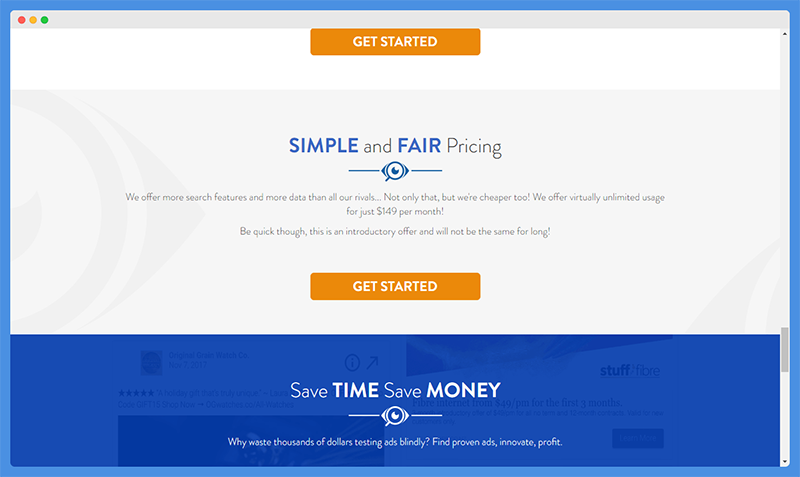 AdSpy features only one pricing plan, which costs $149 per month, for access to all its ad intelligence features.
It is relatively much cheaper than MagicAdz's major top pricing plans. If you're looking for a free tool with added flexibility, BigSpy is a good alternative to consider.
AdSpy - Get $50 OFF & a FREE Trial
Uncover the competitor ads you want to see. Largest searchable Facebook & Instagram Database. Unparalleled search functionality & more.
Special: Get $50 OFF Adspy & a FREE Trial ==>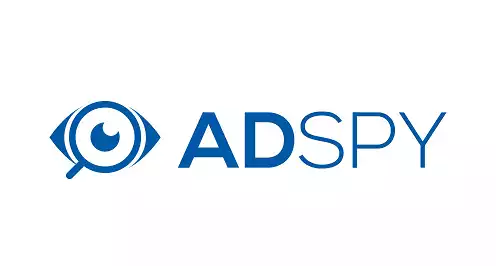 We earn a commission if you click this link and make a purchase.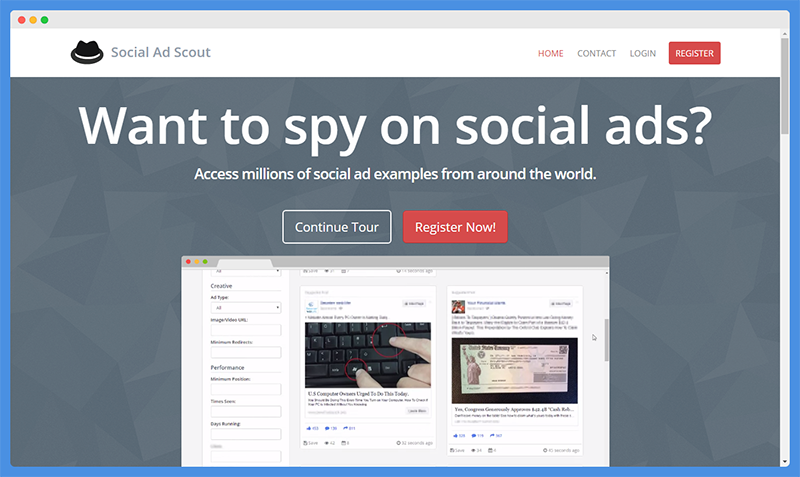 Social Ad Scout also enables you to scout ads on Instagram. It has a database with millions of social ads in over 21 countries.
Social Ad Scout features detailed search filters as you can search using text, URLs, redirects, ad type, location, etc. A detailed information breakdown can be gotten from each ad in the database, and you can interact with live ads.
The tool also works for identifying ad landing pages. You can download these pages, including any image, video, script, or style sheets.
Social AdScout lets you pay monthly, semi-annually, or annually.
Monthly Plan – $147 per month
Semi-annual Plan – $127 per month (charged every 6 months)
Annual Plan – $97 (charged every year)
Opting for the Social AdScout semi-annual and annual plans are ideal for saving money. You get to save $120 and $600, respectively.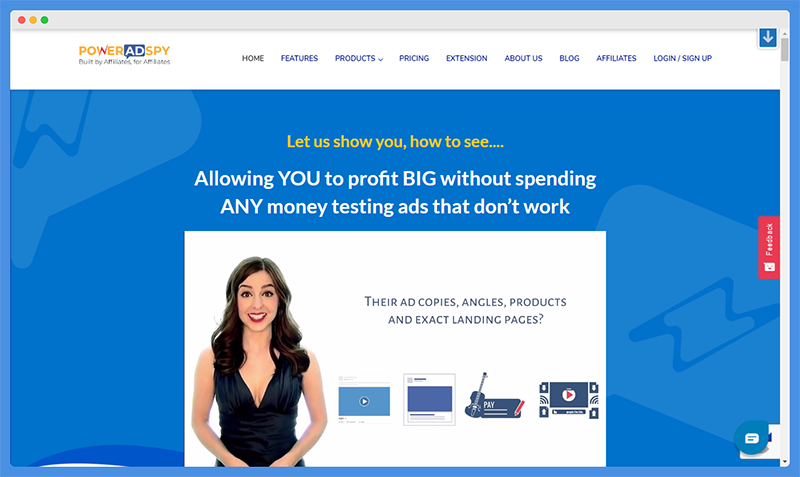 Like MagicAdz, PowerAdSpy is an ad intelligence and spying tool that focuses mainly on Facebook. However, PowerAdSpy also supports ad spying on Google, YouTube, Instagram, and native networks.
With PowerAdSpy, you can spy, copy, and implement other working ad strategies. The tool lets you uncover advertising data, including audience age, location, keywords, and niche competitors.
Furthermore, you can quickly sort through past and active ad campaigns and also discover their landing pages.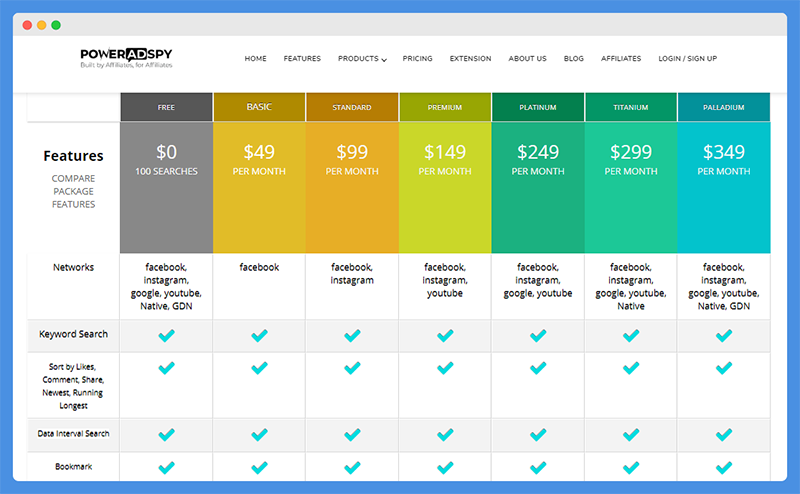 PowerAdSpy features several pricing plans, including:
Free Plan – $0 per month
Basic Plan – $49 per month
Standard Plan – $99 per month
Premium Plan – $149 per month
Platinum Plan – $249 per month
Titanium Plan – $299 per month
Palladium Plan – $349 per month
With its wide range of pricing options, PowerAdSpy presents more pricing flexibility than AdSpy and MagicAdz.

We earn a commission if you click this link and make a purchase at no additional cost to you.
Rounding Up
To sum it all up, MagicAdz is a magical social ad spying tool that allows you to identify and implement the best social media ads for your digital marketing strategies.
With this MagicAdz review, you should know what to expect before you sign up. Moreover, we've looked at MagicAdz features, pricing, free trial, coupon, and alternatives.
After going through this review, if you assume that MagicAdz isn't right for you, you can opt for any of the MagicAdz alternatives I enumerated.

Author: Sam Zaman
Sam loves to write on technology & related stuff. Ecommerce, mobile and internet marketing equally drive her interest. Likes gardening and experimenting with new recipes. An avid reader and absolutely mad @bout donuts :)