It's hard to not have seen social media ads. If you have a social media account then you've seen some, and maybe even clicked on them.
More so, this is 2021. It's the year that social media ad spend will grow by 20 percent to reach $43 billion in the US.
Regardless of their industries, businesses have come to rely on social media ads to generate leads. Hence, you'd benefit from a social media spy tool like BigSpy.
These platforms give you insight into the best ad strategies to use in toppling the competition.
In the review, I'll be analyzing BigSpy, which is one of the must-have social media spy tools for every online advertiser, online business owner, and digital marketer.
We'll have an in-depth look into how it works, its features, pricing, pros, cons and more.
Let's get to it.
What Is BigSpy?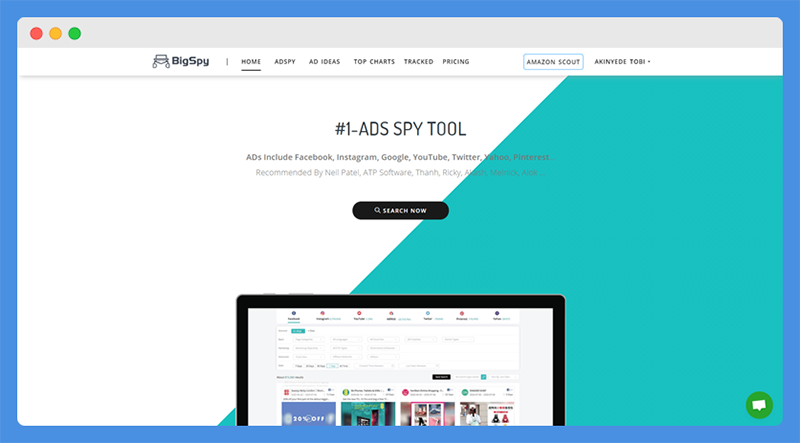 Headquartered in San Jose, California, BigSpy is primarily an ad spy tool. It helps businesses in designing marketing and advertising campaigns by exploring the ad strategy of their competitors.
Using BigSpy, you can track competition ads on channels like Facebook, Instagram, Twitter, Pinterest, Yahoo and Admob.

We earn a commission if you click this link and make a purchase.
How Does BigSpy Work?
BigSpy contains a wide range of ad templates that you can browse through and download. Also, with this platform, you can discover numerous ad inspirations that fit into your branding and requirements.
More so, BigSpy gives you ideas on how to start appropriate ad campaigns and promote your products. It also provides you with ideas on relevant and engaging ad texts to use for your marketing campaigns.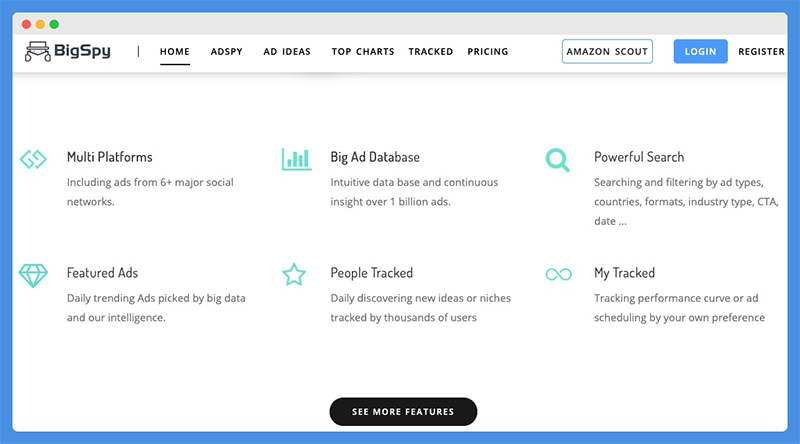 If you're into digital marketing and you're looking to compete with your rivals in this niche, then BigSpy is a great tool you can use.
The platform gives you relevant information on your competitors, the number of ads they are running, as well as how well those ads are performing.
Additionally, the platform has a feature that lets you track competitor's ads and also view the performance of those ads daily. This way, you spend less time searching irrelevant data and also don't miss out on the important ones.
The BigSpy platform is built to be accessible to numerous users, notwithstanding their level of technical savviness. Also, the platform has an easy-to-use and friendly interface that works similar to dating sites or social media platforms.
You can filter searches and results based on their age, location, and any other desired preference.
BigSpy As An Ad Spy Tool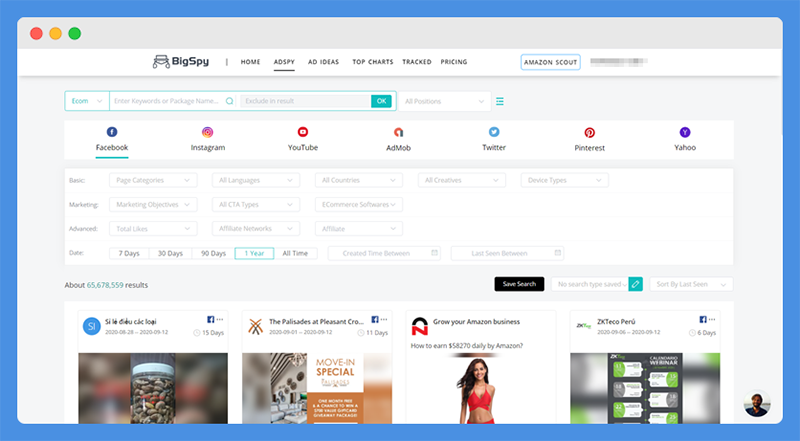 Let's say you want to spy on the top advertisers in your niche. First, you would have to register and activate your account on BigSpy.
Once that is done, you need to click on the "Search Now" option on the homepage that you need to click on.
Then, you can choose a preferred social media platform like Facebook.
Next, you need to enter your keyword and choose the social media platform where you want to run an ad.
After that, you can select your eCommerce software, call-to-action, marketing objective, country, language, ad page category.
If you are a newbie, it might be best to leave out the other filter options and just input the product you want to be analyzed.
From your selection, BigSpy generates results that fit your search terms. Once you've analyzed each result, you can then opt to see insights on the performance of a particular ad.
This insight also informs you of how likely your ad would perform once it's launched.
BigSpy For Ad Inspirations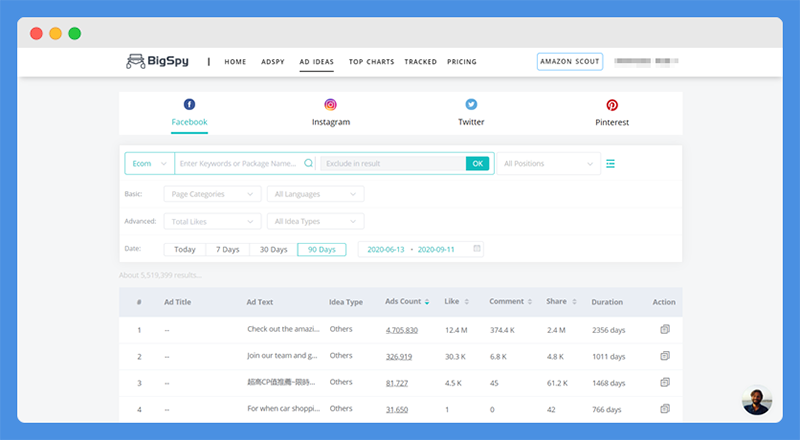 As mentioned earlier, BigSpy also gives you ideas on the right ads to use.
For instance, let's say you want to get ad inspirations on Facebook using a particular keyword. The platform generates several active and best-performing ads based on that keyword.
Also, you can check the performance of each ad based on engagement metrics like the number of shares, comments, likes, as well as the type of content being used, whether it is a video ad or just texts.
Even more, you can explore other third-party software and tools that integrate with the platform to see how BigSpy works first-hand.
BigSpy Features
Now, this is one of the main parts of this review. Let's go through some of the features BigSpy offers digital professionals and marketers.
BigSpy Ads Database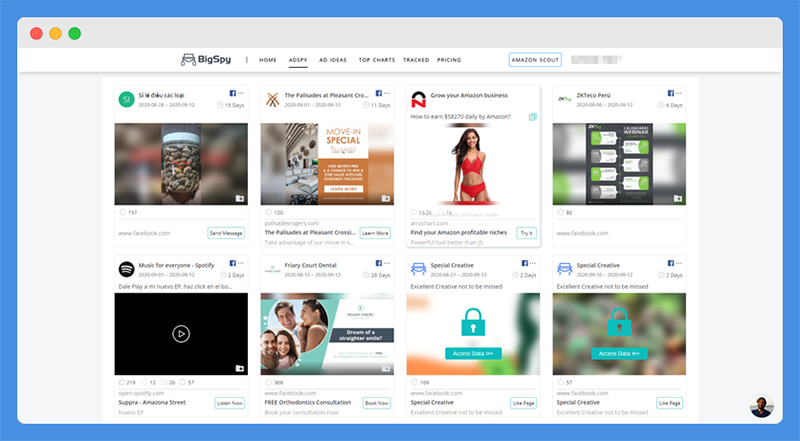 A massive and intuitive database is one of the highlights of BigSpy. With this database, you have access to competition analysis and market research, which are crucial to digital businesses.
For every ad you think of running, the software gives you insights on millions of active ads. More so, you have access to other business' ads, which serve as pointers to knowing what strategies work and those that don't.
This also gives you insights into advertising strategies and marketing trends, allowing you to harness relevant data.
You also eliminate the need for numerous testing and complex product research.
BigSpy Social Media Platforms Integration
This review won't be complete without talking about how BigSpy being multi-dimensional and integrates with top social media platforms.
You can choose any of Yahoo, YouTube, Google, Twitter, Pinterest, Instagram, or Facebook to get insights into the performance of ads on these channels before launching yours.
This feature eliminates guess works by letting you track numerous ads being run by your competition. You can also analyze the real-time performance of these ads across these social media channels.

We earn a commission if you click this link and make a purchase.
BigSpy People Tracked Ads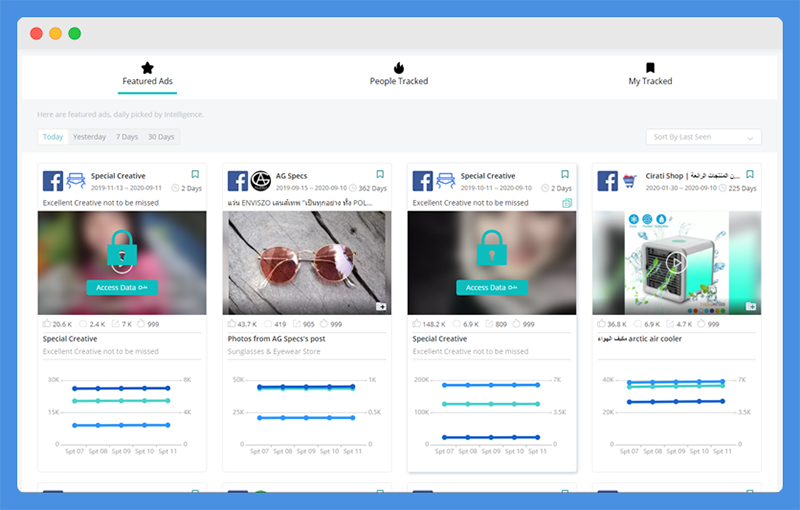 Asides giving you ideas on how to advertise, BigSpy has featured ads and people tracked ads search capability that lets you discover the most-viewed ads that people tracked. These could center around supplier services, brands, or products.
With this feature, you get ad ideas backed up by real-time data and social proof. You can monitor ads yourself as activities happen.
Also, BigSpy has a self-service model that regularly selects only trending or best-performing ads.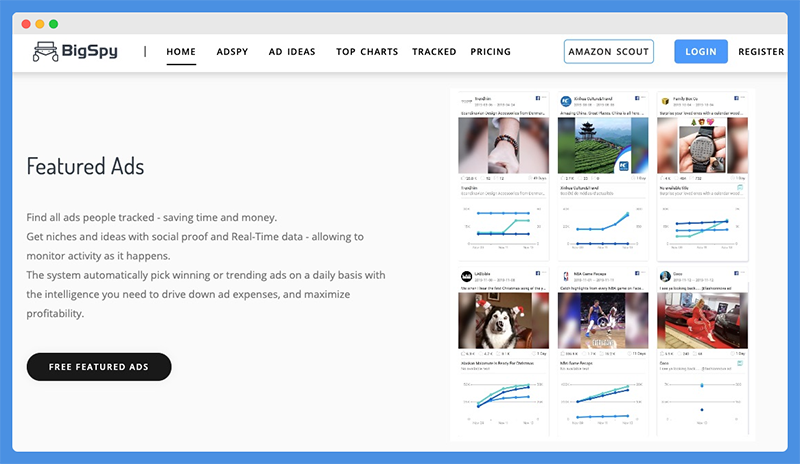 BigSpy Self-Tracking Services
With self-tracking capabilities, you can monitor your ads' performance as well as those of your competitors. Hence, you don't have to worry about how many views your products or market performance and growth.
The unique thing about this feature is that you can evaluate and analyze the result of your campaigns and that of other businesses in your niche.
Even more, you can track and download these comprehensive analytics for any of your active ad campaigns simultaneously.
With detailed insights into your campaigns, you can understand consumer's psychometric, identify market trends, and see how your audience reacts to different kinds of ads.
More so, you can compare video ads with text-based ads to identify the ones that work for individual products or services.
BigSpy Ad Ideas
The platform collects ads that other people have tracked. This way, you can peruse ads that people patronize and prioritize.
The BigSpy team amasses the best-performing ads and allows eCommerce enthusiasts and digital marketers to view the most-tracked ads. You get a glimpse of what is being used by competitors in your niche.
BigSpy Automated Search Engine
BigSpy has an impressive automated search engine that lets you search for templates easily.
Also, the platform makes use of age, region, age, and other demographics to give you relevant results that fit your requirements.
You can also filter your search by affiliate network offers and dates to get specific results on a daily basis.
The BigSpy search engine also filters searches by CTA, country of preference, specific items, and industry, to produce ads that can be used to tweak yours.
BigSpy Sorting Options
You can sort searched ads using multiple methods like Sort By Share, Sort By Comment, Sort By Like, Sort By First Seen, and Sort By Last Seen. The ads produced can be used as a reference to creating headline content and creative ideas.
BigSpy Dropship Spy
With BigSpy, you can search for products on the platform's Dropship Spy to see sales data in real-time. Also, you can access the details, revenues, and orders of emerging competitors and best-selling products.

We earn a commission if you click this link and make a purchase.
BigSpy eCommerce Store Spy
The platform indexes Shopify stores, as well as Facebook ads and pages. With the Store Spy, you can see data on your competition.
BigSpy also provides store analysis using an eCommerce dedicated website database. This gives you access to social metrics across sites, latest products, search and keyword rankings, visitor behavior, and traffic.
BigSpy Pricing Plans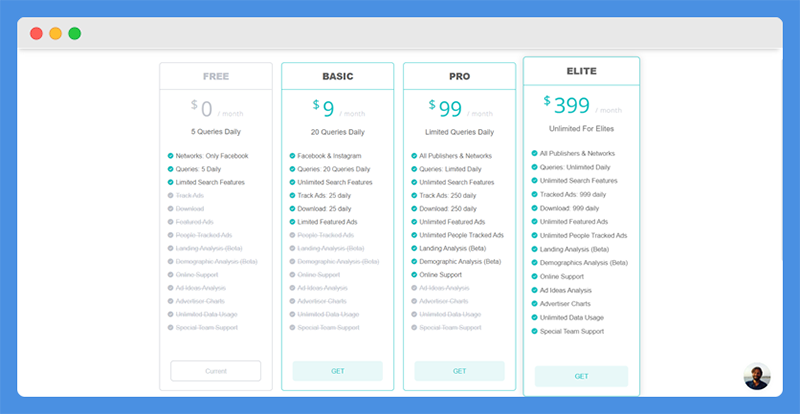 BigSpy comes with several pricing plans that you can choose from. The platform offers a free plan that gives you information on Facebook only with a maximum of five queries daily.
Asides the free plan, BigSpy has the following paid plans.
Basic
Starts at $9 per month for up to 20 queries daily
Information on Instagram and Facebook
Unlimited search features
Track up to 25 ads daily
Up to 25 downloads daily
Pro
Starts at $99 per month
Information on all social networks and publishers
Limited daily queries
Unlimited search features
Track up to 250 ads daily
Up to 250 daily downloads
Unlimited people tracked ads.
Unlimited featured ads
Online support
Landing page analysis
Demographic analysis
Elite
Starts at $399 per month
All pro plan features
Track up to 999 ads daily
Up to 999 daily downloads
Ad ideas analysis
Special team support
Unlimited data usage
Advertiser charts
Is BigSpy Legit?
In one word: yes, BigSpy is legit.
Here's why:
This adspy tool has been featured on Neil Patel, Cision PRWeb, Capterra, G2, Trustpilot, Clutch.co, and other authoritative platforms.
Although some users have complained of customer service irregularities, this platform has more positive reviews and experiences than negative ones.
According to Crunchbase, BigSpy is a privately held business that has 11 to 50 employees and a Crunchbase rank of 118,784.
Bigtools Group is the registered business entity behind BigSpy. BigSpy has its headquarters in San Francisco, California, United States. It launched on August 01, 2018. This software was rebranded from AdSpy Hub to BigSpy.
Data from SEMrush suggests that more visitors are using BigSpy and engaging with their website more. Look:
BigSpy's website enjoys more than 40,000 monthly visits
It gets 4.85 page views per visit, 28.52 percent bounce rate
The bounce rate of the site dropped by 43 percent drop over the previous months
Visit duration is almost 6 minutes on average
With all these factors in place, you can easily see that BigSpy is legitimate. More users are engaging with BigSpy, it's registered in the USA, and the platform has also been featured on reputable platforms.

We earn a commission if you click this link and make a purchase.
BigSpy Pros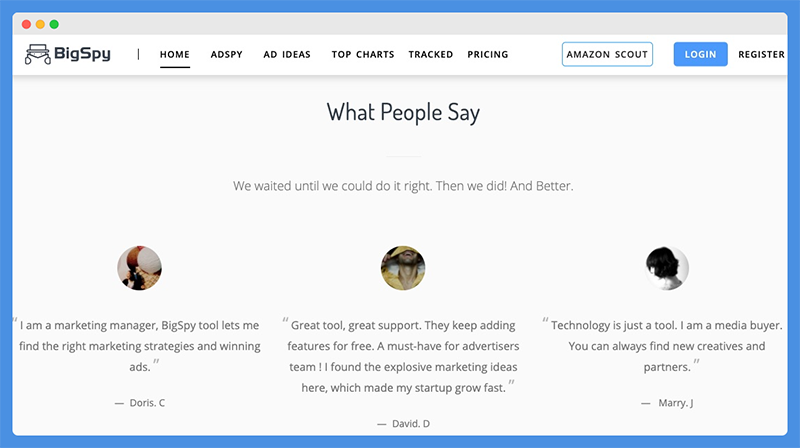 Let's take a look at some of the advantages of using the BigSpy platform.
Intuitive User Interface
The BigSpy platform comes with an easy-to-use interface for both novices and professionals. You quickly understand its different features and see how they work.
Also, the platform provides demos and tutorials on its homepage, which guides you on how to use the tool.
Comprehensive Ads Analysis
BigSpy has a robust database that comes alongside a simplified in-depth and filtering ads analysis.
The platform allows you to uncover data on the marketing activities for products you are interested in. This way, you can see how these products perform in the market.
Online Support
With BigSpy's online support, you can always get the assistance you need whenever you run into a snag while using the platform.
BigSpy Cons
Like any other platform, BigSpy comes with its own cons. Some of which include:
A Huge Gap In Pricing
Besides the free plan, BigSpy comes with three pricing plans, as mentioned earlier. The differences in these prices are quite huge.
However, one can say the pricing is perhaps fair considering the amount of information on ads analysis that you get compared to other spy tools.
No Money Back Guarantee
A lot of users want to have a guarantee that they can get refunded if they are not satisfied with the services offered by a platform. Unfortunately, BigSpy does not provide any money back guarantees.
So, if you don't derive satisfaction from the platform, there's no assurance that you would have your subscription fee refunded.
Limited Free Access
Though BigSpy offers free access, there are a lot of limitations. For instance, you can only test Facebook, and you have only ten queries, which might not give you enough information.

We earn a commission if you click this link and make a purchase.
Best Alternatives To BigSpy
When it comes to ad spy tools, you have numerous options aside from BigSpy.
Let's go through some BigSpy alternatives.
AdSpy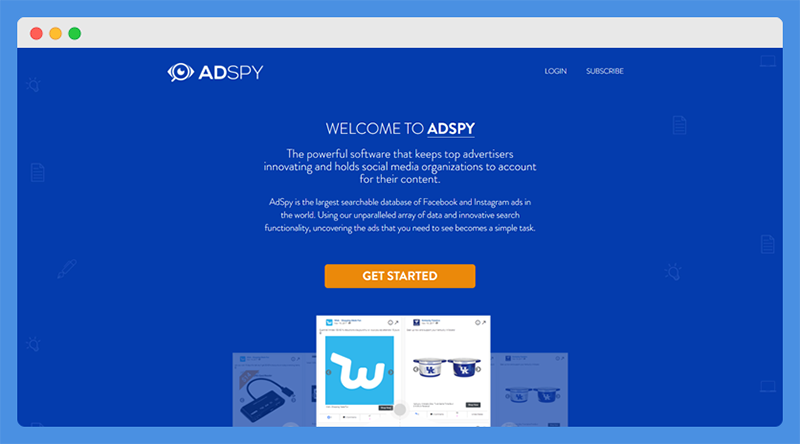 AdSpy is an ad intelligence tool that lets you find and study the campaigns of competitors in your niche.
With this platform, you have access to over 80 million ads across more than 100 countries and come in multiple languages. The tool has a massive database of ads from over 10 million advertisers.
This tool also has multiple search filter options that let you precisely target a competitor's campaigns.
More so, you can uncover Instagram and Facebook ads and use advanced filters to find ad types, landing page URLs, comments, and ad text.
Also, AdSpy can be used by affiliates to search based on offer IDs, affiliate IDs, and affiliate networks. You can easily spy on the sales funnels of your competition.
The tool also has a comment search option that allows you to use comments to search for ads.
This search can be done using relevant keywords. Plus, this allows you to verify ads' negative and positive feedback, and track your products and that of your competitors.
If you compare AdSpy with BigSpy on the basis of pricing, the latter takes a slight edge because of the free plan that it offers. AdSpy doesn't have one.
You can explore more AdSpy-like tools here.
AdSpy - Get $50 OFF & a FREE Trial
Uncover the competitor ads you want to see. Largest searchable Facebook & Instagram Database. Unparalleled search functionality & more.
Special: Get $50 OFF Adspy & a FREE Trial ==>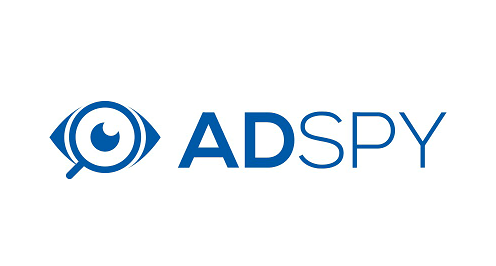 We earn a commission if you click this link and make a purchase.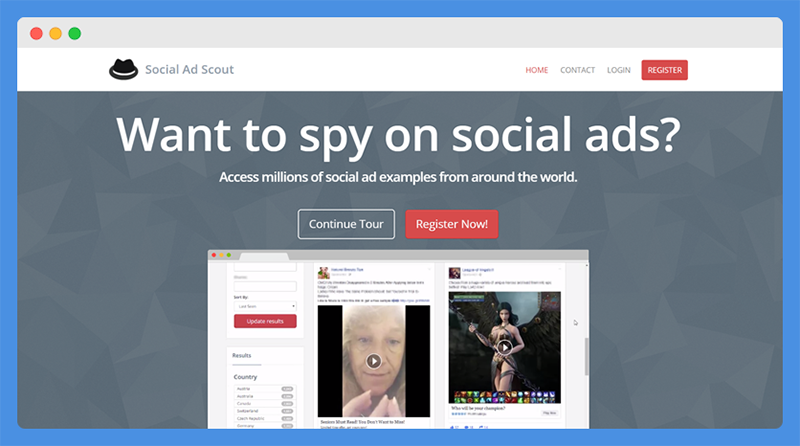 Social Ad Scout offers numerous search filters that let you target both mobile and desktop ad campaigns of competitors. The amount of data gives you an edge over competitors in your niche.
For marketers with desktop users as their primary target audience, Social Ad Scout provides information on best-performing ads on mobile devices from their competitors.
Additionally, this tool allows you to discover the demographics of your target audience. Plus, you can identify your target audience is segmented on competitor's ad campaigns.
This allows you to properly design campaigns that target that same market segment and demographics.
Online marketers can use Social Ad Scout to gather information on the targeting and segmentation options used by competitors.
Even more, you can run Facebook Ads campaigns using a detailed breakdown of audience demographics and targeting.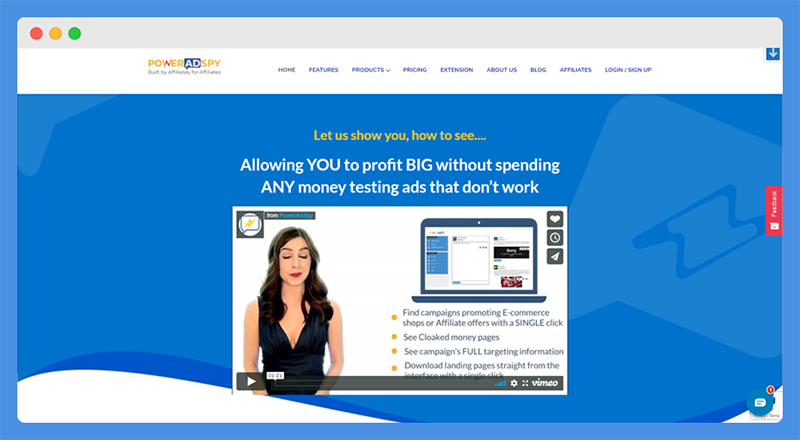 PowerAdSpy allows you to concentrate on social media ads. The tool gives you a breakdown of competitors' social engagements, URL for landing pages, last seen dates, down to their targeting options.
This information gives you an idea about the campaign strategies that work for the competition.
This tool can be used to spy on ads on other social media platforms like Google Ads, Instagram, Native Ads, Reddit, Google Display, YouTube, and Quora.
PowerAdSpy allows you to access information on the activities of your competitors on multiple social media platforms.
This gives you ideas on how to run campaign ads on these platforms. Plus, you can also learn about the strategies being used by your competitor on these platforms.
Additionally, this tool lets you easily find and analyze your competitor's sales funnel. Even more, PowerAdSpy offers a call-to-action filter that enables you to know what actions your competitors are asking their users to perform.
PowerAdSpy offers several pricing plans unlike AdSpy which only has a single plan. This means better flexibility for PowerAdSpy users.
Though there are many other ad spy tools like AdSector etc. in the market but these are some of the better ones.

We earn a commission if you click this link and make a purchase at no additional cost to you.
To Wrap It Up
The question now is, should you get BigSpy or not?
If your primary traffic source is social media platforms, and you need a social media ad spy tool, then BigSpy might be your best bet.
The platform offers you what most other ad spy tools provide as well. It has a robust ad database and comes with extensive search filters.
Though the ad insights can be improved, BigSpy gives you enough actionable data to make a converting ad.
Plus, there's a free plan for you to test out the platform and see if it matches your requirements before subscribing to a paid plan.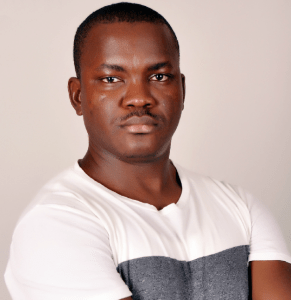 Author: Nicholas Godwin
Nicholas Godwin helps businesses tell profitable brand stories that their audiences love. He's worked on projects for Fortune 500 companies, global tech corporations and top consulting firms, from Bloomberg Beta, Accenture, PwC, and Deloitte to HP, Shell, and AT&T. Works with Mofluid these days.