Print on demand (or POD) is a fast-growing trend in the shoe industry. It allows you to create custom products for your customers without having to invest in expensive manufacturing or storage space.
This is because POD products are manufactured only when they are ordered by consumers. You can design your own shoes, customize them however you want, and get them shipped right to your customer's door all at a fraction of the price of regular retail stores.
Nowadays, there are dozens of companies offering everything from athletic sneakers to high heels and flats. You can even get custom-printed flip-flops!
But with so many companies out there, how do you know which company to go with?
We've got you covered. In this article, we'll give you the lowdown on all the best print-on-demand shoe companies, why they're awesome, what makes them unique, and how they can help you get started with your own POD shoe business.
Read on.
Also Read: Best 3D Print On Demand Services
Best Print On Demand Shoe Companies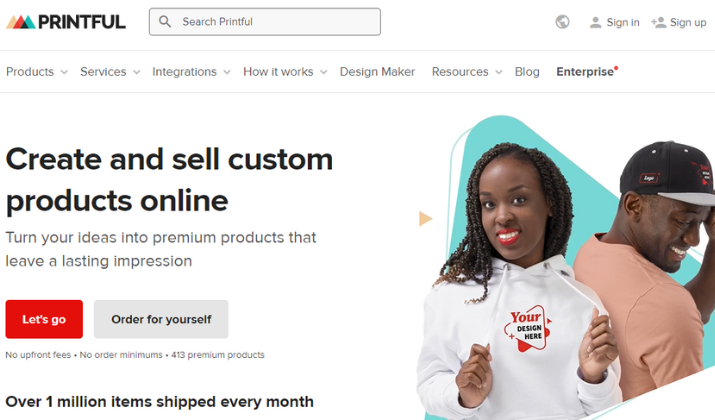 Printful is another great platform. Printful's website has a user-friendly interface that allows you to easily create designs for your products from scratch or use one of their pre-made templates.
You can upload images from your computer or take photos with your smartphone camera and add them to your shoe design with ease. You can also choose from a variety of color options for each product type, or add other decorative elements like lace or buttons.
Plus, it offers a wide array of materials, such as leather and canvas, and supports a variety of printing methods, including sublimation, direct-to-garment printing (D2G), embroidery, and cut-and-sew screen printing.
Additionally, Printful offers a high level of customization for an extra cost. For example, you can add your own logo to your shoes, packaging, and labels.
This means that you can get started selling your shoes without having to worry about setting up a website or doing any other marketing strategies on social media. They take care of all those things for you so that you can focus on making sure the quality of your shoe design is the best.
Printful had a couple of pricing plans earlier but very recently, they made the service free for all, that too with additional features.
So Printful is free to use. You only need to pay for the products, and shipping. Check out the pricing page for the latest on product and shipping costs.
Explore the best alternatives to Printful here.
Our Pick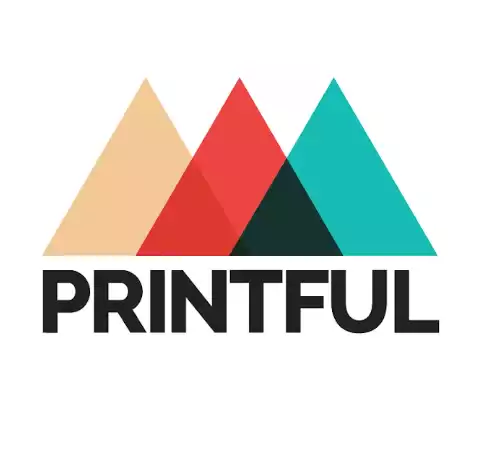 We earn a commission if you click this link and make a purchase.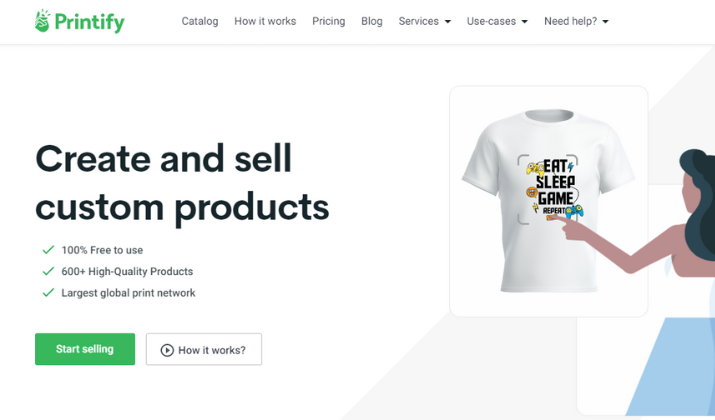 If you're looking for a company that will get your business up and running quickly, Printify is a great option. It's been around since 2015 and is one of the best-known print-on-demand companies on the market.
It combines an easy-to-use interface with super-affordable printing and shipping rates. Plus, as a seller, you can access an intuitive dashboard where you can track your profits and keep track of sales data.
There are more than 300 products available on their site, including athletic sneakers, high heels, flip flops, and more. They also offer a wide range of options for materials and colors, so you can easily customize any shoe to make it just the way you want.
It's worth noting that you can use Printify to connect with a large network of printing partners distributed around the world, which means that you don't have to worry about finding a printing partner near where you live. You can just work with whoever is closest to where your customers are.
This keeps shipping costs down and makes it easier for customers to order from you without having to wait long for their shoes.
Printify has three different tiers you can choose from: the Free plan, the Premium plan, and the Enterprise plan.
The Free plan comes with access to Printify's mockup generator, 24/7 customer service, and integration with third-party platforms like Shopify or Magento (and more).
It provides enough for getting started with your shoe business, but if you decide to go with the Premium Plan, you'll get more features and a 20% discount on all Printify products.
The Enterprise plan, geared at larger organizations, provides early access to new features, branded support, and more.
Also Read: Printful vs Printify

We earn a commission when you click this link and make a purchase.
Sellfy is a great platform for starting your own print-on-demand business because they offer a lot of quality services, and they're constantly working to improve their products.
The website is really easy to use, and you can design your shoe in minutes. There are a ton of color and material options, so you can get exactly what you want, and they also let you upload your own logo or artwork if there's something specific you want on the product.
The printing quality is also great: Sellfy uses a high-quality UV printer that makes designs last for years without fading or cracking. They also offer a variety of sizes and widths so no matter who buys your shoe, they'll fit perfectly.
In addition to that, Sellfy makes it easy to sell your shoes online by creating an online store that's built right into their platform. The interface is clean and easy to use so customers won't have any problems navigating your site while they shop around for their next pair of kicks.
The platform also offers an analytics tool that allows you to see how many people are looking at your designs and how many are buying them. It also gives you information about where people are coming from so that you can make sure that your marketing efforts are focused on the right audience.
Find out more platforms like Sellfy in this post.

We earn a commission if you click this link and make a purchase at no additional cost to you.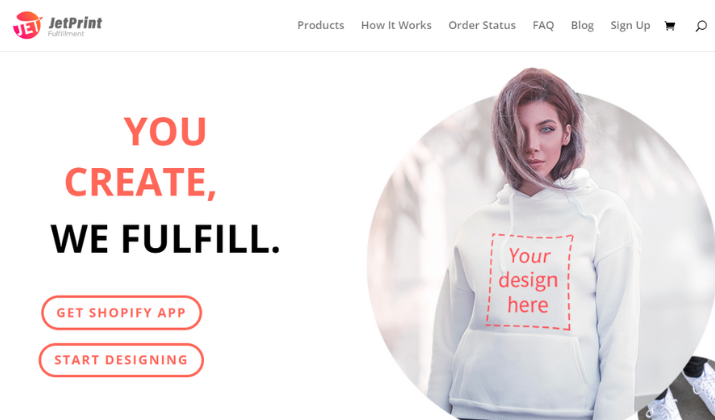 JetPrint has some great qualities that make it a viable alternative.
They have an extensive selection of shoes and accessories, with hundreds of styles available in a wide range of sizes and colors. You can choose from boots, sandals, flats, running shoes, and more.
When you examine their design process, it's clear that they care about quality. Everything is streamlined well, so you can see they're not trying to rush your order through or get it out quickly by cutting corners or rushing production.
Also, JetPrint's software is relatively easy to use; you can simply upload your own images or choose from an extensive library of designs that have already been created by JetPrint and other users.
Once you've chosen your image or created a new one from scratch, you'll be able to customize it further with any text you want on the sides of each shoe style.
The best part is that JetPrint will handle all the customer service stuff so that you don't have to worry about being available 24/7 or having to deal with customers who aren't happy with their purchases.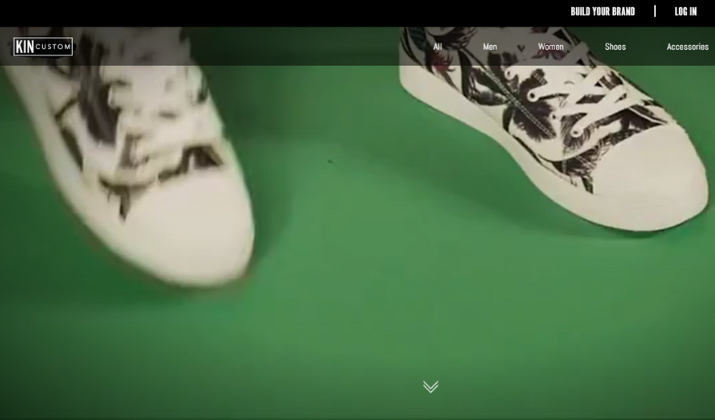 KinCustom is another great option because it's completely free and simple. It only takes about 10 minutes to create an account and start designing your product.
You can use any of their pre-designed templates, or you can customize your own shoe using their easy-to-use interface.Once you've created your product, you'll be able to choose from several different styles of shoes.
KinCustom's options include canvas shoes, sneakers, heels, running shoes, and flip-flops among others. You can also add text or images to make them even more unique.
Additionally, KinCustom provides zero-plastic packaging and 100%-recycled paper packing slips, which means your shoes will come to you in biodegradable materials that can be thrown away without hurting the planet.
Plus, they're committed to using renewable resources for all of their products, so you can feel good knowing that your shoe designs are helping keep our planet healthy for future generations.
The customer support team at KinCustom is also very responsive and helpful when it comes to answering any questions you might have about their services or products, which is another big plus.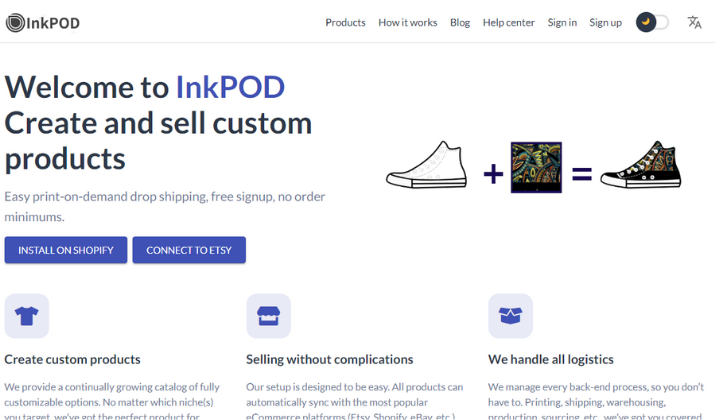 InkPOD has made a name for itself in the print-on-demand world by focusing on footwear. The company offers 40 different styles, from sneakers and heels to boots and running shoes in their catalog.
They also offer tons of different colors and patterns to choose from, and they provide a wide variety of templates that make it easy to create unique designs without having to start from scratch.
Additionally, InkPOD is capable of printing on all kinds of materials, including canvas, leather, and suede, which allows them to cater to customers who want something more than just a basic pair of shoes.
Besides, they use the highest quality inkjet printing technology available so your shoes will look exactly like they should. This means that your products won't fade or lose their shape over time.
What's more, InkPOD makes it easy for customers to buy their favorite shoes by offering free shipping and free returns on all orders within 30 days of purchase. And they have a quick turnaround time: they print all orders within 4-7 days and ship them out within 48 hours.
If you're just getting started with designing and selling shoes, InkPOD has an awesome customer service team who will help you get started on the right foot. They also have excellent resources for learning how to design shoes using their platform.
Furthermore, if you have an idea for a shoe but don't know how to make it happen, InkPOD's team of designers can help you. For an additional cost, they'll take your idea from concept to completion and create a beautiful product for you.
Check Out: Best Print On Demand Sites For Artists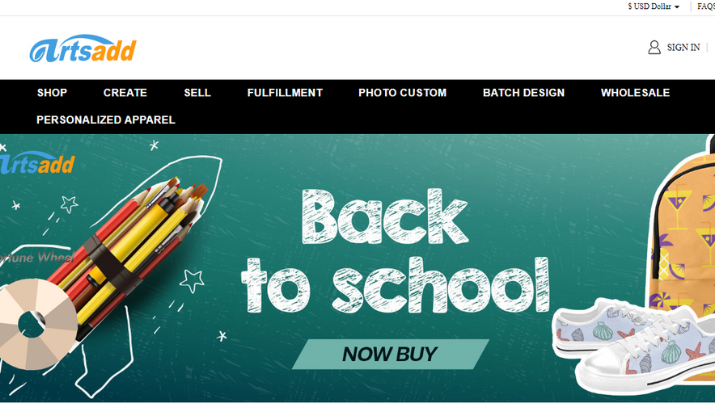 Artsadd is a great option for designers who want to sell custom shoes. It offers a selection of high-quality materials, and its prices are very competitive.
There are no upfront costs or monthly subscription fees. You simply upload your designs to their website, customize the product descriptions, and set prices for each shoe design.
Artsadd offers many different types of materials that you can choose from, including leather, canvas, suede, and denim. You also have a ton of options when it comes to finishing touches such as soles, linings, and insoles – you can even add studs or spikes if you want!
In addition, Artsadd offers a wide range of shoe styles, including flats, heels, boots, sneakers, sandals, wedges, and pumps. There are also options for men's and women's shoes as well as children's sizes so you can find something for everyone on your list.
Once you've published your products on their site, they will place them into their inventory for sale. When someone purchases one of your shoes, they'll take care of the rest.
Furthermore, Artsadd ships worldwide within 3-20 business days, so you can be confident that your shoes will arrive on time and in good condition wherever your customer is located.
Explore: Cheapest Print On Demand Sites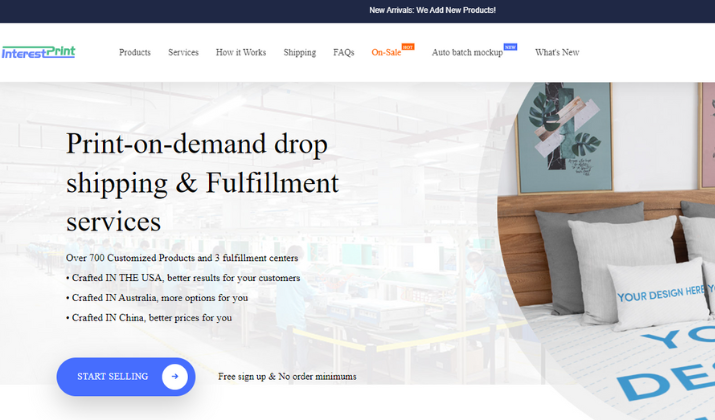 This is an awesome alternative to get your business off the ground. InterestPrint's site is easy to navigate, and they provide an easy-to-use ordering process that allows you to upload your own designs or create new ones using their templates.
They have a wide variety of styles and colors available, from classic black pumps to bright neon sneakers. Besides, all of InterestPrint's shoes are made from high-quality materials, including leather and suede.
They also offer a wide range of sizes, from US women's size 5 to US men's size 14, and you can sell your products through their website or through other marketplaces like Etsy, Shopify, or Amazon.
But what really makes InterestPrint a great alternative is their support for custom labels and pack-ins. They'll print anything you want onto the packaging of your shoes, so you don't have to stress about finding the right kind of boxes or bags for shipping.
Check Out: Best Australian Print On Demand Companies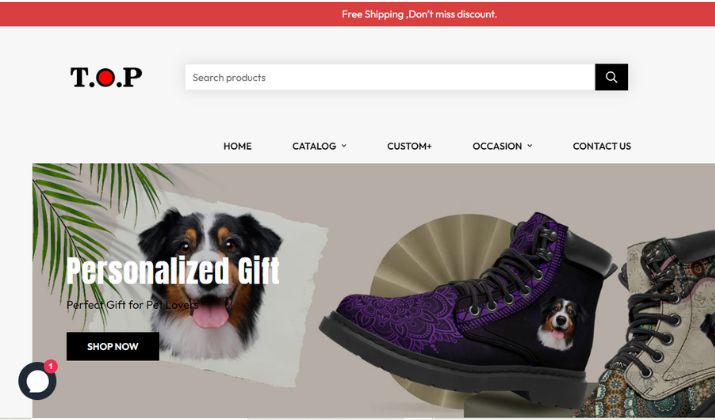 TopOnePOD is a fantastic platform to work with, and it's known especially for its attention to detail. All of their products are handmade and carefully designed by their expert shoemakers.
The best part is that they have everything from classic sneakers and running shoes to dressy heels and boots. You can choose from lots of different styles in a wide range of colors and materials, so you'll be able to find exactly what you're looking for.
The customization options are also great with TopOnePOD. You can choose between leathers and suedes, and there are even some synthetic options if you're looking for something more casual or sporty.
Additionally, TopOnePOD has a wide range of features that make it easy for you to set up your own shoe store, from creating designs to managing inventory, shipping orders, and even marketing your store.
You can integrate with major eCommerce platforms via an API, so if you're already selling products on Shopify or WooCommerce, this feature will make it easy for you to add shoes to your existing inventory.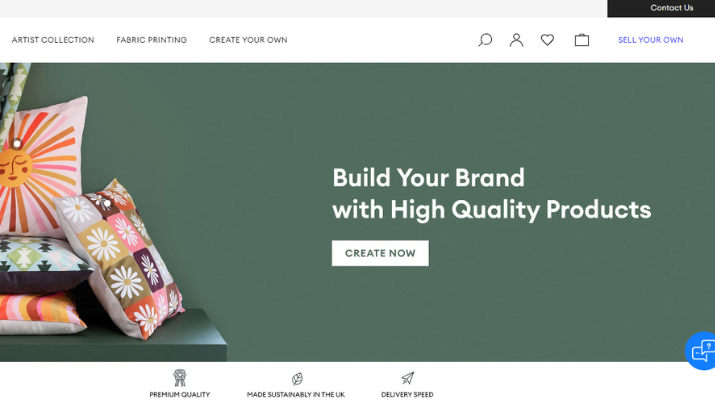 Another top print-on-demand site is Contrado. They have a large selection of high-quality shoes that are easy to customize and order, and they also offer a wide variety of materials and colors so you can get exactly what you want.
They have a solid selection of shoe types available to designers, including sandals, boots, flip-flops, running shoes, sneakers, slippers, loafers, and more.
One of the best things about Contrado is that they offer 20%-40% off on bulk orders for your customers, so you can keep your profit margins high while still offering your customers a great deal.
It's also compatible with Shopify, which means you can use the platform's built-in dashboard to sell your shoes on the platform and get them shipped out when you need them.
Also Read: Best Canadian Print On Demand Companies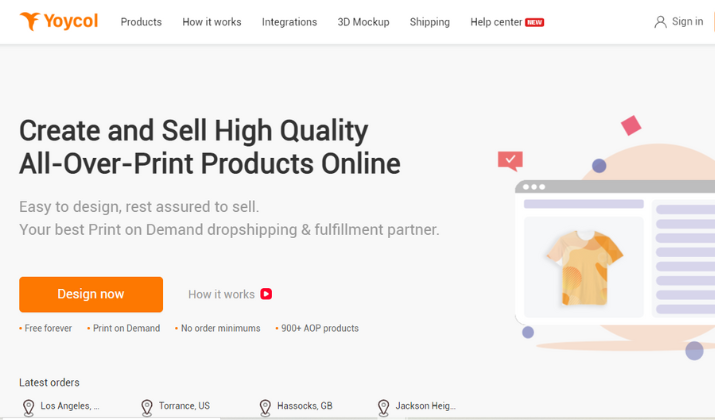 Yoycol stands out as one of the best shoe design platforms out there.
First and foremost, Yoycol offers 3D design tools that allow you to create models of your shoes in real-time. This means that you can see exactly what they'll look like before you commit to creating them, which is perfect if you're worried about making something that doesn't fit right or doesn't have the right look.
Plus, it's easy to use – even if you've never created anything in 3D before, Yoycol's tool will help guide you through the process and make sure all your designs come out just right.
Another great feature of Yoycol's platform is its advanced mockup generator, which allows customers to see a high-resolution image of their custom product from the website before.
This can also be used by businesses that want to show off what they sell without having an actual physical product in hand.
Explore: Best Print On Demand T-shirt Companies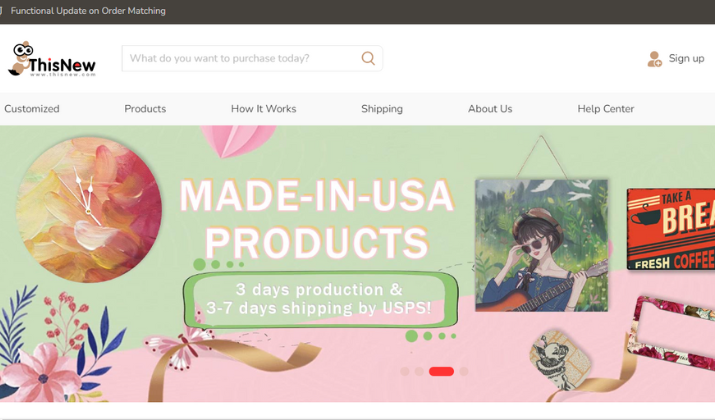 ThisNew is an online print-on-demand company that makes it easy for anyone to design and market their own products. They specialize in men's footwear, but they also offer women's shoes.
They have a wide range of affordable shoe templates that you can customize to fit your brand's style and aesthetic, and offer a wide range of customization options, including different patterns, colors, and textures for the upper fabric.
In addition, you can start selling shoes without having to invest too much upfront by signing up for an account as a seller. You'll get 20% off on sample orders so you can test the waters with them before committing to full production.
Check Out: Printify vs TeeSpring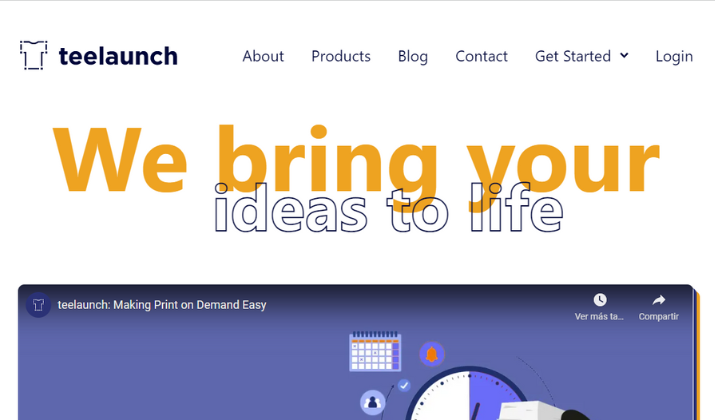 Teelaunch is definitely another option you should consider.
For one thing, their website is very easy to navigate, so you can find exactly what you need quickly and easily. You can upload your designs and customize them on the spot. And if you don't feel like doing that yourself, you can use their templates and just tweak them with your own text and images.
If you have a new idea for a shoe that doesn't exist yet but lacks the time to work on it, Teelaunch has a team of expert designers that will create it for you for an additional cost.
Furthermore, you can create a custom page for each pair of shoes that you sell. That way, people who are looking for a certain style will be able to find exactly what they're looking for.
Teelaunch also has many different options for all types of shoes, including sandals, boots, dress shoes, casual shoes, and more. They have a wide selection of colors available as well as materials like leather, suede, and nubuck.
Check Out: Best Spreadshirt Alternatives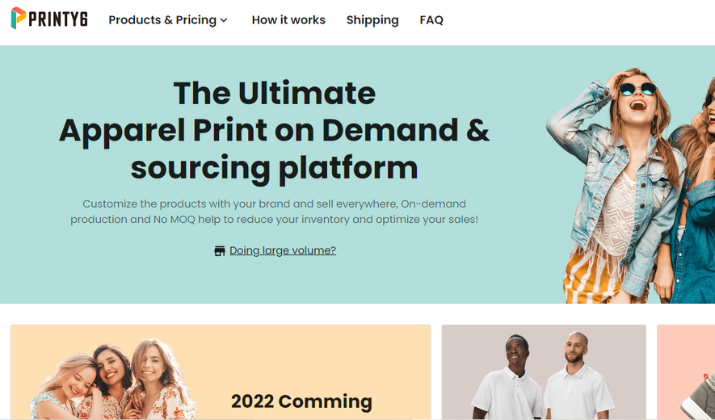 Printy6 is a fantastic website that allows you to design, sell, and buy customized products. They have many different types of shoes including running shoes, casual sneakers, and boots.
The platform offers some of the highest quality custom shoe printing services available today, which makes it possible for you to create custom-printed shoes at an affordable price. You can use the templates provided, or design your own using the software so you can see what they look like before ordering.
In addition to this, Printy6 also offers free shipping on all orders above $100. This saves people money when they want to buy multiple pairs of shoes at once without having to pay extra fees for shipping costs.
Check Out: Printful vs Print Aura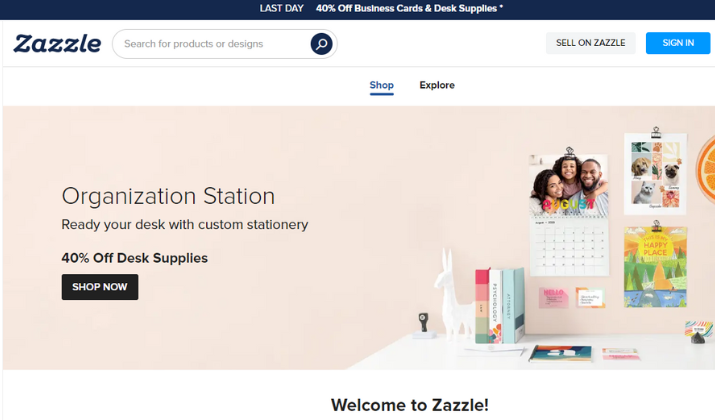 Zazzle is one of the best print-on-demand platforms because it's completely free – there are no monthly fees or hidden costs. Best of all, they have free shipping in the US on orders over $50!
They also give you lots of options when it comes to pricing and shipping. You can choose how much you want to charge for each pair, as well as whether or not you want to offer free shipping.
And if customers are ordering from outside of the United States, those orders will be shipped from an international warehouse instead of one in your country.
Another great feature that Sellfy offers is shipping tracking information so you know where every package is at all times throughout its journey from warehouse to customer doorstep.
Also Read: TeeSpring vs Zazzle
Final Thoughts
The best print-on-demand company will ultimately depend on what you're looking for.
If you're looking for something a bit more streamlined and want a more hands-off approach that takes care of everything for you without too much input from you, I would recommend Printful.
They have an amazing support team and a great selection of customizable shoe boxes, labels, and tags.
However, if you're a bit of a newbie, then Printify is your best bet. They have a wide selection of shoe styles and very low setup fees. It could be the easiest way to get your feet in the door when it comes to tapping into this new market.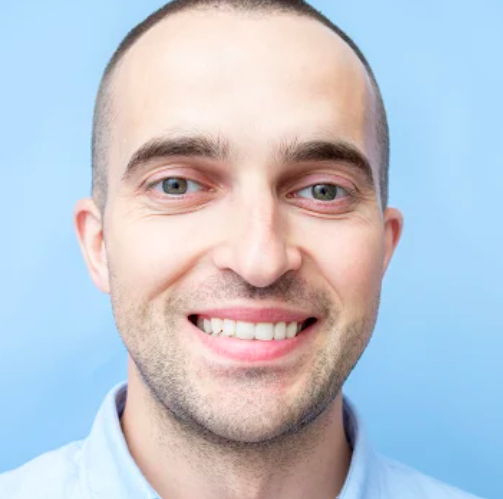 Author: Brian Erwin
I am Brian. I started my first e-commerce company in college designing and selling t-shirts for my campus bar crawl using Print-On-Demand. Having successfully established multiple 6 & 7 figure e-commerce businesses (in women's fashion and hiking gear), I think I can share a tip or 2 to help you get succeed.