Keeping track of sales, invoices, and signed documents can be a time-consuming aspect of every business. But no, you don't need to hire an accounting team just to organize your invoices.
Luckily, we live in the modern age where almost every problem has a solution available in a software format.
PandaDoc and Proposify are two similar yet different software options that will give you better insight into your sales, allow you to close deals, and keep your finances in check without consuming too much of your time.
In this PandaDoc vs Proposify article, you'll find out which solution is more ideal and which will fit your needs better, so keep on reading!
What is PandaDoc?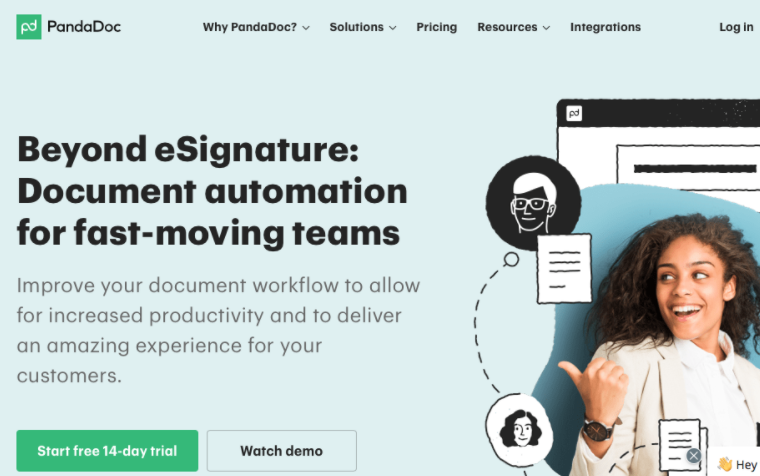 PandaDoc is a way to automate your documents, completely ditch the paper trail, and keep all of your business documents digitally.
Not only does this tool allow you to sort your digital documents in a nice manner, but you also get the chance to increase productivity and improve the collaboration of everyone who's in charge of finances in the company.
Whether you're trying to keep track of sales, improve your marketing, improve customer experience, or even improve workflow in your business, PandaDoc is a great tool to consider.
What is Proposify?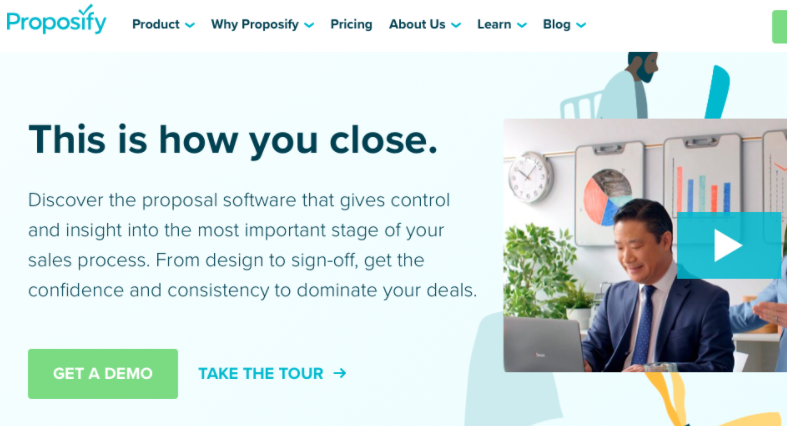 Proposify is software that's focused on sending out proposals that help you close deals. It's as simple as that.
With this tool, you will have an easy way to send proposals, keep an eye on your sales funnel, know exactly how many potential customers you've closed, and keep a digital record of all of your proposals.
Proposify works for business types of all sizes and it improves control, content management, and deal dominance by introducing a modern and efficient process of doing business with others.
How to Get Started
PandaDoc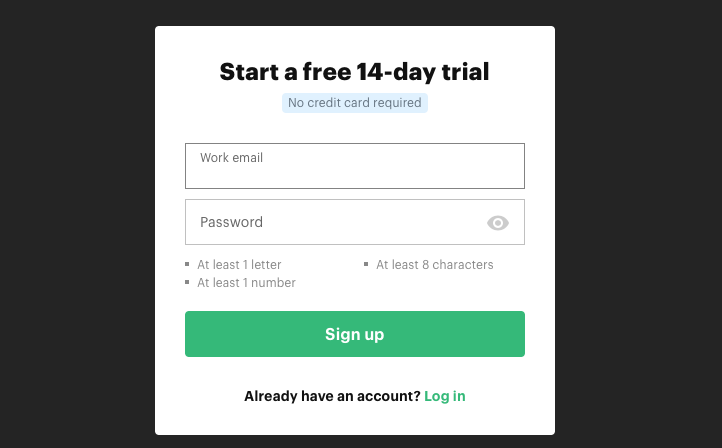 Getting started with PandaDoc is easy and all you have to do is start a 14-day free trial using the official PandaDoc website.
PandaDoc is a web-based tool which means that you won't have to download anything. All you will need to start is an email address and a password. You won't even need a credit card to get started.
After you create your account and log into it using the credentials supplied, you'll be faced with a simple-to-navigate interface where you can start drafting documents immediately.
I should also mention that there's a mobile app that allows you to draft documents from your mobile phone or a tablet which is also convenient.
Proposify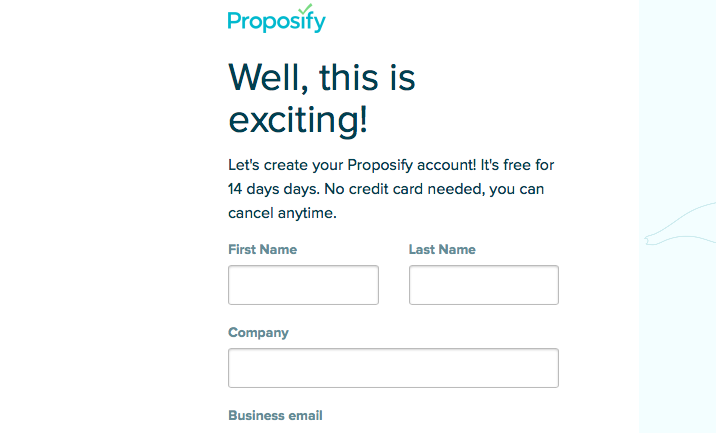 To get started with Proposify, all you need to do is register using a name, last name, a business email, and a password.
The software is web-based so you will be able to use it directly within your internet browser with the option to download the app for your mobile phone.
From the Proposify interface, you'll be able to immediately draft proposals and letters from scratch or by using the pre-built templates.
Verdict
Both tools are easy to start with. I slightly favor PandaDoc because of the free 14-day trial where you won't have to use your credit card to get started.
Insights
PandaDoc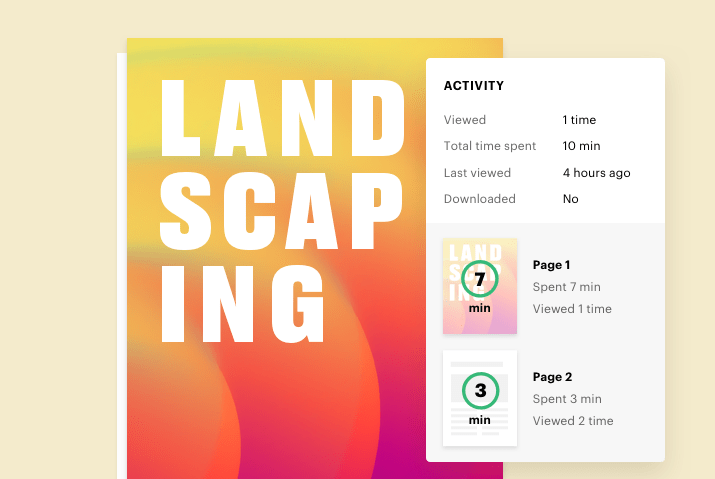 PandaDoc features clear insights that are well combined with analytics. This allows you to stay organized at all times, no matter how many documents you have. However, it also allows you to improve the workflow and know exactly what needs to be worked on.
With such clear insights, you can make more accurate predictions, scale your pipeline, and learn and repeat what works the best for your business.
PandaDoc claims that their insights can help you close 30% faster, close twice the amount of deals you usually close in a month, and decrease the document use by 65%.
These numbers are definitely something that enterprises look out for and if this tool can guarantee that, this is something we'll see below.
Proposify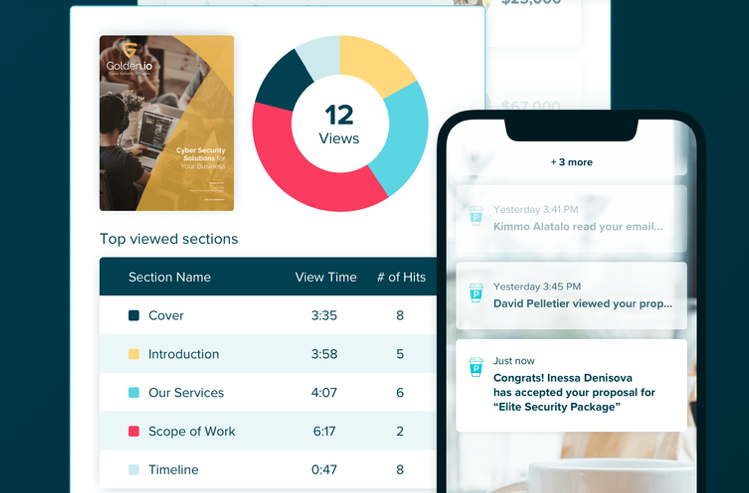 Proposify has powerful insights that help you easily organize your documents but also keep a good workflow.
This allows you to have quick insight into your outreach and documents that help improve the hardest section, which is closing.
Insights come as snapshots, metrics, pipeline views, and notifications that allow you to stay organized and accurately predict the forecasting and even improve the engagement.
Verdict
Both insights are efficient and can help businesses know exactly how they're progressing but PandaDoc has a slight advantage since it's more elaborate.
Workflow
PandaDoc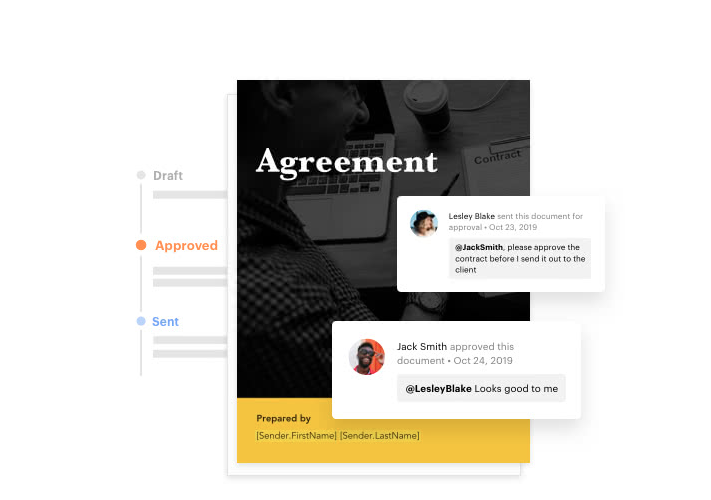 PandaDoc doesn't only digitalize the document usage in your business, but it also adds a workflow aspect that helps you keep your branding on the documents, and yet access them easily, stay compliant, and improve collaboration within the team.
Whether you're creating and sending invoices, proposals, or letters of introduction, PandaDoc will keep the same workflow that every team will love.
Using the brand-approved templates with optional security locking and great access management, you'll be able to lock legal content and stay on track without losing any documents.
Proposify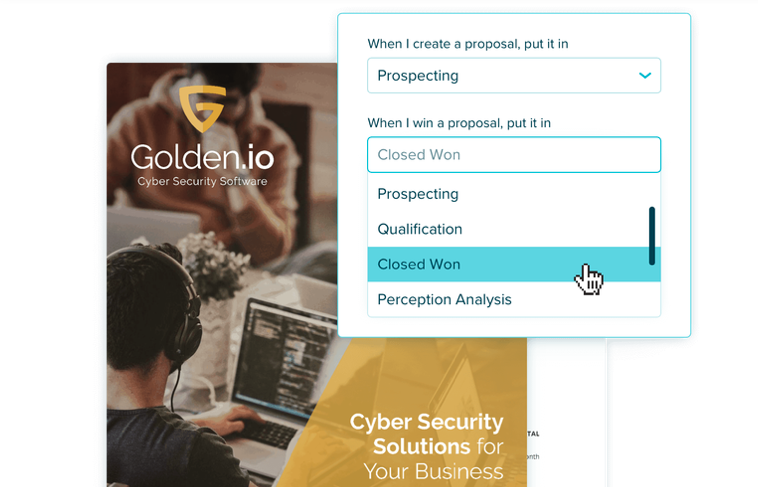 Proposify introduces a content library full of pre-existing templates that you can brand into your unique business document types. It even features a design editor that allows unique customization so you'll definitely feel that your documents represent your brand.
Each document that you create can have roles and permissions adjusted accordingly, and you can even integrate CRM software to manage your content and your digital documents in the same software.
With such ability, you will be able to combine two similar yet different content types and run them from one interface which will definitely improve workflow efficiency.
Verdict
While both tools have features in place to keep workflow as efficient and simple as possible, Proposify has an advantage due to a number of features included to improve the workflow of the documents and other types of content you work with.
Even though it's a slight advantage, it might be important for certain industries.
eSignatures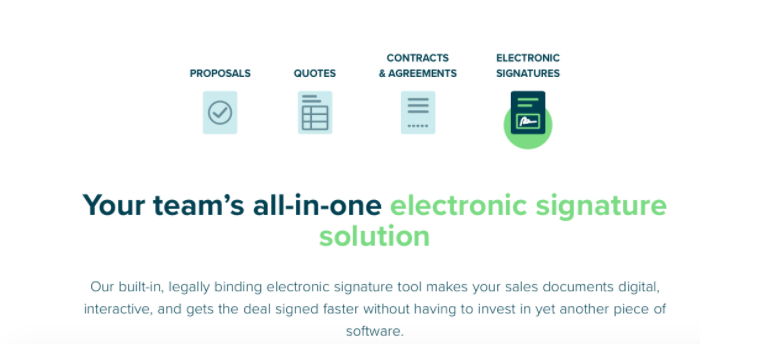 PandaDoc
PandaDoc comes integrated with electronic signature software that allows you to create digital signatures and save them for later use.
Therefore, whenever you have to sign another document, you won't have to spend time doing it manually. I should also mention that all documents signed using PandaDoc are legally binding so you won't have to worry about the integrity of your documents.
Proposify
Proposify allows you to create and save electronic signatures for your whole team that can be used to sign any type of document from any device. All documents you sign are legally binding which is a must-have for businesses.
On top of that, Proposify has the eSigning technology integrated so you won't have to run your documents through third-party software just to sign them.
Also, since you can save signatures, you won't have to sign every document manually which saves you time.
Verdict
Both PandaDoc and Proposify have a great eSignature technology integrated into the tool and they're equally efficient so this is a tie.
Type of Documents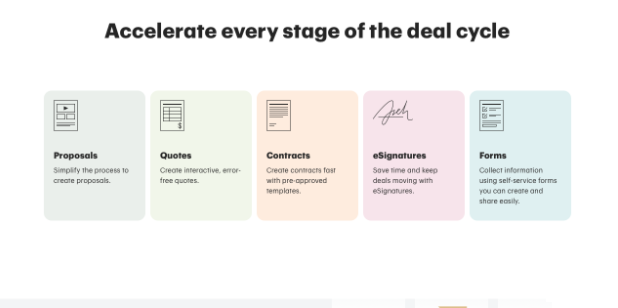 PandaDoc
PandaDoc is a very versatile solution as it supports all document types and even organizes the existing 450+ document templates into types and various categories according to the industry.
Whether you're looking for document types used by marketing teams, sales teams, or revenue operations, you will find them in the database of document templates that you can use for your company.
Each document type and its template are highly customizable and you will be able to legally bind it with an eSignature without having to think twice about it.
Proposify
Whether you're using Proposify for a sales team, marketing, or various business operations, Proposify will allow you to use it with almost any type of documents you can think of.
This includes proposals, contracts, quotes, and any other business document. I should also mention that each document type can be found in the pre-built template directory that can be further customized for your company.
Also, any of these documents can be electronically signed directly in the Proposify tool.
Verdict
Both tools support almost all document types out there and they're a great fit for any business type or industry. However, PandaDoc comes with more templates that are prebuilt for different industries which makes things even simpler so PandaDoc wins this category.
Document Management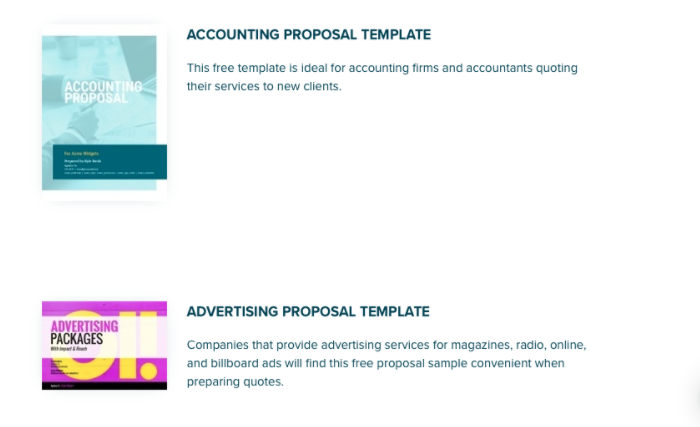 PandaDoc
From the moment you create your documents using PandaDoc, to the moment you have to sign them and send them over to your customers or clients, PandaDoc will keep a track of everything for you.
You'll be able to see the documents you've sent and are waiting for approval or signature on, but you can also have your own database of saved documents.
Sending documents is fast and effortless, signing them won't take longer than a couple of seconds, and reaching archived documents is just two clicks away.
Proposify
Other than only keeping the documents safe and organized, Proposify also combines document management with insights and notifications that feed you powerful metrics.
You will know exactly what's happening with all the documents you've sent out, but also the statistics that will help you learn how to close deals faster, manage your data more efficiently, and even eliminate paper from your business in only a couple of steps.
Verdict
Proposify comes with a more modern and improved document management system that provides more insight into it so it wins this category.
Editing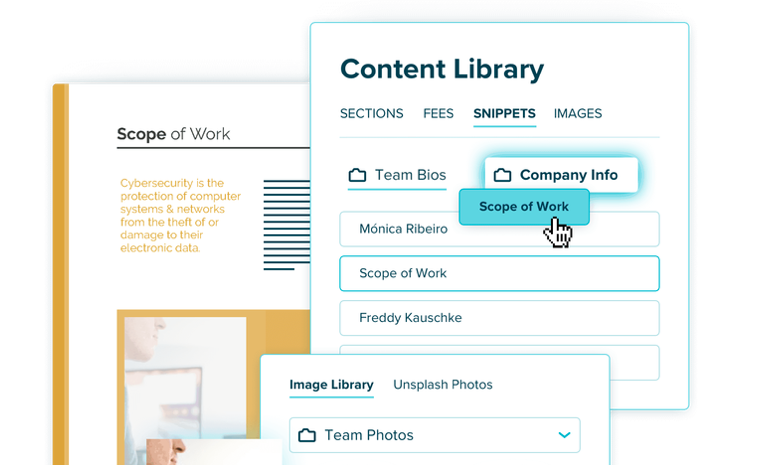 PandaDoc
PandaDoc features an on-the-fly type of editing that allows you to edit documents directly as you review or create them.
What's most significant about PandaDoc editing is that you can use customized documents and templates where all you have to choose is the client's first and last name. This type of editing is built into the templates which improves the editing and sending of documents in one go.
On top of that, PandaDoc provides insight into how much time you or your team members spend editing and reviewing each document which can also be a beneficial statistic.
Proposify
Proposify makes its documents highly customizable and you can edit them right from the template to fit it to your business and branding, or you can edit the documents on the go.
With an integrated design editor, you can edit documents and your templates just like they were landing pages. Therefore, you can get as creative as possible at any step of the document creation.
Therefore, you can edit your documents any time and any way you prefer.
Verdict
Both PandaDoc and Proposify have great editing capabilities which make this category a tie as it's definitely a tough decision.
Data Security
PandaDoc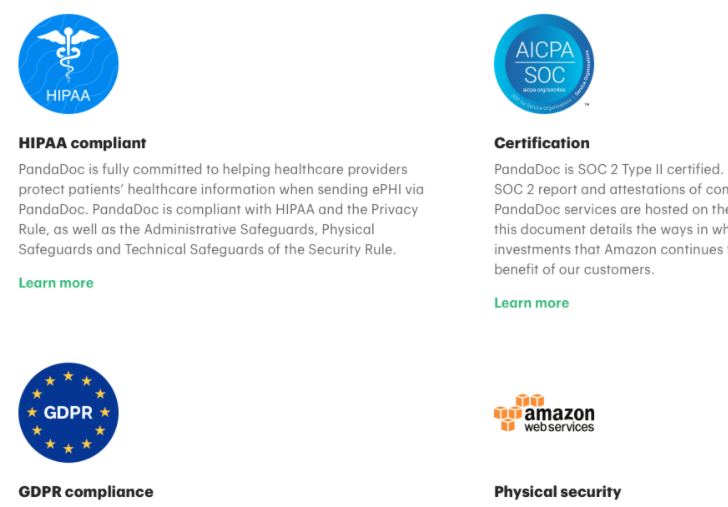 PandaDoc is very transparent when it comes down to security. They guarantee that every document has elements that only you and your client can see.
Therefore, their tool is compliant with HIPAA and GDPR, it has physical security (the servers are protected), and it has a SOC 2 type certification which is considered better than type 1.
Therefore, not only your documents are safe, but the tool's servers are well protected, your documents can be restricted to only certain employees, and you can manually lock documents in any state.
Proposify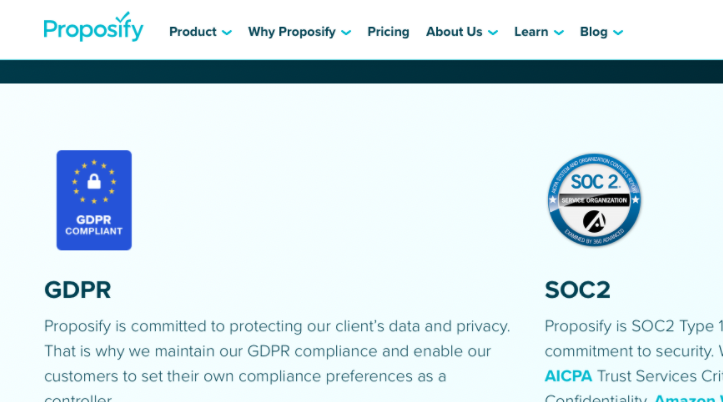 Proposify follows the same example and their tool is compliant with GDPR and it has a SOC2 type 1 certificate.
All eSignatures and documents are well protected with the server uptime of 99.99% which means that you will always be able to access your documents and that they'll never be vulnerable.
Proposify also features backup infrastructure so you'll never lose your files, no matter how many documents you have stored on Proposify.
You can also limit each document with access allowed to only a couple of people or you can protect it with a password.
Verdict
Both PandaDoc and Proposify take security seriously and PandaDoc has a slight lead due to greater compliance and a better SOC2 certificate.
Third-Party Integrations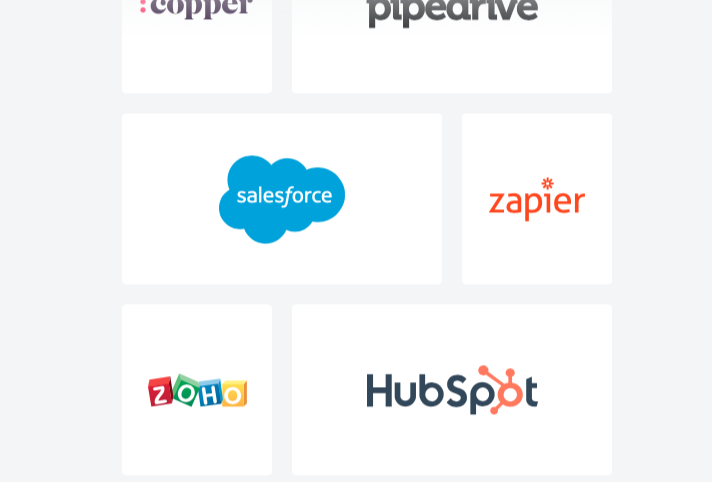 PandaDoc
PandaDoc is on a mission to make document and data integration effortless and they're one of the rare document management providers that combines everything into one tool.
With that being said, you'll be able to integrate plenty of third-party options and use them directly in the PandaDoc tool. Some of the most recognizable integrations include Salesforce, Zapier, Hubspot, Zoho, Stripe, Dropbox, Google Drive, Microsoft Dynamics 365, and many others.
This helps improve the workflow process of the whole team as you can get your documents out the door quicker.
Proposify
Proposify is as powerful when it comes down to integrations as it is when it comes down to document management.
Therefore, you can integrate third-party tools and software such as Asana, Basecamp, Google Drive, Dropbox, Freshbooks, Hubspot, and many others.
What is great about Proposify is that it features a huge number of possible integrations and it even categorizes them so you can find them easily.
This improves the workflow and allows you to do more than just document management in the Proposify tool.
Verdict
Proposify has a slight advantage for integrations because it offers far more integration possibilities that are categorized for easy access.
Customer Support and Resources
PandaDoc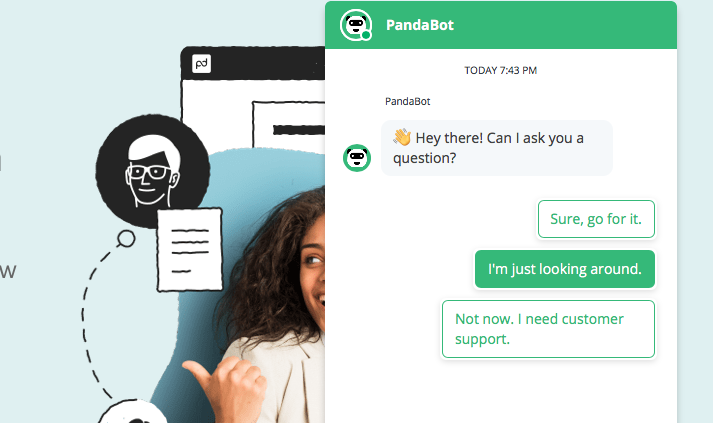 PandaDoc has a great support system in place and if you're ever stuck, you can get in touch with their support team that's split into three different categories:
General support
Sales
General inquiries
You can also pop into their office at three different locations. When it comes down to resources, PandaDoc features many informational posts on their blog which can be a great starting point for many business owners who are looking to digitize their documents and improve the workflow.
Proposify
Proposify also has a great support system in place which happens through the live chat where you can get in touch with their support team that's split into two different categories:
The average waiting time for a response is a day and if you need quick help or need answers to general questions, a live chatbot might help guide you to the answers.
On top of that, Proposify has a lot of great educational material available on their blog which is a great learning place for many.
Verdict
Both PandaDoc and Proposify care about their users and they have a decent system support in place. Therefore, this is a tie.
PandaDoc vs Proposify – Pricing
PandaDoc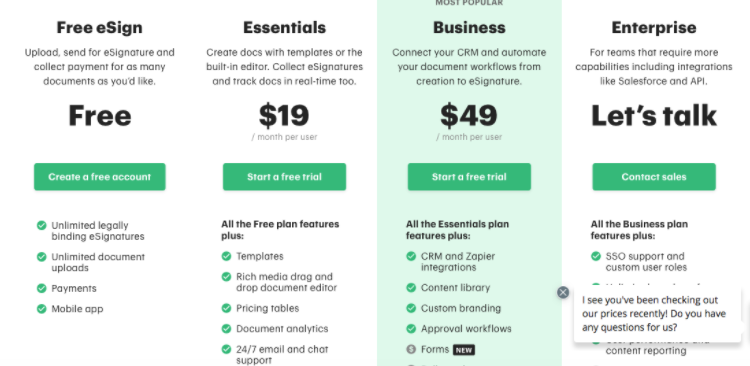 PandaDoc has a free 14-day trial that you can access without even having to use your credit card details.
After the trial, you can choose one of four fair pricing options:
Free eSign – ability to use PandaDoc for free to only sign documents digitally
Essentials – $25/month
Business – $59/month
Enterprise – custom pricing – contact PandaDoc sales team
I should also mention that if you choose an annual payment, you'll be able to save up to 24%.
This was the pricing at the time of writing, for updated information, visit the official pricing page.
Proposify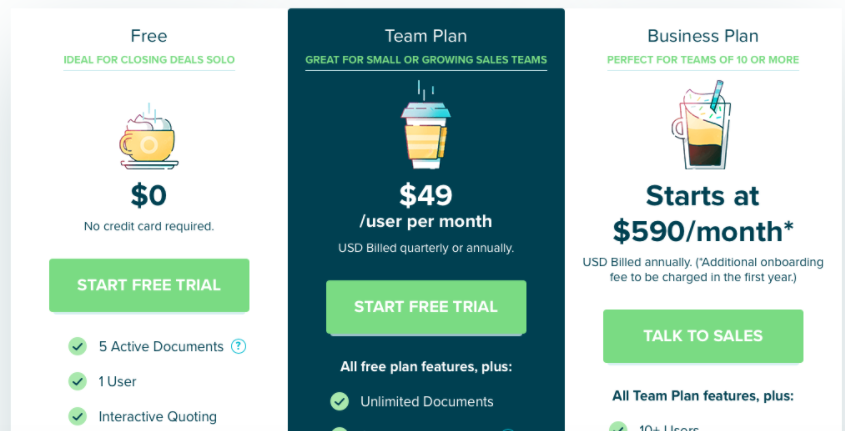 Proposify features three really great pricing plans:
Free – for 1 user only, up to 5 documents
Team Plan – for small or growing teams – $49/month
Business Plan – for teams of 10 or more – starting at $590/month
I should also mention that the free plan is perfect for solopreneurs and freelancers, but it doesn't come with any premium features such as third-party integrations.
This was the pricing at the time of writing, for updated information, visit the official pricing page.
Similarities
Both PandaDoc and Proposify offer:
Free pricing plan
Electronic document signing
Pre-built templates
Custom branding
Insights
Third-party integrations
Decent editing capabilities
Compatibility with most standard document types
Great security
Differences
PandaDoc features document approval flows
PandaDoc allows users to build documents directly in the mobile app
Proposify only supports Stripe payment gateway while PandaDoc supports PayPal, Square, and others in addition to Stripe
PandaDoc can support over 1000+ users while Proposify only supports a max of 500 users
Proposify features collaboration tools while PandaDoc doesn't
PandaDoc tends to host in-person training at their offices while Proposify only keeps training online
PandaDoc vs Proposify – Pros and Cons
PandaDoc Pros
Ability to support largest enterprises
Ability to create and modify documents using the app
Multiple payment gateway support
Available in-person training for businesses
Free trial and a free version available
Pre-built customizable templates
Great security
Convenient eSignature
Third-party integrations
Improves workflow and increases the closing rate
PandaDoc Cons
Doesn't offer a version control
Doesn't feature RFP management
Lacks collaboration tools
Editing features could use a bit more features
Proposify Pros
Features free trial and a free version
Has decent collaboration tools
eSignature technology integrated into the tool
Easy to get started
Improves workflow
Great third-party integration options
Decent security
Decent support
Includes RFP management
Provides version control
Proposify Cons
Doesn't have 24/7 support or phone support
Mobile app doesn't support iPad tablets
No in-person training
Can't support teams larger than 500 members
Only supports one payment gateway (Stripe)
Inability to build documents in the mobile app (only features editing capabilities)
Proposify vs PandaDoc – Which is the Winner?
Both PandaDoc and Proposify are almost a decade-old software with great updates and a sense of business that results in the final product.
It's a very tough choice even after a very comprehensive review and the consideration of all features available in both tools.
PandaDoc is the winner of this race only by an inch. While both tools are relatively equal and work similarly, there are a couple of differences that might make a huge difference for the end-user.
PandaDoc provides more payment gateways, it has slightly better support, and you can get live (in-person) training which is definitely worth the price.
Also, PandaDoc can meet the needs of the largest enterprises in the world which is a huge advantage over Proposify as Proposify can't be considered for businesses with over 500 members.
Considering this advantage and the fact that PandaDoc is slightly cheaper and easier to get started with, PandaDoc is only the winner by a hair, but it's still the winner!
I recommend you to really check each feature of the tools as there is only a slight difference between them, but it might make a huge difference for the most demanding users.

Author: Sam Zaman
Sam loves to write on technology & related stuff. Ecommerce, mobile and internet marketing equally drive her interest. Likes gardening and experimenting with new recipes. An avid reader and absolutely mad @bout donuts :)