Last Updated on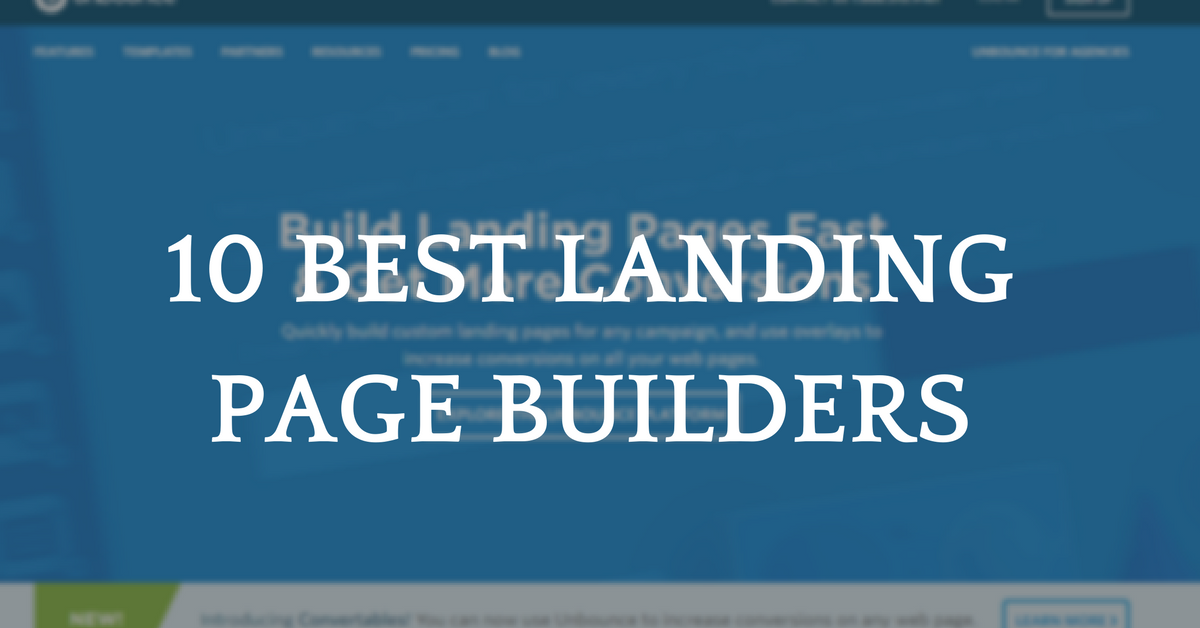 Landing pages are one of the most essential tools for marketing.
Marketers use them to generate leads by making the visitors subscribe to their websites in order to download the content that the user is interested in.
Downloading of reports, whitepapers, ebooks, newsletters, or simply subscribing to your blog site or availing a special offer, all can be easily achieved through the landing pages.
A landing page builder software should be uncomplicated and feature-rich.
It should provide for an easy usage, A/B testing, custom coding, pre designed templates, email marketing integrations and of course, affordability.
Best Landing Page Builder Softwares
Following is a list of 10 best landing page builder softwares that rank high on conversions and effectiveness.
Instapage: Best Drag and Drop Landing Page Builder Software
Collaborate with your team to create high-converting landing pages with this drag and drop landing page builder software.
Instapage is one of the most preferred landing page builder software that provides powerful end-to-end solutions for building and optimizing landing pages.
It has over 100 of the most beautiful, ready-to-use, fully customizable landing page templates in the market.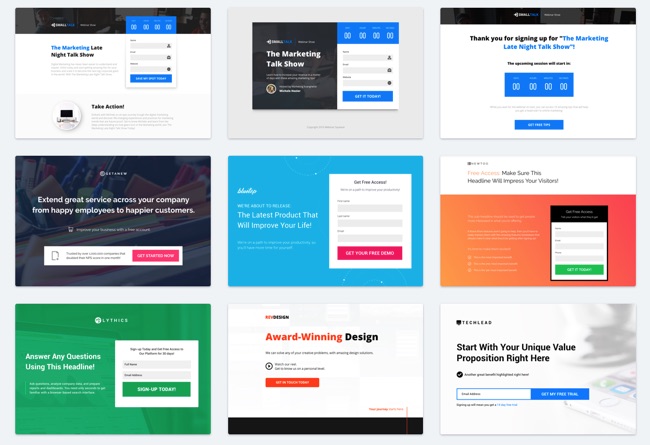 The page editor is simpler, includes the drag and drop feature and the pages are responsive.
It also includes a Big Stock image library that gives you access to 33 million images.
It includes all the easy-to-use content building features that are required to turn clicks into more conversions, but for an affordable price – especially for crunched budgets.
Instapage comes with Parallax scrolling, Dynamic text replacement, unlimited A/B testing, as well as real time analytics.
The features also include Heatmaps (for ultra-specific insights to user behaviour that can help you improve the page performance), Instablocks (or custom blocks that can be reused for quickly creating post-click landing pages) and Collaboration Solution (for real time collaborations with the teammates and clients to streamline and expedite the page design process).
It also offers seamless integration with all the popular email marketing and optimization tools, CRMs, webinars as well as automation.
Instapage annual subscription plans are – $69 (Core), $99 (Optimizer) and $179 (Team & Agency), and the free trial period is limited to only 14 days.
Pricing: $99/month, billed yearly, for the Core plan. There is a customizable Enterprise option as well.
My favorite feature: Global Blocks
The Global Blocks feature, available on Enterprise plans, lets you create blocks for multiple landing pages at once.
These blocks act as templates and designs for specific sections of landing pages.
When you customize or edit a block, you can choose to have all landing pages that are using that block updated automatically. This will save you the effort of editing all of your landing pages individually.
It's especially useful when you change your logo or slogan and want to update all of your landing pages at the same time.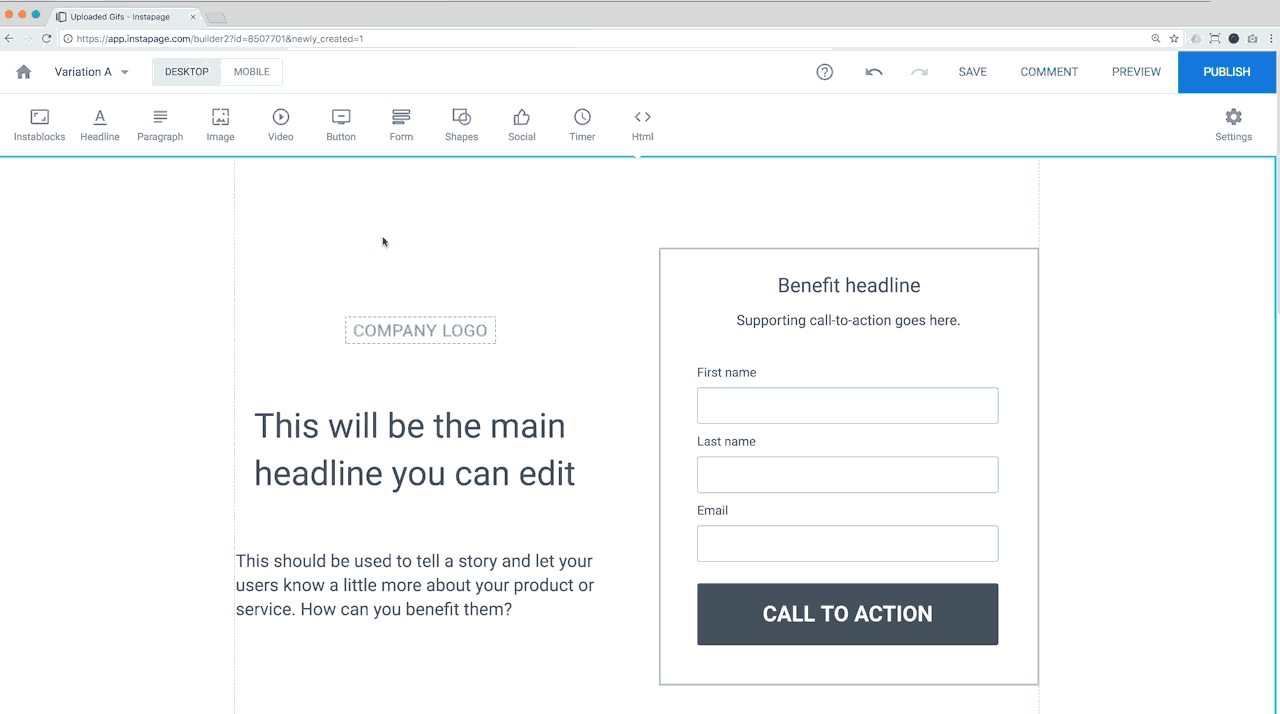 The Bottom Line: Instapage, while not the cheapest landing page builder software, offers beautiful mobile responsive landing page templates, great team collaboration options, in-depth analytics, and an easy-to-use builder.
Click to learn more on this Instapage review.
Case-study: How to Sell 10,000 Ebooks Using an Instapage Landing Page.
Leadpages: Easy to Use Landing Page Creator
An easy-to-use landing page creator that will fit your budget.
Leadpages is one of the most popular landing page creator that offers advanced content building tools only for higher subscription plans.
Leadpages has a huge collection of high quality, responsive templates that can be sorted on the basis of conversion rates. Some of them come with a separate price tag of $10-15 each.
Leadpages can help you generate opt-ins called 'Leadboxes' that can be used to grow your email list without having a landing page, and can easily be configured to display whenever a visitor reaches your blog post.
You can even do split A/B testing of the landing pages and view their performances through the Analytics section for further optimization.
Leadpages monthly subscription plans start from $25 (Basic), $49 (Pro) and $199 (Advanced). They also have a 30-day money back guarantee.
Pricing: The basic plan is $25/month. There are also higher plans of $48/month and $199/month for additional features. All plans are billed yearly.
My Favorite Feature: Facebook Ad Builder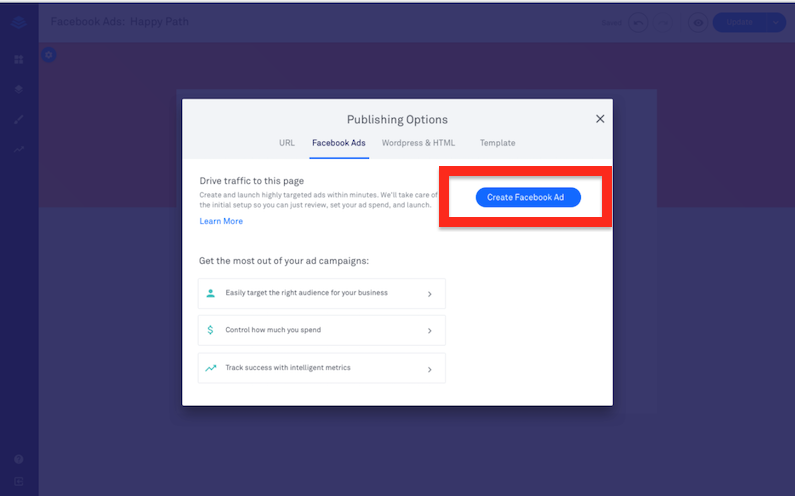 Leadpages has a feature where they will use data from your landing pages to automatically create and populate Facebook ads to promote those pages.
The lightweight facebook ad builder automatically populates the facebook ad with the same image that is used on the leadpages landing page.
You can then edit your ad copy from within the ad builder to make it exactly the way you want .This lightweight builder ensures that the ads will always align with the look and feel of your landing pages for a consistent user experience.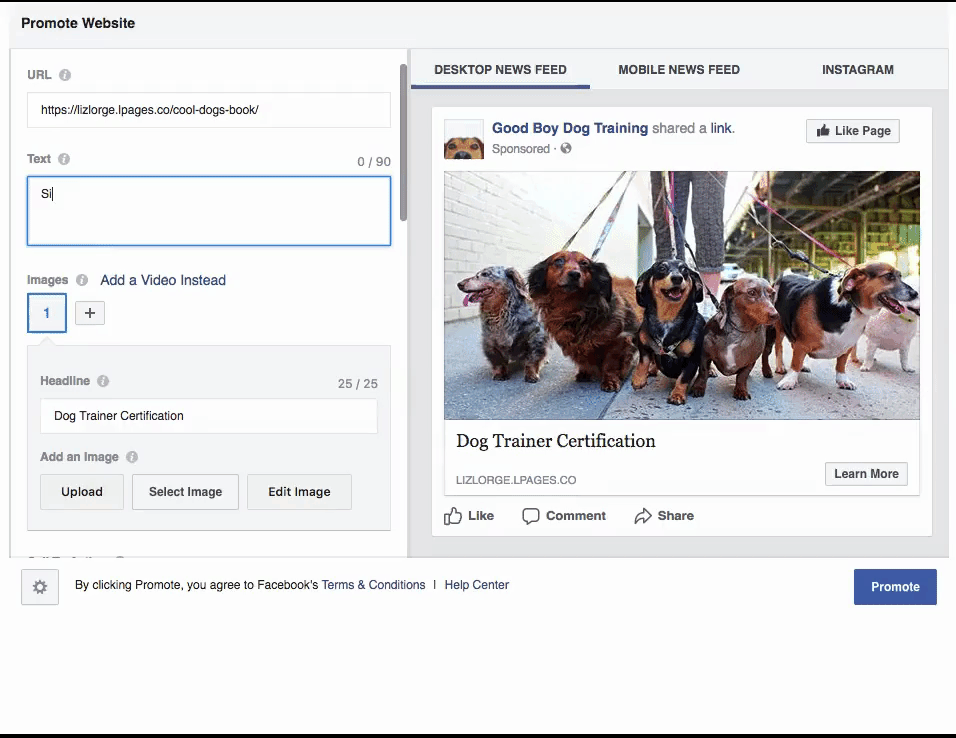 The Bottom Line: Leadpages is a solid & best landing page creator in the market today. Since plans start at just $25/month, most small businesses and startups will be able to afford this landing page creator.
Bonus: You can even download some of the leadpages landing page templates for free.
==> Click here to get a special Leadpages discount <==
Click to learn more on this Leadpages review.
Clickfunnels – Complete End to End Best Landing Page Software Platform
Create sales funnels to capture leads, send emails, run webinars, and sell products with this complete end-to-end best landing page software platform.
Clickfunnels is one of the popular tools for creating sophisticated sales and marketing funnels for almost any type of business.
Clickfunnels is predominantly used for services/product promotions and for converting website visitors into potential customers.
Clickfunnels provides an easy interface with several pre-built landing page templates for designing funnels for webinars, sales, membership sites as well as subscriber list.
Clickfunnels incorporates almost all the core elements of an online sales funnel builder such as – responsive landing pages, opt in pages, billing pages etc. that can be customized to match with your business requirement.
So, Clickfunnels is a complete end-to-end landing page software platform & solution that helps you not just build responsive landing pages, but integrate other features as well.
The features include email autoresponders for building customer relationships, A/B testing to rule out any non-performing funnel, website hosting, SEO management, sales and data analysis, performance report and several integrations with the third party services for payments, CRM etc.
Pricing: Clickfunnels has two subscription plans – Basic ($97/ mo) and Etison Suite ($297/ mo) and each offers a 14-day free trial period.
My Favorite Feature: Backpack
Backpack allows you to create an affiliate program straight from Clickfunnels. You don't have to join an affiliate network such as Clickbank or JvZoo.
In addition, Wasabi, which will allow you to create membership sites, is another Clickfunnels feature that is in the making.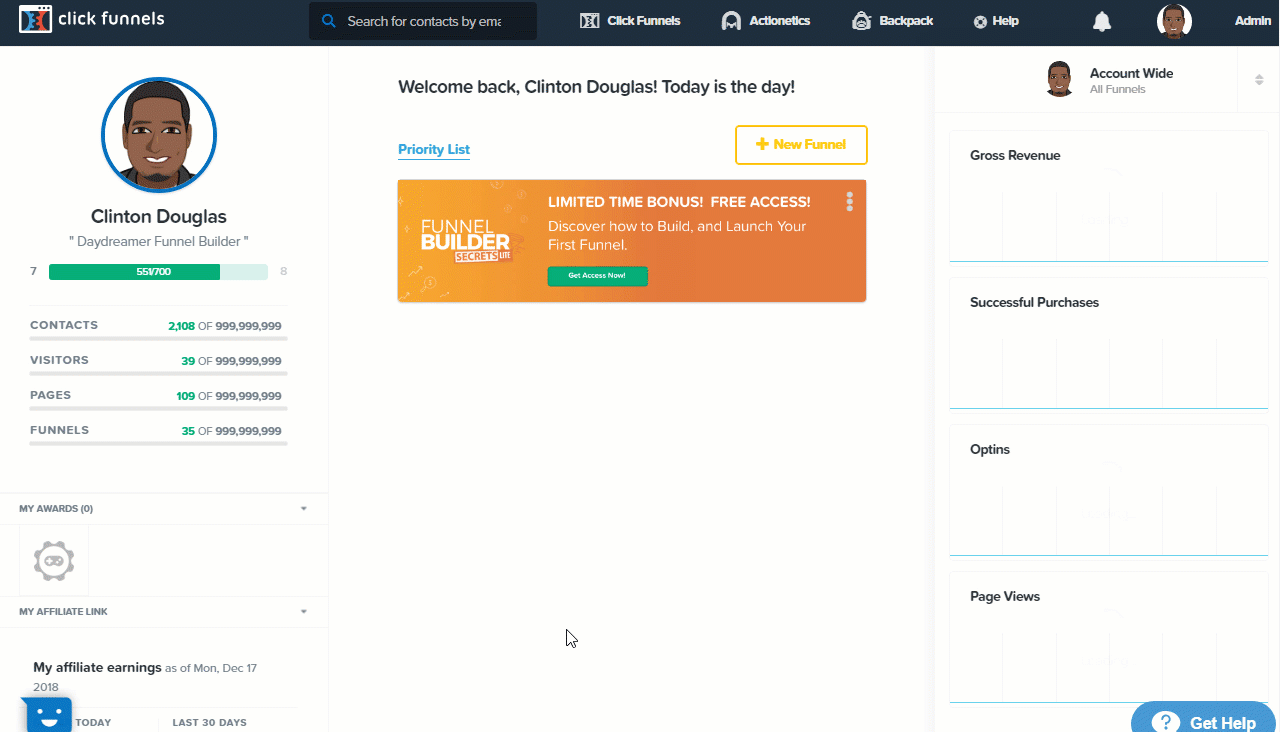 The Bottom Line: With its landing pages, drag-and-drop editor, email marketing service, webinar service, checkout pages, affiliate program builder, and soon-to-come CRM and membership site services, Clickfunnels is the ultimate one-in-all tool for setting up an online business.
Click to learn more on this Clickfunnels review.
Unbounce – Drag and Drop, Mobile Responsive Landing Page Builder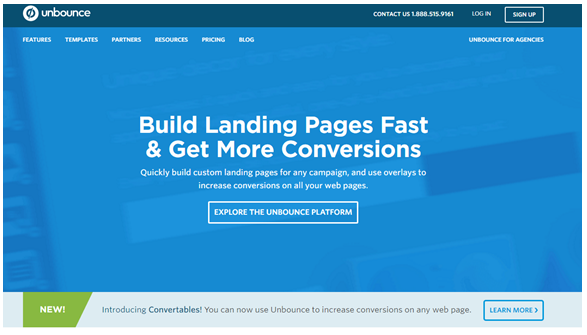 Get a lower bounce rate by sending your traffic to high-converting landing pages instead of your website by using Unbounce landing page builder software.
Unbounce is one of the most versatile & best landing page builder software that offers simple drag and drop landing page design feature.
This simple drag and drop & mobile responsive landing page builder makes landing pages easy to visualize and design the pages.
Almost every element of the numerous available templates can be customized, and you can add a variety of forms to multiple landing pages at once.
The built-in A/B testing allows you to quickly create a variant for testing. You just need to duplicate a page and make the required change.
Pricing: Unbounce monthly subscription plans start from $49 (Starter), $99 (Pro 99), $199 (Pro 199 + 4X traffic) and $499 (Enterprise).
You also get a 30-day free trial period to get a better picture before you actually subscribe.
My Favorite Feature: Landing Page Analyzer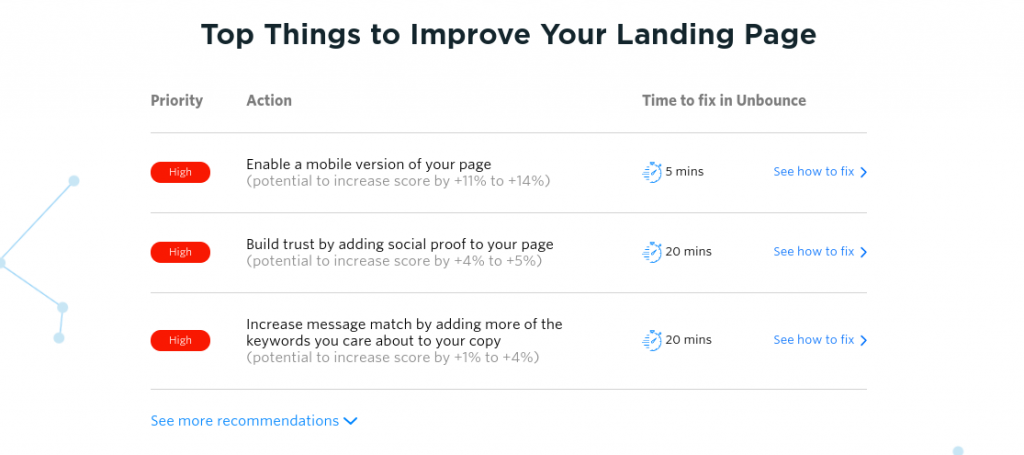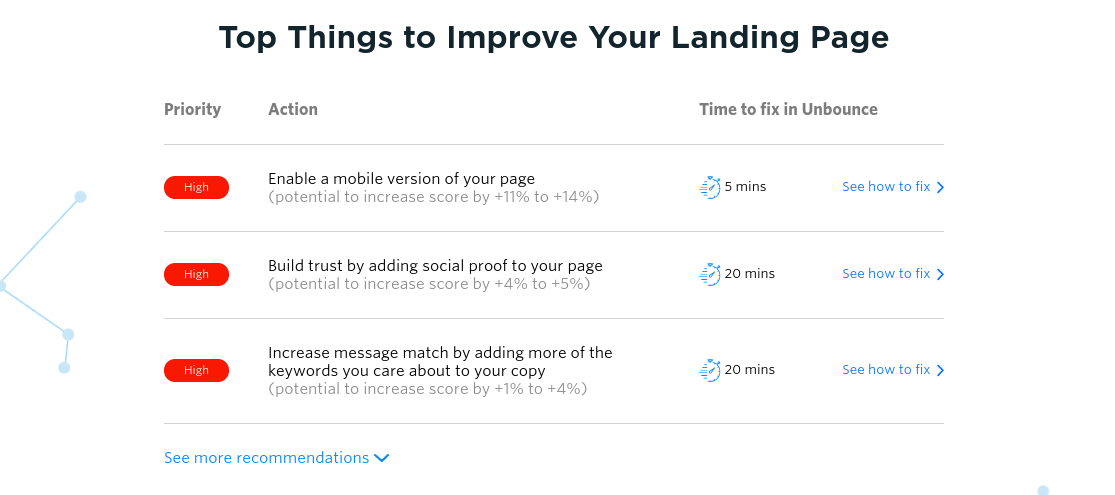 Unbounce's free landing page analyzer allows you to analyze any landing page by simply entering its URL into the search bar. You'll get detailed analysis on problems you can fix, as well as ways to improve your page speed, SEO, mobile friendliness, conversion design, and much more.
The Bottom Line: Unbounce is a decently-priced landing page builder with nice templates and an easy-to-use editor.
KickoffLabs – Inexpensive & Cheap Landing Page Builder Software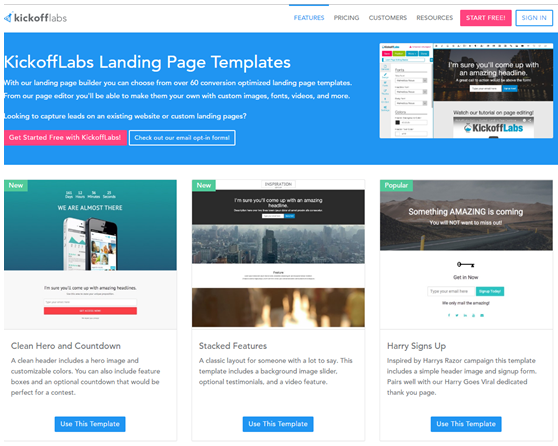 An inexpensive & cheap landing page builder software that is especially useful for product launches, sweepstakes, and giveaways.
KickoffLabs provides an easy to use WYSIWYG (what you see is what you get) editor that can help you customize the templates as per your own formatting and advanced content such as slideshows or videos.
It has several features catering to increased engagements and optimizations, like automated email responders, exit-intent pop-up window and built-in "thank you" pages.
The unique viral boost system within KickoffLabs can be used to increase a campaign's success rate through 'referral' incentives and encouragements.
It is also powered by advanced analytic tools that display data based on conversion metrics, influential leads, demographic, social & campaign data.
Pricing: KickoffLabs monthly subscription plans start from $39 (Starter), $79 (Premium) and $149 (Business). However, you may save upto 30% if you opt for Annual billing. They also have a 30-day refund policy.
My Favorite Feature: Integrations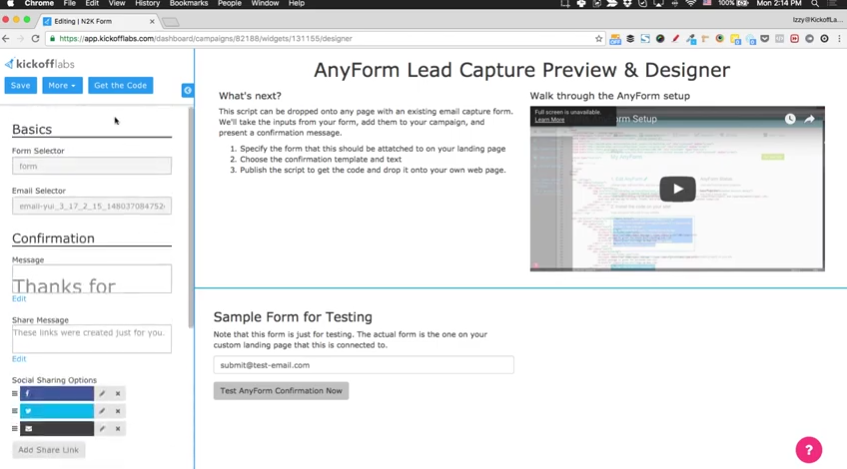 KickoffLabs actually offers integrations with competing landing page builders. For example, if you don't like any of their landing page templates, you can use a template from a software such
as Instapage and Unbounce with the KickoffLabs widget.
You can also connect your own forms to your KickoffLabs campaigns. In either case, you can use the entire KickoffLabs system, such as their thank-you pages and analytics, even if you are not using their landing pages.
The Bottom Line: KickoffLabs is a surprisingly inexpensive & cheap landing page builder that has a wide range of useful features.
OptimizePress – Easy to Use WordPress Landing Page Creator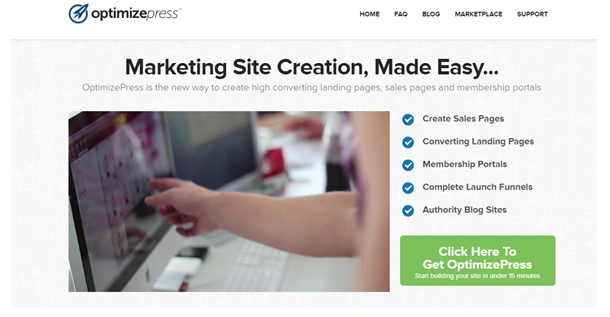 Create membership sites, optimize your WordPress blog, and capture leads with this easy to use wordpress landing page creator.
OptimizePress designed specifically for WordPress websites, is used to create high converting landing pages. However, you may run it as a blog theme or install as a plugin.
The templates offered are in abundance and probably better as compared to Leadpages. The OptimizePress LiveEditor is equipped with an endless collection of page building tools called 'Elements' that can be used for page customizations and real time editing.
Pricing: OptimizePress subscription plans start from $97 (Core – 3 sites ), $197 (Publisher – 10 sites) and $297 (Pro – 30 sites) and all plans include 1 year of support & updates. They also have a 30-day refund policy.
My Favorite Feature: OptimizePress Smart Theme

The OptimizePress Smart Theme is a beautiful WordPress plugin that is specifically designed with getting more conversions and leads from your blog.
The Bottom Line: OptimizePress will give you access to a great landing page builder, a high-converting premium WordPress theme, and the ability to sell online courses, ebooks, memberships and other services.
Pagewiz – Inexpensive & Cheap Landing Page Builder Software without All the Bells and Whistles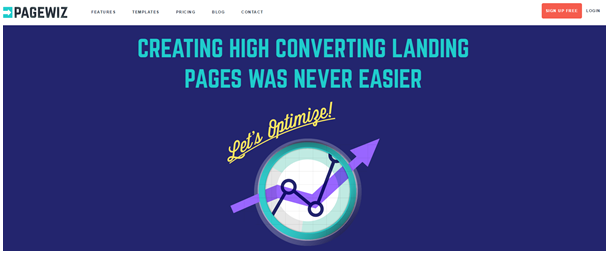 An inexpensive landing page builder without all the bells and whistles.
Pagewiz allows the marketers and business owners to design a new landing page either from scratch or using an existing template.
The templates are well designed, highly optimized for maximum conversions as well as responsive that serve several purposes like lead generation, click-through or video landing pages or exclusively for the mobile platform.
Advanced functionality such as survey feedback can also be included to your pages. Pagewiz can host your landing pages that be mapped to your custom domain.
It also offers an automated A/B testing, lead management along with real time analytics, and even allows you to export the statistical data to excel.
Pricing: Pagewiz monthly subscription plans start from $29 (Basic), $49 (Standard), $99 (Plus) and $199 (Pro). However, you get a discount of 7.5% if you opt for 6 months, and 15% for 12 months.
They have separate subscriptions only for Enterprises. You also get a free 30-day trial period.
My Favorite Features: Multiple Email Recipients And Branding Email Lead Notifications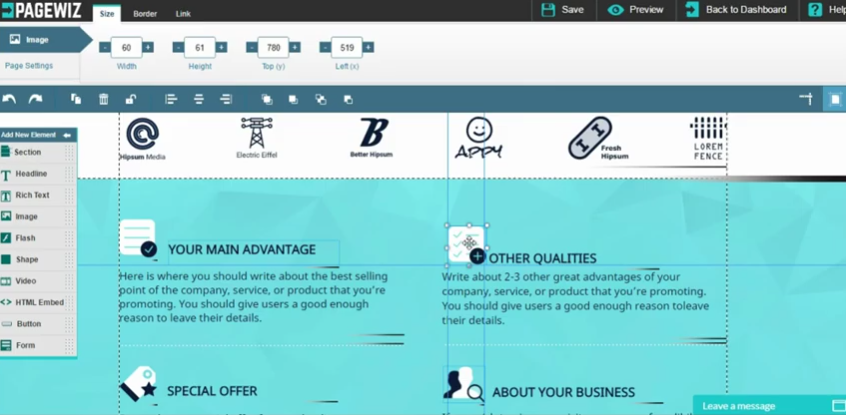 You can have leads sent to other email addresses besides your own so that your partners or co-workers have access to them as well. If you are managing pages and lists for clients, you can have your brand logo appear in lead notification emails that are sent to them.
The Bottom Line: If you are looking for a landing page builder that does not have a steep learning curve, has beautiful designs, has an easy-to-use editor and is not expensive, Pagewiz is for you.
Lander App – Landing Page Maker Software For PPC, Facebook & Email Campaigns
Use drag-and-drop to create landing pages for your PPC, Facebook, and email campaigns with this landing page maker software.
Lander has an easy-to-use, drag and drop visual editor that's pretty apt for beginners or small business as it doesn't require any technical knowledge.
Enriched with features such as A/B testing, Dynamic Text Replacement, real time analytics, Lander is an intuitive page creator. It even offers integrations with some of the well-known marketing tools that can help you in creating a marketing campaign as well.
You can even integrate and publish your landing pages on Facebook, within a matter of minutes.
Pricing: Lander monthly subscription plans start from $49 (Basic), $99 (Professional), $199 (Pro Plus) and $199 (Pro) and the free trial period is limited to only 14 days.
My Favorite Features: Facebook Landing Pages and DTR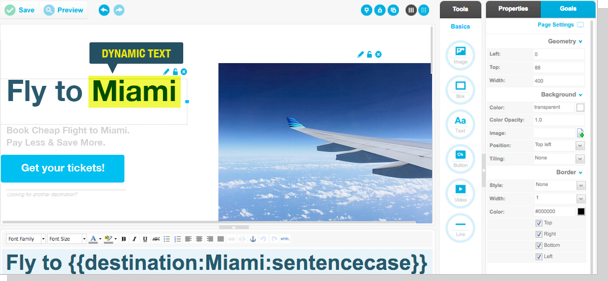 Usually, if you want to create landing pages on Facebook, your page will need at least 2,000 likes. With Lander, you can create landing pages just for Facebook on all plans regardless of how many likes you have.
Another great feature is their Dynamic Text Replacement feature, which will match keywords on your PPC ads and landing pages so that you get higher conversion rates.
The Bottom Line: Despite offering plans starting at just $25/month, Lander gives you everything that other landing page builders have to offer.
Thrive – WordPress Landing Page Builder Software Plugin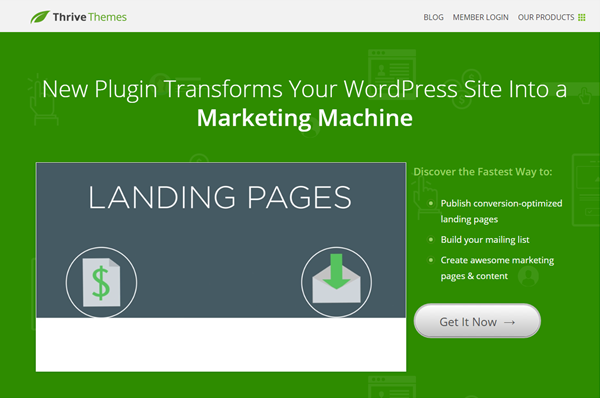 A full suite of website building tools, including a landing page builder, premium themes, and useful plugins.
Thrive landing pages is more of a WordPress plugin that enables you to create opt-in pages, sales pages that can lead to the best customer experience and higher conversion rates.
The drag and drop editor within the WordPress dashboard, has a huge set of 'elements' that can be used to manipulate over 100 templates.
It also provides sets of matching page designs, that enables you to create thank you pages, email confirmation pages or other funnel pages, that have the same look and feel as the original landing pages where your visitors arrive. It also has the ability to integrate with any email marketing service as well.
Pricing: Thrive's one-time fee starts from $67 (1 license pack), $97 (5 license pack) and $147 (15 license pack). Thrive membership can be bought for $19 /month and you can get unlimited free updates and support.
My favorite Feature: Thrive Ovation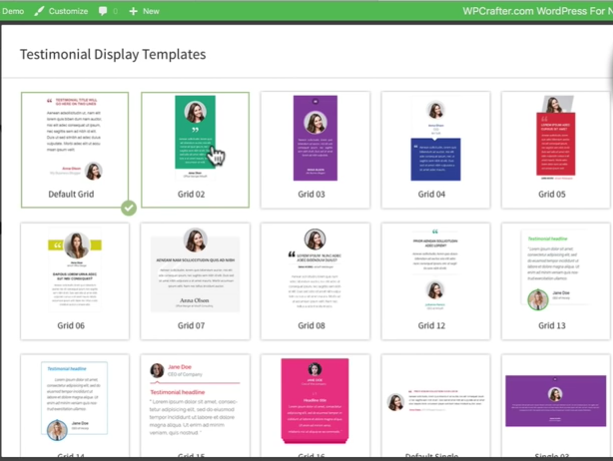 Social proof is a powerful marketing tool. Thrive Ovation lets you add social proof by including stylish testimonials on your landing page.
The Bottom Line: A Thrive membership will give you access to their full suite of products, including beautiful themes, landing page and website builders as well as plugins that let you optimize and test your headlines, add testimonials, add comment sections, capture leads, create quizzes and surveys and much more. At $19/month, it's certainly worth it.
Launchrock – Free Landing Page Builder Software


Create pre-launch landing pages to kick off new products, services, or non-profit campaigns.
Launchrock is a free landing page builder software mostly preferred by newer entrepreneurs, who are yet to launch their business or products. It gives them the ability to quickly set up a landing page to gauge the user's response towards their product.
Launchrock has limited features, yet it offers you a simple interface that helps you create attractive designs for collecting email addresses, much before the actual launch.
The options are plenty and the above list may vary according to your needs, but the bottom line is that creating landing pages are extremely important for lead generation, higher conversions and the overall success of any online business.
Pricing: Launchrock is free, but if you want sites without the Launchrock icon and the ability to add custom HTML and CSS, it will cost you $5/month.
My Favorite Feature: Discover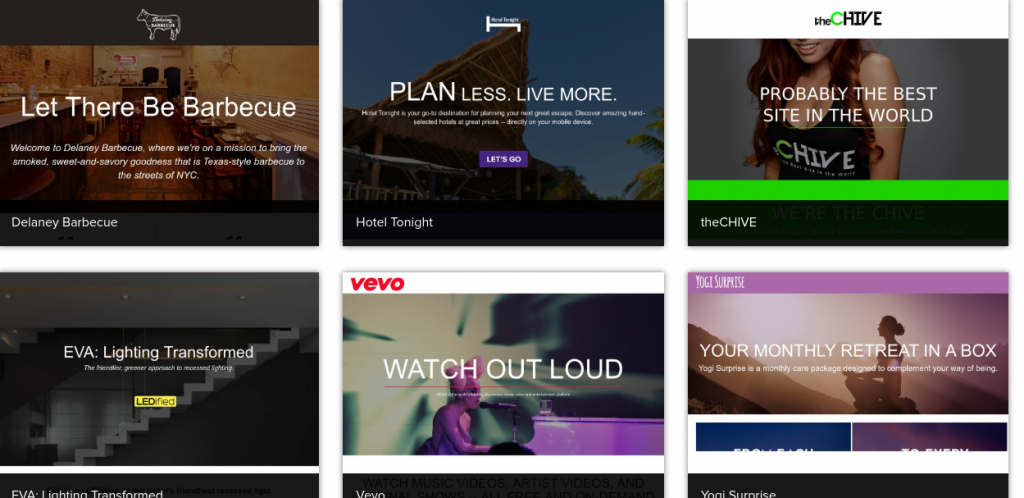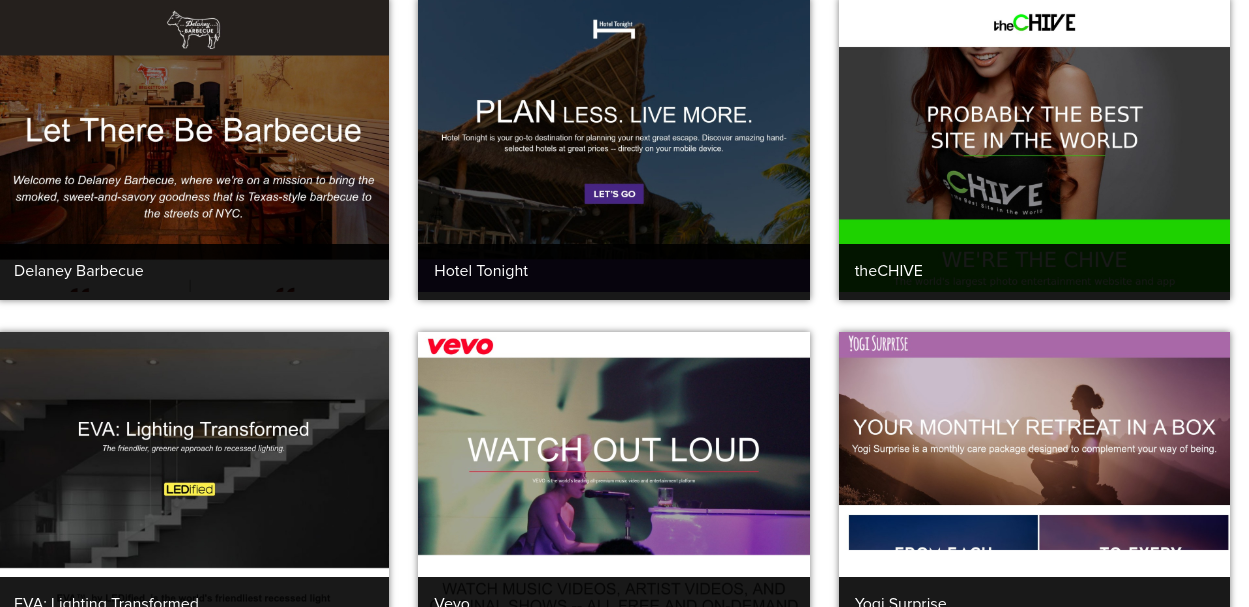 Use the Discover feature to find the best launch campaigns and landing pages on the internet. You can use these sites as inspiration for your own landing page design.
The Bottom Line: if you are a startup with a small budget and are looking for a way to collect leads and/or make announcements before you officially launch, Launchrock is the way to go.
Divya Dube is an e-commerce subject writer at https://mofluid.com. She loves to research and is an avid reader of technology, psychology and fiction. She is also a gadget freak, a traveller, loves chocolates & music and has an immense passion for writing.