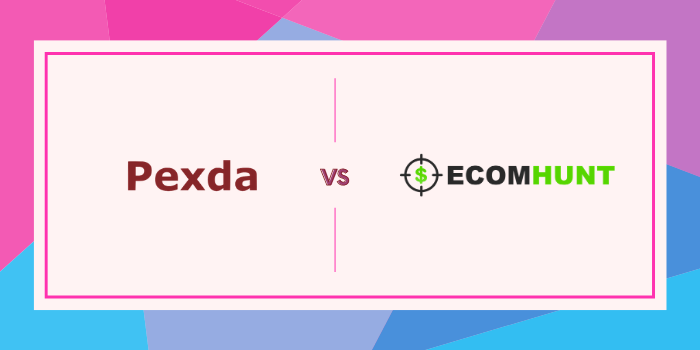 Savvy brands invest their energy, effort, and money into choosing the right product to sell because they know it's pivotal to their success.
Beyond an optimized website, your eCommerce brand must sell products that turn in profits or you'll be out of business soon.
How do you find these best-selling and profitable products? How can you tell that the products you are interested in would have high conversion rates?
This is where product research tools come in. Pexda and Ecomhunt are two of the more popular players in the market. We'll compare these tools so you can make a smarter product decision right from the gate
Let's take a quick look at these product hunting platforms.
What is Pexda?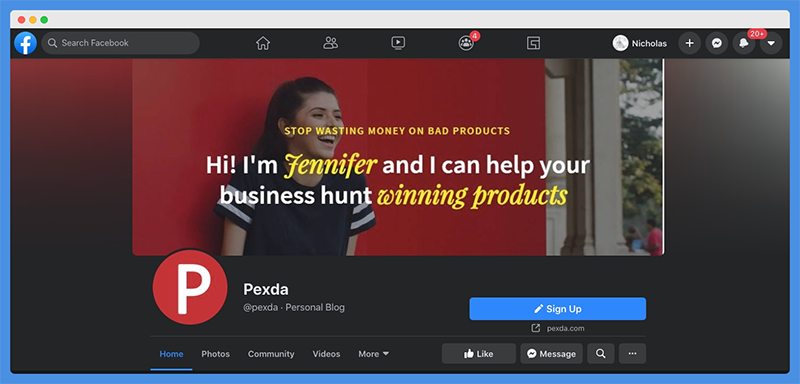 Pexda is a product hunting platform for eCommerce merchants. The site uses performance data to check through unlimited products and then gives its users a purview of each product's performance.
Pexda also provides marketing data on these products and their marketing. The data and performance reporting allows you to determine how well a product will perform in their store by observing their performance.
In other words, Pexda gives online retailers a chance to overcome a common problem — trying to discover profitable products that will sell successfully.
Learn how Pexda compares with Dropship Spy here.
What is Ecomhunt?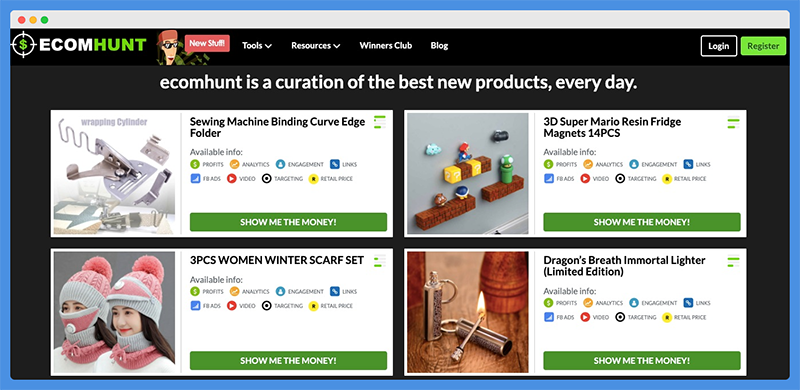 Ecomhunt is a product research tool that provides you with fast-selling products and information on how to sell that product. The platform updates countless products, which are handpicked by experts daily.
Once you have links to the stores selling these products already, it's easy to locate other trending products or best selling products that they can add to their online store. In other words, each product comes with all the information a user needs.
This product information includes a description with image, profit margin, store sales link, social media engagement, targeting tools, and numeral reviews from the buyers.
With these features, you save time, effort, and money in finding the right products to sell.
Also read this interesting comparison post: Ecomhunt Vs Alishark
Ease of Use
Pexda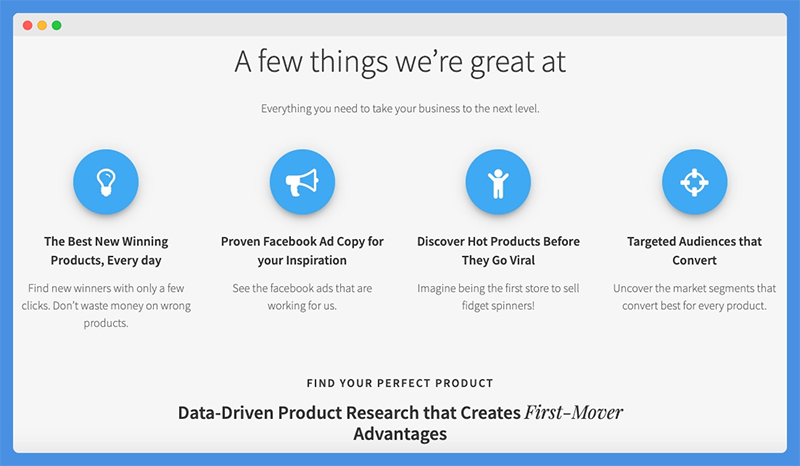 Besides being user-friendly, Pexda's dashboard comes with a simple and intuitive interface.
Thanks to its systematic characterization of its products and features, you can access the best-selling products updated daily from their dashboard.
However, free members would suffer delays when trying to access products curated "Today." While Pro members get immediate updates on these products, free members have to wait until the third day to access the products.
Once users can view products relevant to their store or niche, they can click on "show me the money" and get all related data to promote the product.
The data you'll access includes:
Product analytics
New product discovery
Facebook ads report
Ads targeting
Social media engagement
Ecomhunt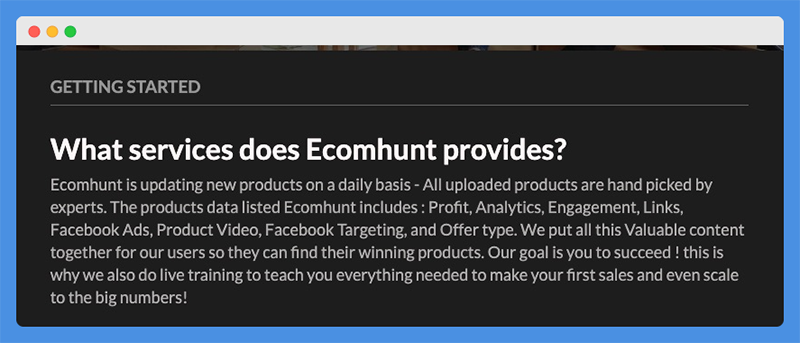 Ecomhunt's dashboard has an easy-to-navigate and user-friendly interface that's also quite comprehensive. The most profitable products are updated daily on the dashboards, and new products are at the top.
However, free members get limited access to each product's data and see fewer new winning products.
After you create your store, you can access all the related data to promote your products. Data includes:
Product profit
Analytics reports
Facebook ad report
Social media engagement numbers
Product video
Types of offer
Verdict
Since both platforms have strikingly similar features, they're both winners in this category. Both tools are user-friendly, uncluttered, and comprehensive.
Interesting Read: Is Amazon Dropshipping Profitable?
Product Analysis and Reports
Pexda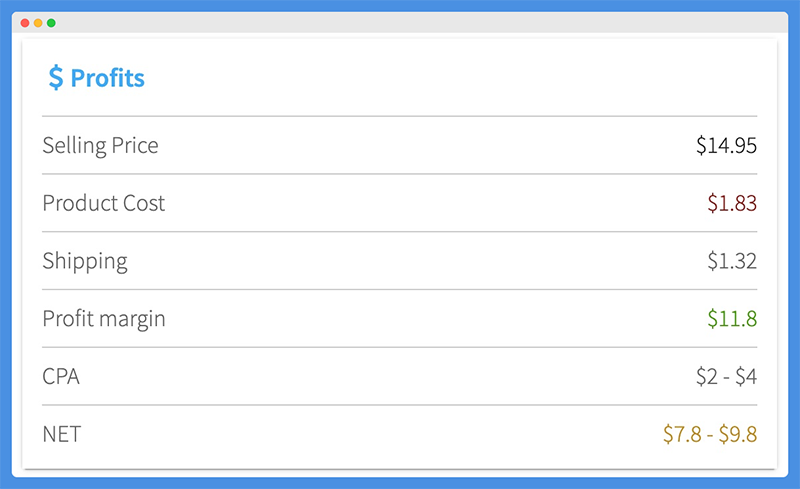 Businesses rely on their detailed analysis of product and sales data to chart their growth paths. With this data, a retailer can correct and improve the data reports' adversely affected aspects.
Pexda provides up-to-date product data with a single click. For each product selected, a Pexda user gets:
AliExpress report
Amazon report
Ad insight for products
Facebook targeting suggestions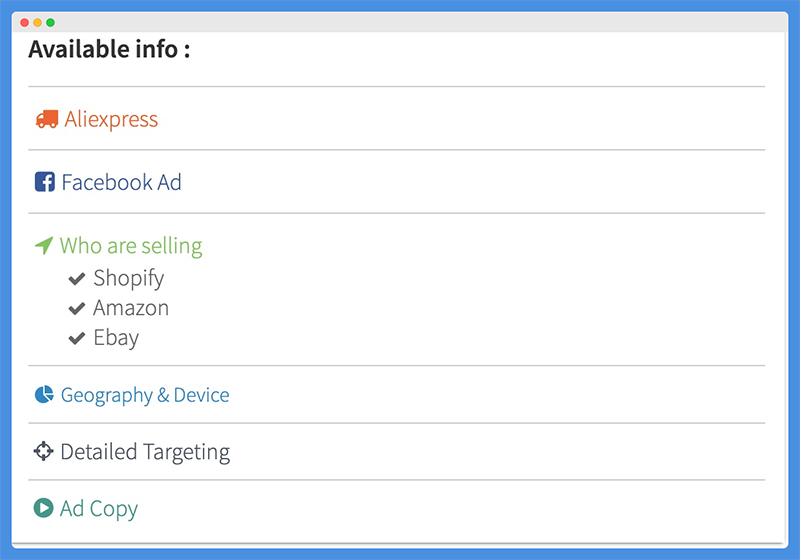 Ecomhunt
Ecomhunt's product analysis and reports provide all the product details that a user would want to know. From a product's profit margin to the price that a retailer will get the products from AliExpress.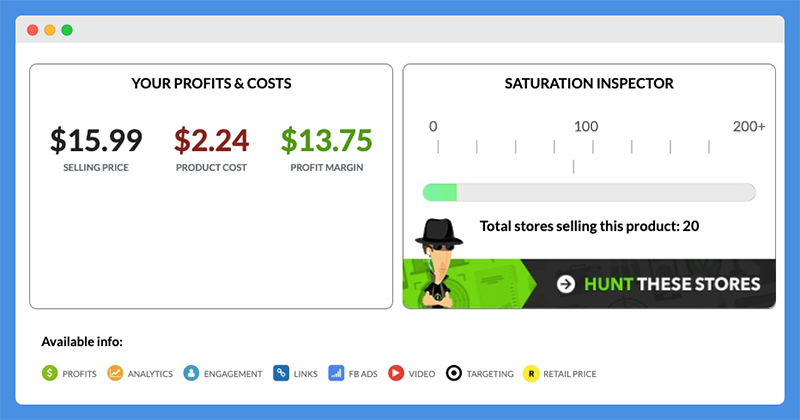 There's also a social media statistics report that lets you know if a product is outdated or trending.
With this tool, you'll know the prospect of success with each product before promoting them.
Hence you'll be basing your business decisions on actual data and market trends and not wishful thinking.
Plus, you'll get product reviews and votes, informing them about whether a product is defective. You also get:
Facebook report and targeting that's done for you.
Video copies you can use to promote the products.
Reports on competitor's stores.
Video explanation
And more.
Verdict
Ecomhunt is the winner in this category as it does most of the heavy lifting for you. It also provides videos that explain each feature, so you don't waste time and money figuring out how everything works.
Ecomhunt Vs Pexda Features
Chrome Extension
Pexda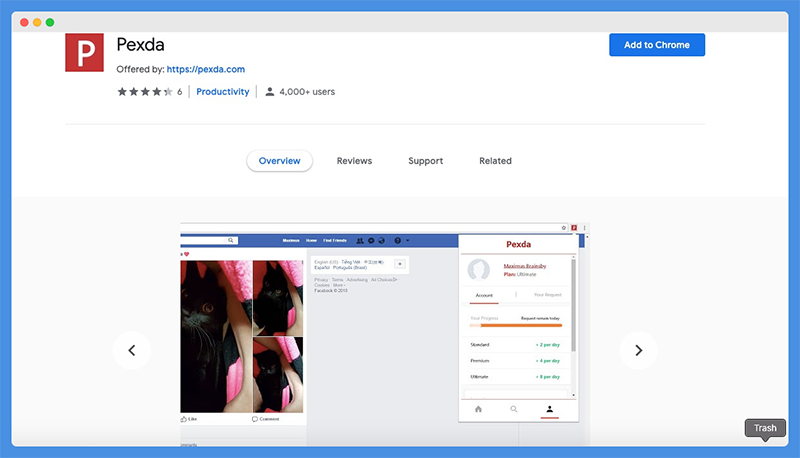 Pexda's Chrome Extension allows you to keep track of current and trending ads on Facebook. You can keep individual records of all viral Facebook ads and then use it as a template to run better ads.
The extension allows you to decide what product you want to search for and requires nothing from you financially.
You just need to sign up as a Pexda member, download the Chrome extension, and add it to their Chrome browser.
Once the download is done, and the extension is activated, you can click on the "Auto Hunt" option and begin their Pexda Chrome extension journey.
Unfortunately, the Pexda Chrome extension places a limit on daily hunts. For example, the extension allows Standard subscribers to hunt two times, Premium subscribers to hunt four times, and Ultimate subscribers to hunt up to eight times daily.
Ecomhunt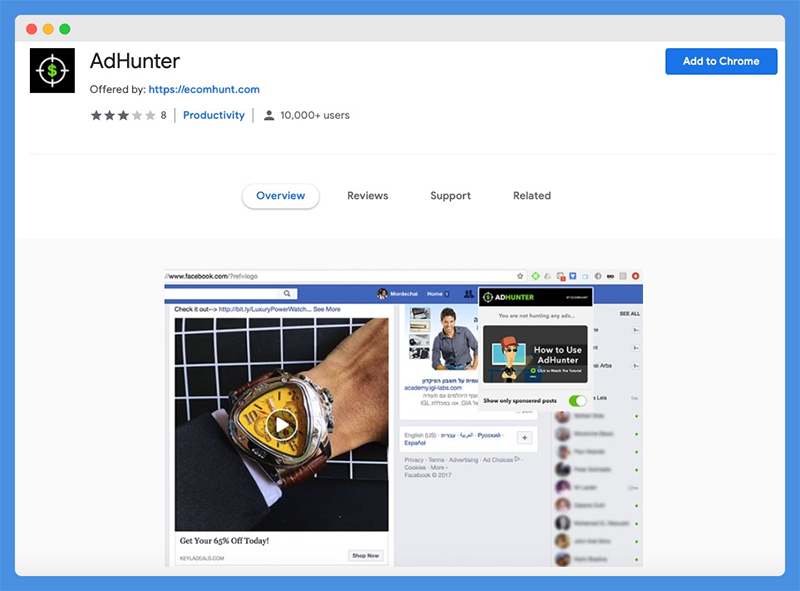 Ecomhunt comes with an AdHunter tool that helps you monitor and keep track of competitors' Facebook ads. The Chrome extension enlightens you with any sponsored ad on Facebook and allows them to explore and view the performance of said Facebook ad.
With Ecomhunt's Chrome extension, you can view elements like traffic increment, targeted countries, the duration of running ads, etc.
Luckily, you can access the extension for both the free and Pro versions of the Ecomhunt software as long as they have an Ecomhunt account.
Verdict
Again, Ecomhunt emerges the winner here as it allows all registered members to access its Chrome extension features.
You can see how a competitor's ads perform and explore new ways to make your ads look even better.
Facebook Ad
Pexda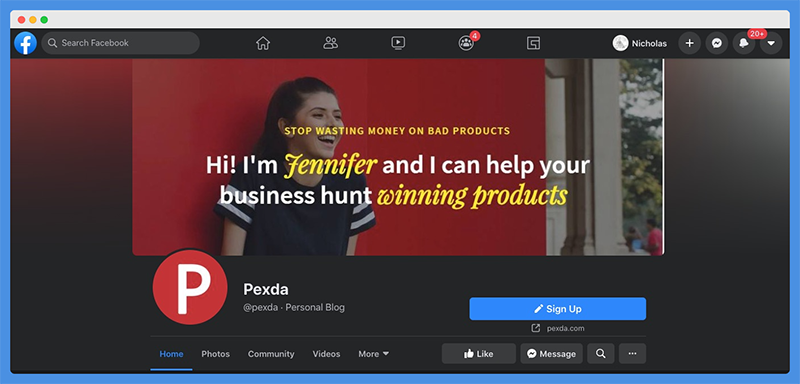 Pexda helps you access high-performing Facebook advertisements that are performing well.
This feature means that you can see what's working for competitors and use it as inspiration for their ads.
Hence, every product on Pexda's database comes with Facebook Advert examples.
You can click on any desired product and go to the Facebook Ad section and follow the link. In this section, you get a comprehensive breakdown that includes the product images and product videos.
You also get to view the products' statistics like the number of likes for the product, total shares, ad views and reactions generated, and the product's comments.
Ecomhunt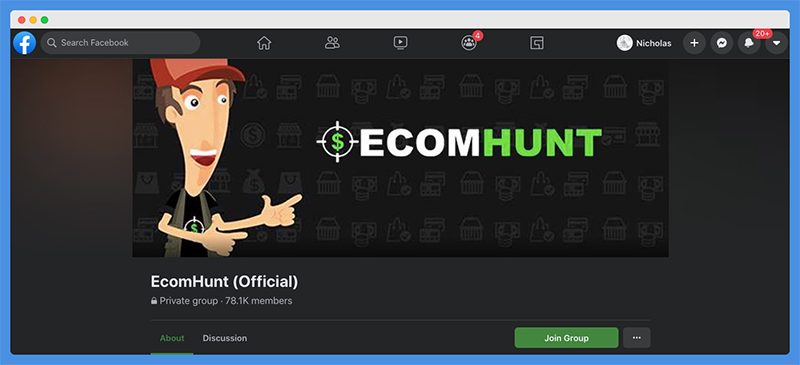 Ecomhunt provides you with information about all the Facebook ads that are running for a specific product.
The details include product videos, any associated ads, links to the other stores selling the product, etc.
This information is useful for people who don't know much about ad copying and have no videos to promote their products through social media.
Verdict
Pexda emerges the winner because it offers an in-depth analysis of competitors' Facebook Ads and points you towards your products' appropriate target audience.
Targeting Options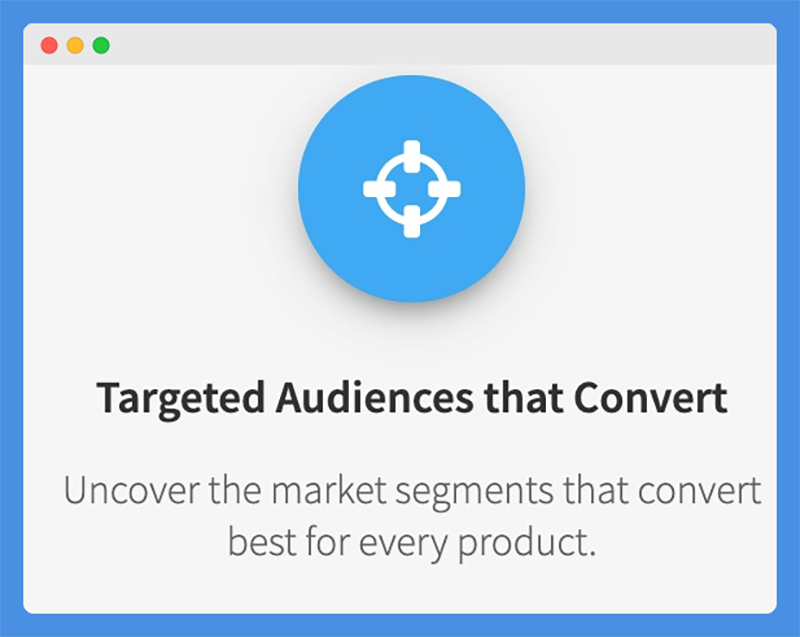 Pexda
If you aren't sure how to promote your products to reach the right target audience on Facebook, Pexda has three ready-made targeting options.
These targeting options provide a clear idea on how to use its features and parameters, including age, gender, locations, and behaviors.
Clicking on each target option opens a tab that gives more in-depth information, including the engagement figures and potential reach for each.
This feature helps you avoid the hassle of creating targeting campaigns from scratch, thus saving lots of time and money.
Ecomhunt
Before you can promote or sell your product, you have to know who you're targeting. In other words, you have to know which country, age, and the interest of your customers beforehand.
With Ecomhunt, you have examples and detailed insights about targeting a product.
Verdict
Pexda wins as it offers you different targeting options to choose from, recognizing that your needs might not be the same all the time.
Product Database
Pexda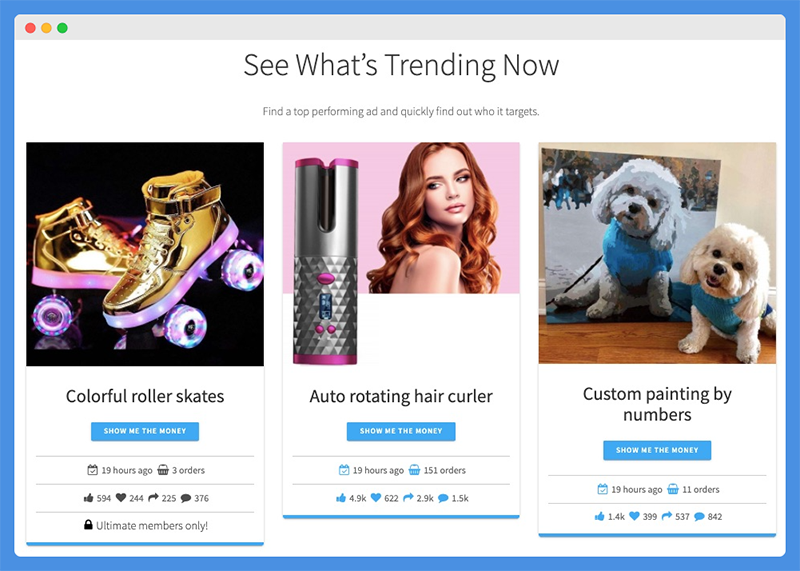 Pexda has a broad database that includes the products with the highest conversion rates, ensuring that consumers can invest in the most profitable products.
This tool also allows you to discover product items predicted to be significant sellers in the future.
You can access all of Pexda's products on the platform's grid layout. The layout also displays individual products' information so that you can navigate them easily.
The structure includes high-quality product images, the number of days the product has been listed for, and it informs you whether the product holds untapped potential or not.
Pexda also has a spot for listed products, categories, and subcategories. Additionally, the product database gets continuously updated with new products for a particular target audience.
Through this, you can remain ahead of the competition by buying and selling products with untapped potential.
Ecomhunt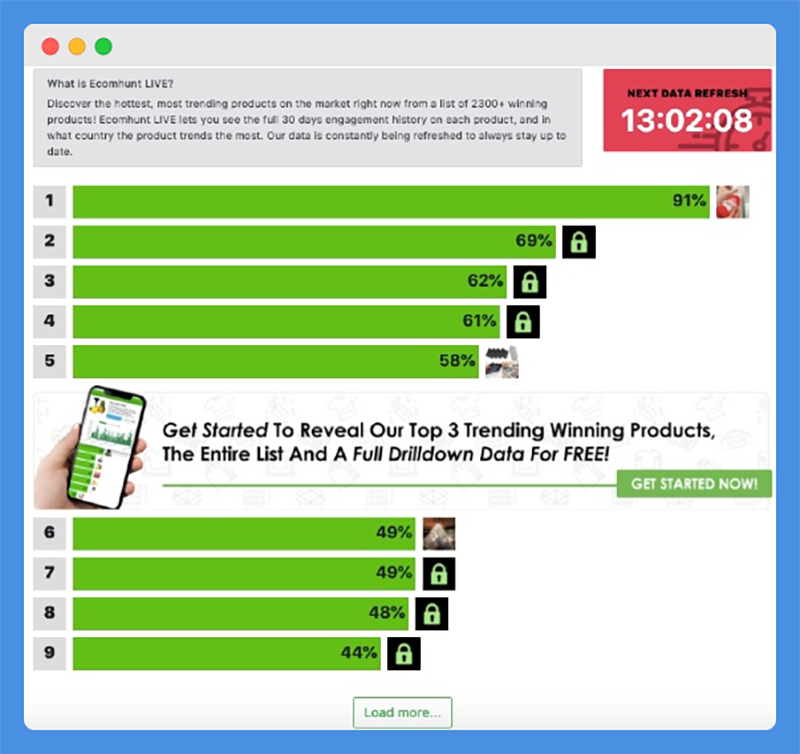 Ecomhunt maintains a robust product database that it updates daily. I find it interesting that Ecomhunt maintains a regular product update schedule and can find the refresh count down on their website.
Verdict
Both Ecomhunt and Pexda win here as both platforms maintain robust product databases.
Search Tools
Pexda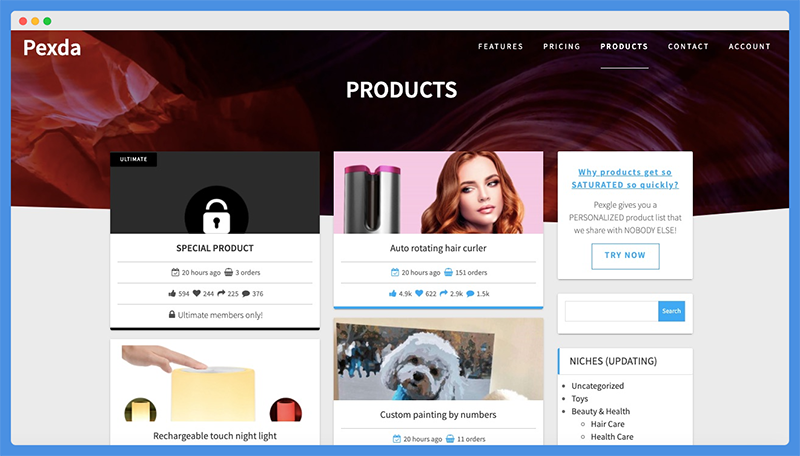 Due to its wide array of listed products and the number of newly added products, searching through Pexda's database can be a hassle for you.
Luckily, the database has search tools that allow buyers to search for specific products based on a selection of filters and niches.
Using the niche filter, buyers can search for products based on specific niches, including kids and babies, pets, or hobbies like hiking, holiday themes, movies, food and drink, and many more.
Buyers can also use the sort function to discover hot products.
For example, you can search for the newest products if you want to catch something before it gains attention.
It's also possible to find products based on current orders, thus locating the best-selling products.
You can also find products through Pexda's Facebook Ad metrics that include product likes, reactions, shares, and comments.
However, it's essential to know that some search features are only available for specific paid subscriptions.
For instance, premium members can sort by product cost, selling price, and targeting reach. Those on a standard plan cannot do the same.
Ecomhunt
Ecomhunt, unlike Pexda, doesn't have the search function to help users quickly find their product of choice.
Verdict
Pexda wins here with its search function.
Product Videos and Product Description
Pexda
Pexda offers simple but essential descriptions for all the products in their catalog. Thus, saving online retailers a significant amount of money and time creating catchy ads, allowing them to focus on selling products.
You can view a product's description when you go to the product's page from the database and copy the information below its image.
Plus, all products come with free video ads that online sellers can use on Facebook and other marketing sites. It's always a good idea to avoid videos that have copyrights as these could lead to a ban of your Facebook Ad account.
Ecomhunt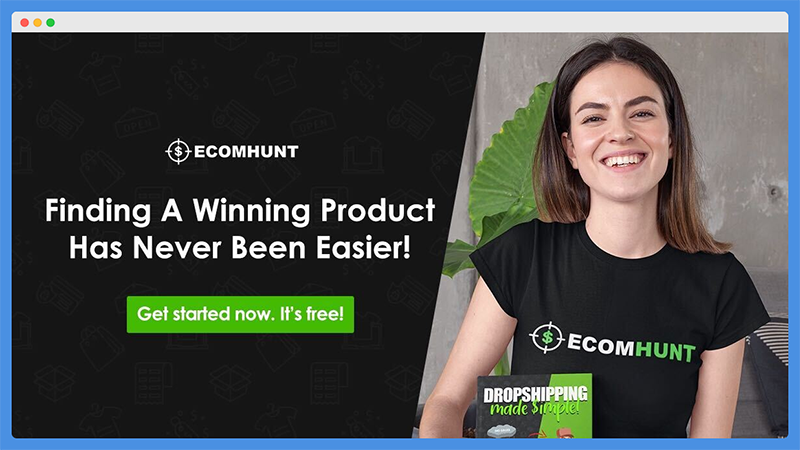 Ecomhunt provides users with a product video to help them in their research. Users can rely on Ecomhunt's product videos to see what competitors are doing, understand what's converting, and then do more of what works.
Verdict
Both Ecomhunt and Pexda win here as both tools offer detailed product videos and descriptions.
Shopify Apps
Pexda
Although you won't find a Shopify app from Pexda, you can use their product research data to sell on the platform.
Ecomhunt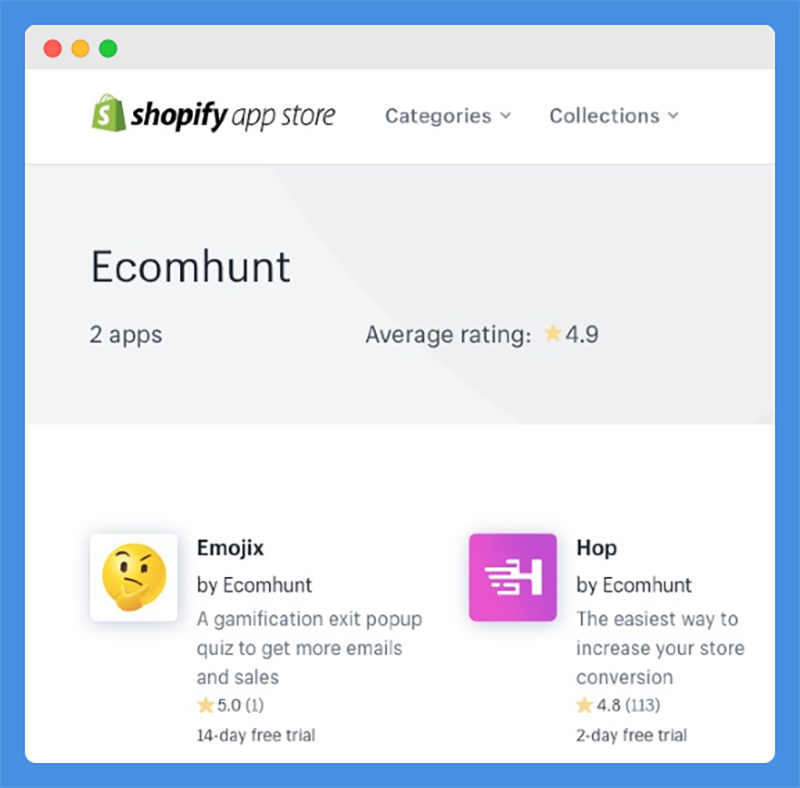 Besides its Chrome extension, Ecomhunt provides you with two Shopify extensions for your Shopify store. For online retailers who are using themes such as EcomTurbo, these plugins are not entirely required.
However, online sellers running a standard account might find these plugins necessary.
Webinars and Training
Pexda
Pexda doesn't educate its audience with webinars.
Ecomhunt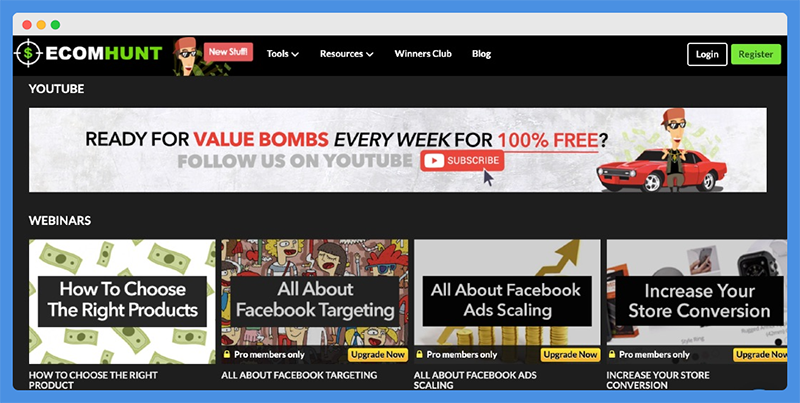 Ecomhunt ensures that online sellers know their options by providing them with dedicated webinars and training in sales or eCommerce. Even experts can benefit from the training material and finetune their skills.
While you can access some free tutorials, you might eventually have to upgrade to a Pro membership for more materials — the cost is included in the membership price.
There's also a blog that covers several topics related to dropshipping and eCommerce.
Some of these blog posts even include detailed case studies and are worth checking out for the free content.
Verdict
Ecomhunt wins because it educates its users and shares success strategies they can use to improve their sales performance weekly.
Ecomhunt University
Pexda
Pexda focused squarely on providing you with product discovery features, whereas Ecomhunt offers you the education you need to succeed.
Ecomhunt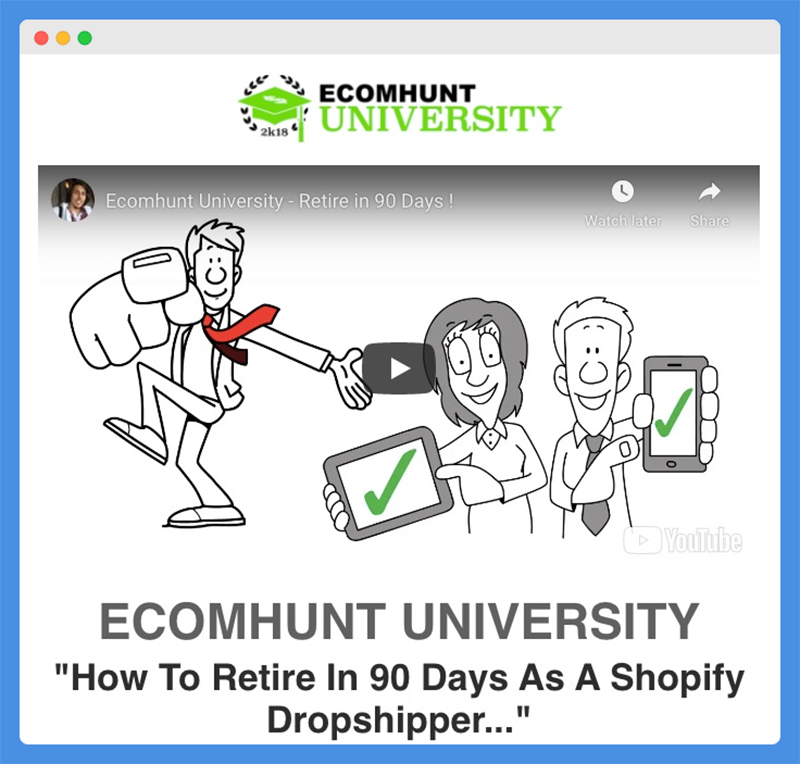 Another key feature of the Ecomhunt platform is Ecomhunt University. The university, which provides details and videos on building a dropshipping business, is free for those who sign up.
It also helps teach you how to develop your eCom Funnels. Although, you can even get a prebuilt eCom Funnel if you prefer.
Verdict
Ecomhunt wins here with its detailed tutorials and guides that help eCommerce newbies become experts and support experts to improve their sales.
Instagram Influencer Search
Pexda
Unlike Ecomhunt, Pexda does not have this feature. Users will have to use third-party tools to find influencers to promote their business if they wish to drive sales this way.
Ecomhunt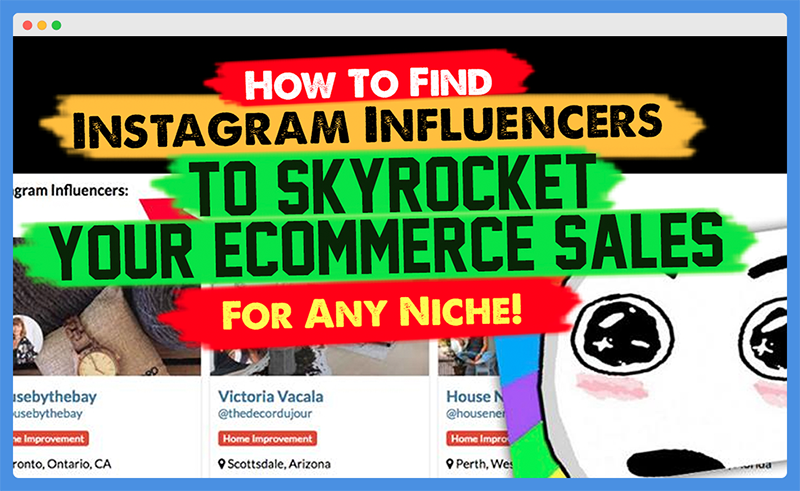 Because Ecomhunt recognizes the importance of today's business on Instagram, it provides you with Instagram influencer tools to help your products sell on the social media platform.
This feature is especially useful to Ecomhunt users who just launched or are about to launch their products and need that momentum to drive sales.
Newbies can instantly win brand loyalty using this method as well.
Whatever the reason, you will enjoy faster growth by influencing on Instagram because the platform is a quick converter of products to profits.
Verdict
Ecomhunt wins here as it provides users with the Instagram Influencer option to drive sales, launch their new products, or launch into new markets.
Ecomhunt Vs Pexda: Key Differences
Although Pexda and Ecomhunt share certain features, they also have tools that make them unique. Let's take a look at these features.
Ecomhunt and Pexda Similarities
These tools share these similarities
Product analysis and reports
Chrome Extension
Product database
Product videos
Pricing and Membership
Pexda Pricing and Membership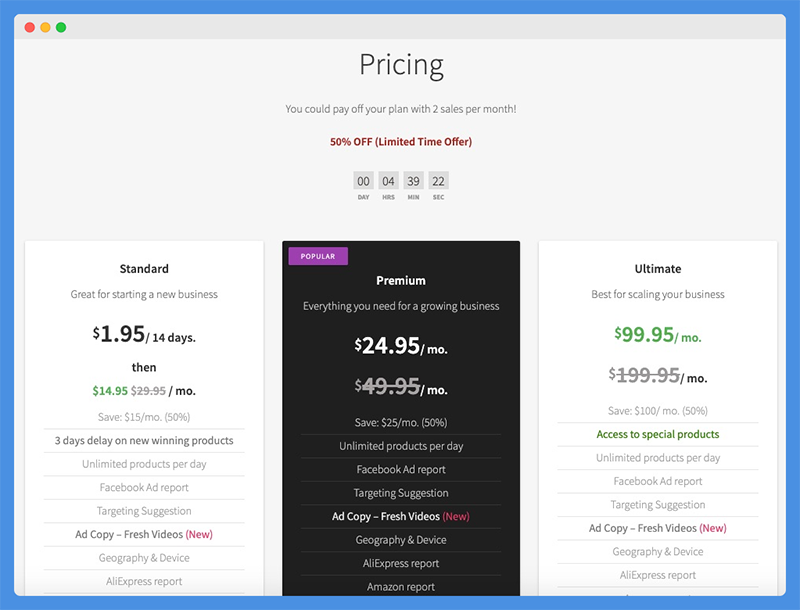 Pexda offers three pricing plans.
1. Standard Plan: $29.95 per month
This version gives you access to:
Unlimited products per day
Targeting Suggestion
Amazon report
AliExpress report
eBay report
Geography & Device
Auto Hunt Tool
Ad Copy – Fresh Videos
24/7 support
Store Selling report
Facebook Ad report
Three day delay on new winning products
2. Premium Plan: $49.95 per month
This version gives you access to:
Unlimited products per day
Facebook Ad report
Targeting Suggestion
Ad Copy – Fresh Videos
Geography & Device
AliExpress report
eBay report
Amazon report
Store Selling report
Auto Hunt Tool
24/7 support
3. Ultimate Version – $199.95 per month
This version gives you access to:
Access to special products
Unlimited products per day
Facebook Ad report
Ad Copy – Fresh Videos
Targeting Suggestion
Geography & Device
Amazon report
AliExpress report
eBay report
Store Selling report
Auto Hunt Tool
24/7 support
Please always refer to the pricing page for the latest prices as these prices might change without notice.
Ecomhunt Pricing and Membership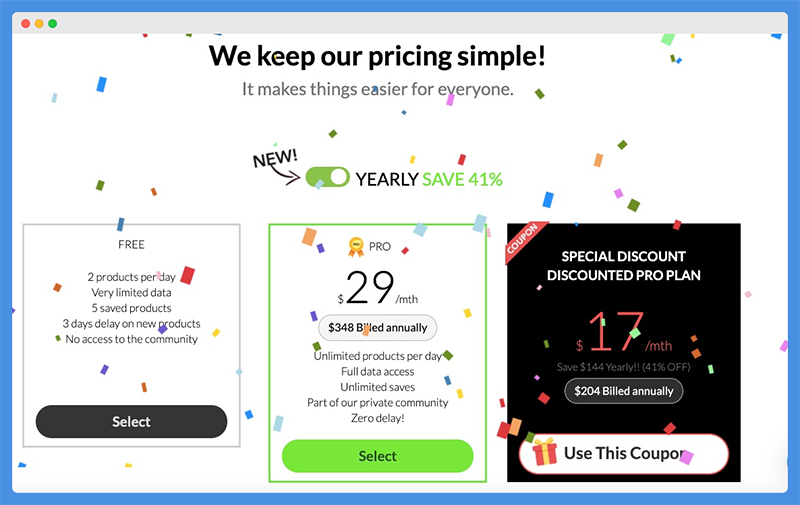 Ecomhunt offers two pricing plans.
1. Free Plan: $0 per month
This plan offers you:
Two products per day
Minimal data
Five saved products
Three day delay on new products
No access to the community
2. Pro Plan: $29 per month
This plan gives you:
Unlimited products per day
Full data access
Unlimited saves
Part of the private community
Zero delay
Please always refer to the pricing page for the latest prices as these prices might change without notice.
Verdict
Ecomhunt wins this one with its free plan. Although it has some restrictions, the free plan allows you to explore its features without the financial commitment.
Advantages – Ecomhunt Vs Pexda
Let's look at the pros of using either of these channels for product hunting.
Pexda
It has a user-friendly interface that allows for easy navigation.
It allows you to search for the best product.
It provides a systematic categorization for all products.
It comes with the audience breakdown feature.
Ecomhunt
It provides insights into competitor's performance.
It helps to imitate and devise new marketing strategies for social media accounts.
The platform's Pro plan is reasonably priced.
There's no extra effort from you in locating and researching products.
The platform offers a money-back guarantee.
Disadvantages – Pexda Vs Ecomhunt
Though these platforms have fantastic pros, there has to be a con. So, what are the cons of these platforms?
Pexda
It doesn't offer a free trial.
The platform's targeted ads are sometimes inaccurate.
It doesn't provide videos that explain its utility and features.
Ecomhunt
The free plan only gives you access to a limited number of features.
You'll need to have some Facebook insights.
Final Verdict: Pexda Vs Ecomhunt
There you have it — an in-depth analysis of two top product hunting tools in the market. Pexda and Ecomhunt provide you with tools to find winning products that you can sell to potential buyers.
Both platforms also have various features that make your search for the best-selling product easier.
Though both platforms share some similar elements in this regard, we'll pick Ecomhunt as the overall winner.
It provides you with information on the performance of products, gives you ad insights, offers you growth tactics through its educational resources, amongst others.
The Econhunt product hunting platform provides you a free plan to start your journey, and the paid plan offers features that make it worthwhile.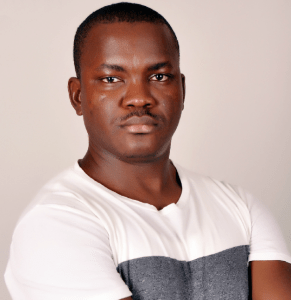 Nicholas Godwin helps businesses tell profitable brand stories that their audiences love. He's worked on projects for Fortune 500 companies, global tech corporations and top consulting firms, from Bloomberg Beta, Accenture, PwC, and Deloitte to HP, Shell, and AT&T. Works with Mofluid these days.