If you're looking for best clickfunnels reviews, you've hit the right place.
ClickFunnels is an integrated system that offers many features to help people build webinars, landing pages, sales pages, set up billing pages, and more. As a sales page and landing page designer and editor, it has a long list of page templates and funnel templates.
If people want to set up a landing page for a webinar registration, ClickFunnels offers several different pages to ensure success.
The webinar template has a landing page, thank you page, live webinar page, webinar replay page, and a sales page. This is just one example of the thoroughness of ClickFunnels.
>>>>>><<<<<
ClickFunnels makes it easy for people to take a great idea, a new product they want to sell, or a dream business and turn it into a well-designed sales funnel that will convert your website visitors into customers.
Instead of having to spend extensive periods of time, like days, weeks, or months, trying to design your own page or spending a lot of money hiring a website developer, ClickFunnels helps make the development process affordable and smooth to create and implement.
Let's get started and explore more in this Click funnels review.
Explore : ClickFunnels Vs Optimizepress
Features Of ClickFunnels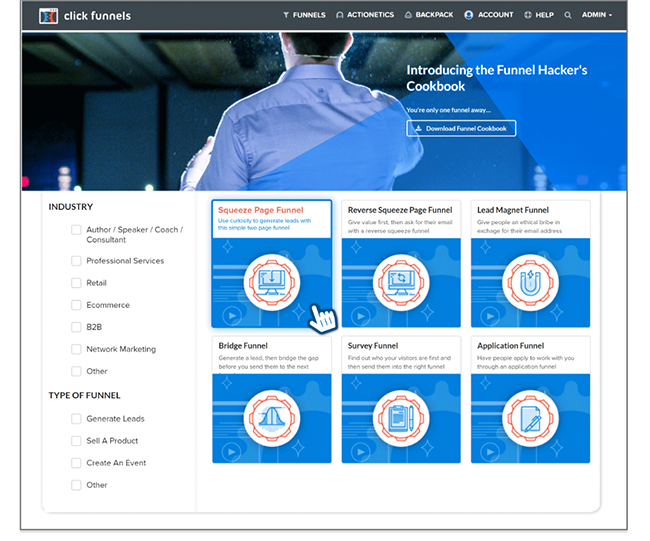 ClickFunnels is the only platform that not only builds landing pages, but also sales funnels. It has so many features compared to its competitors. ClickFunnels offers so many features, it would be hard to list them all. Here are a lot of them:
A/B Testing
Activity Dashboard
CRM Integration
Click-Through Tracking
E-mail Integration, Notifications, and Tracking
Collections and Communication Management
Custom Landing Pages with Customizable Templates
Multi-Channel Communication
Sales Trend Analysis and Sales Reporting
Third Party Integration
Contact Database
Campaign Analysis
Drip E-mail Marketing and Event Triggered E-mail
API
Graphical User Interface
Performance Reports
SEO Management Tools
Conversion Tracking and Database Conversion
Customer Database and Segmentation
Social Media Integration
Visitor Tracking
Web Forms and Web Analytics
Workflow Management
Drag and Drop Interface
Interactive Content
Lead Scoring
SMS Marketing
Subscriber Management and Workflow Management
WYSIWYG Editor and WYSIWYG E-mail Editor
Trend Analysis
Text Editing; and,
Who Can Benefit From ClickFunnels?
ClickFunnels is a highly successful platform because it allows any person with a business startup idea to easily be able to build landing pages inside of a sales funnel that have a strong track record of achieving conversions.
What makes ClickFunnels especially helpful is that it is designed to help all entrepreneurs, solopreneurs, or wantrapreneurs create their own pages without needing any programming or website design knowledge.
ClickFunnels has done all of the work beforehand and now people are able to point and click until their page is exactly what they wanted.
Any person who has an idea, product, or service they want to sell can benefit from ClickFunnels.
You might want to read : ClickFunnels Vs Leadpages
ClickFunnels Pricing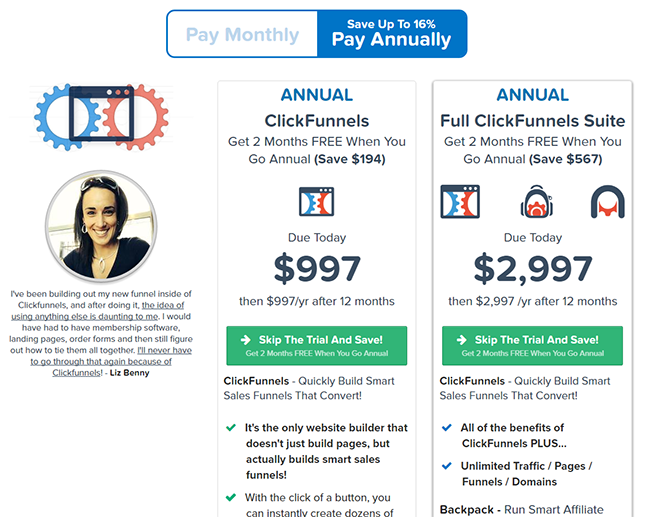 Talking about Clickfunnels price, there are two different pricing options for ClickFunnels and both have a 14-day free trial available to help you determine if this platform is right for you.
ClickFunnels (Lower-Tiered Plan)
The ClickFunnels basic plan costs 97 dollars a month and is great for any business that is just getting started. With this plan, you can have up to 20 funnels, 100 pages, 20,000 visitors, and an unlimited number of contacts and members.
With this plan, you have access to a lot of the features ClickFunnels has to offer. Here are the features:
A/B Split Tests
E-mail Integration
Optin Funnels
ClickPops
ClickOptin
All Advanced Funnels
Sales Funnels
Membership Funnels
Auto Webinar Funnels
Webinar Funnels
Hangout Funnels
Order Pages
Upsell Pages
Downsale Pages; and,
Funnel Sharing
>>>>>><<<<<
ClickFunnels Etison Suite
The Etison Suite is the top-tier of services in ClickFunnel pricing. It costs $297 a month and is great for businesses who need more than the basic plan can offer. With this plan, you can have unlimited funnels, unlimited pages, and unlimited visitors.
On top of offering all of the same services as the basic plan, Etison Suite members also get:
Priority Support
Priority Template Requests
Actionetics
Visual E-mail Builder
Manage E-mail Lists
Send Broadcast E-mails
Track Opens, and Clicks
Auto Responder Series
Action Funnels
Send Location Based E-mails
Send E-mails Based on Social Media
Flexible and Advance Segmentation
Lead Scoring and Action Scores
Magic Social Contact Profiles
Backpack
Unlimited Affiliates
Unlimited Commission Plans
Easy to Setup 1-Click
One Time Payments
Subscription Plans
Manage Affiliates and See Top Affiliates
Manage Commissions Owed and Paid
Branded Affiliate Sign up and Special Area
Complete Customization
SMTP Integrations; and,
Billing Integrations
>>>>>><<<<<
Is ClickFunnels Legit?
Is Clickfunnels legit? This is one question I hear all the time. The answer is yes, 100%.
So many businesses don't confide in Click funnels for no reason. They have an excellent team which has worked really hard over the years to become the brand they are today. Read more about them here.
Is ClickFunnels Worth The Cost?
While some people, especially those who are just starting their businesses, may feel like ClickFunnels costs a lot, for anyone who is serious about growing their business and taking advantage of all ClickFunnels has to offer, the cost is worth it.
Some of the cons that have been listed for people are that ClickFunnels takes investment to truly learn, is a little more expensive than competitor platforms like LeadPages or Thrive, and that it requires a continuous subscription to use your funnels.
The reason the cost is worth it is because it has excellent free training and it does more than competitor websites. This is something which most clickfunnel reviews will agree to.
Learn more about : ClickFunnels alternatives.
Final Thoughts About ClickFunnels
Clickfunnels reviews are everywhere but not those that are good and share the right information.
ClickFunnels is a leading platform that offers immense value to its members. From the easy to build funnels that are completely automated to the ability to perform conversion tracking and split-testing to help improve results, ClickFunnels offers so much to its users.
One of the best features of ClickFunnels is that they offer a 14-day free trial for people to begin the process of learning about the platform and implementing it into their business.
Also read : ClickFunnels Vs Unbounce
For a new business, the 14-day free trial is a great time to work through the free training to learn as much as possible about what ClickFunnels has to offer.
Finally to conclude this Clickfunnel review, if you want a solid company that has a lot to offer both new and seasoned entrepreneurs, ClickFunnels is a great choice.