The tools that we're looking at today use spying.
They are iSpionage and SpyFu and they use competitor research in order to formulate strategies.
They look at bulk data from specific domains in order to find out which keywords work best and which ones are the best fit for your domain.
So here we begin with our Spyfu vs iSpionage comparison.

iSpionage is a tool that you can use to spy on your competitors.
It includes features that help you create your own ads and keywords to battle your competitors head on.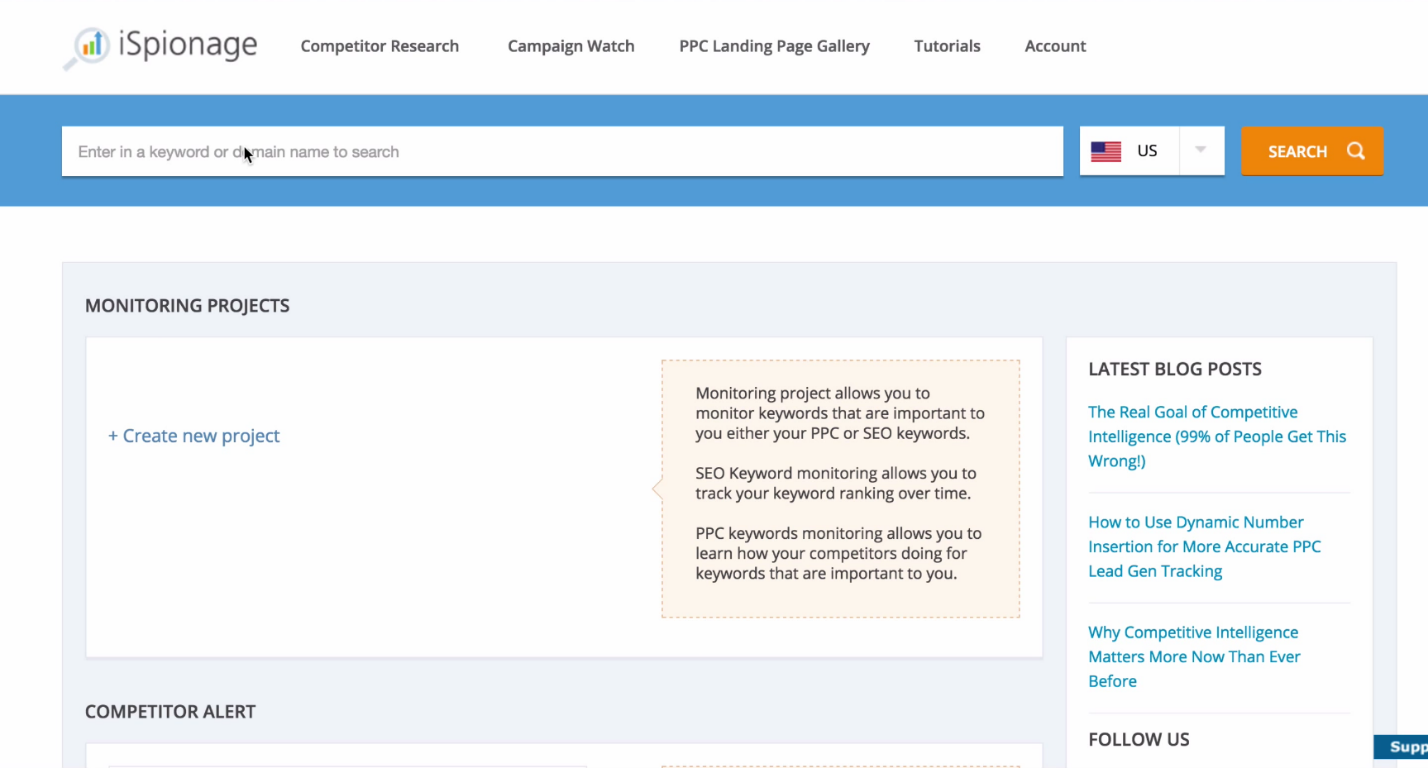 iSpionage comes with a wealth of features that you can employ in order to gain an advantage over your competitors by spying on their strategies and constructing your own.
Related : SEMrush vs Serpstat vs iSpionage
iSpionage Competitor Research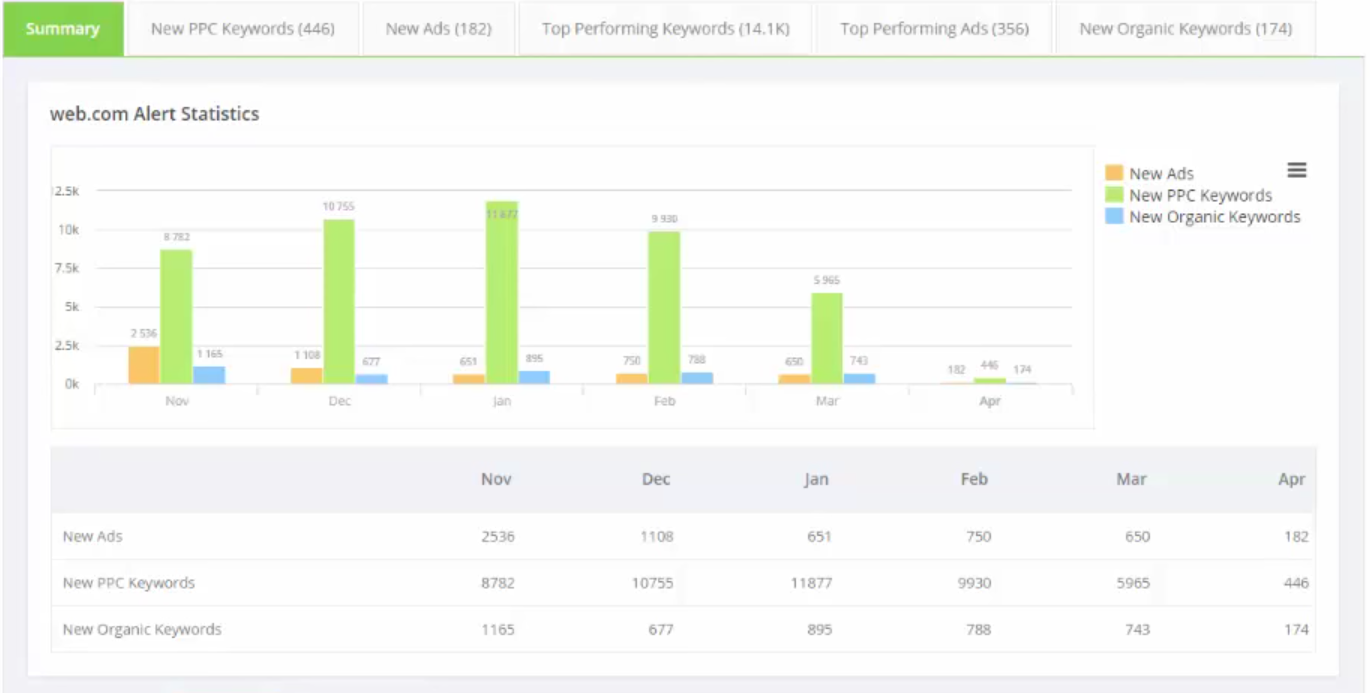 According to the Competitor research feature from iSpionage, you can get access to seven years worth of PPC and SEO keyword data.
This includes data from the top three search engines include Google, Bing and Yahoo! This includes around 92 million keywords, 108 million ad copy variations and nearly 45 million domains.
While this is not nearly as good as SpyFu, it's certainly nothing to sneeze at.
iSpionage Campaign Watch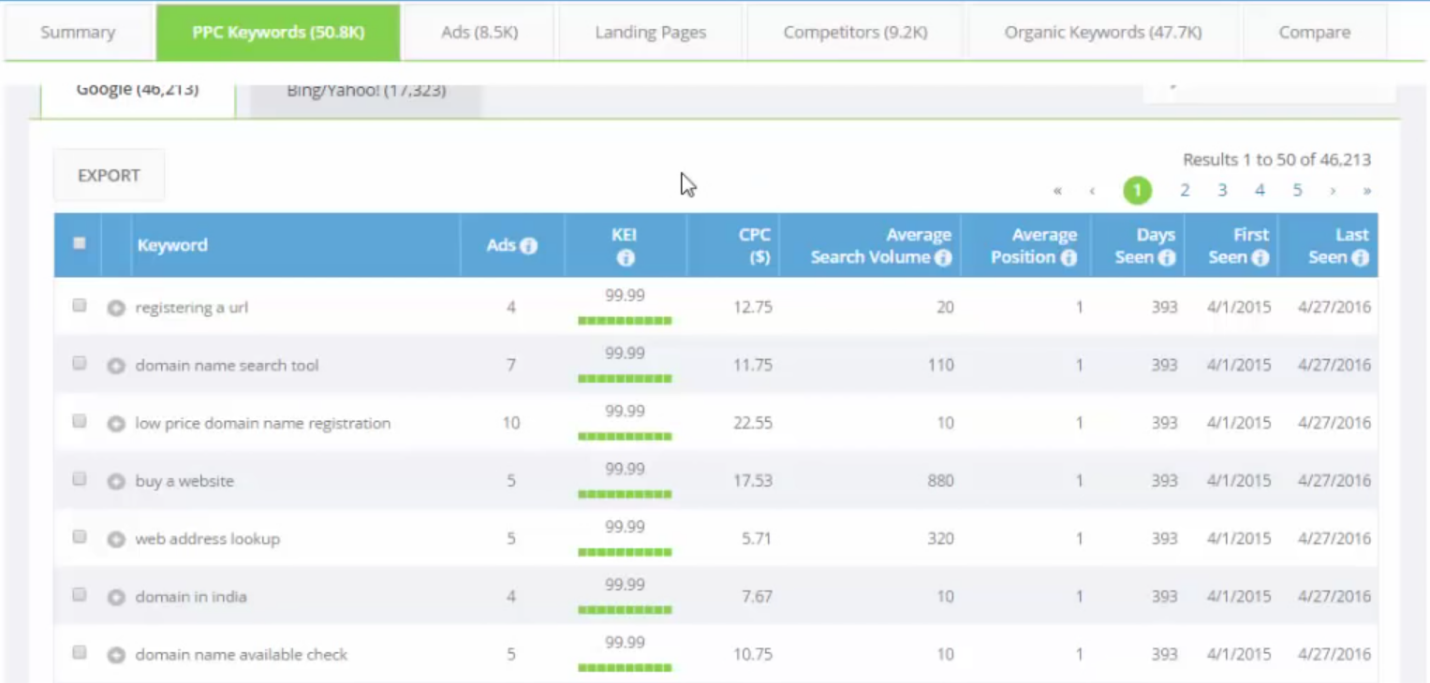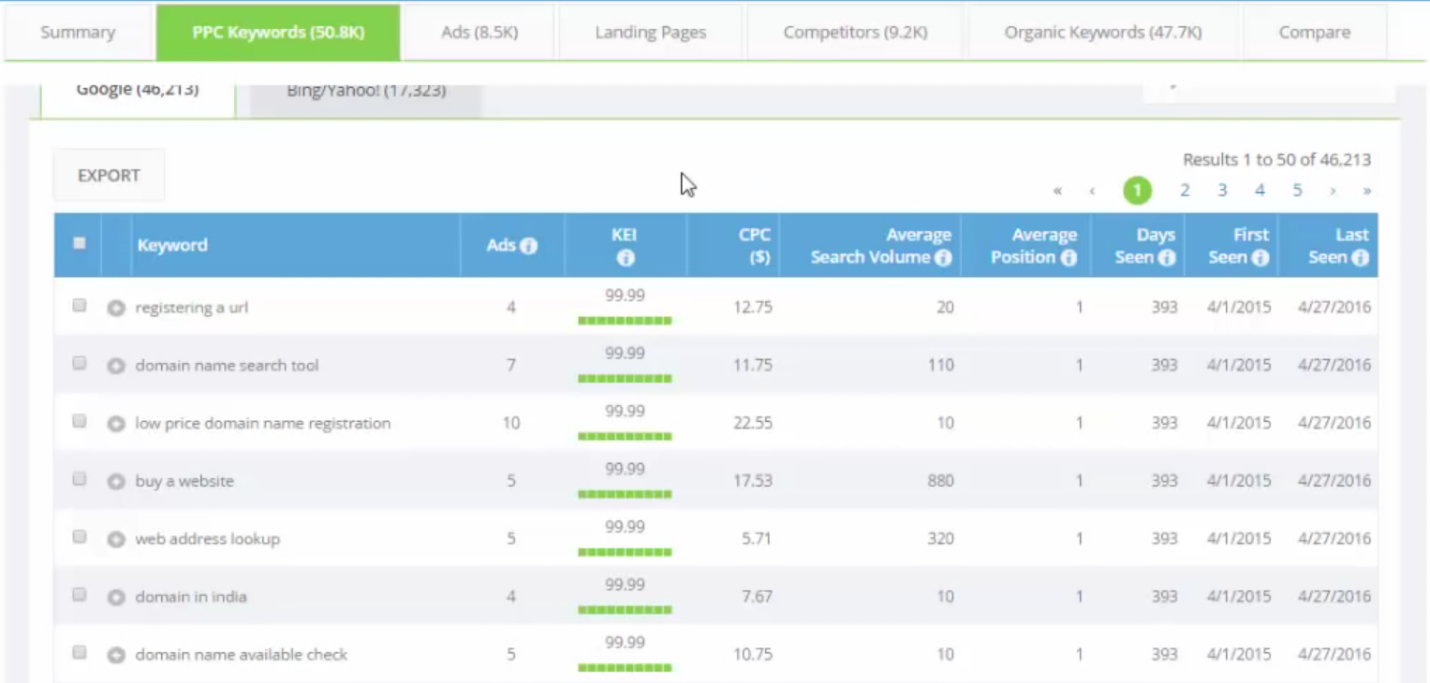 Campaign watch is the principal feature within iSpionage that allows for the spying. It gets you all the keywords and ads that your competitors are using in order to push traffic to their platform.
This allows you to learn from their mistakes and from their successes so that you can emulate the latter and avoid the former.
The full funnel visibility feature allows you to monitor the exact process that the competitor's customers go through in order to become regular visitors.
The acquisition strategy that is implemented by the competitors can be all yours and hence you can track the best ones and leave the ones with the worst rates of return.
This will allow you to get the best conversion per click ration and will leave you with a fuller wallet in order to spend on what really profits you and your company.
Worth Reading : Ecommerce On-page SEO Guide
iSpionage Landing Page Design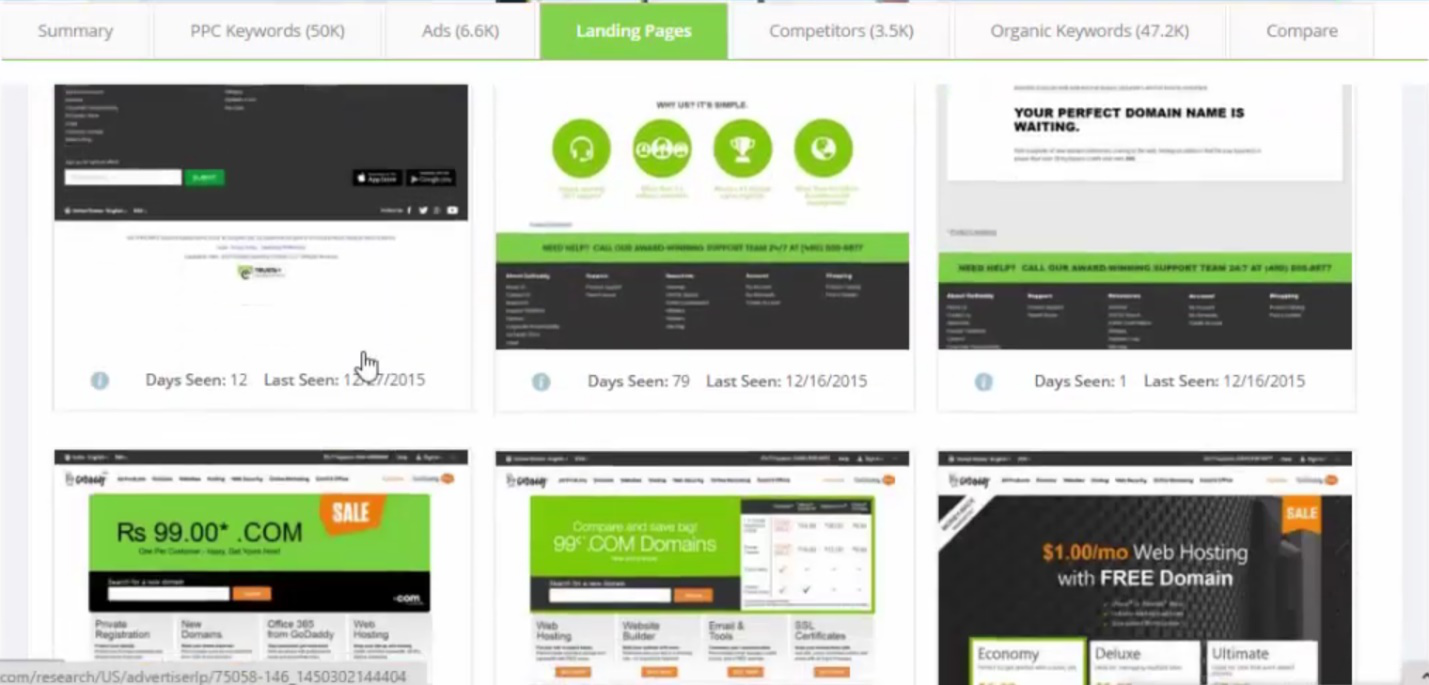 iSpionage review is incomplete without the mention of this feature.
This is an awesome feature from iSpionage which allows you to get the best landing pages designed from industry professionals.
These landing page designs will not only drive traffic to your website but they will also put you in touch with the best advertisers that can design great and effective call to action phrases.
iSpionage Lead Generation

The lead generation option for iSpionage allows you to get the advertisers which can give you the best ads for the price.
You can filter them by price and then employ them for your domains to get better and better traffic for your website.
iSpionage Pricing
iSpionage pricing is competitive. It gives out a handful of features for its basic plan and then builds on top of them in order to give you the best deal for the money.
Monthly Pricing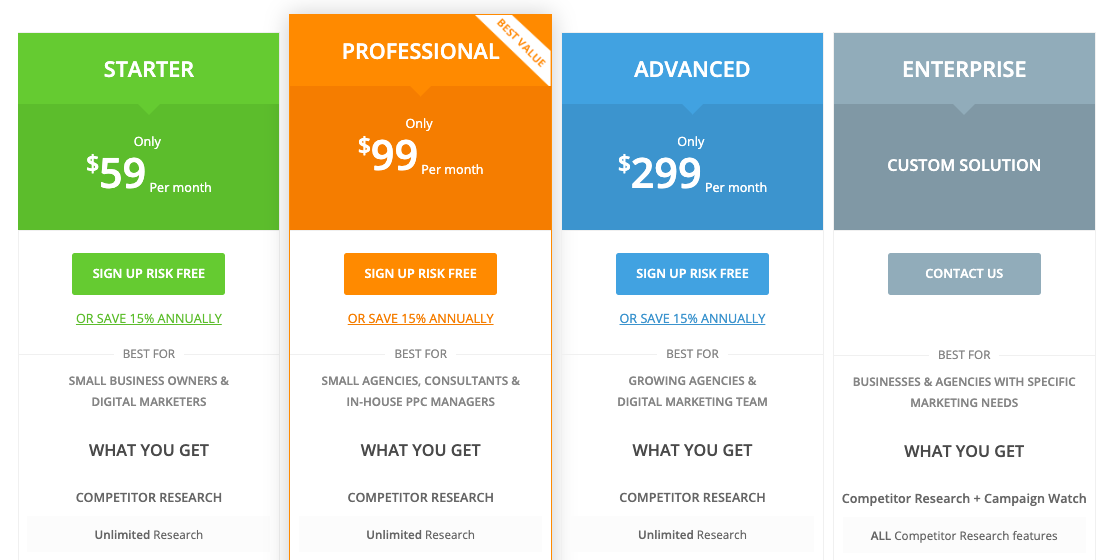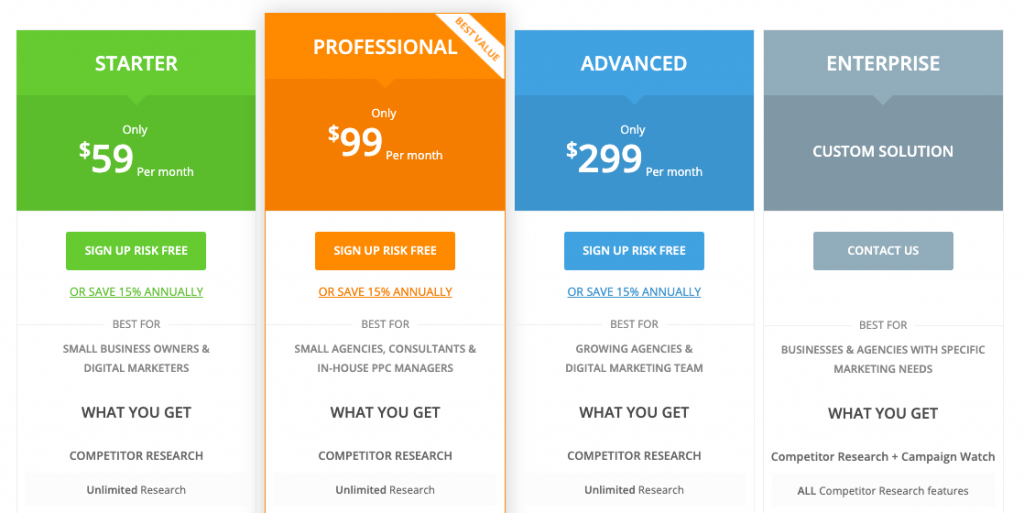 iSpionage features four different types of plans in its monthly and six monthly pricing plans. The first is the starter kit which features all the basic tools highlighted in the features section for $59 a month.
The second plan is the Professional Plan which piles on with more access to features and higher limits for $99 a month. The third is the advanced plan which gives you full access to everything that you need for $299 a month.
However, there are also custom plans that you can go for if you want to go the extra mile and take on your competitors head on.
These are best for companies that want to target very specific niches. The price for these plans is negotiable since they involve custom features.
Annual Pricing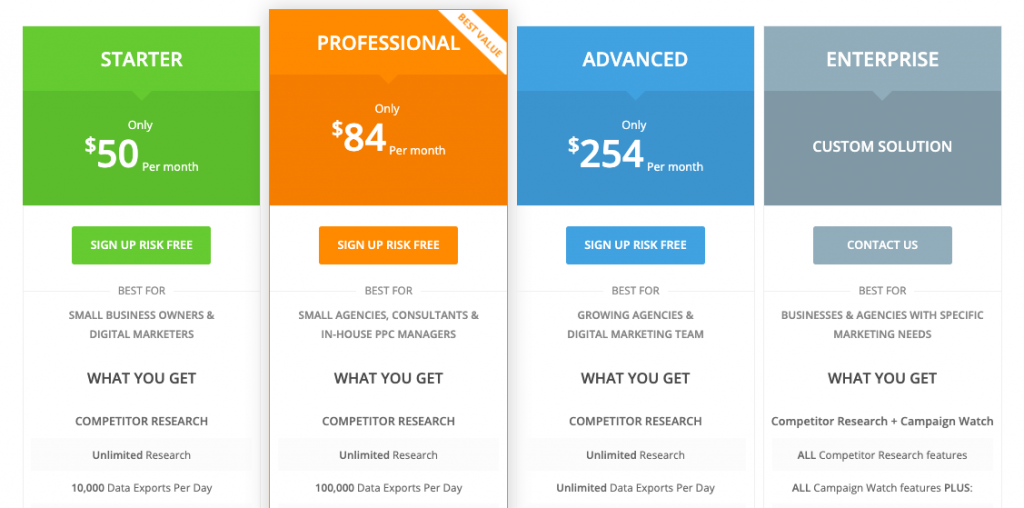 The annual plans for iSpionage involve all the same features but they are priced lower since the commitment is longer. The iSpionage basic starter plan is $50 a month while the Professional Plan is $84 a month.
The Advanced plan goes for $254 a month and the custom pricing plan is of course negotiable.
iSpionage Reviews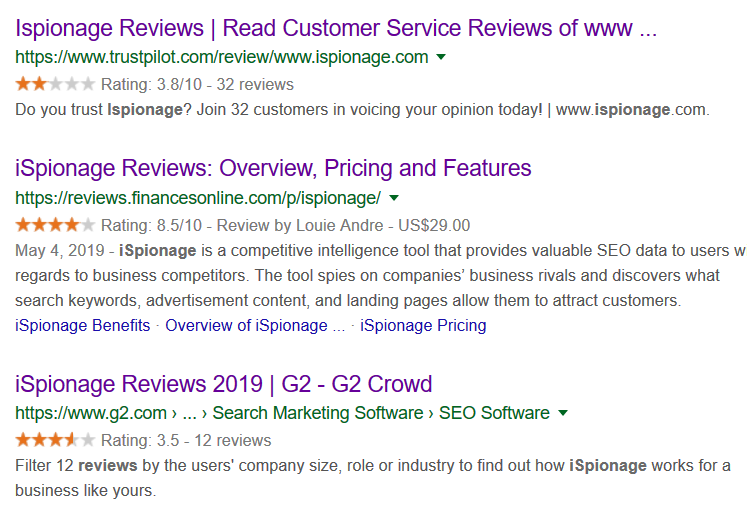 If you look at the majority of reviews for iSpionage, you'll find that they're all either mixed or somewhat positive.
However, there is also a lot of negativity surrounding the tool which centers on its unreliability and the price.
Positive Reviews

iSpionage doesn't have a spotless record but that doesn't mean that people don't love a lot about the tool.
The best reviews say that it has to be number 1 when it comes to understanding competitor tactics and saves a lot of money through the marketing process.
Other reviews highlight how easy the tool is to use and how various blog posts on search engine optimization and paid click advertising have helped companies achieve better competitive edges with their rivals.
Negative Reviews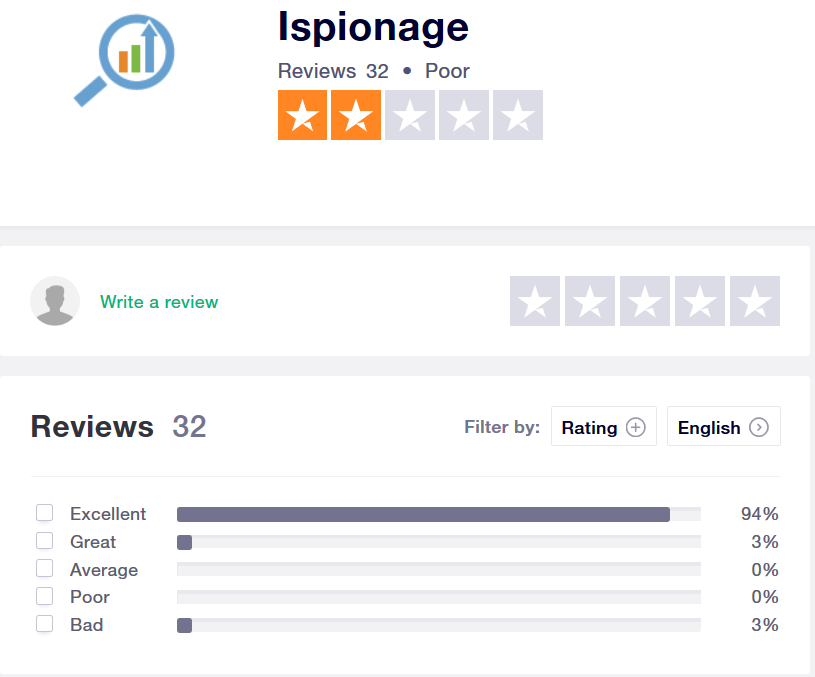 There are quite a lot of negative reviews for iSpionage and that's mostly because the tool has been cited to be unreliable and not deliver on a lot that it promises. Even the most positive of reviews for the tool say that it can be unreliable sometimes.
Other common complaints include that it doesn't have a large enough database to choose from and that there are cheaper, better value for money alternatives on the market.
Other complaints include doubts on the accuracy of the data provided and the exclusion of any other language but English within the tool.
There is also a review on Trustpilot.com which you find on almost every single seller tool.
It's the one where there is a misunderstanding with the vendor and the trial ends and the full price for a month or a year is charged from the customer.
This leads to the customer lashing out because there was either a miscommunication or there was an error with the billing process.
Interesting Read : SpyFu vs SEMrush vs Moz Pro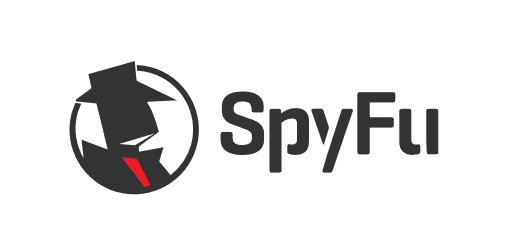 It's time to talk about SpyFu in our iSpionage vs SpyFu comparison.
Are you wondering how does Spyfu work?
SpyFu advertises itself primarily as a tool that you can use in order to gain the upper hand on your opponents by stealing their best keywords and ads which can be used for paid and organic research for your strategy.
SpyFu - The Best SEO & PPC Tool
SpyFu reveals the marketing formula of your competitors. Search for any domain on internet, track rankings, keywords, ad variation and more. Make better marketing decisions with SpyFu.

We earn a commission if you click this link and make a purchase at no additional cost to you.
However, it has several other useful tools you can use in order to organically grow your user base.
Taking all this in to account, it is one of the best seller tools to stay ahead of the competition.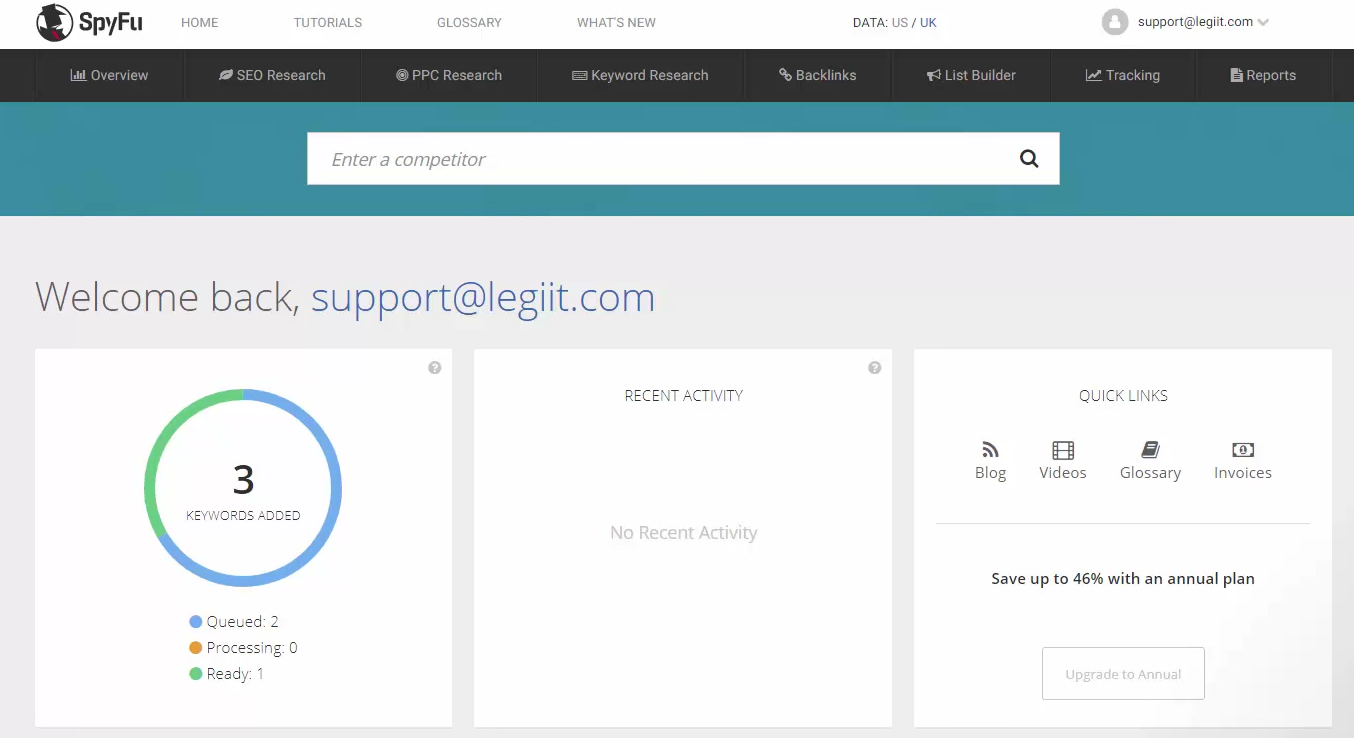 The best thing about SpyFu is that it delivers on so much that you didn't think was possible.
It purports to give you access to your competitor's keywords and the ones that they've bought off AdWords as well as the ones that they've come up with themselves. However, it gives you access to so much more.
There are options to go back over 10 years in order to find out which keywords are still working and which ones your competitor used up to 13 years ago. That is fantastic value for money.
You can also search for any domain and any place on Google that they've shown up on for the last 13 years.
It also gives you access to traditional lead methods all in one place, hence it can pride itself as a tool that can deliver the goods to you at a fair price and ones which will leave you floored at the value for money that you've got.
Let's now talk about some notable Spyfu features in this Spyfu review.
You Might Want To Read : Ecommerce SEO Mistakes To Avoid
SpyFu PPC Competitor Research
You can search for any competitor with this tool and find out about their marketing secrets including keywords and ads that they've run tests on.
You can make their success your own and find out why their failed strategies failed in the first place.
The Adwords Competitor Keyword Spy Toolallows you to download all the pay per click keywords of the competitor by simply searching for their domain name.
It's very simple to do and there aren't any download limits at all.
You can also monitor the PPC competitors and keep track of their domain bidding on the AdWords platform. This is applicable to finding changes in ad spend over time and you can even look out for emerging competitors and shifts in strategy as times change.
However, you don't have to feel wrong about just copying off your competitors since SpyFu also has advisory tools like Adwords Advisor and Adwords Keyword Grouping Tool in order to make fresh suggestions to you.
These tools will allow you to visualize any keywords that may work for you and run tests on them. SpyFu also organizes keyword groups for you to see which ones are more effective for the category you're going for.
The tool also helps you save money by matching keywords which aren't paying for themselves and just languishing in anonymity.
Read : Complete SEMrush Review
SpyFu SEO Competitor Research
Now SEO is about more than keywords; it's also about backlinks and categorization and naturally the content that you're pushing.
This tool allows you to search for the SEO keywords for different domains and also keeps track of every single website that is in your niche SEO domain.
It does all the things that the PPC competitor tool does, but for SEO rankings and helps you achieve better and better rankings on Google search results for your domains.
SpyFu - The Best SEO & PPC Tool
SpyFu reveals the marketing formula of your competitors. Search for any domain on internet, track rankings, keywords, ad variation and more. Make better marketing decisions with SpyFu.

We earn a commission if you click this link and make a purchase at no additional cost to you.
The best part about this feature is that it helps you track the history of the SEO keywords being used by every single one of the domains that you've searched for up to 13 years.
That is incredible value for money and something that will be greatly useful when you look up the keywords that are still working for some competitors and how to replicate that success.
You will also get to track all the keyword rankings over a period of time so you know which ones to still invest in and which ones to stop investing in when the time is right.
This tool also includes ways in which you can use social media and influencer marketing in order to get better and more specific traffic to your landing pages.
This will help you sell better and give you spikes over a long period of time along with sustained growth.
Related :
SpyFu Keyword Research Tools
The Keyword research tools that are provided by SpyFu work on objectivity and filter the searches through volume, CPC, SEO difficulty and the number of advertisers.
They also pay attention to the click through rate and group the keywords according to the niche so you can see which ones are the most profitable and efficient at getting your traffic.
This Keyword tool also gets you the results of every single Ad test that has every been run on Google AdWords. You can hence learn from all the successes and avoid all of the mistakes that can be made.
Finally, the tool can also identify the best backlinks for specific keywords and you can get recommendations which are, first and foremost, safe for your customers to trust.
These will be actively indexed by Google so that you get the heaviest traffic back to your landing pages as possible.
SpyFu Domain Leads & Top Lists
Spyfu leads is a very useful feature. It allows you to create a custom list of domains which you can filter by industry, location and ad spend as well as search traffic and social media.
This will give you the domain names that you can count on to get the most clicks on.
The top websites are sorted in to different lists by SpyFu and you can get the best advertisers for them by state and city.
You can get the highest CPC and most searched keywords for these domains. The metrics come directly from Google Keyword planner so the highest CPC rankings are taken directly from the source.
They're ranked by the highest search volume.
Useful Post : Ways To Improve Your Ecommerce SEO
SpyFu Pricing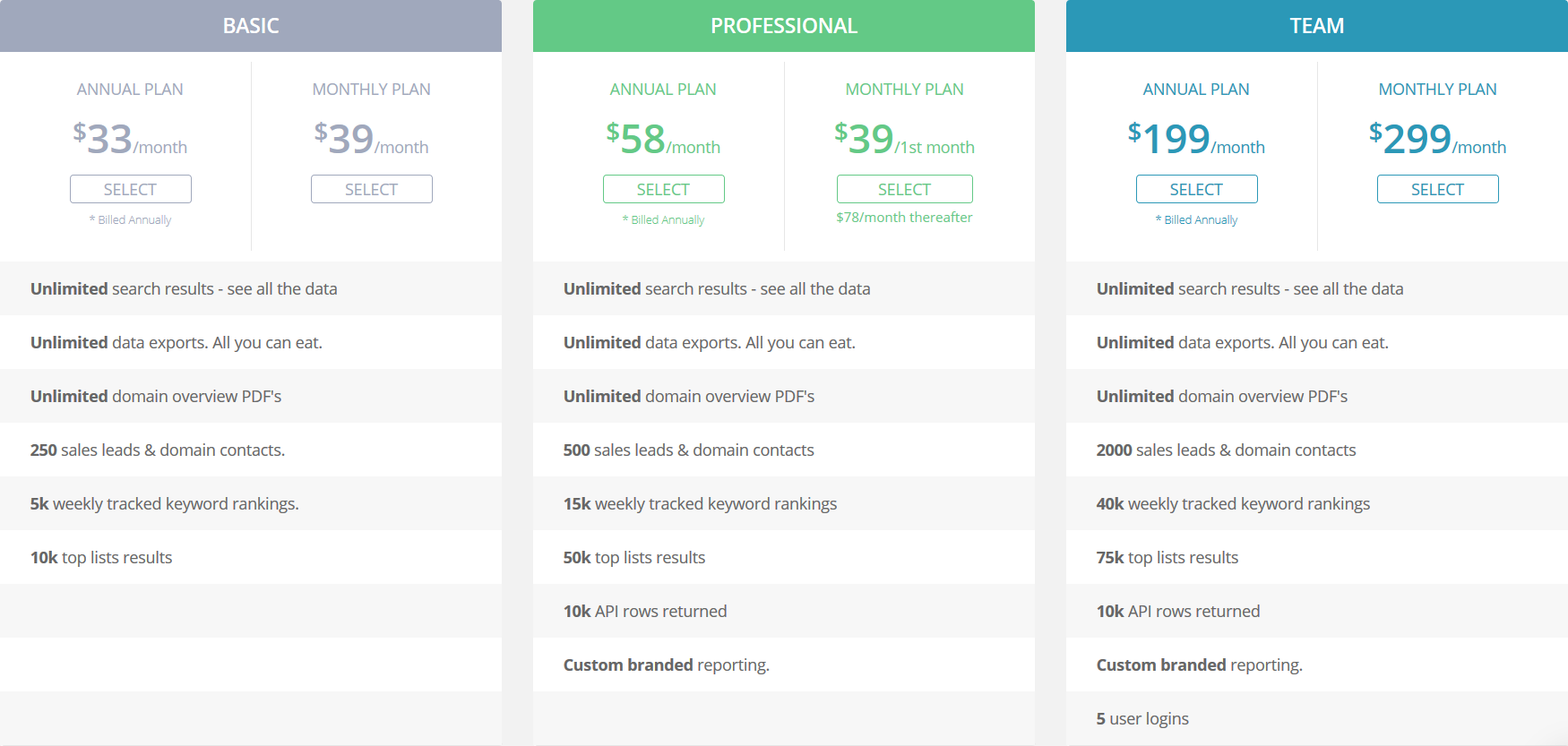 The pricing for SpyFu is competitive with its rivals and delivers quite a lot of value for the baseline amount of money required.
It provides a lot of unlimited usage for its options right in the first package and as it continues, the features get bigger and better.
The first package is called the Basic package and it costs $39 a month. It allows for unlimited search results and unlimited data exports as well as unlimited domain overview PDFs.
It also allows you to see 250 sales leads and domain contacts. You can also track 5000 keywords per week in rankings and 10,000 top lists results. This annual pricing for this plan is $33 a month.
The second plan is called the Professional plan. It costs $39 for the first month, the same as the Basic plan, but then goes to $78 for the continuing months.
Hence, you can get all the access to the mid-tier plan for the pricing of the baseline plan.
The Professional plan allows the same unlimited uses of the tools that came before, but gives you greater access to tracking features and adds others.
For instance, you can now track 500 sales leads and domain contacts and 15000 weekly keywords. You can also observe 10,0000 API rows and get custom branded reporting. You can also get 50,000 top lists results.
The annual version of this plan costs $58 a month.
The final plan, called the Team Plan costs $299 a month. The annual version costs $199 a month. It allows for further expansion on the Professional Plan and is the most complete plan for SpyFu.
You can track 2000 sales leads and domain contacts as well as 40,000 weekly keywords. You can also track 75,000 top lists results.
The cherry on top with the Team plan is that it allows you to get 5 separate user logins for one single plan. This is an extremely useful feature that you can use to impart more efficiency to your organization.
You can get more of the best players in your departments to use SpyFu and get more work done that you could only give to one person before per account.
Interesting Post : Moz vs SEMrush
SpyFu - The Best SEO & PPC Tool
SpyFu reveals the marketing formula of your competitors. Search for any domain on internet, track rankings, keywords, ad variation and more. Make better marketing decisions with SpyFu.

We earn a commission if you click this link and make a purchase at no additional cost to you.
SpyFu Reviews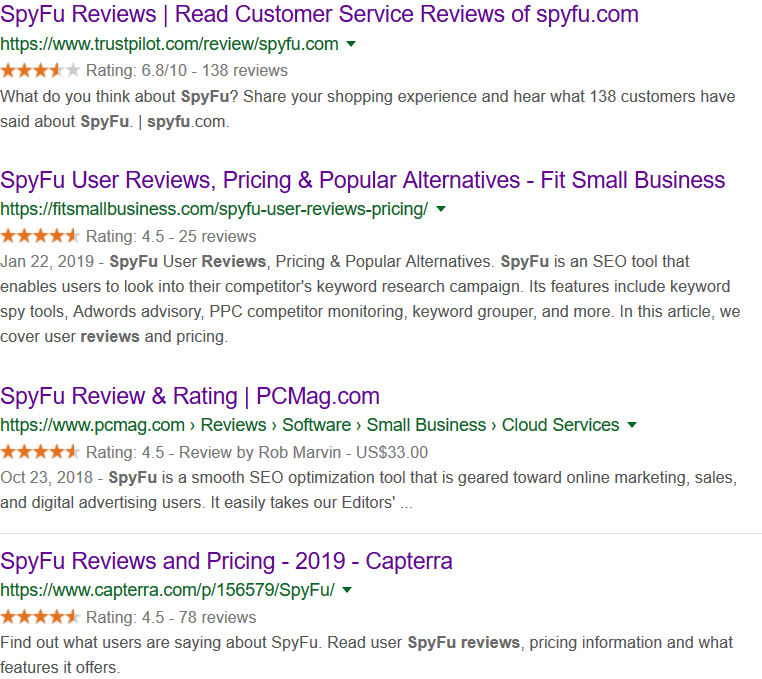 SpyFu has a stellar review record to the point that negative reviews are very hard to find.
All different review aggregators that list reviews for Amazon seller tools like Capterra, Trustpilot and FitSmallBusiness have all given great reviews to the product.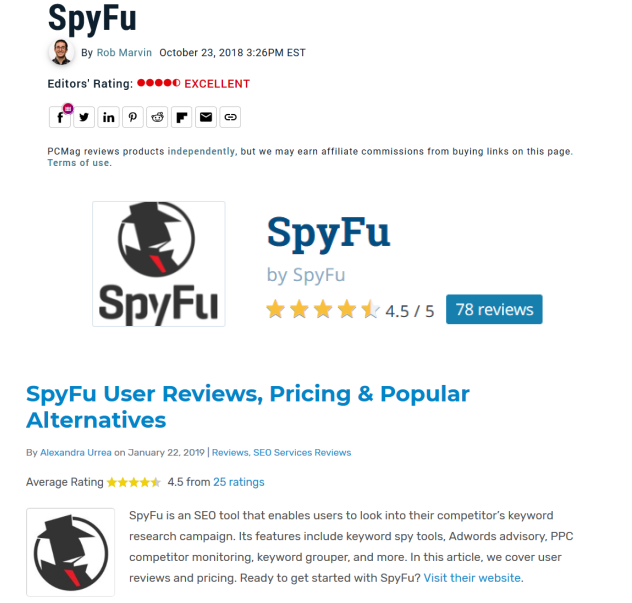 Even PC Mag has given it a stellar review, marking the fact that it does everything well and doesn't skip out on the essentials that are necessary in order to get ahead of the competition.
It has been given the Editor's Choice by PC Mag for that reason.
Positive Reviews
As said above, the positive SpyFu reviews are all but unanimous. Almost everyone that has come in to contact with the product says that it is stellar and that the features are complete and the pricing is great.
The tool is lauded for its smoothness, its complete set of tools for keyword research and tracking backlinks as well as paid advertising metrics and it has also been lauded for its ease of use.
Of special not is the keyword research campaign that you can monitor for your competitors.
It apparently gives great information for you to digest so that you can formulate great strategies depending on the information.
Overall, there aren't any real flaws to speak of as far as reviews go.
Final Verdict – iSpionage vs SpyFu
Finally, we come to the end of our Spyfu vs iSpionage review.
Even if you take in to account the different prices and different features that both tools offer, the victor by way of the stellar review record is definitely SpyFu.
It demolishes iSpionage on the feature front as well as the pricing front on most cases.
Granted, the final plans for iSpionage are cheaper than the ones for SpyFu, but for the value there is no denying that SpyFu has the upper hand.
Do yourself a favor and sign up for SpyFu and don't waste your time with iSpionage.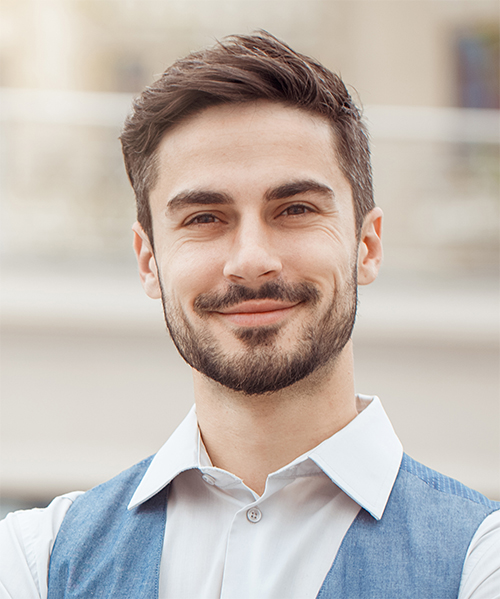 Author: Scott Macarthur
Scott L. Macarthur is a marketing consultant and an online author. He is mostly engaged in providing his expertise to startups and SMBs.