Pop-ups got a bit of a bad rap in the latter part of the 1990s and early 2000s.
Pop-up ads first appeared in the late 90s on the Tripod.com hosting site. Their creator, Ethan Zuckerman, says he wrote them in response to complaints about banner ads.
Instead of cluttering up websites, the advertisements would open in a new window.
Though Zuckerman himself didn't invent the pop-up window, he later apologized for the nuisance that pop-up ads became. But the technology is experiencing a bit of a renaissance thanks to sites like Shopify.
The simple fact is that the technology works. Pop-ups offer an opportunity for sellers to create a strong call to action, whether it's to announce a sale or to collect an email address.
As Shopify itself points out, in one test, pop-ups drove 1,375% more email captures over a sidebar opt-in form. Another showed that implementing pop-ups saw their email subscribers approximately quadruple in number.
Collecting emails is a powerful visitor conversion tool for online retailers. With the right email marketing campaign, it can help bring customers back to the site and keep them returning.
Knowing Your Options
There are a number of powerful tools that can help you create effective pop-up ad campaigns. We'll look at those a little further on. But first, we want to discuss the different types of pop-up ads.
Click Pop-Ups
Click Pop-Ups are activated when a visitor to your site or landing page clicks a specified link, image, or word. These are the only type of pop-up that happen because of an action, making them the least intrusive option.
Time-Based Pop-Ups
Visitors are presented with a pop-up after a predetermined amount of time on the website. If you decide to use these types of ads, it's important to not scare your traffic away by setting the timer too soon You also don't want your visitors to miss it because they left the site before the advertisement was displayed.
Scroll-Based Pop-Ups
These appear when a user or visitor has scrolled to a certain part of the page. These are often found on blogs and are similar to time-based pop-ups, as you're engaging with someone who has demonstrated a certain amount of interest in your site and its content.
Entry-Based Pop-Ups
These advertisements are shown as soon as the homepage or another designated page loads. These can be an effective, if not dangerous, way to engage your visitors.
The pop-ups appear before anyone has seen the content of your site but if wielded correctly, they can be a very useful tool.
Exit-Based Pop-Ups
These are only shown when a visitor is about to leave the site. They're also known as Exit-Intent Pop-Ups.
By tracking the user's cursor, the pop-up app will determine when someone is about to click the back or close button on their browser and will display the advertisement as a last attempt to solicit an email address or offer a discount.
There are other types of pop-up ads that exist, but these are a handful of the options available to online marketers. Now it's time to take a look at some of the best apps for dropshippers and other sales companies using the Shopify platform.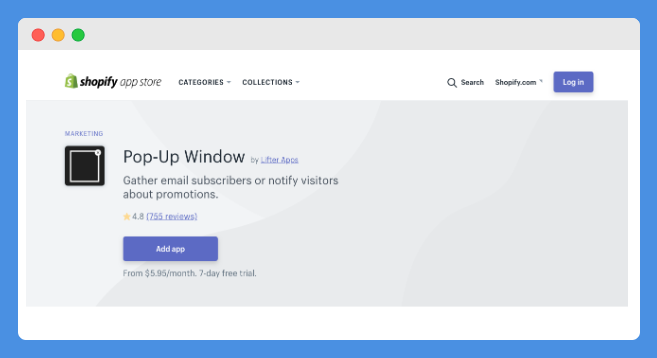 This application starts at $5.95 a month and offers a free seven-day trial. The tool allows you to create standard, customizable pop-ups for your store.
To create your ad, you simply need to upload an image that you want to display in the pop-up, configure a few other options – like deciding to turn on the email signup form – and you're good to go.
The tool offers its own designs in case you don't have your own image. It also offers a tutorial on how to quickly create your own professional designs.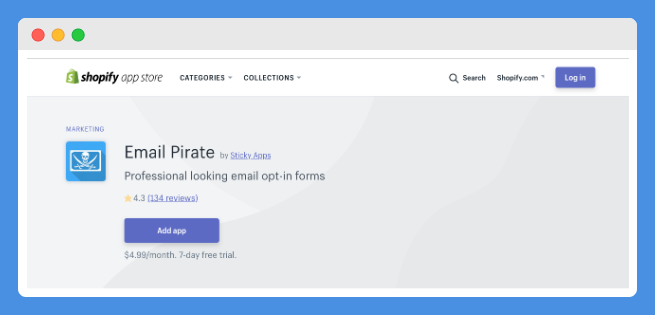 Email Pirate is slightly cheaper than the previous listing at $4.99 per month, and it also provides a free seven-day trial. The application allows you to create fully customizable pop-ups for your store. On top of that, it offers a host of other features for online retailers.
The Smart Builder Feature allows you to create professionally-designed templates. The Exit Popup Feature creates targeted campaigns for those about to leave the site.
The Smart User Tracking helps create targeted messages about a specific page or category. The Coupon Functionality allows you to offer visitors who provide their email address with a coupon a discount on their purchase.
And finally, the tool allows you to analyze clicks, views, and conversion rates with its built-in analytics functions.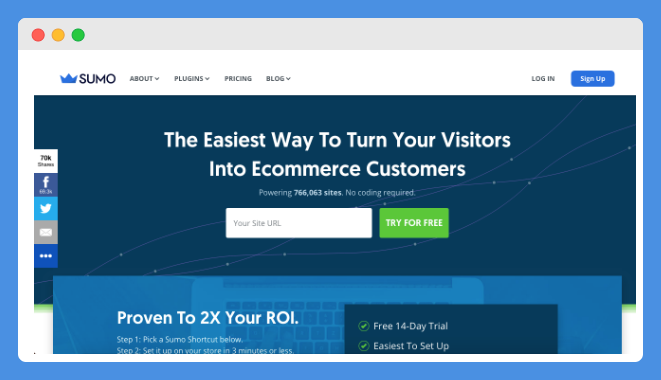 This app comes in an unsupported and branded free version, but most businesses will probably want to opt for the Small Pro iteration at $29 per month.
Sumo offers highly customizable designs to help you match the look and feel of your shop. You can customize what triggers the pop-ups to appear and change settings so they won't display under certain conditions. It also offers options for mobile display.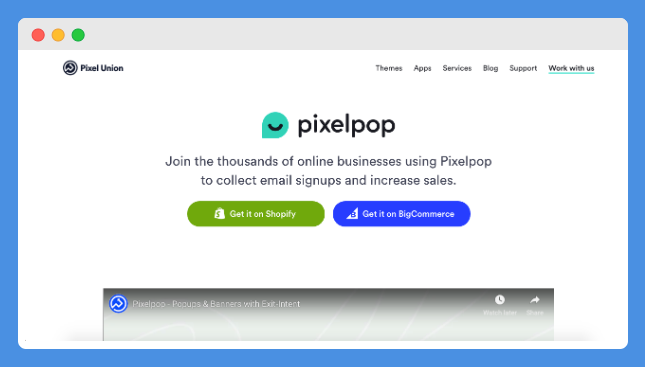 This tool offers six types of pop-ups and four different pop-up shapes. The basic plan is free and includes up to 500 pop-up views per month. The next plan is $12 a month and comes with up to 10,000 pop-up views each month.
The service also features a number of different pop-up styles, including boxes or bars in the corners. That means you're not displaying the same time of ad every time. The app also integrates with Mailchimp.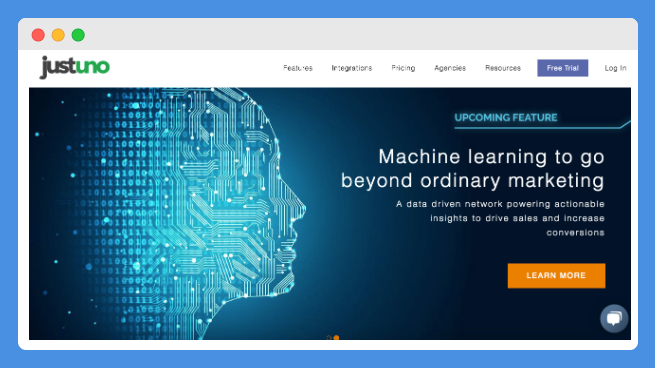 The free Justuno plan offers 5,000 visits per month, which can be a good option for low-traffic sites. If you opt for the Pro plan, it will cost you $19 a month.
The app offers highly customizable designs to help match your site's look and branding. You can also determine where on the screen the pop-ups, banners, full-page takeovers, navigation bar, and corner slide-ins will appear.
You can be sure to remain SEO compliant given that JustUno makes you create separate desktop and mobile campaigns. You can target visitors on exit, page views, time on site, visit frequency, geo-locations and much more. The app also integrates with most email service providers.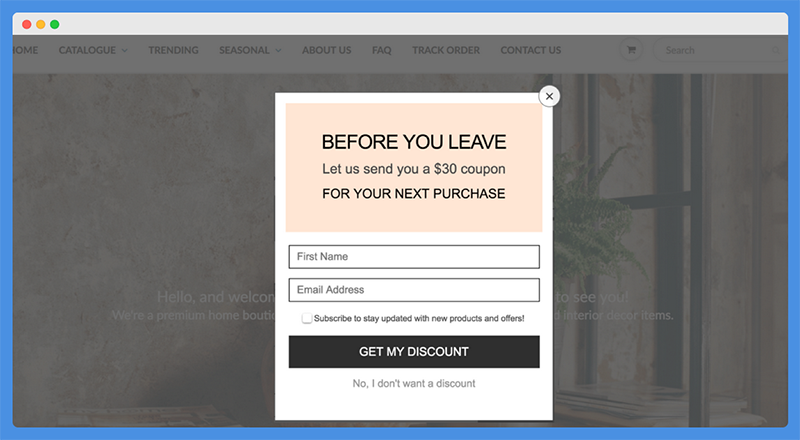 Abandonment Protector offers simple tools that will boost your conversions by helping you create marketing automation based on the behavior of your customers.
You can catch website visitors using this pop up app for Shopify and convert them to loyal customers.
The popup app comprises email sequences that are designed to gain customers and make them return to your store.
Through its Popup & Email editor and premade templates, you can keep your brand voice, and the mobile-friendly, customizable pop ups help you grow your email lists.
Abandonment Protector has no limit on the number of subscribers, and for $8 per month, you can send up to 3,000 emails, and then $1.50 for each 1,000 additional emails.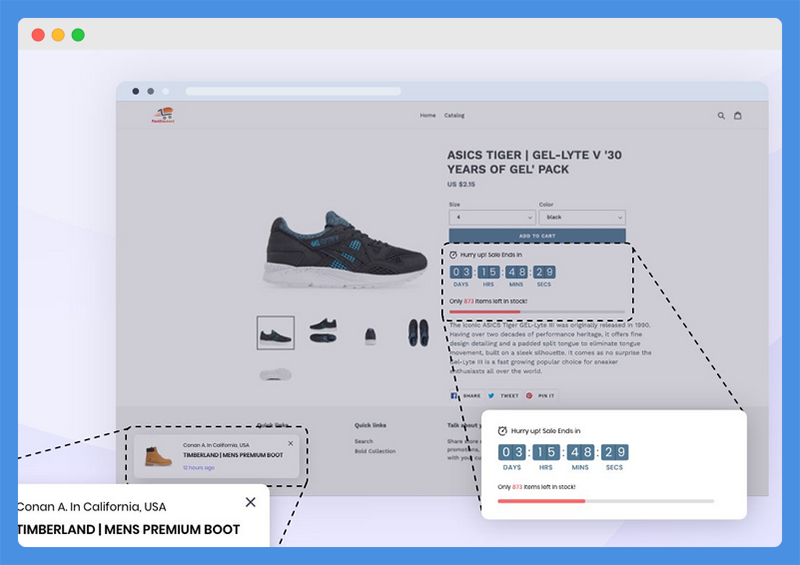 Sales Pop is a free pop up app for Shopify that helps you kickstart your sales by showing customers that you're an authentic, busy store and that people trust you and want your products.
As one of the best Shopify pop up apps, Sales Pop allows people to see that real people are buying from you and makes them join in and buy from you too, thus easing the customers' minds.
Sales Pop offers a whole slew of features that allow you to convert more traffic through sharing details about customers who purchase or opt-in to your store.
It also allows you to select the pages and where to display the pops on, and use a wide array of templates to customize the store's look and feel.
If you have customers from around the world, you can inform them that your product is available in their location using the geolocation feature.
Plus, the analytics dashboard shows you insights on views, clicks, and recent Pop events so you can optimize your Pops for better outcomes.
Sale Pop's open API lets you create and integrate custom app solutions with the app on your site.
The app also integrates with WooHoo and Consistent Cart, and supports languages such as English, Spanish, French, Italian, Dutch, and more.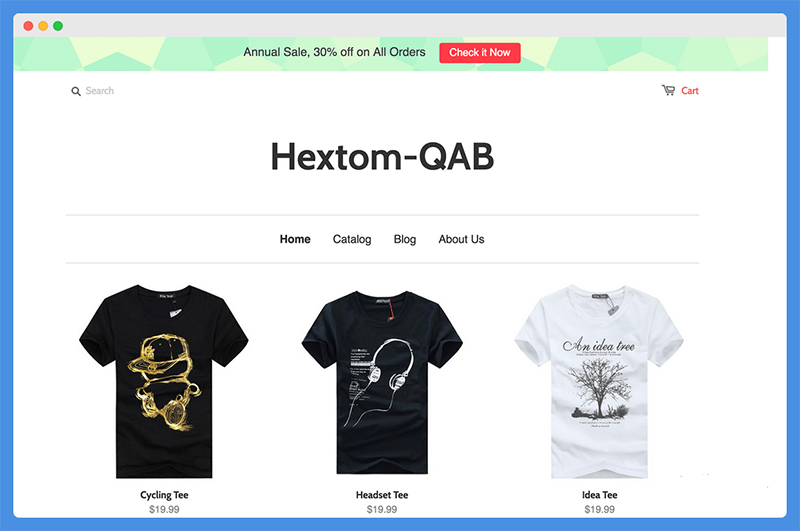 Quick Announcement Bar is another free Shopify pop up app that helps you keep your customers informed about your business updates.
With this pop up app, you can inform clients using a display banner on your site, and use a call to action button that gets customers to see your page with one click.
The pop up app is also a quick and easy way of reaching an unlimited number of impressions without needing a developer to do it for you.
Quick Announcement bar can be translated into multiple languages to help you increase sales by reaching a global audience, and you can offer targeted discounts based on your business, and eventually generate more sales depending on the holiday or promotion mood you want to express to your customers.
You can also schedule bars months in advance to show at different points in time, and use advanced targeting based on geographical locations, display page targeting, source targeting and much more.
Quick Announcement Bar integrates with Translate My Store, and unlike other apps, Quick Announcement Bar doesn't put their branding on the bar shown on your site to make it look unprofessional.
A free plan is available while the Premium plan costs $9.99 per month.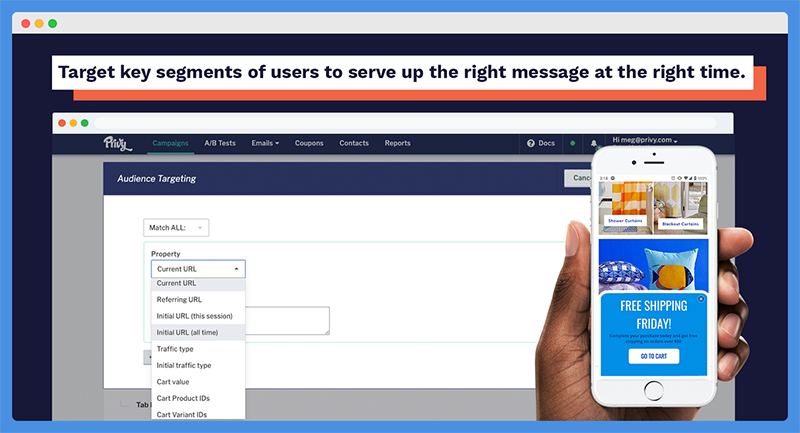 Privy is one of the best Shopify popup apps that's trusted by businesses, both large and small, to improve conversions, grow mailing lists, and increase sales.
The app contains customizable, mobile-friendly, exit-intent driven popups and banners, which don't need coding or development skills to create.
You can select from hundreds of templates and use the simple, powerful campaign designer to fully customize the design to match your brand's look and feel.
You can also add surface coupon codes in your popups, target campaigns based on triggers like cart abandonment, exit, number of visits and more.
Privy also offers split testing so you can see how and why small changes are affecting conversion rates, and you can send reminder emails, texts, and autoresponders to convert signups into sales.
The app integrates with Klaviyo, MailChimp, Retention Rocket, Bronto, smile.io and octane.ai. You can start for free with a 15-day trial, but if your Shopify store is under 5,000 monthly pageviews, you get Privy for free.
Otherwise the Privy Convert costs $20 per month, while the Privy Email and Privy Text cost $10 a month each respectively.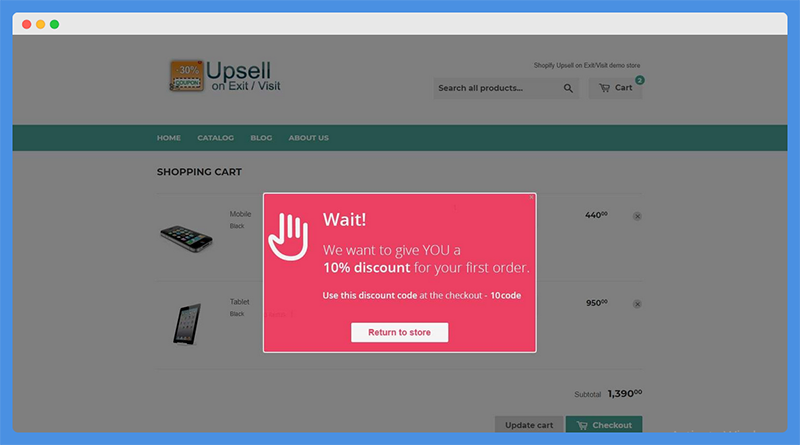 If you're running discount campaigns and want to convert visitors with popups, the Upsell Popup is the best Shopify pop up app to help you with that.
It's helpful in terms of converting your first visitors into repeat and loyal clients, and even gives first-time visitors a special offer through a Shopify popup window.
The other option is when the user is about to leave your store, in which case Upsell Popups offers an exit-intent popup window that helps get their attention back again.
You can also offer special product discounts, coupons, or free shipping, or even go further and give gifts or invite the visitors to subscribe to your newsletter.
Upsell Popup's template designs are easy to configure using the easy-to-use editor that helps you make beautiful exit popups that match your store's look and feel.
You can also select the best time to display the special popup offer precisely and accurately.
Plus, you can upsell offers when the shopper's cart total amount hits a specific range as specified by you to motivate them to purchase more items from your store.
Upsell Popup integrates with MailChimp and Omnisend, and offers mobile-optimized popups for customers who use their phones or tablets frequently.
The Basic plan costs $2.95, with a 90-day free trial, and you can get Premium support for $11.95 monthly.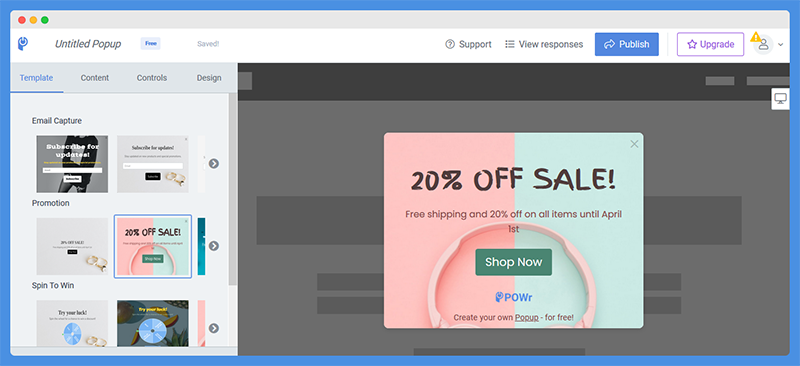 PopUp is a simple Shopify popup app that helps you convert your website visitors, and do more things including growing your subscribers list.
You can also collect feedback or use the Countdown Timer to create urgency for your products, show special promos and discount codes among other things.
The app is mobile-friendly and responsive, and uses exit-intent technology to help you catch visitors before they leave your site, and get back their attention.
It's free to use, but only integrates with PayPal, which can be limiting especially if you have a mailing list.
A free plan is available though with limited features. The paid plans range from Starter $3.99, Pro $10.99, and Business $79.99 per month.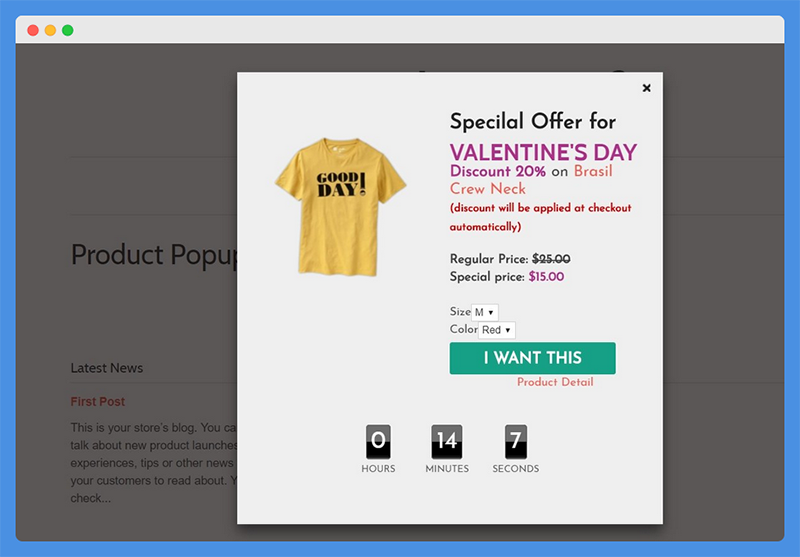 Promotion Popup helps you reduce abandoned carts and promote significant events that are related to your store. By creating special offers or popups, you can display them anywhere on your site and get higher conversion rates.
Promotion Popup also allows you to target your customers thereby increasing your promotion campaign's effectiveness.
You can show popups for specific customers on your mailing list, which makes this app one of the best email popup apps for Shopify, or customers with a specific number of products or a particular product altogether.
This makes it particularly useful for cross-selling or upselling products to customers.
The app also supports a wide variety of popups including newsletter, coupon, video, product, countdown, and automatic discount popup.
The automatic discount popup shows customers a discount code, and if they make the purchase, it automatically applies the discount code and they get to pay a special price for the items.
Promotion Popup integrates with free gifts, store locator and store pickup, product label, and banner slider.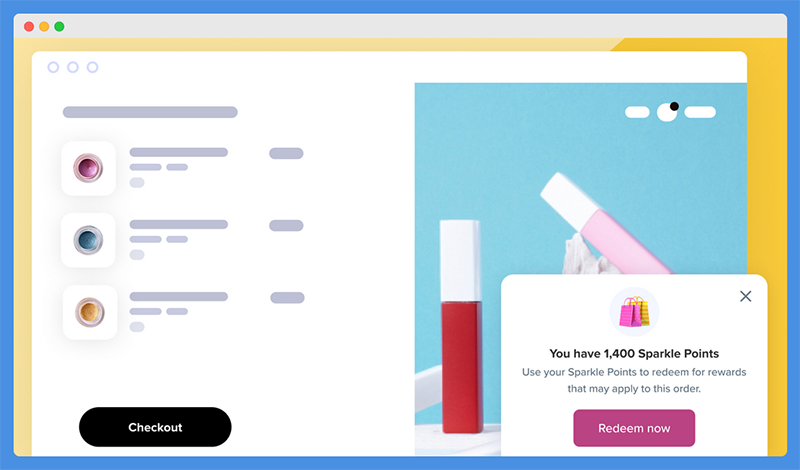 When you need a tool to help you boost sales and retention through popups, referrals and points, Smile is your best bet.
It's the number one trusted loyalty program rated highly by experts in referrals, rewards, and loyalty, and powering successful rewards programs for thousands of stores.
With Smile, you can boost new and repeat sales by cutting back on customer acquisition costs, and supercharge your email marketing apps and subscription tools using loyalty data.
You can also reward customers on point of sale and incentivize their reviews with points among other things.
The app also lets you seamlessly align your rewards program experience with your brand, and grow your business by giving customers access to attractive discounts, and exclusive perks.
It's also a fun way for customers to engage with your brand whenever they sign in to your store.
You can start quickly and easily for free with Smile and it integrates with Shopify POS, Loox Privy, Omnisend, PushOwl, and Judge.me among others.
A free plan is available, and paid plans include Starter $49, Growth $199, and Pro $599 per month.
Conclusion
No matter what, there are many options out there for online marketers looking to take advantage of pop-up ads.
The method can be a very effective tool to help generate visitors, sales, and ultimately more dollars. Most of these Shopify apps offer a free seven-day trial, so play around with them all and find the one that suits you best.

Author: Sam Zaman
Sam loves to write on technology & related stuff. Ecommerce, mobile and internet marketing equally drive her interest. Likes gardening and experimenting with new recipes. An avid reader and absolutely mad @bout donuts :)