Editor's note: One of the reasons why Shopify is so popular is that it offers thousands of apps that make selling extremely easy and profitable. While free apps do the job quite well, paid apps offer a bit more in terms of features and flexibility. Here's a list of Shopify apps that are paid but offer powerful features. And if you still feel you need more for your Shopify store, connect with a professional Shopify app development agency like EbizON without much ado.
As the leading platform for e-commerce on the Internet, Shopify has created a place for anyone to sell.
If you have a Shopify store, you have many avenues for getting customers in and out of your digital door.
You want to pick the best Shopify apps to give your customers a great experience. Isn't it?
So making it easier for you, today we are going to focus on the best Shopify apps. Though most of these apps are paid but some also offer free plans.
Here are the top 10 paid Shopify apps for you to consider.
Best Paid Shopify Apps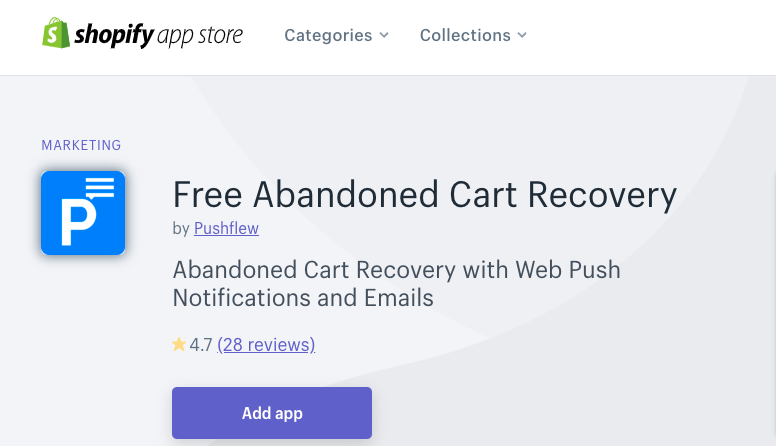 Free Abandoned Cart Recovery by Pushflew is the first app on our list of best paid Shopify apps.
The app helps in recovering abandoned carts using auto email & web push notifications. It engages, retargets and converts your users who have added products to their cart on your Shopify store.
Using the app, you can also interact with your customers. You can send them welcome mails, intimate them on product launches, seasonal discounts and other promotional stuff.
Free Abandoned Cart Recovery is a powerful paid Shopify app that every Shopify store should have in order to retain customers, boost sales and traffic.
It offers a free plan along with the paid plan which is quite affordable starting at $4.99 a month.
Our Pick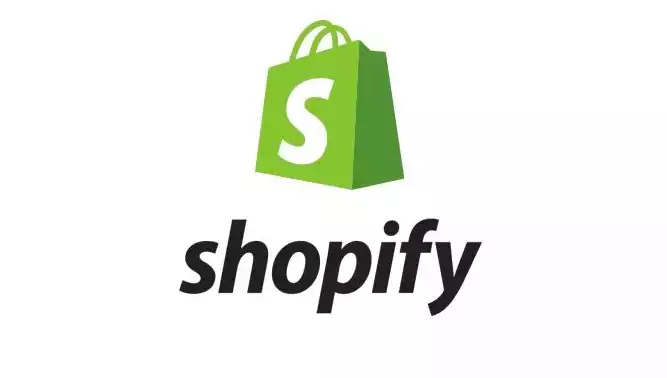 We earn a commission when you click this link and make a purchase.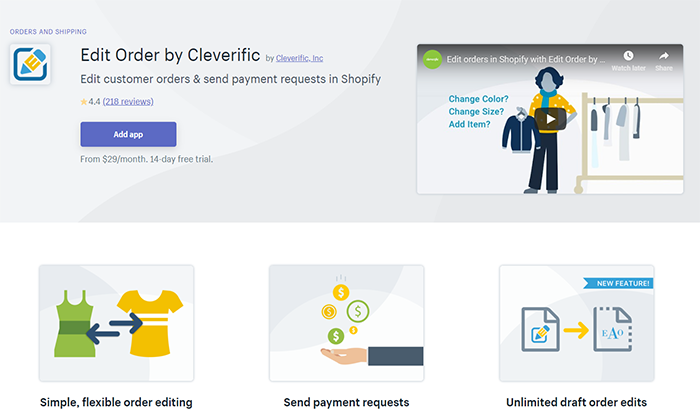 What do you do when your customer wants to change the color or the design of your inventory items?
What if they want to add more items to their order? After those changes, how do you collect their payments?
We can edit a complete order from front to back using Edit Order. Using Edit Order, we can alter an incorrectly placed order (e.g. the customers have ordered an item in the wrong size or color), change their billing address (if the customer moves out), or change the price of an order after receipt.
As Capital Badges said, Edit Order is "essential for us to run our business." And according to Elua, "It is a lifesaver when someone changes their order or requires a custom line item."
It is also recommended by Forbes as "One of the first 10 Shopify Apps You Must Install."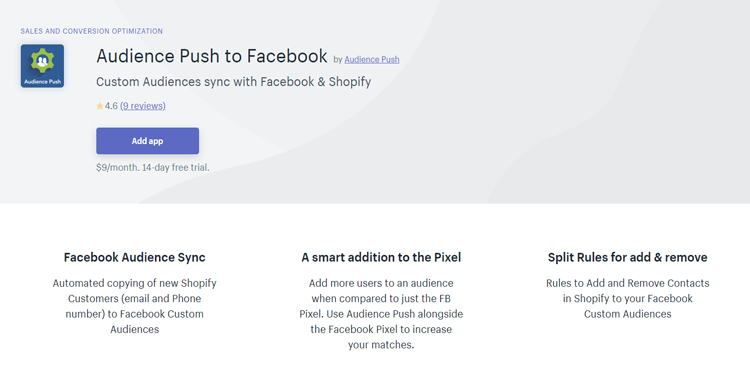 The next app that easily makes it to our list of Shopify best apps is Audience Push.
Audience Push is one of the essential apps for the Shopify store owner who advertises on Facebook.
Once you are connected to Facebook, Audience Push automatically updates your Facebook Custom Audience list with each customer's details into your store.
This app is a huge timesaver that can make significant difference for your business. Your audiences are always up to date, thus have a real monetary value. Customers are going to be very satisfied.
Revolver Drums reported a "432% uplift in returns from these audiences – purely due to the real-time updating of my audiences."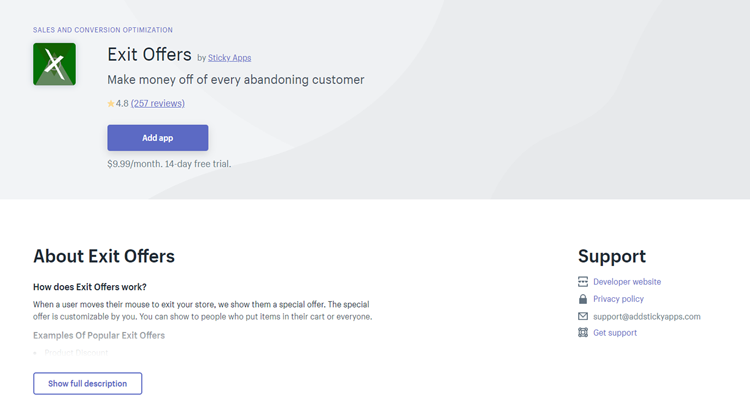 Exit Offers boosts your sales by helping you save customers who are about to leave your store's website. It is described as "the instant second chance" to make money off abandonware customers.
If visitors add items to their cart but then leave without completing their purchase, Exit shows them a special offer tailored specifically for them.
The offer can be customized from top to bottom – it could be free shipping or a flat percentage off on any order.
You can also split test offers from within the app to help you figure out which type of offer performs best for you.
Eight out of 10 people who add items to their cart never buy for one main reason: the price.
With this Shopify app, you can give special offers like free shipping, 24/7 support, a discount code, or virtually any other promo that you can think of.
Related : Best Shopify Cart Abandonment Apps
Our Pick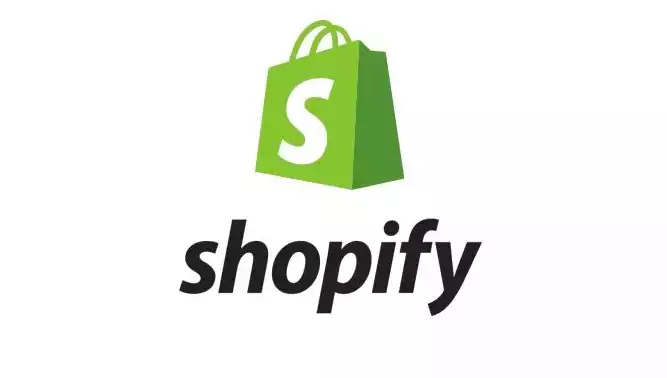 We earn a commission when you click this link and make a purchase.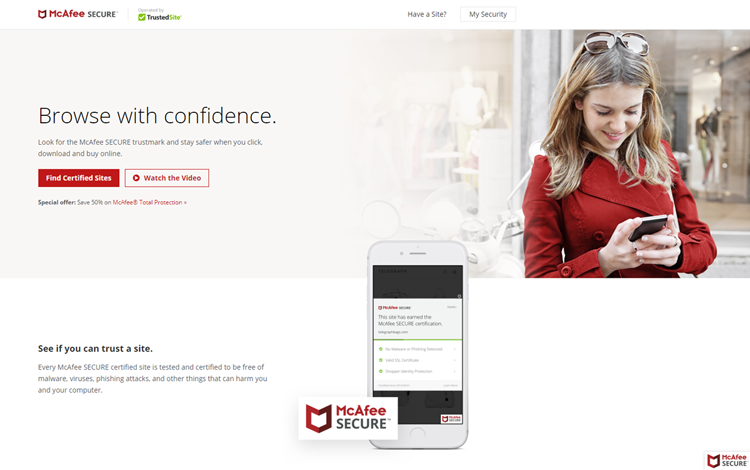 Security of your customers and their data can't be taken for granted. Our next app is going to address this concern.
You want your customers to feel safe – no matter how large or small your website is.
Consumers won't buy from a store they do not trust. If they don't feel comfortable entering their credit card details into your site, you're going to lose out on sales.
This is where MacAfee SECURE helps. It is one of the best apps on Shopify. In fact, you can reap benefits of MacAfee SECURE in TrustedSite app.
McAfee SECURE is an app that serves as a "badge of trust" for your customers to know that your site is safe and secure.
Losing customers at the point of sale can be frustrating for any business, but it is also costly.
Customers will also be impressed that you have the foresight to include McAfee SECURE, even if they are not necessarily scared of hackers.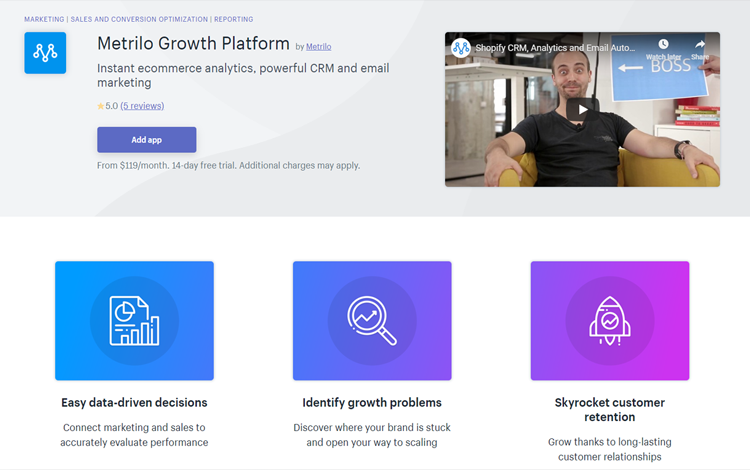 Metrilo is another wonderful app in the list of best paid apps for Shopify.
Have you grown tired of having your email marketing, CRM, and analytics all over many various apps and dashboards? Then Metrilo is the most suitable app for you.
With Metrilo, you can have everything in just one place. Metrilo automatically identifies sales channels that are valuable to your store.
Metrilo also shows you where you're losing business with their funnel reports.
You can sample Metrilo with a 14-day free trial. The plans start from $119/month.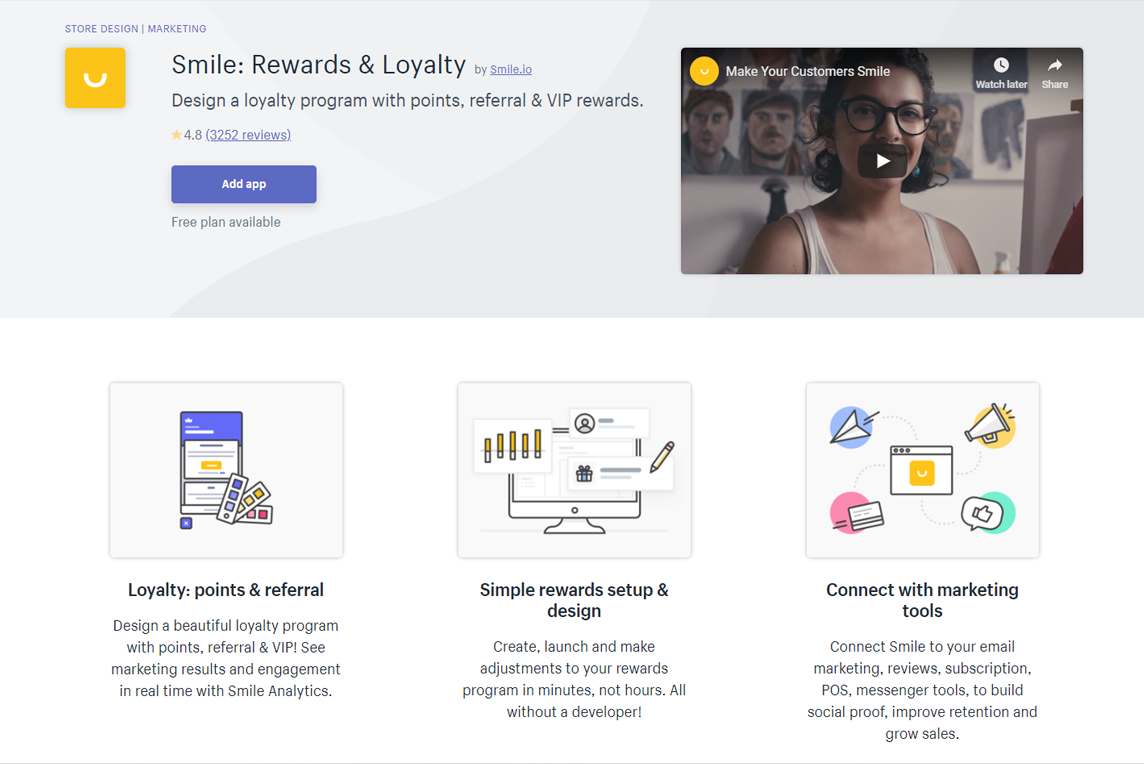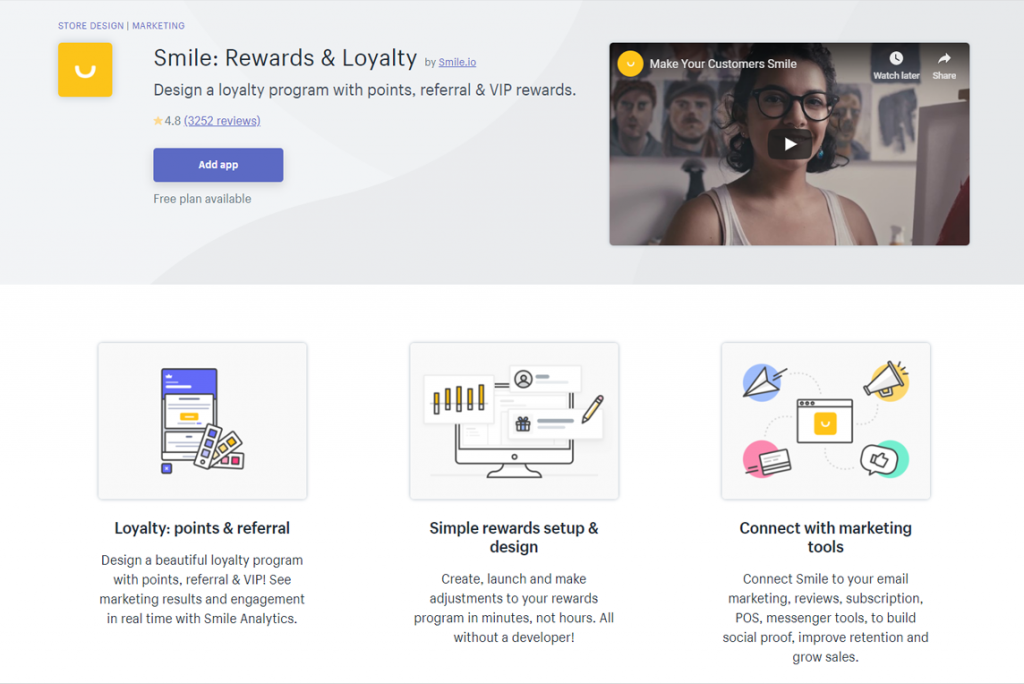 We can not ignore Smile.io when talking about top Shopify apps.
Smile.io is best known for its loyalty and VIP programs. With Smile.io, you can quickly set up and run your own rewards program.
Rewarding loyal customers is important – they will most likely return to make repeat purchases.
The app has free trials for up to 500 program members. The price range for a higher number of program members ranges from $49 up to $599 a month.
Besides, a free plan is available as well.
Our Pick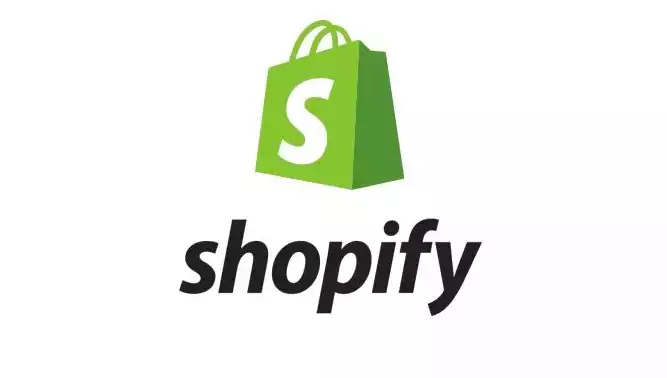 We earn a commission when you click this link and make a purchase.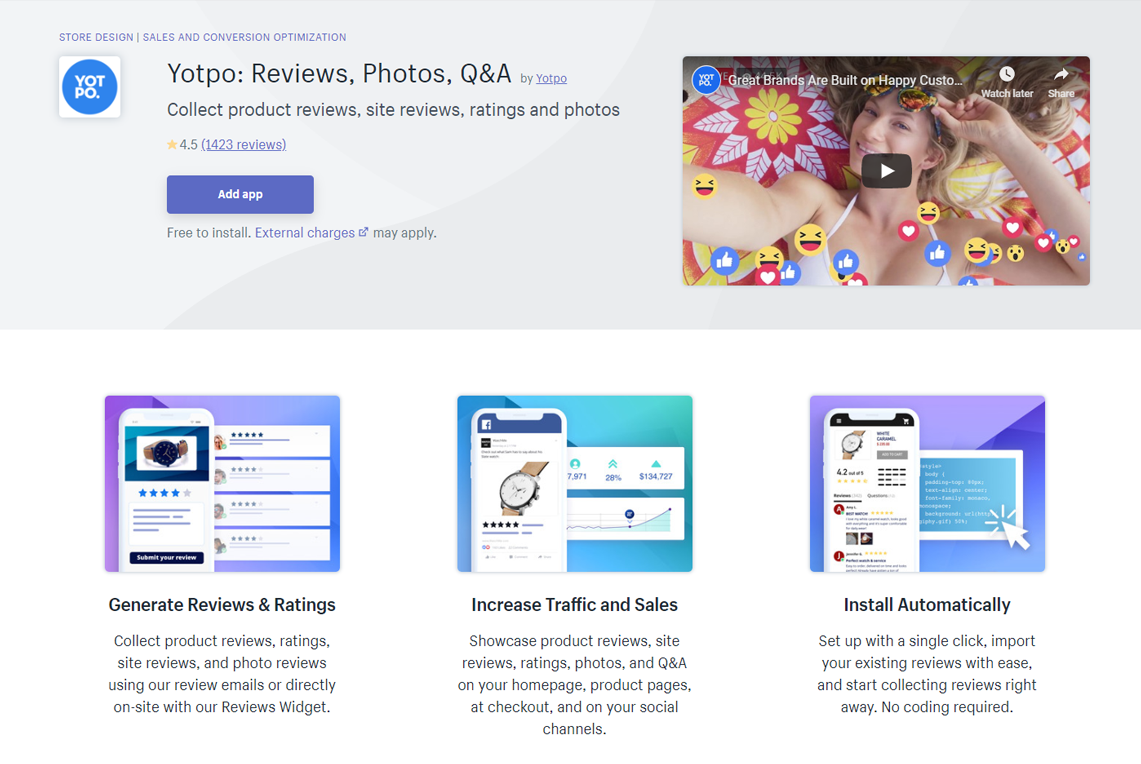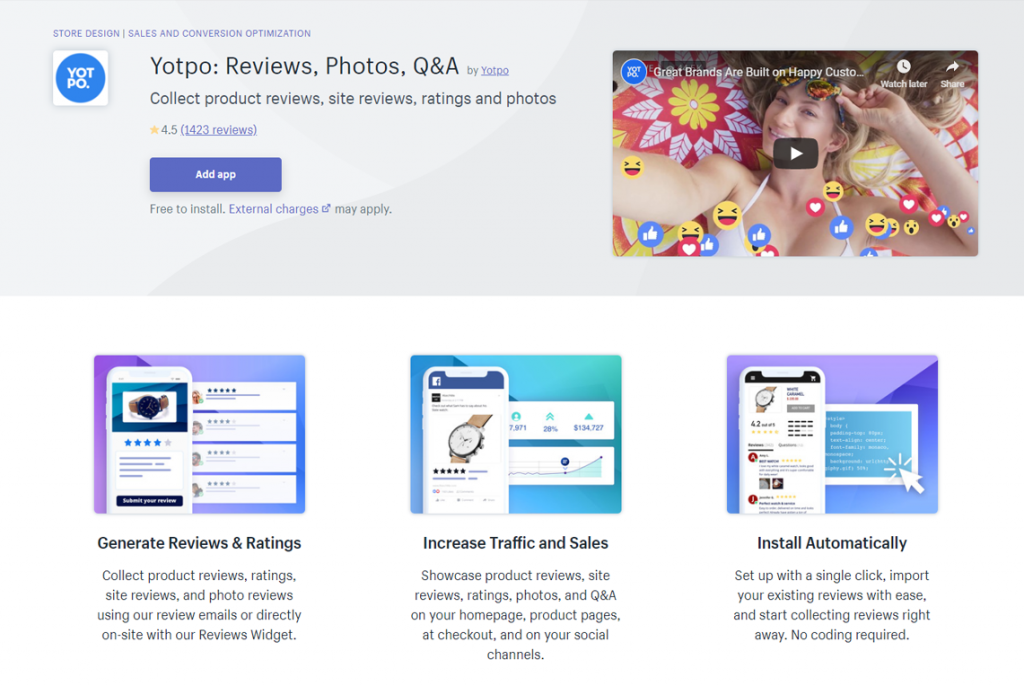 Customer reviews are very important for the buying decision. One of the best Shopify apps for generating reviews is Yotpo.
You can build trust, drive traffic, and increase conversions by adding more customer reviews on your site.
Yotpo has a free plan for upto 50 orders per month. But to maximize the results, you can subscribe to their Premium plan which is based on custom monthly orders. Get in touch with Yotpo team to get a quote.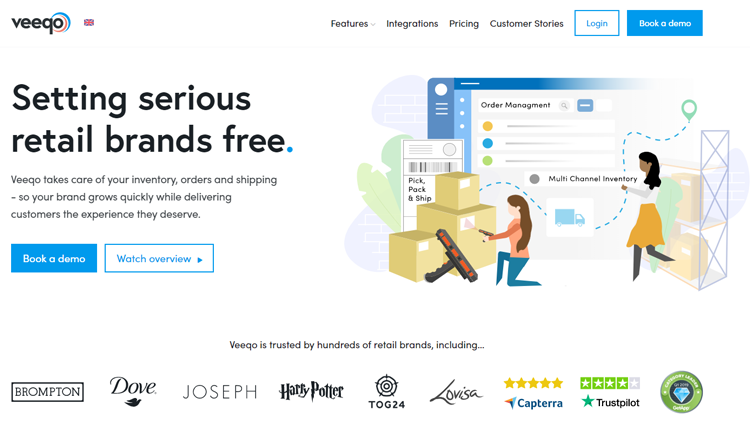 Veeqo helps omnichannel retailers automate their whole back office to manage orders, ship to customers, sync inventory across multiple sales channels in real-time, view detailed reports, and take tight warehouse control.
All these tasks are made possible through a convenient user interface. Plans start from 150 pounds a month.
Related : How To Merge Online & Offline For Retailers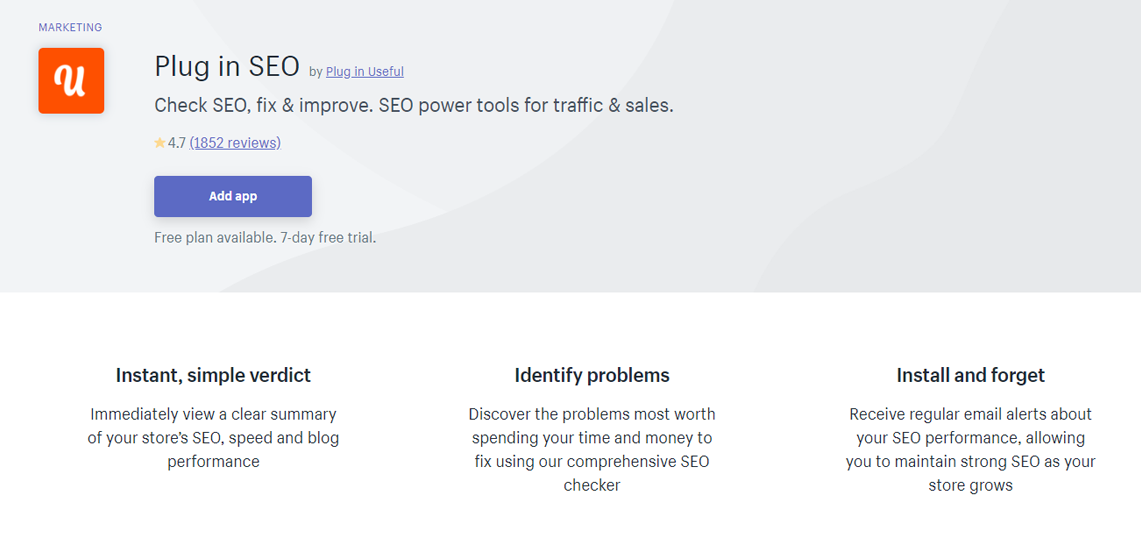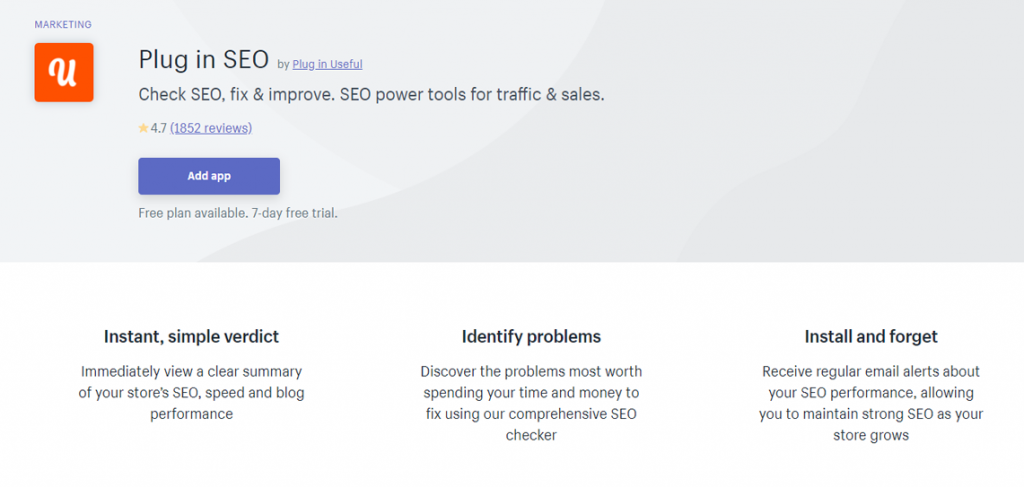 If you're looking for the best apps for Shopify that can help you with SEO, you should consider Plug in SEO.
SEO is one of the best ways to boost traffic and sales.
For example, search almost any product on eBay, or any other large retailer. You will find it in Google at the top.
When someone searches "men's trench coat," chances are they're ready to purchase the exact product they searched for.
No other form of marketing can match organic SEO. The better your SEO rankings, the more sales you make, and the more profit you generate.
If you want to own search topics related to your store, then go to Plug in SEO – 90,000 Shopify store owners use the app.
Think of it as your SEO assistant, constantly checking your shop and notifying you when there are any issues found.
The membership is initially free. But if you want to maximize your sales results, then take advantage of the special package for $20 per month.
It is arguably the best SEO app for Shopify.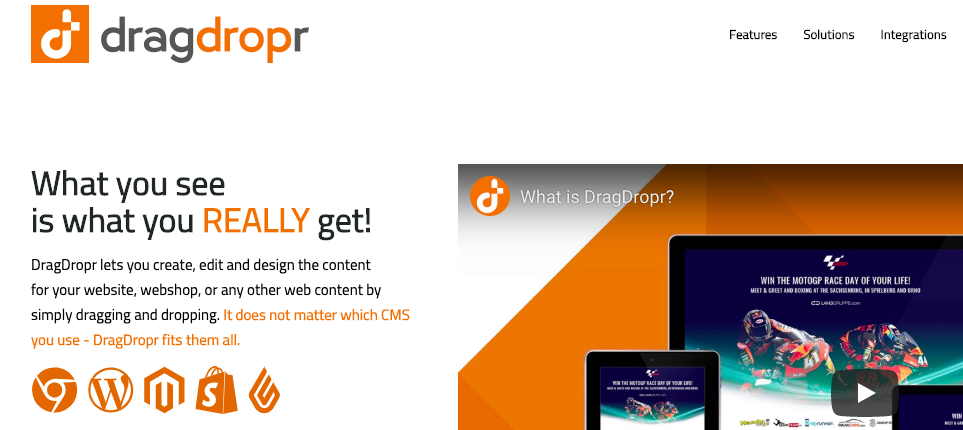 Imagine a world where every visitor on your website successfully converts into a potential lead. It does sound ideal, but let's not get ahead of ourselves.
According to the latest statistics by HubSpot, companies with 30 or more landing pages generate 7 times more leads than those with fewer than 10.
This is one of the many reasons why every content manager should invest in apps that would help them create captivating variety of formats. This is where an app like DragDropr comes in handy.
DragDropr is a revolutionary drag&drop page builder that smoothly integrates with any leading content management system such as Shopify, WordPress, Magento and others.
The app can be utilized by bloggers, web designers, content managers or web shop owners to edit existing pages or create stunning landing pages that would skyrocket your conversion.
DragDropr provides more than 200 ready-made and completely modifiable content elements. As an additional option, you can edit and create a new element from scratch.
This unique DragDropr feature provides an option to implement extensive changes to your existing pages, blogs, eCommerce stores or any other web content.
DragDropr is beginner friendly so there is absolutely no learning curves to tackle. Everyone can use it without any prior web design knowledge or coding skills.
Our Pick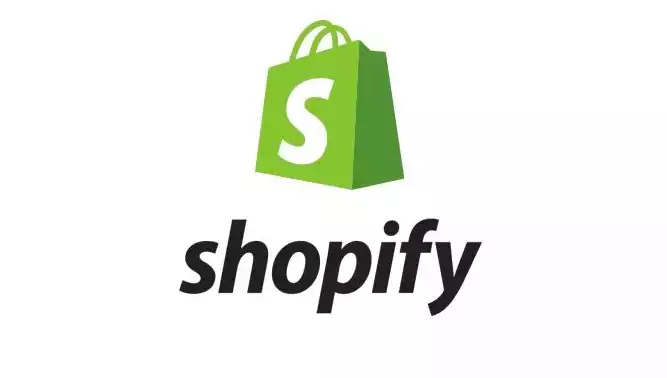 We earn a commission when you click this link and make a purchase.

Fedex Rates is another notable app in our list of top paid Shopify apps.
The FedEx Rates, Labels & Tracking app acts as a complete FedEx shipping solution for your Shopify store by helping you in displaying live FedEx rates at the checkout page, bulk FedEx label generation, and FedEx tracking.
With the app, you can configure your own FedEx account along with negotiated rates directly from FedEx.
The app supports FedEx Domestic, International and Freight shipping services.
You can also handle all major FedEx services like SmartPost, Dangerous Goods shipping, Generating FedEx Return labels, etc with the app.
Price: $19/month (15-day free trial)
Final Words –
The apps above will serve you well on the Shopify platform.
Pick and choose according to your need, but you can't really go wrong!

Author: Sam Zaman
Sam loves to write on technology & related stuff. Ecommerce, mobile and internet marketing equally drive her interest. Likes gardening and experimenting with new recipes. An avid reader and absolutely mad @bout donuts :)