Editor's note: With so many apps on the Shopify app store, there is virtually nothing that Shopify stores can't do. Checkout apps, Shipping, Marketing, Sales, SEO, you name it, they have it. That said, it's natural to get bogged down with the problem of plenty. Making it easier for you, Ben has picked over 70 expert recommended apps in this post that you can use. Alternatively, you can hire Shopify experts if you have your own ecommerce ideas to give shape to.
Shopify is the second most popular eCommerce platform. In fact, it has a 31 percent market share, dominating the eCommerce market. 

Shopify, anyone can start an eCommerce store without knowing how to code.
Best Paid & Free Shopify Apps [Ecommerce Experts Recommend]
Shopify Apps [Ecommerce Experts Recommend]
Related: Best Free Shopify Apps To Boost Sales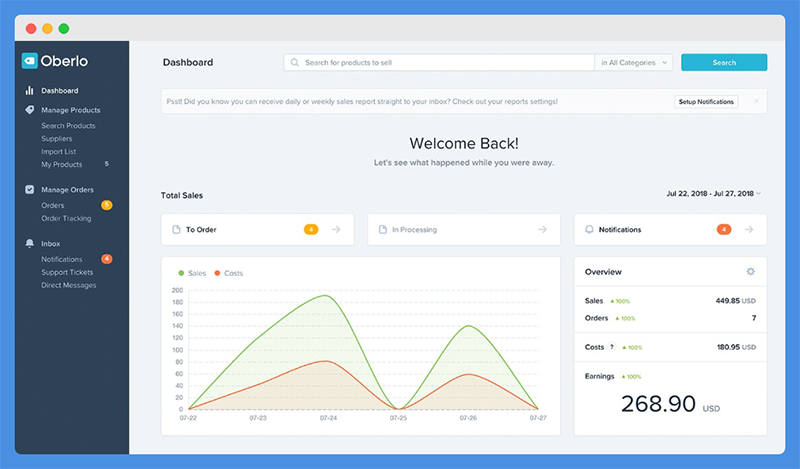 Of course, you can't sell anything in your store without finding products to sell. Dropshipping is a great way to find and sell products without dealing with the hassles of storing, shipping, and handling them.

Oberlo has one of the biggest dropshipping directories, where you can find manufacturers to work with and products to sell.

The Oberlo app lets you find products to sell in your store – it is free forever. There is even a Chrome extension that lets you add products directly from AliExpress into your dropshipping store.

The app will automatically update and sync pricing, track your orders, make sure you aren't selling a product that is out of stock, and send you notifications.
Our Pick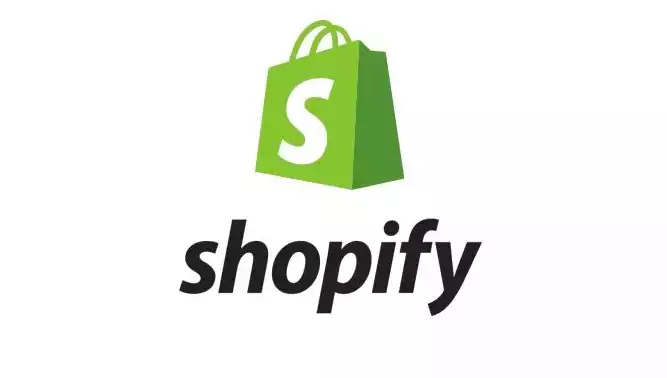 We earn a commission when you click this link and make a purchase.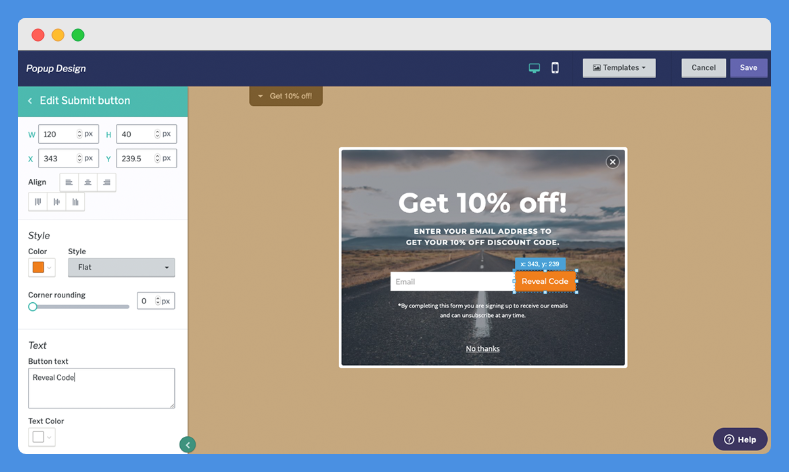 Most people who visit your site won't make a purchase the first time around. That's why it is crucial to build an email list so you can collect visitors' information and establish relationships with them.

Privy lets you create pop-ups so you can collect email addresses. You can also create exit-intent pop-ups that offer a coupon or discount when a user is about to exit your site – this can reduce cart abandonment.

The pop-ups are customizable and include interactive pop-ups such as wheels, banners, flyouts, scroll boxes, and more.
Privy is free for up to 5,000 views.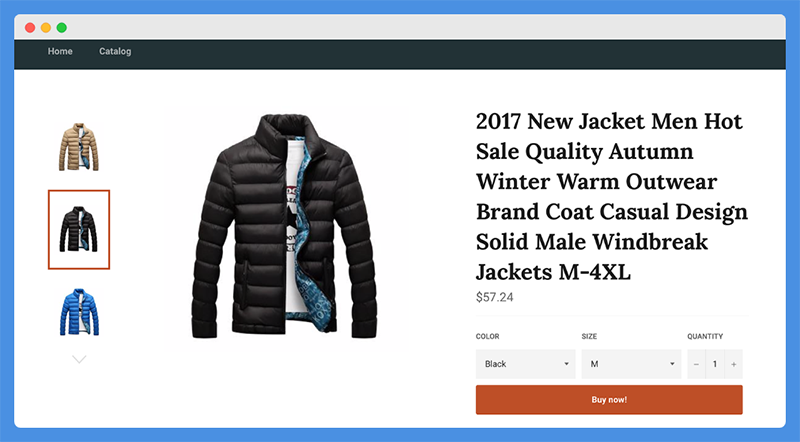 One of the top reasons for cart abandonment is a checkout process that takes too long or is too complicated. Fast Checkout In One Click is a cool little app that allows you to direct customers straight to checkout instead of to the shopping cart summary by adding a Buy Now button to all of your product listings.

By reducing checkout steps, you can increase conversions.

Although there is a free version, you'll want the pro plan at $4.49/month for full access.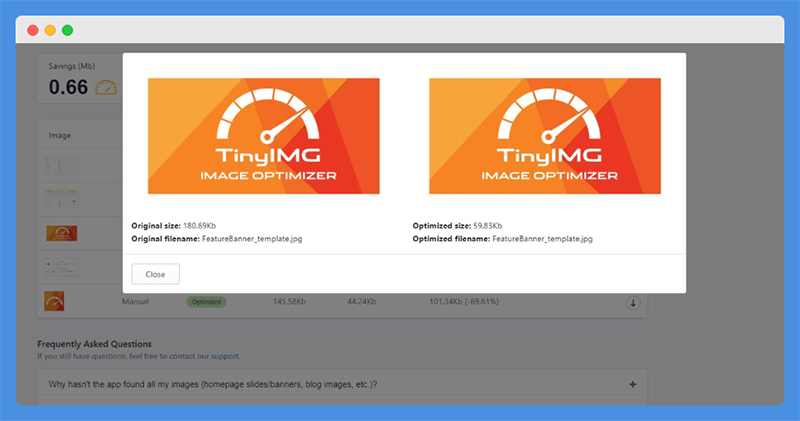 This app compresses your product images without affecting their quality. This leads to less load on your site, a quicker page speed, and better SEO rankings.

You can also optimize your images for SEO by adding alt text to your images through the app.

The app is free for up to 50 images a month.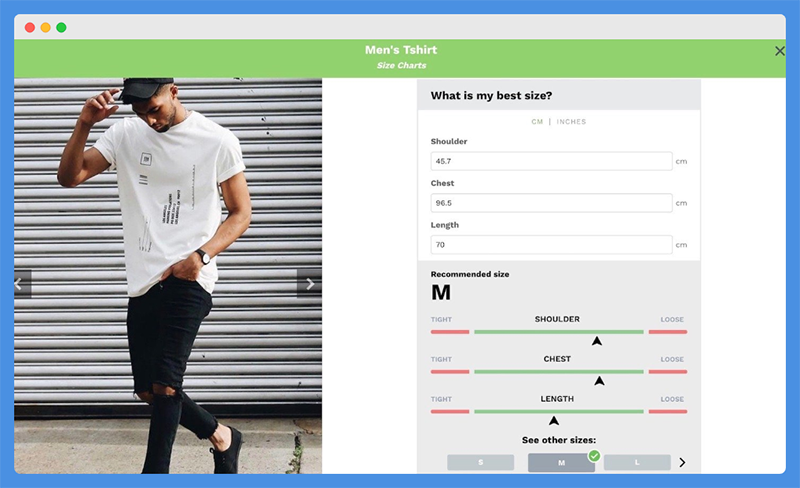 If you are selling clothing online, one of the most important things you should be providing your visitors with is a size chart. This allows them to choose the correct size for them, which will lead to increased customer satisfaction and fewer returns and refunds.

With Kiwi Sizing, you can create multiple tables and charts using rules, templates, images, and more.

There are also three different types of recommender tools you can plug into your site: Advanced Apparel Recommender (for machine learning recommendations based on body type, gender, etc), Generic Table Recommender (for products that are more difficult to predict, such as pet products), and Custom Size Recommender (create your very own recommendation tool based on your own rules).

A free plan is available for up to two size charts.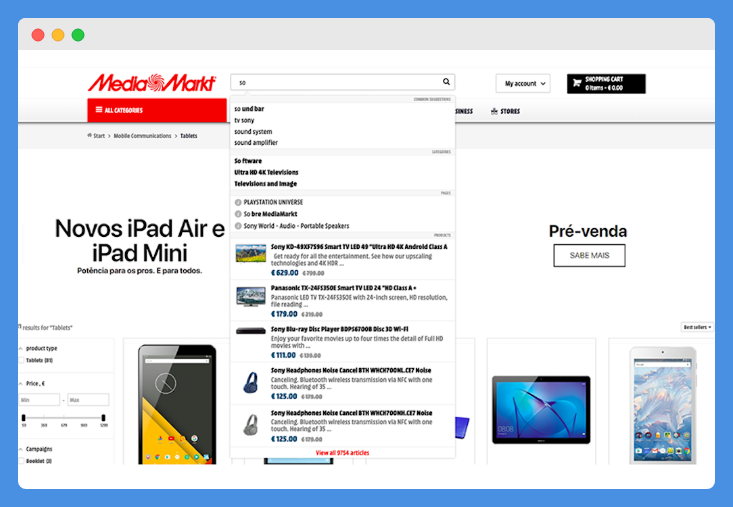 A sure way to increase your conversion rates is by making it easier for customers to find what they are looking for. Using an app such as Smart Search can help.

This app allows customers to search for products with AI recommendations. They can even get search suggestions and auto-corrections as they type.

You can also create unlimited filters to make it easy for customers to filter for what they want in their searches.

If they don't find what they are looking for, they will get "Did You Mean?" suggestions.

There are a bunch of other features as well.

The app is free for up to 25 products and is available in different languages.
Explore: Best Paid Shopify Apps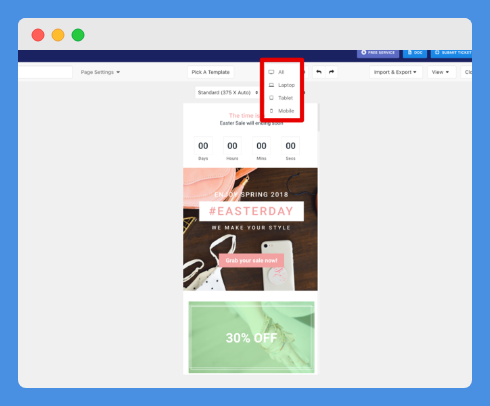 Pagefly has more than 50 templates you can use to build landing pages, sales pages, thank you pages, welcome pages, about us pages, FAQ pages, and much more. You can customize your page by using the more than 50 page and Shopify Page elements.

For example, you can add a countdown timer, add-to-cart button, email signup form, listicle, and much more.

PageFly is free for up to three pages, though you will have access to limited templates and page elements.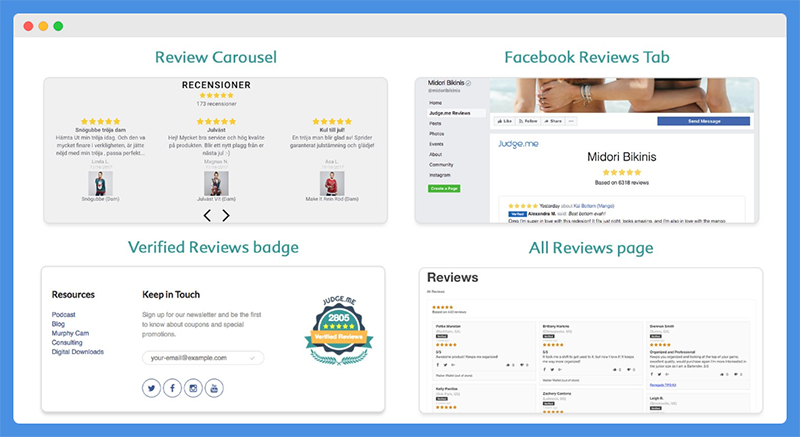 Including reviews on your product pages can allow you to increase conversions by providing social proof. Product reviews allow consumers to see what other people are saying and get an idea of what to expect from a product.

You can collect reviews by allowing customers to add text, image, and video reviews on your website or straight from their email. There are a number of different display options for displaying reviews on your site.

You can also have review stars be displayed in Google Search, Google Shopping, Facebook, Twitter, and more.

There is a free plan available.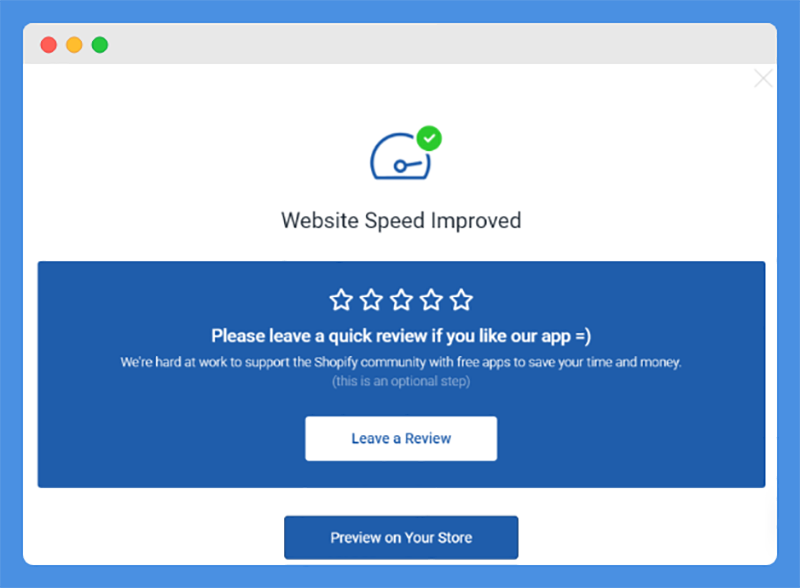 A slow-loading site can lead to many problems, including a higher bounce rate, fewer conversions, and a lower SEO rank. The Page Speed Optimizer Pro app can speed up your site with just a few clicks.

All it does is add a file called crucial-commerce-page-speed.js to your website once you install it. This speeds up your site.

The app has great reviews and is free to use.

This little app is great if you want to add social media sharing buttons to your site. This allows customers to share your blog posts or product pages with their friends, which can lead to more views and sales for you.

You can add buttons for over 50 networks. You can customize the look and color of these buttons and even upload custom social media icons.

This app is free for up to three icons.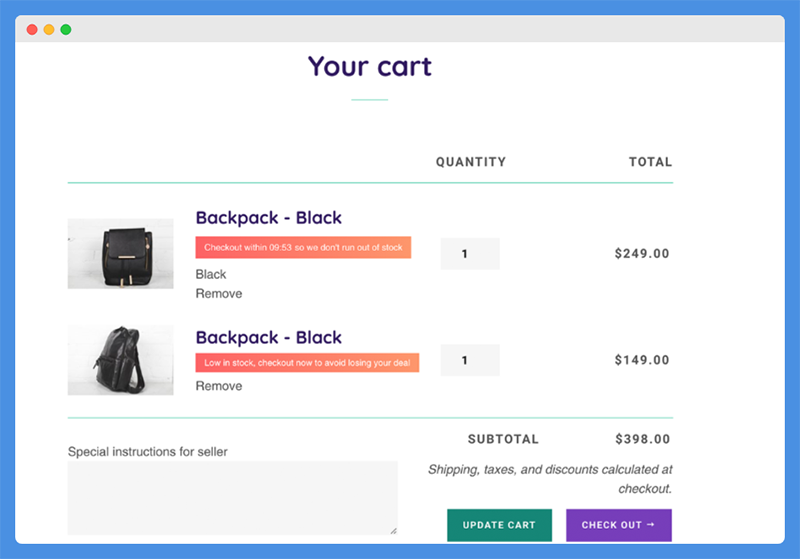 Not satisfied with your sales conversion rates? An app like Ultimate Sales Boost can help you increase your sales by using marketing tricks and techniques.

One way to increase sales is by creating urgency through countdown timers. Another way is by adding featured products to your home page.

Some of the other things you can do with the app include adding a Buy One Get One upsell message on product pages, free shipping messages, low stock warnings, and trust badges and seals at checkout.

This app is free but has premium plans with additional features.
Explore: Best Newsletter Apps For Shopify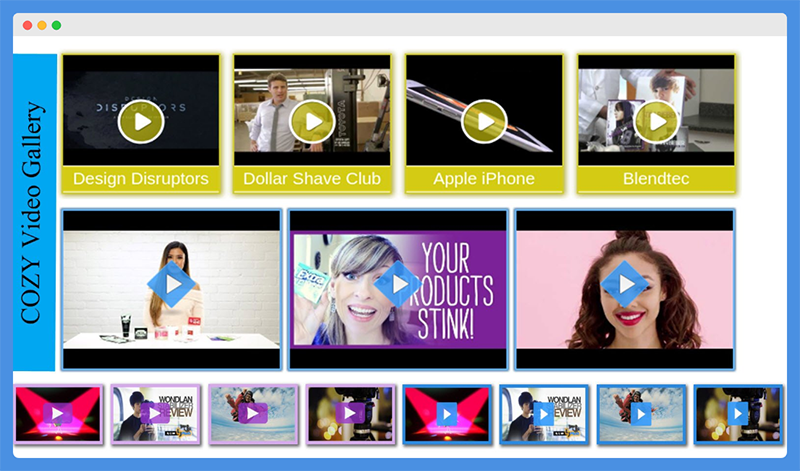 The Cozy Image Gallery app lets you create image galleries and product catalogs to showcase your items to consumers. You can add this gallery anywhere on your website.

Cozy Image Gallery lets you add links and captions to your images, as well as scroll-over lightbox effects.

You can even create video galleries!

There is a free plan for up to 50 images and one gallery.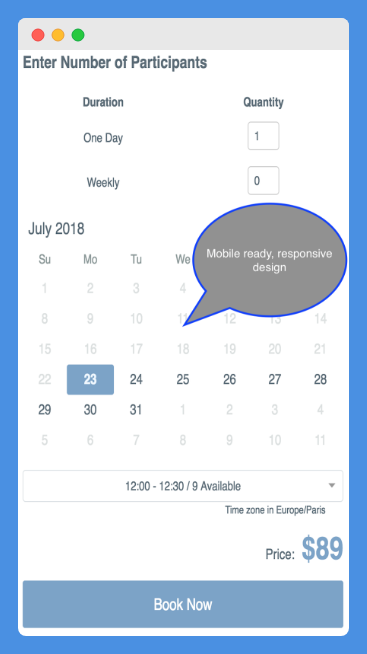 If you aren't selling products on your store but rather services, experiences, counseling sessions, tours, or anything else that requires booking in advance, you can use BookThatApp to allow customers to book straight from your website.

The calendar updates itself and checks availability in real-time. Once visitors have booked an appointment, they will be updated via email and/or text to be sure they don't miss it.

You can also allow for complex, multi-step, or multi-staff bookings.

BookThatApp has a free trial plan for up to 10 bookings.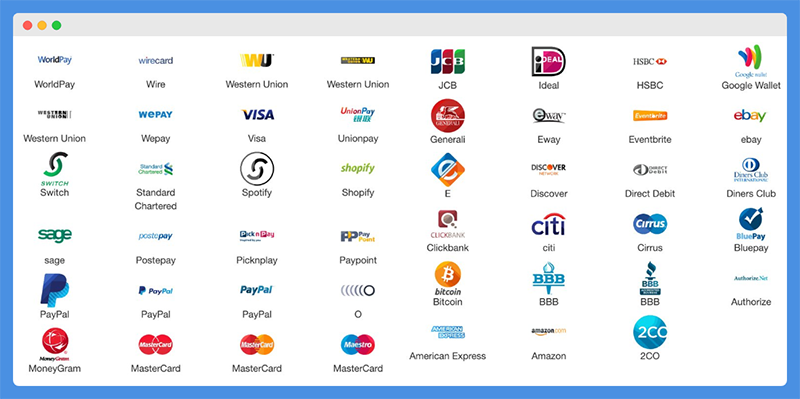 We mentioned using trust badges at checkout to give consumers an added feeling of security, which can increase conversion rates.

Free Trust Badge is a handy little app that allows you to choose from over 700 different security badges and place them anywhere on your site.

The free plan gives you access to 145 badges and 250,000 page views per month.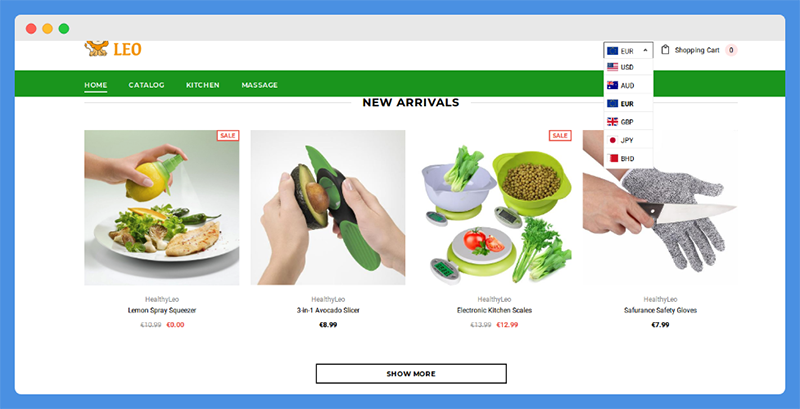 If you sell products to consumers in different countries, you will find this app very useful. It automatically detects each user's country and converts prices into the local currency, which they can use when checking out.

Most stores will be just fine with the free plan, which supports over 200 currencies.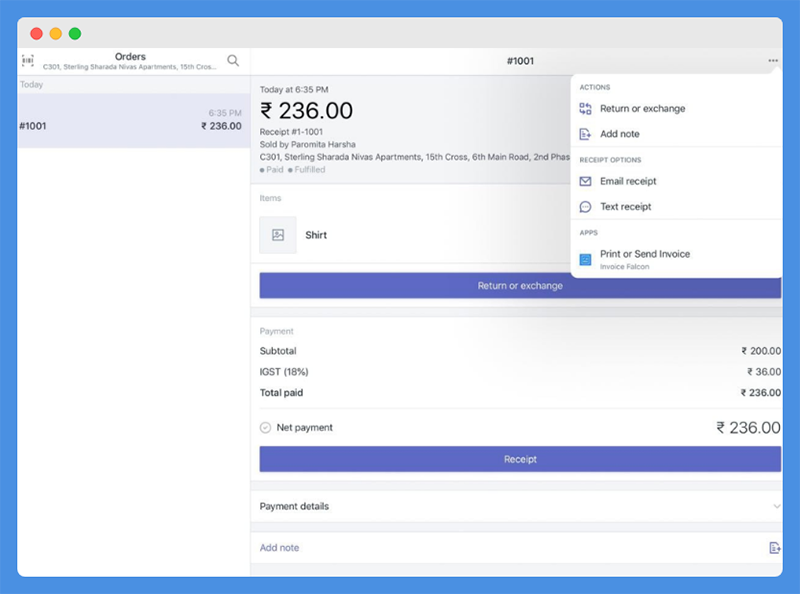 This app is especially useful for small business owners and freelancers. It allows you to send automatic PDF invoices of your sales and orders to customers as soon as they are processed.

You can create all kinds of invoices, including purchase orders and sales quotes. You can set due dates, payment terms, and more.

It integrates with Stripe to collect payments from customers you sent invoices to.

The free plan allows for up to 50 invoices a month.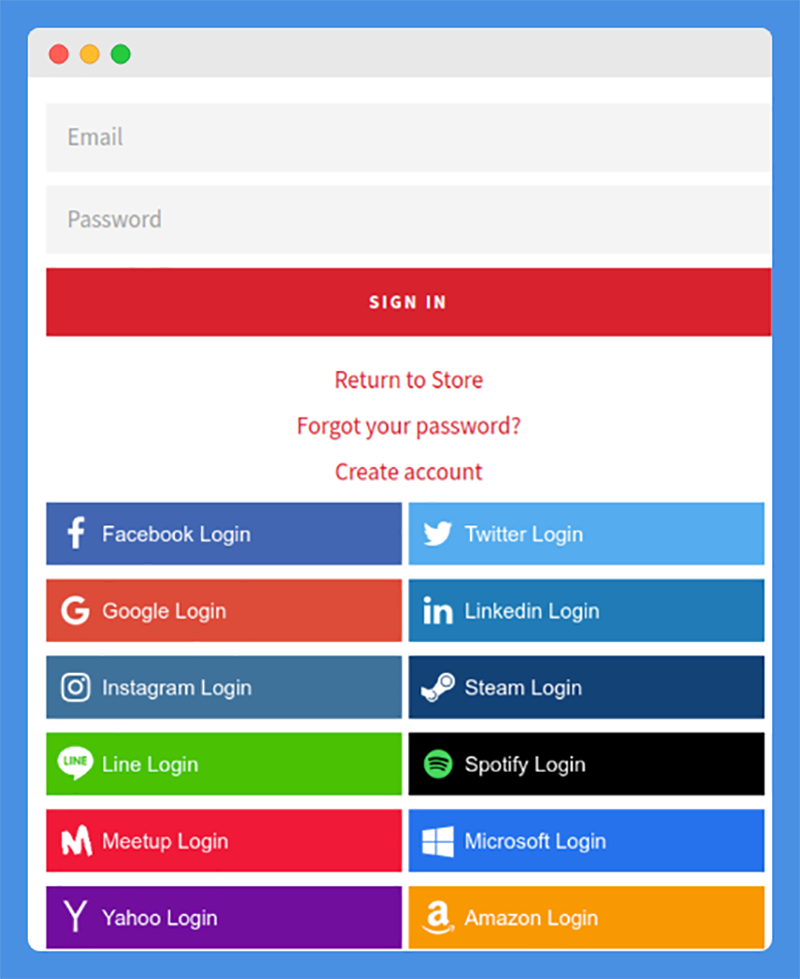 One Click Social Login makes it easy for your visitors to log into their store account through their social networks. There's no more need for them to remember their password.

The app supports all of the major social networks, as well as others such as Yahoo, Steam, Meetup, Line, Amazon, and Spotify.

The basic plan is only $0.99/month and gives you access to the main features.
Interesting Post: Best Shopify Stores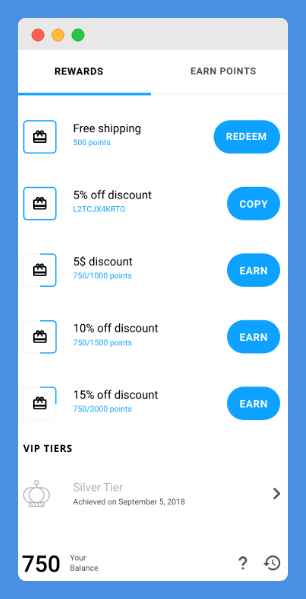 This app gives you a bunch of different tools that are designed to increase sales and conversions. Perhaps the most important one is the loyalty and rewards program, which can allow you to build relationships with consumers, get repeat customers, and increase your sales over time.

Other tools include reviews, wish lists, social logins, Instagram pictures and shopping galleries, social sharing buttons with incentives, automated emails, and notifications.

Of particular interest is the community feature, which allows you to create a forum on your site where consumers can exchange ideas and ask questions.

The free plan is for stores with up to 100 orders/month and only gives you access to the reviews, wishlist, and social login features. Premium plans start at $59/month.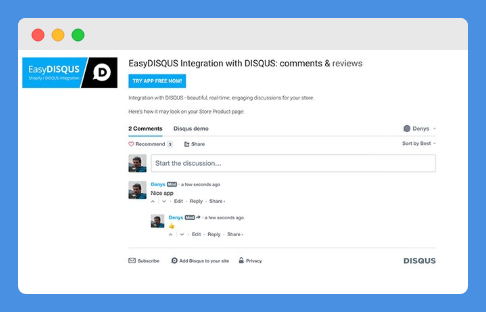 DISQUS is one of the largest discussion platforms; you've probably seen DISQUS comments embedded on a page if you've browsed major news sites or blogs.

The normal DISQUS universal code doesn't work that great with Shopify, but this app will allow you to create comment and discussion areas on your site with just a few clicks.

The app costs $4/month. Keep in mind that this app is not actually created by DISQUS, so you will need to have a separate DISQUS account/plan.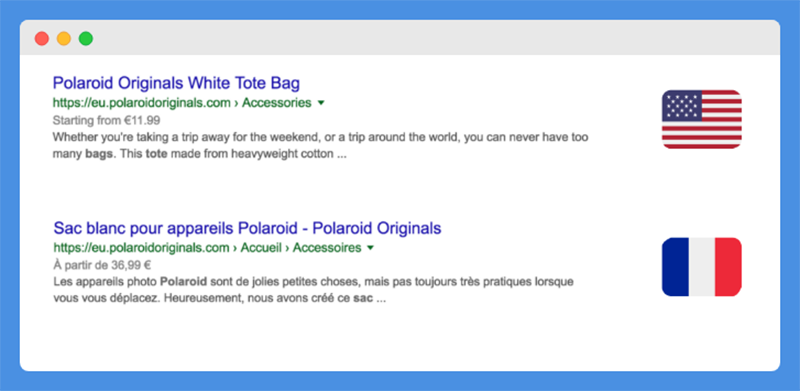 We previously mentioned using multiple currencies if you sell to people in different countries. However, what about using different languages?

The Weglot app lets you offer more than 100 different languages for your store. Users can easily switch between languages.

It even translates the checkout page and email notifications. All translations are SEO-optimized; you will even get different URLs for different languages when you translate your site.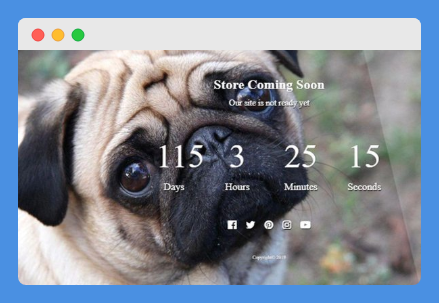 The Simple Coming Soon app does exactly what it says it does: It allows you to create a simple coming-soon page to inform visitors of future services, products, webinars, and more.

The page takes just a few minutes to set up.

They even have optional, "not-so-simple" features, such as a countdown timer, social sharing buttons, and email subscription forms.

This app costs $5.99/month, but it does offer a free trial.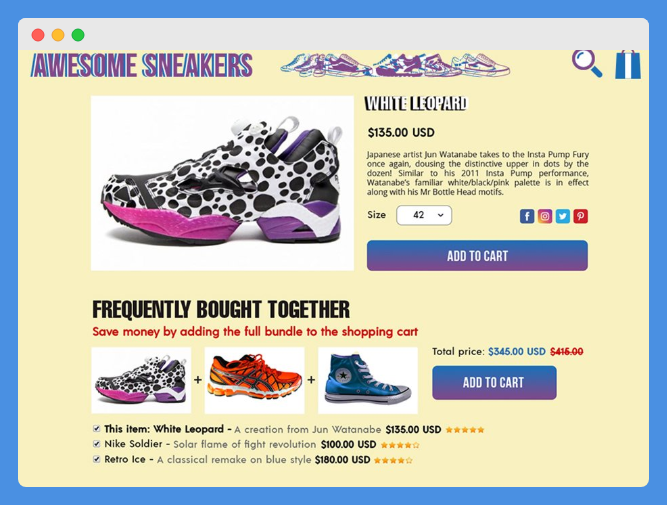 The Frequently Bought Together app can increase your conversion rates by displaying cross-sell and up-sell products.

This works just like it does on Amazon: When a customer visits a page, they will be shown a bundle that includes that product and other products; you can automatically add a percentage discount to these bundles.

This app costs $7.99/month.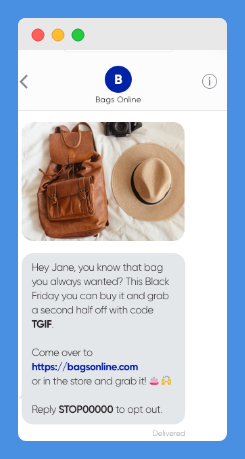 SMS Bump is an SMS marketing tools suite. You can build your subscriber list using popups, floating buttons, and more.

Once you have your list, you can send SMS messages using prebuilt SMS flows. You can also send automated cart reminder texts and other messages.

You can send images via MMS. You can even send GIFs (both can only be sent to US numbers).

You can schedule messages ahead of time, block out certain countries, block out certain time periods, and more.

SMS Bump is free to install. Prices start at 1.5 cents per text message.
Our Pick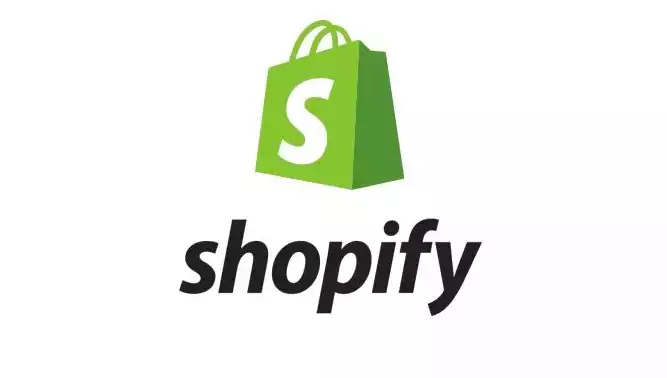 We earn a commission when you click this link and make a purchase.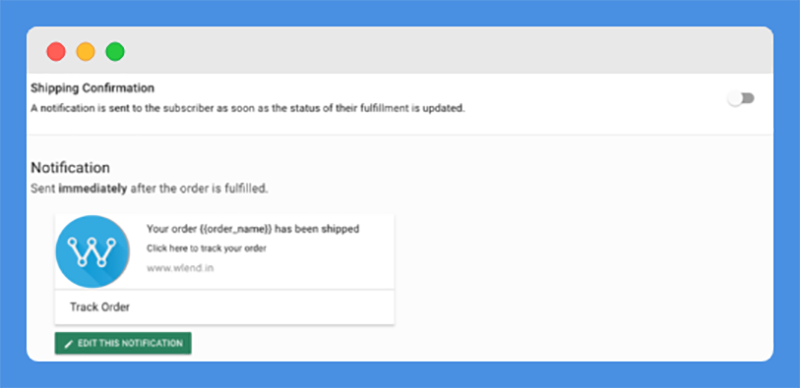 Web push notifications are a great alternative to email messages. Most emails go unopened, and many people even set up separate email accounts just to subscribe to stuff.

Web push notifications, however, appear right on a user's desktop, whether or not they are currently visiting your page. It is also much easier to subscribe to them – all visitors have to do is click the opt-in button.

Web Owl Push Notifications focuses primarily on sending abandoned cart reminders, with a sequence of up to three messages. However, you can also send price drop, back-in-stock, flash sales, and other notifications.

Some advanced features include having product images added automatically to abandoned cart reminder notifications.

Web Owl is free for up to 500 impressions, unlimited subscribers, and most features.
Check Out: Best Shopify Dropshipping Apps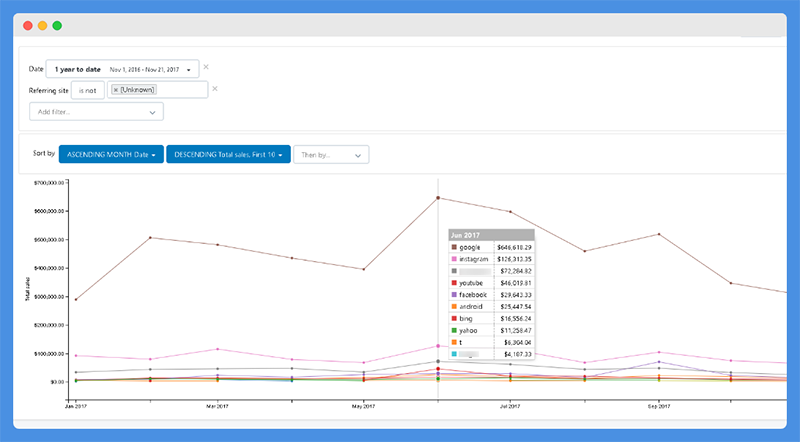 Having access to detailed statistics is essential for knowing where you are lacking and how to optimize your store for more conversions.

Better Reports provides you with 60+ built-in reports on your traffic, sales, inventory, channels, affiliates, and more. You can also build custom reports by choosing the fields and data you want to include.

You can have your reports displayed in different ways – table, matrix, bar chart, graph, or scatter plot.

Better Reports starts at $19.90/month.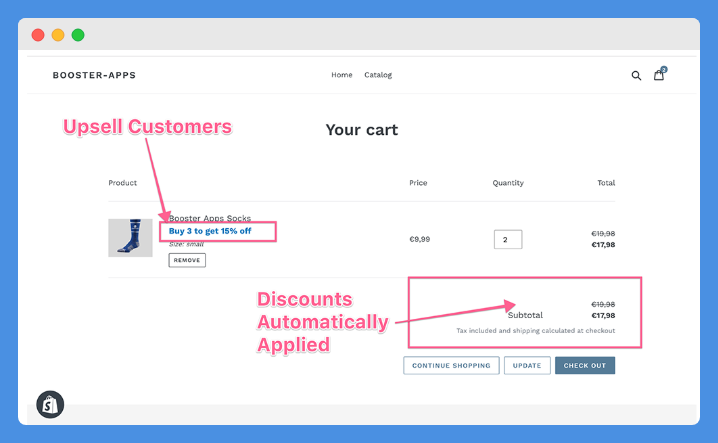 Discounted Pricing, by Booster Apps, lets you increase conversions at critical times by offering discounted pricing through quantity break offers.

What does this mean? Basically, it allows you to encourage additional purchases by offering discounted prices after either a certain number of purchases are made or a certain amount of money is spent on purchases.

Pricing is based on your Shopify plan. It starts at $19.99/month for those with the Basic Shopify Plan.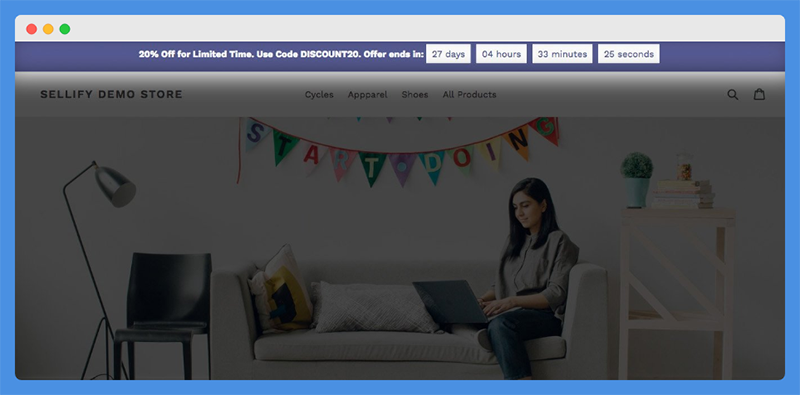 Creating urgency can increase your sales rates. Countdown timers are useful for increasing sales in general but are especially useful when you want to make announcements about special events or flash sales.

The great thing about the ULTIMATE Countdown Timer app is that it gives you countdown timers without any bells and whistles, and is forever free to use.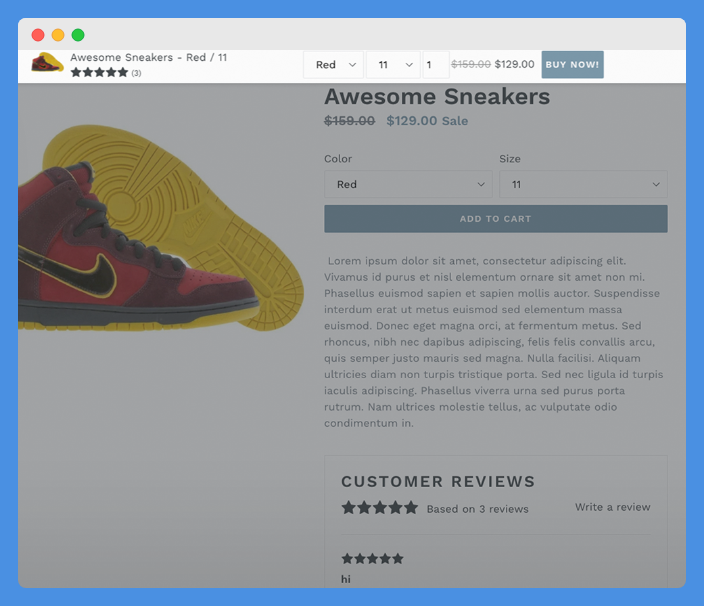 The Sticky Add to Cart app has floating bars and buttons that appear whenever a user is on a product page. Since these buttons scroll along with the user, they are always visible and can increase conversions.

There are also quick buy buttons alongside every product in a catalog, as well as a floating checkout button on the cart page.

There is a 15-day trial, after which the app costs $6.92/month.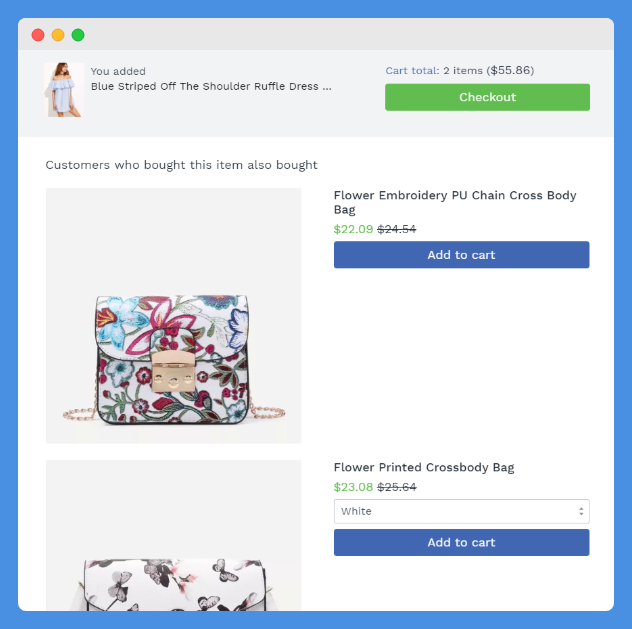 SELLY UNITED can help you increase your conversion rates. You can display different offers, such as buy-one-get-one, discounts, free shipping, and more.

There are upsell pop-ups and cross-sell items displayed when a customer visits a product page or adds an item to their cart.

You can create product bundles with different products or product variations, and you can entice customers to make more purchases by using a progress bar that displays how much more they need to buy to qualify for a discount or free shipping.

There are quite a few other tools as well.

Pricing starts at $15/month.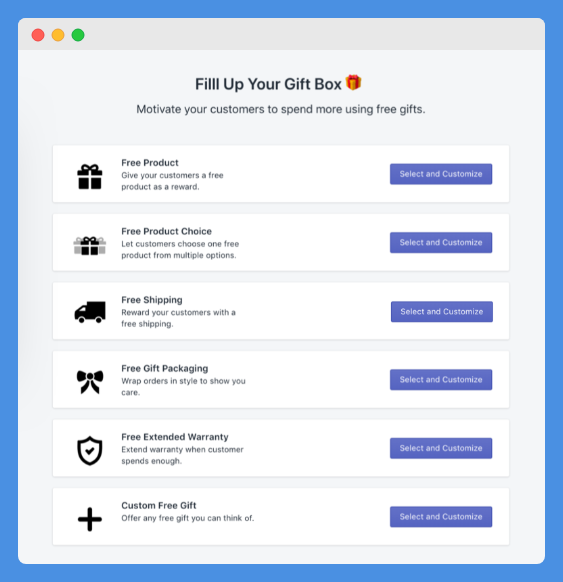 One way to increase sales is by making it easy for people to purchase gifts for friends and loved ones. You can encourage this by using the Gift Box app.

You can set up all kinds of rules and offers, such as a free product, free shipping, or free gift wrapping on orders over $15. You can even give away free gift cards when customers spend a minimum threshold on a product.

Pricing starts at $19.99/month.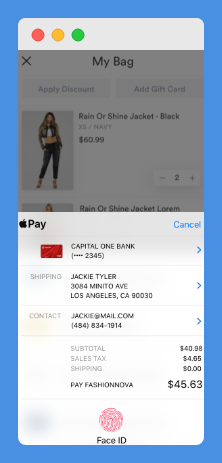 If you want to reach even more people, consider setting up a mobile app version of your Shopify store. Apps can have higher conversion rates than websites on mobile devices, and when an app is downloaded, it can lead to repeat purchases.

TapCart makes it easy to turn your Shopify store into a mobile application. You can increase conversions by making a one-step checkout option with Apple Pay and sending abandoned cart reminder notifications.

Pricing starts at $99/month.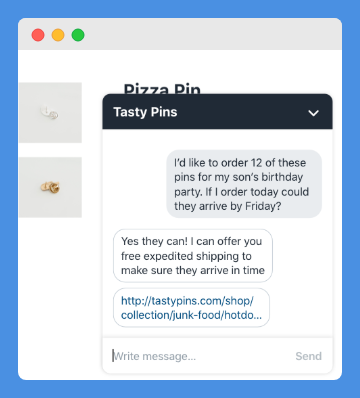 Shopify itself. It adds a chatbox on your site and allows customers to message you directly.

However, you must own an iOS device to use it, as messages are managed (and replied to) on your side on Shopify Ping, which requires an iOS device.

However, the app is free to use.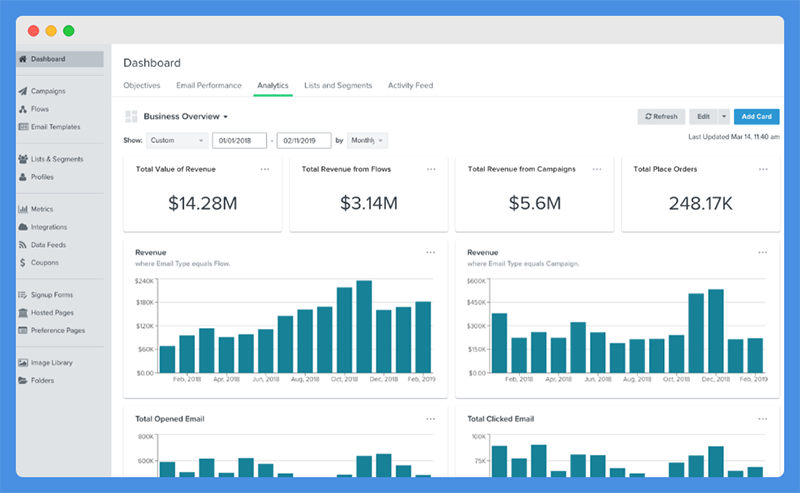 Klaviyo is an all-in-one marketing automation suite that integrates with over 100 other tools and services. You can build forms to collect customer information and get accurate customer profiles for better targeting.

You will get data like churn risk, customer lifetime value, and much more.

You can send abandoned cart reminders or create custom flows so that customers are sent targeted follow-ups. You can also integrate with Facebook ads to display retargeted ads to your list.

You can even send SMS messages with Klaviyo.

There is a free plan for up to 250 email subscribers.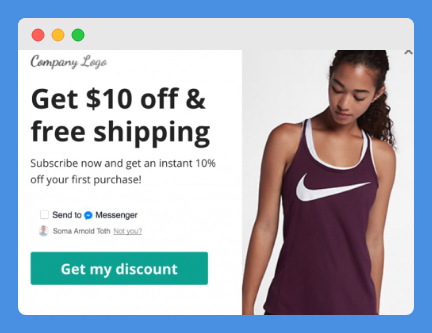 If you're getting frustrated with your lack of results from email marketing, consider getting started with Facebook Messenger marketing. It's not as overcrowded as email and can bring you higher open and click-through rates.

Recart makes it easy to get Facebook Messenger subscribers. You can even show your forms only to people who have logged into Facebook already, in which case they can sign up without entering any additional information.

With Recart, you can send abandoned cart reminders, purchase confirmation, shipping notifications, welcome messages, and much more.

Recart starts at $29/month.
Also Read: Best Shopify Pop-up Apps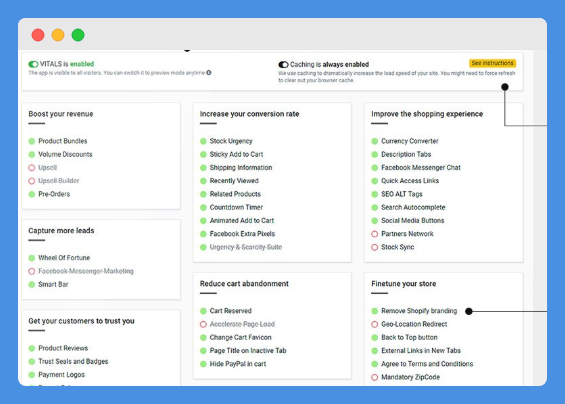 VITALS is a good app to have, as it includes more than 40 features in one app. It has review, currency converter, upsell, trust badge, cart abandonment, Facebook chat, wheel of fortune pop-up, pre-order, quantity break, product bundle, Facebook pixel, recent sales pop-up notification, sticky add-to-cart bar, and shoppable Instagram feed app – plus much more!

VITALS costs $29.99/month.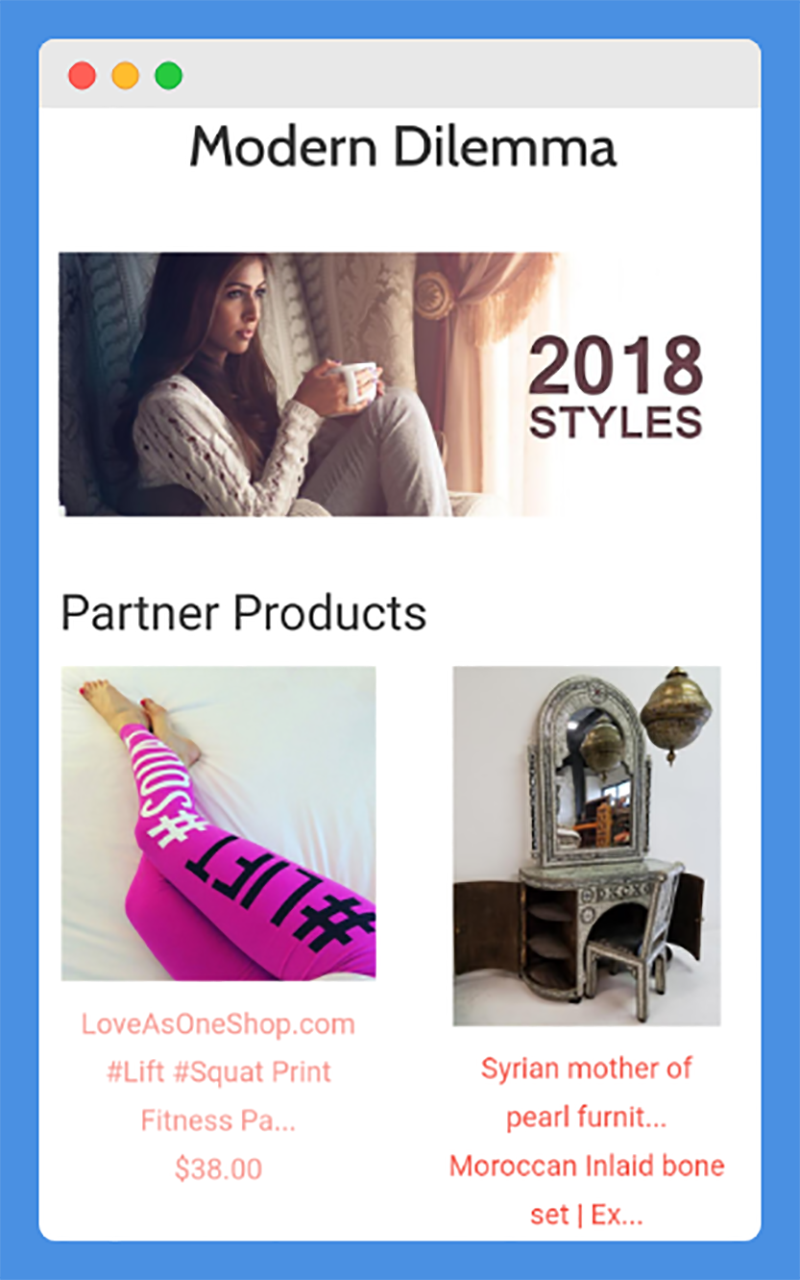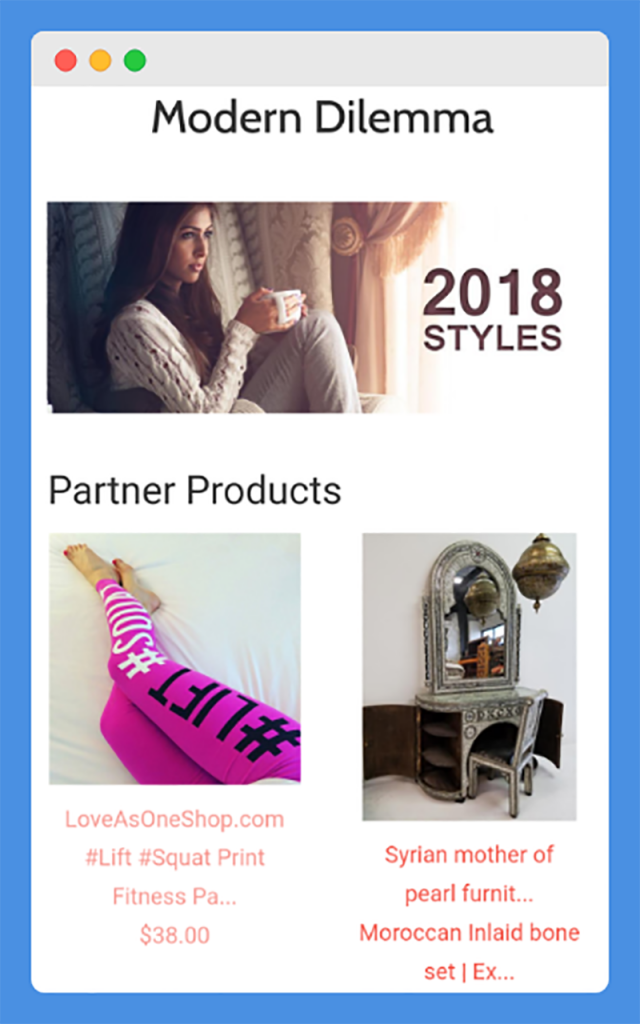 Want to get more traffic to your site? Ads by Varinode is a free ad exchange eCommerce app that can be used to increase your traffic and sales.

You will be able to display ads on other sites in exchange for displaying other stores' ads on your own site. Since your ads will be displayed on other eCommerce sites, the people who they will bring to your store will already be in "shopping mode," as opposed to traffic that is coming from social media.

You can choose your target audience, and Varinode verifies all traffic to make sure it is high quality.

As mentioned, Varinode is free to use.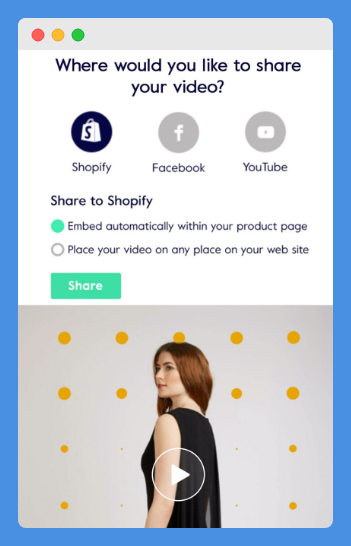 Product videos allow you to showcase a product and its features/ benefits in a way that an image simply can't do.

You can easily create videos with Videofy and add them to your store (or multiple stores) right away. You can add colors, your logo, and licensed music; you can also use the advanced editing capabilities to create better videos.

Videofy is free to install and use.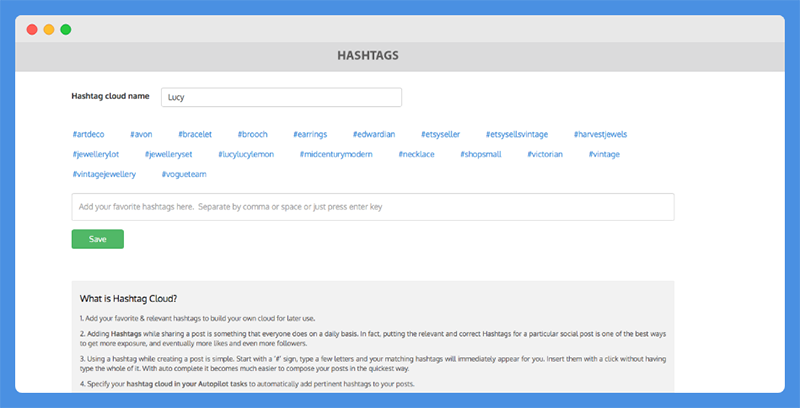 Outfy lets you set your social media promotions on auto-pilot. You can set it up so that your posts and products are automatically shared on your social media platforms; over 12 platforms are supported.

You can connect multiple stores and create templates so that your social media posts look unique. You can also create image galleries and add hashtags to your posts.

Pricing starts at 2.5 cents per post; you can choose how many posts you want and pay accordingly.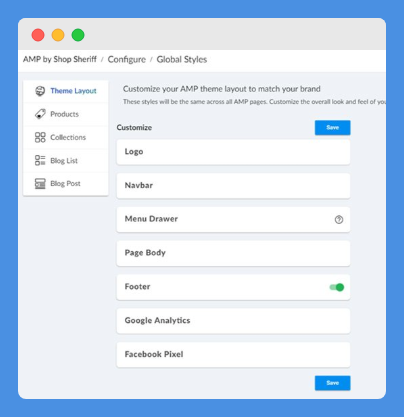 Google AMP is a program that speeds up your site's loading times by displaying cached versions. Google's algorithm takes AMP into account as a factor when determining rankings.

Downloading and installing AMP By Shop Sheriff is a quick and easy way to turn your site into an AMP site. It converts the homepage, product pages, blog pages, and more into AMP format.

It has other useful SEO features, such as custom URLs. It even has some features to increase your conversion rates, such as a sticky cart button and a Buy Now button.

This app is free to use, but there are premium plans with additional features.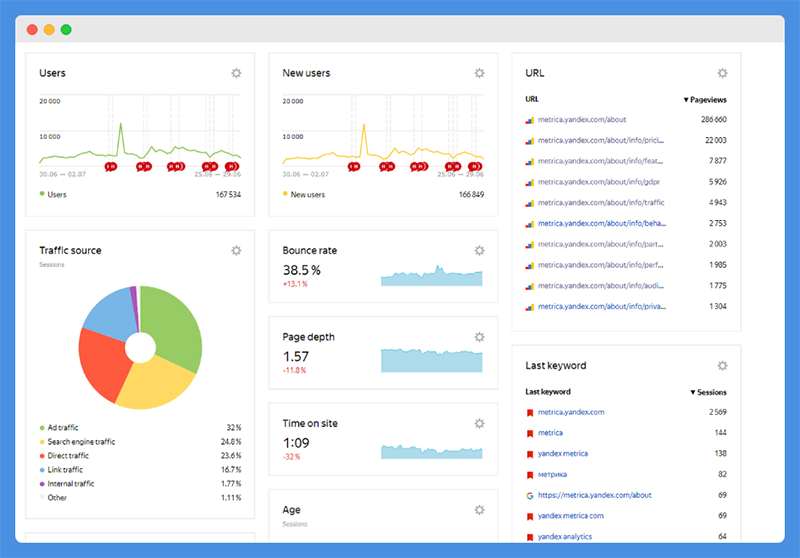 Yandex is a great app to track your traffic and website activity. It shows your audience and behavior data, as well as website performance and technology analytics.

You can see where your traffic is coming from, including the domains that are sending the traffic and even specific URLs.

You can also customize your reports so you only get the important data.

The best part about Yandex is that it is forever free to use.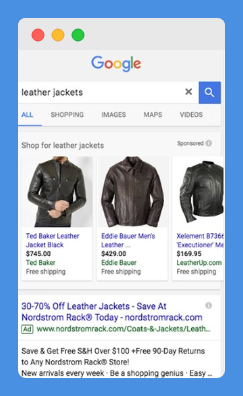 Google Shopping is an app produced by the Shopify team. It syncs your store to your Google Merchant account.

Whenever you update your store in Shopify, your products will automatically be added to the Google Shopping ad network.
Our Pick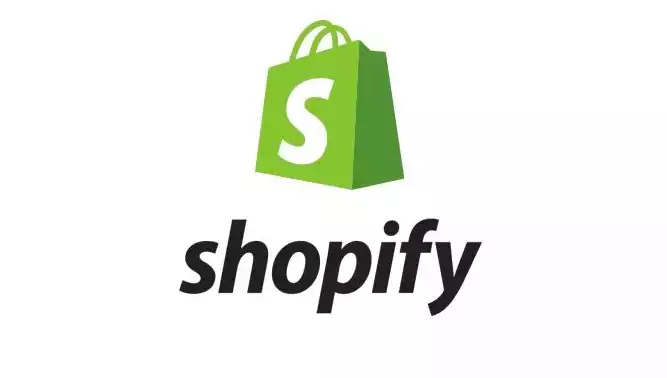 We earn a commission when you click this link and make a purchase.
Your products can be displayed to people searching on Google or using Gmail or Youtube; they also show up on the Google Display Network. You only pay when someone clicks on your ad.

The app is free to use and install.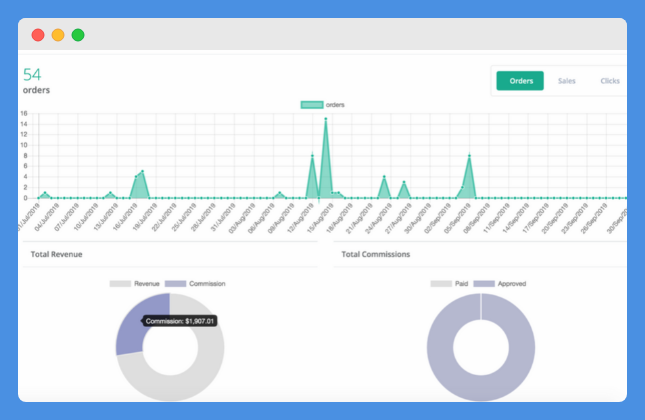 One of the best ways to get free traffic and sales is by offering people rewards for referring friends. You can even set up a full-blown affiliate program where people can earn commissions on every product sale they bring you.

You can set up affiliate links or coupon codes to track sales. You can also set up different tier commissions and rewards for different affiliates (based on performance) or for different products.

The free plan allows for unlimited affiliates but only allows you to review up to 30 referral orders per month.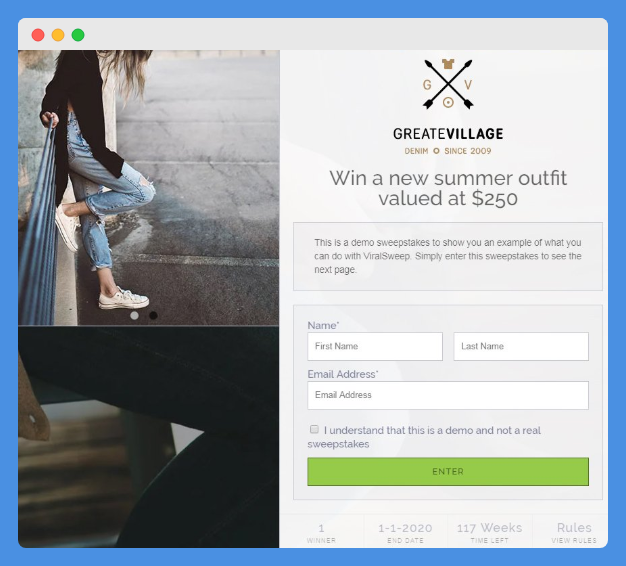 Another way to increase sales or build your email list is by holding sweepstakes, giveaways, and contests. You can hold contests where users submit pictures of them using your product in exchange for a chance to win something.

You can also give away prizes, free discounts, or free products at random times.

Not only can you use sweepstake entries to collect email addresses, but you can also award bonus entries for actions like social media follows, visits, and likes.

Pricing starts at $49/month.
Related: Best Shopify Exit Intent Apps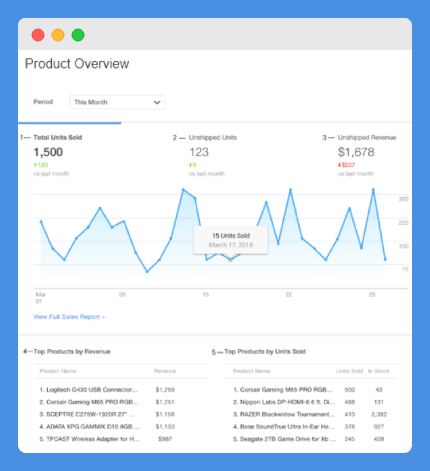 ShippingEasy is a great shipping app solution. You can quickly process orders and print labels, even from channels other than Shopify (such as Amazon and eBay).

It's also an inventory management app – your store will be synced in real-time based on your available inventory; you will also get alerts when stock is low.

You can automatically email customers shipping updates and notifications and print out custom labels with your brand and logo.

You will also get access to Proprietary Flat Rate Green shipping rates. In addition, you will get a free USPS postage account, which usually costs $15.95/month, and discounted rates on all USPS shipping options.

Phone and chat support is available 24/7 in case you need help with a shipment.

ShippingEasy is free, but only for up to 50 orders a month and the basic features. Premium plans start at $29/month.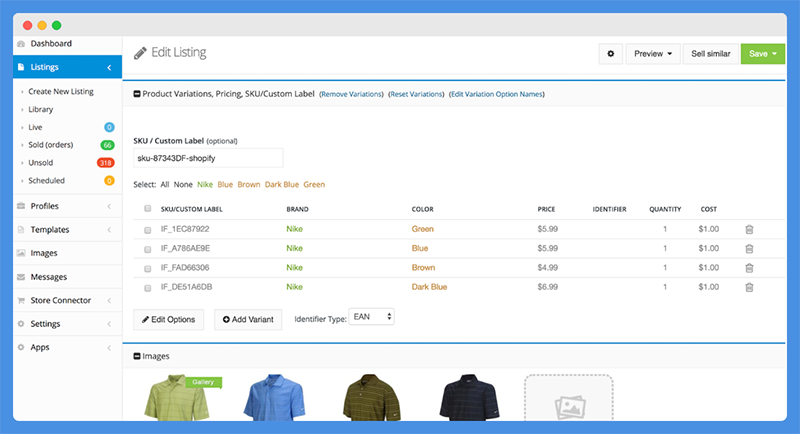 Do you want to start expanding your customer base by selling your Shopify products on eBay? eBay Connect is the perfect app for this.

You can export all of your Shopify products to your eBay store and create beautiful listings using the template builder.

The app is created by InkFrog, which lets you track multiple eBay listings from one account. You can also have your eBay listings automatically synced to your Shopify listings and updated regularly.

You can even communicate with your eBay customers straight from the InkFrog dashboard.

The app is free to install for importing up to 100 products to eBay within the first 14 days.
A common problem consumers face is having to contact customer support if they want to make edits to their orders. This can also be a problem for your business as it can put an added strain on your customer support team.

Orderify allows customers to log in to their accounts and edit their orders themselves. Whether they entered the wrong address, want to add additional units of the product, want to cancel their order, or want to reorder a product that already arrived, they can do so.

Orderify costs $4.99/month.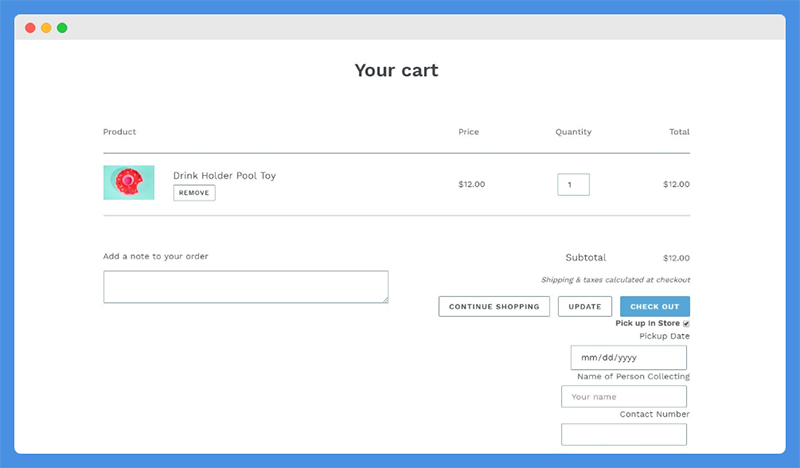 This nifty little app lets you provide an in-store pickup option to your customers. This can make things easier for you by eliminating the need for shipping and handling.

The app will show you the pickup date the customer picked, as well as other details such as their name and phone number so you can contact them.

You can even add a Max Days to Collect rule so customers don't make a purchase and leave the item waiting in your store for too long.

The app costs $11/month.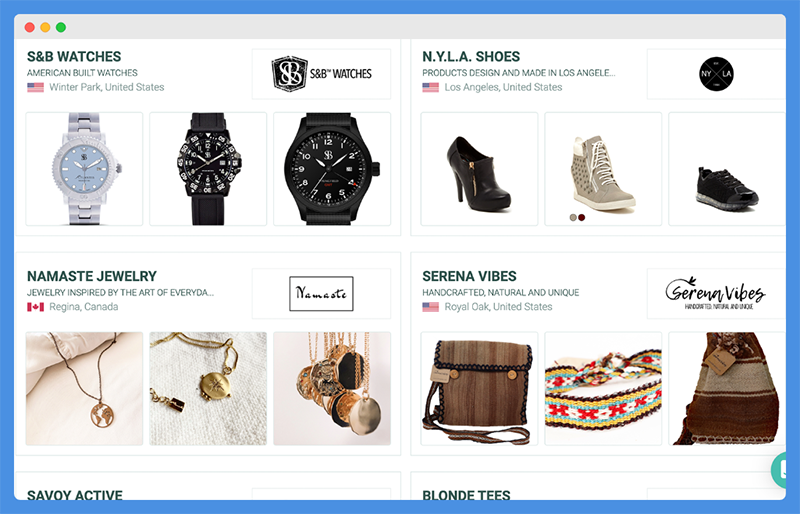 Dropshipping products from China is very common, as they are often cheaper. However, the downside is that products can take longer to arrive, which can lead to decreased customer satisfaction.

DropCommerce is a Shopify app dropshipping directory with only US and Canadian suppliers. They vet all of the suppliers they list to ensure quality.

DropCommerce guarantees your orders themselves and promises 35+ percent discounts on retail prices.

You can preview the app for free, but you will need to start with the $9/month plan to start importing products from suppliers.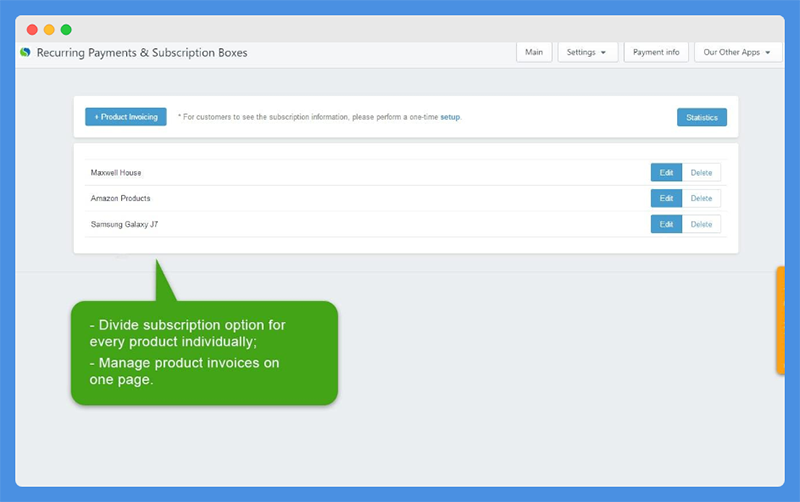 A great way to increase your ROI is by offering monthly subscription plans. This allows you to continually build recurring revenue.

You can offer either weekly or monthly subscription packages with discounts for recurring purchases. Since the app only sends the invoices to consumers (the actual payments go through Shopify), you won't have to pay any additional fees for payments.

The basic plan costs $15.95/month.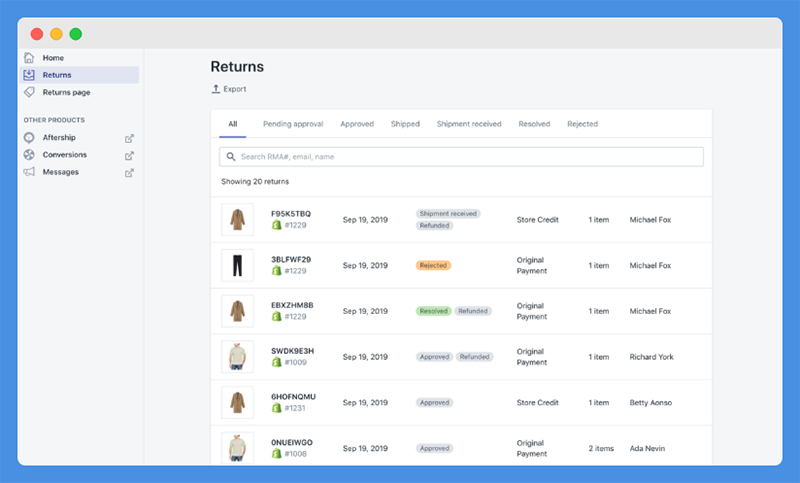 AfterShip allows customers to easily submit return requests. You can create your rules for deciding how to refund your customers automatically (cash refund, exchange, or store credit), as well as when to accept a return and when to reject it.

Customers can choose from different return methods (such as return to store, print return shipping label, or choose a shipping carrier).

There is a free plan, but it only allows for five free returns a month. Premium plans start at $9/month.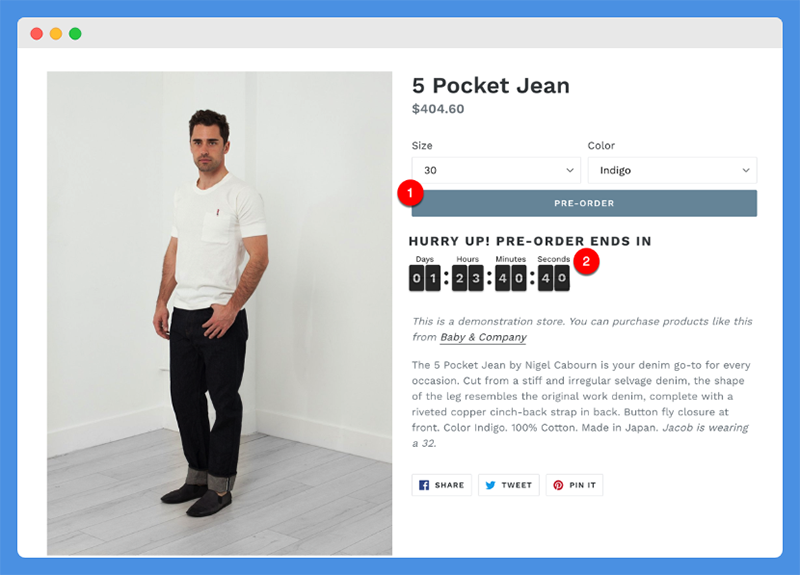 Globo PreOrder is a free app that lets you add a pre-order option for new releases to increase sales and for out-of-stock products. You can even add countdown timers to display when a product will be back in stock.
Check Out: Best Shopify Print On Demand Apps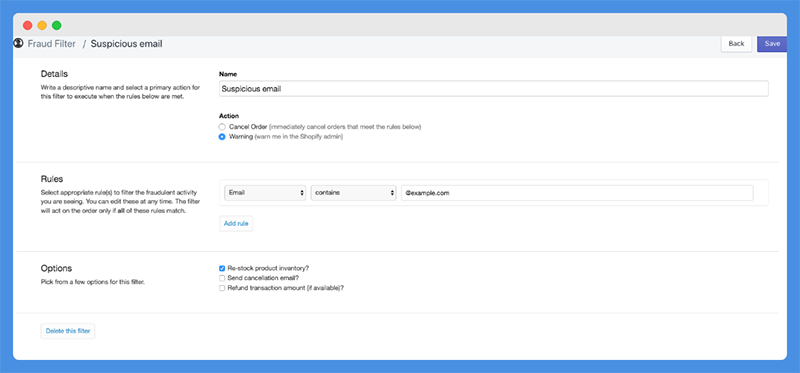 Fraud Filter is a free app that lets you set filters to automatically flag suspicious orders. Filters can be a number of factors put together, such as which country an order is originating from and how much the order value is.

Once an order is flagged, you will be able to review it and see what caused the flag and whether it should be approved or not.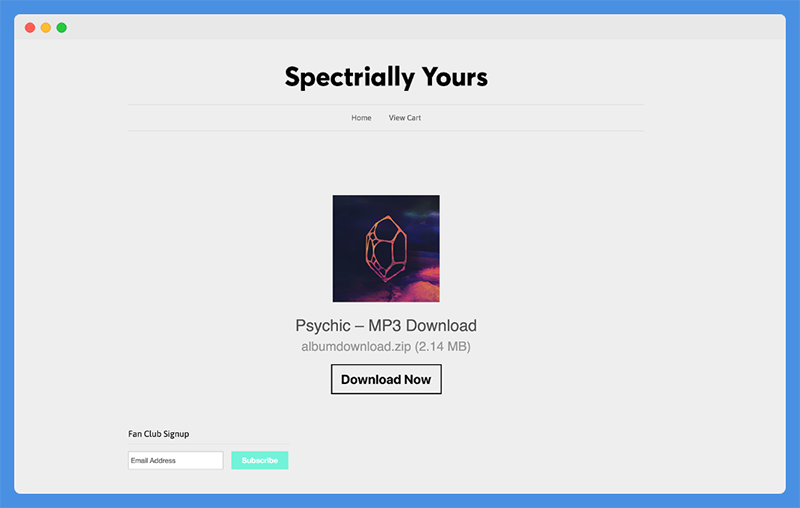 What if you aren't selling physical products in your Shopify store but digital downloads?

In that case, you can use the Digital Downloads app. Whether you are selling music albums or songs, videos, ebooks, or anything else, this app handles everything for you.

Customers can get a direct download link when they make a purchase and/or have it sent to their email.

You can even create combinations of physical and digital products.

The app is free.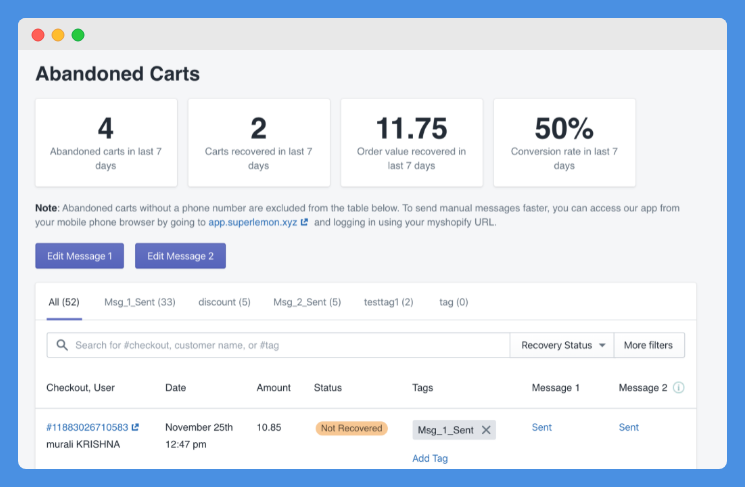 With this app, you can utilize the power of Whatsapp to increase your sales and boost customer satisfaction. The live Whatsapp chat box allows you to chat with your customers and visitors live.

You can also send automated or manual abandoned cart reminders, purchase confirmation, delivery updates, and much more.

There will also be a Whatsapp share button so your customers can share your site or a product with their friends.

You will need to have the Whatsapp app installed on your phone to be able to use this app.

There is a free plan available with unlimited Whatsapp chats and most features. Rates start at as low as two cents per message.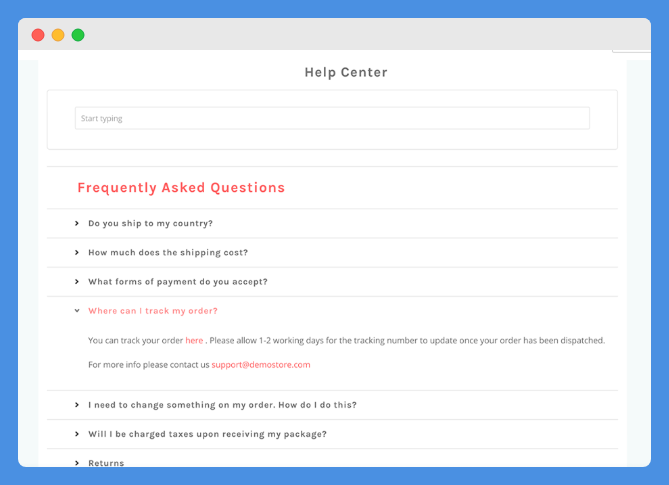 The HelpCenter app makes it easy to set up a robust FAQ and Help Center page so your customers can easily find answers and solutions to their problems. It also lessens the load on your customer support team.

You can set up multi-layered FAQ pages that are responsive to any device or screen size. You can export and import FAQ pages from one store to another and support multiple languages.

There is a free plan available that lets you set up unlimited questions and answers.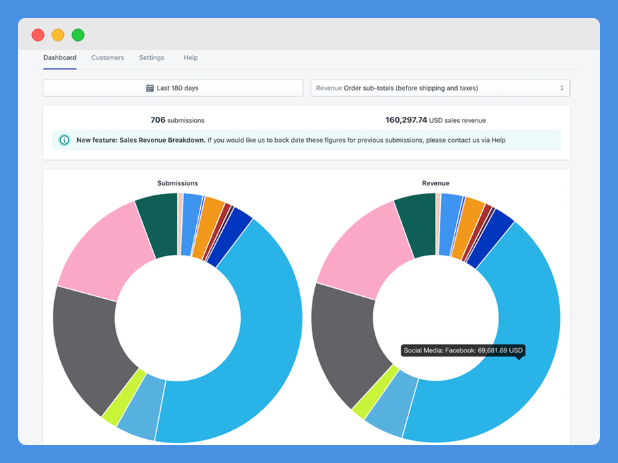 One of the best ways to increase customer satisfaction is by listening to customer feedback. This allows you to show them that you care and also discover how you can improve your product or service.

Grapevine Post-Purchase Survey allows you to include quick surveys after purchases to discover which channels are bringing you the best results. It is free to use.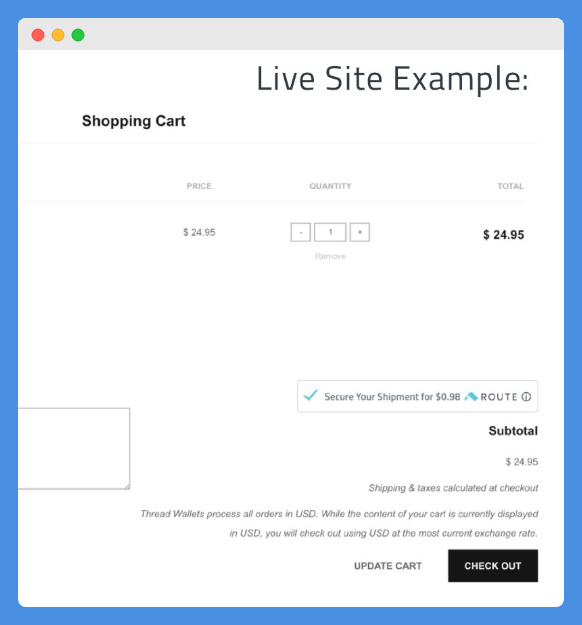 Route is a one-click shipping insurance solution. Providing shipping insurance comes with many benefits.

First of all, if any product gets damaged during shipping, you won't have to cover the costs – Route will do it for you. In addition, it can increase customer trust during checkout, which can lead to fewer cart abandonments.

As a merchant, you're not the one paying for the insurance. Instead, you are offering it as an option for customers during checkout – they just have to click the box if they want to get shipping insurance.

Route can be installed easily, but they can do the installation for you if you don't know how or do not have the time.

They are backed by Lloyds of London. They respond to claims within 24 hours and usually pay out within five days.

The app is free to install.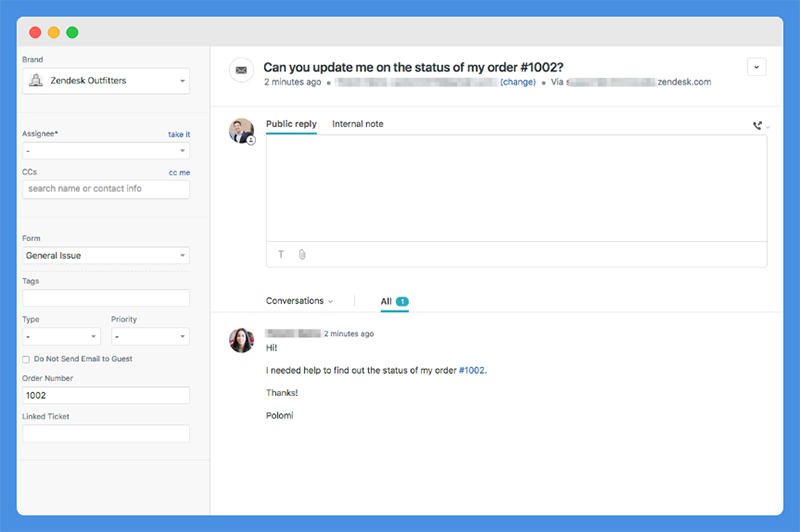 Zendesk is a well-known customer support tool. It allows customers to submit support tickets and allows you to respond quicker by giving you access to data such as billing, shipping, and order information.

The app is free to use, but you will need a separate Zendesk subscription starting from the Team Plan, which costs $19/month.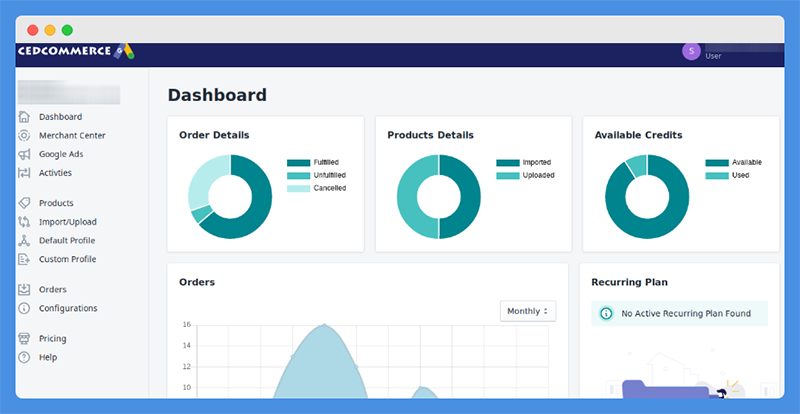 This app lets you increase your reach by syncing your products across the Google Shopping network. When customers take action on Google Shopping, you can manage them directly from your Shopify dashboard.

Everything from order fulfillment, order tracking, goal setting, enhanced eCommerce setup, and more can be done from the app dashboard.

Pricing starts at $29/month.
Our Pick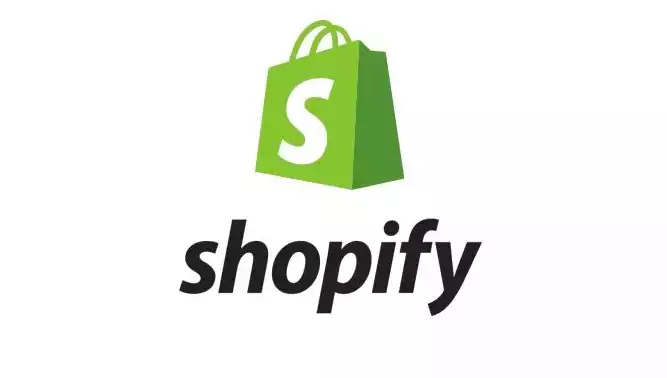 We earn a commission when you click this link and make a purchase.
Also Read: Ways To Increase Traffic To Your Shopify Store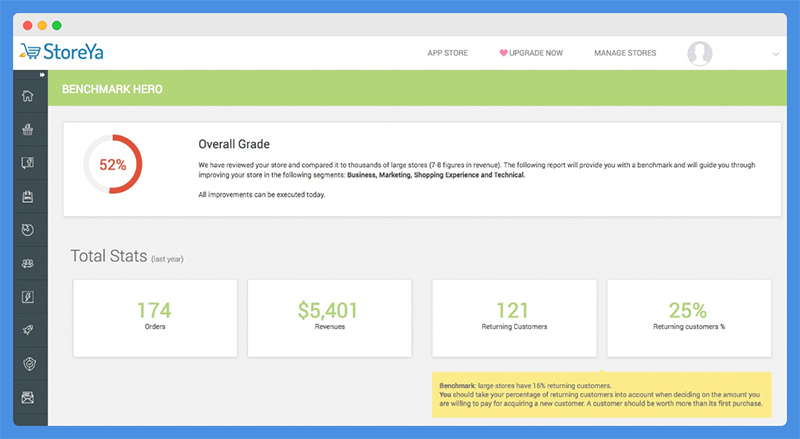 This free app audits your site for things such as SEO, customer value, recurring customer percentages, site speed, site trust, and more.

After an audit is conducted, it will give you actionable advice on how to improve your site.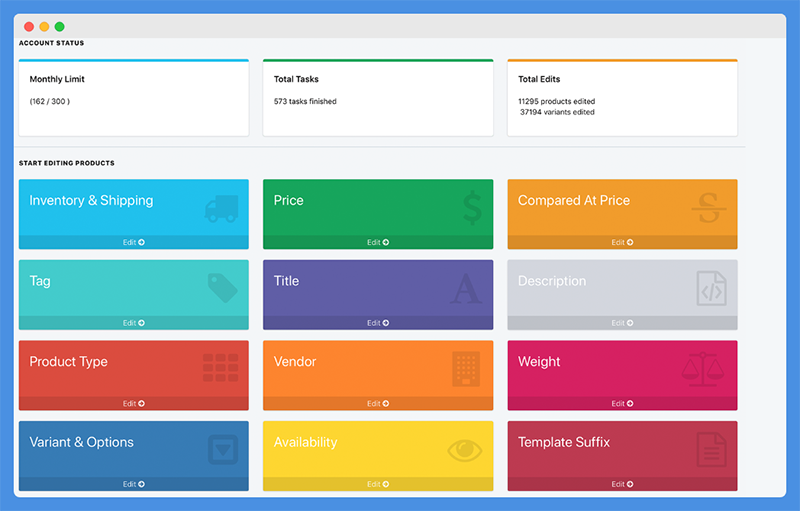 The Bulk Product Edit app can increase productivity by allowing you to edit thousands of products at once or upload products to your store in bulk.

You can bulk-edit anything: Price, inventory, title, description, etc. You can even schedule bulk edits in advance, which can be useful if you want to change prices to reflect seasonal changes.

If you want to restore any changes, you can do so with just a few clicks.

The app also has editing features that help you improve your SEO. There are templates you can use to edit your descriptions, titles, tags, and even URLs.

A free plan is available with unlimited product SEO optimization tasks.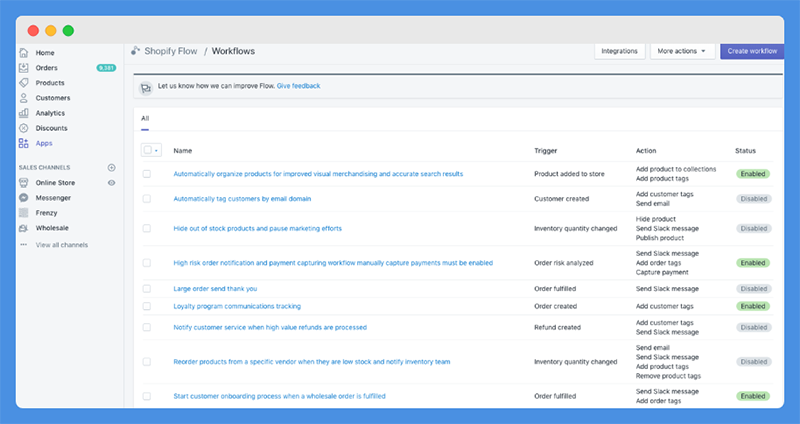 Shopify, is a free app that lets you create automated flows to reduce the need for manual tasks.

You can set up flows such as automatically setting up a support ticket for a customer who leaves a negative review, sending daily top searches and results notifications, tagging customers based on purchasing behavior, getting notified when a product is low on stock, hiding products if inventory level is low, canceling high-risk orders, rewarding customers with loyalty points, texting a discount code or mailing a postcard after a certain number of orders, and much more.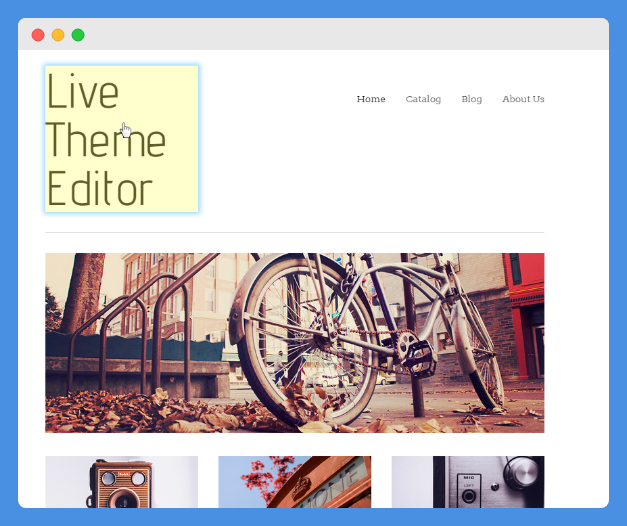 The Live Theme Editor app lets you edit elements of your theme without knowing any code and without affecting the theme itself (so that these changes can be reversed easily).

You can edit the font, text size, color, and make other adjustments. You can even add visual filters, mouse hover effects, animations, and more to your site.

The price is $10/month.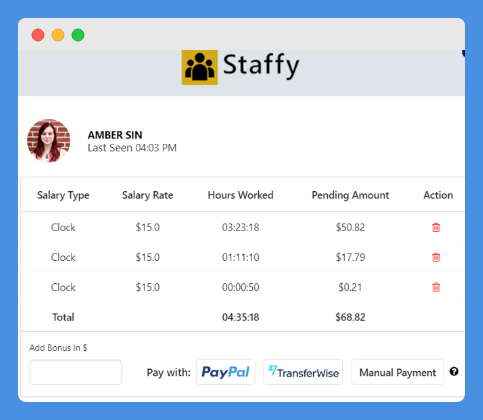 If you have employees or freelancers working for you, Staffy is a great app that lets you assign tasks, take different time zones into account, set up appointments, and even calculate salaries automatically and manage your payroll with Paypal.

The task manager lets you chat with your employees about tasks and send files to each other. You can use the built-in clock to track your employees' productivity and calculate their pay.

There are other useful features such as an Integrated Chrome extension and push notifications that let you inform your team about important updates quickly.

The app is free to install but costs $7.99/month for each staff member.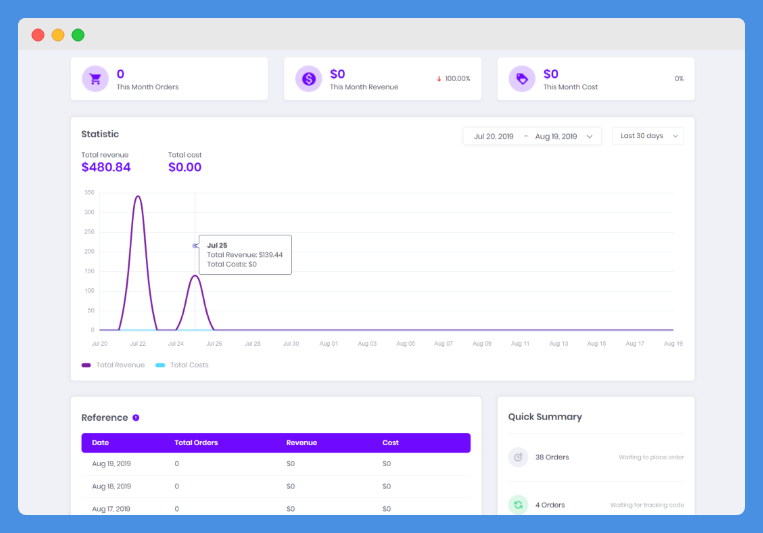 We mentioned Oberlo at the beginning of the article, but if you only plan on dropshipping products from AliExpress, Ali Orders is a good free alternative to use.

You can import many products at once to your store; if you want, you can filter for products that only have the quicker ePacket shipping option or filter by shipping fee or product price. You can also import product variants.

All information will be imported automatically, but you can also use the built-in editors to edit the title, description, etc. You can also set up markup and pricing rules so that prices are synced and updated automatically.

You can fulfill orders from AliExpress with just one click and update shipment tracking.

There is a sister app called Ali Reviews which lets you import product reviews from AliExpress in bulk. Another sister app is called Ali Hunter, which lets you use advanced filters to search through hundreds of thousands of AliExpress products to find the best ones.

The best thing about Ali Orders is that their free plan lets you import up to 10,000 products and fulfill an unlimited number of orders per month.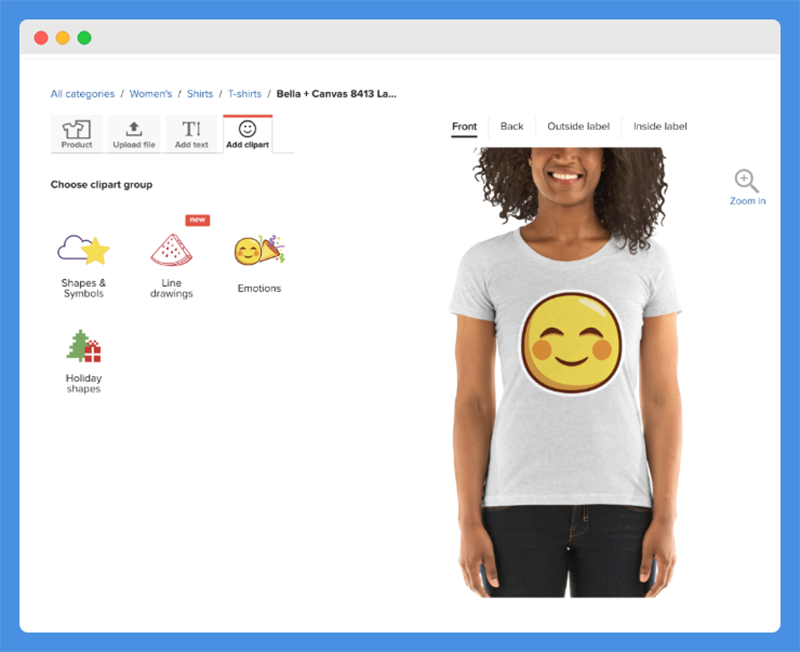 Print-on-demand is another popular form of dropshipping. With print-on-demand, you sell embroidered products and clothing with your own slogans, logos, or pictures.

However, you don't take care of the actual printing, processing, shipping, or handling. Instead, all you have to do is create the logo (or hire someone to do it for you) and a print-on-demand platform like Printful will do everything else for you.

You can sit at home and never have to store any products yourself.

With Printful, you can sell t-shirts, mugs, hats, beanbags, posters, jewelry, and tons of other products. Products are shipped in an average of three days from their locations in the United States, Mexico, and Europe.

You don't take care of storing, shipping, or handling. You do have to pay for each t-shirt yourself; you make money by adding a markup, which the customer has to cover.

Printful is free to use.
Check Out: Best Exit Offers On Shopify To Make Money From Abandoning Customers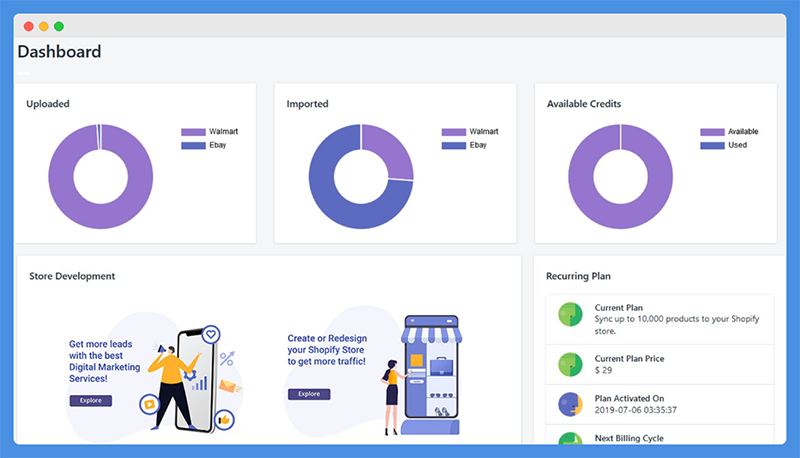 If you already sell products on Amazon, eBay, Etsy, Wish, Walmart, another Shopify store, or other sites, you can use Omni Importer to import them to your Shopify store.

This can be used both for importing your own products and also if you want to use any of the above stores as a dropshipping source.

Pricing is based on how many products you import; the first 10 are free.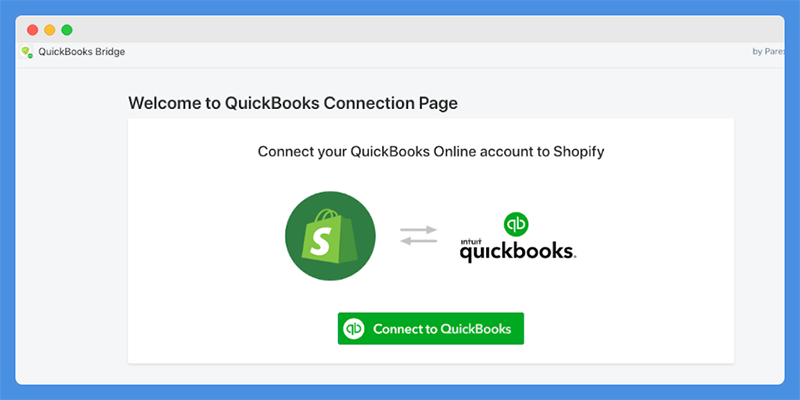 QuickBooks Bridge lets you manage your data by syncing your Shopify store to your QuickBooks account. You can either sync your data manually or schedule a time of day for it to be synced.

You can sync data such as orders, products, customer information, and more. Multiple stores can be synced to one account; any currency conversions will be done for you automatically.

Pricing is $10/month for up to 100 orders. Anything above that will cost $0.05 per order with a max charge of $50.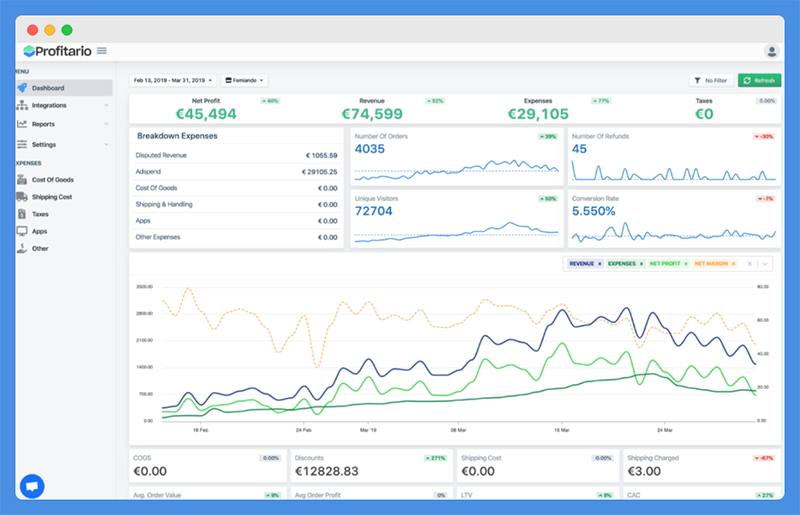 Tracking your profits, expenses, and ROI is important for ensuring the sustainability of your business. Profitario makes this process easy.

The app imports data from sources like Paypal, Facebook Ads, Stripe, Shopify, and more to automatically generate extensive reports. You can keep track of your expenses, profits, and average customer lifetime value.

If you use AliExpress as well, there is a Chrome extension that will automatically pull your data from AliExpress.

Profitario is free for stores with less than 100 orders per month.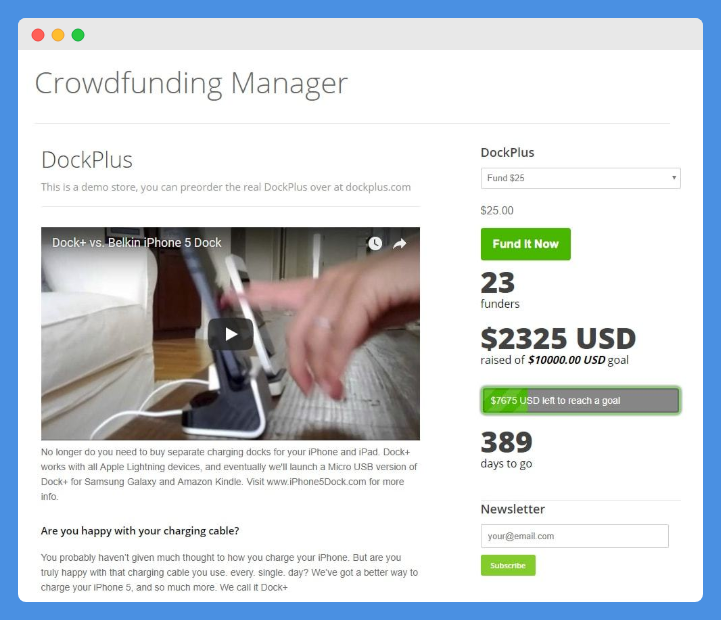 If you have an upcoming product, service, or feature you are looking to secure crowdfunding for, Crowdfunding Manager is the app to use. You can choose which products you want to crowdfund and display a widget in your sidebar.

You can customize the widget design and set different donation options.

The cost of the app is $19.95/month.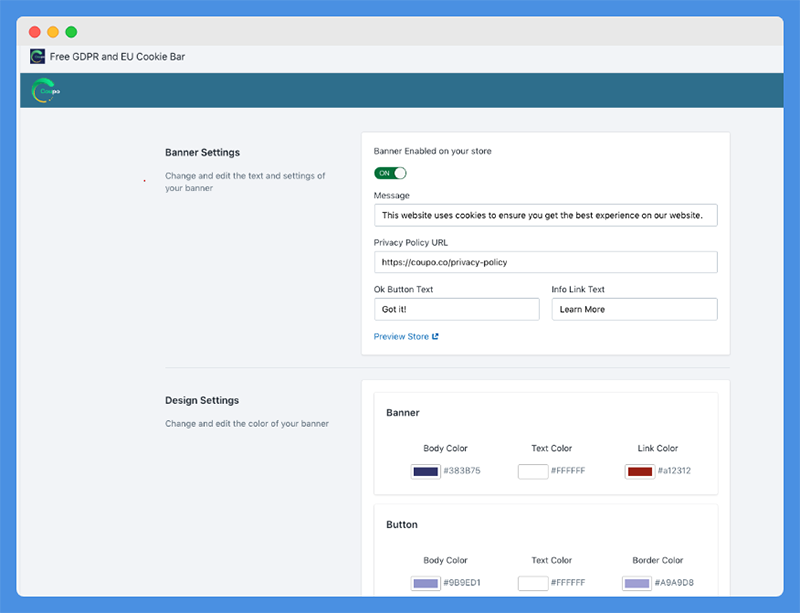 With the new GDPR rules in effect, it is important to make sure you comply with all privacy laws. If you are based in the EU or have customers based in the EU, you must obtain consent before using their information for tracking purposes (or in other words, before using cookies).

This is a free app that lets you display an EU cookie disclaimer bar on your site. You can customize the look of the bar.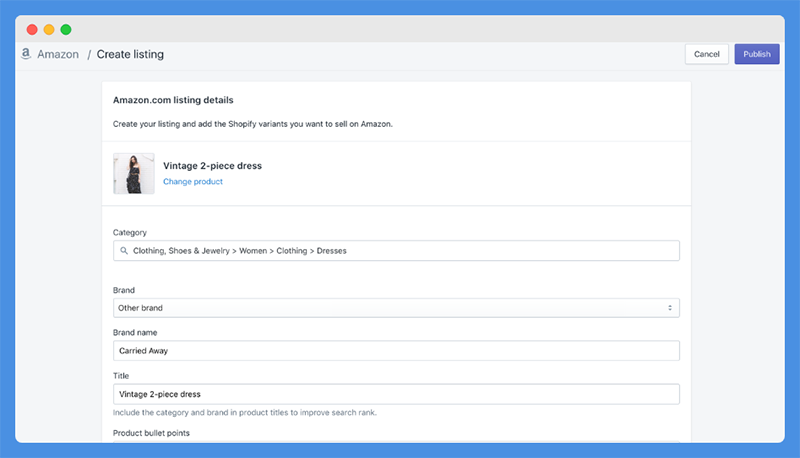 Amazon Channel is a free Shopify app that lets you link Amazon with Shopify. You can start selling on Amazon by creating listings for your Shopify products or manage your Amazon orders from your Shopify dashboard.

Although the app is free, you will need an Amazon Professional Seller Account, which costs $39/month.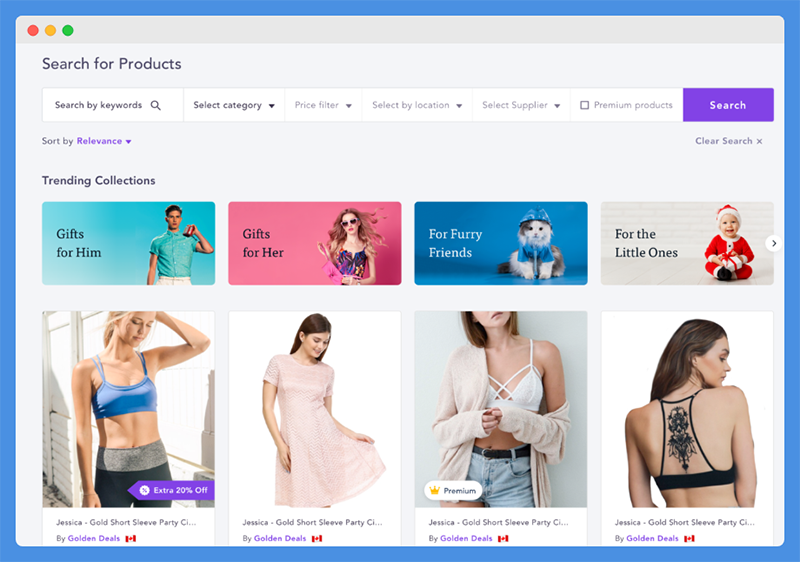 We've talked about dropshipping products, where you sell other people's products as your own. But what about the other way around, where you make money by allowing other people to sell your products?

This is possible with the Spocket network. Simply add your products to the marketplace (once you are approved), and over 33,000 retailers will be available to start selling and promoting your product for you!

You will receive payment for the base cost of the product + shipping.

Spocket is a great way to make additional sales without any additional work.

The app is free; all payments are handled by Spocket and paid out via Stripe.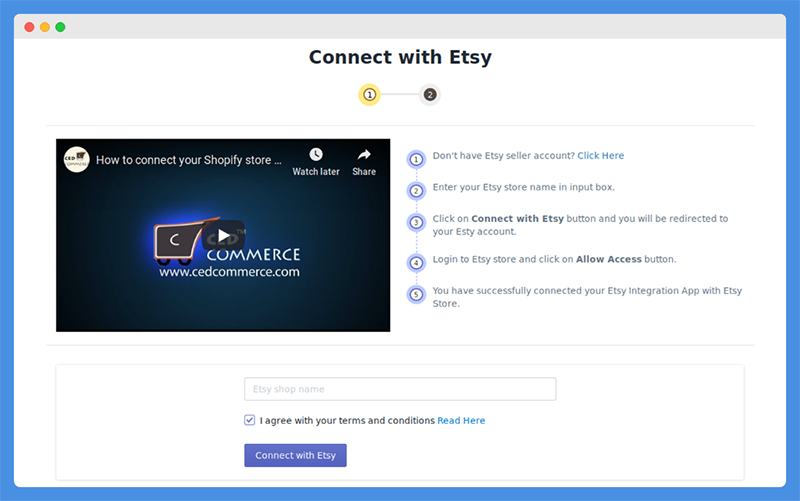 The Etsy Marketplace Integration app is for listing your current Shopify products, along with all their variants, on your Etsy store. All product information and price updates will be synced to your Etsy store automatically.

When an order is placed on Etsy, the order information will be synced to your Shopify store. Once you fulfill the order, tracking and shipping information will be synced back to your Etsy store.

You can even use the app to sync and sell digital products.

The starting plan costs $360/year.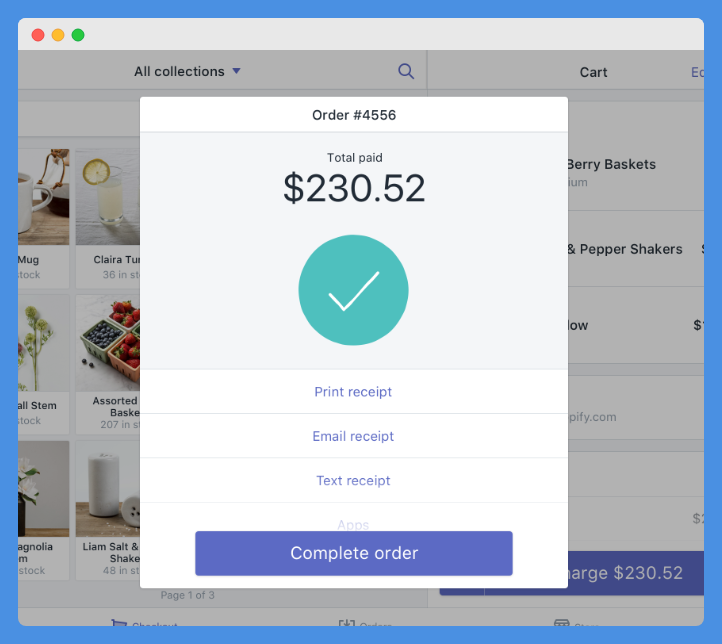 Point of Sale is an app by Shopify that lets you sell products anywhere using the Point of Sale app and card reader. You can download the app on your Android or iOS mobile device and start selling and accepting payments from major credit cards and Android and Apple Pay.

Other useful features are the ability to email custom receipts with discounts, set up automatic sales tax based on location, and issue refunds on the spot.

Shopify plan.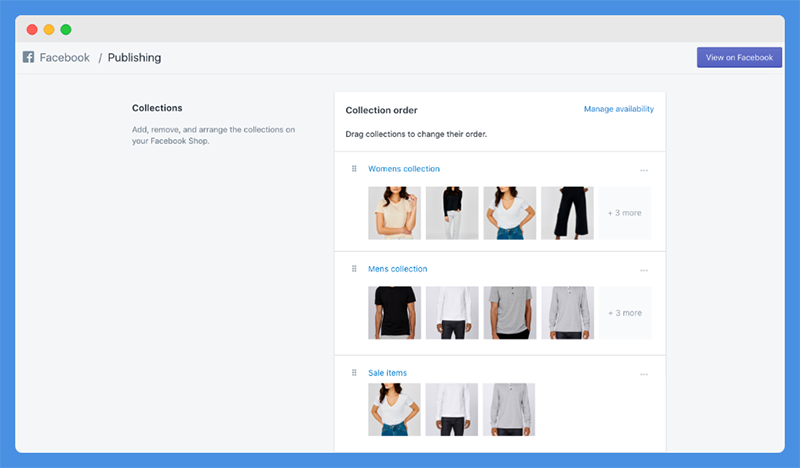 Shopify products directly on Facebook by setting up a Facebook Shop.

You can also tag your products in your photos and posts and let customers shop directly from your feed.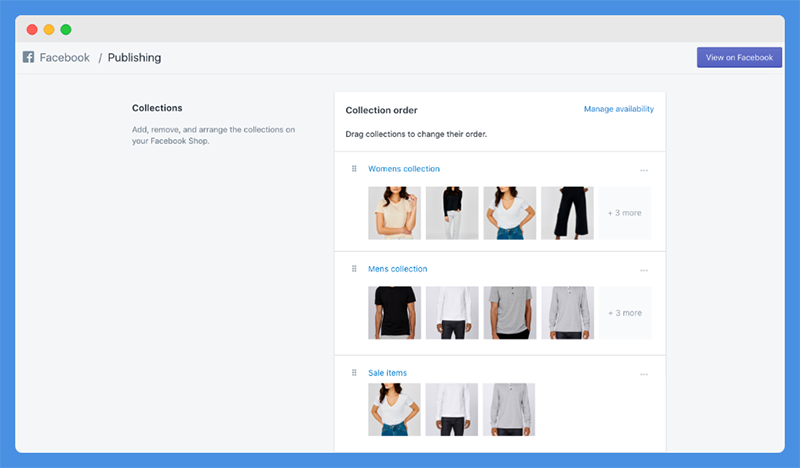 Shopify also created the Instagram Channel app to help you make more sales through Instagram. You can tag products in your images so customers can check out your items without leaving the Instagram app.
Our Pick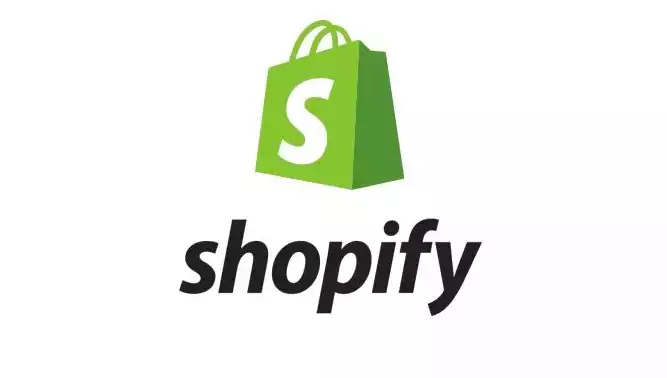 We earn a commission when you click this link and make a purchase.
You can tag up to five products per post. Once you have tagged products in at least nine Instagram posts, your profile will get a Shop tab that will let your visitors view all of your products in one place.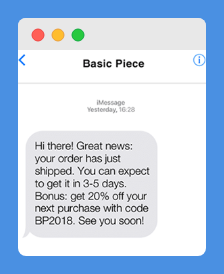 Omnisend is an omnichannel automation tool that lets you create workflows where you reach out to customers by email, SMS, Google, and Facebook.

Automations can include welcome emails, abandoned cart reminders, thank-you emails, purchase confirmations, and post-purchase messages and promotions.

It comes with list building tools such as signup boxes, pop-ups, wheel of fortune signup forms, and landing pages.

Plans start at $16/month.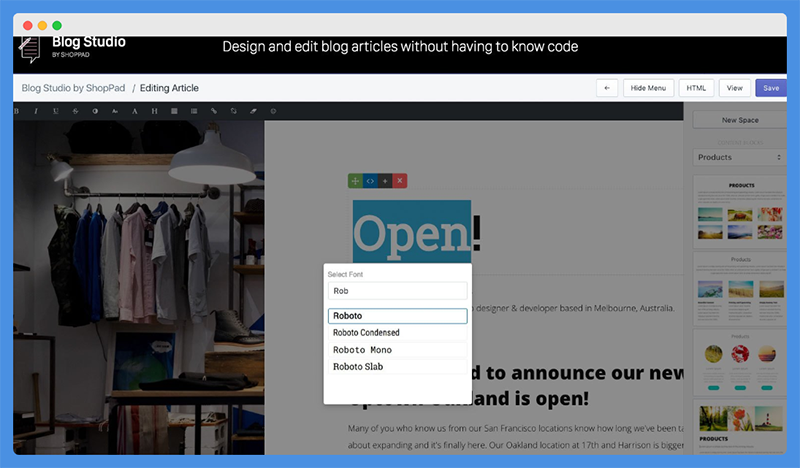 Blog Studio lets you create beautiful blog posts for your Shopify store. Posting blogs can help you increase customer trust, build your authority, and boost your SEO rankings and organic traffic by having high-quality content.

Blog Studio has a drag-and-drop page editor that lets you create pages with elements such as headlines, buttons, maps, videos, images, profiles, "how it works" sections, testimonials, and much more.

You don't have to know any coding to use Blog Studio, but you can edit the code directly if you want to and know-how.

As you are creating your blog posts in the drag-and-drop editor, you will be able to see a preview of how your blog will appear on desktops, tablets, and phones.

Blog Studio costs $14.95/month.
Explore: Best Shopify Cart Abandonment Apps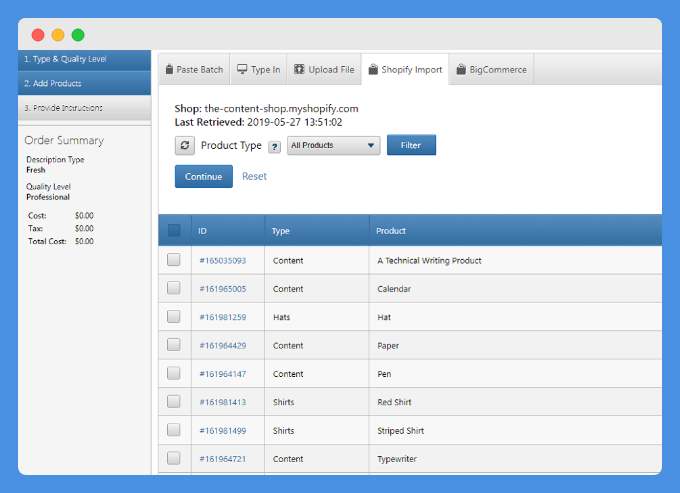 Crowd Content is a crowdsourced content writing service that lets businesses and website owners connect with thousands of writers who are willing to create content.

Instead of searching for writers to work with, you can simply pass over your blog or product page writing needs to Crowd Content and they will take care of everything else for you. The app integration makes adding the content to your Shopify store easy.

You only have to pay for content you approve, starting at 2.2 cents per word.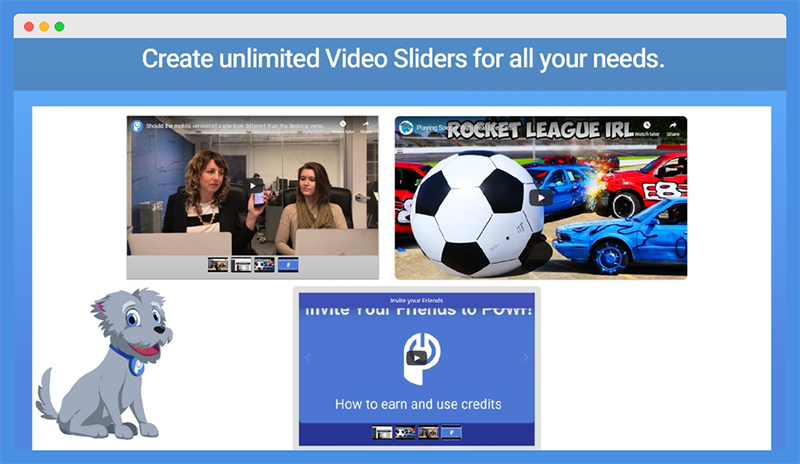 This app lets you create sliders on your site that feature videos from Youtube or Vimeo. You can use these videos to announce new promotions, flash sales, new products, and more.

You can customize the look of your slider and choose the slide-in speed.

The free plan allows for up to three slides.

Do you want to know exactly what your visitors are doing on your site? Better Replay records visitor sessions so you can see what actions consumers are taking on your site, which CTAs they are clicking on, and where they are scrolling.

This is a great way to find out if a store redesign is successful or test two different variations of a page or CTA against each other by seeing which one leads to more action-taking.

You will also see information about each session such as the browser type and the timestamp.

Since all sessions are unidentified, the app is GDPR-friendly.

Best of all, it's free to use.
Wrapping It Up
So there you have it – more than 75 Shopify apps that you can use to increase your sales, improve your site's performance, offer a better customer experience, and much more. We've included both official Shopify apps and apps created by third parties that have plenty of satisfied users.

Regardless of your needs, you're bound to find an app in this list that suits you.

Of course, there are plenty of other apps in the Shopify marketplace, but this list covers all of the best apps for all of the categories in the marketplace.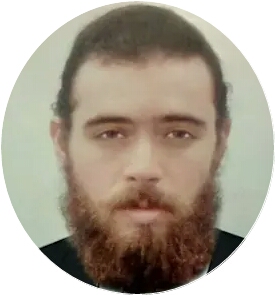 Author: Benjamin Levin
Benjamin Levin is a digital marketing professional with 4+ years of experience with inbound and outbound marketing. He helps small businesses reach their content creation, social media marketing, email marketing, and paid advertising goals. His hobbies include reading and traveling.