Ecommerce shipping software make managing your orders much easier.
You can manage orders from multiple portals or platforms at once and streamline your entire fulfillment and shipping processes.
Being able to quickly send out products to their intended destinations is important for customer satisfaction and your future success.
It's also important to work with quality carriers who will deliver your products on time and keep them in good condition.
Late shipment arrivals and damaged products can lead to negative reviews – and good reviews are important for increasing conversion rates.
Here are a few statistics that highlight the importance of providing a quality shipping service:
Fifty-three percent of US consumers will not purchase a product if they do not know when it will arrive
Only 15 percent of US consumers say that online retailers always offer satisfactory shipping options
Seventy-nine percent of consumers said that free shipping will make them likely to make purchases online
A top cause of cart abandonment is unsatisfactory shipping options
Amazon is shaping consumer expectations in terms of shipping speed and quality, and it is important to step up your game.
Following are the 10 best shipping software for ecommerce that will help you keep up with your competitors and offer your customers a great, easy shipping experience.
Best Ecommerce Shipping Software
1. EasyShip


Easyship is one of the best shipping software solutions. It is a great option, regardless of where you are in the world.
They work with more than 250 shipping carriers around the globe.
They integrate with platforms such as eBay, Etsy, FedEx, and many more.
Here are some of their notable features:
Courier comparisons: You can quickly and easily compare different couriers.
You will get stats and data for each courier on data points such as delivery times, tracking technology, star-ratings, taxes, and the total cost of using that carrier for any specific product.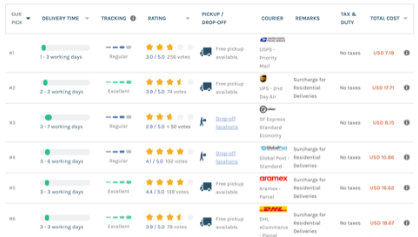 Analytics: You can get summaries for each day and for your overall performance.
For each day, you will get data such as the value of the products shipped and your total cost.
You will also get your overall total costs, the average cost per shipment, and more useful data.
Save Product Data: You can save your product information, including SKU, dimensions, weight, etc. for the next time you ship them to save time.
Set Up Shipping Rules: You can create shipping rules for all of your shipments, shipments going to certain locations, shipments made through a certain platform or courier, shipments under a certain weight, shipments above a certain value, and more.
For example, you can send all shipments above a certain value with a better quality shipping service.
Pre-Filled Customs Documents: There are pre-filled customs documents available for all countries.
Global Warehouses: Easyship has warehouses in Asia, North America, Australia, and Europe.
They offer same-day dispatching so that your customers get their products as soon as possible, regardless of where they are in the world.
Real-Time Checkout Rates: Install the Easyship plugin to show real-time shipping rates right at checkout.
As mentioned, a common cause for abandoned carts is an unclear shipping rate.
Global Dashboard: You can easily manage and track all of your orders and shipments from one central dashboard.
Taxes and Duties Solutions: Easyship automatically calculates your taxes and duties so there are no surprises.
You can decide to send these fees to your customers or pay them yourself (in which case you can simply offer a higher shipping fee).
Crowdfunding: Easyship is also a great shipping platform for crowdfunders. It works with Kickstarter and IndieGoGo.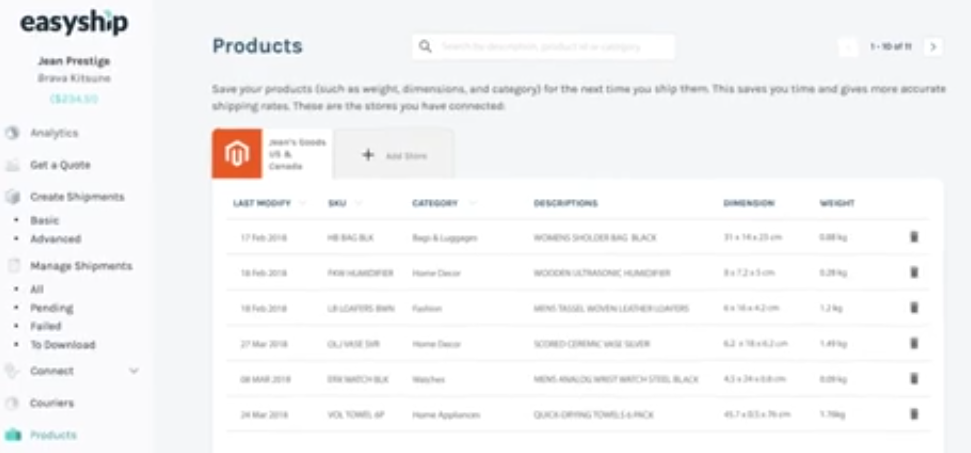 Following is a list of stores and platforms that Easyship integrates with:
Amazon
BigCommerce
eBay
Etsy
Groupon
Joomla
Lazada
Linio
Magento
Magento 2
Matahari Mall
Sellbrite
Shopify
Shopmatic
Shoptiq
Weebly
WooCommerce
Zalora
Pricing: EasyShip pricing includes four plans. i.e. Free, Plus, Premiere and Enterprise. Plus and Premiere cost Singapore dollar 29 and 49 per month. Taxes are extra.
Enterprise plan is available on custom quote.
Also Read: Easyship Review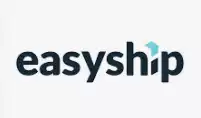 We earn a commission if you click this link and make a purchase at no additional cost to you.
2. ShipStation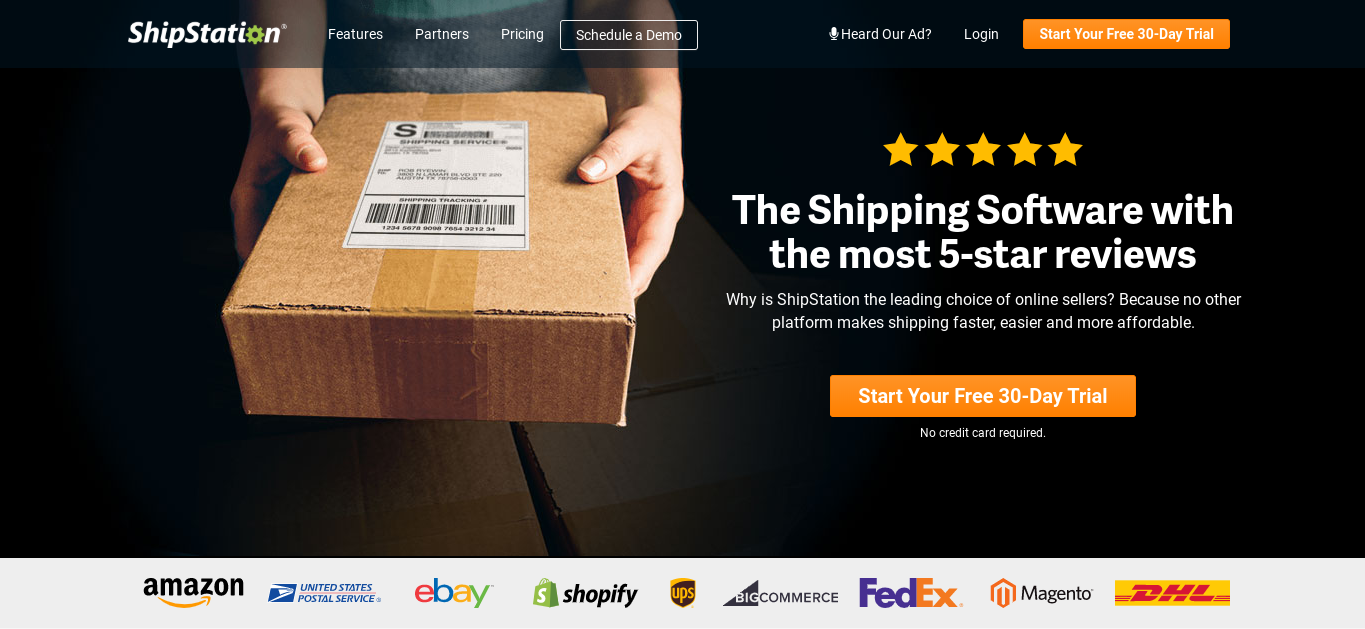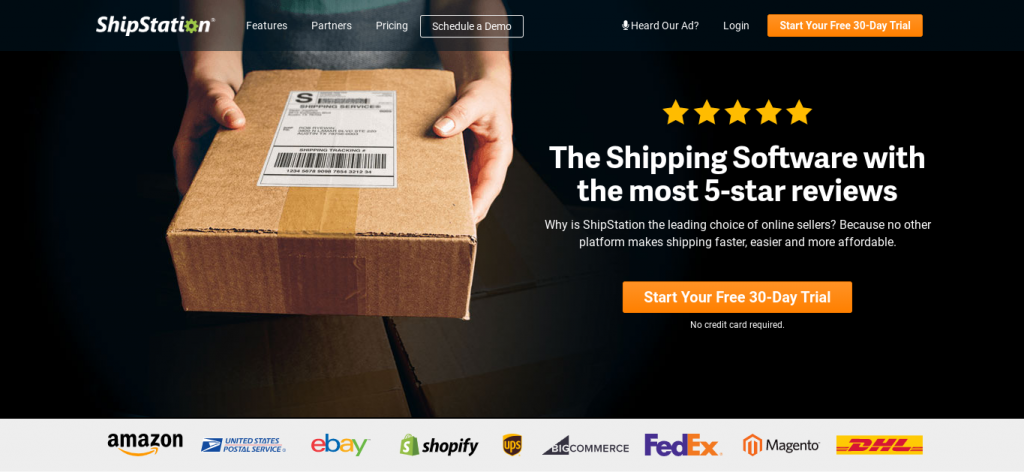 Next on our list of the best shipping software for ecommerce is ShipStation.
ShipStation is another great shipping platform that has many great features.
Here are some of their best features:
Integrations: ShipStation lets you import orders from a huge number of platforms.
There are over 100 integrations with different platforms and marketplaces, more than most other shipping software solutions.
Batch Shipping: ShipStation allows you to send out shipments in large batches in just a few minutes.
You can batch print hundreds of labels at once.
Batch Returns: The same goes for returns. You can quickly process and create multiple return shipping labels in a few minutes.
Automatic Returns: You can set up ShipStation so that it prints a free return label with every shipping label.
This way, you can automatically include a return label with every product for an easier refund process.
Customize Labels and Emails: All shipping labels and product slips you print out can be customized.
The same goes for your emails.
You can add your logo or brand, pictures of the product, a barcode, customize the colors, add FAQs, and more.
Automation: You can set up automation rules based on preset profiles to automatically assign different orders to different carriers.
Inventory Tracking: Track your inventory so that you never go out of stock.
Shipment Tracking: Stay on top of your shipments with the geo-tracking page.
Compare Carriers: Instantly compare multiple carriers and shop around for the best rate.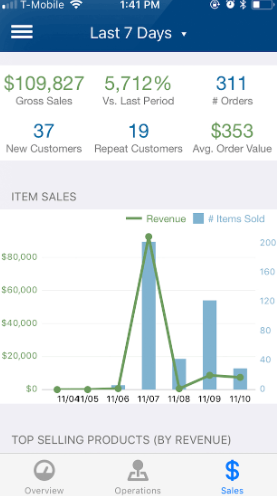 Mobile App: It can be hard to find a good shipping platform that has a mobile app, let alone one that has an app with a lot of useful features.
With the ShipStation mobile app, you can do things such as:
Reply to customer questions
Resend tracking confirmation emails
Check pending orders
Get shipping rates and shop around for the best quote
Email return labels
Send orders to Amazon FBA or other fulfillment providers
Scan barcodes
And more
Pricing: There are multiple plans for using ShipStation.
They start from $9/month for 50 shipments per month and one user, and go up to $159/month for 10,000 shipments and 10 users (for bigger plans, you can get a custom quote).
The most popular plan is $69/month for 3,000 shipments and three users.
There is a 30-day free trial, as well as a demo account, available.
Also Read: Easyship Vs Shipstation
3. ShippingEasy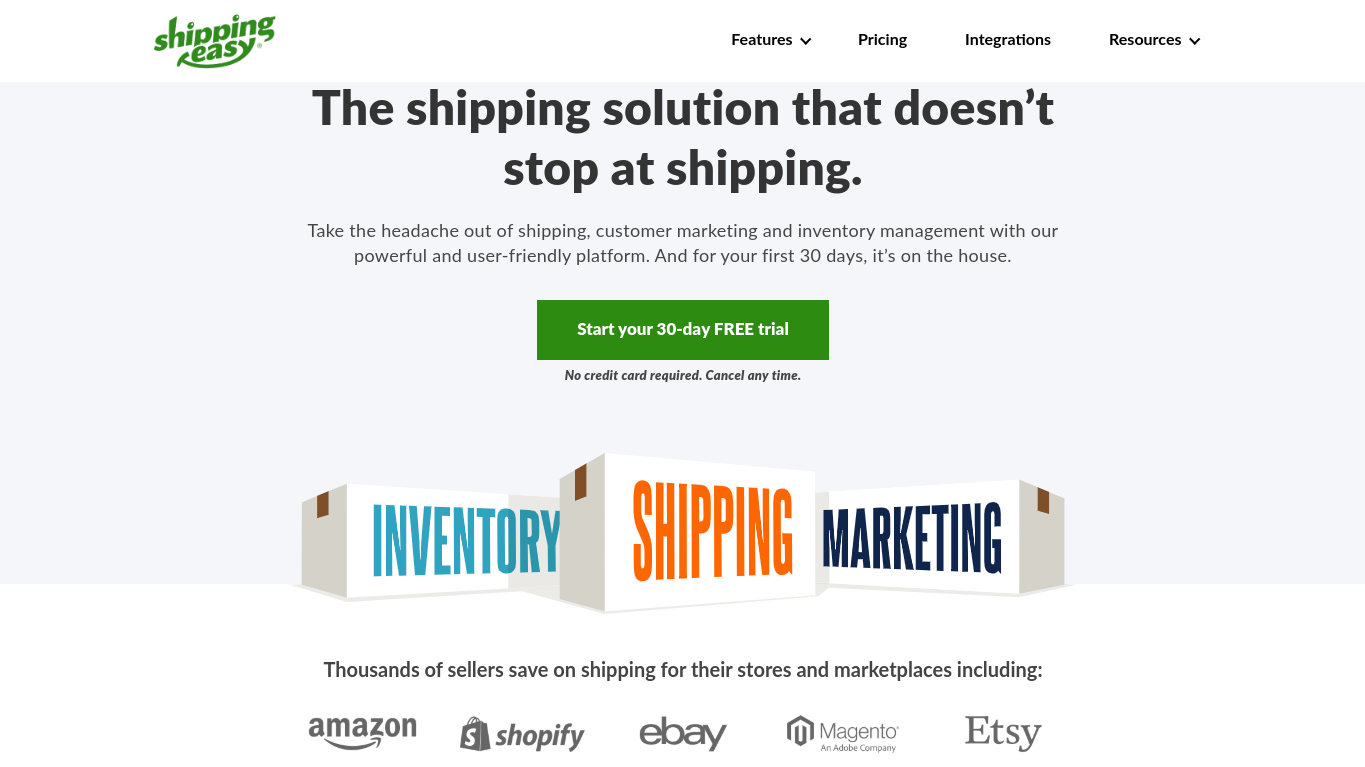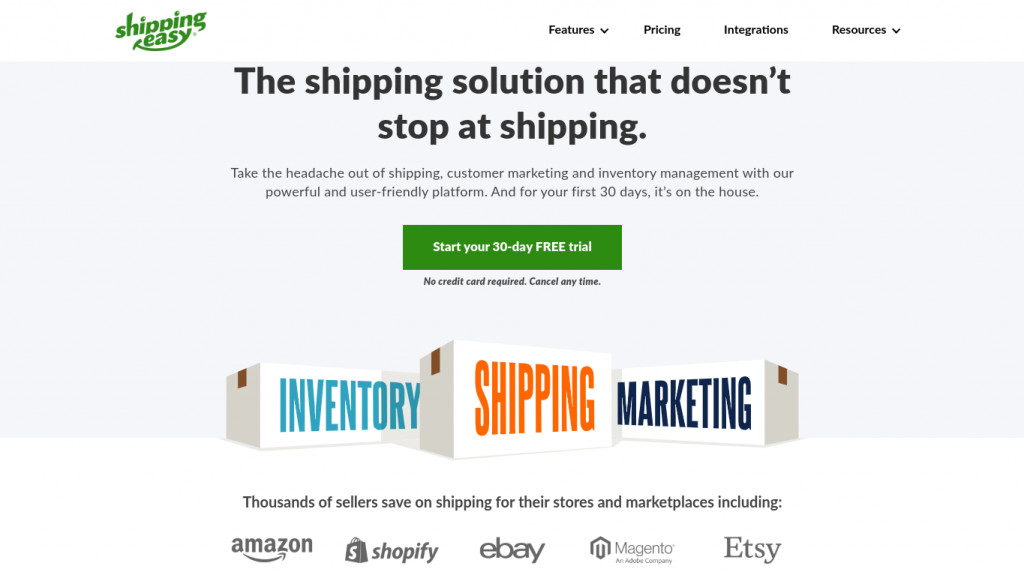 ShippingEasy is an inventory management and shipping platform that offers its users exclusive discounts on USPS rates.
Here are some of their best features:
Discounted Rates: ShippingEasy's discounted rates on various USPS shipping services can help you save up to 46 percent.
Shipping Management Dashboard: Manage and sort your orders, download them in real-time from your stores (ShippingEasy integrates with all the major platforms) and more.
Instant Label: Set it up so that shipping labels are printed automatically as soon as an order is placed.
Advanced Reporting: You can customize your reports and analytics to get exactly the data you need.
You can segment your reports based on a destination or service, for example.
Advanced Tracking: Real-time tracking updates will be automatically available to you and sent to customers and stores.
You can brand your shipping update emails with your logo.
Easy Returns: Print return labels to be sent with the initial product, or offer return labels on request.
Shipping With Alexa: You can use Alexa, integrated with ShippingEasy, to do all kinds of stuff.
You can batch print labels with one command, get order information, purchase USPS postage, find out how many orders need to be fulfilled that day, and get analytics.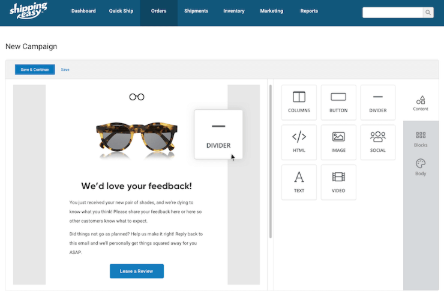 Email Marketing: Now we're getting into the customer relationship management aspect of ShippingEasy.
The email marketing add-on lets you customize your emails from scratch or choose from the pre-made templates for welcome emails, newsletters, etc. using the drag-and-drop editor.
You can send out broadcast newsletters or automated emails to confirm purchases, encourage customers to leave reviews, upsell, give out deals, and more.
You can also encourage customers to send you feedback.
You will get detailed reports about all of your email campaigns.
Inventory Management: ShippingEasy also makes it easy to manage your inventory and deal with suppliers.
You can create and send purchase orders easily and track them until they arrive.
Your dashboard will show you important metrics such as total units sold, top products, active products, and more.
Product Bundles: Bundling products together can allow you to make more sales and increase conversion rates.
Unfortunately, not all ecommerce platforms let you create product bundles (also known as product kits).
However, with ShippingEasy, you can do so regardless of which platform you are selling on.
Predictive Forecasting: ShippingEasy allows you to instantly generate a reorder forecast for the upcoming week, month, or quarter.
You can use the recommendations to quickly place restocking orders so that you don't run out of inventory.
Prices: ShippingEasy pricing offers a free plan that allows you to ship up to 50 shipments a month with limited carriers. The paid plans range from $29/month to $99/month. They mainly differ on the number of shipments.
Email marketing plans start at $14/month for 5,000 emails.
Also Read: Best Tools For Ecommerce Business
4. ShipMonk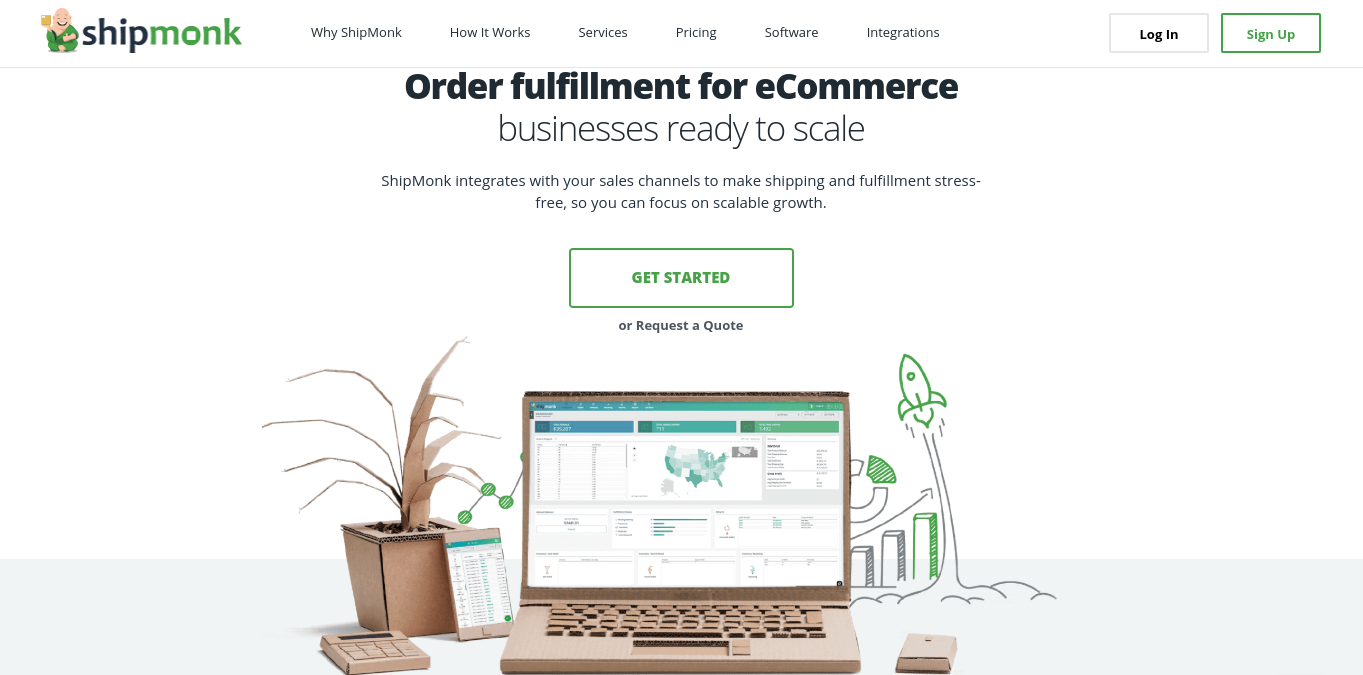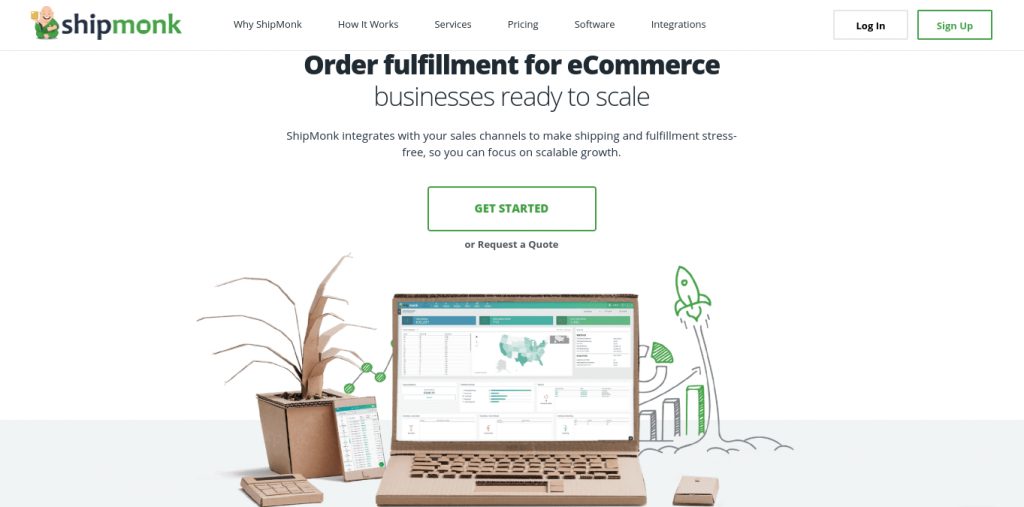 ShipMonk is another great online shipping software.
Just set up the API and connect ShipMonk to your online store, regardless of which platform you are using.
As orders come in, ShipMonk will automatically pack and ship them right away.
You can ship your products directly from your supplier to ShipMonk, with discounted rates.
This makes it a great alternative to Amazon FBA.
You can even choose custom packaging to be used for all or certain products.
Once the product is shipped, your customer will get a tracking email so they can keep track of when their item is arriving.
Here are some of ShipMonk's top features:
MultiChannel Fulfillment: Whether you are selling online on multiple channels or selling wholesale to retailers, you can use ShipMonk to fulfill your orders.
Subscription Box Fulfillment: You can set up subscription boxes, which are monthly subscriptions to product bundles, to increase your sales and make recurring income.
You can use ShipMonk to fulfill your orders on time, each month.
Crowdfunding Fulfillment: You can use ShipMonk to fulfill shipments for your crowdfunding campaigns.
FBA Prep: If you are using FBA, it can be hard to stay on track of all the requirements laid out by Amazon.
ShipMonk can prepare your products so that they are ready for FBA.
They can take care of repackaging, quality control, labeling, stamping expiration dates, and more.
ShipMonk integrates with dozens of shopping carts, seller marketplaces, retailers, and tools.


Pricing: Pricing can vary based on your needs. For example, for ecommerce fulfilment, pricing starts at $2.50/order if you have less than 500 orders a month.
For subscription box fulfillment, prices start at $2/box for up to five items. To calculate your exact costs, go to their pricing page.
Interesting Read: Easyship Vs Shippo
5. ShipRush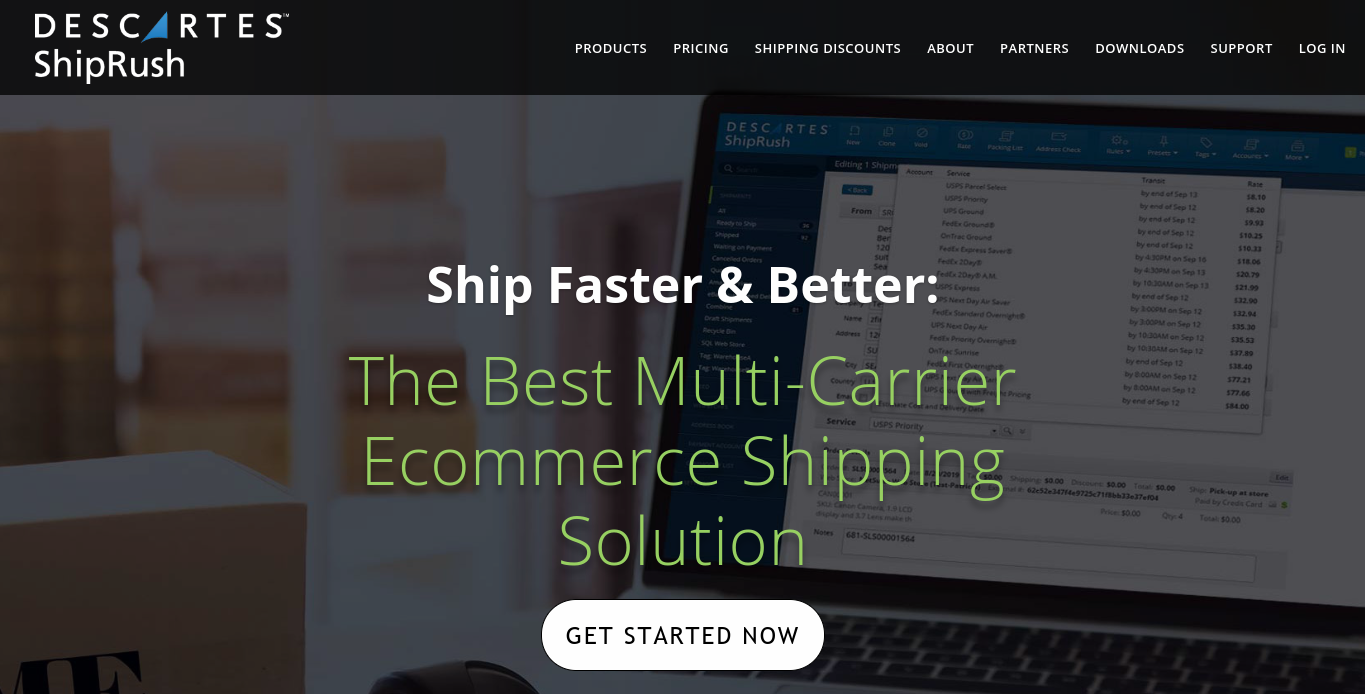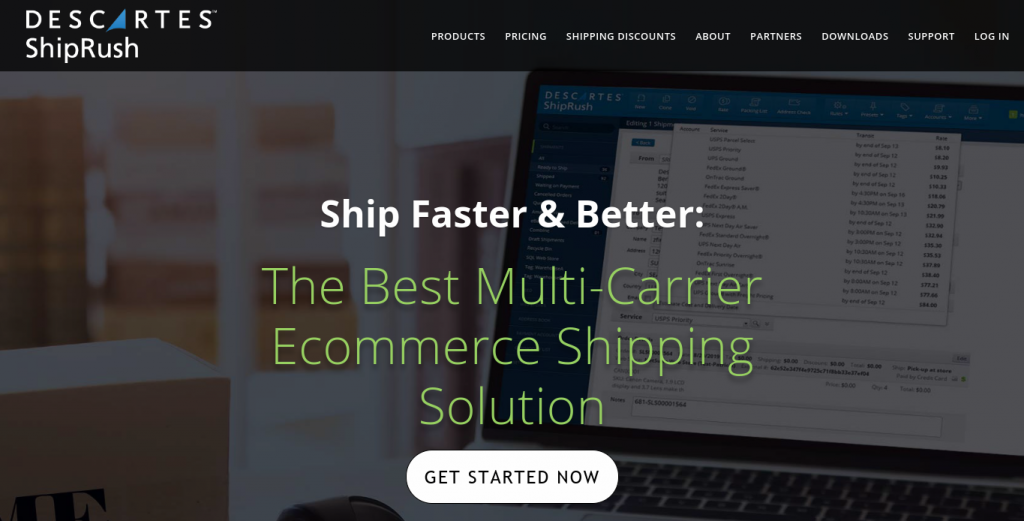 ShipRush makes it easy to set up shipping routes with multiple carriers.
What makes them so great is that they offer most features even at their lower-priced plans.
They also have unlimited plans that let you send as many parcels as you need, whether that be 50 or 5,000.
They also offer a free 60-day trial, double that of most other shipping platforms and services.
Here are some of their features:
ShipRush Web: This is their web app that allows you to set up order fulfilment automatically.
You can also automate your shipments with rules and track your deliveries.
ShipRush Desktop: This is a desktop app for those who prefer it.
ShipRush Order Manager: This is part of ShipRush Desktop.
It automatically downloads pending orders, processes them, prints labels, and sends updates to customers.
You can save up to 64 percent off base rates with USPS and up to 21 percent off base FedEx rates.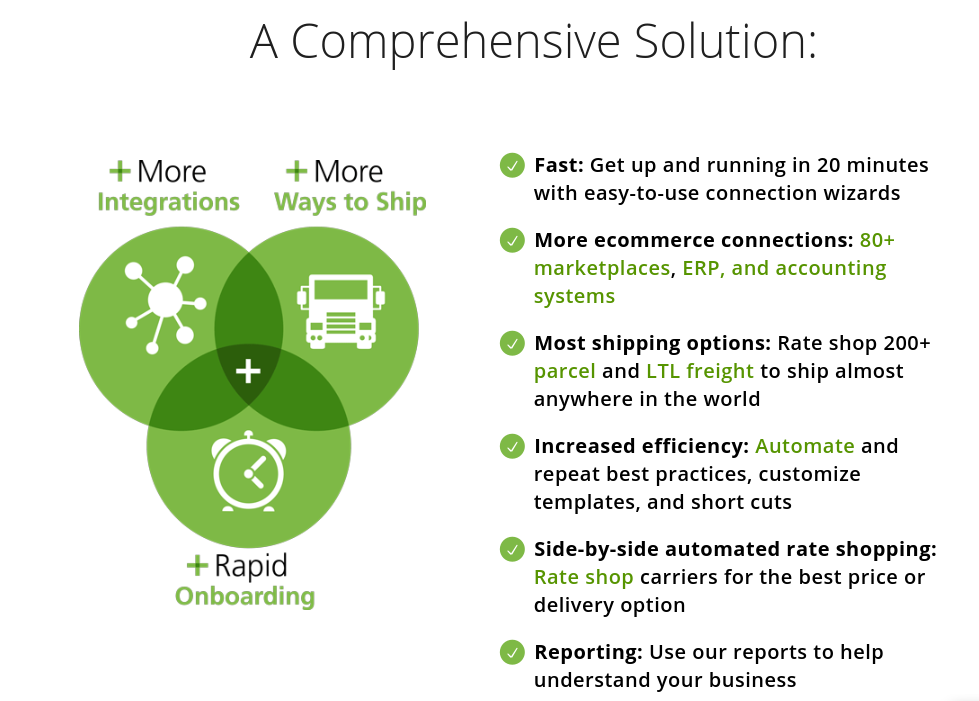 Pricing: For the web app, pricing starts at $29.95/month for three users, over 70 integrations, and major carriers.
You can add additional carriers (such as DHL Ecommerce as opposed to just DHL Express) and other premium features with higher-priced plans, which go up to $250/month.
For the desktop application, prices are valid for one year.
Prices start at $195/year for FedEx and UPS, without a contact manager.
6. Stamps.com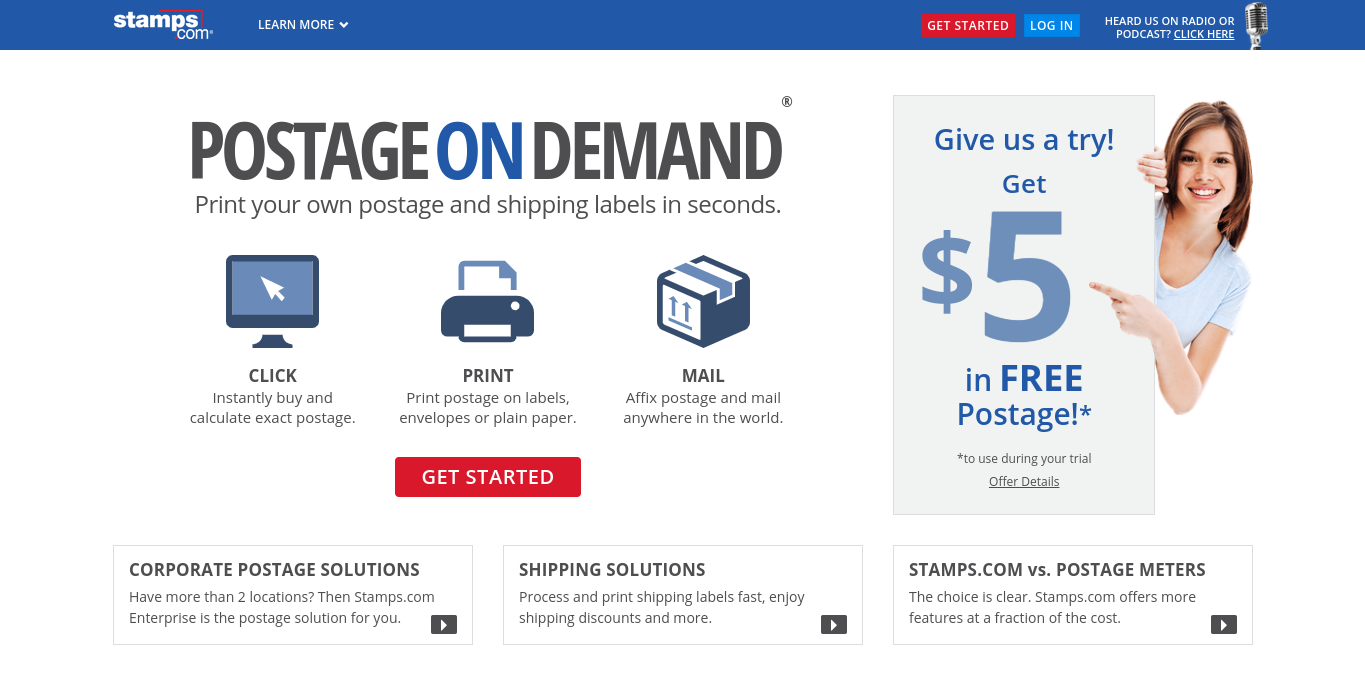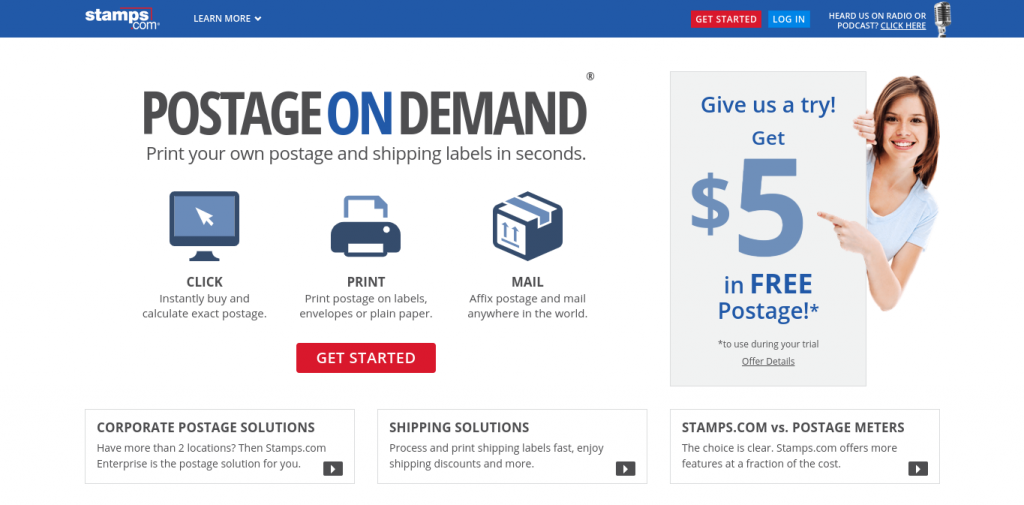 You may not have expected to see Stamps.com on this list, but if you are working exclusively with USPS to ship your products, it can actually be a great option.
With Stamps.com, you can quickly calculate your shipping rates and instantly print out USPS labels for domestic and international shipments.
You can import orders from multiple platforms, including Amazon, eBay, Shopify, Etsy, and more.
Once a product is shipped, tracking information will automatically be shared with your customers.
You will get detailed reporting that will let you see postage expenses by user, all purchases, postage spending, updated balances, and more.
With Stamps, you can also manage employee access for complete transparency.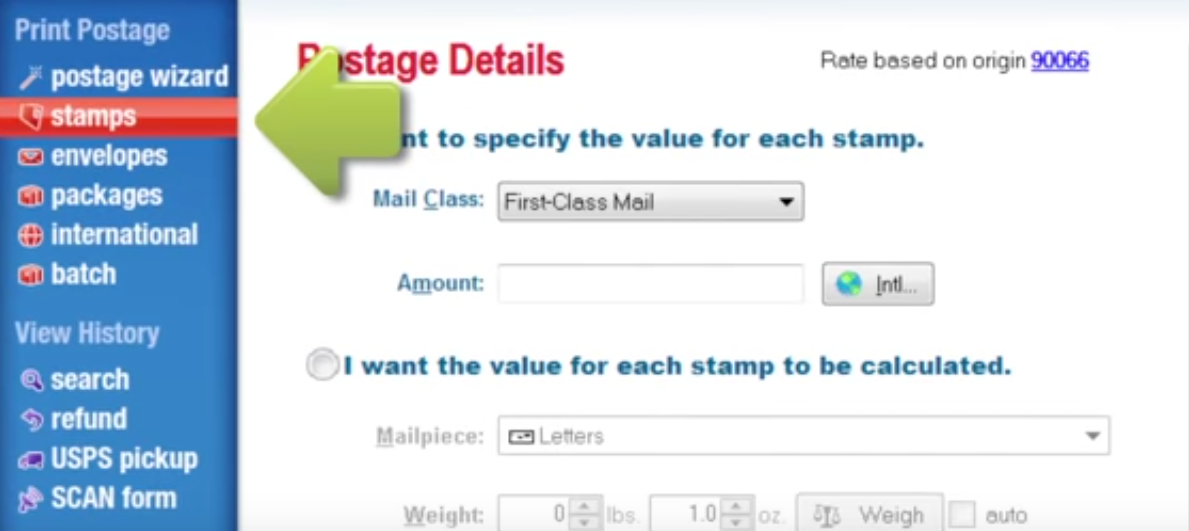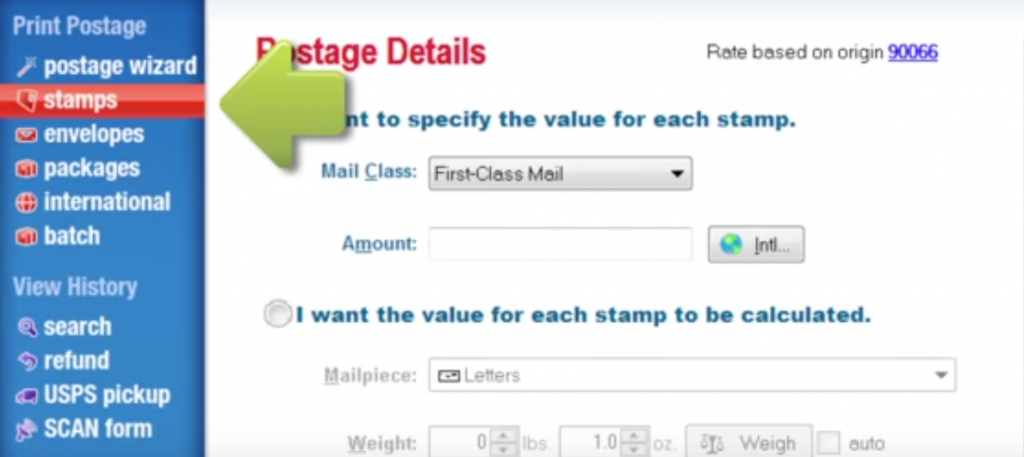 Stamps.com can integrate with your current warehouse solution.
Whenever you need it, you can get USPS shipping via API, XML import/export, and warehouse solution integrations.
Pricing: Stamps.com pricing includes 3 shipping plans. Pro, Pro Plus and a plan for high volume shippers. Pro and Pro plus are priced at $17.99 and $34.99/month.
High volume businesses can contact them for a quote.
Also Read: Ecommerce Traffic Woes – Resort To These Techniques
7. Shippo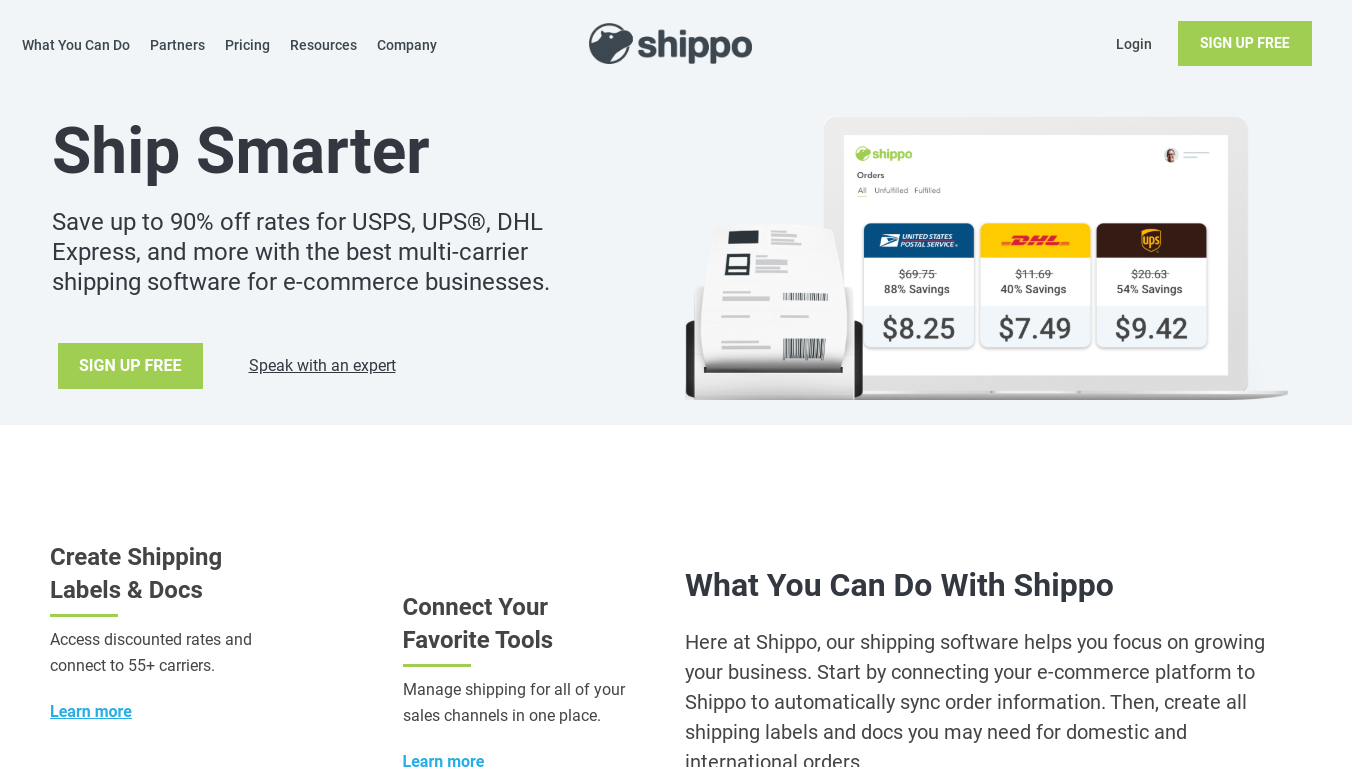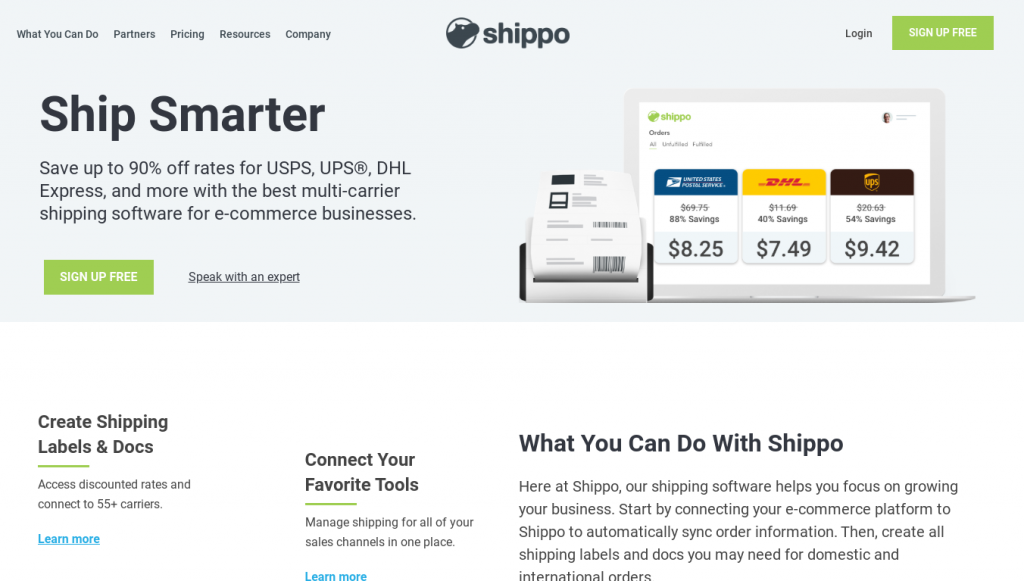 It's hard to ignore Shippo when talking about the best ecommerce shipping solutions.
Shippo, which has a hippo in its logo, claims that you can use them to save up to 90 percent of traditional rates with carriers such as USPS, UPS, and DHL Express.
Altogether, you can access more than 55 carriers with their system.
You can easily compare rates to find the best ones.
Print your labels instantly and ship your package within minutes.
You can upload a file with your orders to avoid manual entry errors and batch print multiple labels at once.
You can personalize your shipping labels and email notifications with your logo.
You can even create customized branded tracking pages.


Shippo can be used by teams; you can collaborate with other team members on your account.
You will get detailed analytics and reports about your shipping speeds and efficiency.
You can even request refunds for unused labels to save money.
Shippo works with many partners, including carriers, fulfillment partners, and technical tools and services.
Pricing: There are various plans to choose from. One is free and only costs five cents per shipment + shipping fees; this plan is best for those who would rather pay as they go. There is also a $10/month plan and a custom plan.
Note: For now, they are offering their product for free until 10/1. This is to support SMBs during these tough times when COVID has hit businesses hard.
All in all, Shippo is one of best shipping software small businesses can consider. It's quite affordable.
Also Read: Magento vs Shopify: Best Ecommerce Platform Review
8. Ordoro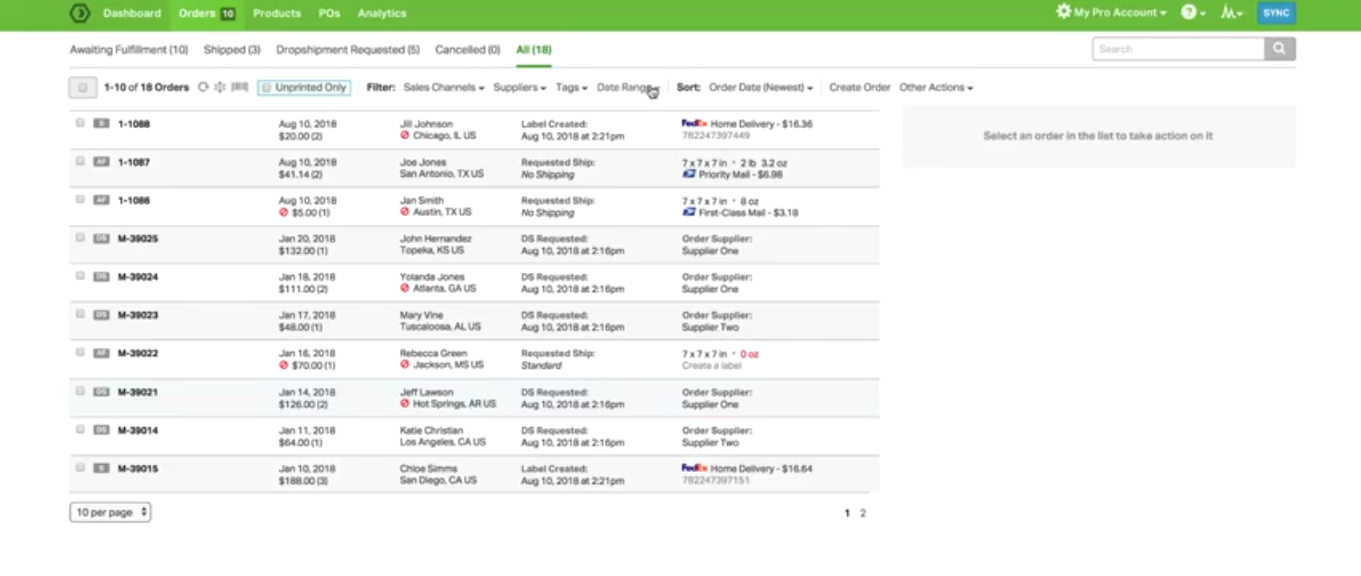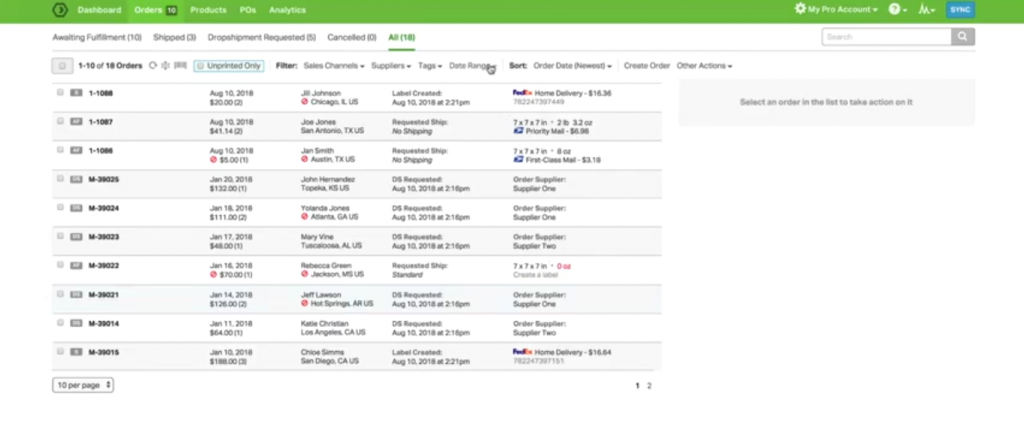 Ordoro is another shipping software ecommerce solution offering you inventory management features along. Following are some of its top features:
Shipping: Quickly generate and print out hundreds of labels at once.
You can configure Shipping Presets to automate shipping parameters on your labels.
All of your orders can be categorized and tagged for better organization.
They integrate with any USB scale, regardless of which device you are using Ordoro on.
You can work with multiple carriers and save up to 67 percent on USPS rates.
You can also set up automation rules.
Inventory Management: You can connect all of your channels to organize all of your inventory storage in one central dashboard.
You can set a low inventory threshold so that you can be alerted before you run out of stock.
Ordoro will automatically sync your data across your channels to reflect new changes, such as restocks.
Bundling: You can bundle various related products together for more revenue or create a kit of a single product made up of multiple parts.
Dropshipping: You can use Ordoro even if you are a dropshipper.
Just fill out supplier information and select a vendor to ship it.
Barcode Scanning: Quickly scan barcodes to reduce human errors.
Shipping Insurance: Ordoro works with Shipsurance to offer reliable coverage in case your shipments get damaged.
Ordoro will take care of the claims filing for you.
Pricing: Ordoro has $59 and $499/month plans. Enterprises can contact them for a custom quote.
9. Veeqo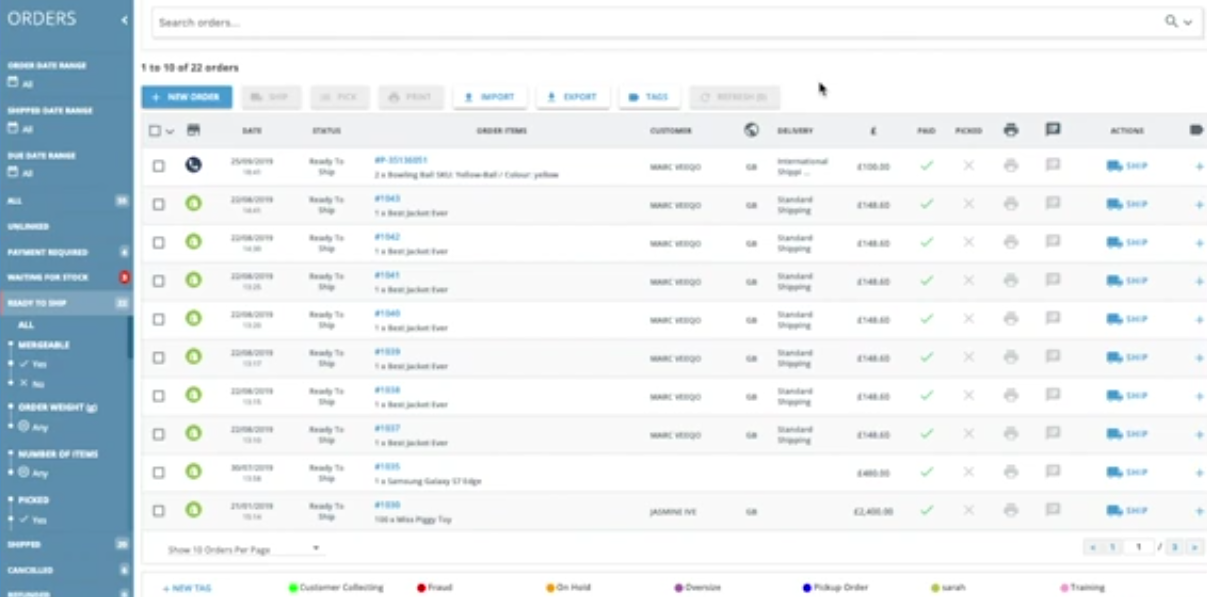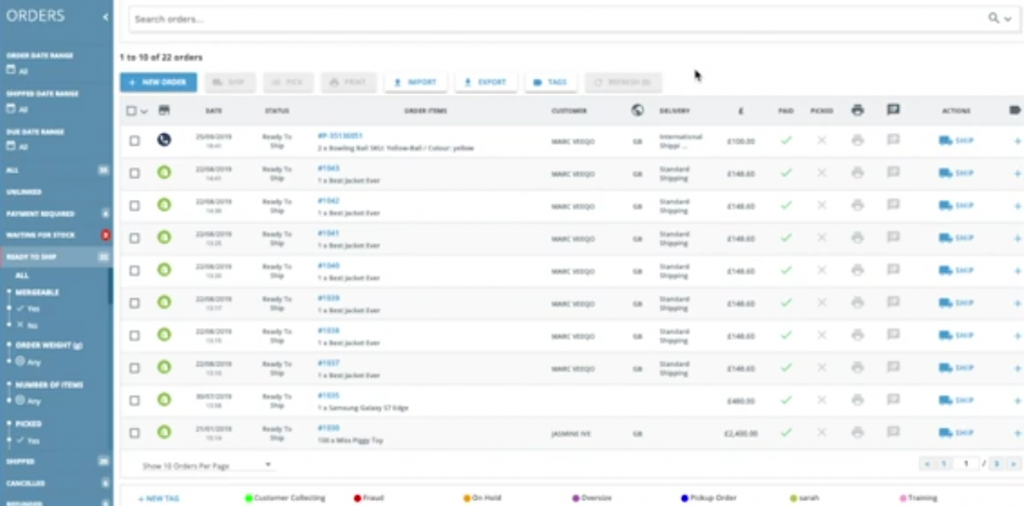 Veeqo takes care of your inventory management, orders, picking and packing, and shipping so that you can focus on growing your business.
It integrates with more than 13 sales channels and allows you to work from multiple warehouses.
Here are some of its top features:
MultiChannel Inventory Management: All of your inventory data will be updated and synced in real-time.
You can even transfer inventory from one warehouse to another to balance your stock.
You can also automate your purchases when stock is low so that you are never out of stock.
Order Management: Manage all of your orders from multiple platforms and channels from one dashboard.
Print multiple labels in bulk and print customized invoices.
Manage your orders with tags and categories.
You can also use the mobile app to manage your orders from your phone.
Packing and Shipping: Veeqo's scanner tool lets you pick orders in batches.
Their system will show you exactly where a product is located in your warehouse and will give you reports about your warehouse performance.
Shipping: Create automated shipping rules to ship products from multiple platforms with multiple carriers.
Pricing: There are four plans that mainly depend on how many orders you need to process a month. They start from 120, 156 and 200 pounds a month.
Enterprise plan has a custom quote.
10. ComFreight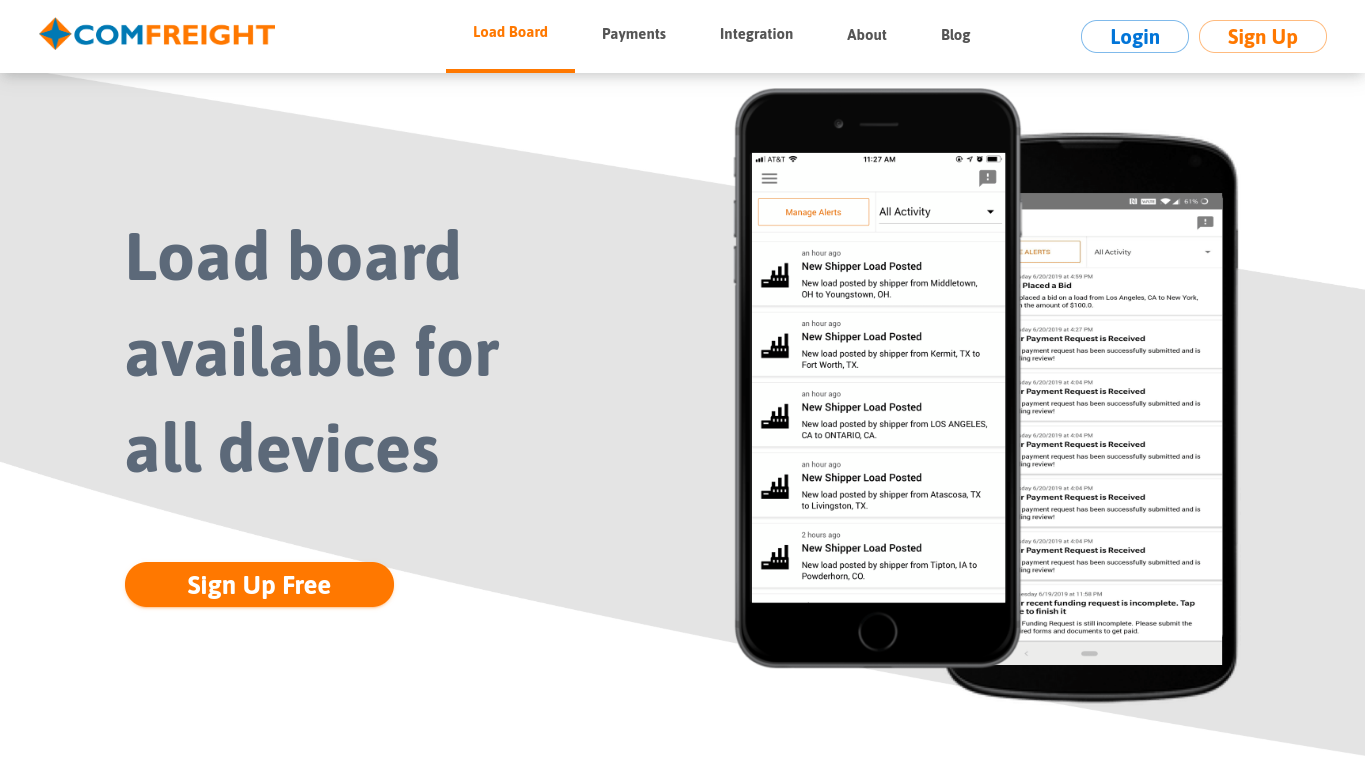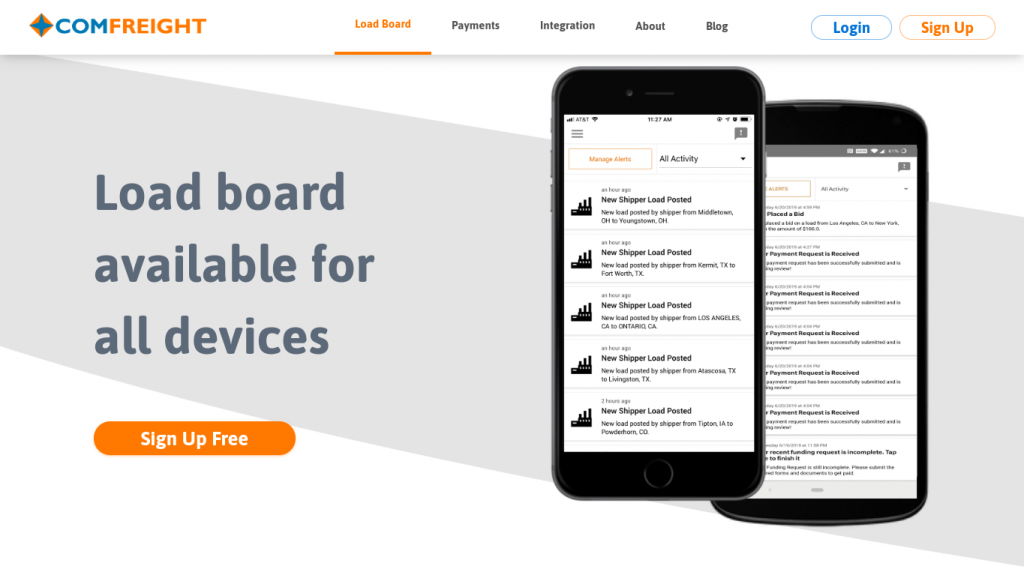 ComFreight works a bit differently than the software solutions mentioned above.
Whenever you have a load you need to transfer somewhere, you will get bids from carriers.
You can choose the lowest or most attractive bidder.
Biddings take place on the "load board," which can be accessed from any device.
You can also sign up for ComFreight as a carrier.
If you have trucks to transport loads, you can use it to earn money.
Also Read: Strategic Ecommerce List
Wrapping It Up
There are many other e-commerce shipping software platforms available, such as ShippyPro and FreightView.
However, the above 10 platforms should give you enough variety and allow you to choose a service that meets your needs and fits your budget.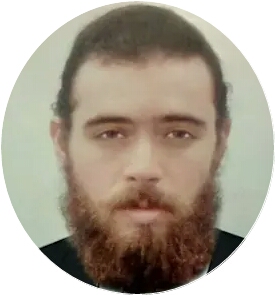 Author: Benjamin Levin
Benjamin Levin is a digital marketing professional with 4+ years of experience with inbound and outbound marketing. He helps small businesses reach their content creation, social media marketing, email marketing, and paid advertising goals. His hobbies include reading and traveling.