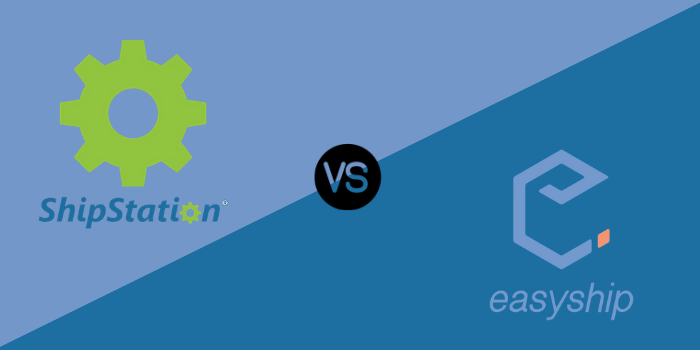 New solutions are introduced into the eCommerce market almost every other day, but at the end of the day, the most important thing is that customers get their products on time and in good condition.
Using a palatable shipping software will help you make this happen with minimal hassle.
In this article, we will discuss two of the most popular shipping platforms – Easyship vs ShipStation.
Easyship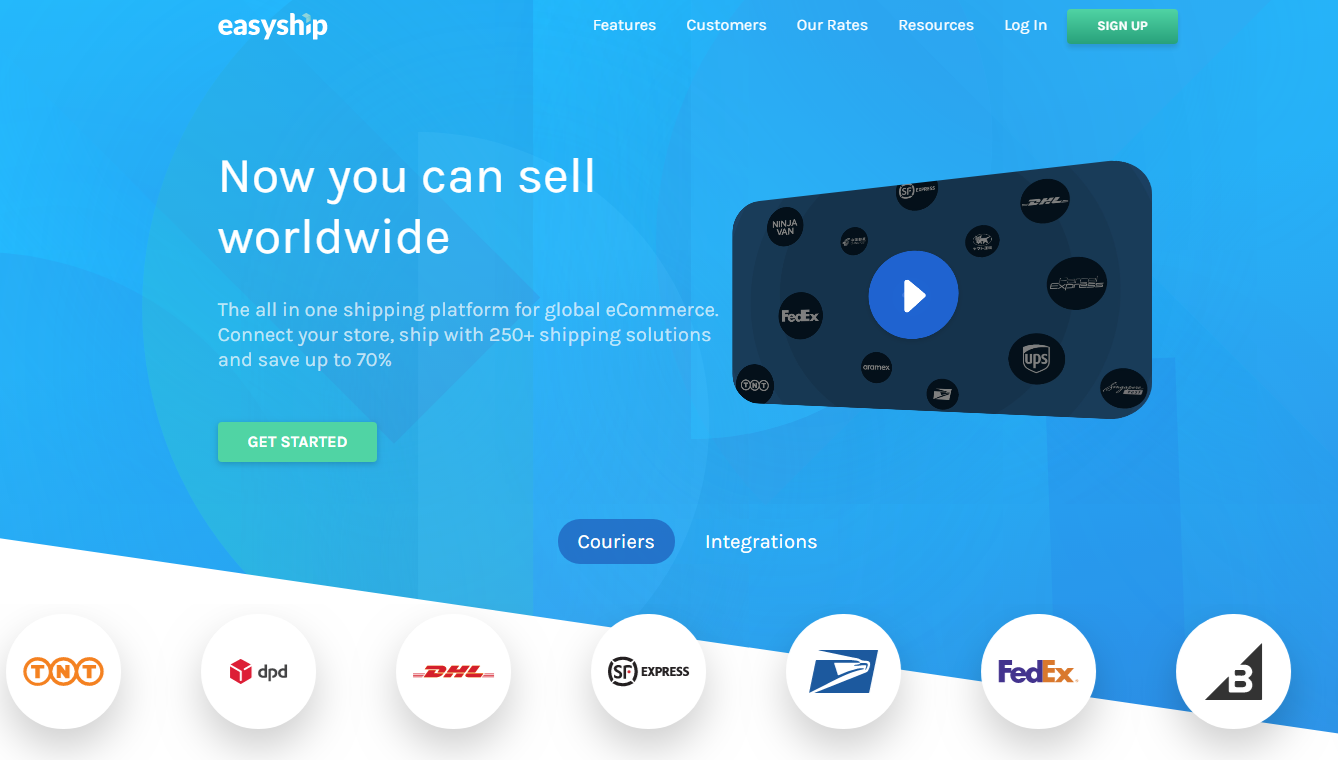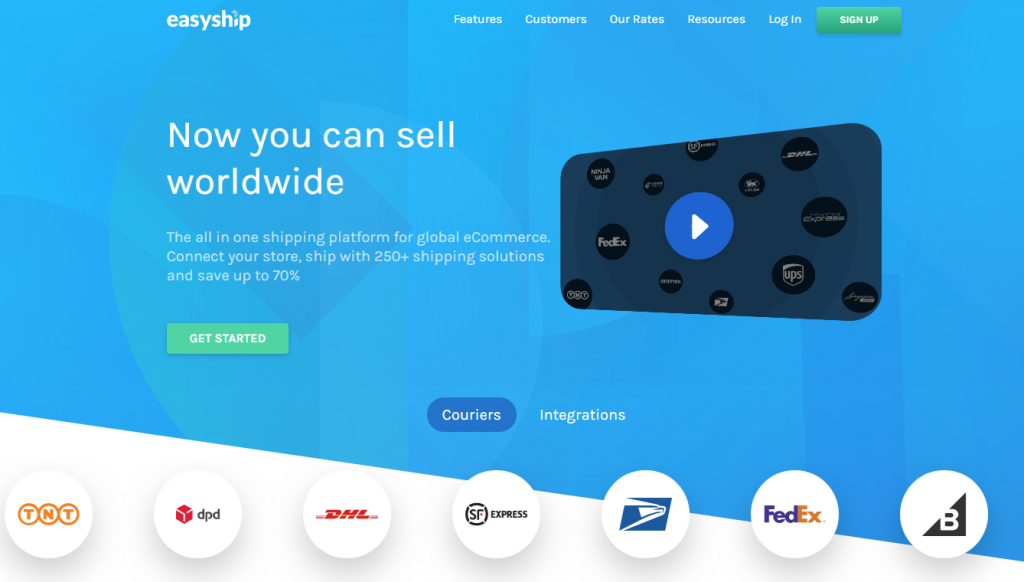 Easyship is an eCommerce solution that boasts of making shipping as easy as possible for eCommerce operators.
The platform identifies that the last barrier that many eCommerce businesses face is shipping, so their system is designed to make shipping as inexpensive and effective as it can be.
Easyship can send packages to different destinations faster than most service providers can and this is possible as a result of their partnership with more than 250 shipping carriers.
This means that shipping via Easyship can be done through the fastest route possible, and at the best rates.
Their partnership with these different shipping carriers completely eradicates the need for merchants to contact shipping companies one-by-one to negotiate rates, deposit payments, sign contracts, and reconcile any other paperwork.
With Easyship, it is just a matter of pressing a few buttons on your keyboard and you will be able to access more than 250 shipping options from a single dashboard, so you won't have to hassle about Easyship rates or upfront deposits.
Easyship undoubtedly fills the final void for merchants that want to grow their business.
In fact, it is a one-stop solution for eCommerce retailers with the services that they provide.
Retailers that use these services are entitled to as much as a 70% discounted shipping rate, which makes them a major cost-effective shipping solution.
Easyship is known for being transparent about its international shipping rules and regulations right from the start.
They are also compatible with major eCommerce platforms like Amazon and Shopify so that sellers can manage their entire eCommerce setup from one place.
Also Read: Best Shipping Software For Ecommerce 
Why Should You Use Easyship?
Easyship is perfect for you if you need a single platform to handle all your shipping transactions and connect you with multiple carriers so that you can get the most flexible shipping options at an apt price.
Mind you, shipping prices are not static.
They change from time to time, since they are dependent on a number of factors such as product weight and the distance that they will be transported.
That being said, shipping prices will vary depending on the carrier that you choose and they are bound to change at any time.
What Easyship does is they give you and your customers an automatically calculated shipping option from the many carriers, so that you can see the best possible option at that time.
Easyship provides real-time rates at checkout, which helps to reduce the rate of cart abandonment since your customers will be able to see their due amount and fastest shipping option on the go.
This type of flexibility gives your customers all the details that they need to know to make their purchases based on the shipping rates that suit them, so they will not need to leave your website to check elsewhere if other carriers are presenting better offers.
According to the results of an internal survey conducted by Easyship, this feature has catapulted merchants' revenue on international orders by a whopping 300%, and shipping costs and issues by customs have decreased by 70% and 91%, respectively.
Easyship gives you the exact shipping cost, nothing more, nothing less, since all Easyship rates are calculated on demand.
The best part of all this is that it is completely free to use.
There are no setup fees or hidden charges.
You only need to pay the shipping cost.
Easyship Features
Let's find out how to use Easyship and its features.
Here's a rundown of all that make Easyship one of the best and cheapest shipping options worldwide:
Also Read: Easyship Review
Rates At checkout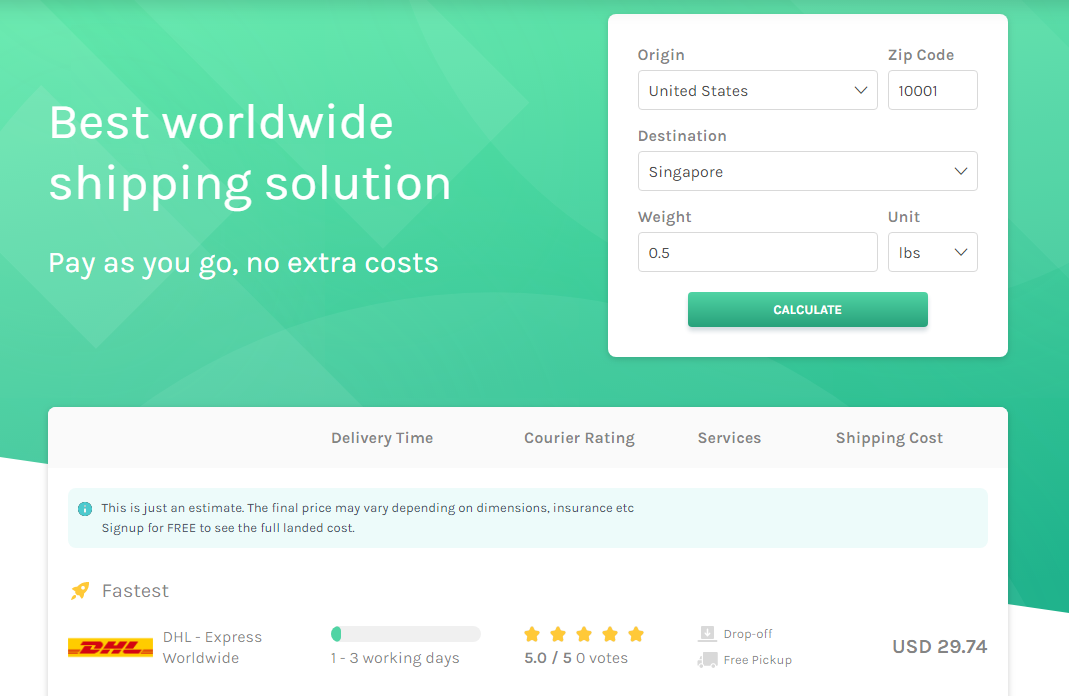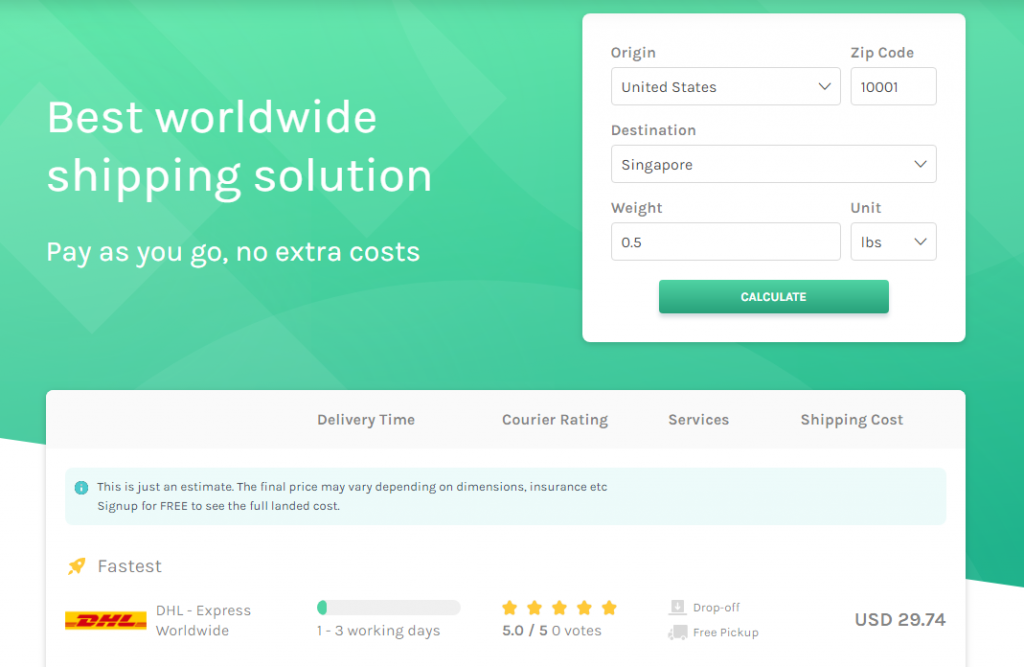 Easyship's rates at checkout feature is one of its best features and it's not one that you will find with many other shipping platforms.
If you run a global eCommerce store, then this feature is the hallelujah to your shipping issues.
It allows you to provide the best shipping options to your customers based on their demographics.
This means that your customers can see all of the associated costs that apply to them, such as taxes and duties, based on the location that they are shopping from.
This helps to reduce the rate of abandoned shopping carts.
A lot of eCommerce stores that are not using this type of feature use a static rating system as an alternative.
This system is based on their carrier's suggestion but does not come close to Easyship's rates at checkout because the static rate does not provide the full picture.
Shipping costs tend to fluctuate from time to time, which means that static rates cannot represent the true cost at any time.
At best, it can only estimate the cost of shipping and this can cause stores to overcharge or undercharge, which has detrimental results either way.
Since Easyship calculates shipping costs based on demand, they show the exact cost that your customers are required to pay, thereby saving you the stress of trying to figure out what to charge your customers any time they make an order.
The rates at checkout feature shows your customers three rates to choose from on their checkout page.
It shows them the cheapest rate, the fastest rate, and the cheapest rate that will arrive within the shortest amount of time.
More than that, your customers get to see the star ratings of the different couriers based on their performance.
If for some reason you do not want to use the rates at checkout feature, there is a deactivation button that lets you hide the feature after you install Easyship.
Easyship Shipping Features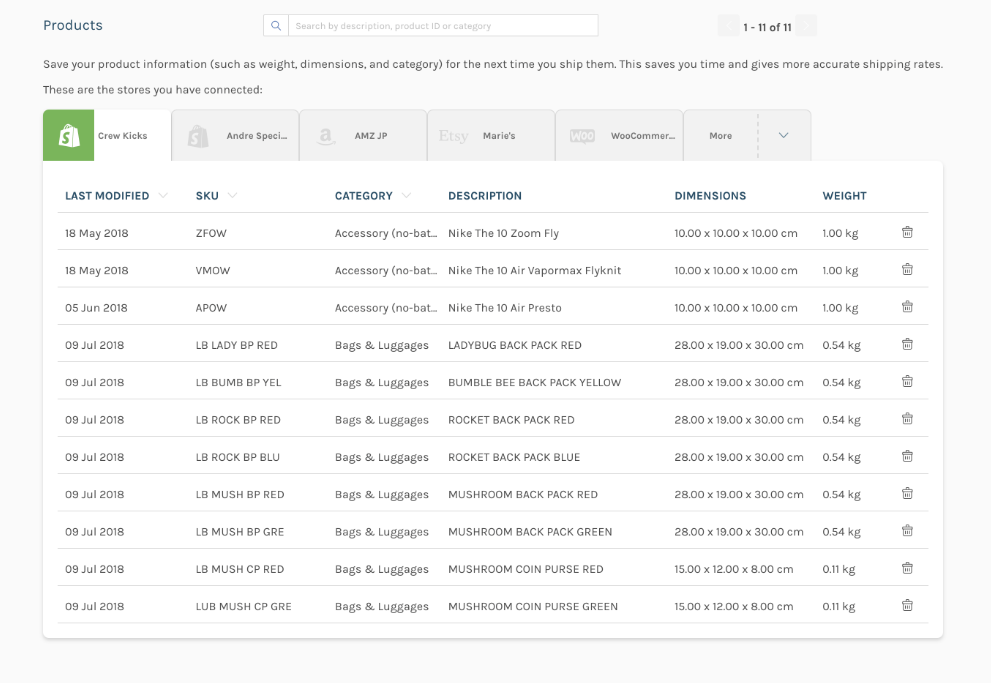 Easyship has an array of shipping features that ensure that you get the best possible shipping process to streamline your business.
For starters, it gives you 3 options to create your shipments.
You can choose to file your shipping individually as they come, upload an excel file that contains your orders directly to your store, or synchronize your store with Easyship so that you can simply download your orders with a single click.
Also Read: Best Tools For Ecommerce Business
Also, Easyship gives you a bird's-eye view of the shipping rates of all the carriers so that you can instantly compare their rates against their delivery time, insurance, taxiing frequency, and so on.
You can also generate all your shipping documents, such as invoices and shipping labels.
This documentation will help to declare your packages properly to prevent loss and minimize delays at customs.
Easyship lets you contact carriers online to schedule courier pickups.
Rather than traveling distances to book a pickup vehicle, you can set up a pickup time and location right from your Easyship dashboard.
The shipping solution that you choose will also play a huge role in how your products are delivered to the other end.
There are hundreds of shipping solutions in the market, so finding the best one will involve you moving from website to website, trying to find the one that suits your needs.
That would mean visiting hundreds of different websites, but not with Easyship.
Easyship has affiliations with more than 250 carriers across the globe, including FedEx, USPS, DHL, and more, so you can easily compare and choose between them all from one place.
They negotiate the shipping cost on your behalf and so you get an unbeatable discount without any surprise fees.
Taxes & Duties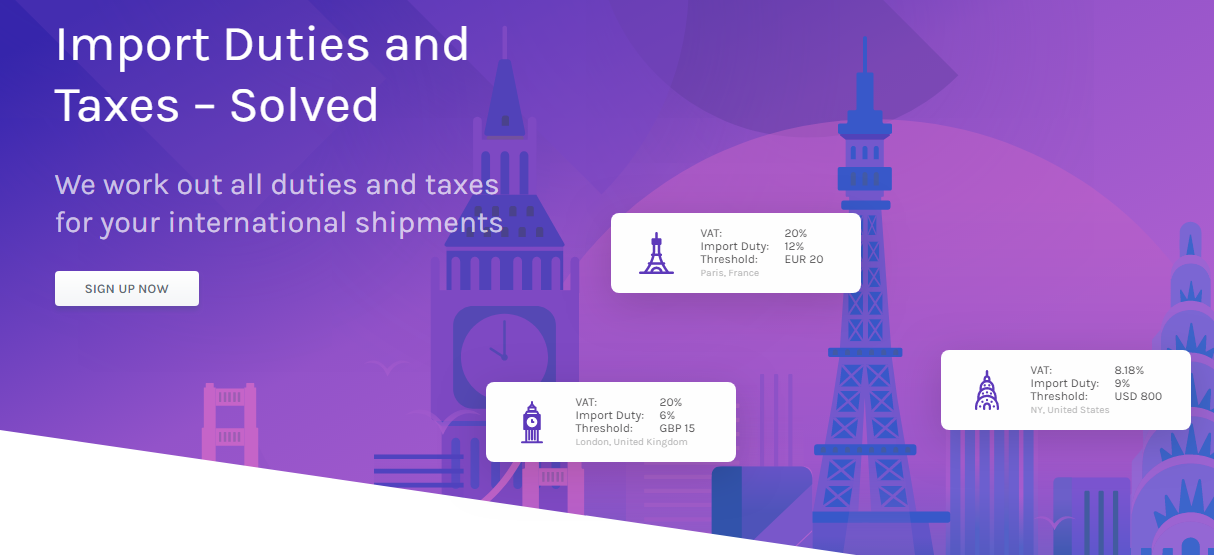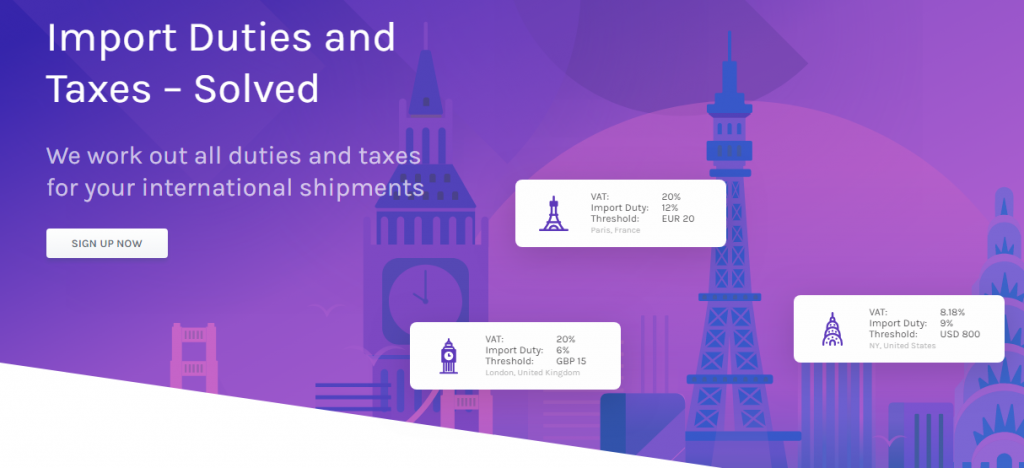 Taxes and duties are capable of raising costs when it comes to shipping anywhere in the world.
If your eCommerce business ships to different countries, it can be a lot of work to figure out the different taxes and duty requirements for the different countries, and they tend to differ from country to country based on the overall value of the shipment and the type of product involved.
Easyship doesn't let these details concern you as they automatically determine the different taxes and duty requirements of all the countries that you ship to.
One of the features they put in place is that you can determine who is responsible for the customs charge.
Depending on what suits you, you can either pay for them or let your customers pay.
However, it is advisable that you settle these charges yourself to prevent them from becoming a deterrent for your customers.
Optimized For eCommerce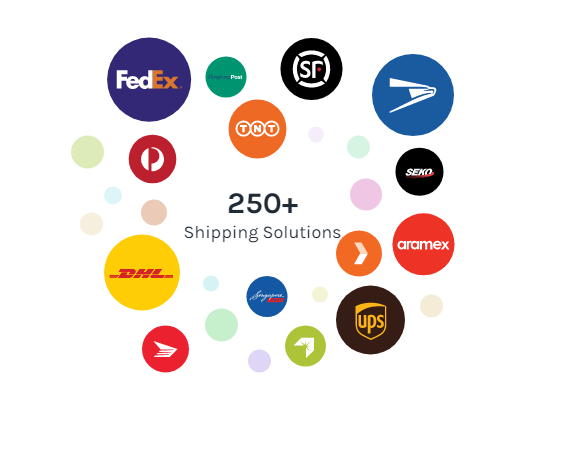 Easyship is an eCommerce solution to make life easier for merchants, so you can be sure that it will be optimized for eCommerce purposes.
It syncs directly with your web store which means be it Easyship Woocommerce, Magento or Easyship BigCommerce, it's a possibility.
Even marketplaces like Amazon or eBay, you can connect your store to Easyship and take direct action.
This feature ensures that you do not need to enter your orders manually.
Whenever a customer places an order, it automatically goes to Easyship and they take it from there.
This means that you can automatically update tracking information on your dashboard, such as courier names and tracking numbers, and send them directly to the customers.
Interesting Read: Easyship Vs Shippo
Easyship Central Dashboard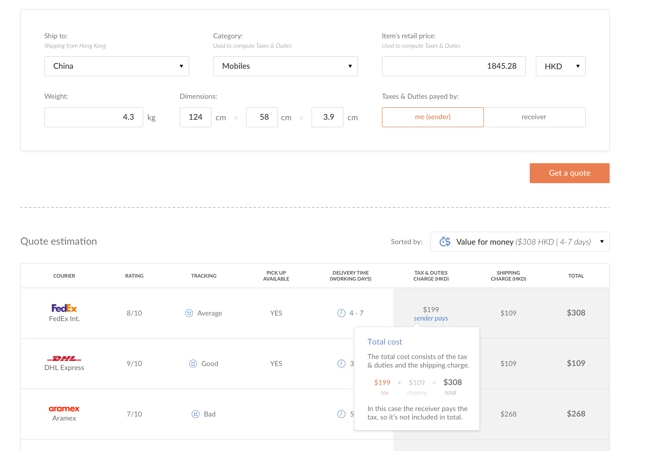 Easyship lets you use multiple couriers to send products to your customers simultaneously without the need to create different individual accounts on the couriers' website.
The platform lets you manage an international shipping organization from a single dashboard that you can integrate with your online store so that everything runs automatically.
Frankly, you can't ask for a better shipping process than one that is streamlined and easy to manage.
Such a system implies that fewer errors will be made in the course of documenting and shipping.
You can get an overview of all of your orders at a glance, which means that you can monitor the entire process from when the order was made to when the product is delivered.
Easyship Customization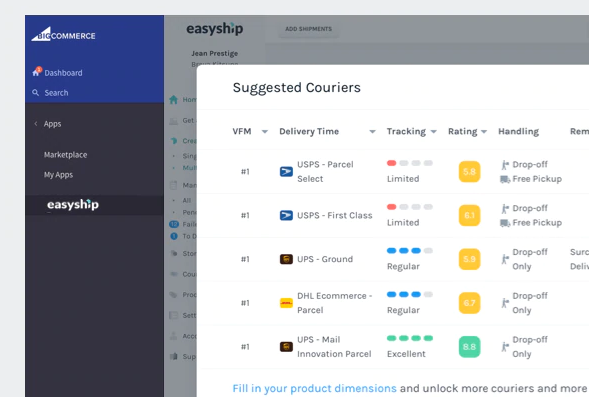 Each eCommerce store differs from the other and so you may want to tailor your shipping requirements to one that suits you.
Easyship allows you to do this with very minimal stress.
You can customize your shipping preferences as you like, so you can reflect advanced filters based on different aspects like shipping destination, the weight of the product, type of product, and many more.
This feature presents your customers with different types of possibilities as they make their order.
For example, when your customers choose a specific type of product with some preferences, they will be presented with a shipping carrier that you have preset to handle that type of product in that condition.
Easyship Pros & Cons
Easyship connects you with different courier services from a single account, these couriers have their own individual advantages and disadvantages.
The role of Easyship is to ensure that your business utilizes these advantages as much as possible.
Also Read: Ecommerce Traffic Woes – Resort To These Techniques
Pros
It is completely free to use with no hidden charges.
It does not require any setup cost or subscription fee. Only pay the shipping fee
It provides a 70% discounted shipping rate
Handles international taxes and duties
Can be used by small, medium, and large scale businesses
Manage shipping from a centralized dashboard
Prints shipping labels
Cons
Shopify users need to be subscribed to a Shopify annual plan in order to use the real-time rates at checkout feature
Easyship Pricing
Easyship does not charge for setup or subscription fees. The only payment you are required to make is for shipping, taxes, and customs duty.
The platform makes the shipping prices available on their website via Easy ship calculator.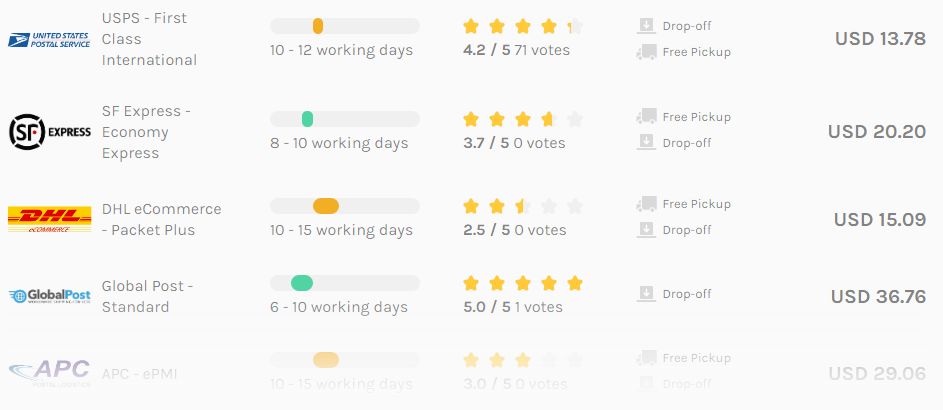 ShipStation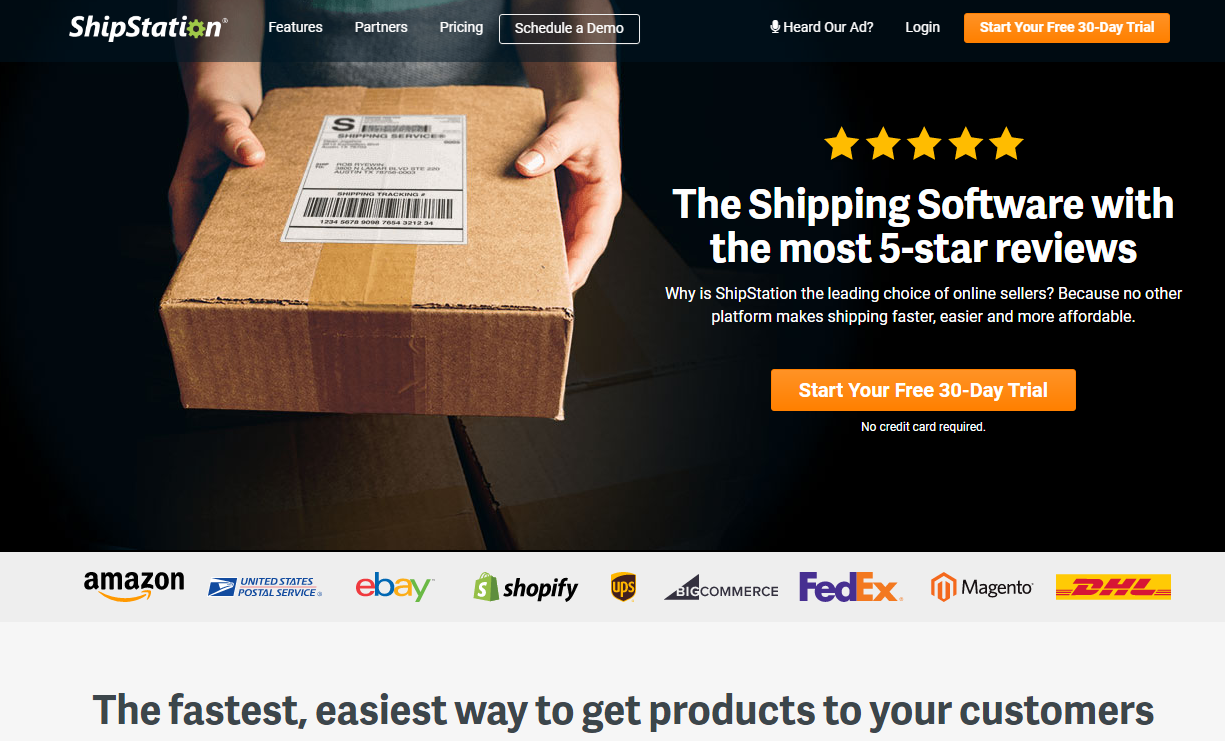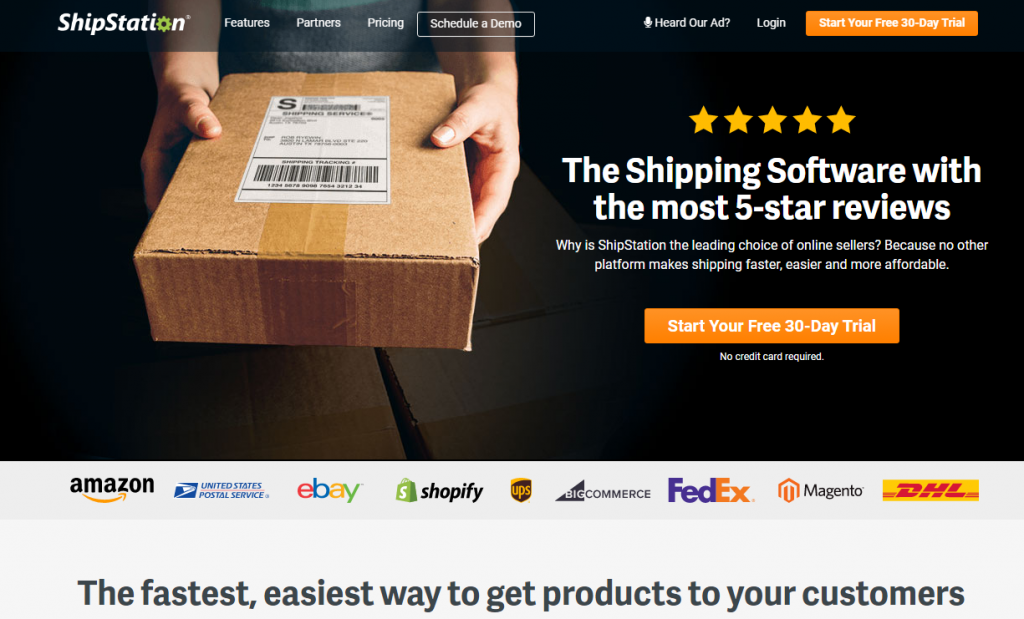 Now we come to ShipStation in our ShipStation vs Easyship review.
ShipStation is an ideal third-party shipping solution for small and mid-sized businesses.
It allows eCommerce businesses to import and manage their orders automatically on the web and can be synchronized with web stores that are built on popular eCommerce platforms like Shopify, WooCommerce, and Volusion.
If you run your eCommerce operation on marketplaces such as Amazon, eBay, and Etsy, you can also integrate them with ShipStation.
One function you will find with ShipStation that you will rarely find elsewhere is that it lets you integrate with email marketing providers, so you can streamline your marketing efforts with sales channels and several mail carriers.
Also Read: Magento vs Shopify: Best Ecommerce Platform Review
ShipStation Is Easy To Use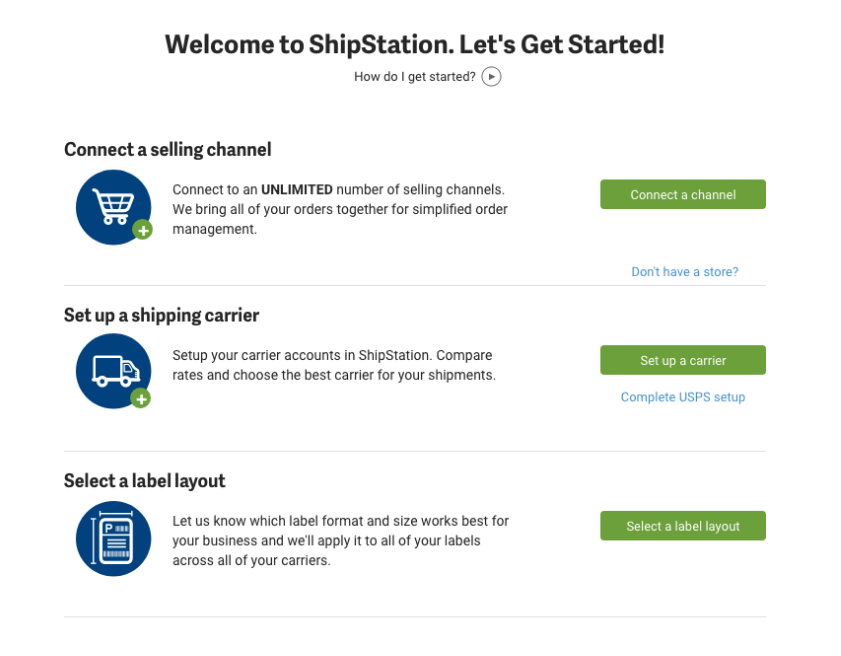 ShipStation is known for its ease of use being that you do not require any technical knowledge to get the hang of it.
When you first log in to your account, you will be directed to a test panel page.
There you will see a short video that shows you the basics on how to set up your account.
Then you can link your account with your preferred eCommerce platform or marketplace.
The dashboard is divided into five categories: insights, orders, shipments, products, and customers.
The ShipStation dashboard also houses five tabs at its top-right corner.
The tabs link to tools that will help you process your orders quickly.
These tools include the rate calculator, the update all orders feature, your profile, and the support button.
ShipStation Features
Here are some of the best features of ShipStation:
ShipStation Custom Views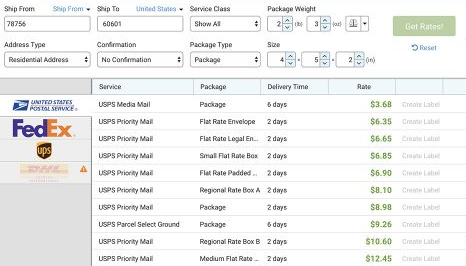 This feature allows you to set your screen to show only what you want to see.
You can do this via the display option and choose from the different interfaces to tailor your page to your liking.
ShipStation Automation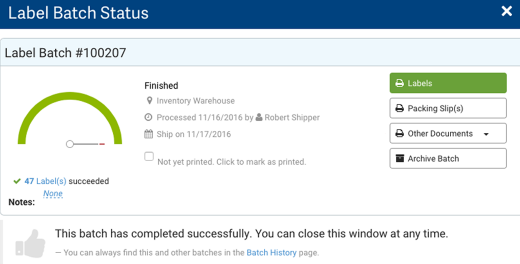 This is probably one of the most sought-after features on any shipping platform.
It allows you to program your fulfillment options so that you will not have to waste time trying to approve individual shippings.
It uses a set of automation rules that consist of the actions that you would like to implement to a set of orders.
You can set these rules from the settings tab in your account.
Also Read: Strategic Ecommerce List
ShipStation Multiple Carrier Management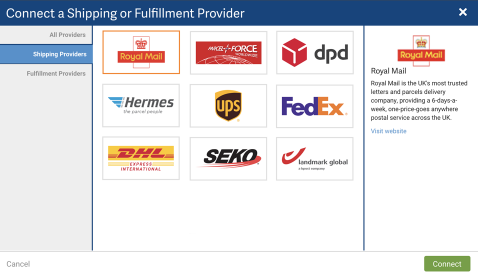 ShipStation saves you time and money in terms of managing carriers.
Rather than driving long distances to send mail at the post office after you spent a lot of time organizing and packaging an order, ShipStation quality integrations will manage your logistics system from start to finish.
You can sync your account with your preferred carrier and manage your local and international operations from the app.
Some of its notable carriers include FedEx, UPS, DHL, Royal Mail, FBA, etc.
ShipStation Order Management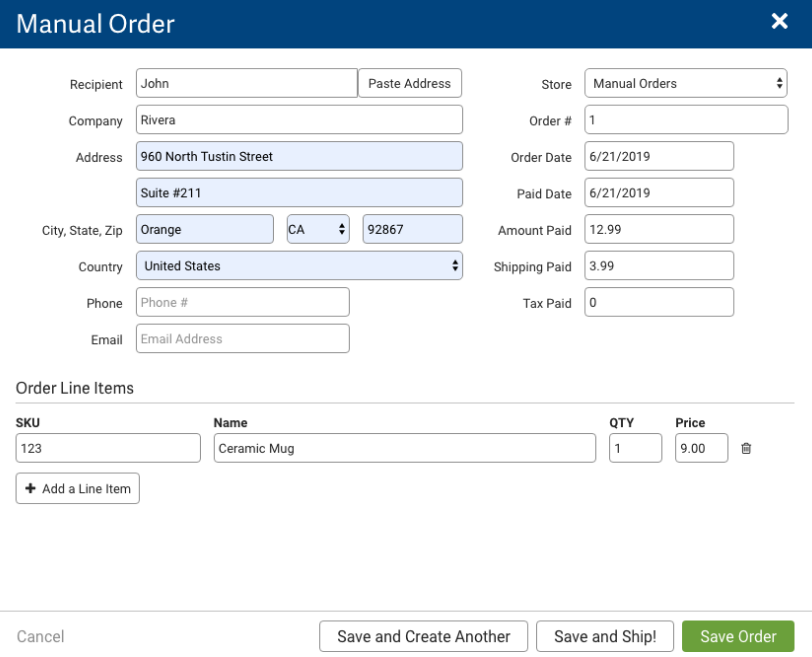 You can import your orders from more than 40 different sales channels on ShipStation and you can set shipping preferences per these orders.
These preferences can be based on several factors such as branded labels and other specs.
Once an order is placed, ShipStation will automatically update your store with the shipping status and tracking information.
ShipStation Integrations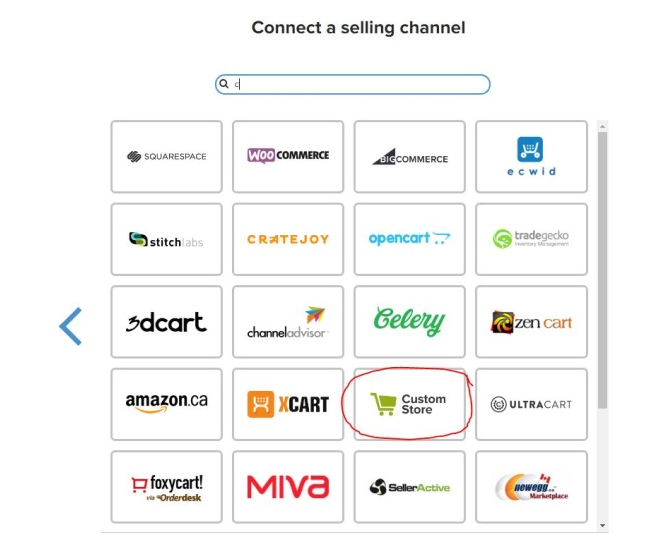 With ShipStation, you can integrate your account with a couple of platforms, marketplaces, and shopping carts.
For platforms that do not integrate automatically with ShipStation, you can use its custom integration option to import your orders.
ShipStation Reporting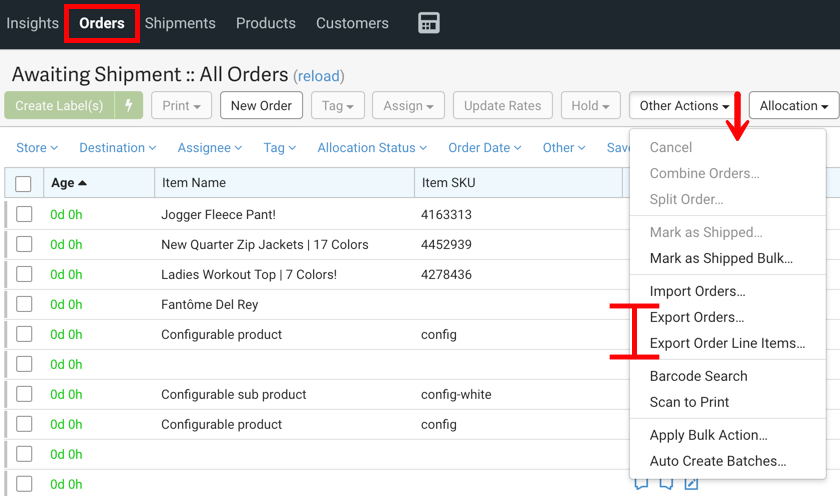 ShipStation gives you reports on your orders, shipping costs, sales trends, inventory status, postal history, and many more, using features such as tables, charts, and graphs.
ShipStation Pros & Cons
ShipStation has an array of features that help to smooth shipping operations, but like any other platform, it also has some drawbacks.
Pros
It is easy to use
It allows a host of integrations with eCommerce platforms, marketplaces, and shopping carts
It is ideal for comparing shipping costs
Cons
It cannot tell unique customers
Is not supported in some countries
Also Read: Bigcommerce Review – Best Ecommerce Platform
ShipStation Pricing
Let's talk about ShipStation fees now.
ShipStation pricing has six different tiers.
You can connect your store to the platform across all the plans, but what differentiates ShipStation prices are the features they support.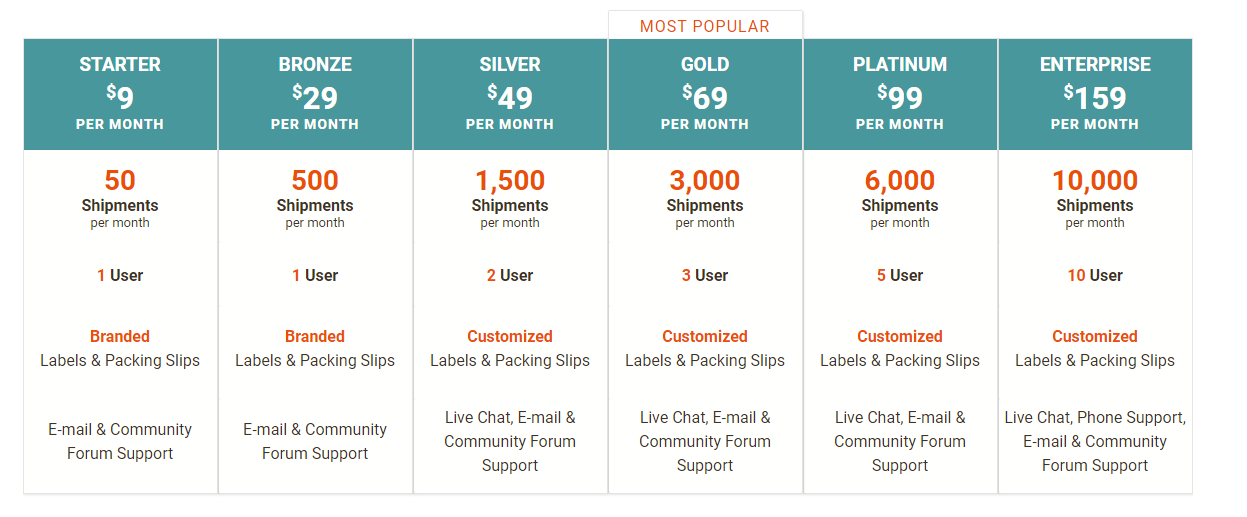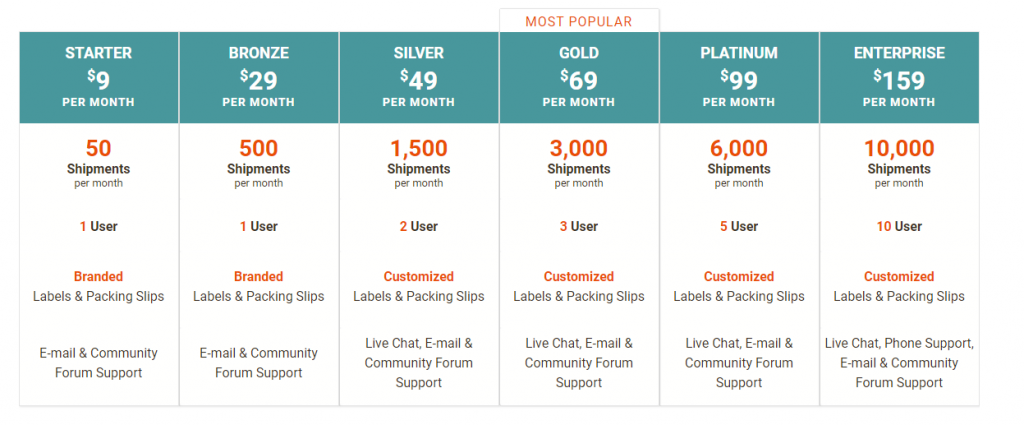 The Verdict – ShipStation Vs Easyship
Both Easyship and ShipStation have a couple of similar features, as well as their own advantages and disadvantages.
However, our pick is Easyship because it has some of the best rates, it creates transportation worldwide, and its overall performance is fantastic.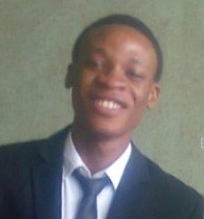 Efose says he is a polymath, which reflects in his work. He excels at inbound marketing, tech, and business. He has a rich experience of working with renowned digital marketing agencies in the past. Often writes for top blogs.