Tired of dropshipping the same AliExpress items as everyone else and want to find the "hidden gems?" That's exactly what AliShark promises to help you do.
However, does it really work? Is it worth investing in AliShark, or are there better alternatives out there?
Today, I will be reviewing AliShark and five other alternatives that help you find the best products on AliExpress.
Also Read: Ultimate Guide To AliExpress Dropship Center
AliShark
To begin with, let's understand what AliShark is.
AliShark is a product research tool for finding and tracking the best selling products on AliExpress.
They claim to help you find the best products to dropship and sell so you can stop competing with other dropshippers online over the same products.
AliExpress is an online marketplace where you can find cheap products sourced from countries such as China, Vietnam, and Pakistan without having to buy a lot of stock upfront.
As opposed to its sister site Alibaba, AliExpress products usually do not have minimum order quantities, as the site is geared towards consumers who want to buy items in quantities of one.
That's why it is so popular with dropshippers. On the other hand, the fact that it is popular with dropshippers means that often, a lot of dropshippers end up selling the same product, and it can be hard to stand out from the crowd and be successful.
In addition to AliExpress, AliShark also provides a Banggood research tool. Banggood is another cheap retail site based in China.
Read this interesting comparison: AliShark vs Ecomhunt
Signing Up To AliShark
Signing up to AliShark is pretty easy, just enter your name and email, choose a password, and start your $1 trial by either signing up with PayPal or with your credit card.
You will be presented with a welcome video that will give you a tour of the AliShark system. You can get started right away with searching for products on AliExpress and Banggood.
Searching For Products On AliExpress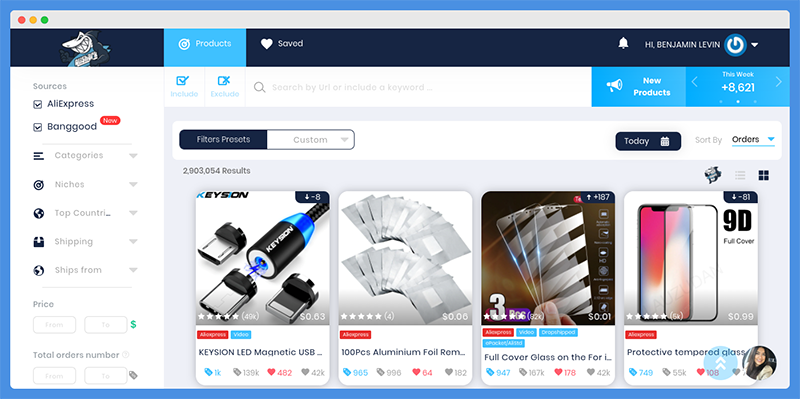 To start searching for products on AliExpress, click the AliExpress check box on the search results homepage. If you want to search for Banggood products as well, make sure to select the Banggood check box too.
Each product listing in the results will indicate whether it is from AliExpress or Banggood. You will also see eight quick metrics:
A star rating
How many reviews the product got
Price in dollars
How many sales the product got that day
Total sales over time
How many people added the product to their wishlist that day
How many people added it to their wishlist all time
If sales went down or up since the day before and by how much
These metrics will help you determine how popular a product is.
Although the results will show in a box layout, by default, I prefer changing the layout to a list format.
This makes it easier for me to scroll through the results and compare important metrics.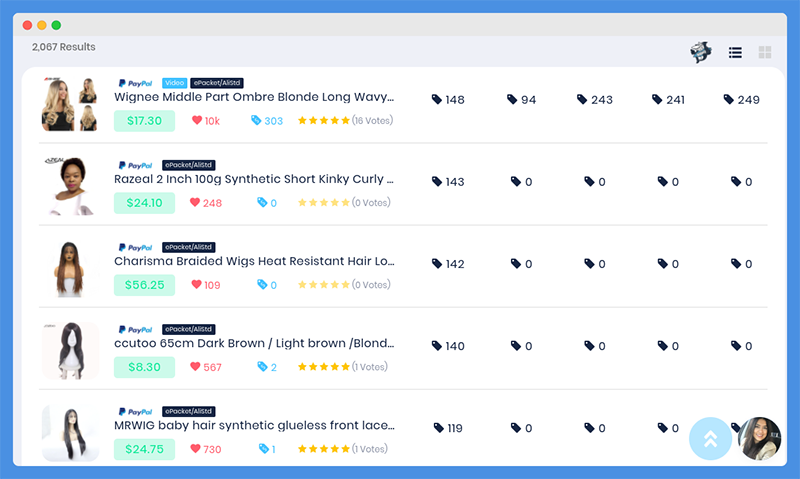 You can click on any product to see more details.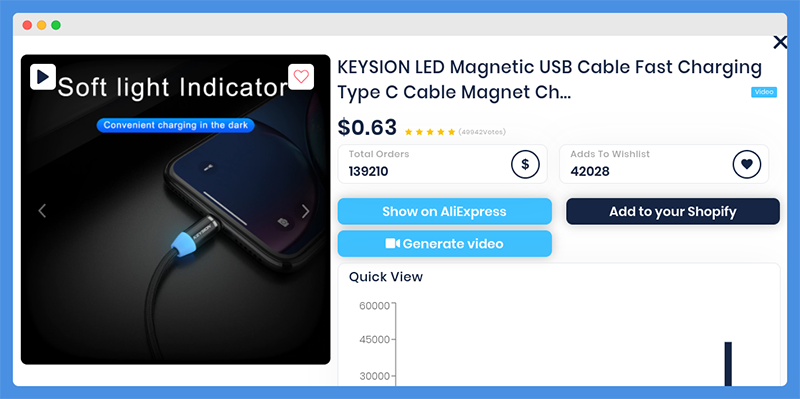 A popup will appear, where you will be able to get a link to the AliExpress listing or automatically add the product to your Shopify store.
You can also generate a video that incorporates the pictures from the AliExpress listing to make your own listing more appealing.
If you scroll down a bit more, you will see in-depth charts showcasing the product's performance and sales trends over time.
This way, you will be able to see if interest in the product is going up or declining.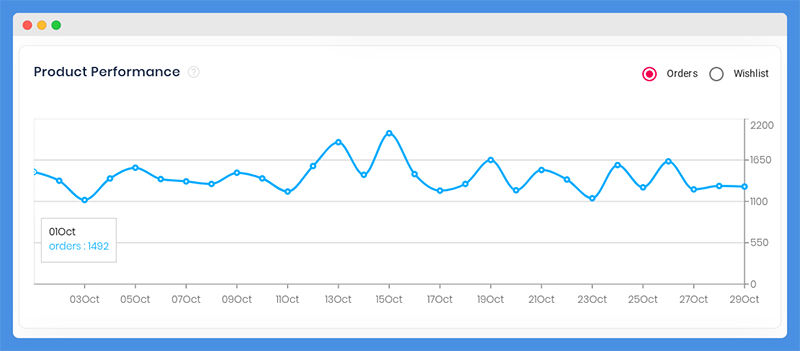 For some products, you can see even more data, such as the top countries the product is being dropshipped to and a list of the top dropshippers (though you won't get all of their personal information).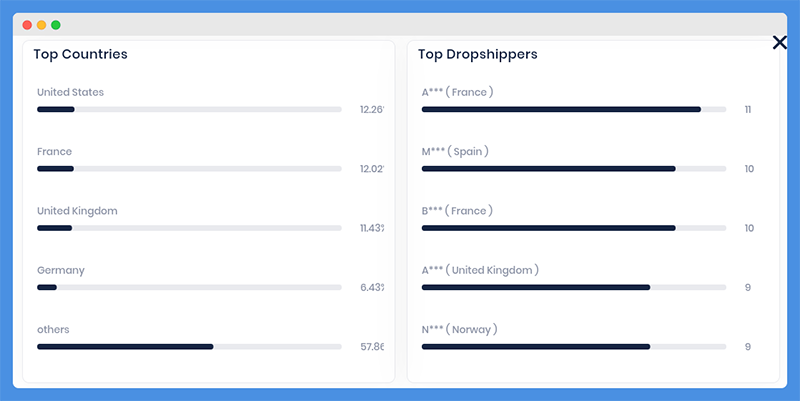 Filtering The Search Results
To find products that are good for your store, it is recommended to use filters to narrow the search results. In this section, I will discuss the different filters you can use.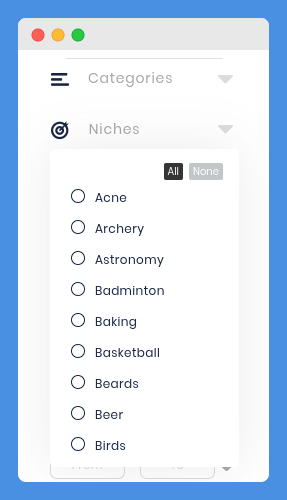 Sort By: This allows you to sort by Orders, Growth, Wishlist, and Price. For example, if you're looking for the cheapest items, sort by Price. If you are looking for products that have the most growth potential, search by Growth.
Time Period: Regardless of which metric or filter you are using, you can have it apply to all-time or only to a specific period.
Keyword: You can choose to only include listings in the results that contain a specific keyword. Alternatively, you can exclude all results that contain that keyword.
Categories: Filtering by category is perfect for those who specialize in a specific niche. Examples of categories that you can filter by include Men's Clothing and Accessories, Women's Clothing and Accessories, Toys and Hobbies, Computer and Office, and many more.
Niches: This goes a lot deeper than Categories and allows you to be more specific with your results. For example, some examples of some Niches are Acne, Badminton, Boats, Birds, Boxing, Farming, Fishing, Knitting, Lacrosse, Rabbit, Rock Climbing, Tennis, Wedding, Yoga, and many others.
Top Countries: Where is a product getting the most sales? If you are selling in the United States, for example, you might want to filter for products that have more sales in the US.
Shipping: You can filter for products that offer ePacket for quicker shipping.
Ships From: If you don't want to deal with products that ship from China, you can select products that ship from the US, the UK, Canada, Germany, France, or Australia.
Total Orders Number: You can set minimum and maximum order numbers for your results. For example, you can decide not to include products that have had fewer than 100 orders.
Period Orders: This is the same thing but for a specific period as opposed to all time.
Daily Orders: Again, this is the same thing but applies to each day in the time period you chose.
Votes: This refers to ratings. You can exclude all results that have a rating of fewer than 4 stars, for example.
Wishlist: You can set minimum and maximum limits for the number of people who put the product on their wishlist.
Old By Weeks: You can choose to only see listings that have been around for a certain number of weeks so you avoid scams and new products that turn out to be not as described.
With a Video: Only include products that come with a video description.
Dropshipped: Only include products that allow dropshipping.
Accepts Payp\|Pal: Include products that you can pay for with PayPal.
Saved Only: Only include products you have saved.
Interesting Post: How To Dropship From AliExpress To Amazon
AliShark Pricing And Trial
AliShark has an uncomplicated pricing scheme, with a flat rate of $20/month. There is only one monthly plan for everyone.
However, there is also a trial available. For just $1 (paid via credit card or PayPal), you can try AliShark out for two days.
After that, you will be charged $20/month, but you can cancel your membership before that happens in your PayPal account or in your AliShark account.
AliShark Customer Support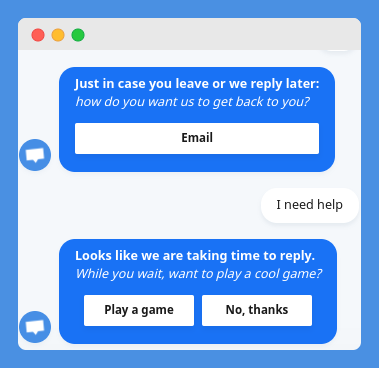 You can contact customer support at any time by using the chat box in the bottom right corner of your dashboard.
However, you may have to wait to get a response, so ask your question and enter your email address so they can send you a reply.
Alternatively, you can choose to play a game in the chatbox while you wait.
I don't recommend doing this, because if you want to be successful at business, it is important to be productive, and playing a game is not very productive.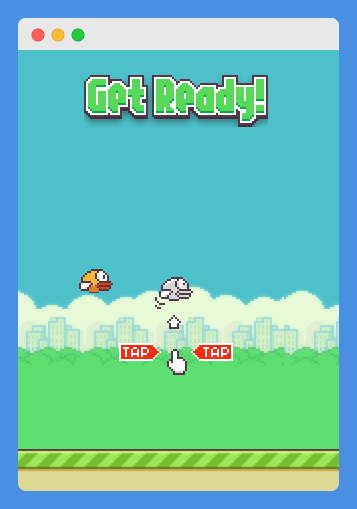 There is also an official AliShark Facebook group with thousands of members and helpful instructional videos.
Is AliShark Legit?
Yes, AliShark is legit. It does help you search for and discover products on AliExpress that are successful.
However, I found that when I searched for only Banggood products, I came up with zero results.
I'm not sure if this was a fluke or if they are still working on the Banggood search engine, but that's not a good sign.

Nevertheless, the main focus of AliShark is AliExpress, and it does give you a lot of helpful information about AliExpress products.
You will be able to use the tool to filter for top-selling products that are recent and trendy.
Of course, you can do research on AliExpress yourself, but it is harder to filter for the best results that way.
In addition, all other AliExpress sellers will be doing the same thing, so using a tool can help you get ahead of your competition.
5 Alternatives To AliShark
AliShark is far from the only tool out there for AliExpress dropshippers. There are various other tools available.
Here are the five best alternatives to AliShark.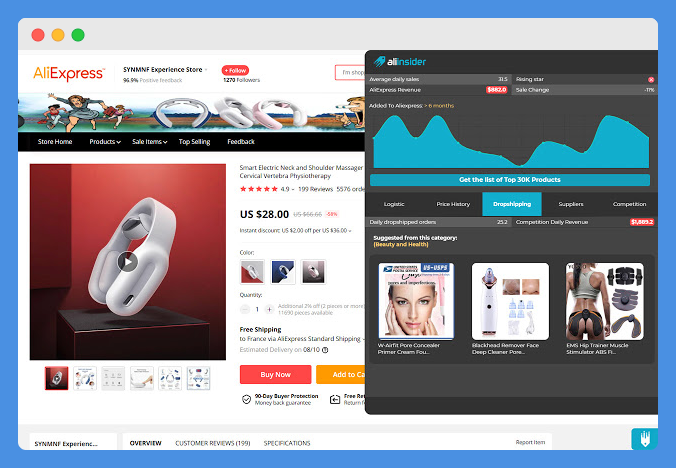 Ali Insider offers some things that AliShark does not, including a free plan that lets you try out the tool without giving over your payment information and a Chrome extension you can use to conduct product and market research while browsing AliExpress.com.
Ali Insider's free plan gives you access to the Research Assistant, which gives you quick, actionable data on products that appear in the search results to help you find out which ones are likely to be profitable. You will also get Product Analytics for any product on AliExpress.
The free plan also gives you access to the Sales Tracker, which will help you figure out if a product is trending or was popular in the past. In addition, you will get limited access to other tools, including:
Competition Insider: This tool tracks sellers on eBay, Amazon, and Shopify who are selling the AliExpress product you are researching. You will see how much they are selling it for, how many sellers are already selling the product, current listings, and more.
Dropshipping Insider: This tool lets you know the number of dropshipped orders a product gets daily, how much revenue your competitors are making every day, and more. You will also see recommended items that are similar to the one you are looking at.
Suppliers Insider: This tool will help you find the best AliExpress sellers for any product, including the ones that have the best prices and the best shipping options.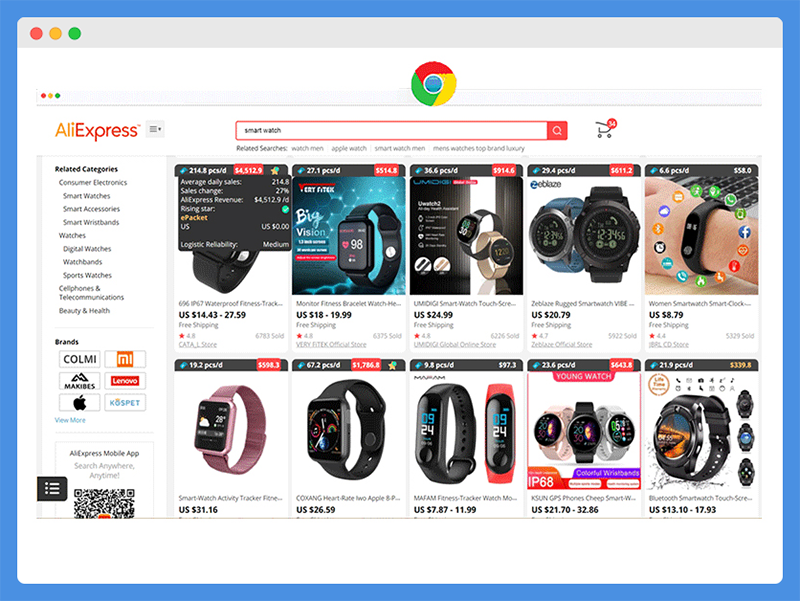 As a premium member, you will get full access to these three tools, as well as access to tools and lists such as:
Top 30,000 AliExpress items in real time
Most profitable dropshipping products
Products that are starting to trend but still don't have a lot of sellers and competitors
Niche Analyzer
Tell selling products by country
A list of suppliers your competitors are using
And much more
Right now, Ali Insider only costs $19.95/month, which is around the same price as AliShark. However, you can get a discount of 20 percent if you pay for three months in advance.
You can also get two months free if you pay for six months in advance and five months free if you pay for a year in advance. Always check the Ali Insider pricing page for updated information.
Ali Insider is a bit easier to use than AliShark, in my opinion, because it is a Chrome extension that you can use when browsing AliExpress without having to go back and forth from one site to another.

AliExtractor is another great AliExpress research tool that has cool features such as allowing you to get cashback on orders you place through AliExpress.
AliExtractor lets you find the top trending products in your niche. It has a lot of filters you can use to narrow your search results and drill them down to the best sellers.
There is even a Magic Light Bulb that you can use to find great product and market ideas if you are not able to come up with them on your own.
Some other cool features that AliExtractor has include:
Download product reviews from AliExpress to your store to increase conversion rates
Use the profit calculator to figure out how much you will need to sell a product for to earn enough to reach your goals
Find child variations of products on AliExpress and see if they are selling better than the original listing
Estimate your monthly sales volume and revenue based on how many sales a product is getting on AliExpress
Get cashback of up to eight percent on products you buy on AliExpress for your customers
Download images from AliExpress to your own website to improve your listing and make it more appealing
Find the best vendors to work with (AliExpress sellers who have a track record you can trust)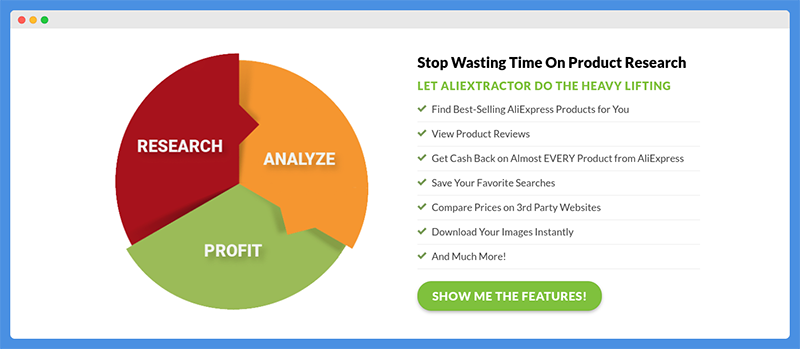 Unlike AliShark, Ali Extractor, unfortunately, does not offer a free trial. However, they do offer a 14-day risk-free money-back guarantee; if you are not satisfied by the time the 14 days are up, you can request your money back.
AliExtractor is also a bit more expensive than AliShark, as it costs $29/month. Always go to the AliExtractor checkout page for updated pricing information.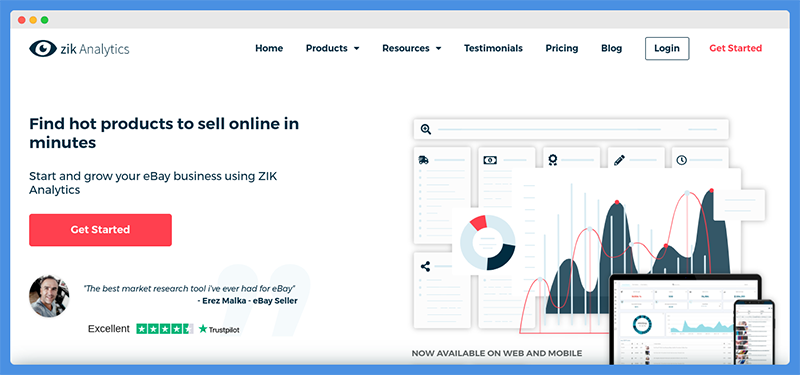 Zik Analytics' AliExpress Market Research tool is a great alternative to AliShark. It works similarly by displaying product results you can filter by price, rating, shipping method, sales, and more.
You can also analyze a product in depth. Each product profile page will show you important information such as the product rating, sales, price, votes, and charts displaying sales trends over time.
Not only can you discover information on how the product is performing on AliExpress, but if you plan to sell on eBay, you can see how the product is performing on eBay as well.
In addition to data on products, the Zik Analytics tool gives you data on sellers too.
You can search through all of their products and find out how they are performing overall.
A seven-day trial is available on all plans. There are three plans available:
Starter @$29/month or $20/month when billed yearly: You will get access to the eBay and AliExpress research tools.
Standard @$59/month or $40/month when billed yearly: You will get extra perks such as the Wholesale Supplier Database and a list of the current 500 best selling products on eBay.
Enterprise @$80/month or $50/month when billed yearly. Additional perks include the Turbo Scanner and the Ali Growth Scanner.
Right now, Zik Analytics is offering a special deal: 50 percent off your first month if you pay monthly, on any plan. Always check the Zik Analytics product page for updated pricing information.
In addition to the AliExpress Market Research tool, Zik Analytics has some other tools that can be helpful to online sellers, some of which I already mentioned. Here they are:
eBay Market Research
Wholesale Supplier Database
ZIK Funnel
eBay Title Builder
ZIK Pro Tools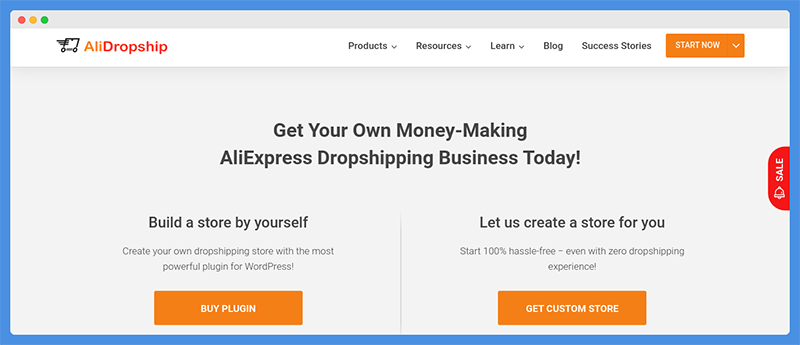 AliDropship is a plugin that will allow you to find profitable AliExpress products and import them directly to your online store.
The WordPress plugin costs $89 (always check this page for updated pricing information) and includes a free WooCommerce extension if you are running a WooCommerce store.
The $89 fee is a one-time payment, not a recurring payment.
After you install the product, you will get access to over 50,000 best selling products which you can import to your store.
Not only can you automatically add entire product listings to your site, but all data will be updated automatically as it is updated on AliExpress.
In addition, you can set margin rules so that the price on your store always includes a certain percentage margin over the listed price on AliExpress.
This allows you to apply the same pricing rules to all the products you import at once.
AliDropship also has a Chrome extension, which allows you to conduct market research while browsing AliExpress.com.
AliDropship has some other useful tools for sellers that all the previous options listed in this article do not offer. Here are some of them:
Custom Store: If you are starting from scratch and don't know where to begin, Ali Dropship will actually build an entire eCommerce store for you. Plans start at $299 (one-time payment) and include things such as niche research, a domain name, professional website design, 50-200 products ready to sell, and more.
Established Stores: If the idea of starting from scratch doesn't appeal to you, you can buy a fully performing online business that has been around for a while.
Hosting: Whether you have a store built for you or build one yourself, you can use the Ali Dropship hosting platform, with plans starting at $48/year.
Themes: You will get free themes with the purchase of the plugin. You can also purchase premium themes.
Services: Professionals are on hand to provide services such as Social Media Setup Assistance, Promo Video Creation, Banner Ads Design, and much more.
We earn a commission if you click this link and make a purchase at no additional cost to you.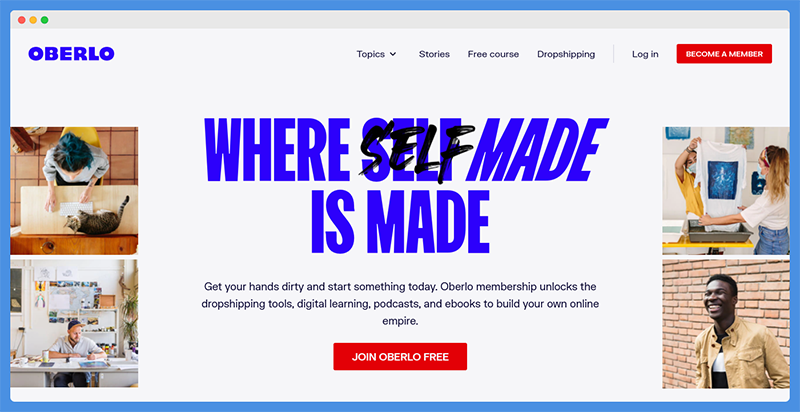 Oberlo is a dropshipping directory that lists products from AliExpress.
However, it goes beyond being just a directory, as it has a free course and resources to help you build your dropshipping business from scratch.
Oberlo, like AliDropship, allows you to search for profitable products and import them directly to your store.
Oberlo has 24/7 customer support and is available in six languages: English, French, Spanish, Italian, German, and Brazilian Portuguese.
Oberlo's Chrome extension lets you import products you find while browsing AliExpress.com to your store.
Their Shopify app allows you to fulfill orders quickly and efficiently without any manual hassles.
The great thing about Oberlo is that it is entirely free.
The free plan has some limits, such as a maximum of 500 products and no bulk orders or real-time order tracking, but you can always upgrade later once you are making a profit.
Premium plans cost $29.90/month and $79.90/month, respectively, but check the Oberlo pricing page for updated information.
Wrapping It Up
Overall, AliShark is a great tool that really works. I think it is worth the price.
But there are also some other tools you may want to consider, such as Oberlo, Ali Dropship, Zik Analytics, and Ali Insider, which offer all that AliShark offers and sometimes more.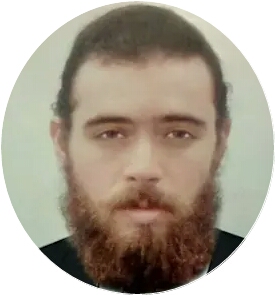 Author: Benjamin Levin
Benjamin Levin is a digital marketing professional with 4+ years of experience with inbound and outbound marketing. He helps small businesses reach their content creation, social media marketing, email marketing, and paid advertising goals. His hobbies include reading and traveling.