The Amazon marketplace continues to grow in leaps and bounds. Last year, Amazon sellers sold over 2.1 billion items.
For a platform that carries such an incredible number of products, there are chances that some products will get lost in the crowd. Unfortunately, if products are not on the first few pages, customers may never get to see them and these products will record abysmal sales.
Although this represents a dilemma for most sellers, it's not a dead end. Brands can run advertisements to increase product rank and visibility. With sponsored Amazon ads, their items can get in front of shoppers and generate sales.
With many Amazon sellers turning to paid campaigns, the campaign quality can help brands stand tall.
Prestozon offers advertising tools to help brands automate and optimize their PPC campaigns.
In this article, we will do a detailed Prestozon review. We'll review the features, pricing, and the benefits of using Prestozon.
Overview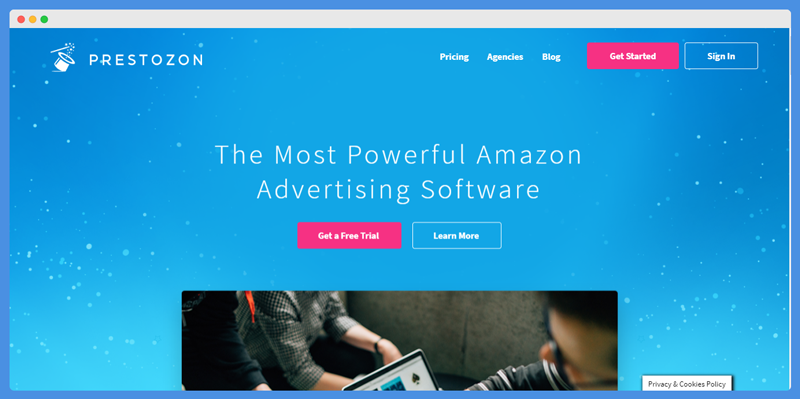 Prestozon is a leading Amazon advertisement and automation tool. The eCommerce SaaS platform is built to help Amazon sellers create, optimize, and manage their advertising campaigns.
Prestozon was developed in 2016 by Ben Aldern, Christian Hang-Hicks, and Dana Kittrelle. They are a team of PPC experts and provide support to agencies and brands.
With Prestozon, brands can save costs on advertising and increase revenue significantly. Their unique PPC tool provides actionable insights from campaigns across multiple brands and categories.
Prestozon has an incredible track record. They have the potential to help you reach double sales figures in sales. Furthermore, they have 14 billion Amazon PPC data points and analyze 275 million keywords daily.
Prestozon has served happy customers in 42 countries. They also partner with agencies including
Adacio
AMZ pathfinder
AbisZMEDIEN
OmniiX
Blue Wheel Media
DBS Solutions Consulting
Channing and Yates, and more
Who Is It For?
Prestozon is a tool built specially to help Amazon sellers optimize their campaigns and drive traffic their Amazon listings. It is suitable for
eCommerce retailers
Amazon sellers
Consultants
Agencies
Advertisers
Branding and advertising companies
Amazon businesses
Prestozon supports all European and North American Amazon marketplaces, including India.
Their software requires access to your Amazon advertising API, and you are good to go.
Also Read: Best Amazon Product Finder & Research Tools
Getting Started With Prestozon
Prestozon provides a step by step guide on how to use the platform. Let's explore what you'll learn from each of these steps.
Introduction
Before you get started with using Prestozon, it is crucial to understand the basics. Whether you are an expert or you have never started a campaign before, you don't need to worry.
Prestozon provides a comprehensive guide to help you run profitable and optimized campaigns. You will learn about
Sponsored product ads
The basics and importance of sponsored products
How to set up your account and
Optimizing your Pay-Per-Click campaigns
1. Chapter One
In this chapter, you will learn about sponsored ads and their importance
When you launch a new product on Amazon, it is challenging to gain traction without ads. Your ads may just be sitting on page 22 and won't even get sales and reviews. You won't move up to the front pages without products.
Climbing from page six to five to page two and to page one is an extreme sport. Products in the top tier enjoy massive sales – ten times more than products on the second page. That's what you will enjoy when you use sponsored ads and products.
Amazon sponsored products are pay per click (PPC) ads that appear when customers search for specific products or keywords.
They help you increase visibility and sales on Amazon. More so, they promote your listings and put your products in strategic places where customers can see them.
Sponsored products ads can appear in various places
At the top of the page
In the middle of the page
On the sidebar
On the detail pages of other products
Sponsored ads expose your ads to people who are searching for keywords that your products are ranking for. The main goal is for people to land on your page and buy your products.
Amazon sponsored products do not only increase visibility, but it also increases your product ranking. You can only achieve a high product ranking if your listing quality is excellent.
Using Prestozon will help you implement sponsored product ads the right way.
Worth Exploring: Best Amazon Listing Software For Sellers
2. Chapter Two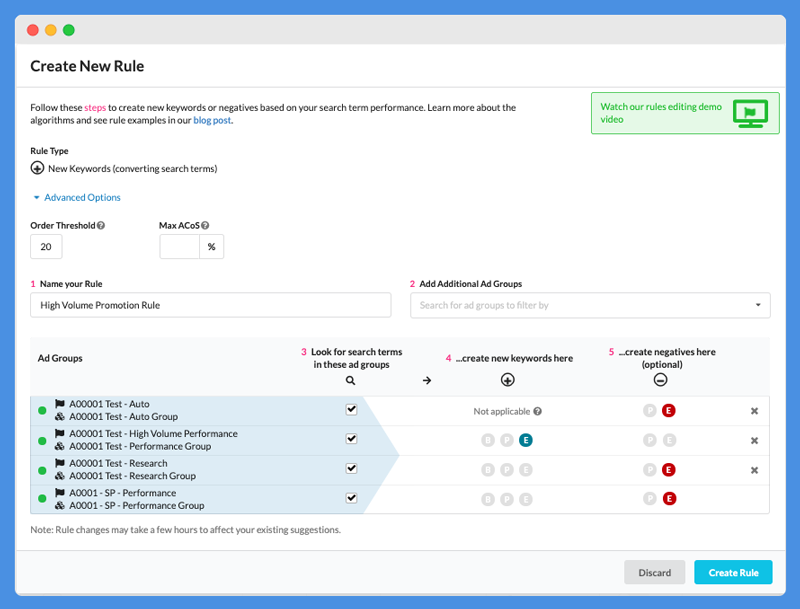 This chapter explains the basic account structure and the types of ad campaigns.
Your Prestozon sponsored ad account has three essential components. The campaign, ad group, and the ads
The campaign is a set of ads within the Sponsored Products feature. You can structure your account to suit your needs. Each campaign may have multiple ad groups, and sellers can manage different ads.
Ad groups must have ads that are related. Having related ad groups allows merchants to organize their ads and accounts. Ad groups may have one or multiple ads. For example, if you sell women's shoes, you may choose to create a women's casual shoe campaign, including an ad group for each variety and model of casual shoes.
The ad is the product and service (SKU) that you want to advertise. Sponsored product ads are simple. You can pick the SKU, and your ad will show your listing's picture, product title, description, price, star rating, and review count. Merchants can adjust different components and elements of the ads.
There are two types of sponsored ad campaigns— auto and manual campaigns.
Interesting Read: Ways To Find Amazon Product Niches With Low Competition
Auto Campaigns
Setting up and running the auto campaign is very easy. However, it is difficult to optimize because merchants have limited capabilities and control over the campaign. Amazon automatically picks and uses the keywords it considers best for your campaigns.
When a buyer searches for any of those keywords, your ad goes into an auction with your specified bid. If you win the auction, Amazon will show your ad.
In the auto campaign, you can enter your daily budget, campaign start and end dates, default bids, and advertised products. These four inputs affect how your campaign runs.
You have little or no control over the outcome of your campaigns.
Manual Campaigns
Manual campaigns afford you absolute control. Therefore, you will require additional effort to set up and optimize your campaigns. It's worth the trouble because the majority of your profits will come from this campaign source in the long run.
With manual campaigns, you can pick your keywords and set the match type and bid for every keyword.
Match Types
The match type describes how your keywords relate to your customer's search term. While merchants bid on keywords, the search terms are what the customers are typing in the Amazon search box.
There are three major match types. They are
When you set up a manual campaign, you may need to select the exact match type for each keyword.
Advertisers can also add negative keywords. With negative keywords, you can avoid bidding on specific search terms even if they may trigger one of your keywords.
You can bid for keywords. Keywords in each ad group have maximum bids. Also, you can set daily budgets at the account and campaign level.
You must optimize your listings to help run an effective campaign and to drive more conversions. If you want to maximize your campaigns, you need positive reviews, the right keywords, and bid.
3. Chapter Three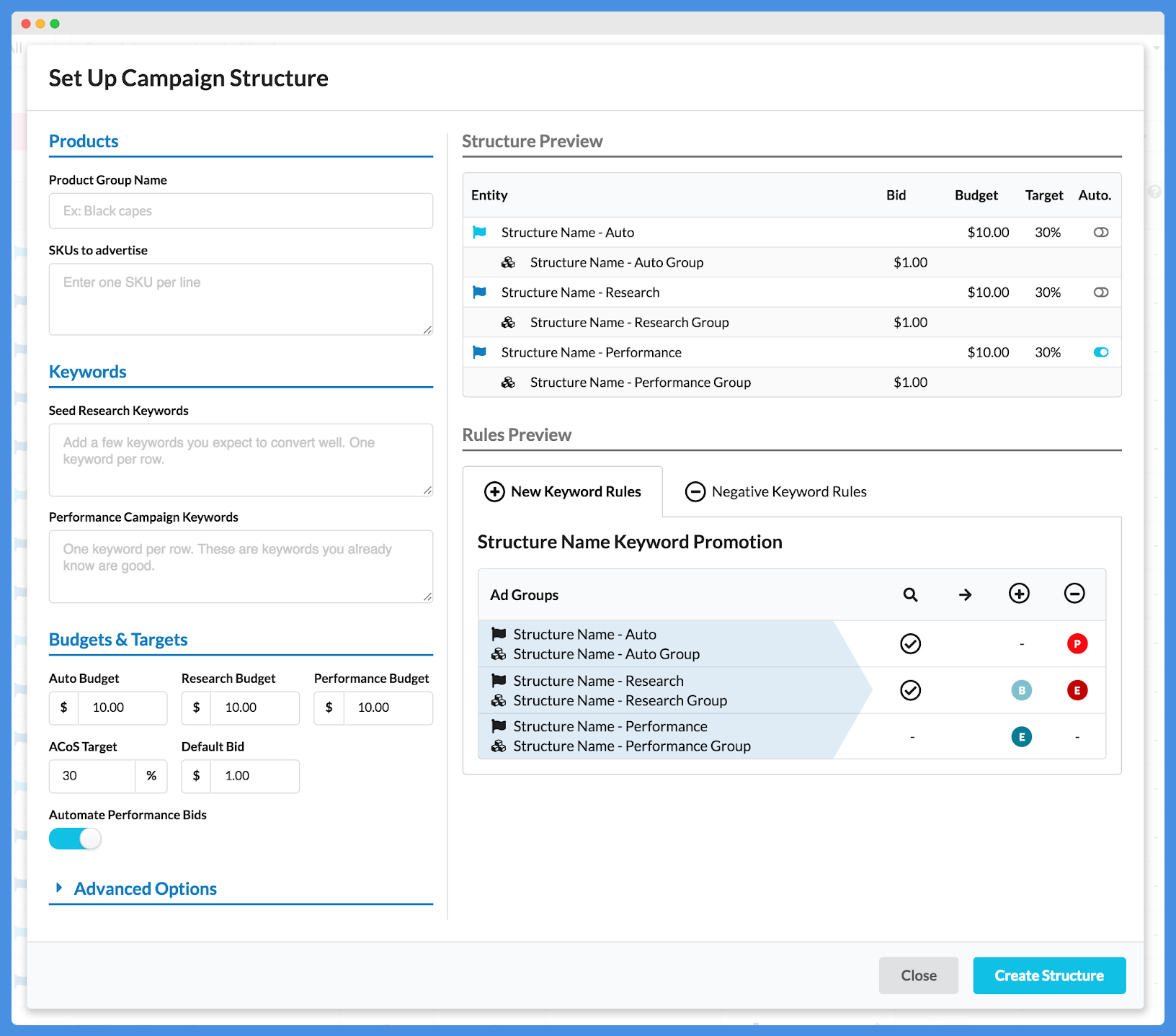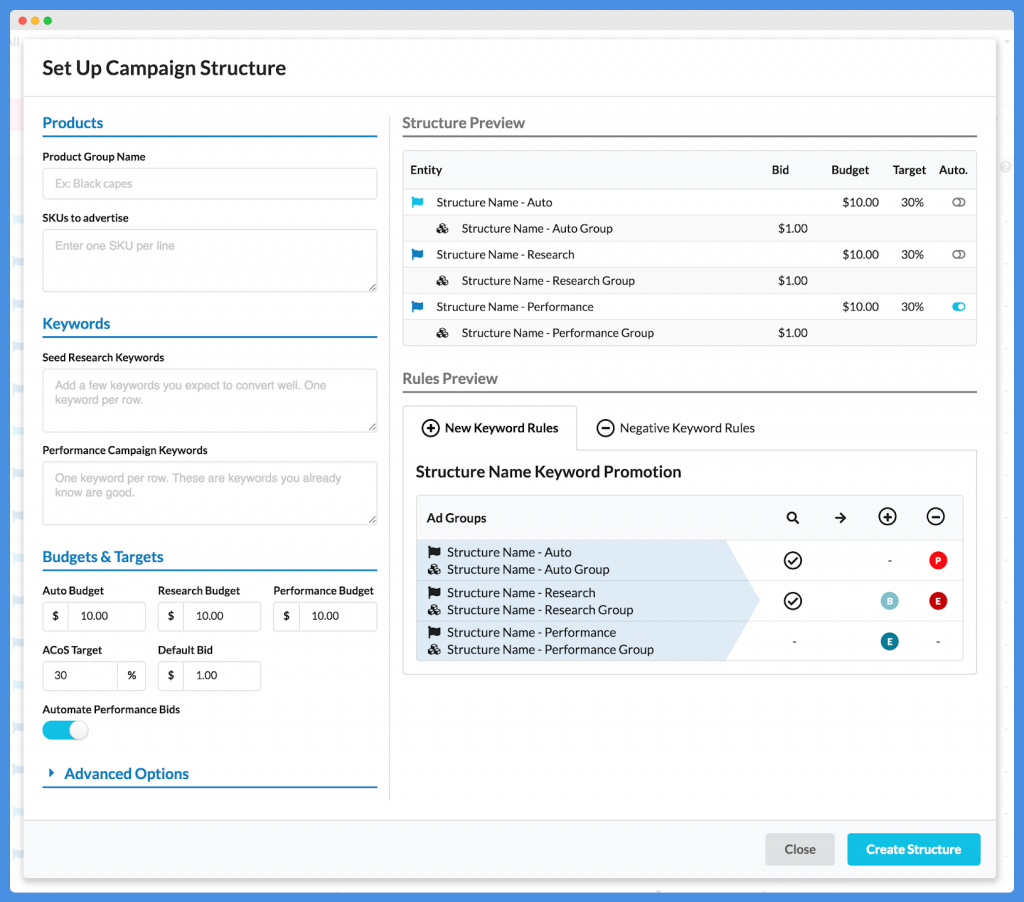 You need to structure your campaign correctly when you are just starting.
The chances are that you may have to start a brand new campaign if you change the structure. And if you keep creating brand new campaigns, you will lose money, and your campaigns will underperform.
Sponsored product accounts can become complex and challenging to manage even if you have few products. So if you set up your account methodically, you can easily optimize your account later.
Let us take a look at the best way to set up your accounts.
First, you will group your products, name your campaigns correctly, set up a campaign flow, and validate your listings.
Explore: Best Amazon FBA Seller Training Courses
How to Group Your Products
If you want to get the best out of your campaigns, you need to group your products correctly. Here's how you can arrange your products.
Controlling your Budget – Merchants can control the amount of money they spend on a product at the campaign level. They can manage their budget by ensuring that each product has a unique campaign and ad group.
Using Similar Keywords – Amazon will not rank your ads if the keywords are not relevant to your products. Thus, it is critical to ensure the products in your ad groups and keywords are similar. Keywords are set at the ad group level.
Accurate reporting – Reporting your ad data will help you to analyze and understand your ad performance. But to get an accurate report, you need to arrange products in its ad group.
Prestozon recommends that that product group or SKU group should have its set of campaigns. Also, each product group should contain one or more product variations to help you get precise reporting data.
Your campaign structure depends on the time and effort you can exert on managing your account. It also depends on the level of optimization you want on your account.
Having more groups means you will have more control and achieve better results. However, you may need to spend more time managing your account.
Naming Your Campaigns
It is essential to use descriptive names for your product or SKU groups. Names like Female Shoes are great names. However, if you use SKUs or ASINs to name your campaigns, it may be challenging to find the campaign on your Amazon Seller Central.
Your Campaign Flow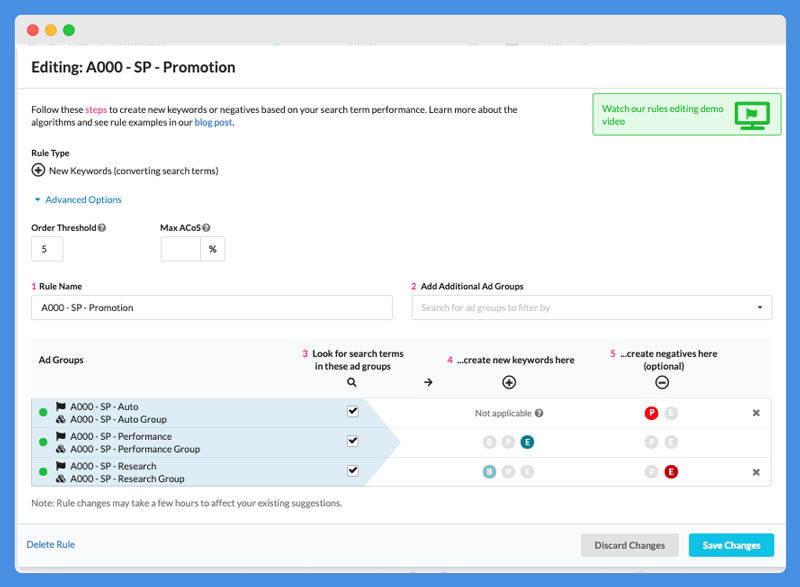 Prestozon recommends a flow for your campaign.
Automatic campaign validation: Prestozon's recommended campaign process will help you validate that Amazon understands your listing, Moreso, their recommended method will also help you get profitable keywords.
Begin your manual campaigns. Once you receive a product validation, you can begin your manual campaign with one ad group.
Add supplementary ad groups: As you proceed, you can create new ad groups from the campaign manager.
Place default bids in each ad group.
Set up your relevant keywords: Fill up your ad groups in the manual with relevant keywords from the automatic campaign. You can also add more from your keyword list.
Monitor your campaign and adjust bids: As you proceed with your campaign, you can collect relevant data. And then, you can tweak your campaign bids to reach your goals.
Test and add new keywords to manual campaigns from time to time. You can also transfer and use performing from auto campaigns.
Apart from serving the purpose of advertising, auto campaigns help you validate if Amazon understands your product listing.
So you can set up an automatic campaign to test if Amazon understands your listings. Just go to Campaign Manager in your Amazon Central account and start an auto campaign to test.
After confirming that Amazon understands your listing, and your auto campaign is in motion, you can create your manual campaign. With the manual campaigns, you can achieve more results with your ads.
Also Read: Best Amazon FBA Calculators Review
Campaign Structure
There are several methods to set up campaigns for your product or SKU group. Each of these methods has its pros and cons.
Some of the methods include:
One campaign with an ad group
Auto campaign, plus manual campaign with one ad group
Automatic campaign, plus one manual campaign with ads groups for every match type
Auto campaign, plus keywords test campaigns, plus one manual with match type ad groups.
Automatic campaigns, plus match type campaigns, plus keyword test campaigns
4. Chapter Four
Amazon sellers can optimize their pay per click campaigns to boost sales. But first, there are some metrics they need to look out for. These metrics will help them evaluate their success.
Metrics for Evaluating Success
Ad Spend: The amount of money you have spent on your ad click during the selected period.
Sales: The sales of products from customer orders within seven days of an ad click.
Impressions: The number of times Amazon buyers have seen your ad during the selected period. This metric is regardless of whether they clicked the ad or not.
Clicks: The number of times users click on your ads during the selected period.
Orders: The number of orders users have made clicks on your ad.
Advertising Cost of Sales (ACoS): Ad spend divided by sales. These metrics give you an insight into how the amount of money you have spent on ads per transaction. ACoS is a very vital metric as it helps you calculate your ROI.
Click-Through Rate (CTR): Your CTR is the number of clicks divided by the number of impressions ( people who have seen your ad).
Conversion Rate: The number of customer orders divided by the number of clicks. This metric gives you an insight into the percentage of people who clicked your ad and also purchased the product.
Cost per Click (CPC): The ad spend divided by the number of clicks.
Setting Up Your Campaign Goals
Before you optimize your campaign, you need to set your campaign goals. You can optimize your ads to achieve the following objectives
Increased profit per sale
Growth in total profit
Increase in the number of orders
Also, you can make bid adjustments to achieve your goals and objectives.
Also Read: Amazon Seller App Review
Prestozon Features
Prestozon has incredible features to help merchants optimize their ads to boost visibility. Let us dive into some of these features.
Bid Optimization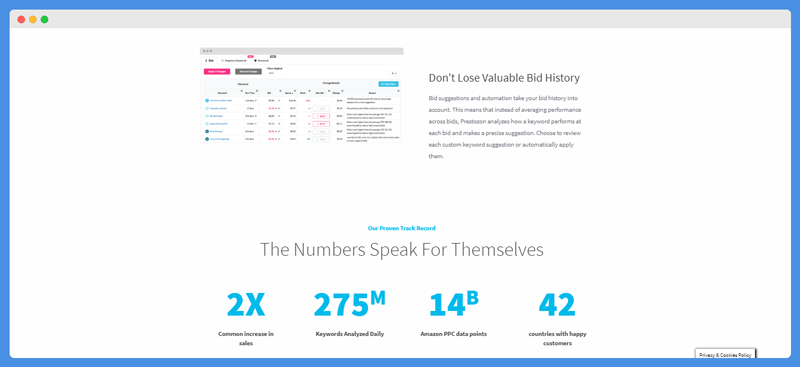 Prestozon automates your bid and makes valuable suggestions that will further boost performance. Instead of achieving average bid performance, Prestozon ensures that each bid is successful.
Prestozon helps you to analyze the performance of your keywords at each bid. It further goes on to make vital suggestions. You may choose to apply the suggested keywords automatically or review them.
Custom Keyword Rules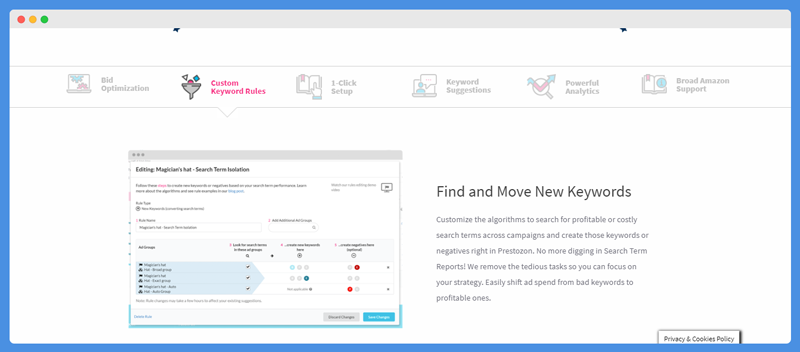 With Prestozon, you can find and use high-conversion keywords.
You can customize the tool and search algorithms to find profitable keywords across various campaigns.
After the search, you can use both profitable and negative keywords to boost your campaign.
One-Click Setup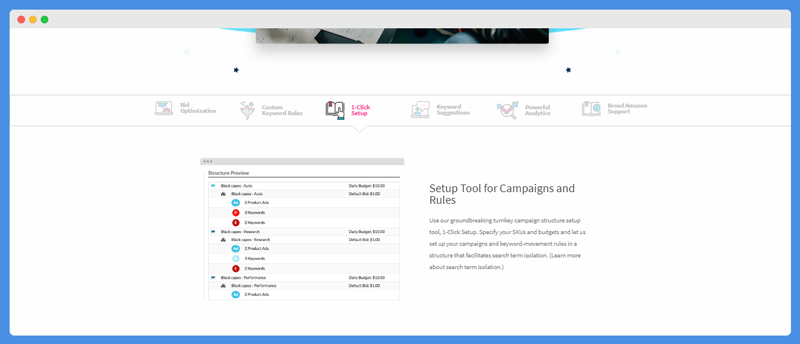 Prestozon provides an easy to use campaign structure and setup tool. You can set it up in a few minutes. Just specify your products, SKU, and campaign budget.
Prestozon will set up your campaign and keyword movement strategy to support search term isolation. Search term isolation further helps you optimize your campaign.
Useful Post: Best Amazon Tools For FBA Sellers
Keyword Suggestions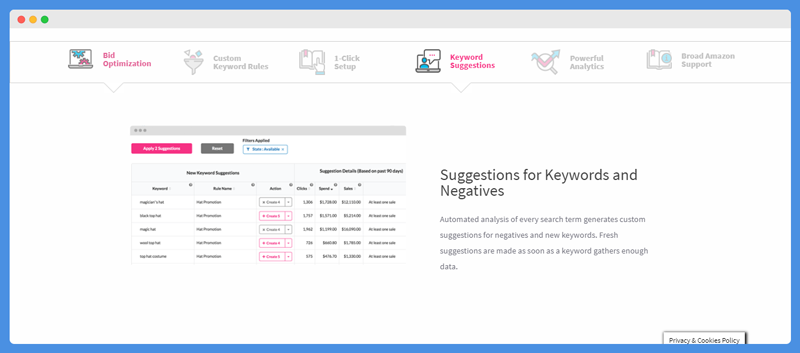 Prestozon automatically analyzes every search term and gives suggestions for both new and negative keywords. They provide updated ideas as soon as they gather new keyword data.
Reports and Analytics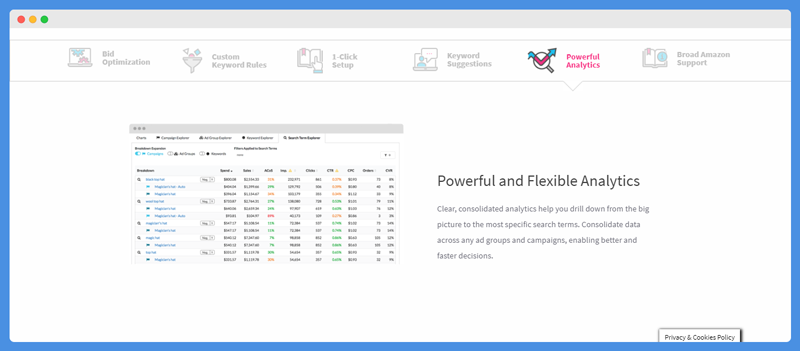 Prestozon provides comprehensive analytics to help merchants analyze their campaigns. From the larger to search term data, you can gain insights to make faster and data-driven decisions.
Amazon Support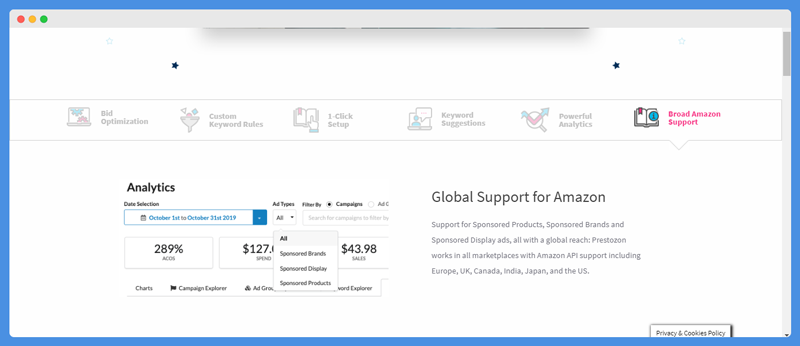 Prestozon offers global support for all their services including
Sponsored products
Sponsored display ads
Sponsored brands
Furthermore, it supports all marketplaces, including Europe, Canada, Japan, India, the UK, and the US.
Also Read: Ways To Find The Best Selling Products On Amazon
Prestozon For Agencies
Prestozon is a perfect solution for advertising agencies and brand managers. It has custom solutions to help companies and agencies manage thousands of clients. Some of the features that agencies will enjoy include
Increased efficiency and opportunities
One hundred percent retention rate
Increase in sales
Custom rules engine
Special pricing for agencies
Data-driven approach and
Powerful Analytics and more
Prestozon Pricing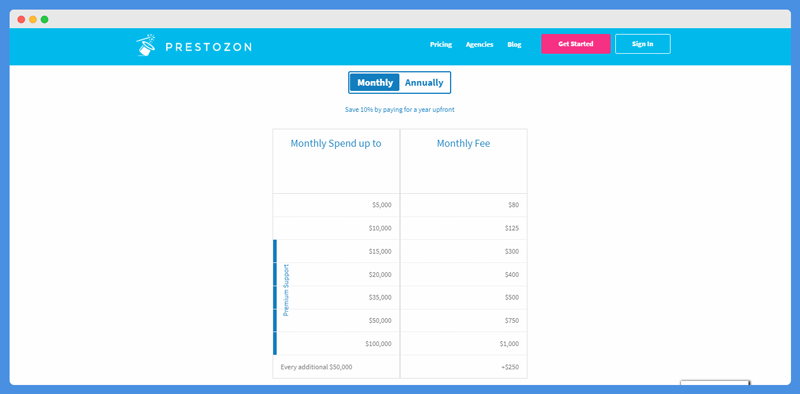 Prestozon offers a forever free trial. This trial gives you access to premium features for one campaign, including automation.
Prestozon pricing depends on your monthly spending. They have three plans in Core, Pro and Enterprise. The Core plan offers fundamental features. Pro is for high-spend accounts. Enterprise offers detailed reporting and other features.
If your monthly spend is below $10k – Core is available at $50. For more, you can subscribe to Pro plan.
Monthly spend of $5000 – $100 every month
$10000 monthly spend – $150 monthly
$15000 monthly spend – $300 every month
$20,000 monthly spend – $400 monthly
$35,000 monthly spend – $500 every month
$50,000 monthly spend – $750 monthly
$100,000 monthly spend – $1,000 every month
For every additional $50000 attracts an extra $250
If you make annual payments, you will have a cost savings of 10 percent.
Enterprise plan starts at $500/month.
Worth Reading: Best Amazon Feedback & Review Management Software
Prestozon Customer Service & Support
Prestozon offers email support, and they have a comprehensive resource base for customers.
However, customers with monthly spending of $15,000 and above will enjoy premium support. They are entitled to
Personalized onboarding
Priority response
Beta access to new product features
Ratings
Ease-of-Use
Prestozon is easy to set up and use. Their automation features ensure you have very little to do to achieve success. So I'll rate this feature 5-stars out of five.
Features
Prestozon is a complete tool for merchants. It also has tools to help marketing agencies serve their clients. Therefore the features earn a 5-star rating out of five.
Customer Service and Support
The customer support options for customers are limited. Only customers with monthly spending of $15,000 and above will enjoy access to premium support. So I'll give a 3-star rating out of five.
Value for Money
Many agencies have reported amazing figures about how Prestozon has improved their business. From an increase in sales, clientele, and efficiency to a reduction in cost. The numbers speak for themselves. I'll give a 5-star rating out of five.
Prestozon Pros
Here is why merchants love this tool
The software is easy to set up and use
Keyword and bid optimization feature helps to improve campaign performance
You can try the software for as long as you want
Supports a wide range of Amazon marketplaces
They have custom solutions for agencies
Extension resource base
Prestozon Cons
Some of the issues you may experience with this tool include
Customer support options are limited for users with spending below $10000
You may experience occasional glitches
Also Read: Best Amazon Keyword Tracking Tools
Conclusion
There you have it. We have reviewed Prestozone and some of the incredible features you will enjoy. Also, we have discussed some of the best practices that will help you achieve positive results.
Prestozon is a crucial advertising software tool for every Amazon seller. Their one-click setup helps you structure your campaign within a few minutes.
Prestozon PPC strategies help you achieve your campaign objectives.
Whether you are launching a new product or selling an existing product, Prestozon will get your products in front of your shoppers.
They provide valuable keyword suggestions that will boost product visibility. With the analytics tool, you can evaluate your campaign performance to make the best decisions.
Even agencies and marketing professionals are not left out. Prestozon has solutions that will help them serve their customers better.
So if you want to start driving up those sales numbers, you should go ahead and sign up. You can even try the software for as long as you want.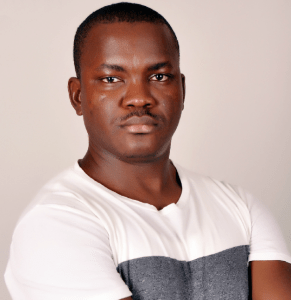 Author: Nicholas Godwin
Nicholas Godwin helps businesses tell profitable brand stories that their audiences love. He's worked on projects for Fortune 500 companies, global tech corporations and top consulting firms, from Bloomberg Beta, Accenture, PwC, and Deloitte to HP, Shell, and AT&T. Works with Mofluid these days.