Amazon offers advertising solutions to help sellers get their products in front of over two billion shoppers.
The goal is to boost product rankings, drive traffic to their products, and increase sales.
To enjoy a high ROI from their PPC campaigns, merchants need to find and use the right keywords on their listings.
Using the right keywords offers immense benefits. They improve your listings rank and quality and allow you to target the right audience.
Keyword Scout is a keyword research tool created by Jungle Scout for Amazon sellers. This tool helps users to find quality keywords that will boost their PPC campaigns.
In this article, we will specifically do a Jungle Scout keyword scout review. Stick with us.
Overview
About Jungle Scout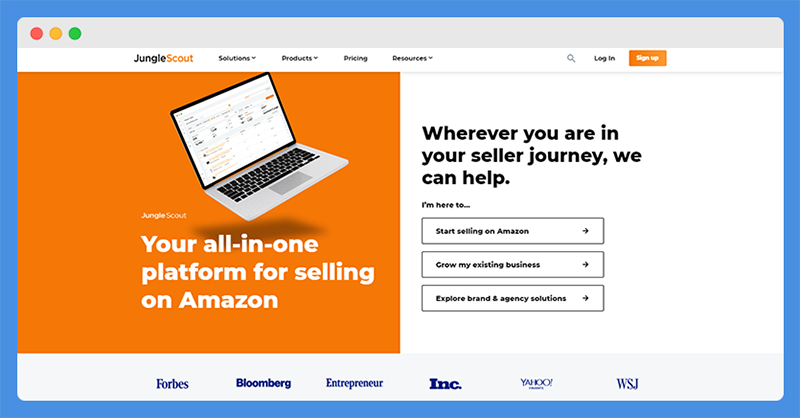 Jungle Scout is a leading Amazon Seller software for merchants and brands.
This software has a complete suite of tools to help sellers launch and grow their Amazon business.
With the Jungle Scout web app, users can
Research products with high-profit potential
Find reliable suppliers all over the world
Implement Amazon product launches to boost sales
Organize and monitor product sales volume, revenue, and profits
Track PPC campaigns and keyword performance
Gain market and competitive intelligence
Track inventory status and restock needs
Jungle Scout has a Chrome extension that populates your Amazon data with a few clicks. From your web browser, you can pull up critical data such as
Revenue, sales rank, and volume
Competitor's product listings and keyword search results
Jungle Scout has comprehensive product data collected from billions of Amazon data points.
Their web app and extension supports a wide range of Amazon marketplaces including
Canada
Mexico
United Kingdom
Germany
Spain
Italy
India
Greg Mercer, an Amazon entrepreneur, founded Jungle Scout in 2015. Jungle Scout has more than 225,000 customers globally.
Related: Complete Jungle Scout Review
Our Pick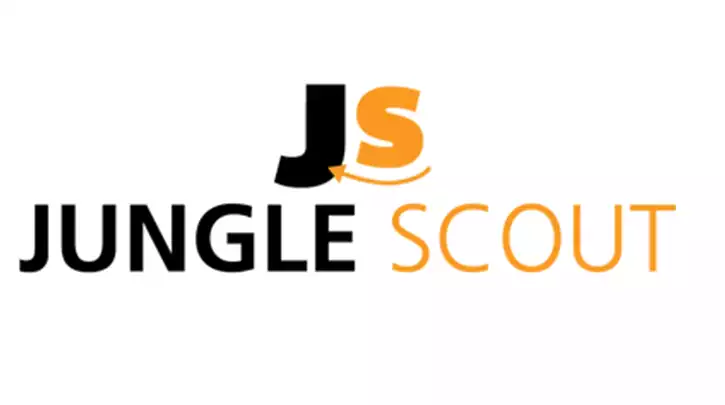 We earn a commission when you click this link and make a purchase.
Who Is It For?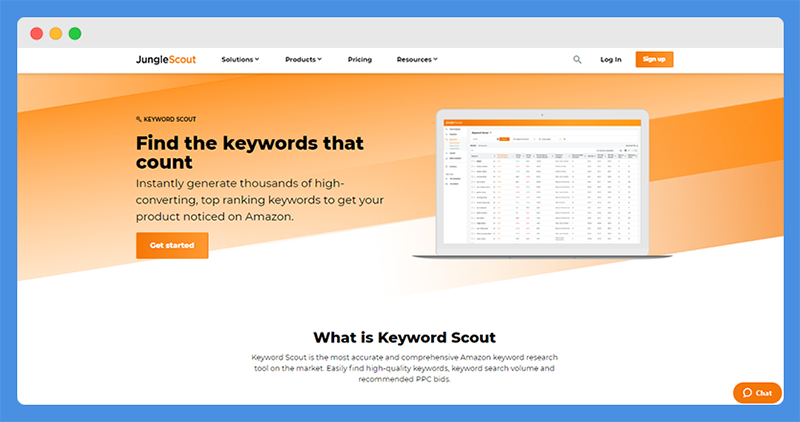 Jungle Scout is a valuable tool for first-time and existing Amazon sellers. Also, they have solutions tailored to suit brands and agencies.
Whether you are looking to find profitable products to start your business or tools that can help you manage your Amazon business, Jungle Scout has got you covered.
Jungle Scout works perfectly for teams. You can add up to six team members to your Jungle Scout account. To ensure your account security, users will have separate login and access to selected features.
Keyword Scout Review
Keyword Scout is a research tool that helps merchants find valuable keywords. Users can discover search terms that customers are using to find related products.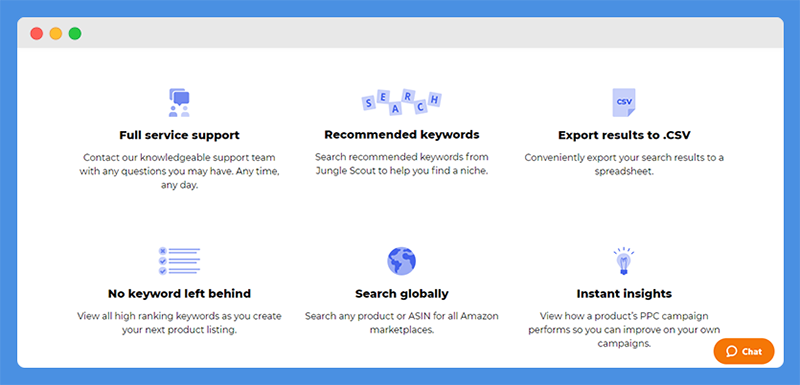 Keyword Scout is available on all Jungle Scout's subscription packages. It is available on the Jungle Scout web app and Chrome extension.
To use Keyword Scout, you need to register a new account or sign in using an existing account. At the left pane of the dashboard, click on "Keywords," and then tap on "Keyword Scout." Next, select your marketplace from the drop-down lists.
You can search for relevant keywords using two key strategies. First, you can use a keyword that's related to your product. The second method is using a Reverse ASIN Lookup. Keyword Scout allows you to input up to ten ASINs for a single search.
Just input an ASIN or keyword in the search area and click "Search."
By default, Keyword Scout displays the search results based on multiple categories including
Appliances
Automotive
Books
Arts, Crafts, and Sewing
Baby
Our Pick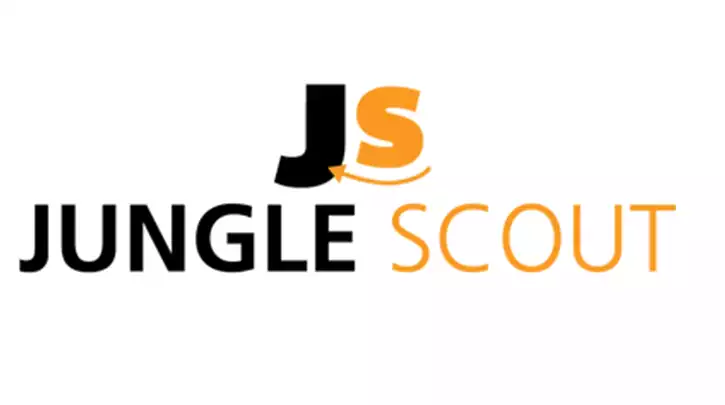 We earn a commission when you click this link and make a purchase.
Users may filter the search results based on categories or word count. Also, they can filter results based on broad or exact search volume.
For search volume and word count, you can input minimum or maximum values and click on "Apply."
And your search results will appear by default in the following order
Keywords
30-day search volume – Exact
30-day trend
90-day trend
30-day search volume – Broad
Dominant category
Recommended promotions
Interesting Comparison: Jungle Scout Vs Helium 10
Keyword Ideas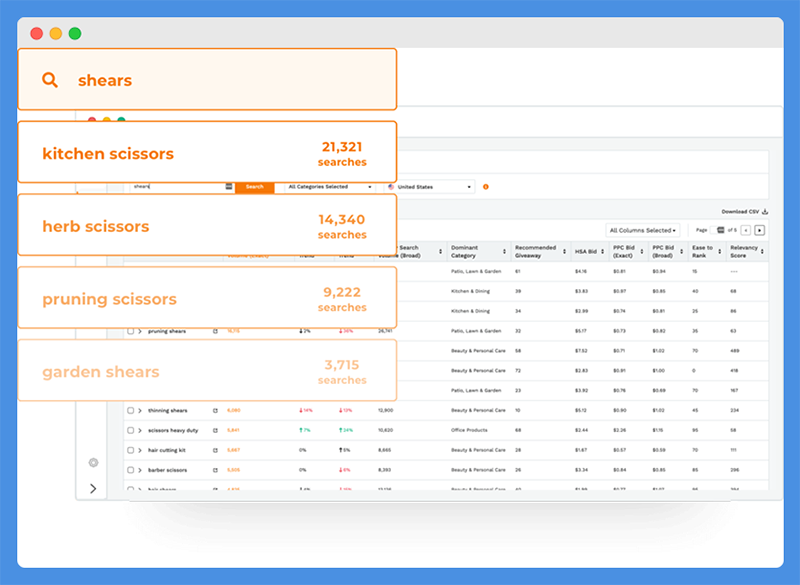 Sourcing and using quality keywords are vital components of good Amazon SEO or PPC strategy. But when done manually, Keyword research can be time-consuming. It's more of trial and error, where you try some keywords and wait for some days to see results.
With Keyword Scout, merchants can quickly discover quality keywords backed by data. Keyword Scout relies on millions of data points from multiple Amazon marketplaces. The keyword data reveals what your customers are searching for and the search terms they are using to find those products.
Users can identify search volumes for exact or broad keyword match types. They can
Discover competing products in their niche
Search by ASIN to uncover the keywords that a product is ranking for
Monitor their PPC costs and impressions in real-time
With insightful data from Keyword Scout, you find and use keywords that will
Boost your SEO and PPC campaigns
Drive shoppers to your product listings
Ramp up sales and grow your Amazon business
Keyword Performance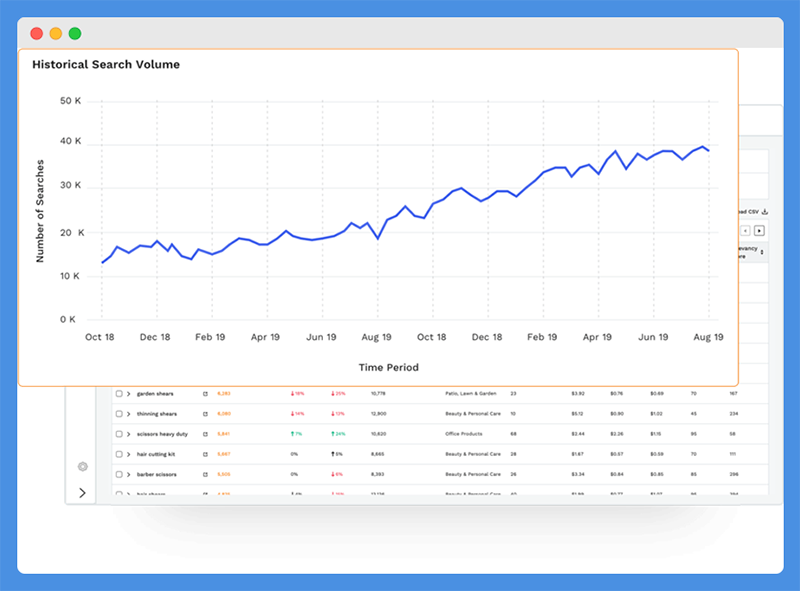 Measuring keyword performance will help you identify the keywords that are driving the most traffic and impacting sales.
Keyword Scout helps you analyze how well your keywords have performed over two years. It generates data on historical keyword search volumes (broad and exact) and trend data.
The 30-day keyword search volume (exact) highlights the number of times that shoppers have searched for that keyword in the Amazon catalog in the last 30 days. The search volume data excludes misspellings or plurals for that keyword.
Similarly, the 30-day search volume (broad) shows the number of times that customers have searched for that keyword on Amazon in the past 30 days. The search volume data includes phrases, plurals, and synonyms for that keyword.
Also, Keyword Scout shows the monthly (30 days) and quarterly (90 days) keywords performance trend data.
Our Pick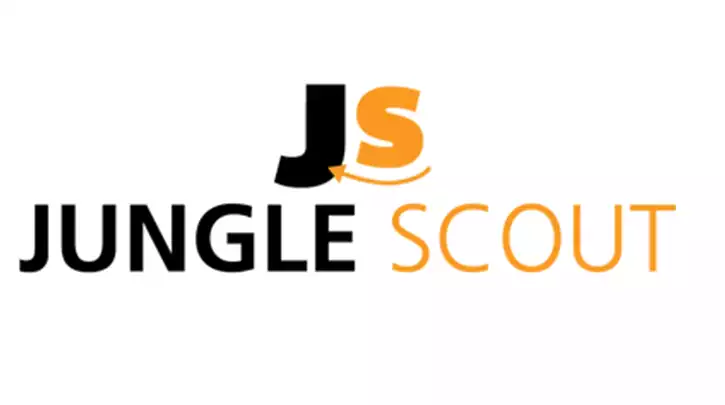 We earn a commission when you click this link and make a purchase.
With the keyword performance data, you can
Gain insight into seasonal trends for any product
See product popularity over time
Monitor and modify your SEO and PPC campaigns
Optimize your product and listings
Worth Reading: Jungle Scout Vs AMZ Tracker
Competitive Intelligence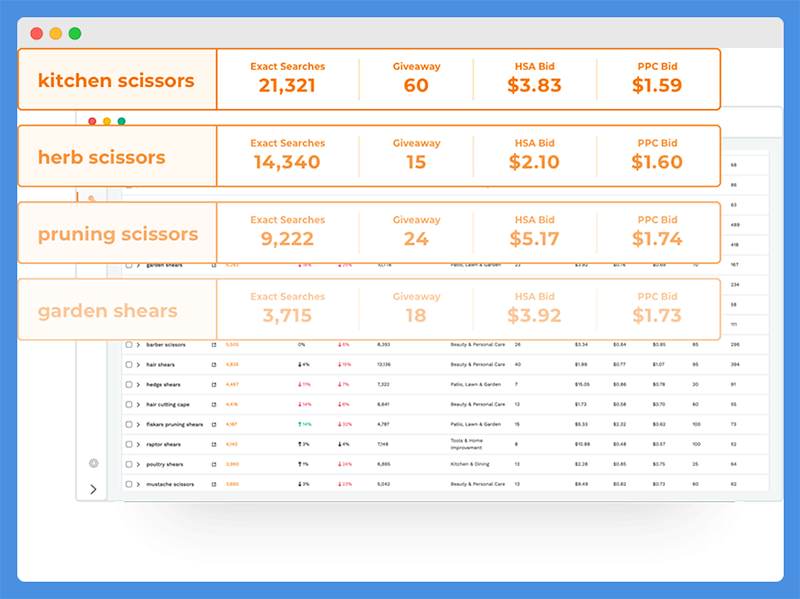 Keyword Scout helps merchants gather competitive intelligence and metrics about their listings.
They can use Keyword Scout to unravel keyword data such as
Search volume trends
Ad ranks
Relevancy scores
PPC bids and costs
A relevancy score is a number ranging from zero to 1000. This score helps users identify the most relevant keywords for that product. Relevancy score rates how relevant and closely related the searched keyword(s) are to your seed keywords.
With the keyword metrics, users can analyze their competitive position. They can leverage insights from these metrics to refine their strategies and gain a competitive advantage.
Amazon PPC Campaign Data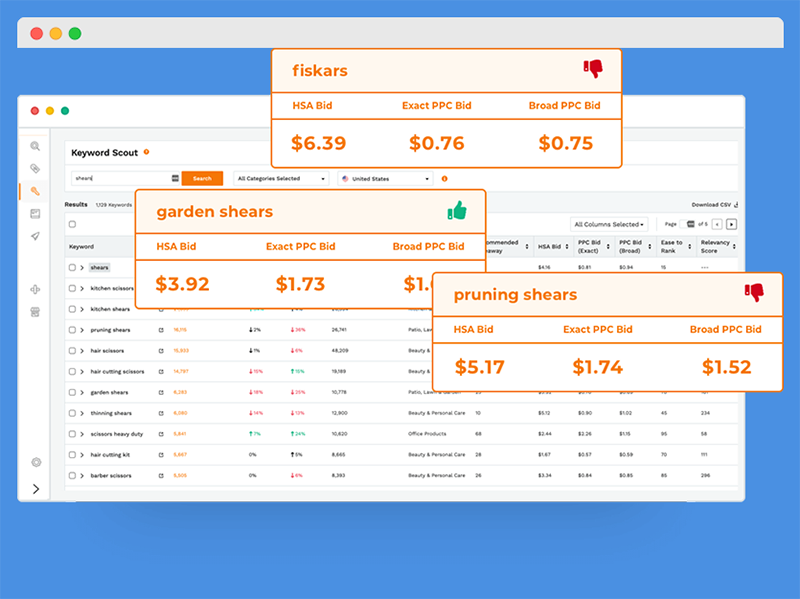 Amazon PPC campaigns allow sellers to create product advertisements and the seller pays every time a shopper clicks on their product ad.
To enjoy the benefits of Amazon PPC campaigns, you need to have a well-defined strategy. Keyword Scout provides the data you need to plan your budget and implement a successful PPC campaign.
Also Read: Best Product Research & Research Tools
Headline Ad and Keyword Data
With Keyword Scout, Amazon sellers can access cost per click (CPC) data or bid for
Broad and exact keywords generated by Keyword Scout
Headlines ads
The headlines search ads bid (HSA) reveals the average bid that existing sellers are placing to ensure their sponsored product ads appear at the top of Amazon searches for the related keyword.
Our Pick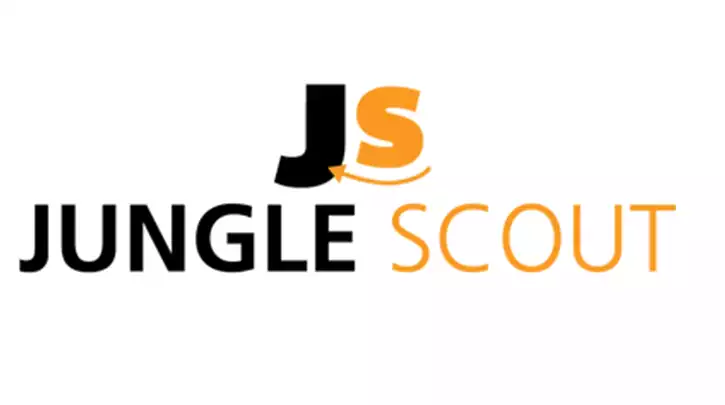 We earn a commission when you click this link and make a purchase.
Headline Search Ads usually appear at the top of the shopper's search results page, whether the keyword search query is from a computer or a mobile device. The higher the merchant's bid, the more likely his ads and listings will show up for the search query.
Another critical data is the PPC bid for exact keywords. It shows the average bid that sellers are using to make their sponsored ads appear at the top of Amazon searches with exact keyword match type.
Similarly, the PPC Bid for broad keywords shows the average bid that current sellers are using to make their sponsored ads show at the top of Amazon searches for closely related keywords.
PPC Cost Estimation
Keyword Scout allows merchants to estimate Amazon PPC costs before starting their campaigns.
For example, merchants can calculate their Advertising Cost of Sales (ACoS). ACoS is a vital PPC ad metric that helps merchants decide how to bid on Keywords. It shows the percentage of sales revenue that merchants spend on advertising.
Amazon conversion rates help users to calculate ACoS. Conversion rates are the percentage of shoppers who view product listings and go ahead to buy the product. The number typically stands between ten percent to 15 percent for products that are below $40.
So, to calculate your ACoS for your Amazon product, you can
Multiply the PPC or HSA bid for the suggested keywords by 6.67 (for a conversion rate of 15 percent) and ten ( for a conversion rate of ten percent)
Then divide the result by your product's target sales price.
For example, let's look at the keyword "female shoes" with a suggested PPC bid amount of $0.85.
At a ten percent conversion rate, we will have $8.5. If your target product sales price is $25.95, your ACoS will be about 32.7 percent.
At a 15 percent conversion rate, your ACoS will be 21.8 percent.
This data helps sellers to monitor ad cost and avoid overspending on keywords.
Listing Builder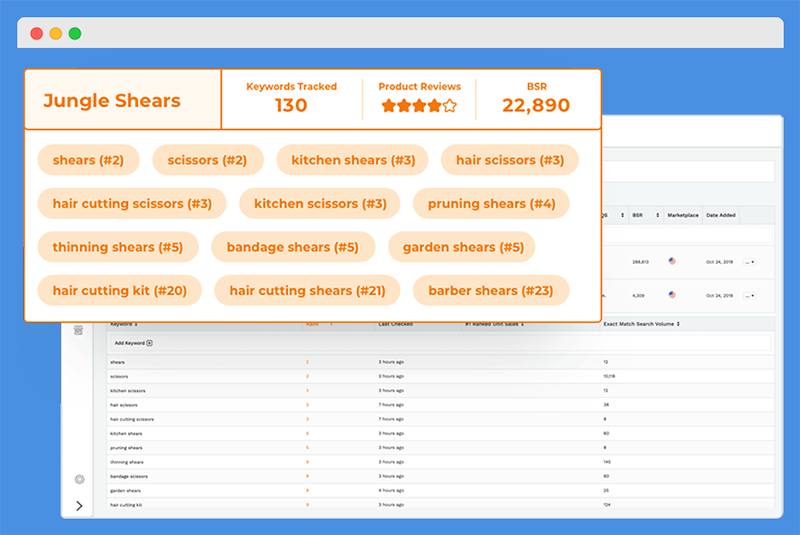 High-quality listings can drive traffic to your product and boost rankings.
The listing builder allows merchants to use relevant keywords to build and improve their product listings. With Keyword Scout, you can find the high-quality keywords you need to create quality listings.
Keyword Scout allows you to save your desired keywords, and organize them into lists. You can add keywords to a newly created list or an existing list. Furthermore, you can export your keywords in CSV format for future use or references.
Also Read: Best Amazon Keyword Tracking Tools
Product Rank Tracking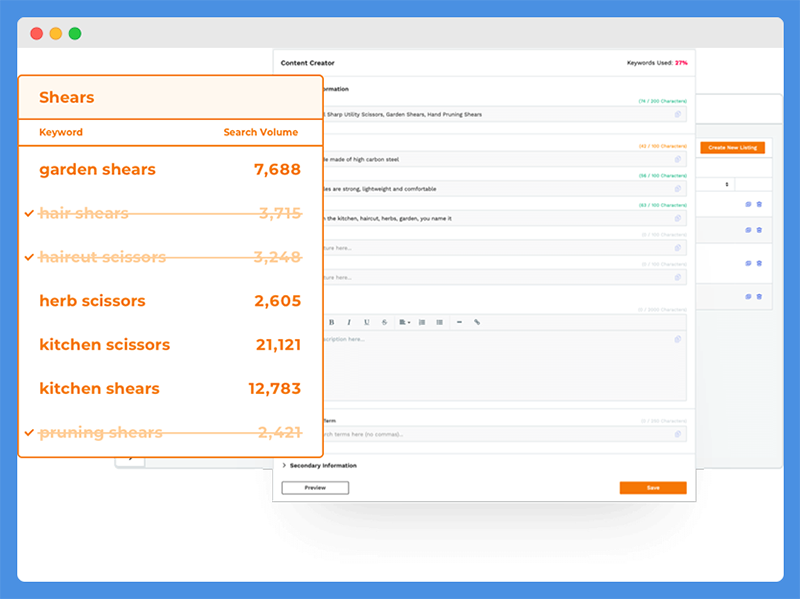 Keyword Scout helps sellers monitor their listings and product performance.
They can access data on how their listings have performed in rankings over a specific period.
Our Pick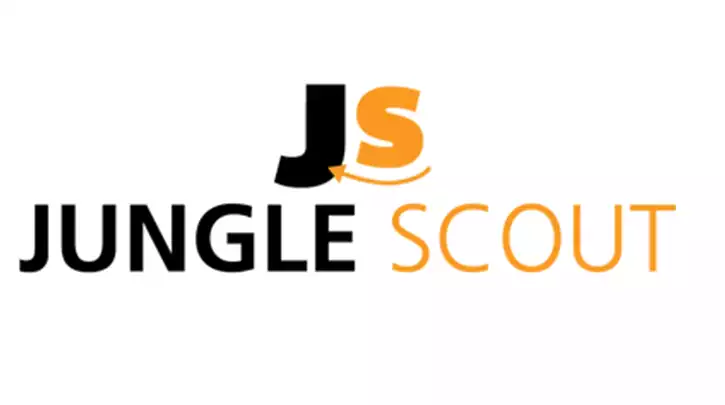 We earn a commission when you click this link and make a purchase.
By assigning keywords to an ASIN, they can monitor organic rankings for that ASIN. Also, they can see past product research data from keywords lists.
Keyword Scout lets merchants monitor their keyword ranking history. With this data, they can
Assess the overall effectiveness of their PPC campaigns
View how changes to components of their listings have impacted their campaigns
Keyword Scout also helps you identify how many customers are searching for products that are similar to yours. Also, you can determine the search volume for keywords that are closely related to your Amazon product.
With this information, you can estimate the sales performance for products in your niche and other profitable niches.
Product launches help merchants achieve high ranking. Keyword Scout has a feature that allows merchants to rank high without giving away too many discounts or products.
The recommended giveaway is an estimate of the number of products that merchants should offer for promotions.
Global Keyword Search Data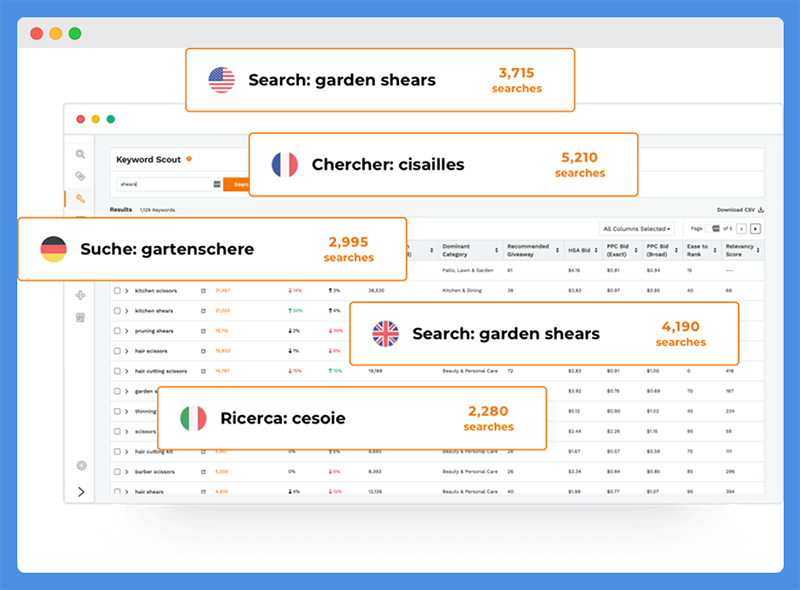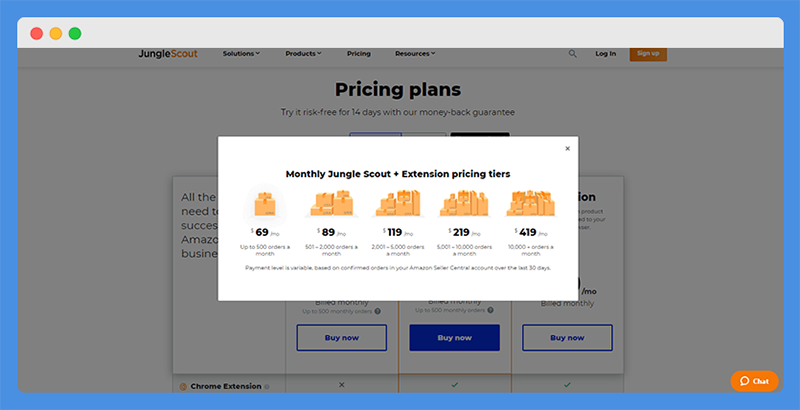 Keyword Scout has extensive data from shoppers all over the world. This data consists of product and keyword searches in different languages and localized terms.
Customers can gather information from various marketplaces and accurately target viable ones. Keyword Scout supports the US and EU marketplaces as well as Canada and Mexico.
Also Read: Best Amazon Keyword Research Tools
Customer Service & Support
Jungle Scout offers 24-hour live chat and email support. Customers can get instant responses to their queries. They can also fill out the contact form to create tickets.
Merchants can learn more about Jungle Scout and its features by visiting their Help Center. Jungle Scout has a comprehensive resource base including
Articles
On-boarding videos
Webinars
News features and more
You can access support resources for the Jungle Scout web app, the chrome extension, or general issues.
Users can access the help center in six different languages. The language options include English, Italian, Deutsch, Chinese, Spanish, and French.
However, Jungle Scout does not offer phone support.
Jungle Scout Pricing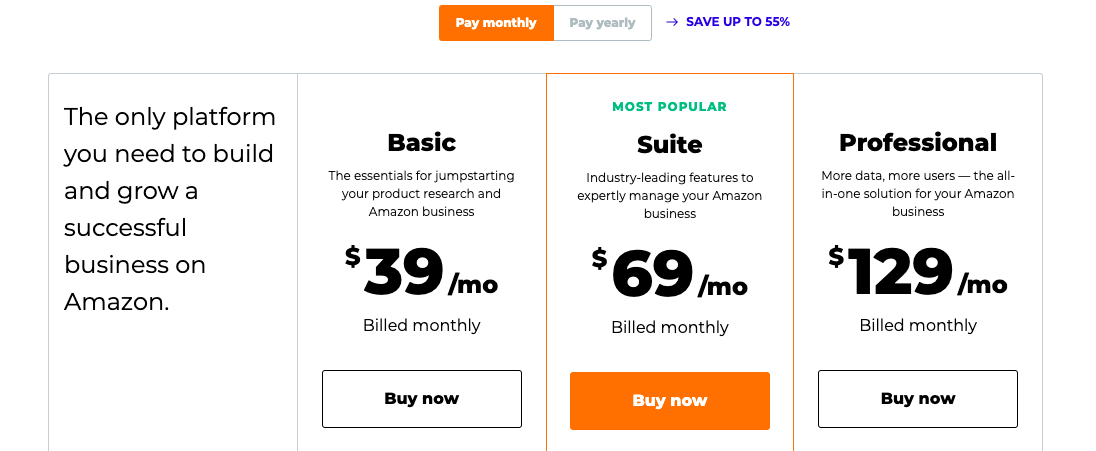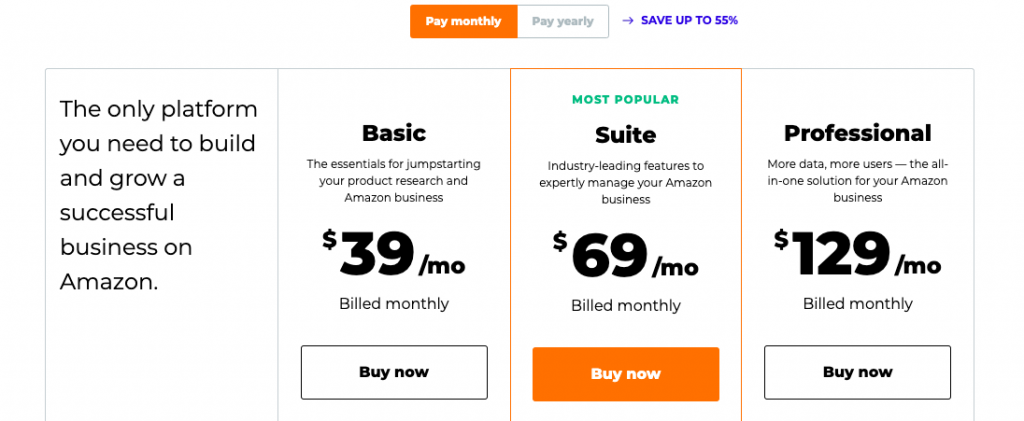 Keyword Scout is available on all Jungle Scout's subscription packages. Jungle Scout does not allow users to try the software for free. However, they offer a 14-day risk-free and money-back guarantee. If the software does not meet your needs, you will get a refund.
Earlier, Jungle Scout had different payment levels for each price tier but it has now been revised and made simpler. High volume sellers don't have to shell out more.
Jungle Scout Chrome extension is now a feature by default in all the plans. There are three plans:
Basic – $39 a month
Suite – $69 a month
Professional – $129 a month
You can also opt to pay annually which can save you upto 55 percent.
Our Pick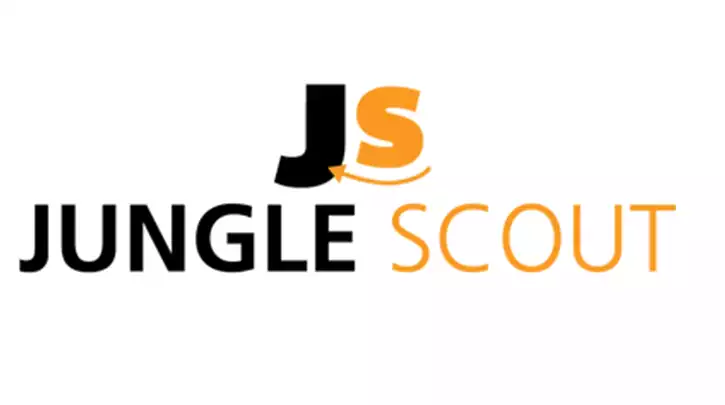 We earn a commission when you click this link and make a purchase.
Rating
So let's see how Jungle Scout fares on the following parameters.
Ease-of-Use
Whether you are a first-time seller or an existing seller, Jungle Scout is easy to set up and use. With the click of a button, you can find high-quality keywords and data. And their resource base has lots of articles to help you get started. So I'll rate this feature a 5-star out of five.
Features
Jungle Scout is a feature-rich tool for Amazon sellers. Sellers can find profitable products and reliable suppliers, track their products, monitor sales, and more. Therefore the feature earns 5-stars out of five.
Customer Service and Support
Jungle Scout provides 24-hour live chat and email support for customers. However, they do not offer phone support. So I'll give this feature a 5-star rating out of five.
Value for Money
Jungle Scout has enjoyed positive reviews from multiple Amazon sellers.
It provides reliable keywords and product research data. Also, Jungle Scout helps sellers stay ahead of the competition. So I'll give this feature a 5-star rating out of five.
Interesting Read: Ways To Find Amazon Product Niches With Low Competition
Pros & Cons
Pros
Keyword Scout is easy to use
Product and keyword research data is accurate
Users can access reliable keyword data from multiple marketplaces
Jungle Scout offers live chat support
Customer support is responsive and very helpful
They have a comprehensive knowledge base that caters to new and growing Amazon businesses
Help center has six language options
Jungle Scout has a wide range of tools that work together to help you build your business
Cons
They do not offer phone support
No free trial
When compared to other tools, pricing is on the high side
Final Words
There you have it. We have reviewed the Jungle Scout's Keyword Scout and the features that accompany this tool.
Keyword Scout helps merchants source for high-quality keywords with ease. The tool provides data on search volumes for high conversion keywords. Also, it gives you an insight into bid amounts for headlines ads and selected keywords.
Keyword Scout does not limit you to keywords from a few marketplaces. It supports the Amazon markets in the US, Mexico, Canada, and all of Europe.
With extensive data from Keyword Scout, merchants can build quality product listings, implement effective SEO and PPC campaigns, drive traffic to their listings, and boost product rankings and sales.
Keyword Scout combines well with other Jungle Scout tools to help Amazon businesses thrive.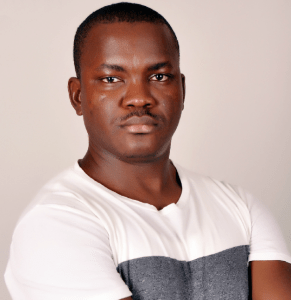 Author: Nicholas Godwin
Nicholas Godwin helps businesses tell profitable brand stories that their audiences love. He's worked on projects for Fortune 500 companies, global tech corporations and top consulting firms, from Bloomberg Beta, Accenture, PwC, and Deloitte to HP, Shell, and AT&T. Works with Mofluid these days.