If you run an Amazon business, you probably know how challenging it is to find the right keywords that can help you convert more customers.
Thankfully though, there are tools that can help you do this without struggling to figure it out on your own while turning a profit.
However, there are so many such tools on the market today that it can be daunting to find the right one for your business.
Similarly, you'd have to test run the tools that are suitable for your business' needs for at least two weeks before getting any meaningful data.
Among the many tools you can use for your keyword tracking are Sellics and AMZ Tracker. We pit the two against each other so you don't have to spend time trying to find out which one is best for your Amazon business.
In this AMZ Tracker vs Sellics review, we'll look at what each of them does, the powerful features they have to offer, their pros and cons, and we'll conclude with a winner.
Let's dive in.

Sellics vs AMZ Tracker: What Are They?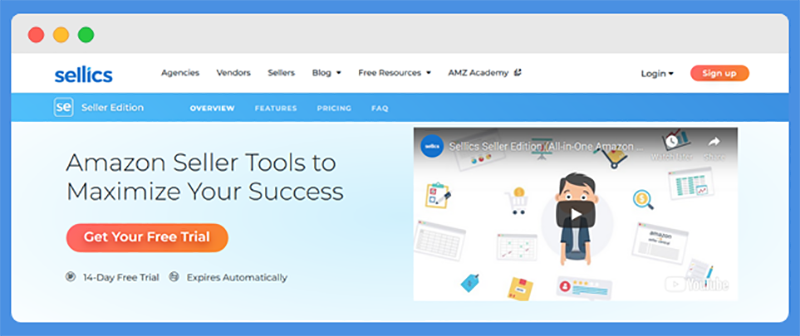 This is the brainchild of an analytics company in Germany that developed and designed it as a simple keyword ranking tracker.
Since 2014, the company has added several features so that Amazon sellers can find everything they need in one neat package.
It packs three to five different analytics tools in its package, and two separate platforms: Vendor Edition and Sellics Seller Edition (exclusive to Amazon Sellers who have Seller Central accounts) for Amazon vendors and sellers respectively.
An Agency Edition is also available uniquely designed for full-service and Amazon specialized agencies with all the features and tools for growing your clients' brand, increasing their sales, and optimizing their digital footprint.
Related: Jungle Scout vs Sellics

This is a suite of tools that Amazon sellers can use to grow search rankings and scale their profits.
Initially, the tool came with many features that are now common with other such tools, as it was the go-to tool that every Amazon FBA seller used for business success.
In 2016 though, all that changed when Amazon raised the bar for product ranking by changing their Terms of Service.
Amazon also banned incentivized reviews and their Review Club, which AMZ Tracker offered previously, took over.
It was a place where many sellers worldwide sold their wares at discounts in exchange for quality reviews.
However, AMZ Tracker is still in operation, though not the go-to or golden standard tool for FBA sellers it was back then.
Also Read: Complete AMZ Tracker Review
Features
Sellics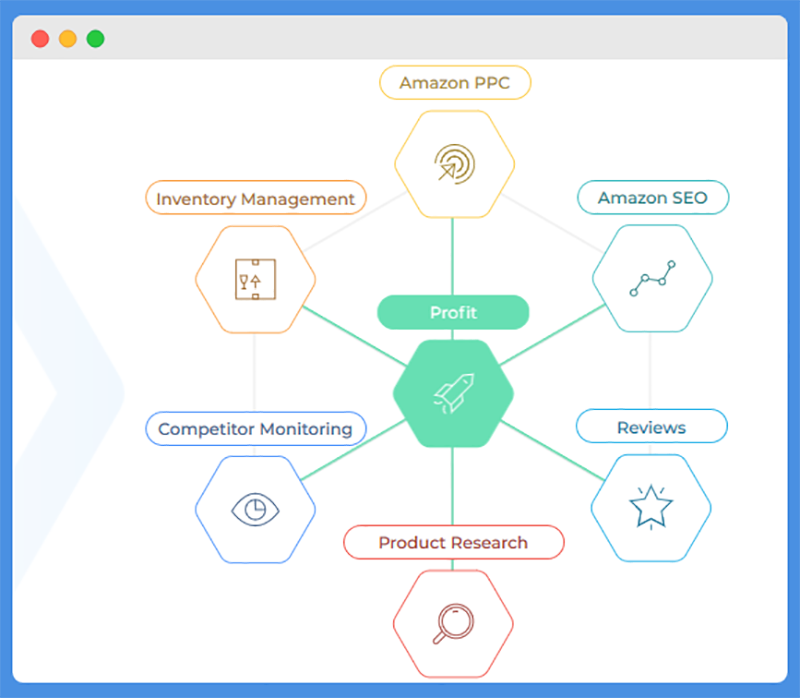 Let's explore Sellics features.
Keyword rankings
This feature helps you research new keywords out of a staggering 180 million Amazon keywords, and all their possible combinations.
You can see the keywords that are most relevant to your products using the search volume indicator, and see how your rankings have developed with time.
It's also useful for discovering your competitor's keywords, specifically the ones they rank for.
Amazon Ranking Optimizer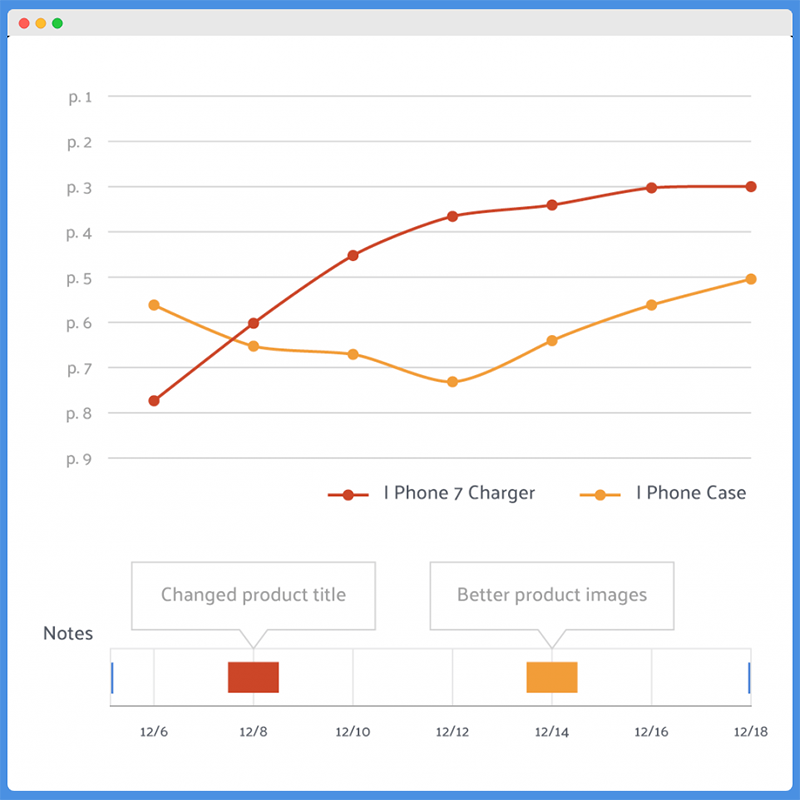 If you want to boost your keyword rankings, this feature gets your products ranked higher on Amazon.
It also lets you research high volume keywords, track keyword rankings, optimize listings, and much more.
Product detector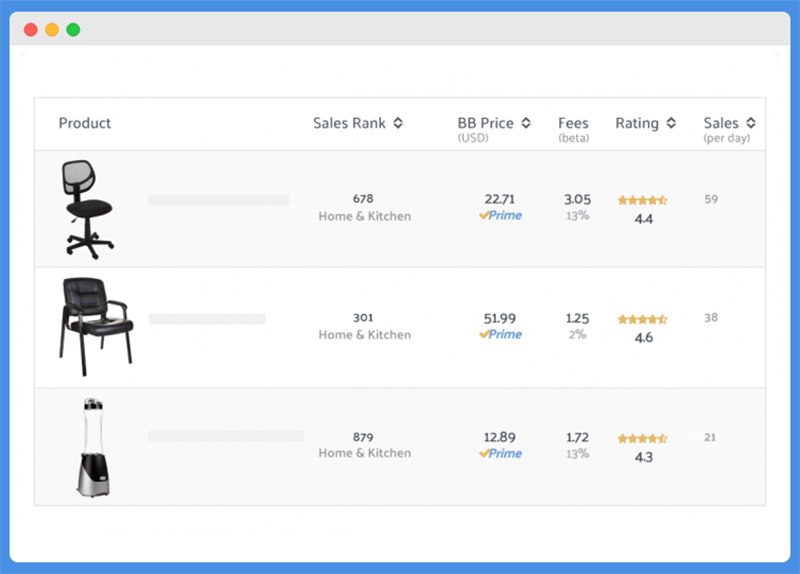 If you don't know how to come up with new product ideas, Sellics' Product Detector provides in-depth views of different products that are selling on the Amazon platform so you can find the most profitable niches.
The company claims that its product database has the top 10,000 Amazon bestsellers, which it filters by categories such as sales rank, weight, estimated sales, and the number of reviews.
Interesting Comparison: AMZ Tracker vs Jungle Scout
Niche analyzer
This feature allows you to analyze your desired niche's sales volume and competitiveness.
It also displays a tally of the number of sales generated in a specific niche and the difficulty of attaining top ranking with the best and most important keyword(s).
Competition Monitoring (Spy tool)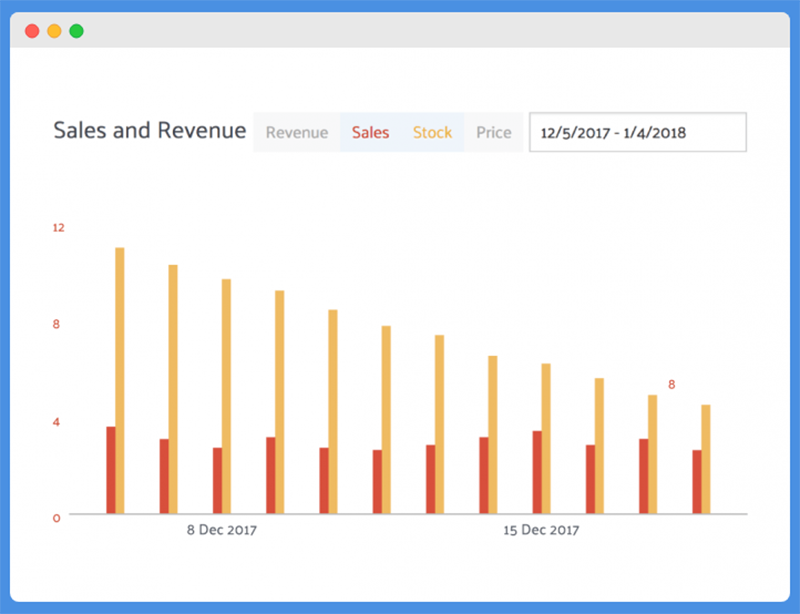 With this tool, you can monitor the pricing of the competition and discover the best and top sellers. It also shows you the sales volume of different products so you can track them and invest in items that'll sell the best.
It also lists hijacker alerts with notifications sent to you when malicious sellers try to steal your potential revenue by attaching to your products.
Review & Inventory management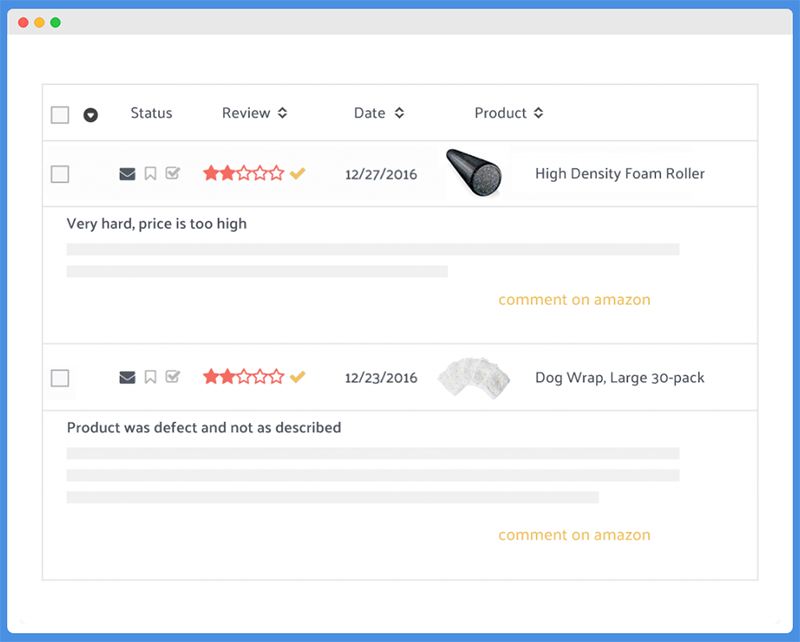 The review management feature alerts you when you get a new product review so you can keep abreast of feedback that can make or break your sales.
With one click, you can also comment on negative reviews from your Sellics dashboard.
Inventory management, on the other hand, calculates a reorder date for products based on sales velocity, stock levels, and lead time, making it a painless process when you have a diverse product portfolio.
Related: Ways To Find Best Selling Products On Amazon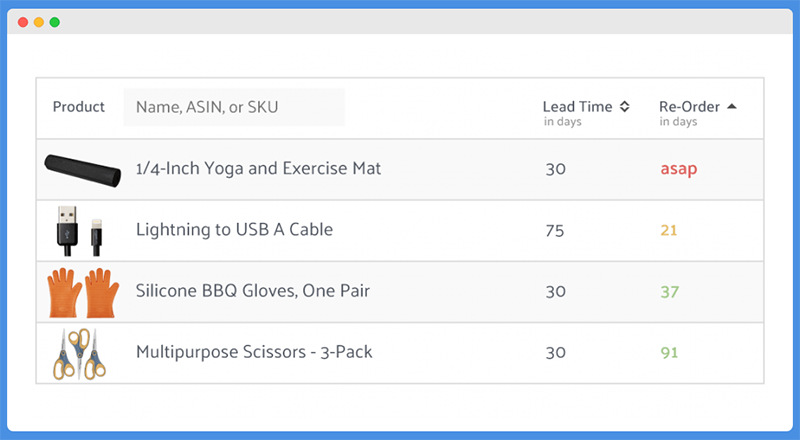 Profit Dashboard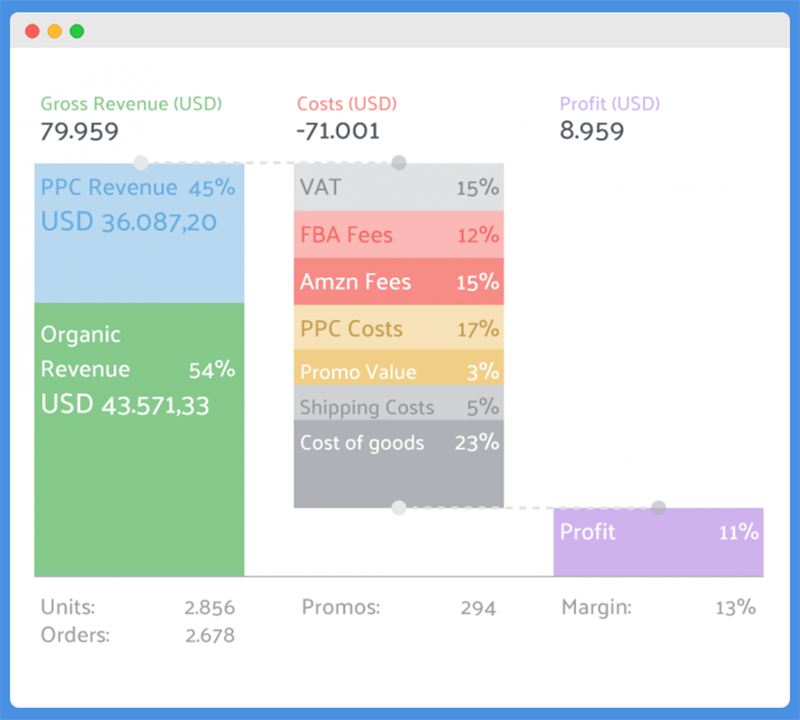 This feature shows you what your profit margins will look like after all costs like PPC costs, FBA/Shipping/Amazon fees, and others are deducted.
It updates every five minutes but you can input costs manually to see product profitability numbers and see where you lose money the most.
Cockpit
With this tool, you can see how your business is fairing on. It has performance, reviews, sales and profits, keyword ranking, and PPC performance widgets among others.
Plus, there's a full list of your products with current sales rankings, sales, and revenue shares.
PPC Manager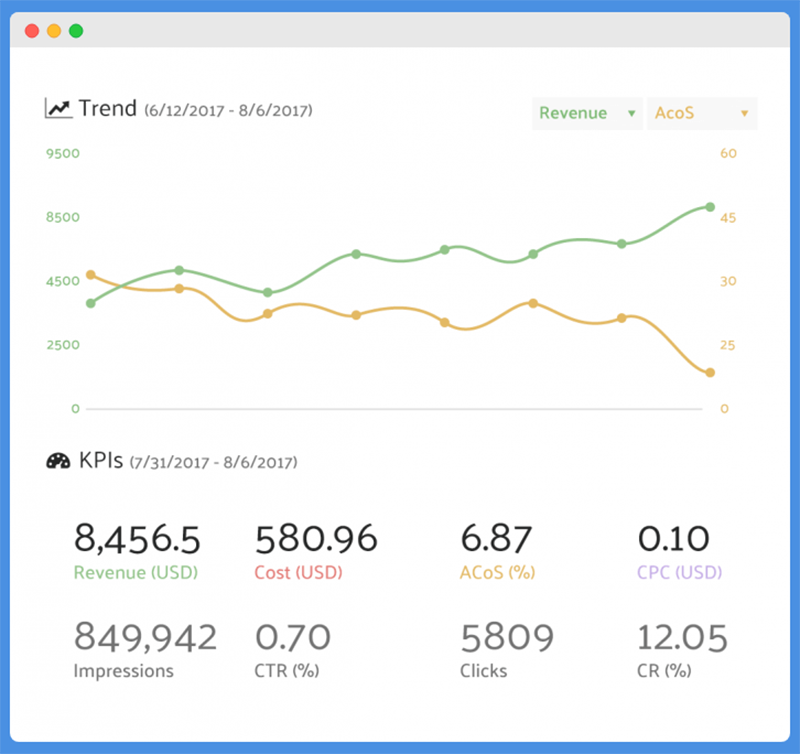 This tool is useful for tracking, analyzing, and optimizing your PPC ad performance, with ad metrics sorted by cost, revenue, impressions, CTR, and CPC.
This way, you don't have to rely on your Seller Central account reports on Amazon to tell whether or not your campaigns are performing well.
Its optimizer also helps you figure out the non-converting keywords and offers suggestions based on the impression potential and ACoS of each keyword.
It can be integrated with Amazon's Product Advertising API to create custom rule sets for changing keyword bids automatically based on performance and automating ad campaigns.
Also Read: Best Amazon Product Finder & Research Tools
Sellics Certified
Sellics lets you as a seller or Agency join it's Academy Certification Program so as to become a Sellics and Amazon expert altogether.
Within this program are dedicated courses that are self-paced and interactive so you can learn Amazon Content, SEO and PPC basics, plus proven best practices and unique strategies.
AMZ Tracker
Keyword rank tracker

With this tool, you can track your business' best-seller ranking along with Amazon rankings for various keywords.
You can see how your products rank for different keywords, plus get insights on whether the changes or tweaks you make improve your ranking or not.
It also spies on the competition's rankings to see what they do to improve their own rankings.
Track competitor sales figures
You can see an accurate estimate of your competitor's sales figures (daily and monthly) for their products.
It checks the product inventory levels every day, determines how much stock is sold and what is left in the inventory.
You can get an overview of the number of units the competitor sells instead of broad estimates. However, the tool takes a few days to gather the data you want before sharing it in a useful report.
Unicorn Smasher (product research)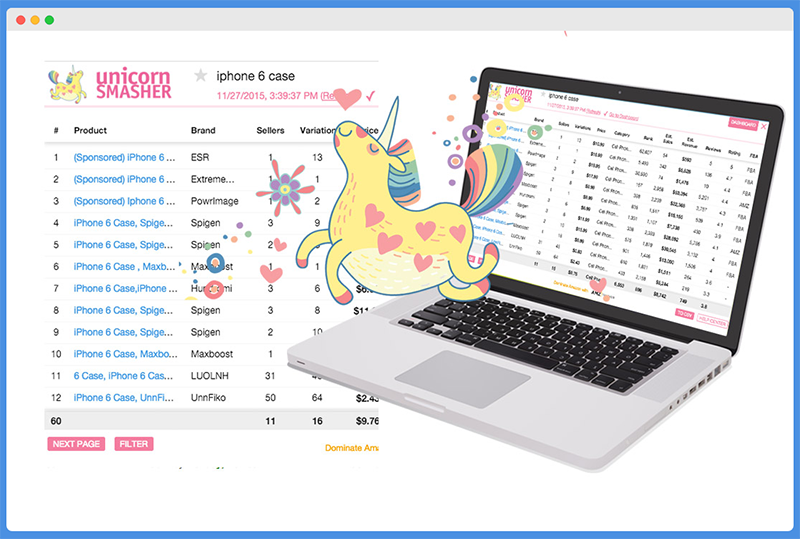 This is a Chrome extension that carries out product research by identifying profitable markets that have very little competition.
Listing optimization
This feature is essential if you want to be ranked on Amazon's first search results page, especially in categories that are competitive.
You can steadily grow your ranking with time and increase conversion rates using this tool.
It checks for targeted keywords when you enter a product into the tool, and shows you if it's optimized for the keywords or not, whether the target keyword is in the title, and much more.
It also helps you check for potential flaws in your competitors' listings.
Super URL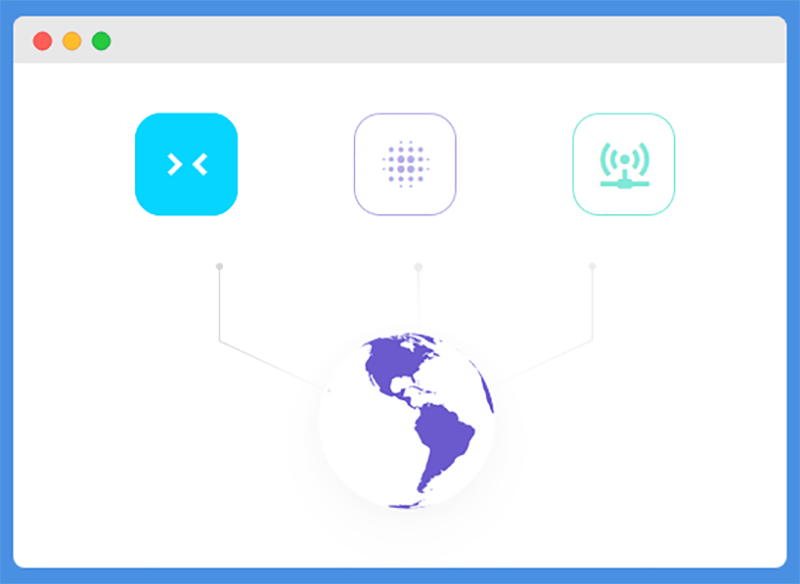 This feature manipulates Amazon's algorithm to help improve the ranking of your products on Amazon search results.
It does this by creating custom URLs for your product listings, which you can apply and send direct traffic to, and Amazon sees it as a user searching for a keyword to arrive at your listing.
If someone buys your product after using a specific keyword to search for it on Amazon, the platform gives more priority or weight to the search and you'll see your product's ranking increase for that keyword.
You can also wield more control over the keywords you can target as long as the direct traffic sent through the Super URL brought sales.
Back when AMZ Tracker was first launched, the Super URL was a valuable tool, but today, it's highly risky and not as effective as it was then.
It may not be expressly stated among Amazon's prohibited activities under its Terms of Service, but it'd definitely be classified under their statement: Any attempt to manipulate the Search and Browse experience is prohibited, so use it at your own risk.
Worth Exploring: Best Amazon Listing Software For Sellers
Listing Hijack Alerts
When someone buys your product at a discount and is trying to resell it on your own listing, the act is referred to as listing hijacking.
They could also be selling counterfeit versions of the items on your listing possibly in a bid to take over the Buy Box, which when gone, denies you sales as customers will see similar items from the malicious seller's list as they add yours to their carts.
The faster you can respond to hijacked listings and get your Buy Box back, the less you'll lose in terms of revenues. This is why the Alerts are important for the whole process.
Email notification
This tool delivers comprehensive reports on your store on a weekly basis, and you can use it on a client's listings (for agencies).
Vipon (product promotion)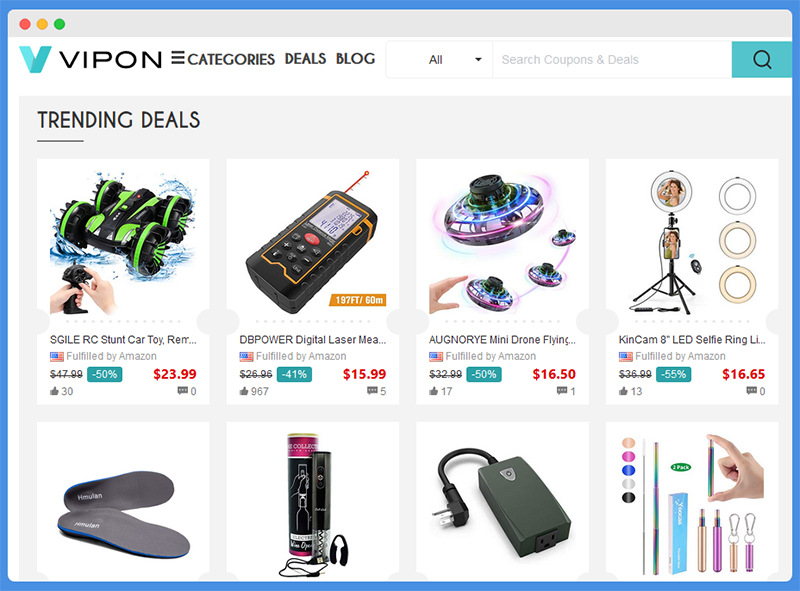 This feature comes with AMZ Tracker membership so you can access the deals community.
It succeeded the Review Club, but it's a bit different as it abides with Amazon's platform rules. It's also like Jungle Scout's JumpSend Marketplace, which lets you offer coupons to buyers who need deals.
Vipon used to be a great way of getting many buyers and boosting your sales, but it's not that effective as it used to be, especially in the U.S. and UK markets.
Negative review notifications
This tool sends you alerts when you get a less than five-star rating so you can resolve customer issues quickly.
Customer Service
Sellics

Sellics has a customer support team that you can reach via live chat on the main page of their website, or by sending an email.
The duration you'll wait before getting a response will depend on your time zone though. There's also a knowledge base, FAQ section, blog, and webinars for more information.
AMZ Tracker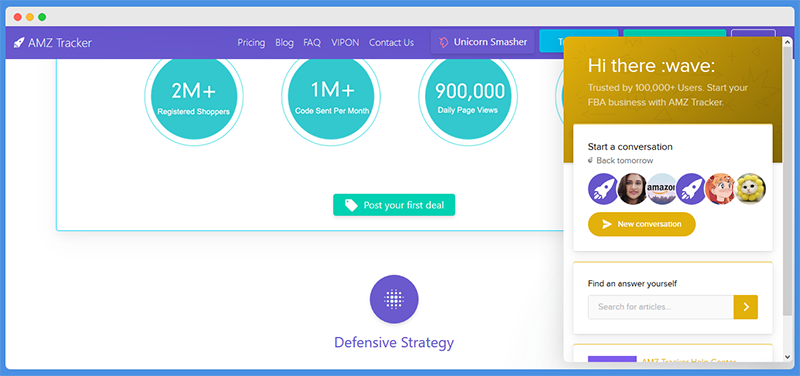 Unlike Sellics, the customer support at AMZ Tracker gives template answers instead of specific responses, which may not be helpful when you have specific issues. A live chat is available on the main page, plus an FAQ section, blog, and Help Desk.
Interesting Read: Ways To Find Amazon Product Niches With Low Competition
Pricing
Sellics and AMZ Tracker have different pricing plans. The former charges based on the number of keywords and products you expect to track monthly, while Sellics bases its pricing on monthly sales volume.
AMZ Tracker may seem more affordable, especially for newbies, but it limits you on the frequency of using its product and keyword tracker and voucher sends.
Sellics has an entry-level tier too, but its volume-based pricing seems somewhat confusing for newbies, though there aren't any limits to the frequency of using its features.
Its most expensive tier is also a lot cheaper than the Legend plan by AMZ Tracker.
While AMZ Tracker may be better for beginners without an Amazon Seller Central Account who just want to track keyword rankings, you're better off with Sellics if you are an Amazon seller with already launched products. It's also easier to use.
Useful Post: Best Amazon Tools For FBA Sellers
Sellics
Sellics has a subscription plan based on sales volume with unlimited access to its features, with a 14-day free trial. The breakdown is as shown in the image below: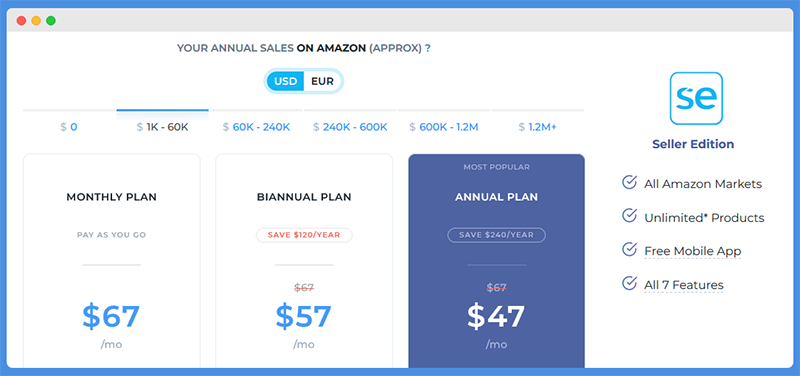 AMZ Tracker
AMZ Tracker's pricing plan is also subscription-based and has a 7-day free trial.
However, it offers different packages: Basic, Professional, God Mode, and Legend, each with a fixed number of tracked keywords and products, plus promo voucher sends as shown below: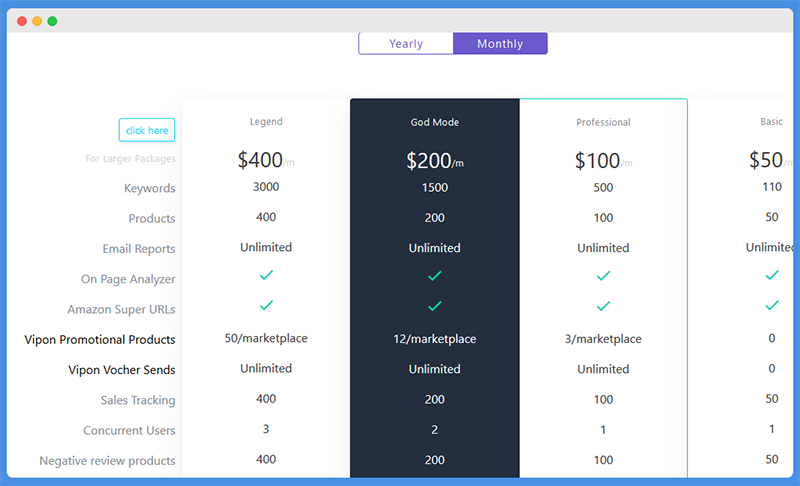 Similarities & Differences
| | | |
| --- | --- | --- |
| | Sellics | AMZ Tracker |
| Keyword tracking | √ | √ |
| Listing Optimizer | √ | √ |
| Sales Rank Tracking | √ | √ |
| Amazon Hijack Alerts | √ | √ |
| Keyword Research | √ | √ |
| Niche Research | √ | √ |
| Super URL generator | x | √ |
| Product Promotion Marketplace | √ | x |
| PPC Manager | √ | x |
| Inventory Manager | √ | x |
| Free Trial | √ | √ |
Pros & Cons
Sellics
Pros
Variable pricing based on monthly sales volume
Extensive knowledge base available
Displays sessions and conversion rates for products
Supports 8 different Amazon marketplaces
Cons
Needs a Seller Central account to use (even with a free trial)
Adds third-party promos to your profits
Limited historical data
Can't download reports or export to CSV
Lacks user management tool with different admin rights
Confusing pricing plan structure
AMZ Tracker
Pros
Feature rich
Reasonably priced
Product tracking in real-time
Sends alerts so you can quickly deal with dissatisfied customers
Listing Hijack alerts help catch hijackers especially in competitive niches
Product promotion tool is handy in European and German markets
Cons
Dated interface
Some features may be hard to use
Customer support is wanting
Requires a diverse product portfolio to be effective
Super URL tool can impact your Amazon account negatively
The subscription model can be pricey for many products and keywords
The cancellation process is difficult
Worth Reading: Best Amazon Feedback & Review Management Software
Sellics vs AMZ Tracker: Which Tool Is Best For You?
Sometime back, AMZ Tracker was the gold standard for Amazon sellers in terms of keyword and product ranking.
It was one of the crucial and essential software to keep in your toolbox when it launched.
Sadly though, it has slowly lost its popularity as newer software like Sellics and others quickly ate into its market share, offering tools that are almost if not exactly like it and more intuitive to use too.
Sellics is an efficient tool unlike AMZ Tracker that appears dated and clunky.
But once you have an Amazon seller account, you can use Sellics' robust features and its volume-based pricing structure offers a much better alternative to AMZ Tracker, which limits the number of products and keywords you can track.
AMZ Tracker also lacks good customer service that Sellics offers, and its features may be difficult to use especially for newbies.
It also requires a diverse product portfolio if you have to use it effectively and there's no easy way to cancel out of the subscription you've chosen.
Our Verdict – AMZ Tracker vs Sellics
Even though Sellics requires an Amazon Seller Central account to use any of its services, including the free trial, it still remains the clear winner for this round.
Its pricing structure is variable and based on monthly sales volume, so there aren't any limits to the keyword tracking or product tracking for each month.
Sellics also has different editions: Seller, Vendor, and Agency, for different use cases depending on which one you want to pick.
This way, you can always shift to any of the editions if you decide to shift from being a seller to becoming an agency (work with clients) or a vendor.
It also offers excellent customer service via email and live chat, plus an extensive knowledgebase if you need troubleshooting tips and tricks.
It also supports more marketplaces than AMZ Tracker that is limited to two, while Sellics supports 8 different countries.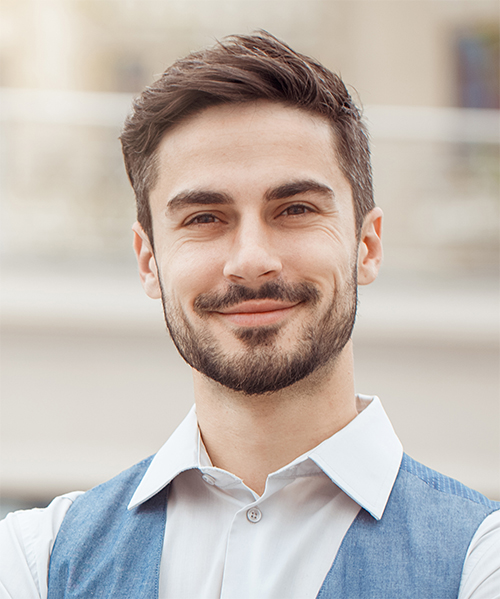 Author: Scott Macarthur
Scott L. Macarthur is a marketing consultant and an online author. He is mostly engaged in providing his expertise to startups and SMBs. He is also an author on TheNextWeb.