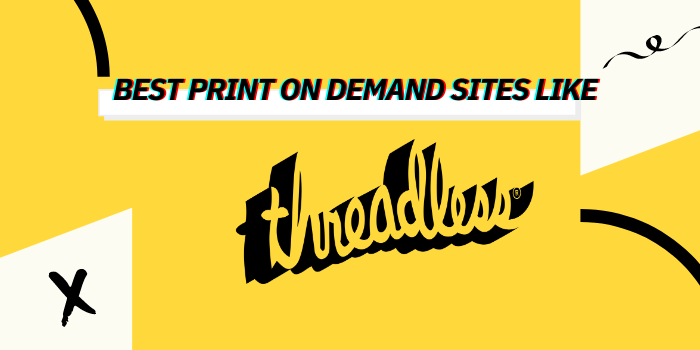 Threadless is one of the very first online, custom clothing companies to exist. It wouldn't be too much of a stretch to say they invented the crowdsourcing, print on demand model of doing business.

The platform allows designers to gain fame and earn money by submitting their best designs to be printed on all kinds of objects from clothes to shoes. However, since it arrived on the scene in 2000, dozens of other print on demand companies have emerged, offering interesting features.
These alternative POD sites are worth considering for creators looking to diversify their online income and customers interested in discovering more talented artists and designers to patronize.
In this post, we're going to walk you through the best print on demand websites like Threadless and explain why you should pitch your tent with them. However, before that, let's talk about the basics of Print On Demand. 
What Is Print On Demand?
Print on Demand (POD) is a way of selling products by printing on a per order basis.
Rather than buying materials in bulk, printing your designs on them, and holding your breath until buyers come, you can outsource these responsibilities to print on demand services.
This means that you can sell stuff without having to own the stock since the goods will only be printed after an order is received.
You'll have to invest very little money and bear little to no risk to get your business up and running. 
You can just list your artwork and designs on the POD website, wait for people to buy them, and get your profit.
A good print on demand site takes care of everything from inventory and shipping to customer relations.
So all you have to do is focus on creating your wonderful designs and marketing your business.
How Do Print On Demand Sites Work For Sellers?
Designers, artists, and store owners make money from print on demand by creating designs or works of art and sharing them on the website.
It's usually free to upload your designs on POD sites, but the work of increasing your visibility and getting customers to buy your designs will fall partly on you.
Here's how the print on demand process typically works:
You upload artworks or designs to the website.
The site takes your designs and makes them available for print and sale on products like mugs, t-shirts, hoodies, frames, phone cases, bags, etc.
Customers place an order and the company prints the selected design onto the desired product and ships them to the buyers on your behalf.
The website keeps the wholesale cost of the product and sends you the rest of the profit or an agreed-upon royalty from each sale.
As for customers, you get to explore and discover thousands of artworks and designs by talented independent artists and you can purchase your favorite products with these uncommon and special designs.
10 Best Print On Demand Sites Similar To Threadless
The print on demand marketplace is cluttered with an overwhelming number of websites promising different, more superior versions of the same thing.
As such, picking the right print on demand site to sell your designs on or buy from can be challenging, especially if it's your first rodeo.
There's a lot to take into consideration like the kind of website integration, pricing structure, product variety, traffic, payment methods, product quality, shipping methods, and user interface the site has to offer.
But not to worry, we've done all the heavy lifting for you and compiled a list of the print on demand sites like Threadless that are leading the charge and helping entrepreneurs bring their businesses to life.
Whether you're an illustrator, painter, sketch artist, or doodler, Society6 is a great platform to advertise your works and monetize your talent. 
Society6 places a huge focus on art, so it's no surprise that art prints are the best-selling products on the platform.
After signing up, you can upload your designs and customers can print them on over 30 product categories ranging from phone cases to pillows, clocks, and art prints.
You'll be given a customizable storefront, where you can add an avatar, cover image, or a bio to tell people more about yourself and the story behind your work.
The platform draws in nearly 5 million monthly visitors on average.
So there's a high chance that you'll score a decent amount of sales even without going the extra mile to promote your designs.
When it comes to pricing, Society6 allows artists to set the price for art prints, framed prints, and stretched canvases.
However, the company determines the price and offers fixed royalties—10% of the retail price—for every other product.
Society6 also allows you to earn commissions for recommending other artists and helping them sell their creations.
They're one of the few POD sites offering this benefit at the moment.
Customers in the USA and Australia have to wait for about 4-14 days to receive their orders.
For buyers in other parts of the world, shipping could take 2-4 weeks.
It takes at least 30 days for the site to process payment to artists after a product has been shipped to the customer. Check out more society6 like sites here.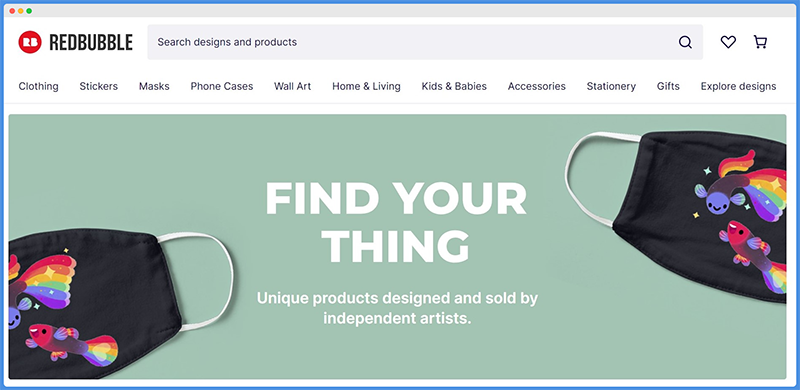 This Australian print on demand company burst into the scene in 2006 and has become one of the biggest names in the industry.
There are more than 700,000 illustrators, designers, and artists working with the site so you'll be in excellent and diverse company.
With average monthly traffic of 34,000,000, you're sure to find an audience that's hungry for the kind of art you create on Redbubble. 
Like Threadless, Redbubble is dedicated to helping creators and designers from all walks of life to sell their designs.
It offers over 60 product categories so there are a lot more opportunities for you to make sales.

The platform already has a huge following so it's perfect for those who don't want to go through the trouble of building their own website or marketing their offerings.
You can simply tap into Redbubble's audience and start earning right away.
The website is user-friendly and intuitive. It offers multiple language options so you can sell your creations and target customers can find and buy them regardless of where you both live.
Redbubble ships worldwide for most items. It allows creators to markup their products however they like, so you'll be in control of your profit margins.
The platform has its fulfillment down to a science.
Most of their orders get delivered in 24-48 hours.
You don't have to wait long periods for your earnings to hit your account because Redbubble pays creators on the 15th of each month via PayPal or bank transfers.
Redbubble gives a tough competition to some of the very best in the market, including Printful, Printify and others.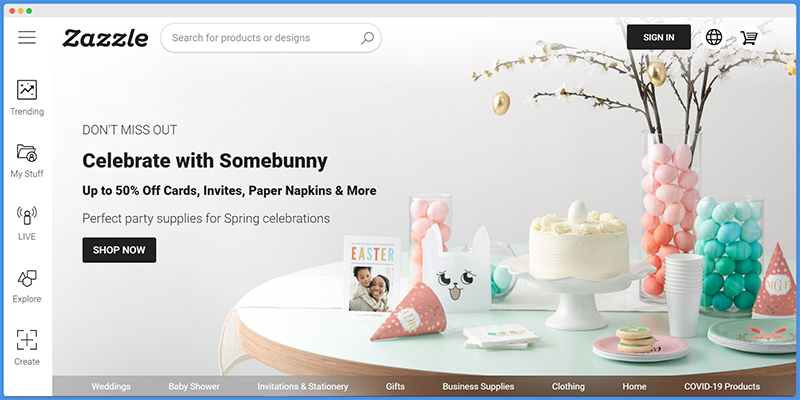 Join thousands of reputable brands including Disney, Zippo, DC Comics, Nike, Coca-Cola, and Marvel to sell one-of-a-kind designs and products on Zazzle.
The site boasts of about 9,900,000 visits a month, which is no small feat.
Unlike many print on demand services that require minimum orders of 10 to 100 items, Zazzle allows customers to buy a single item.
Zazzle offers extensive product categories with over 1,300 items for customers to print on. You can choose to customize your products with designs by other designers or import and use your own artwork.
If you create your own products or designs, Zazzle is happy to help you sell them
You can sign up for Zazzle as an associate, designer, or maker.
The website allows you to set your royalty rates.
As an associate, you can earn up to 17% on referral sales.
This means you can earn some money even without listing and selling your own creations.
Explore how Zazzle compares with TeeSpring.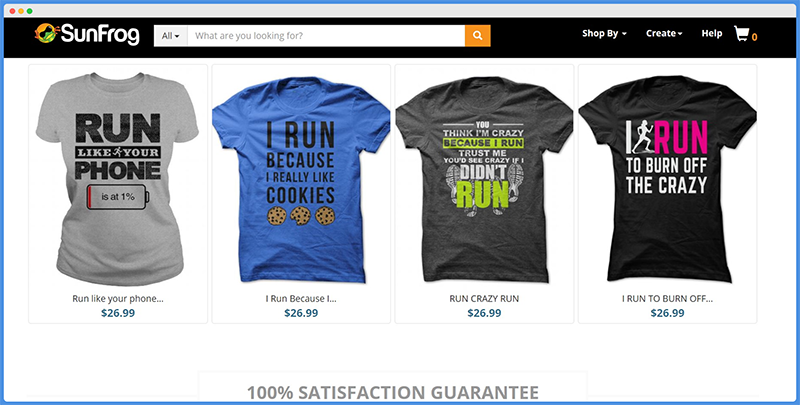 If you're looking for a Threadless like site where you can buy or sell a wide variety of goods, try Sunfrog.
The platform has over 4 million items available to be branded and printed including t-shirts, hoodies, canvas, tanks, posters, hats, notebooks, and mugs.
Sunfrog pays artists a 10% commission for every item sold and gives you some room to set your prices. However, there's a minimum and maximum amount that can be charged for each product.
This keeps sellers from grossly undercutting other artists and prevents customers from being overcharged.
You can create promotional images for your designs for free on Sunfrog and run targeted ad campaigns to lure customers.
With the campaign tracking codes, you can measure the amount of traffic and conversions you're getting.
If you need a little help figuring out how to effectively promote your products, Sunfrog's Academy offers top-shelf tutorials and guides on email marketing, social media marketing, google analytics, and more.
There's decent money to be made on Sunfrog even if you're not an artist.
You can join their affiliate program, market other people's designs to your audience, and earn a 15% commission on each sale.
Just make sure you add your seller ID at the end of every URL you share so the website knows you're the one bringing in the customers.
Sunfrog has a variety of payment options including PayPal, wire transfer, Payoner, and direct bank deposits.
Explore: Best Shopify Print On Demand Apps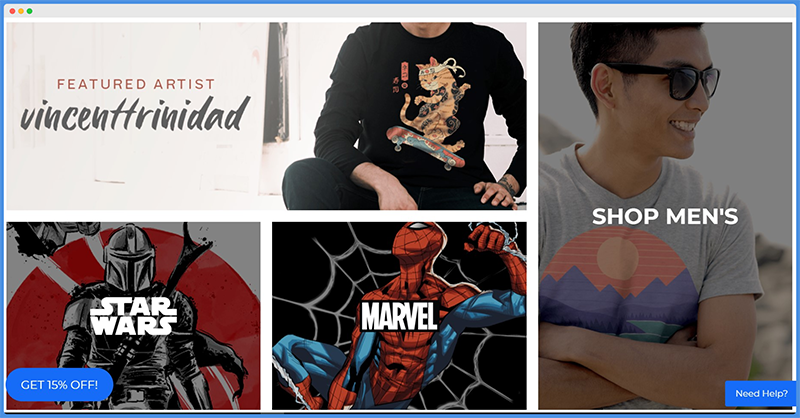 Home to thousands of talented designers, content creators, and gamers from across the globe, Design by Humans is a great place for creatives who want an outlet for their work.
Come for the community and stay for the chance to make good profits selling your creations.
The website has built a decent customer base over the years. They sell things like buttons, t-shirts, notebooks, mugs, etc.
To start selling on Designs by Humans, you have to register for a store, submit a couple of pieces of your artwork, and wait for your application to get approved.
The approval process can take up to 24 hours.
The platform runs tons of fun contests weekly to help creators get noticed faster and make more money selling their designs and art.

If you love merch and are looking for a place to shop for eccentric designs, you're going to have an amazing time exploring Design by Human's pages.
The platform is partnered with some of the most popular pop culture brands like Harry Potter, DC, Star Wars, Marvel, Pixar, Stranger Things, and more.
Design by Humans ships internationally so you can support independent artists and buy uniquely designed apparel, prints, and tech accessories regardless of where you are.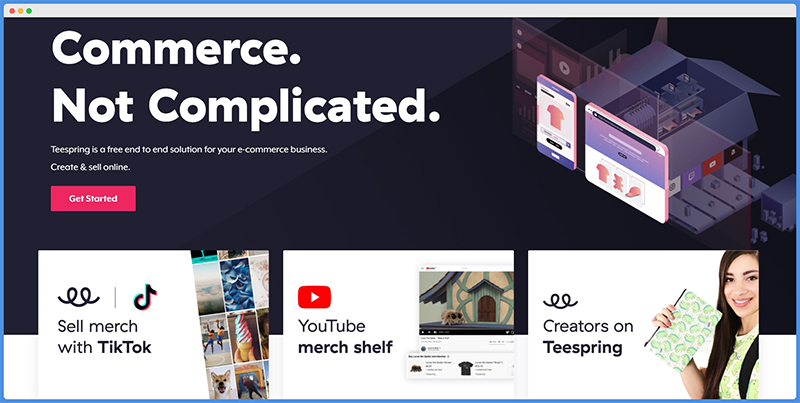 Another impressive print on demand site similar to Threadless that you can use to get customized products for you and your loved ones or create and sell your original designs is Teespring. 
They're one of the oldest kids on the block and they have cemented their position as a crowd favorite by providing great customer service and a seamless user experience.
People have made millions using TeeSpring in the recent years. 
Teespring's business model is slightly different from other print on demand sites where people can simply place an order and have it shipped right away.
On Teespring, you have to launch a campaign for 3 to 21 days. If you get enough orders to make a profit, they'll print and ship the products, then pay you.
The website ships to 180 countries so you can find buyers for your designs from all over the world.
You can also integrate Teespring with other eCommerce platforms to get more sales.
Teespring lets you determine the selling price for your products.
When you sell an item, you pay for the base cost of the item and the rest of the money is yours to keep.
The more items you sell, the lower the base cost will be, which means more money in your pocket.
Customers can have their favorite designs printed on items like tote bags, accessories, clothes, socks, home decor, and more.
You can browse their product categories by music, location, favorite sports, interests, age, and more.
If you live in the U.S, it'll take Teespring 2-5 days to deliver your order for express shipping, while standard shipping can take up to 13 days.
For international orders, you might have to wait 16 days for your items to arrive.
Check out this post to know all about TeeSpring pricing.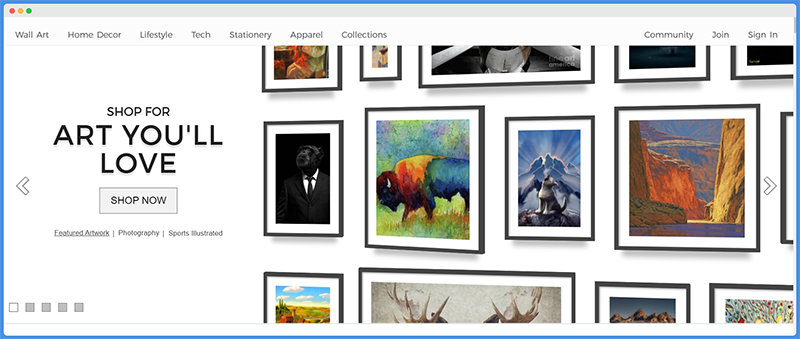 Fine Art America is an online marketplace and a POD site like Threadless that specializes in selling framed prints and original artwork on canvas.
It's a place for artists to gain exposure for their work, cultivate a fan base, and make money selling their art.
Artists who want to expand their audience can have their creations printed on other items like tote bags, curtains, pillow covers, phone cases, t-shirts, cushions, and more.
When you sign up for Fine Art America, you'll be required to choose a membership plan—free or premium.
The premium plan costs $30 per year and comes with benefits like unlimited image uploads and graphic emails for promoting your designs.
It also enables you to create your own website and integrate it with Fine Art America.
The platform allows artists to license their creations and sell their rights to specific designs if the offer is right.
Fine Art America is a great place to find high-quality decor pieces and art.
If you're a true art lover interested in collecting original pieces, their collection will have you enthralled and keep you coming back for more.
Also Read: Cheapest Print On Demand Sites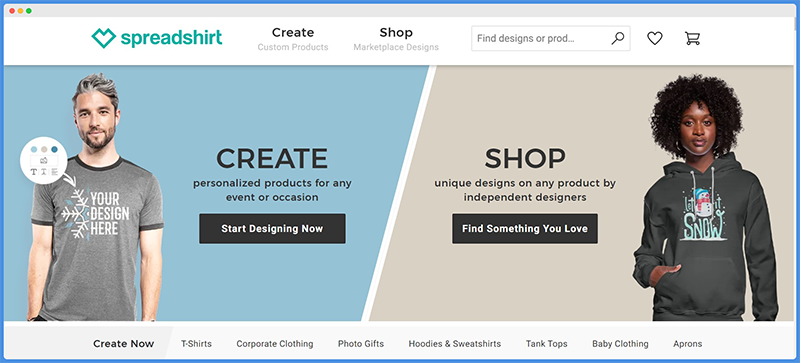 Have you built a well-known brand and need a place for your fans to easily shop your merch? Do you want to raise funds for a cause?
Are you on the hunt for customized products? Or maybe you're an artist looking to make money from your designs?
Whatever your reason for needing a print on demand site, Spreadshirt has your back.
The platform has offices in the United States and Germany and several production sites across Poland, Germany, the Czech Republic, and the USA.
Unlike some of its alternatives, the company is committed to sourcing and producing its products with ethical, eco-friendly practices.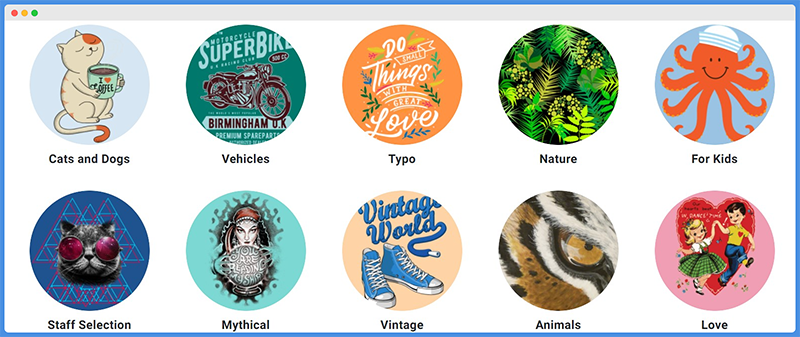 You can view the Spreadshirt website in 12 different languages, so even if you don't speak English, you could still sell or buy products there.
You can choose to build your own store on the site or sell your designs on Spreadshirt's marketplace, which gives you access to their large customer base.
With over 5,450,000 people visiting the site monthly, this could mean a lot of visibility and sales for your brand.
On this platform, you're in control of product prices and you only have to pay Spreadshirt for shipping and the cost of the customized item.
Spreadshirt pays sellers on a commission basis. For every item sold, you can earn between 20%-40% commission.
You'll also be rewarded with a bonus if you sell upwards of 11 products within two weeks.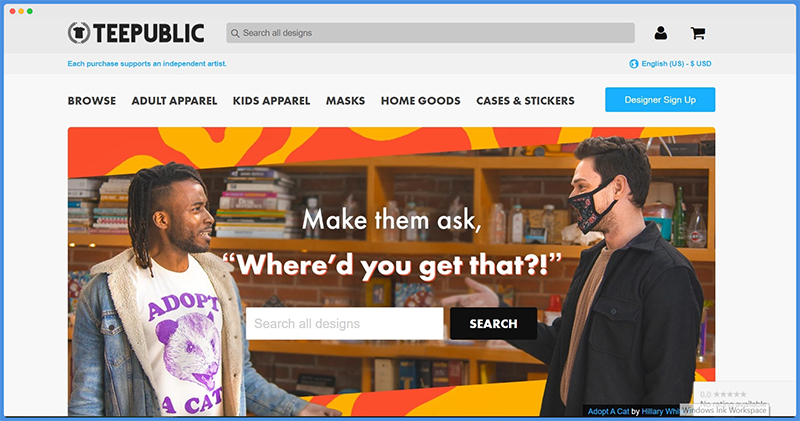 Another POD alternative to Threadless that's worth your time is TeePublic. The site is designed to be a place where independent creators and artists can gain recognition and earn money doing what they love.
TeePublic offers more than 100 different products and 1.2 million designs for you to choose from.
You're bound to find tons of items that catch your eye whenever you visit the site.
Like Spreadshirt, TeePublic is an environment-conscious company.
They use vegan, non-hazardous, and biodegradable ink to print designs on products. 
The website is easy to navigate for both sellers and customers. TeePublic's Trustpilot rating is proof that the print on demand brand knows how to keep its buyers happy and satisfied.

Once you sign up and upload your design to TeePublic, they'll promote it on sale for 72 hours so customers can grab it at a discounted price. After that, prices will revert to normal.
Thanks to TeePublic's Partner Program, you can earn up to 31% commission for promoting the site's content and getting people to buy.
TeePublic brings in over 10,000,000 visitors monthly and 15% of that traffic is purely organic.
This means you won't have to spend a lot on marketing to attract customers because the brand has it covered.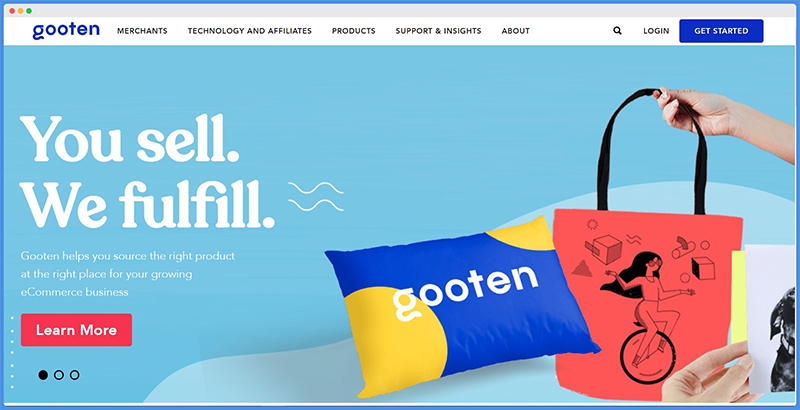 If you need a low-cost solution for product creation, shipping, and customer service for your online print business, Gooten can handle it.
The website offers a large variety of products for customization including blankets, dog beds, bags, framed prints, home decor, notebooks, framed prints, and apparel for all ages.
Gooten is completely free to use. All you have to do is sign up, upload your designs, and pay them for the products that were printed on and shipped.
The platform ships to most locations and their automated delivery system allows you to track orders in real-time.
Another solid feature that Gooten offers is the ability to integrate the site with other eCommerce marketplaces such as Amazon, eBay, Shopify, and Etsy.
So you can connect your other online stores and streamline your production and fulfillment process.
How To Generate More Print On Demand Product Sales
At the end of the day, it won't matter which print on demand site you list your designs on if you can't drum up sales for your business.
Although some sites provide marketing support for their artists and sellers, you still need to do your part to ensure that customers are getting to know your work and are buying your products. Let's look at some tips that can help you increase your sales.
Start blogging
The best and cheapest way to attract potential customers is to create blog posts that share important information with them. Provide answers to relevant questions they might have. Offer solutions to issues they're facing. When you do this, they'll be inclined to check out your POD store to see what else you have to offer.
Find your magic niche
Rather than trying to sell everything to everyone, target a specific audience and create designs for them. This way you'll be able to acquire customers faster.
Leverage user-generated content
Strike up real conversions with your customers. Ask them for feedback on your designs and products. Encourage them to share pictures of them using your product, then share those images on social media to boost conversions, engagement, and trust.
Where does your target audience like to hang out online? Join those platforms to connect with them. Share your designs and talk about your work. Run ads on those sites to increase your visibility and reach.
Join The Print On Demand Movement
The global printing industry is projected to surpass $821 billion by 2022, while the custom t-shirt market alone is expected to be worth over $10 billion by 2025. There's no reason why you can't get a generous slice of this pie.
Starting a print on demand business is very easy. You just need a laptop with internet access and a print on demand service provider to help you handle the tricky parts of running the business.
Feel free to sign up for any of the ten Threadless alternatives discussed above to kickstart your entrepreneurial career and make decent money without breaking your back.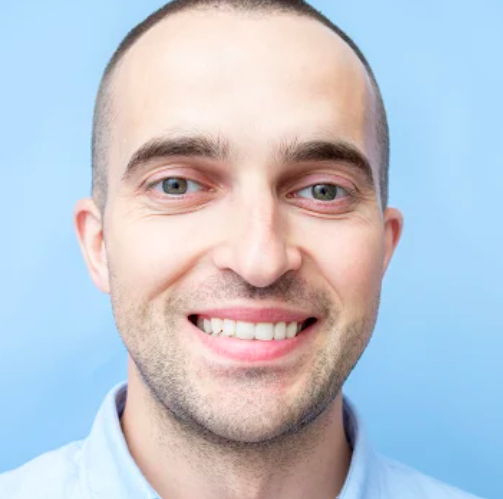 Hi guys..this is Brian. I started my first e-commerce company in college designing and selling t-shirts for my campus bar crawl using Print-On-Demand. Having successfully established multiple 6 & 7 figure e-commerce businesses (in women's fashion and hiking gear), I think I can share a tip or 2 to help you get succeed.