If you're in the business of affiliate marketing and you're wondering how top affiliates are making crazy profits, there are several tricks they use, one of them being the use of affiliate or ad spy tools.
However, it's not just a matter of going for any tool available out there that promises or claims to offer you everything you need to trump the competition.
The good news though is that there are some great tools that can help you see the networks your competitors are using and monitor their marketing methods.
This way, you get to learn more about the market itself and leverage that information to improve your own marketing promotion.
One of the best tools that helps affiliate marketers run offers, landing pages, and create ad copy that bring good results in their overall metrics and conversion rates is Adplexity.
It eliminates the hassle of spending hours on end with A/B testing on ads, offers, and landing pages just to see the results you're looking for.
For any marketer, this can be time-consuming, and costly especially if nothing trickles in after you've done all that you can.
Adplexity gives you access to massive databases of resources and assets that can help with marketing campaigns and use them for native ads, display ads, mobile and Facebook ads, among others.
What Is Adplexity?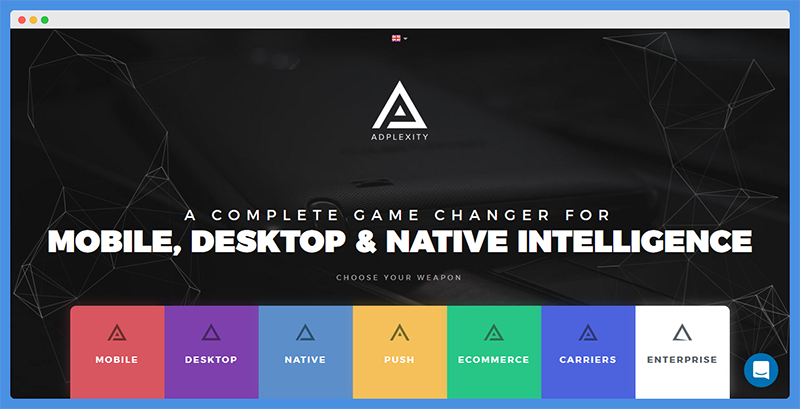 Adplexity is a native ad spy tool that helps you monitor and track the competition's most profitable advertising campaigns on native traffic sources.
As one of the fastest evolving industries, native advertising keeps getting new trends all the time, which is nearly impossible to keep track of, especially if you have no competitive intelligence.
Adplexity helps you get insights on what works for the competition so you can use that information to save time and money on your own campaigns.
It does this by showing you native ads that are already successful through delivering comprehensive data on such campaigns and you can make better decisions from the data.
The tool is different from the competing ad spy tools on the market (which we'll cover in this article) because it offers benefits such as:
Uncovering profitable campaigns running on native ad traffic sources including mobile, desktop and eCommerce platforms
Analyzes campaigns running in more than 32 countries and covers the major ones
Allows you to download landing pages with images, JavaScript, CSS, and other page dependencies in a ZIP folder from the user interface
Shows campaigns that target all major and popular devices including Windows and Mac computers, Android, and iOS devices
Helps you find the ads that promote affiliate offers form 100 networks in one click
Lets you search ads by advertiser, keyword, affiliate network, publisher, and more
Adplexity supports multiple ad networks such as Outbrain, Taboola, RevContent, AdNow, Yahoo Gemini, ContentAd, and MGID and pulls information from more than 32 countries including the exotic ones and major markets like US, UK, Australia, and Canada.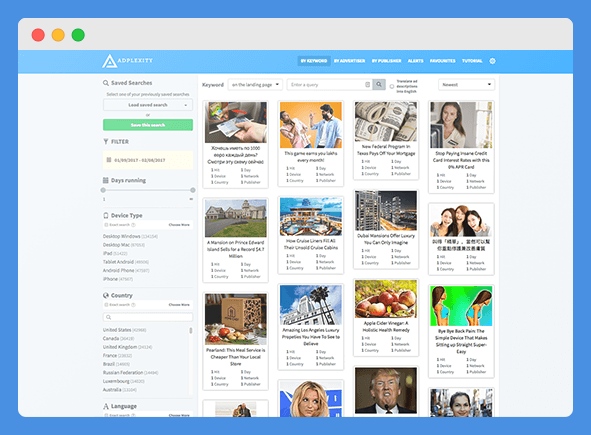 When you see the exact ads you've been running, you know you want to continue using an ad spy tool like Adplexity.
However, it's not the only one on the market and certainly doesn't offer everything you need as an affiliate marketer. For example, it doesn't offer any trial periods so the only way to know if it's for you or not is by subscribing and then requesting a refund within the first 24 hours if you want out.
There are other options you can check out that are probably more affordable and still offer multiple features and benefits based on your needs. Check out our roundup of the 10 best Adplexity alternatives and competitors.
Also Read: Best Native Ad Spy Tools
We earn a commission when you click this link and make a purchase.
Best Adplexity Alternatives And Competitors
Note: The pricing on each of these tools may vary from time to time. Please refer to their pricing pages for the most recent numbers.

Anstrex is an ad intelligence tool that helps you spy on native ad campaigns and push notification ads.
It offers unique features from screenshot capture of landing pages for each ad to sophisticated searching capabilities and the use of multiple Boolean filters and operators. It also offers a reverse image search to show you a host of viral images and unrivaled statistical reporting, among other things.
Anstrex offers three different products: Native, Push, and Dropship.
Anstrex Native
Anstrex Native helps you build winning campaigns by spying on your competitors and gives you more for your ad spend.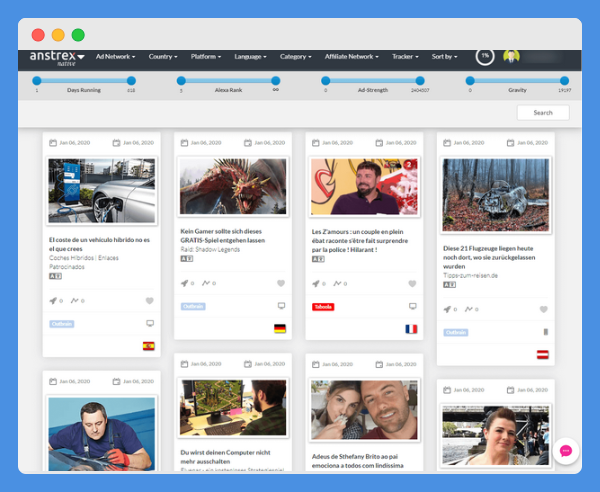 It covers over 10 million ads from 27 ad networks and 156,325 advertisers in 64 countries.
You can get insights into ad campaigns with unmatched data in an easy-to-understand format.
Our Favourite Native & Push Spy Tool
We earn a commission when you click this link and make a purchase.
It also offers outstanding search capabilities, multiple ad filtering options, keyword searches, and landing page tools you can use to scrape any landing page via the native downloader.
You can also see what is working by monitoring tens of thousands of publishers, deploy your customized lander rapidly on your servers, segment campaigns by various filters including location and device, and find all the relevant ads and landing pages for the campaigns you want.
Anstrex Native offers two pricing plans: Native Only for $59.99 and Native Push for $124.99.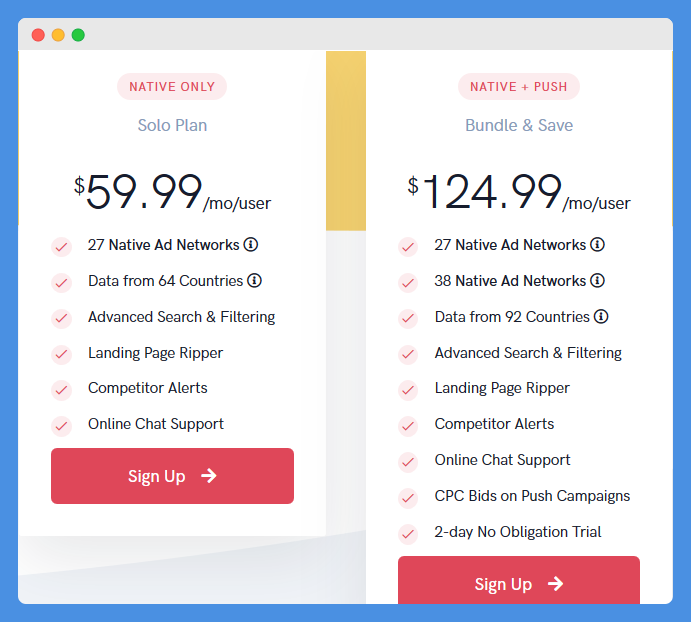 Anstrex Push
Anstrex Push helps you find out what is working in push advertising. You can spy on the top advertisers that dominate the push notification ad space and get visibility into CPC history and bids, access cloaked pages easily, and see entire campaigns at your fingertips.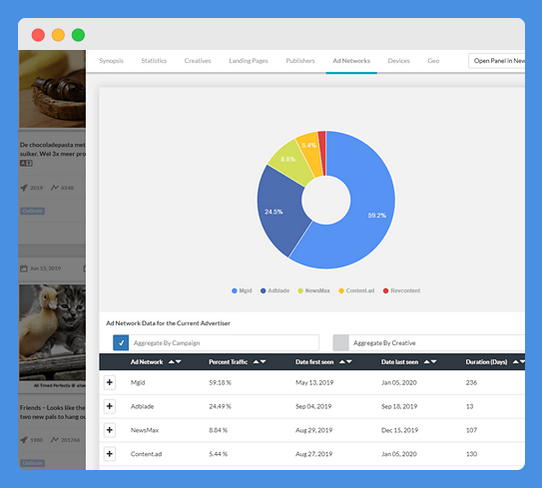 The Push product covers more than 3 million ads from 38 networks covering more than 32,000 advertisers in 92 countries. It's packaged into two pricing plans: Solo for $79.99 per month per user, or the Bundle & Save plan for $124.99 per month per user.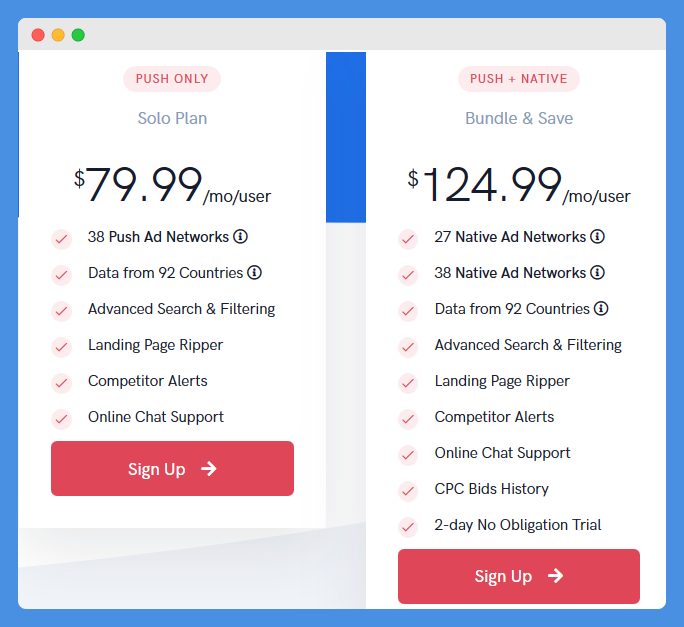 Anstrex Dropship
This option is free to use and offers the secrets of successful dropshippers so you can build your own money-making dropshipping business. It covers more than 6 million products from 10,000 retailers in 92 countries globally.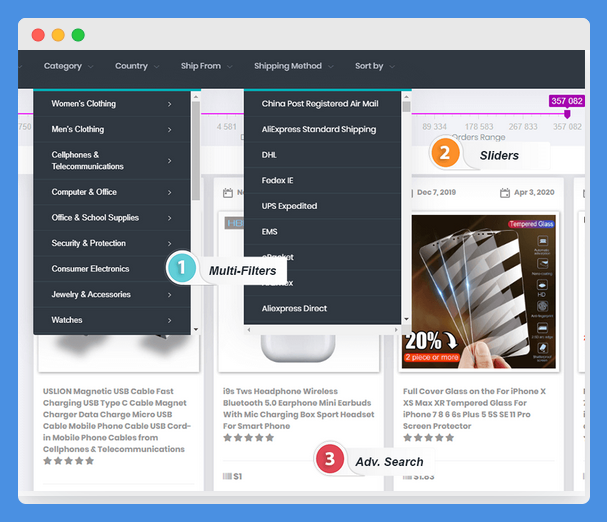 Among the benefits you can get from using this Anstrex product is a full-fledged dropship supplier catalog with powerful searching capabilities, retail store insights for multi-million dollar making stores, viral hot products, and multiple filtering and sorting options.
It also helps you find hot-selling products using advanced Boolean searching, add products to your store in a few clicks and customize your data, automate, and simplify ordering processes, manage inventory, and see what's working for your store.
Anstrex Dropship supports Shopify, but they're soon bringing support for BigCommerce and WooCommerce. A Chrome extension is available, and they'll soon add more suppliers besides the current AliExpress.
They also offer an affiliate program if you're interested in a generous 50 percent commission for a new sign up the first month and a 25 percent recurring lifetime commission.
Anstrex is used by marketers of all kinds from performance marketers/affiliates, direct sales marketers, brand advertisers, and content creators. It integrates with AliExpress, WooCommerce, Shopify, AWS, and Digital Ocean.
Check Out: Adplexity Vs Anstrex
Our Favourite Native & Push Spy Tool
We earn a commission when you click this link and make a purchase.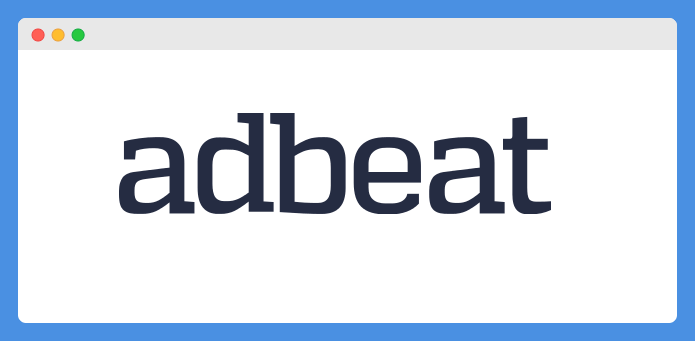 This is a comprehensive competitive intelligence platform for display ads that turns raw ad data into competitive insights by crawling millions of pages to detect, analyze, and process more than 8 million ads every day.
Adbeat's intelligent crawlers are launched from more than 40 data centers and cover hundreds of high-end servers to collect ad intelligence.
Once done, they clean up the data and convert it into simple data visualization ready to be turned into insights for decision making.
You can see what worked for your competitors' most profitable publisher, landing pages, and ad copy so you can replicate and convert to run more profitable display campaigns.
It also covers desktop, mobile for four different device types, native, and video ads to give you complete coverage across the ad landscape.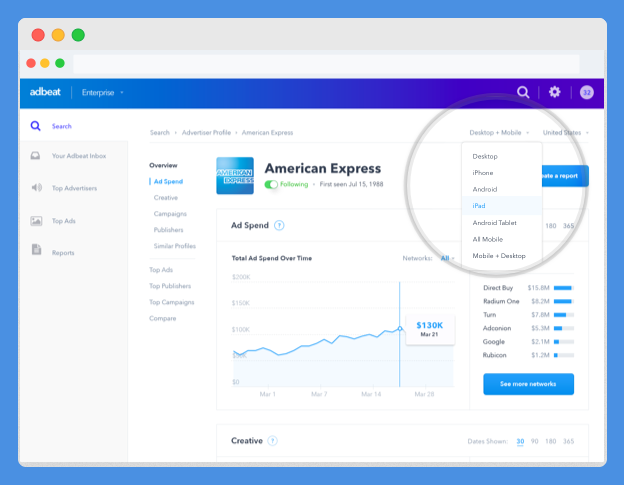 For advertisers, Adbeat offers unparalleled insights into digital ads so you can see what direct competitors do and how they do it.
You can also see the traffic sources, how the media was purchased, and the publishers on which the ads run on so you can spend only on what matters.
Agencies use Adbeat to meet and exceed their clients' expectations and be more valuable to them, while ad networks and publishers use them to see the ad networks they use to sell inventory and the advertisers that buy it.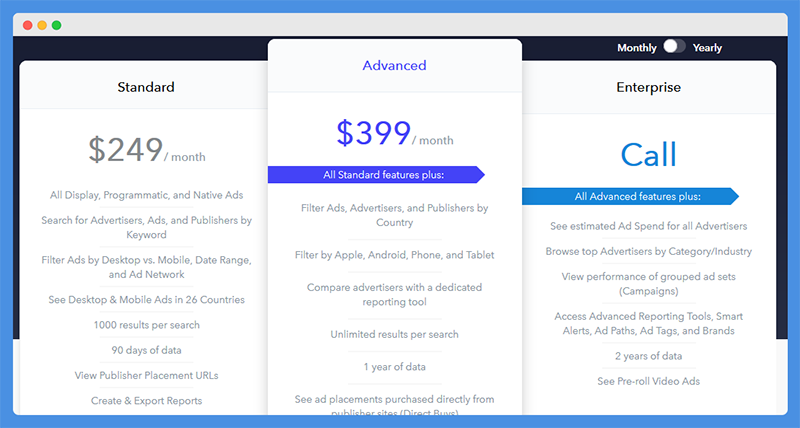 You can use Adbeat for free and get amazing insights for as long as you want. If you want more features, you can upgrade to its Pro version that offers a Standard plan for $249, Advanced plan for $349, and an Enterprise plan with custom pricing.
Explore: WhatRunsWhere Vs Adbeat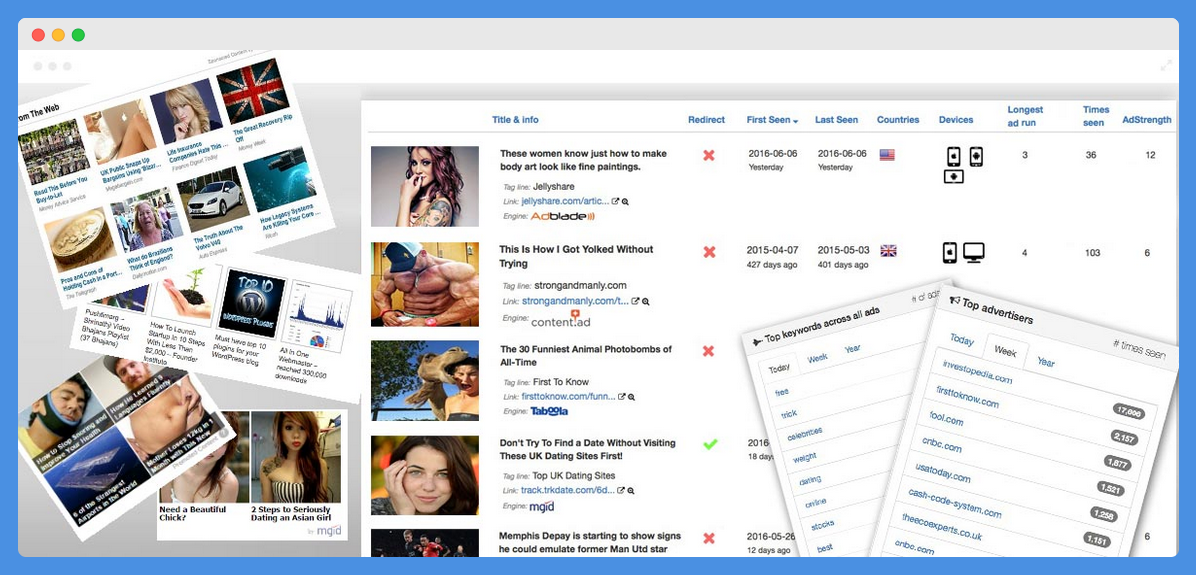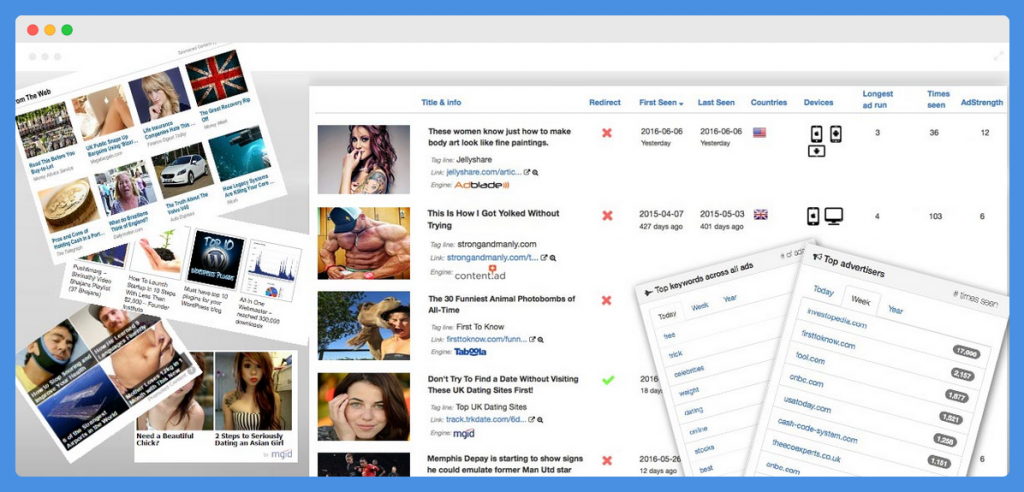 This is another good Adplexity alternative and competitor that helps you discover winning campaigns, uncover top landing pages and funnels, monitor your niche and competition, collect interesting ads, find new keywords and advertisers, and get tons of new advertising leads.
It allows you to access more than 16 million adverts and find the winning ones, discover the funnels, ads, and landing pages that convert better for a specific country, where they're published, and the ad network.
With the AdTracker feature, you can track specific keywords and advertisers, see their activity, and get alerts when new ads show up.
You'll also get access to contact information of more than 26,000 advertisers, which are collected into LeadFinder so you can export into a CSV file and contact them directly.
If you want to find products that super affiliates promote on native networks, Advault lets you do that on the platform. Plus, you can identify direct affiliates and marketers as Advault tags campaigns with redirect links as they're likely to have a direct return on investment.
Its search filter searches for ad keywords, publisher, language, country, network, device, times and date range, advertiser URL, and other variables.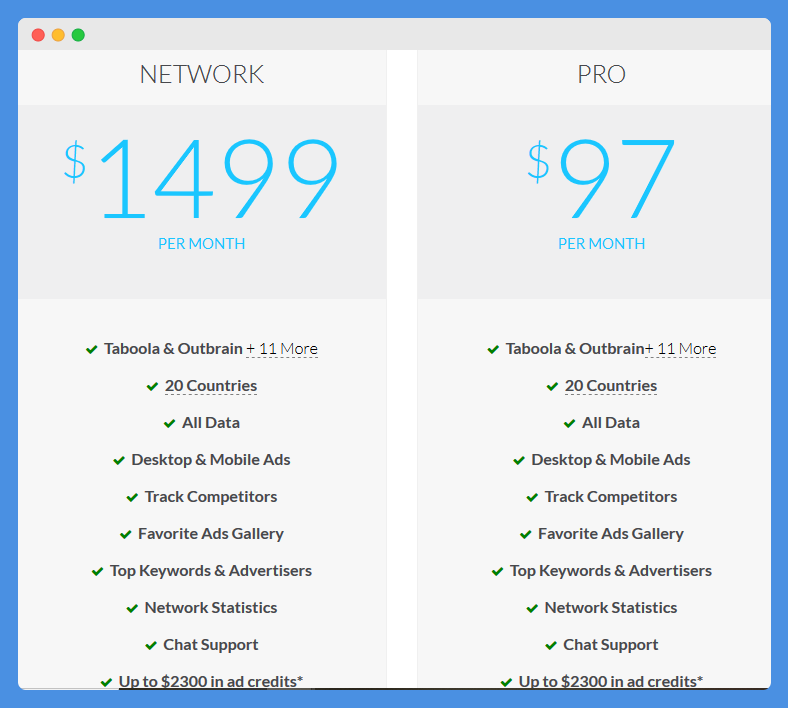 The tool is available in two pricing plans: Pro for $97 per month (usually priced at $249) and Network at $1499 per month.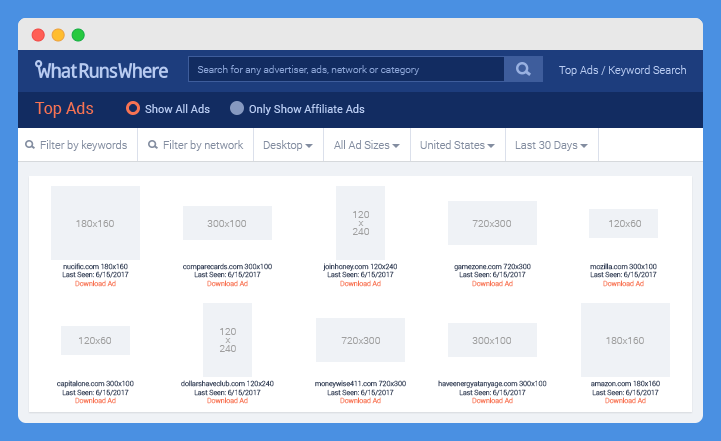 This is a comprehensive ad intelligence tool that delivers unparalleled insights into building profitable digital strategies.
If you're not sure what text or images drive conversions, or you just need to know the traffic sources, ad formats, and networks that will get you the best bang for your dollar, WhatRunsWhere will give you powerful analysis for all the data you want.
It has all the tools to eliminate guesswork and unrivaled breadth and depth with access to 20,000 sites, 90,000 advertisers, and 500 networks spanning 5 countries, 60 million ads, and much more at your fingertips.
The tool covers major markets such as the USA, UK, Australia, Canada, and Germany so you can see top ads from across the web, and segment between brands and affiliate campaigns by keyword, country, ad type, date range, and other variables.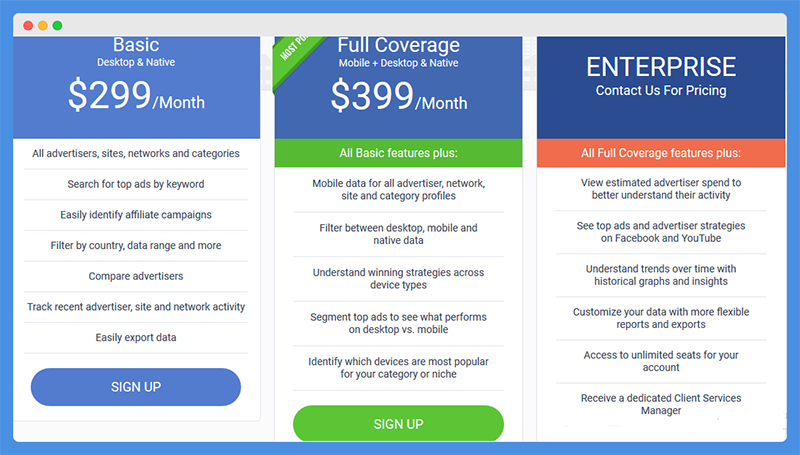 WhatRunsWhere offers data for desktop native, desktop display, and mobile display ads. Its pricing plans are available in three packages: Basic for $299 per month, Full coverage for $399 per month, and Enterprise with custom pricing.
Check Out: WhatRunsWhere Vs Adbeat Vs Adplexity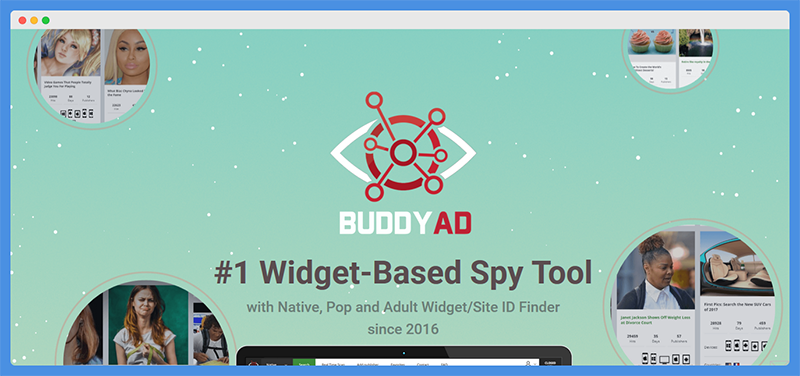 This widget-based spy tool offers native, pop, and adult widget/site ID finder shows you real-time stats from 50,000 websites in its database, 180,000 networks, and 34 countries they spy on.
The native spy tool has all the features you'd expect so you can see where an ad is running and how long and similar site/widget IDs you can run your campaign on by searching specific verticals.
BuddyAd shows you how often a landing page or ad was seen to check if the campaign is appealing or not, discover global campaigns to see if the same ads are profitable elsewhere, and save interesting ads you find for reference later.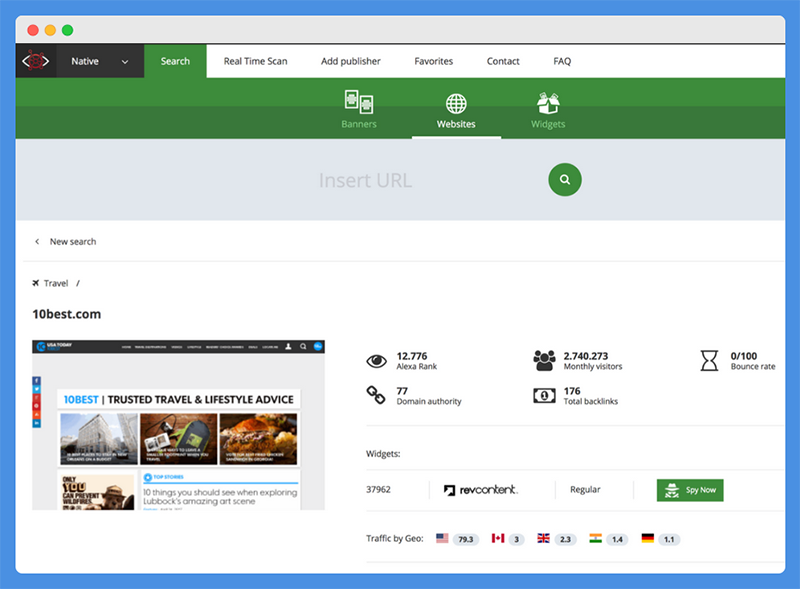 The tool constantly scans the web to find more placements, add more networks, and goes to its platform.
If you're not sure whether your campaign runs properly or not, you can use BuddyAd to monitor the campaign and check whether your banners run on a site or widget ID or not using the Real Time Scan.
You can also discover premium placements with great quality of traffic, which helps you avoid the hassle of running your ads on poor sites.
BuddyAd spies on mobile and desktop, but the downside is the tool is private and only used by big corporations and it's only available for the native version.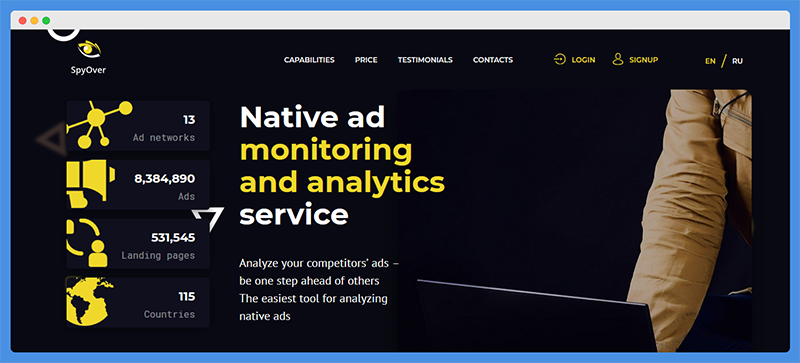 SpyOver is a native ad monitoring and analytics service that draws intelligence from 115 countries, looking at more than 8.3 million ads and over 531,000 landing pages in 13 ad networks.
You can find new and trending products and bundles and see actual trends based on impressions for a particular period of time from certain countries and devices.
It also allows you to download landings and ads in a single click, monitor, and analyze the competition in your niche and their activity online.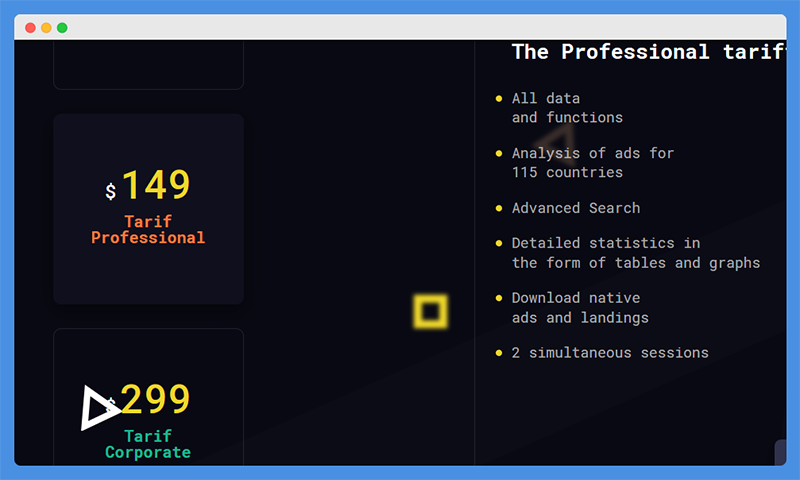 If you need data for a new and creative campaign, you can collect data from SpyOver or even improve the existing one and make profitable bundles based on the data you get from the tool. In turn, you get to save time and make more money in the process.
SpyOver's pricing is a fixed monthly fee of $149 for the Tarif Professional plan and $299 for the Tarif Corporate plan.
Explore: PowerAdSpy Vs AdSpy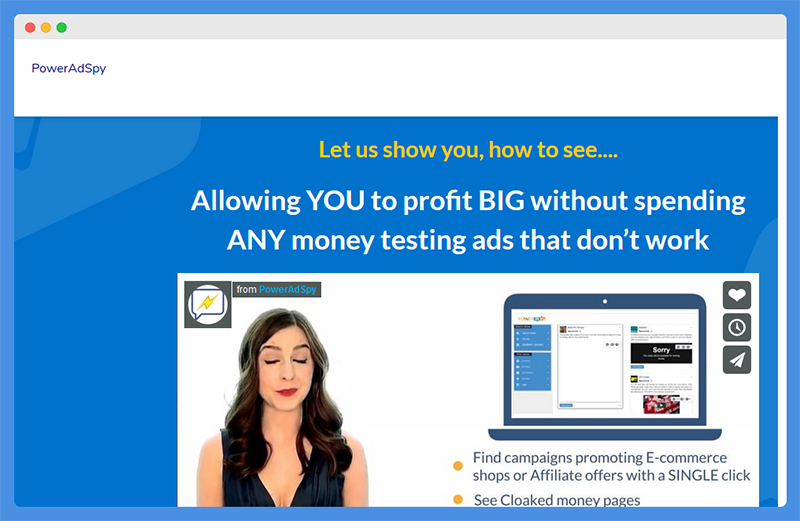 PowerAdSpy is another good choice if you don't want to use Adplexity.
It allows you to see all current live and past ads on Facebook, Instagram, YouTube, and Google that are winners in any niche, their targeting countries, marital status, group age, and more.
You also see exactly where the ad traffic gets sent off to so you can replicate the strategies for your own campaigns or business.
If you need more customers, PowerAdSpy helps you see winning ads in just seconds from around the globe. You can search a keyword, domain, or fan page, and see winners instantly to replicate those tactics for your own business.
You can also use it to search all social media ads running to a click funnel, lead page, or opt-in offer and see the landing page and engaged demographics for those ads.
It also helps eCommerce owners, or those intending to get into online store businesses, to find ads going to Shopify, WooCommerce, or Magento.
If you want to grow your email list fast, PowerAdSpy shows you the exact funnels, target audiences, and ads of any keyword, advertiser, or domain so you can replicate and grow your own list.
It's the first and largest software that ensures you run social media ads that make you money by viewing data from 50 million ads listed over 20 countries, with 10,000 ads added daily.
The pricing plans are simple and affordable based on your requirements. They range from Free, to Basic ($49), Standard ($99), Premium ($149), Platinum ($249), Titanium ($299), and Palladium ($349).
The Basic plan offers a trial for $1, while the rest of the paid versions offer a trial for $7.
Also Read: PowerAdSpy Review
We earn a commission if you click this link and make a purchase at no additional cost to you.
This is another ad spy tool you can use as an alternative to Adplexity.
You can launch your own business successfully using ad text, products, strategies, and images that work online right now.
With the Native Ad Buzz forum, you don't have to struggle alone because there are other successful internet marketers in the mastermind forum to assist.
NAB allows you to find out what's hot at the moment in a few easy minutes, so you don't have to waste time on tiresome research and analysis, save your favorite campaigns and ads for reference later, and spy on competitors by filtering ads by advertiser to follow what they do and be five steps ahead of them.
The tool helps you avoid costly mistakes as they've done the legwork to find out what works, and uncover converting funnels, landing pages, and ads based on where they're published and ad networks.
It also allows you to filter by five device types including iOS, Android, and desktop.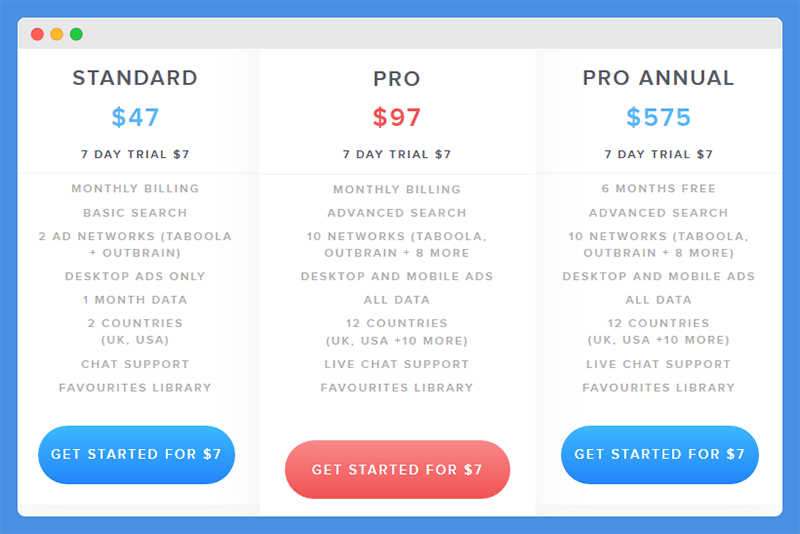 Their three pricing plans: Standard ($47), Pro ($97), and Pro Annual ($575) all come with a trial of $7 so you can access the tool's features and see if you like it before committing to a subscription.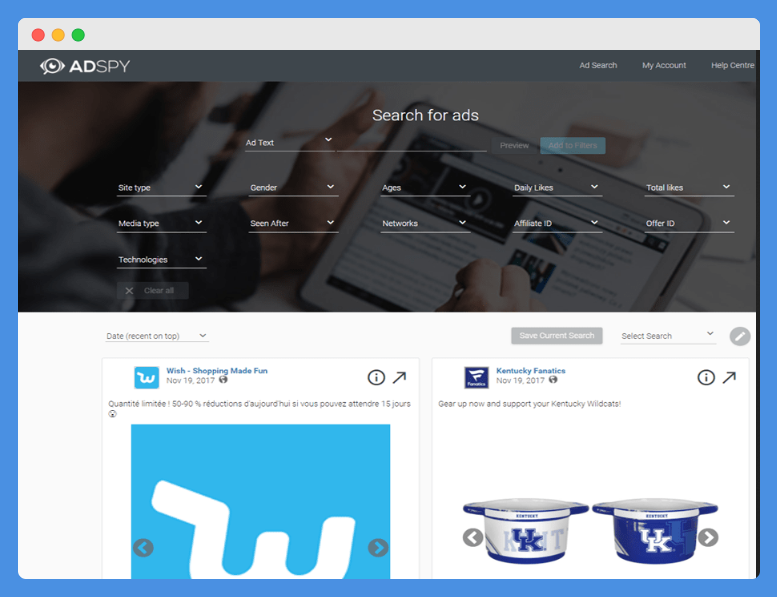 AdSpy is a powerful spy tool that hosts the largest searchable database of social media ads from Facebook and Instagram in the world.
It keeps top advertisers innovating and you can use its data and search functionality to uncover the ads you want to see.
The tool spies more than 88 million ads from 202 countries, and over 14.5 million advertisers.
This way, you can see global trends, discover new compelling campaigns, save money on testing, uncover thriving new products, monitor competitors' brands, and find the best markets globally.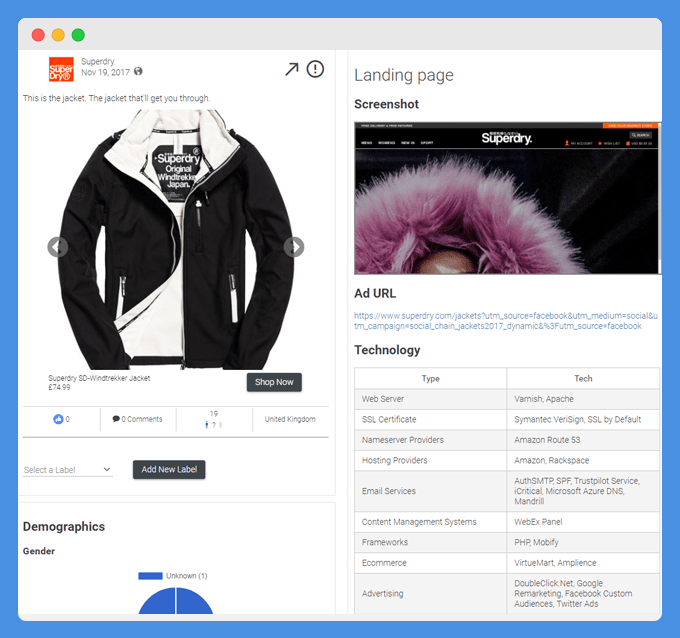 It also has filters and search options you can use to get the data you want based on URL, ad text, page name, affiliate ID, offer ID, affiliate network, and much more.
You can also search through comments – positive and negative, assess who ads target based on age and gender, bypass cloakers to get flawless information from landing pages, and know about hot products in advance.
AdSpy is priced at just $149 per month with virtually unlimited usage, though this is an introductory offer.
Check Out: AdSpy Review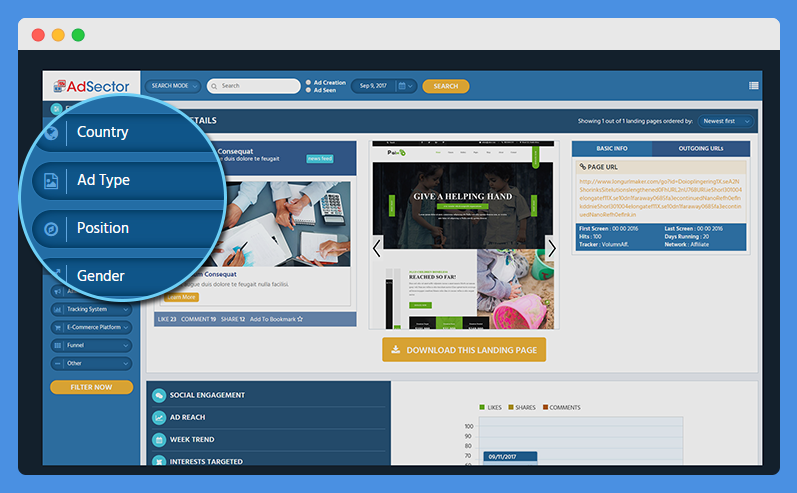 Our final Adplexity alternative and competitor is AdSector, which offers proprietary filtering functions, downloadable landing pages, and target market interests.
You can filter ads on its straightforward interface and get everything you want in a few clicks.
The tool filters ads by affiliate network and tracking system, and their names so you can see target audience interests instantly, in an organized manner for easier use.
You also get to see the images that you can use in ads to connect with customers emotionally and detailed analytics for any ad on one page, making it faster and easier to research.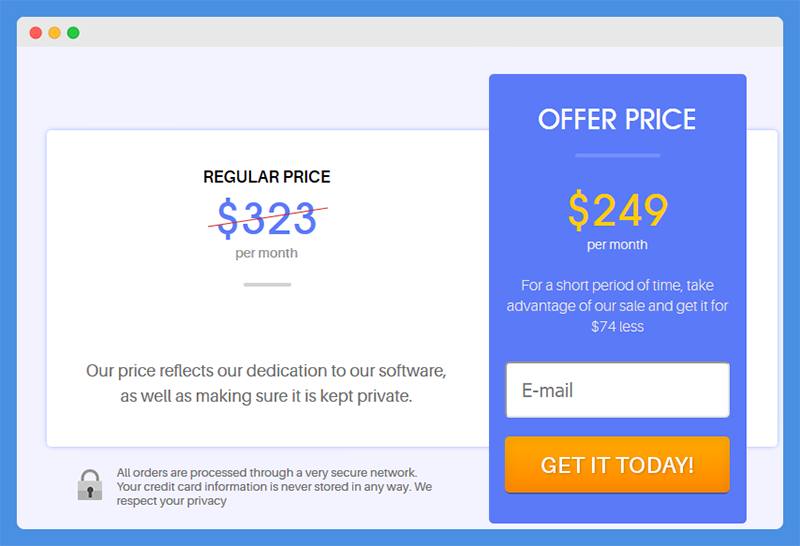 It's available at an introductory price of $249 per month.
Also Read: Best AdSector Alternatives
Wrapping Up
Whether you want to spy on the competition, or just get a glimpse of user attribution in real-time across platforms or devices, these 10 Adplexity alternatives and competitors can help.
There's no need to start your own ad campaign from the ground up when you can use a tool to get you everything you need and more.
Our recommendation is Anstrex, as it's the closest contender to Adplexity with its powerful features and products that spy on native, push, and dropship ads which not only help marketers, but business owners as well.
It's also reasonably priced and goes the extra mile to give you even more insights for easier decision making.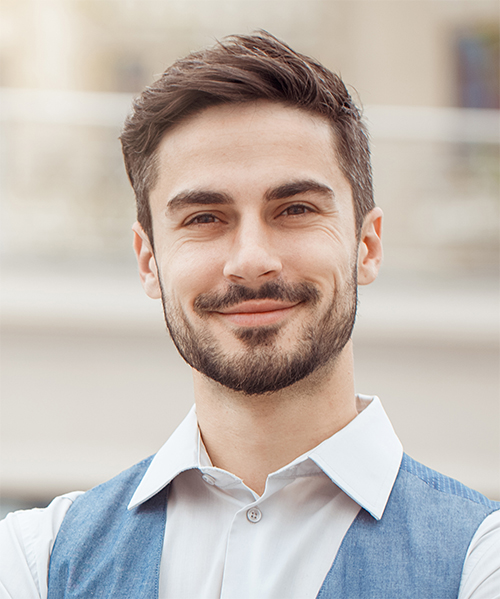 Author: Scott Macarthur
Scott L. Macarthur is a marketing consultant and an online author. He is mostly engaged in providing his expertise to startups and SMBs. He is also an author on TheNextWeb.