The landing page is the first impression that your business gives to the world. With all of the competition that you have in the modern digital landscape, you need all of the help you can get.
Yes, you can design your landing page on your own, but only if you want to put yourself into a deep world of coding and constant revisions.
You will need to balance heft and simplicity, space and information, style with substance.
If you do not have the time to do all of this (and you probably don't, because to do it right takes years of practice), then you can use one of the landing page builders that we will talk about here.
Leadpages and Optimizepress are both well respected landing page builders that will help you make your landing pages pop.
Let's take a look at both of them so that you can make an informed decision about which product and company to trust.
What Are Leadpages & Optimizepress?
Both Leadpages and Optimizepress are known as "landing page creator tools". Yes, they can create beautiful web pages.
However, both of them are optimized to create the page that your web visitors will see first.
Why Landing Pages Are Important?
There are three major reasons that a landing page creator is so important in today's world –
It is a much more cost effective way to create a landing page
It helps to drop the bounce rate and improve the conversion rate of a website
It helps people who are not professional web designers have access to tools that only coders could access in previous generations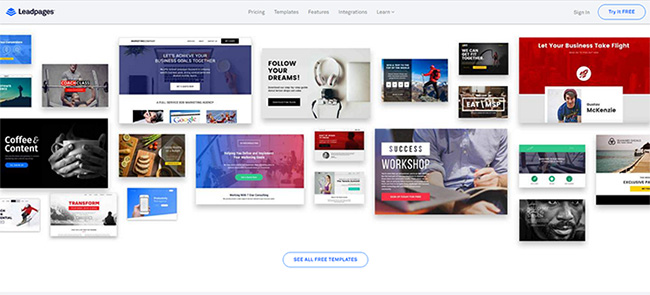 Optimizepress
One of the most important things to consider when using Optimizepress is that it is created specifically for use with Wordpress.
How can a landing page creator be associated with only one web platform?
Easy – Wordpress is the biggest platform for web creation and shared hosting in the world.
Related : Wordpress vs Weebly
There are more than enough users for Wordpress to make Optimizepress a viable tool. You are probably using Wordpress, or have used it, at some point in time if you are not a professional web designer.
Do not look down on Optimizepress because it is only for use with Wordpress – this is actually an advantage.
Limiting the utility of the add on allows it to focus on that audience specifically. If you do not use Wordpress, then you can go straight to Leadpages.
However, if you are, you will get a smooth performance and compatibility that is not available on many other platforms.

We earn a commission when you click this link and make a purchase.
Is Optimizepress Good?
Optimizepress is not exactly the easiest tool for new users. It is meant to serve as a tool for people who have mastered Wordpress.
Again, this is not necessarily a disadvantage. If you already have experience with Wordpress, then you will have a much easier time when you are using Optimizepress.
As a Wordpress add on, you can always find plenty of tutorials and available people who are willing to help you use Optimizepress.
This is where Wordpress being the most popular web creation tool in the world works to your advantage.
Check out : Optimizepress vs ClickFunnels
Optimizepress is Optimized
More web designers than ever are creating business that is meant specifically for the mobile environment. In fact, Optimizepress is optimized for the mobile space, which is a huge plus.
What does mobile optimization mean? It means that you will not have to modify your designs for laptop and mobile.
You can design your landing page on mobile, but it is certainly easier to do this on a laptop or on a desktop.
After you do this, however, you can rest assured that the look will transfer well into the mobile space.
Related : Mobile Website vs Mobile App
Optimizepress Templates
Optimizepress only comes with 30 formatted templates, which is far below many of its competitors.
However, all of these templates are attractive and high in utility. They also provide a great deal of variety between styles.
You will be able to find something to start with if you have run into designer's block – just don't think that you will be able to get away without significant tweaks.
Optimizepress Pricing & Free Trial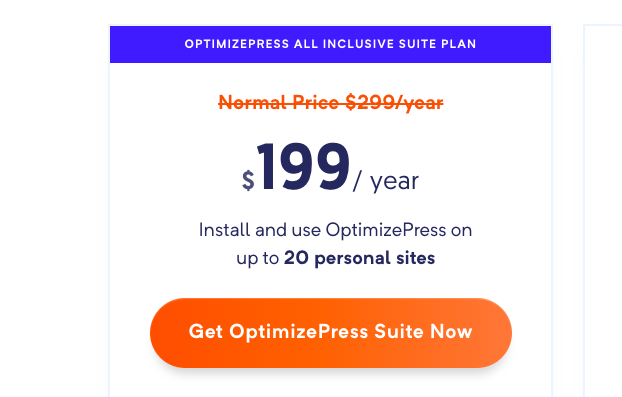 You only have to pay for Optimizepress once. The plan is worth $199/year. You get all features including landing pages, funnels, checkout optimization etc.
Optimizepress does not offer any trial but offers full refund within 30 days in case you don't like it.

We earn a commission when you click this link and make a purchase.
Optimizepress Demo
You can see the demo of their software & how to use OptimizePress on their website.
Other Features of Optimizepress
Optimizepress has automatic integration with your mailing list, which will save you a great deal of time in CRM.
You can also split test any changes that you make on your new webpage. This makes it easy to see how these changes will play to your audience.
Optimizepress is SEO friendly as well. This is part of why Optimizepress is named Optimizepress!
One of the most important distinctions between Optimizepress and its competitors is that you own your pages with Optimizepress.
With other tools, including Leadpages, you lose your pages if you lapse your subscription with the service.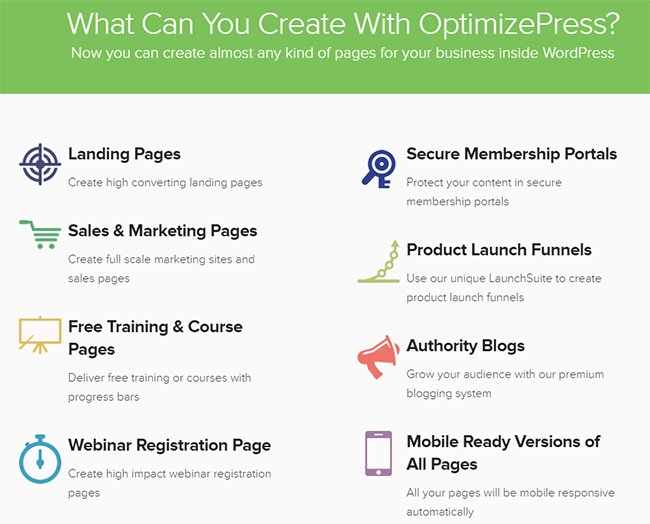 Leadpages
Unlike Optimizepress, Leadpages is a completely independent creator for landing pages. This means you can use it even if you are not dealing with the Wordpress platform.
It is perhaps one of the best platforms for hosting outside of Wordpress.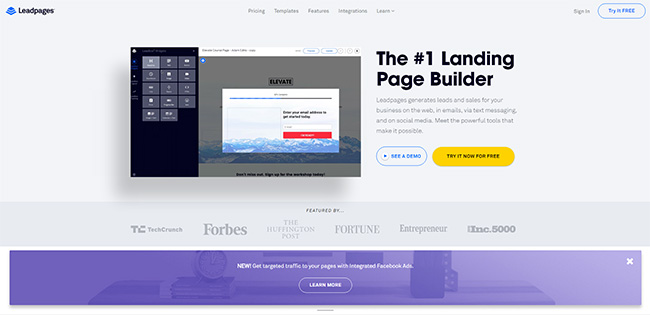 Easy on the Brain
Another major advantage that Leadpages has over Optimizepress is that it is simple to learn. It has to be in order to compete away from the Wordpress platform.
If you have no experience with landing page design, you will find a plug and play platform that you can intuitively discover.
Yes, there are tutorials out there, but it is honestly more fun to simply play around with this platform. It really is that easy.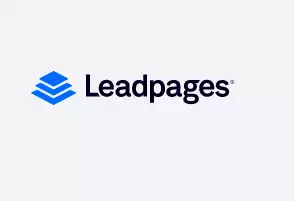 We earn a commission if you click this link and make a purchase.
LeadPages Optimization & Templates
Like Optimizepress, Leadpages is also optimized for the mobile environment. However, Leadpages optimization has the edge here because of the number of templates that it has ready to go for you.
Instead of 30 templates, Leadpages has more than 350 and counting. Some of these templates are good, and some are not so good.
However, the sheer number of templates means that you will probably find something that you love without having to go outside of the platform.
LeadPages Pricing
Leadpages is a subscription service, not a one time access fee. You can pay this subscription either monthly or yearly. You get a slight discount if you choose the yearly fee.
There are 3 plans. Standard at $37, Pro at $79, Advanced at $321/month. All these are monthly payment plans.
Worth Reading : Leadpages vs ClickFunnels

Other Advantages and Features of LeadPages
Aside from the ease of use, Leadpages is also an SEO friendly platform. You will never have to worry about your page falling out in Google or any of the other major search engines.
You are much more likely to get the position that your site actually deserves.
Leadpages is also more flexible than Optimizepress, because it is meant for multi-platform sites.
However, the most important aspect of Leadpages is that you lose your pages if you stop your subscription.
You never really own your web pages on this platform, so keep this in mind before you start making pages thinking that you can keep them and drop the service.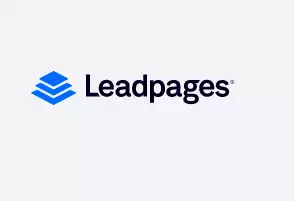 We earn a commission if you click this link and make a purchase.
LeadPages vs Optimizepress – Which Is Better?
The biggest difference between Leadpages and Optimizepress is ownership.
The second biggest difference is the amount of content that you get from the beginning of your association with the platform.
If you want to learn more about web design for the future, then Optimizepress may be your platform. You do not get as many templates, but you gain knowledge and the ability to keep anything that you create.
If you want quick and dirty web pages with less work, then Leadpages is probably the platform for you. You get more than 350 templates right off the bat.
Although you cannot keep the pages that you make, you may not need that service for temporary sites or bulk sites.
Related : Best Leadpages Alternatives
Your Next Move
Remember – you can have the best product or service on the market. You can have the best content to market that product or service.
However, you will not get very far on the Internet without the right landing page.
Use the information above to choose between Leadpages and Optimizepress.
They are both great software builders, but you will definitely find that the devil is in the details. Pick the right tool and get landing!

Author: Sam Zaman
Sam loves to write on technology & related stuff. Ecommerce, mobile and internet marketing equally drive her interest. Likes gardening and experimenting with new recipes. An avid reader and absolutely mad @bout donuts :)