Digital marketing campaigns are nearly impossible without landing pages. Your visitors must land somewhere to begin their buyers' journey, hence the need for well-optimized landing pages.
Statistically, 68 percent of B2B businesses use strategic landing pages to acquire new sales leads. More so, using optimized landing pages can increase conversions by 40 percent.
Conversions could mean service subscriptions, product purchases, newsletter signups, or any action the marketer seeks to achieve.
In this article, we'll compare two popular platforms, HubSpot vs Unbounce. These are great tools that can help you build incredible landing pages.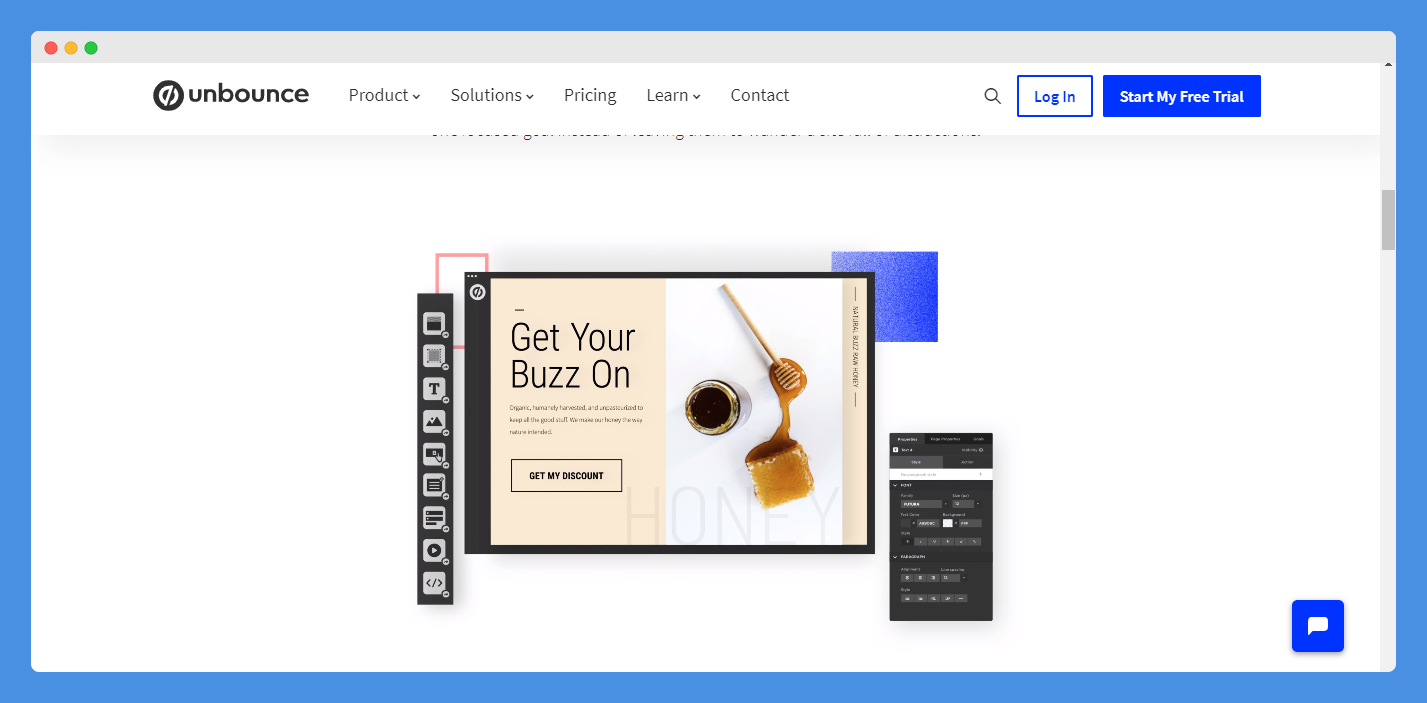 Unbounce is a fantastic landing page platform that businesses use to create and optimize custom landing pages to convert more visitors into leads and boost their revenue.
This platform is web-based and sports custom-built solutions for SaaS and eCommerce companies, digital marketing agencies, bloggers, startups, B2B, and more.
There are solutions specially designed for pay per click marketing, email marketing, and social ads. It's one of the world's leading landing page platforms with more than 15,000 brands on board.
You can create more leads and convert more traffic with the simple landing page builder tool without a developer. With more than 100 customizable templates, you can produce fantastic landing designs to help achieve your conversion goal.
Unbounce started in 2009 with the goal to create a platform that is easy to use and will result in a better experience for marketers. Today, Unbounce has powered more than half a billion conversions globally and is one of Canada's fastest-growing tech businesses.
Explore: Complete Unbounce Review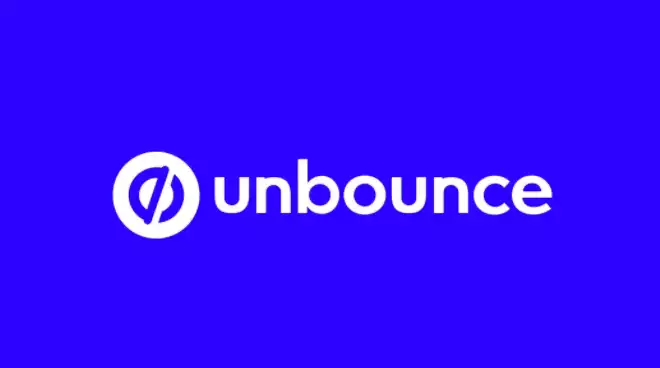 We earn a commission if you click this link and make a purchase.
Getting Started With Unbounce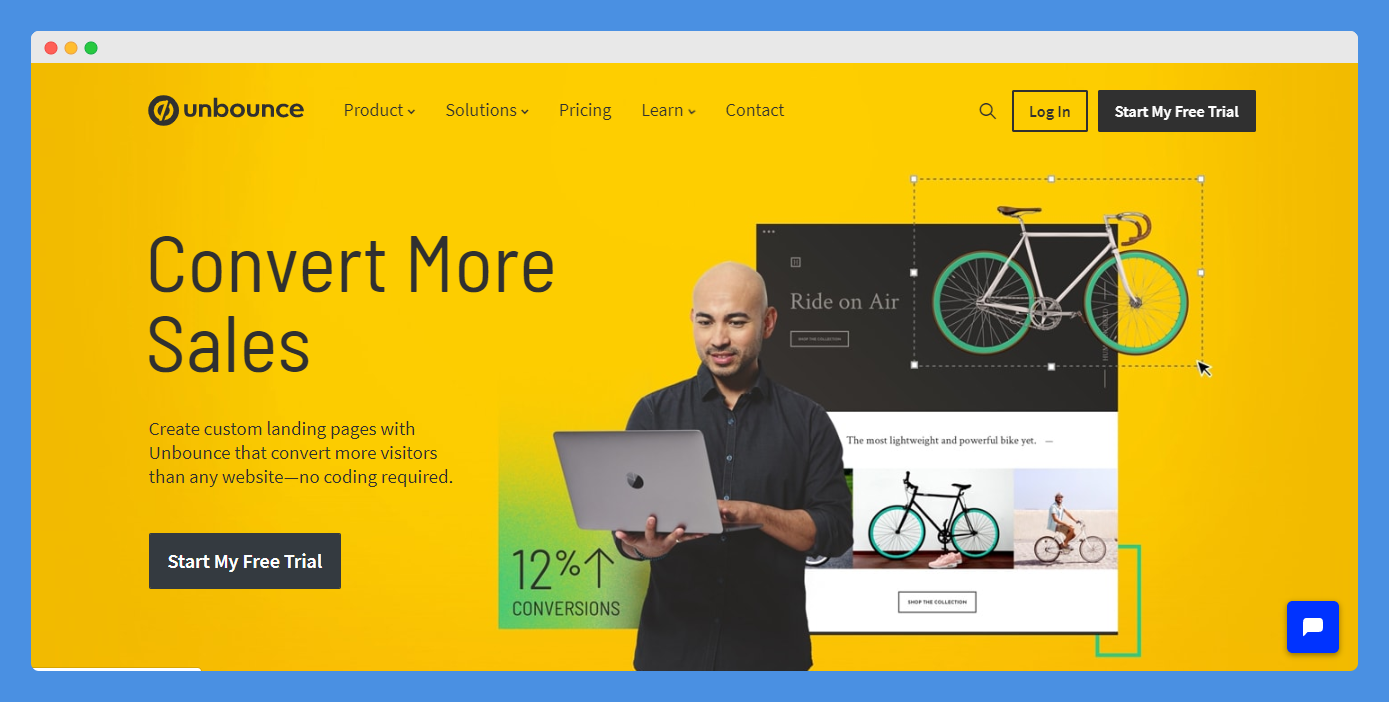 Unbounce is a Software-as-a-Service (SaaS) solution. Therefore, the software is hosted centrally and licensed on a subscription basis.
You don't need to download or install the software to enjoy the service. You can access its unique features via any web or mobile browser.
To get started, you need to pick a suitable plan or start a free trial. The free trial gives you instant access to all platform features for 14 days without restrictions and no obligations to continue after your trial. Also, you can choose any of their subscription plans.
You can get an interactive preview of the landing page builder before signup.
Building landing pages on Unbounce is simple. You can build by using the easy drag and drop builder and a rich library of templates created to make the job easier.
You may also choose to add a Javascript and CSS feel and functionality to your landing pages to suit desktop or mobile devices.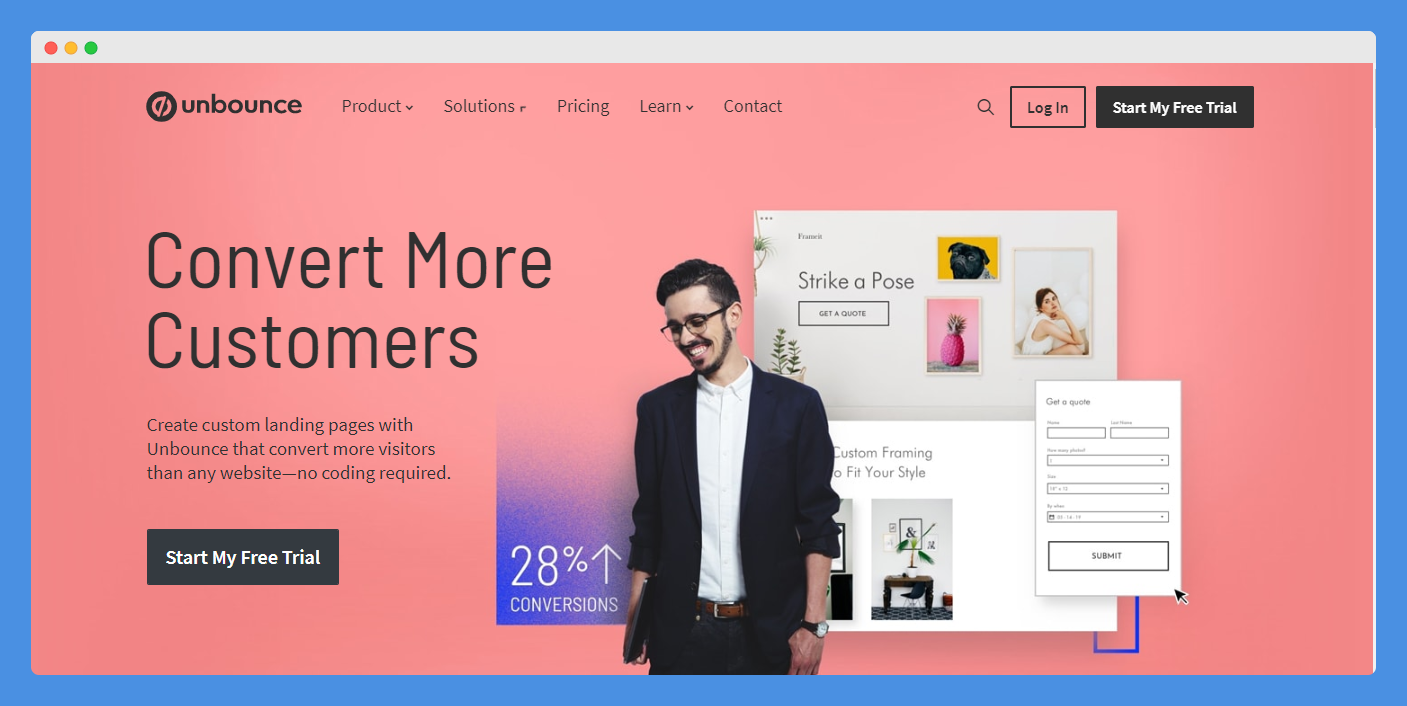 Unbounce helps organizations achieve continuous returns on investment with tools designed to drive conversion.
You can also conduct split tests on your page to determine the most suitable strategy that drives results.
You may create different form samples and experiment with different messages and texts to justify what drives conversion from visitors more often.
Furthermore, you can access specific products such as popup and stick bars, landing pages and customizable templates, integration with other apps, builder preview, and product security.
Also Read: Clickfunnels vs Unbounce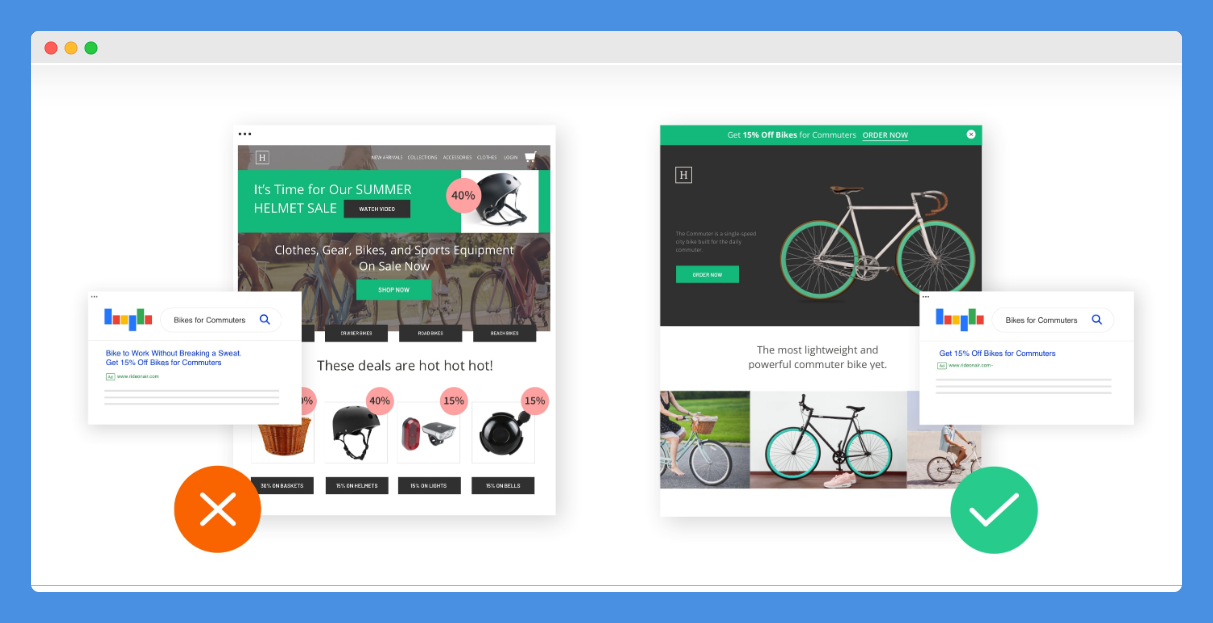 Unbounce Features
Some of the fantastic features on this platform are designed to help you to achieve results that will guarantee success.
Let's take a look at some of those features.
Unbounce Landing Pages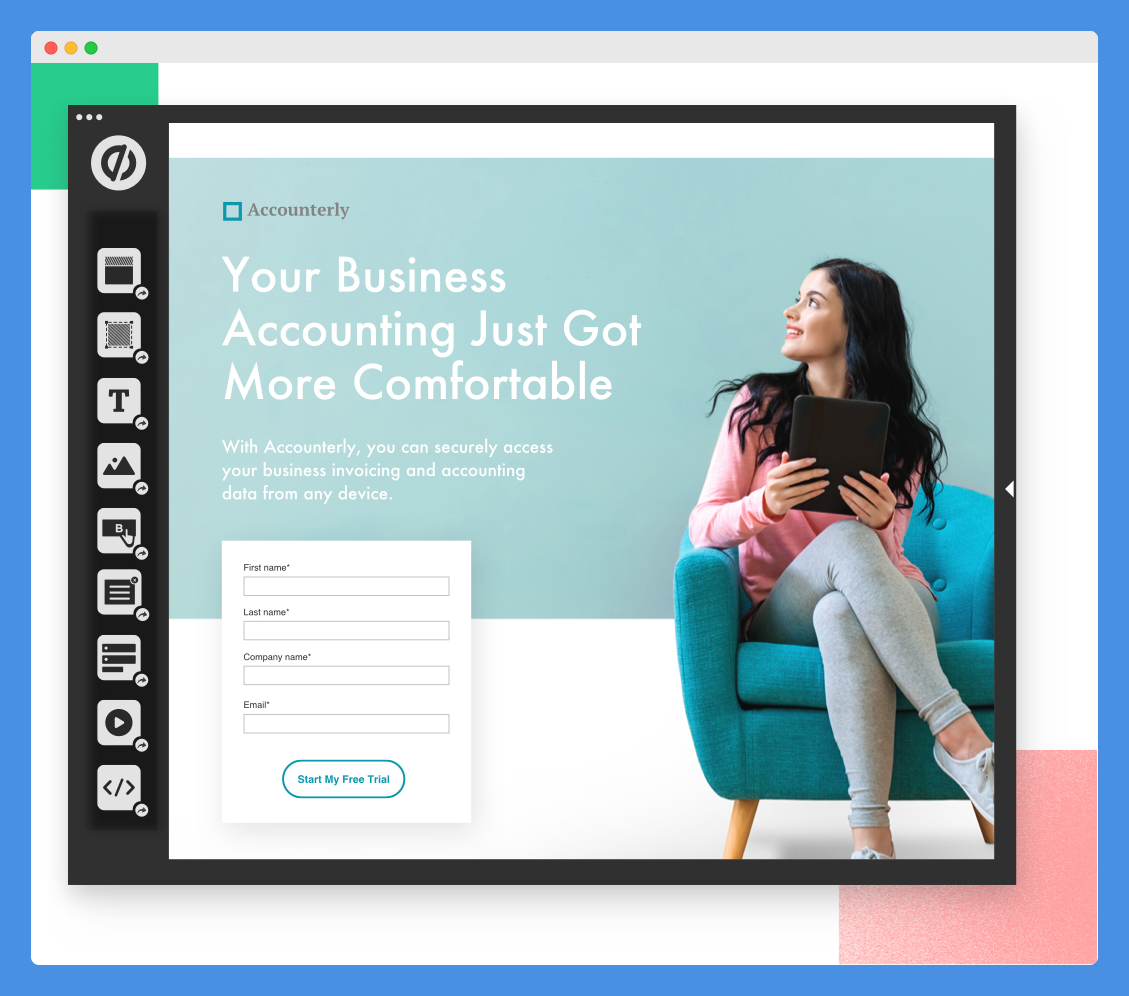 With Unbounce, creating a Landing page can be completed in four simple steps.
Build
Customize
Convert
Optimize
You can build a landing page and make your design from scratch by simply dragging and dropping elements. You can create by choosing from the ready to use templates. If you have successful landing pages, you can save time by cloning and editing those pages to create new campaigns. More so, you can copy and paste elements such as forms, text, and images between pages.
This feature also allows you to use custom scripts such as JavaScript, CSS, and HTML and pixels on any landing page. Using the script manager, you can apply scripts universally across multiple pages.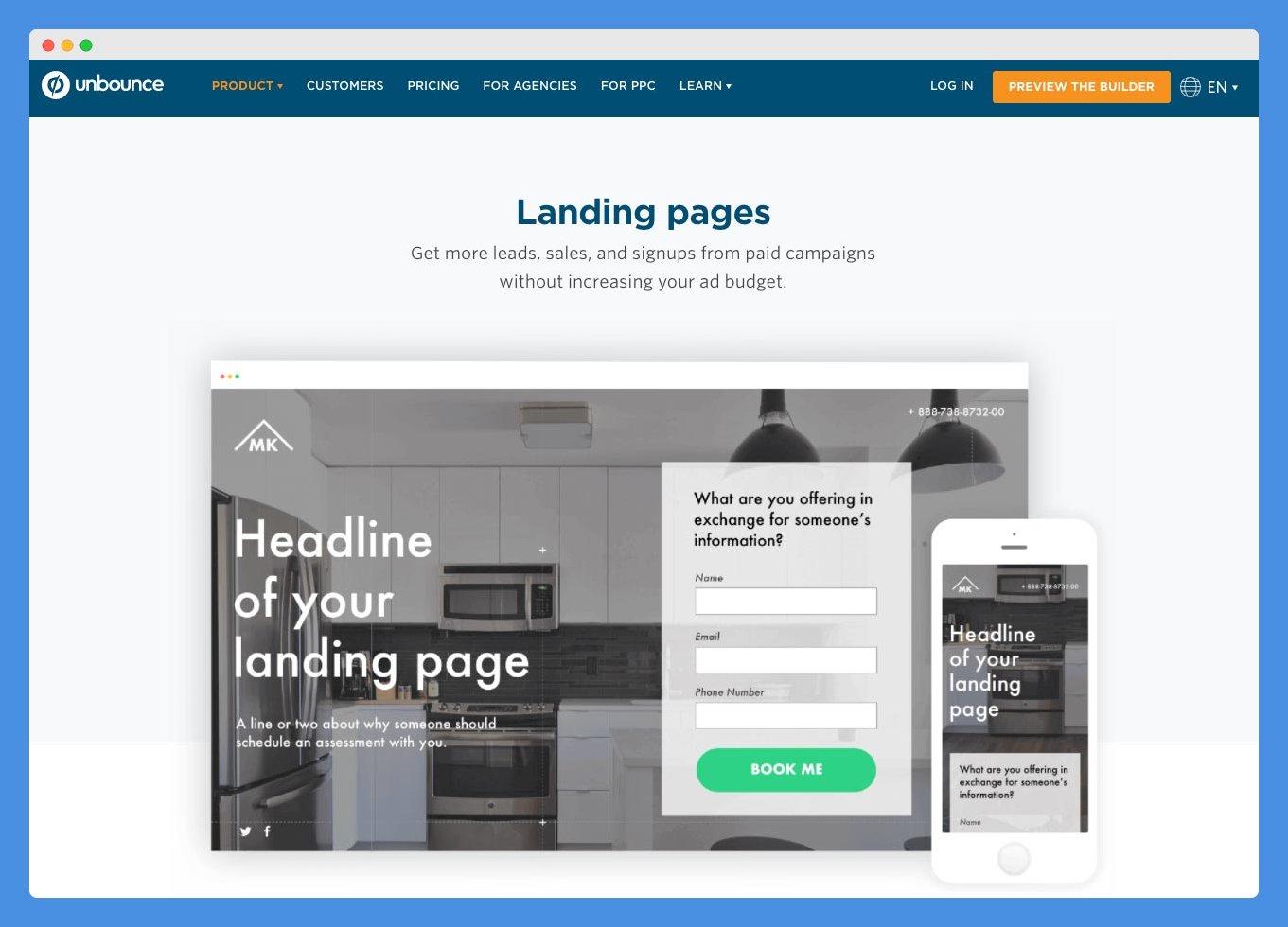 You can create Accelerated Mobile Pages (AMP) which load 85 percent faster than regular mobile pages. Additionally, you can create versions of your pages that are mobile responsive.
You can customize elements on your mobile page to look different from your desktop view. The Mobile Assistant Layout also helps to convert your desktop landing page into a mobile version.
You can switch between mobile and desktop views to ensure your page has a perfect display on any device.
Unbounce allows you to publish your landing pages to custom URL and any Wordpress site. It also allows you to integrate domains into an existing campaign.
You can customize every element without restrictions. Users have access to free, professional pictures from Unsplash and thousands of freelance photographers. The Auto image optimizer helps to balance quality and file size and make your pages load faster.
Interesting Comparison: Unbounce vs Webflow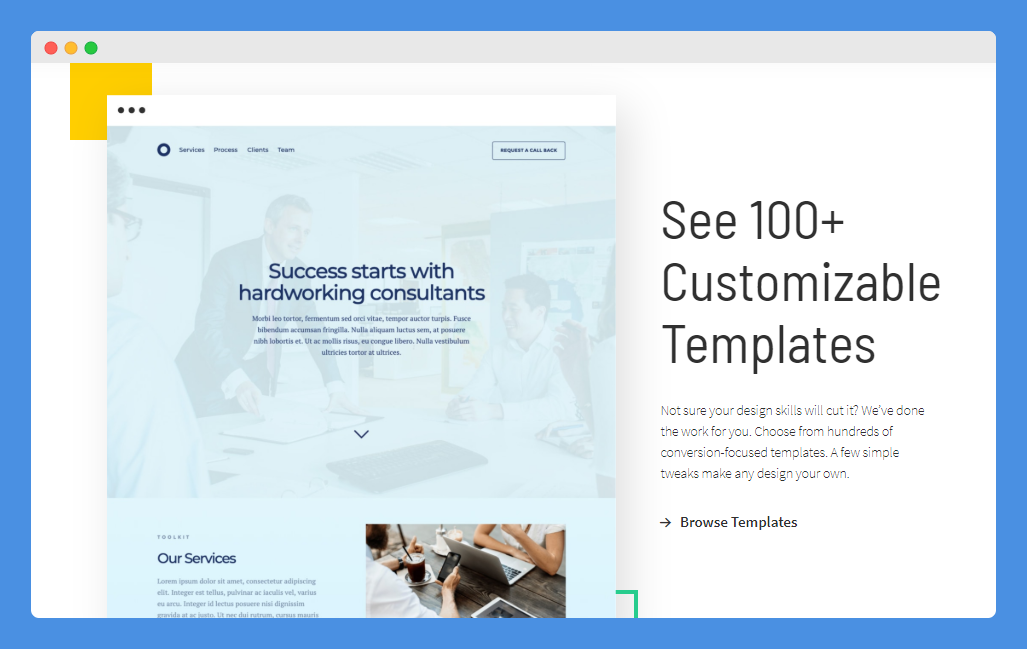 Also, you can embed videos, add stunning backgrounds to your videos, and use parallax scrolling to enhance the guest experience.
Unbounce allows you to add lead generation, two-step opt-in forms, and redirect visitors to any webpage or content after they complete your f0rm.
Also, you can create customized confirmation and thank you messages.
The A/B testing tool helps to optimize your page and increase conversion rates. It lets you know the best design that delivers results.
You will have access to real-time data on your dashboard. You can check the performance of your tests and pages and connect your account to Google analytics.
The Unbounce AI-powered optimization tool automatically matches y0ur landing page text to visitor's search terms and visitors to pages that will drive conversion.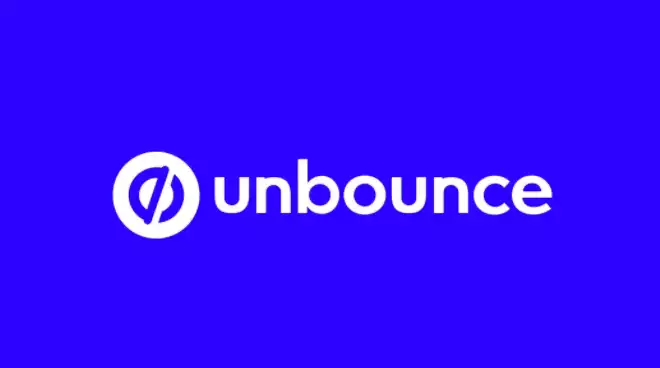 We earn a commission if you click this link and make a purchase.
Unbounce Sticky Bars & Pop-ups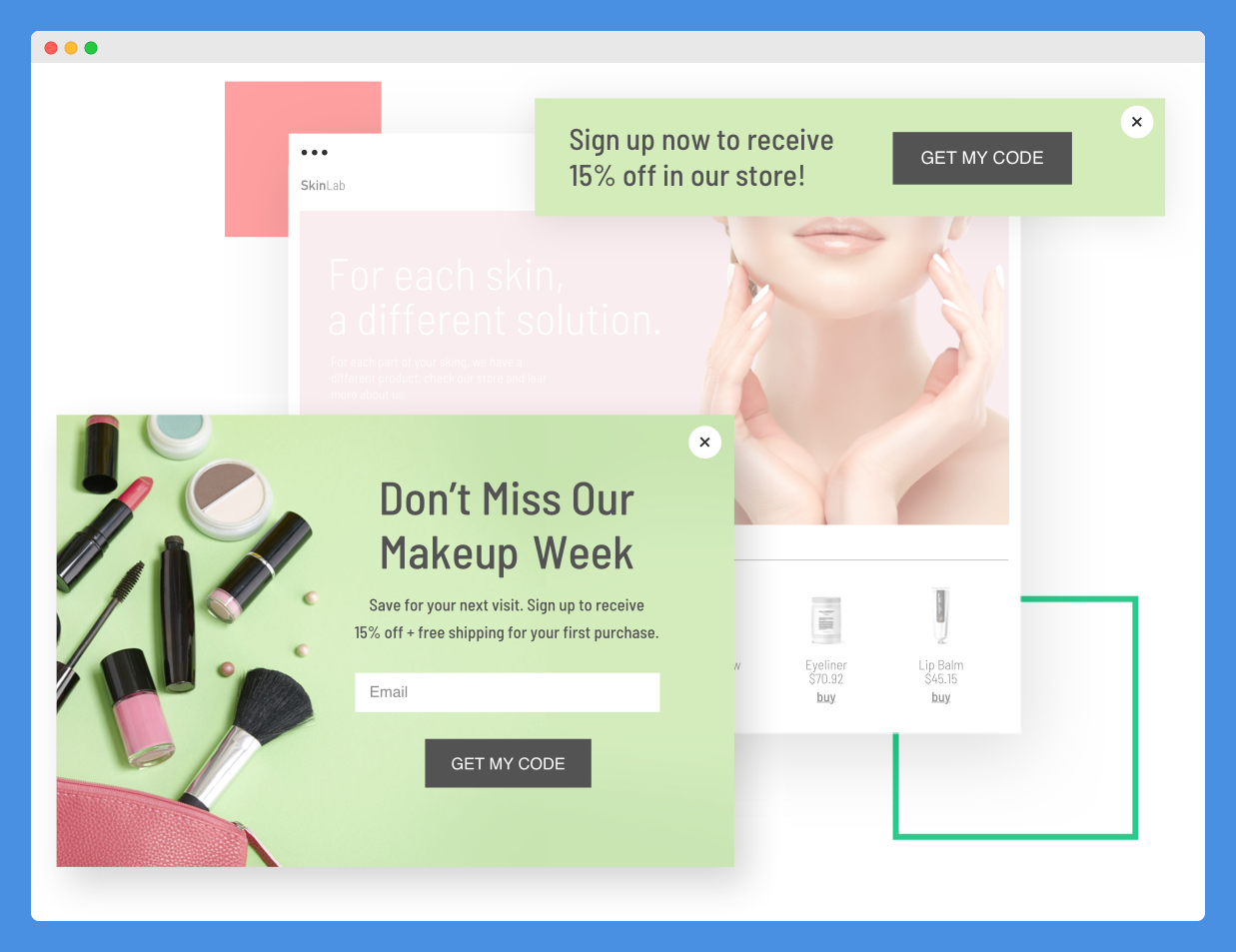 Unbounce allows you to create and launch pop-ups and sticky bars with relevant offers that can increase conversion. You create pop-ups on homepages, pricing pages, or blog posts. Unbounce Sticky bars create a mobile and SEO friendly browsing experience and prompt visitors to engage.
You can schedule seasonal promotional offers and campaigns. Besides, you can use the split test feature to experiment with campaigns and offers that perform best.
You can launch pop-ups and sticky bars when users take actions like arriving or leaving a page, clicking, or scrolling through an element.
You can also set how often visitors see pop-ups or sticky bars.
Unbounce allows you to target and show pop-ups and sticky bars to users in certain countries, regions, and cities.
You can also target visitors based on browsing history and their traffic sources like organic ads, Facebook, and Google Ads.
Unbounce Integrations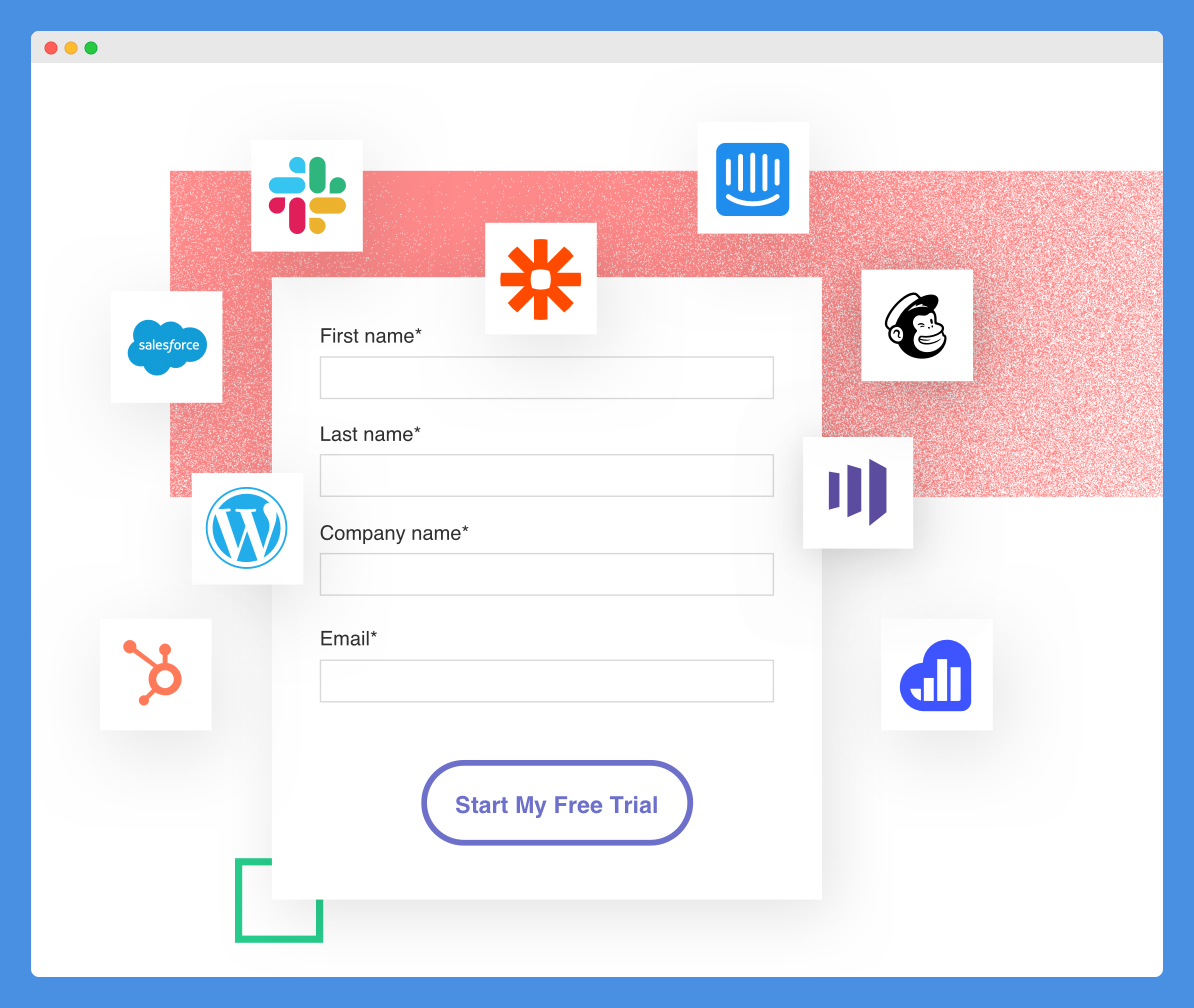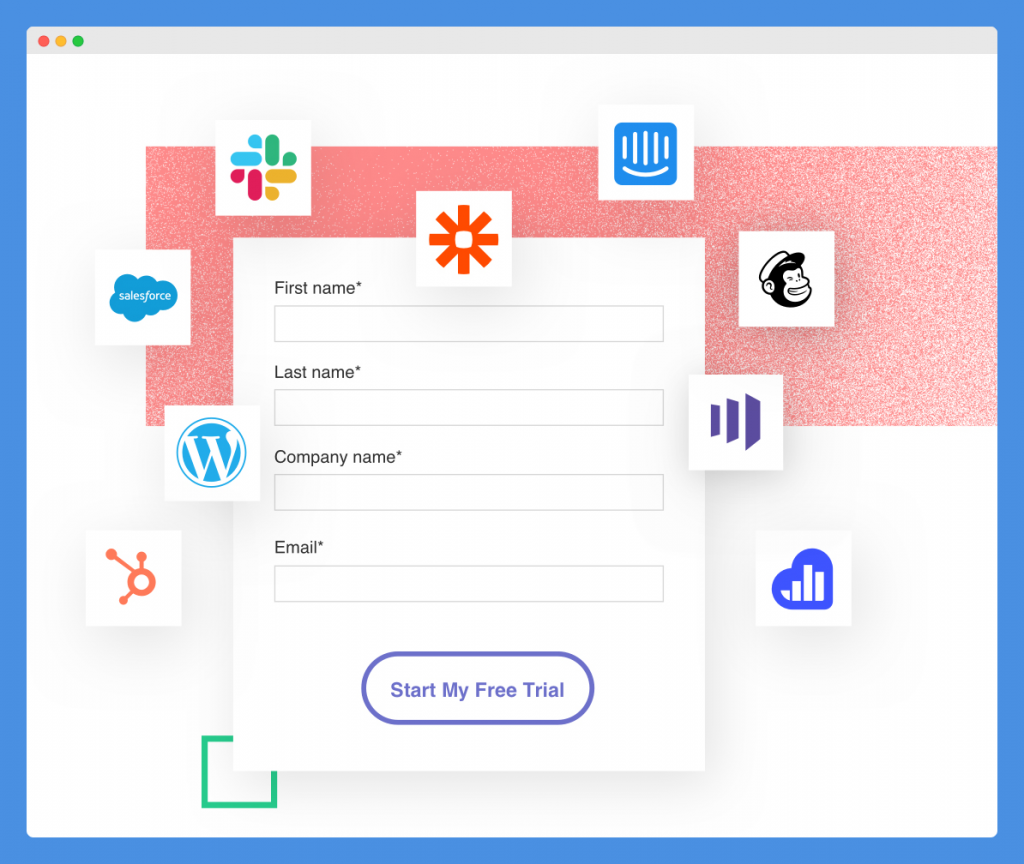 Unbounce supports a wide range of CRM and marketing automation tools and in-app integrations through Zapier and Webhooks.
With Zapier, you can transmit leads and data from your Unbounce landing pages to thousands of supported apps via "Zaps."
You can also create your integrations using Webhooks. Similarly, you can send direct leads to your marketing automation and CRM tools like Mailchimp, HubSpot, Zoho, Salesforce, and more.
With your Google Analytics tracking ID, you can monitor your traffic and visitor's actions, such as form-fill and button-clicks. Unbounce supports other tracking and analytics tools like Facebook Pixels.
You can build custom codes and add third-party tools like Drift, Calendly, HotJar, and others.
Related: Unbounce vs Elementor
Unbounce Account Management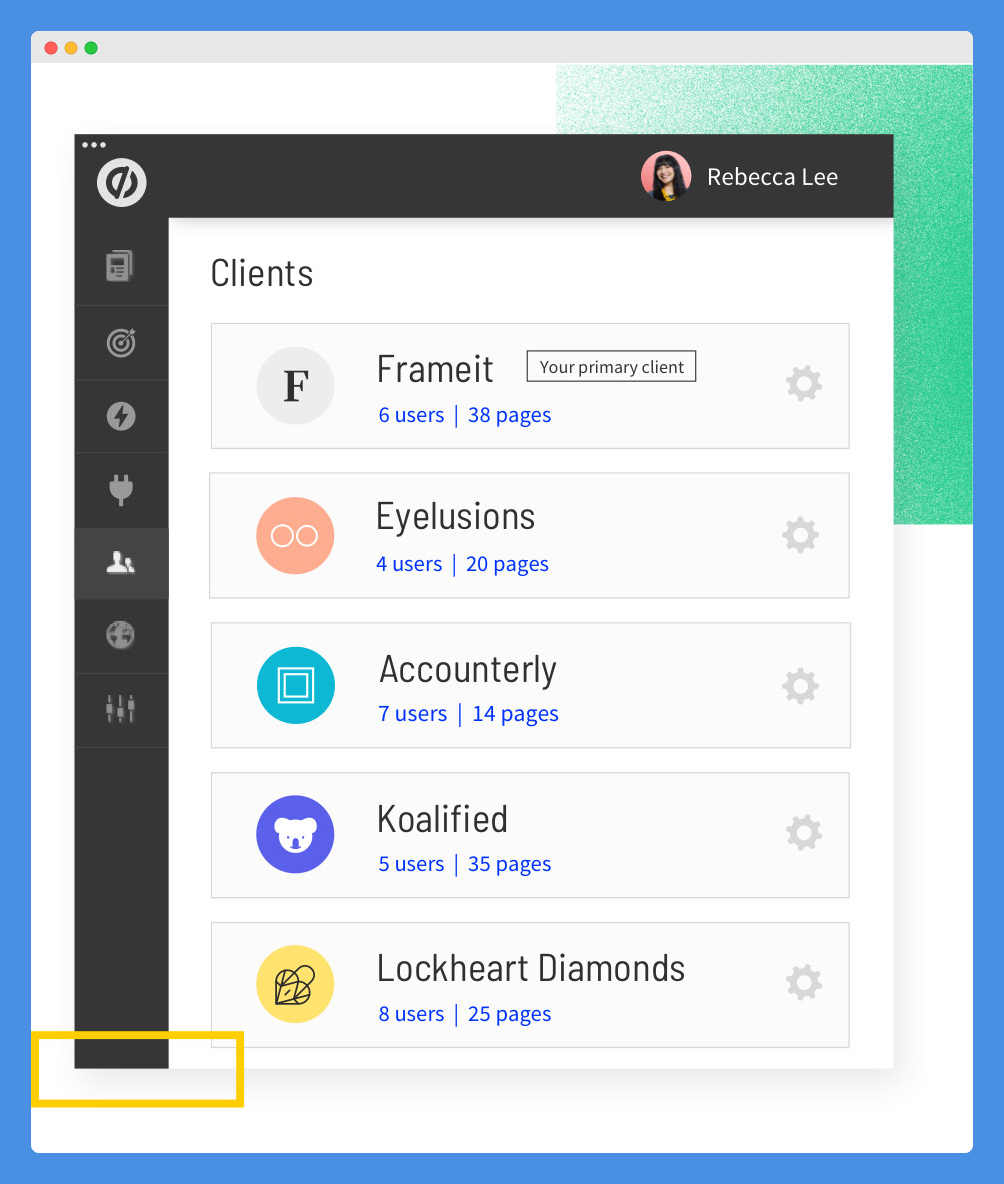 This feature helps you organize and manage your Unbounce accounts.
With a single sign-on, you can manage multiple accounts, campaigns, users, pages, and clients. Plus, you can assign roles, control access, and permissions for each user.
You can build landing pages, duplicate successful landing pages, pop-ups, and sticky bars between accounts.
With audit logs, you can export and review user activities and team actions in your account.
Unbounce enables you to create and share templates, archive or transfer accounts, copy pages, and export leads to CSV from single and multiple pages.
Additionally, Unbounce offers free hosting for your landing pages, pop-ups, and sticky bars.
Unbounce live chat, email and telephone support start between 1:00 pm and 8:00 PM Pacific Time on weekdays, and via email from 9:00 AM to 9:00 PM PT on weekends.
Unbounce Performance & Security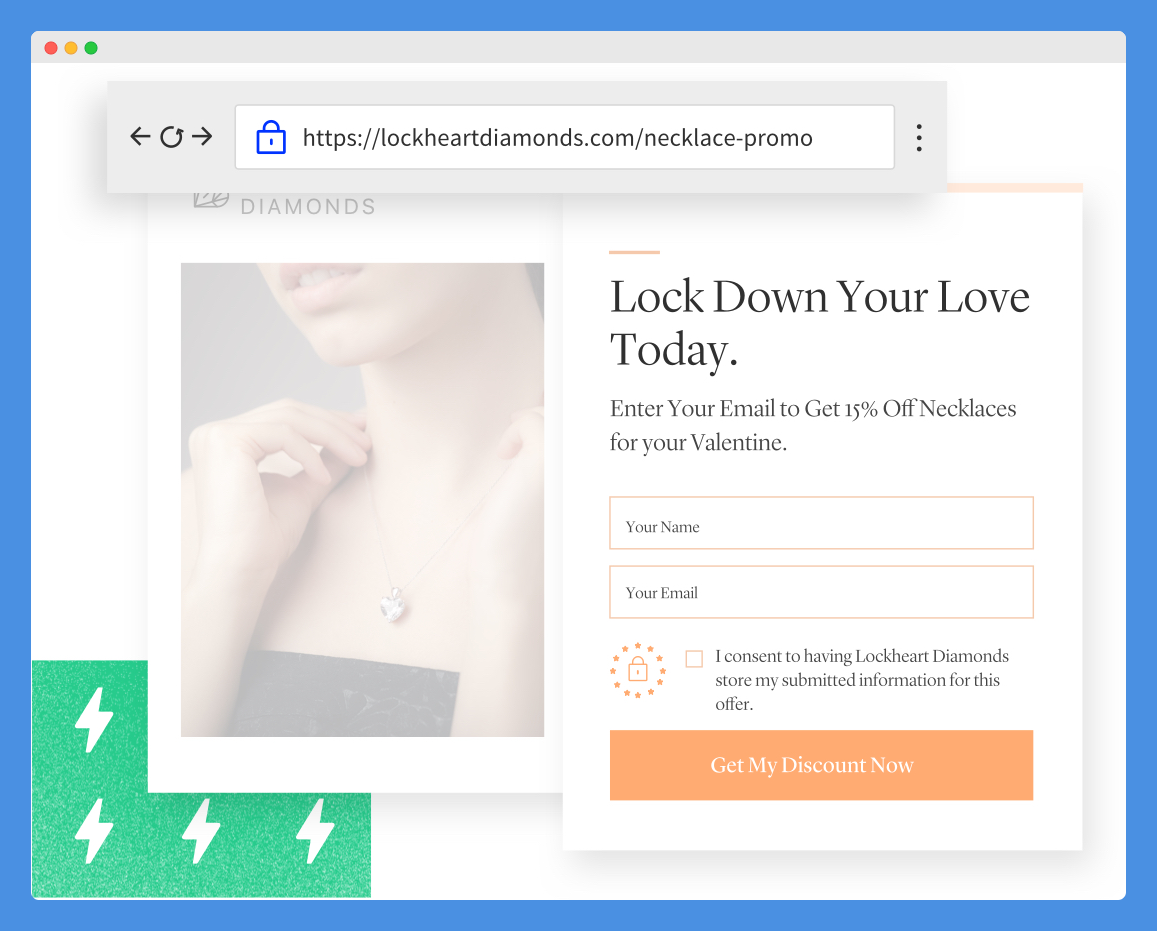 The Unbounce platform is secure as it provides features to safeguard customer data and payment information.
These security features include:
Two Factor Authentication (2FA)
Compliance with global data and security standards, including GDPR, CASL, PCI-DSS.
Secure Sockets Layer (SSL) Encryption
Data Privacy
If you are a marketer or agency, the Unbounce affiliate program, you will earn 20 percent of the recurring revenue.
The integration partnership program allows you to develop and integrate your application via the Unbounce API.
Explore: Unbounce vs WordPress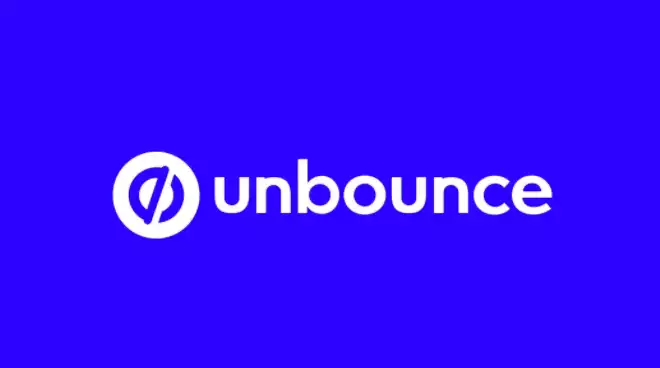 We earn a commission if you click this link and make a purchase.
Unbounce Pricing

Unbounce pricing includes four subscription plans.
1. Launch
Starts at $80 per month billed monthly and includes essential features required to build, test, and optimize for more conversions.
Annual payment costs $72 per month billed annually; this translates to $864 per year.
This plan gives you access to
Upto 500 Conversions
Upto 20,000 Visitors
1 Connected Domain
2. Optimize
Starts at $120 per month billed monthly. Annual payment costs $108 per month billed annually which translates to $1296 per year.
This plan gives you access to
Upto 1k Conversions
Upto 30,000 Visitors
3 Connected Domain
3. Accelerate
Starts at $200 per month. Annual payment costs $180 per month billed annually which makes it $2160 per year.
This plan gives you access to
Upto 2k Conversions
Upto 40,000 Visitors
7 Connected Domain
4. Scale
Starts at $300 per month. Annual payment is priced $270 per month billed annually which means $3240 per year.
This plan gives you access to
Upto 3k Conversions
Upto 50,000 Visitors
15 Connected Domain
If you wish to try the service first, go for their 14-day free trial.
Additional Resources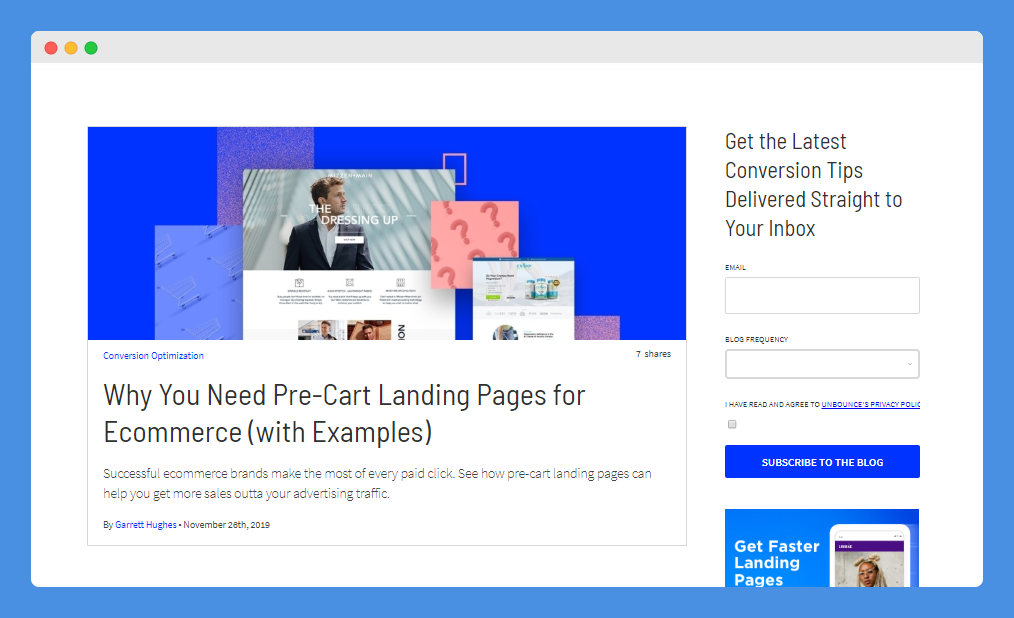 Unbounce provides resources and learning tools to teach users how to harness the platform. The blog covers topics on e-commerce and marketing.
The marketing resources and landing page basics contain expert guides that will help you optimize landing pages, drive conversion, and create effective marketing campaigns.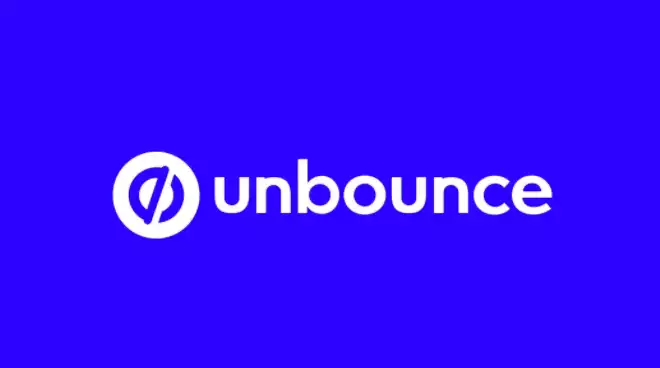 We earn a commission if you click this link and make a purchase.
Unbounce Pros & Cons
Pros
The platform is easy to use
Robust landing and web design features
Responsive on web and mobile devices
More than 100 customizable templates
Unbounce supports a wide range of CRM and marketing automation tools and in-app integrations through Zapier and webhooks
Hosting is free
Cons
Expensive when compared to other platforms
Unbounce does not offer 24-hour support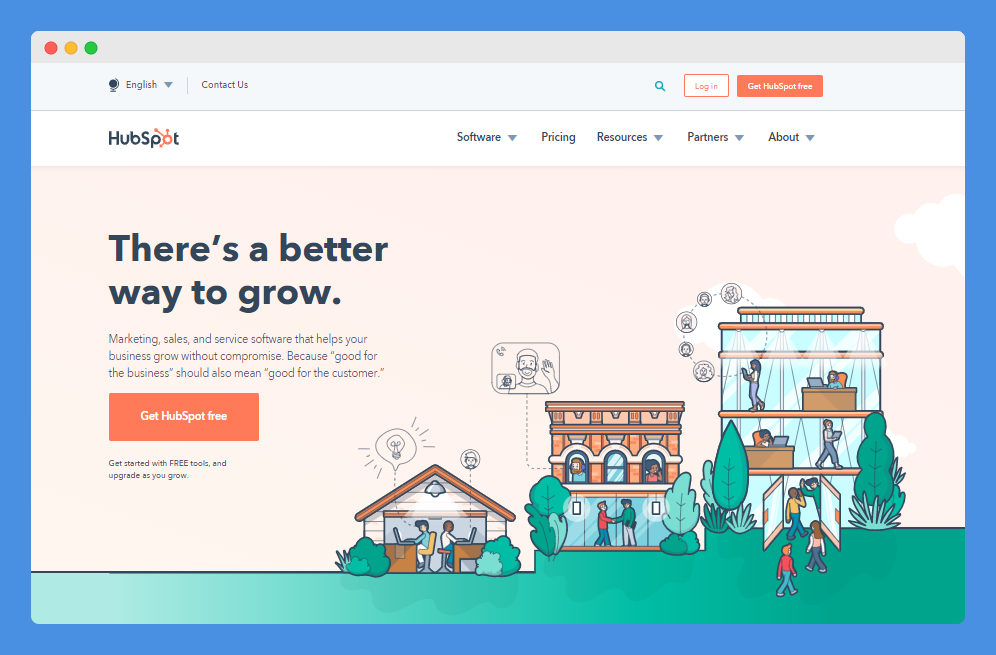 HubSpot is a comprehensive cloud-based marketing software designed to help businesses grow better every day. From marketing to sales, CRM to customer service, HubSpot has everything you need to build and scale your business.
This platform has custom-built solutions for digital marketers, bloggers, B2B, and B2C companies.
Moreover, it's suitable for organizations of all sizes and industries. HubSpot users span industries in technology, construction, retail, e-commerce, accounting, fashion, entertainment, and more.
HubSpot was founded in 2005 to help millions of businesses grow.
Over 68,800 customers from 100 countries use HubSpot to drive marketing goals.
The All-In-One inbound marketing software can help companies create effective marketing campaigns, build traffic, convert leads, and achieve ROI.
Furthermore, you can create incredible landing pages that are responsive across devices, automate marketing processes, and manage leads effectively.
Also Read: Best Landing Page Builders
Getting Started With HubSpot
HubSpot is a web-based solution. Therefore, you don't need to download or install the software to enjoy the service. You can access the tools via any web or mobile browser.
To get started, you can choose the Free Forever plan, which gives you access to basic features. Moreover, you may choose any of their subscription plans.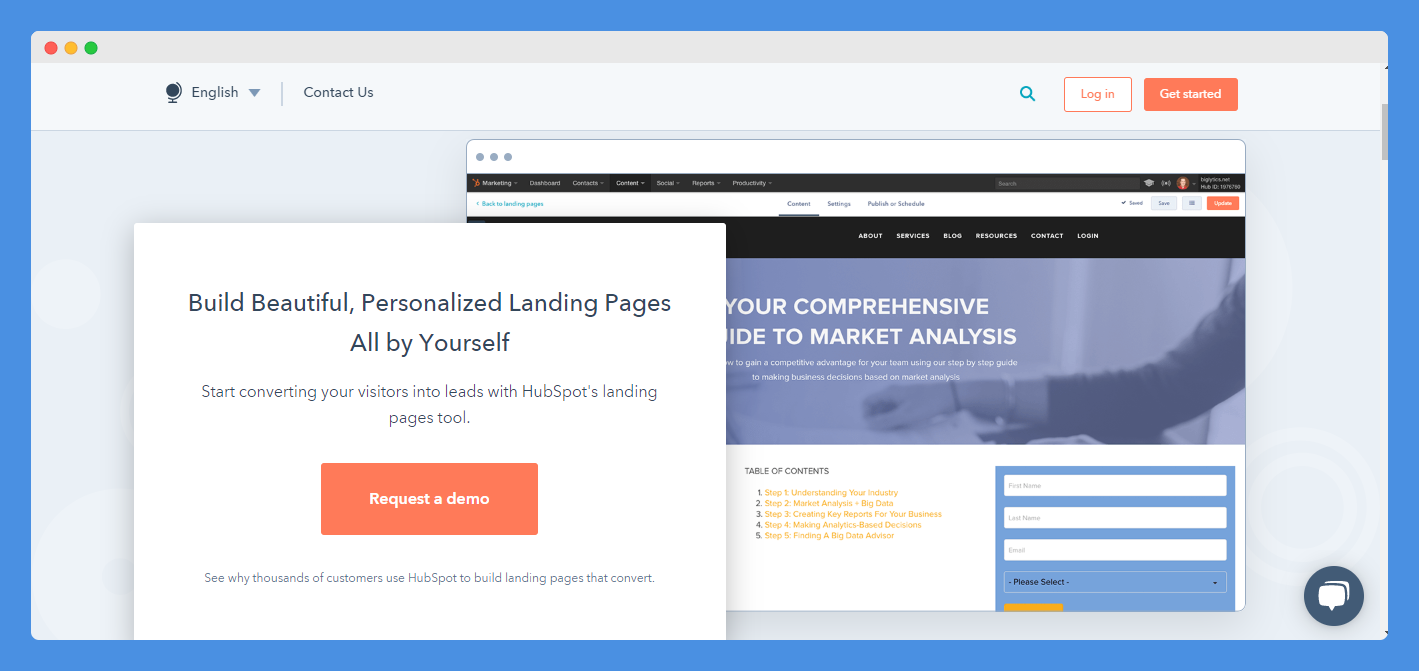 You create email marketing campaigns, Facebook, Instagram, Google, and LinkedIn ads. Also, you can track your traffic and conversion via the analytics dashboard.
You can automate marketing processes and access blog and content creation tools and manage y0ur leads.
HubSpot landing page tools allow you to convert your visitors into leads. You can build personalized landing pages without the help of an IT developer or professional designer.
Additionally, you can request a free demo by filling out a form and a customer service person from HubSpot will attend to you.
HubSpot Features
Let's explore some of the features you will find on HubSpot.
HubSpot Landing Page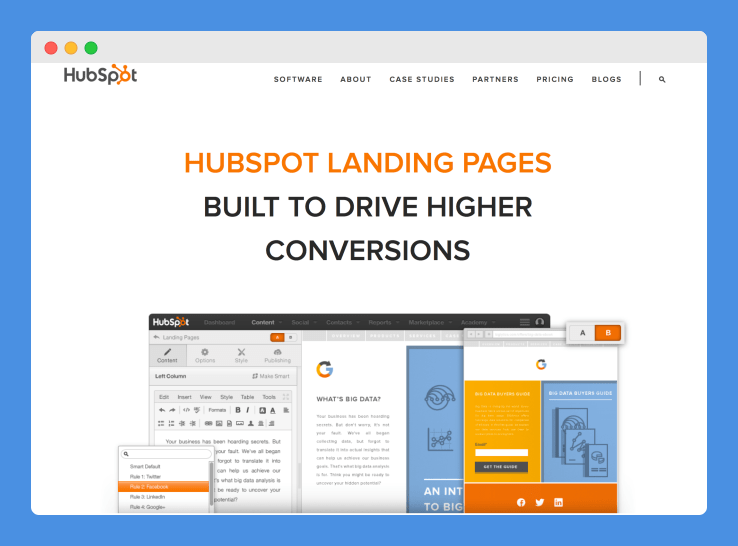 The HubSpot landing page tool is intuitive and easy to use. You can build and launch well-designed landing pages in a few minutes.
You can build your landing page from the ground up or choose from a rich collection of mobile responsive and optimized templates proven to drive conversion.
Besides, you can edit your page content using the rich text editor. By simply dragging and dropping elements, you can insert images, duplicate templates, and add conversion forms to increase conversion.
You can preview your page to see what it looks like on different devices before publishing.
Tailor-made landing pages can increase your conversion rates.
This tool allows you to create personalized landing page content for different visitors.
It also allows you to display tailor-made content, Calls to Action (CTAs), and forms for every visitor to improve the landing page performance.
You can show dynamic content to any contact details on your CRM and visitors based on their location, device, buying phase, and referral source.
Also, you can gather insights about prospects using dynamic forms.
You Might Want To Read: Leadpages vs Optimizepress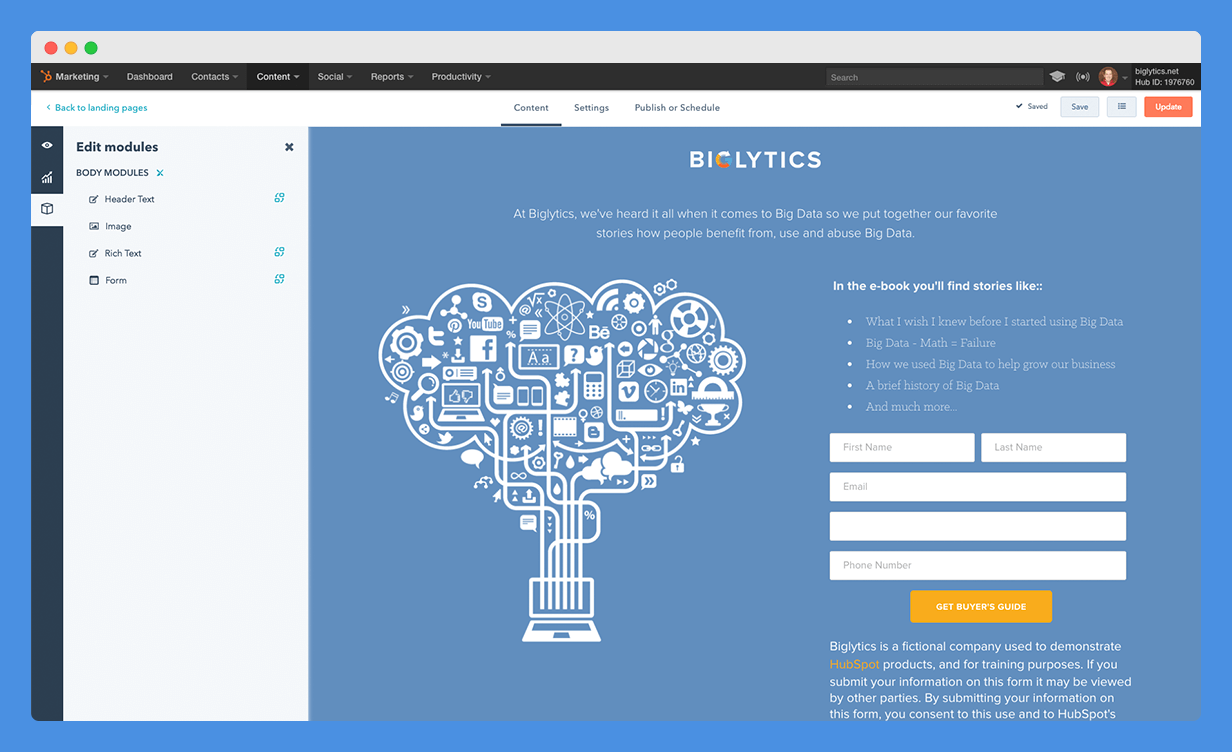 The dashboard analytics tools are useful to analyze, assess, and optimize landing page performance. From your centralized dashboard, you can identify the best performing landing pages.
You can also view how many visits, prospects, and leads customers each page is generating.
Additionally, you can conduct A/B testing on every element on your page including images, calls to action, headlines, and more to determine which version delivers more results.
You can optimize your page for search by acquiring keyword suggestions.
HubSpot Sales & Marketing Automation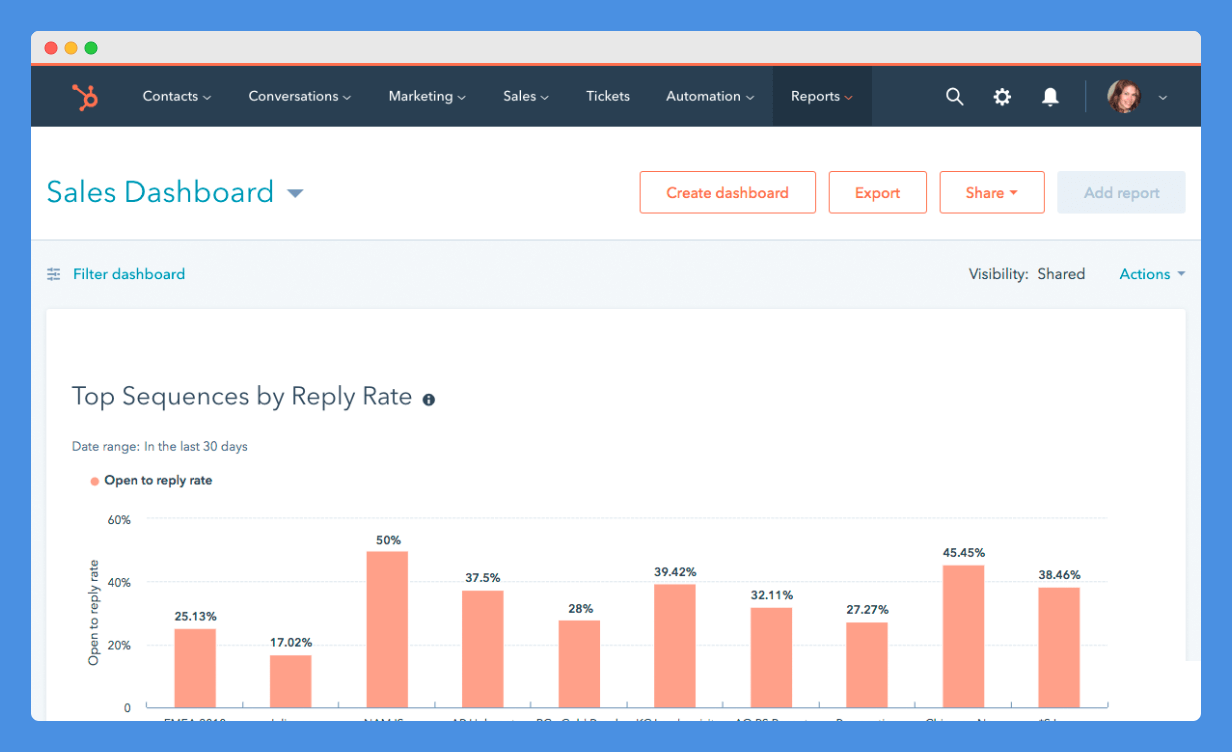 HubSpot allows you to use workflows to automate your sales and marketing processes. You can create and send automated emails and follow-ups using templates. You can also customize your emails using personalization tokens and information from CRM or Salesforce.
Plus, you determine and use the best email sequence and share these sequences with your team. You can integrate with Gmail, G-Suite, Office 365, or Windows.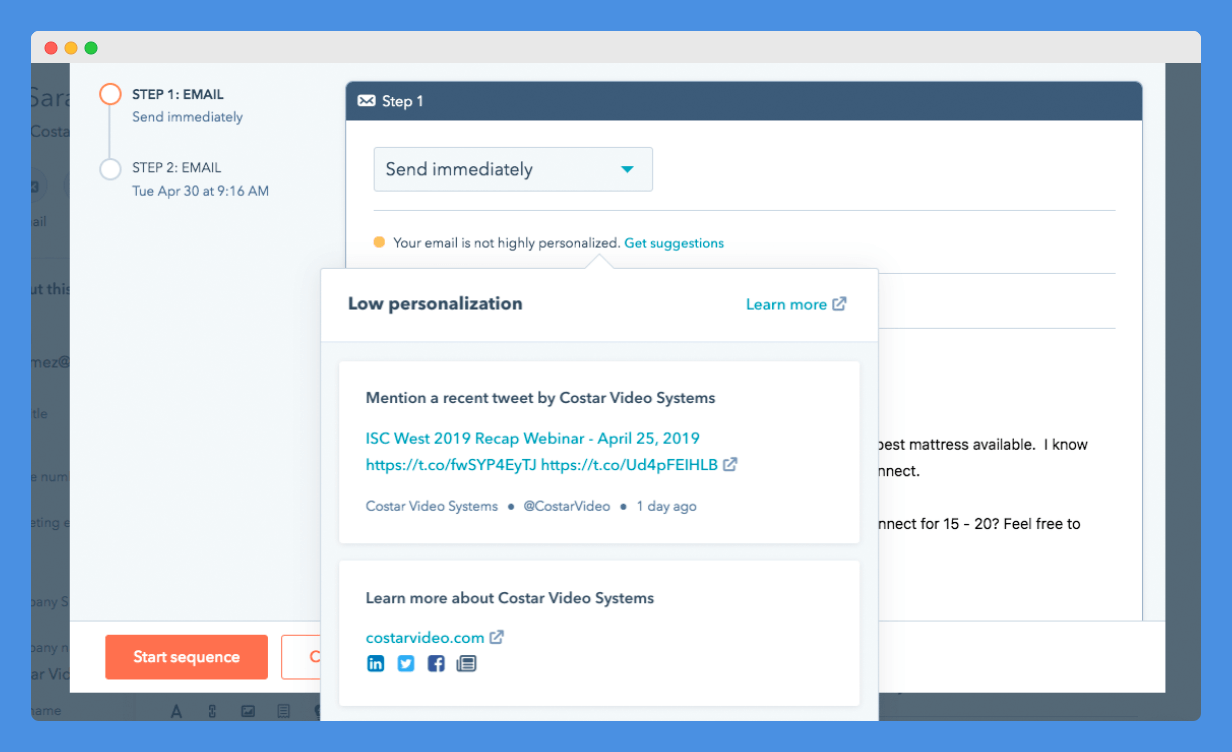 Moreover, you can tailor marketing ads, contents, offers, and campaigns and outreaches based on customer behavior, location, referral links, and more.
HubSpot Ads, SEO & Content Strategy
HubSpot provides tools to help you create engaging content. You can get suggestions on topics based on popularity, relevance and competition, and ranking.
Also, you access monthly search data so you can estimate how specific topic rankings will result in traffic.
Interesting Post: Unbounce vs Clickfunnels vs Leadpages vs Instapage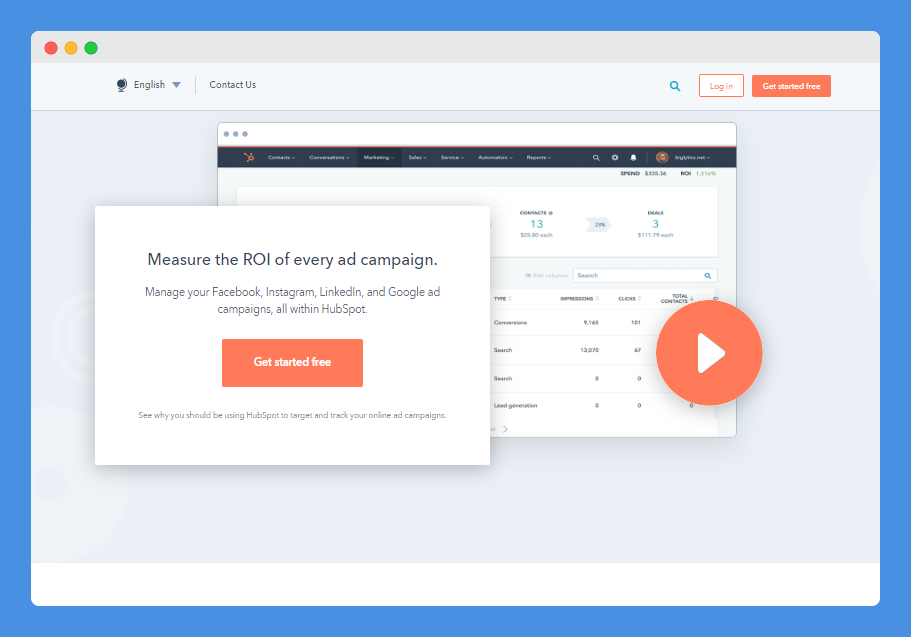 You can also track content performance to determine which content performs best.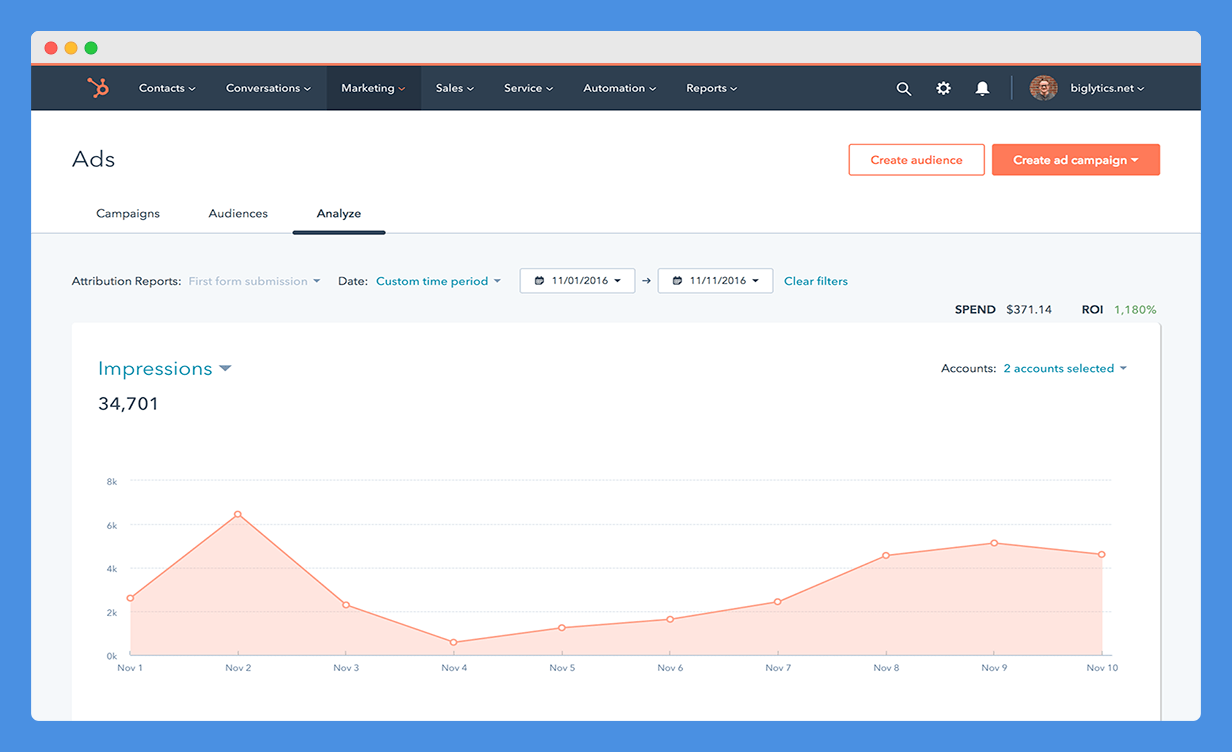 Furthermore, you can get real SEO recommendations on the best time to publish to social media to connect with the right influencers and audience.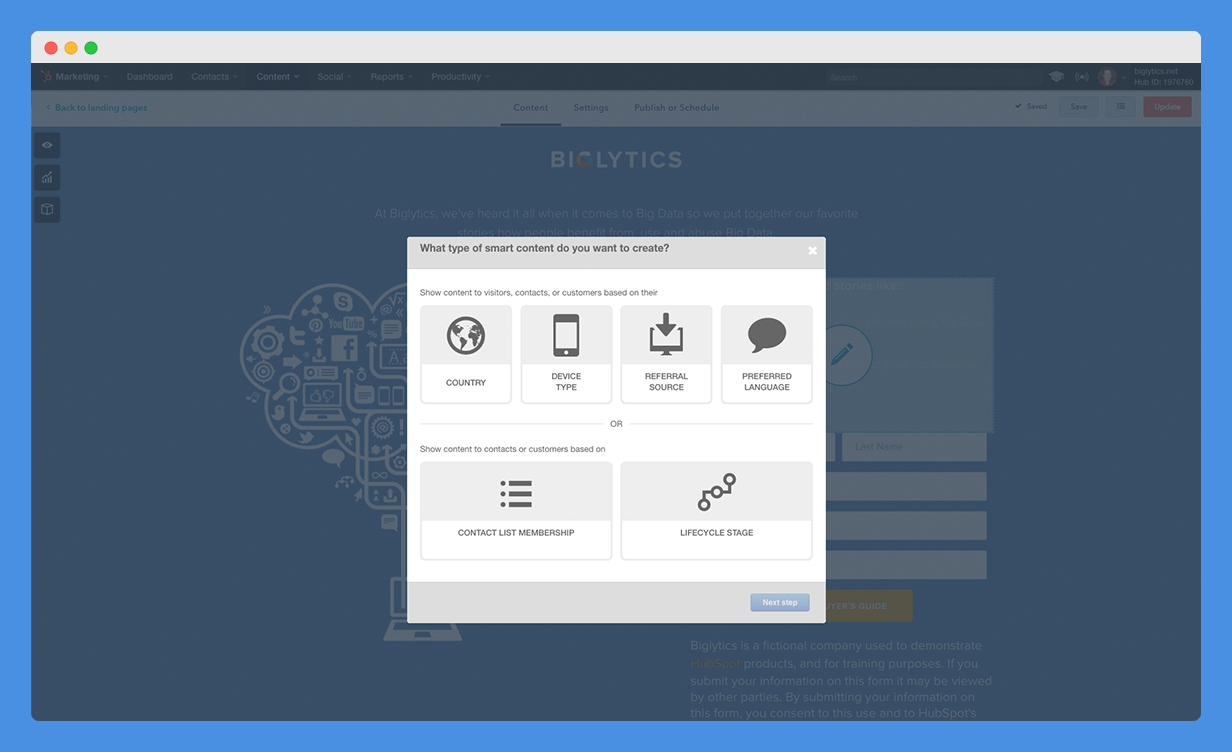 This tool can automatically show relevant content, images, headlines, and CTAs based on previous engagements.
HubSpot Integrations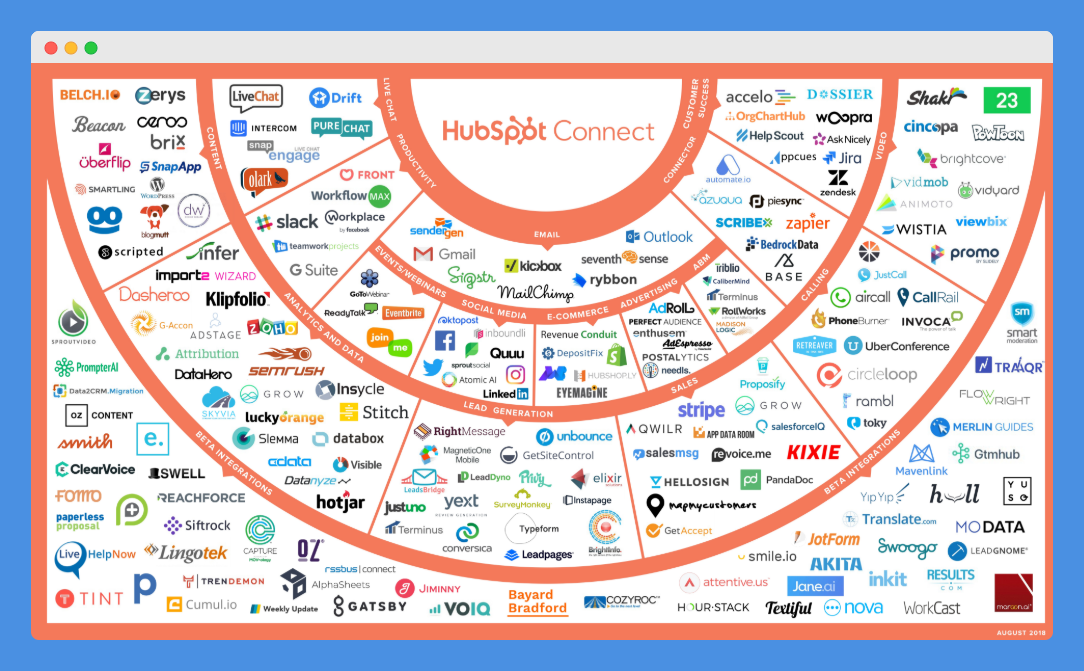 The HubSpot integration tool allows you to connect your favorite tools to HubSpot.
In simple steps, you can connect seamlessly to integrations to share data across teams and platforms, and use fewer logins, get a unified customer view, and dashboard to track progress.
The HubSpot App Marketplace allows you to find and install the best software to drive your business and deliver significant results.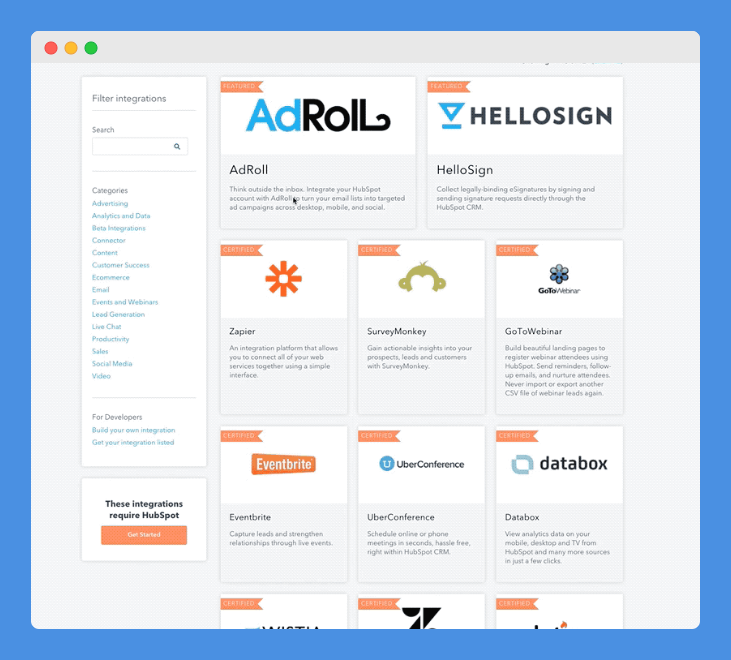 The robust marketplace allows you to explore and connect to over two hundred free and paid apps, including Zapier, Gmail, Mailchimp, Facebook, Twitter, LinkedIn, WordPress, Google, Asana, etc.
HubSpot Pricing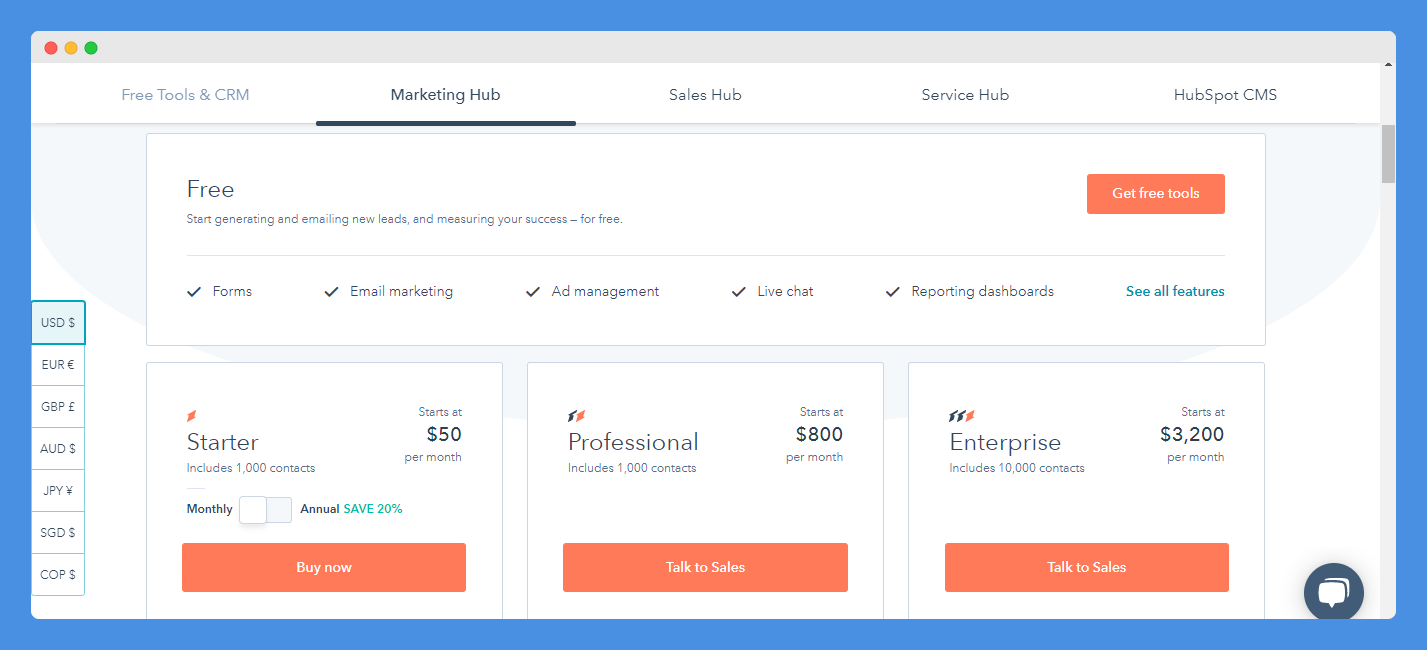 HubSpot offers marketing specific plans, CRM & sales, Customer service and CMS plans. They also have free tools in these categories.
Each of these is differently priced.
Interesting Comparison: Clickfunnels vs Optimizepress
1. The Marketing Hub
The Starter plan starts at $50 per month and allows access to landing page HubSpot features. You also get Lead Management tools.
The Professional plan starts at $800 per month. It helps in Automation, Personalization, SEO and Conversion Optimization.
The Enterprise plan starts at $3200 per month. It helps you to completely manage and scale your brand.
2. The Sales Hub
The Starter plan starts at $50 per month which helps you organizing your Sales process.
The Professional plan starts at $500 per month. It offers you features for email marketing and product configuration.
The Enterprise plan starts at $1200 per month helping you grow and scale your business.
3. The Service Hub
This includes three plans. I.e. Starter, Professional and Enterprise. These are priced at $50, $400, $1200 per month respectively. The Enterprise plan is billed yearly.
4. CMS
CMS plans help you to build and manage your website and other applications. There are 2 plans, $300 and $900/month.
Additional Resources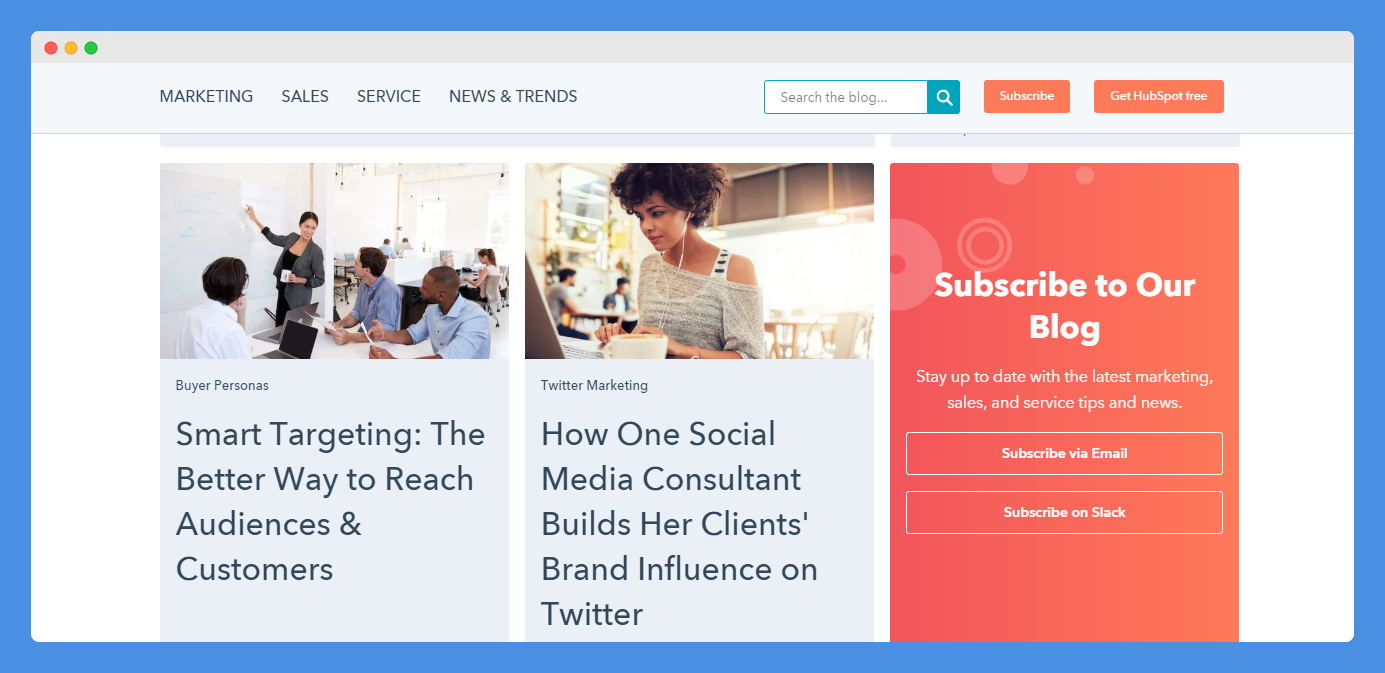 The resource library on HubSpot includes engaging blog content, ebooks, guides, training materials, research and reports, free courses, and certifications to help you make the most out of HubSpot.
HubSpot Pros & Cons
Pros
HubSpot has a free version for CRM marketing, sales, and service tools.
Easy to use
Live chat is available for both free and paid versions
No limits on customizations
Unified database for all platforms
You can integrate the CRM tool with other CRM software
Robust knowledge resource
Scalable pricing
Cons
Onboarding fee for paid plans is expensive
Lots of manual configurations are required
Explore: Clickfunnels vs Leadpages
Verdict: Unbounce vs HubSpot Landing Pages
There you have it – a comprehensive analysis of two popular landing page tools. Further, we have highlighted their unique features, pros, cons, and pricing.
Both solutions have similar features but also have features that set them apart. Based on our review, you can make an informed choice on the best tool that meets your needs.
For users looking for a simple landing page tool with multiple customizations, Unbounce is a great option.
HubSpot is an excellent choice for users looking for a free solution, cost-effective pricing for the paid plans, and an all-in-one marketing, sales, and CRM tool.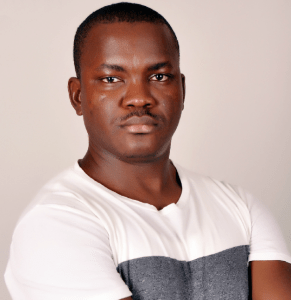 Author: Nicholas Godwin
Nicholas Godwin helps businesses tell profitable brand stories that their audiences love. He's worked on projects for Fortune 500 companies, global tech corporations and top consulting firms, from Bloomberg Beta, Accenture, PwC, and Deloitte to HP, Shell, and AT&T. Works with Mofluid these days.