Building a healthy e-mail list is essential for business success. LeadPages is an online tool that is designed to help people grow e-mail lists, and in turn, also increase their business and blog traffic.
It is essential to understand that LeadPages is not the same as e-mail marketing software programs like MailChimp or InfusionSoft which allow you to send regular e-mails to your subscribers.
Instead, LeadPages helps you get more e-mail subscribers to add to your e-mail marketing software.
If you're wondering why you should embrace LeadPages when you still need to have a second software to send e-mails, this Leadpages review will help.
What Is LeadPages?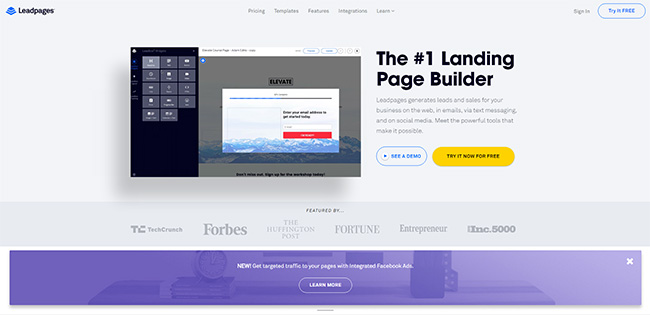 Wondering what is Leadpages?
For people who don't want to spend the time it takes to code or modify the back end of their websites, LeadPages is an excellent landing page builder for growing e-mail lists.
While increasing is its main feature, LeadPages offers several other cool features, including:
Get Special Pricing For Leadpages at $17/mo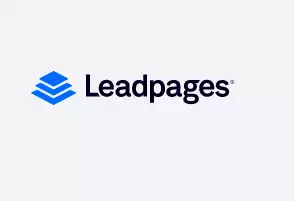 We earn a commission if you click this link and make a purchase.
Hosting Webinars With Leadpages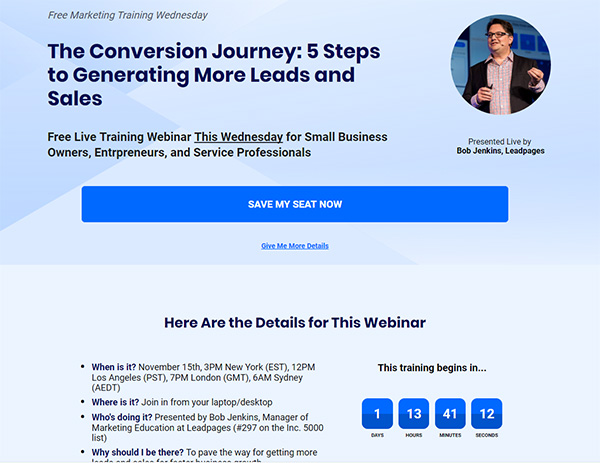 LeadPages allows you to embed a live Google Hangouts broadcast into a webinar template on LeadPages. It will also let you add a chat box so that your webinar attendees can communicate with you and each other.
While it wouldn't work for complex webinars and summits, it is an excellent option for people who are getting started with webinars, and it comes with your LeadPages subscription.
Related : Best Online Webinar Software Reviews
Creating Landing Pages With Leadpages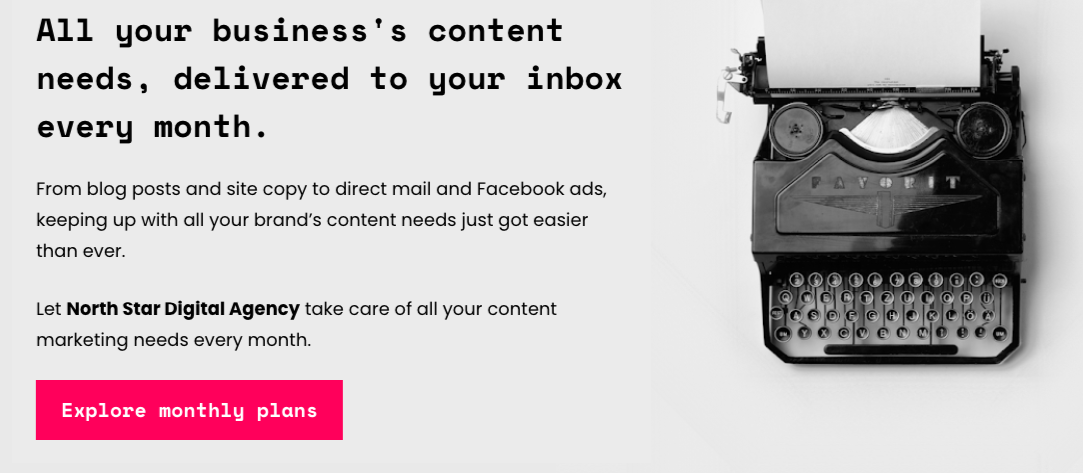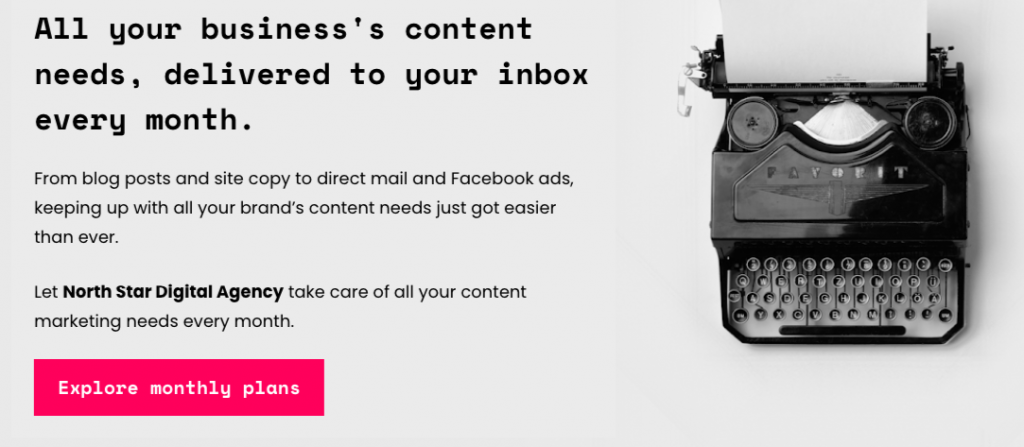 On the LeadPages website, they claim to be the number one landing page on the internet.
The truth is that it does have a fantastic setup to create landing pages. They offer over 130 free and mobile-friendly landing pages to appeal to any industry.
==> Click here to get a special Leadpages discount <==
Who Should Buy LeadPages?
Leadpages reviews generally don't touch upon this. If you're wondering "do I need Leadpages"? We will answer it for you.
Anyone who is looking to increase the number of people who subscribe to their e-mail list could potentially benefit from LeadPages.
While some people prefer to do their own back-end work, many people who write blogs or have businesses are dependent on website builders like WordPress and e-mail generating apps, like MailChimp.
If the pricing fits within your budget, LeadPages is worth the consideration.
From the LeadPages blog, here are five different ways to determine if it is right for you.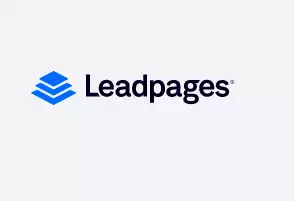 We earn a commission if you click this link and make a purchase.
Do you have an established business or a firm plan on starting one?
Some people jump into building their business with both feet and immediately set up a website to get them started. Others take years to develop their foundation before moving their business endeavors to a site.
For people who have a solid business plan, or are generating revenue, LeadPages is good. If you aren't ready to invest your time and energy into e-mailing lists, or other features, it isn't time to embrace LeadPages.
Also Read : Leadpages Vs ClickFunnels
LeadPages works best to serve people after they've found you which means your website, blog page, or social media profiles need to be set up, and you need to be on people's radars.
Do you know what to do with your leads when they find you?
Building an e-mail list is just the beginning. It is essential to have a plan for what your e-mail list purpose is, how you are going to market your products and services, and where you want it to go in the future.
If you don't have a plan in place, you will want to complete one before you sign up for LeadPages.
Do you know how to measure whether tools are working for your or not?
Understanding analytics and ROI (return on investment) is the only way to be successful. Understanding ROI helps you to know what business investments are improving your business and which ones are costing money without delivering.
If you have a good understanding of ROI, LeadPages is a good option.
Is rapid growth a top priority for your business?
The best way to make sure LeadPages is excellent for you is to use it to its full potential. If you aren't quite ready to rapidly grow or need to do a little more planning to get prepared, it may be wise to wait to start until you're ready.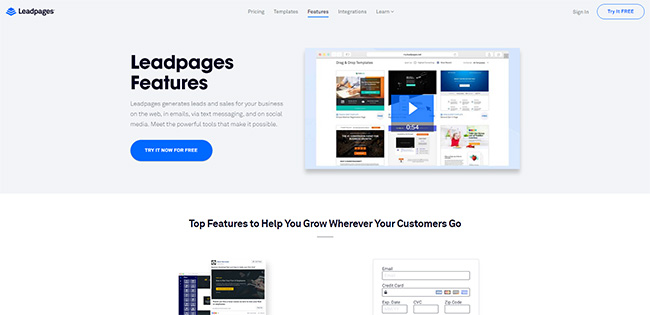 While the main feature of LeadPages is for it to generate more e-mail leads, it is a well-developed app that offers so much more to people and businesses. Here are the main Leadpages features.
Leadpages Built-in Payments
Checkouts is a feature that allows you to make sales and deliver digital products from any landing page or popup.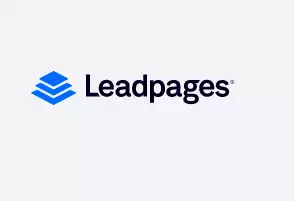 We earn a commission if you click this link and make a purchase.
Leadpages Mobile-Friendly Templates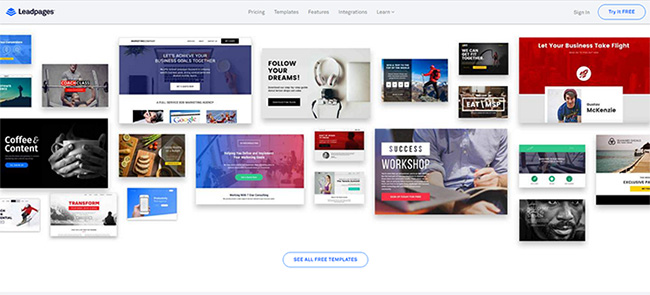 Over 130 free templates that are all mobile friendly.
Leadpages Drag-and-Drop Customization
Easily customize your landing pages by dropping your desired elements where you want them. Text, images, buttons, and widgets are all able to be snapped into place where you want them, with ease.
Leadpages Easy A/B Testing and Analytics
Follow how your pages and opt-in forms are performing and then optimize them by setting up an A/B test. This feature makes it easy to figure out what works for your audience.
Get Special Pricing For Leadpages at $17/mo
Leadpage Integrations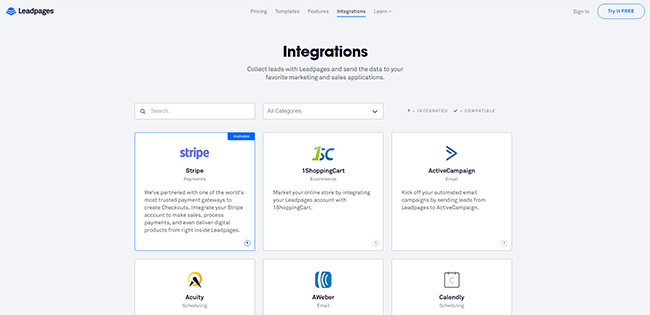 LeadPages makes your marketing and sales software even more powerful by linking to it, whether you want to send new contacts to your e-mail list, use it as a webinar platform, and more.
Leadpages Lead Capture Pop-ups
Leadboxes is a two-step opt-in form that allows you to collect leads anywhere on any site. LeadPages built-in lead magnet delivery system is top-notch.
Also Read : Leadpages Vs Optimizepress
Leadpages SMS Opt-in codes & 1-Click Signup Links
With Leaddigits, you can capture opt-ins wherever leads carry their phones. Afterwards, Leadlinks allows you to let leads sign up for e-mail lists and register for your webinars right in their inboxes.
Is Leadpages Worth It?
We definitely think so.
Given the fact that it offers great features, it's right up there on our list of business tools.
==> Click here to get a special Leadpages discount <==
LeadPages Pricing


Now we'll talk about Leadpages price.
LeadPages offers a free 14-day trial period so you can experience their services and see what it can do for you.
Afterwards, Leadpages pricing has different plans. You can also decide whether you want to pay monthly, yearly or every two years.
If you decide to prepay annually or bi-annually, you will save around 38% off. Here is a breakdown of the monthly pricing.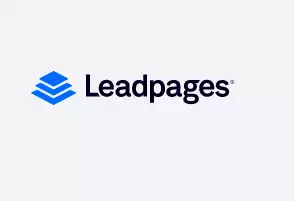 We earn a commission if you click this link and make a purchase.
Leadpages Standard
The standard pricing tier is $37 a month. With the standard price, you get access to LeadPages and Leadboxes.
Leadpages Pro
Leadpages pro reviews say this is the most popular of all plans. The pro pricing tier is $79 a month and gives you access to all of the LeadPages features.
Leadpages Advanced
For businesses who want to have sub-accounts and the template importer feature, LeadPages is $321 a month.
Leadpages Competitor Comparison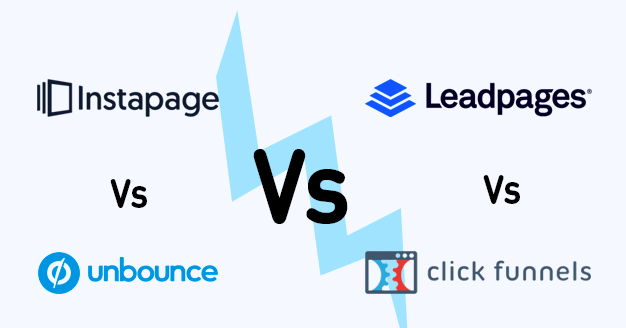 There are several different landing page competitors like Instapage, Clickfunnels & Unbounce, but ClickFunnels is the one that is compared to LeadPages most.
ClickFunnels is a platform that is comparable to LeadPages in several ways, but also very different. While LeadPages and ClickFunnels do share some overlaps in features, ClickFunnels offers quite a few extra services.
Besides just being able to create landing pages and popups, ClickFunnels allows its members to build multi-step sales funnels that integrate with payment processors.
Clickfunnels has a higher learning curve and also costs a lot more than LeadPages.
If you wonder which one is better, both of them have features that make them great for most businesses. The platform that is best for you depends on what services you need for your business.
Learn about : Best Leadpages Alternatives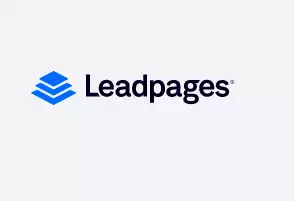 We earn a commission if you click this link and make a purchase.
Final Thoughts
So this was our Leadpages review.
For any person or business who is wanting to put a lot more focus on growing their e-mail list, LeadPages is a reliable option.
It has plenty of services to make it beneficial to people who are serious about building their business.
Get Special Pricing For Leadpages at $17/mo

Author: Christy Bohrer
Christy Bohrer is a multi-topic blogger, with a passion for all things marketing and social media. She is a wife, mother, and entrepreneur. In her spare time, she enjoys traveling, language, music, writing, and unicorns. Christy is a lifetime learner, and loves to spend time attending classes, webinars, and summits.