An ecommerce business, like any other online business, can't rely on a simple landing page for generating profit. If they are to convert leads into customers, they must have a solid sales funnel.
In the past, it was extremely difficult to create sales funnels from scratch as there were no tools specifically available for this work.
However, now users can find tools to create sales funnels on their own. Some of the most popular tools that people can use for creating sales funnels include Leadpages and ClickFunnels.
Although Leadpages can be used for creating sales funnels, it isn't specifically designed for that. It's built to create landing pages. On the other, ClickFunnels is specifically built to create sales funnel.
In this post, we will compare ClickFunels vs Leadpages to help you decide which one is right for you.
Landing Pages vs Sales Pages
Sales pages and landing pages aren't the same. A user should determine which one they need based on their goal.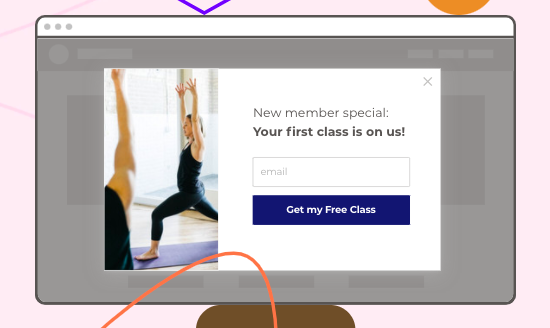 Landing pages are standalone webpages with a specific goal. They are designed to get visitors to take on a certain action.
What action they are supposed to take is generally indicated in a CTA button. When a user takes an action desired by the business, it's called a conversion or successful transaction.
CTAs aren't always about getting a sale. They may be used for acquiring email ids. Some people use them for getting more webinar registrations.
Sure, users can use their company blog or website for promoting their business, acquiring email ids and getting more registration for their webinar. But, a landing page gives them better result as its focus is more targeted.
Sales pages, on the other hand, are built specifically to convert users. They are different from landing pages in the sense that their main goal is to make a sale.
These pages are generally longer and provide more navigation options to the visitors. Sales pages are a good option for promoting products that require a more detailed explanation.
They guide visitors from raising awareness through to making a purchase – otherwise called a sales funnel.
That is why sales pages have additional features like a shopping cart. They also have payment capabilities that make purchasing easier and more efficient.
ClickFunnels is a great platform for creating sales pages. On the other hand, Leadpages is designed to help users create landing pages.
ClickFunnels & Leadpages
Leadpages is a landing page software that can be used to create mobile responsive pages using a simple drag-and-drop editor.
Anyone can create landing pages using this simple software as it doesn't require any coding experience. Moreover, users can monitor the performance of their pages using the tool
ClickFunnels is similar to Leadpages, but its sales funnel creation sets it apart from Leadpages.
With ClickFunnels, users can create different landing pages and also add more things to it like a shopping cart that could help increase their sales.
Now let's look at these tools in more detail. We'll start with ClickFunnels in our ClickFunnels vs. Leadpages review.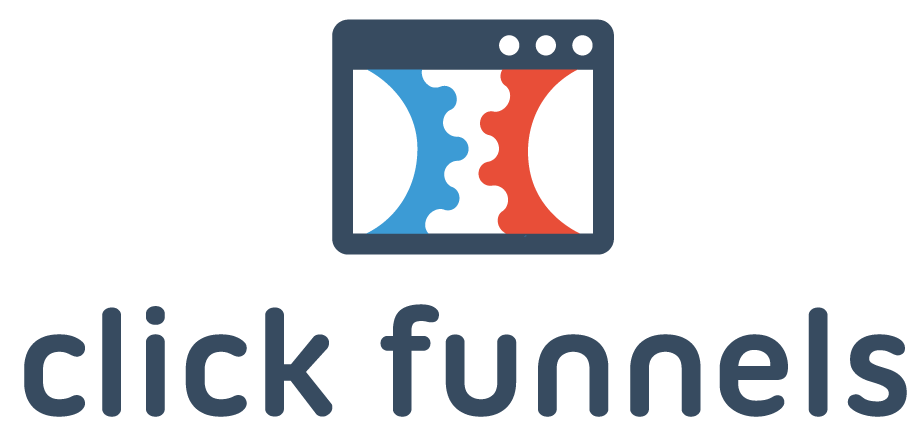 ClickFunnels is a simple-to-use platform designed to help users build sales pages. Although it is similar to Leadpages, its features make it a great option for generating leads, running an event or making sales.
ClickFunnels is not a website builder like Wordpress, Builderall or others but it helps you with creating landing pages and more specifically, sales funnels.
ClickFunnels - Check Special Pricing
Beautiful high-converting sales funnels. Simple, quick & easy to build. Includes email, Facebook automation along with in-built shopping cart. Check Special Pricing.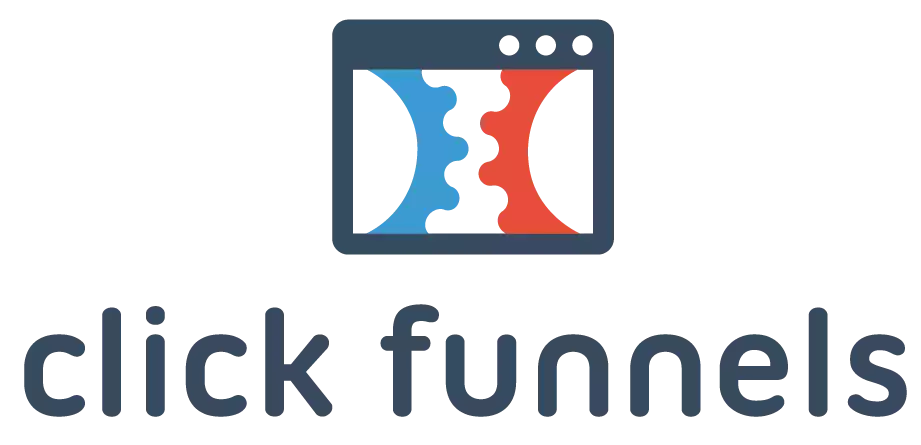 We earn a commission if you click this link and make a purchase.
Sales Funnels
ClickFunnels allows users to build a series of different pages depending on what they're trying to achieve.
The collection of pages built with the platform is called a funnel. A user can create three types of funnels using the platform – events, sales, and leads.
Each funnel sub-channels that allow users to cater their sales pages to their goals. For example, if a user wants to generate sales, then they can use a video sales letter funnel or two-step funnel.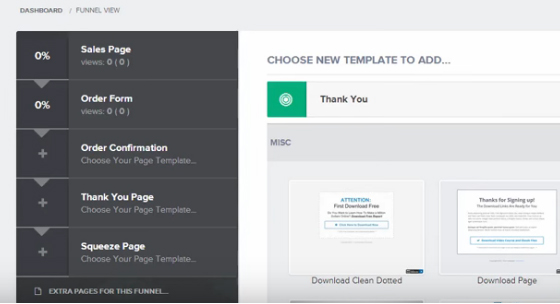 A user can also choose to go with the product launch funnel route. This is where visitors get access to demos and video how-tos allowing them to understand the product better.
Another way to build funnels using ClickFunnels is with the cookbook. The cookbook contains funnel recipes which are essentially 'ready-to-use' funnels that a user can buy and edit to suit their needs.
Usually, the funnels in the cookbook are built for a specific purpose. They can be copied to an account with a simple click of a button and they come with all funnel steps.
Once a user has signed up for ClickFunnels, they will eventually come on the dashboard.
The dashboard is where they can access all their options. By selecting the 'New' option in the dashboard, a user can start creating a new funnel. When they click it, they will get several funnel options.
After they have selected the funnel, they will be directed to a different page. There will be explainer text and video on the new page helping users understand how the funnel works.
ClickFunnels Page Builder
The page builder of ClickFunnels is easy to use. A user can click on an element to edit the text. They can underline, italicize or bold copy as they would normally do in MS Word.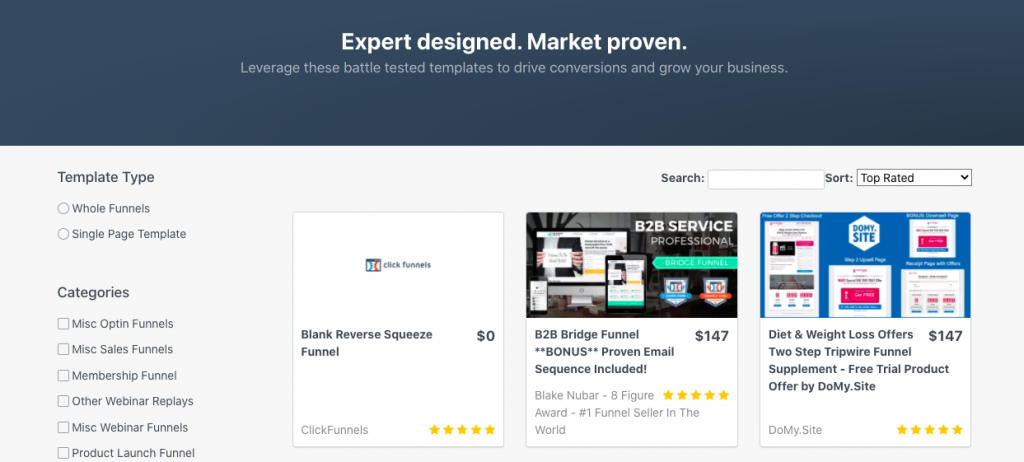 Hyperlinks can be easily added with a click. If a user wants to replace an image with one of their own, they can again do so by just clicking on the image.
The drag-and-drop feature of ClickFunnels is very similar to Leadpages.
A user can also edit the CTA to control what happens when visitors click the CTA button. For example, visitors may be directed to a website or the next step of the funnel.
Split Testing
With ClickFunnels, a user can split test one variation of each funnel step against a control version. A total of two variations are allowed for each step.
The user can distribute the traffic at the percentage they desire or evenly among the variations.
The idea is to determine which pages visitors would respond to best. A user can experiment using different call-to-actions or images.
ClickFunnels Actionetics & Backpack

Actionetics is an email service provider that can help users avoid paying for third-party email tools like Drip, GetResponse, MailChimp, etc.
Backpack allows users to run their own affiliate program so again it saves them from having to pay fees for using third-party tools.
Actionetics and Backpack aren't just helpful because they save users from paying additional fees for third-party platforms, but because they make the user's work easier by giving them everything they would need in one place.
ClickFunnels Payment Gateways
There are a variety of payment getaways that can be set to make transactions smoother.
A user can choose Stripe, Ontraport, Taxamo, ClickBank, BrainTree, JVZoo, and Infusionsoft. If the sales pages of the user are transactional in nature, they will have set up their payment getaway before launching them.
Users who have enabled affiliates will also need a payment getaway. Third party processors also are supported by ClickFunnels to help users track purchases.
ClickFunnels Support
One of the major concerns of users who work with marketing platform is support as many companies don't provide good customer support.
Videos and other helpful training materials are provided by ClickFunnels to help users get familiar with the tool. The tutorials are well paced and informative.
ClickFunnels also offers phone support to those who subscribe to their Enterprise plan. However, a live chat option isn't available.
ClickFunnels Is User-friendly
ClickFunnels' ease of use is admirable. Everything is laid out in front of the user making them easier to select the options and features they want to use.
A user can find templates that would be best for their target audience and edit them to suit their specific needs.
ClickFunnels Pricing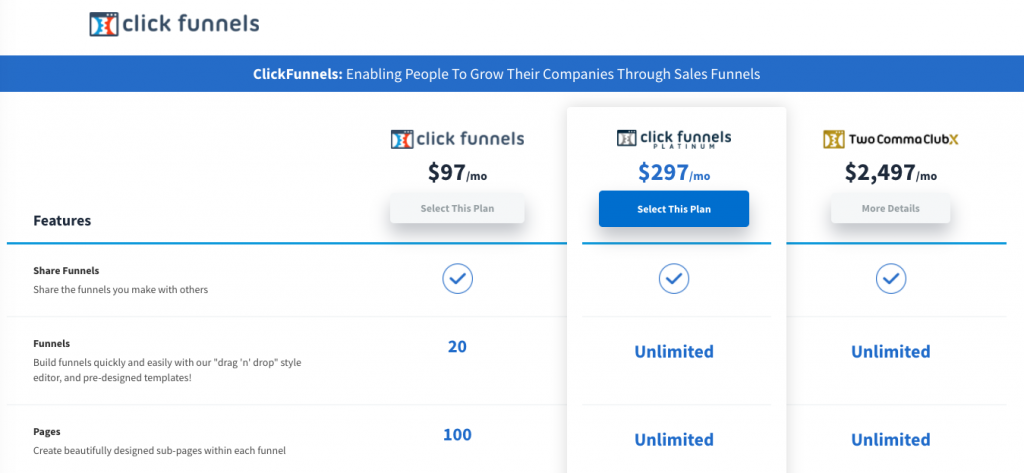 ClickFunnels offers three pricing plans – Basic at $97/month, Platinum at $297/month and TwoCommaClubX ultra premium plan priced at $2497/month.
ClickFunnels - Check Special Pricing
Beautiful high-converting sales funnels. Simple, quick & easy to build. Includes email, Facebook automation along with in-built shopping cart. Check Special Pricing.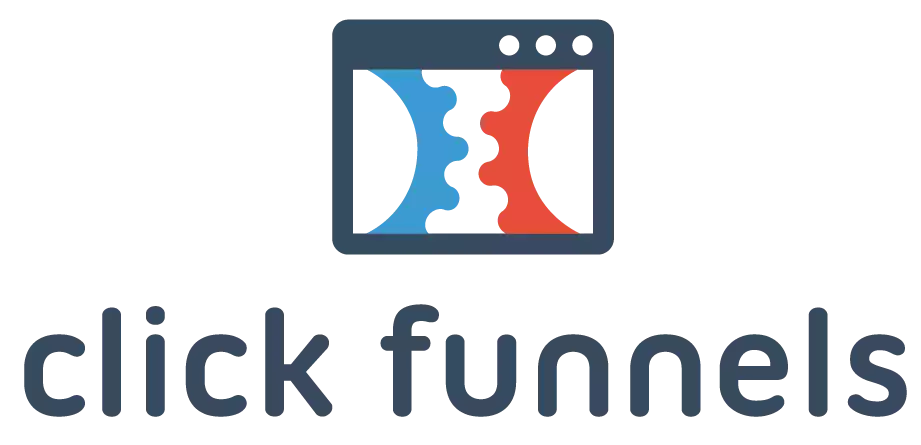 We earn a commission if you click this link and make a purchase.
Related : Best ClickFunnels Alternatives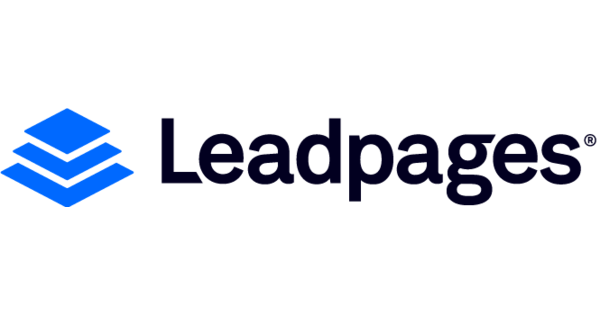 We now move to Leadpages in this Leadpages Clickfunnels comparison.
Leadpages allows users to create different landing pages for their business. Anyone with little or no coding knowledge can use this platform without any trouble.
This means that a user doesn't have to hire a web developer to build a landing page. Leadpages gives users complete control over how they want to design their landing pages.
Due to its page building features, Leadpages is often misinterpreted as a website builder. However, it's not like Wordpress or any other website tool. In fact, you can add Leadpages plugin on a Wordpress website to create beautiful landing pages.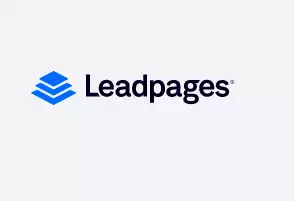 We earn a commission if you click this link and make a purchase.
Leadpages Landing Pages
Leadpages gives the user access to several templates. A user can select a template and edit it using the Leadpages drag-and-drop editor.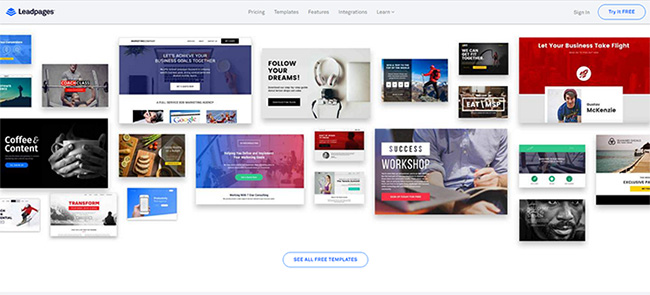 The editor makes designing easy and fast and once a user gets a hang of it, they should be able to build a landing page within minutes.
Once the user has signed up for the service, they can start creating landing pages using Leadpages.
To create landing pages, a user can select a template from the list of options and edit it according to their requirements.
There are two types of templates to choose from – drag and drop templates and standard templates. Drag and drop templates are better as they were added after standard templates. Standard templates look dated as they are pretty old.
Once a user has selected a template, they will enter the editor of the Leadpages where they can edit the text and add the images of their choice. Like ClickFunnels, the drag-and-drop function is easy to use.
Unfortunately, neither ClickFunnels' editor nor Leadpages' editor supports free-form editing. This means that users cannot just place text anywhere on the landing page. The design elements must snap into place.
Users can switch between different viewing modes – phone, tablet and responsive. This allows them to check how their landing pages would appear across different devices. Users can also set-up split testing while they are logged in.
Users have to connect their Leadpages account to their email service providers. Otherwise, they won't be able to publish their landing page and save collected emails.
If a user wants to get an idea of how many visitors their landing page is attracting, they can integrate Google Analytics with Leadpages.
By doing this, they will be able to get vital information about their landing pages from Google Analytics and they can use the data to create a better landing page.
Leadpages Features
In addition to the editor, there are several features that allow users to test their landing pages.
For example, the A/B testing (split testing) feature of Leadpages allows them to compare two landing pages they create on the platform against one another to determine which one performs better.
There are pop-boxes called Leadboxes that can be triggered any-time. For instance, if a visitor decides to leave the landing page, a Leadbox will appear to try to persuade them to stay on the page thereby increasing the business owner's chance of making a sale or acquiring the email id of the visitor.
Leadpages Pricing
Leadpages offers a variety of plans. A user can choose from a Standard plan ($25/month) Pro plan ($48/month) and Advanced Plan ($199/month) – all billed annually.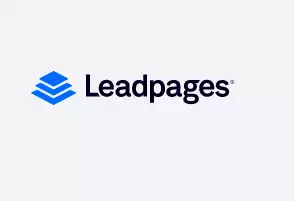 We earn a commission if you click this link and make a purchase.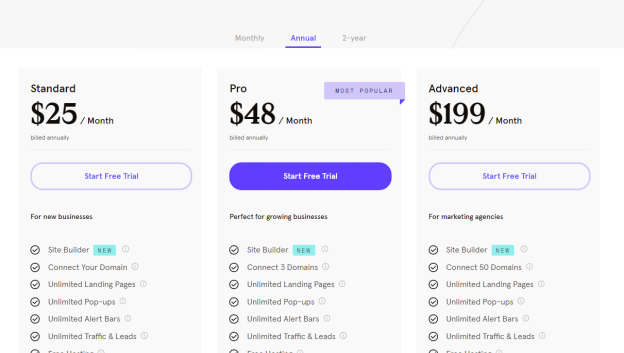 Alternatively, they can choose 2-year plans which will cost them less over time or plans that are billed monthly which are the costliest.
The monthly plans are priced at $37, $79 & $321 per month.

The features a user unlocks will depend on the plan they subscribe for. All plans come with basic features like the drag-and-drop editor, access to templates, pop-up forms and double opt-in, allowing users to create landing pages for attracting customers.
However, one-click signup links and SMS campaign features are only available with the Pro and Advanced plans.
Leadpages Free Trial
Signing up for the service is easy. Leadpages although offers a free trial, it asks for credit card information.
A user can sign up for the free trial and cancel the subscription (if they don't like the platform) before the site starts charging them.
Leadpages Support
Leadpages provides a little more support to their customers than ClickFunnels.
Regular Leadpages members receive email support. Pro members get Leadpages live chat option beside email assistance. Enterprise members of Leadpages are entitled to full support.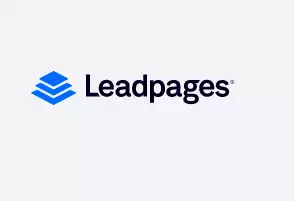 We earn a commission if you click this link and make a purchase.
Differences Between ClickFunnels & Leadpages
There aren't many major differences between Leadpages and ClickFunnels. Both platforms allow users to create powerful landing pages.
Both offer drag-and-drop functionality making it easier for people to create pages.
ClickFunnels and Leadpages integrate with various email providers. Hosting is also included in their plans.
Mobile-responsive templates are featured by both platforms in their collection. Both ClickFunnels and Leadpages allow users to split test their landing pages to see how well they are performing.
However, one area where ClickFunnels takes the lead over Leadpages, Optimizepress or even Unbounce is in creating solid sales funnels. Users can easily create complete funnels thanks to the pre-built funnel templates.
Moreover, users can insert a shopping cart and they can also integrate with different payment processors to make transactions simpler. It is really helpful for users who create lead magnet campaigns.
ClickFunnels also allows users to track per page conversion, do smart email sequence and easily change the order of the funnel. ClickFunnels gives users a complete package. Everything eventually boils down to the pricing of the two platforms.
The ClickFunnels obviously comes with a hefty price tag. At $97 a month, users would find this tool expensive and may consider using the less expensive option i.e. the Leadpages platform.
However, the features they get with ClickFunnels can really help propel their business forward which is why this platform is worth considering.
It should be noted that ClickFunnels eliminate the cost of hiring a professional web designer. Moreover, a user can save time as the drag-and-drop editor will allow them to quickly create sales pages once they get the hang of it.
We would say that users who need to create simple landing pages, should consider using Leadpages. It is much cheaper than ClickFunnels and boasts plenty of mobile-responsive templates.
On the other hand, users who want to create sales funnel should choose ClickFunnels over Leadpages.
ClickFunnels Pros & Cons
ClickFunnels is a great platform for creating a sales funnel and it will help users manage every single aspect of their sales funnel creation process with ease.
Even though it's a bit pricier than some of its funnel building alternatives, there isn't a better tool in sight at the moment.
Its simplicity is its biggest strength as users can use just one tool to create sales funnels instead of managing several applications.
Pros
ClickFunnels offers some impressive features that a user needs to create their sales funnel like email autoresponder software and shopping cart. The remarkable features allow users to create a sales funnel for different purposes.
Creating landing pages is simple. However, design options aren't as great as those available with Leadpages.
ClickFunnels come with a built-in email responder which means that a user doesn't have to integrate with other email software like Drip or Mailchimp to create their email sequence. However, if you do a lot of email marketing, then you might want to subscribe to a dedicated email service like GetResponse etc.
ClickFunnels also integrates with Twilio allowing users to send automated text messages to their funnel subscribers.
ClickFunnels makes managing all aspects of marketing and sales funnel simpler as everything can be accessed from one application
Cons
The page builder of ClickFunnels is ideal for creating sales funnels, but it is less powerful than that of Leadpages. PPC marketers and CRO experts will feel limited by the builder's focus on simplicity over customization.
Leadpages Pros & Cons
Leadpages is built to create landing pages. If a user wants to create and test different landing pages for their PPC campaign without sacrificing simplicity for power, then Leadpages would be right for them.
Pros
The landing page builder of Leadpages is more powerful than ClickFunnels and comes with more customization options. Everything from video players and social sharing buttons to text boxes and more can be dragged and dropped onto a landing page.
Leadpages comes with a large number of free templates and paid landing pages templates designed for online marketers, app developers, local businesses and more.
All landing pages created with Leadpages are completely responsive and look good on both mobile and desktop.
The page builder of Leadpages includes an HTML editor that more advanced users can use to customize their landing pages with their own code.
Built-in conversion optimization and A/B testing tools make it easier for a user to analyze the performance of their landing pages.
Leadpages integrates with a wide range of applications from CRM tools to email software like AWeber.
Leadpages offers a host of marketing features. This makes it a potent tool against the likes of marketing platforms like Wishpond and others.
Cons
Leadpages doesn't come with a built-in email software so users must integrate it with a good third-party email software.
When it comes to ownership of pages, Leadpages trails behind its competitors like Optimizepress. You lose your pages if you cancel your subscription. This is a major drawback.
Related : Best Leadpages Alternatives
Final Verdict – ClickFunnels vs Leadpages
Wondering which tool to go with? Leadpages or Clickfunnels?
Both ClickFunnels and Leadpages have their own strengths and weaknesses. The tool that is right for a user depends on their specific needs.
If a user wants to create landing pages to generate leads, then Leadpages would be the best tool for them.
On the other hand, users who want to create complete sales funnel should choose ClickFunnels over Leadpages.
We hope that you will find our comparison of Leadpages vs Clickfunnels helpful in choosing the tool that is best suited for your needs.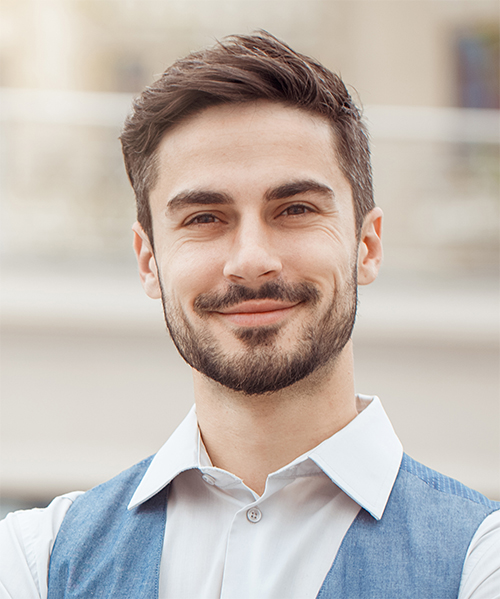 Author: Scott Macarthur
Scott L. Macarthur is a marketing consultant and an online author. He is mostly engaged in providing his expertise to startups and SMBs. He is also an author on TheNextWeb.