Affiliate marketing is one of the most popular ways to earn online commissions.
You just need to advertise and promote someone else's products /services and lure the visitors to buy them through your referral or affiliate links – given to you by the product company.
You can set up these links either on your own websites, emails lists or anywhere on the web, where you can target the maximum traffic.
Experts also make use of affiliate softwares, tools and other promotional techniques to increase their profits.
However to become an affiliate, you first need to have a basic understanding of how the whole system of affiliate marketing actually works.
For that, you need to subscribe to the best affiliate marketing courses. They will teach you A to Z of affiliate marketing.
Affilorama is one such course you can consider.
Today we are going to do a thorough review of Affilorama, its features, tools, pricing etc. It is not going to be one of those regular Affilorama reviews that you find on internet. It will help you to get started and reap the benefits of affiliate marketing.
We will also discuss if it is the best affiliate marketing training course around.
What Is Affilorama?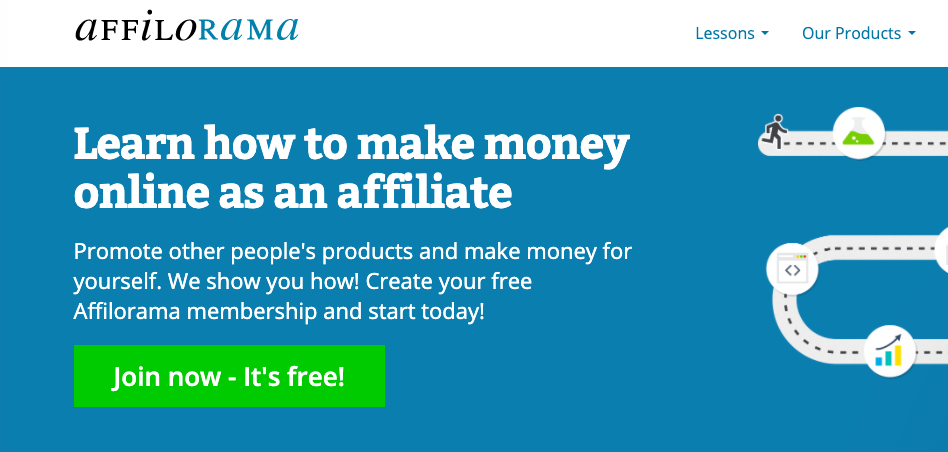 Before getting started with Affilorama review, let's understand what it is.
Affilorama is perhaps the best affiliate marketing course which is trusted by millions of marketers, businesses and aspiring individuals.
Affilorama is a website that offers online affiliate-marketing training programs to over 300,000 people across the world.
It teaches you how to create a website, how to promote other people's products and services online and how to earn a commission when a product is sold through your referral.
Founded in 2006 by Mark Ling, Affilorama aims to minimize the potential hurdles for all affiliates through their video tutorials and a range of comprehensive training and tool packages.
They also have their own internet forums where like-minded individuals can discuss their queries and get assistance.
>>>Click here to get special Affilorama discount<<<
Who Is It For?
Affilorama is for anyone who wants to generate money by advertising or promoting products of some other company or business.
For every sale they deliver, they get a commission from that company.
It is ideal for both newbies and professionals, as it not only trains you to get started with the affiliate marketing, but also provides useful information and resources on more advanced subjects – that can effectively be utilized to improve your affiliate earnings.
It is easily one of the best Affiliate marketing training programs we have in the market today.
Affilorama Training & Tools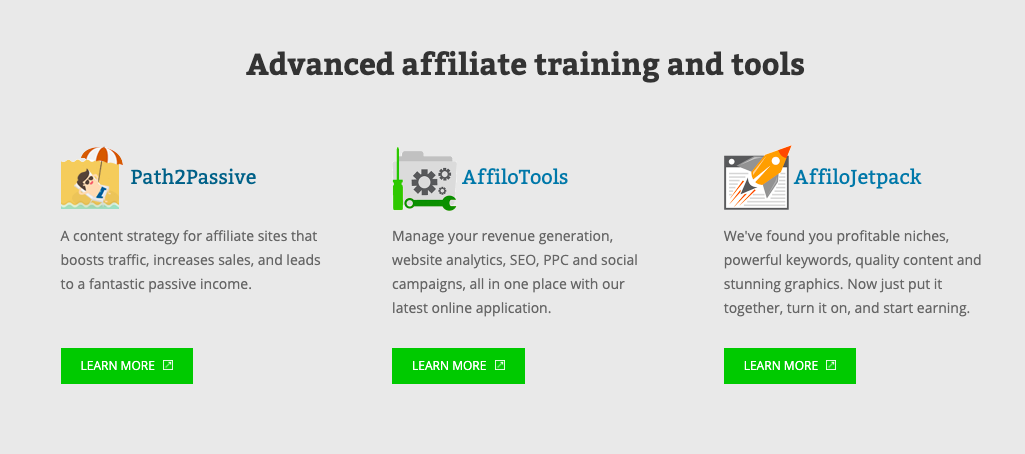 Free Lessons
Affilorama offers 100+ video tutorials with PDF lesson notes on a wide array of topics, such as market research, content creation, marketing ideas, site building, SEO, PPC and affiliate outsourcing.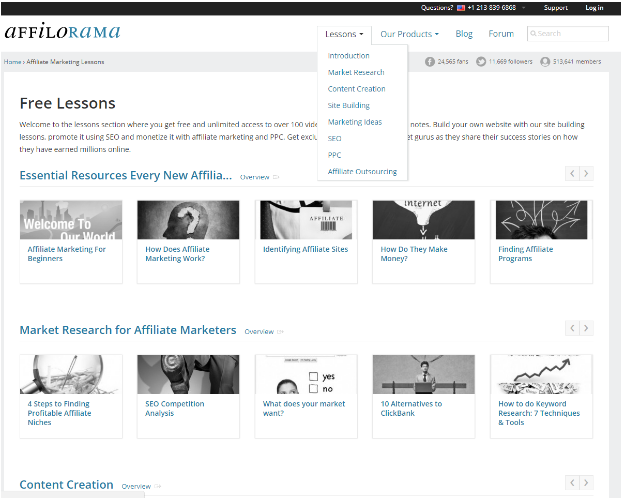 It offers comprehensive Affiliate marketing classes covering every aspect of marketing in detail, especially for the beginners and guides them to create their own websites.
Users can then promote their site using SEO and monetize it with affiliate marketing and pay-per-click.
The content creation course helps them to create quality content that can build organic traffic for their website, while the lessons on marketing ideas provide them with alternative methods to traffic generation.
The course also talks about the best ways to hire people and outsource your work – in case you are burdened with the continuous tasks of creating content, designing images or the PHP programming.
Affilorama Tools
AffiloTools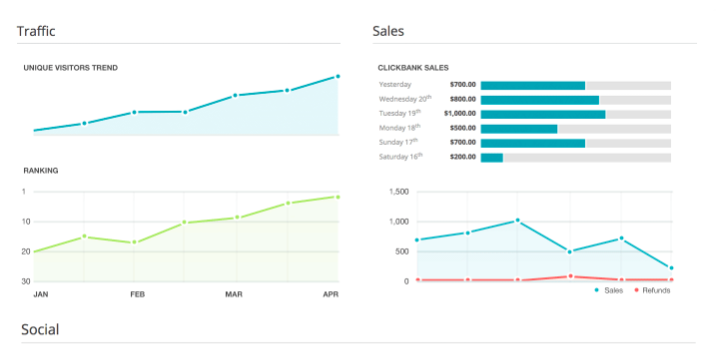 These are for tracking the performance of your site and improving it accordingly.
You can use AffiloTools for-
Search engine rankings – Check if the SEO for your site is helping it to rank better on Google, or which keywords are generating the maximum traffic for your site. You can even find out how your site is ranking on different search engines in different regions.
Building backlinks – The link finder helps in finding quality link building opportunities in your niche.
Tracking competitors – Identify your competitors and see who is performing better than you, what tactics are they using or where are they getting more backlinks from.
Tracking other metrics – Track your ClickBank earnings for a period of 3 months and keep a watch on social media activities and the overall health of your site.
Related : Comprehensive Guide To On-page SEO
>>>Click here to get special Affilorama discount<<<
AffiloTheme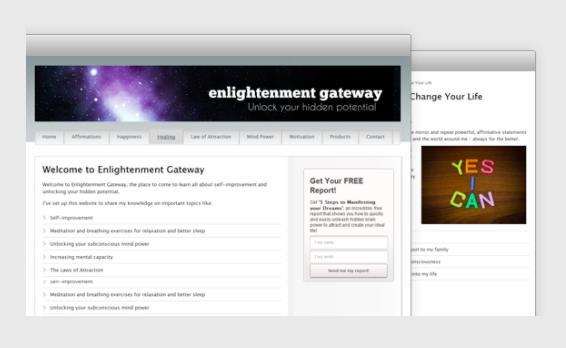 It is a WordPress theme specifically designed for affiliate marketing sites.
It includes several features such as Squeeze Page, Opt-in Form Templates, Affiliate Link Cloaking, Header Creator, Popover Generator etc.
This easy-to-use theme is SEO optimized, which means it is capable of drawing traffic and maximizing your profits.
Affilorama Premium
It is for people who are already familiar with the affiliate marketing, but want to explore the next level of advanced marketing with newer ideas.
It offers highly detailed affiliate marketing training programs and pro-level marketing tools along with numerous other features such as new version of Affilotools, Private Label Rights (PLR) articles, graphics, web hosting (for 15 separate domains) and much more.
Members also get to learn from a range of interviews and webinars from other top professionals and super affiliates within the industry.
Affiloblueprint review
It is a complete step by step approach to get your affiliate business to mint money.
The course teaches you how to build websites and identify the money-making topics, how to promote the right products along with the strategies to draw visitors to your site.
AffiloJetPack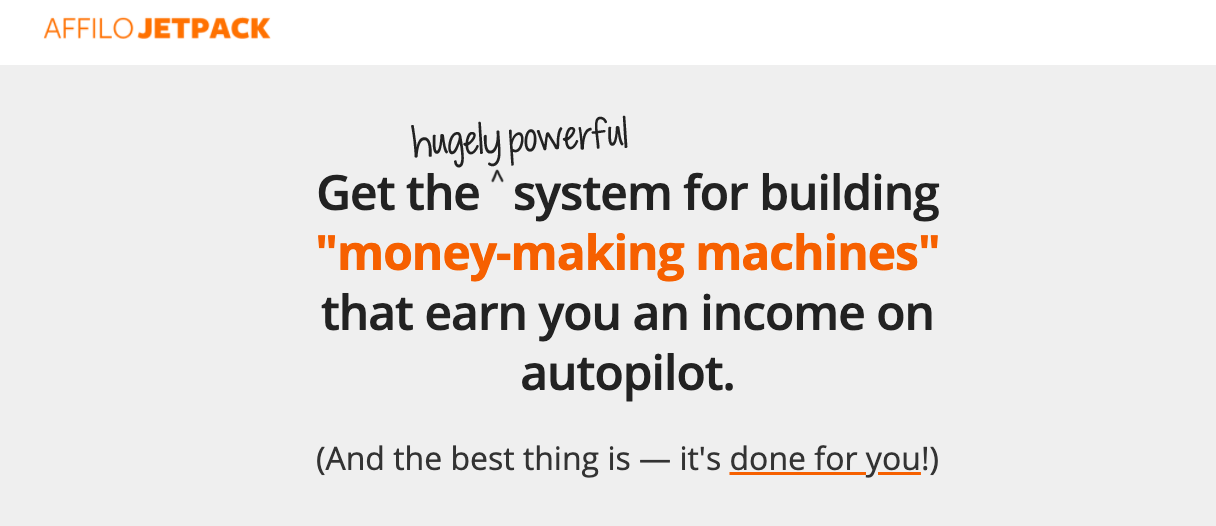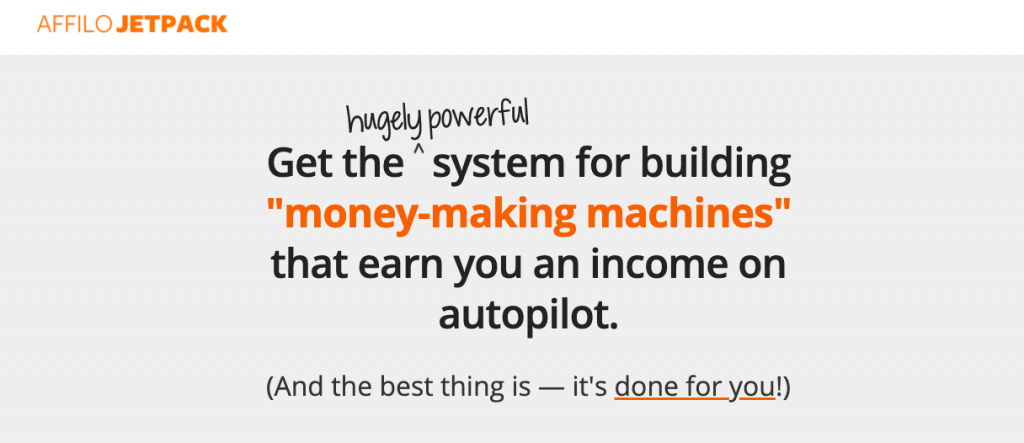 It is for someone who is short on time. Everything here is done for you automatically, thereby saving you from the hassles of building your affiliate site.
You get over 90 well-crafted email sequences for building trust and driving sales, 3 lead magnets for increasing the number of subscribers, 5 beautifully designed websites with 12 months hosting, and cheat sheets for quality website content.
It also offers you 18 profitable niches to choose from.
Affilorama Pricing
Affilorama is a free affiliate marketing course. However, they do offer a few premium products and services only to their members.
Affilorama Premium subscription plan is for $67 per month. It offers a 7-day trial period for $1.
AffiloTools is priced at $67 (One-Time Fee). But you can avail it for Free ONLY for your 'first' project.
Affilotheme is priced at $97 (One-Time Fee).
AffiloBlueprint is priced at $197 (One-Time Fee). It includes AffiloTheme with 12 months of free hosting and One-month Trial of AffiloTools. It has a 60-day refund policy.
AffiloJetPack is priced at $997 (One-Time Fee), and also has a 60-day refund policy.
Is Affilorama Worth It?
Does Affilorama work? Is that on your mind? We will answer this.
Affilorama Free membership program gives you a long term access to the community forum, training modules, official blogs etc.
The basic courses are broken down as per several topics for easy navigation, while the video tutorials and articles are quite simple to understand.
It proves to be a great learning option for beginners who have never done affiliate marketing before, and who can become an affiliate even on a small budget.
Affilorama however does not provide step by step instructions through its 'free tutorials'. It also excludes all the advanced steps and strategies needed to run an affiliate business successfully as a pro.
You are kind of forced to opt for their premium tools such as Affiloblueprint, if you don't know exactly where and how to start. They also do plenty of up-sellings as well.
Explore : Best Magento Affiliate Extensions
Conclusion
So now we conclude this Affilorama review.
Affilorama definitely gives you a clarity on the way affiliate marketing works.
Whether or not you have a website or any prior online-selling experiences, Affilorama has enough content to educate you from the very basics to the advanced online marketing skills.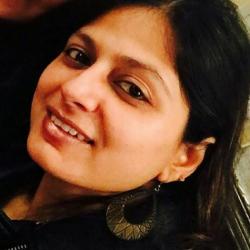 Author: Divya Dube
Divya Dube is an e-commerce subject writer at
Mofluid
. She loves to research and is an avid reader of technology, psychology and fiction. She is also a gadget freak, a traveller, loves chocolates & music and has an immense passion for writing.