If you're thinking of jumping into the on-demand production revolution, or you're already part of the movement, it's a great opportunity for you to monetize your unique artwork or products online.
Technology has made it easier for creatives to make personalized, one of a kind items that can be quickly printed, produced, and delivered to the customers' doorsteps in no time.
As the print on demand and online selling businesses gain momentum, artists and business owners from across the globe seek low-cost entry print on demand service providers.
The advantage that this offers is that you're able to access hard to reach markets, and save a few bucks while you're at it.
While some sites ask for no upfront payments and offer secure transaction channels from the artist to the end customer, not all of them are affordable to the artists.
This makes it crucial for any artist or business owner to seek out cheaper options.
Here's a roundup of the cheapest print on demand sites that offer the tools you may need to get your online store going.
Cheapest Print On Demand Sites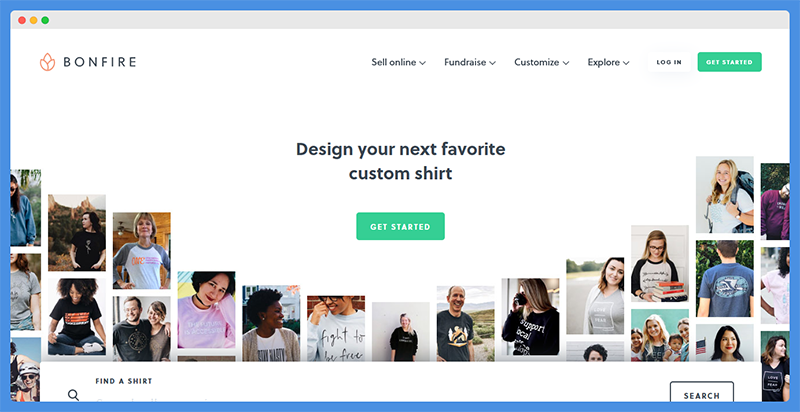 Bonfire is a print on demand site dedicated to helping people raise funds for their campaigns.
The platform is 100 percent free and allows you to create custom apparel and sell your designs, making it easy to hit your business goals whether you're selling apparel or just fundraising.
The current Bonfire setup allows you to design and sell custom items for profit, but you can also raise funds for political, personal, or nonprofit causes.
Each of these options require you to set up a verified campaign so that buyers can have the confidence to buy and support your cause.
Bonfire offers worldwide shipping so anyone can buy your merchandise. It's also easy to upload your custom art or create designs with the powerful and free graphics design.
Once you have everything ready, you can launch a campaign that can run from 7-21 days.
You can also create your own custom store that's suited to your brand's look and feel.
Once your campaigns are successful, you receive all the profits, and decide how to price your items so as to make the desired profits based on your campaign goals.
What makes Bonfire one of the cheapest print on demand sites is that you can keep your base costs low, so as to make higher profits.
However, you need to consider the product style, ink colors you'll add to the design, and whether you're printing on one or both sides, as all these raise the base cost.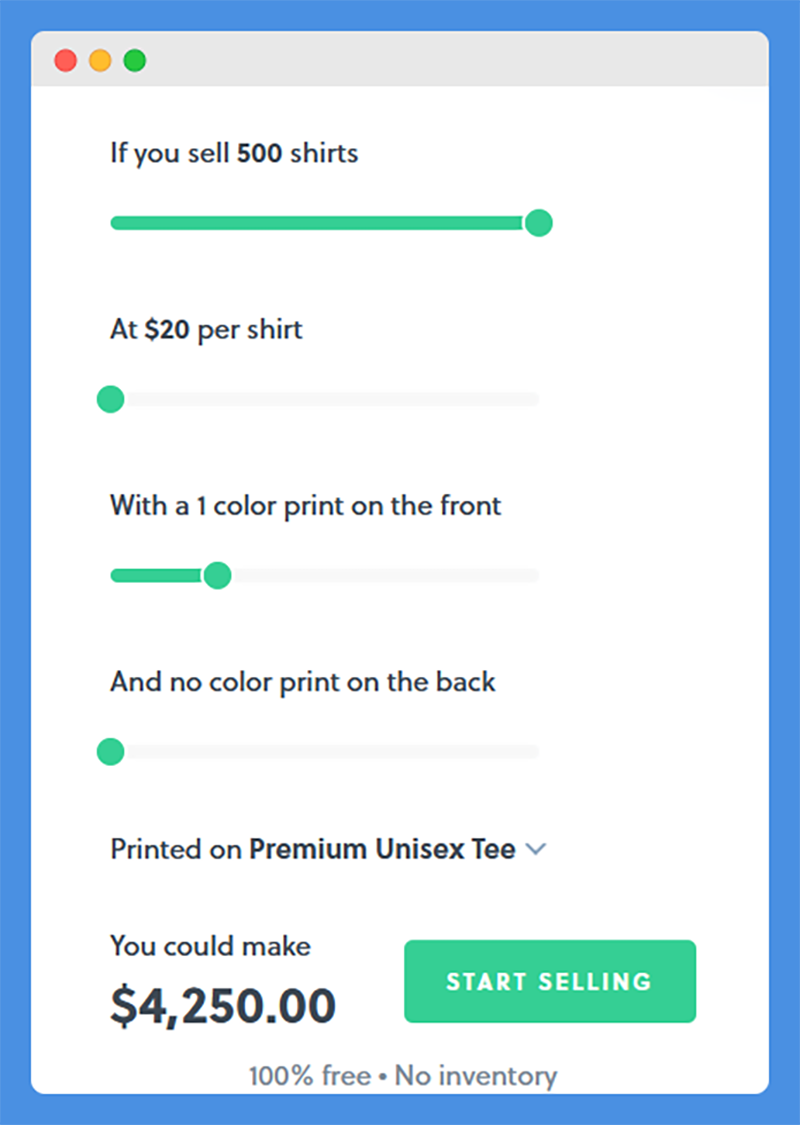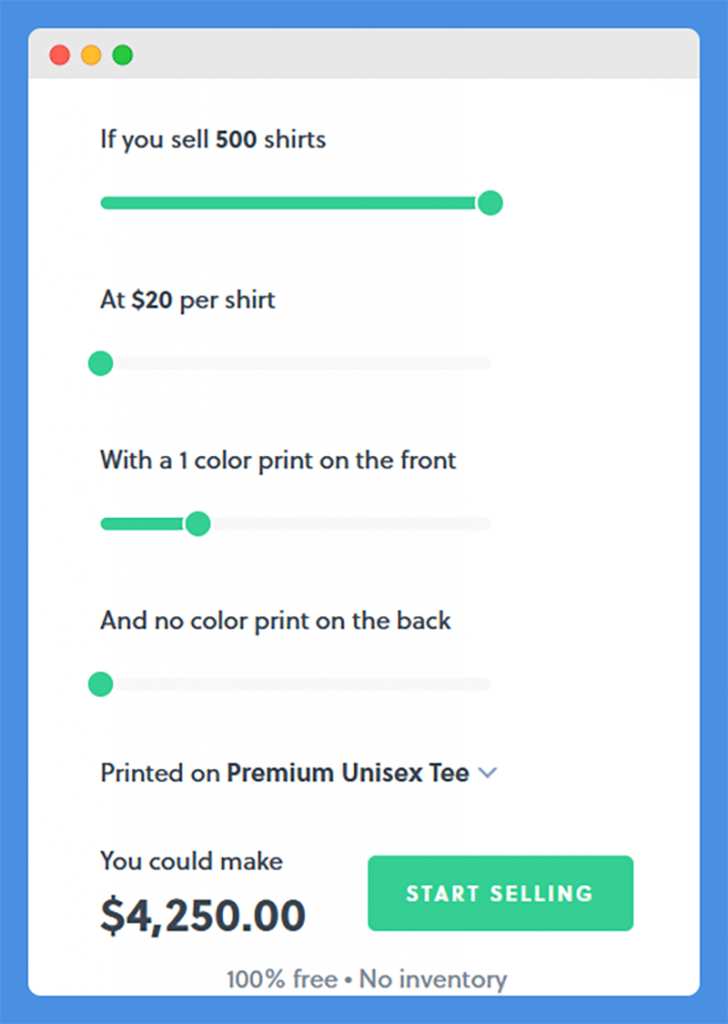 Another benefit that Bonfire offers is in terms of volume. With bulk sales, the base product reduces, meaning you save on manufacturing costs and can make higher profits.
All your product profits are sent out to you via PayPal, but you can always check the available balance on your account dashboard.
Bonfire also handles any additional fees that come with your products, printing, and worldwide shipping.
Plus, there's no initial investment required to use the platform. Shipping rates vary depending on whether they're domestic or international.
Bonfire ships all orders via USPS, with domestic shipping starting at $3.99 for the first product and goes up by $2.50 for each additional product in the same campaign.
A flat rate of $11.49 is charged for orders of four or more products from the same campaign while supply shipping rates are the same with no cost on orders of five or more items.
International shipping rates for orders outside the US starts at $9.99 for the first product, and increases by $4 for each additional product from the same campaign.
A flat rate of $21.99 is charged for larger orders of four or more products from the same campaign.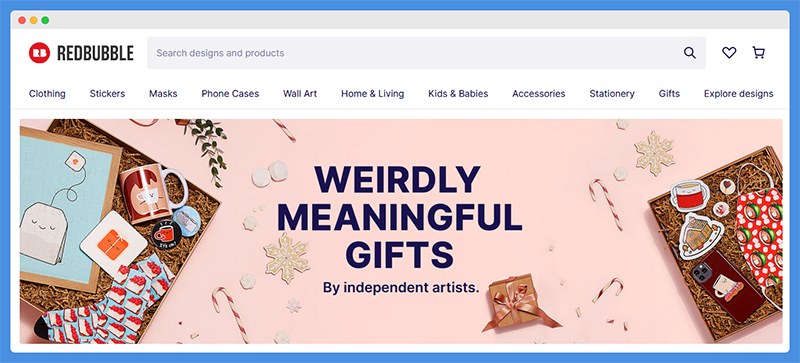 Redbubble is another print on demand company focused on ensuring indie artists get a platform to sell their original, unique artwork.
The platform has lots of products from artists across the globe and an audience for just about everything.
Redbubble combines base price and your artist margin to determine the retail price of the items.
The price buyers will see when browsing your store is the retail price, and you can decide on the margin you want so that you control your profit per item.
The base price includes Redbubble's cost of production or manufacturing and service fees, which can vary based on discounts, delivery address, or bundle orders.
Once a buyer makes a purchase, Redbubble deducts its service fee, manufacturing and shipping costs, and you get the balance, which is your profit.
Redbubble doesn't have an initial investment for opening an artist shop or selling your designs, and there are no startup fees or any other hidden costs along the way.
Shipping costs vary depending on whether you want to use Standard or Express delivery, where the order is being shipped from, and delivery address, type of packaging used to ship the order, and orders with multiple items that require printing at different facilities.
You can use the Express shipping method if you're in a hurry, but you'll pay a little more and it's not available for every item or country.
To get started with selling your art on Redbubble, you'll need to set up your artist shop, tailor it to your brand, upload your designs and decide what products you'd like to sell the designs on.
Once that's covered, you can promote your items and store to get buyers to notice you and start raking in profits.
The site is available in multiple languages including Spanish, French, or German, and you can set the currency to match your country's currency.
You can also set and change shipping country and enjoy worldwide shipping with options such as express delivery or standard shipping.
Check out how Redbubble fares when put against popular print on demand sites.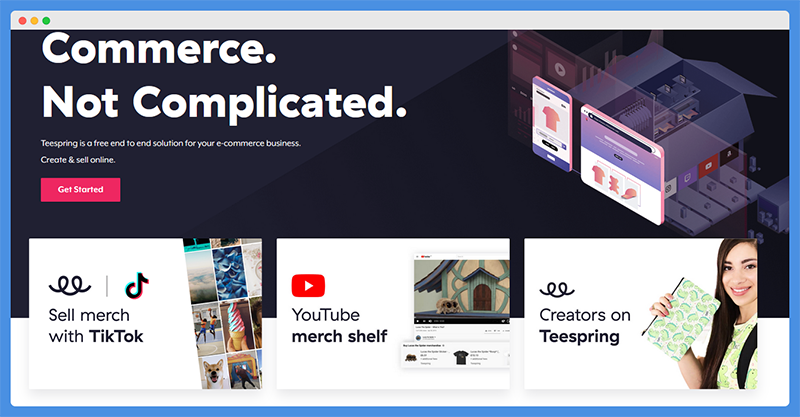 Teespring also lets you create and sell products on its platform by uploading your own original designs or getting custom items for you or your brand.
The platform is easy to use, making it easy for artists and other creatives to sell designs on many products and make money.
Once you set up a campaign, set the selling price of your products and once sold, you keep the profit, which is the difference between the selling price and base cost.
Pricing is dependent on whether you have a single or double-sided design and the number of items you sold previously. It's not based on colors or number of items you sell from specific listings.
Therefore, the base cost will be cheaper based on the number of items you sell from a campaign. This motivates sellers to aim high if they want to earn more and lower the base cost.
There's no initial investment to use Teespring, but you incur service fees within the base cost of the product you sell – other than the service fees, there are no extra fees to worry about.
Teespring offers global shipping to more than 180 countries in the world, with orders to the US taking 2-5 business days and 10-13 business days for rush and standard shipping respectively.
International shipping takes anywhere from 10-16 business days but you can also use the rush shipping option for international locations.
You can create a custom store for your brand like you would with other print on demand sites, and use it to promote your products and designs to get more sales.
You can choose how long your campaign will run for different products, which can be 3-21 days, and the items will be printed every three days.
You can also set sales goals, but you don't have to hit the goal for your products to be printed.
Plus, Teespring will continue printing your products provided you're selling enough to make profits.
This is where the setting goal feature comes handy. The company also handles printing, production, and shipping whenever buyers place orders to its customer service, and you can raise funds for charity by selling merch to your fans.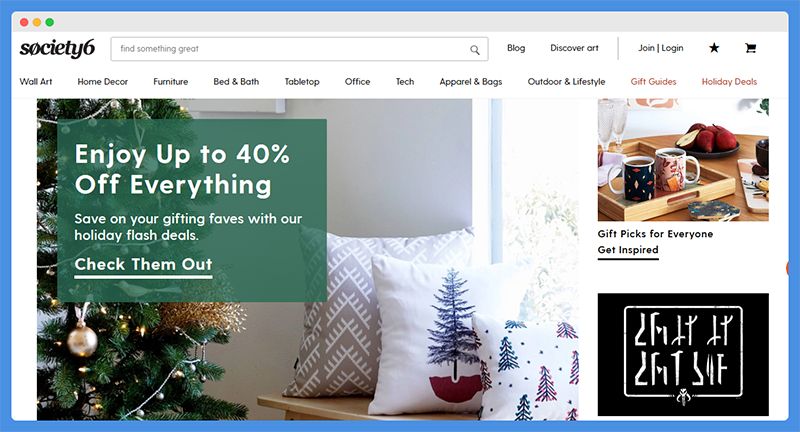 No matter your location in the world, you can upload and sell your original artwork in Society 6 platform on more than 30 premium goods.
The platform has an active marketplace and community with great talent and high quality art prints.
Society 6 has a simple formula for determining the retail price of your items.
This price covers associated costs including manufacturing, fulfilment, and the profit you'll earn with every sale.
However, you can't markup prices on all items so if you sell products, you'll only get 10 percent of the retail price except for art, framed, or canvas prints that can be marked up over that 10 percent.
There are no initial investments or upfront costs to become a seller on Society 6 – just a computer and PayPal account through which you'll receive your earnings.
You can become a curator and receive commissions when you recommend and help other artists to sell more of their own designs.
Besides the commissions, Society 6 also offers hassle-free shopping, which means your items are delivered within 4-14 days (US, Australia) or 2-4 weeks in other locations.
The platform focuses more on art and supports artists who use Society 6 to earn their income.
In addition, Society 6 prints and ships orders as they come in, plus they handle customer service to allow artists to focus on what they do best.

Founded in 2002, Spreadshirt has continued to grow and expand with several branch offices across the US, Germany, Czech Republic, and Poland.
Like other print on demand sites listed above, Spreadshirt is completely free to use and doesn't require an initial investment whether you're selling on the Spreadshirt marketplace or your own store.
Shipping costs also vary based on standard or express delivery shipping. For standard shipping, the costs range from $7.50 for goods valued from $0.01 and above, to $174.99 for goods valued between $499 and above.
For express deliveries, the shipping costs range from $44.99 for goods valued from $0.01 and above, to $449.99 for goods valued from $999.99 and above.
The platform offers sellers two sales channels – the marketplace or the seller's own t-shirt store – through which they can sell their designs.
If you choose to sell on the marketplace, anyone browsing the marketplace can see your products and potentially get higher views and sales from the more than 100,000 visitors that see your work.
For sellers who choose to set up their own stores on Spreadshirt, they get the highest commission possibilities.
This is because they're not only eligible to earn affiliate commissions of 20 percent of the revenue but also become shop partners.
Spreadshirt's shipping delivery terms vary based on where the products are being shipped to. The final sale price includes the base price of the product and the commission that you set.
Explore: Spreadshirt Vs Teespring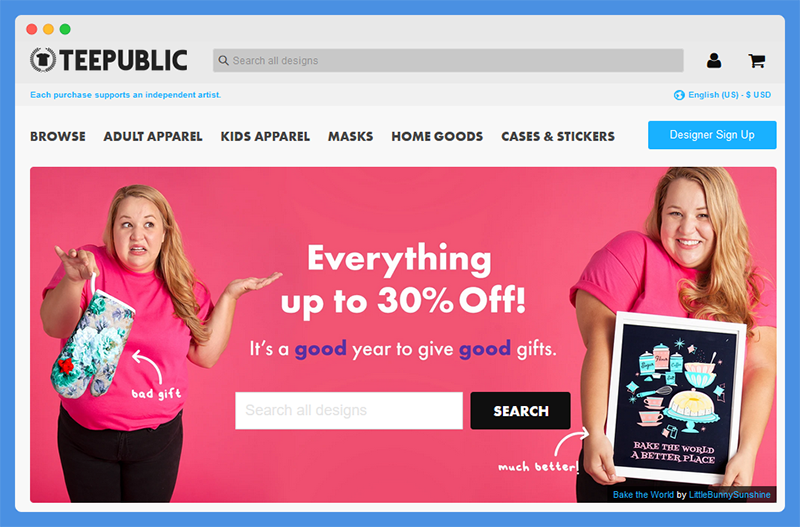 TeePublic works similarly to other print on demand sites by letting you upload your art and selling it to the global market.
You can also become an affiliate seller by joining the TeePublic Partner Program and not have to sell your own designs on the platform to make profits.
TeePublic is free to use so you don't have to pay any initial fees to use the platform. You can also upload and sell your designs without paying anything.
In terms of profit margins, Teespring standardizes its prices as sale price and regular price.
The sale price is what's offered when your products are featured, during a site-wide sale, or when the product is discounted during the first 72 hours.
Regular price on the other hand remains the same during all other times.
For the TeePublic affiliate program, you get a 31 percent commission on sales of your own merch, and 11 percent on sales you refer to existing designs on the platform.
Shipping is available within the US, typically starting around $6.99 while international standard shipping rates start from $7.99.
The rates vary based on the weight of the products, the delivery address, and the number of packages needed to fulfil the order.
From TeePublic, you can expect more than 75 unique items with different styles on which to print your designs, and these include clothing, posters, phone cases, notebooks, mugs, stickers, and laptop sleeves.
The site prides itself on sustainable production of these products, which use recyclable shipping materials, biodegradable inks, and are sourced from ethical suppliers.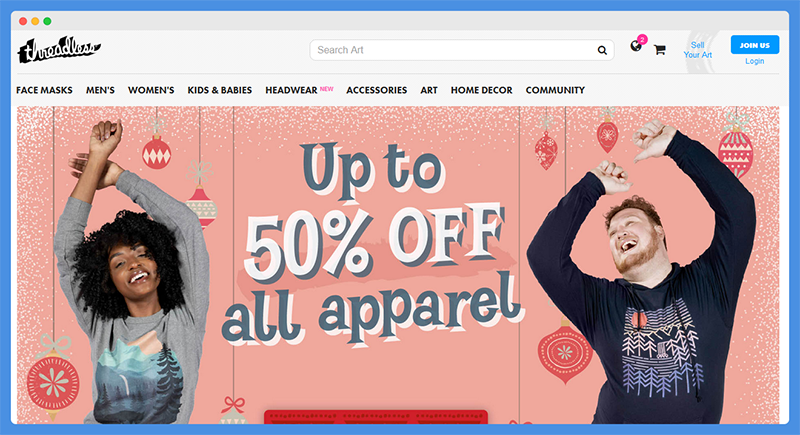 If you're a designer, you can sell your t-shirts on Threadless and keep your creativity ablaze by competing in the company's ongoing design competitions.
The platform is free to use and there are no hidden fees. Plus, you don't have to be based in the US to sell on Threadless, which is located in Chicago. People can buy from anywhere in the world since the company uses different mailing services.
Artists can open and set up their customizable shops on Threadless to upload their original designs, which are displayed on the marketplace.
There are more than 100 different products on which to place your original designs, and once you make a sale, Threadless handles production, packing, shipping, payment, and customer service.
The profit margin is based on the difference between the retail price and base cost of each item you sell.
You can customize the pricing based on your margin, or allow Threadless to set the pricing for you.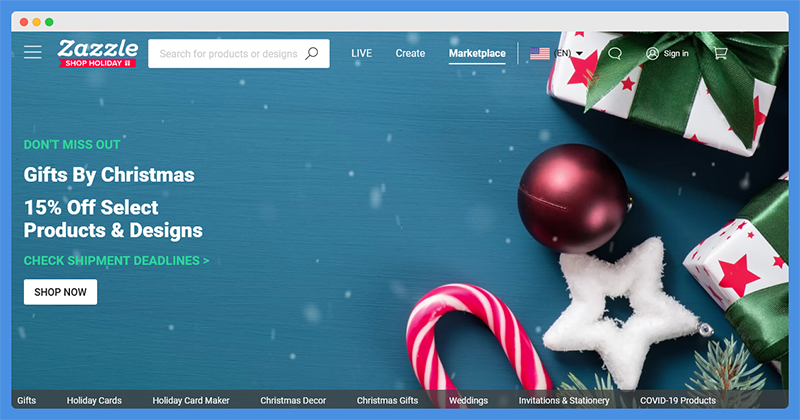 Zazzle is a California based online marketplace that allows designers, associates, and makers to participate in making money from selling products on the site.
Zazzle allows you to set your royalties from 5-99 percent over and above the base price. If buyers add more customizations to your designs and pay more for it, you end up earning much more.
Plus, as a Zazzle associate, you can get 15 percent of each sale plus volume bonus when you promote Zazzle products. These payments are sent by check.
Zazzle handles production, shipping, and customer service. Shipping rates vary based on whether you're going with standard shipping (9-18 days), expedited (5-9 days), or express shipping (3-5 days).
The platform ships internationally so you get a larger global audience and there are plenty of shipping options to choose from. Once you create an account (which is free), you can create your own store and start building up your client base.
With Zazzle, you can create more than 1300 items and customize them to create a unique final product.
You can also find designers and makers who customize products for you, or use templates to create your own unique stuff without compromising on quality.
Interesting Comparison: Zazzle Vs Teespring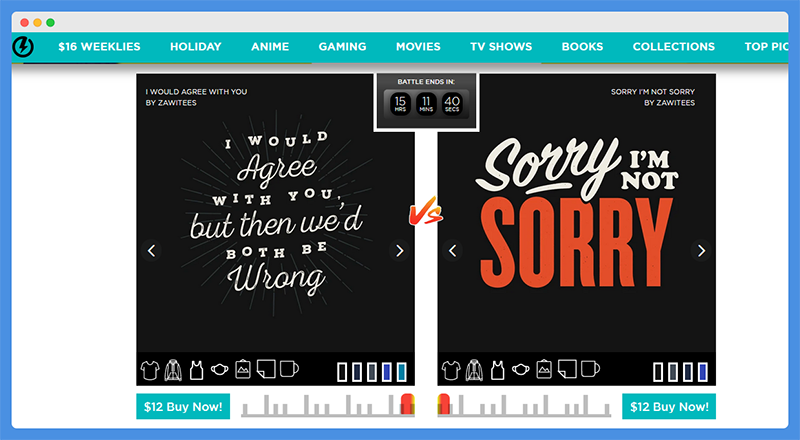 Teefury was created by artists with a fetish for limited edition t-shirts, making it a platform for hoodies, posters, and high quality pop culture t-shirts.
The platform posts only the best designs and these are put up for up to 24 hours for only $11, which keeps customers coming back and gets sellers making huge volumes of sales.
In terms of profit margins, Teefury pays sellers $1 for every shirt they sell in the first 24 hours and each shirt sold from the gallery pays $2.
While this is a low profit compared to other print on demand sites here, Teefury's audience regularly comes back to check and buy what's offered.
Plus, the site is free to use and you get paid 15 days after selling your t-shirts, via PayPal.
The company offers a simple platform for customers to find apparel items that resonate with them and that won't break the bank.
The t-shirts are affordable, high quality, and you get really creative and ingenious product designs.
10. Design by Humans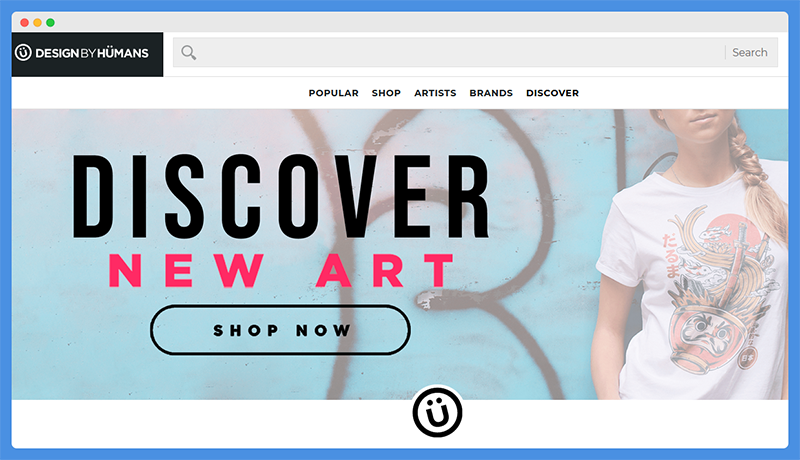 Design by Humans is a marketplace and community of designers, artists, YouTubers, and gamers that offers all-over and oversized prints with some of the greatest artwork on the web.
Plus, the platform handles production, fulfilment, and shipping, but also sets royalties that you make for each product you sell.
For instance, if you sell 20 t-shirts, you'll make about $3 per t-shirt, translating to $60, but there's a comprehensive list that shows you how much you earn for every product sold.
Design by Humans shipping rates start from as low as $4, and offers standard, express, overnight, and economy shipping options.
Standard shipping takes 4-10 days, express 2 days, and overnight for next day and domestic shipping.
International shipping offers standard shipping that takes 7-10 days, economy takes 2-5 weeks, while express takes 2-9 days.
All apparel items take 7 days to be manufactured and produced before being shipped to their respective delivery addresses.
The platform is easy to use and navigate with special deals constantly offered across the site, and shipping to 108 different countries across the globe.
There are also tons of shipping options for buyers to receive their orders in good time.
Once you sign up for a store on Design by Humans, they'll need to see your artwork for approval, after which you can start selling on the marketplace.
The approval can take up to 24 hours before you can post your work on the platform.
Wrapping Up
With custom products and a free to use platform, it's easy to get started with your own custom apparel business, monetize your audience, and cater to specific niches.
The print on demand model makes all these possible so you can bring your vision to life.
With these 10 cheapest print on demand sites, you can narrow down your options, get started immediately, and only pay for the cost of the product and shipping once someone places an order.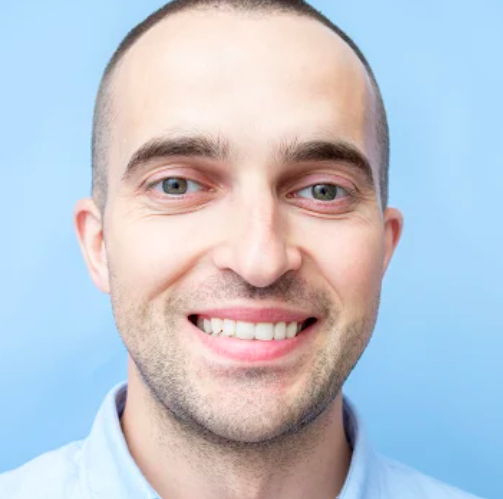 Author: Brian Erwin
I am Brian. I started my first e-commerce company in college designing and selling t-shirts for my campus bar crawl using Print-On-Demand. Having successfully established multiple 6 & 7 figure e-commerce businesses (in women's fashion and hiking gear), I think I can share a tip or 2 to help you get succeed.