Jump Send is now Jungle Scout Launch.
However you can still explore Jump Send as a buyer via its website.
Sellers on the other hand need to register and access the services via Jungle Scout website as Launch. The Jump Send site takes them to Jungle Scout when they click on register. 
Those who are already Jungle Scout users can simply upgrade their account to get the services of Jump Send or Launch. 
It is primarily an Amazon feedback request tool for sellers for taking online feedback on products and services that they sell on Amazon.
Apart from Amazon, it can also work for other marketplaces like Alibaba and Souq.
These online feedback tools help boost sales.
As you can surmise there are many alternatives to Jump Send which is a pretty standard tool. Other tools can offer better value for money, more features, unique advantages and advanced analytics.
Hence if you want to find out which of these tools is right for you, you should read on.
The Need For Online Amazon Feedback Tools
Online feedback tools have become a necessity for sellers today.
This is because the online marketplaces have become saturated and buyers usually go for certified brands at the top of the pecking order. In this situation, smaller brands or sellers cannot compete.
This is where the Amazon tools come in handy. They allow you to find out what you can do to make your products trend more.
They use keyword searches in order to make your products seem more relevant to current trends.
They also allow you to learn why what is trending is trending, and why things that were once so popular have faded out.
They will also point you to things that buyers are turned off by and what they love. Hence, you can make your products better.
The most important thing that these online sales tools can do is establish a relationship with the customer.
By sending the customers customized email templates and surveys to fill out, they can gauge the interest of the customers.
This can allow you to get more loyal customers and even some customers for life that are interested in your brand and your products for reasons greater than those material.
What Is Jump Send?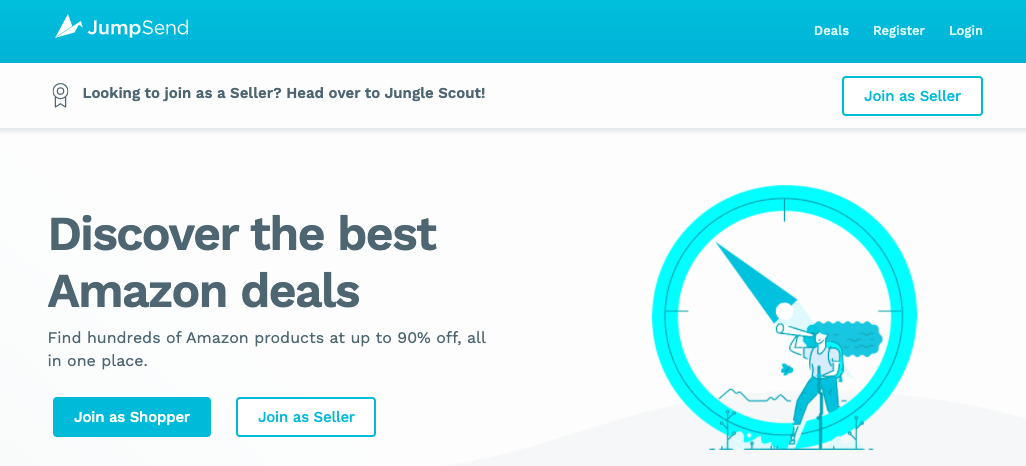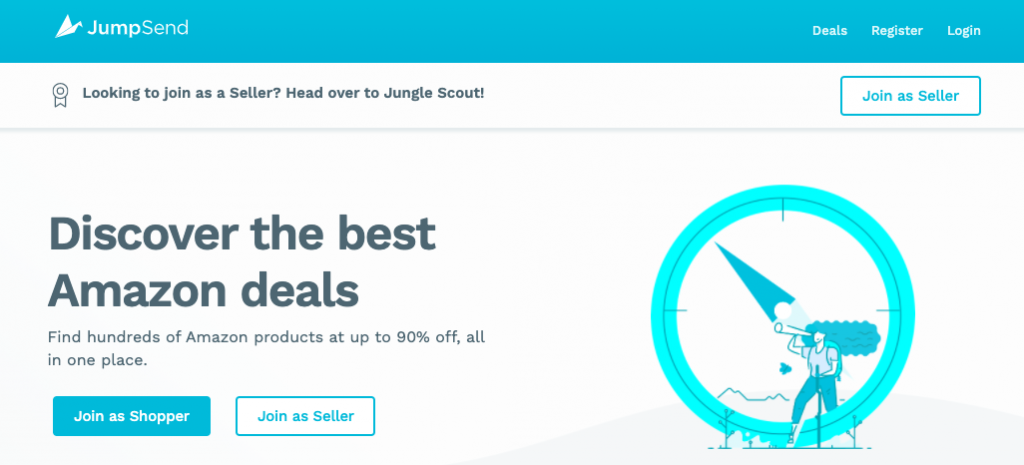 Jump Send (now Jungle Scout Launch) is an online retail marketplace tool to boost your sales and primarily functions as a feedback  tool. It was created by the same people that made Jungle Scout.
It has a local marketplace of 100,000 shoppers on Amazon that it uses to help new products trend on online marketplaces by offering deals and promotions. 
It also has an auto responder so that shoppers can communicate with the sellers after the purchase.
It's a tool that makes reaching out to customers much easier than before. It's very product specific and makes sure that you have all the information needed to rectify mistakes.
JumpSend Features

JumpSend has a lot of features that can boost sales. These include product promotions which the application does through online campaigns, JumpSend deals, and discounts.
It also promotes products through specific keyword searches.
There are even several email templates and campaigns that you can use to add your own flare to the marketing of the product.
These email templates have a better chance of being opened and being perused rather than the standard email templates that customers are used to.
The main feature is of course tapping in to the pool of 100,000 shoppers that the service has at its disposal.
Your products are offered to them at a discount and the resultant shopping allows your product to trend.
This in turn increases the chances of them leaving a review and helps your product trend better.
You can even gain insight in to what the customers loved, disliked or even hated about your product. You can use that information to expand your reach and make your product better.
The services offered are 100% compliant with Amazon's rules. Jump Send doesn't manipulate ratings and reviews and doesn't get rid of negative reviews of your products.
This allows for better and more organic growth.
Related : Jump Send Vs Vipon
Jump Send Pricing

The pricing of Jump Send is quite competitive. It is based on confirmed monthly orders in your name.
0 – 500 orders – $49/mo 

501 – 2,000 orders –

$69/mo 

2001 – 5000 orders –

$99/mo 

5001 – 10000 orders

– $199/mo 

10000 + orders –

$399/mo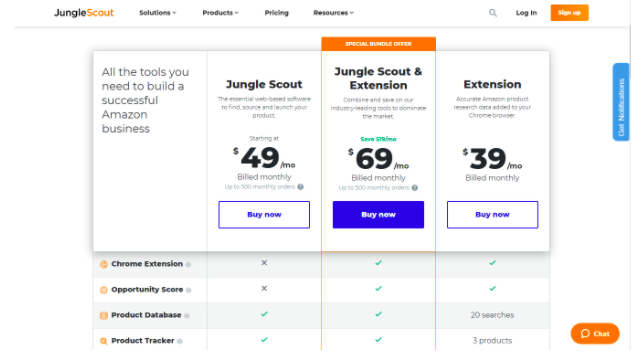 You can also subscribe to full fledged services of Jungle Scout. It charges $49 per month for Jungle Scout Web. $69 per month if you want Chrome extension too. Jungle Scout Chrome extension alone costs $39 per month.
You also have the option of paying annually. 
Jump Send Reviews

There aren't very many reviews of JumpSend online; in fact you'd be hard pressed to find much feedback on the app at all. This doesn't bode well.
If all publicity is good publicity, then no publicity means that no one knows you at all.
The one review that is posted on webretailer.com seems to be from a disgruntled customer that didn't reap any rewards from using the service.
Related : How To Remove Bad Reviews On Amazon
While this is only one review, and the entire reputation of a service or product shouldn't be based on one opinion, there literally are no others online.
That should put you off from a service and should make your search for alternatives.
Best Jump Send Alternatives
With Jungle Scout taking over Jump Send (Launch), one can expect to see major improvements in Jump Send down the line.
Until then, it's a good idea to explore tools that are good alternatives to Jump Send.
Here are some of the best Jump Send alternatives that you can use to boost sales on online marketplaces.
1. Feedback Five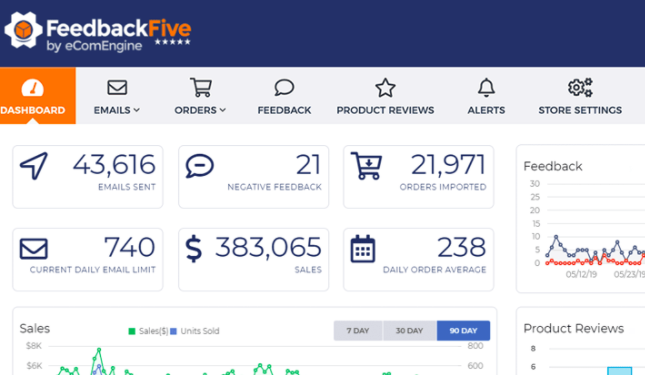 Feedback Five is considered one of the most competitive and best feedback tools for online marketplaces. It is arguably the best JumpSend alternative. 
It guarantees great value for money and most of its reviews are positive. Reviews indicate that it has great customer support, very good features and a great return on investment.
The major positives of the product come out to be that it has great email templates and great automated services.
The only negatives seem to be incidental and one off bad experiences that customers have had with the product.
However, there is one oft-repeated negative about Feedback five that you should know; it's not user friendly.
Even the positive reviews seem to point out that the user interface isn't user friendly. Hence, you'll have to learn a little if you want to take full advantage of the software.
Related : Feedback Whiz Vs Jump Send

The major features of the program are as follows:
Unlimited Users
Feedback Five allows you to have unlimited users on one account. This way you can delegate different responsibilities to different people.
It will make it easier for you to do business if all you need to create is one account.
Feedback Five really shines here and upwards from the Basic Plans, will allow unlimited access to a single user profile.
Unlimited Campaigns
You can run unlimited campaigns per product so that you can promote a single product multiple times.
This may yield a greater rate of return than if you had run a limited number of campaigns for one product.
The campaigns can also be customized with the information you gain from each subsequent campaign.
Related : Feedback Five Vs Feedback Genius
Multiple Marketplaces
You can also access many different marketplaces, as much as 10, on Feedback Five. This is possible in the Enterprise plan, which only costs $60.
You can thus promote a single product on multiple platforms
and get better returns on investment.
You can toggle between the accounts you run on different marketplaces very seamlessly. You can even streamline the billing and feedback management this way.
All the feedback that you've received from different marketplaces can be aggregated so you can market better in all marketplaces.
Professional Designs
This is one area where Feedback Five receives significant praise. The professionally designed templates for emails are claimed to have a $399 value.
They can be created for free by professional designers in Feedback Five. These templates give your emails a better chance at being clicked and seen.
Feedback Five Pricing
 
Feedback Five offers 4 plans:
Lite – $0 (Limited features, 50 emails) 
Basic – $9.99/mo (Limited features, 250 emails) 
Pro – $29.99/mo (Unlimited features, 1500 emails) 
Enterprise – $59.99/mo (Unlimited features, 8000 emails) 
Related : Best Feedback Five Alternatives
2. Feedback Whiz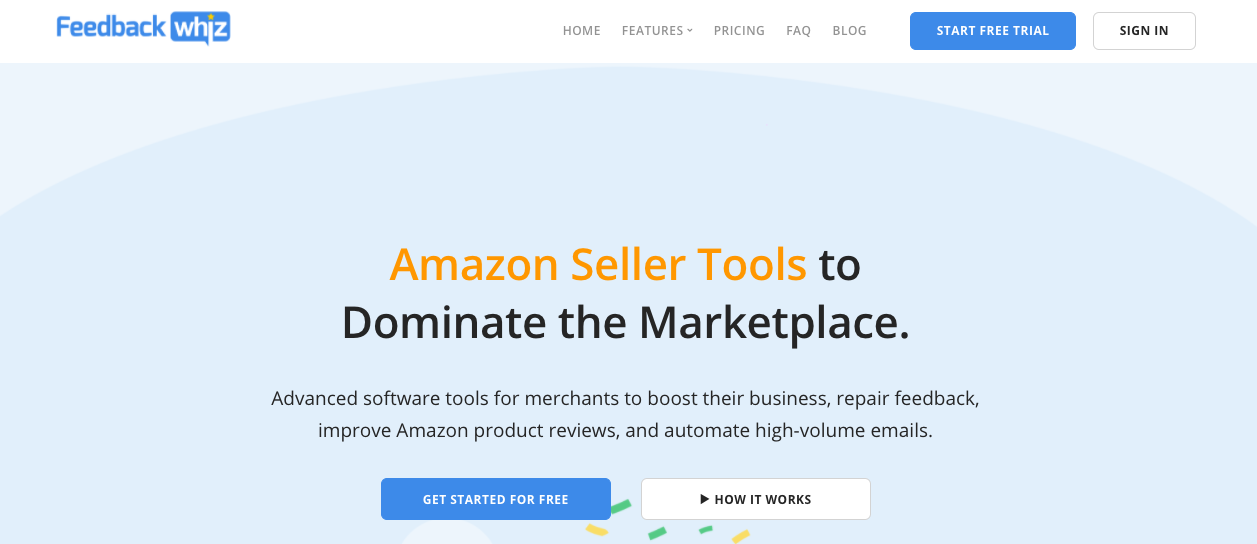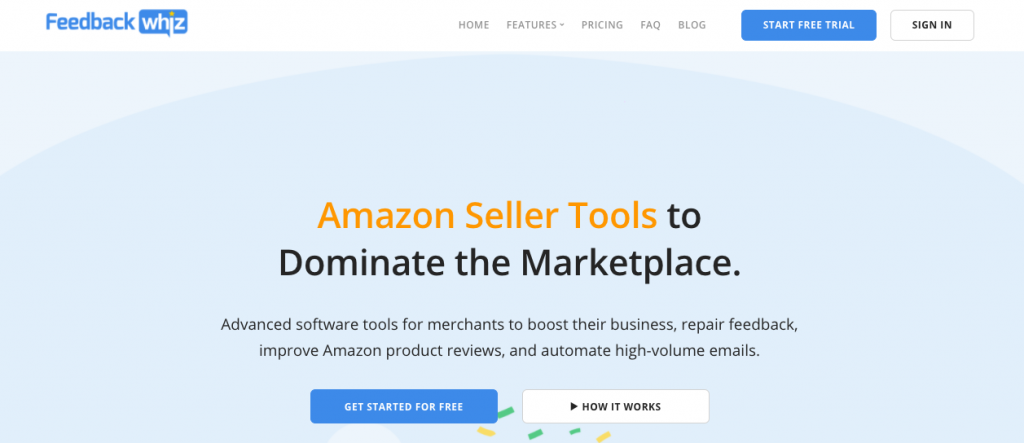 Another JumpSend alternative is Feedback Whiz
Feedback whiz may have similar pricing to Jump Send where the higher tiers are concerned, but it's a perfect tool to try if you want the basics.
You will need to pay more if you want unlimited campaigns however, something which you get with the basic tier on Jump Send.
The biggest advantage of Feedback whiz is that it allows for a promotion of your products on unlimited platforms.
Feedback Whiz Pricing

Feedback Whiz offers 5 plans:
Free – $0 (1 email campaigns, 150 emails) 
Started – $19.99/mo (10 email campaigns, 2000 emails) 
Basic – $39.99/mo (5000 emails, unlimited campaigns) 
Professional – $79.99/mo (Unlimited emails and campaigns) 
Ultimate – $139.99/mo (Unlimited emails and campaigns) 
Related : Feedback whiz Vs Feedback Genius
3. AMZ Finder

AMZ Finder is usually considered the gold standard for online feedback tools. There are constant comparisons between it and other services online.

AMZ Finder has tons of features that you can use to boost sales. It has third party integration and data synchronization so that you can use different tools in conjunction with it.
It allows you to track your products and monitor feedback easily since it's compatible with many devices.
It can match buyers and enable sellers to identify which ones left a review and which didn't. This helps you single out the targets for email campaigns and the areas where you really need to focus your resources.
AMZ Finder Pricing

AMZ Finder pricing plans starts from $49 a month and goes upto $799 a month. All plans include 10 marketplaces but the difference is in the number of emails and tracking ASINs. 
You can send 5000 to 200000 emails with 10 to 1000 ASINs depending on your plan. 
You get substantial discount if you opt to pay annually. 
4. Sales Backer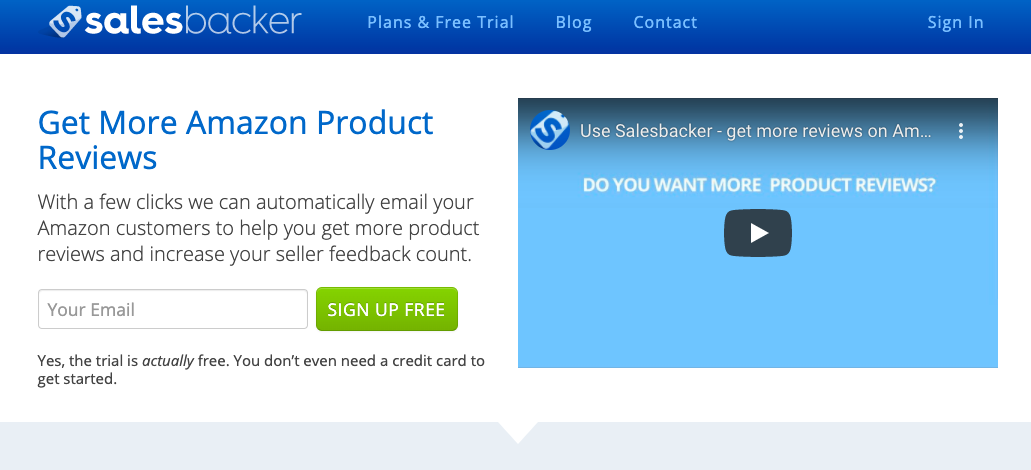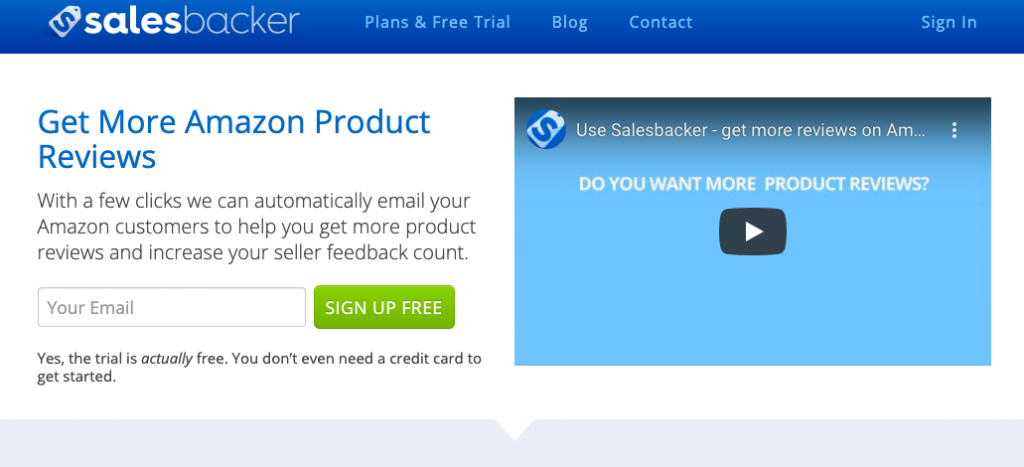 Sales Backer allows you to track reviews and get notifications for reviews that are negative. It also allows you to carry out email campaigns to promote products.
Its biggest draw is said to be its efficient use of analytics and its beautiful pre-made templates.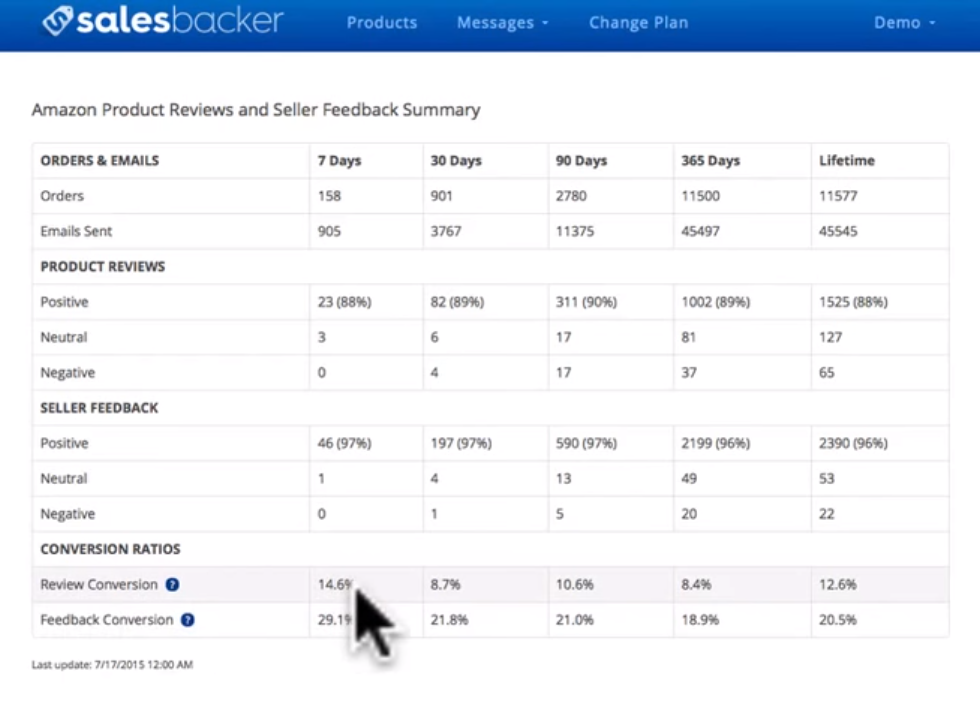 The pre-built email templates on Sales Backer are considered top quality. This avoids the expenses of having experts design them.
It also gives you great notifications so that you don't miss a single review and can learn from bad reviews immediately.
There are also allowances for file attachments so that you can upload files in case you want to reach out to clients personally.
Sales Backer Pricing
Sales backer has pretty straightforward pricing plans, but they're not exactly great value for money.
However, they do offer significantly greater perks for the money than Jump Send does.
The free tier allows for 120 emails per month. Hence if you want to just try out a feedback tool, you can do so without any monetary commitment. The higher tiers are on par with the annual pricing for Jump Send.
There are $39/month, $79/month and $159/month tiers. These offer all the premium features that you could want and up to 40,000 emails a month.
Sales Backer also gives you great analysis on rankings that will help you sell your products better.
All in all, its reception and relatively competitive pricing model gives it an edge over Jump Send.
However, if you're on the fence about this one, give the free tier a try first.
5. Sage Mailer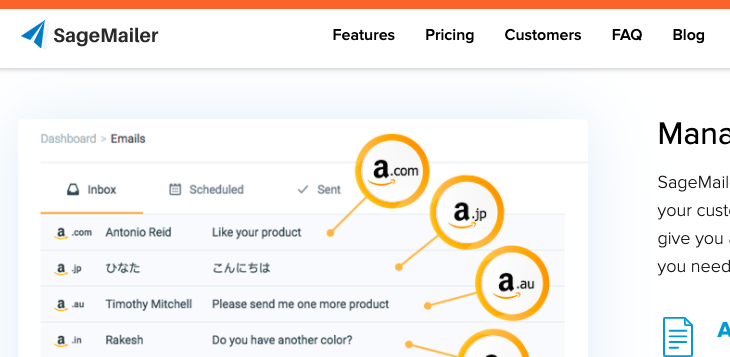 Sage Mailer is any automatic email management application for feedback.
It allows you to manage your feedback in multiple languages, catch negative reviews with notifications and has great pricing plans to boot.
It's very simple and quite highly rated on online platforms such as g2crowd.com and trustpilot.com.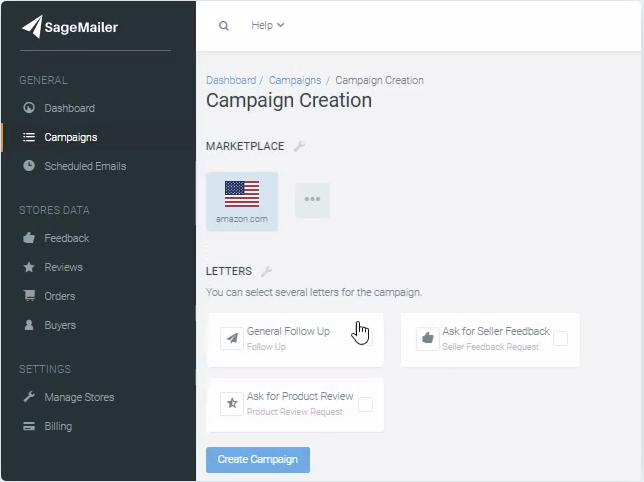 The best feature of sage mailer allows you to manage all the feedback in the same place.
It's a great automation tool for feedback and review management. It has also been described as easy to use and user friendly.
The user experience and functionality has also been praised and has been said to work on auto pilot by one reviewer.
Sage Mailer Pricing

The pricing for sage mailer is undoubtedly the lost for any tier on this list. It has a free plan, a $10 plan, and a $25 plan.
These plans allow you to send emails, run unlimited campaigns, track unlimited ASINs, and get negative feedback alerts.
The $25 Pro tier even allows you to access unlimited marketplaces and send attachments. This is a great choice if you want to get in to the business of selling online for the first time.
It allows you to spend very little and get back a lot. It's perhaps the best value for money option on this list.
It also has positive to mixed reviews online so the service rated highly. However, it's still not considered the best in class. Nearly every review prefers AMZ Finder and Feedback Five.
However, that doesn't mean this product doesn't have any merit.
Final Verdict
The facts are out in front of you and you can choose any one you like. The best choices objectively and economically may be AMZ Finder and Feedback Five.
They offer the best value for money and seem to get the best reviews online.
However, there are other perks to consider if you want to become a seller and perhaps your experience may say something different to the others online.
Now that you know the facts, you can make an informed decision on your own.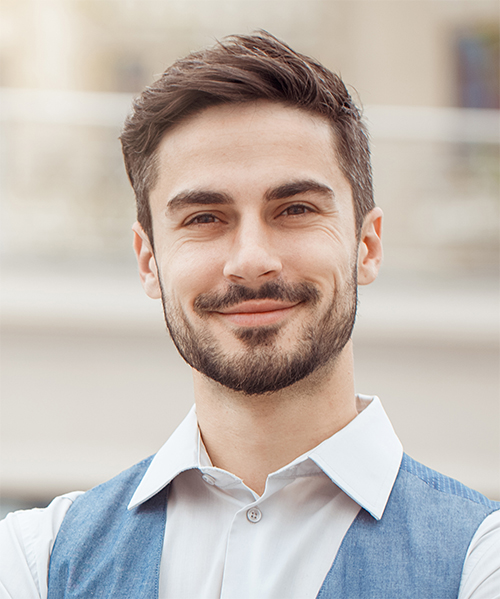 Author: Scott Macarthur
Scott L. Macarthur is a marketing consultant and an online author. He is mostly engaged in providing his expertise to startups and SMBs. He is also an author on TheNextWeb.