If you want to sell online, you can choose to sell on a renowned marketplace like Amazon or build your own online store on an eCommerce platform like Shopify.
Both platforms have their pros and cons, but which is better? Find out in this article as I compare Amazon FBA vs Shopify.
In the end, you should be able to decide on the most suitable platform to sell. First, let's look at an overview of both platforms.
What Is Amazon FBA?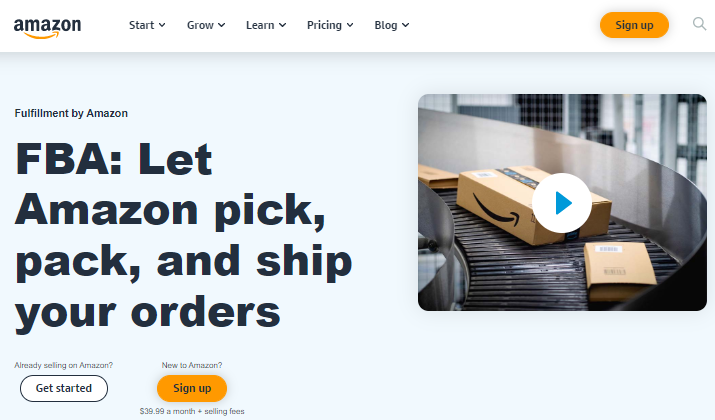 Fulfillment By Amazon (FBA) is a fulfillment service by Amazon. It's a third-party fulfillment service whereby Amazon handles warehousing, packing, shipping, and returns on the seller's behalf.
It's the opposite of Fulfillment By Merchant (FBM), which allows Amazon sellers to handle warehousing and shipping themselves.
Amazon FBA works like dropshipping. When a customer makes an order, Amazon receives, prepares, and ships it to them.
The difference between Amazon FBA and dropshipping is that you have to procure the products you sell and then send them to Amazon. Amazon will store them until a customer places an order.
As an online seller, it's an ideal fulfillment service if your target customers are Amazon Prime customers.
As the largest marketplace on the internet, Amazon has an extensive delivery network. So, you can reach customers in over 100 countries using their fulfillment service.
What Is Shopify?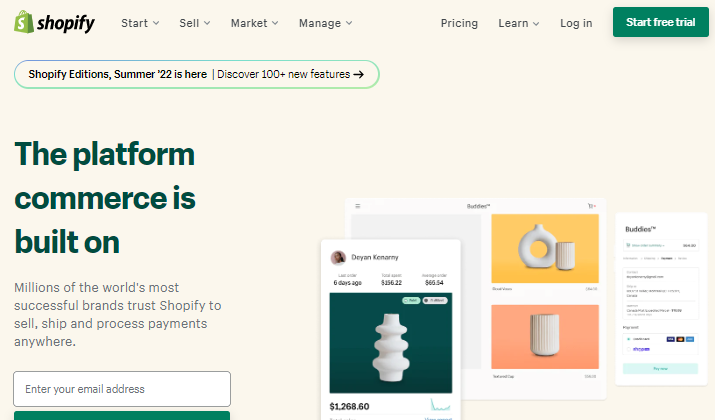 Shopify is the most popular platform for building an online store. Millions of online sellers from all over the world use Shopify.
Shopify's primary advantage is that it allows you to sell anywhere. You can build an online store or sell by adding a buy button to your blog or any other website – like a WordPress, Wix, or Squarespace website.
You can purchase web hosting from Shopify to build an online store, and the platform features an easy website builder. In addition, there are themes you can install, so you don't have to build from scratch.
Furthermore, you can sell via sales channels on social media platforms and even online marketplaces like Amazon and eBay.
Shopify's strength relies heavily on the collection of apps. Unambiguously, the platform has everything anyone would need to start any online business.
You can launch a dropshipping business with Shopify and outsource inventory, packaging, and shipping – similar to how Amazon FBA works.
Below is a side-by-side feature comparison of Shopify and Amazon FBA.
How To Get Started?
Amazon FBA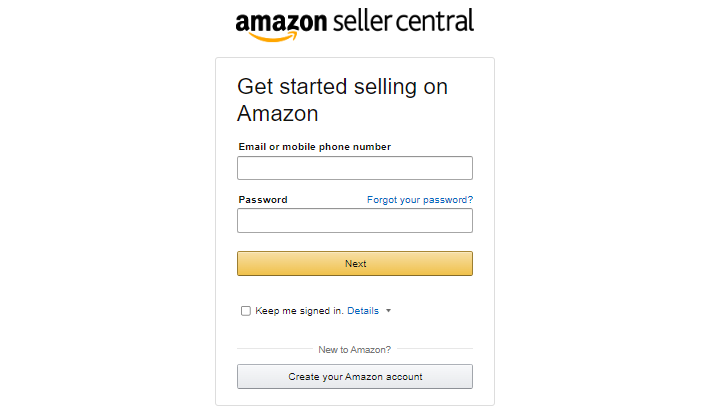 To use Amazon FBA, you must be an Amazon seller. If you're not, you can easily create an account by entering your name, email, phone number, and password.
After creating your account, the next step is providing information about your business.
Generally, you'll need to provide a valid government-issued ID or passport, a recent bank account or credit card statement, and a chargeable credit card.
You may need to submit additional documents later if required. Amazon seller verification is swift. Once they verify your account, choose the FBA fulfillment option.
You'll receive instructions on how to send your inventory to Amazon.
Shopify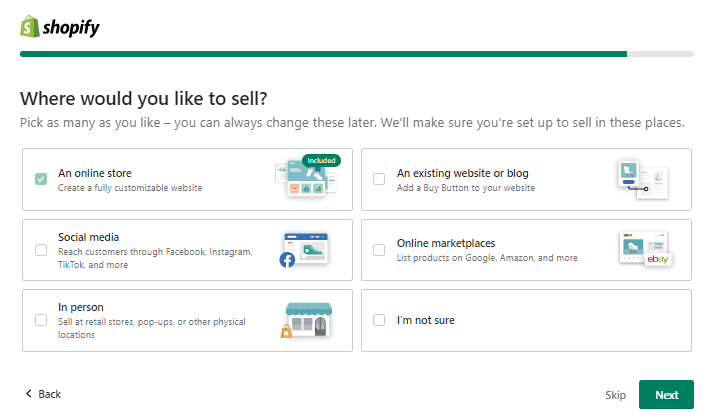 You can easily create a Shopify account and select where you want to sell.
Creating an online store is the default. Hence, Shopify will automatically create an online store for you no matter what selling channel you choose.
While signing up, you must submit a store name from which Shopify will create a subdomain.
For example, if you submit "My New Store," your subdomain will be mynewstore.myshopify.com. You can change this domain to a custom one later or leave it as it is.
Shopify doesn't require any verification. Once your account is live, you can start selling after you subscribe.
Verdict
It's easier and faster to start selling with Shopify than with Amazon FBA. You can create a Shopify account in minutes.
Store Setup
Amazon FBA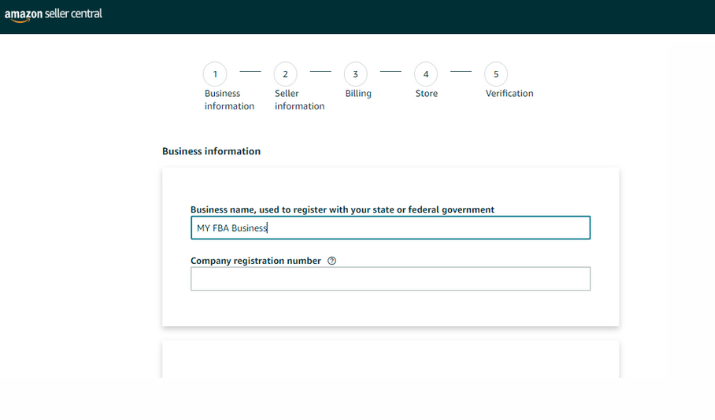 Your Amazon store sets up automatically once your seller account is verified. In addition, you don't have to pay until you start making sales.
You can start selling by creating listings. It's easy as you can match an existing listing – create your listing from that of another Amazon seller.
You only need to create a new listing if you're the first seller of such a product.
Furthermore, how you list products depends on your account type. Amazon sellers running Professional accounts have higher listing options.
Your listing becomes available to all Amazon customers after you publish.
Shopify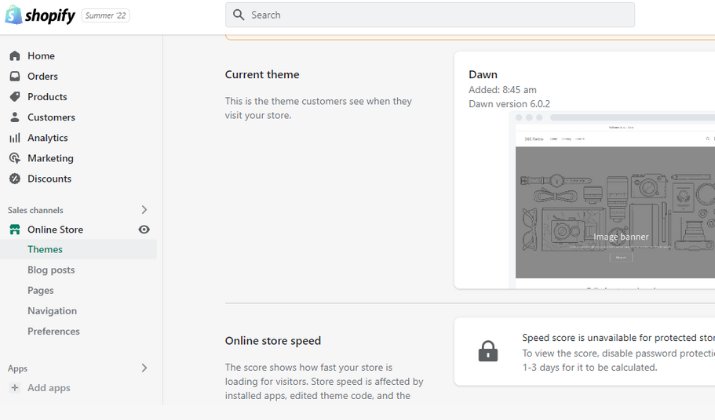 Your Shopify store is like a website. You're in complete control of how you want to operate it.
After you create your account, you can have your first product live for purchase in minutes. You can add products from the "Products" section in the menu.
However, your store needs to look professional before you start selling.
By default, Shopify displays an "Opening Soon" message on your new store until you publish your first product.
For your store to look professional, you should install a good theme and add About Us and Contact Us pages, among others.
Verdict
Amazon FBA store setup is more effortless. However, Shopify still wins because you have complete control over your store's appearance.
Inventory Management
Amazon FBA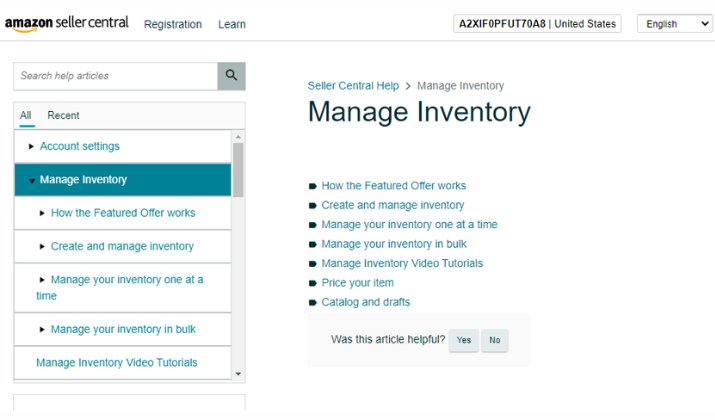 With Amazon FBA, your only responsibility is that your products get to Amazon. Afterward, Amazon handles everything, from packaging to when your customers get the products.
Nevertheless, the platform features tools to help you manage your inventory. These tools help you keep track of what you send to Amazon warehouses.
You get an inventory management dashboard from which you can access your Inventory Performance Index (IPI) score. Your score determines how much inventory you can send in.
Furthermore, you can manage excess inventory, track inventory age, fix stranded inventory, and know when to restock.
Shopify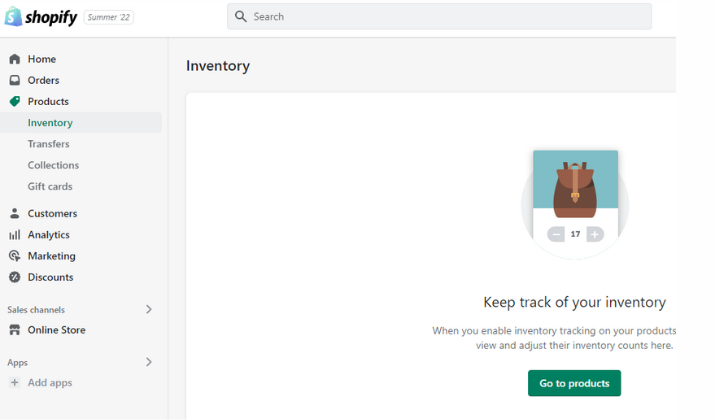 Inventory Management is one of the options under the Products section on the Shopify dashboard.
You can manage your inventory levels and track, transfer, and manage inventory quantities from the inventory dashboard.
These tools are available irrespective of your eCommerce fulfillment model – whether you fulfill yourself or outsource to a third-party service.
By default, what you track from the inventory dashboard are products in your listing. However, you can import an inventory CSV file. You can also export.
Furthermore, you can get in-depth inventory reports from the Shopify Analytics dashboard.
Verdict
Inventory management is easy and reliable on both Shopify and Amazon FBA. Hence, it's a draw.
Payment Methods
Amazon FBA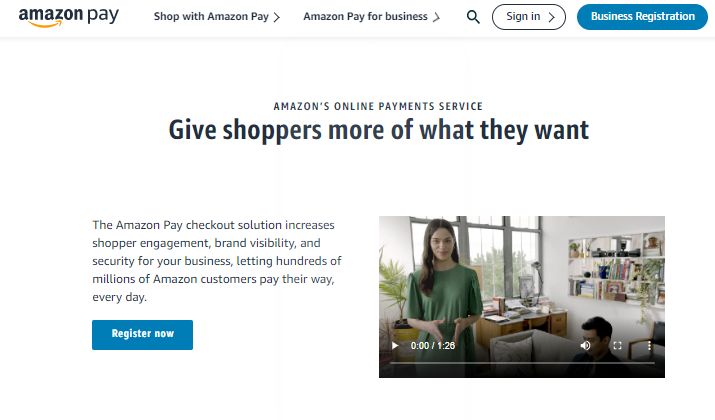 If you run an Amazon FBA business, the payment methods available to your customers are the default option on Amazon – Amazon Pay.
Amazon Pay accepts debit and credit cards, including Visa, Mastercard, Discover, American Express, Diners Club, and JCB.
Depending on the limits on your seller account, you may accept Amazon store cards. You can't receive payments via online channels like PayPal and Stripe.
You need to provide a valid bank account to withdraw your profits from your seller account.
The only alternative is using a bank account from a Payment Service Provider in Amazon's Payment Service Provider Program.
Shopify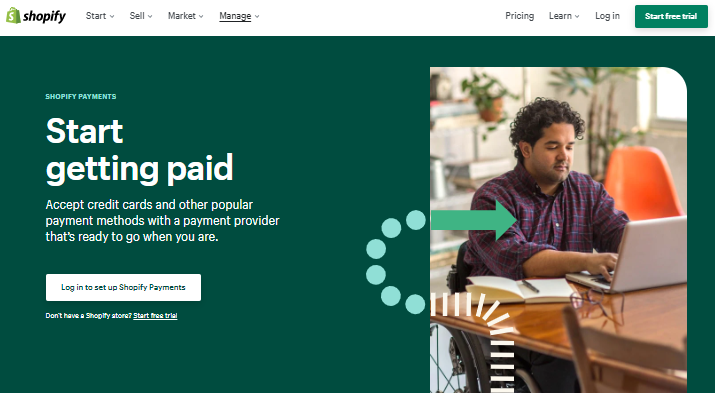 You have a bulk of payment options to choose from, for your customers to pay and for you to withdraw your profits.
The most popular option for customers to pay is via credit and debit cards. You can facilitate this using Shopify Payments or a third-party provider.
Alternatively, your customers can make card-free payments using channels like PayPal, Amazon Pay, Meta Pay, and Apple Pay.
Shopify lets you schedule payouts. The platform processes payouts via the native payment solution and sends them to your bank account.
You must set up your bank account for Shopify Payments within 21 days of making a sale. Otherwise, the money goes back to the customer.
Verdict
The winner here is Shopify, as your customers can make payments from various payment channels.
Reports & Analytics
Amazon FBA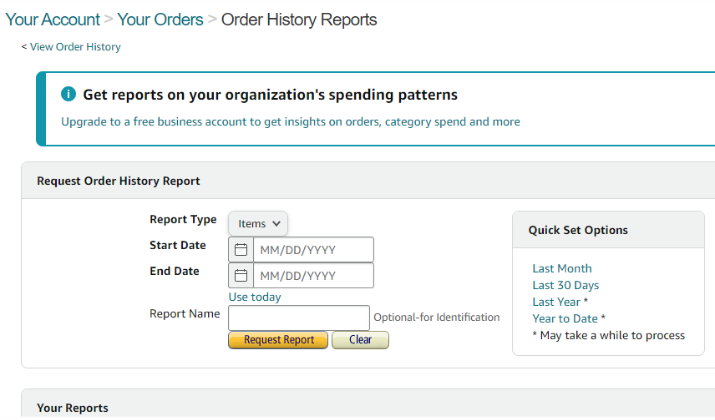 What you get from Amazon as an FBA seller are reports. You'll find all the data you need from the business reports section to know how your business is performing.
You get data on Amazon fulfilled shipments, customer shipment sales, promotions, sales tax, all fulfilled orders, and FBA sales lifts.
Furthermore, you get inventory reports, including monthly inventory, daily inventory, inventory adjustments, and inbound performance, to name a few.
Other available reports include payment, customer concessions, and removal reports.
Also Read: Best Chrome Extensions For Amazon FBA
Shopify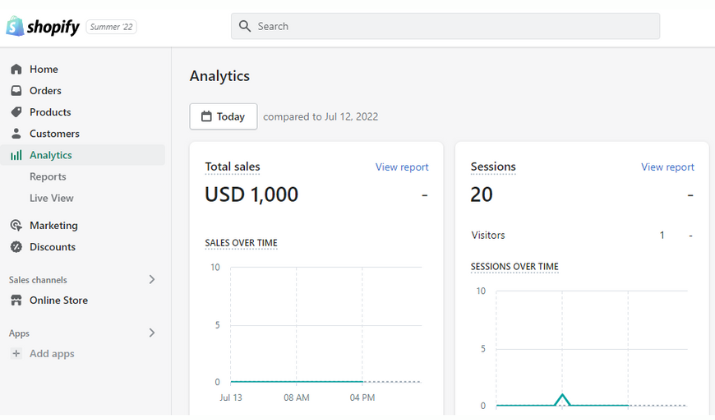 Shopify analytics and reports are among the best features on the eCommerce platform.
You get insights into your store's activity, product listings, visitors, customers, transactions, and more.
The analytics and reports dashboard is just one of the many analytics dashboards available on Shopify.
Others you can access include financial reports (reports on taxes and payments), acquisition reports, behavior reports, and marketing reports.
Notably, Shopify has a Live View feature that lets you monitor analytics in real time.
However, most Shopify analytics and reports – like the Live View feature, for example – are only available on higher plans.
Verdict
It's a draw as you can access dependable reports and in-depth analytics with Amazon FBA and Shopify.
Shipping and Delivery
Amazon FBA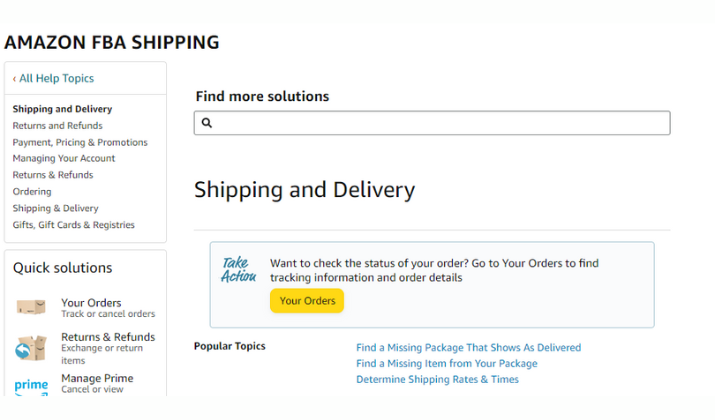 As an Amazon FBA seller, shipping to your customers is 100 percent Amazon's responsibility after you send in your products.
After registering an FBA account, Amazon will instruct you on the fulfillment location to send your products. You can ship them via any carrier you want.
You only have to pay the FBA fulfillment fee, and Amazon will package and deliver your product to the customer.
The fulfillment fee ranges from as low as $0.15 to as high as $9 per item. It depends on the item type and quantity.
Your customers still need to pay a shipping fee to Amazon for the delivery. Nevertheless, the advantage is Amazon's vast delivery network, which reaches more than 100 countries.
Shopify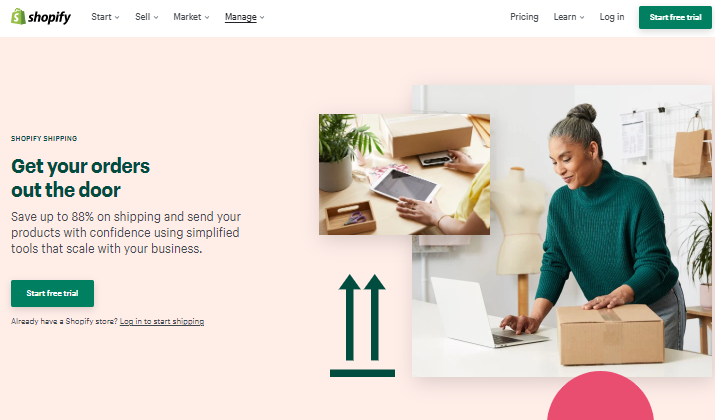 Shopify has a native shipping solution you can use. At relatively low rates, it lets you deliver products to customers via renowned carriers like USPS, UPS, and DHL.
You can save up to 88 percent when using these carriers via Shopify Shipping compared to using them directly.
Customizing your shipping setup is easy as it's automatic. You can charge your customers any shipping rate you want and offer discounts.
Furthermore, if your target customers are nearby, you can take advantage of Shopify's local delivery.
Aside from Shopify Shipping, you can access many other shipping solutions from the app store.
Verdict
Although you have many shipping solutions with Shopify, Amazon FBA is the easiest and safest option.
Mobile Support
Amazon FBA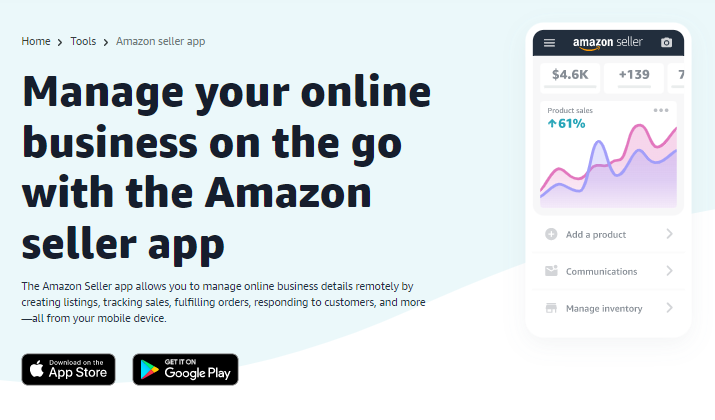 Amazon features a seller app for Android and iOS devices. You can use the app whenever you're an Amazon FBA or FBM seller.
You can access every feature on the web platform on the mobile app, including creating listings, fulfilling customer orders, managing inventory, tracking sales, and responding to customers.
You can also use the Amazon seller app to find products to sell and run sponsored product campaigns.
Overall, the best thing about the app is that you get instant notifications about any happening in your FBA store.
Shopify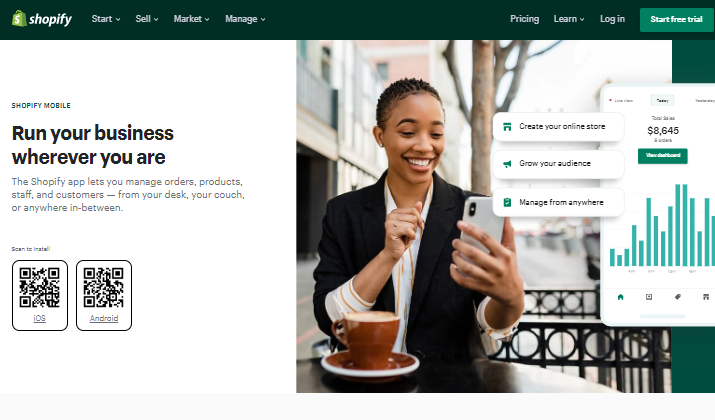 You can run your business on the go using the official Shopify mobile app. The app is free and available on the App Store for iPhone and the Google Play Store for Android.
The Shopify app lets you manage your store with access to your sales data, fulfillment, and payments.
Interestingly, you can build an online store from scratch using just the mobile app.
Furthermore, the app is the best option for growing your audience. It has built-in social media promotion, marketing, and SEO tools.
Verdict
Shopify and Amazon FBA both feature mobile apps for iPhone and Android. It's a draw.
Integrations
Amazon FBA
Amazon FBA doesn't feature any direct third-party integrations.
However, selling on the Amazon marketplace differs from selling on your own website. If you choose to sell on Amazon, you will have all you need.
It's worth noting that other platforms connect to Amazon FBA. Shopify, for example, has an Amazon FBA app for sellers who want to use Amazon's fulfillment.
Other eCommerce platforms like WooCommerce and Magento also feature an Amazon FBA integration.
Hence, you can't connect from your Amazon FBA account to other third-party platforms, but you can connect from other platforms to Amazon FBA.
You'll only need this reverse integration if you have a store on any of the eCommerce platforms.
Shopify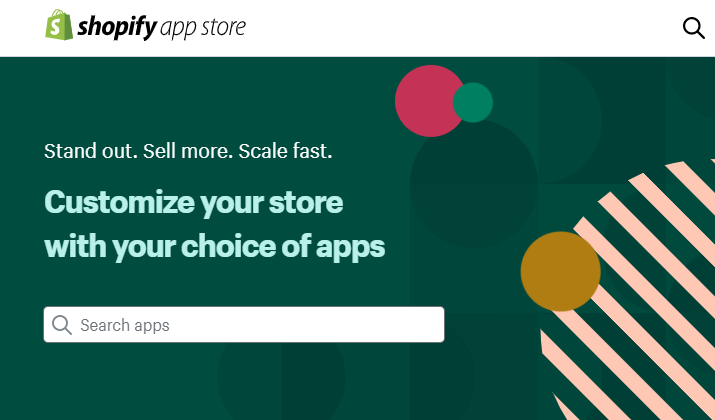 Shopify is a giant eCommerce platform because of its App Store. The App Store features over 6,000 apps that let you integrate your online store with thousands of third-party platforms.
App categories available on the store include marketing, fulfillment, sourcing and selling, management, designing, merchandising, customer service, and shipping and delivery apps.
However, most of the apps on the Shopify App Store are paid. Some feature free trials, but ultimately, you must pay for a subscription. The subscription is independent of your Shopify subscription.
Verdict
Shopify outruns the Amazon FBA platform when it comes to third-party integrations with thousands of apps. However, you won't need third-party platforms with Amazon's fulfillment and marketplace.
Customer Support
Amazon FBA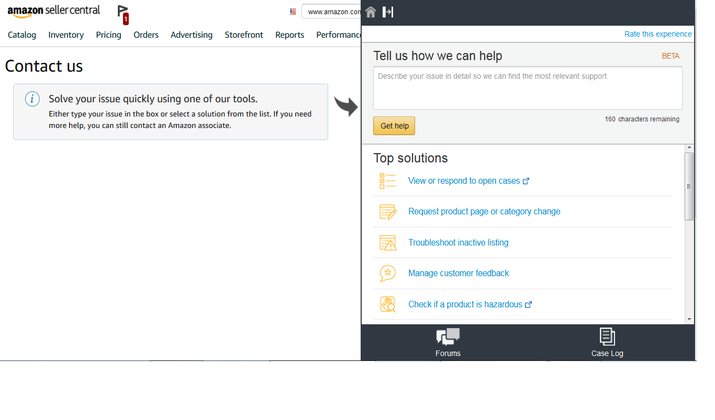 Amazon features a comprehensive help center for FBA sellers. It features twelve sections with hundreds of articles.
The sections include account settings, inventory management, order management, returns and cancellations, feedback and performance, and payments, to name a few.
You can access personalized support from your Amazon seller dashboard by clicking the "Help" option from your dashboard at the top-left corner.
The help tool will automatically and quickly scan your account to detect any possible issue you may have.
Ultimately, you can send the support team an email or talk to them on the phone. You can also join any of the Seller Forums and get help from other users.
Amazon will also handle support for your FBA customers. Customers can use the support center, online community, send an email, request a phone call, or use the live chat.
Shopify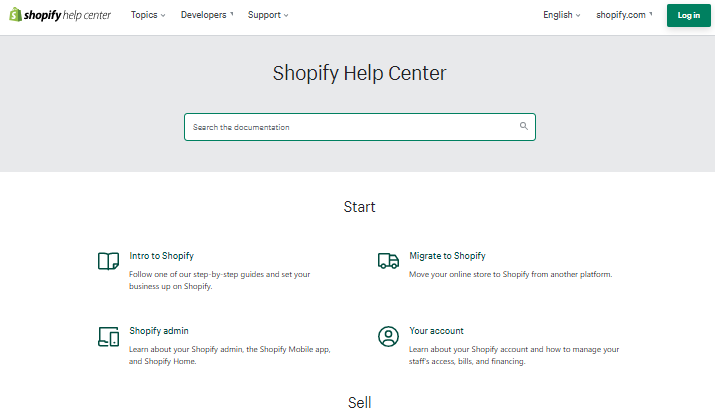 As a Shopify seller, there are three ways to get help. You either use the help center, community forums, or directly contact the support team.
The help center features detailed documentation of how to use Shopify. It covers getting started, selling, management, marketing, and expanding.
You'll also find guidelines on designing Shopify themes and building apps, although these are exclusive for developers.
Shopify community forums are a hub of questions, answers, and comments from different Shopify sellers. It's ideal for getting solutions to issues others have encountered and solved.
Finally, the direct support options include LiveChat and email; LiveChat is the best option as it's available 24/7.
You can contact Shopify directly whether you're logged in or not. However, it's ideal that you log in.
Verdict
Again, it is a draw here as both platforms offer reliable support to you and your customers.
Also Read: Ways To Boost Shopify Traffic
Shopify vs Amazon FBA: Pricing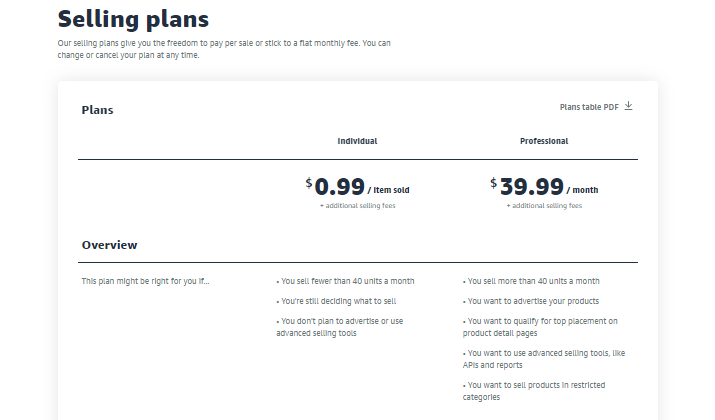 You have two pricing models to choose from as an Amazon FBA seller:
Individual Plan: $0.99 per item sold
Professional Plan: $39.99 per month
With the individual plan, you can sell a maximum of forty items in a month. On the other hand, the professional plan lets you sell more.
However, both plans come with additional selling fees. These include inventory storage fees, long-term storage fees, fulfillment fees, removal order fees, returns processing fees, and unplanned services fees.
The fees differ depending on the product type, size, and fulfillment circumstances. For example, you only have to pay a processing fee if a customer returns a product.
Interesting Read: How To Compare Products On Amazon?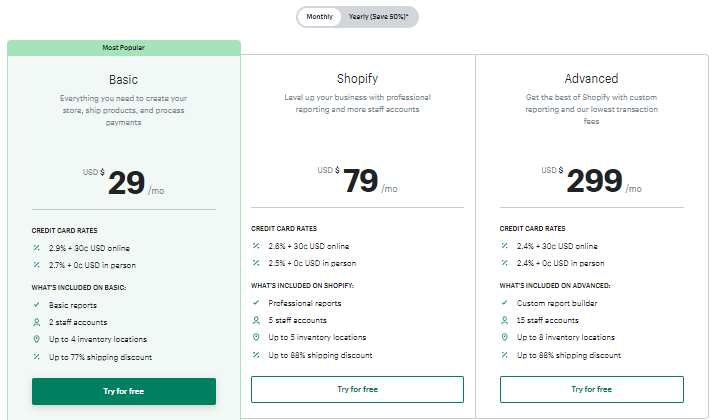 Shopify has five pricing plans, which include:
Shopify Lite Plan: $5 per month
Basic Plan: $29 per month for monthly billing, or $14.44 per month for annual billing
Shopify Plan: $79 per month for monthly billing, or $39.44 per month for annual billing
Advanced Plan: $299 per month for monthly billing, or $147.78 per month for annual billing
Shopify Plus Plan: Custom pricing starting at $2,000 per month
Note: You can try Shopify free for 14 days before paying a subscription fee.
The Lite Plan only lets you sell on social media platforms, while the Shopify Plan is the best for a starting business overall.
Note that your Shopify subscription only covers the cost of using the platform. You'll have to pay for any premium third-party service you integrate where applicable.
Amazon FBA vs Shopify: Similarities And Differences
Similarities
Both platforms feature reliable inventory management tools.
Both platforms feature a native payment option – Amazon Pay and Shopify Payments.
With either Shopify or Amazon FBA, you can send payouts to bank accounts.
Both platforms deliver dependable reports and analytics data.
Both Shopify and Amazon FBA are premium.
Both platforms feature mobile apps.
Both platforms feature a native shipping solution.
Differences
Amazon FBA is limited to Amazon sellers, but anyone can use Shopify.
Amazon FBA requires verification, but Shopify doesn't.
Shopify offers more store customization options than Amazon.
Shopify requires a subscription from the onset, but you can use Amazon FBA and pay when you make a sale.
Shopify features far more third-party integrations than Amazon FBA.
Also Read: Successful Shopify Clothing Store Examples
Pros And Cons
Amazon FBA
Pros
Easy inventory management
Secure payment solution
Reliable reports
Affordable individual pricing plan
Vast shipping network
iPhone and Android mobile apps
Reliable support channels
Cons
Limited to Amazon sellers
Limited payment methods
Additional selling fees
Shopify
Pros
Available to everyone
Reliable inventory management
Vast payment methods
In-depth analytics
Native shipping solution
It supports many third-party platforms via apps
Android and iPhone mobile apps
Reliable support
Cons
Limited features for basic plans
Expensive pricing
Also Read: Best Free Amazon Product Research Tools
Bottom Line
Amazon FBA and Shopify are more different than they are similar.
In essence, Amazon FBA entirely depends on Amazon's network, while Shopify supports many eCommerce channels and networks, including Amazon.
If you plan to sell on Amazon, then FBA is best. Otherwise, Shopify is the better option.
With Shopify, you can either fulfill orders yourself or outsource to a third party, like with Amazon FBA. Furthermore, your audience isn't limited to Amazon buyers, as you can sell anywhere.

Author: Sam Zaman
Sam loves to write on technology & related stuff. Ecommerce, mobile and internet marketing equally drive her interest. Likes gardening and experimenting with new recipes. An avid reader and absolutely mad @bout donuts :)