Do you intend to run a digital marketing campaign? Then, you'll have to spend time creating and designing your online adverts.
However, you can skip the hard work by using a tool such as PowerAdSpy. 
With PowerAdSpy, you can spy on your top competitors to uncover their highest converting ads. For some reason, PowerAdSpy might not be the perfect ad spying tool for your business. 
In such a case, here are the 10 best PowerAdSpy alternatives:
Best PowerAdSpy Alternatives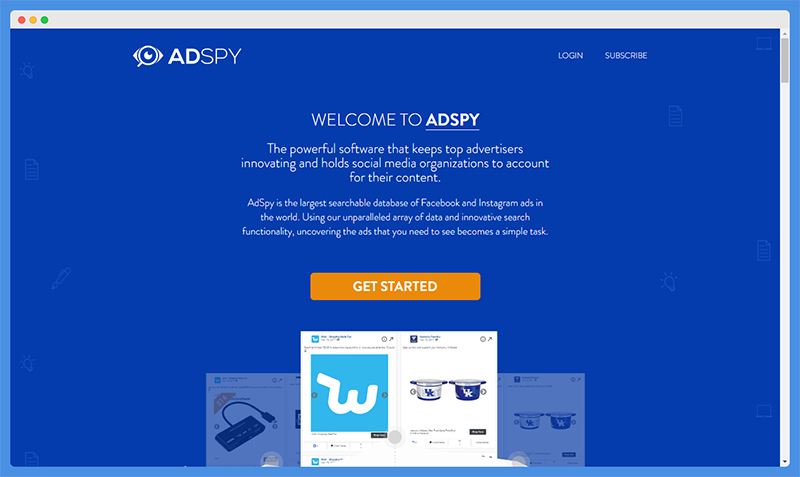 First on our list of the best PowerAdSpy alternatives is AdSpy, a multi-platform ad spying tool. It covers over 203 countries, which is much more than what you get with PowerAdSpy which covers only 20 countries. 
There are about 50 million ads in the PowerAdSpy database, while AdSpy boasts over 93 million.
Both AdSpy and PowerAdSpy are capable of spying on Facebook and Instagram ads. However, PowerAdSpy has more coverage as it extends to YouTube, Native, and GDN ads.
The advantage you get with AdSpy is that there are more options to search. You can search for any ad data using keywords, URLs, page names, and you can filter by affiliate ID, affiliate network, offer ID, etc. 
Also, you can search via comments to get insight regarding your competitors' customer feedback.
Another thing that makes AdSpy a worthy alternative to PowerAdSpy is its user interface. AdSpy features a rapid interface that enables you to search for and locate ads in seconds, thanks to its fast servers.
AdSpy also delivers accurate demographics. You can get details of the audience targeted by each ad, including their age, gender, and location.
AdSpy falls short when it comes to customer support and resources. In fact, PowerAdSpy features more reliable support channels and resources than AdSpy.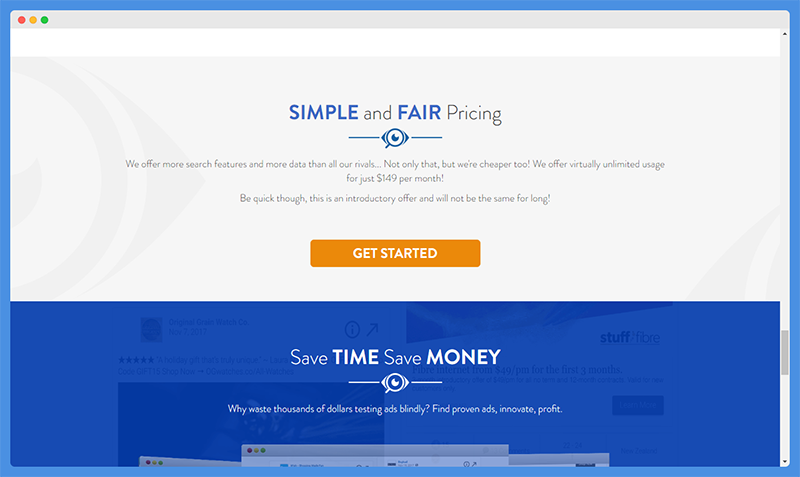 AdSpy has a pricing scheme described as "simple and fair pricing." The tool and all its features are available for just $149 per month. However, this is a starting offer as AdSpy is somewhat fresh in the market. 
Verdict: AdSpy has a much more extensive ad database than PowerAdSpy. In other words, you can spy on more ads with AdSpy than with PowerAdSpy. Also, at the moment, AdSpy is more affordable than PowerAdSpy, so you can save money.
AdSpy - Get $50 OFF & a FREE Trial
Uncover the competitor ads you want to see. Largest searchable Facebook & Instagram Database. Unparalleled search functionality & more.
Special: Get $50 OFF Adspy & a FREE Trial ==>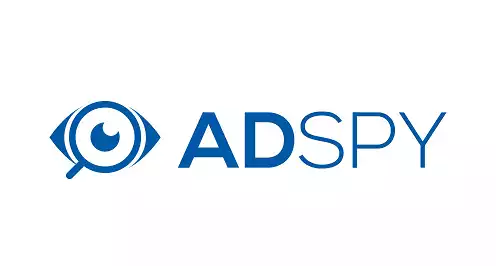 We earn a commission if you click this link and make a purchase.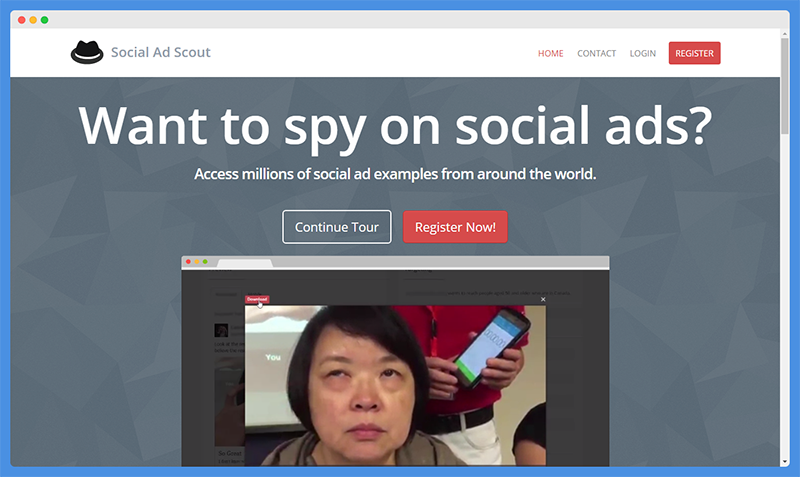 Social Ad Scout enables you to spy on social media ads, just like PowerAdSpy. Similarly, both platforms track ads from over 20 countries, and there are millions of ads on the Social Ad Scout database. 
Additionally, Social Ad Scout features a simple user interface. It takes just milliseconds to run your ad searches, and you're guaranteed reliable results.
In many ways, PowerAdSpy and Social Ad Scout are similar. Both platforms monitor both image and video ads, and there's search flexibility.
For example, you can search for ads with Social Ad Scout using text, URLs, ad type, device type, indicators, etc. However, you get more search options with Social Ad Scout than PowerAdSpy.
With cross-device variation, you can segregate desktop and mobile ads. That way, you can differentiate between the same ads on the two most popular device platforms.
Social Ad Scout provides detailed observations for every ad in its database. This includes the ad timelines, how it ranked, viewers, devices viewed from, view count, and more.
Live ads are also featured, so you can directly interact with them. 
While PowerAdSpy allows you to view ad landing pages, Social Ad Scout lets you download these landing pages.
The download comprises all elements of the landing page, including videos, images, scripts, etc. 
Social Ad Scout lets you pay monthly, semi-annually, and annually. Here are its pricing plans:
Monthly Plan – $147 per month 
Semi-annual Plan – $762 per 6 months ($127 per month) 
Annual Plan – $1,164 per year ($97 per month)
Verdict: You can opt for Social Ad Scout as a PowerAdSpy alternative if you need to discover more ads. While both platforms track social media ads, Social Ad Scout isn't limited to some platforms. However, Social Ad Scout is a more expensive platform than PowerAdSpy.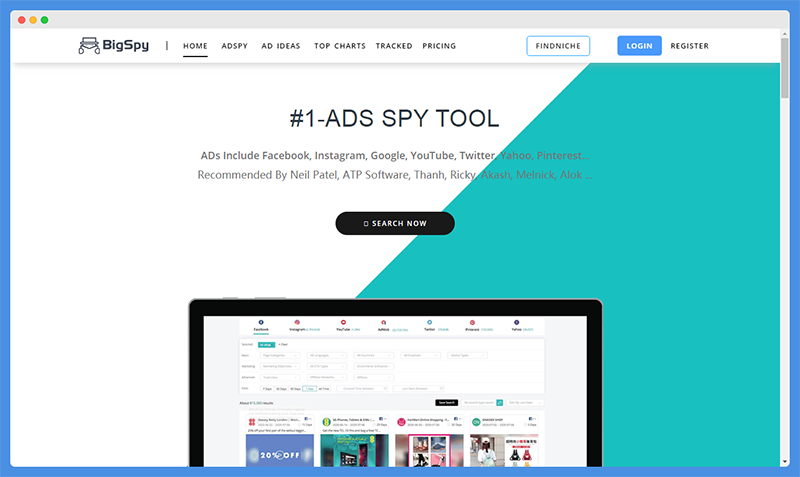 BigSpy is another noteworthy PowerAdSpy alternative in the digital marketing industry. So far, the tool has been used by more than 320,000 digital marketers, and it boasts of over 650 million ad creatives.
While you can track Facebook, Instagram, Google, YouTube, Native, and GDN ads with PowerAdSpy, BigSpy lets you track more.
With BigSpy, you can track social ads on Facebook, Instagram, Google, Twitter, Pinterest, YouTube, and Yahoo.
In addition, PowerAdSpy tracks ads from about 20 countries, while BigSpy tracks ads from about 40 countries. 
As a result, BigSpy features a larger ad database than PowerAdSpy. In fact, their database contains more than 1 billion ads.
With the powerful search feature, you can discover ads using keywords and filters. Ad type, country, format, CTA, date, etc. are some of the feature filters. 
Every day, BigSpy picks the best and trending ads as Featured Ads to your advantage. In addition, BigSpy lets you in on what other users are searching.  
The tool features a My Tracked dashboard that allows you to keep track of all spied ads on the platform.
BigSpy provides reliable support channels and resources for users. There's a LiveChat, FAQ, Tutorials page, etc.
Furthermore, BigSpy features a browser extension for Google Chrome, like PowerAdSpy.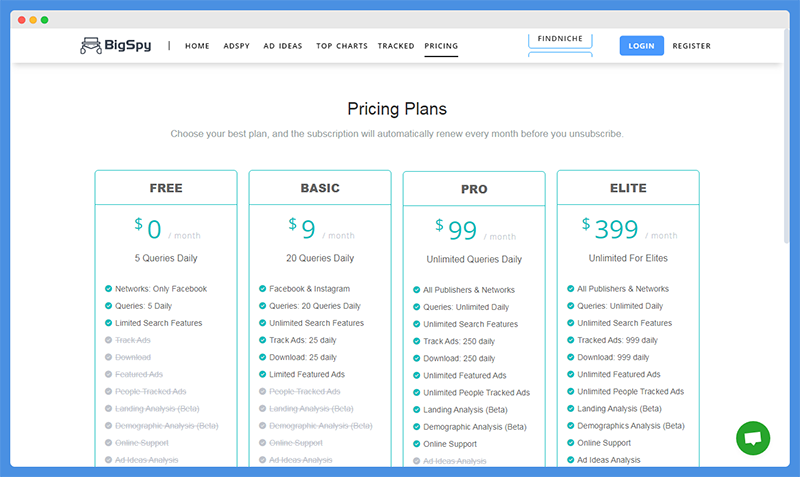 BigSpy features four pricing plans, which include: 
Free Plan – $0 
Basic Plan – $9 billed every month 
Pro Plan – $99 billed every month 
Elite Plan – $399 billed every month
Verdict: With over 1 billion ads from about six top social media platforms, you can spy more ads with BigSpy, unlike PowerAdSpy.
Also Read: BigSpy Vs AdSpy
We earn a commission if you click this link and make a purchase.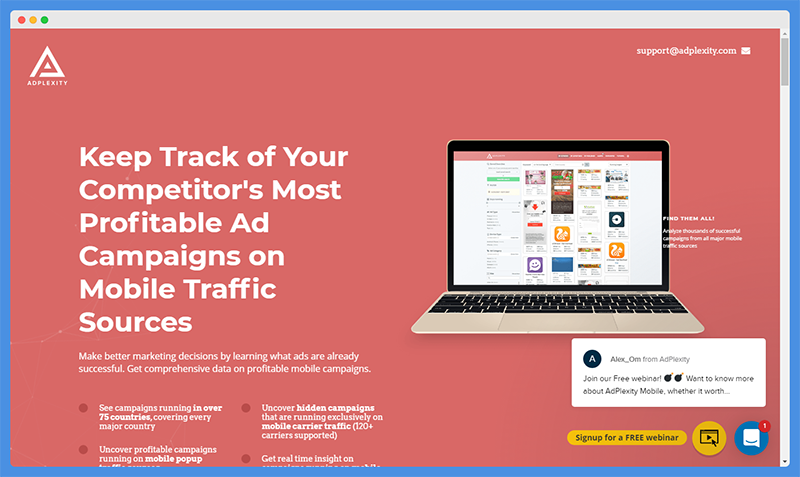 AdPlexity is an ad intelligence platform. It isn't focused on only social platforms like PowerAdSpy. With AdPlexity, you can track mobile, desktop, native, push, eCommerce, and more ads. 
It can track ad campaigns from more than 75 countries, unlike PowerAdSpy that tracks from about 20 countries. 
Ads can be discovered by search. You can search by affiliate network, publisher, advertiser, keyword, etc. For affiliate ads, AdPlexity tracks over 100 affiliate networks.
Also, with this ad spy tool, you can uncover and download landing pages along with their dependencies. 
You can analyze every ad on the AdPlexity database to uncover the ad trends, traffic sources, targeted devices, publishers, and other details.
An advantage with AdPlexity is that you have access to hidden ad campaigns.
Most ad campaigns running on mobile carrier traffic are hidden to most ad spy tools but not AdPlexity. AdPlexity tracks ads from more than 120 mobile carriers across the world.
AdPlexity Pricing 
AdPlexity's pricing plans vary depending on the solution you want to use. 
AdPlexity Mobile – $199 per month, or $1990 per year for annual payment 
AdPlexity Desktop – $199 per month, or $1990 per year for annual payment 
AdPlexity Native – $249 per month, or $2490 billed every year for annual payment
AdPlexity Push – $149 per month, or $1490 billed year for annual payment
AdPlexity Ecommerce – $199 per month, or $1990 per year for annual payment 
AdPlexity Carriers – $149 per month, or $1490 per year for annual payment 
AdPlexity Enterprise – Custom pricing
Verdict: Coverage is the difference and advantage of AdPlexity over PowerAdSpy. With AdPlexity, you can spy on any type of digital ad, irrespective of the platform.
Interesting Comparison: AdPlexity Vs Anstrex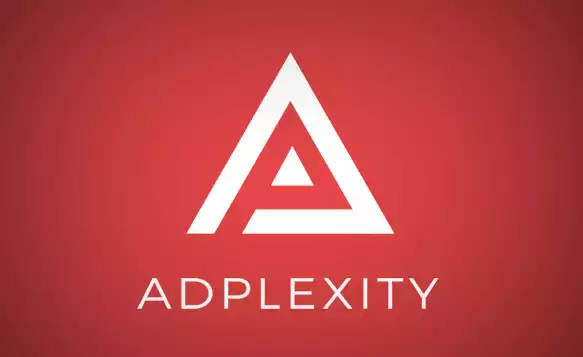 We earn a commission when you click this link and make a purchase.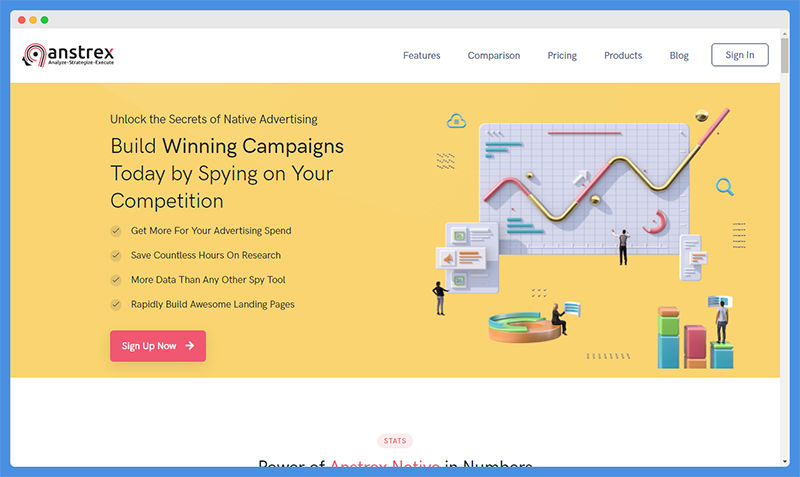 Anstrex is a PowerAdSpy alternative that facilitates native ad, push ad, and eCommerce spying. It tracks ads from more countries than PowerAdSpy, a total of 64 countries, and there are more than 10 million native ads in its database.
Furthermore, Anstrex tracks ads from more than 25 ad networks. Some of them are Gravity, Newsmax, Adblade, Adition, Yengo, Popin, etc. For push ads, there are over 3 million ads in their database from 38 ad networks. 
Anstrex is an easy to use PowerAdSpy alternative. You have multiple filtering and sorting options such as filter by ad network, country, device, affiliate network, or sort by duration, date, popularity, etc.
You can get explicit results by using keywords to search. 
A unique feature of Anstrex is the advanced Boolean searching. This allows you to search for ads using Boolean operators. You don't get such a feature with PowerAdSpy. 
Anstrex is excellent for spying on landing pages too. There's a built-in downloader that lets you scrape any ad landing page and you can multi-download to save time.
Anstrex features an HTML editor, so you can directly customize these landing pages to use. 
Another advantage for Anstrex over PowerAdSpy is integrations. As an eCommerce dropship spying tool, Anstrex integrates with Shopify, WooCommerce, AliExpress, AWS, and Digital Ocean. 
Anstrex Pricing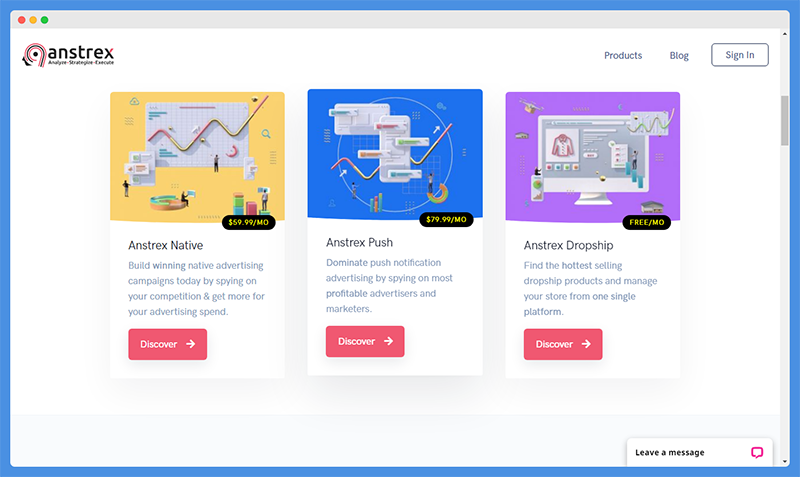 Anstrex pricing plans depend on your ad spy intention. They include:
Anstrex Native + Push – $124.99 per month 
Anstrex Native – $59.99 per month 
Anstrex Push – $79.99 per month 
Anstrex Dropship – Free
Verdict: If your focus is eCommerce, you can opt for Anstrex as a PowerAdSpy alternative. Also, you can spy on native and push ads used by other competing stores. However, Anstrex isn't a recommended PowerAdSpy alternative for spying on social ads. 
Our Favourite Native & Push Spy Tool

We earn a commission when you click this link and make a purchase.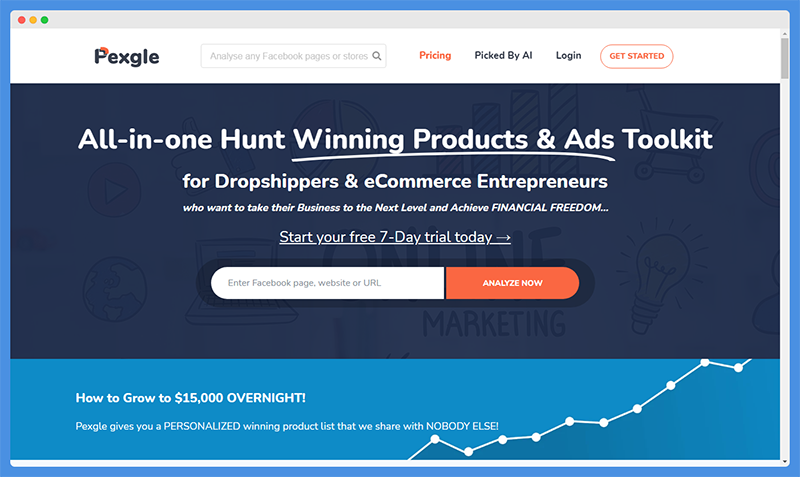 Pexgle is a PowerAdSpy alternative geared for eCommerce merchants. 
With Pexgle, you can uncover your competitor's top-selling products and uncover their best performing ads. 
The tool focuses on two major eCommerce platforms – Shopify and AliExpress. You can follow specific Shopify stores and AliExpress merchants, so you get notified whenever they post new ads.
To spy on Facebook ads, you can search for ads using keywords or filter the database by time, number of likes, number of views, number of comments, and more.
You can select ads to add to your collection and create a personal ad catalog.
A feature that makes Pexgle a worthy PowerAdSpy alternative for eCommerce is the Picked by AI feature.
This is an AI-powered feature that picks out trending products that guarantee profit for you to sell. You get these trending products daily.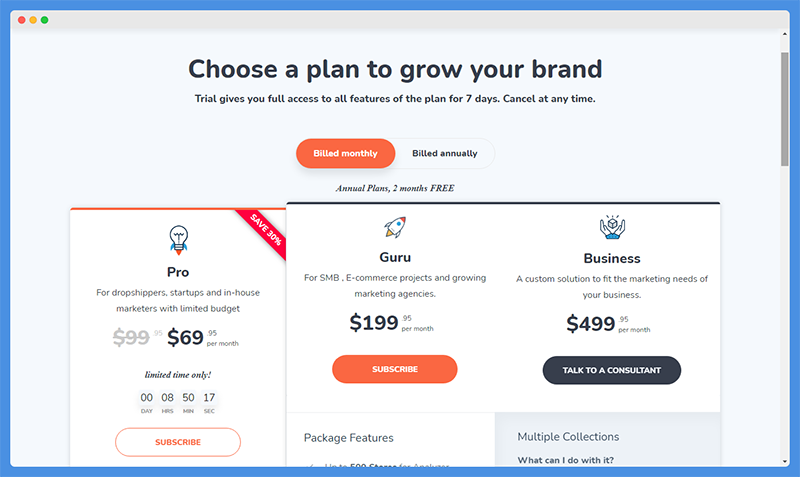 There are three pricing plans featured on Pexgle, which include:
Pro Plan – $69.95 per month ($82.95 per month with annual plan) 
Guru Plan – $199.95 per month ($149.95 per month with annual plan)
Business Plan – $499 per month ($399.95 per month with annual plan)
Verdict: If you are an eCommerce merchant on the Shopify or AliExpress platform, Pexgle is reliable for spying on competitor stores.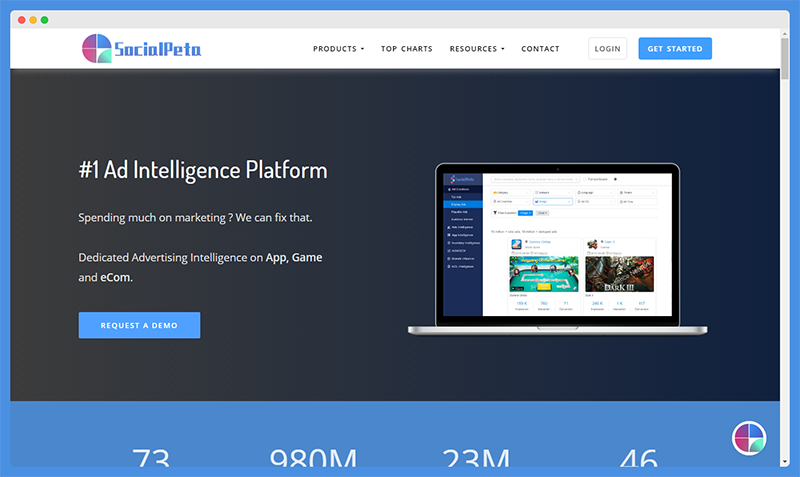 SocialPeta is an ad intelligence and eCommerce intelligence tool. In numbers, the tool has a database with 23 million eCommerce products, millions of ads from 73 ad networks, and functions across 46 countries.
These numbers are higher than what PowerAdSpy features. 
An advantage you get with SocialPeta over PowerAdSpy is cost analytics. With SocialPeta, you can uncover how much your competitors spend on their ads.
This includes their CPC, CPM, and KD rates for different countries. 
Furthermore, you can uncover just how your competitors got customers to click on their ads by analyzing their CPAs. You get other ad details as you get from PowerAdSpy, including the targeted audience, country, etc. 
Also, SocialPeta enables you to identify your competitors by uncovering the top advertisers in your industry. 
AliExpress, Shopify, and Amazon are the eCommerce platforms supported by SocialPeta. A total of 7,903 product categories are tracked across these three platforms.
However, most of the products are from AliExpress. Nevertheless, you can discover winning products by setting high success rates as you filter the ads.
SocialPeta Pricing
SocialPeta is a premium tool, but its pricing is not public. You'll have to discuss with the sales team to set a price depending on your needs. Nevertheless, you can request a demo before paying for the tool. 
Verdict: SocialPeta allows you to know how much your competitors spend on ad campaigns. Unfortunately, PowerAdSpy doesn't deliver much in terms of advertising cost. 
Rounding Up – What Is The Best PowerAdSpy Alternative?
I have listed out the 10 best PowerAdSpy alternatives you can opt for if PowerAdSpy doesn't meet your business needs.
Out of the 10, I would recommend AdSpy as the best PowerAdSpy alternative to use.
From the numbers, there's more to uncover with AdSpy compared to the rest. Apart from its fair pricing plan, AdSpy also has a simple user interface geared for newbies.

Author: Sam Zaman
Sam loves to write on technology & related stuff. Ecommerce, mobile and internet marketing equally drive her interest. Likes gardening and experimenting with new recipes. An avid reader and absolutely mad @bout donuts :)