Merch by Amazon is currently a trending platform among artists and designers. It works as a print on demand platform, allowing sellers to sell products on Amazon without any inventory risk.
Whenever it comes to selling on Amazon, there's always active competition.
If you don't plan your selling strategies right, your products will be at the bottom of search results, where no customer can find them.
You can perform better as a seller when you work with valuable insights, which you can get from proper research.
Product research is vital when doing business online, whether you use Merch by Amazon or another platform.
You'll find many merch research tools on the web, but the list below contains the best ones.
Also Read: Merch Titans vs Merch Informer
Best Merch Research Tools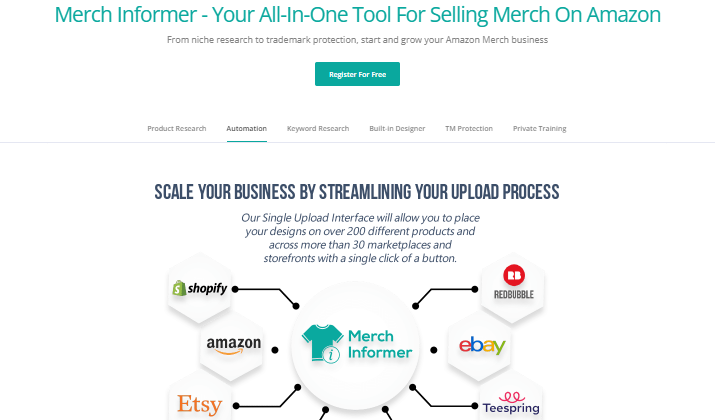 Merch Informer is a merch research tool you can start using for free. It can help you scale your business as a new or existing Amazon Merch merchant.
To use the Merch Informer merch research tool, you only have to select an Amazon market and product type and enter a keyword.
The tool supports the US, UK, and German Amazon markets. It features all major product types available on Amazon Merch, including t-shirts, long sleeves, sweatshirts, hoodies, and tank top merch, to name a few.
The tool redirects you to the Amazon website when you click the Search button, there, you'll find a catalog of products that match your search filters.
You can get more from Merch Informer when you create an account. Merch Informer accounts are premium, but you can try them for three days before paying.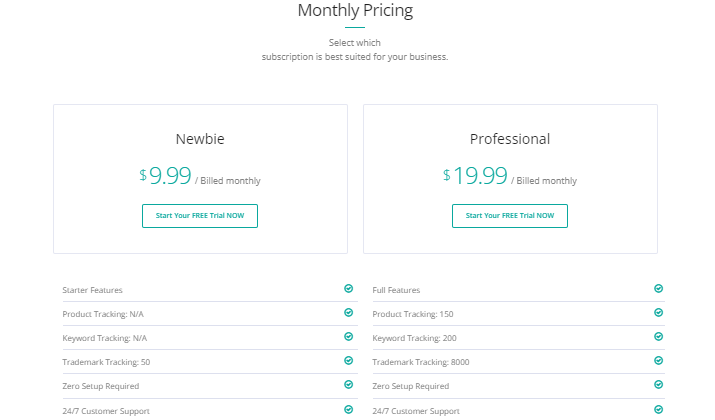 You either sign up for a Newbie account at $9.99 per month or a Professional account at $19.99 per month. These prices can change at any time.
With a premium account, you get access to all tools available on Merch Informer, including a product research tool, keyword research tool, built-in product designer, automation tool, and a private training program.
Unlike the free account, the website won't redirect you to Amazon when you search with a premium account. Instead, you'll access the extensive native database of more than 12 million merch product designs.
You can monitor trends, price changes, product rank changes, discover new niches, and analyze product history.
The built-in product designer makes creating designs easy. It's a drag-and-drop designer with templates, scalable designs, and patterns you can apply.
You can use the automation tool to publish your merch designs on over 200 products. It doesn't support Amazon alone but also over 30 other marketplaces.
Explore the best alternatives to Merch Informer in this post.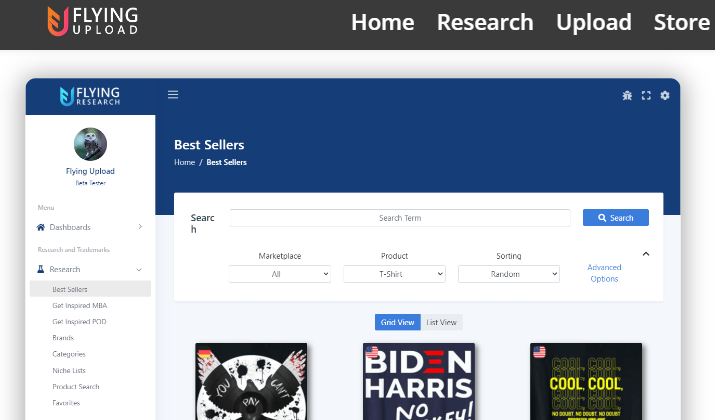 FlyingResearch, from FlyingUpload, is a research and upload tool for print on demand businesses. Consequently, it features a research tool for Merch by Amazon.
The FlyingResearch merch research tool supports six Amazon markets, including the US, the UK, German, French, Italian, and Spanish markets.
It gives you access to Amazon's best sellers rank, brands, categories, niche lists, and price history across these markets.
Hence, with FlyingResearch, you can find new design ideas and trends and uncover new niches.
As you research, you can filter the results by categories and brands. You can also compare designs, evaluate statistics, and get keyword ideas. You can add specific products and designs to your favorite list to easily access them.
Furthermore, you can get more narrowed results using the advanced options, but you can only access them with a premium account.
To use the FlyingResearch tool, you first must create an account. Signing up is easy. You only have to provide your name, email, and password.
After you register, you'll receive a verification link by email to confirm your account. You can log in to your dashboard after confirming your account.
The built-in guide will walk you through the process of using the tool when you log in for the first time.
While FlyingResearch has a free account, most research tools are premium. The premium account costs $19.95 per month or $219.95 per year – you get one month free with the annual plan.
Alternatively, you can pay for the professional bundle, which costs $89.95 per month and $989.45 per year.
FlyingResearch isn't limited to just Amazon Merch. You can research other print on demand platforms, including Redbubble and Spreadshirt.
Also Read: Best Anime Merch Websites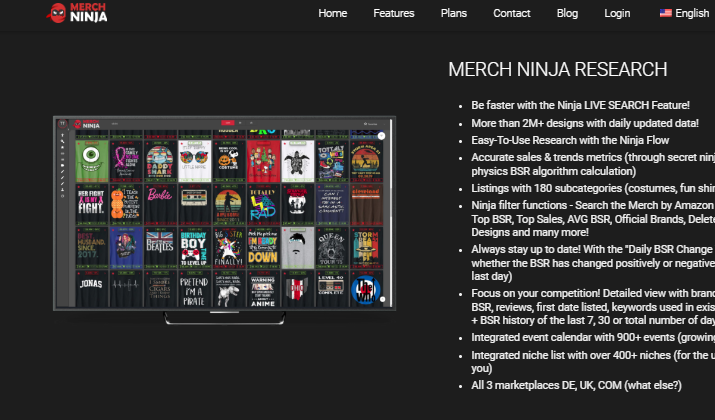 MerchNinja is described as an "all-in-one tool research tool for Merch by Amazon." The platform stays true to its description; it features a fast and accurate merch research tool.
The MerchNinja research tool works with a database of more than two million merch product designs. Designs get added to the database daily, so you won't run out of new designs to try.
You can sort the database listings by over 180 subcategories, including shirts, costumes, and hoodies. Alternatively, you can filter by additional categories such as BSR, top sales, official brands, new designs, and deleted designs.
The tool uses a unique BSR algorithm calculation to extract accurate trends and sales metrics.
As an Amazon merch seller, MerchNinja is one of the best research tools to help you monitor your competition.
You can extract the exact date they listed their products and price history for the past week, month, or all-time. In addition, you can get their current listing keywords.
Furthermore, MerchNinja features an exclusive keyword and analytics tool. The tool brings you all Amazon autocomplete keywords, their search volume, and keyword relevance.
Reviewing the keyword results is easy and fun, as the tool displays them in an interactive chart.
However, MerchNinja only supports three Amazon marketplaces: Amazon US, DE, and UK. Also, the tool isn't free. It only features paid accounts.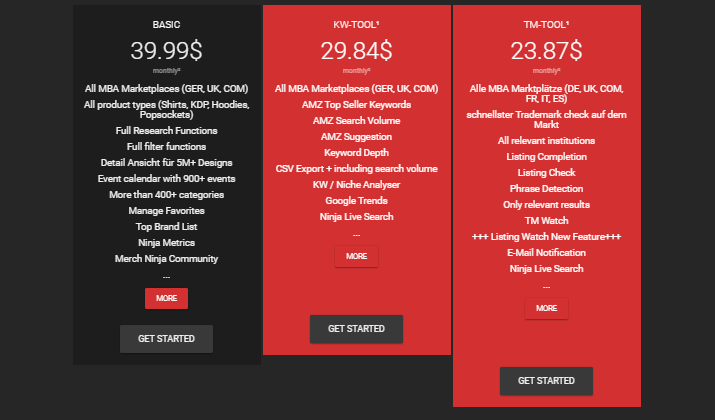 You either sign up for a basic account at $39.99 per month or just a keyword tool account at $29.84 per month.
Nevertheless, from time to time, MerchNinja releases coupon codes with which you can get pricing discounts.
You'll have to subscribe to the newsletter to be among the first to know whenever a new coupon code is available.
Also Read: Best Merch Websites To Sell Your Merch designs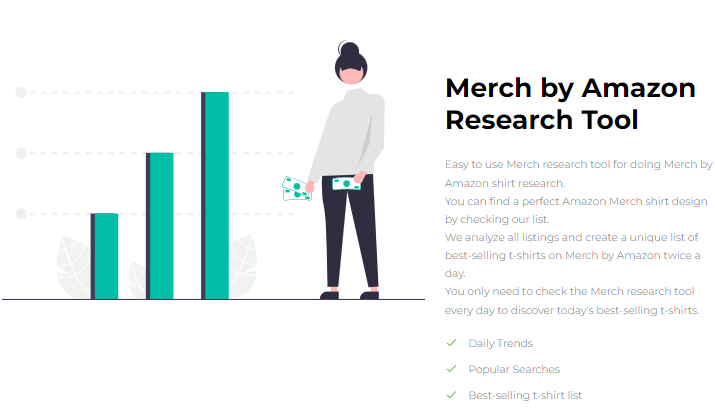 InsightFactory works for product research on various marketplaces and POD platforms. It's not limited to Merch by Amazon.
You'll find the website workable if your selling strategy involves researching product designs on other stores aside from Amazon.
Most of the tools available on InsightFactory are for Etsy and Redbubble. Nevertheless, there's an exclusive tool to uncover best-selling shirts on Merch by Amazon.
The tool simply displays a list of trending shirts on Amazon Merch, their BSR, growth rate, BSR drop, and last updated date.
You can only view three products as a guest. To view more, you must create an account.
InsightFactory only requires your name, email, and password for registration. In addition, there's no email verification. You can access your dashboard immediately when you click the "Create Account" button.
With a free InsightFactory account, you can view up to 18 best-selling products on Merch by Amazon. You need a premium account to view the unlimited list.
You can pay for InsightFactory premium monthly, every three months, or yearly. It costs $19.90 per month.
You save 20 percent if you pay every three months and up to 70 percent for an annual subscription. However, these prices and discounts change from time to time.
With an InsightFactory premium account, you can access more than best-selling products on Amazon. You can also access profitable products and keywords with low competition.
As mentioned before, InsightFactory features many tools for Etsy, including a search trends tool, spy tool, and tag generator tool. The website also features a trends tool for Redbubble.
Also Read: Best Places To Buy Anime Merch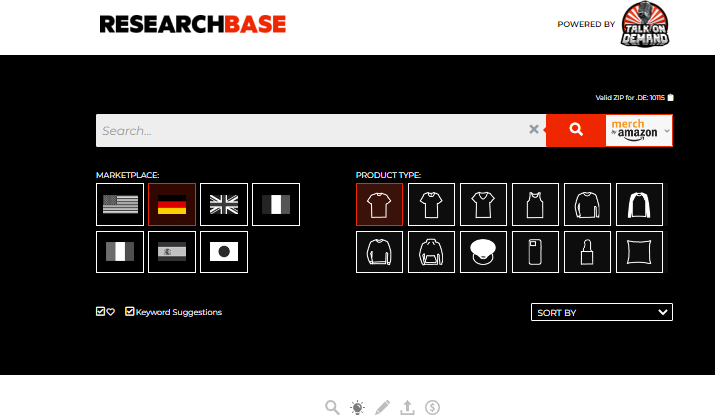 ResearchBase doesn't have the most user-friendly interface, but the tool works. You can rely on it for researching products for Amazon Merch.
It's one of the best if you want to research different markets. ResearchBase supports Amazon markets in the US, the UK, Japan, Spain, Italy, France, and Germany.
In addition, the tool supports different product types, including t-shirts, v-necks, tank tops, sweatshirts, hoodies, and raglan.
When you search with the ResearchBase database, you get trending products and keyword suggestions.
The tool redirects you to the Amazon store to view the best-selling products. On the other hand, you can view keyword suggestions on the ResearchBase website.
You can set the tool to sort by price, average customer review, newest arrivals, and oldest uploads before you search.
You must create an account to access most of ResearchBase's free tools. You can browse and extract keywords and research multiple Amazon marketplaces with a free account.
Creating an account is effortless as you only need to enter your name and email. However, like most other products on this list, you only get the best out of ResearchBase when you pay for a premium subscription.
ResearchBase Pro costs $14.99 per month. You can save for two months by paying $149 per year.
Notably, you get access to many other merch marketplaces aside from Merch by Amazon with ResearchBase.
These other marketplaces include Zazzle, Etsy, Redbubble, Spreadshirt, Walmart, TeeRepublic, and FineArtAmerica. They are primarily print on demand platforms.
Furthermore, with ResearchBase, you can also extract trending keywords from websites like Google, Pinterest, Reddit, and Twitter. It's a rare feature among merch research tools.
Explore: Best Merch Sites For YouTubers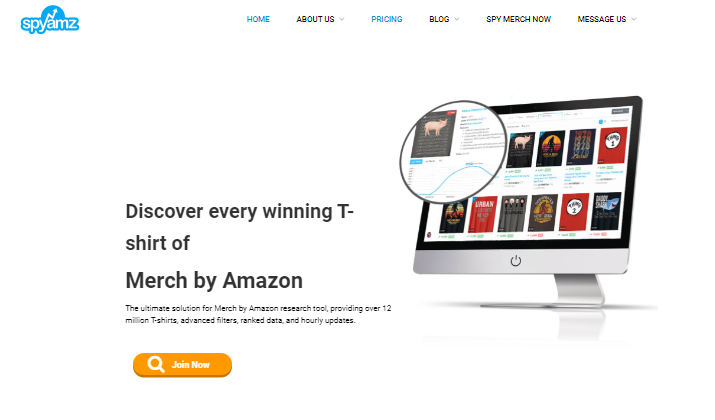 SpyAMZ is an exclusive tool for Merch by Amazon sellers. It's an ideal merch research tool if you're primarily interested in t-shirts.
Notably, SpyAMZ has a database of more than 14 million t-shirt products. The database updates by the hour. As a result, you always get fresh data. It features data from three markets, the US, the UK, and Germany.
You don't need to provide an email or password to sign up on the website. You can sign up with your Facebook or Google account.
With SpyAMZ, you can research Merch by Amazon products by entering a keyword or ASIN number.
Furthermore, the tool features advanced filters and ranked data to ensure you get the best designs for your store.
With SpyAMZ, you can monitor best seller ranks, track lists, get trending alerts, and perform keyword research.
The tool helps you stay organized with features to group items and note design ideas. It features a built-in image resizer to customize photos to meet Amazon's required dimensions.
SpyAMZ free account is limited. You can't do much with it. In fact, only the trademark and resizer tools are available for free.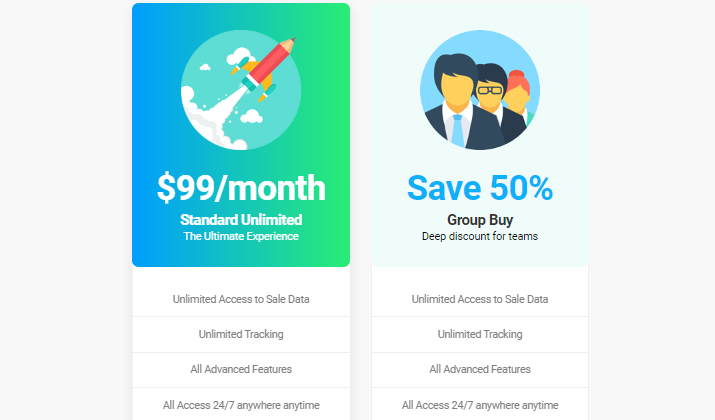 You need a premium account to perform any product research, and the prices differ depending on the market.
For example, if you want to research the US market, you pay $99 per month. It costs $129 per month to explore the US and UK markets.
To research the US and German markets, you have to pay $129 per month as well. Ultimately, you can go with the standalone premium plan for $149 monthly. It gives you access to all markets.
Interesting Comparison: SpyAMZ vs Merch Informer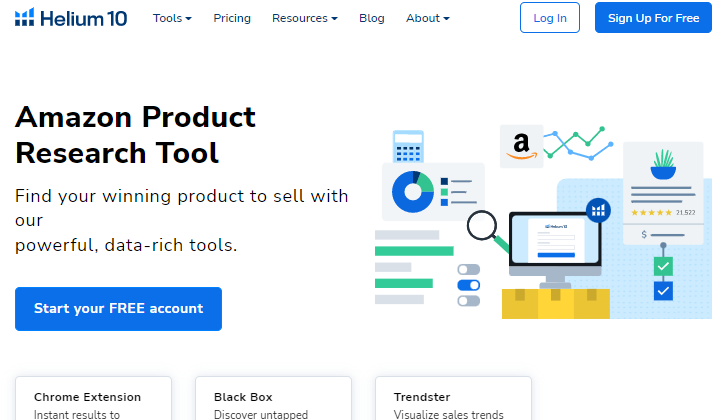 Helium 10 is a widely-used tool among Amazon sellers, not just Merch by Amazon users. The native Amazon product research tool also works for merch research.
In addition, Helium 10 features many product research tools, and the best you can use for merch research is the Black Box tool. You can find profitable products with it.
As an all-inclusive Amazon tool, it features every category on Amazon. Nevertheless, you can use the filters to narrow it down to only merch categories.
In particular, Helium 10 Black Box features intelligent filters that let you sort products by category, price, review, image count, seller count, and sales revenue.
You get instant access to best seller rank history and price change graphs. As you research, you can favorite products for future reference or download them in a CSV file for offline use.
No merch research tool compares to Helium 10 in terms of product count. The platform features a vast database of over 450 million Amazon products. You can search for products using their ASIN or a keyword.
Another Helium 10 tool you can use for merch research is the Trendster. Trendster lets you monitor price trends.
Notably, you can compare price changes and sales rank history, compare different ASINs and their keywords, and visualize data over time.
It's a valuable tool to help you pick the best designs and products to sell.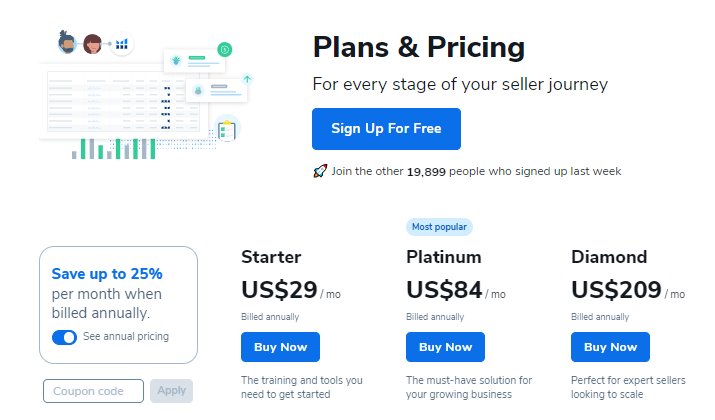 You can get started with Helium 10 for free or go with the Starter plan that costs $29 per month. The platform also features a free Chrome extension, and like the website, the Chrome extension works for instant product research.
Interesting Comparison: Helium 10 vs Jungle Scout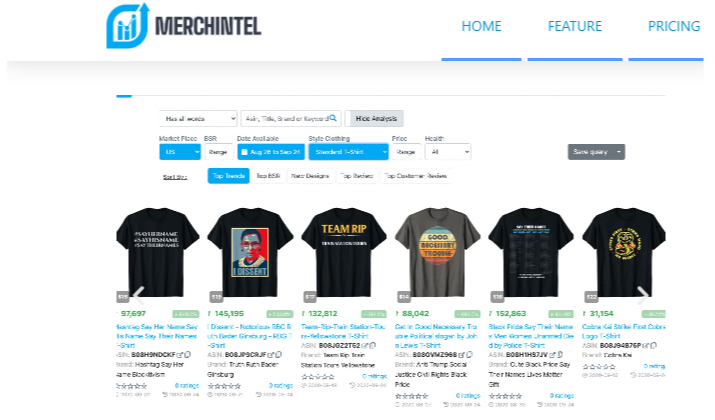 You'll appreciate MerchIntel if you want to discover product design ideas. It's a tool targeted at Merch by Amazon beginners, but you can also use it as an expert seller.
With a database of more than 17 million products, you have a bulk of design ideas at your disposal. However, the website only supports Amazon US.
MerchIntel features different sorting options. You can sort by top trend, official brands, top BSR, new designs, deleted designs, and more.
You can search by keyword, ASID, product title, or brand. From the advanced filters, you set the clothing style, product availability date, price, and health.
As you research, you can organize the products how you want. Notably, the database gets updated in real-time. Hence, you won't miss any of the latest designs.
You can use MerchIntel for keyword research. The keyword research and analysis tools are two of the best tools on the website.
Simply search for a keyword or enter any ASIN, and the tool will generate a word cloud of related keywords. Like any word cloud, the most important keywords are larger and bolder.
For keyword analytics, the MerchIntel tool displays each keyword along with its frequency and trend percentage over time.
You can use MerchIntel for free with the Quick Look account. However, with the free Quick Look account, you can only access products with a rank of over one million.
Hence, you can't access low-competition products.
To remove this limit, you can subscribe to a basic account at $20 per month or a premium account at $30 per month. You get discounts when you subscribe every three or six months.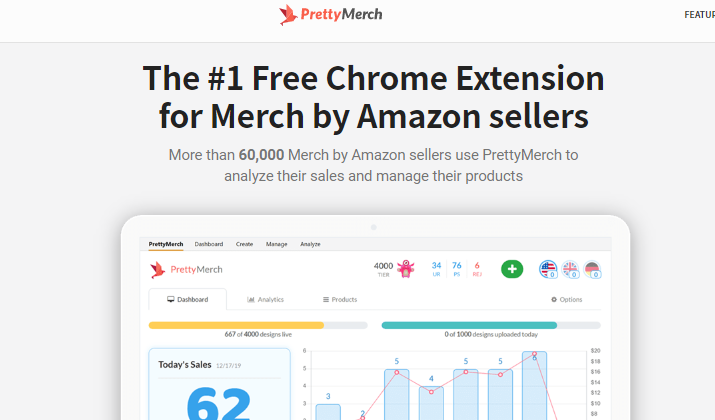 If you need a 100 percent free merch research tool, you can go for PrettyMerch. However, note that it's only available as a Chrome extension.
Over 60,000 Amazon Merch sellers use the Chrome extension. With its intuitive dashboard, anyone would find it easy to use.
From your dashboard, you can view the daily trending products, recently sold products, best sellers, disabled products, and buyable products, among other details.
The Trend Finder tool is the primary merch research tool available on PrettyMerch. It works for uncovering best sellers, future trends, new designs, and lowest BSRs.
With PrettyMerch, you get access to advanced analytics. The tool displays analytics in bar charts, making metrics easier to grasp.
You can click on any point on the chart to get a detailed breakdown of the sales data for that period.
Furthermore, the PrettyMerch research tool features a product manager. The product manager helps you create and manage listings.
You can create listings from hundreds or thousands of products. What's most interesting is that you can bulk edit and remove products when necessary.
PrertyMerch smart notifications ensure you don't miss any vital information. You can set up notifications for earnings reports or messages from the Merch by Amazon team.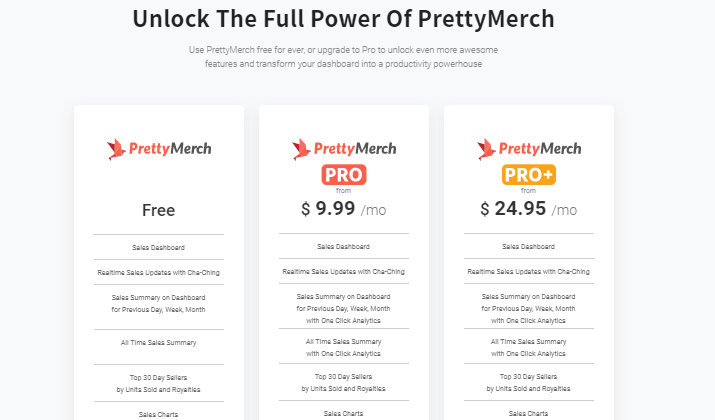 You can add PrettyMerch to your Chrome browser by clicking on the "Add PrettyMerch To Chrome" button on the website. The tool is 100 percent free, but you need to create an account to use it.
Nevertheless, it has premium plans namely PrettyMerch Pro and PrettyMerch Plus, which provide access to advanced features.
Also Read: Best Merchandizing Business Examples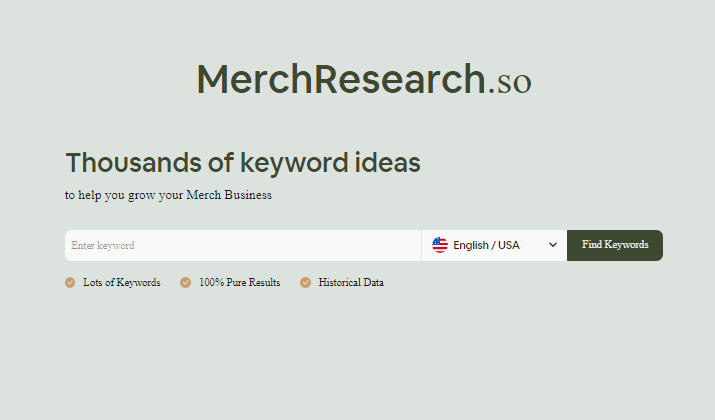 If you need a merch research tool primarily for sourcing keywords, MerchResearch.so is one of the best available.
The website boasts an extensive database of thousands of keyword ideas. It also features historical data, and the details are dependable. However, the best thing about MerchResearch is that it supports different Amazon markets.
You can source keywords from the US, the UK, German, French, Italian, Spanish, and Japanese Amazon markets.
MerchResearch.so is also simple to use. Simply enter a sample keyword, select your preferred marketplace, and click on "Find Keywords."
In a few seconds, you'll get an extensive list of keyword ideas derived from your provided keyword.
You can select keywords by clicking the box beside them. In addition, you can find out more suggestions from a keyword when you click on the "Drill Down" arrow.
Notably, MerchResearch.so lets you switch between Amazon marketplaces even from the result list.
The website also lets you export the keywords you select in a CSV. Alternatively, you can copy them to your keyboard and paste them into an offline sheet.
MerchResearch.so is a relatively new tool, and as a result, some of the features are not yet accessible. For example, there's an option to get keyword statistics from the result list, but it's not yet functional.
Nevertheless, you can rely on MerchResearch.so to uncover keywords you can use to increase the visibility of your Amazon Merch products.
The developers are still working on adding new tools, and you can join their waitlist to get updates whenever there's a new feature release.
Some future features may be premium, but at the moment, the tool is 100 percent free.
Bottom Line
Choosing suitable designs, selling the right products, and using the right keywords are some ideal ways to increase productivity as an Amazon Merch seller.
You can do all these and more with the merch research tools listed in this post. The majority of them are premium but worth the price.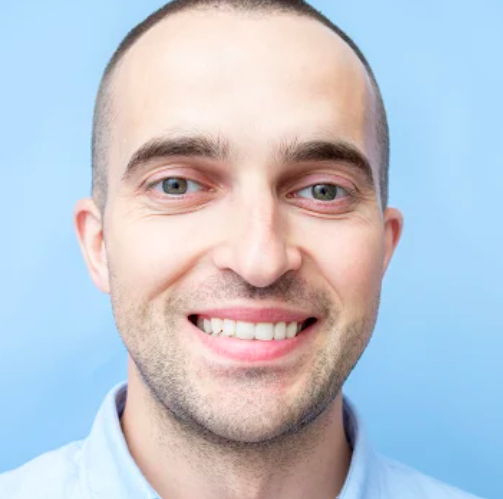 Author: Brian Erwin
I am Brian. I started my first e-commerce company in college designing and selling t-shirts for my campus bar crawl using Print-On-Demand. Having successfully established multiple 6 & 7 figure e-commerce businesses (in women's fashion and hiking gear), I think I can share a tip or 2 to help you get succeed.