Competitive ad research helps you discover which ads are working for your competitors.
By understanding the advertising market in your industry and knowing what your competition is up to, you can come up with new ideas, outsmart your competitors, and end up ahead of them.
Anstrex is a competitive ad research tool that lets you analyze native and push ads in any industry. In addition, it is a dropshipping product research tool.
Who Anstrex Is For — Who Can Benefit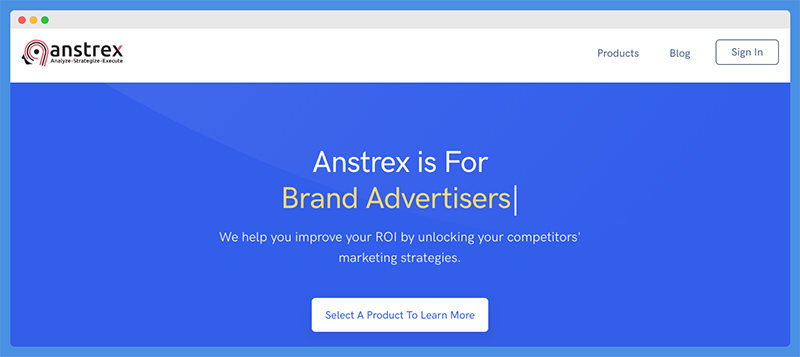 Anstrex is for digital marketers, eCommerce sellers, dropshippers, affiliate marketers, and bloggers.
Marketers and sellers can benefit from using Anstrex by getting advertising ideas from their competitors and learning what works to get a consumer's attention and what doesn't.
Dropshippers can do the same and can also benefit by discovering profitable, high-quality dropshipping products.
(As a side note, in case you were wondering, Anstrex stands for "Analyze, Strategize, Execute.")
Let's start with the dropshipping tool, and then we'll move on to the native and push ad research tools.
Also Read: Best Native Ad Spy Tools
Our Favourite Native & Push Spy Tool

We earn a commission when you click this link and make a purchase.
Find Millions Of High-Performing Dropshipping Products
Before we review the dropshipping tool, it's worth quickly going over what dropshipping is.
Basically, dropshipping is when you set up a store without buying stock upfront; instead, when a customer places an order, you forward that order to the supplier who fulfills and ships the order for you.
As the seller, you act as the bridge between the supplier and the consumer, and you earn by adding a margin to the base price of the product set by the supplier.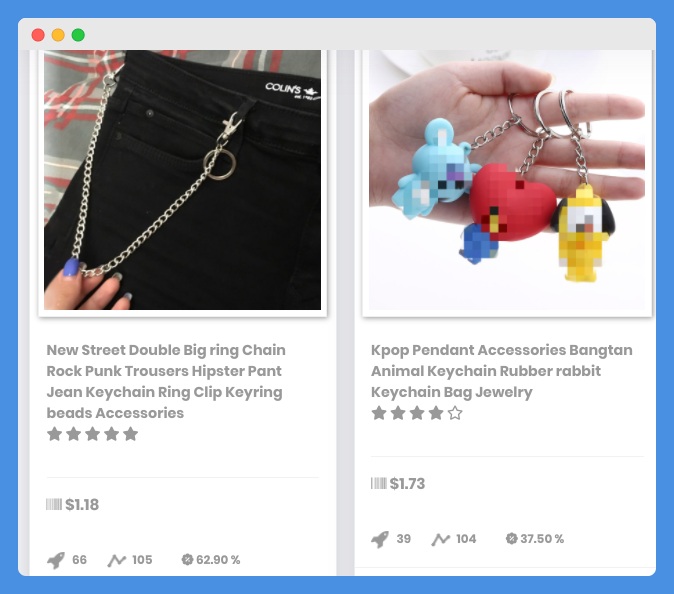 The dropshipping tool features a catalog of millions of dropshipping products you can sell. You can also browse through thousands of successful dropshipping stores and see what they are selling.
Start off by going to the "Supplier Database," which is actually more of a product database than a supplier database. Then, choose which category you want to see products for.
There are many categories and subcategories available, as you can see in the following screenshot: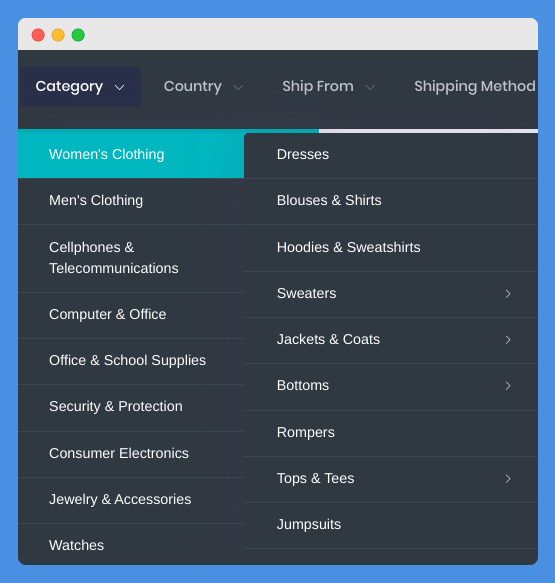 Once you have chosen your category, start using the filters to narrow down the search results.
For example, you can choose to only see products that have a 4-star rating or higher. This will ensure that you are only shown quality products that will keep your customers satisfied.
You can also choose to see products within a specific price range or which have sold a certain number of units.
Check Out: Adplexity Vs Anstrex
In addition to these filters, you can narrow down your search even further by using the options in the top menu. For example, you can choose to only be shown products that are being shipped from the United States.
In addition, if you prefer to work with certain shipping carriers such as FedEx, you can opt to only display products that can be shipped via specific shipping methods.
Under each product listing that will appear in the search result, you will see five vital pieces of information:
Supplier price
Supplier country
How many orders have been shipped out in the past 30 days
How many orders were shipped out overall
The product's percentage growth in the past 30 days
This will help you understand how profitable it would be to sell that product.
If you want to learn more about a product, just click on it. You'll be shown the entire product listing description on AliExpress, all images, and supplier information.
In addition, you can check each product's sales history over the past few months. You will see how many sales it made each month as well as a chart displaying its sales growth rate.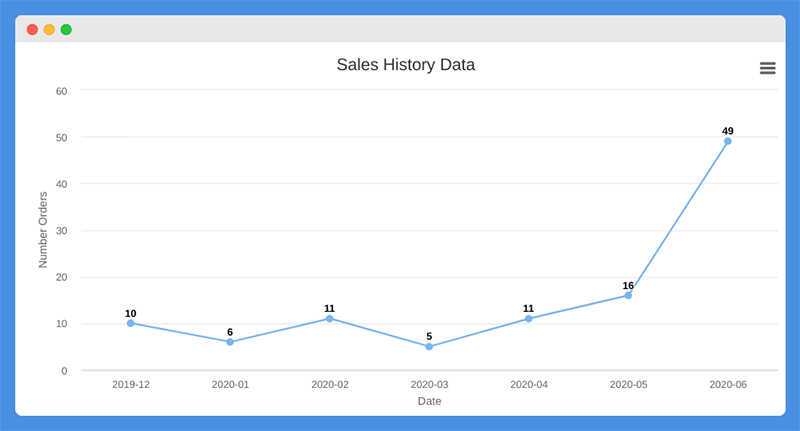 You'll also see a pie chart displaying the various countries where orders for this product originated.
If you are selling to specific countries, this is important information to know. Sometimes, a product will be more popular in some countries vs. others due to fashion and style trends.
So much for product research; let's move on to store research. You can spy on successful dropshipping stores and see which products they are selling.
Our Favourite Native & Push Spy Tool

We earn a commission when you click this link and make a purchase.
Go to the "Top Stores" menu option and you will see a list of the top dropshipping stores on the web. You can filter the results based on the platform (WooCommerce vs. Shopify), Country, Global Rank, and more.
You can also choose to display stores that only sell AliExpress products. This is a useful option if you plan to use AliExpress as your dropshipping supplier.
Under each store listing, you will see which eCommerce platform they are using, how many products they are selling, their global traffic rank, and which countries they sell to the most.
Click on any listing to see more about the store, including total visitors in the last six months and when the store was first crawled by the system.
You can also get deeper traffic insights, such as charts showing average monthly visitors, page visits per session, and bounce rates.
You can also get pie charts and tables showing traffic shares by country, traffic sources, paid vs. organic traffic shares, top keywords, top competitors, and top products.
Explore: WhatRunsWhere Vs Adbeat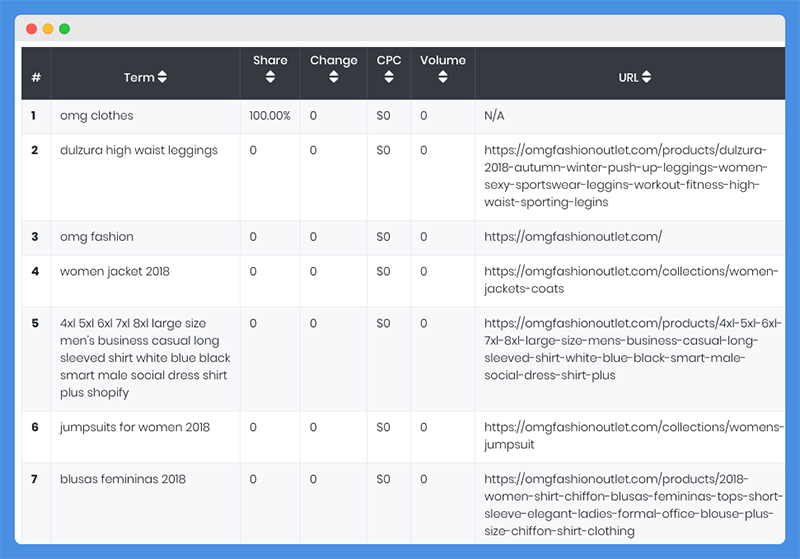 By looking at competitors' top products and seeing how much they are selling each of them for, you can get an idea of what is working in the dropshipping market in your niche.
You can also get an idea of how to drive traffic to your own store, including which keywords to target, whether to focus on paid or organic traffic, and which competitors you will be up against.
You can organize products into product boards.
All in all, Anstrex is a great tool to find products from AliExpress for your dropshipping store, discover new markets, and spy on your competitors.
Spy On Your Competitors With Native Ad Research
Let's move on to native ad research. First, however, let's define native ads and explain what you will be researching.
Native ads are ads displayed on other websites. Unlike display ads, which stand out as ads, native ads are designed to sync and fit in with the overall theme and content of the page they are being displayed on, hence the term "native" ads.
You've certainly seen native ads around the web. They are usually distributed via ad networks.
The company that is advertising is called the advertiser, and the website owner that is getting paid to display the ad is called the publisher.
The ad network acts as a bridge between advertisers and publishers by automatically distributing ads on websites that have opted into the network.
Of course, advertisers set criteria for which websites they want to show their ads on. They need to set target audiences to be successful.
There are a few different ways to research native ads on Anstrex.

Using the basic search tool as shown in the screenshot above, you can start by entering any keyword or group of keywords and selecting the "creative text" search option.
The search tool will bring up ads that contain your desired keyword.
Check Out: WhatRunsWhere Vs Adbeat Vs Adplexity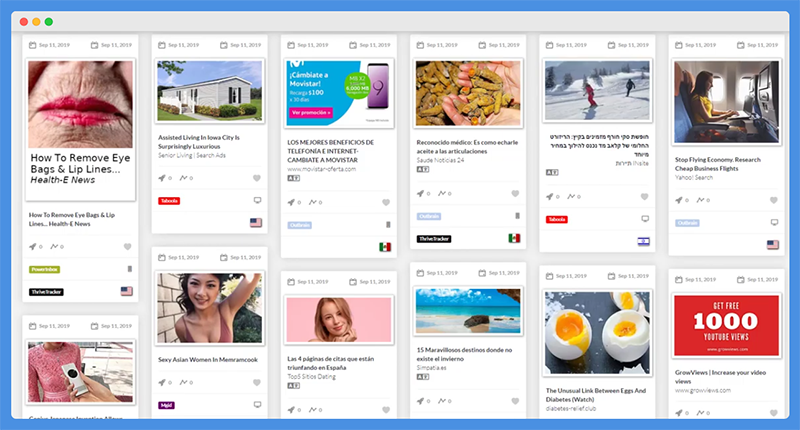 As you can see in the screenshot, you will be able to see each ad's picture and text. You'll also get quick information on the country the ad is running in and other details.
Another option is using the "translated text" search option. This is useful if you want to search for ads in another language.
For example, if you plan on selling your product to people in Mexico, it is a good idea to check out ads that are in Spanish.
Our Favourite Native & Push Spy Tool

We earn a commission when you click this link and make a purchase.
Whether or not you plan on running your ads in Spanish or English, searching for ads in another language will help you understand what you are up against.
Just enter your keyword in English and the tool will translate it automatically and show you all results in all other languages.
You can narrow the results down even further by choosing which language you want in the drop-down menu at the top of the page.
Another option is searching by landing page URL. For example, if you know your competitor is running ads to a specific landing page, entering the landing page URL will show you all ads that are linking to that landing page.
Another option is entering a domain name to pull up all ads running on that domain. For example, if you want to see all ads on Forbes.com, you can enter Forbes.com into the search bar.
You can always filter and narrow down your results. For example, you can filter based on ad gravity; doing this will ensure that the most trending and popular ads are shown first.
You can also filter based on metrics such as ad strength, Alexa rank, country, and affiliate network.
Click on any ad to find out more information about it.
Clicking on an ad will bring up an ad overview, along with a full-size screenshot of the ad's landing page, a link to the landing page, a list of the top countries this landing page is viewed in and the Alexa rank for each of those countries, the percentage of visitors coming from each country, the ad network that the ad is being distributed on, and a screenshot of the actual ad.
You will also see the landing page's bounce rate, based on Alexa data. This will give you an idea of how well the landing page was designed and how effective it is at catching people's attention.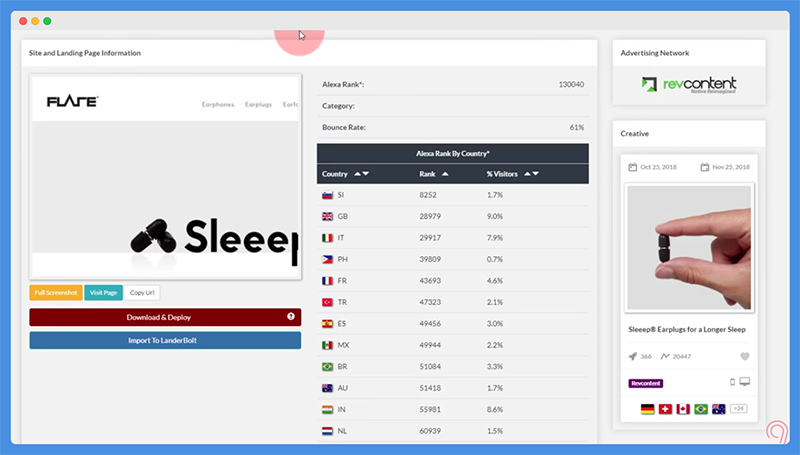 If you wish, you can actually download the landing page yourself. You can customize the landing page and upload it to your LanderBolt account (LanderBolt is a platform where you can host landing pages).
If you want more in-depth weekly or monthly traffic statistics, click on the Statistics tab and you will be shown a chart showing the ad's rank history.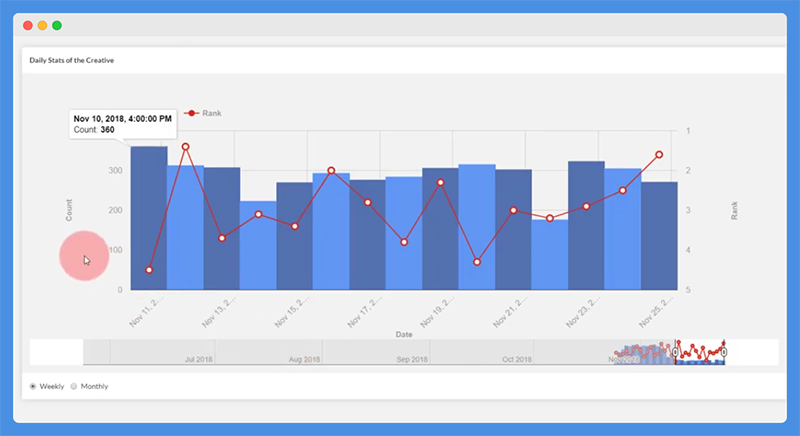 If you want to learn more about the advertiser and see which other ads they are running, click on the Creatives tab. You will see all of the ads they are running and be able to find out more information about each ad.
Explore: PowerAdSpy Vs AdSpy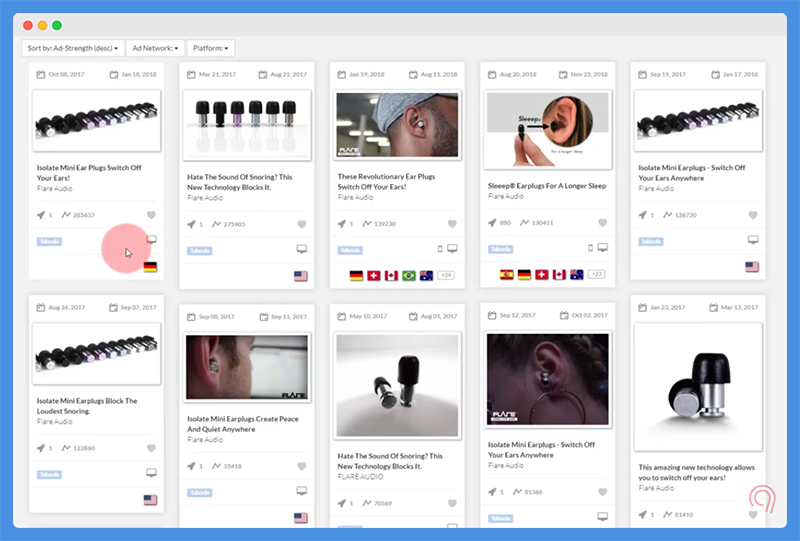 This is a great way to get a birds-eye view of your competitor's entire advertising campaign and learn what their strategy is.
Click on the Publisher tab to get an overview of which websites the ads are appearing on.
You will get a bubble chart to help you get a quick overview of whether the ads are running on popular or unpopular sites.
There will also be a table with all the publishers the ad is being run on, as well as information such as when the ad was first crawled, how long it has been running for, and the percentage of traffic each publisher is bringing in to the advertiser.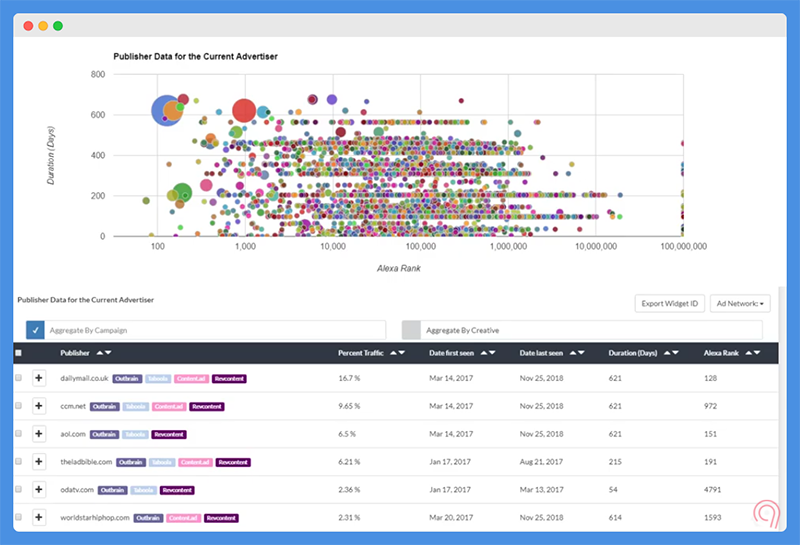 We mentioned that you can download landing pages and edit them, so it's worth going over this feature a bit further. When you download landing pages, you can edit them as in the screenshot below: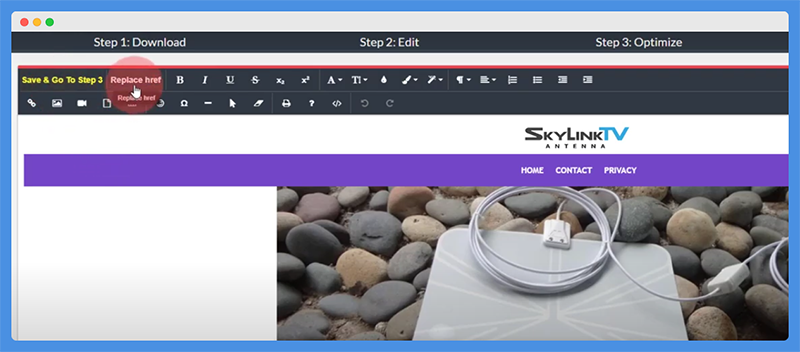 There are some quick tricks you can do, such as replacing and overwriting all URLs.
Of course, you don't want to copy the entire landing page and rip it off. Instead, what you can do is use the landing page as inspiration or as a framework for your own landing page.
Our Favourite Native & Push Spy Tool

We earn a commission when you click this link and make a purchase.
Besides searching for advertisements, you can also set up alerts about new advertisements. This way, you can keep track of what your competitors are doing while saving time and effort.
Also Read: PowerAdSpy Review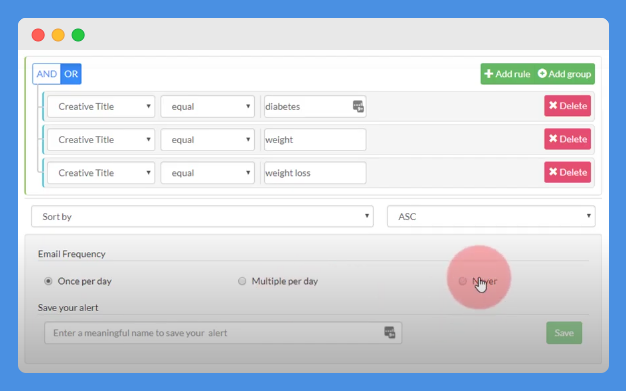 Spy On Your Competitors' Push Ads
Let's move on to the push ads spy tool. First, however, let's explain what push ads are and why they are important.
Push ads are ads that show up directly on a user's desktop home screen. In the case of a mobile phone, it shows up as a mobile notification, just like a text message would.
Here is an example of a push notification on a desktop device (I'm not sure which language that is but I opted into this website's push notifications for the purpose of giving an example):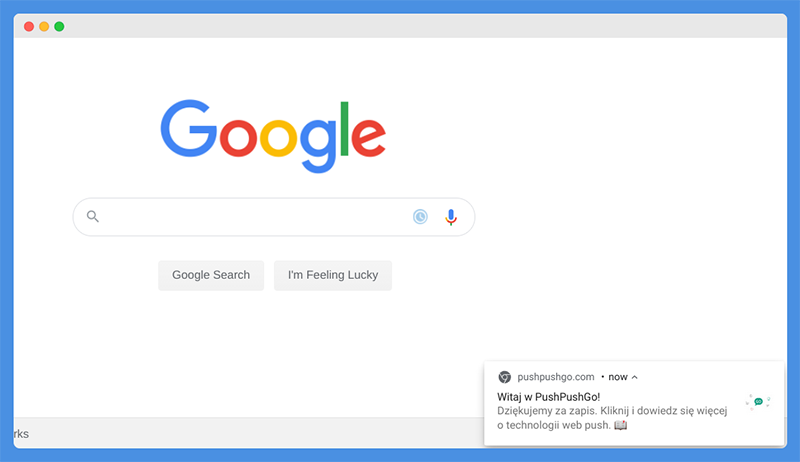 On mobile devices, push notifications come from websites or installed apps and appear like SMS message notifications. If you own a mobile phone and have popular apps like Facebook installed, you will know what we are talking about.
The benefit of using push ad notifications is that unlike emails, they have higher views and open rates. In fact, desktop push notifications can get click-through rates that are up to 8x higher than emails.
Unfortunately, email inboxes are often saturated with promotional emails from many companies. It is hard to get seen in such a competitive environment.
In addition, some subscribers will sign up to download your free ebook using a spare email address that they never use. Their goal is to get your ebook while not cluttering up their main, primary inbox.
Push notifications, on the other hand, show up right on a user's main screen. This is why they are seen so much more.
Of course, just like emails, users have to opt into web push notifications. A website can't send push notifications without the consent of the user (although this is not the case with mobile apps, which can send push notifications once installed as users agree to that when downloading the app).
However, this also means that when someone does opt in to get web push notifications, they are more likely to be genuinely interested in your notifications and will be more likely to react to it. Many people are more selective with opting into web push notifications compared to email newsletters.
Now that you know what push notifications are and why you should be sending them, let's have a look at the push ad research tool in Anstrex.
The push ad search results will look similar to the native ad search results. You will see a list of the top push ads, along with information such as the start date.
Each ad will also display an ad strength score and the call-to-action button being used in the ad.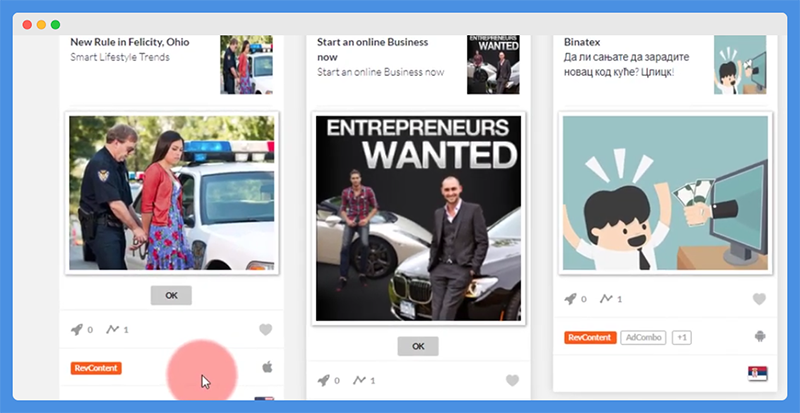 As you can see in the screenshot above, the ad results actually show two images. This is because ad pictures are sometimes different for mobile and desktop devices.
If the small image is the same as the large image, that means that the advertiser is using the same image on all devices.
Click on an image if you want to conduct a reverse image search on Google or Bing. By conducting a reverse Google search, you will be able to find similar images across the web.
Also Read: Best AdSector Alternatives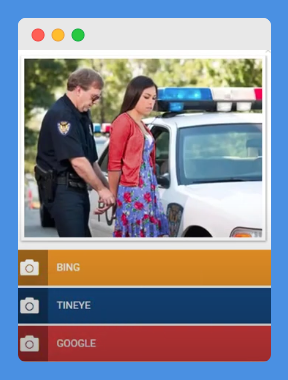 This can help if you want to find the image source and see whether it is in the public domain so you can use it yourself.
Alternatively, if it is copyrighted, you may be able to find similar images that are in the public domain and which will bring you similar results.
As with the native ad results, you can use a variety of filters to narrow down your search. For example, if you only want to see ads being displayed on Android phones, you can do so.
You can also filter based on country or language. To use our example from earlier in the article, if you are advertising a product in Mexico, you might want to search for Spanish-language ads being displayed to people living in Mexico.
You can also sort by ad duration to see which ads have been running the longest.
Ads that have been running for a long time are likely to be successful, which is why they were not taken down. You can use these ads as inspiration for your own ads.
As with native ads, you can look at the landing pages these ads are linking to. The problem is that some advertisers are using cloaked landing pages by redirecting URLs so that it is hard to find the final landing page.
Nevertheless, Anstrex is able to uncover cloaked landing pages as well.
Anstrex Pricing, Free Trial, And Coupon Code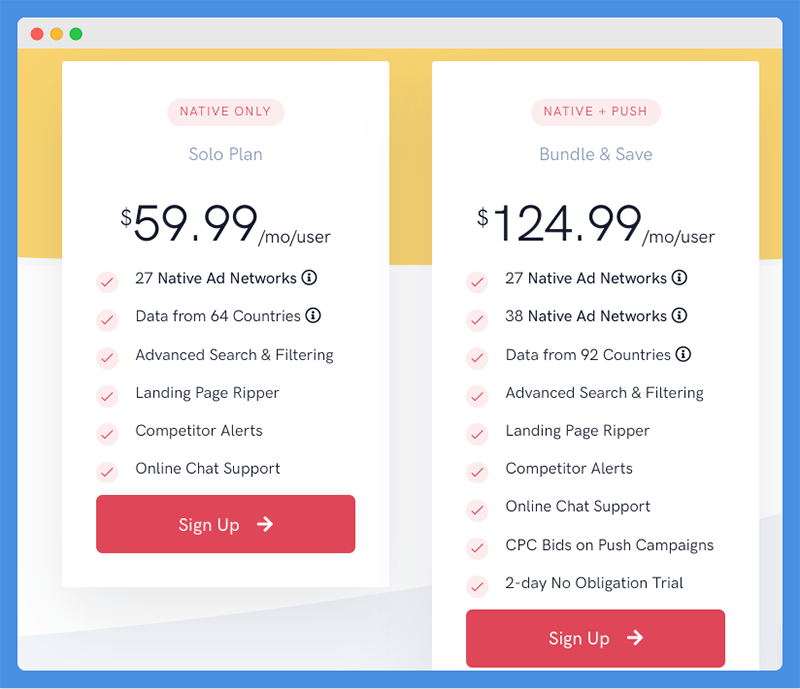 Anstrex has a few different pricing options. Pricing plans are subject to change, so go to their pricing page to see updated information.
As of now, pricing is as follows:
Native only plan: $59.99/month per user
Push only plan: $79.99/month per user
Push + Native plan: $124.99/month per user
Dropshipping plan: Usually $69.99/month, free for now as long as it's still in beta
There is a two-day money-back trial, meaning that you pay upfront and get your money back within two days if you are not satisfied with your results.
I didn't notice any field to enter a coupon code at checkout, though this is subject to change. Nevertheless, the dropshipping tool is free for now as it is in beta, and you can save $14.99/month by signing up for the bundle instead of the push and native plans separately.
Our Favourite Native & Push Spy Tool

We earn a commission when you click this link and make a purchase.
How Anstrex Measures Up
How does Anstrex measure up overall?

1. Ease Of Use — ⭐⭐⭐⭐⭐
Anstrex is fairly easy to use. I found it easy to navigate, and it wasn't too difficult to figure out how to conduct searches and discover more information about each listing.
There are also helpful YouTube tutorial videos that walk you through the various Anstrex tools and show you how to use them.
2. Features — ⭐⭐⭐⭐
Anstrex has a decent selection of tools and features. While the dropshipping tool works best for those looking to source products from AliExpress, it will help you perform competitor research and get product ideas regardless of where you are sourcing your products.
However, while it covers native and push ads, it doesn't cover display and banner ads (though this might change in the future). In addition, it doesn't spy on social media ads like Facebook Ads.
3. Customer Service — ⭐⭐⭐⭐
You can get in touch with Anstrex customer support by using the chatbox on their website or by emailing or phoning them.
4. Value For Money — ⭐⭐⭐⭐⭐
Overall, Anstrex is much more affordable than other big players in the industry. For example, AdBeat starts at $249/month while AdPlexity is $149/month for AdPlexity Push alone.
In addition, their two-day trial period means that you can get your money back if you try it out and don't like it.
Check Out: AdSector Review
Anstrex Pros And Cons
Pros
Small learning curve
Advanced filtering and sorting options
In-depth country and traffic data
Free dropshipping tool (while the beta period lasts)
Ability to download and edit landing pages
Affordable plans
Money-back guarantee
Cons
The tool doesn't have a very modern feel to it
Some dropshipping stores have incomplete data
Live chat isn't available 24/7
Doesn't cover banner and display ads
No free trial available
Wrapping It Up — Is Anstrex Worth It?
If your advertising focus is on native and/or push ads or if you are a dropshipper, Anstrex is a good option that is cheaper than other spy tools.
You'll be able to keep track of your competitors and discover profitable AliExpress products to sell on your dropshipping store.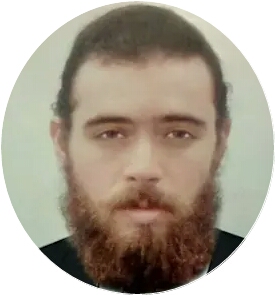 Author: Benjamin Levin
Benjamin Levin is a digital marketing professional with 4+ years of experience with inbound and outbound marketing. He helps small businesses reach their content creation, social media marketing, email marketing, and paid advertising goals. His hobbies include reading and traveling.