Whether you run a startup, small business, or an enterprise, a shipping service is critical to your business as shipping contributes to your profitability and success.
ShipStation is one of the top shipping software providers on the market but not necessarily the best for every business.
We reviewed a handful of shipping software providers, examining them by the ease of use, features, customer support, and price to bring you the best ShipStation alternatives.
Best ShipStation Alternatives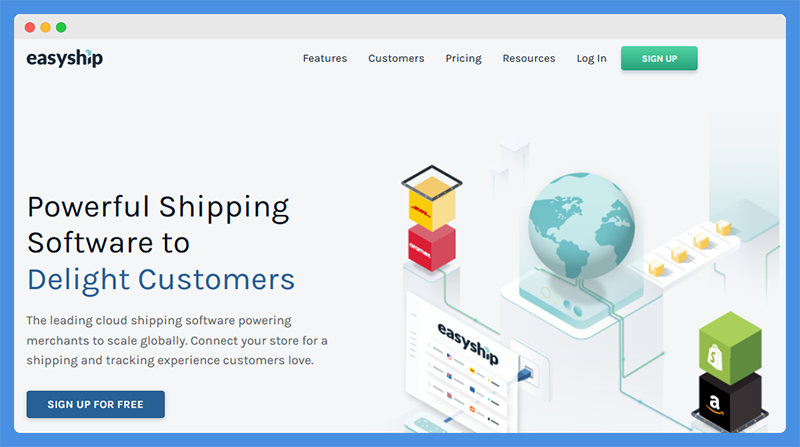 Easyship is the first software on our list of best ShipStation alternatives.
Easyship is a leading cloud-based shipping software that allows you to increase conversions, delight your customers, grow internationally, and save money while you're at it.
The software has exclusive rates from the major couriers, a dashboard for tracking your shipment, and on-demand pickup requests. It also offers more than 250 shipping solutions with over 50 global fulfillment partners.
ShipStation has more fulfillment channels than Easyship, but the rates may vary for both platforms.
You also get access to 26 markets, discounted and pre-negotiated rates, and three times the conversion rates at checkout.
Easyship also calculates tax and duty costs, integrates with leading couriers, and prepares the right paperwork for better experiences at custom clearance and delivery.
You can connect your own courier account and save on shipping costs especially when using international couriers.
Plus, it helps you increase checkout conversion rates by offering dynamic rates at checkout.
You can also delight your customers using the branded and customized shipment tracking pages and emails, as well as packing slips with your branding for a personal touch.
A turnkey solution is available for crowdfunding campaigns, which ShipStation lacks, plus an intuitive shipping API for the management of flows in your system.
Support is available 24/7 via the support center and via a resource library to help you become a shipping expert in no time.
You don't need an Easyship alternative when you're already using one of the best shipping softwares around.
Easyship offers a pay as you go rate and four pricing plans: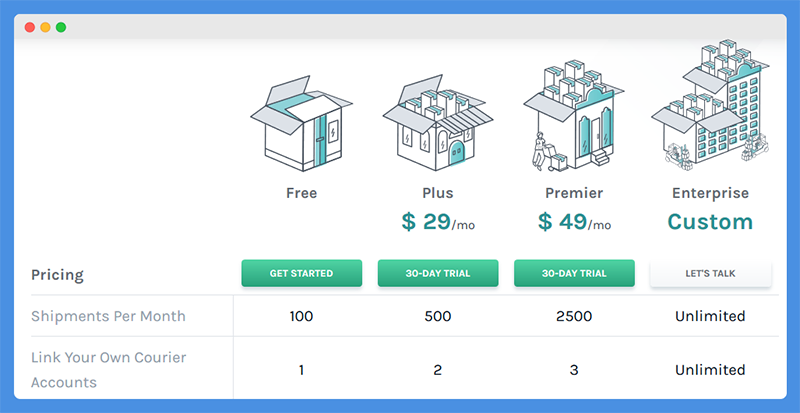 Free plan with 100 shipments
Plus $29 for 500 shipments
Premier $49 for 1000 shipments
Custom plan for unlimited shipments with custom pricing.
This is different from ShipStation's set pricing plans that have no free plan and have limited shipment options for each package.
Related: Easyship Review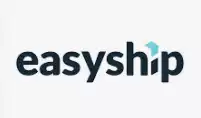 We earn a commission if you click this link and make a purchase at no additional cost to you.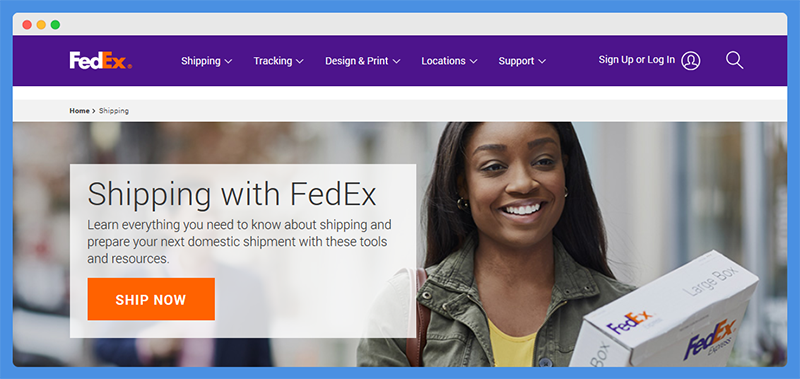 FedEx Ship Manager is another Shipstation alternative you can consider.
It offers a simple way of automating your shipping process. The solution does this for single-package shipments or powerful systems for freight and shipping multiple packages.
The FedEx Ship Manager comes in four variants:
FedEx Ship Manager: for multi-piece shipments, or when you want advanced features for dangerous goods, alcohol, freight, and so on.
FedEx Ship Manager Lite: for basic shipments such as a package or a single envelope in the US or internationally
FedEx Ship Manager Software: for medium to large businesses who need shipping automation software to reduce errors, increase productivity, and reach their shipping goals
FedEx Ship Manager Server: for high-volume shippers to enjoy shipping processes streamlined with FedEx and integrated into their operating systems.
Like ShipStation, FedEx also automates the shipping process and offers everything in one system so you can do more in less time.
This way, you can schedule pickups for your shipments with FedEx in the US and worldwide, track shipment status, and create shipping labels.
FedEx Ship Manager's pricing varies with the weight and size of the package, as well as its destination and time of delivery.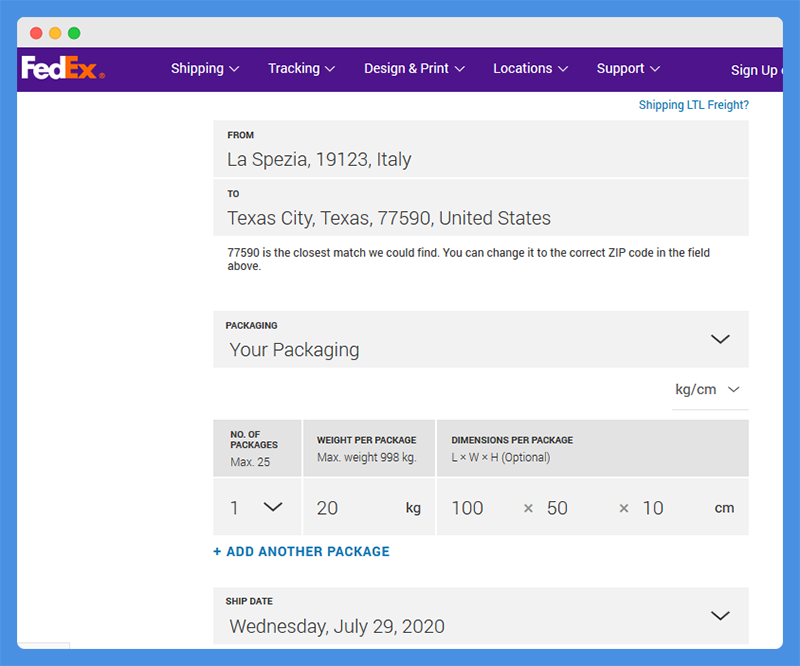 We checked the rates based on one 20 kilogram package with dimensions of 100cm x 50cm x 10cm and the results were as follows: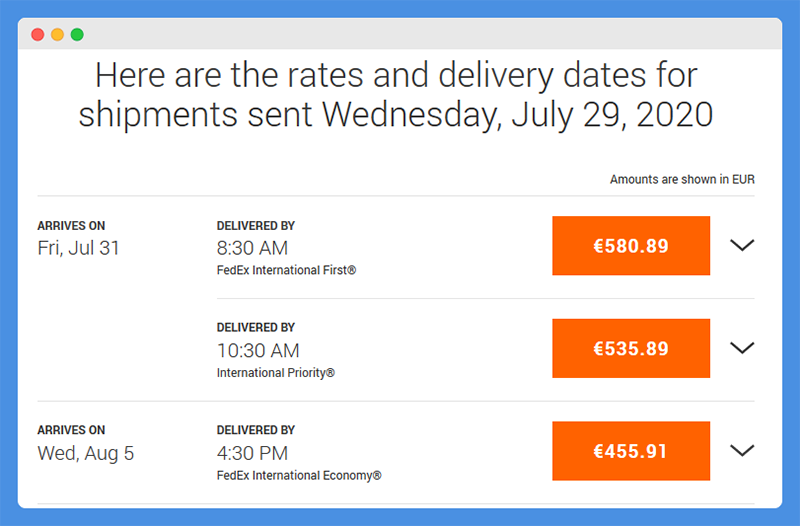 The above rates vary based on the time of delivery, the location of the package and its destination, plus the weight and size.
The pricing is calculated using a base rate, fuel surcharge, and peak surcharge.
ShipStation on the other hand offers different pricing depending on the number of shipments, users, and branding options.
These rates range from $9 per month for the Starter plan for up to 50 shipments to $159 per month for the Enterprise plan for up to 10,000 shipments.
For more information or an actual quote on the actual FedEx Ship Manager rates, refer to its Rates and Transit Times resource page.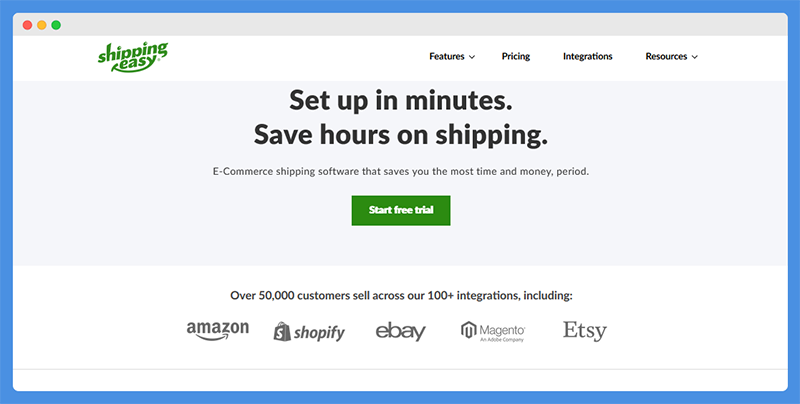 ShippingEasy is a cloud-based shipping solution that allows you to manage customers' orders, automate and track shipments, and send notifications to recipients in a convenient, easy to use platform.
You can set up the software in minutes and save on shipping time and money.
ShippingEasy also puts the data gained from the shipping process to work so that you can create powerful and effective campaigns to market to your target audience and automate your inventory.
ShippingEasy also offers workflow automation and professionally-designed drag/drop templates you can tailor to your brand.
It seamlessly integrates with major platforms, shopping carts, and marketplaces but not as many as ShipStation.
The software also provides product review requests to increase sales, interactive dashboards to see your key metrics in a flash, and automated email campaigns sent as orders are processed.
You can get guaranteed low shipping rates no matter the size of your package or shipment, with insurance discounts and exclusive rates.
Also included are advanced reporting, tracking, and returns, which you'll find in ShipStation and FedEx Ship Manager.
The shipping workflow includes order management, shipping automation with rules, organized packing with pick lists and packing slips, shipment tracking, and notification for recipients under one roof.
ShippingEasy also offers advanced reporting to give you the insights you need to keep abreast of shipping, tracking, and your customers in one place.
One of the unique features of ShippingEasy that you may not find with ShipStation is the Amazon Alexa shipping skill that you can ship using only your voice.
This way, you can get more done with less clicking, find out the number of orders to fulfill, newest or oldest orders, and insights on order metrics.
Support is available via phone, email, or live chat for all merchants, and it's free.
ShippingEasy has four pricing plans: a free Starter plan with 50 monthly shipments, Basic $29, Plus $49, Select $69, and Premium $99 per month.
This is more affordable compared to ShipStation, which doesn't offer a free plan, and its pricing plans range from $9-$159.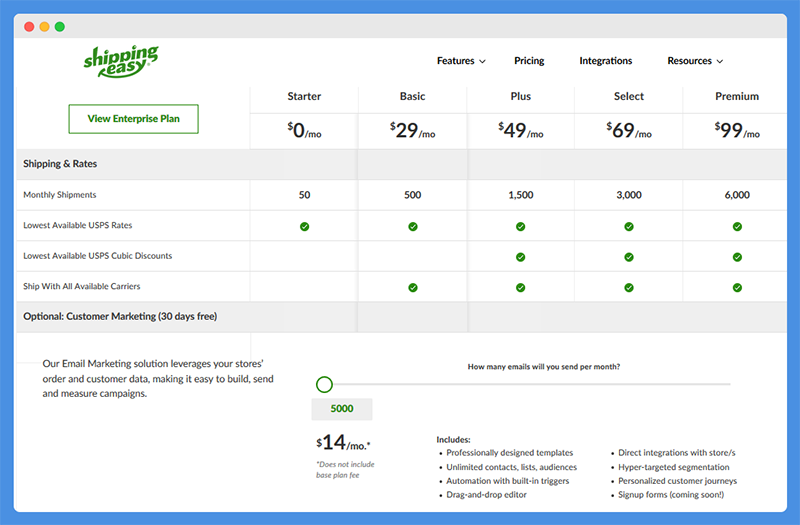 ShippingEasy has deep discounts on shipping insurance and massive discounts on USPS shipping. You also get exclusive discounts on smaller and heavier shipments and exclusive special rates based on the size of the box.
For a more detailed quote, check ShippingEasy's pricing page and request rate comparison for instant feedback.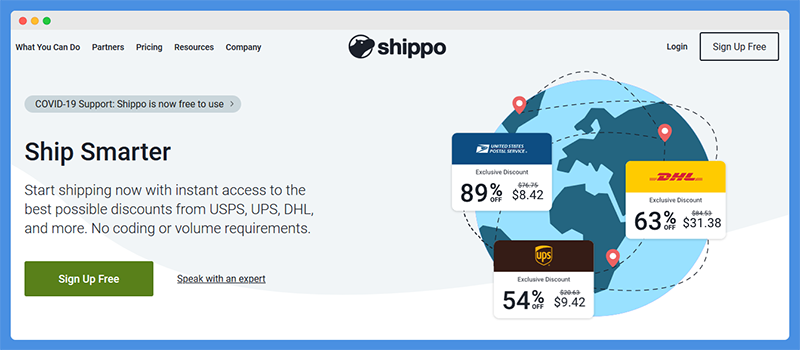 Shippo is a leading shipping API with multi-carrier support and a dashboard that empowers eCommerce stores, marketplaces, platforms, and warehouses with the tools they need to succeed.
The platform handles and processes millions of shipments each month from over 10,000 clients with instant access to a wide range of carriers.
These carriers offer printing labels, real-time rates, tracking packages, automated international paperwork, and facilitating returns.
Like ShipStation, Shippo also allows you to track your shipments and notify your customers with updates on the shipments.
It also streamlines returns automatically and at no cost. Shippo partners with more than 50 carriers globally and dozens of leading store platforms to help you start quickly without the hassle of integration.
Shippo also allows you to create and print labels faster with automated label creation, upload CSV files to generate labels from existing orders, validate addresses to avoid failed deliveries, and schedule carrier pickups.
Branding options are available for personalized labels and notifications to give a branded experience to your customers.
Shippo has a unique feature called Paperless Trade, which isn't in ShipStation, and that saves you the hassle of printing out commercial invoices.
You also get batch label printing, daily manifests, analytics and reporting, and multiple users per account.
Shippo's pricing plans include a pay-as-you-go solution that's easy, quick, and has no commitments.
It also has a free plan for up to 5000 shipments per month (usual rate is 5 cents per label), which ShipStation would charge about $69 for, Professional plan, and Premier plan for customized solutions.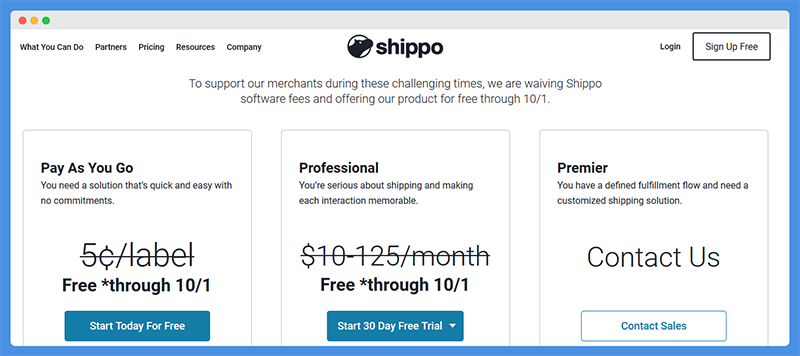 Note: As at the time of this writing, Shippo has waived its shipping software fees and is offering its service for free through 10/1.
A 30-day free trial is available with the Professional plan, which is similar to ShipStation's free trial period on all its plans.
Support is available through the Shippo blog, resource and help center, and developer resources.
Explore: Easyship Vs Shippo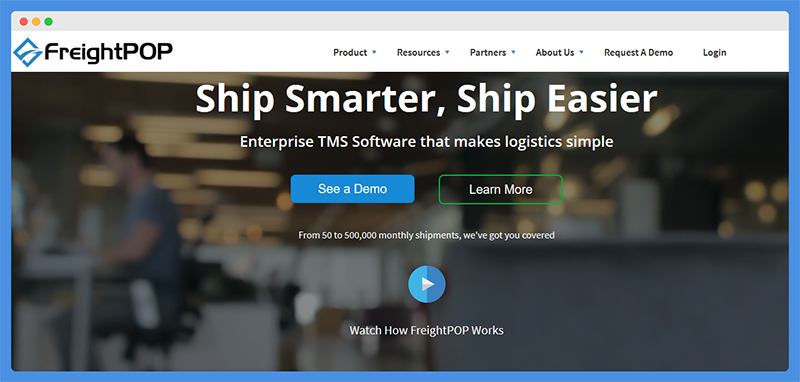 With FreightPOP, you can check shipping rates, ship your customers' orders, track, analyze, and audit the shipments using one login. This helps you save time and you get the rates for marketplaces for parcel, TL, LTL, air, and ocean from carriers.
FreightPOP also allows you to configure your workflows and current process and connect to your tech stack, and it includes outbound and inbound shipment management.
You can also make better decisions based on data derived from the custom reports and dashboards.
If you want to access negotiated and freight marketplace rates, you can use the Freight Rate Shopping feature that lets you connect to brokers you use plus many others.
FreightPOP also gives you the best rates, carrier, and service levels every time, and automated invoice auditing so you can save money while increasing profits.
You can connect to carriers and start shipping in just minutes, with no contracts or commitments through an incredible, easy to use interface.
FreightPOP also integrates with over 300 connections including your WMS, CRM, ERP, and inventory system, and connects all marketplaces and carriers regardless of mode.
One of the unique features is the Spot Quotes that you won't find in ShipStation.
These are last-minute deals made between shippers and carriers that give you a one-time offer with an expiration date.
FreightPOP also offers batch shipping, multi-leg visibility for inbound and outbound international shipments, reporting and analytics, shipment tracking, and more.
Support is available through the resource page, a blog, Freight classes, and eBooks.
In terms of pricing, FreightPOP doesn't give specific rates like ShipStation so you'd have to request a quote.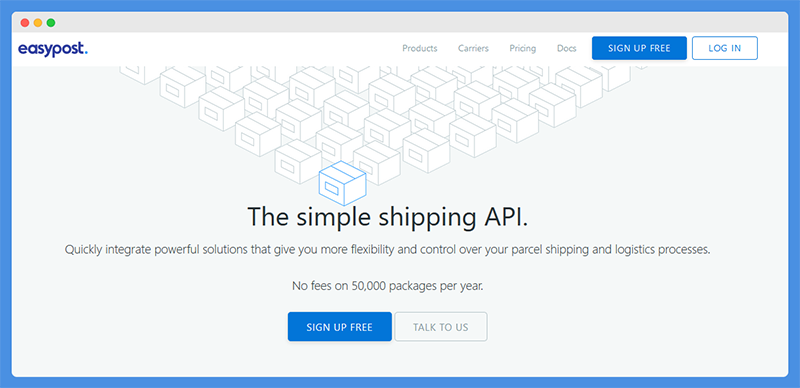 EasyPost is a shipping API that you can use as a ShipStation alternative. It integrates with hundreds of global carriers including USPS, DHL, UPS, FedEx, and more, allowing you to rate-shop between multiple carriers.
You also get to track packages, validate addresses, and insure parcels. EasyPost also eliminates month-long integrations, time-consuming updates, and lengthy carrier documentation.
The API supports hundreds of carriers handling billions of shipments, plus other platforms for shipping and tracking. This gives you more control and flexibility over parcel logistics and shipping.
If you handle 50,000 packages annually, there are no fees, unlike ShipStation that charges as little as 50 shipments per month. Plus, you can buy labels for FedEx, UPS, and USPS among others.
You also get end-to-end coverage for all packages, and you can track all these packages across the carriers.
EasyPost also lets you validate international and domestic addresses, fulfill all your orders, the rate across carriers, and move freight via carriers with enhanced supervision and competitive rates.
You can also handle international shipping seamlessly.
EasyPost has two pricing plans – API for developers and Customized plan – unlike ShipStation that has five plans. The EasyPost API is built by and for developers with no usage or monthly fees.
The Customized plan gives you volume discounts, guaranteed uptime SLA, dedicated support, shipping performance auditing, and specific carrier integrations with custom pricing.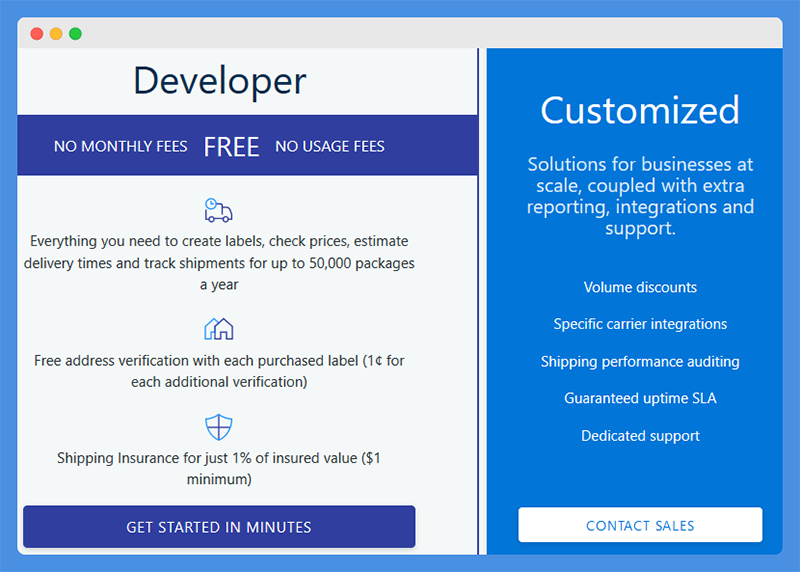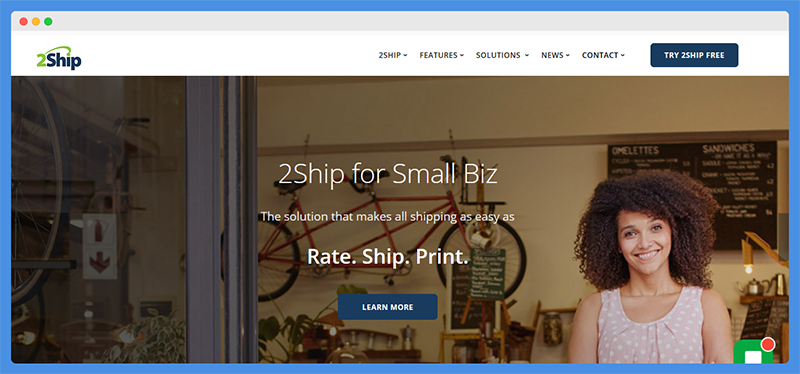 2Ship is a web-based transportation management system with multi-carrier capability for businesses and consumers.
All the carriers and rates are shown in one list so that you can avoid overpaying for shipping. Just pick the best price and service and 2Ship will do everything for you automatically.
In all 2Ship packages, you'll find real-time rate comparison, a single, intuitive shipping screen with all the details you need, instant lookup with real-time visibility on shipment information, and real-time tracking.
2Ship also offers customized reports with extensive filter options based on customer, service, user, project, and other variables.
You also have one address book to store all your addresses, a mobile-friendly dashboard to view your shipping stats, metrics, and monitor carrier performance.
It also has mix modes to help you decide how to ship packages, pickup requests for carriers that don't service your address regularly, admin access control, paperless customs, email labels, and branded e-alerts in real-time.
Other unique features that 2Ship offers that you won't find with ShipStation include the scale reader that eliminates manual weight entry, auto-print without selecting a printer, fast ship templates, and international shipping tools.
2Ship offers one integration for all carriers, which reduces integration time, and you can access it from any location in the world at any time. It also integrates through ODBC or through an API.
When it comes to pricing, 2Ship offers multiple packages depending on the size of your business and your needs. ShipStation's pricing is for all types of businesses with different prices per month depending on the plan you pick.
With 2Ship though, you'll get different rates such as:
Small Business and shipment solutions (Starter $10, Basic $25, Enhanced $50, and Ultimate $75)
Ship Request: Basic $269, Enhanced $469, and Ultimate $749
Automated distribution solution: Basic $289, Enhanced $389, and Ultimate $599
Multi-location solution: Basic $289, Enhanced $479, and Ultimate $849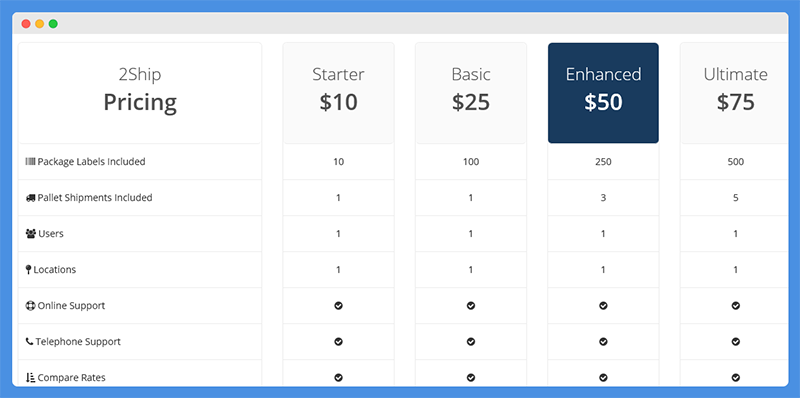 If you want to ship a one-off package and drop it off, you can use the Shipanzee feature, and you can ship back your unwanted order using the Return My Order, a service that gives you the best prices for returns.
Also Read: Easyship Vs ShipStation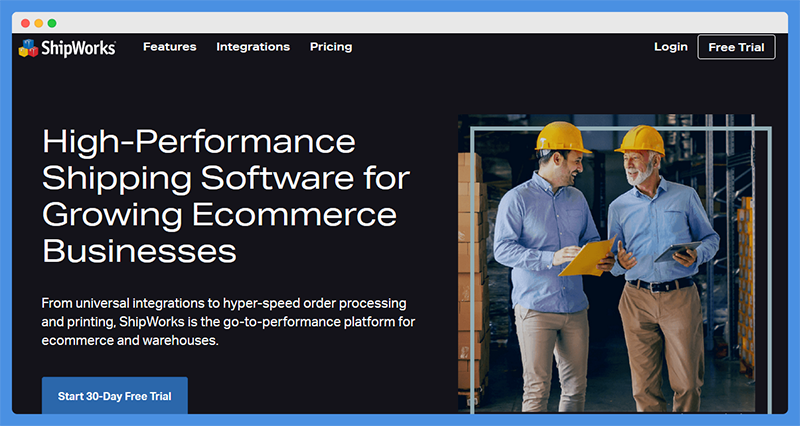 ShipWorks offers shipping software, service, technology, and support for high-volume, multiple carrier shippers who sell on different platforms.
The software's unique hybrid architecture lets you harness the reliability, speed, and redundancy of desktop computers and blend that with the usability and flexibility of the cloud for easier and faster shipping.
This combination allows you to get the competitive edge your business needs to meet customers' shipping expectations together with the rapid order processing and scan-based shipping capabilities.
ShipWorks offers universal integrations, hyper-speed printing, and order processing, making it the go-to platform for warehouses and eCommerce. You can use it with any channel, carrier, or system, and enjoy unmatched speed to meet customers' shipping demands.
The platform works seamlessly with nearly 100 native integrations, robust ODBC capabilities, and a native API so you can connect anything with it. System uptime is at 99.99 percent so you know your business is safe, and you get 16,000 labels per hour print speed.
White glove support is available including unlimited phone, email, and a free community forum.
One of its unique features is the ShipSense, an automated intelligence system that handles your shipping processes. It also has a Single Scan to help you search and process orders using a barcode scan and a hub with web-based fulfillment insights.
ShipWorks offers similar features to ShipStation with valuable options for package insurance, user management with productivity reports, detailed user auditing, and rights controls. In brief, Shipstation vs ShipWorks is a decent comparison.
ShipWorks; however, seems a bit pricier than ShipStation.
Its plans start at Essential $49 for 1500 shipments per month, Ecommerce Professional $149 for 5000 shipments per month, Warehouse Essential $349 for 12,000 shipments per month, Warehouse Professional $599 monthly for 25,000 shipments, Warehouse Elite $799 for 50,000 shipments per month, and an Enterprise plan with custom pricing for unlimited shipments.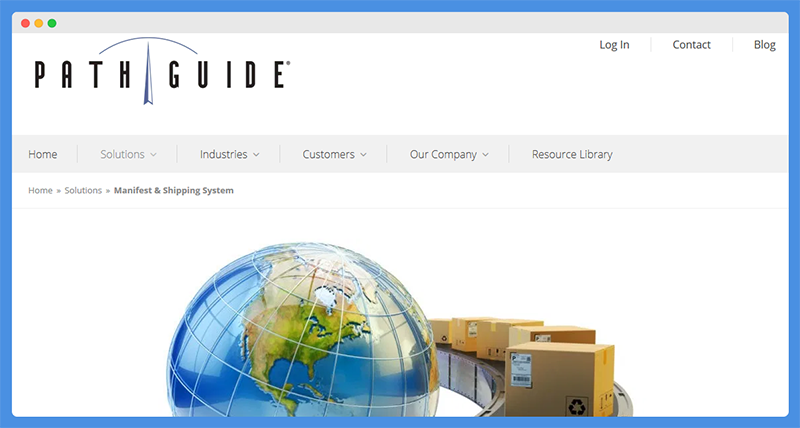 The Latitude Manifest & Shipping System offers a parcel-shipping and multi-carrier integration system for easier shipping, tracking, and route management.
The solution automatically finds the lowest available shipping rates or fastest options across carriers. It's flexible, affordable, and offers user-friendly parcel shipping integration no matter the carrier you ship with. This allows you to get customers' orders securely, quickly, and affordably to their destinations.
The software includes features like air/container/freight/ground shipping, bills of lading, ocean and parcel shipping, shipment tracking, and management of your warehouse.
Like ShipStation, you can print labels with Latitude Manifest & Shipping System such as hazmat or eCommerce labels, and third-party shipping papers.
Your data will be transmitted automatically to the appropriate carrier for billing.
Support is available 24/7 via live support or online support during business hours.
We didn't find any pricing for Latitude Manifest & Shipping System, but you can call them to set up a free phone consultation and get their rates.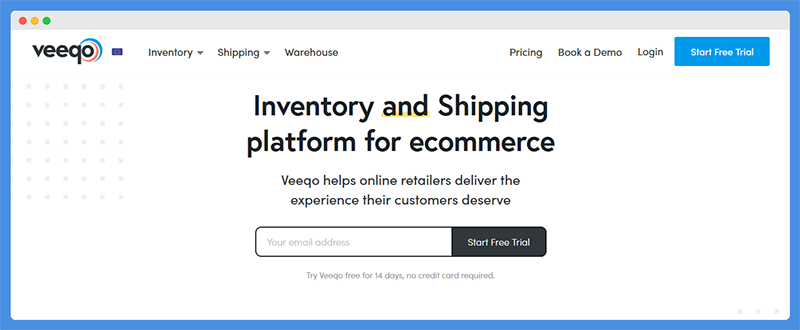 Veeqo is a cloud-based shipping software that helps brands and retailers manage and ship volumes of orders across various sales channels.
You can get the lowest USPS shipping rates with Veeqo and commercial plus pricing that gives you a savings of up to 46 percent.
Some of Veeqo's features include inventory management on a single platform for more control.
With Inventory control, you can perform stock takes, manage purchases, and scan shipment for accuracy using the Veeqo scanner.
The Inventory platform also offers inventory automation to put your daily stock tasks on autopilot, inventory syncing and insights, order routing to fulfill orders automatically from different warehouses, and product management to create and edit products on one platform.
Like ShipStation, Veeqo also offers inventory reports to help you make more informed decisions and forecast on demand while keeping your team accountable.
You can also print shipping labels, packing slips and picking lists, and automate your warehouse.
Veeqo is quick and easy to set up, and there are no lengthy contracts or need to talk to a sales representative to get set up. However, it only offers a free 14-day trial, unlike ShipStation that offers a 30-day trial.
Veeqo also integrates directly with the major eCommerce platforms, shipping carriers, POS systems, and marketplaces just as ShipStation does.
In terms of pricing, Veeqo is more expensive than ShipStation, as it offers a minimum of 500 order shipments, and varying rates based on its four pricings plans: Accelerator, High Growth, Premium, and Enterprise.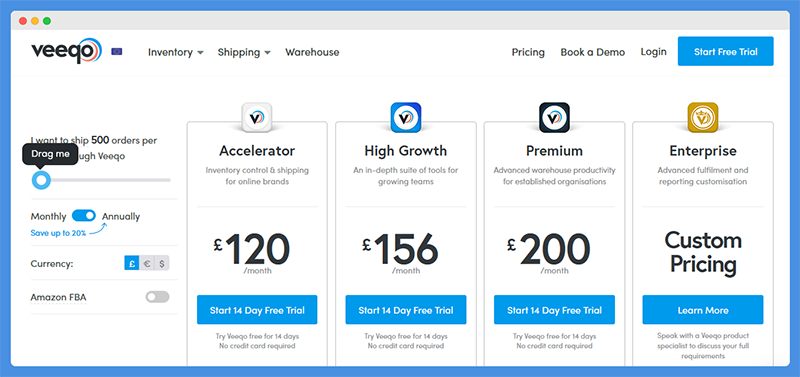 For the 500 orders, you'd pay $120, $156, and $200 for the Accelerator, High Growth, and Premium plans respectively, compared to ShipStation that charges $29 per month for 500 shipments.
Explore: Best Shipping Software For eCommerce
Wrapping Up
If you're looking for the best ShipStation alternative, any of these 10 options offer similar if not better features and rates for your business.
We think Easyship offers more than just the minimum requirements for shipping software.
Not only is Easyship cloud-based, meaning you can manage your shipping process from any location and time, but it also gives you access to 26 markets, pre-negotiated and discounted rates, and three times the conversion rates at checkout.
Easyship also offers a turnkey solution for crowdfunding campaigns and an intuitive shipping API for the management of flows in your system.

Author: Sam Zaman
Sam loves to write on technology & related stuff. Ecommerce, mobile and internet marketing equally drive her interest. Likes gardening and experimenting with new recipes. An avid reader and absolutely mad @bout donuts :)