If you want to run native ads, it can be cumbersome to plan your ad campaign strategy from scratch. 
Fortunately, a native ad spying tool like WhatRunsWhere enables you to spy on your competitors' winning ads.
However, WhatRunsWhere covers native ads in only five countries – USA, UK, Germany, Canada, and Australia. At times, users also find its pricing a little expensive.
So today, I'll show you the best WhatRunsWhere alternatives that can be considered for intelligent native ad spying.
Follow me. 
Best WhatRunsWhere Alternatives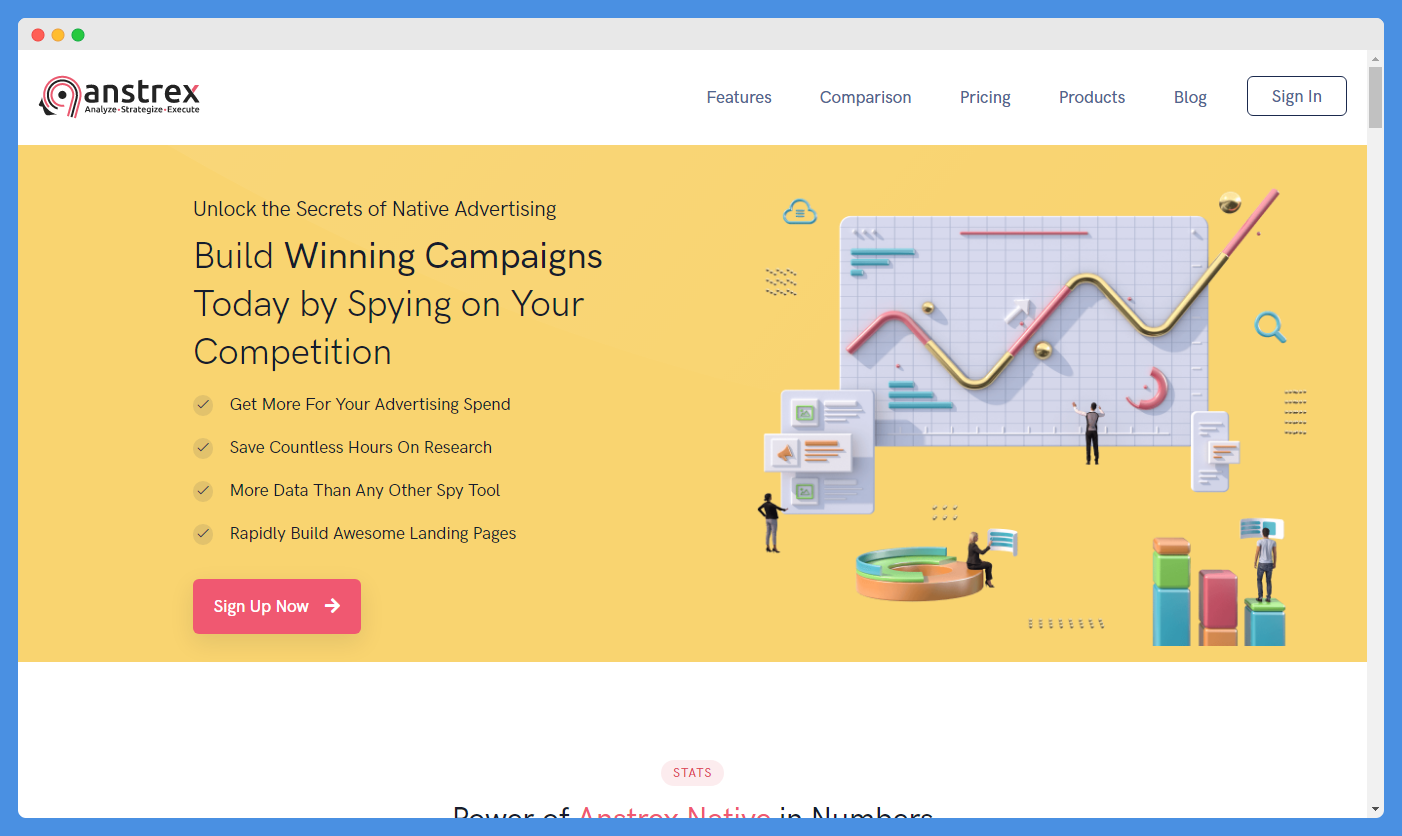 Anstrex is a native ad spying tool with exceptional coverage. Its database features over 156,000 advertisers across 64 countries. This places Anstrex above WhatRunsWhere that covers only 5 countries.
You can uncover ads from over 27 different native ad networks with Anstrex.
This includes Newsmax, Gravity, Spoutable, Outbrain, Taboola, Mgid, RevContent, Yahoo Gemini, Google Ads, Powerinbox, Adnow, Lockerdome, Dianomi, EngageYa, Twiago, etc.
Consequently, Anstrex has one of the largest native ad databases out there with ads totaling over 10 million.
Anstrex makes it easy for you to discover the right ads. You can locate ads using keywords or multiple sorting and filtering options.
This includes filters by ad category, country, network, device, affiliate network, etc. Also, you can sort by ad popularity, date, duration, etc. 
Remarkably, Anstrex features Advanced Boolean Searching. This allows you to generate advanced search results by combining various filtering, sorting, and search options using Boolean operators. 
With Anstrex's built in downloader, you can scrape and download any landing page as well. Its powerful HTML editor makes editing these landing pages easy. Plus, you can quickly deploy the landing pages to your server using FTP.
Conversely, Anstrex can deliver insights on audience demographics, devices, traffic sources, ad campaigns, etc.
Apart from native ad spying, Anstrex can also help you to uncover profitable push ads and the hottest products to dropship.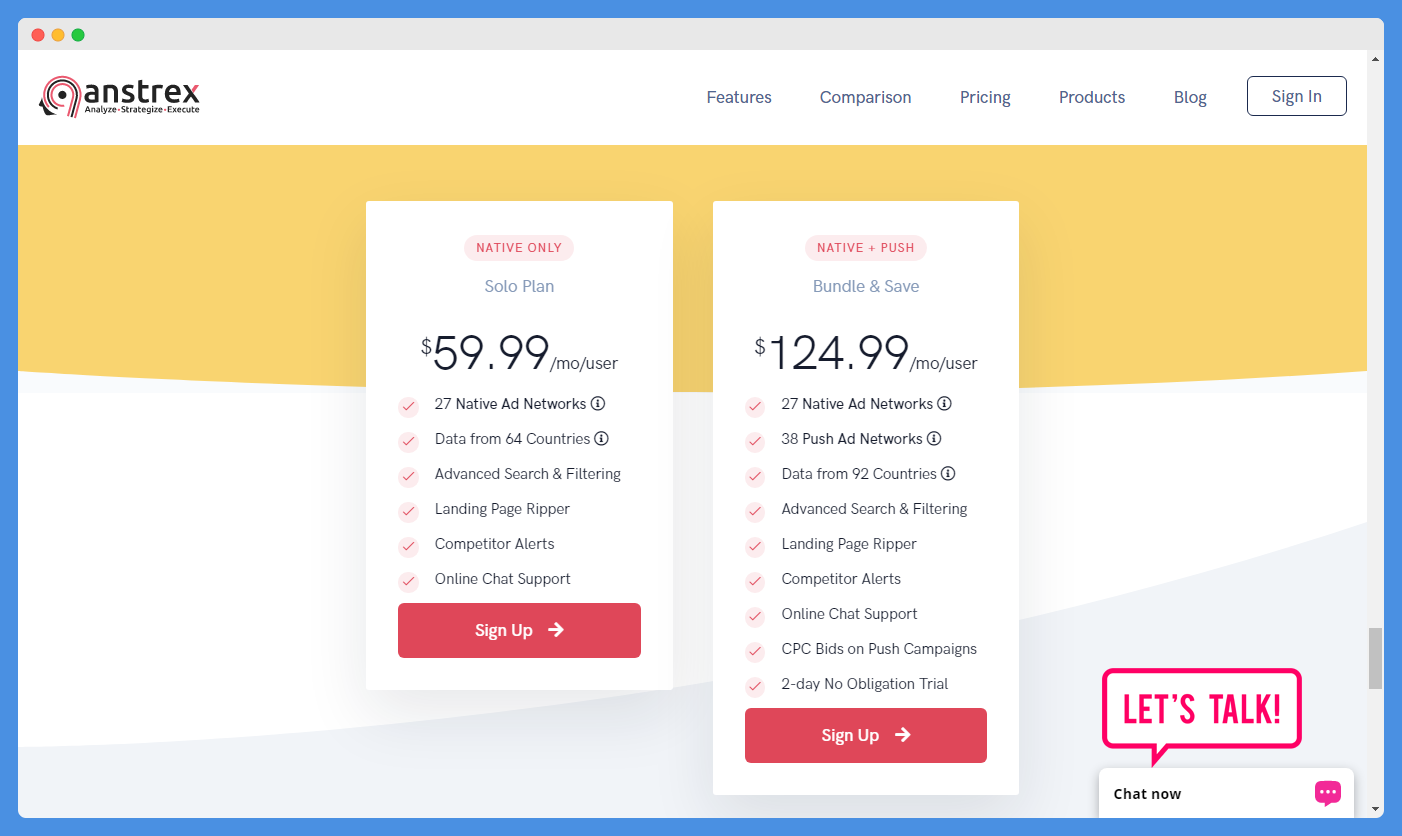 Anstrex features a solo native spying pricing plan, but you can get a price reduction when you purchase the native & push plan.
Native Only – $59.99 per month 
Native + Push – $129.99 per month 
Takeaway: Unlike WhatRunsWhere, Anstrex's pricing plans are more affordable. 
Our Favourite Native & Push Spy Tool

We earn a commission when you click this link and make a purchase.
AdPlexity is a broad ad intelligence tool with support for native ad spying, amongst others. Contrary to WhatRunsWhere, AdPlexity covers ads from 7 popular native ad traffic sources and across 32 countries. 
The seven ad traffic sources covered by AdPlexity includes Mgid, RevContent, Yahoo Gemini, Outbrain, Taboola, AdNow, and Content.Ad. 
You can search for ads on AdPlexity using keywords or sort the database using multiple options. Also, you can store ads by marking them as favorites. 
Interestingly, AdPlexity is ideal for discovering native ads by the device. You can uncover ad campaigns targeted at Android or iOS devices, Mac PC, and Windows PC.  
Additionally, AdPlexity can provide you with detailed insights on ad trends, how long a particular campaign has been running, and when it converts the best.  
If your interest is in discovering affiliate ads, AdPlexity's database features affiliate offers from over 100 different affiliate networks.
In fact, AdPlexity features more affiliate ads than WhatRunsWhere. 
Nevertheless, AdPlexity enables you to discover outgoing URLs for ads, so you can discover their landing pages and download them with their dependencies.
Likewise, you can download the landing pages in zip files for later modification. 
Check out this post for more Adplexity-like tools.  
AdPlexity Pricing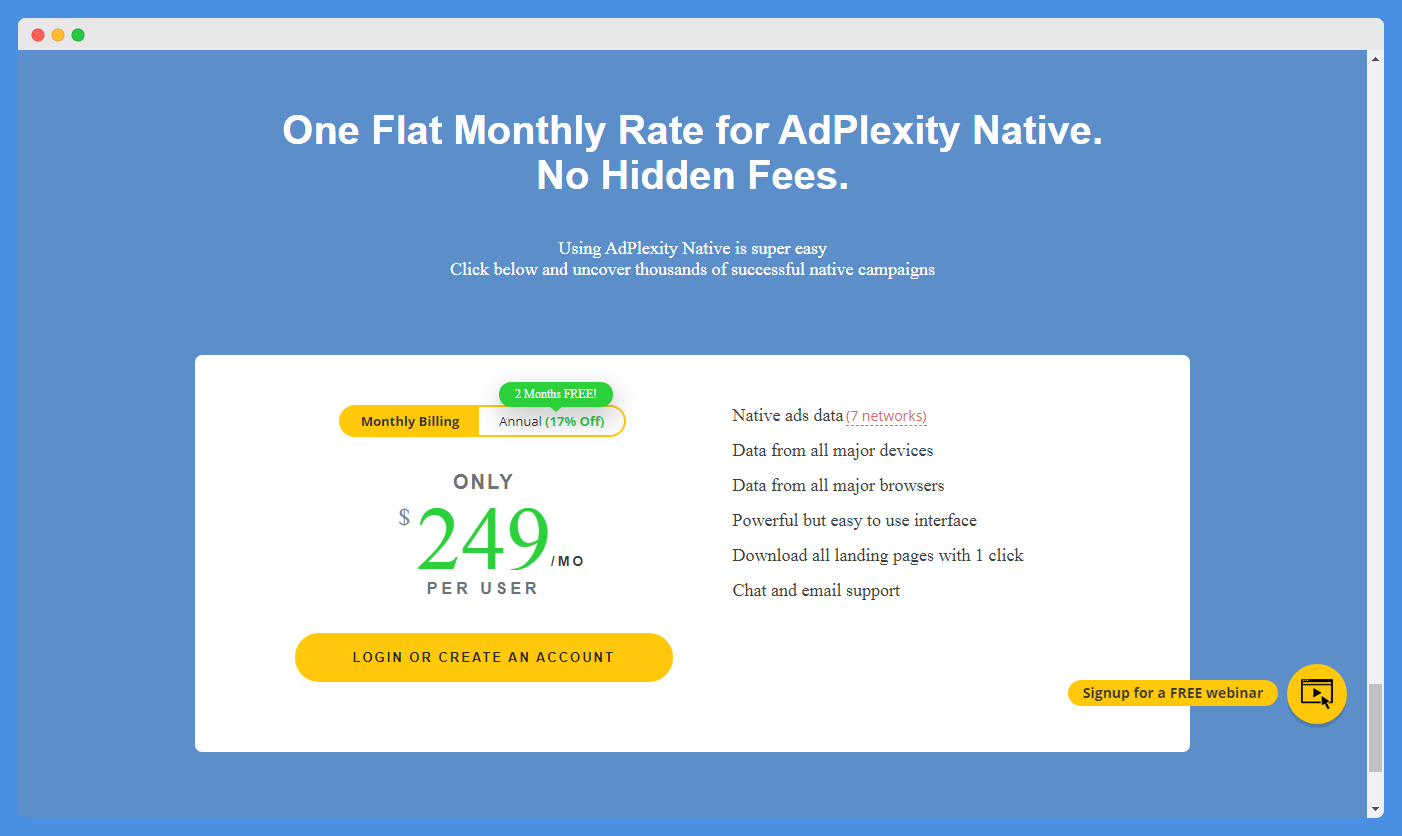 Unlike WhatRunsWhere, AdPlexity features a flat monthly rate:
AdPlexity Native – $249 per month ($2490 per year with annual payment)
Takeaway: AdPlexity's pricing plan is within the range of WhatRunsWhere basic plan that costs $299 per month. However, the AdPlexity winning edge is that you get access to its features.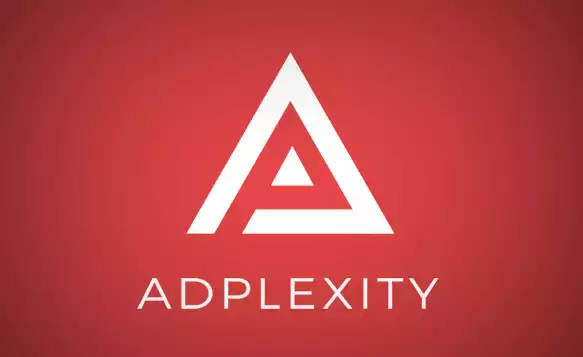 We earn a commission when you click this link and make a purchase.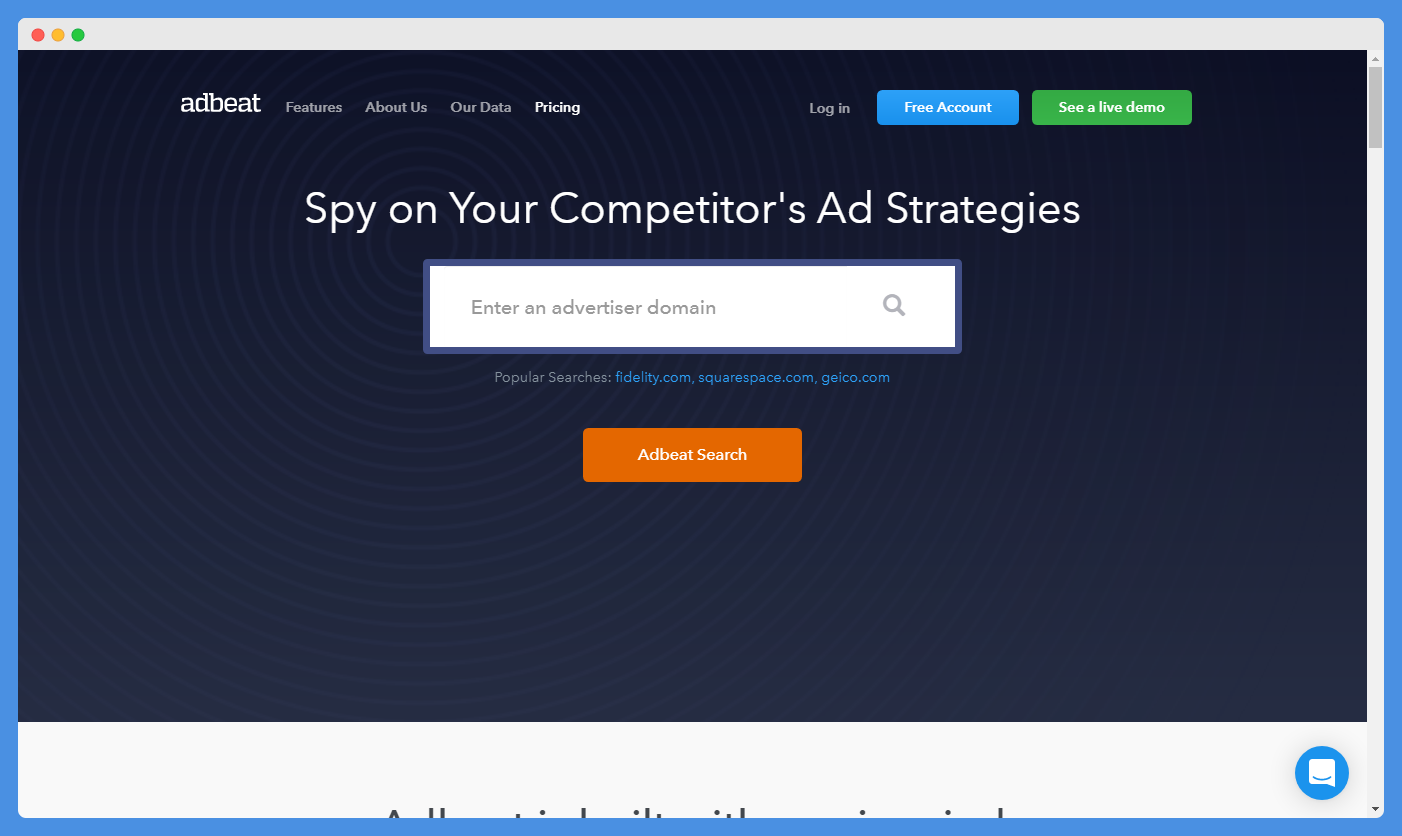 Another best WhatRunsWhere alternative is AdBeat. It is a unique tool that supports native ad spying from over 15,000 advertisers and across over 15 ad networks.
Supported ad networks include Taboola, RevContent, Turn, AdRoll, Outbrain, Rocketfuel, etc.
Apart from collecting ads from over 20 countries, it can also track ads on four major device types. Consequently, you can sort AdBeat's database for ads by country or device. 
Nevertheless, AdBeat surpasses WhatRunsWhere when it comes to delivering insights.
From your dashboard, you can monitor the ad media buying strategies of your competitors. Also, you can monitor ad campaigns by product, and monitor your competitors' top publishers. 
Furthermore, you can dig deep into the advertiser's sales and spending insights. In fact, AdBeat uncovers the complete amount advertisers spend on each publisher.
Hence, you can discover the big spending advertisers. 
With AdBeat, you can locate prospective advertisers for your native advertising campaigns. Also, it recommends publishers you can work with and lists out similar publishers from other advertisers' campaigns.
With AdBeat's competitive benchmarking tool, you can compare advertisers side by side. 
Another area where AdBeat beats WhatRunsWhere is in reporting. You get alerts by email, and SMS on any new activity by your monitored advertisers.
In addition, you can generate data report sheets to share with others. Supported file formats include CSV, PDF, and PowerPoint.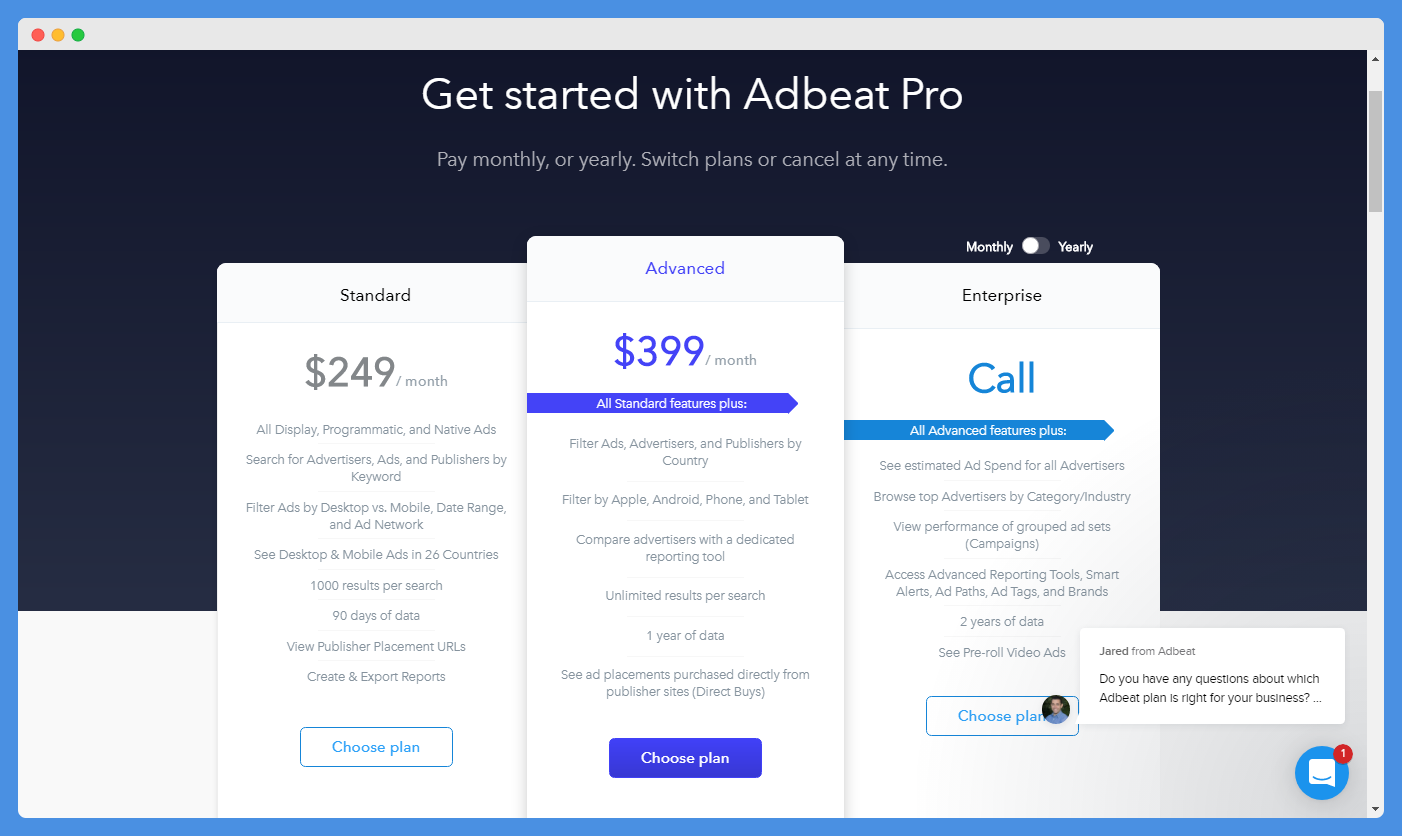 AdBeat offers a limited free plan and the following premium plans:
Standard Plan – $249 per month ($2,400 with yearly payment)
Advanced Plan – $399 per month ($3,780 with yearly payment)
Enterprise Plan – Custom pricing 
Takeaway: Support for a free plan gives AdBeat an edge over WhatsRunsWhere. For its premium plans, both AdBeat and WhatRunsWhere offer similar pricing plans.
Interesting Comparison: WhatrunsWhere Vs Adbeat Vs Adplexity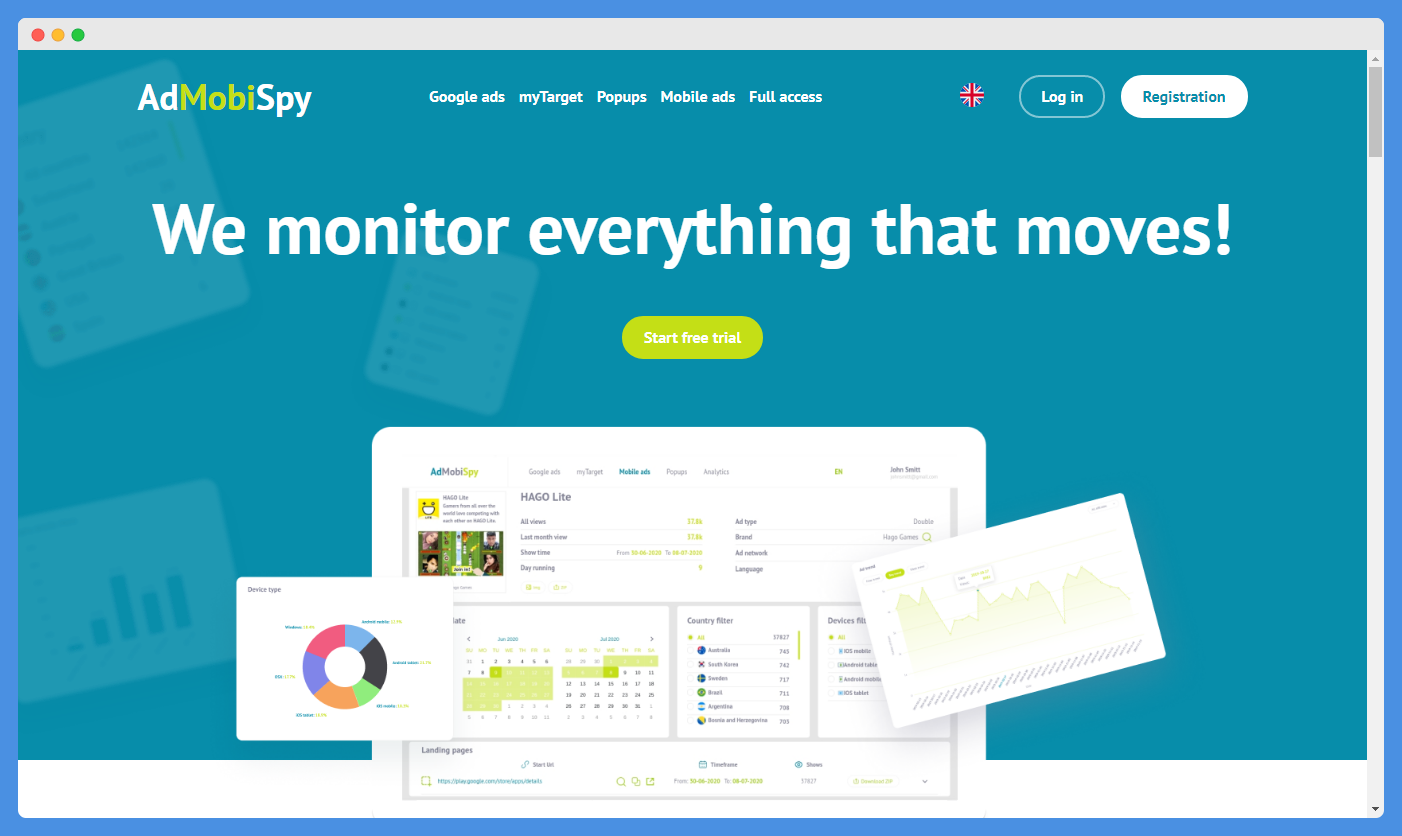 AdMobiSpy is a WhatRunsWhere alternative that monitors ads from Google Ads, Popcash, PopMyAds, MoPub, StartApp, Exoclick, AdCash, PropellerAds, Vungle, etc. In total, it tracks 13 ad networks. 
However, these are divided into 4 main categories, which include Google Ads, myTarget Ads, Mobile Ads, and Popup ads.
Unlike WhatRunsWhere, AdMobiSpy is beginner friendly. Furthermore, AdMobiSpy monitors ads in more countries than WhatRunsWhere; in fact, it tracks ads across over 70 countries.
With AdMobiSpy, you get comprehensive statistics on your competitors' ad campaigns. Plus, it features extended filters that help you to discover the right ads. 
For the latest ad trends, it tracks and adds new Google ads to its database daily. Also, it can track up to 12,000 mobile ads daily from 70 countries.
From the AdMobiSpy database, you can download ads and landing pages with only one click. Also, it features a mass download function that lets you download multiple ads and landing pages instantly.
Thankfully, AdMobiSpy can spy on landing pages, affiliate networks, and trackers. Aside from native adverts, it also monitors banner ads, double ads, and text ads.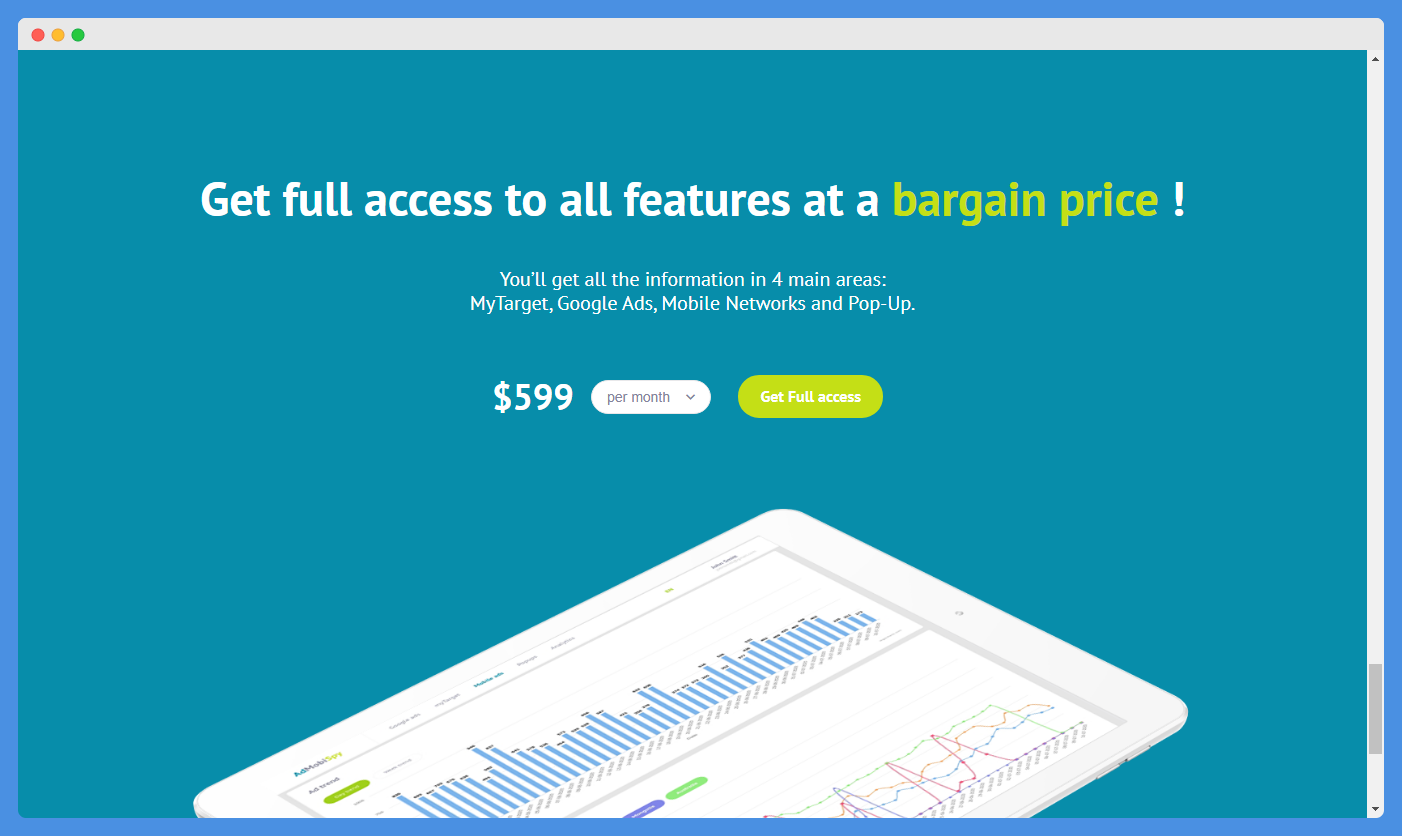 AdMobiSpy pricing plans depend on the type of native ads you want to monitor. They include:
Google Ads Plan – $299 per month, or $2990 for yearly payment
myTarget Ads – $49 per month, or $490 for yearly payment
Popup Ads – $149 per month, or $1490 for yearly payment
Mobile Ads – $199 per month, or $1990 for yearly payment
Full Access Plan – $599 per month, or $5990 for yearly payment
Takeaway: In terms of pricing, AdMobiSpy Full Access Plan is on the high side, similar to WhatRunsWhere. However, AdMobiSpy enables you to track specific ads like mobile and popup ads.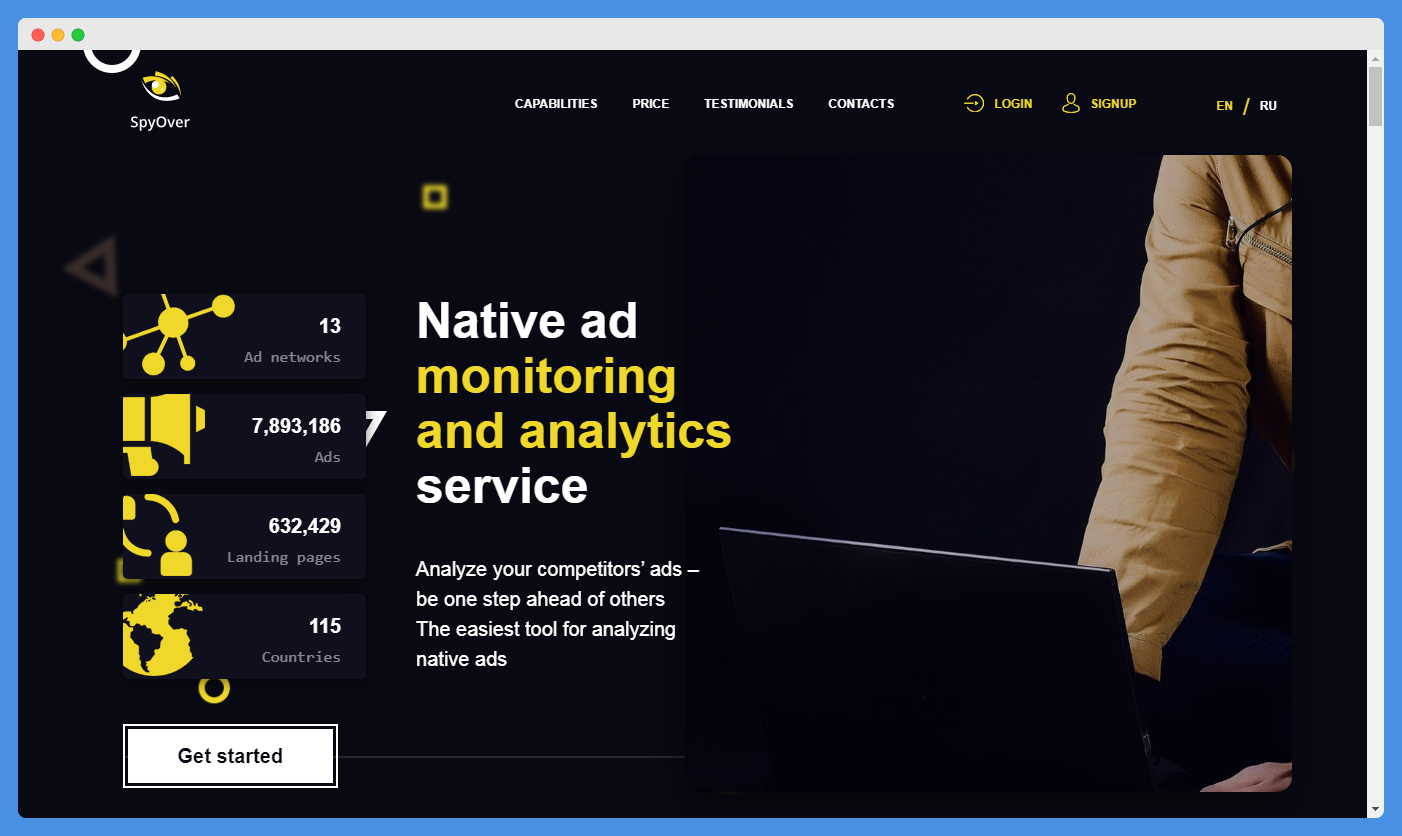 SpyOver is a unique native ad monitoring tool. Unlike WhatRunsWhere, SpyOver is ideal for ad analytics. 
However, SpyOver has more coverage than WhatRunsWhere with a database of over 7.8 million ads, over 600 thousand landing pages from 115 countries, and 13 ad networks.
With SpyOver, you can monitor ad networks like Mgid, Taboola, Plista, EngageYa, Content.Ad, Outbrain, Yahoo, AdNow, PropellerAds, Adblade, Yengo, RevContent, and AdsKeeper.
Unlike WhatRunsWhere, SpyOver allows you to search for ads using keywords, publisher, landing page text, redirects chain, or outgoing links.
Furthermore, you can sort through the results by country, ad network, ad language, device, browser, tracker, date, duration, and affiliate network. 
The same goes for discovering ad landing pages and there are more search options including using landing page title and landing page URL. Likewise, you can download landing pages and ads for your use with just one click. Not to mention, you can download bulk landing pages as well.
SpyOver's database also provides detailed statistics for every ad. They come in graphs, diagrams, and connection widgets, making them easy to grab. Furthermore, it delivers trending ads and ad trends for previous periods. 
A unique SpyOver feature you won't get on WhatRunsWhere is the ad translator. If your competitor's ads feature non-English texts, you can quickly translate them into English language.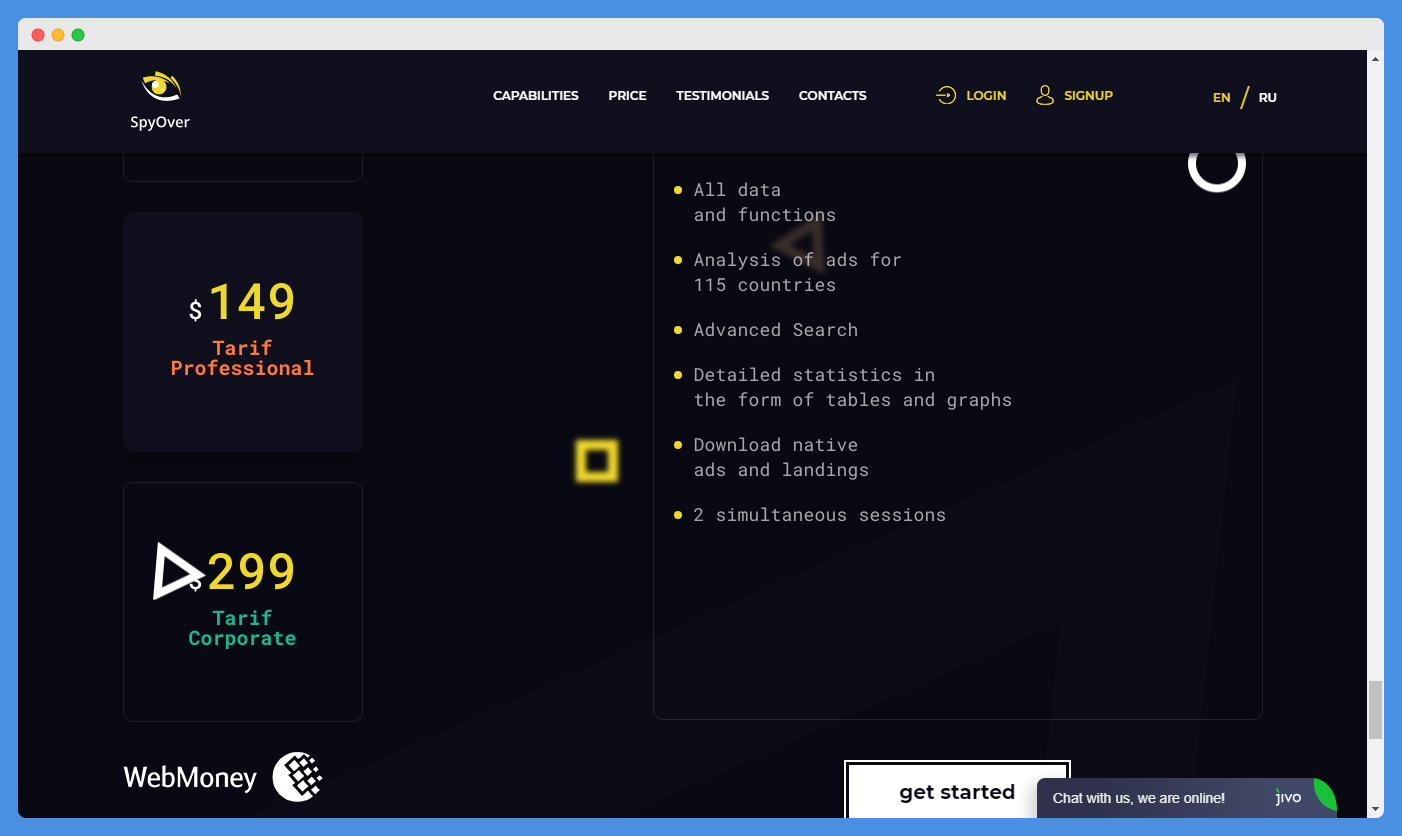 You can use the SpyOver demo for free but you'll have to pay for full access. Its pricing options include:
Tarif Professional Plan – $149 per month 
Tarif Corporate Plan – $299 per month 
Takeaway: With only two simple plans, SpyOver is more affordable than WhatRunsWhere and you also get free demo access.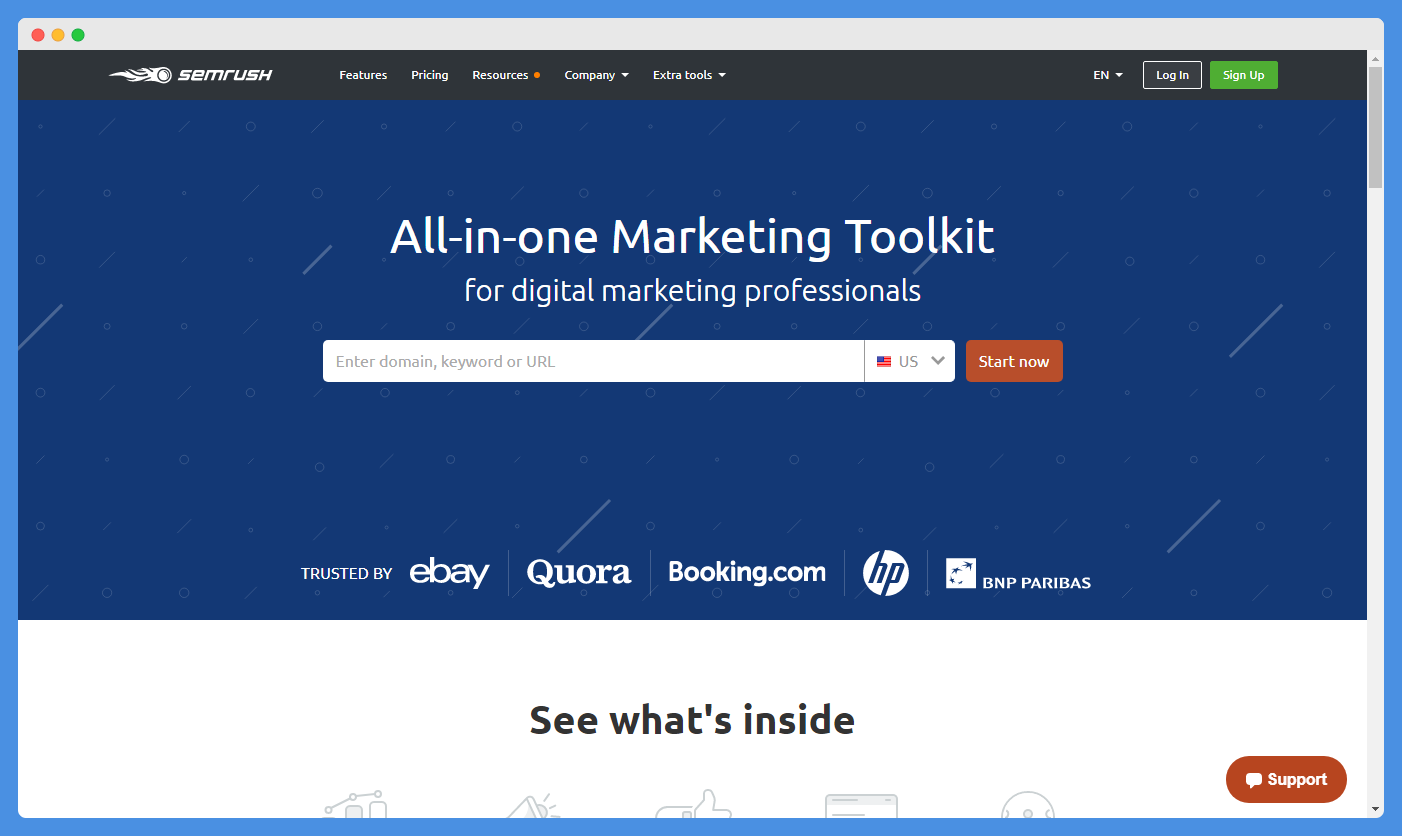 Another noteworthy WhatRunsWhere alternative on our list is SEMrush.
Basically, SEMrush is a popular flexible marketing tool with over 6 million users across 100 countries. 
Although both SEMrush and WhatRunsWhere work for native ad spying; however, they are significantly different in how they work.
Among the tools featured on SEMrush is an advertising research tool. This tool delivers competitive analysis, historical data, and actual ad copies.
To use SEMrush's advertising research tool, simply enter your competitor's domain name. This is unlike WhatRunsWhere that displays a variety of native ads from its dashboard.
Additionally, SEMrush enables you to monitor live ads, access ads PPC value, and monitor ad keywords. You can even discover prospective competitors as well. However, SEMrush is ideal for spying Google ads.
Unlike WhatRunsWhere, SEMrush enables you to uncover the seasonal period for a  converting ad.
Likewise, you can discover ad landing pages which you can monitor, or download for use in your campaigns. Furthermore, you can set up alerts to get notified whenever competitors make any changes to their live ad campaigns or start a new ad campaign.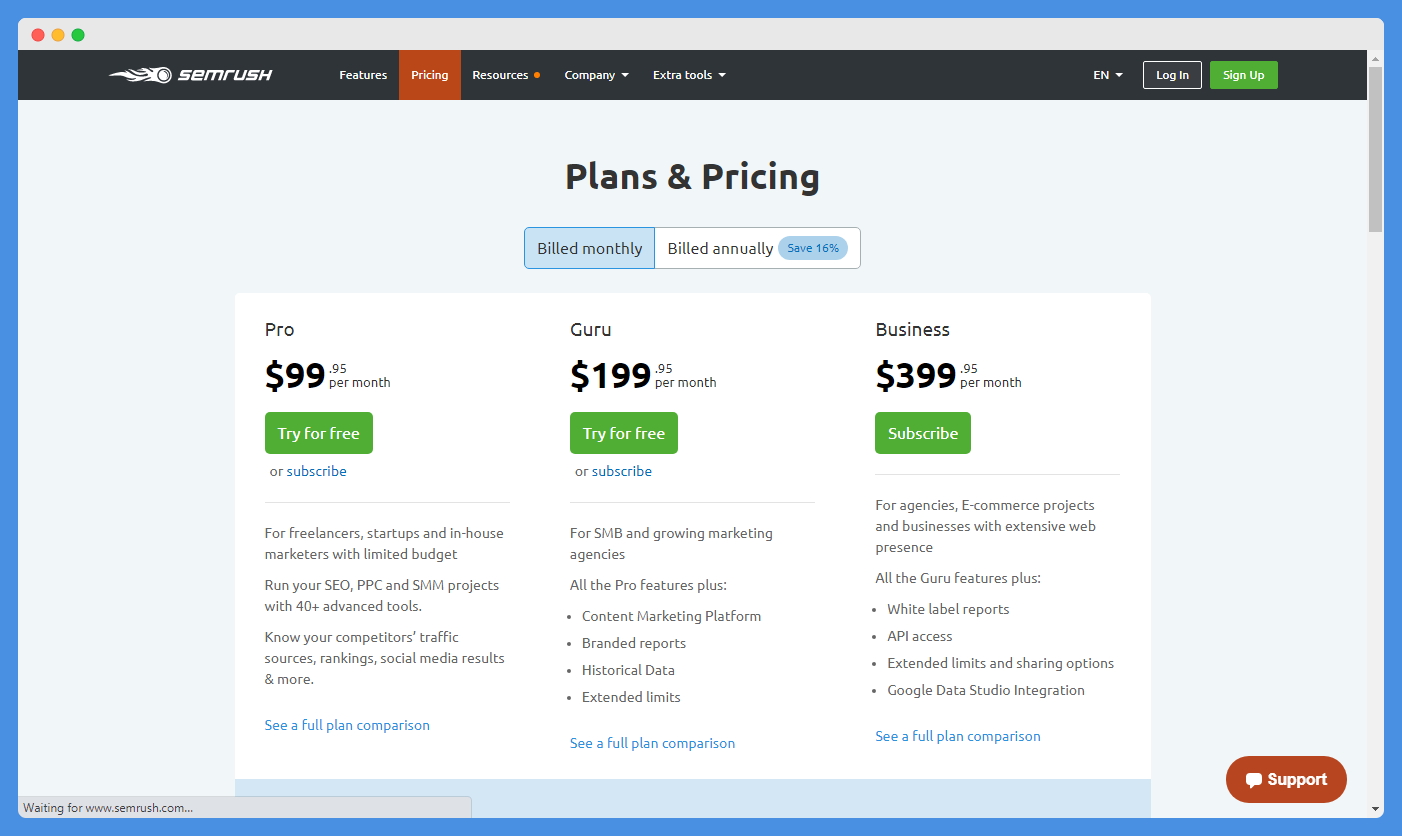 Here are SEMrush pricing plans:
Pro Plan – $99.85 per month 
Guru Plan – $199.95 per month 
Business Plan – $399.95 per month 
Enterprise Plan – Custom cost 
Takeaway: SEMrush pricing plans are flexible. Also, you can use SEMrush freely for at most 10 requests, which gives it an edge over WhatRunsWhere. 
Our Pick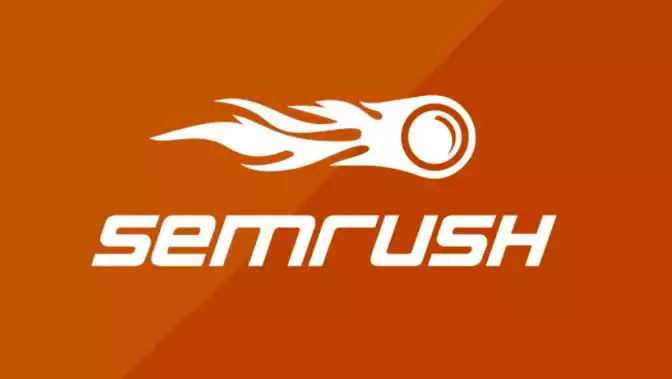 We earn a commission when you click this link and make a purchase.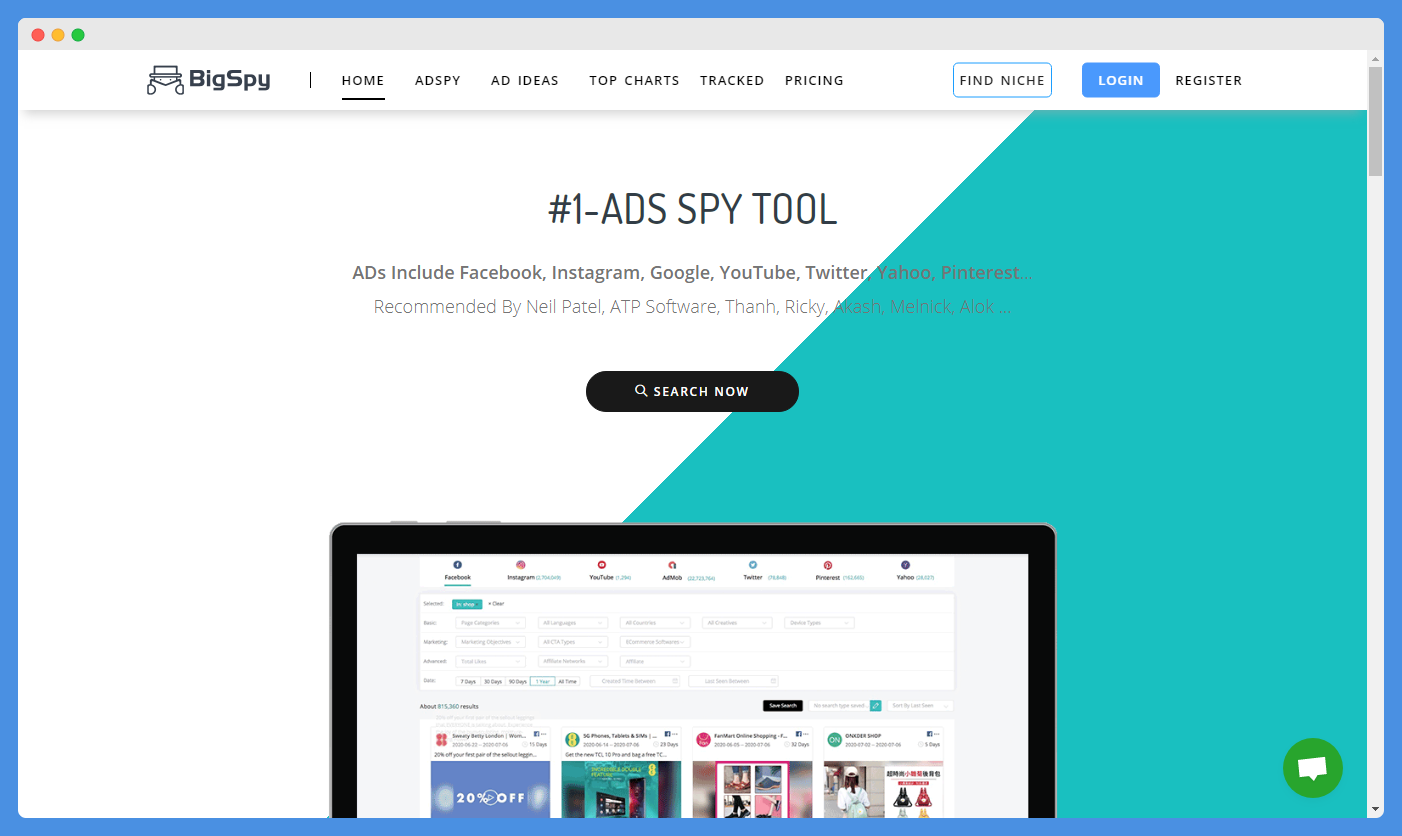 BigSpy is a popular WhatRunsWhere alternative used by over 300 thousand customers. It has a database with native ads from Google and Yahoo only. The rest are social ads. In total, there are about a billion ads in BigSpy's database while there are about 21 million native ads. 
It's easy to discover valuable ads on BigSpy thanks to its powerful search function. You can search for ads with keywords or sort by country, ad type, niche, CTA, date, format, etc.
With BigSpy, you can submit unlimited search queries daily and also track about 1,000 ads daily.
Just like WhatRunsWhere, BigSpy delivers the trending ads in your selected niche to you every day. In addition, you can get insights into ads tracked by other BigSpy users. 
For each native ad in its database, you get the audience demographic data. That way, you can understand your competitor's audiences and their location.
With BigSpy, you can identify the landing pages for every outgoing ad. Also, you can download up to 1,000 landing pages per day. 
From the My Tracked dashboard, you can access your tracking performance. Plus, you can set up an advertiser's chart for easier comprehension.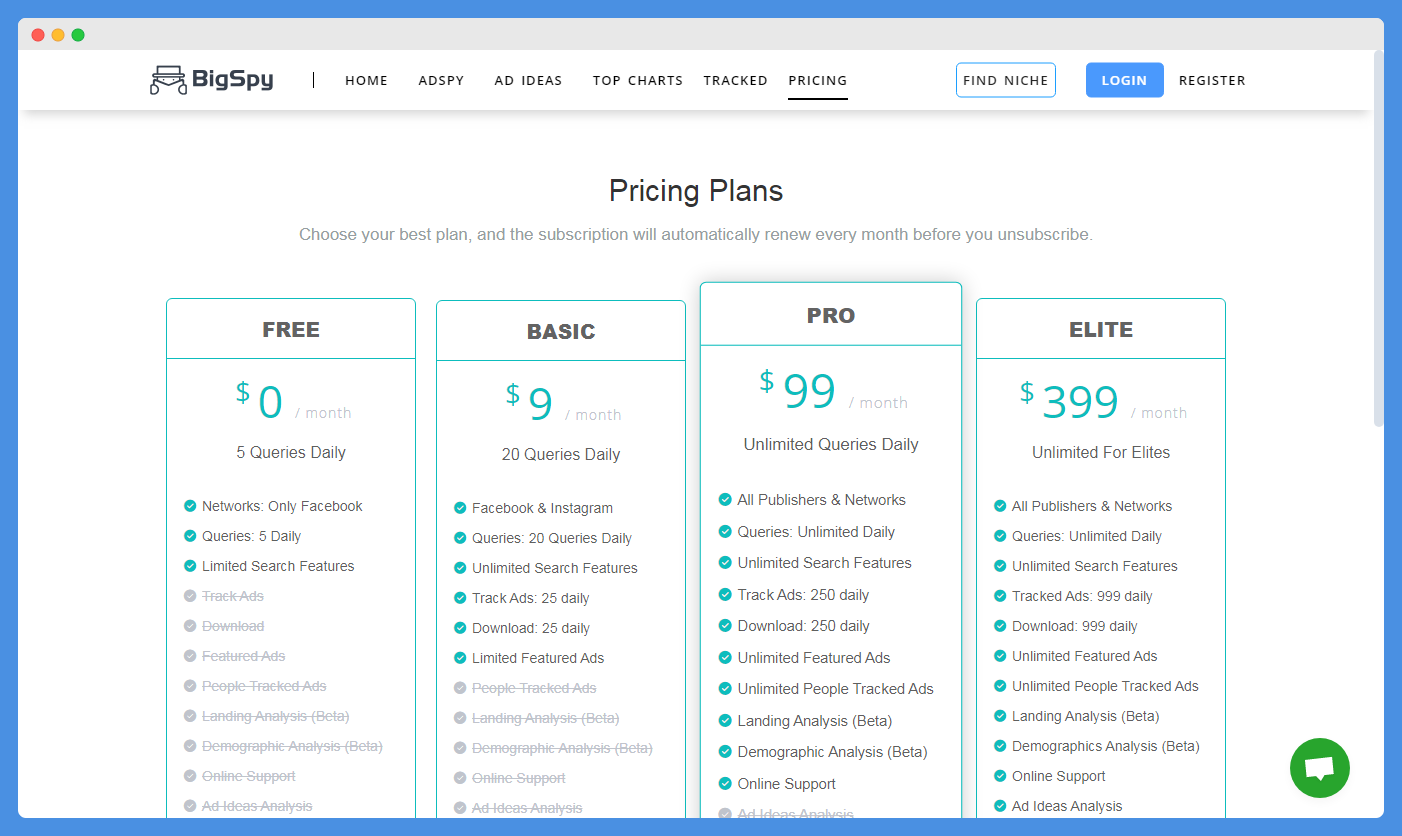 BigSpy features the following pricing plans:
Free Plan – $0 per month
Basic Plan – $9 per month 
Pro Plan – $99 per month 
Elite Plan – $399 per month 
Takeaway: BigSpy is one of the best free ad spying tools available and although the features are not equal, the tool is way more cost-efficient than WhatRunsWhere. Besides, its premium plans are flexible.
We earn a commission if you click this link and make a purchase.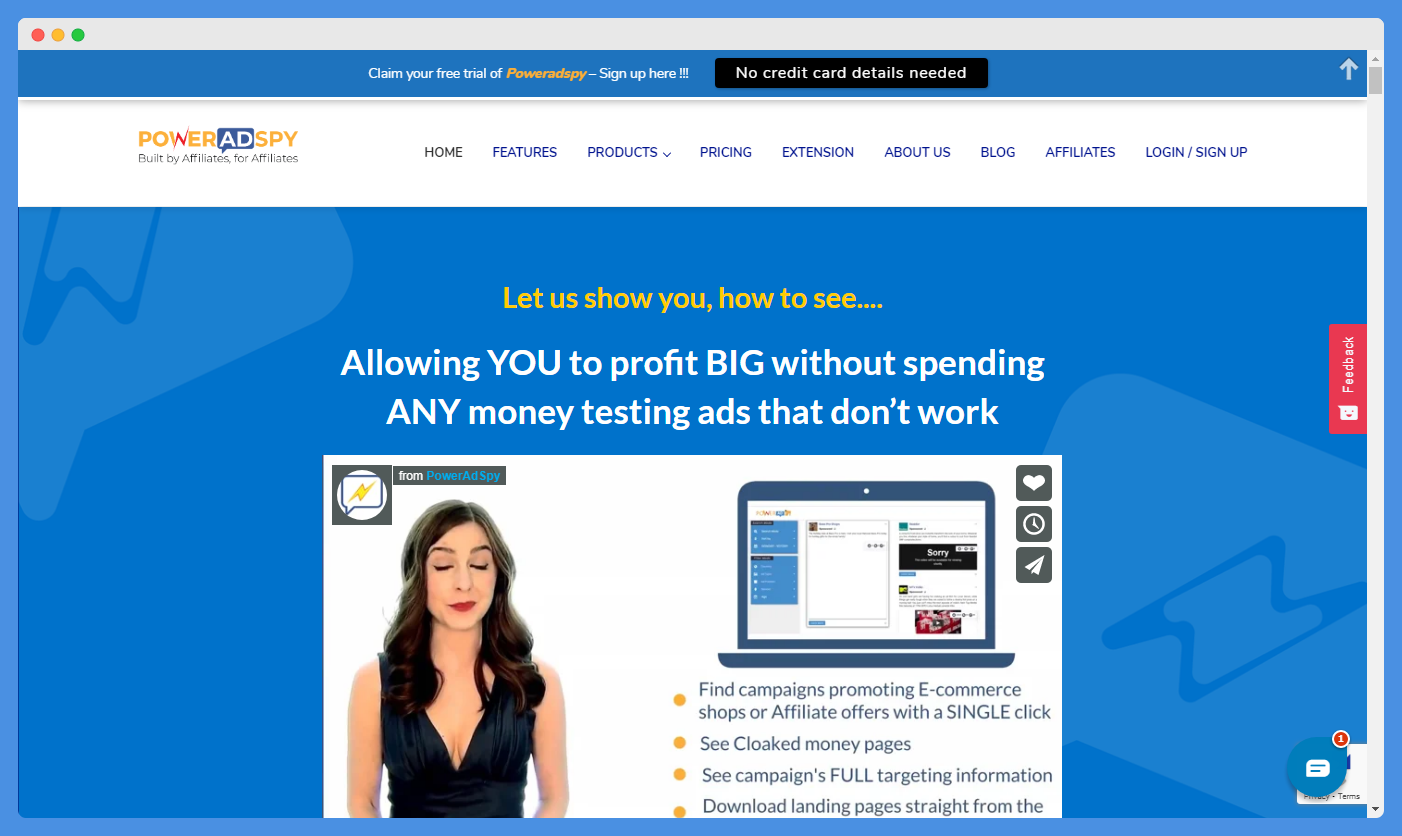 PowerAdSpy is mainly referred to as a Facebook ad spying tool, but it is still super efficient for native ad spying. 
In the PowerAdSpy ad database, there are about 50 million listed ads from over 20 countries. Not to mention, you can discover both past and live ads. 
All you have to do is set your target audience using the filters and search. When the ad results come up, you can use them to your advantage. 
Unlike WhatRunsWhere, PowerAdSpy has more engagement filters. You can filter ads by age, gender, country, relationship status, and other demographics.
Another area where PowerAdSpy outperforms WhatRunsWhere is video ads. You can efficiently spy video ads with PowerAdSpy.
Interestingly, PowerAdSpy intelligently detects and monitors new ads daily, which are then added to its database.
Thankfully, PowerAdsSpy can display landing pages in its search results. That way, you can edit or duplicate landing pages directly from the dashboard. 
Although PowerAdSpy is a powerful social ad spying tool for Facebook and Instagram, it also works for eCommerce in discovering trending products.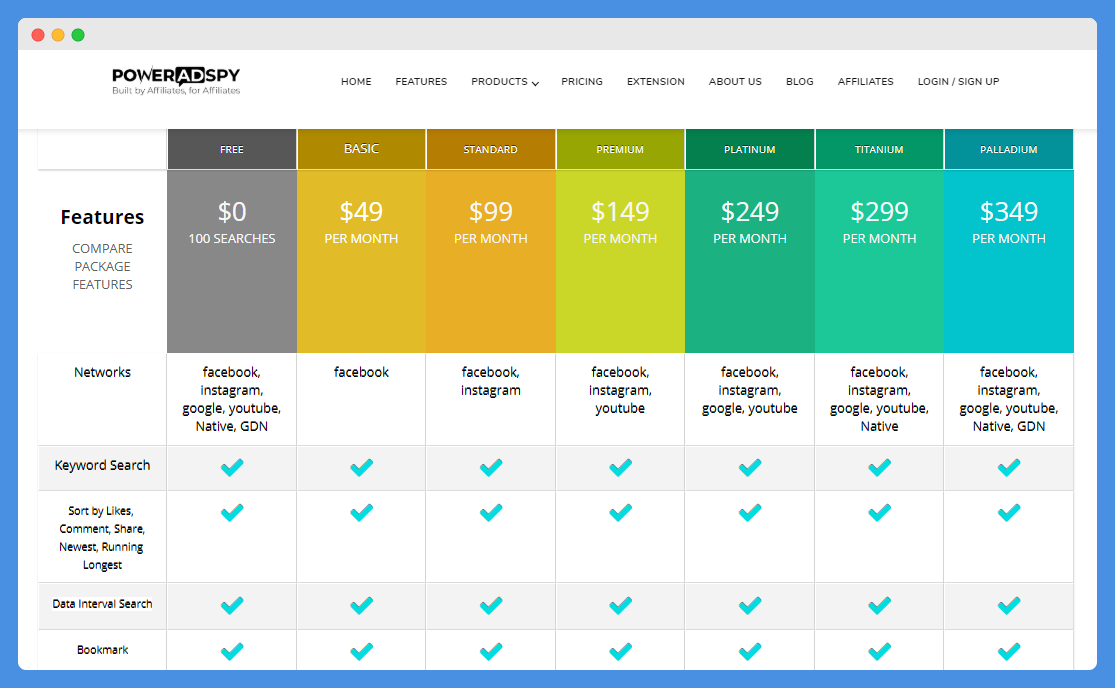 PowerAdSpy has several pricing options, which include: 
Free Plan – $0 
Basic Plan – $49 per month
Standard Plan – $99 per month
Premium Plan – $149 per month
Platinum Plan – $249 per month
Titanium Plan – $299 per month
Palladium Plan – $349 per month
Takeaway: Unlike WhatRunsWhere, PowerAdSpy facilitates social ad spying and video ads spying. 

We earn a commission if you click this link and make a purchase at no additional cost to you.
Wrapping Up – What Is The Best WhatRunsWhere Alternative?
Among the best WhatRunsWhere alternatives I have listed in this post, I would recommend Anstrex as the best.
Apart from its affordable pricing plans, Anstrex has an extensive database of over 10 million ads from more than 27 ad networks. 
Also, it features ads from over 64 countries, unlike WhatRunsWhere that features ads from only 5 countries.

Author: Sam Zaman
Sam loves to write on technology & related stuff. Ecommerce, mobile and internet marketing equally drive her interest. Likes gardening and experimenting with new recipes. An avid reader and absolutely mad @bout donuts :)