Prices change every day on Amazon. Keeping tabs on Amazon prices benefits both buyers and sellers; it's, however, most important for sellers.
As an Amazon seller, monitoring product price is a sure way to stay above the competition. Your competitors are always repricing their products and if you don't adjust yours accordingly, you'll be left behind.
Aside from that, tracking competitor prices give you an idea about how much they're making when you crisscross prices and reviews.
Tracking Amazon prices doesn't have to be difficult work. There are many Amazon price tracking tools you can use, including paid and free ones. In this post, we'll be looking at two free ones – Keepa and camelcamelcamel.
Both tools boast of many users who acknowledge their pros, and some cons too. I'll be reviewing Keepa vs camelcamelcamel to find out which is better.
What Is Keepa?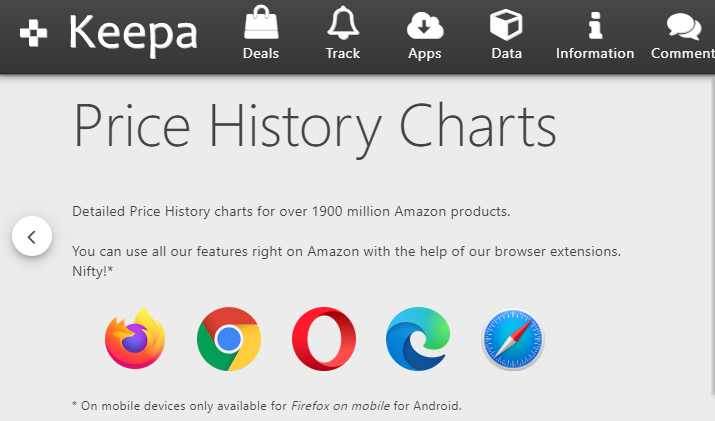 Keepa is a tool for tracking Amazon price history data. The platform tracks more than 1900 Amazon products and lets you track Amazon prices on both mobile and desktop.
This tool is easy to use as you have multiple tracking options. You either use the track option on the website, go over top Amazon deals, or use the browser extension right from the Amazon website.
You can search for prices in different Amazon markets across America, Europe, and Asia – there are more than 10 supported markets. With this, you can compare and contrast international Amazon prices.
Although you can use Keepa for free, the platform does feature some premium features at a subscription.
Explore the best alternatives to Keepa.
What Is camelcamelcamel?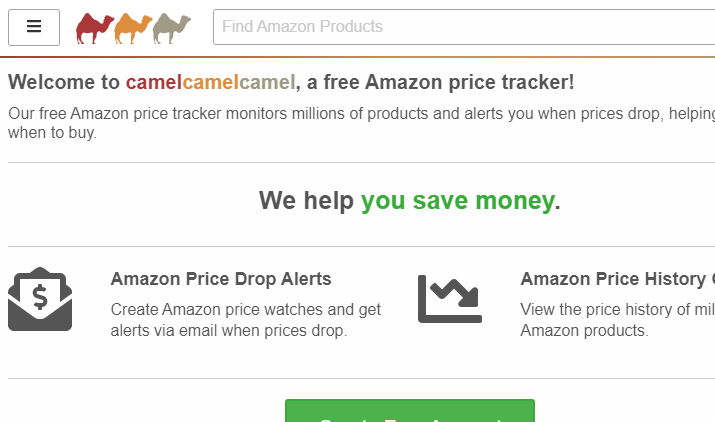 camelcamelcamel is described as a "price tracker that provides price drop alerts and price history charts for products sold by Amazon". The tool has been around for about 14 years as it was founded by Daniel Green in 2008.
camelcamelcamel was launched to help Amazon sellers make more money and it's 100% free. You can get price details from multiple Amazon markets and from millions of products. You can use the camelcamelcamel, browser extensions, or bookmarklet.
The tool also offers you insights on top products, daily, and weekly price drops. As a part of the Amazon Associate program, you can order products directly from camelcamelcamel as you browse.
Check out more tools like camelcamelcamel.
Getting Started
Keepa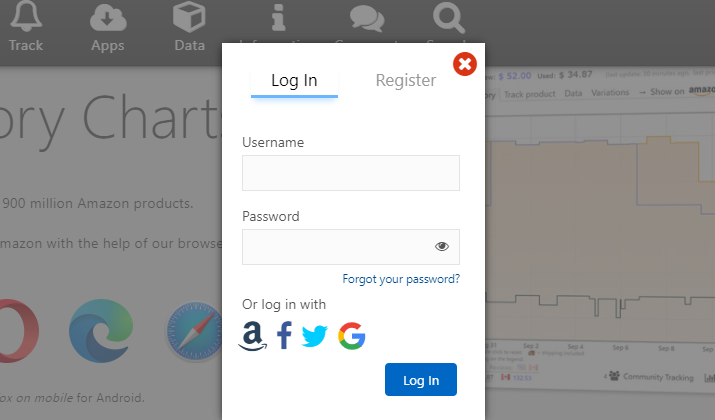 You can visit the Keepa website and start monitoring product prices right away; it's not mandatory that you register an account. However, there's much to gain as a registered Keepa user.
Registration is simple and you only need an email address, username, and password to complete it. As an alternative, you can sign up using your Amazon, Google, Facebook, or Twitter account.
Furthermore, you can simply install the Keepa browser extension on a supported browser; this also doesn't require you to create an account but it's ideal to create one.
Once you install and activate the browser, you'll be able to track Amazon price data directly on the Amazon website.
camelcamelcamel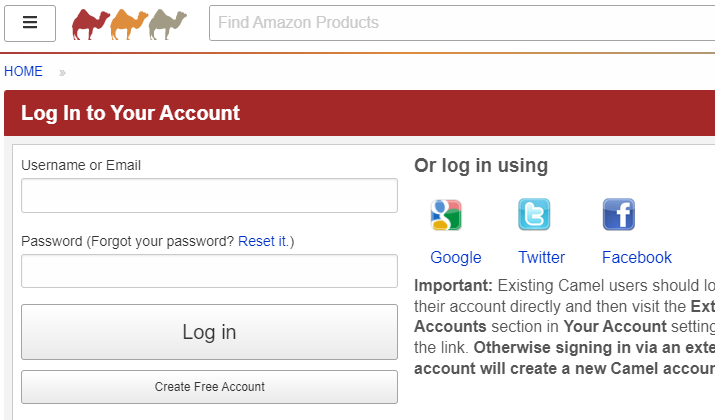 camelcamelcamel is open for anyone to use, whether they have an account or not. If you have an account, however, you can access more features like tracking multiple price types and centralized price watch management.
You only need an email address and password to create an account. In addition, you can create an account using your Facebook, Twitter, or Google account.
With the browser extension, you also get instant access to camelcamelcamel once installed – again, you don't have to sign up.
Another way to get started with camelcamelcamel is using the bookmarklet. All you have to do is drag the three camels logo – you'll see this at the top corner of the website – and drop in your bookmarks bar.
As you browse products on Amazon, simply click on the three camels bookmark and you'll be redirected to the camelcamelcamel page with the product's price history.
Also Read: Jungle Scout vs Keepa
Verdict
Both camelcamelcamel and Keepa allow both registered and unregistered users. However, Keepa takes the upper hand here as you can sign up directly using your Amazon account.
Price History/Tracker
Keepa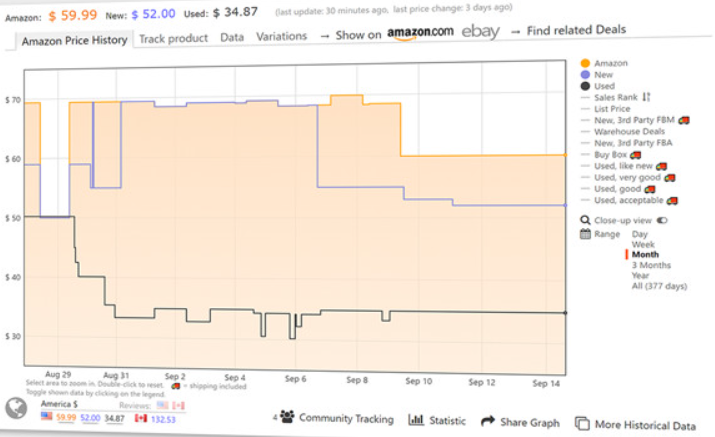 From the Keepa menu, you'll find the Track option. Click on it and you'll be taken to the price tracker. All you have to do is search for products you want to track using their title, ASIN, or product link.
From the results page, you get a quick rundown of the current price – Amazon price, the new price, and the old price. You get more insights into the price history when you click on the product link.
The highlight is the price graph that visualizes the price history month by month. The Track Product tab is where you do the tracking. First of all, you select your market type and set prices for new, old, and Amazon.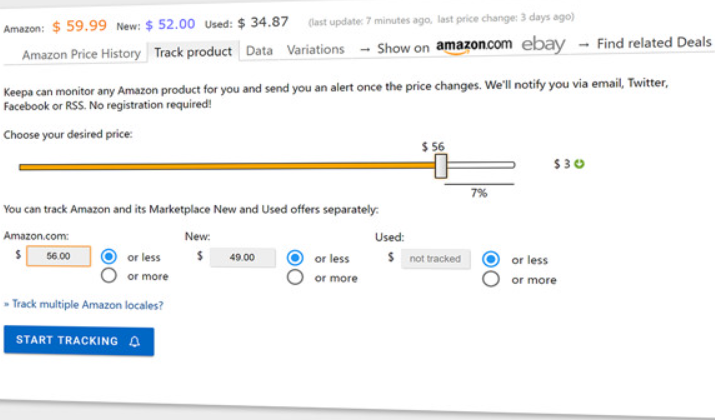 You can set the tracker to run for two weeks, one month, three months, six months, one year, two years, three years, and even 10 years. Whenever the price hits the value you specify, you'll get an alert.
There are three tracking modes – basic, advanced, and pro. The basic plan is as described above. With the advanced mode, you'll be able to track lightning deals using memos and tags.
The pro tracking mode lets you track sales rank, rating, review count, and more – you can track product list price, Amazon trade-in value, refurbished price, etc.
Check Out: Best Tools For Amazon FBA Sellers
camelcamelcamel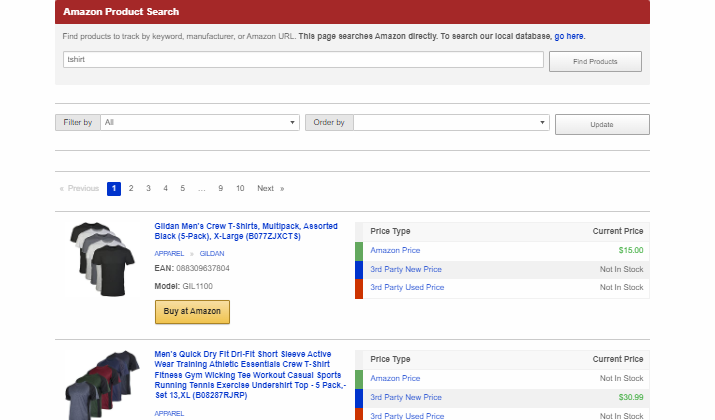 You can access the camelcamelcamel Amazon price tracker via the homepage; it's the search bar. To use the tracker, simply enter an Amazon URL or product keyword in the search bar.
From the results page, you can easily filter by category or order. camelcamelcamel gives a rundown of the product prices including, Amazon Price, 3rd Party New Price, and 3rd Party Used Price.
When you click on the product, you'll be taken to the main tracking page. camelcamelcamel lets you track any of the three price types mentioned previously. The tracker is simple; you enter a price you want to get alerts for, provide your email, and then click on start tracking.
Once the price drops to that amount, you get an email. On the tracking page, you'll also find a price history visualization. You can adjust the date range to get more insights.
Below it is the Amazon Price History Details where you'll find the current price, highest price, lowest price, and the average price of the product over time.
Last on the page is the Product Details section. Much of the data here is what you get on Amazon. The standout entry, however, is the "Last Tracked" info. With this, you'll know if others are tracking the product as well.
Verdict
The tracker on camelcamelcamel and Keepa are reliable. However, the latter wins here as it features more tracking options.
Explore: Best Chrome Extensions For Amazon FBA
Supported Amazon Markets
Keepa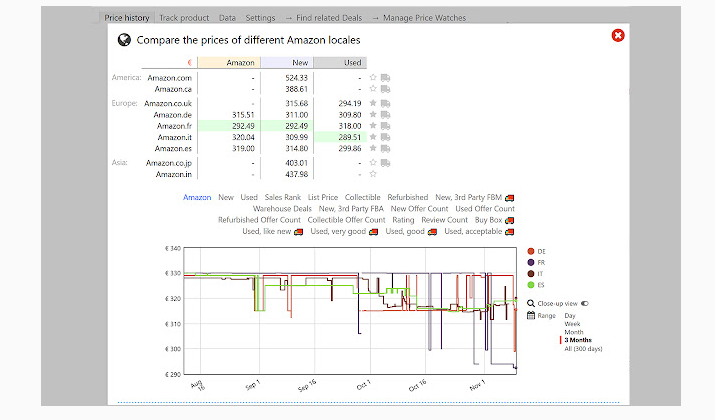 Keepa lets you track products from 11 different Amazon markets. In North America, you have the United States, Canada, and Mexico; in South America, you can track products in Brazil.
If your interest is in European markets, Keepa lets you track the UK, Germany, France, Italy, and Spain's Amazon markets. In Asia, the platform supports Japan and India.
With all of these, it's clear that Keepa supports all the major Amazon markets globally. Among all, the most used by Keepa users is the US market – Amazon.com.
In unison, the site is available in multiple languages including English, German, French, Japanese, Chinese, Italian, and Spanish.
camelcamelcamel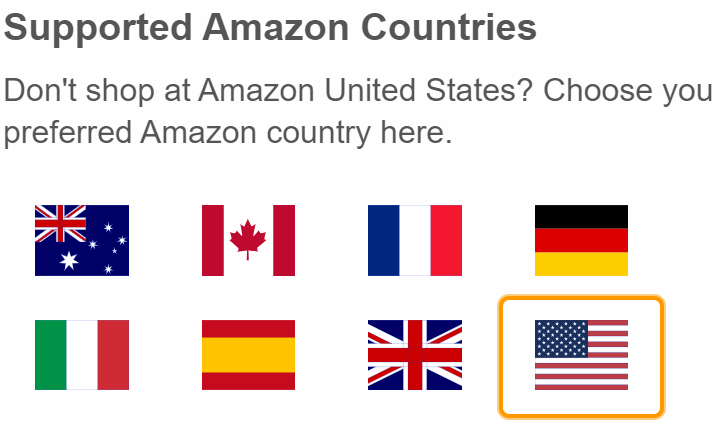 With camelcamelcamel, you can track products across eight different Amazon markets. The platform's main interest is in European markets. Among the eight, only two are North American markets while the remaining six are European markets.
The North American markets include the United States and Canada. Australia, France, Germany, Italy, Spain, and the United Kingdom are the European markets you can track.
You can switch to your preferred market using the options at the bottom of the page; you can't do it from the tracker. For translations, the camelcamelcamel website is available in English, Spanish, French, German, and Italian.
Verdict
You can track international Amazon markets with both Keepa and camelcamelcamel. Keepa supports 11 while camelcamelcamel supports eight – Keepa wins.
Also Read: Best Fake Amazon Review Checker
Alerts
Keepa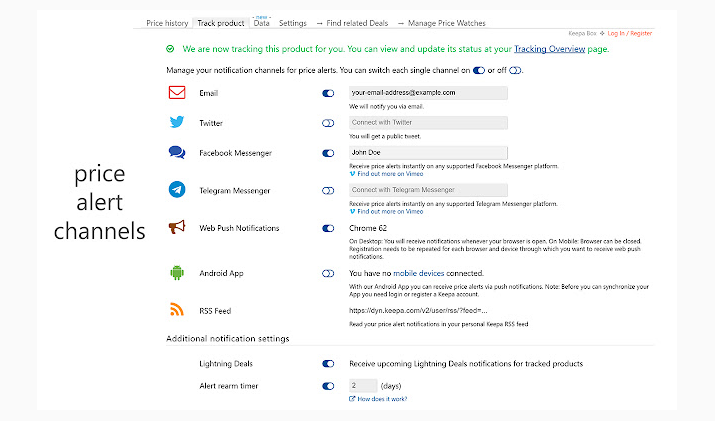 The Keepa tracker is all about alerts. Once the product price drops to the amount you specified, you get informed via alerts. With Keepa, you have four options for getting alerts.
The first and most popular option is via email. Simply enter your email and toggle on the button. The second option is via Telegram which requires that you link your Keepa account with your Telegram account.
Third, you can use the Keepa mobile app which is one of the easiest options. Lastly, Keepa can send price alerts to your personal RSS feed. You can turn on alerts for lightning deals and also alert rearm.
camelcamelcamel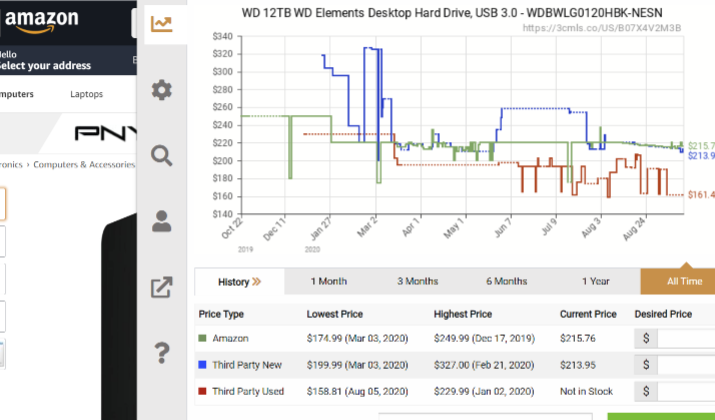 Price alert is one of the primary features of the camelcamelcamel platform. From the tracking page, the email you provide is where your emails go. The price tracker tool doesn't support any other tracking method except email.
After entering your email, setting the desired price, and clicking on Start Tracking, you'll get an email confirming that your product is now being tracked.
You'll also be redirected to a private camelcamelcamel page for tracking the product. It's ideal to save the URL to this page. However, whenever you receive a price alert, you'll be redirected to the page to review the price.
Verdict
The winner here is Keepa. Keepa supports alerts via email, Telegram, mobile app, and RSS feeds; camelcamelcamel only supports email.
Price History
Keepa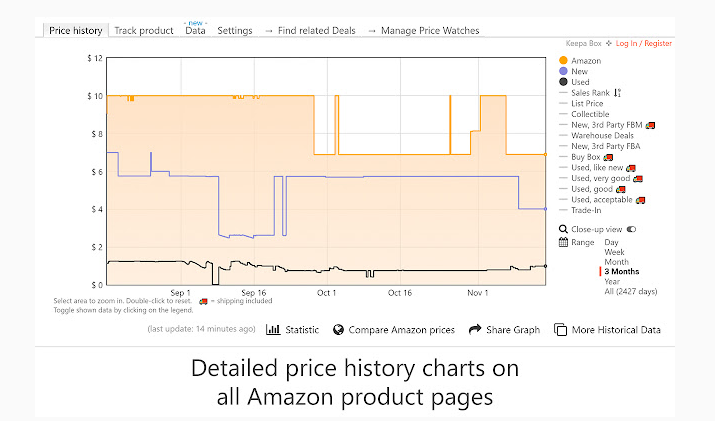 Keepa delivers in-depth price history charts. The charts are responsible, you can expand, contract, zoom in and out using your fingers (on touchscreen devices) and mouse on computers.
There are so many features in the price history charts. First of all, there's the Statistic that gives a rundown of the lowest, current, highest, and average Amazon, new, and used prices.
Perhaps the most interesting feature is the Compare Amazon Prices option. With this feature, you can compare Amazon price history data of a particular product across different Amazon markets.
Furthermore, you can share and embed the price history graph on other platforms/websites via a simple URL.
camelcamelcamel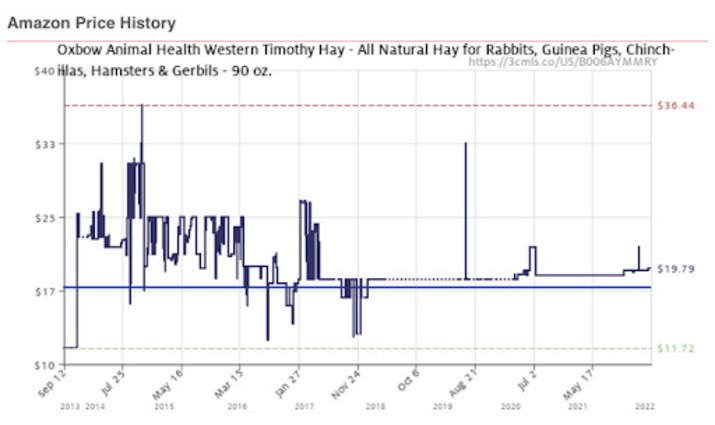 From the camelcamelcamel Amazon price history chart, you get a visualization of the current, highest, lowest, average, and desired prices, along with their specific dates.
For more details, the Amazon Price History Details section covers not just Amazon prices but also third-party new and third-party used prices. You can customize the chart to a close-up view or remove extreme values.
There's the Date Range bar below the graph to adjust the time frame. Although camelcamelcamel supports multiple Amazon markets, there's no option to compare price history between markets directly.
Verdict
camelcamelcamel provides reliable price history data but it lacks the comparison available on Keepa. Hence, Keepa wins for the umpteenth time.
Explore: Best Amazon Keyword Ranking Tools
Browser Extensions
Keepa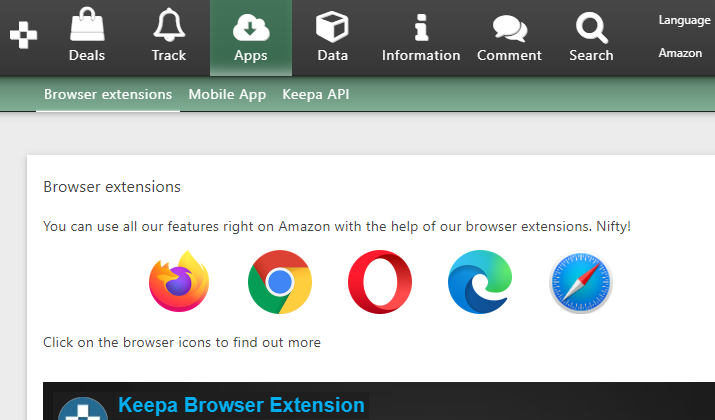 All of Keepa's features are available in the browser extension. The Keepa browser extension is available for all major desktop browsers. This includes Google Chrome, Mozilla Firefox, Opera, Safari, and Microsoft Edge.
On mobile, there's just one extension available for Mozilla Firefox and on Android mobile devices only. The browser extension is featured in the stores of these browsers. When you click on the extension icon on the Keepa homepage, you'll be redirected to the browser store.
Keepa's browser extension is quite popular with more than two million users on Google Chrome alone. It's also lightweight as the Chrome extension weighs less than 70 kb.
camelcamelcamel

You can use the camelcamelcamel browser extension on the five major browsers available. This includes Google Chrome, Mozilla Firefox, Microsoft Edge, Apple Safari, and Opera. Note that camelcamelcamel doesn't support mobile browsers.
You can download the extensions from the respective browser stores. On Google Chrome, the camelcamelcamel browser extension has 700,000 + users. Furthermore, the browser extension weighs about 655 kb.
Verdict
camelcamelcamel doesn't support mobile browsers while Keepa supports mobile browsers. Conversely, Keepa doesn't support a bookmarklet, unlike camelcamelcamel; hence it's a draw.
Also Read: Jungle Scout Review
Mobile Support
Keepa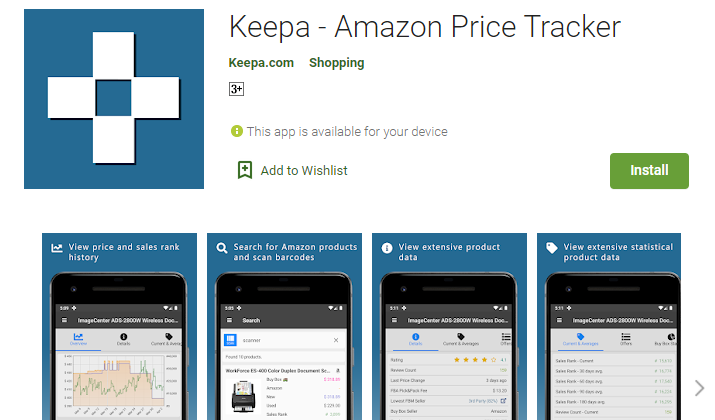 If you need an Amazon price tracker to use conveniently on mobile, Keepa is one of the best. In fact, Keepa features a mobile app for Android and iOS devices; you can download this app from the Google Play Store and Apple Store respectively.
With the mobile app, you can do just about everything you can with the website. This includes viewing price and sales rank history, searching for Amazon products, viewing product data, and getting price drop alerts.
An exclusive feature you get with the mobile app is the barcode scanner. You can identify products on Amazon by scanning their barcodes. In addition to the mobile app, Keepa features a mobile browser extension for Mozilla Firefox.
camelcamelcamel
camelcamelcamel doesn't offer exclusive support to mobile devices. There are no mobile apps and no browser extensions for mobile devices.
However, you won't have problems using camelcamelcamel from your mobile browser via the website. The website is responsive and will adjust to fit your screen no matter your mobile/tablet device type or size.
In fact, camelcamelcamel features a mobile and desktop site. You can switch between both at the bottom of the page.
Verdict
The clear winner here is Keepa with mobile apps and a browser extension for Firefox mobile. camelcamelcamel doesn't feature any.
Check Out: Best Amazon Seller Scanning Apps
Integrations
Keepa
To start with, Keepa integrates with various web browsers already mentioned before. Aside from that, Keepa lets you integrate with eBay. Hence, Amazon isn't the only online market you can source product price data from.
What you get with Keepa is access to eBay price history graphs. However, this is a premium feature. To use it, you must have an account and pay the Keepa monthly subscription.
Furthermore, Keepa features an API, and just like the eBay integration, it's a premium feature. With the API, you can connect other websites/platforms with Keepa to query for Amazon product information and history.
camelcamelcamel
camelcamelcamel is a standalone tool. Aside from the browser extensions, you can't connect the price tracker to any other platform.
The camelcamelcamel admins specifically state that they "can not sell (or provide access to, via API or download) our historical pricing and sales rank data." So, everything starts and ends within the website.
For one, camelcamelcamel lets you import Amazon wish lists – all public Amazon lists in general. You simply need to provide the list URL and you'll get price data for every product it contains.
Verdict
With access to eBay price history graphs and API support, Keepa is the better platform when it comes to integrations.
Premium Features
Keepa
Access to eBay price history graphs is just one of the premium features you get when you pay for a Keepa subscription. Apart from that, you also get access to interactive Sales Rank history graphs, interactive Buy Box price history graphs, offer count, and review/rating history graphs.
Furthermore, the subscription comes with access to table and variation data export, product list imports and exports, best seller, top seller, and seller storefront lists.
However, note that daily access is limited, depending on your quota. These are highly valuable data and information so limited access is necessary to prevent abuse.
camelcamelcamel
There are no premium features with camelcamelcamel. This is because the platform is completely free and doesn't require any subscription.
Verdict
Out of the two Amazon price trackers, you only have access to premium features with Keepa.
Also Read: Best Amazon FBA Training Courses
Customer Support
Keepa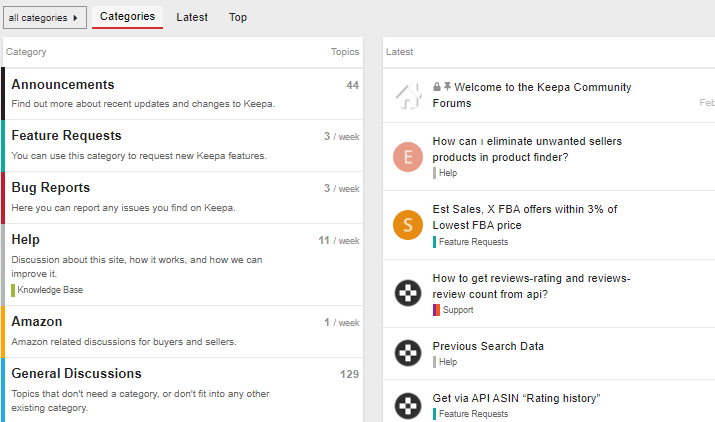 You can get support on Keepa via email. Aside from that, help is available via the Comments section. In this section, you'll find posts and comments/replies on various topics about using Keepa.
This includes General Discussions, Help, Announcements, Feature Requests, Bug Reports, etc. The Knowledge base is available via the Help category in the Comments section.
There's also the FAQ section where you can find verified answers from the platform's admins. You can't create posts or drop comments in the Comments section without an account.
camelcamelcamel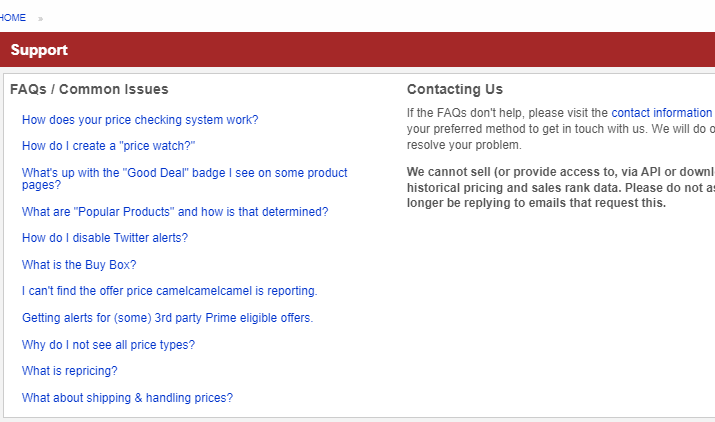 camelcamelcamel offers support to users via email. However, before sending emails, users are advised to first check the FAQ. You won't get a reply if you send a mail concerning a topic that has been treated in the FAQ.
The FAQ page contains answers to questions about using the camelcamelcamel platform. This includes how the platform works, creating alerts, disabling alerts, and ways to solve some user errors.
Note that camelcamelcamel features a blog where you can find other information about the platform.
Verdict
Both camelcamelcamel and Keepa have similar customer support; hence, it's a draw.
Keepa vs camelcamelcamel: Pricing
Keepa
Keepa is free but to access the premium features mentioned earlier, you have to pay a monthly subscription. The subscription costs €19 per month. You can also pay €189 for a year and save €39.
camelcamelcamel
camelcamelcamel doesn't feature any pricing plans. You can access all the features for free if you create an account.
Pros And Cons
Keepa Pros
Easy to use
Signup isn't compulsory
Supports registration with an Amazon account
Multiple tracking and alert methods
Supports 12 Amazon markets
Price comparison between different markets
Browser extensions & mobile apps
Supports API
Keepa Cons
Not all features are free
camelcamelcamel Pros
Easy to use
Signup isn't compulsory
Simple to use
Supports eight Amazon markets
Reliable tracker & alerts
Browser extensions & bookmarklet
camelcamelcamel Cons
Only email alerts
Doesn't support price comparison
No mobile apps
No API
Check Out: Proven Amazon Course Review & Discount Code
camelcamelcamel vs Keepa: Similarities And Differences
Similarities
Both are easy to use
You can use both platforms without creating an account
With either camelcamelcamel or Keepa, you get reliable Amazon price trackers
They both support multiple Amazon markets
Both camelcamelcamel and Keepa support alerts via email
Both feature browser extensions
Differences
With Keepa, you can sign up using your Amazon account; however, camelcamelcamel only supports Google, Facebook, and Twitter.
Keepa features more tracking options than camelcamelcamel
camelcamelcamel supports eight Amazon markets while Keepa supports 12 Amazon markets
Keepa supports alerts via email, Telegram, mobile app, and RSS feeds while camelcamelcamel only supports email
Keepa features an API while camelcamelcamel doesn't
You cannot compare prices between various Amazon markets with camelcamelcamel but you can with Keepa
Keepa features a mobile app while camelcamelcamel doesn't
Conclusion – Keepa vs camelcamelcamel – Which Is Better?
It is evident that the better tool between Keepa and camelcamelcamel is Keepa. From the features comparison, Keepa beats camelcamelcamel in almost every section.
Notably, Keepa has mobile apps, supports multiple alerts & tracking options, and supports an API – you get none of these with camelcamelcamel.

Author: Sam Zaman
Sam loves to write on technology & related stuff. Ecommerce, mobile and internet marketing equally drive her interest. Likes gardening and experimenting with new recipes. An avid reader and absolutely mad @bout donuts :)